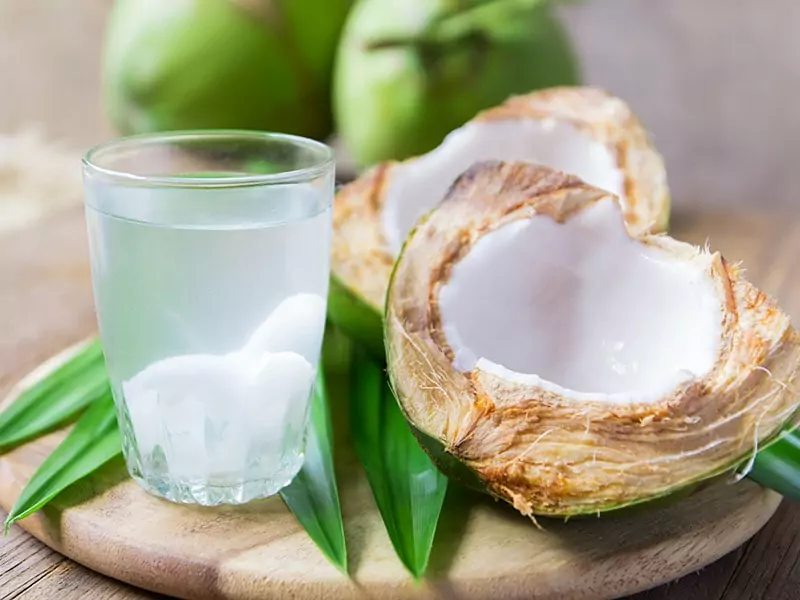 What does coconut water taste like is something a bit abstract, although coconut water is a popular natural beverage because it is both safe and ubiquitous? The effects of coconut water on health and beauty far outweigh its economic value.
Many people love fresh coconut water because of its good refreshment. This is a good beverage since it brings many benefits with few side effects. However, similar to many other drinks, we should not overdo coconut water.
So how should you drink coconut water? And in the end, what does it taste like to be loved by so many people? Now, you don't even need to drink some to know it. This post will help you better understand this issue in a heartbeat!
Overview Of Coconut Water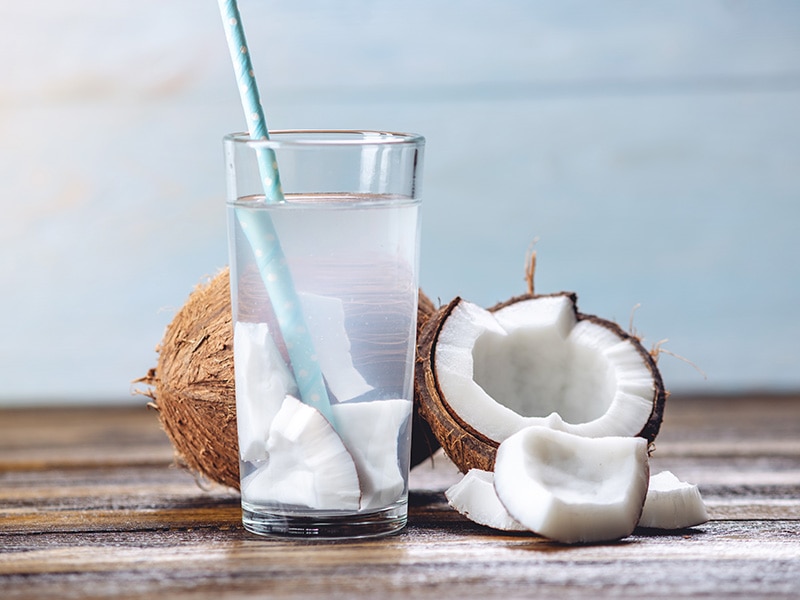 To put it simply, coconut water is the sterile, transparent liquid produced directly inside of the coconut. You can consider it as the liquid endosperm. This liquid endosperm will convert to solid endosperm gradually once the coconut becomes mature (1).
That means the coconut water will harden and turn into coconut flesh. However, the maturation process doesn't fill the coconut flesh, so you can still find some coconut water in the mature coconut.
Coconut water should be distinguished from coconut milk. Some people might also confuse coconut water with pressed coconut water. While it might be hard to fully explain the definition of pressed coconut water in just a few sentences, know that the two are different.
More than 95% of coconut water is water. This is a popular drink rich in electrolytes, vitamins, and minerals. This tropical drink spreads widely from the Central Indo-Pacific to worldwide.
Coconut water has been regularly consumed as a beverage since a long time ago. Coconut water has also been used medicinally as an alternative intravenous fluid and treats diarrhea in folk medicine practices.
However, for more urgent rehydration needs due to illness, Pedialyte will make a better choice. The biggest difference between Pedialyte and coconut water is that the former is a lab-made electrolyte drink that resupplies your body with minerals and fluids.
Learn about all the stages of the coconut from young to mature here!
What Does Coconut Water Taste Like?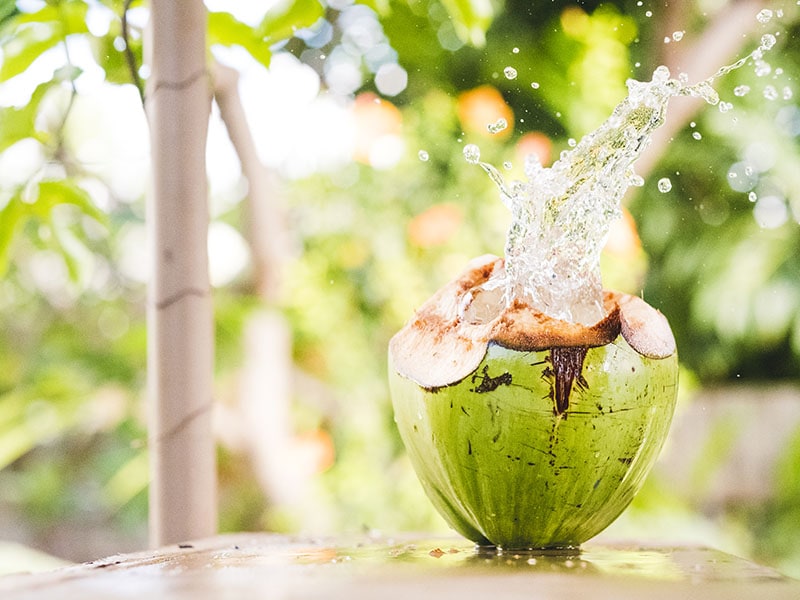 If you think coconut water tastes absolutely "coconut", you should change your mind now! Coconut water is nothing like coconut flesh or coconut milk! It tastes much milder than a coconut itself.
However, that doesn't mean the coconut water lacks flavor. Once you drink it, you will find it more delicious than you think! This tropical water has a subtle sweet note, combined with a bit salty and nutty hints of the coconut.
All are swirling together, well-balanced and perfect for people who are not so into the too-sweet drinks. Don't worry; coconut water is generally sweet enough to satisfy your taste bud, although it hardly contains sugar! Each sip is so fresh, pleasant and quenches your thirst instantly.
You should notice that the coconut water flavor can be changed due to which varieties of coconut you choose, the place it is grown, the climate, and the soil content. Coconut's age is another deciding factor. If your coconut is too immature, its water may taste a bit sour.
Good Ways To Have A Tastier Cup of Coconut Water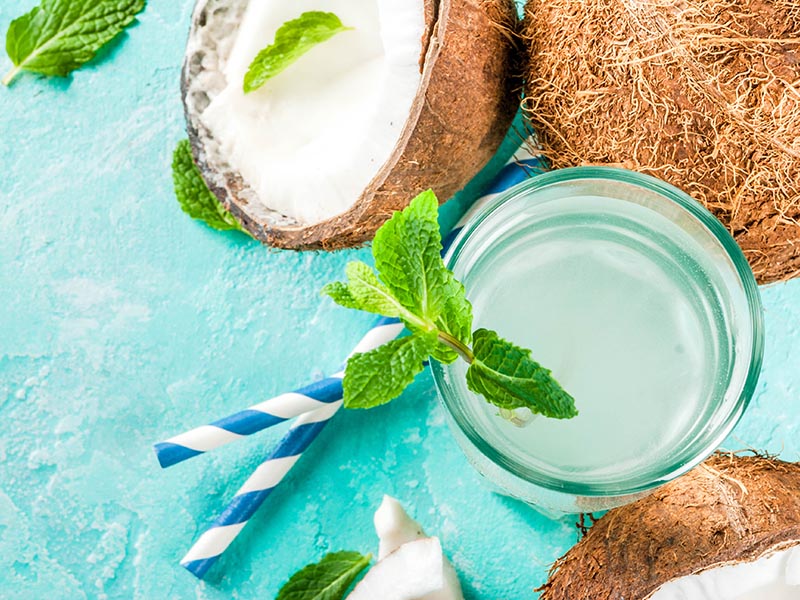 If you find coconut water a bit too bland to drink, let's try some creative recipes to make up your coconut water onto the next level:
Dilute coconut water into your favorite veggie or fruit smoothie. The mild taste of coconut will impart a fresh note to your drink without changing its signature taste. This is also a nutritious drink you need every day.
Find out how to make the most refreshing green smoothie with coconut water now!
Why not make some coconut fruit popsicles to boost the energy right away? Enjoy these sweet and nutty coconut water with your favorite fruits combined inside. The icy popsicles melting in your mouth create the best refreshing feeling!
You may not know, lemon juice goes so well with the taste of coconut water. Lemon will add a sour hint into the mild and nutty coconut water to create the most revitalizing drink ever!
Coconut Water Goes Bad: Taste Of Spoilage
When drinking fresh coconut water, you will feel a refreshing feeling with a light nutty, and sweet taste. When this taste goes wrong, your coconut water is probably spoiled and needs to be thrown away.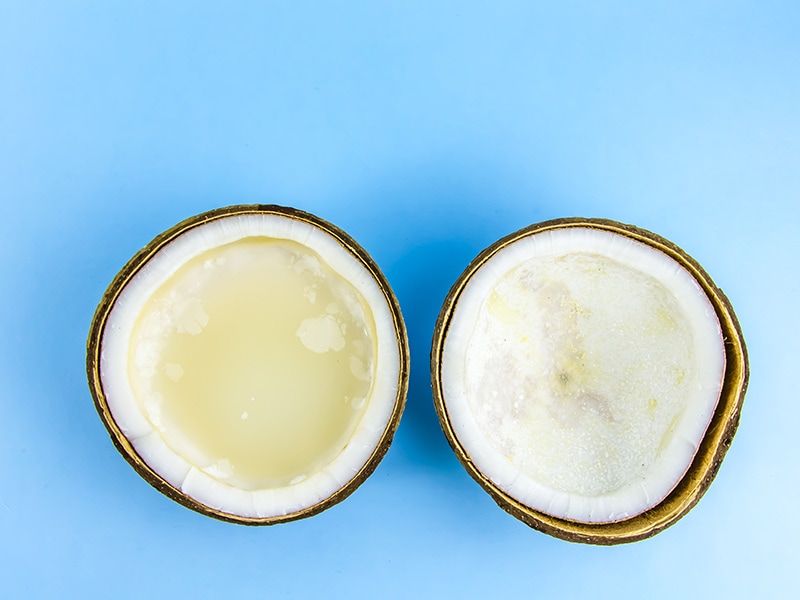 The Weird Taste
The best way to identify spoiled coconut water is to taste it. Once gone bad, coconut water will have an intensely sour taste as soon as you sip it.
However, you need to remember there are two reasons why your coconut water tastes sour. Not only because it's spoiled, maybe it's too young.
These two types of sourness can be a lot different, and you can easily recognize if it goes bad by the unique sugars' fermented or vinegar-like taste. In case your coconut water is slightly sour because of its young age, you can still feel the freshness in it each sip.
Don't worry; it is not so difficult to distinguish. Because in addition to sour, spoiled coconut water also has an absolutely weird and unpleasant taste, like rancidity. It is best to get rid of your coconut if you find some.
Other Spoiled Signs
Besides the taste, you can recognize the bad coconut water sooner by these signs:
The Smell
When you open the bottle of coconut water and hit your nose with an overpowering smell and not the natural nutty or floral scent of coconut water, unfortunately, bacteria have grown, and the coconut water has spoiled.
The Color
Coconut water might turn pink due to various factors, which doesn't necessarily mean that it's spoiled. Light pink coconut water can be a normal phenomenon, but too dark or too bright pink or brown color is a sign of excessive oxidation causing rancid and spoilage.
Carbonation Signs
You can easily see signs of carbonation in your coconut water. Those are white or yellow foams floating on the surface. A sign of severe damage.
The Consistency
If you pour coconut water into a cup and it feels thick and vicious, it is most likely spoiled. Because it is supposed to be liquid like regular water.
What Happens If You Drink Spoiled Coconut Water?
Spoiled coconut water is proven not to contain harmful bacteria, so a few sips probably won't cause you health problems. It takes a long time before spoiled coconut water becomes contaminated, and until then, it does not kill you right away.
However, it definitely tastes horrible and will have long-term effects if you keep consuming it. You may experience bloating, indigestion, or a serious illness. Therefore, you better get rid of it if you detect any spoilage signs I mentioned above.
How To Preserve The Freshest Taste Of Coconut Water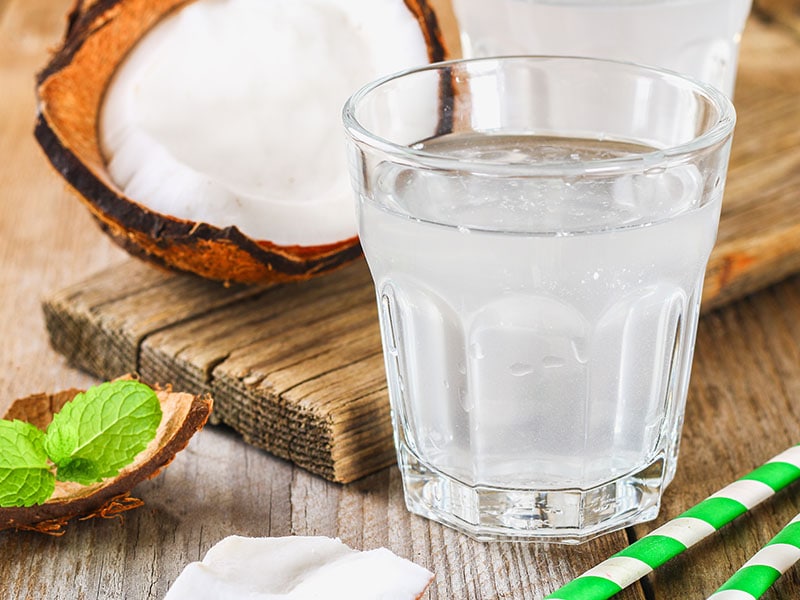 Not everyone knows how to tell coconut water to keep it fresh and delicious for the longest time. So let's find out how to best keep your coconut water!
| Coconut Water Shelf-life | In The Pantry | In The Fridge |
| --- | --- | --- |
| Unopened (Fresh) | 1 week | 2 - 3 weeks |
| Unopened (Canned) | 6 months after best before date | 9 - 12 months |
| Opened (Fresh) | Not Suitable | 3 - 5 days |
| Opened (Canned) | Not Suitable | 4-6 weeks |
Shelf-life of Coconut Water
Once opened, coconut water only remains fresh in one day. Therefore, to ensure coconut water still promotes its freshness, you should enjoy coconut water as soon as it is removed from the fruit during the day.
If you do not use all of that coconut water, you can put the coconut water in the refrigerator and use it within 3-5 days to avoid it getting spoiled.
Besides, canned coconut water can be kept for 4-6 weeks at a temperature of 40 degrees Fahrenheit since it often has some additives.
Tips To Store Your Coconut Water At Home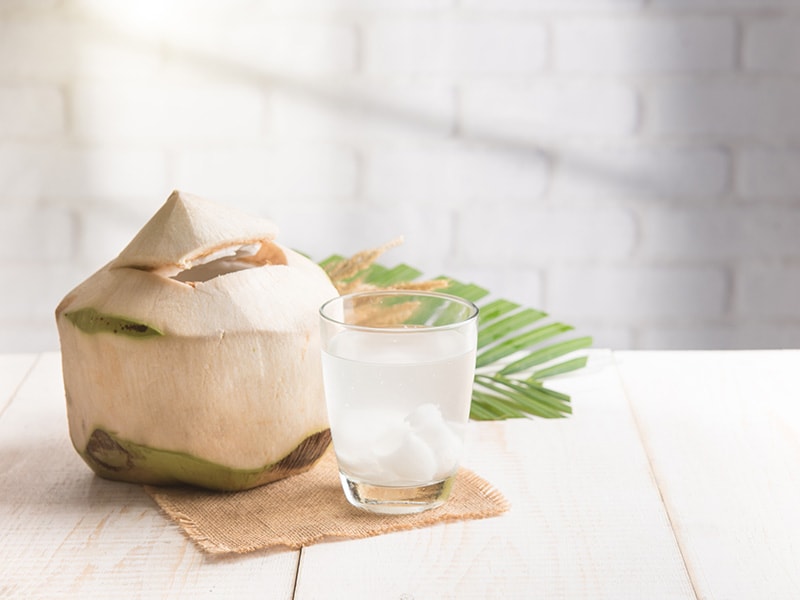 You can take advantage of the helpful storing methods to keep the freshness of your coconut water as long as possible.
Unopened Coconut Water
If coconut water is still kept in the coconut fruit, you can store it at room temperature for 1 week. Storing in the refrigerator can help you keep your virgin coconut water delicious for about 2 – 3 weeks at 35 – 40 degrees Fahrenheit.
In addition, for canned/bottled coconut water, the shelf life can exceed the best before the date by 6 months, thanks to some added preservatives. You can keep it in the fridge for 9 -12 months without worrying about spoilage.
Opened Coconut Water
Once you have opened the coconut fruit without drinking all the water, you must immediately put it in the refrigerator. If you forget, it is best not to drink this coconut water to avoid unnecessary side effects.
Normally, fresh coconut water that has been opened can continue to stay fresh in the refrigerator for 3 to 5 days. For canned coconut water containing preservatives, this time may vary.
Note: In addition, coconut water is also preserved by deep cooling or adding sodium metabisulfite. However, these are professional ways and not easily done at home.
What Are The Best Coconut Water Brands?
There are many coconut water brands that you can refer to. You can buy them both in the stores and online. Some of the best brands I can recommend you are:
Zico coconut water is certified organic by the USDA. This is a natural choice that brings the light sweet taste of coconut water without sugar added. Use this one to support hydration by the natural electrolytes. You can also choose the suitable one among many different sizes.
Vita Coco is produced in convenient bottles for you to hydrate everywhere. This pure organic coconut water is certified vegan and Kosher, with a rich content of minerals and vitamins to provide your health.
You can find a natural sweet flavor in each sip of Taste Nirvana Real Coconut Water. It has premium quality with a more refreshing taste. The content is certified vegan, non-GMO, gluten-free with natural electrolytes.
With Amy & Brian, you can choose among 4 refreshing tastes, which are all naturally sweet. This coconut water is made from the greenest coconuts of Thailand, a tropical area that provides coconut with the best inherent taste.
Another pure coconut water with low sugar and calorie content from Thailand. It has no sugar added and brings the naturally sweet and refreshing taste in every sip. Harvest Bay Coconut Water is packed with naturally occurring electrolytes – a healthy choice to alternative soft drinks.
Try some taste tests of six famous coconut water brands now!
The Difference Between Coconut Water And Coconut Milk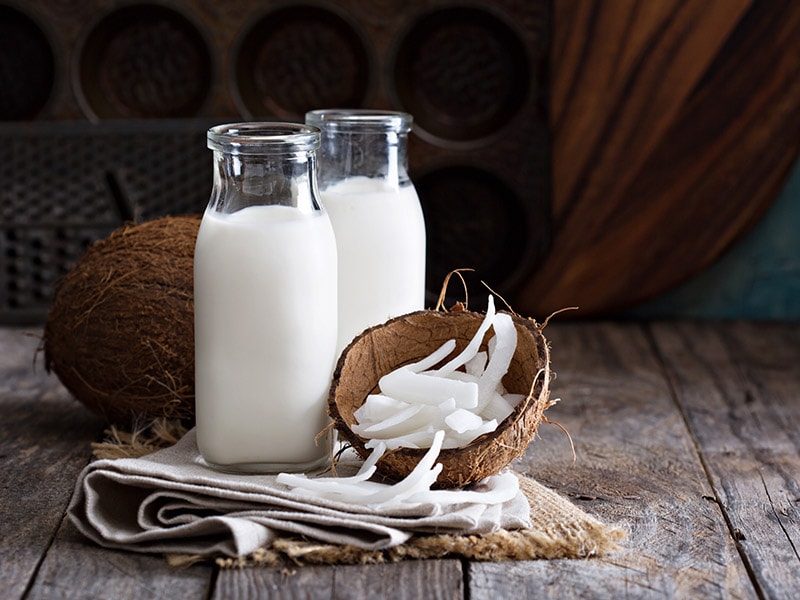 Coconut water and coconut milk are both coconut products, two ingredients that add deliciousness and richness to dishes and drinks. However, they are two very different products.
So what sets coconut milk and coconut water apart? The answer is quite a lot of things, but here are some of the most basic aspects.
| Comparison Factors | Coconut Water | Coconut Milk |
| --- | --- | --- |
| Nature | Occur naturally in coconuts | Go through many processes |
| Taste | Slight sweetness, nutty, slightly salty, a bit sour | Intense sweetness, strong nutty flavor, floral scent |
| Texture | Same as plain water | Thick, dense, viscous |
| Color | Transparent and slightly opaque | Milky white |
| Culinary Uses | Taken directly as a beverage or to add natural sweetness in cooking | Cow's milk substitute, as a thickener, to add natural fatty taste |
| Nutritional Content | 94% water and carbs, no fat, very few calories | 50% less water, mostly fat content, 12% calories higher |
The Nature
You can drink coconut water directly without needing to be processed. It occurs naturally in coconuts. As the young coconut begins to mature, the coconut water hardens to form coconut flesh.
While coconut water is naturally made, coconut milk has gone through many processes to become the finished product. It is made mostly of coconut flesh and pressed intensely to get the rich milk.
Discover how coconut milk is made from farm to cans!
The Taste, Texture & Color
As noted above, coconut water has a mild taste, with only a slight sweetness, nutty, slightly salty, and can be sour if it is young. Coconut milk is different, and it has a relatively intense sweetness, mixed with a floral scent and strong nutty flavor of the coconut.
In terms of texture, coconut milk is thick, dense, viscous, with a milky white color. Meanwhile, coconut water has the same texture as water with a transparent color and can be only slightly opaque with coconut ripples.
Culinary Uses
Fresh coconut water is taken directly as a beverage and replenishes electrolytes. Besides, to increase the sweetness of the dishes, coconut is used for cooking.
Coconut milk is mainly used as a cow's milk substitute, a thickener for things like sauces, or a traditional recipe in many Indian and Southeast Asian cuisines. This ingredient can give the dish a natural aroma and fatty taste. It is also used in some beverages and desserts.
Nutritional Content
These are two separate coconut products, so they have different nutritional profiles. In terms of ingredients, coconut water contains about 94% water and carbs while having almost no fat and protein. In contrast, coconut milk has about 50% less water with fat as its primary nutrient.
Although most of the components (as minerals and vitamins) included in these two coconut products are rarely different, coconut milk has a much higher calories content than coconut water (about 12 times higher).
Besides, iron, selenium, copper, calcium, magnesium, phosphorus, potassium, and vitamins C, E, B1, B3, B5, and B6 are all present in coconut milk as well as coconut water.
However, because of the soluble fat and calorie content, coconut milk is not good for those with heart problems, high cholesterol, and obesity.
Valuable Recommendations On Drinking Coconut Water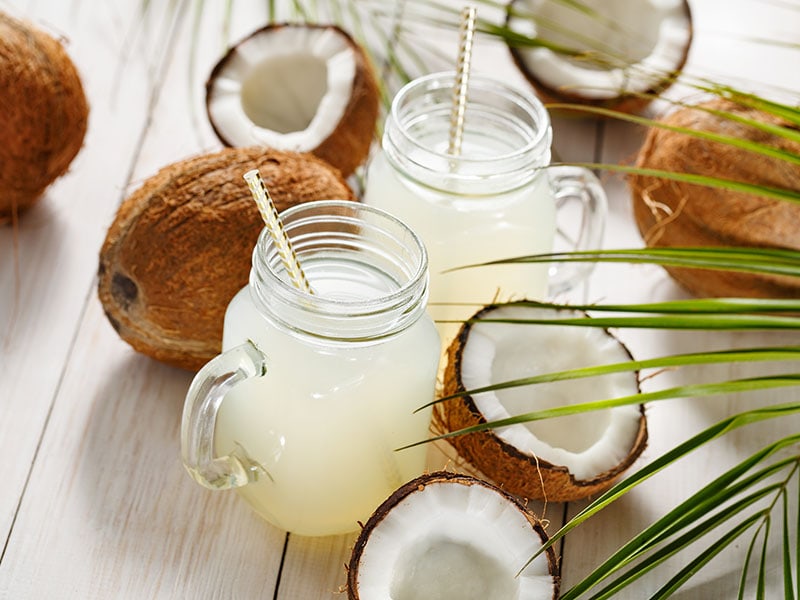 Drinking coconut water is good but should not be abused. When drinking coconut, you should note some of the following issues to bring the best benefits to the body:
Coconut water should only be consumed about 100-200 ml per day and should not use the coconut water left more than 1 hour after taking it out.
If you want to drink coconut water when hungry, you should drink small sips.
People with a medical history of edema diseases, heart failure, liver and kidney failure, etc., should limit or not drink coconut water because coconut water will aggravate the condition of the disease.
Pregnant women should only drink coconut water from the second 3 months onwards. The reason is that the fetus has entered the stable stage at this time.
Discover how to drink coconut water properly!
Nutritional Content of Coconut Water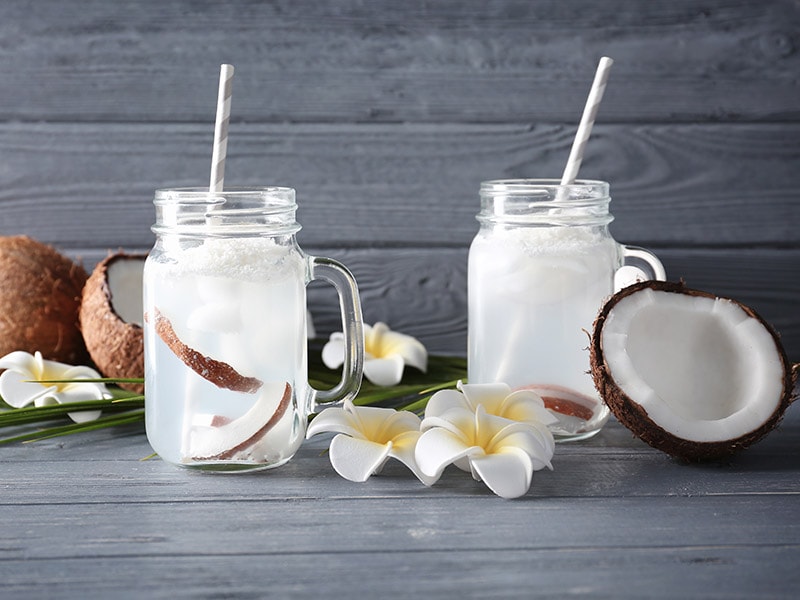 According to the FDC, one cup (240 ml) contains the main components as follows(2):
Calories: 60
Carbs: 15 grams
Sugar: 8 grams
Calcium: 4% of the daily value (DV)
Magnesium: 4% of the DV
Phosphorus: 2% of the DV
Potassium: 15% of the DV
A glass of coconut water contains only 60 calories, so drinking coconut water will have more health benefits than other drinks like carbonated water or juice. Coconut water also has less sugar and carbohydrates than most other juices.
Moreover, it is high in minerals such as sodium and potassium. Natural electrolytes have made coconut water a formidable competitor to popular sports drinks. Many people look to this ideal natural drink because it does not contain sugar, colorants, or chemicals.
However, there is some difference between the composition of young and mature coconuts. Young coconuts have higher sugar and total phenol content than mature coconuts. In comparison, mature coconut has a higher protein content and pH value than young coconut. The mineral content can also differ due to the ages of coconut.
The Benefits That Coconut Water Can Bring You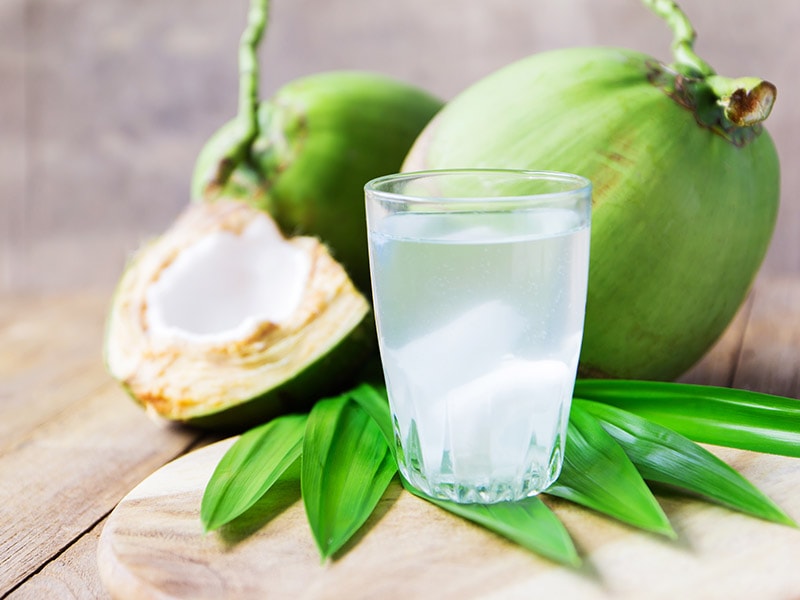 Fresh coconut is a savior on hot days. In addition to refreshments, do you know other positive effects of fresh coconut for health? Drinking coconut water regularly will bring the following benefits:
Rehydrate After Exercise
Coconut water has the perfect properties to replace any traditional sports drink. The active electrolytes in coconut, such as sodium, potassium, and magnesium, help replace the water and electrolytes lost during exercise (3), thereby limiting nausea and bloating that may occur.
Supply Extra Energy
Coconut water is a great energy source. The content is rich in many vitamins. In addition, this drink also contains several minerals good for the body, such as iron, selenium, calcium, sodium, phosphorus, and magnesium.
Support Cardiovascular Health
According to medical research, coconut water is beneficial in reducing the risk of cardiovascular diseases because it contains a lot of lauric acid and potassium, which are extremely good for people with high blood pressure.
Improve Immune System
Coconut water strengthens the immune system, the body's resistance to diseases. Several nutrients, such as chloride, iron, potassium, calcium, etc., help destroy pathogens before they grow and spread.
Improve Digestive System
A glass of fresh coconut water, especially in the morning, will help the digestive system work stably. The lauric acid in coconut water will convert to monolaurin. In addition, coconut water is also beneficial for intestinal bacteria and stomach acid.
Antioxidant
Fresh coconut water can reduce the free radicals produced during metabolism. Coconut water changes the structure of free radicals, making them less likely to cause harm to the body.
Coconut water has significant improvement benefits in oxidative stress, reducing free radical activity, and reducing blood pressure, triglyceride levels, and insulin (4).
Good For The Kidneys
You can drink fresh coconut water instead of filtered water because this drink has a diuretic effect. Coconut water also helps prevent kidney stones safely. A glass of coconut water can clean the urinary tract and prevent the risk of developing kidney stones.
Support Weight Loss
This must be a benefit that many of you are interested in, right? Coconut water is a food that contains natural electrolytes and is rich in triglycerides, a form of fat that helps in weight loss. Triglycerides help energize, limit feeling hungry. Coconut water also contains very few calories and no fat.
Nourish Your Skin
Ingredients fresh coconut water contains cytokinins and antioxidants. These are two types of substances that prevent skin aging, balance the pH and connecting tissues, and retain moisture for the skin.
Learn about the health benefits of coconut water and how to drink it!
Some Downsides of Drinking Coconut Water
Coconut water is good, but drinking too much of it is not a smart idea. Some of the disadvantages of overconsuming coconut water include (1)
Not suitable for people prone to allergies
Easily damaged if left for a short time in the external environment.
May lower blood pressure too much.
Increase the burden on the kidneys due to the high potassium content of coconut water.
Risk of abdominal pain and diarrhea.
If not stored in the refrigerator for too long, coconut water can quickly change its composition and become contaminated.
Consider the risks of consuming too much coconut water and avoid them!
FAQs
There are many questions you may ask about coconut water. Let's find out the answers for all your wonders below:
Enjoy Some Coconut Water To Hydrate Your Body Now!
Hopefully, through this article, you already know the taste of coconut water and understand all the issues surrounding coconut water. In most cases, coconut water is delicious, refreshing, and very beneficial for your body.
However, drink coconut water as recommended by scientists to get the most out of coconut water! Like and share this post with everyone to understand and enjoy this precious water from nature!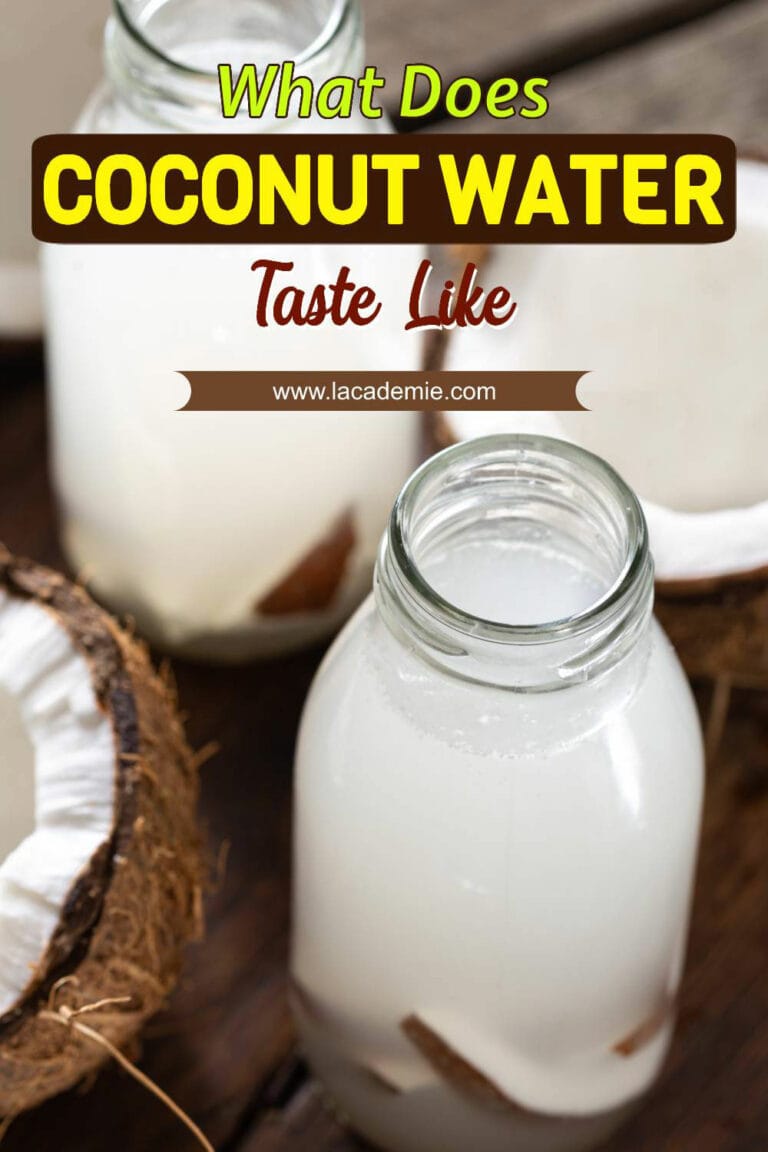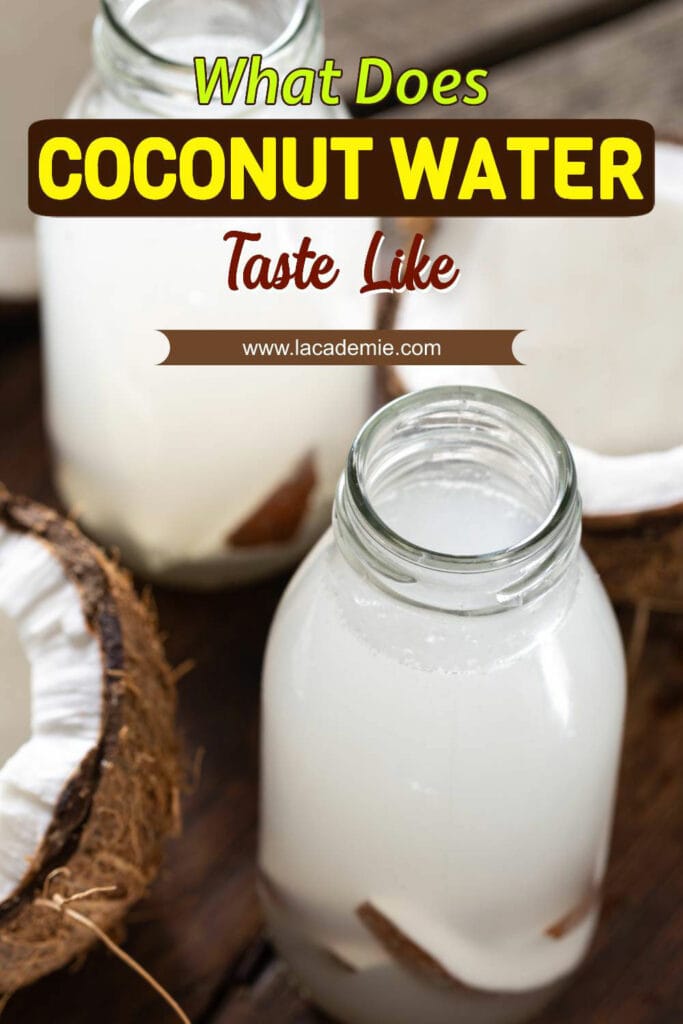 References
Yong, J. W. H., Ge, L., Ng, Y. F., & Tan, S. N. (2009, December 9). The chemical composition and biological properties of coconut (Cocos nucifera L.) water. Molecules (Basel, Switzerland).
Fooddata Central Search Results. FoodData Central. (n.d.).
Shrimanker, I. (2021, July 26). Electrolytes. StatPearls [Internet].
D Bhagya 1, L Prema, T Rajamohan. Therapeutic effects of tender coconut water on oxidative stress in fructose fed insulin resistant hypertensive rats. Asian Pacific journal of tropical medicine.