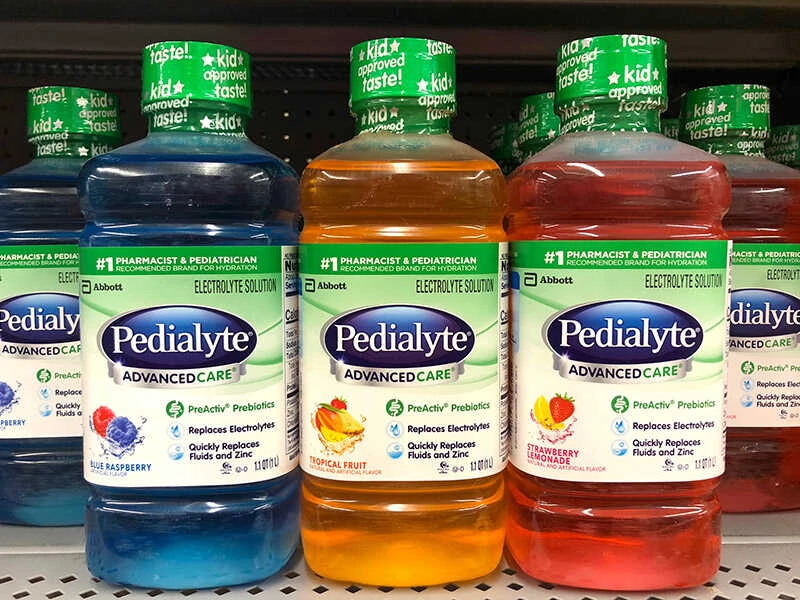 Drinks like coconut water vs. Pedialyte can both contribute to water and electrolyte balance. Electrolytes are minerals that support your body to perform various essential functions, such as hydration, muscle contraction, pH balance, and nerve signaling.
To function correctly, your body must maintain adequate amounts of fluids and electrolytes at all times. A balanced diet and enough water are enough to maintain electrolyte levels for most people.
However, in some cases, it is necessary to use an electrolyte drink such as Pedialyte or a natural electrolyte drink such as coconut water, especially if you are losing fluid rapidly due to sweating or being sick.
So, which drink should you choose, and how are they different? I will find out with you in this post!
Why Should You Provide Electrolytes?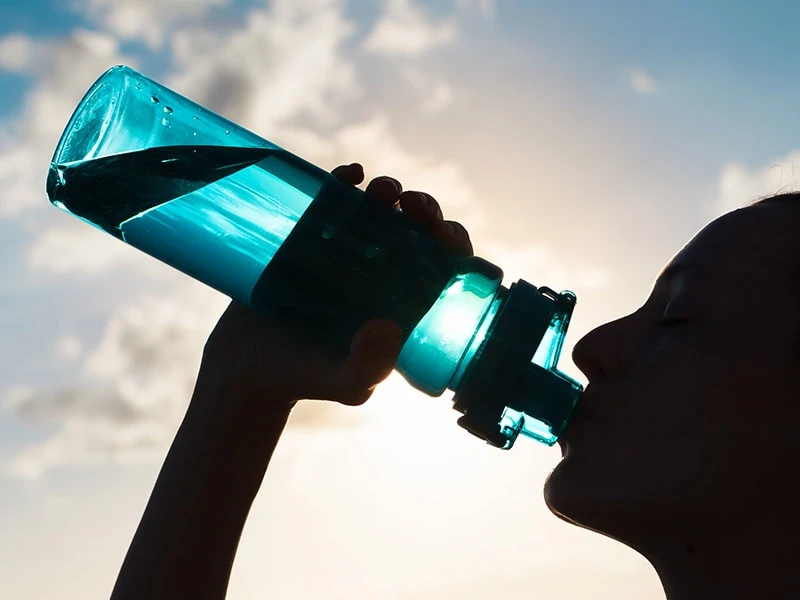 Electrolytes are minerals like sodium, potassium, calcium, magnesium, and phosphorus in the human body (1) . These are electrically charged minerals kept stable when the body has enough water. After exercise, during vomiting and diarrhea, electrolytes may drop.
This leads to dehydration and mineral imbalances. In such cases, drinking water alone is not enough to restore electrolyte levels in the body. It requires drinks containing electrolytes to re-supply water and minerals to normal the body.
Earlier, coconut water was almost the only electrolyte drink used to hydrate. However, as the health and food industry advanced day by day, Pedialyte was developed to serve higher hydration needs with more popular flavors.
Pedialyte vs. Coconut Water: What Are The Main Differences?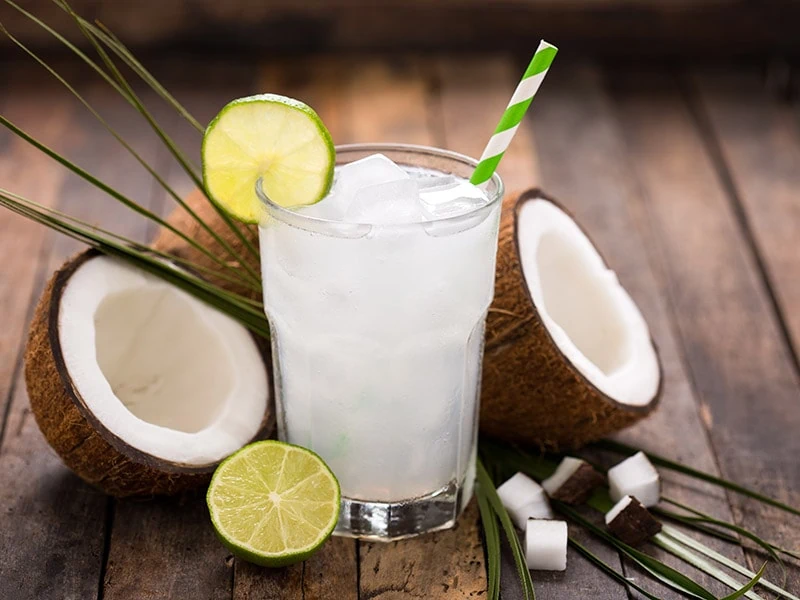 To quickly recognize the most different factors between coconut water and Pedialyte, let's take a look at the short comparison table below before going into details:
| Factors | Pedialyte | Coconut Water |
| --- | --- | --- |
| Definition | An urgent hydration drink for children produced by Abbott Laboratories | A rehydration drink occurs naturally inside coconut fruits |
| Type | 6 lines with different flavors and uses | More than 10 varieties |
| Usage | Supplement rehydration when dehydrated due to diarrhea or vomiting | Natural water-replenishing beverage, add to Asian dishes or fruit and vegetable smoothies |
| How to Use | Oral use, one bottle per day or after hard exercise, 32 - 64 oz per day after vomiting or diarrhea | Drink directly, mix with soft drinks or smoothies, about 8 ounces per day |
| Nutrition | 3 electrolytes, balanced ratio of sugar and sodium, fewer calories, and no fat | 5 natural electrolytes, rich in potassium, a bit higher in calories and fat |
| Flavor | Up to 23 different fruity flavors | Nutty, slightly sweet, and relatively floral |
| Target Customers | Children and adults with diarrhea or vomiting, athletes | People of all ages looking for a natural drink for rehydrating |
Definition of Pedialyte and Coconut Water
Pedialyte (2) is an electrolyte drink sold as a powder or liquid. This drink is designed for children and produced by Abbott Laboratories. This one is more effective as urgent hydration with sodium, chloride, and potassium content for your body that adults can use too.
This drink is designed to support fluids and electrolytes more effectively than sports drinks, providing an optimal balance of sugars and electrolytes to prevent mild to moderate dehydration.
Meanwhile, coconut water (3) is a rehydrating drink from a long time ago. It is a transparent liquid that occurs inside coconut fruits. You may also come across pink coconut water. There are various reasons for coconut water's pink color, but rest assured that it isn't usually a sign of spoilage.
Coconut water is known for hydrating quickly because it contains natural electrolytes like potassium, sodium, and manganese.
Coconut water has a pressed version which many people love to drink after playing sports or intense exercise. The most distinguishable trait of pressed coconut water is that it's made from the entire coconut fruit, not just the liquid part.
Types of Pedialyte and Coconut Water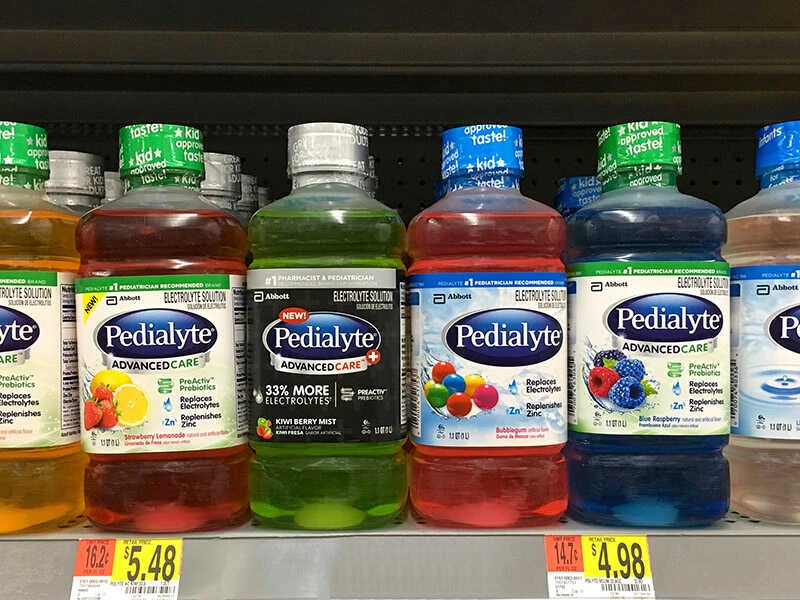 Pedialyte is produced in a wide variety of types, flavors, and designs so that users can freely choose. Often it will be sold as a ready-to-drink beverage or as a powder in convenient pouches to be diluted with water.
Currently, Pedialyte is produced in up to 6 lines with different flavors and uses. Some of the most popular and delicious lines of Pedialyte are:
| | |
| --- | --- |
| Pedialyte Lines | Features |
| Pedialyte Classic | Help prevent dehydration in children and adults |
| Pedialyte AdvancedCare | Probiotics support digestive health, avoid dehydration |
| Pedialyte Sport | Quick rehydration for athletes, help to build muscles |
| Pedialyte with Immune Support | Rehydrate and maintain immune system by the added nutrients |
| Pedialyte Electrolyte Water | Free of sugar, added colors, and artificial flavors |
| Pedialyte Organic | USDA-certified organic, free of added colors, artificial flavors, and sweeteners |
As a natural drink inside the coconut fruits, coconut water is divided into many types depending on the coconut variety, which are more than 10 species. Some of the popular varieties of coconut water you can find are:
| | |
| --- | --- |
| Coconut Types | Features |
| Green Dwarf Coconut | The early fruit-bearing coconut variety |
| Fiji Dwarf Coconut | Easy recognition with the unique leaf shape and the enlarged trunk |
| Maypan Coconut | Produce large to medium-sized hard fruits |
| Tiptur Tall Coconut | One of the best coconut tree varieties to grow high yield |
| West Coast Tall Coconut | Most varied in color; they can be green, yellow, brown, or orange |
| East Coast Tall Coconut | Hardly bear fruit in good and loose soil |
| King Coconut | Produces orange-skinned coconuts, rich in vitamins and minerals |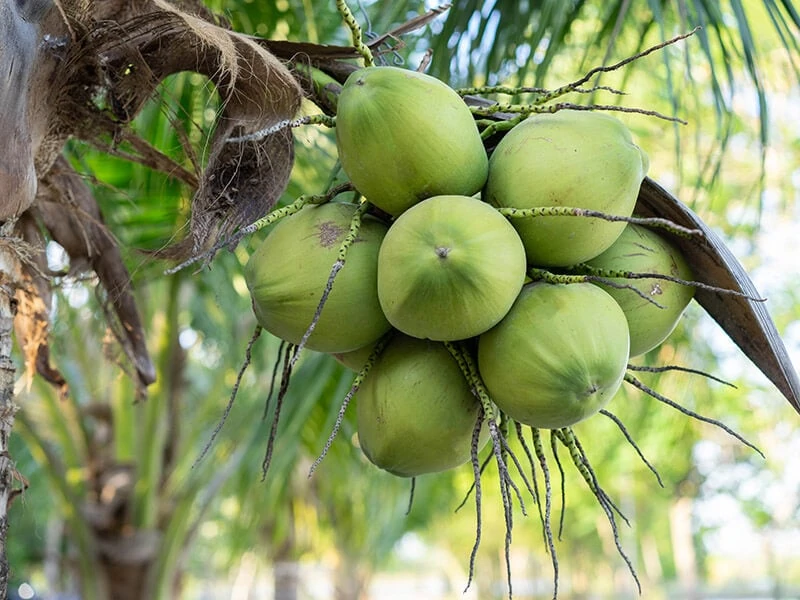 Usages of Pedialyte and Coconut Water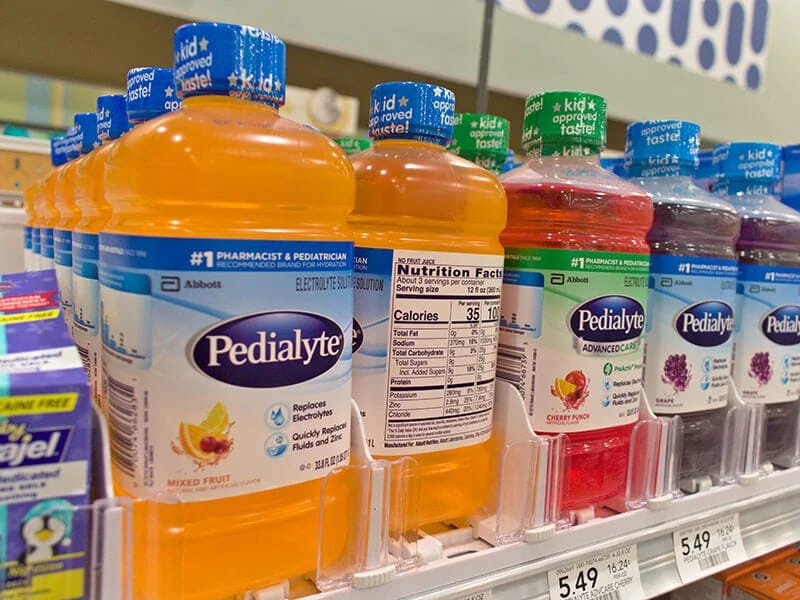 Pedialyte was researched and created to supplement rehydration when dehydrated due to diarrhea or vomiting. This electrolyte drink is usually marketed for children, but adults can also use it for the same purpose.
This is a convenient rehydration product with an excellent taste that replaces chemical electrolytes, helping you feel more alert and regain your strength faster. It may contain a little sugar or artificial sweeteners to make a tastier drink.
Coconut water – a drink from nature is often seen as a healthy beverage. Recently, it has become more and more loved by athletes and everyone because of its natural water-replenishing properties due to its electrolytes and minerals.
In addition to being used as a beverage, coconut water is also added to many Asian dishes or fruit and vegetable smoothies to increase its sweetness and nutrient content.
Coconut water is far more healthy than many other sports drinks!
How to Use Them?
Pedialyte is produced as a beverage for oral use, as intended on the product package. Before drinking, you should shake the Pedialyte bottle well to mix all the ingredients and enjoy the best flavor.
For Pedialyte in liquid form, you should not mix with other liquids such as water, milk, juices, or any beverages. Since the ratio of electrolytes and sugars should be kept to maintain the effectiveness of Pedialyte.
For the powder form, you need to dilute it with water (the recommended amount on the pack) before consuming. Remember that the dilution must be water, not juices, milk, or other beverages.
You can consume one bottle of Pedialyte per day or after hard exercise. If you lose a large amount of water due to vomiting or diarrhea, you can increase the consumption to about 32 – 64 oz per day.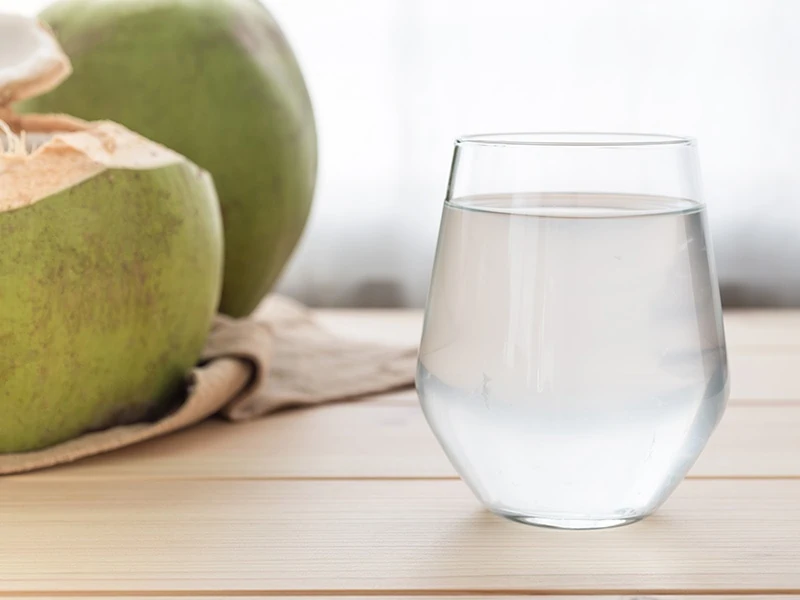 The way to drink coconut water is straightforward. You can drink it directly from the coconut or enjoy bottled coconut water. Bottled or canned coconut water has a lot of taste for you to choose from.
The ways to use coconut water are more diverse, with many ways to drink it. Unlike Pedialyte, you can mix coconut water with various soft drinks or smoothies to enhance the taste.
Keep in mind that coconut water is quite different from coconut milk. So don't mistake one for another, especially when you're cooking.
You should remember not to consume too much coconut water a day or continuously for several days. The amount should not exceed two or three cups, about 8 ounces per day.
Nutritional Facts Of Both Drinks
If you are interested in using electrolyte drinks, here's a comparison of two electrolyte drinks, Pedialyte and coconut water, so that you can make the right choice:
| Nutrition Facts (per 12 fl oz) | Pedialyte (Cherry Punch) | Coconut water |
| --- | --- | --- |
| Calories | 25 kcal | 65 kcal |
| Carbohydrates | 6 g | 12.62 g |
| Fat | 0 g | 0.68 g |
| Protein | 0 g | 2.45 g |
| Sodium | 370 mg | 357 mg |
| Potassium | 280 mg | 850 mg |
| Calcium | 0 mg | 82 mg |
| Iron | 0 mg | 0.99 mg |
| Vitamin C | 0 mg | 8.2 mg |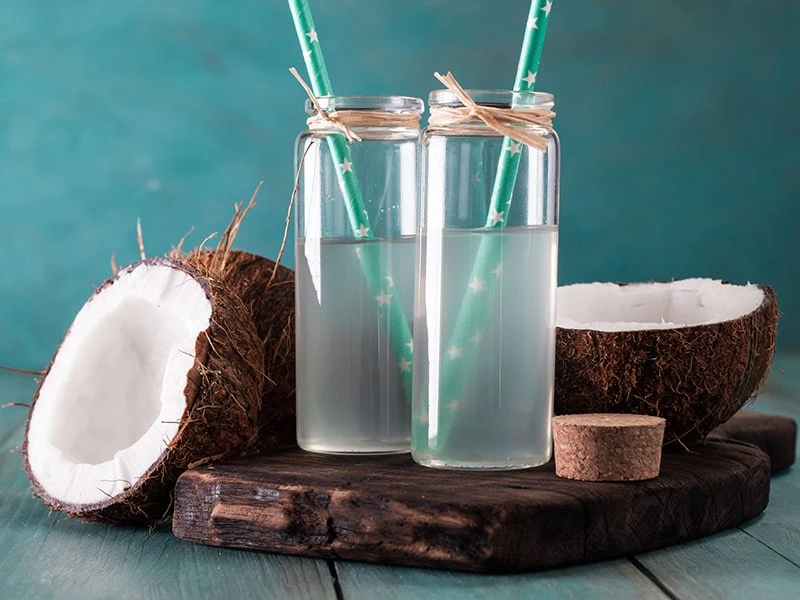 Being an artificial beverage, Pedialyte is not like most sports drinks, sodas, or juices. Pedialyte is formulated by the manufacturer with a balanced ratio of sugar and sodium, thereby helping the body to absorb more effectively along with three electrolytes.
You might notice that Pedialyte does not contain protein, calcium, and iron as coconut water does. However, the mineral and nutrient contents are appropriately measured, including potassium, chloride, zinc, and maybe some other minerals.
Furthermore, some Pedialyte types also incorporate prebiotics to help maintain a healthy balance of bacteria for a healthy digestive system.
On the other hand, coconut water is a great natural beverage that supports hydration with five natural electrolytes: magnesium, sodium, calcium, phosphorus, and especially rich in potassium, which might be equal to that in one banana.
Moreover, coconut water does not have any added sugar, gluten, or cholesterol. In coconut water, natural fats make the taste more attractive.
From that, Pedialyte will have some advantages over coconut water, thanks to the ingredients that have been carefully calculated. It has fewer calories and does not even contain a single gram of fat.
If you want to hydrate for a hard workout or in case of diarrhea and need to replenish, this will definitely be a good drink.
However, Pedialyte will be inferior to coconut water in terms of protein, potassium, iron, vitamin C, and also higher sugar content. And of course, if you love an all-natural drink, coconut water will be a more reasonable choice.
The Flavor of Pedialyte and Coconut Water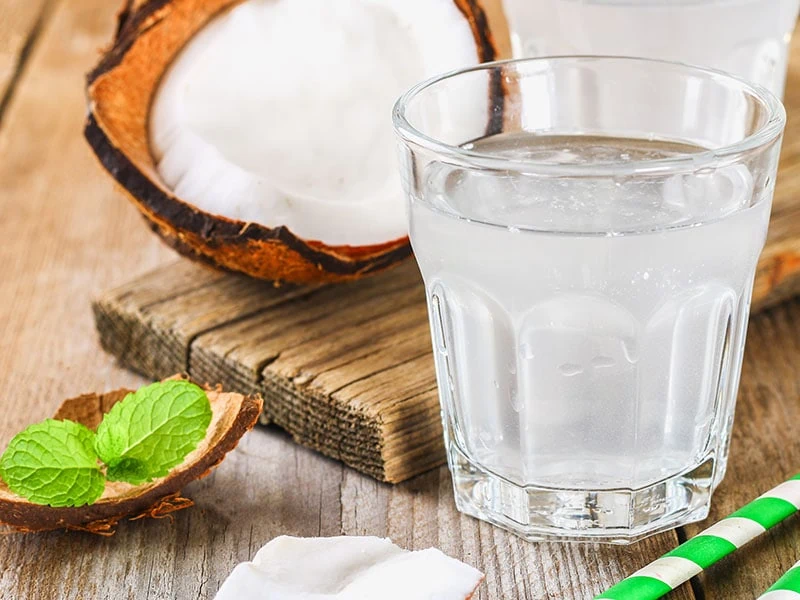 Currently, Pedialyte is produced extensively with up to 23 different flavors to meet the diverse tastes of the market; most of them are fruity. Some of the most delicious and popular Pedialyte tastes today include:
Grape Pedialyte Classic
Coconut Burst Pedialyte Classic
Apple Pedialyte Half Lite
Orange Breeze Pedialyte AdvancedCare Plus
Cherry Punch Pedialyte AdvancedCare
Strawberry Lemonade Pedialyte Classic
Fruit Punch Pedialyte Electrolyte Water
Kiwi Berry Mist Pedialyte AdvancedCare Plus
Tropical Fruit Pedialyte AdvancedCare
Strawberry Pedialyte Classic
Of course, you won't have many tasty options for fresh coconut water. The taste of the coconut water itself was also delicious, nutty, subtly sweet, and a bit floral.
However, you can experience more coconut water taste with today's bottled coconut water products. Many flavors include pineapple, watermelon, chocolate, orange, mango, strawberry, banana, etc.
How does Pedialyte taste? Let's find out through this reaction!
Which Drink Will Hydrate You Best?
Pedialyte may have some chances to hydrate better due to the calculated ingredients of vitamins and minerals. Compared to a natural beverage like coconut water, Pedialyte can be way more effective in some indicated cases.
On the other hand, coconut water may contain more kinds of electrolytes, but the content is quite similar to Pedialyte. Especially, the sodium and potassium (which are main rehydration substances) in coconut water do not have a clearly increased rehydration benefit compared to Pedialyte.
Target Customers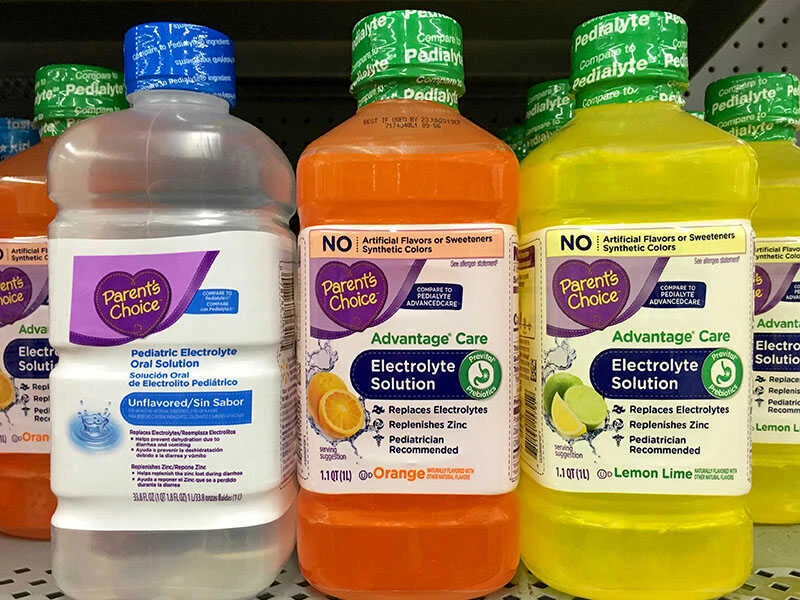 Pedialyte is often preferred by customers who need a hydration solution for specific reasons such as diarrhea or vomiting. Athletes also often use Pedialyte to rehydrate after training professionally.
Children often use this particular type of rehydration drink, but it is also favored by all ages when rehydration is needed. In fact, very few people buy Pedialyte for simple refreshments.
As for coconut water, it is more like a pure and natural beverage than a hydrating drink. It can be popular with people of all ages who are looking for a natural drink with low calories and no sugar and adding vitamins and minerals to the diet.
How to Store and Lifespan of Pedialyte and Coconut Water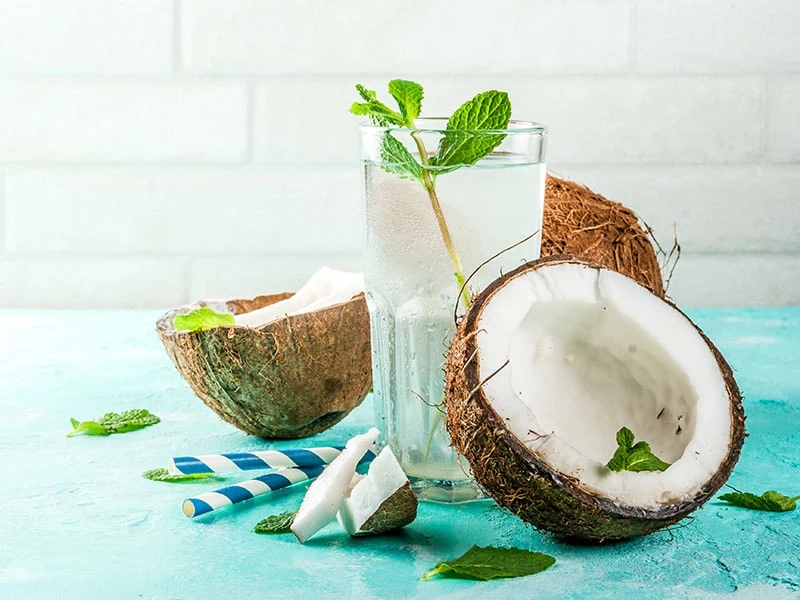 To best preserve Pedialyte and coconut water, refer to the shelf life and ways to keep them fresh below:
| Shelf Life (Bottled) | At Room Temperature | In The Fridge |
| --- | --- | --- |
| Pedialyte (Unopened) | Until best-before date | Until best-before date |
| Pedialyte (Opened) | Not Suitable | 2 days |
| Coconut Water (Unopened) | 6 months after best before date | 9 - 12 months |
| Coconut Water (Opened) | Not Suitable | 4-6 weeks |
At Room Temperature
For unopened Pedialyte, you can keep it at room temperature until the best before the date indicated on the package. In case your bottle has been opened, or your powder has been mixed with water, it is not suitable for storage at room temperature.
How about the storage of coconut water? At room temperature, canned or bottled coconut water can last more than 6 months if you haven't opened it. However, like Pedialyte, sitting in the pantry will not be suitable once opened.
In the Fridge
Unopened Pedialyte also lasts in the fridge until the best before date, the same as at room temperature. Because over time, its rehydrating effect may no longer be practical.
If you do not use up the entire bottle of Pedialyte or Pedialyte powder mixed with water, you should immediately store them in the refrigerator to prevent bacteria from multiplying.
Cold temperatures can keep Pedialyte fresh for another 2 days. After 48 hours and still haven't finished drinking it, you should throw it away.
With unopened bottled coconut water in the refrigerator, it can keep its original flavor for up to 9-12 months without any change, thanks to some preservatives. Once opened, you can still enjoy good coconut water for 4-6 weeks.
Which is Effective on Hangovers?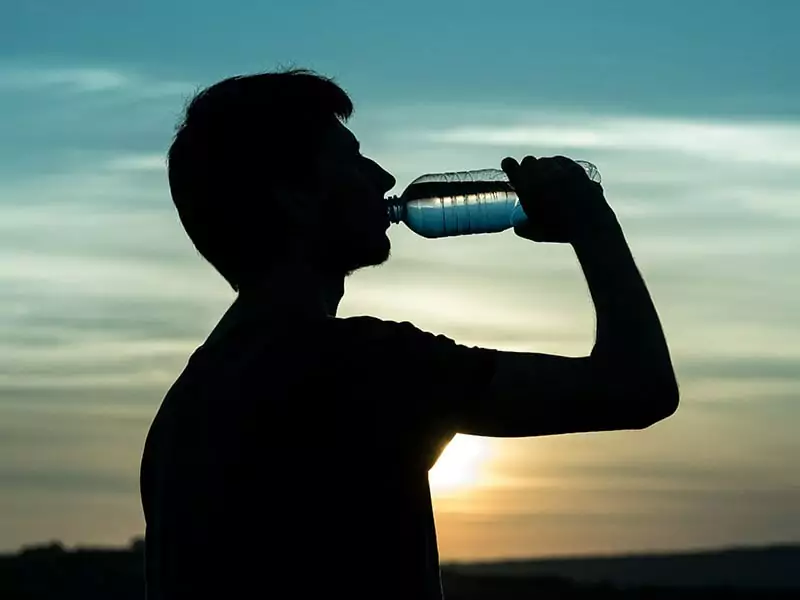 You may not know alcohol is a diuretic. If you consume a large amount, it increases the amount of water you excrete and leads to dehydration, which leads to a series of hangover symptoms. Therefore, many people think of supplementing with Pedialyte or coconut water to prevent this condition.
As a rule, Pedialyte can help prevent hangovers because of its nature to prevent dehydration. However, there is not enough study showing that Pedialyte has a potential effect on reducing hangover feelings.
Research (4) shows that you can drink large amounts of coconut water without causing nausea and stomach upset. This proves that coconut water is a better anti-vomiting rehydration solution than carbonated drinks.
However, like Pedialyte, studies on coconut water's superior rehydration capacity are unavailable. Therefore, it is not possible to confirm for sure whether coconut water is effective in treating a hangover or not.
In summary, in the case of drunkenness, experts still recommend that it is best to drink lots of water and refill the water regularly. Water will be a good rehydration solution in this case.
Find out some actual effects of Pedialyte on hangovers!
Which One is Better: Coconut Water, Pedialyte, or Gatorade?
Depending on your purpose, you can decide which drink is better here. The comparison table below will give you a quick understanding of the main characteristics of these three drinks:
| Factors | Gatorade | Coconut Water | Pedialyte |
| --- | --- | --- | --- |
| Use for | Adult athletes | People of all ages | Children and adult |
| Purpose | Strong rehydration, energy support | Natural hydrating beverage | Rehydration after diarrhea and vomiting |
| Nutrition | Highest sodium and electrolytes, high in calories and sugar | Less sodium and electrolytes, low in calories and sugar | Less sodium and electrolytes, low in calories, and free of sugar |
Gatorade is designed to rehydrate after the workout of adult athletes. However, it has a much higher sugar and calories content than Pedialyte and coconut water.
And what has the highest electrolyte content? The key to rehydration is sodium, which is lower in both Pedialyte and coconut water than Gatorade.
Therefore, it can be said that this sports drink contains far more sodium and other electrolytes than the other two, so Gatorade will provide you with a better hydrating effect.
To summarize briefly, if you simply need the most powerful rehydration and energy drink after sports activities, then Gatorade is the best. In case you want to rehydrate but don't want to add too many calories or fats into your body, then consider choosing the other two.
Decide which is better to rehydrate you based on this information!
FAQs
Let's find out more exciting facts about Pedialyte and coconut water right now!
Now You Can Choose Between Coconut Water and Pedialyte!
In the end, you will have to decide what products you will consume based on your purpose. The deciding factor is what the drink's active ingredients and formulation are and whether it meets your needs.
If you love products that come from nature, gently rehydrate, and are good for health, coconut water will be a practical choice. And in case you are very dehydrated and need the help of a more intensive supplement, you should probably choose Pedialyte.
You can share this article with everyone so that no one will confuse the uses of these two beverages. And don't forget to let me know what you think in the comments below!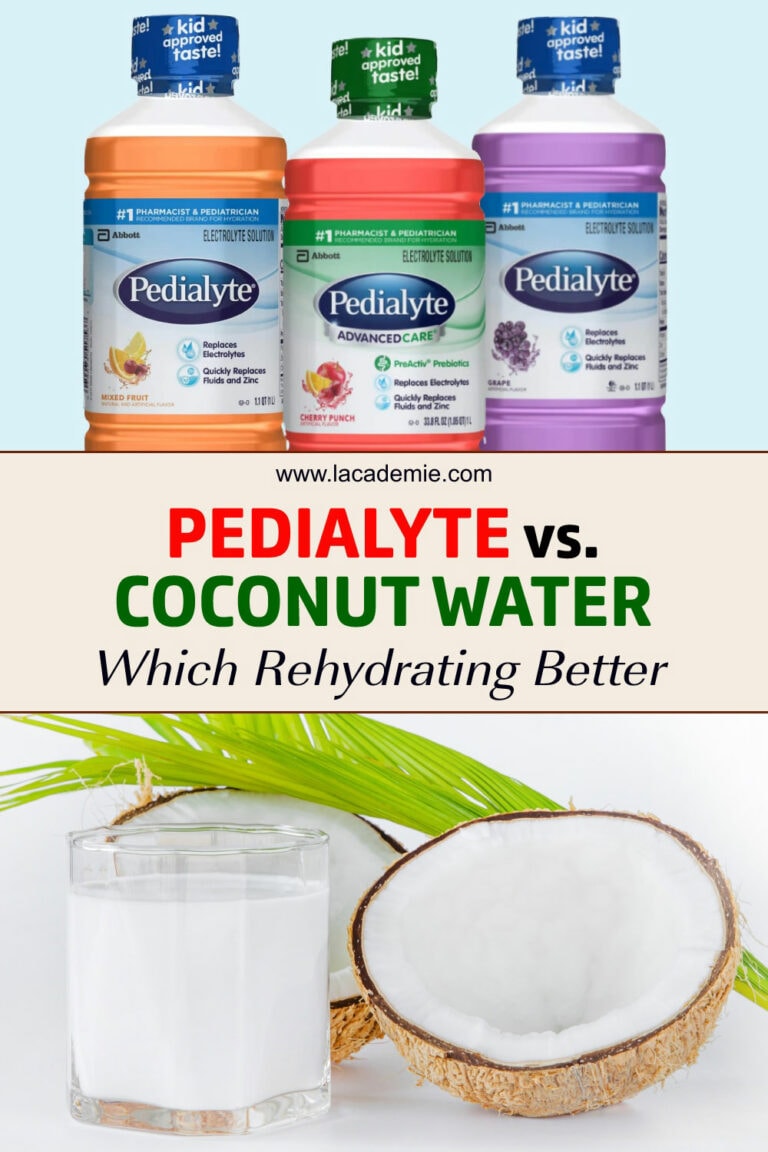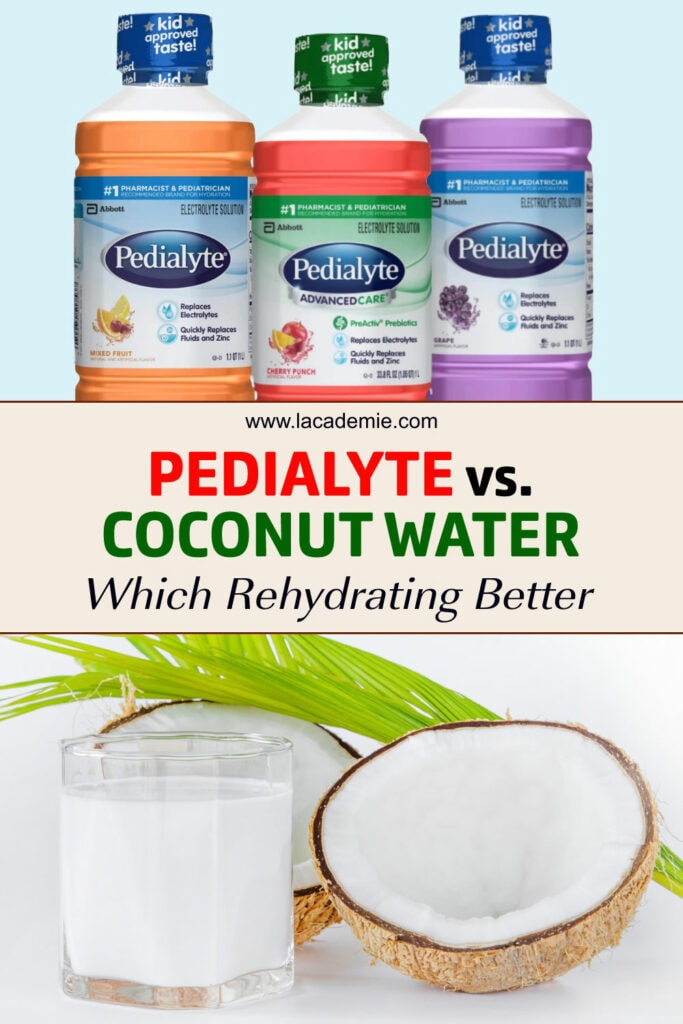 References
Anon, Electrolytes: Medlineplus medical encyclopedia. MedlinePlus.
Anon, 2021. Pedialyte. Wikipedia.
Anon, Coconut water: Medlineplus supplements. MedlinePlus.
M. Saat 1, R. Singh, R. G. Sirisinghe, M. Nawawi, Rehydration after exercise with fresh young coconut water, carbohydrate-electrolyte beverage, and plain water. Journal of physiological anthropology and applied human science.