Choosing the best Thanksgiving cocktails might be the greatest part, alongside cooking a delectable turkey for your perfect Thanksgiving feast. If you are thinking about just ordinary wines and beers for this holiday, think again!
This year, let these Thanksgiving-themed cocktails revitalize your holiday drinking menu. They are indeed more festive than the regular autumn-inspired beverages you served in the past.
Thanksgiving Cocktails Are Primarily About These Five Ingredients!
Besides turkey, Thanksgiving cocktails form an indispensable part of a complete gastronomic feast. Although there are countless cocktail ideas for this Turkey Day celebration, my suggested drinks here all share one of the five ingredients below!
Ingredient #1: Cranberry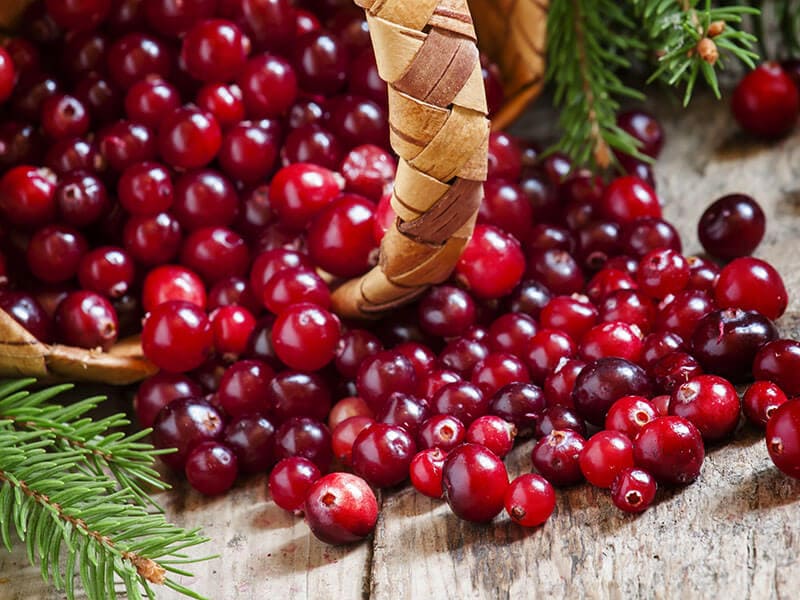 Mostly grown in the United States and Canada, cranberry is a small, round fruit with a vibrant red hue and a bitter-sour taste profile.
Everything about this fruit fully captivates the spirit of Thanksgiving. That is why you always see cranberry sauce pairing the traditional turkey dish at all Thanksgiving dinners.
Besides sauce, people often enjoy cranberries as juice or as fresh fruit. You will spot this fruit and its juice in many unique Thanksgiving cocktails.
Ingredient #2: Pomegranate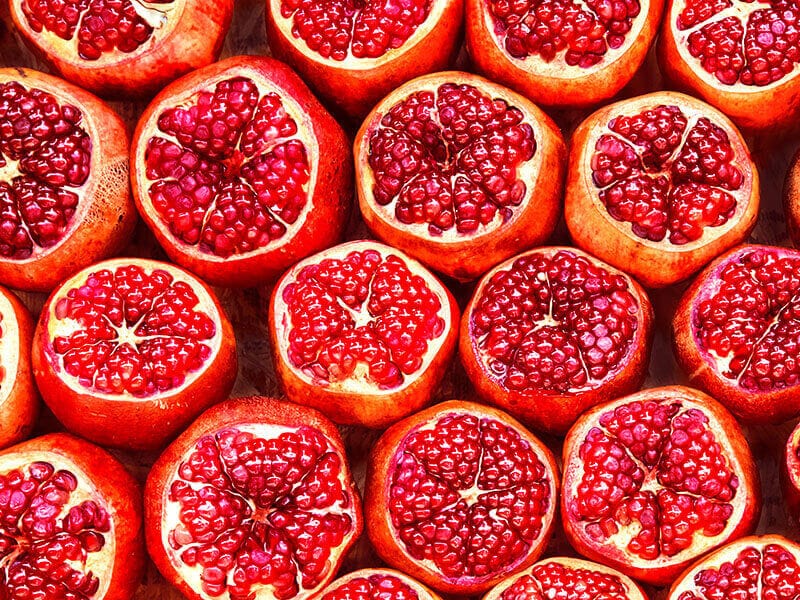 This spherical, crimson fruit with tart edible seeds (arils) is in season from late summer to early winter, making it a common ingredient for Thanksgiving treats.
Not only does pomegranate provide tart flavor to your cocktails, but the fruit also contains antioxidants and flavonoids. These two elements aid in the prevention of various cancers. So, the fruit comes with essential health benefits as well!
Ingredient #3: Bourbon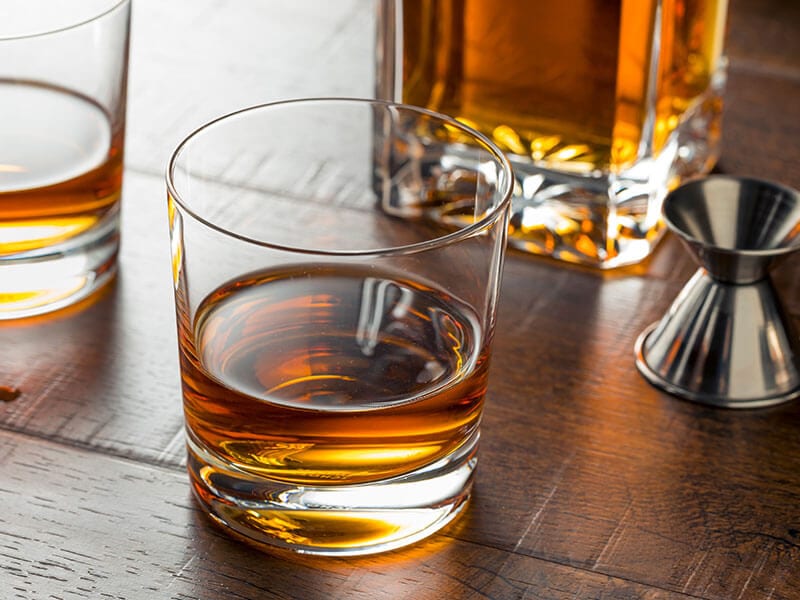 Bourbon is an American distilled whiskey type that uses corn as a primary ingredient. Although its origin is still unknown, many people believe the liqueur got its name from the French Bourbon dynasty.
In 1964, bourbon was designated a distinctive American product by the United States Congress. People tend to enjoy bourbon plainly, dilute it with water, or make a cocktail from it.
Old Fashioned and Whiskey Sour are some of the most common cocktails using bourbon. You will see these names appearing multiple times throughout the article.
Ingredient #4: Apple Cider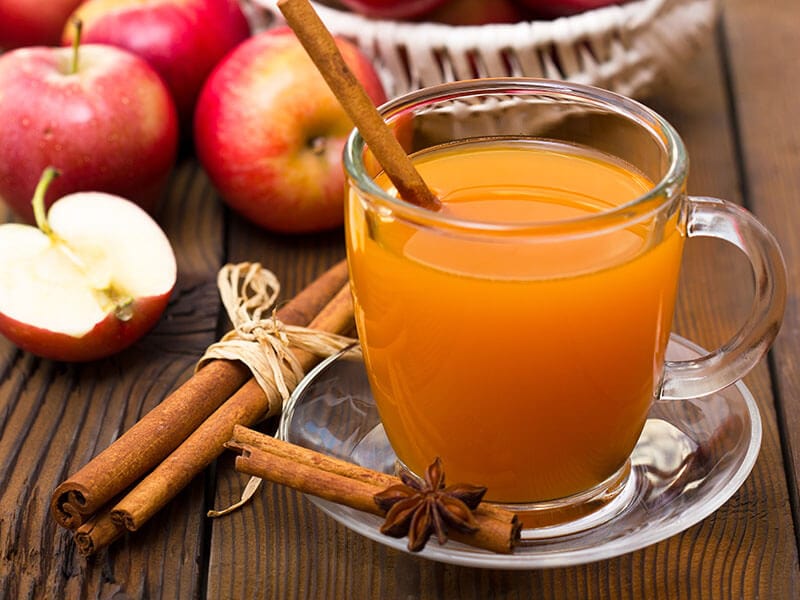 Apple cider can refer to many things. It can be filtered, unpasteurized, and non-alcoholic apple juice that still contains pulp or silt. Or, it can be a specific type of "hard cider", a popular alcoholic drink in the United States and Canada.
No matter what you mean, apple cider is still a common ingredient in many autumn celebrations, particularly Thanksgiving.
Ingredient #5: Cozy Spices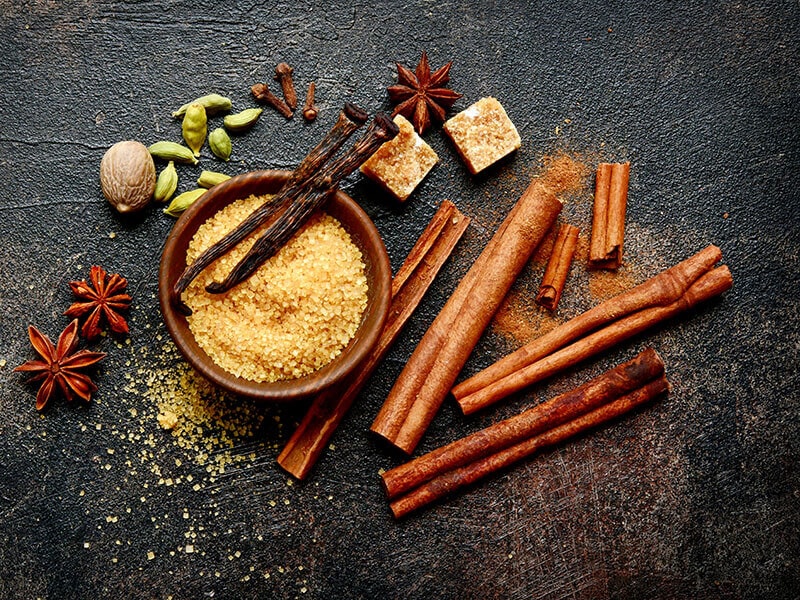 Besides the four items above, fall season is always associated with warm spices like cinnamon, cloves, nutmeg, and allspice. Your cocktail will become cozier and more peppery with the addition of these classic spices!
They are typically added together rather than separately into a cocktail recipe to elevate the beverage's flavor, beckoning you to smell for their autumn aroma.
Fill Your Thanksgiving Drink List With These Warm Cocktails!
Are you ready to dive into all the best cocktails for your Thanksgiving and holiday occasions? These delectable and vibrant drinks will be beautiful additions to your joyful time!
TOTAL PREPARING TIME: 10 minutes.
You have come to the right place if you love an appealing punch that tastes even better than its look! This colorful pomegranate mixed alcohol drink is a crowd-pleaser at Thanksgiving due to its light, fruity, bubbly, and sweet tart in every sip.
The nicest thing about this cocktail lies in its versatility. You can choose to spike the drink or enjoy it without alcohol. Both variants are equally excellent and will give your friends a genuine blast of delicious sensations!
For the spiked version, there are various wine selections to go with the drink. The three most common choices are brandy, white rum, and bourbon. Thanks to its fruity flavor, brandy is the best candidate to complement the pomegranate juice's sweet tart.
Or, you can swap the wine out and use clear soda water for a child-friendly, non-alcoholic cocktail version. A tip is to prepare a non-alcoholic punch bowl and give the guests the freedom to add wine or not with a ladle lying nearby.
TOTAL PREPARING TIME: 5 minutes.
Pumpkin-related food and beverages rule the kitchen whenever the fall holiday season arrives! This Pumpkin Martini is no exception. Smooth, cozy, and flavored like a warm pie, this Turkey Day cocktail will satisfy both your alcohol needs and sweet hunger.
The best part of this fall alcoholic mixed drink is not only the delectable flavor. Instead, its glass rim steals the spotlight! This beautiful Frangelico-sugar rim gives the drink the perfect amount of sweetness and crunch.
Pumpkin Martini is the ideal concoction for dazzling your guests during autumn celebrations, especially Thanksgiving. Trust me, all grownups at your Thanksgiving dinner will appreciate this alcoholic delicacy!
TOTAL PREPARING TIME: 5 minutes.
Pomegranate's vibrant red hue blends nicely with Cointreau (an orange-flavored liqueur) and chilled sparkling wine. This combination creates the ideal bubbly cocktail that will win everyone's heart at your next Thanksgiving gathering.
With just three simple ingredients (and a few more for garnish), this straightforward cocktail is the easiest recipe you can try! So, in case you are completely unprepared for the upcoming Turkey Day feast, this drink may be your savior!
Pomegranate Mimosa is not only a cinch to make but also a brilliant treat to offer your visitors. Each sip features the perfect balance between the wine's sharp taste and the pomegranate juice's sweetness.
It is also a joy to watch pomegranate arils (garnish component) dancing around in your glass while enjoying the drink. Such a refreshing and lively treat!
Pomegranate Mimosa is certain to be a show-stopping cocktail at your next Thanksgiving!
TOTAL PREPARING TIME: 1 minute.
This cocktail using bourbon is a unique Thanksgiving beverage that is well-balanced, fruity, and sweet. The drink gains its rich flavor profile from bourbon, cranberry juice, and ginger beer, guaranteeing to be a big hit for bourbon lovers.
A secret to rendering a perfect Cranberry Bourbon Fizz is the use of 100-percent cranberry juice. The component allows you to adjust the sweetness to your preference. It also makes the drink more vibrant in color with its brilliant crimson hue.
Whatever holiday you are celebrating, you can rely on this drink as a crowd-pleasing Christmas cocktail recipe or a Thanksgiving treat. This fall-appropriate cocktail will never let you down with its festive flavor.
TOTAL PREPARING TIME: 3 minutes.
Looking for a perfect Thanksgiving trademark cocktail? Why not give this Pear-fect Vodka Martini a try? Thanks to its delicate and exquisite sweet pear taste, the drink is indispensable for the fall and winter holidays.
This cocktail including vodka is a cinch to make. Simply add vodka, fresh lime juice, and other ingredients to a shaker. Shake everything and strain it into a martini glass. Fresh lime juice makes the drink lighter and more refreshing!
Then, top it with bitters and flower confetti for an extra colorful touch. So, hesitate no more! Write this recipe down on your Thanksgiving cocktail list now!
TOTAL PREPARING TIME: 5 minutes.
Sangria is a perfect excuse to combine all your leftover fruit into a single glass. If you find yourself with a few green apples and a ripe pomegranate in your kitchen when Thanksgiving is around the corner, put them to good use in this delectable Sangria.
Dry red wine, brandy, pomegranate arils, and some sliced apples work best in balancing this Sangria drink. Everything comes together and provides a sweet and tang beverage. It tastes equally good as a mocktail if you leave the alcohol out of the mixture.
Accompany this delicious beverage with your favorite appetizers like toasted ravioli or a cheese board. They are all quality choices to satisfy your palate!
TOTAL PREPARING TIME: 5 minutes.
To me, Pumpkin Old Fashioned is an oh-so-festive cocktail for Thanksgiving. The drink not only features pumpkin flavor in the puree form (an iconic element that screams Thanksgiving), but it also incorporates a mixture of bourbon and cinnamon syrup.
It is always a warming leisurely sipper, perfect for drinking by the fire or during other autumn events. Vividly orange in color, barely sweet, and heavily flavored with bourbon, this concoction is a delightful treat for all bourbon enthusiasts.
This miraculous cocktail inherits everything from the classic Old Fashioned recipe but is cozier. Make a large batch of this drink to serve your guests at the upcoming Thanksgiving, as they will keep coming back for more!
If you need a step-by-step instruction on making Pumpkin Old Fashioned, here it is!
TOTAL PREPARING TIME: 10 minutes.
When apple cider season arrives, it is unbelievable to me if someone skips the making of this Thanksgiving Margarita. It is so tart and balanced in flavor, plus being so easy to make. All you need is tequila, apple cider, orange extract, and lime juice.
If you are a diehard fan of cocktails, you will quickly recognize that this recipe is an interesting twist on the classic Margarita from the 1930s. All ingredients remain the same, except for the addition of apple cider (or apple juice) to the mix.
Salted rim is never an obsolete option for margarita. It is the perfect choice for combining with tequila's earthy flavor and lime juice's citrus taste.
TOTAL PREPARING TIME: 10 minutes.
My first impression of this Crantini drink is its vibrant red color, a brilliant trademark for a great Thanksgiving cocktail. Then, after sampling it, I instantly fell in love with its zingy and wonderfully balanced flavor.
To my surprise, making this Thanksgiving cocktail is simpler than most people think. All you need is gin, dry vermouth, cranberry shrub, and a few dashes of orange bitters. Then, strain everything in martini glasses after shaking it with ice.
It is certainly a drink to wow your friends and family at Thanksgiving and other fall holidays.
TOTAL PREPARING TIME: 5 minutes.
When you combine sweet apple cider with bourbon and cinnamon in the right way, you can achieve a Thanksgiving cocktail that embodies the essence of fall.
This Apple Cider Bourbon Cocktail is brimming with warm autumn flavors, thanks to the utilization of honey and cinnamon. In addition, it is a stirred drink, meaning you can duplicate or increase its batch easily to serve your crowd!
A perfect Thanksgiving cocktail also requires a decent look. Thus, garnishing the drink with a honey crisp apple slice and a cinnamon stick is a good practice. It takes little effort yet pulls everything together perfectly!
TOTAL PREPARING TIME: 15 minutes.
What should I drink to stay warm and comfy during the Thanksgiving holiday? Look no further than Apple Cider Hot Toddy! It still features the classic combination of apple cider and bourbon. Yet, this Hot Toddy drink is more on the sweet and tart side.
Unlike Apple Cider Bourbon Cocktail, there is no need to garnish a Hot Toddy, as this drink emphasizes simplicity over sophistication. However, you can never go wrong with a cinnamon stick and an apple slice for aesthetic value.
Another incentive to make this cocktail for Thanksgiving is its healing ability. Although Hot Toddy does not cure anything, it can warm you up and please your palate. The use of cinnamon also aids in the fight against infection and alleviates coughing!
TOTAL PREPARING TIME: 10 minutes.
Hot Buttered Rum is a classic cocktail with rum as the main ingredient. Its history dates back to the early 1650s when rum became a popular component in many boozy drinks' recipes in New England.
For this concoction, you will need dark rum, boiling water, butter, sugar, and spices to generate the sweet, creamy, and boozy flavor. Don't be concerned with the drink's richness, as rum and water do an excellent job of cutting through the butter's sweetness.
Another remark for you is to stay loyal to high-quality dark rum. White or light rums will not suffice! Once you get that right, you are on your path to enjoying a warm spiked beverage ideal for chilled autumn nights or a festive cocktail!
TOTAL PREPARING TIME: 2 minutes.
Do you believe there is a remake drink that may be even more delicious than its original recipe? Dating back to the 19th century, Maple Old Fashioned is the crystal clear evidence.
Inspired by the classic Old Fashioned, this autumn drink substitutes maple syrup for sugar to make a smoother beverage. This subtle change imparts notes of caramel and vanilla to each sip, making a better Thanksgiving treat that will warm your soul!
To complete the drink, simply add a few dashes of bitters, a vibrant orange peel, and a Luxardo cherry on top. I bet nobody can reject such a gorgeous, balanced cocktail to savor this Thanksgiving.
TOTAL PREPARING TIME: 20 minutes.
Pecan Pie Martini is a straightforward Thanksgiving cocktail that can win anyone's heart. The recipe only calls for a few elements: bourbon, rumchata cream liqueur, creme de cacao (a chocolate-flavored liqueur), pecans, and caramel.
I highly recommend serving Pecan Pie Martini in a glass rimmed with chopped pecans and caramel. It tastes exactly like your favorite fall pies. So, if you love martinis and pecan pie, this cocktail is a must-try!
One small caution! Although this martini seems harmless, it is actually strong in flavor. Therefore, consume it in moderation! Before serving, you can top your martini glass with whipped cream or a sprinkle of cinnamon.
You can even add bourbon like this instruction to make your Pecan Pie Martini cozier!
TOTAL PREPARING TIME: 5 minutes.
When the weather gets cool and Thanksgiving is coming near, sipping Pumpkin Moscow Mule is the best thing you can treat yourself! These mules are sweet, spicy, and brimming with autumnal flavors.
Prepared with ginger beer, lime juice, and pumpkin spiced shot, this Moscow Mule is a refreshing cocktail featuring a perfect balance between sweetness and savory spices. Hilariously speaking, it tastes just like a drunken pumpkin pie.
Don't forget to garnish your concoction with a lime wheel, fresh herbs, or cinnamon sticks! It will light up your cocktail even more in the eyes of all your guests.
TOTAL PREPARING TIME: 10 minutes.
After sampling this Pomegranate Ginger-Sage Smash at a friend's party, I have become a fan ever since. This holiday concoction comprises only a handful of ingredients, including pomegranate juice blended with ginger liquor, club soda, gin, and sage leaves.
I still remember vividly its fresh, sweet, and earthy flavor, as well as its visually appealing look. Although it takes just ten minutes to generate the drink, your guests only need a few seconds to enjoy it! That is just how delectable this gin cocktail idea is!
With Pomegranate Ginger-Sage Smash, you can finally free your mind of what to serve at your Thanksgiving table. This cocktail is a complete holiday addition to your holiday, from the irresistible flavor to the gorgeous appearance!
TOTAL PREPARING TIME: 5 minutes.
Whenever you crave a leisurely cocktail, nothing beats a nice Old Fashioned. Yet, for these cool fall days, adding a bit of warming power to that classic recipe with apple cider is a lovely move to get through the winter months.
Compared to the classic recipe, this Apple Cider Old Fashioned has three major twists. It incorporates apple cider, swaps simple syrup for brown sugar, and adds apple slices, and cinnamon sticks for garnish.
Nothing screams fall better than this Apple Cider Old Fashioned. Thus, take a seat by the fire and prepare for a nice evening with this beverage!
TOTAL PREPARING TIME: 5 minutes.
If you ask me to pick a drink ideal for the transition from summer to fall, I will waste no time saying Aperol Pear Cider Spritz. It is breezy enough for mild days yet warm enough for the incoming chilly evenings.
It is essentially the same as a typical Aperol Spritz recipe with the appearance of pear cider (instead of prosecco). This twist version also features pear slices and substitutes a splash of apple juice for sparkling water.
Trust me when I say this fail-proof cocktail will be a big hit at your next Thanksgiving holiday.
TOTAL PREPARING TIME: 5 minutes.
If you need an easy cocktail featuring an ideal blend of sweet and sour flavors, you will love this Cinnamon Maple Whiskey Sour.
Every sip of this whiskey cocktail idea is loaded with bourbon whiskey and lemon juice. The drink is spiced with ground cinnamon and sweetened with maple syrup and simple syrup to balance out the mildly citrusy flavor of lemon juice.
This concoction is the product of creativity from the original Whiskey Sour cocktail. Dating way before the 1860s, Whiskey Sour was a popular cocktail among British Navy sailors to get through the lengthy voyage trips.
Thanks to the use of fresh lemon, both the original cocktail and this Cinnamon Maple variant do a great job at disease prevention. Thus, why not give this warm, comforting concoction a shot at your next Thanksgiving gathering?
TOTAL PREPARING TIME: 6 minutes.
For those unaware, Earl Grey is a black tea flavored with bergamot oil. Its moniker was named after the United Kingdom's Prime Minister in the 1830s. By adding Grand Marnier liqueur and lemon juice, you have achieved a new Thanksgiving tea cocktail.
What sets this cocktail apart is the idea of using tea for the drink's base. It infuses the cocktail with its mild taste.
However, don't be fooled into thinking this mild concoction is a bore! Using Grand Marnier liqueur (a remarkable mixture of cognac and Caribbean oranges) provides the perfect render for this tea cocktail with its fruity flavor, plus a hint of vanilla and oak.
Since most of the prep work for this delightful concoction is done in advance, it makes an excellent early night drink, especially when paired with a cheese platter during a gathering like Thanksgiving.
TOTAL PREPARING TIME: 3 minutes.
Toasted Pecan Old Fashioned is another ideal drink for a chilly Thanksgiving night. Its distinct smoky and sweet taste makes it pleasant on the palate.
You will be surprised at how simple this recipe is. To begin, toast the pecans until they become golden, then simmer them with water and sugar. This DIY toasted pecan simple syrup is an indispensable ingredient to pair with bourbon in this Old Fashioned cocktail.
Don't worry if you make too much of the syrup. Besides making this lovely drink, you can utilize it with your beloved pancakes.
There you have it! A brilliant Toasted Pecan Old Fashioned that you and your guests can indulge in during Thanksgiving night. Garnish the glasses with cherries on top. Or, if you want to make things fancier, make the graham cracker rim!
TOTAL PREPARING TIME: 4 hours and 10 minutes.
It is just irresistible to turn down a Sangria featuring cranberry juice, lemon juice, apple vodka, red wine, and honey! All delightful bursts of autumn and winter flavors are combined and compressed nicely in this Cranberry Apple Sangria!
For that reason, this drink always makes the top ten of my Thanksgiving cocktail compilation! An expert tip is to make a large pitcher of this concoction the night before the celebrations to allow time for the fruit to absorb the alcohol.
And have I mentioned its beautiful red hue? The color is just another element to spark your Turkey Day feast and attract your guests' attention better! Another tip is to use Granny Smith green apples to provide a great contrast hue to the red cocktail!
TOTAL PREPARING TIME: 10 minutes.
If you haven't heard of Bellini before, it is typically a mimosa prepared with peach juice. Many variants have emerged from that simple definition, one of which is this Apple Cider Bellini. This cocktail is famous for its popular appearance during Thanksgiving.
The secret to its widespread fame at the Turkey Day feast is its simple list of ingredients. The recipe calls for four components only: apple cider, chilled prosecco, orange liqueur, and apple syrup.
Once you have nailed this perfect apple cider cocktail version, bring it to your breakfast or brunch. Your holiday meals will become much better with this drink on the side.
Let's impress your guests with Apple Cider Bellini at your next Thanksgiving!
TOTAL PREPARING TIME: 15 minutes.
Mulled Wine is a classic cocktail in European cultures. This beverage serves as a delectable way to warm up your cold evenings, especially on Thanksgiving.
In German, mulled wine translates as "glowing wine" (glühwein), a superb moniker for a festive and cozy cocktail. One big incentive to generate this beverage at home is that it smells fantastic in your kitchen!
Plus, it is really easy to prepare this alcoholic concoction. All you need are star anises, cloves, and cinnamon sticks to flavor your merlot base. You can level up the alcoholic level by adding a bit of brandy to this delicious drink!
TOTAL PREPARING TIME: 5 minutes.
Unlike most apple cocktails offered at bars, this Salted Caramel Appletini does not call for apple schnapps or similar liqueur. There is even no apple juice in this recipe. Instead, this Appletini utilizes caramel vodka, apple liqueur, and lemon juice.
From the ingredient list, you can tell this drink gathers all the best autumn flavors into a single martini glass. From the bite and creaminess of caramel vodka to the mildly tart flavor of apple liqueur, it is just impossible to put the glass down.
With a macadamia nut sugar rim, is such a delectable treat convincing enough for you to learn making it? Prepare the drink for the holidays, or just treat yourself with it on a cozy night at home!
TOTAL PREPARING TIME: 5 minutes.
You must have been familiar with the Pumpkin Spice Latte offered at Starbucks. How about adding a boozy kick to this popular drink?
This Spiked Pumpkin Spice Latte is so delectable that Starbucks should consider introducing an alcoholic beverage line to its offering, starting with this cocktail. Until that day comes, you and I will have to self-make it.
With Irish cream, pumpkin puree, and pumpkin spice blend, this spiked latte will become a big hit when Thanksgiving holiday comes. And do you know what the greatest part is? You can concoct this drink for a tenth of the cost of the Starbucks non-alcoholic offering.
To impress your guests even more, you can use pumpkin spice and sugar to rind your martini glass! Graham cracker is also a brilliant rim idea! Your friends will keep talking about Spiked Pumpkin Spice Latte for days after trying it!
TOTAL PREPARING TIME: 5 minutes.
If you have sampled Pear Martini before and are satisfied with what it offers, think again! With a bit more investment in elderflower cordial, lemon juice, and pear juice, you will be pleasantly delighted at how the drink has transformed.
Elderflower cordial is the real secret that elevates a classic, well-crafted Pear Martini to a new level of refinement. From just a small twist, you can pick up the elderflower's sweet, flowery flavor and a hint of sparkle.
Due to the drink's taste being so robust and powerful, make sure to start with a small sip and chill it well before proceeding. Patience is how you enjoy this Pear Martini variant the right way!
TOTAL PREPARING TIME: 5 minutes.
If you seek a cocktail with a strong fruit and spice flavor profile, Pomegranate Ginger Sparkler is your cannot-be-better option. Let's offer this cocktail recipe at your holiday parties, such as a New Year's Eve alcoholic mixed drink or a Thanksgiving treat.
What strikes me first is its vibrant hue that screams Thanksgiving! I am also impressed by its deceptively easy preparation. Simply top sparkling wine to your coupe glass which contains ginger liqueur, blood oranges, and pomegranate arils!
All in all, this Pomegranate Ginger Sparkler has everything: the color, the flavor, and the glimmer. Complete this cocktail by adorning your glass with candied lemon slices. You can also choose thinly sliced lemon for an easier garnish option.
TOTAL PREPARING TIME: 2 minutes.
Comprising apple cider and champagne, this tart cocktail is the ideal choice for your Thanksgiving treats. This crowd-pleasing Mimosa can complement any autumn meal, particularly Thanksgiving dinner.
Unlike other cocktails requiring you to stir all ingredients in a pitch, Apple Cider Mimosa only calls for pouring champagne into the apple cider flute. It will provide adequate mixing for your drink and maintain champagne's natural carbonation.
Serve Apple Cider Mimosa in champagne flutes as they help retain the drink's bubbles. Garnish the flutes with a few fresh apple slices, plus a simple cinnamon sugar combination to enhance your Mimosa's acidic taste!
TOTAL PREPARING TIME: 20 minutes.
Tell me something more fulfilling than sipping Hot Toddy for relaxation on a chilled winter night? To me, it is "Mission Impossible"! With a simple modification to the classic recipe, this Spiced Cranberry Hot Toddy will make your night more remarkable!
Simply a cup filled with bourbon, cranberry juice, maple syrup, and some cozy spices (cinnamon, cloves, star anise), this Hot Toddy variant will help you chase away the winter chill!
This drink is somewhat sweeter and tarter than the original beverage. Besides its full-time job as a side dish to your Thanksgiving feast, this delectable cocktail is perfect for other occasions as well!
TOTAL PREPARING TIME: 10 minutes.
Apple Cider Prosecco Spritz is a delightful spin on the traditional Aperol Spritz that encapsulates all autumn flavors perfectly in a single glass!
Featuring apple cider, prosecco, aperol, and cinnamon-thyme syrup, this drink is wonderfully bubbly and offers your taste buds a soothing, mildly spicy aroma.
The sexiest part about this cocktail recipe is its simplicity. Prepare a glass of ice, then put all ingredients inside. That is all the amount of work the drink requires.
By doing that, you can personalize your drink with whatever components you want to add. Thus, the drink is unique for every person!
TOTAL PREPARING TIME: 5 minutes.
Simply speaking, a White Russian cocktail requires three core ingredients: coffee, vodka, and cream. With a decent type of vodka, pumpkin spice liqueur, and heavy cream, you have achieved this lovely Pumpkin Spice White Russian.
Like its original recipe, this variant is super creamy and smooth in texture. Yet, it tastes like a premium version of Pumpkin Spiced Latte. The beautiful blend of fragrant coffee and soothing heavy cream will knock your socks off and warm your tummy!
The appearance is well-done, too, with the help of cinnamon, caramel syrup, and pumpkin pie spice. So, if you are looking for an ideal autumn cocktail to indulge in or a perfect Thanksgiving treat, this White Russian variant is your must-try recipe!
Pumpkin Spice White Russian is a delight on your Thanksgiving dinner table.
TOTAL PREPARING TIME: 5 minutes.
This cocktail using cranberry is a festive variation on the classic Moscow Mule. People often serve it as the trademark cocktail at various holidays and festivities, including Christmas and Thanksgiving.
Besides the original ingredients of vodka, ginger beer, and lime juice, this treat also features cranberry juice cocktail. The cranberry taste complements the typical Moscow Mule's fresh lime and sharp ginger tastes very well.
I strongly suggest using copper mugs to enjoy Cranberry Moscow Mule, which is a tradition. Top your mug with fresh cranberries and a lime wedge to complete the drink. It is a brilliant drink to pair with festive snacks, such as rosemary turkey meatballs!
TOTAL PREPARING TIME: 10 minutes.
This fall-inspired Pear And Pomegranate Sangria includes everything you love about Sangria: wine, fruit, and the high versatility of customization for any occasion! Plus, its vibrant hue is appealing for holidays.
Serve it at our next celebratory events like Christmas, Thanksgiving, or even New Year's Eve, as its light but sophisticated bubbles and the boozy seasonal pears and pomegranate will make your guests love you even more!
Which Thanksgiving Cocktails Top Your Favorite List?
My list of Thanksgiving cocktails can go on forever with the combination of the five core elements I mentioned early on! However, what you have read is a compilation of the most popular choices at present!
What do you think about my selection? Have you tried any of them? If yes, share your experiences below because I would love to hear them! I bet there are plenty of other cocktail recipes uncovered in this article that you can show me.
Keep checking out my other writings on the cocktail topic. Thank you for reading!