American cocktails are something inducing you to explore constantly. Unique, diverse, and attractive, these tasty cocktails always have their own charm. Moreover, this type of beverage also plays an important role in American cuisine.
So, how do these cocktails get so much attention? My recommended cocktail ideas below will tell you the reasons. They are not only tasty and visually satisfying but also easy to make and addictive. Let's take a look at these excellent ideas now.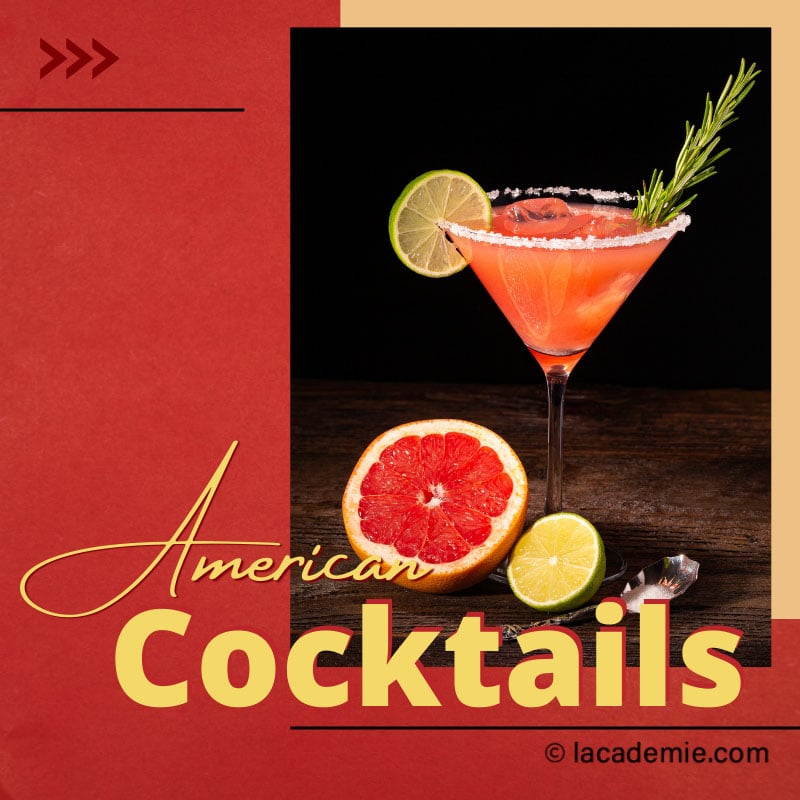 Irresistible Cocktails And The Secrets Behind Their Goodness
The term "cocktail' has appeared for a long time, and it has gradually become one of the most popular alcoholic drinks in the world. Let's continue following this section to decipher the charm of this beverage.
A cocktail is an alcoholic mixed drink made with two or more ingredients but always contains at least one type of alcohol as the base liquor. The other components can be fruits, honey, juice, or other flavorings.
People believe that a cocktail was an invention by Americans in the mid-19th century or even earlier; however, it was still partly inspired by British punches. Therefore, the actual origin of this drink is still a mystery.
Extremely straightforward to prepare, cocktails are more and more loved thanks to their tastiness and diversity. There are a variety of methods you can apply to make a cocktail, such as stirring, shaking, building, blending, and layering.
Depending on the type of cocktail, the base liquor, and the additional ingredients, you can use the appropriate methods to get the best quality of your drinks.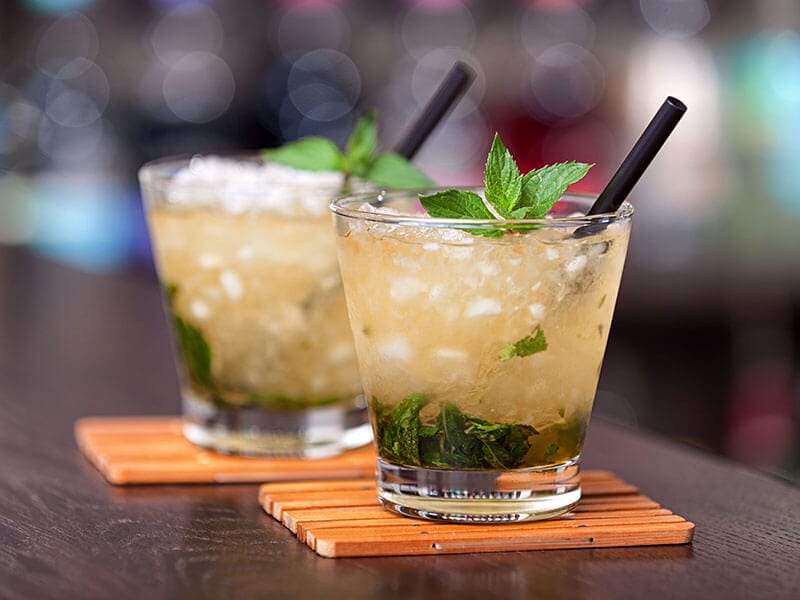 American Attitude Towards Cocktails
Known for a bustling drinking culture, American people always show their clear attitude toward alcohol, especially cocktails. Cocktails have appeared in every aspect of American culture.
Considered the birthplace of this drink, America is one of the countries that own the most classic cocktails in the world. Some of the types that can be mentioned include Sazerac, Old Fashioned, Martini, and numerous other types.
Americans are continually coming up with new inspirations in making cocktails to make their parties more unique and interesting than ever before. Cocktails have slipped their way into the daily meals of people here, not just at parties, bars, and clubs.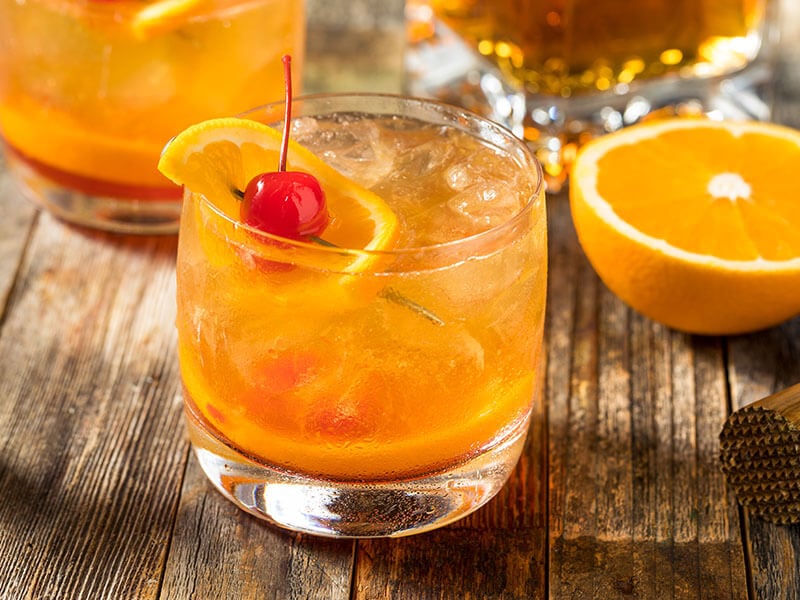 Let's Utilize American Cocktails To Make Your Party Perfect!
If you have a big passion for American cuisine, you shouldn't miss this interesting aspect. The American cocktail landscape is deep and large, with countless options available to drinkers. Let's discover more about these alcoholic beverages.
Total time: 3 minutes.
Are you a vodka enthusiast? If yes, stay tuned because I would like to share with you an irresistible cocktail made from vodka, Vodka Sunrise. Only consisting of 3 simple ingredients, this cocktail will score a big win with you.
Grenadine syrup adds a new twist to this delight, giving your cocktail both sweet and sour flavors with a fruity finish. Moreover, your drink also acquires the "sunrise" effect thanks to this component, giving it a gorgeous color ranging from deep red to bright orange.
Vodka Sunrise is very light on the alcohol, so it is an ideal option for any get-together or even a picnic. If you prefer a stronger cocktail, consider adding more vodka.
Don't miss the combination of this cocktail with waffles, bacon, almond croissants, or sausages to enhance your experience. This will make this beverage more tempting than ever.
Total time: 5 minutes.
Bourbon and whisky are the two liquor options for Whisky Sour. For those unfamiliar with the term, bourbon is a type of American whisky that is sweeter than traditional whisky.
Therefore, If you prefer a sweeter alcoholic drink, this wonderful cocktail with whisky is an excellent choice for indulging your appetite.
Known for its perfect blend of sweetness and sourness, this bourbon-containing cocktail is very straightforward to make. You just need to mix all the prepared ingredients, including whisky or bourbon, superfine sugar, and lemon juice.
A garnish with lemon peel and maraschino will be necessary to improve the aesthetic appeal of your result. Don't use bottled lemon juice unless you want to lower the quality of your pleasant drink.
Follow this guide, and you will have homemade Whisky Sour in a few minutes.
Total time: 5 minutes.
Coming in a gorgeous red color, Clover Club Cocktail is an ideal option to refresh your soul on summer days. This mixed drink is sweet and sour with a characteristic citrus flavor.
Clover Club Cocktail is an invention dating back to the 1990s, and its name derives from the name of a gentleman's club in Philadelphia. This gin-based cocktail comprises tart lemon juice, syrup, and egg white for the beautiful bubby effect.
You can make a simple syrup with water and sugar as normal, but I suggest you add some raspberries to this mixture to make it more naturally sweeter. This change will make your drink more irresistible.
Total time: 5 minutes.
Let's continue the journey today with one of the most traditional beverages in America, Mint Julep. The word "julep" takes from "gulab', a Persian compound noun meaning "sweetened rosewater".
As its name suggests, you can guess that this is a refreshing cocktail that relies on mint leaves, which impart an aromatic flavor to your drink. Bourbon is the ideal option for liquor in this refreshing drink.
Therefore, the perfect blend of bourbon with mint leaves gives this cocktail a sweet taste with a lingering effect on the tongue. Never forget to garnish with some mint leaves for a more fragrant cocktail.
Do you want to enjoy Mint Julep on your next occasion? Don't skip this tutorial.
Total time: 5 minutes.
Let's continue with an interesting classic specialty from the state of Wisconsin: Wisconsin Brandy Old-Fashioned. Instead of using whisky as the main liquor like in traditional cocktails, this cocktail features brandy.
An interesting thing here is that you can adjust the taste of this beverage depending on your preference. If you love the sweetness, just add a little lemon-lime soda. On the other hand, grapefruit soda will make your cocktail sourer.
Easy as a piece of cake! All you need to have a mouthwatering Wisconsin Brandy Old-Fashioned is to combine all the ingredients, including cherry juice, spicy Angostura bitter reminiscent of clove, and brandy.
Total time: 5 minutes.
What's better than a superly balanced drink to sip on when it's blazing hot outside? One of the oldest cocktails in America, Sazerac is the best choice for you. It is an invention of an apothecary named Antoine Peychaud in New Orleans in 1838.
Sazerac acquires an aromatic bitter taste from Peychaud's bitter, a gentian-based bitter. Moreover, a touch of absinthe also adds an anise flavor to your delight.
This sweet cocktail is even more exciting when containing rye whisky. This distilled spirit plays a key role in adjusting the quality of your drink. Your cocktail can be sweeter, spicier, or even smoother thanks to this component.
Therefore, you should consider carefully the rye you choose to make the cocktail more suitable for your taste. Never forget to press the lemon peel's edges to get the oil poured over your cocktail, which enhances your drink's flavor.
Let's make a tasty glass of Sazerac to enjoy right now.
Total time: 5 minutes.
Fancy, easy to make, and simple, Manhattan Cocktail, which was first served in New York in the 1870s, is a perfect choice for you. This is a strong cocktail with slight bitterness and some herbal notes.
Rye and Bourbon are the two whisky options for this cocktail. If you love a sweet drink to warm your soul on summer days, go for bourbon. On the other hand, give rye a try to help you go through a more peppery experience.
To prepare your favorite cocktail, you should mix your chosen whisky, sweet vermouth, and Angostura bitter and stir the combination. Garnish with some cherries to make your drink more attractive.
Total time: 5 minutes.
Pisco sour is an alcoholic beverage originating from Peru. Known for a tantalizing mix of tart, silky, sweet, and herbaceous, this fabulous cocktail is always enjoyed by a lot of drinkers. And Blood Orange Pisco Sour is a new gorgeous variant of this pisco sour.
Blood orange is a variety of orange with blood-colored flesh and a subtly sweet taste. It adds a pleasantly bitter and fruity flavor to your beverage, making it better than ever.
Let's start with preparing the combination of pisco, blood orange juice, syrup, and lemon juice. After that, shake them in the food processor.
Remember that adding an egg white to your cocktail will help the overall taste of your mixed drink be more harmonious. Your drink will also become richer and smoother thanks to this component. Moreover, egg white softens the strong flavor of your alcoholic drink
Total time: 3 minutes.
When it comes to a classic cocktail in America, it is impossible not to list Gin Rickey. This delicious cocktail is a mixed drink originating from Washington DC.
Joe Rickey, a Democratic lobbyist in America's capital city, was the inspiration for the name Gin Rickey. It was originally called Bourbon Rickey, but due to the needs of drinkers, gin was chosen to replace bourbon. From there, Gin Rickey was born.
Gin has a strong citrus scent and pine-like taste coming from juniper berries. The perfect blend of gin with lime juice results in a refreshing cocktail with a little tart flavor.
A special thing about this gin-containing alcoholic beverage is that it doesn't contain sugar like other cocktails. It only takes a little sweetness from the seltzer.
Total time: 5 minutes.
Whenever you are mixing drinks for a festive gathering or even simply to sip on during a winter night, this Aviation Cocktail will keep your taste buds happy. It not only possesses a pretty appearance but also tastes very mouthwatering.
What sets this cocktail apart from others is the inclusion of crème de violette, also called liqueur de violette, a maceration of violets with a brandy base.
It adds a floral note and sweet taste to your mixed drink. The name of this drink is also inspired by the pale sky-blue color taken from this ingredient.
Moreover, Aviation can't get the flavor at its peak without other ingredients such as lemon juice, gin, and bitter-dry maraschino liqueur. This maraschino liqueur adds the taste of sour cherry and hints of almond to your pleasant drink.
Discover the easiest way to make Aviation Cocktail right now.
Total time: 20 minutes.
Keep reading about this cocktail to know why you should try Lemon Basil Gin Rickey Cocktail out of numerous other cocktails. This is a wonderful variation of gin rickey that you shouldn't miss.
Instead of possessing a white color like ordinary Gin Rickey, Lemon Basil Gin Rickey comes out with a natural pink color. While Rin Rickey has a citrusy flavor with a little sourness, this version will win over you with its sweet and fruity taste.
To prepare this cocktail, you should make the strawberry basil simple syrup first. This is the most important flavor booster for this drink. Together with sugar and water like other syrups, you just need to add strawberries and basil to the mix.
Stop boiling when you get the thick texture of this syrup. The next step is to combine this syrup, lemon juice, gin, and other components. A refreshing cocktail with a fresh and sweet flavor is now ready to serve.
Total time: 5 minutes.
New York Sour is a variation of Whisky Sour. It is characterized by a film of dry red wine on the top and a whisky sour base, offering two layers of flavor that integrate with each other and create a beautiful effect.
From its name, you may guess that this cocktail is an invention of New York City, right? You are mistaken. New York Sour appeared first in Chicago and was later spread by bartenders in New York before being known as New York Sour as it is today.
This is a nice combination of spicy rye whisky, sour lemon juice, and simple syrup with a sweet taste. You can call this alcoholic drink a perfect blend of flavors. After well combining the mixture, just make sure that the fruity red wine rises to the surface.
This instruction will help you have refreshing New York Sour right now.
Let American Cocktails Make Your Parties More Exciting
American cocktails reflect a very important aspect of American culinary cuisine. With its diversity, uniqueness, and deliciousness, they are an ideal option to refresh your celebratory occasions. Don't ignore them if you are planning to hold a party or a picnic.
Finally, thank you very much for walking through this article. Have you tried these spectacular cocktails, and do they fascinate you? Feel free to leave a comment to let me know your experience. I will be happier if you can share this post. See you!
Nutrition Facts
1 servings per container
---
Amount Per ServingCalories201
% Daily Value *
Total Fat 0.3g

0

%
Sodium 31mg

2

%
Potassium 71mg

3

%
Total Carbohydrate 14.6g

5

%

Dietary Fiber 0.1g

0

%
Sugars 1.7g

Protein 1.8g

2

%
---
* The % Daily Value tells you how much a nutrient in a serving of food contributes to a daily diet. 2,000 calories a day is used for general nutrition advice.