Bolivian foods might be a gem of South American cuisine that you've missed. First contributed by the Aymara, then ruled by the Spanish for centuries, Bolivia has now claimed its own gastronomy with some remarkable dishes that are famous worldwide.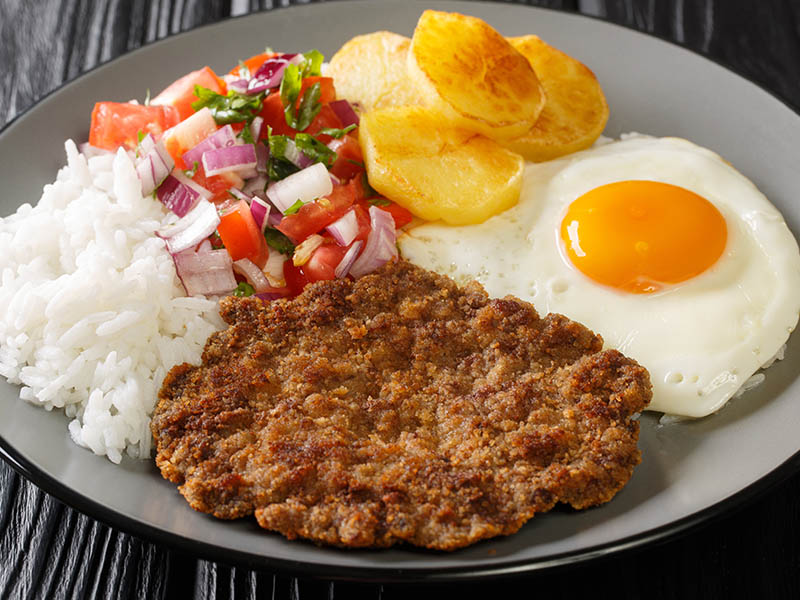 It also shares many similarities with Peruvian, Mexican, and Brazilian, so as a little touch of the Arabic cuisines. To find out the unique gems of Bolivian cuisine and why you should dive into it, read this article right away!
1. Salteña – Baked Patty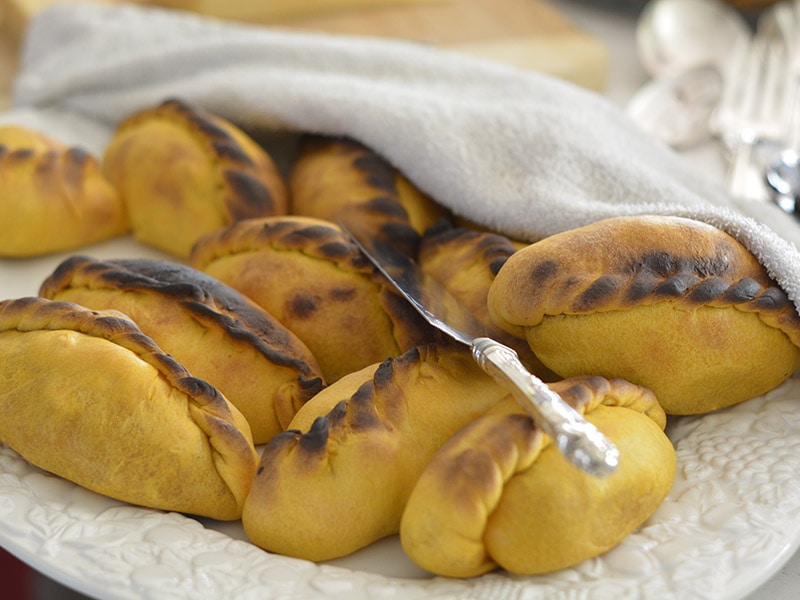 Though it may look like a South American empanada, Saltena of Bolivia is actually an outstanding baked good that is hard not to mention when talking about this cuisine. What makes the differences are mainly the juicy interior and the spicy flavor.
Unlike regular empanadas, Bolivian Saltena has a more fluffy ball shape with a beautiful brownish-orange crust, which comes from a traditional herb. The filling includes carrot, potato, olive, raisin, hard-boiled egg, several chilies, and gelatin to make it "juicy".
In fact, the fillings of Saltenas are particularly watery that some describe it's as a patty with broth inside or even a stew served inside a baked dough. You can easily spot Saltena in almost any corner across the country, from bakery stores to street food stalls.
2. Empanadas Tucumanas – Fried Empanadas
This is another empanada, as well as another version of Bolivian Saltena. Many assumed that the only difference between what's called Tucumana and Saltena is just the cooking method since Tucumanas are deep-fried, not baked.
However, the filling of tucumanas is indeed more veggies than Saltena. Moreover, though both of these empanadas have the vegetarian version, the vegans would prefer Tucumanas. Some modern recipes include agar-agar instead of gelatin for the same reason.
3. Api Morada – Spiced Purple Corn Drink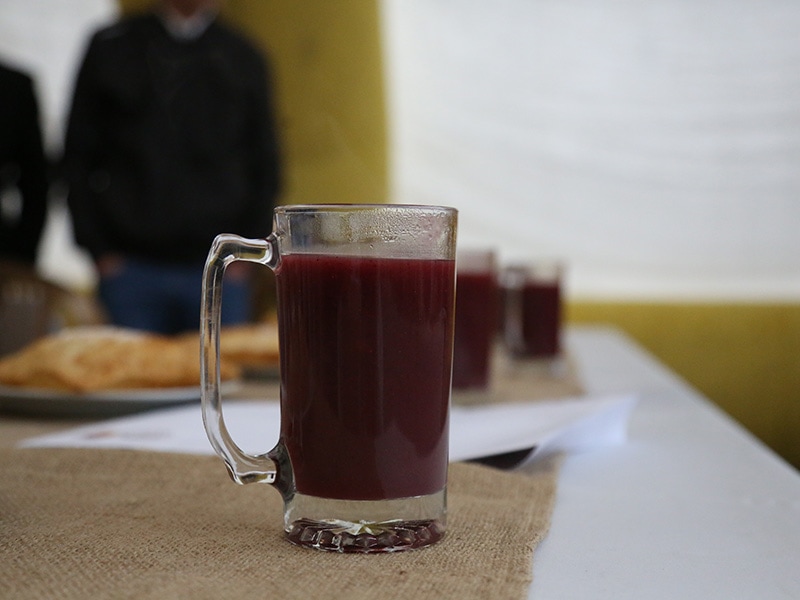 Almost all nations have their breakfast combos, such as English breakfast or Americana breakfast, and this is the case for Bolivia. Api Morado is the cultural drink that makes a perfect Bolivian breakfast combined with any type of bread, patty, or pie.
This beautiful dark purple drink is made of sugar, cinnamon, cloves, and most crucial, ground purple corn – which yellow ones may sometimes alternate. And, in fact, you can enjoy this any time of the day.
This drink is usually served hot and used to be only popular in the cold areas of the region. Nowadays, Api con Pastel (means Api and bread in general) has become an unofficial national breakfast that you can find in almost any restaurant.
4. Fricasé – Meat Stew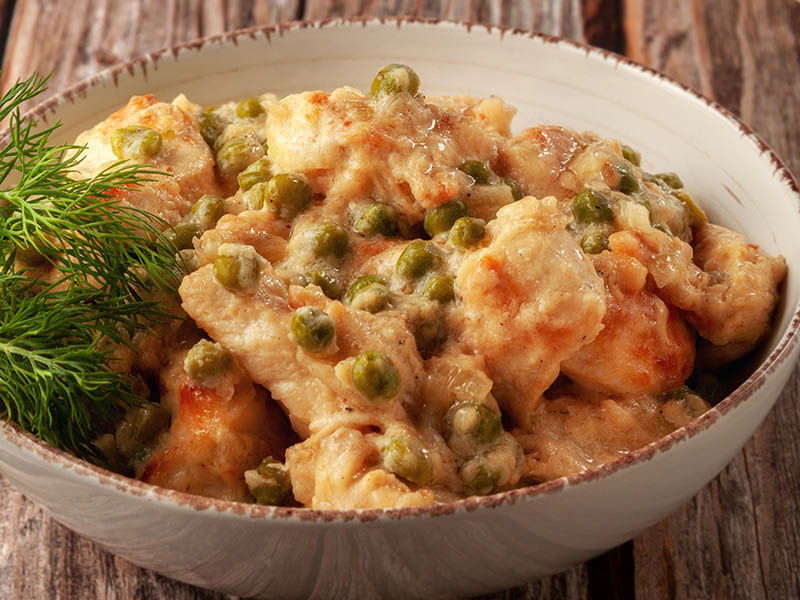 You may realize that this stew is a lookalike to Fricassee of the French or a popular dish of the Tunisian, but it's indeed a staple in Bolivian cuisine. Sprouted from the altiplano areas, Bolivian Fricasé is served chiefly hot to deal with the cold climate.
It has become one of the national foods of the country nowadays. The traditional Bolivian recipe includes pork or chicken, hominy, chuno – a cultural freeze-dried potato – with multiple vegetables, herbs, and spices. Bread crumbs take part often to thicken the dish.
5. Pique Macho – Traditional Main Dish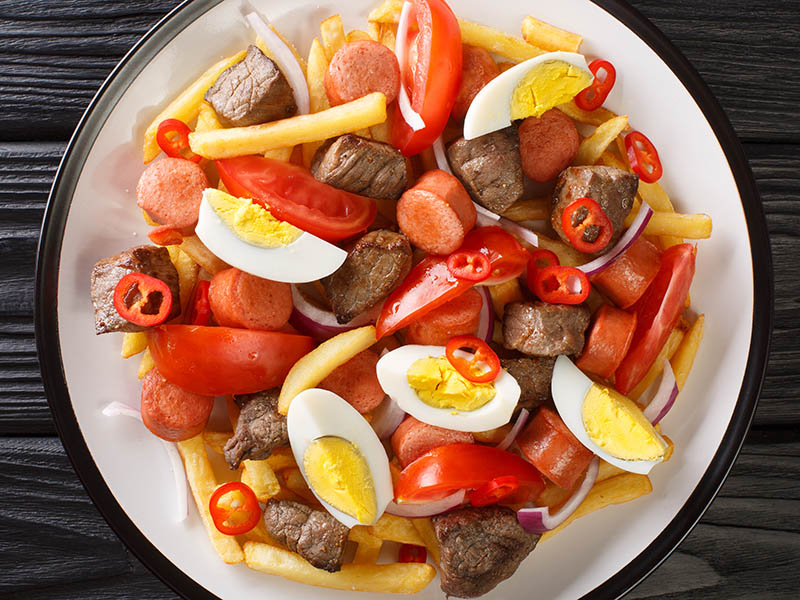 You may be surprised that though this dish looks just like a bunch of junk food that you can have at any fast-food chain, yet it has gone straight to the traditional food list of Bolivia.
Legend has it that one night, a group of drunk men headed to an about-to-closed restaurant and demanded to be served. The lady who owned the restaurant then fed them with a dish of her leftovers with a challenge "piquen si son machos" – "eat if you're man enough!"
And that's how Pique Macho was invented. Apparently, what you can expect from a Pique Macho are grilled sausages and beef, fried onions and peppers, tomatoes, and hard-boiled eggs, on a bed of fried potatoes. Sometimes rice is also included.
6. Picante De Pollo – Spicy Chicken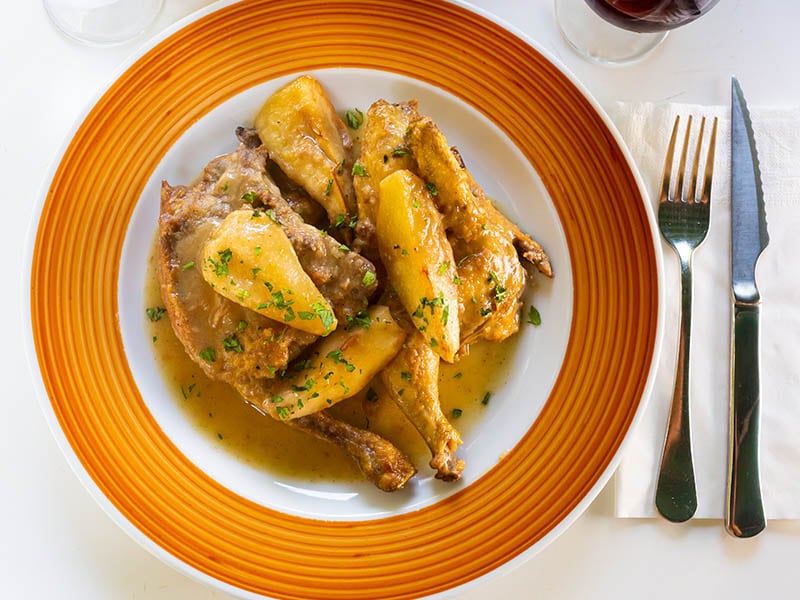 Bolivian Picante de Pollo is a cultural dish that sprouted from Cochabamba – a central city of Bolivia. Therefore, though you can find this dish in many areas across the nation or even worldwide, it's best to have it in Cochabamba.
Vegetables, herbs, and spices are optional in typical recipes, but the main ingredients for Picante de Pollo are chopped chicken, pureed aji amarillo chili pepper, and chuno – a Bolivian freeze-dried potato.
For perfect Bolivian lunch dishes, the folks there would serve this spicy chicken with rice, boiled potatoes, and garnish it with some parsley. However, if you're not comfortable with spicy food, be aware of this delicious-looking dish.
7. Majadito – Rice With Beef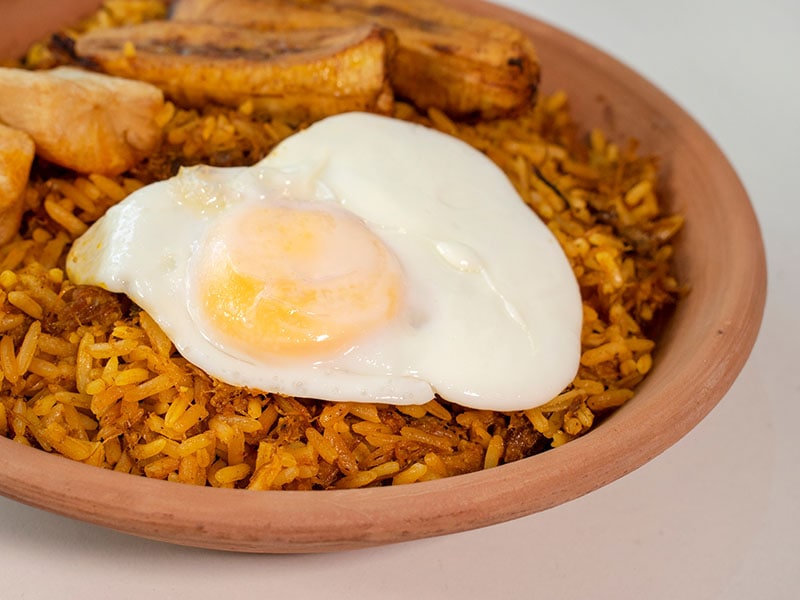 This traditional meal stemmed from Cuz Santa – Bolivia's commercial center. Typically, 'majadito' is a rice meal served with fried plantain, fried egg, beef jerky, and a side dish salad with raw red onions, tomatoes, and lettuces.
The best way to enjoy this dish is to fill your mouth with all the elements. The rice in this dish has a particular yellow-orange color that comes from ucurú – a national spice. You can replicate this color by mixing turmeric and paprika, but the result won't be as suitable.
8. Ají De Fideo – Spiced Pasta Dish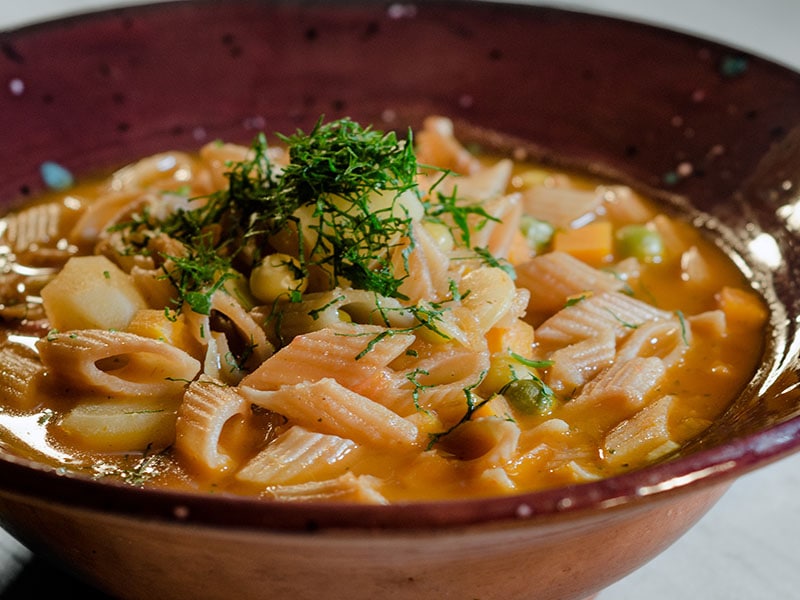 Another spicy dish that sprouted from Cochabamba, Ají de Fideo is simply a meal with European pasta, meat such as pork, chicken, lamb, or beef, and a lot of Ají – a traditional chili pepper sauce of Bolivia.
The old and perhaps the best way to cook this dish is in a clay pot on an open flame. This dish is even more remarkable because the pasta has been toasted individually before being cooked with the sauces.
Therefore, the pasta will better absorb the Ají in the cooking process than just sauce poured over plain noodles. And you can find Ají de Fideo is a very common dish for festivities and celebrations in Bolivia.
9. Silpancho – Traditional Cochabamba Dish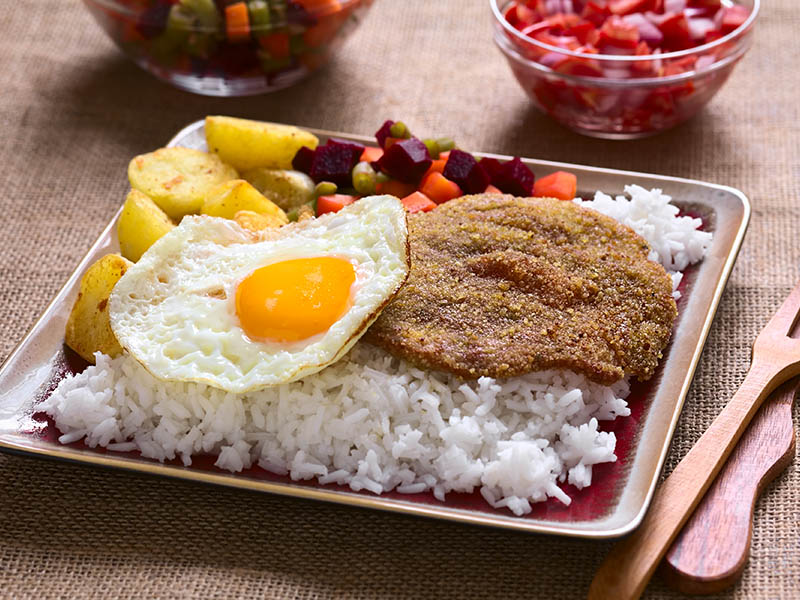 Cochabamba is also the origin of this dish. It's not so unique in the ingredients, but perhaps the compilation of multilayer is what made the fame.
It's usually served by layers following the order from bottom to the top of rice, boiled potato, a thin, large meat slice, tomatoes, and fried egg. Parsley, onion, and beetroot are often added on top as garnishing. Sometimes the Bolivians also use salsa to top this delicate dish.
However, some restaurants nowadays serve this Silpancho simply by just laying all the ingredients on a plate. And if you think that the serving method is similar to sandwiches, there's an actual sandwich version of this dish – called Trancapecho.
10. Patasca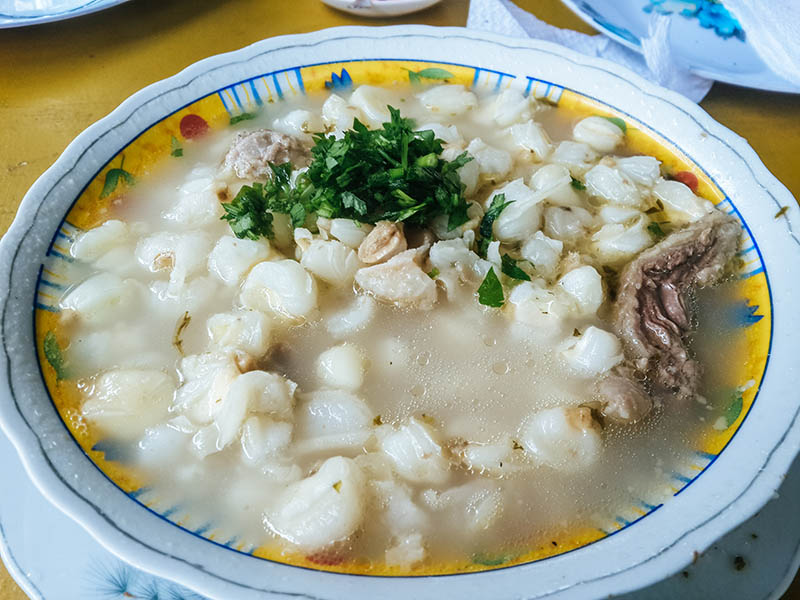 Though you now can find Patasca as a popular dish in Peru or Argentina, it's actually sprouted from the eastern lowlands of Bolivia. It's normally a dish for Bolivia dinner recipes, especially since the locals believe it's practical to sober up after a drinking night.
Patasca is a stew from pork head (can be alternated by beef) with a thick consistency. Once served, the stew also includes popped maize kernels, chopped green onion, and yucca root – a cultural starchy root vegetable of Bolivia.
11. Mondongo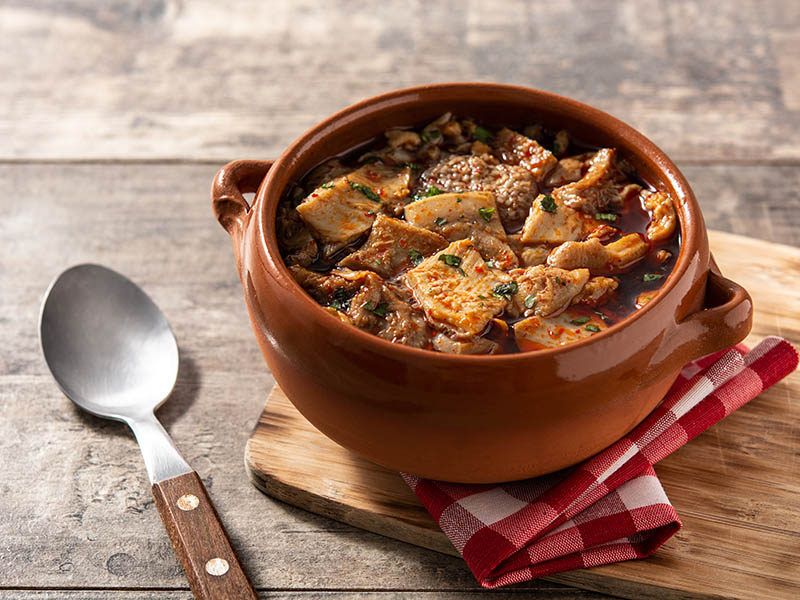 This is a popular dish from Sucre – the capital of Bolivia. Mondongo is another stew dish made of pork, mostly meat and rind, sometimes tripe. You can consider it as a heavy dish since it usually comes with three starches: corn, potato, and rice.
However, since the soup is extraordinarily thick and spicy with a lot of paprika sauce, it can also be used as a drinking bait. Nowadays, you can have it all year round, but Mondongo is a staple on some traditional occasions, such as the Day of the Dead or All Saint Day.
12. Chairo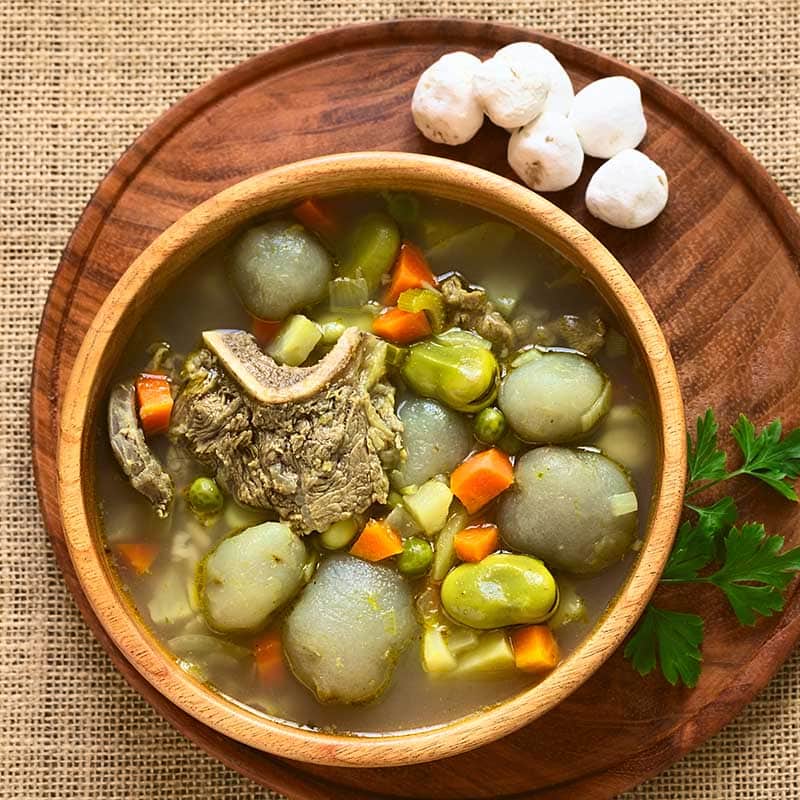 "Chairo" in the Aymara tongue means soup; it's among the cultural dishes that have been used before the Spanish conquistador came and remains the century-old recipe till today. Nowadays, you can find it in Peru or Argentina, but mostly in Bolivia, especially La Paz.
What made the fame of traditional Chairo is the utilization of Chuno – which I have mentioned more than once in the cultural ingredients. For the meat of this stew, Bolivians use beef cutlets, along with some vegetables and spices for flavoring.
13. Sopa de Maní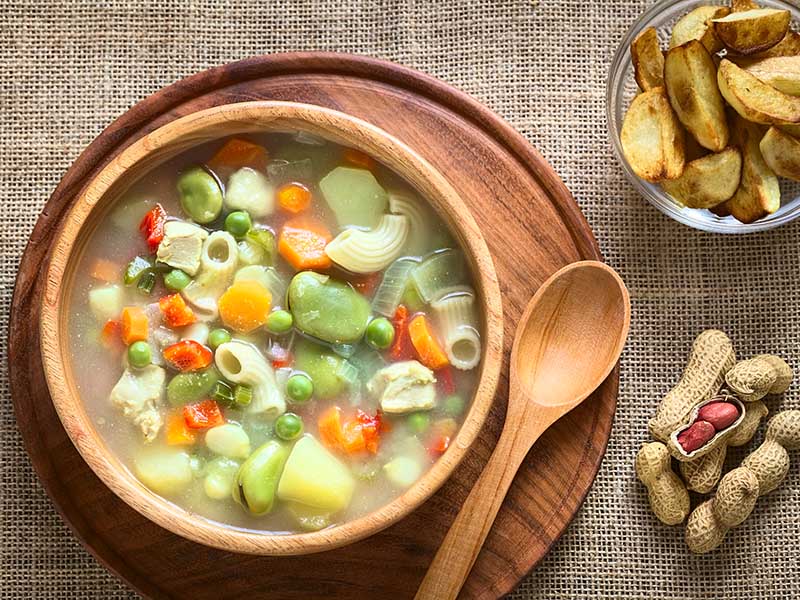 Interestingly, the peanut was first to appear in Bolivia and is still one of the most exported products till today. Therefore, you can find many dishes that call for peanuts as the main ingredient, including this soup.
'Sopa de mani' is a simple beef broth thickened with ground white peanuts, with many vegetables, herbs, and Bolivian spices. The soup is prepared with diced beef and topped with sweet potato fries when served.
14. Salchipapa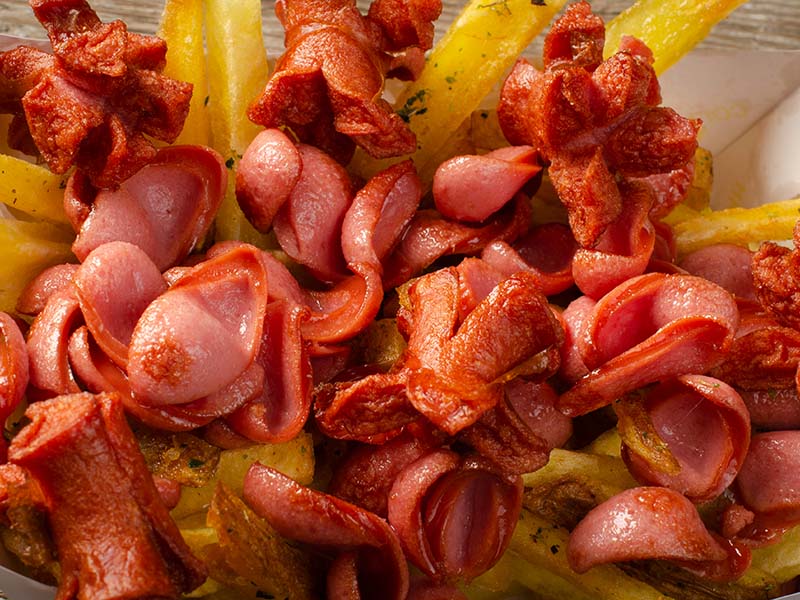 If you're a fan of junk foods, you must visit Bolivia right away! You can consider Salchipapa as a side dish version of Pique Macho since they're both bunches of fried food. However, the term Palchipapa actually stands for sausages – salchicha, and potatoes – papa.
Bolivians prefer beef sausages for this dish, and nowadays, it's usually served with salads, mustard, ketchup, and Ají spicy sauce. The origin of this delicacy was believed to lie in Lima, Peru.
15. Locro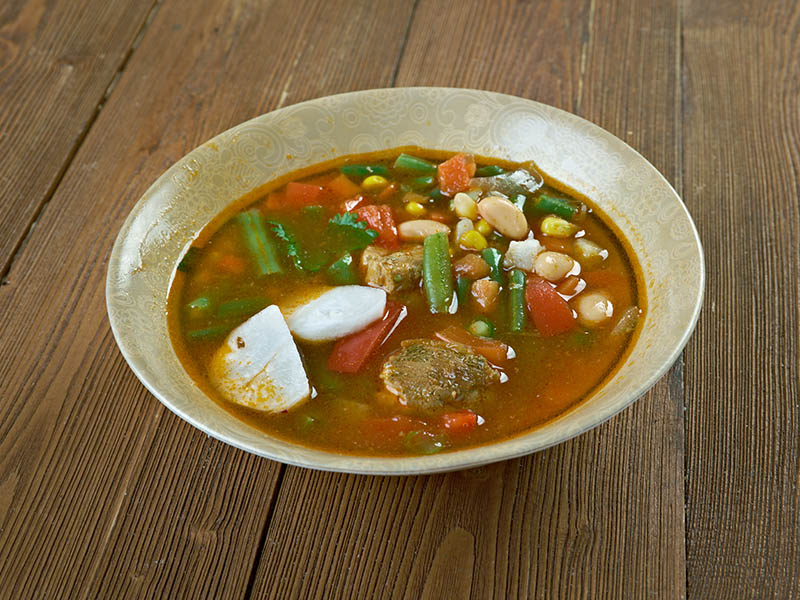 Though Locro is now claimed to be a national dish of Argentina, you can also find it in Bolivia, as well as Ecuador, Chile, and Peru. The stew usually appears thick and creamy, with potatoes, beans, beef, or chicken as the primary ingredients.
Some regions dearly call this dish Locro Carretero, which means the locro of those who traveled by carretón – carts in English – with yucca and green plantain as additions.
16. Milanesa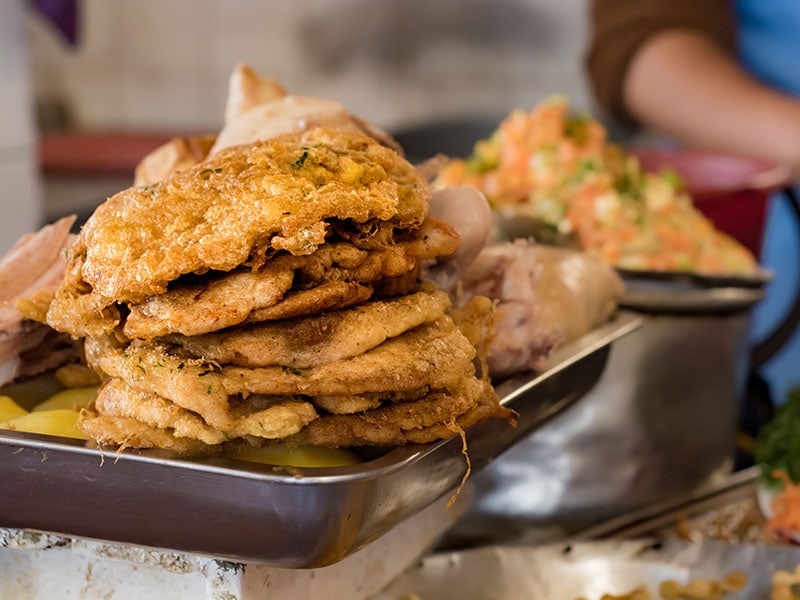 As the name has suggested, this dish is sprouted from the Milanese Lombard cuisine and added to Bolivia gastronomy during the 18th and 19th centuries – as known as the immigration periods.
Apparently, Milanesa is the term for any pan-fried thin sliced meat. The meat slice, which I've mentioned in the Silpancho section, is also a type of Milanesa though it's thinner. Nowadays, it's mainly used as a side dish along with French fries.
17. Anticucho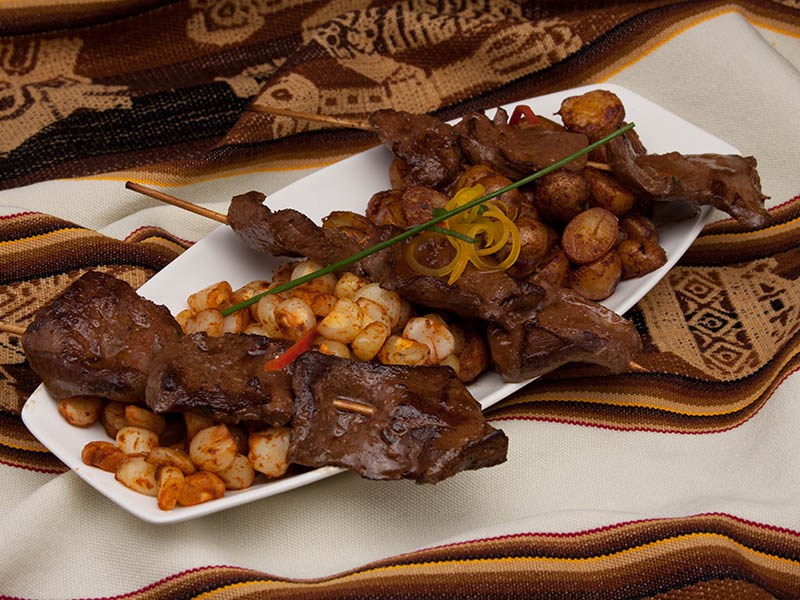 Though it's widely known as a national food of Peru, Anticucho is a cultural dish of the Andes regions, and you can easily spot it on your path in Bolivia as street food.
You can also find the chicken's heart version in Bolivia. However, it's the cultural peanut sauce that makes Bolivian Anticucho stand out from the Peruvian version.
To prepare this dish, the Bolivians first marinated the cow's heart in a mixture of chili peppers, cumin, garlic, and oil, then brought to the grill. Since it's a portion of highly affordable street food, you'll regret coming to Bolivia without trying Anticucho.
18. Papas Rellenas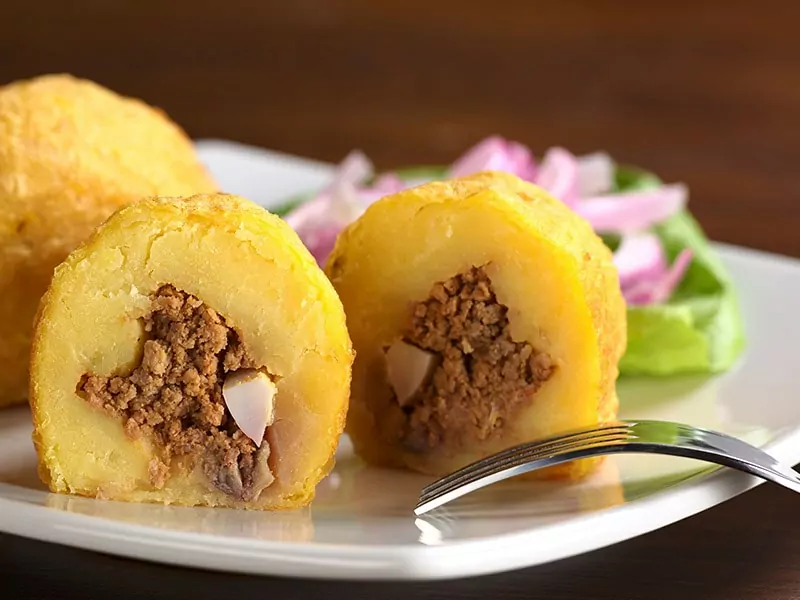 This is a popular treat among the Latin American regions that was inspired by French gastronomic culture back in the 19th century.
The preparation of this dish is mashing the potatoes and then stuffing them with beef fillings which normally include garlic, onions, and several types of peppers.
These treats are shaped into spheres then deep-fried in oil. The crunchy crust with a creamy, spicy interior will melt your heart out after the first bite. It's recommended to enjoy along with some salad and a cup of coffee. Otherwise, you can also use it as a side dish.
19. Pasankalla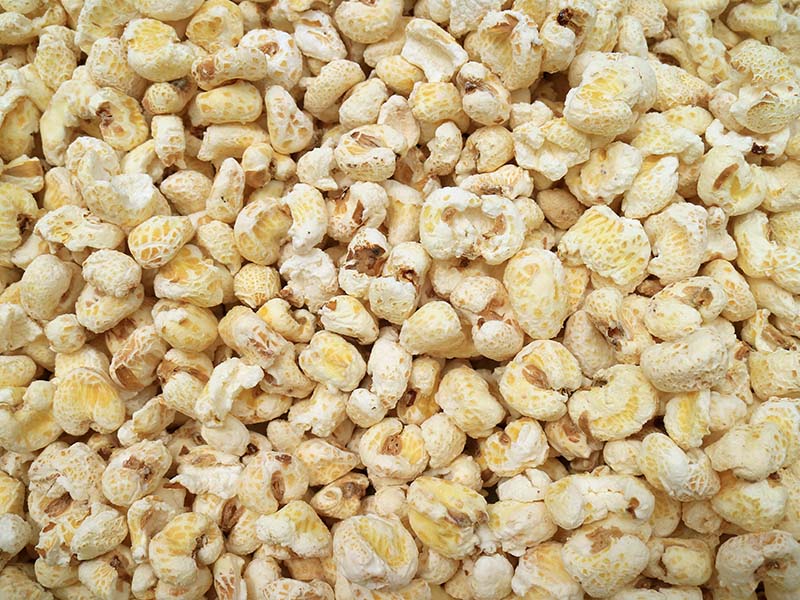 Popcorn must be everyone's favorite treat, from children to adults. You should not skip this version when you get to Bolivia, especially Copacabana and Lake Titicaca, where they produce it traditionally.
This Bolivian popcorn is made of p'isanqella – cultural corn of Bolivia with large grains and pale yellow color. The traditional method of making this popcorn allows the kernels to burst in a clay pot.
Due to the local taste in where you got it, the sweetness can be slightly or strikingly, but sugar is always included. Pasankalla is sometimes available in blue, green, or pink versions as well, but you can not expect the flavor to change.
20. Chicharron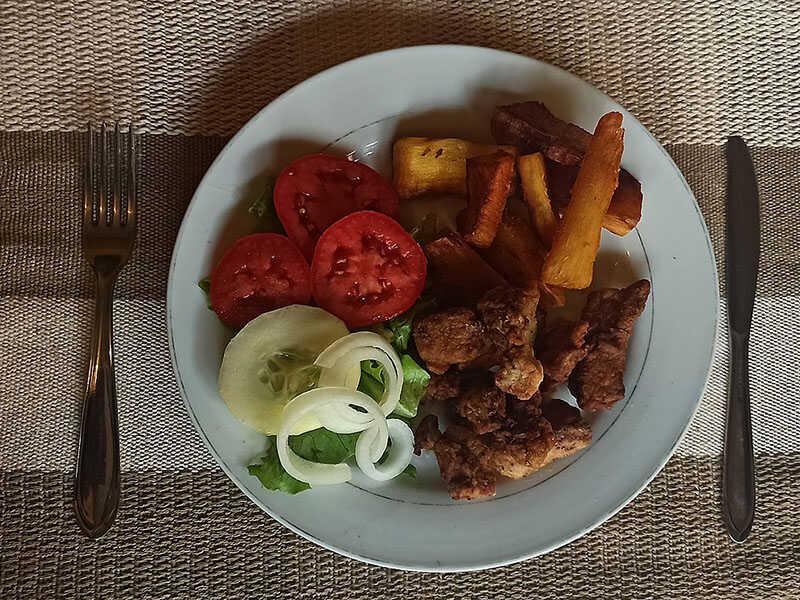 Chicharron is a typical treat made of pork rind fried in its own fat and corn-based alcohol until it reaches a perfect crunchiness. However, in Bolivia, Chicharron is a fried pork belly dish.
The locals normally serve it with mote (large white corn grain), salsa, and potatoes. On the other hand, Llajwa – a spicy cultural sauce of Bolivia – usually takes part in this dish as a party side dish.
21. Cuñape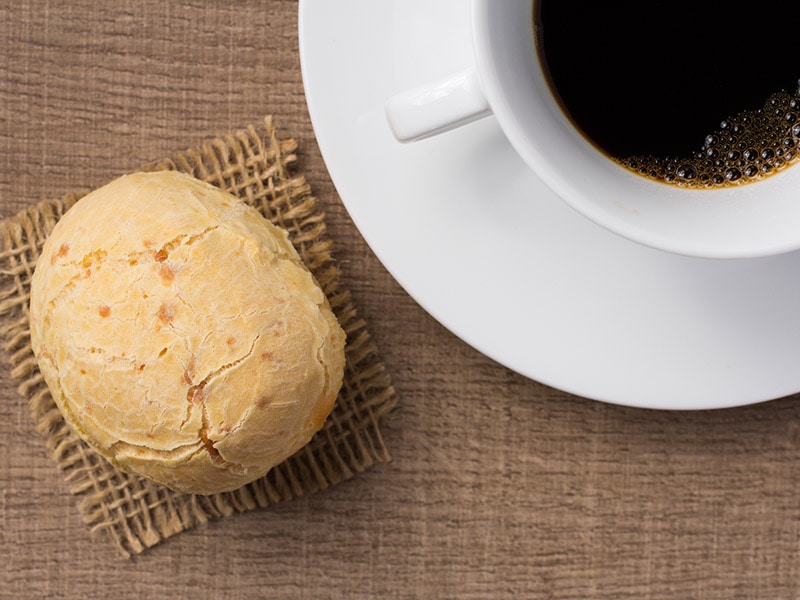 One of the world-known Bolivian foods, Cunape is characterized by its sphere-shaped with a crunchy crust, a spongy interior, and cheesy fillings. This cheesy round bread is made of white cheese, yam flour, egg, and salt. Other shapes and fillings are also available.
You can also find the counterparts of Bolivian Cunape in many neighboring nations such as Paraguayan Chipa, Colombian Pandebono, or Ecuadorian Pan de Yuca. But the closest version of Cunape is Brazilian Pao de Queijo.
It's more popular in the Southeastern regions, especially in Santa Cruz. However, you can nearly find it everywhere across the country as street food. Bolivian also have a habit of using this snack as their breakfast, along with a hot tea or coffee cup.
22. Humintas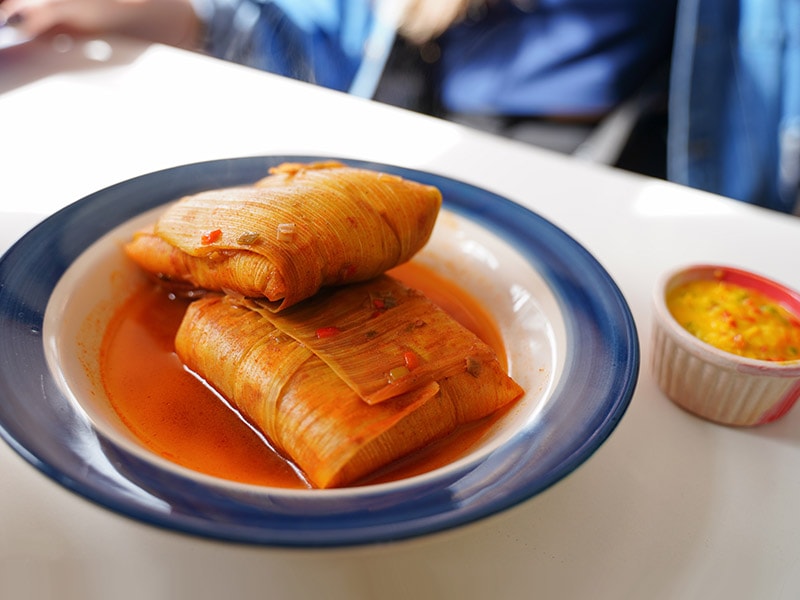 You may have known about Humitas, a steamed corn pie widely consumed in Latin American nations. Tamales is actually a counterpart of Humita but made with masa harina – a dough from nixtamalized corn.
However, since Bolivia is among the most exporting countries of quinoa, you can find it in many Bolivian recipes, including Tamales – which use quinoa in place of corn. Besides the starch bases, Bolivian Tamales are also various in the filling, from savory to sweets.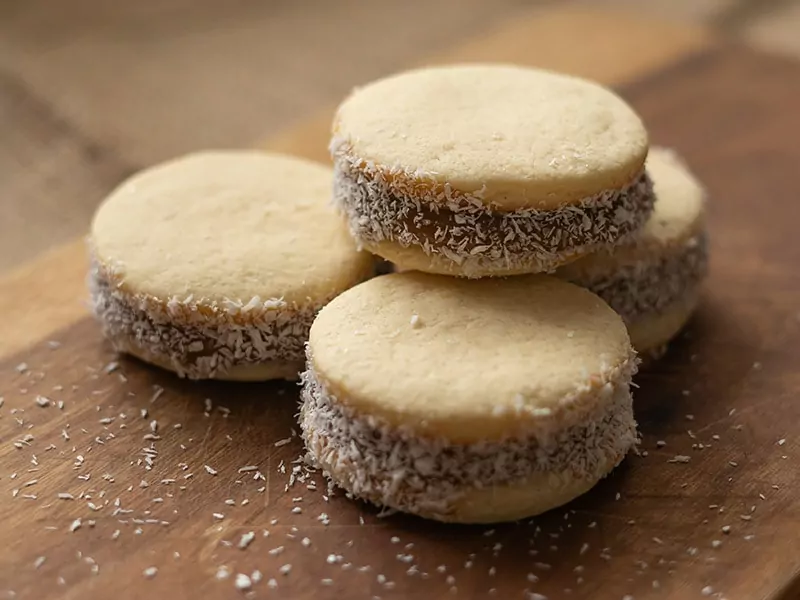 This is a famous sweet snack among the Latin American regions. Alfajore consists of two pieces of small, round cookies, with the middle layer of dulce de leche. However, the cookie for Alfajore is meant to be soft, not crunchy like the regular ones.
You can find a standard version of Alfajores in almost any Bolivian bakeries. The ground coconut garnishing is very often an addition to this sweet cookie. Many described this treat as it will melt in your mouth with a bunch of sweetness.
24. Helado De Canela – Cinnamon Sorbet
Are you looking for a gluten-free dessert? This is what you should search for so dearly when coming to Bolivia. During the 1950s, the Bolivians learned the technique of making cinnamon sorbet and turned it into their famous Helado de Canela afterward.
Traditionally, this Bolivian sorbet usually appears in the red that comes from food coloring and is more associated with the cemetery. Bolivian indigenous would have Helado de Canela as a sweet red blossom for the mourners or the passovers.
Many stalls have stood up nearby the cemeteries in La Paz and Cochabamba during the first appearances of Helado de Canela and are still there today. Some restaurants also serve this dessert as ice cream by alternating water with milk.
25. Budín de Quinua – Quinoa Pudding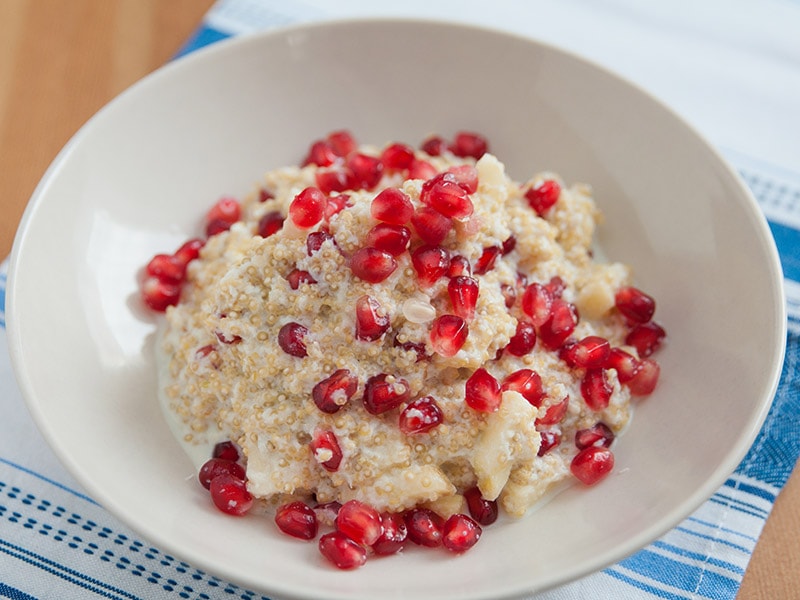 As mentioned above, quinoa is among the most exported products of Bolivian, and it appears a lot in Bolivian gastronomy; dessert is not an exception.
To make this pudding, Bolivians will first cook quinoa seeds with sugar and cinnamon, and then the additional options are endless.
You can find the traditional ones served with beaten eggs and raisins. Some modern restaurants would have the advanced version of this dessert, which adds fruits and cream.
26. Buñuelos – Donuts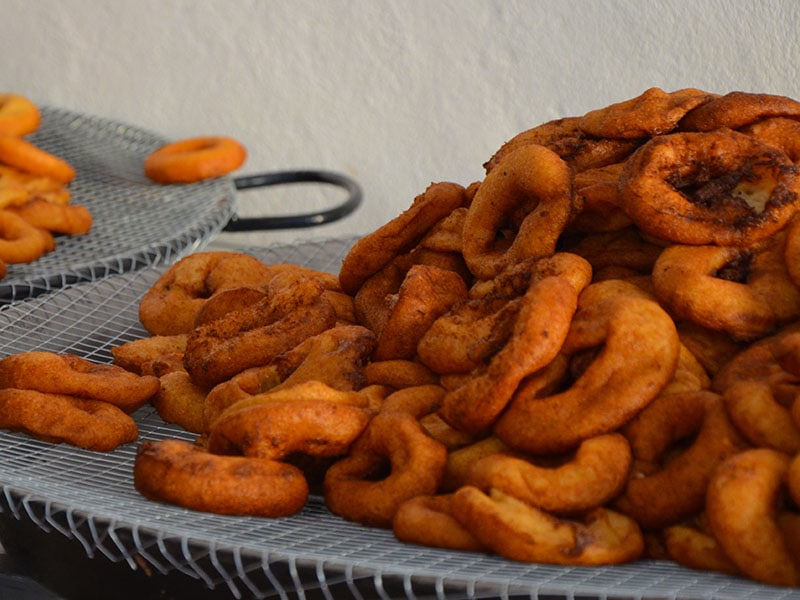 Despite the origin of Spain, you can find multiple versions of Bunuelos in many regions, including Balkan nations, South America, and even Asia. What makes the difference of Bolivian bunuelos was the addition of anise.
This traditional treat is fried in oil and may or may not appear in a ring shape. You can find it in almost any bakery or pastry store, and the Bolivians usually enjoy this beautiful treat with molasses glaze or simply sprinkle some icing sugar on it.
27. Cocadas – Coconut Confectionery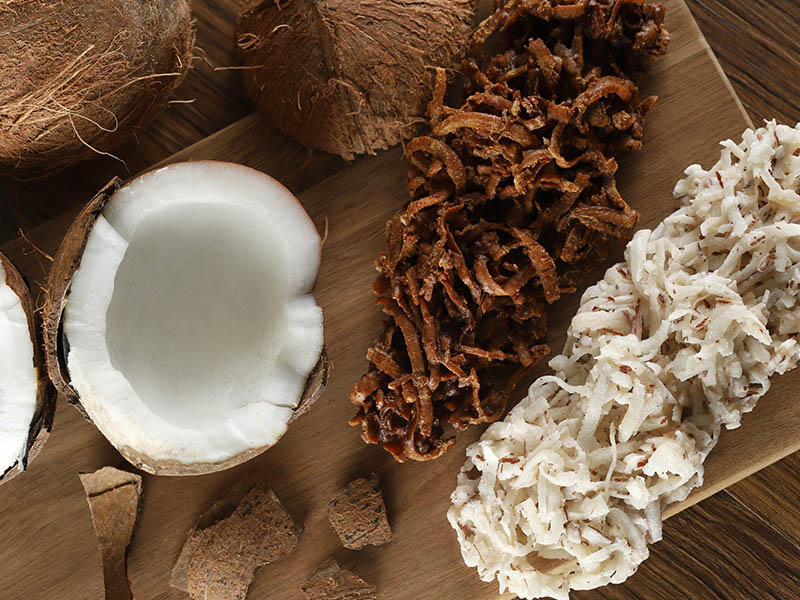 Cocadas is a term for coconut confectionery widely used among Latin American regions and is extremely popular in Bolivia. You can find biscuits, macarons, or candies called Cocadas here.
In general, Cocadas are confectionery that includes shredded coconuts. However, in Bolivia, the confectioners usually add macadamia to their products to enhance the flavor. If you're a fan of this tropical fruit, don't pass up the chance to try Cocadas in Bolivia.
---
No More Hesitation To Indulge In Bolivian Cuisine
Bolivian gastronomy is magnificent, right? But that's not the only reason why you should visit Bolivia. This beautiful country is also famous for its indigenous hospitality. Therefore, when you get there, you'll yourself appreciate the food and be appreciated by the locals.
For further enlightenment, scroll down to the comment section to see what others thought about Bolivian foods. You may find some treasure there that I may have missed. Don't forget to leave some of your experiences or wonders there as well!
Lastly, let this culinary gem no longer be hidden! Share this article with your beloved ones who are or even aren't Bolivian cuisine fans. I'm positive that they'll pretty much enjoy it like you're right now.