"Foods that start with L" might sound like a game from a quirky cooking show, but it's actually a goldmine of culinary inspiration. If you're feeling trapped in a cycle of repetitive recipes, this is your chance to break free.
I'll take you on a whirlwind tour of luscious "L" foods, introducing you to new ingredients, global dishes, and fascinating food facts. Armed with this newfound knowledge, you'll breathe new life into your kitchen routine, sparking culinary creativity and satisfying your hunger for variety.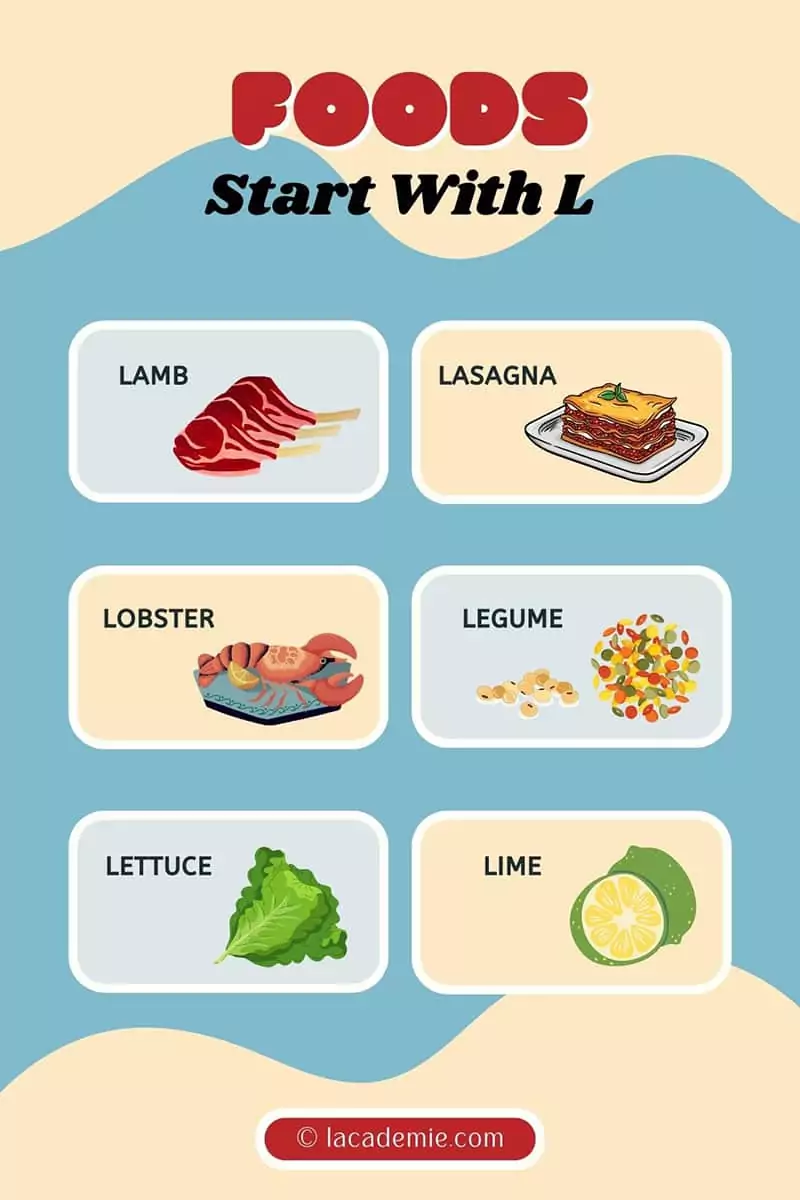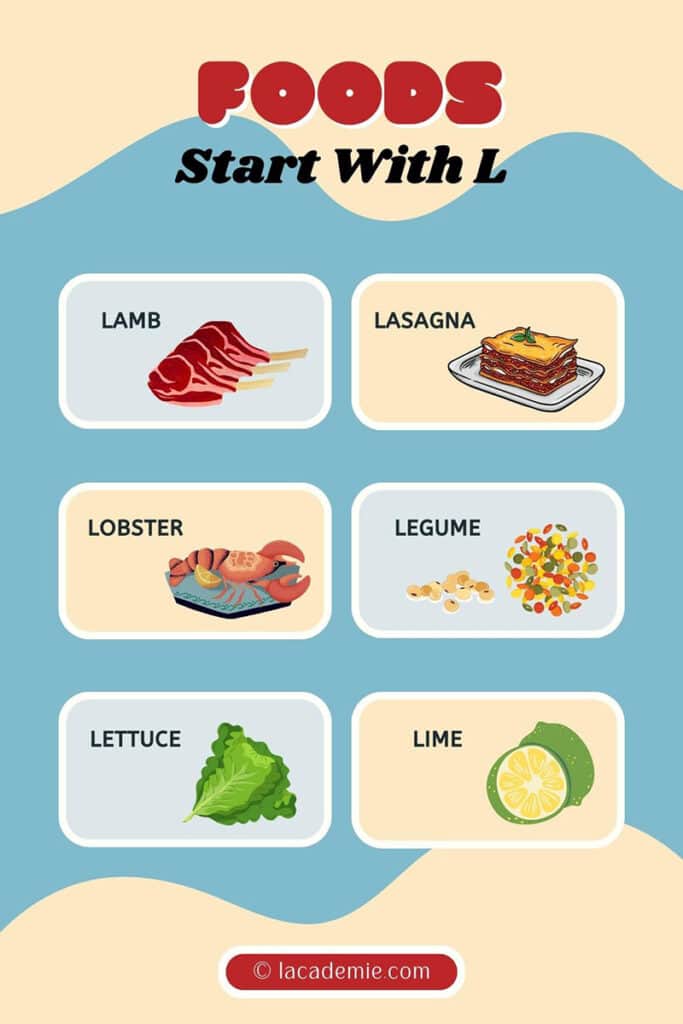 Luscious Foods That Begin With L: Lavish List
I've gathered a list of lip-smacking L-titled foods just for you! Prepare to indulge your taste buds while discovering these delicious dishes together.
Meats and Seafood
Lamb
Lingcod
Liver
Lobster
Loin
Ladyfish
Lake Trout
Langouste
Langoustine
Limpet
Littleneck Clam
Lox
Lutefisk
Vegetables And Legumes
Lady's Fingers
Legume
Lentils
Lettuce
Lupin Beans
Lima Bean
Long Beans
Lambsquarters
Leaf Beet
Leaf Mustard
Lamb's Lettuce
Leek
Fruits
Lemon
Lime
Loganberries
Loquats
Lychee
Langsat
Lantana Berries
Lemonade Berry
Lingonberry
Loganberry
Herbs, Spices, and Flavorings
Lemongrass
Lemon Basil
Lovage
Lavender
Grains, Pasta, and Baked Goods
Lasagna
Linguine
Ladyfinger (Biscuit)
Latke
Limpa
Lefse
Loaf
Lo Mein
Lardy Cake
Cheese
Limburger
Liederkranz
Sweets and Desserts
Lollipop
Lozenge
Lemon Curd
Lemon Bars/Lemon Squares
Lemon Meringue Pie
Linzer Torte/Linzer Tart
Linzer Cookies
Beverages
Latte
Lemonade
Liqueur
Liquor
Liebfraumilch/Liebfrauenmilch
Limoncello
Lynchburg Lemonade
Other
Lard
Lancashire Hotpot
Lobscouse
London Broil
Leberkase (Liver Cheese)
Linguica
Liverwurst (Leberwurst)
Meats and Seafood
1. Lamb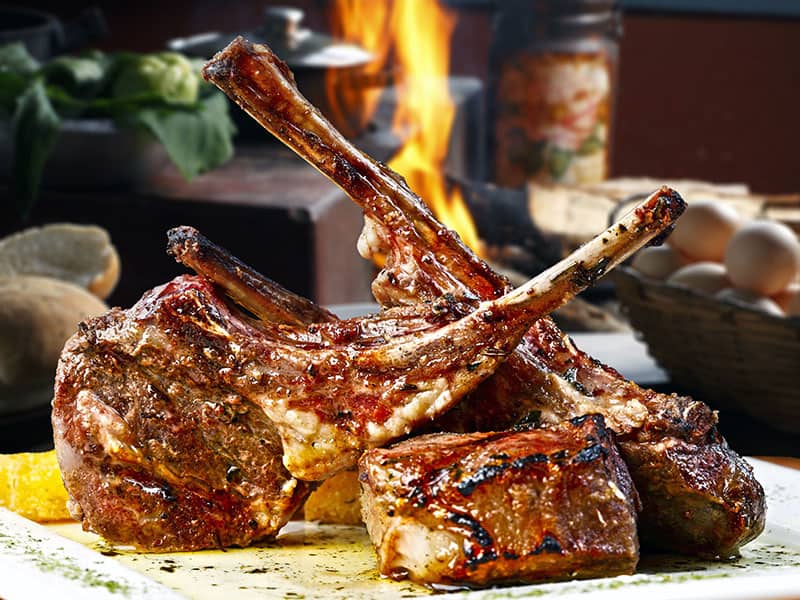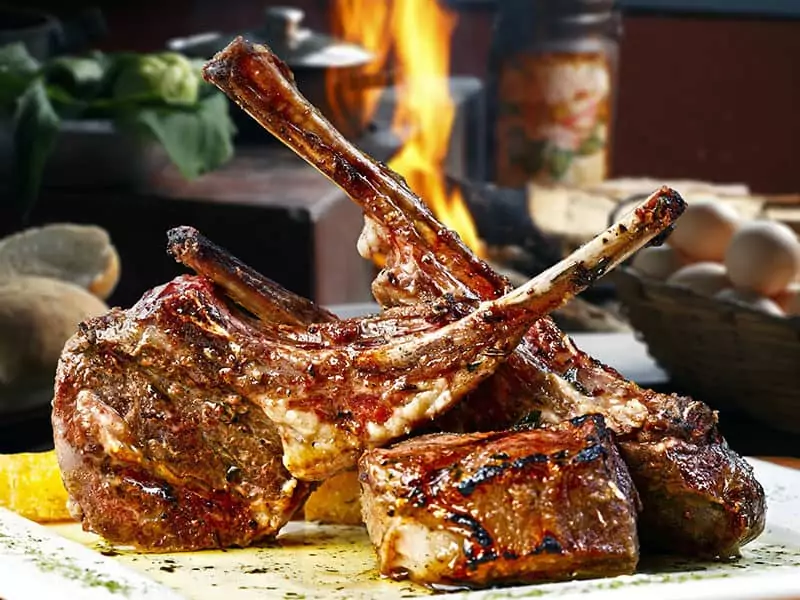 When referring to food beginning with L, the first thing many people remember would be lamb. It is a famous protein, appearing on almost every well-known restaurant's menu.
Basically, lamb is the meat of domesticated young sheep (which is one year old or younger), while the meat coming from adult sheep is called mutton. Lamb is more tender than mutton, therefore, more popular. Lambchop is the favorite meat part of many chefs when it comes to preparing lamb.
You can make a lot of delicious dishes with lamb, from basic roasted lamb to kebabs. Not only is it delicious, but lamb is also a great source of nutrients, such as zinc, vitamins, iron, and high-quality proteins (1).
However, not everyone loves lamb as this dish, if not properly cooked, may taste gamey and smelly.
2. Lingcod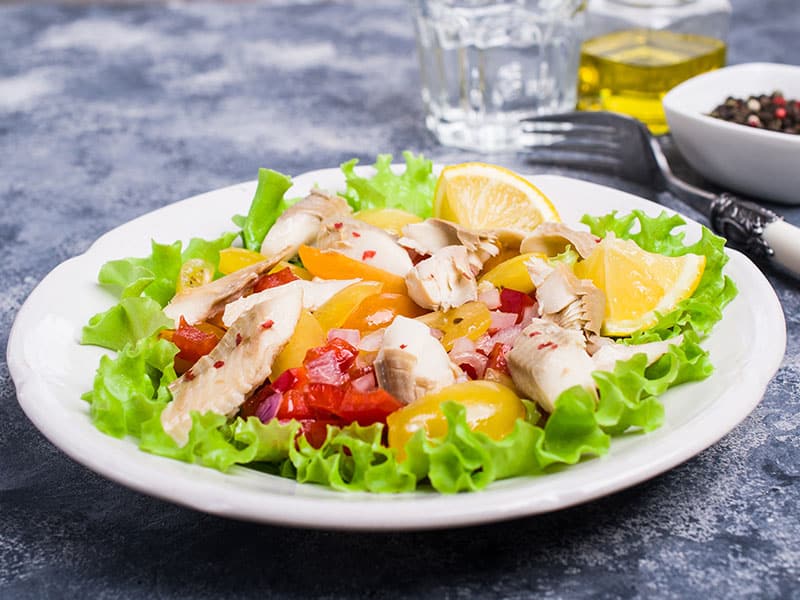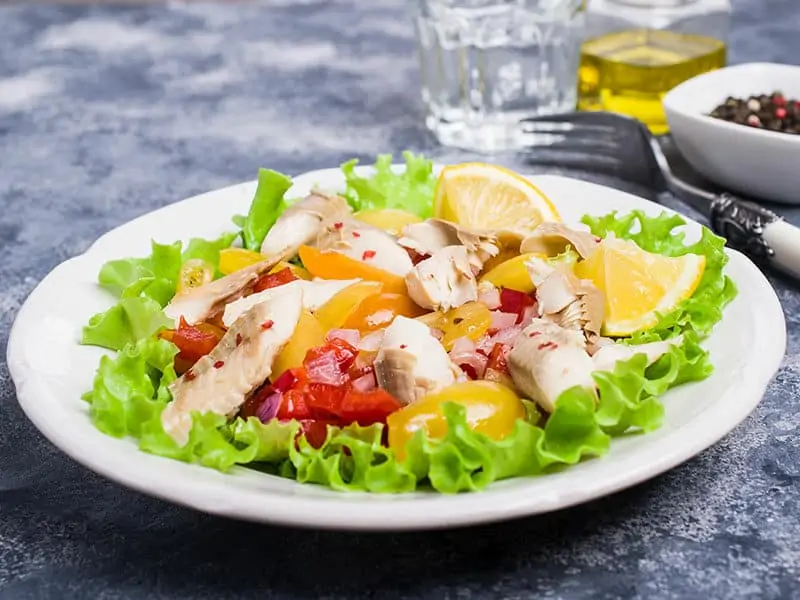 Lingcod is related to neither ling nor cod, but it does have a similar appearance as the other two. That's why it's named lingcod or buffalo cod fish. Belong to the Hexagrammidae family, lingcod is a white-fleshed, lean fish with a mild and subtle flavor.
Sometimes, you will find a lingcod with blue-green or turquoise meat. It may look strange, but that doesn't mean the fish is poisonous. After preparing, the meat's strange color will disappear. Lingcod can be cooked in numerous ways, from baking, broiling to grilling, stuffing, etc.
3. Liver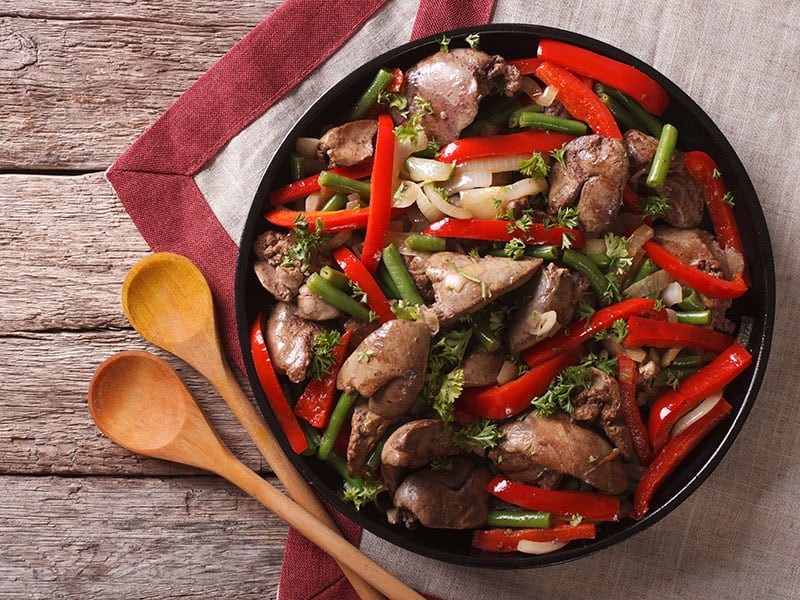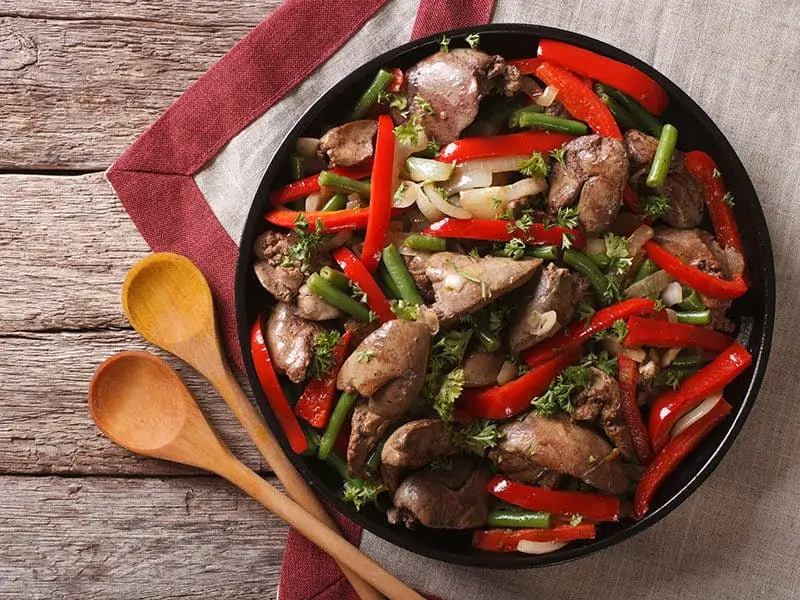 Since old times, people have eaten the liver of many animals, like pigs, lambs, geese, cows, etc. Today, some even eat stingray's or burbot's livers. For those who haven't eaten it yet, the liver is like the darker-colored version of meat.
The liver is cheap yet full of nutrients. It includes iron, vitamin A, and other nutrients (2), but it also depends on your choice of liver. Despite all that, not many people enjoy liver dishes since it has a heavy aroma and flavor. It is also high in cholesterol.
4. Lobster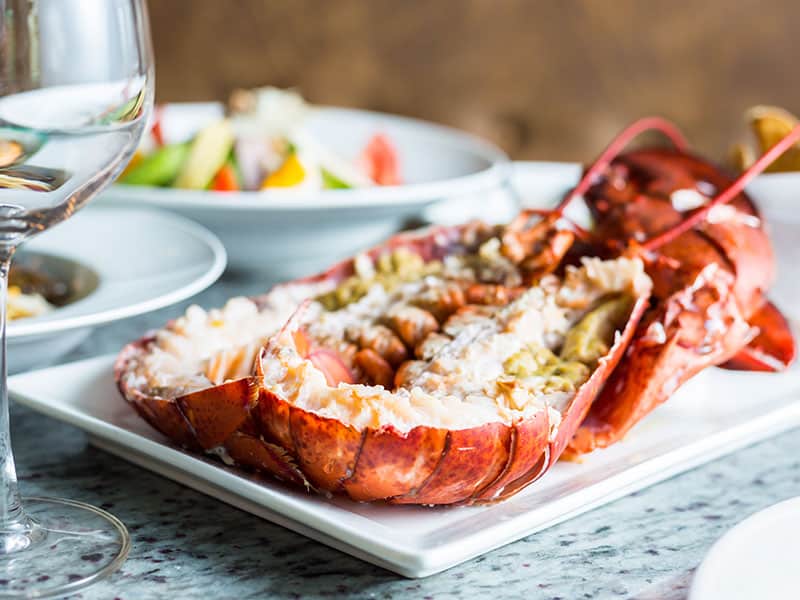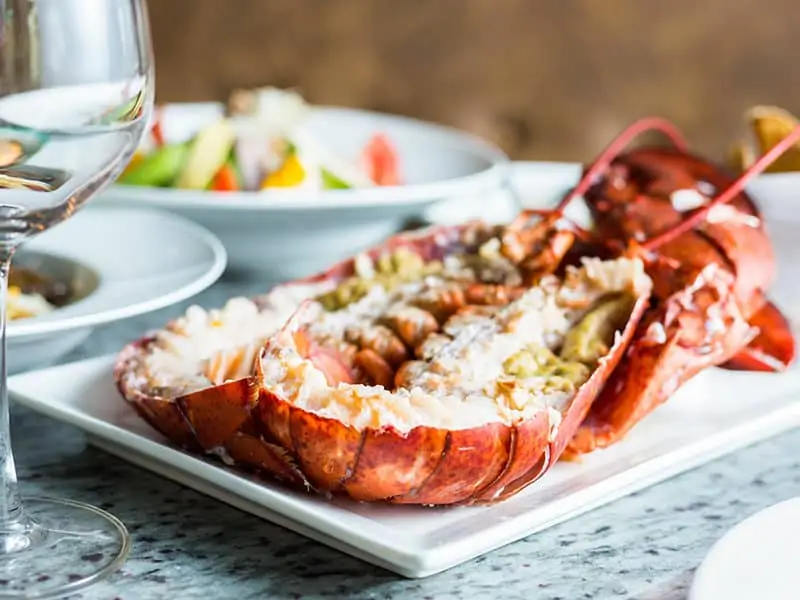 Lobster is one of the most refined dishes all over the world. It is a marine crustacean with a large cylindrical body, a hard shell, one pair of stalked big eyes, ten limbs, long claws, and a muscular tail.
There are various lobster varieties with different characteristics. Despite being popular, not everyone has the chance to eat it since lobster is a high-priced food.
However, the taste is really worth the price. Lobster's flavor is somewhat the same as crab, but that comes along with a shrimp's texture. It is a good addition to your salad, soup, pasta, bisque, or sandwich.
Lobster's also low-fat yet rich in nutrients and protein, like omega-3 fatty acids and selenium. And it can prevent thyroid disease, depression, and anemia (3).
5. Loin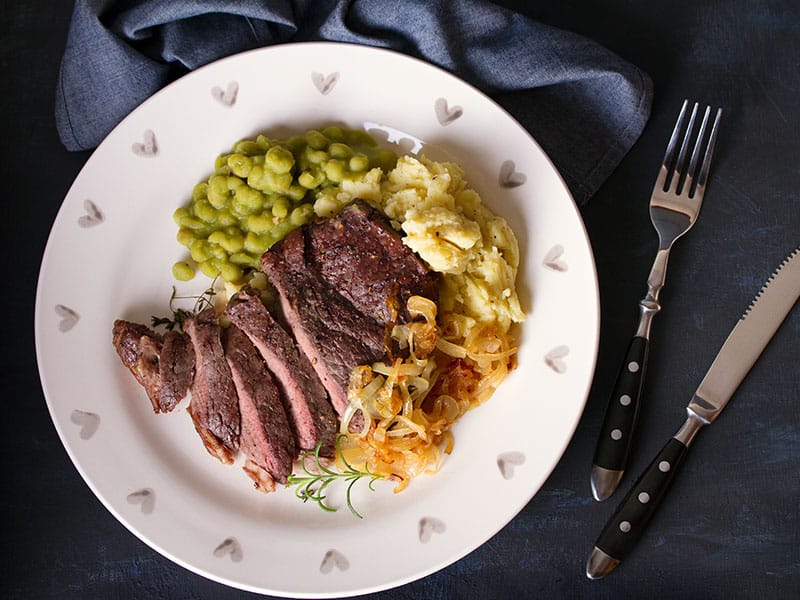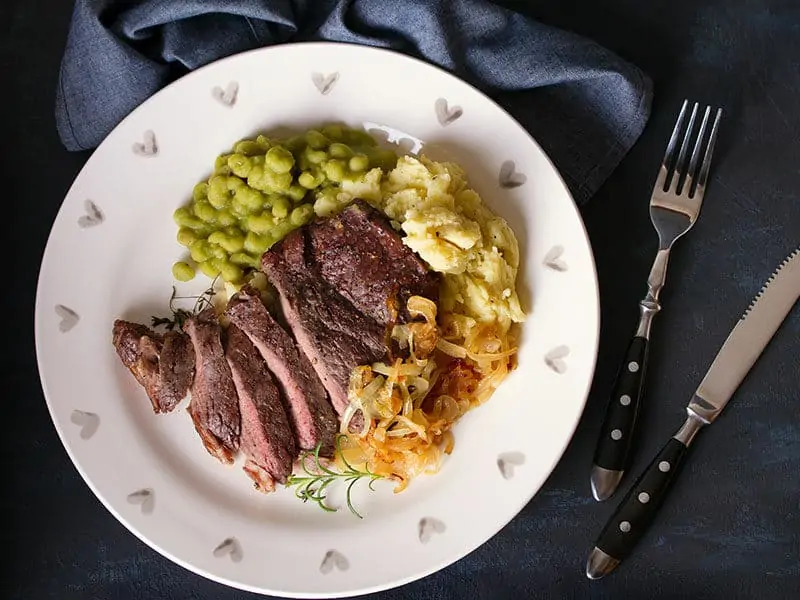 Loin is referred to as the red meat cut from the back and the sides, between the lowest ribs and the hip bones. In America, this part is divided into four sections: sirloin, tenderloin, top sirloin, and short loin.
Loin holds more water than other meat parts. That's why it's much more tender and juicier, which makes it more preferred by the chefs. Many customers choose beef loin because of its low-fat characteristics.
Besides beef, you can also choose the loins of various animals, such as pork and lamb.
6. Ladyfish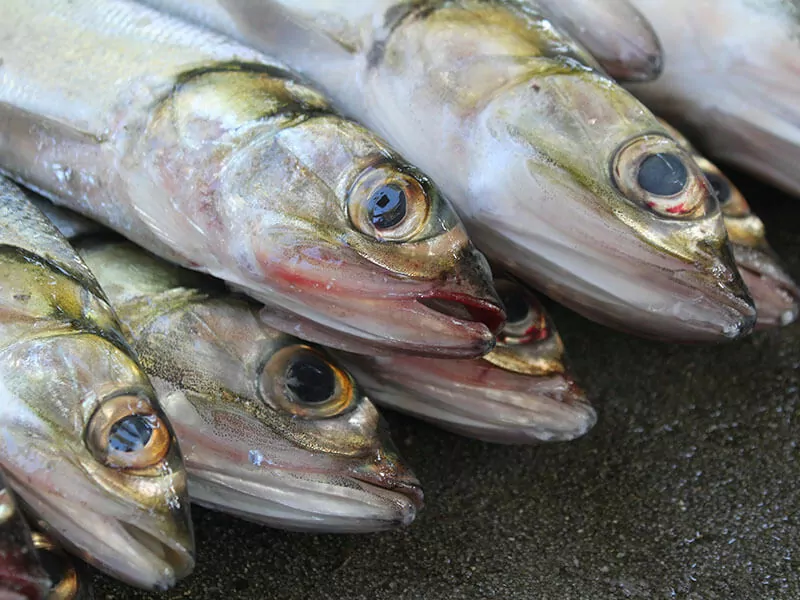 Ladyfish, or Elopidae, is a ray-finned fish that adores the warmth of tropical and subtropical regions.
Their flesh, with a flaky, oily, and tender texture, carries a mild, sweet flavor. But be careful while enjoying it, they're bony fish. Therefore, people often transform them into fish meals instead.
7. Lake Trout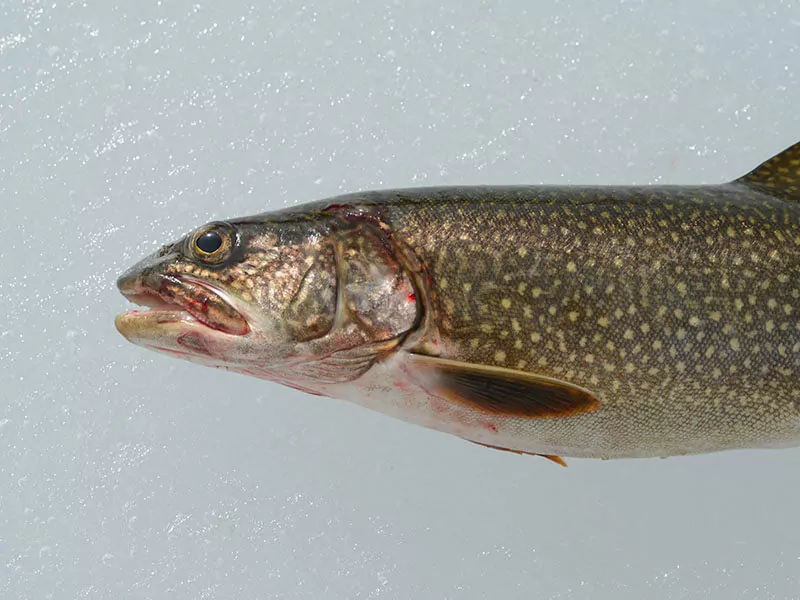 Known by other names, lake char or gray trout, lake trout is the largest freshwater char that call northern North America home. Unlike salmon that split their time between rivers and oceans, lake trout are exclusive freshwater residents.
Their flavor is quite fishy, even more so than other trout, but an overnight milk soak can tone it down.
With a moist texture and lighter pink flesh, this fish fits wonderfully into various recipes, whether it's boiled, fried, or baked.
8. Langouste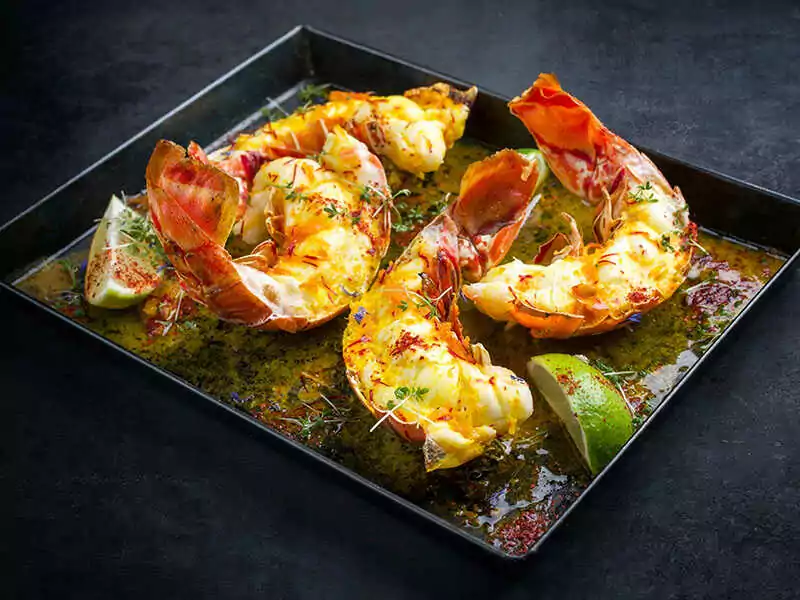 Known as "Langouste," rock lobster, or spiny lobster, this culinary gem hails from subtropical and tropical waters. Measuring around 12 inches and weighing about 2 pounds, langouste is a substantial addition to any seafood platter.
Its meat is firmer and sweeter than the Maine lobster. Therefore, it works wonders in a range of dishes, from salads and soups to pasta.
Whether steamed, grilled, or roasted, this seafood delight does not disappoint. However, langoute carries a heavier price tag.
9. Langoustine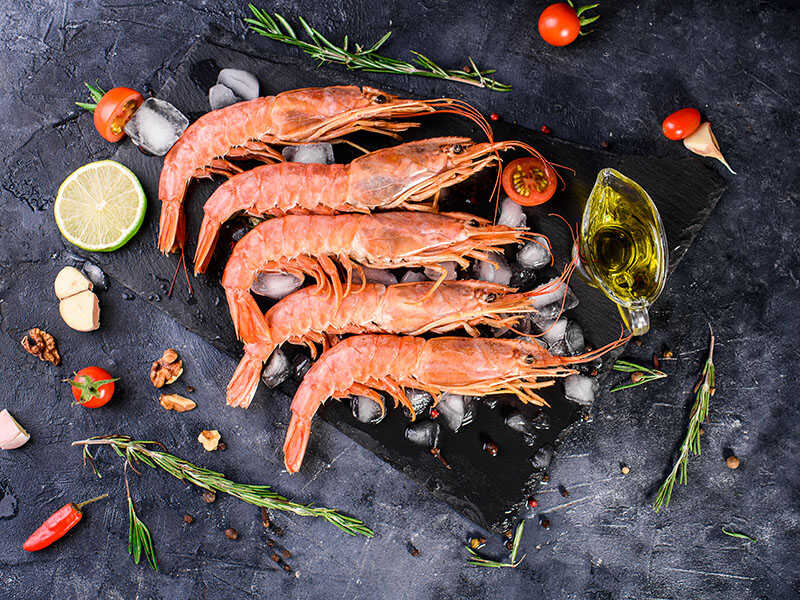 Norway lobster, or "langoustine" and "Nephrops norvegicus", looks like a crayfish. Langoustine is truly unique, with a sweet flavor akin to crab or lobster and a shrimp-like texture.
With a more expensive price tag than a lobster, langoustine is worth every penny. The tail and claws of these lobsters offer the best meat to feature in any dish. You can steam, grill, or use it to enrich your soups and sauces.
10. Limpet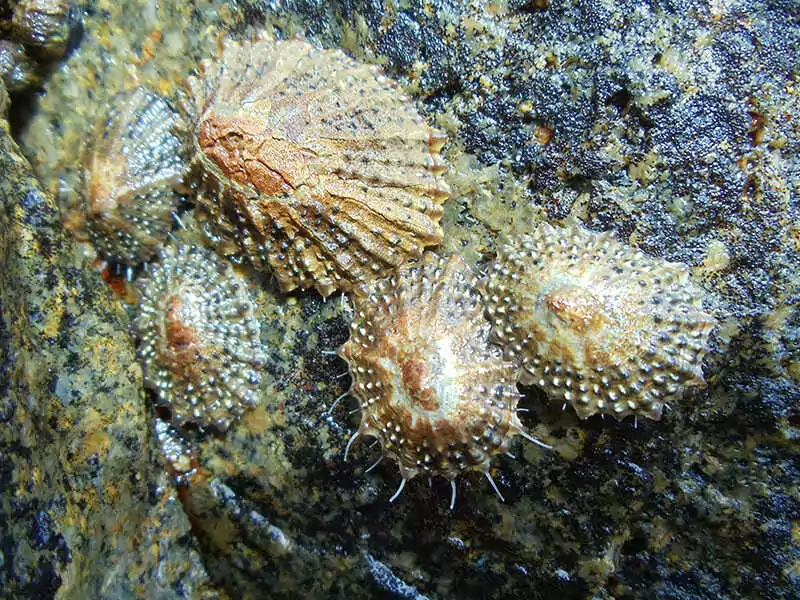 Limpets are aquatic snails with charming little cone-shaped shells that don't usually appear on the dining table. But when prepared properly, by knocking them from their rock before brushing their shells and removing the black part, they reveal a sweet, briny treasure.
Their flesh is firm and chewy, a texture that might surprise you. Boiling them, simple as it is, brings out their flavor excellently.
11. Littleneck Clam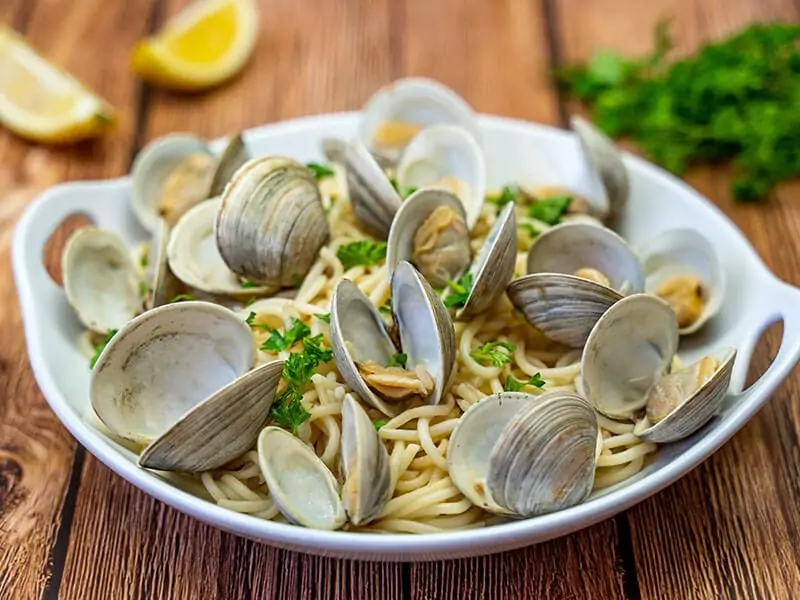 The littleneck clam from the Veneridae family, known as Pacific littleneck clams or hardshell clams, may be small in size, but it certainly delivers a flavorful crunch.
Known by various names such as the Pacific littleneck or hardshell clam, its meat is tender and sweet. Moreover, please remember that the smaller the clam, the more tender the meat.
These clams are usually best for steaming to enjoy with pasta and sauce. Adventurous foodies might even try them raw for an authentic taste.
12. Lox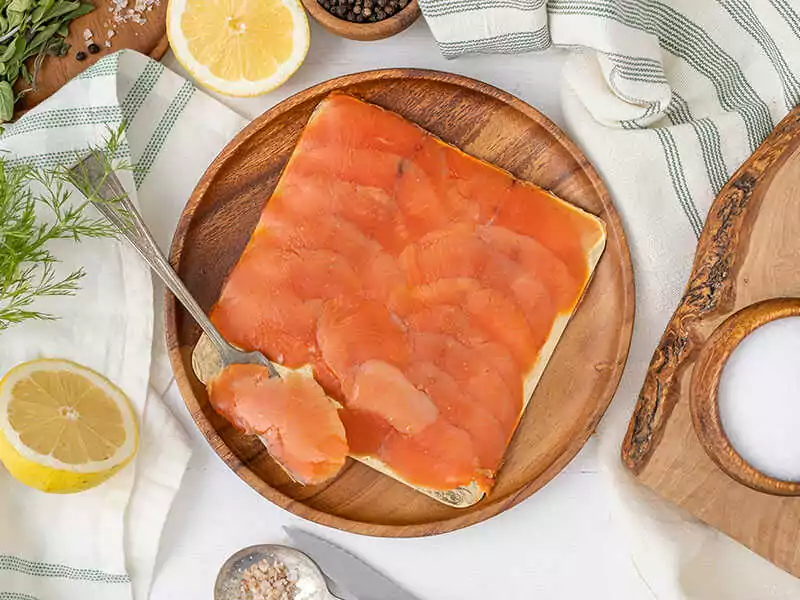 Lox is essentially a filet of brined or smoked raw salmon with thin slices and bursting with a salty flavor that makes it a breakfast favorite.
While it's easy to confuse with smoked salmon, lox carries a less smoky taste. It's the ultimate companion for cream cheese and bagels for a protein-rich start to your day.
13. Lutefisk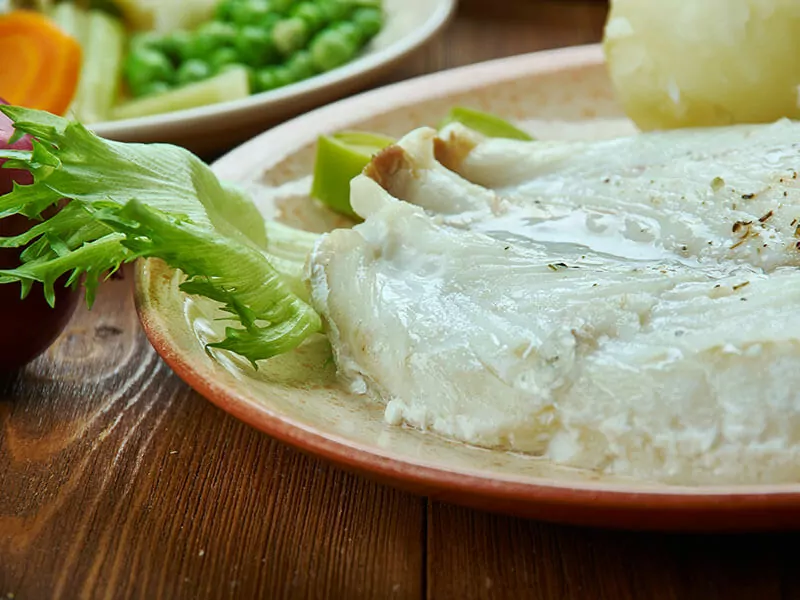 Lutefisk, or "lye fish," is a traditional dish deeply rooted in Nordic culture, especially during the Christmas occasion. Made using aged, dried whitefish, it transforms into a gelatinous delicacy after several days of lye soaking to rehydrate the meat.
While it does carry a strong, pungent odor with a hint of sourness, Lutefisk's charm comes to life when served with boiled potatoes, bacon, and a cream sauce. As a beloved cultural tradition, Lutefisk graces the dinner tables of Nordic countries around Christmas time.
Vegetables And Legumes
14. Ladies' Finger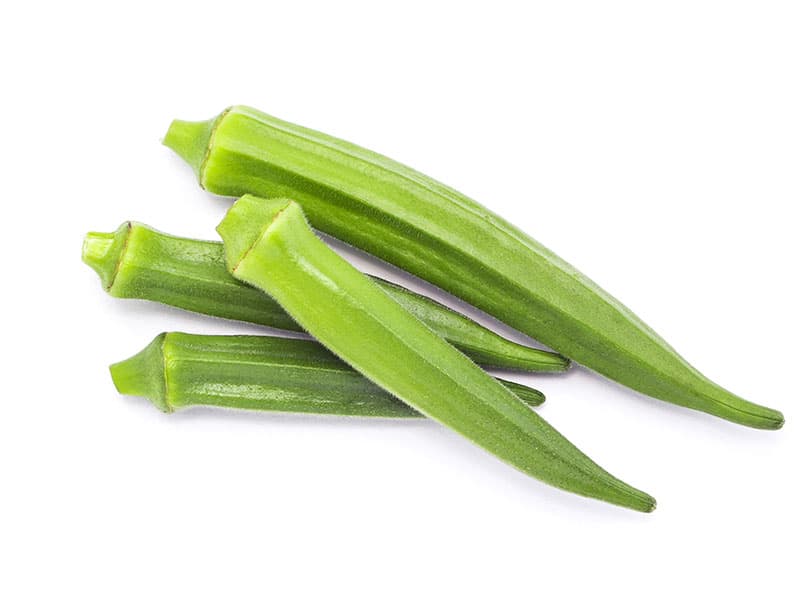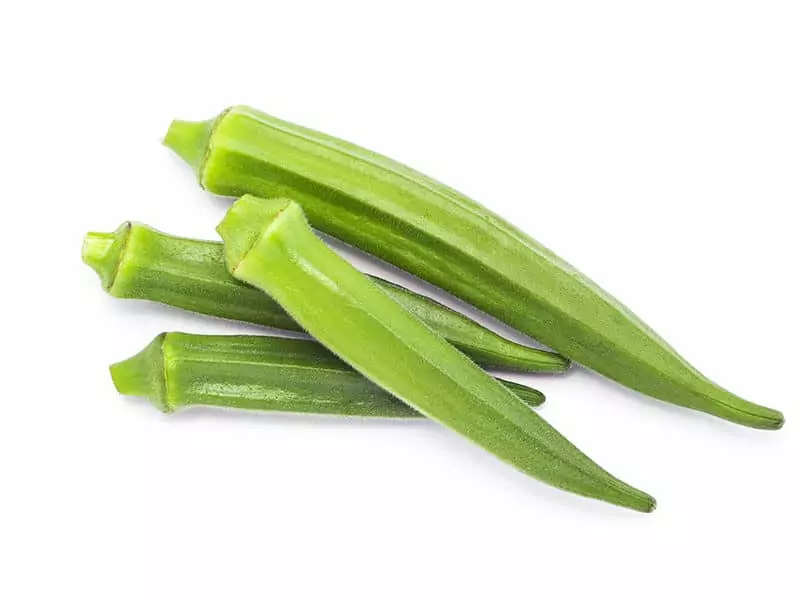 Lady's fingers or okra is a green vegetable. It gets its name from the long narrow shape, which looks like a human finger. Lady's fingers also contain many nutrients that boost the immune system, control blood sugar, reduce weight, and improve heart health (4).
Regarding its flavor, it tastes a little bit grassy. Once cooked, it is soft and slimy. They also have various edible seeds inside.
You can consume this vegetable in many ways. You can cut and cook them in your fried or boiled dishes or soups and stews. Others grind and roast their seed, just like they do with coffee.
15. Legume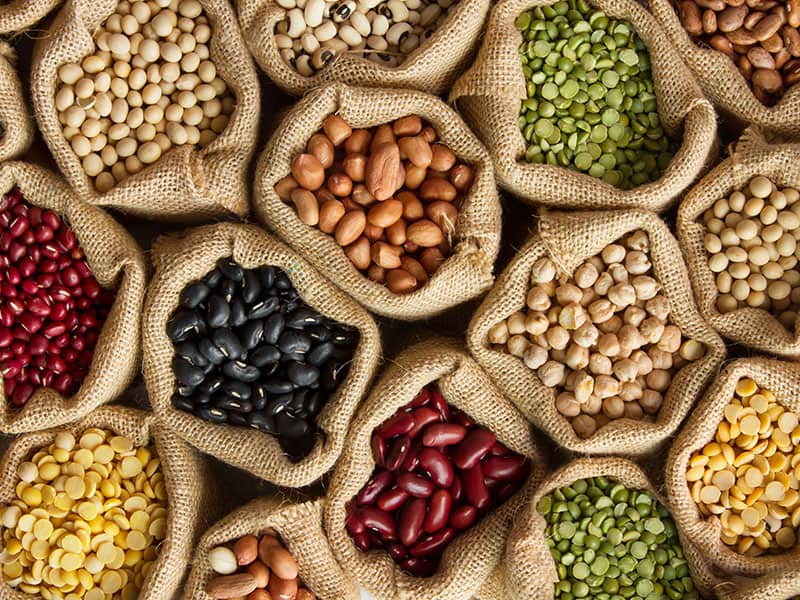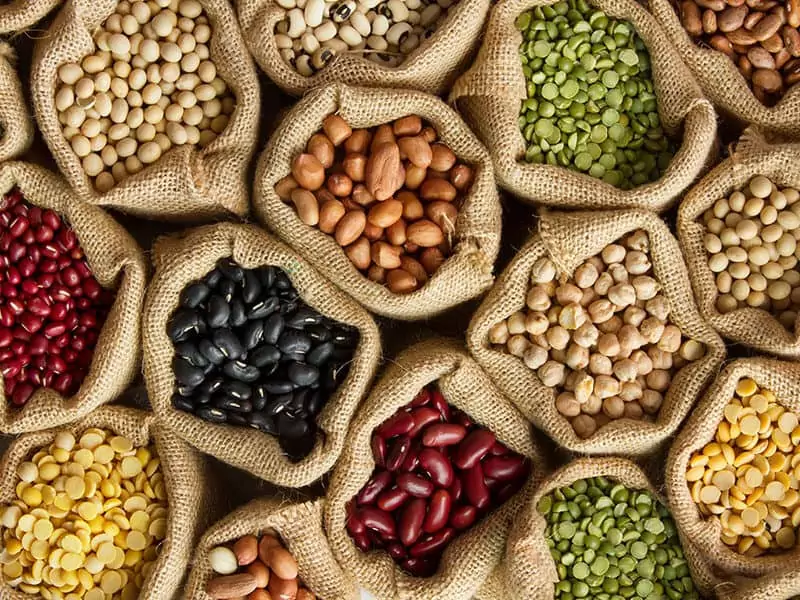 Generally, legumes can be understood as edible seeds inside a pod, for instance, beans, peas, soybeans, peanuts, and beyond. Numerous farms feed them to the livestock.
However, they can also be consumed by humans since they are nutrient-packed with proteins, carbohydrates, copper, iron, magnesium, and zinc. Legume is also a decent meat substitute for vegan and vegetarian diets.
16. Lentils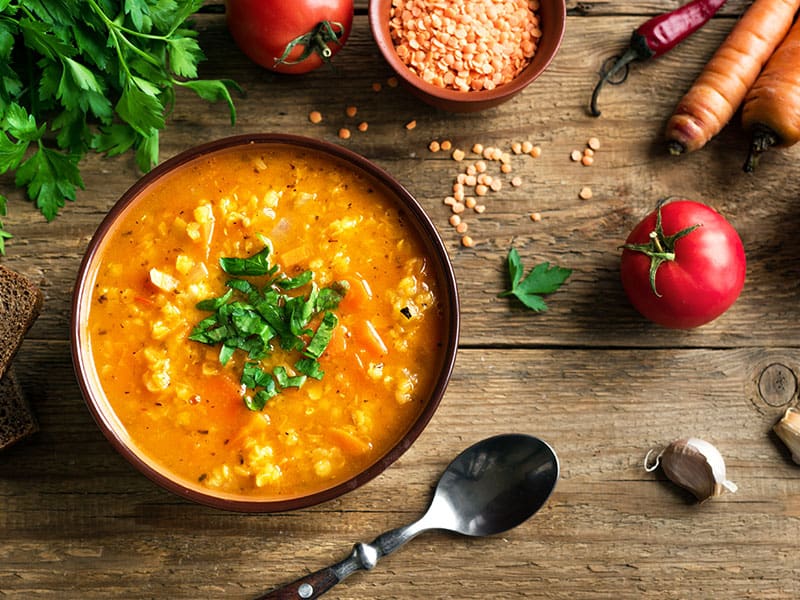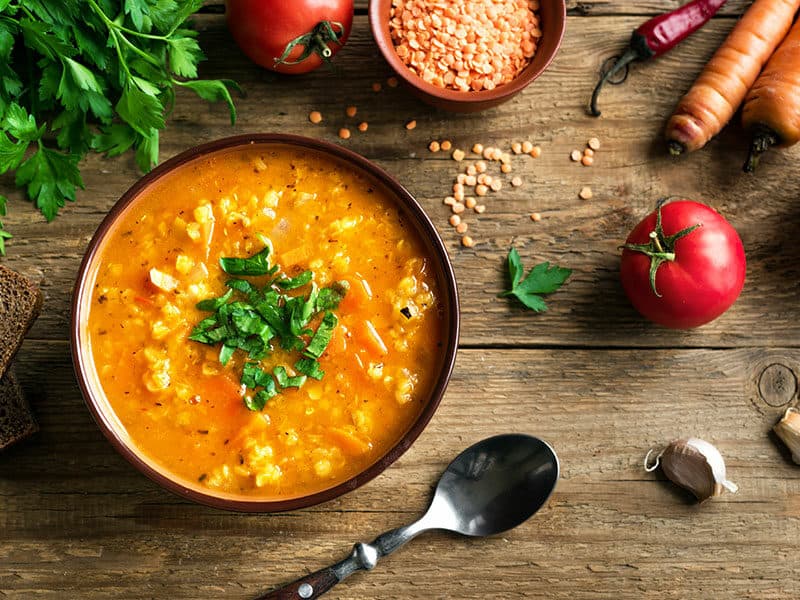 Lentils is a member of the legume family. They are seeds with shapes like the lens, a majority of them are from India and Canada. Different kinds of lentils will have various colors, like red, green, or yellow.
Since lentils are great sources of plant-based protein and nutrition, plenty of vegetarians choose these seeds to replace meat. They are also low in fat.
For cooking, they are great for making soup, stew, dahl, salad, etc. In India, lentil dal soup is one of the most popular dishes. Quite a lot of people also make lentils into patties for vegetarian and vegan burgers.
17. Lettuce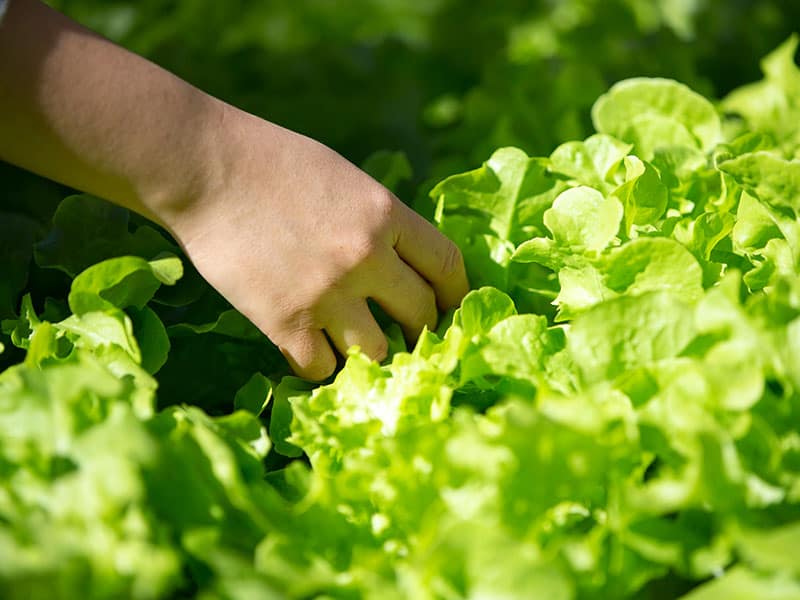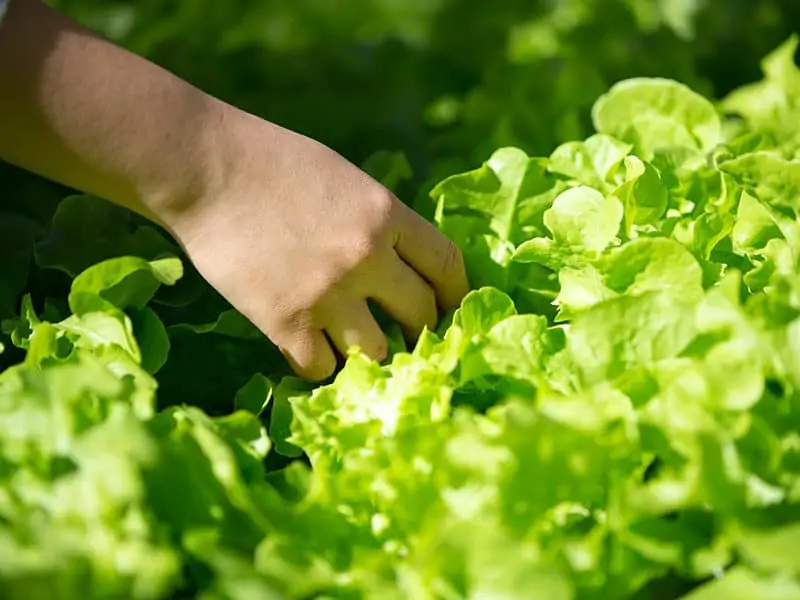 When it comes to making salads, lettuce is a must-have item. This is a leafy veggie that you can also use in sandwiches, wraps, burgers, and more.
There are a variety of lettuce leaves: Some can be tightly packed, while some are loose and wavy. The flavor also varies largely, from watery and bland (like iceberg lettuce) to intense bitter or a bit hot.
And since these lettuce varieties have various storage methods as well, you should learn them in advance. Lettuce is also a treasure of vitamins, such as vitamin C, A, and K in it. You can even find folate and potassium, too (5).
18. Lupin Beans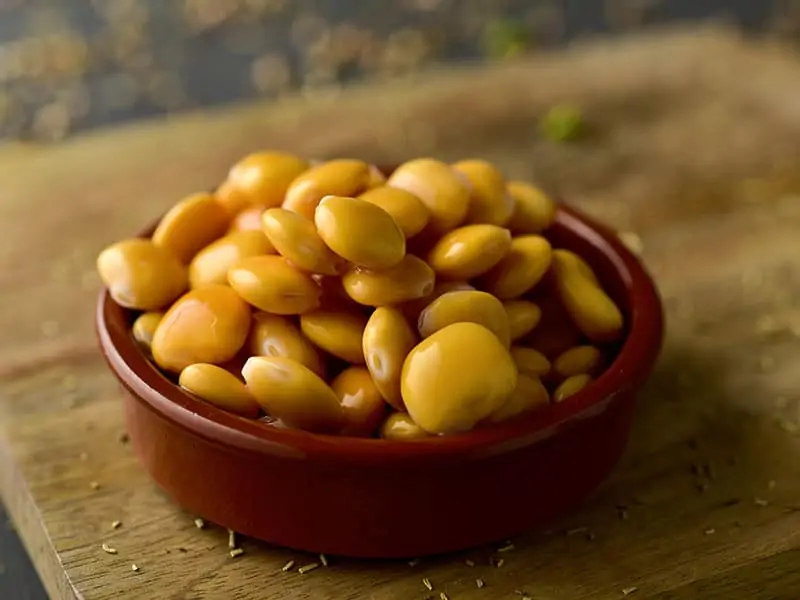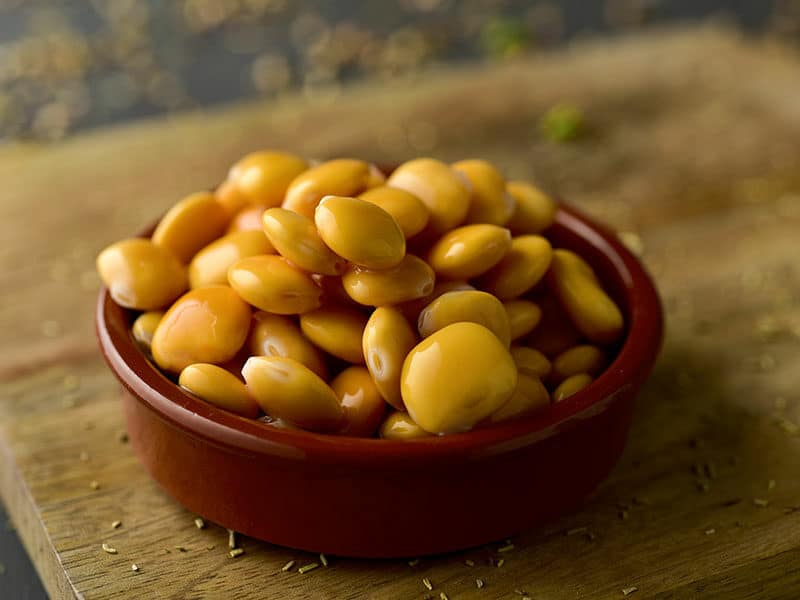 Since ancient Egypt, lupin beans have been used as pickled snack food. However, at that time, there was only a bitter version of them. If you want to enjoy those, you have to soak them in saltwater for a couple of days to get rid of the bitterness.
The reason is that lupin beans have a bitter taste since they contain alkaloids. Now, people grow more and more sweet lupin beans, though some still prefer bitter ones. While eating it, you can also feel a nutty and sweet flavor with the firm texture of the beans.
For cooking recipes, besides pickled dishes, this bean can be ground into flour, which can be an excellent replacement for wheat flour. Of course, they are perfect dairy and meat substitutes. This one is also a well-loved street food in the Middle East countries.
Speaking of its benefits, lupin beans are a superfood with high proteins and nutrients.
19. Lima Bean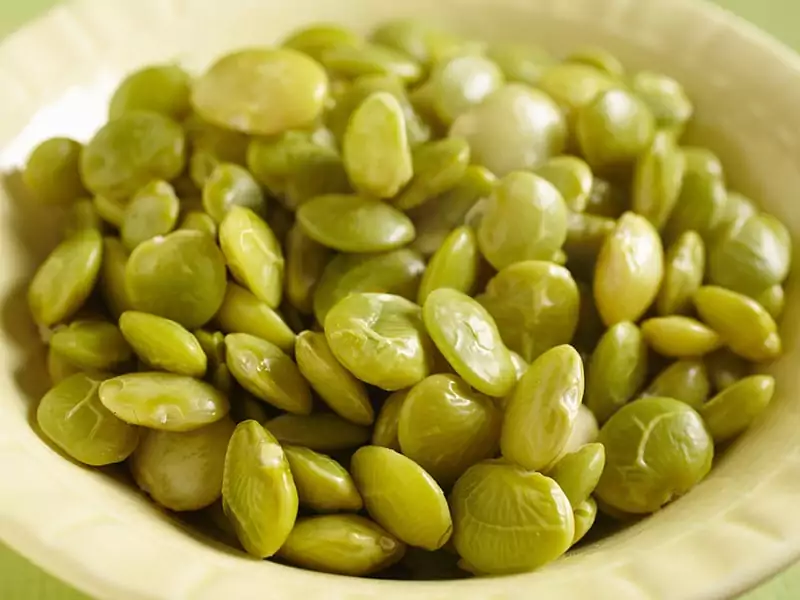 Known by many names like butter beans, sieva beans, or Madagascar beans, lima beans are legumes that sprout from the Phaseolus lunatus plant. They share a visual similarity with edamame but are a tad larger and have more starch.
These beans have a creamy texture and a mild buttery taste, perfect for adopting the flavors of other ingredients. They're a hit in South America, lending themselves splendidly to soups, stews, curries, and beyond.
Lima beans are low in fat and cholesterol-free. Plus, they boast a richness in manganese, iron, and fiber, among other nutrients. This makes them superb for supporting your digestive system, heart health, and blood condition (6).
20. Long Beans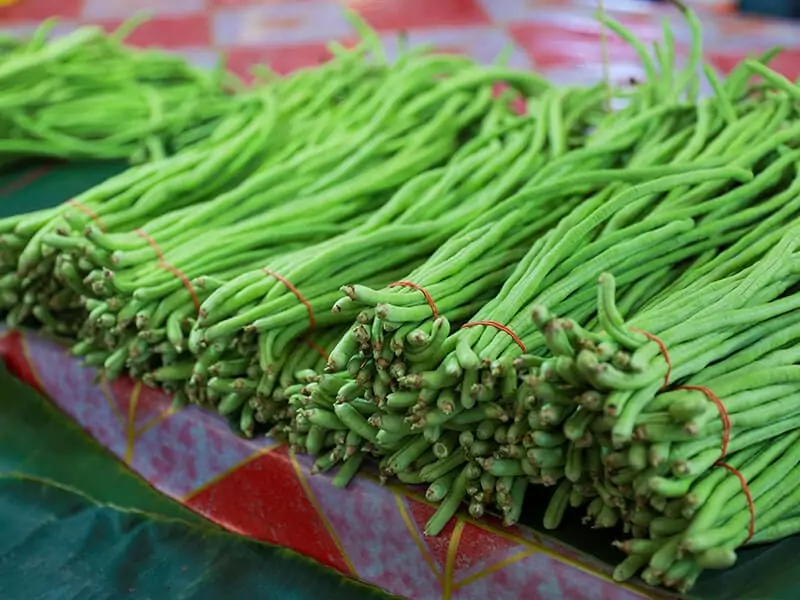 Long beans have many names, such as Chinese long beans, snake beans, yardlong beans, or pea beans.
They can grow over 3 feet long and possess a slightly crispy texture with a sweet, nutty flavor resembling green beans. However, they're less curved and much longer than green beans.
In Asian cuisine, long beans are a favorite, usually chopped into shorter lengths for convenience. They're quite versatile, whether steamed or sautéed for a side dish or thrown into stews and soups. You can even munch on them raw!
21. Lambsquarters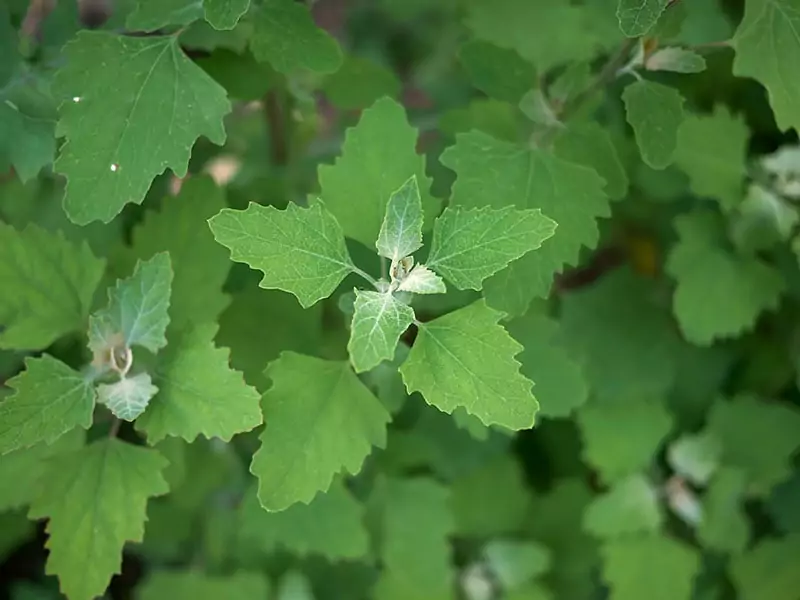 Lambsquarters is a broadleaf plant closely related to quinoa and amaranth. Although some view it as a weed, it's also edible! You can enjoy its earthy flavor, akin to spinach or chard, either fresh or cooked.
Don't overlook the seeds either – once dried and ground, they're a great addition to baked goods. It's a nutrient-packed green, outdoing even spinach and cabbage with its higher iron and protein content, not to mention vitamin A, vitamin C, manganese, and calcium (7).
22. Leaf Beet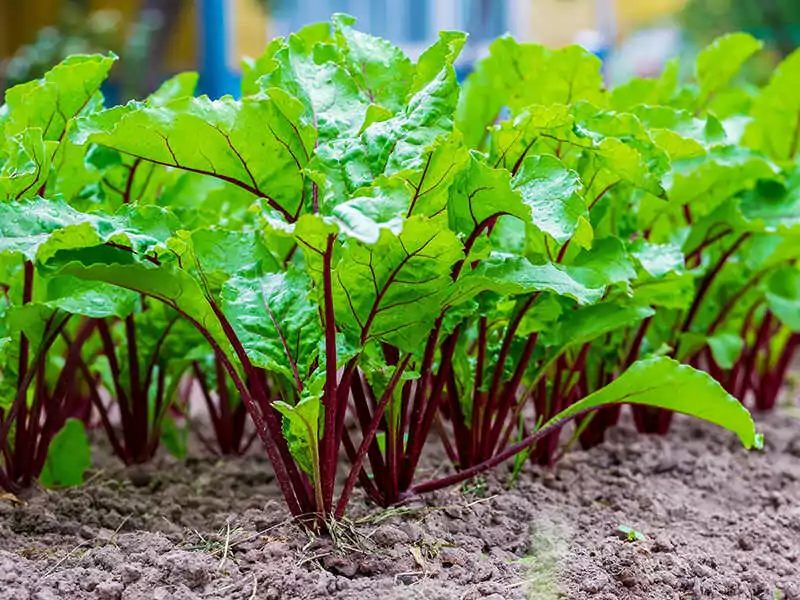 Leaf beet is a group of Beta vulgaris cultivars like Swiss chard and beet spinach, cultivated for its leafy goodness. The flavor can vary with Swiss chard, offering a mild, sweet, earthy taste and a gentle bitter note.
These leaves can brighten up your salad or lend depth to sautéed, boiled, or steamed dishes. And those colorful stalks that come in yellow, red, purple, pink, and white can be captivating to look at. Plus, it's a healthy choice, rich in antioxidants and vitamin C.
23. Leaf Mustard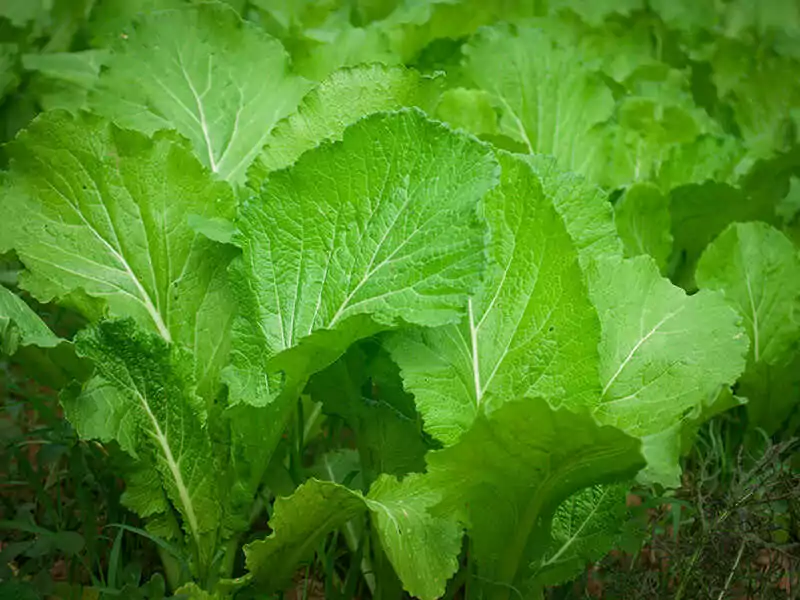 Leaf mustard, with aliases like brown, Chinese, Oriental, or Indian mustard, possesses a sharper, bitter, more peppery flavor profile than kale, especially when eaten raw. The flavor has a nice blend of peppery and horseradish-like notes.
Furthermore, the succulent, crunchy leaves and stalks can be enjoyed raw or cooked by boiling, steaming, or stir-frying. With an impressive lineup of antioxidants, B vitamins, and vitamins A, C, and K, it's a tasty choice that's good for your bones, brain, and eyes (8).
24. Lamb's Lettuce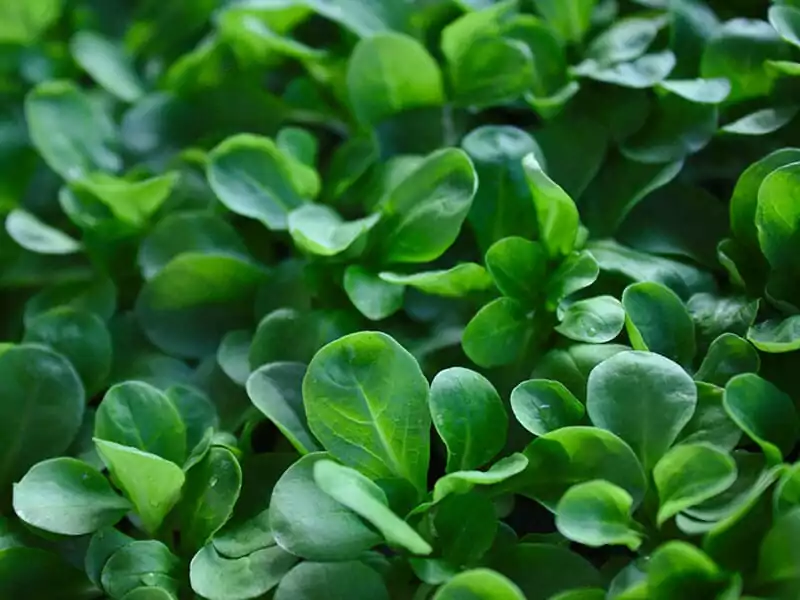 Lamb's lettuce (Valerianella locusta) traces its roots back to Europe, western Asia, and North Africa. Also known as corn salad, it gets the name "lamb's lettuce" from its leaves, looking like a lamb's tongue.
This small, herbaceous plant is enjoyed as a leafy vegetable, boasting spoon-shaped dark leaves with a soft texture. As for the taste, young leaves carry a nutty and tangy note, while older ones can be quite bitter.
Ideal for salads or steamed as a side dish, I suggest wilting lamb's lettuce briefly to preserve both nutrients and flavor.
25. Leek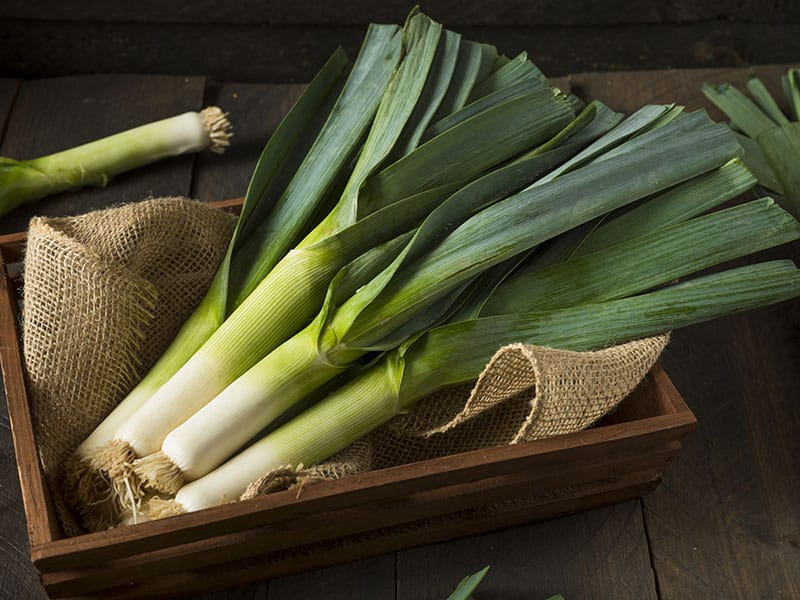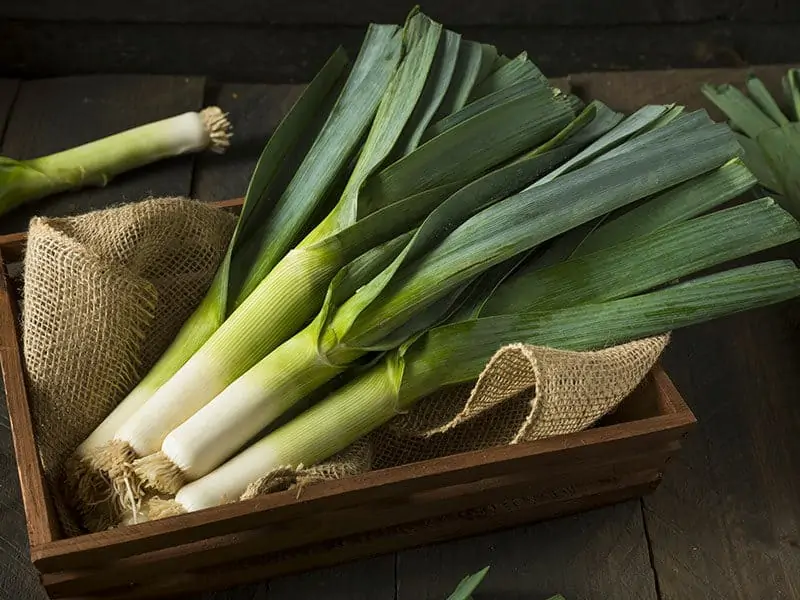 Leek is a related plant with onion, garlic, and scallions, with the appearance of giant spring onion. Leek's taste is like mild onions, green onions, and shallot, making them suitable leek substitutes. Its leaves are dark green and change color to white towards the root.
Leek can be eaten raw or used in cooking. Some prefer adding its roots, the white blunt bottom part and the lighter-green leaves into the salad to have more texture since it's crunchy and firm. Others use the darker-colored leaves to sautée and bring more flavor to the dish.
That's why you should always have some leeks in your kitchen. There are many ideal ways to extend leeks' shelf-life, meaning that you'll always have a tasty and versatile vegetable in your fridge for a quick and scrumptious meal.
Fruits
26. Lemon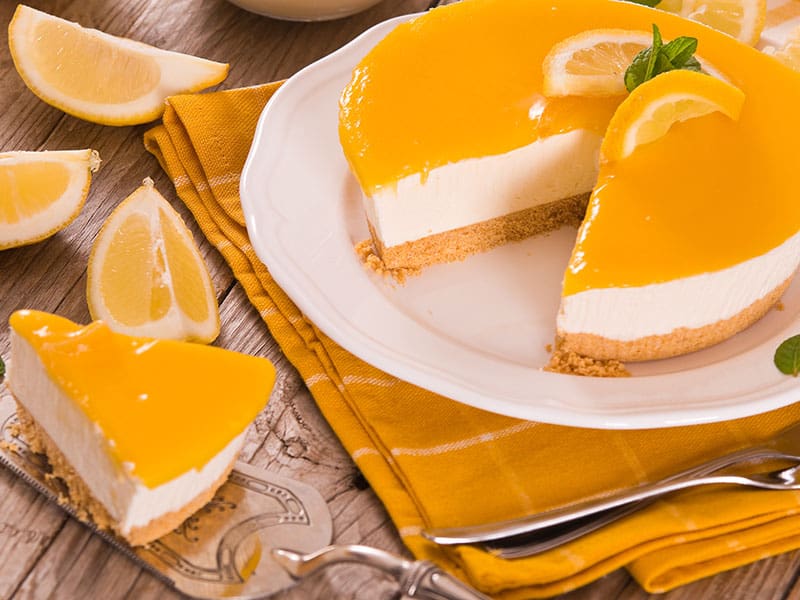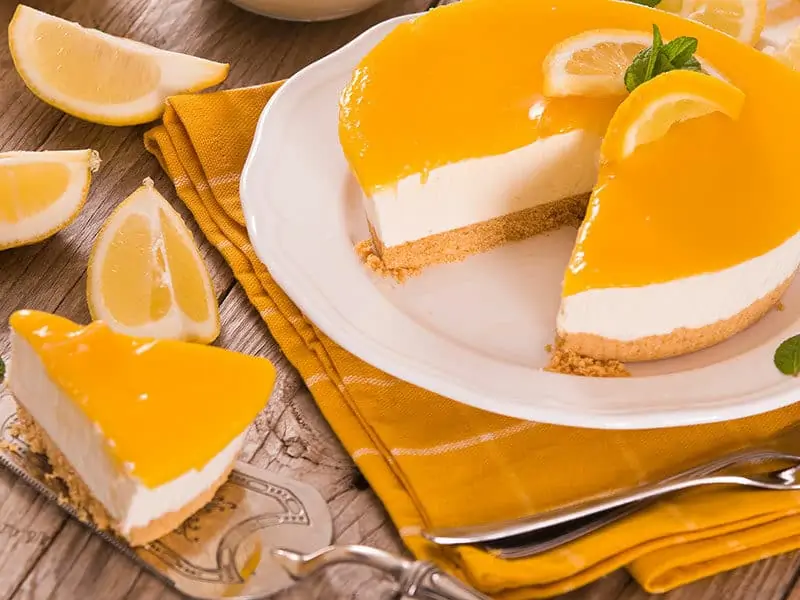 Lemon is a very popular citrus fruit from the Southern part of Asia. It looks like a small rugby ball with yellow, thick skin and an acidic, tart juice inside.
Its intense flavor makes lemon a popular flavoring component in both savory and sweet dishes, like desserts with lemon, or you can find them in beverages like tea.
Besides, lemon is packed with antioxidants and vitamin C (9). Therefore, it can help drinkers avoid kidney stones, anemia, reduce cancer risk, and even enhance the ingesting process. People on a diet can squeeze half a lemon into a glass of warm water and drink it to reduce weight.
27. Lime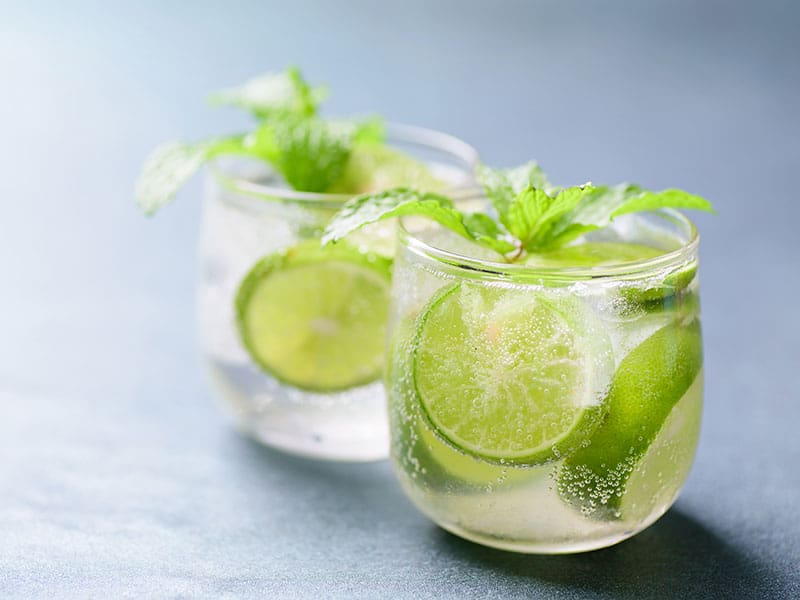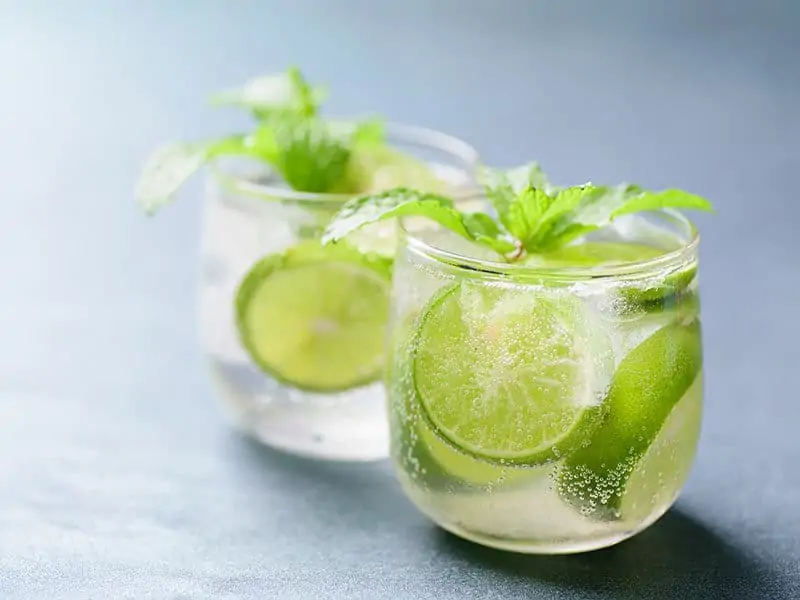 Lime is a small, green version of lemon. If lemon looks like a small rugby ball, then lime is a tiny green soccer ball. It has a strong sour flavor, same as lemon, but a bit sweeter and more acidic.
There are various kinds of limes, such as key lime, Persian lime, dessert lime, and kaffir lime. Some are sweeter, some are sourer. That's why they are used in a wide range of dishes and beverages.
Lime also contains many nutritious components, like antioxidants, vitamin C, and so on (10). You can try limeade instead of lemonade for a change of flavor. They are also an important ingredient in some cocktails, like mule cocktails. Plus, you can use it to garnish your drinks.
28. Loganberries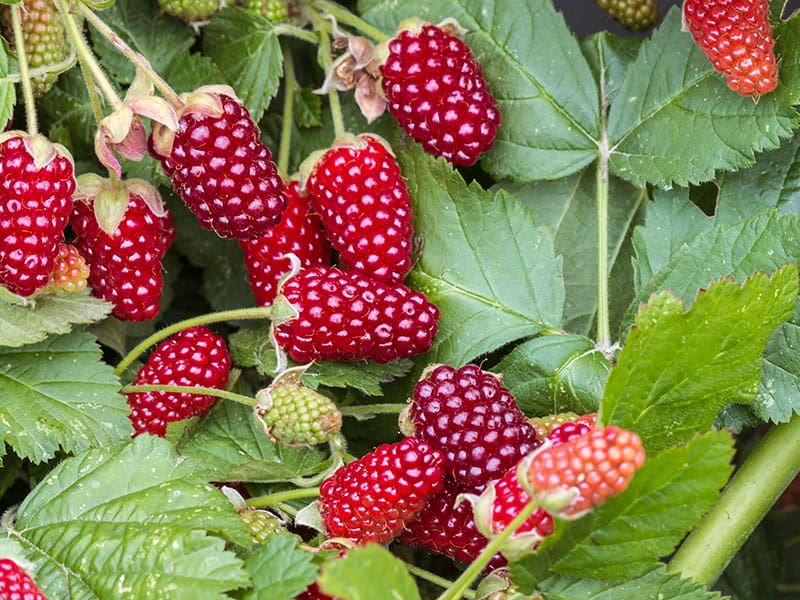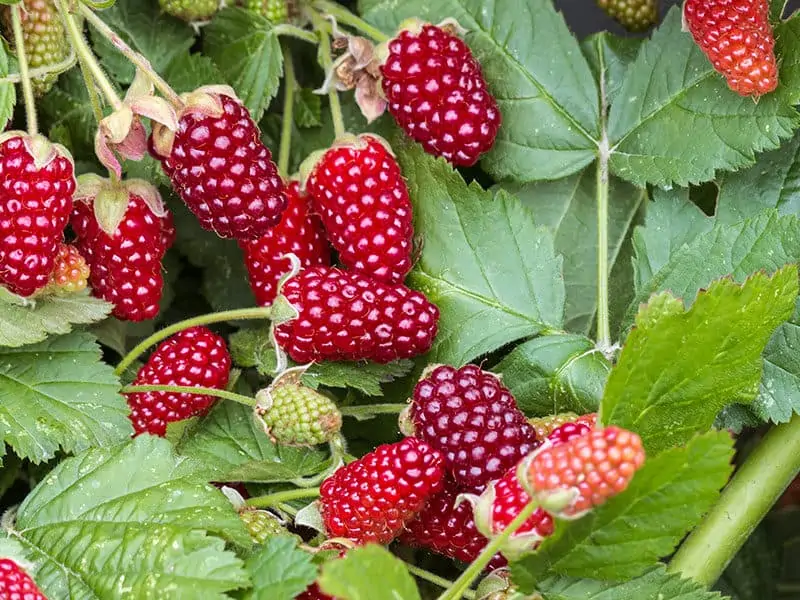 Loganberries are a fusion between blackberries and raspberries, with a reddish color. Their flavor is a balance of sweet and tart, similar to a blackberry and a raspberry.
You can eat loganberries raw or turn them into juice, jams, syrups, baked goods, and more. Frankly speaking, you can use it in any recipe that calls for blackberries.
Loganberries are great sources of vitamin C and are completely rid of cholesterol, fat, and sodium.
29. Loquats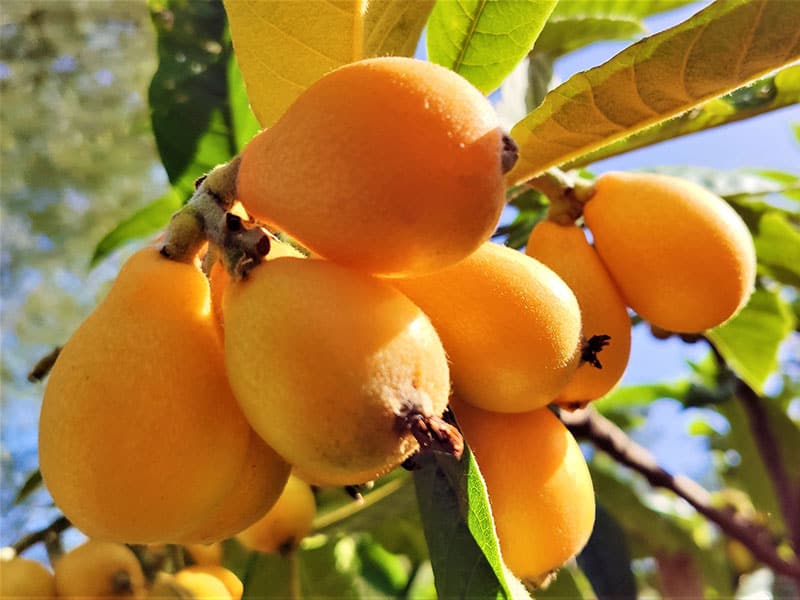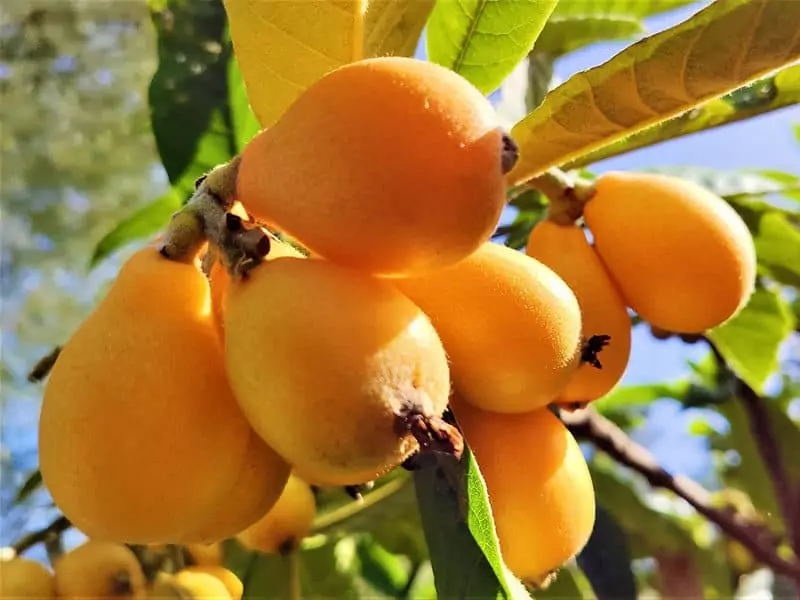 Loquats are acidic yellow fruits with an appearance of an apricot. However, these two fruits have completely contrasting flavors. Loquats possess a sweet taste with a mild tartness, while unripe ones are very sour.
They also have a very beautiful appearance with a yellowish-orange peel and soft touch. You can find them in East Asia, especially South China – their home country. FYI, its season is from early spring to early summer.
People mainly take this delicious fruit with L as the beginning letter and make them into jellies. Asian people even use their leaves to brew tea. What's more, it is a nutritious fruit for you. As a rich source of vitamin A and antioxidants, this fruit provides various health benefits (11).
30. Lychee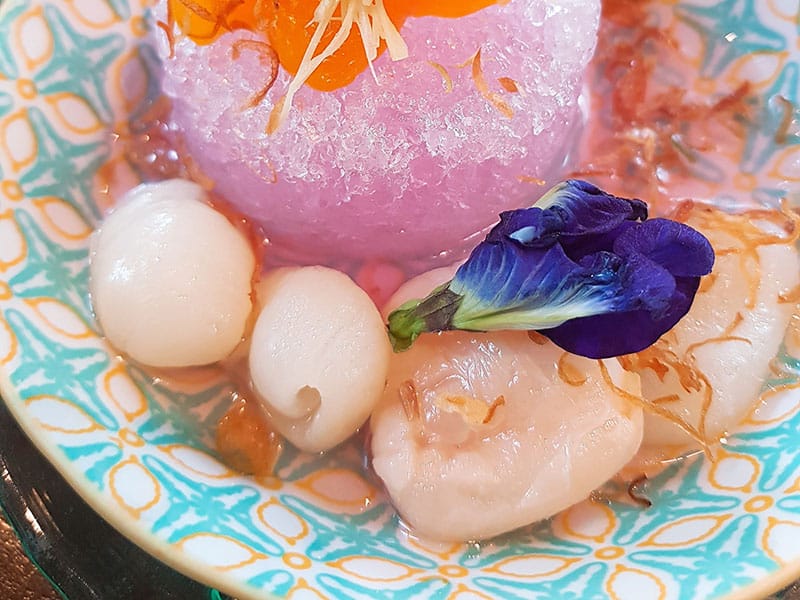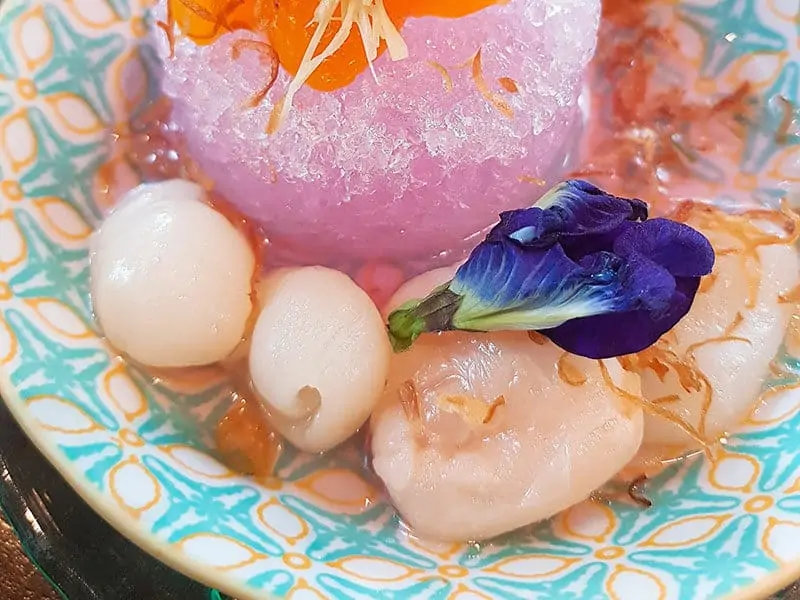 Lychee is a tropical fruit growing in clusters. Native to South China, you can also find it in other regions, like South Africa and Madagascar.
The lychee skin turns red velvet when ripened. You should peel its skin off before enjoying the sharply sweet fruit meat inside. Many prefer eating these yummy juicy fruits raw or using them for dessert.
Despite being packed with vitamin C and other nutrients, you should refrain from eating too much lychee as it can cause hypoglycemia, leading to encephalopathy (12).
31. Langsat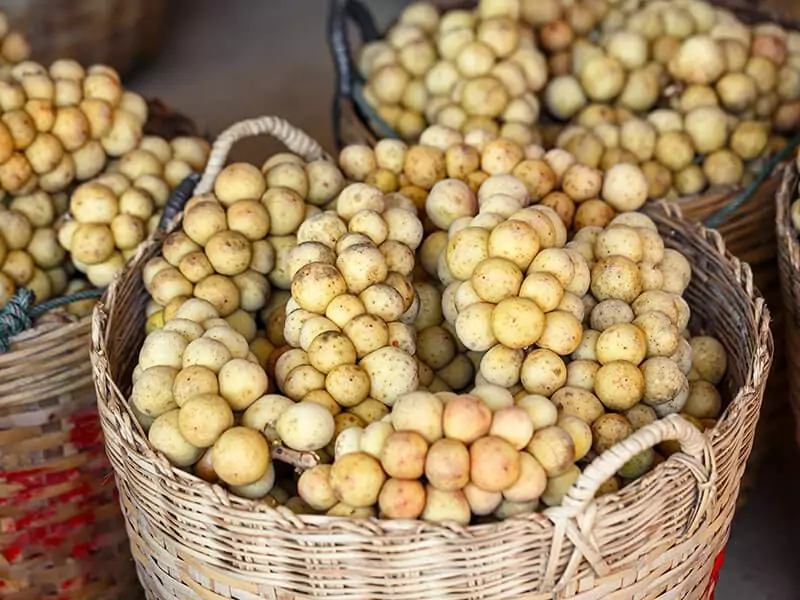 Langsat, also known as Lanzones or Longkong, is a member of the Mahogany family with roots in Southeast Asia. This round or oval fruit boasts a yellow, fuzzy skin that encases juicy flesh with a harmonious flavor of sweet and tart.
Watch out for the seeds, though, they can be quite bitter when bitten into! While most people opt to eat Langsat fresh, it's also used to whip up candies, drinks, sauces, syrups, and jams. Plus, it's a good sucrose, fructose, and glucose source (13).
32. Lantana Berries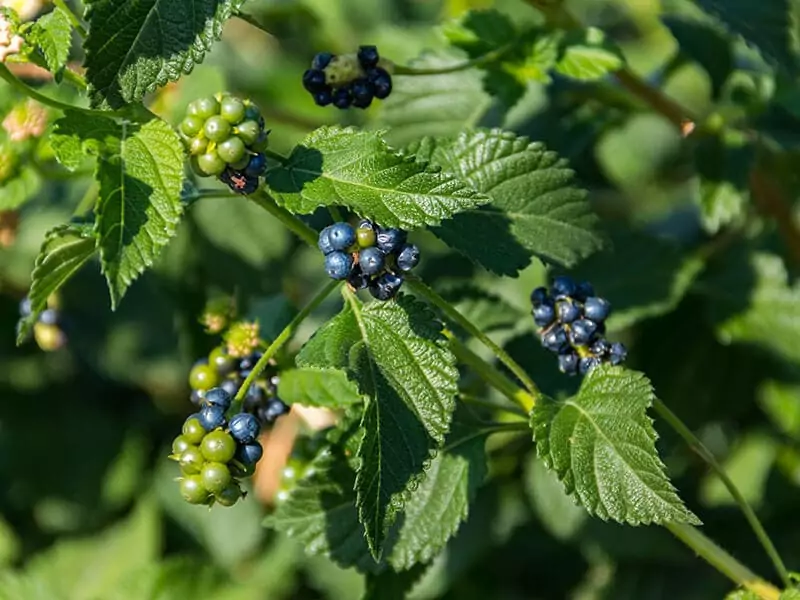 With a resemblance to grape bunches but with a size closer to peppercorns, Lantana berries usually have a bluish-black hue and metallic sheen. These sweet and tart berries are reminiscent of a black currant-cherry fusion with chocolate undertones.
Remember, only ripe ones are edible, as the green ones are mildly poisonous. Apart from being enjoyed fresh, Ripe Lantana berries are also great for creating jams and jellies. Additionally, processed and tested Lantana essential oil is a remedy for skin irritation, leprosy, and scabies.
33. Lemonade Berry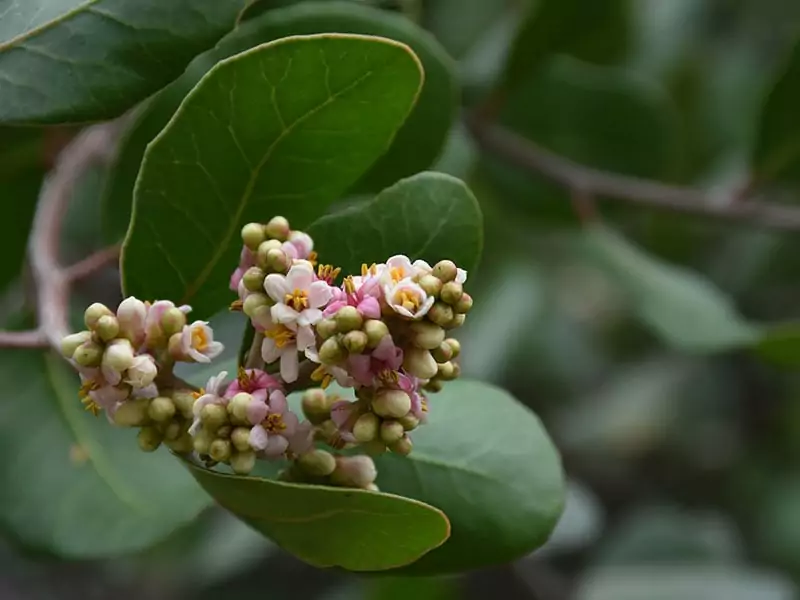 Lemonade berries are known as Rhus integrifolia or lemonade sumac. These berries grow on shrubs or small trees, reaching heights between 3.3 and 26.2 feet. Commonly, you can find these berries in Southern California's Transverse and Peninsular Ranges and the South Coast regions.
With an appearance similar to corn kernels, the berries cluster together, akin to grapes. But what's really special is their taste, sour like lemons, which makes them a fabulous addition to lemonade-flavored drinks.
The ripe berries possess a vibrant red with a thin layer of fuzz, requiring the removal of exterior hairs and sap before consumption. Lastly, they're rich in tannins, providing some potential health benefits.
34. Lingonberry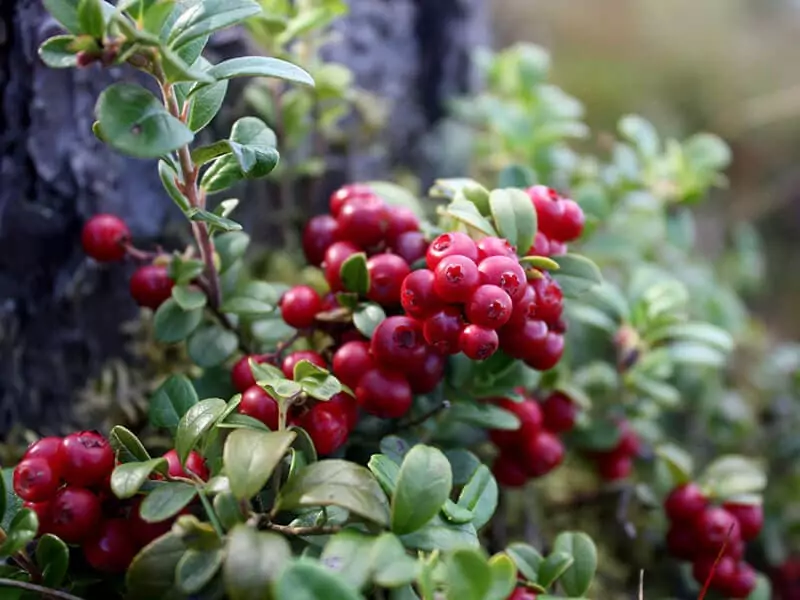 Vaccinium vitis-idaea, partridgeberry, mountain cranberry, or cowberry are the names of Lingonberry, a little treasure of the Arctic tundra and boreal forests. Furthermore, its Swedish origins are reflected in its name, "lingon."
This small evergreen shrub, part of the heath family Ericaceae, is like a globe-trotter, famous all across the Northern Hemisphere from Europe and Asia to North America.
In their raw state, they're quite tart and bitter. As a result, to bring out their best, these berries are often cooked and sweetened, transforming into delectable jams, syrups, baked goodies, and juices.
35. Loganberry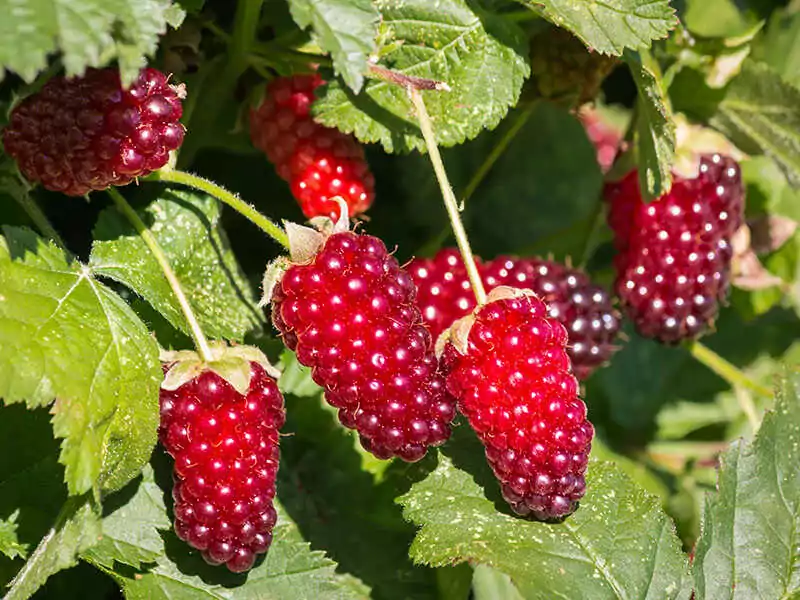 As a cross of the North American blackberry and the European raspberry, the loganberry is a unique hybrid created unintentionally by James Harvey Logan. This plant, very similar to the blackberry in appearance, sports a striking dark red fruit.
However, its appeal extends beyond fresh consumption, as it's a popular pick for juice, jams, pies, crumbles, fruit syrups, and even wines.
Loganberries are also nutritional powerhouses with manganese, vitamin C, iron, and essential B vitamins like thiamin and riboflavin. Plus, their high antioxidant content makes them a healthy choice for your diet that can potentially prevent cancer.
Herbs, Spices, and Flavorings
36. Lemongrass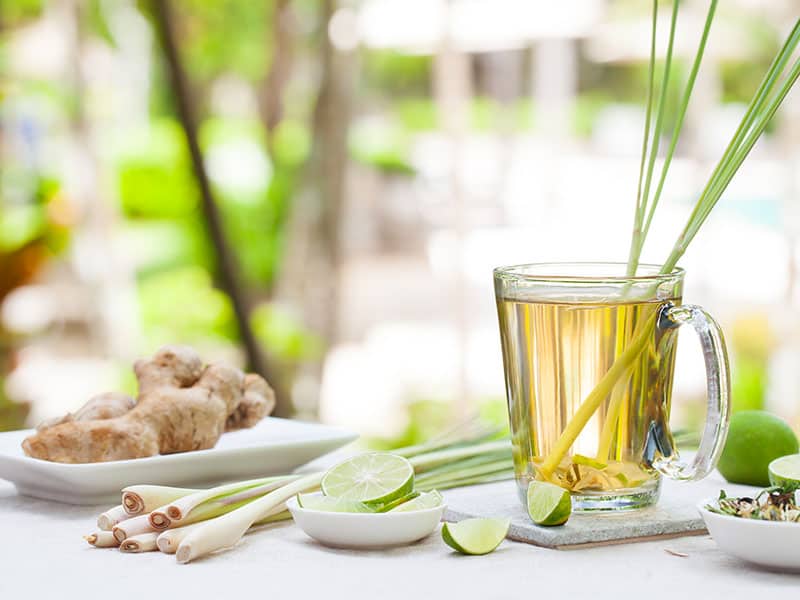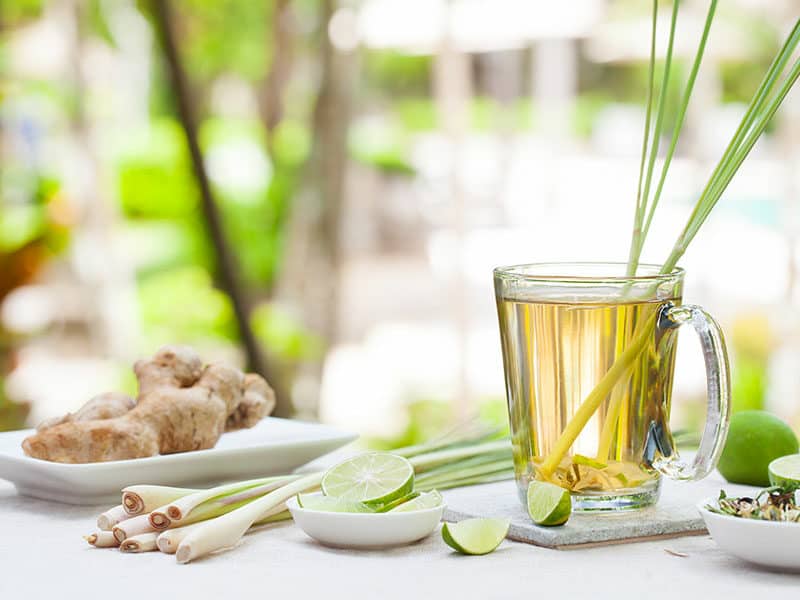 Lemongrass is common in every Asian kitchen. However, it can be hard to find in Western cuisine, so you may need to find lemongrass alternatives if you live in these countries. Its name comes from its aroma, which smells like lemon. But its appearance is the same as onion or leek.
Lemongrass (Cymbopogon) is a tropical island dweller with a knack for versatility. Some might know it as barbed wire grass, silky heads, cochin grass, or even malabar grass. Whatever the name, this plant is a dual-purpose marvel, fitting with both culinary and medicinal purposes.
A fantastic alternative for galangal, lemongrass's fragrance changes largely as it grows old, from a mild and tender aroma to a stronger, more fibrous smell. That's why you should keep lemongrass in the fridge to preserve the gentle scent.
37. Lemon Basil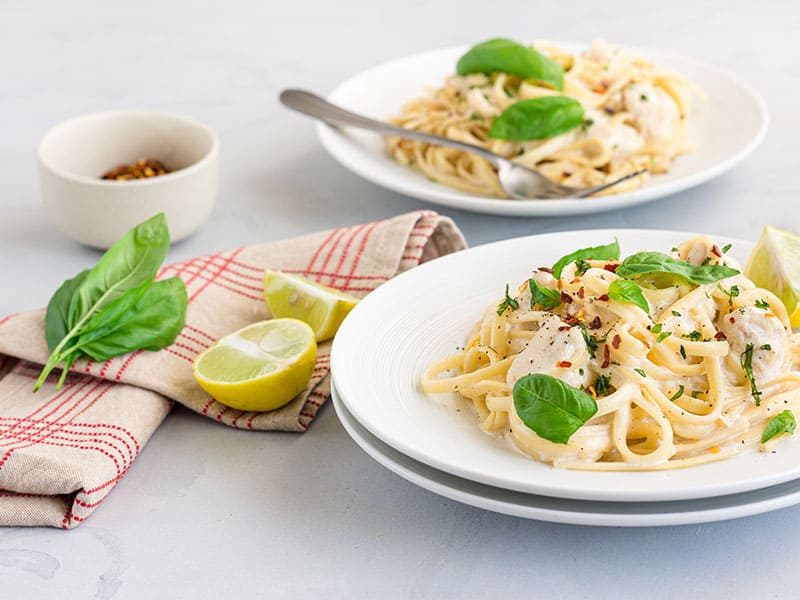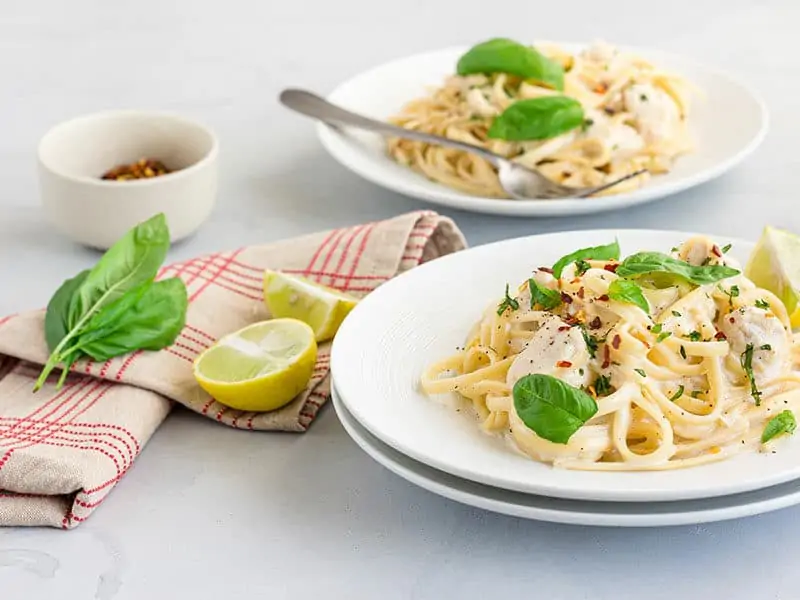 Just like its name, lemon basil has a similar appearance as basil leaves, only narrower with a bit of edge and the same aroma and taste as lemons. They are widely used in Southern Asian cuisines, such as soups, stews, curries, and so on.
This basil variety is a fusion of regular basil and American basil. Lemon basil's also served raw in salads. And their flower seeds are used to make desserts after being soaked in water.
38. Lovage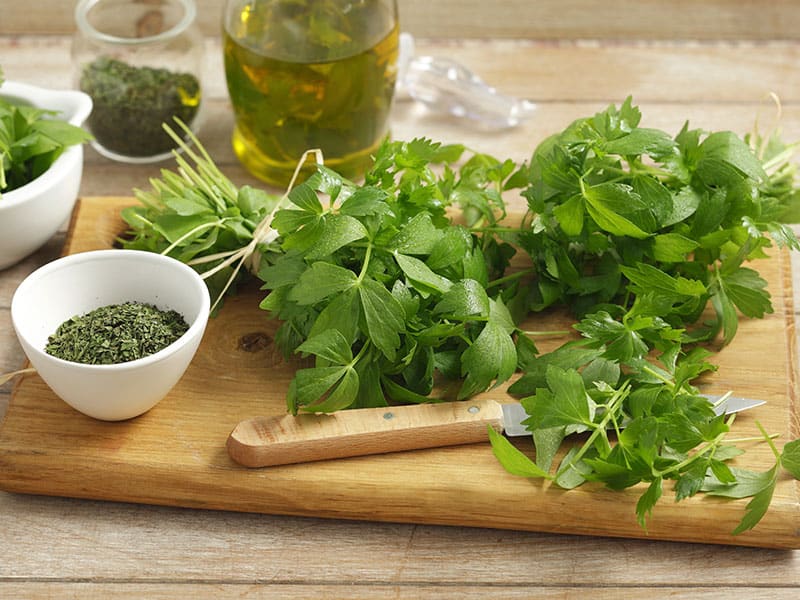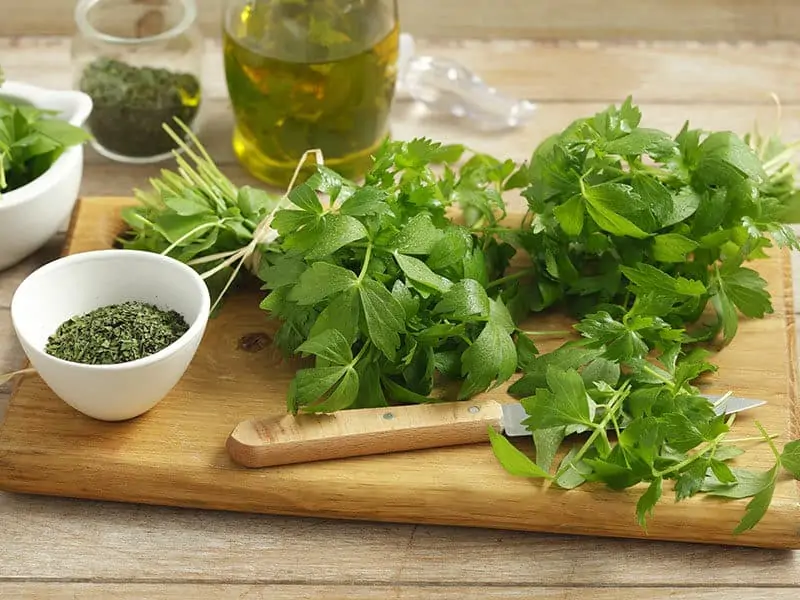 Lovage, also called sea parsley, is a tall, edible herb from a white flowering plant. It has been cultivated in Europe since ancient times and now becomes one of the most common herbs in South Europe and England. When fully matured, this plant can tower between 6 and 8 feet in height.
Why, you may wonder. That's because everything in this plant can be used. Its leaves can go in any salads, soups, and season broths as an aromatic herb. They also have medicinal usage. Its roots have a texture similar to vegetables. You can grate them for the salad.
For the seeds, you can use them as a spice, like the fennel seeds. In Romania, people dry lovage with seeds, then add them to pickled cabbage and cucumbers.
39. Lavender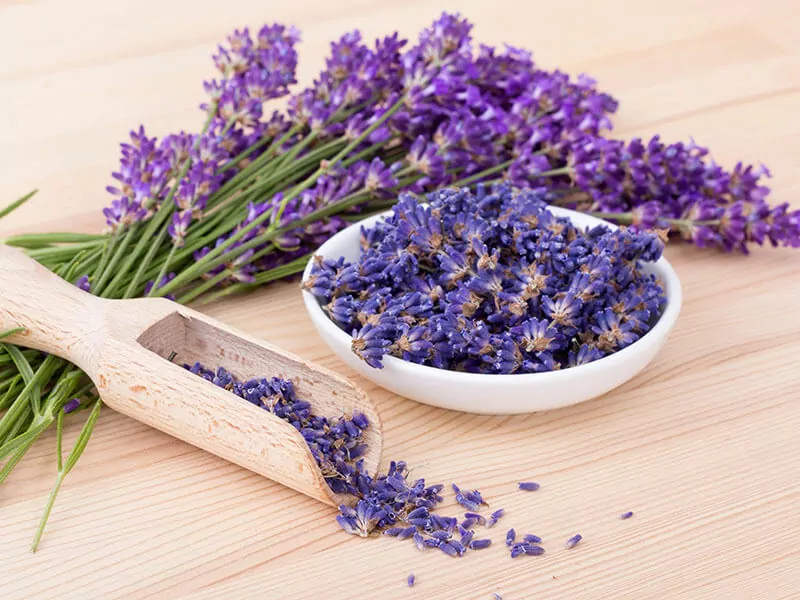 Lavender, or Lavandula, hails from the mint family rooted in the Old World, specifically Cape Verde and the Canary Islands. This herb has been a staple in traditional medicine and cosmetics for centuries.
The relaxing aroma of lavender is as soothing as it gets. In the culinary realm, lavender is a complex herb utilized for enhancing cocktails, main dishes, and desserts. It also pairs well with oregano, thyme, rosemary, and sage. Plus, it's an attractive garnish to many delicacies!
Grains, Pasta, and Baked Goods
40. Lasagna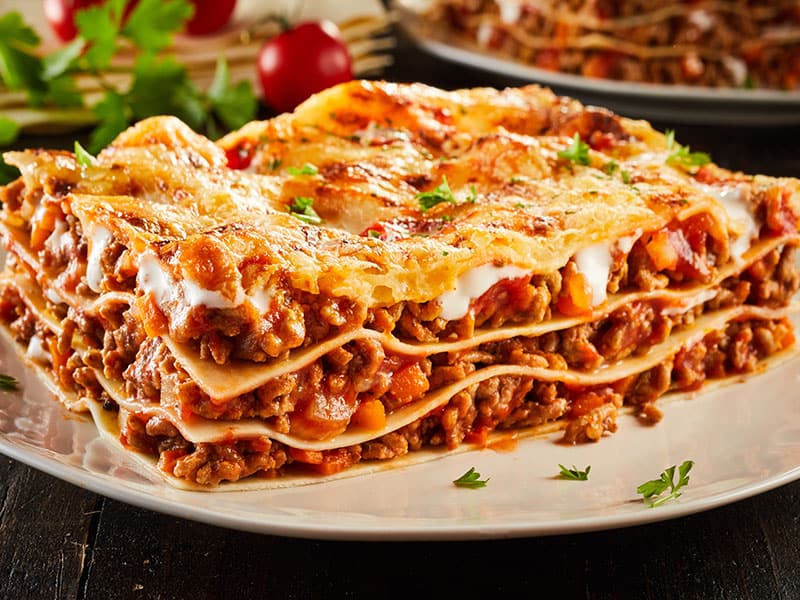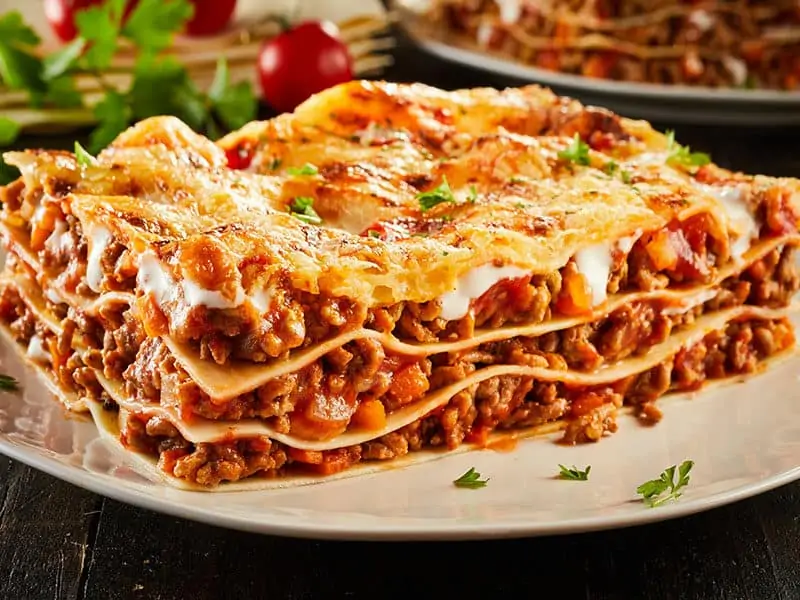 Lasagna, some call it lasagne, is a simple yet elegant Italian dish. It traditionally includes lasagna pasta, cheese, tomato sauce, or meat sauce named Ragù. Nowadays, people may add more vegetables to this dish to have more flavors and colors.
Making lasagna is simple: Just add cheese, tomato sauce, or Ragù between layers of lasagna pasta. Then, put it in the oven. You can have lasagna with some basils to enhance the aroma. Or you can make other companions go with your lasagna. They are the ideal ways to upgrade this dish.
41. Linguine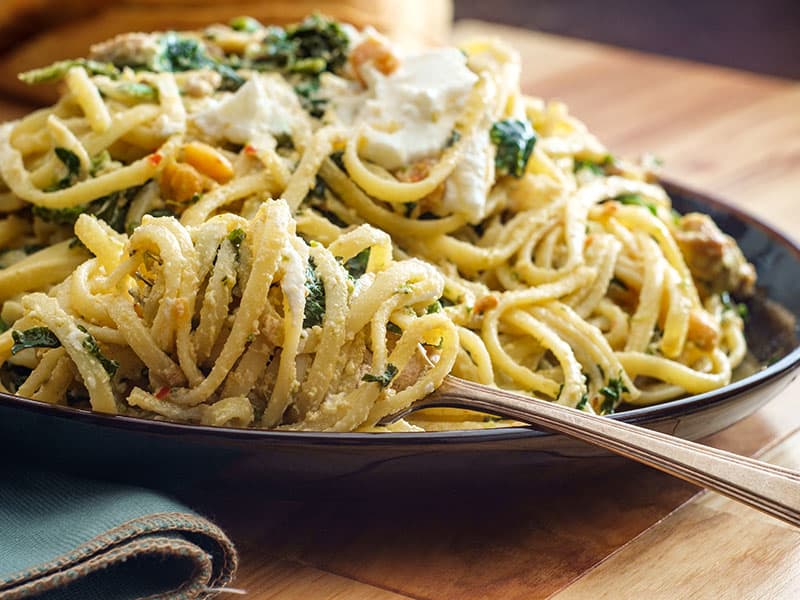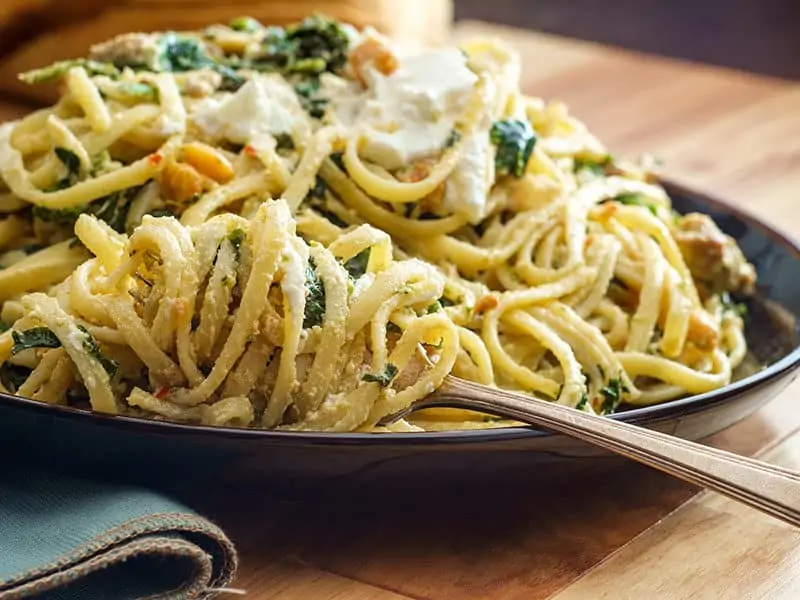 Linguine is one of the pasta types. It looks almost the same as spaghetti but wider. Linguine is originally made of durum wheat, but now people have changed it into white, whole-wheat flour. Linguine is usually served with pesto or fish sauces, sometimes with tomato sauce.
However, the Americans also serve the linguine with Alfredo sauce – a thick, creamy sauce. This combination stirs up an argument on whether an Italian dish should go with non-Italian components.
42. Ladyfinger (Biscuit)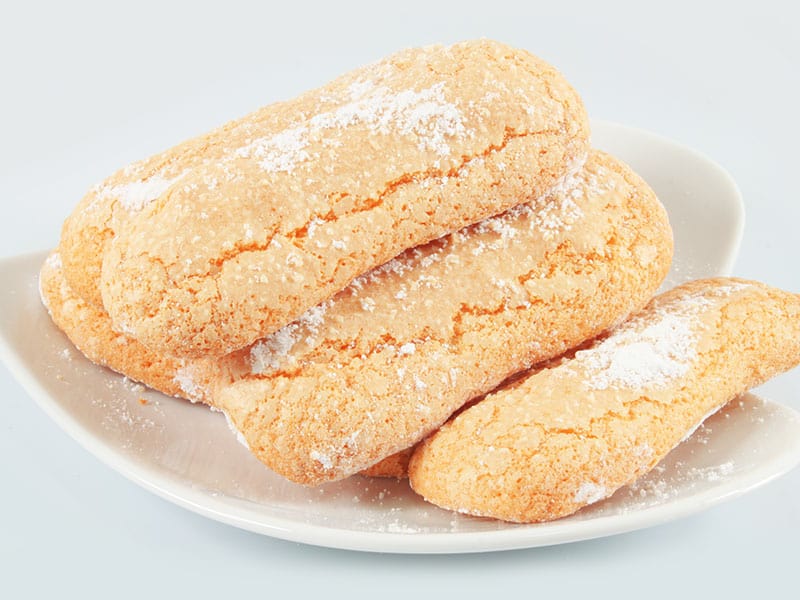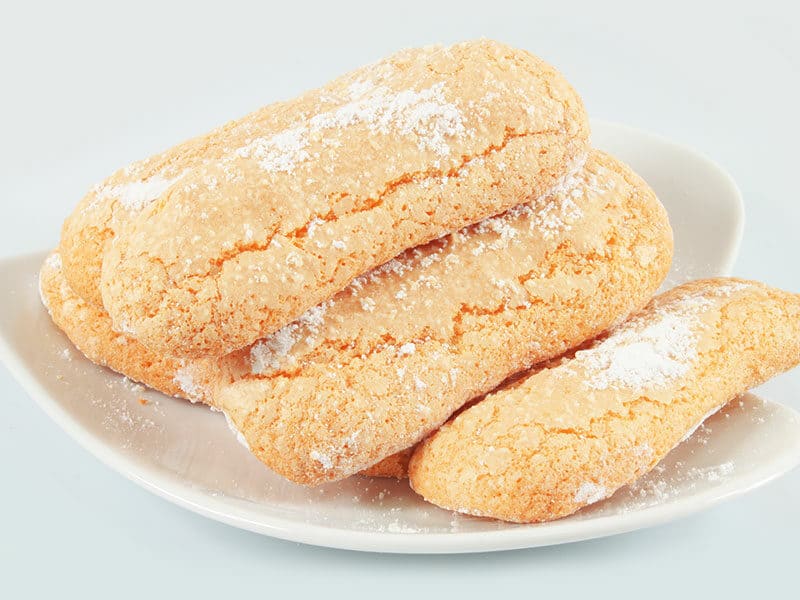 If you love tiramisu or sweet mascarpone courses in general, you must have heard of ladyfingers. They are low-density, dry sponge cakes with the same appearance as a small finger. But don't mistake them for the vegetable called Ladies' Finger.
They're mainly used to create desserts, one of which is the famous tiramisu. Others can be trifles, charlottes. Or you can just eat them as a snack with a cup of coffee or tea. Ladyfinger can have a wide range of flavors, from plain vanilla to chocolate, matcha, coffee, etc.
43. Latke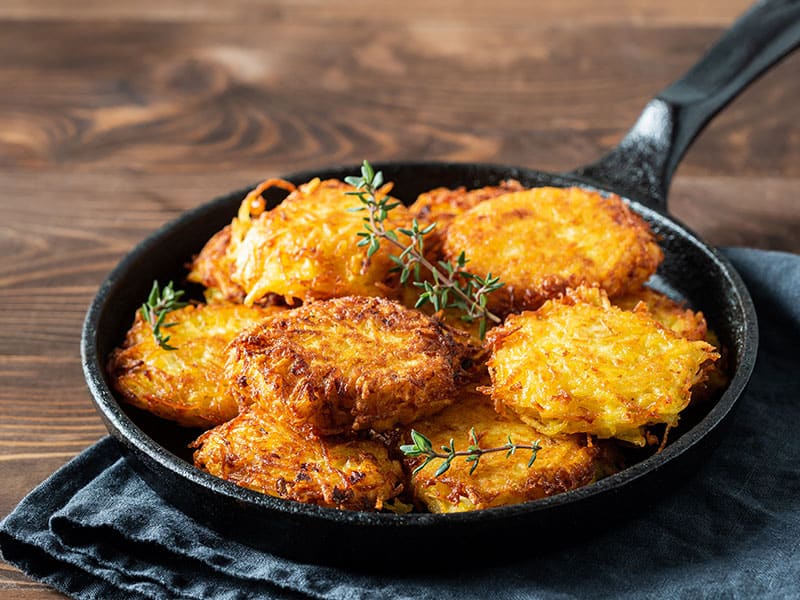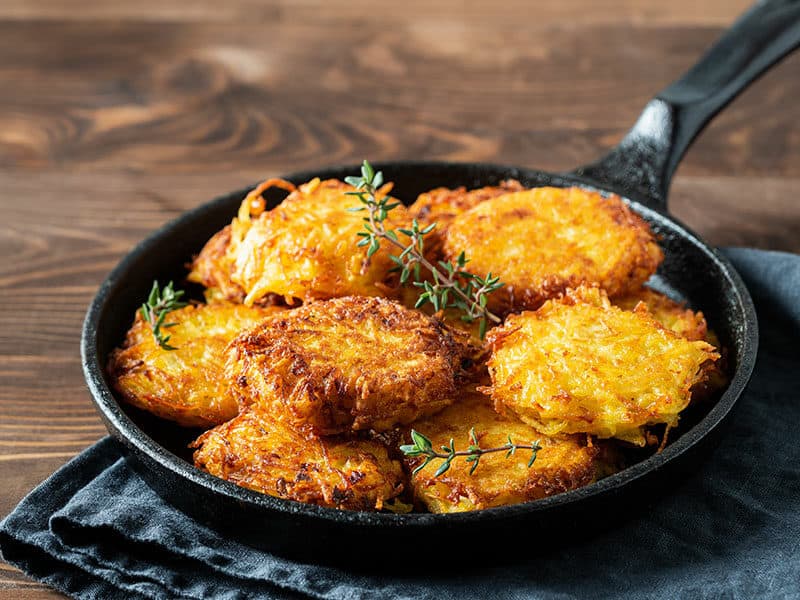 Latke is simply a Jewish potato pancake, mostly appearing in the Hanukkah festival. Traditionally, it only contains basic ingredients: potatoes, eggs, and flour.
First, the potatoes are ground and added with some onions. Then, they mix the ground potato with flour and eggs and flavor it with spices until they blend. Afterward, pour a small amount of the mixture into the pan at high temperature and fry it.
At present, there are numerous variants of this cake. For example, people use cheese and zucchini, or sweet potatoes instead of normal ones. These include some toppings as well: sour cream, cottage cheese, apple sauce, and other kinds.
44. Limpa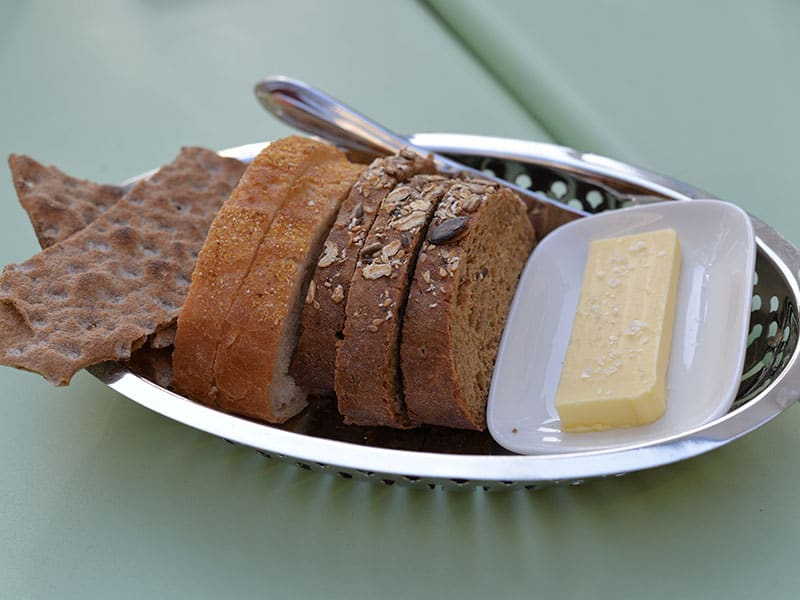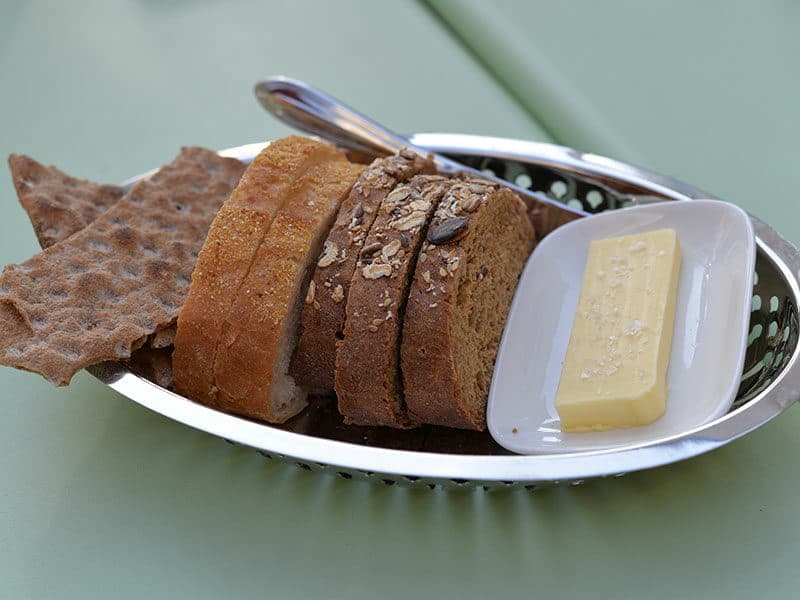 It may sound strange, but limpa is one part of Swedish cuisine. Limpa is made of black wheat, corn, and rice. It is sweetened with brown sugar, butter, or molasses. Limpa is a must-have dessert for every Christmas. Served with limpa is often cream cheese or marmalade.
45. Lefse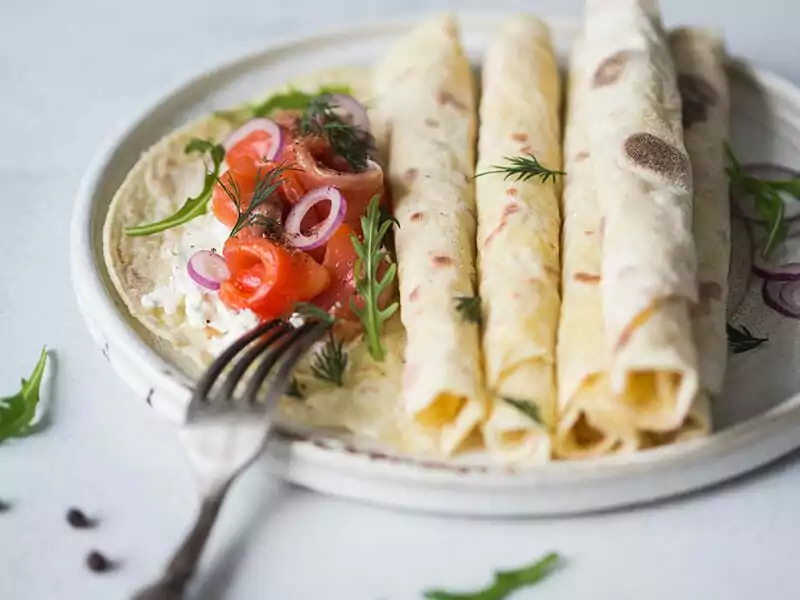 Lefse is a traditional soft Norwegian flatbread with a Scandinavian twist, resembling a tortilla in terms of shape. It's made from flour, riced potatoes, butter, milk, cream, or lard before being cooked on a large, flat griddle.
This delicious flatbread can go with both sweet and savory toppings like butter, sugar, cinnamon, or jellies. While it's a popular Scandinavian treat during the Christmas season, many Scandinavian Americans also relish Lefse around Thanksgiving.
46. Loaf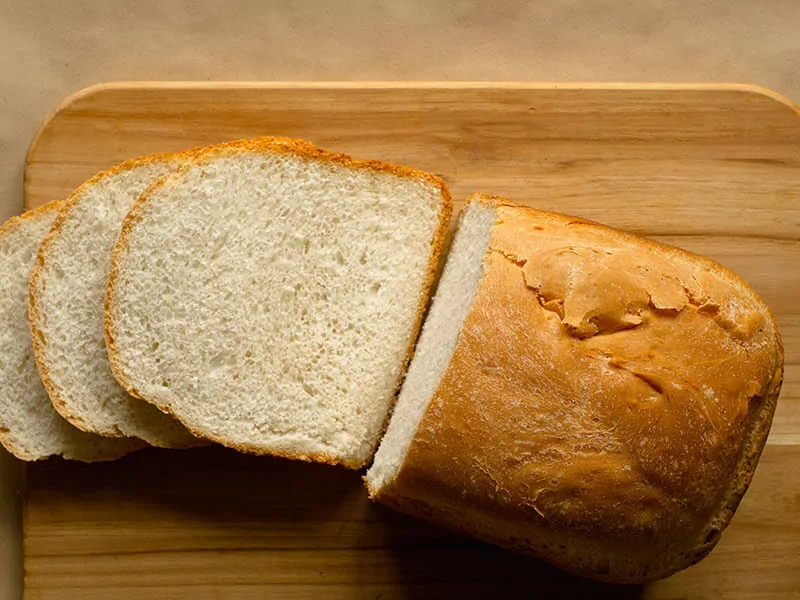 "Loaf" is a term with a dual personality. On one hand, it's a measurement for baking. On the other, it's a descriptor for a variety of bread types baked in that familiar oblong shape and sliced for individual servings.
They can be whole wheat bread, sandwich bread, banana bread, dinner rolls, etc. But bread isn't the only star here; the term also extends to savory dishes like meatloaf.
47. Lo Mein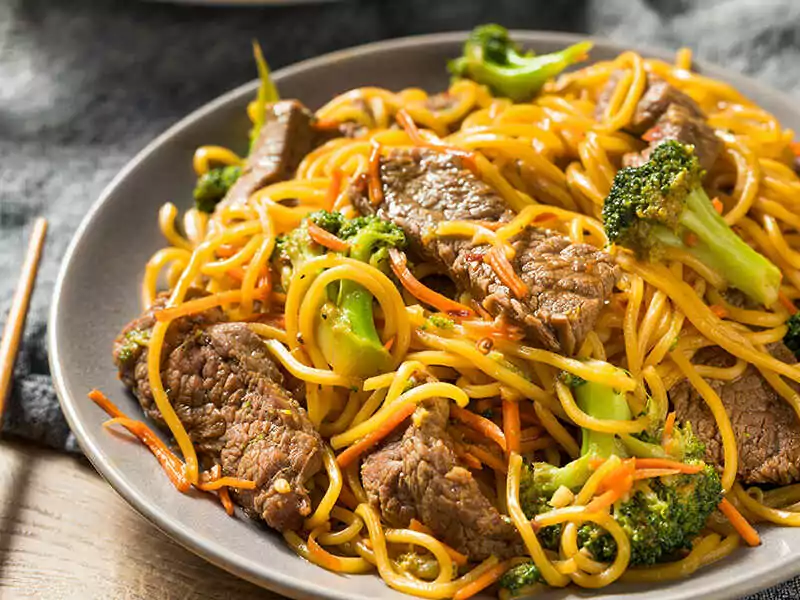 Lo Mein is a delicious Chinese noodle dish enjoyed for over 2,000 years! These slightly sweet and savory noodles have a smooth, chewy texture, making them irresistible.
Typically, Lo Mein can include vegetables, meat, or seafood like beef, chicken, pork, or shrimp, and sometimes even comes with wontons.
While it may appear similar to Chow Mein, there's a key difference: "Lo Mein" means "tossed noodles," while "Chow Mein" translates to "fried noodles."
48. Lardy Cake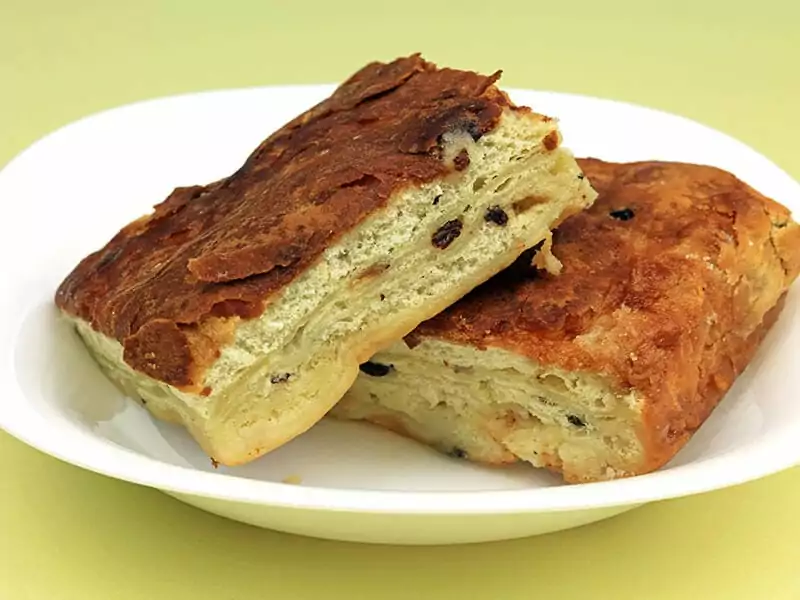 Lardy cake, sometimes called lardy bread, lardy Johns, dough cake, or fourses cake, is a traditional rich spiced bread enjoyed as a weekend tea cake. The treats were a special part of history, as they were once prepared for harvest days or family festivals.
Although it originates from southern England, it has different regions claiming to have the original recipe. Commonly, the dough, rolled and folded multiple times like puff pastry, possesses a lovely layered texture.
Cheese
49. Limburger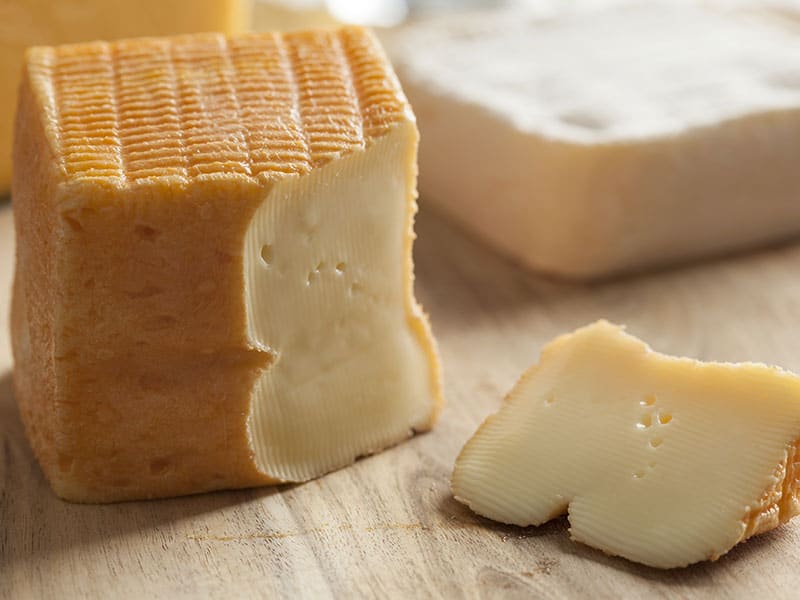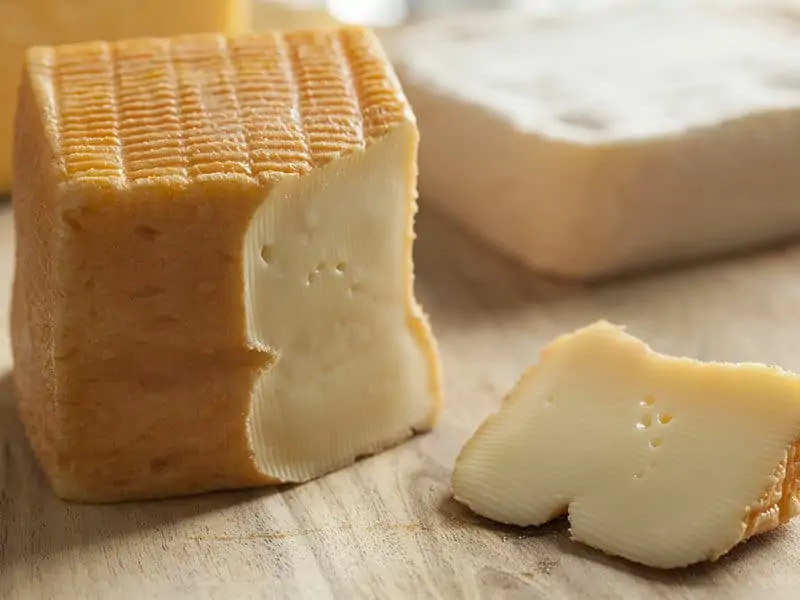 Sorry for ruining your thought, but Limburger is not a burger! It is a soft, white cheese with a really intense odor. It is usually served in a sandwich. You can have some Limburger cheese slices with a cup of beer or espresso for an afternoon snack.
Also, the semi-soft, washed-rind of Limburger cheese is popular for its mild flavor that carries grassy, tangy, and mushroom-like notes.
With its origin tracing back to the Herve area of the historical Duchy of Limburg, Limburger cheese has been available since the 15th century. In southern Dutch regions, it's called Rommedoe, while in Belgium, it goes by Herve cheese.
50. Liederkranz
Liederkranz is an American cows' milk cheese named after a local singing club called the Liederkranz Club. With an edible pale yellow-orange tan crust and a semisoft, pale interior, this cheese boasts a mildly pungent flavor.
Created in 1891 by Emil Frey, a Swiss cheesemaker from Monroe, New York, Liederkranz is considered an American version of Limburger cheese but uses a different bacterial culture. Interestingly, Emil Frey is also the inventor of Velveeta, another processed cheese variety.
Sweets and Desserts
51. Lollipop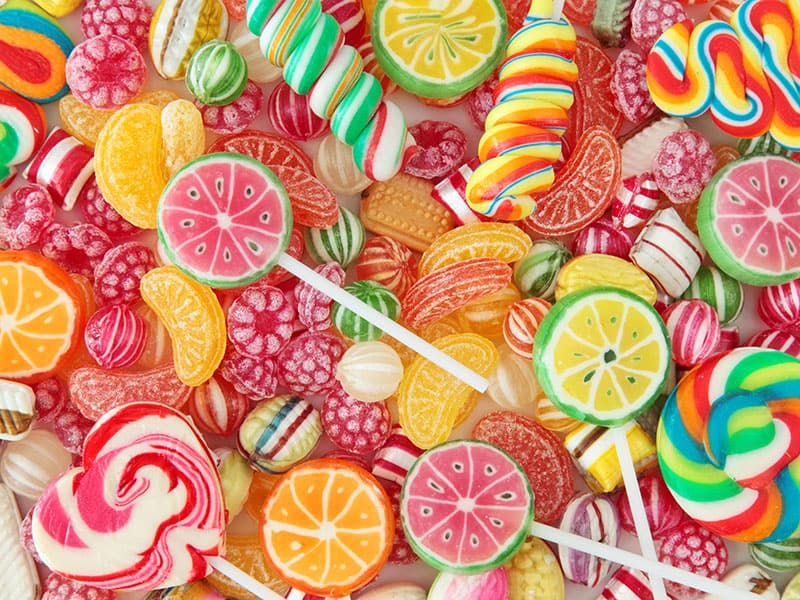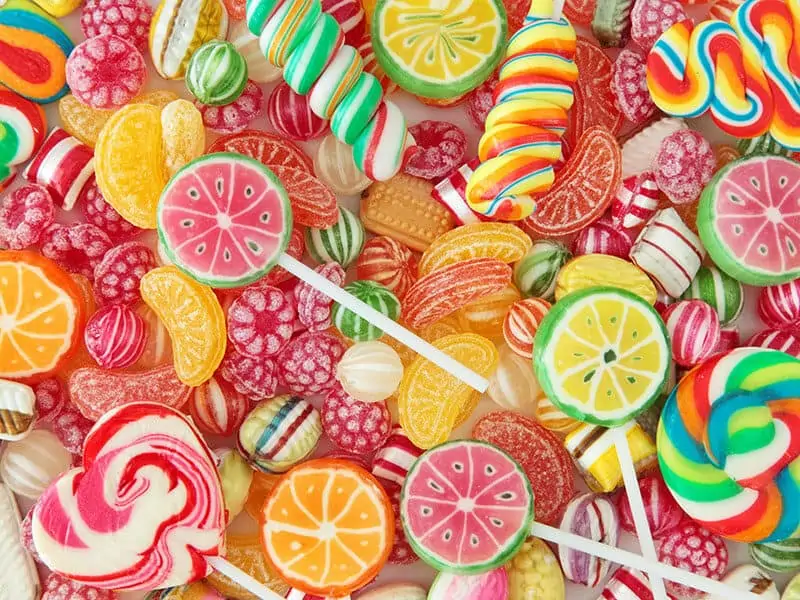 Lollipop is a hard sugar candy on a stick. The candy varies in many shapes, colors, and flavors. But most of the time, it has a round shape like a ball. You can eat it by sucking or licking it.
Lollipop has many different names, such as lolly, sticky-pop, sucker, or simply lolly, depending on each country.
52. Lozenge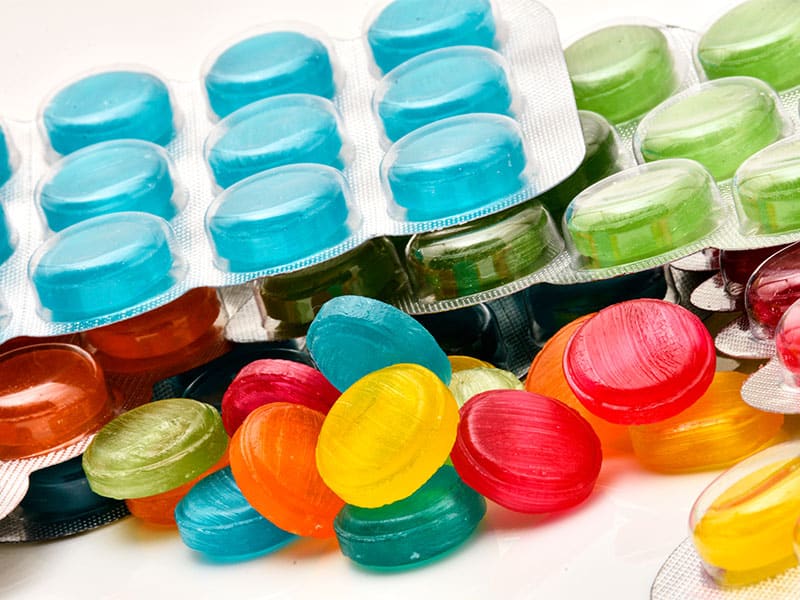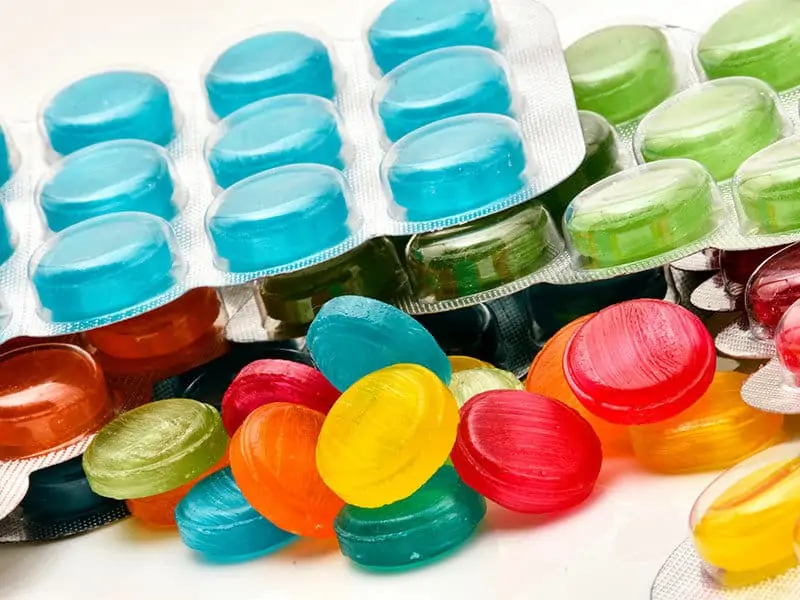 Lozenge is small candies that dissolve in your mouth. "So, it is a menthol candy?" Of course not! Lozenge is candies, but with medicinal usage. It can stop coughs and numb the throat. Therefore, if you have a sore throat or feel like catching a cold, have some lozenge candies!
Surprisingly, Lozenges can sometimes contain benzocaine or eucalyptus oil, a reliable anesthetic used to soothe the throat for centuries. In fact, candies for throat relief date back to 1000 BC during Egypt's Twentieth Dynasty.
53. Lemon Curd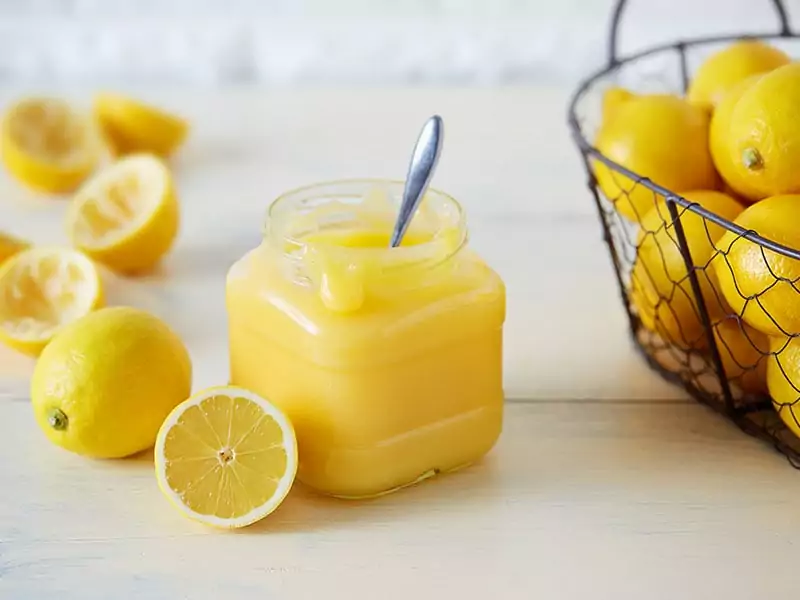 Historically, lemon curd was served with bread or scones during afternoon tea, offering an alternative to jam, in late 19th- and early 20th-century England.
It also became a popular filling for cakes, small pastries, and tarts. Back then, lemon curd was usually made in small amounts because it didn't last as long as jam.
On the other hand, it is a sweet spread or topping with an intense lemon flavor. The treat is a delightful combination of lemon juice and zest, sugar, and egg yolks, with the possible addition of egg whites or butter. It can even include whipped cream.
With its rich, creamy texture, lemon curd also stars in the ever-popular lemon-meringue pie, a dessert beloved across Britain, Canada, Australia, and the United States since the 19th century.
53. Lemon Bars/Lemon Squares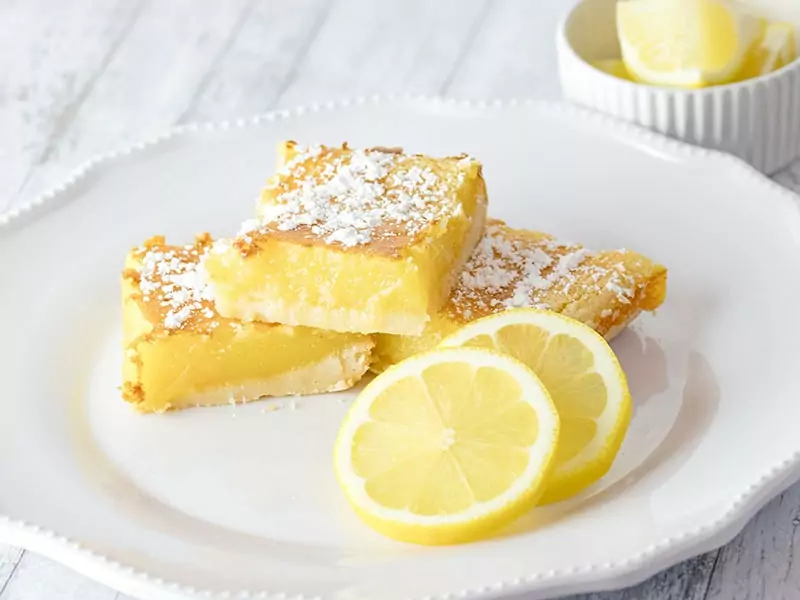 Lemon bars are a popular dessert in the United States for the delightful combination of a shortbread crust and a tangy lemon curd filling.
These lemon curds are usually nestled between small-sized crusty bread pieces, giving them a cookie-like appearance.
54. Lemon Meringue Pie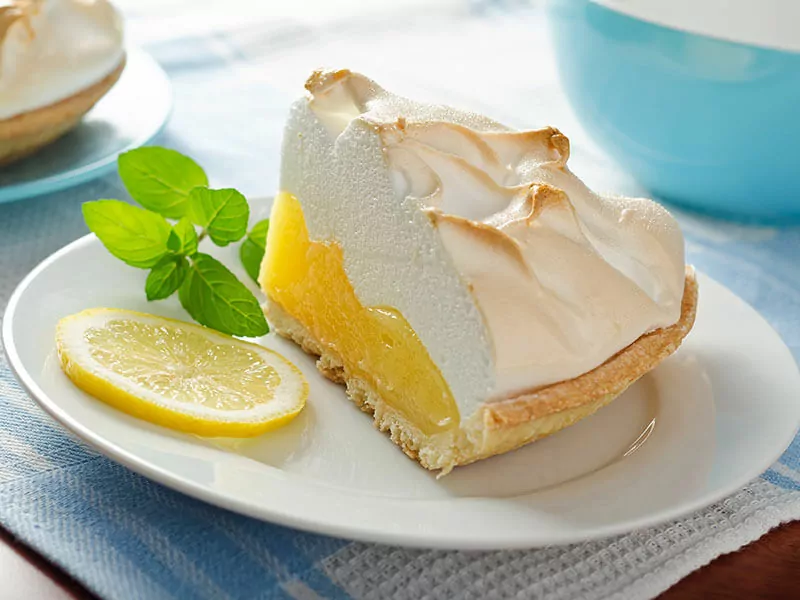 Lemon meringue pie is a brilliant dessert of three delicious layers of a pie crust, tangy lemon curd, and a light, fluffy meringue. This pie has become your favorite dessert, thanks to its slightly sweet taste, citrus flavor, and subtle tartness.
55. Linzer Torte/Linzer Tart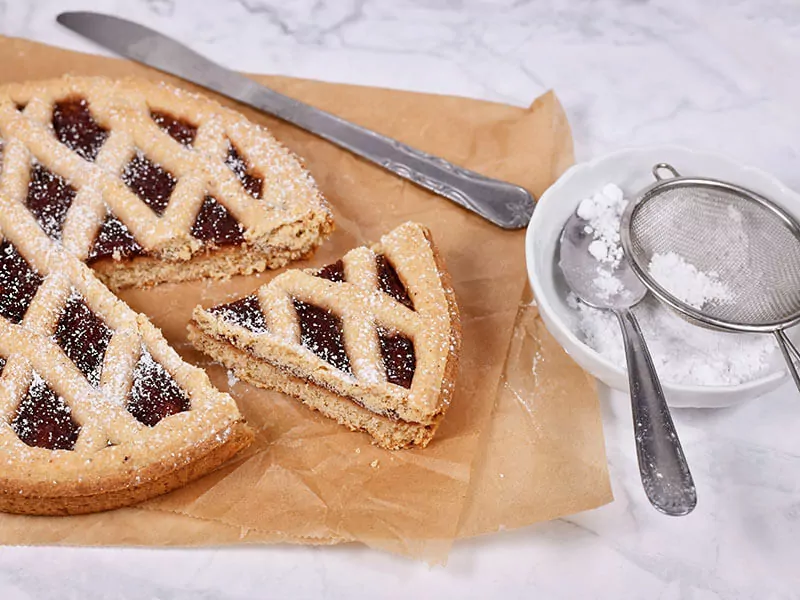 Linzer torte is a special Austrian pastry with a shortbread crust that gets its name from the city of Linz. The dessert is made from flour, unsalted butter, egg yolks, lemon zest, cinnamon, lemon juice, and ground nuts.
Hazelnuts are a common choice, but walnuts or almonds can also be used. Commonly, people top the torte with fruit preserves, such as redcurrant, raspberry, or apricot, and then sprinkle it with sugar, spices, and sliced nuts.
Normally, the dessert has a thin lattice of dough strips covering the top. Unlike most tortes, Linzer torte resembles a pie or tart with its single layer. Make sure to brush the pastry with egg whites before baking and garnishing it with nuts.
For your more information, in Austrian, Czech, Swiss, German, and Tirolean traditions, Linzer torte is a cherished holiday treat, often enjoyed during Christmas festivities.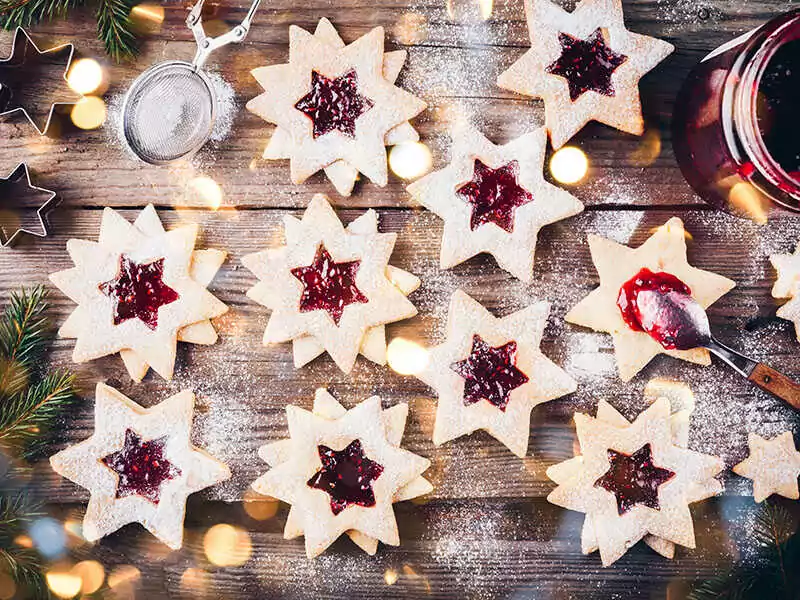 Inspired by the Linzer torte, Linzer cookies are shortbread-based sandwich cookies filled with a luscious layer of sweet jam.
Also, these cookies feature a dough layer on top with a window that reveals the tempting fruit preserve filling. For the presentation, people often sprinkle confectioner's sugar for an elegant touch.
Beverages
58. Latte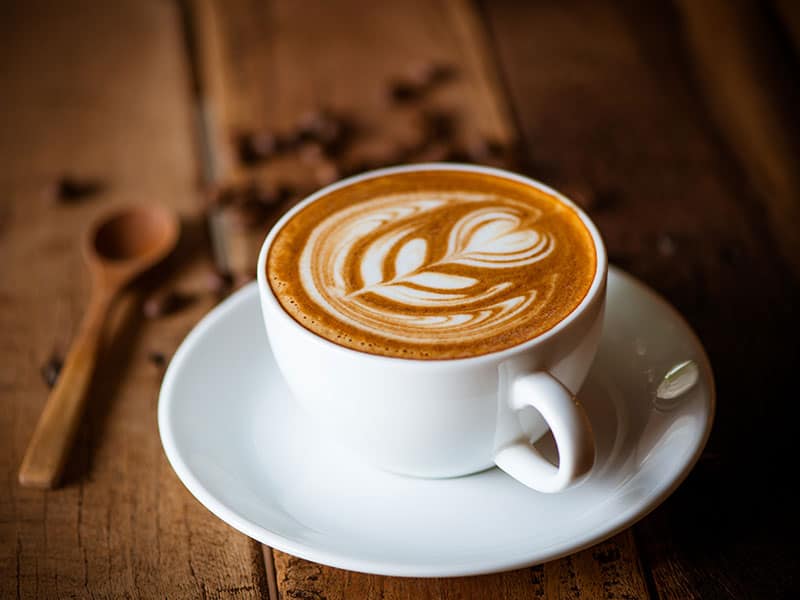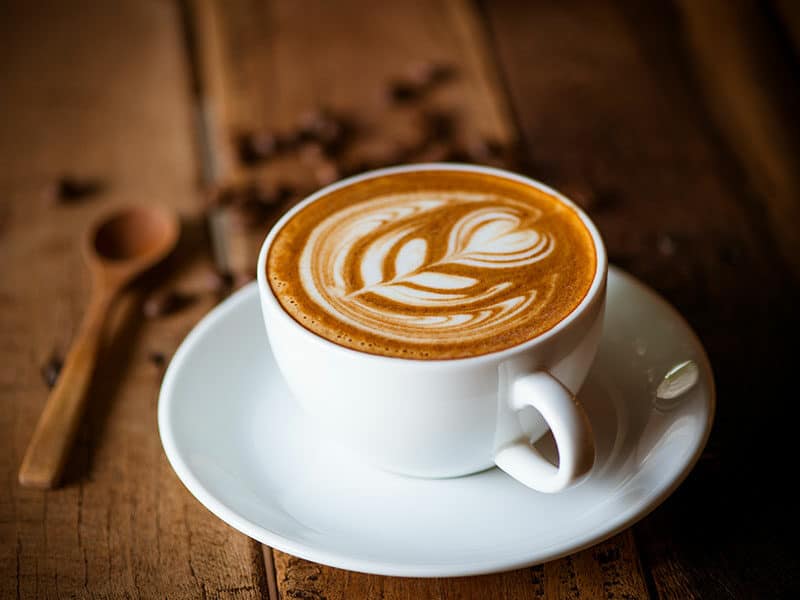 Latte – an iconic Italian-based breakfast from the Italian term "cafe latte," meaning milk coffee, is a popular coffee drink, mainly with those that can't handle strong black coffee. It is made with one shot of espresso – thick black coffee – and steamed milk foam as a topping.
Since it contains more milk than coffee, latte has a low coffee content and a smooth sweetness, preferred even by children. But it still carries a refreshing feeling when drunk in the morning. Many people have it with croissants as their breakfast. Typically, latte has a milder flavor than an Americano.
Also, the classic latte consists of 1/3 cup of espresso and 2/3 cup of milk. You'll find this comforting drink served mostly hot, but iced lattes are also an option for those sweltering days.
Now, many coffee shops replace espresso with matcha, mocha, masala chai (an Indian tea), etc. They also use numerous syrup kinds to diversify the flavor: caramel, turmeric, vanilla, hazelnut, etc., to make more latte variants. Dairy-sensitive people can enjoy a latte with almond or soy milk.
59. Lemonade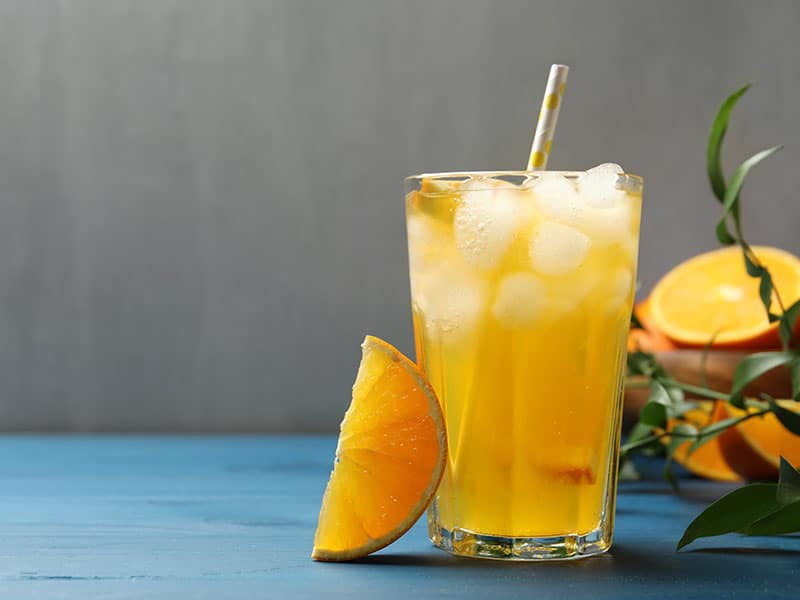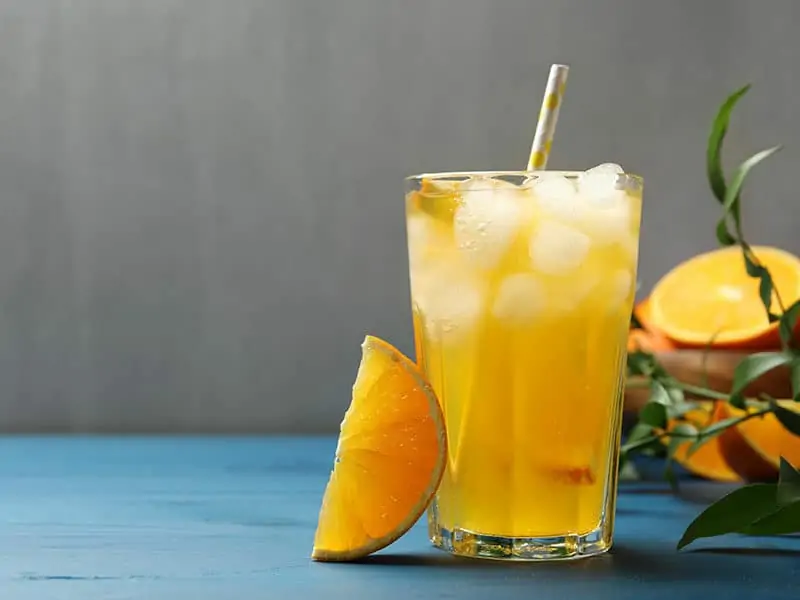 Lemonade is a quick and easy beverage with lemon juice, water, sugar, and some ices. A glass of cold lemonade to refresh and hydrate yourself on a hot summer day. If possible, you should drink it without sugar. Or at least, don't use refined sugar since it's bad for your health.
Historically, lemonade's earliest record dates back to the 12th century in Egypt. This refreshing beverage has evolved over time, but medieval Egyptians first created it using fermented barley combined with a mix of mint, rue, black pepper, and citron leaf.
You can also alter your lemonade using concentrated grape juice or carbonated drinks instead of water, replacing normal sugar with brown sugar, adding mint leaves, or mixing it with tea.
Or feel free to create different variations, such as strawberry lemonade (using strawberry puree), peach lemonade, and even carrot lemonade. Nowadays, people even use a portable blender or hand blender to make it even faster.
60. Liqueur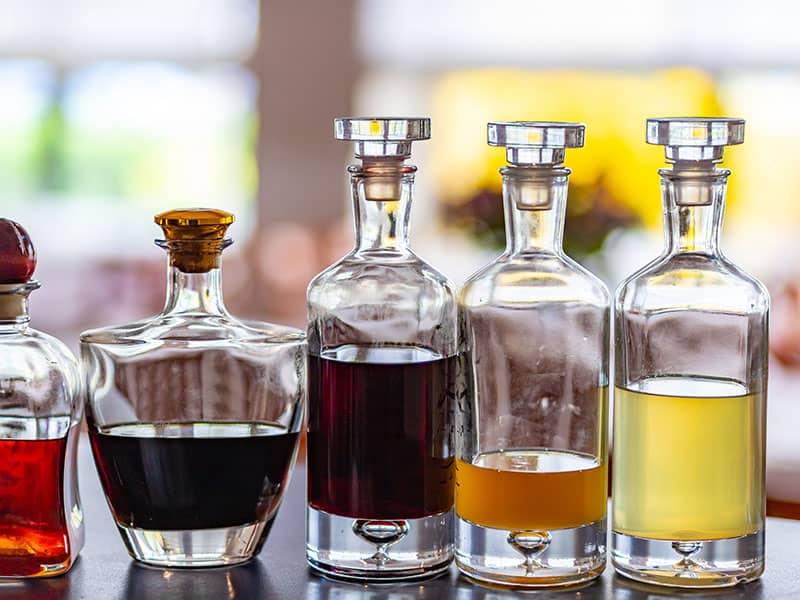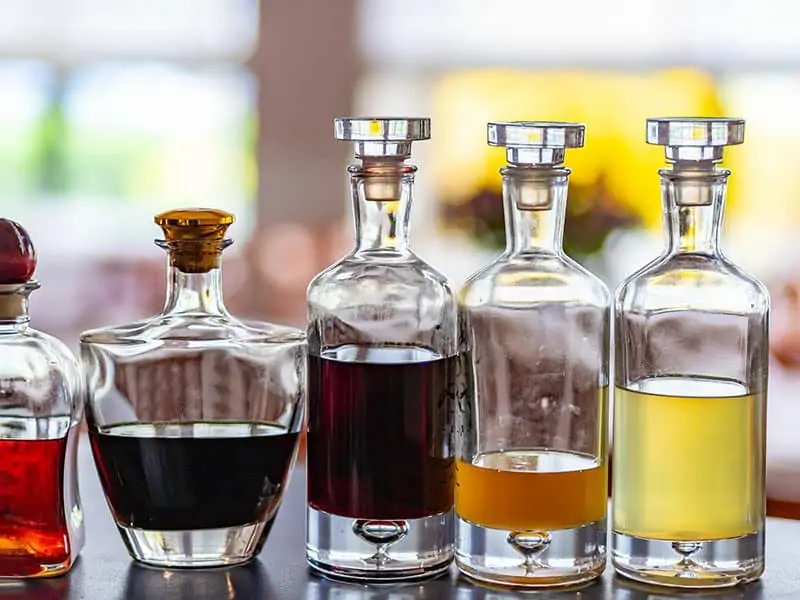 Liqueur is a fermented alcoholic beverage made of distilled spirits. After that, it is sweetened with different flavors, such as fruit, spices, nuts, herbs, seeds. All of these bring forth a heavily sweet taste.
These flavorful alcoholic drinks have a fascinating backstory, as they are descendants of herbal medicines.
They can be called cordials and often use rum, whiskey, or brandy as their base. Some popular liqueurs you might have heard include Irish cream, Grand Marnier, Kahlua, Schnapps, and amaretto.
Liqueur is often served after meals with desserts. Some bars also use it in different alcoholic beverages and cocktails, such as Xalapa punch, or with coffee.
61. Liquor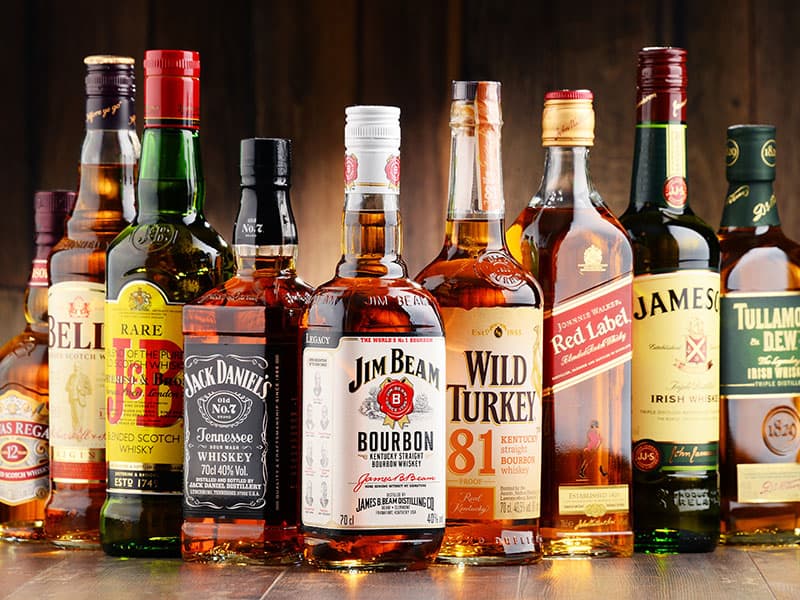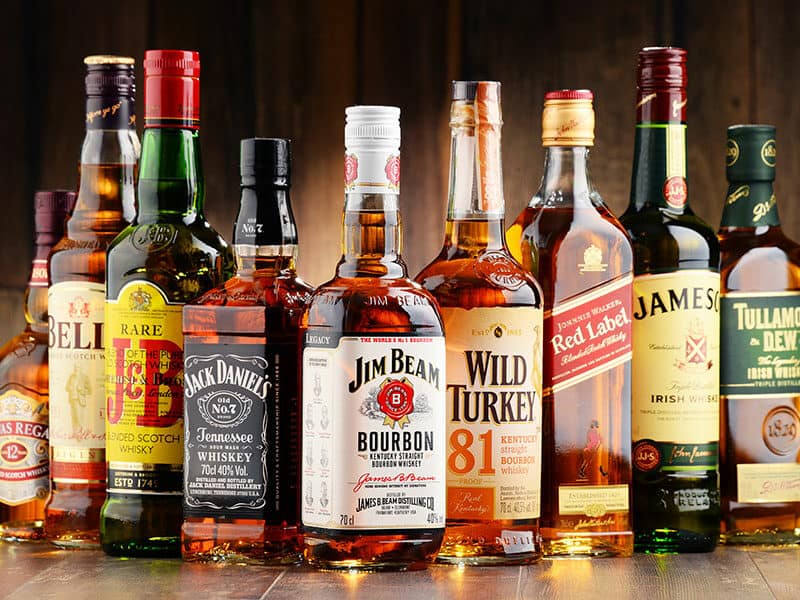 Though they may sound the same, liquor and liqueur are totally different. While liqueur is a fermented alcoholic beverage, liquor is the distilled one. This distillation procedure causes the alcohol to rise.
You may be more familiar with the term spirits for referring to alcoholic beverages from a distillation process that calls for fruits, grains, or vegetables high in sugar.
That's why liquor tastes somewhat bittersweet, along with a burning feeling in your mouth. For weak drinkers, liquor can be thinned out to make some cocktails. Typically, liquor comes in six main types, including whiskey, rum, gin, brandy, tequila, and vodka.
62. Liebfraumilch/Liebfrauenmilch
Liebfraumilch is a German white wine with a special connection to the Virgin Mary. Usually, the original German spelling, Liebfrauenmilch, has deep historical roots. The name traces back to the vineyards surrounding the Liebfrauenkirche, or Church of Our Lady, in Worms, a city in Rhineland-Palatinate.
Its creation story dates back to the 18th century, with the regions of Rheinhessen, Palatinate, Rheingau, and Nahe continuing the tradition. Regarding labels, Liebfraumilch is more frequently used as exported wines.
63. Limoncello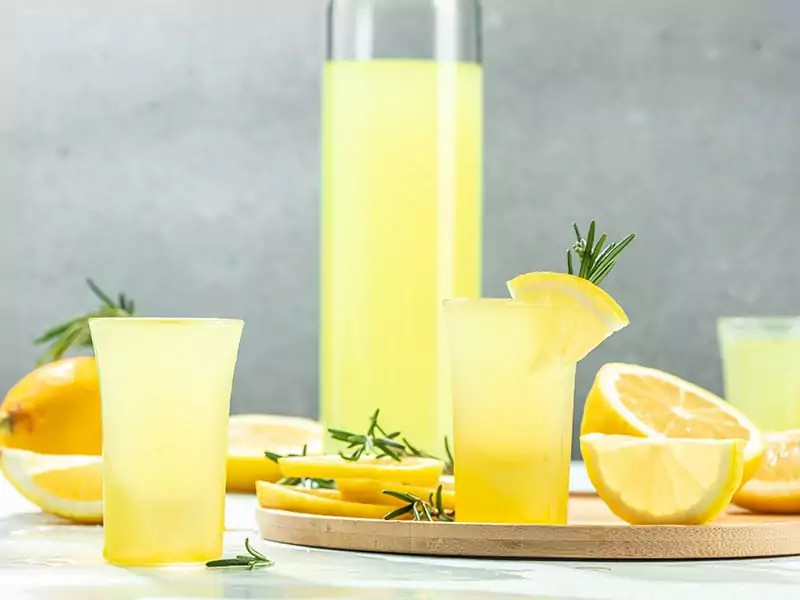 Limoncello is a vibrant lemon liqueur with over a century's legacy being the pride of Southern Italy. This vibrant drink harnesses the zest of Sorrento lemons, steeped in pure alcohol, to release the oils, a process that lasts a minimum of 80 days.
Then, it is added to the mix for a smooth, sweet, and potent lemon flavor that's hard to resist. Chill it in the freezer, and you have the perfect liqueur, ready to sip solo or mix with sparkling water. It's Italy's runner-up to Campari in terms of fame!
64. Lynchburg Lemonade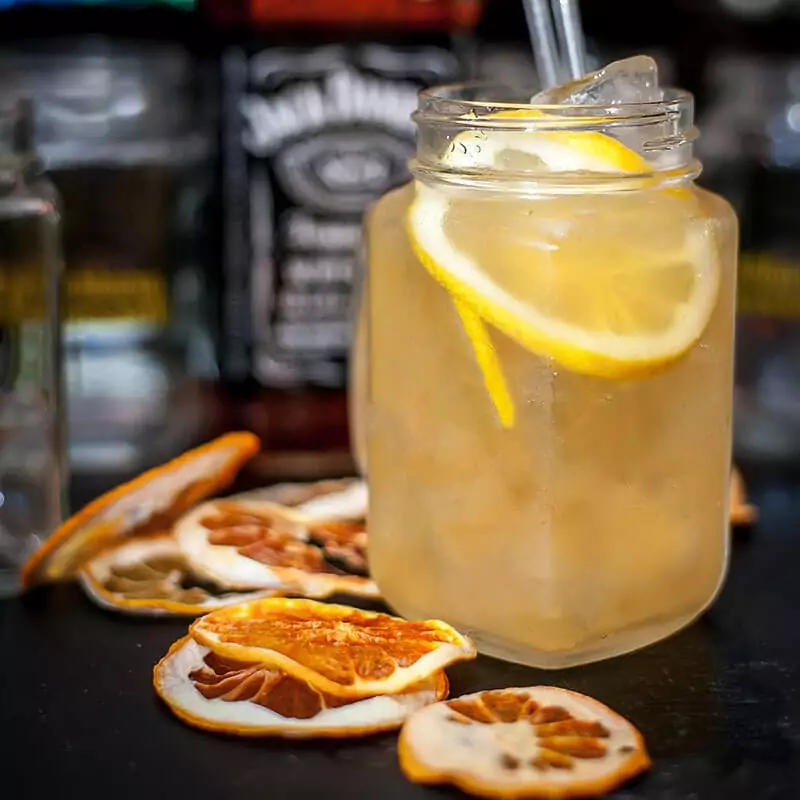 Lynchburg Lemonade is an alcoholic cocktail that draws its name from Lynchburg, Tennessee, a city famous for the Jack Daniels whiskey distillery. Yet, it was Tony Mason, a bar owner in Huntsville, Alabama, who whipped up this invigorating mix.
The drink combines Jack Daniels whiskey, triple sec, sour mix, and lemon-lime soda, served well-iced. To give it that final fancy touch, lemon wedges or a cherry garnish are necessary.
Other
65. Lard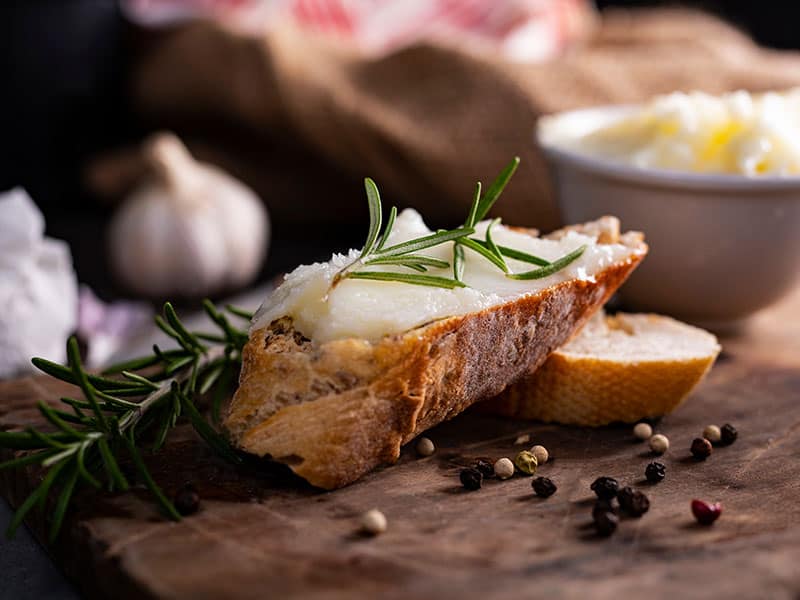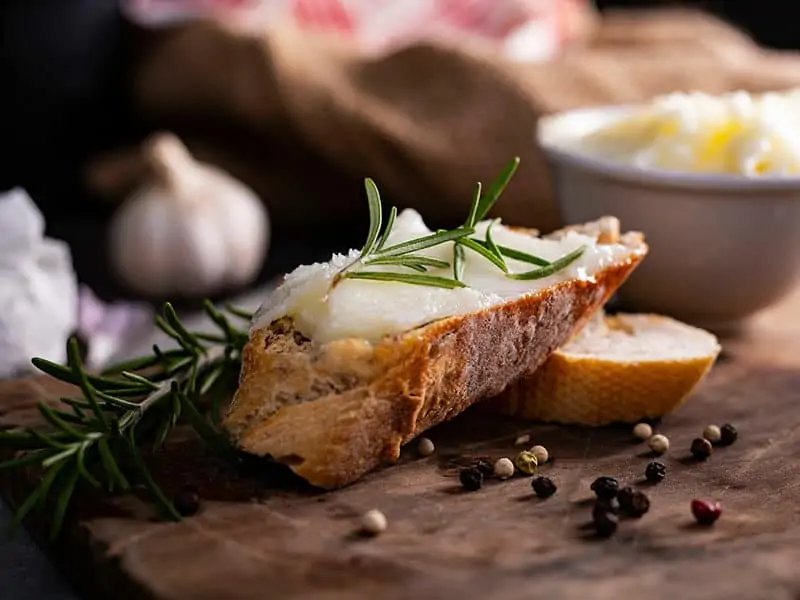 Lard is soft, half-solid, edible white fat from 100% pig's fatty tissues. People render it by steaming, boiling, or dry heating the fat. The lard quality can vary largely based on the source and the rendering procedure. The best one has neither smell nor flavor.
Although many think of it as unhealthy food, lard is still used to improve the dishes' flavor. It's a popular ingredient for savory dishes like sausages and fillings. Chefs also consider lard a replacement for butter as it brings flakiness to the pastry.
This type of animal fat has a high smoke point, producing little smoke, making it a perfect partner for roasting, grilling, sautéing, frying, and even baking. It's different from Crisco, the vegetable shortening, and was featured in many biscuit recipes in the 40s and 50s.
Despite the appearance of vegetable oils, lard is still a better choice than other fats. For home cooking starters, you can try spreading it on bread instead of butter and compare the flavors.
In Eastern European cuisines, particularly Ukraine, lard is a staple, often paired with vodka to absorb the alcohol. Normally, lard may even appear as an appetizer before a hearty meal.
66. Lancashire Hotpot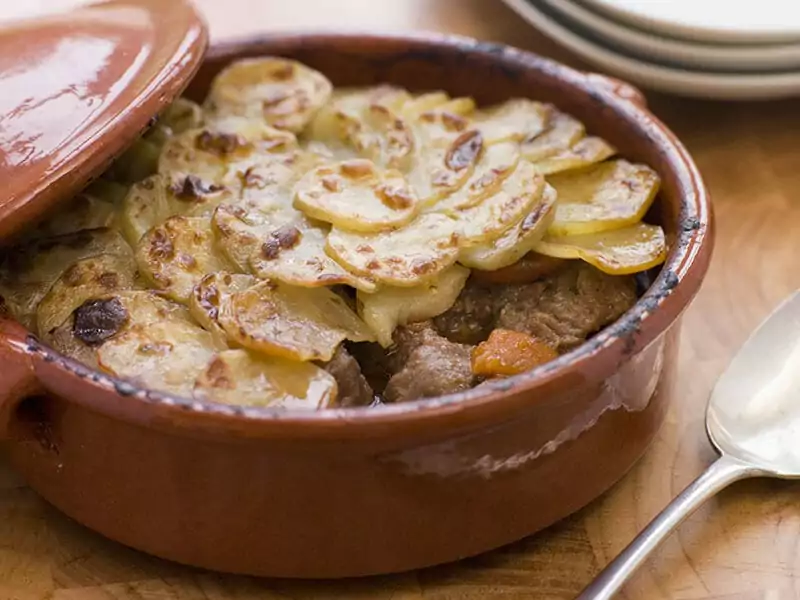 Lancashire hotpot is a cherished stew from the North West of England, specifically Lancashire. Typically, the dish involves maintaining the pot slowly baked at low heat, filled with lamb, onions, and potatoes in a savory gravy.
The hotpot is a rustic, heartwarming meal that's traditionally paired with pickled red cabbage. Some early recipes even included lamb kidneys or oysters.
67. Lobscouse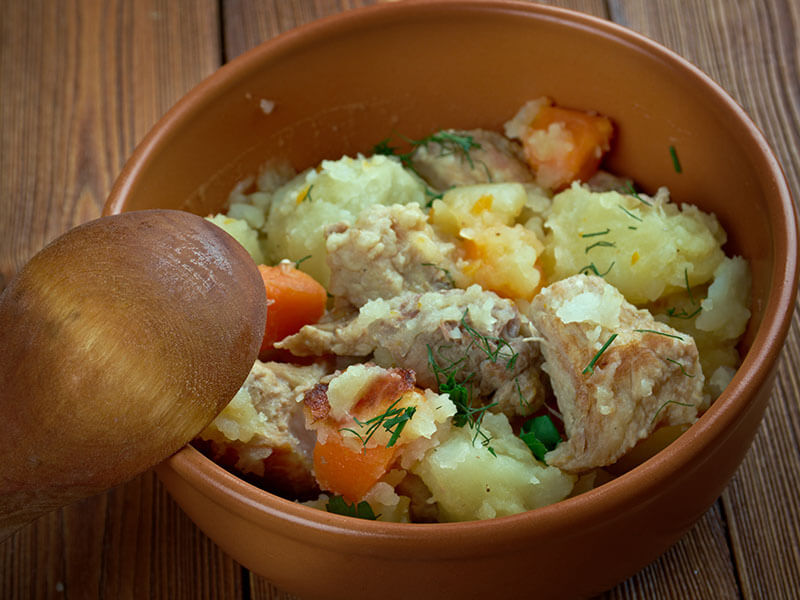 Lobscouse is a hearty one-pot stew that is often associated with Liverpool. This dish was a staple among European sailors, rich with slow-cooked beef and a medley of vegetables like potatoes, carrots, onions, and peas.
Plus, the high-calorie content and long shelf life made it ideal for long sea voyages.
68. London Broil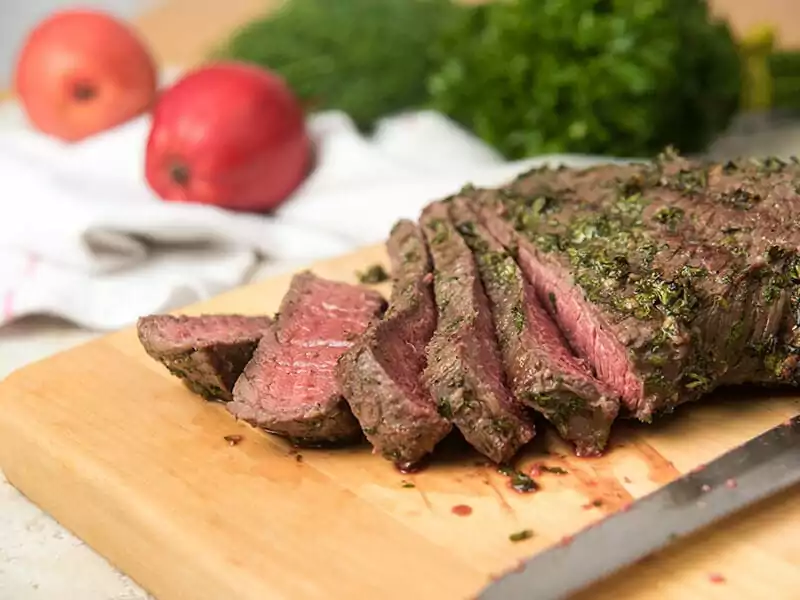 London broil is an American culinary technique rather than a specific cut of meat. The process involves overnight marinating a piece of beef, such as top-round or flank steak.
Post marinade, it's seared or broiled at high heat until it's deliciously medium-rare, using an oven, a grill, or a high-heat pan. Served either in thin slices or as part of a sandwich, it's notably rarer than traditional roast beef.
69. Leberkase (Liver Cheese)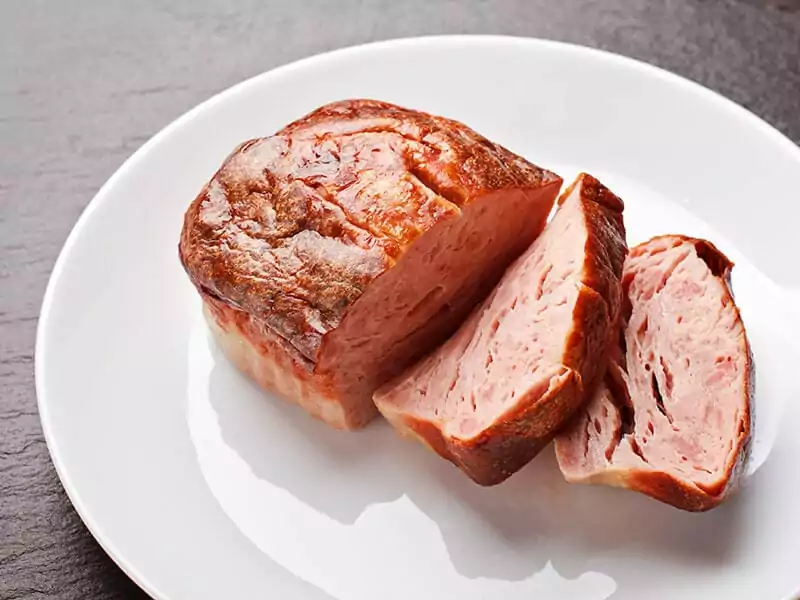 Leberkase mixes meat and cheese to create a robust flavor that packs more punch than liverwurst.
It's a culinary gem in Germany, Austria, and Switzerland, carefully assembled with onions, salt, corned beef, pork, and bacon. Its compact, square shape is like a unique meatloaf, perfect for serving hot or cold.
70. Linguica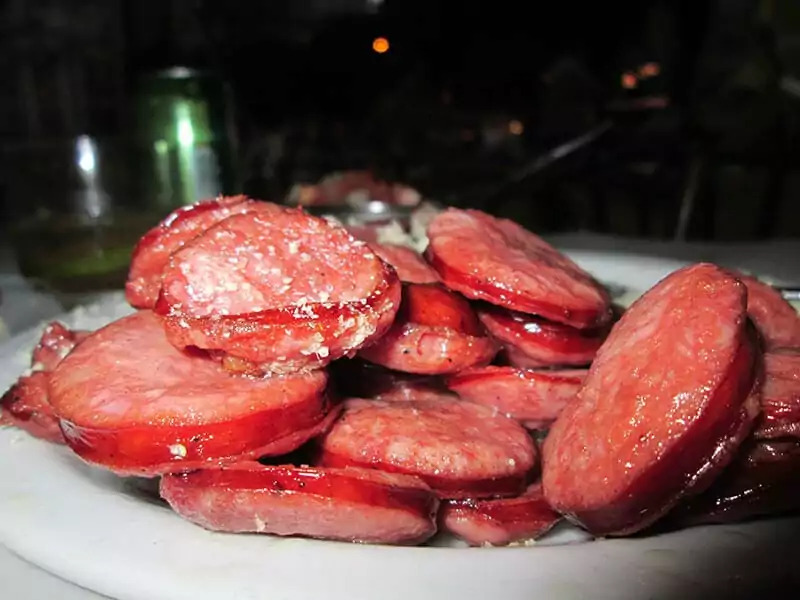 The Portuguese and Brazilian pork sausage Linguica is smoke-cured and spiced to perfection. Despite its spicy profile, it remains mild in heat. Usually, paprika, dried chilis, and garlic are among the numerous spices that contribute to the unforgettable taste.
Linguica is a great companion to rice, beans, and other pork dishes. It also shines in Portuguese dishes like the francesinha sandwich. Beyond its taste, Linguica's pleasant aroma and easy digestibility make it a standout among sausages.
71. Liverwurst (Leberwurst)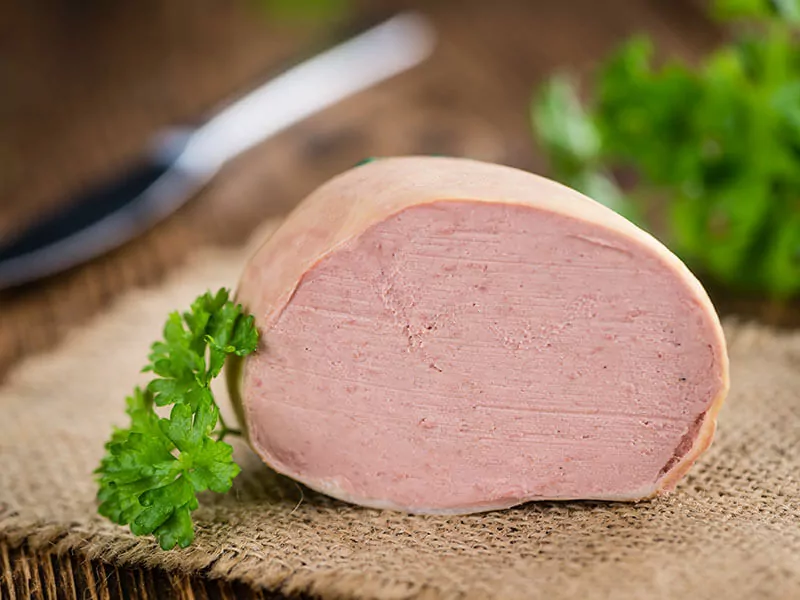 Liverwurst is a favorite German sausage crafted from ground pigs' or calves' liver. Other key ingredients include meat, fat (often pork bellies or red meat), and spices like allspice, thyme, pepper, nutmeg, or mustard seed.
Its flavor is similar to paté or foie gras, emitting a distinctive aroma when grilled. Best enjoyed with a cool beer, liverwurst can be spread on bread, stuffed in a sandwich, or even served sliced on a plate in some German regions.
FAQs
Now You Have More Ideas About Foods Starting With L!
That's your list for a delightful array of "L" foods that promises to add flair to your everyday meals. The endless culinary creations are something that anyone can be impressed with. You may experiment with these ingredients, and experience the thrill of trying something new.
If you've enjoyed this flavorful foray, don't keep it to yourself. Share the article with people around you, so they may add extra dishes to their next meal. Don't forget to leave a comment on which L food item is your favorite.