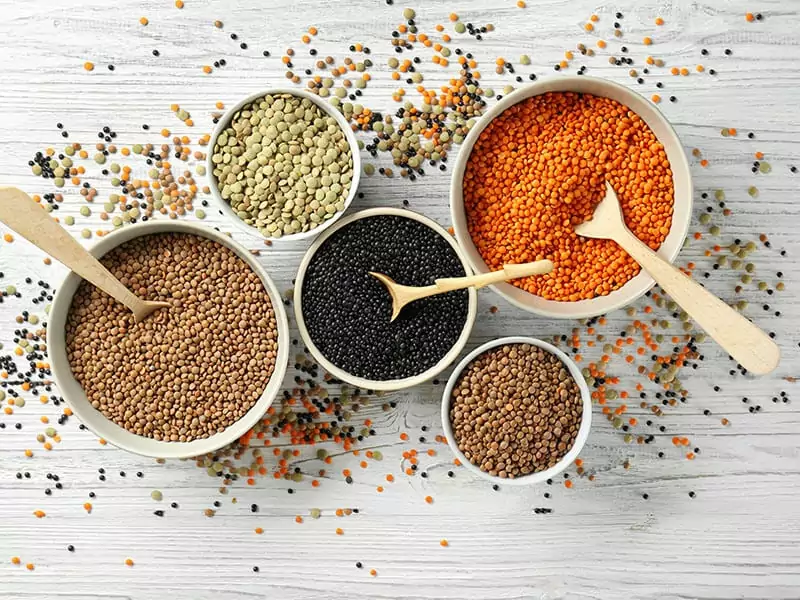 If you are looking for an ultimate list of different types of lentils, then congratulations, you've reached the right place. I will provide you with everything you may want to know about lentils and their variants in this post! So stay here for more!
There will also be methods to cook lentils with a rice cooker available in your kitchen, and some other helpful tips or recipes to deal with these amazing seeds. Let's start learning how to make your meals more interesting with them!
8 Incredible Types Of Lentils You Should Totally Learn About
Lentils are actually not a stranger to many of you. They are a popular type of seed that people use for culinary and medicinal purposes. Dive with me into the special characteristics of lentil varieties!
Types of Lentils 
Appearance
Uses
Boiling Duration
Brown Lentils

The colors range from khaki brown to very dark brown

Smaller than most types

Get cooked faster

Soups, stews, salads, veggie burgers or meatballs, and casseroles
35 to 45 minutes
Red Lentils

Have different colors, mostly orange

Easily lose their shape with softer texture

Get cooked and mushy quickly Taste mildly sweet and nutty

Thick soups, stews, curries, dipping sauces; Sudanese red lentil soup
15 to 30 minutes
Black Lentils

Rarest and most priced

High protein content

Includes a lot of anthocyanins

Have an earthy taste

Salads and side dishes
20 to 30 minutes
Green Lentils

Pale green and have a special flat hard shape

Have a mild nutty taste

Rich in iron, magnesium, antioxidants

Salad dish, soups, Turkish-style stew, appetizer, and side dishes
35 to 45 minutes
Yellow Lentils
Most neutral in flavor
Used in Indian and Middle Eastern cuisines; Dal Bhat
15 to 20 minutes
Puy Lentils

Firm, hard legumes

Pepper-like flavor

Much smaller and have a darker shade than green lentils Rarer and more priced

Salad dishes
20 to 30 minutes
Horse Gram

Highest protein content

A great protein and nutrient source

Easy to grow and highly resistant to droughts

Soups, salads 
20 minutes 
Chickpea
Largest lentil type with tough rind
Hummus, Masala dishes
40 - 50 minutes
1. Brown Lentils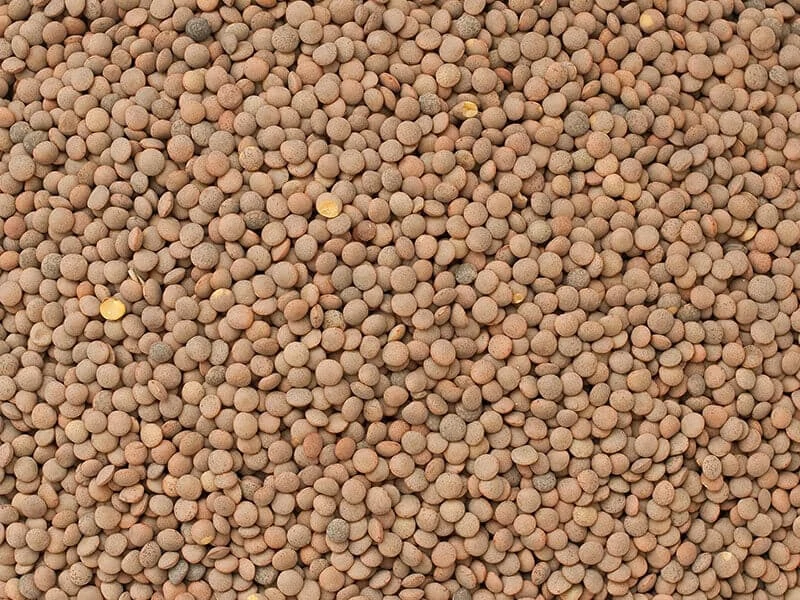 Brown lentils are the most popular and widely used lentils that you may probably know before. They have a signature brown color, ranging from khaki brown to very dark brown. They are smaller than most types of lentils, thereby getting cooked faster than them.
If there is one thing to tell brown lentils apart from other types, it is definitely the flavor. These lentils have a distinctively earthy and mild taste. For the pleasant flavor, people like to add them in soups, stews, salads, veggie burgers or meatballs, and casseroles.
Brown lentils are also a wholesome type that is suitable for your diet meals! They are packed with fiber, calcium, iron, protein, and many other minerals. They also have a low fat and sodium legume content.
There are many variants of brown lentils all over the world. Spanish brown, German brown, and Indian brown lentils are some of the most popular. You can find the regular version and these variants in any grocery store, supermarket, or even online market!
To cook brown lentils, you may need 2.5 to 3 cups of water for boiling one cup of lentils. You can adjust this ratio based on the dish you are going to cook. When the water begins to boil, wait for about 35 to 45 minutes for the lentils to be completely cooked.
Brown lentils can hold their shape really well when cooked. You should check them regularly to see if they turn tender enough. You may be amazed to know that they can replace meat in various recipes.
Learn the easiest way to cook brown lentils perfectly!
2. Red Lentils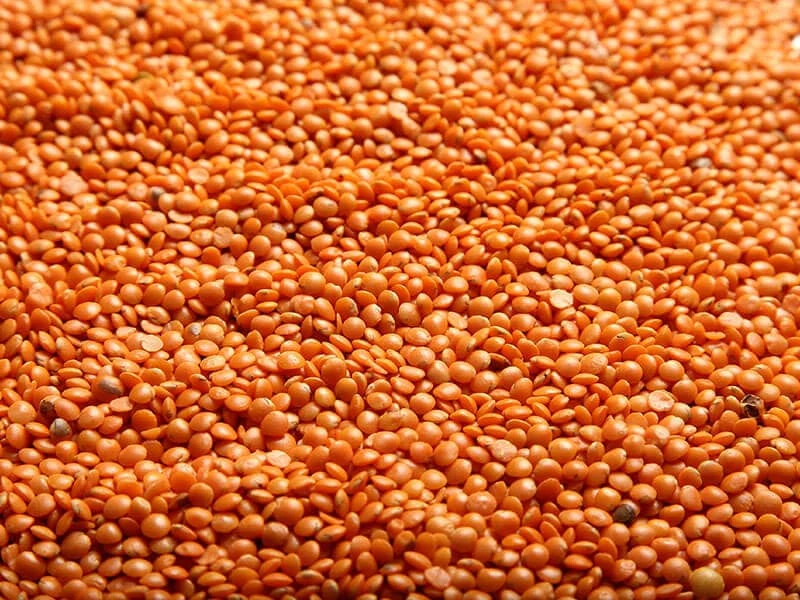 Red lentils, also known as Egyptian or split lentils, consist of various subtypes having different colors such as pink, yellow, and most regularly, orange. All of them taste mildly sweet, nutty and can easily be a part of thick soups, stews, curries, dipping sauces, etc.
Keep in mind that red lentils will lose their shape when cooked. They have a softer texture than most other types of lentils, so they can get cooked and mushy quickly. Be careful when you have to cook red lentils.
You can also use red lentils to create red lentil soup – a famous soup in Sudanese cuisine. Their mushy characteristic works really well in the process of thickening liquid dishes.
Boiling red lentils is super simple since they may get cooked in just about 15 minutes. You don't even have to soak lentils beforehand! Just add 2 – 3 cups of water to 1 cup of red lentils in a pot on a fire. Then, let them boil for about 15 minutes to half an hour.
3. Black Lentils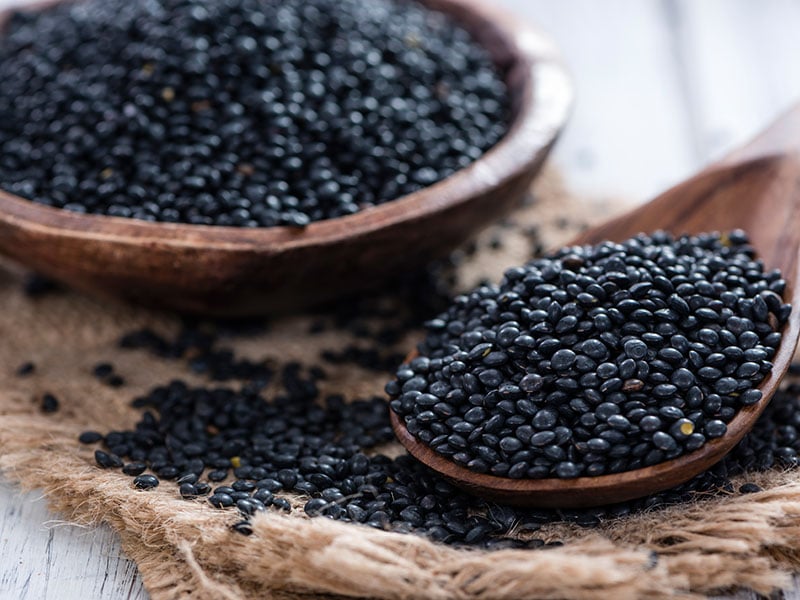 Do you know that black lentils are the rarest and most priced lentil type? They are also nutritious lentils with high protein content. You may find that they look identically like caviar in black or tiny black tapioca. Therefore, they also get the name Beluga caviar.
These wonderful foods that come in black include a lot of anthocyanins, which are great antioxidants to prevent cancer, inflammation, and viruses. This substance also gives black lentils their dark color.
With a wonderful consistency after being boiled, black lentils are perfect for salads and side dishes with a strong earthy taste. However, it may take you longer to cook these lentils. You should also soak them for some hours before cooking to soften the seeds.
To cook a cup of black lentils, you may want to add 3 cups and a little bit more water to boil. Allow the lentils to boil for about 20 to 30 minutes until they get tender. Boiled black lentils can be a great dish as a protein source for vegetarians.
Here's a brilliant black lentil recipe that you must try for dinner tonight!
4. Green Lentils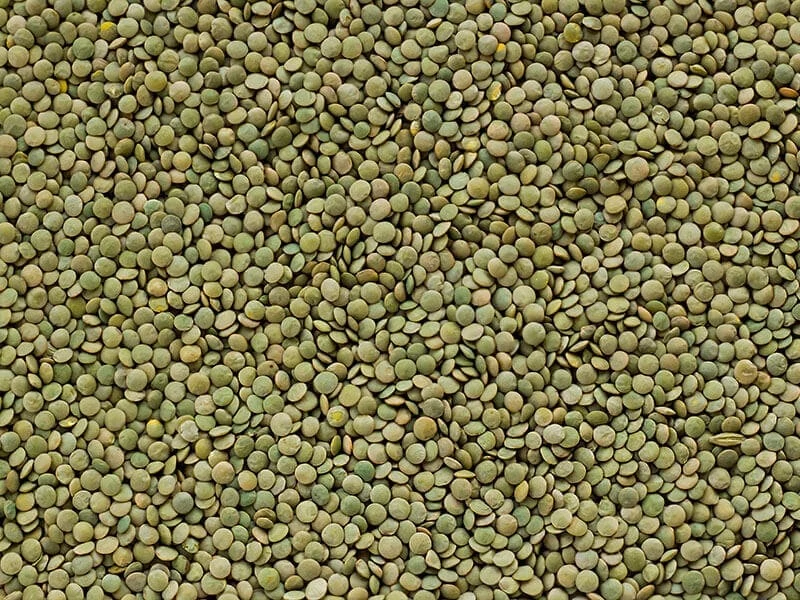 Green lentils are probably the hardest lentil type on this list! They are mostly pale green, khaki green to bright green or green-slate shade with a blue or black hint. They also consist of a special flat shape that looks like tiny discs.
You can feel the mild nutty and earthy taste with a peppery undernote of green lentils when you eat them. They are super rich in iron, magnesium, and antioxidants.
Green lentils can appear in many dishes with a great consistency after being cooked. It also has a versatile flavor that is best to join in salad dishes, soups, and side dishes. You can also enjoy boiled green lentils as a fun and healthy bite-sized snack.
If you want to cook green lentils, you should always soak them in water for a few hours beforehand to cut down the cooking process. Add 2 and a half cups of water with one cup of green lentils, then simmer the lentils for about 35 to 45 minutes.
5. Yellow Lentils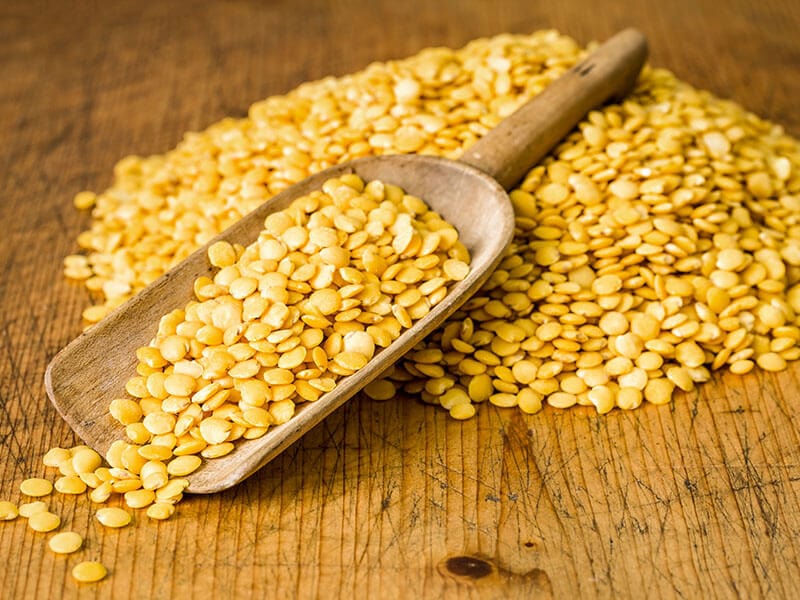 Yellow lentils are the most famous type to use in Indian dishes and Middle Eastern cuisines. Indians use them as Dal in their cooking recipes.
These yellow lentils are also a great addition to dishes like Dal Bhat – a scrumptious Nepalese dish for you to try! You'll be amazed by how they taste!
The flavor of cooked yellow lentils is considered the most neutral among those regular lentil varieties, especially the standard green lentils. They can always be a part of most soup and stew recipes calling for lentils.
You may want to boil yellow lentils in water for about 15 to 20 minutes. During this process, you should always observe them. They will start to turn mushy after that time.
6. Puy Lentils (French Lentils)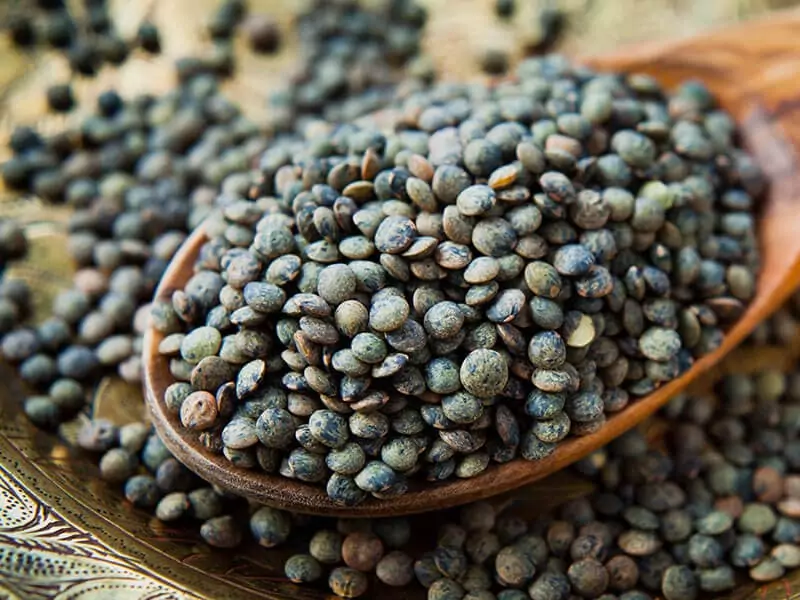 Puy lentils got their name from the Le Puy region, where they were first harvested. They are firm, hard legumes with remarkable consistency that hold their form well when cooked. You may taste a pepper-like flavor when eating this type of lentil.
If you compare Puy lentils to classic green lentils, you may find that Puy lentils are much smaller and have a darker shade than green lentils. They are also rarer and likely to be more expensive than standard green types.
You can always add Puy lentils to freshen up your salad dishes! They won't change the initial shape much to add a delightful texture to the salad. You can use a pressure cooker to shorten the lentil cooking time.
For a cup of Puy lentils, add 2 and a half cups of water to cook them. It may take you about 20 to 30 minutes to get thoroughly simmered lentils. It will be worth the wait!
How about making a mackerel with some Puy lentils and parsley?
7. Horse Gram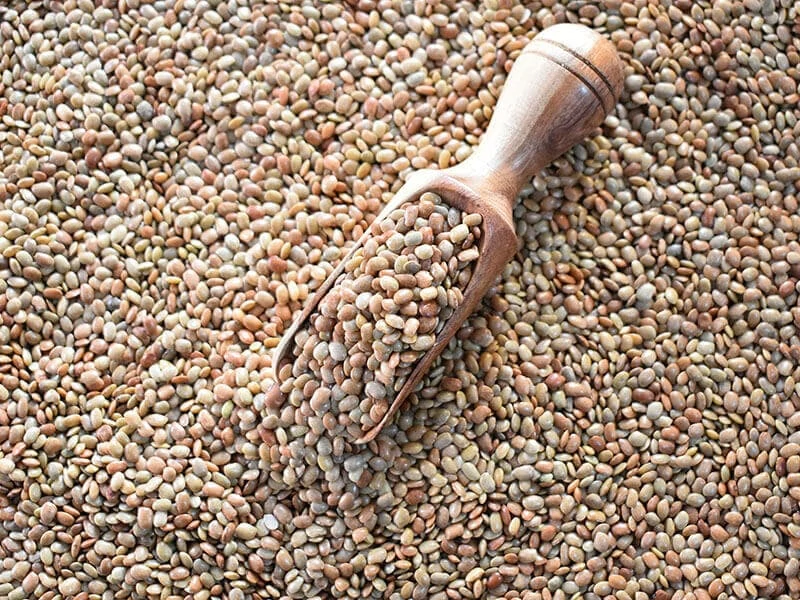 Horse gram mostly appears in India. People may use this type of lentil to feed horses and cows, hence its name. However, the term has variants in different countries. In Hindi, horse gram is called Kulthi, while in Tamil, they call it Kollu.
You should know that horse gram has the highest protein content compared to other lentil varieties. Besides being horse food, it is also a great protein and nutrient source for humans! It is actually an essential staple food in Southeast Asian countries.
You can cook horse gram into soup or add it to salads with sprouts. Boiling it to make breakfast is also a great idea! It may take you about 20 minutes to fully cook a cup of horse gram with 2 or 3 cups of water.
Horse gram is really easy to grow and highly resistant to droughts. These seeds have a hard rind, so they may need soaking first, preferably overnight, for an easier cooking process.
8. Chickpea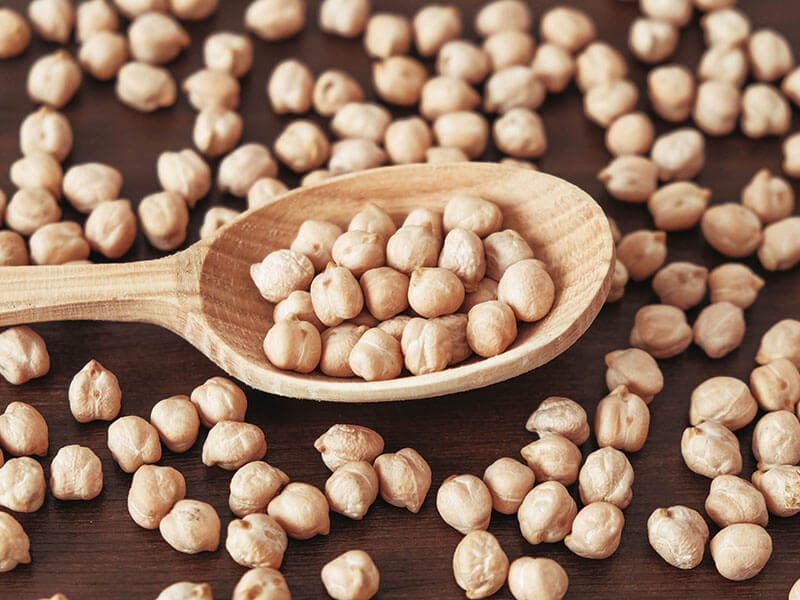 Chickpea, or garbanzo bean in some other regions, has the largest size among lentil varieties. You can always find its canned form in any store or supermarket near your house.
Chickpea is tough, so it may take you some more time to fully cook, which is about 40 – 50 minutes. You can also soak chickpeas with water beforehand with some fresh herbs and spices to get their flavors or just boil them with plain water.
You can eat and serve chickpeas right in the can. People will serve chickpea as hummus in North America. If you are curious about the flavor of hummus, you should know that it is a dip containing chickpeas, garlic, and tahini. It is super aromatic and delicious!
In India, chickpeas are used in Masala dishes. For the best flavors, people will combine them with meat like chicken or beef, cumin, garam masala, turmeric, and ground coriander.
Amazing Health Benefits Of Lentils
Lentils are packed with a lot of nutrients and minerals. Consuming them regularly can be super beneficial for your health. Let's see what the health benefits of this seed type are.
Lentils can help reduce some chronic diseases, such as obesity, heart disease, diabetes and cancer. They are famous for their phenolic content, so that they contain anti-inflammatory, antibacterial, anti-viral, and antioxidant effects.
Lentils may also support your digestive system with a high amount of prebiotic fibre and reduce the risk of colorectal cancer.
Do you know that lentils can manage your blood sugar level? Lentils consist of a low glycaemic index, which may support the blood sugar management. The energy that glycaemic index provides is absorbed directly to the bloodstream.
Let's learn more about the wonderful benefits of lentils!
Most Useful Methods To Store Your Lentils
For the dried lentils, it's highly recommended that you should store them in an airtight container. Then, you should put it in the cupboard or any dry and cool area. By this way, the lentils can stay fresh for up to a year!
Cooked lentils shouldn't sit at room temperature for more than 2 hours after cooking. But they can last in the refrigerator for about 5 to 7 days. You can also freeze them in the freezer for up to half a year.
For the canned lentils, an unopened can in a cool dry place can last for up to a year. Once you open the can, the lentils can last for about 3 or 4 days.
5 Must-Try Recipes Calling For Lentils
You have known everything about different types of lentils; now it's time to cook them with the most delectable recipes that you should totally try! Let's dive into the recipe with the simplest ingredients and steps!
Lentil soup is one of the easiest types of soup to make! You can use whatever lentil seeds you like, such as red lentils, green lentils, or a mix of different lentils. It's a fantastic dish with a mild taste and great texture!
This is an excellent dish for vegetarians or even vegans! If you are not a vegetarian but are so into lentils, this recipe is also for you! It is really scrumptious and tastes like meat since lentils are a great substitute for meat. Try this recipe right now!
Masoor Dal is an Indian dish with lentils that can be made with only an instant pot. This Dal is also a great side dish having veggie that every member of your family can easily consume. It is a flavorful dish that can amaze everyone for sure!
Whole Masoor Dal is actually really easy to make with this simple instruction!
How about enjoying a special nacho with black beans and lentils? There are also some tomatoes and other vegetables to create a super flavorful and colorful dish. It will be an extraordinary starter for your party or family get-together.
If you love lentils and sweet potatoes, why don't you combine the two to make the best stew ever? It will be a great appetizer or even a main dish to serve with some cooked rice. This dish's sweet and mild taste will give you a wonderful dinner.
So, Will You Try Lentils In Your Next Meal?
That's all about the lentils, what do you think about it? They are an awesome ingredient that you should regularly use in cooking. Let's make the best dishes ever with these fascinatingly delicious and nutritious seeds.
Remember to hit the like and share buttons if you find this article interesting and informative! You can always comment below this post to ask whatever you are unclear about the topic! Hope to see you soon in the following articles!