Have you ever wondered what different types of porridges are? I've asked myself this question when I was bored with eating one repeatedly. As I did research on them, I found out that there are way more types of porridges than I thought.
I've tried most of them, and their tastes are all fantastic. As such, I want to share them with you, so you have more options when thinking of a porridge to try. I will present detailed information about them to ensure that you will get everything you need.
Why Are Porridges So Popular?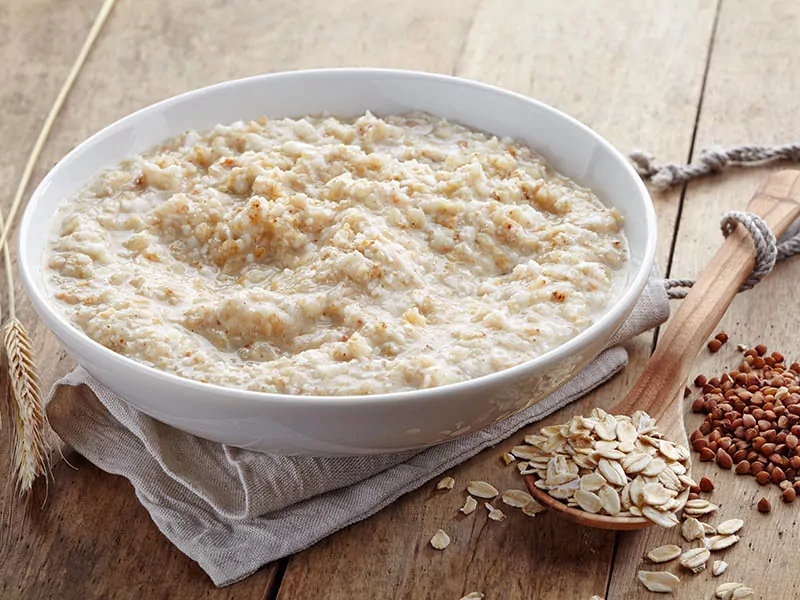 Porridges are a popular dish made by cooking grains such as oatmeal, rice, and wheat in water or milk until the mixture becomes thick and slightly creamy. This comfort food is mostly enjoyed warm. You can add any of your favorite sweet or savory ingredients to it.
People love porridge because it is a very simple yet delicious dish. It only requires a few basic ingredients. But it makes a delicious and fulfilling meal, especially for breakfast or late-night meals.
This comforting food also has plenty of health benefits. It is exceptionally low in calories and high in fiber. Also, it helps to lower your cholesterol level and promote bone health.
26 Types Of Porridges To Please Your Taste Bud
It's time to get to the main part. I am very excited to share with you a wide range of porridge varieties from all over the world.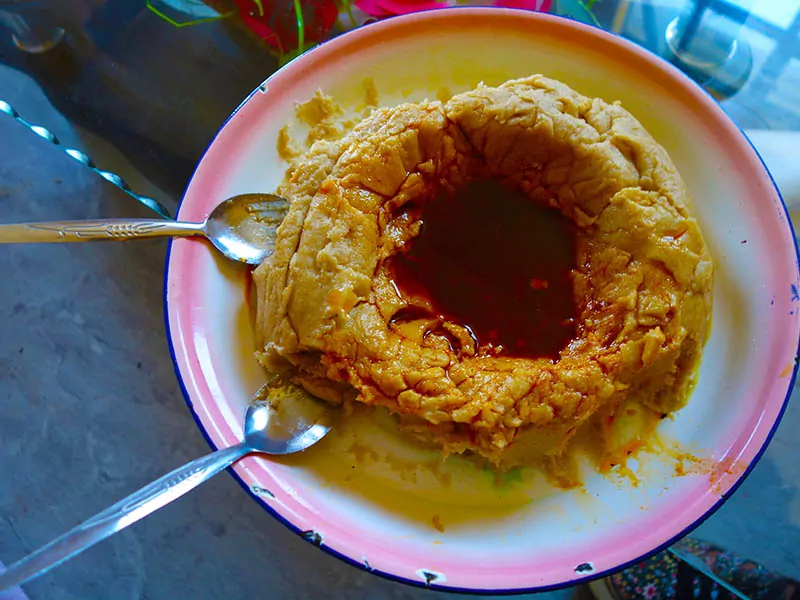 Genfo is a delicacy of Ethiopia. It is a mixture of several grains and legumes, such as wheat, millet, Ethiopian oats, and sorghum.
This type of porridge has a distinctive appearance that is unforgettable. The porridge itself forms a hole that has a dipping sauce made of red peppers, butter, and pulses.
Genfo is a stiff porridge. People normally eat Genfo with their hands or use a utensil. They take out some porridge and dip it in the sauce. It is usually served warm, but in some regions, people serve it cool with some yogurt.
Nowadays, it is a typical breakfast recipe for Sunday in Ethiopia. People serve it along with yogurt and kibe (spiced butter). It is also consumed by women who are pregnant and those who have just finished pregnancy.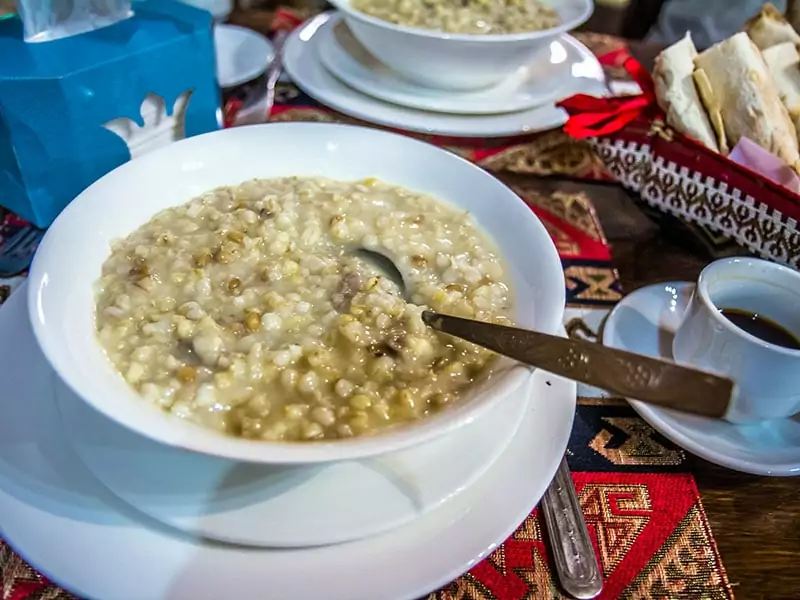 If you are a fan of Armenian cuisine, you should never miss Harissa, a delicious porridge that takes root in the Ararat plain.
Legend has it that when Gregory the Illuminator gave people food, he decided to cook wheat in the pot since no more food was available. And that's how the classic porridge was born.
Harissa contains a kind of roasted, dried, or cracked wheat called "korkot". Some people prefer adding lamb or chicken to it.
People prepare it in different ways. Some stir the Harissa when it is cooked, while others stir it when it is half-cooked. The wheat is cooked with meat, butter, and seasonings.
Nowadays, people serve it on Easter day and other religious days. Sometimes they use herbs instead of meat.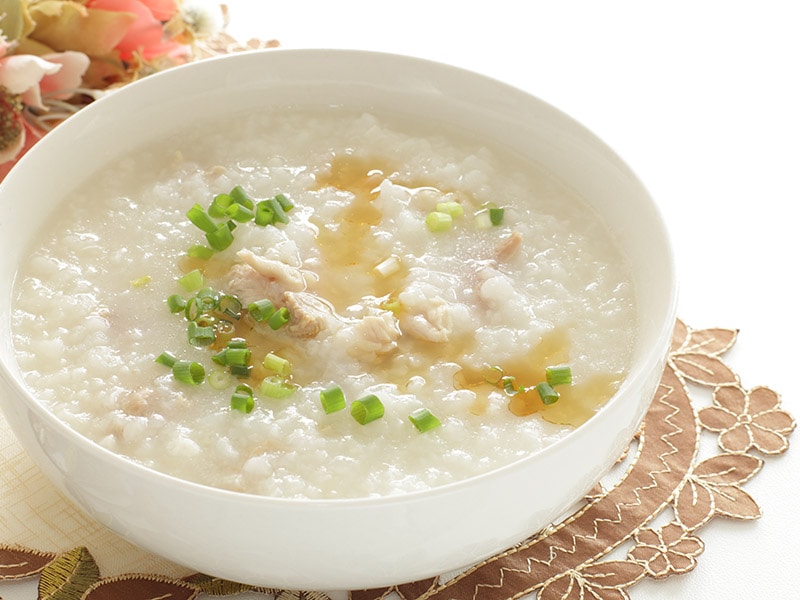 Congee is an important staple of Asian cuisine, especially Chinese cuisine, where it originated from. It is also called Khao Tom Moo, Jook, or Rice Gruel.
Congee is a delicate food staple of Chinese. You can also serve it for breakfast, lunch, dinner, and as a side dish.
Chinese people often serve Congee with youtiao (salted fried crullers). The version which contains mung beans such as red bean congee or Laba congee is served with sugar.
In the past, Congee was made for sick people, babies, and the elderly because it is comforting and easy to eat. To make Congee, you just need to cook white rice in water until a thick texture is created.
The origin of Congee is still controversial. People created it during famine or when there were too many people at the temples since there was not enough rice to eat.
The fascinating thing is that you can adjust the flavor according to your appetite by adding your favorite topping. They can be spring onions, soy sauce, poached eggs, pickled tofu, white pepper, and many more.
There is no better Congee recipe than the traditional one.
Have you ever seen a porridge called "pudding"? It seems unusual, but its history will explain to you why it got that name.
British people created Hasty Pudding in the 16th century. They cooked wheat flour or cornmeal in milk or water to reach a creamy consistency. At first, it was only a dessert. But as its popularity has increased over time, it is now a type of porridge.
You will also hear people call it "Indian pudding" in America. This is because it is created from ground Indian corn. However, Indian Pudding contains molasses, ginger, and nutmeg.
Nowadays, Hasty Pudding is still an attractive dessert, often flavored with spices, maple syrups, seasoning, and condiments. Some recipes have ice cream or whipping cream as toppings.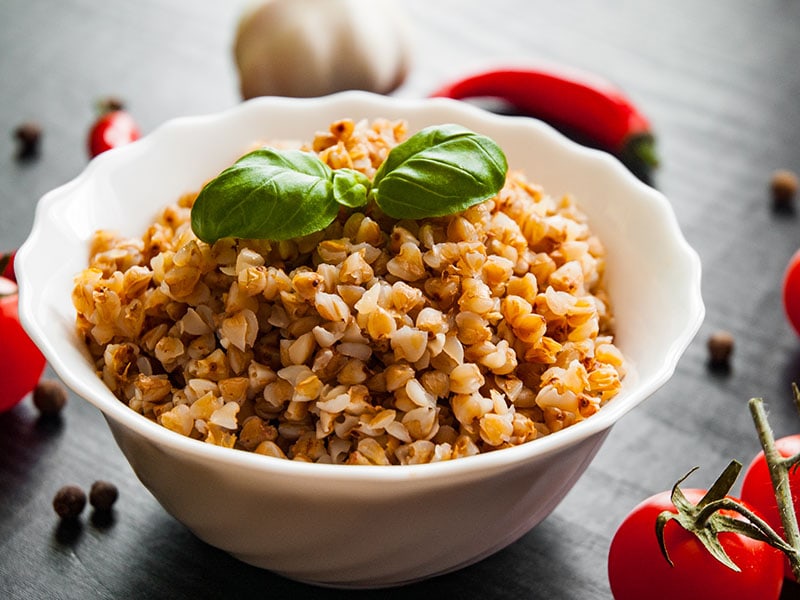 Made of buckwheat or buckwheat groats, Kasha is a mouth-watering Russian delicacy that will provide you with a fulfilling and nutritious breakfast.
You may not know it since it is more popular in Russia and European countries. Since it is so healthy, it has become a very common dish for patients in Ukrainian hospitals.
Kasha is the national dish of Russia. People often say "shchi da kasha", which means "shchi and kasha is our food". This simple sentence can be understood as "it is enough to eat those 2 meals to live".
People make Kasha by boiling or baking buckwheat. But the most common practice is boiling it in water or milk. It has a distinctive nutty flavor that is very tasty.
There are 2 versions of Kasha, namely the sweet and savory version. The savory one contains butter and chicken fat. The sweet one has maple syrup, brown sugar, and molasses. Some toppings, such as raisins, nuts, and berries, are also added.
This porridge goes with butter all the time. Russian people often say, "you will never spoil kasha with a lot of butter".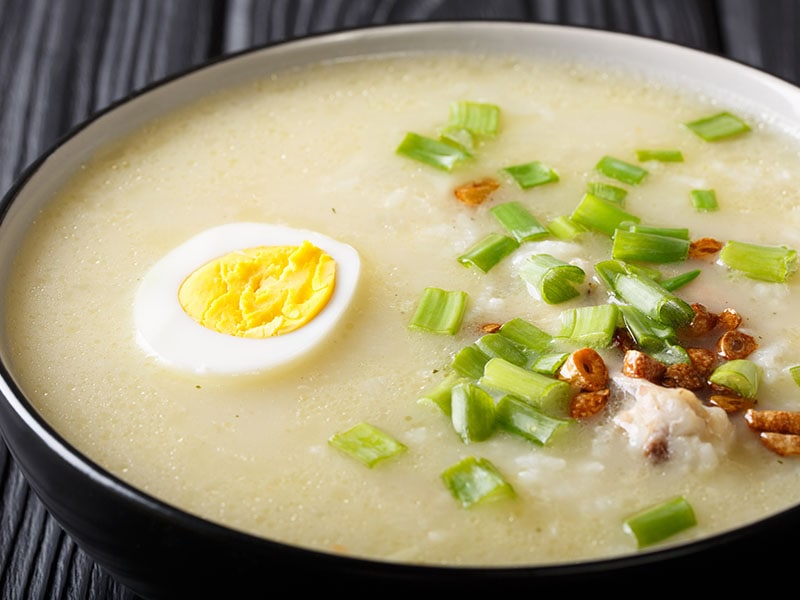 Originated in the Philippines, Arroz Caldo is an incredibly delicate porridge created from rice. You can make use of your leftover rice. It has a beautiful yellow color thanks to Kasubha (safflower). Some people also use saffron or turmeric.
To make this famous porridge, you just need to cook rice in chicken broth until a porridge-like texture is achieved. Then, flavor it with ginger and calamansi lime juice and topped with green onion, fried garlic slivers, and boiled eggs.
Arroz Caldo is a very popular breakfast in Philipines. People enjoy it when it is rainy or cold weather and serve it to sick and bedridden people. You can serve it hot or warm. When it is cool, you can heat it with some water.
This amazing Arroz Caldo recipe will make your day.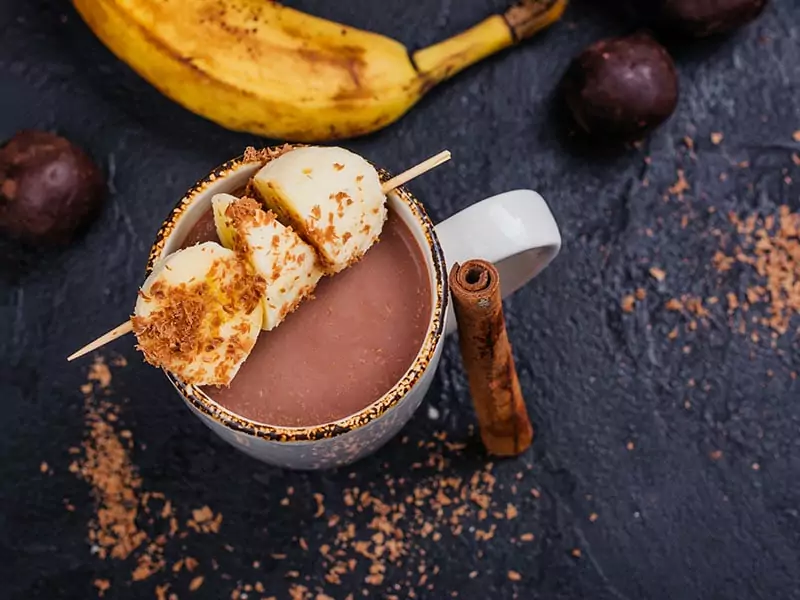 Originated in Mexico, Champurrado is a drink rather than a porridge. Unlike other porridge, which is often white or yellow, this variety has a beautiful brown color that resembles the look of chocolate, thanks to ground cacao beans.
Champurrado is made from corn masa harina or masa de maiz. It is ideal for enjoying Champurrado on cold nights to stay cozy. You can enhance its flavor with spices such as cinnamon, star anise, and vanilla.
There are many Champurrado recipes. If you go for the authentic version, use Abuelita chocolate or International aisles. Make sure you use a clay pot to get its best taste.
Traditionally, people serve Champurrado with tamales on the Day of The Dead and Las Posadas. It is also an amazing Mexican dish to start the day and a late evening meal. You can serve it with churros.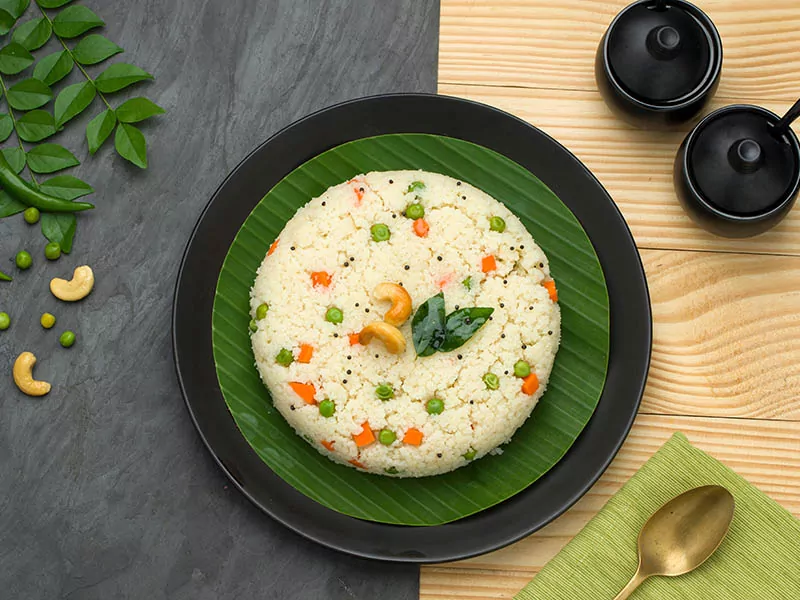 Upma is the traditional breakfast recipe of India, especially in the food culture of Tamil Nadu and other Southern regions. To make it, people cook coarse ground rice, wheat, or a type of coarse rice flour called "rava upma". Rava upma means "semolina" in India.
Then, they add fried spices, vegetables, and chiles to it. Nowadays, people use many other types of grains, such as vermicelli, bread, and poha, to make it.
Because of that, there are many variations of Upma, such as Whole Wheat Upma, Rice Upma, Corn Upma, and Vermicelli Upma. Some people also love to add toppings, such as nuts, beans, and masala spice blend to Upma.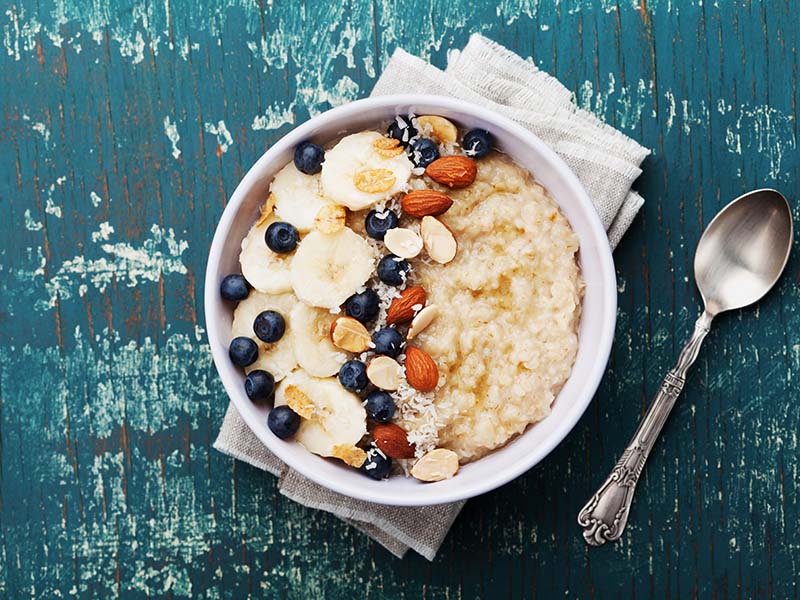 Oatmeal is a kind of porridge that is most commonly served as breakfast. It is extremely popular in the North of America and the United Kingdom.
As can be inferred from the name, oat is the main ingredient of oatmeal. You can make this porridge with quick oats or steel-cut oats. The latter normally takes more time to finish.
People cook the oats with salt and water or milk. You can flavor it with maple syrup, raisins, nuts, and brown sugar. People also cook the oats with vegetable broth and flavor them with salt and peppers. Then they add some vegetables, such as peas, carrots, and potatoes.
Although oatmeal is more popular as a breakfast, many people serve it as a side dish. It is also a great dish to enjoy in your dinner.
More amazingly, you can also serve oatmeal as a dessert or snack. You can add sweet ingredients, such as chopped nuts, condensed milk, chunky granola, coconut flakes.
There are plenty of oatmeal recipes, but perhaps this one is among the best.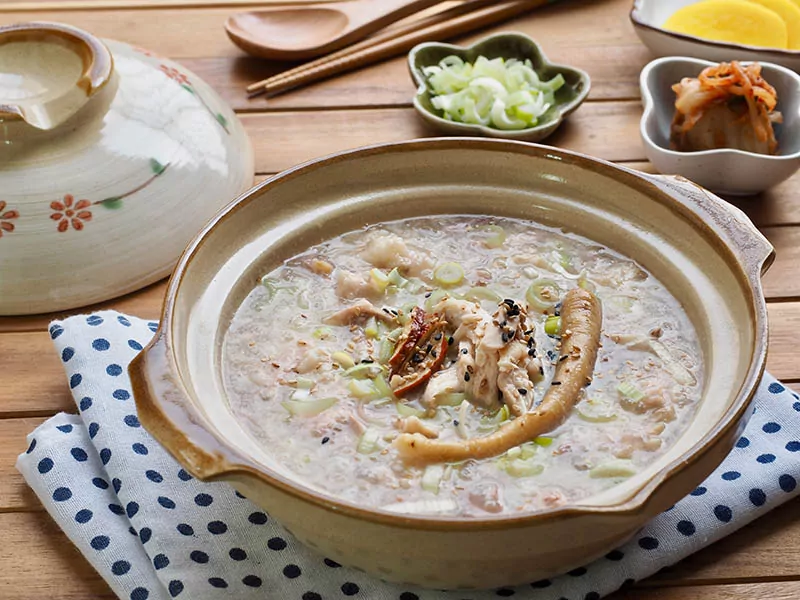 Juk is a very popular porridge in Korea. It is a comfort dish that both adults and children love. And I am sure that you will also love it. The name "Juk" means "porridge" in Korean, so there are many variations.
The traditional Juk, called Ssaljuk (rice porridge) or Huinjuk (white porridge), is made from plain rice. People often serve it with jeotgal (salted seafood), kimchi, and other side dishes.
There are also other delicious varieties, namely Jatjuk, Jeonbok-Juk, Patjuk, and Yulmu-Juk.
The most basic Juk consists of rice, chicken, green onion, and garlic. It provides a lot of nutrition for your body. Korean people often serve as a breakfast or light meals. They also add pine nuts, red beans, and abalone to make it more flavorful.
People love Juk because they can use up their leftover chicken while creating a delicious porridge to enjoy.
11. Hapanvelli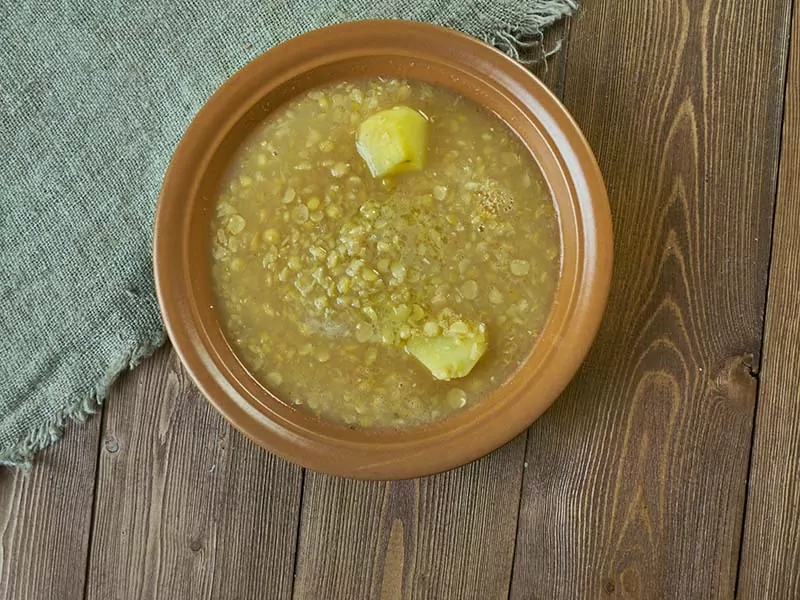 Hapanvelli stands out from the rest thanks to its distinctive sour taste. This type of porridge contains rye sourdough starter, peas, potatoes. It is a specialty of the Virolahti municipality, which resided in Southeastern Finland. It bears some similarity to pea soups.
This delicacy is very popular in Virolahti Week, which is celebrated each summer. People serve it with cold milk and butter.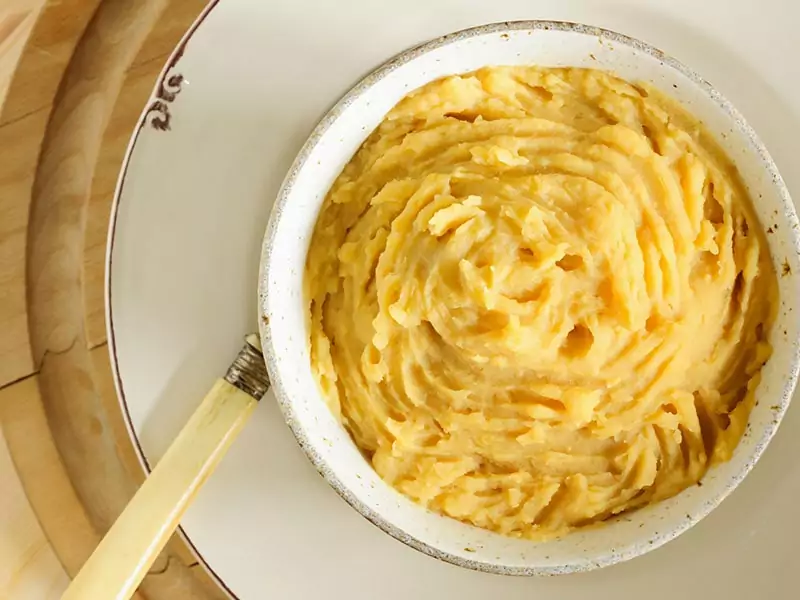 English cuisine has a delicious porridge named "Pease Pudding". People also call it "Pease Pottage", "Pea Porridge", and "Pea And Ham Soup". It contains split yellow peas, salt, spices and is served with bacon or ham joint, beetroot, faggots, and Scottie cakes.
Pease pudding is thick and has a deliciously mild taste. It is a very comforting dish that will keep you warm during the night. There are various regional variations such as Fava in Greek cuisine, Gorohovaya Kasha in Russian cuisine, and Wan Dou Huang in Beijing cuisine.
This porridge is popular in the northeast of England. Yet it is not very common in other regions.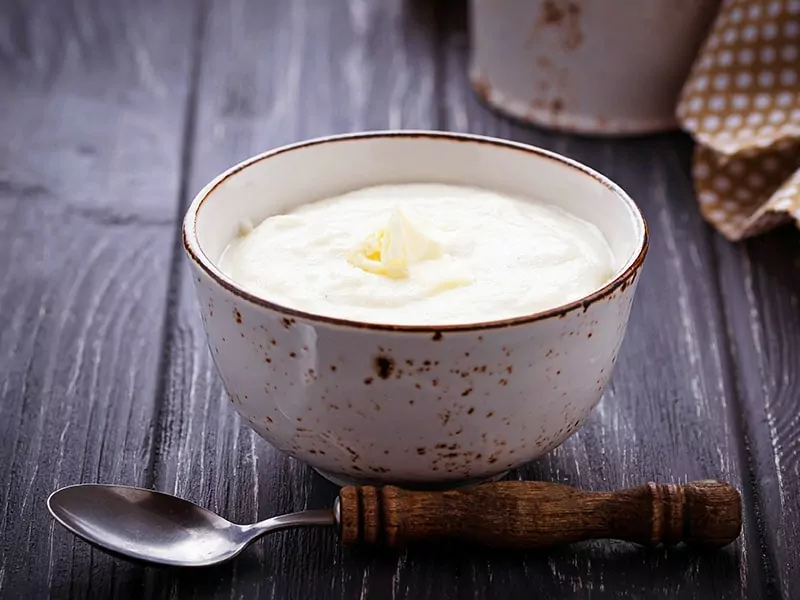 Semolina pudding can be both a dessert and a porridge. Interestingly, it can be served warm or chilled.
To make it, you just need to cook semolina in milk or water or both. Then, you can serve it with cocoa powder, raisins, cinnamon, syrup, or fruit. Some versions are made by baking semolina instead of boiling.
This sweet porridge is a very ancient dish that has been popular since Roman times. Nowadays, every Eastern European country, such as Romania, Syria, and Hungary, has its own semolina pudding versions.
You should never ignore this creamy and delicious Semolina pudding recipe.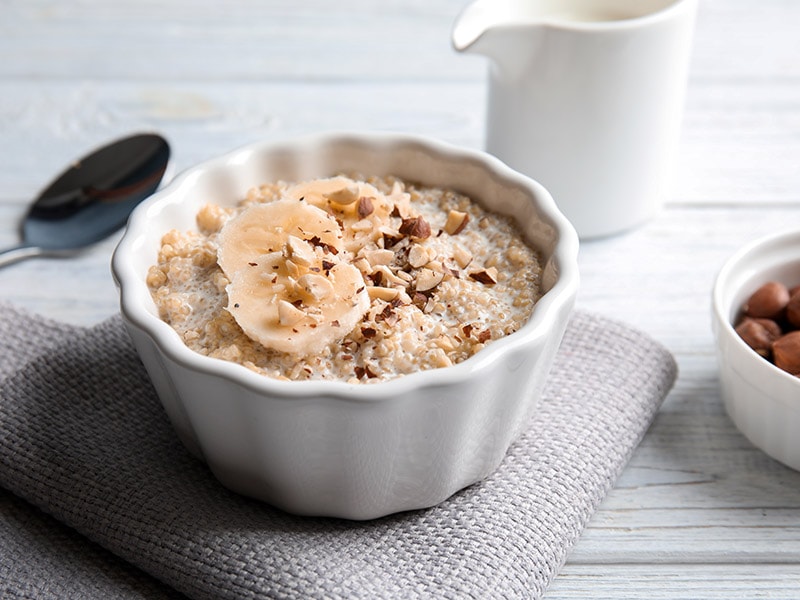 Porridges are a healthy dish. But Quinoa porridge is much healthier than the rest, thanks to the great nutritious profile of semolina. People make it by cooking quinoa with milk and water until the mixture has a creamy texture.
There are plenty of ways to flavor Quinoa Porridge. You can add honey, maple syrup, and seasonal fruit to make it more fulfilling and flavorful. This porridge makes a great breakfast that can provide you with plenty of nutrition.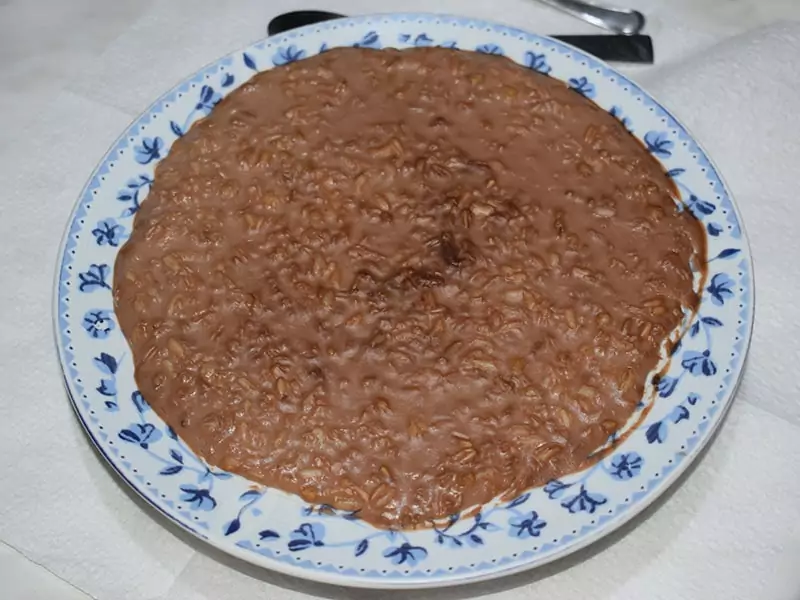 Cuccìa came from the island of Sicily in Italy. People prepare it with wheat berries and sugar and serve it with butter, chocolate, milk, and Ceci beans.
Traditionally, this porridge is a staple of the feast day of Saint Lucy, which is celebrated on December 13. It is the only wheat-based food that is available that day.
People serve Cuccìa differently. It can be a pudding, a soup, or even a cereal. Some versions have almonds and ricotta.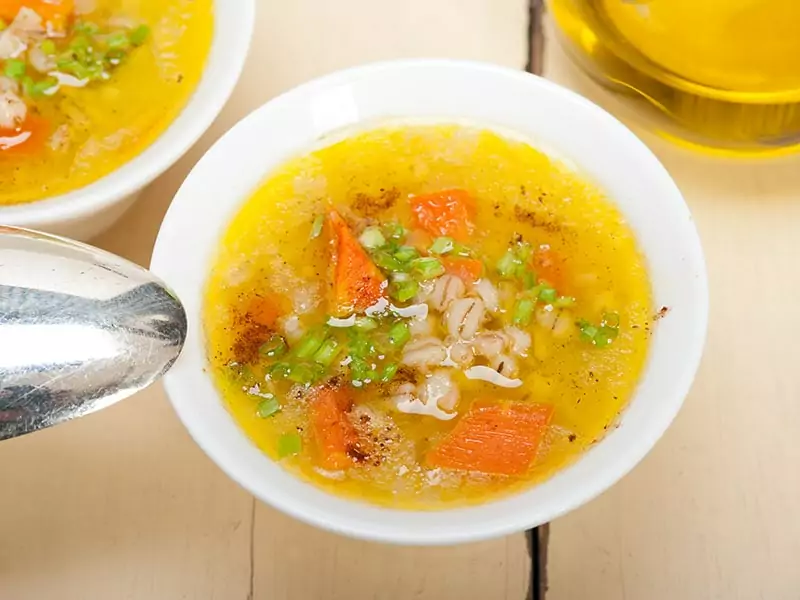 Talbina is native to the Arabian Peninsula, a country in the Middle East. Its name came from "laban", the Arabic word for yogurt. This is because it has a white color and soft texture similar to yogurt.
People make this porridge using barley powder which has an impressive nutrition profile. It contains antioxidants and many other substances that can protect you from cancer and heart diseases.
This amazing dish is one of the most beloved breakfast foods in the world. It is also served to sick people and those who have gone through trauma.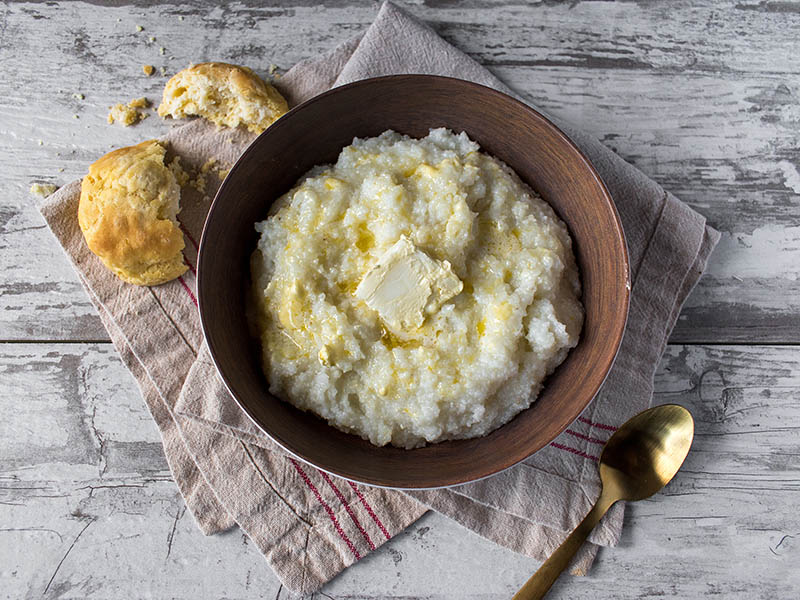 This variety of porridge was created in America in the 16th century by the Muskogee tribe. It is a popular breakfast recipe in Southern America that contains cornmeal.
Grits started as breakfast. But as its popularity has been growing over time, it can be a main dish.
People make Grits from white corn or hominy corn. They cook it in water, milk, and butter until the creamy texture comes out, then flavor it with spices and serve it with condiments. Modern recipes also have shrimps.
Grits are the favorite comfort food of all Americans.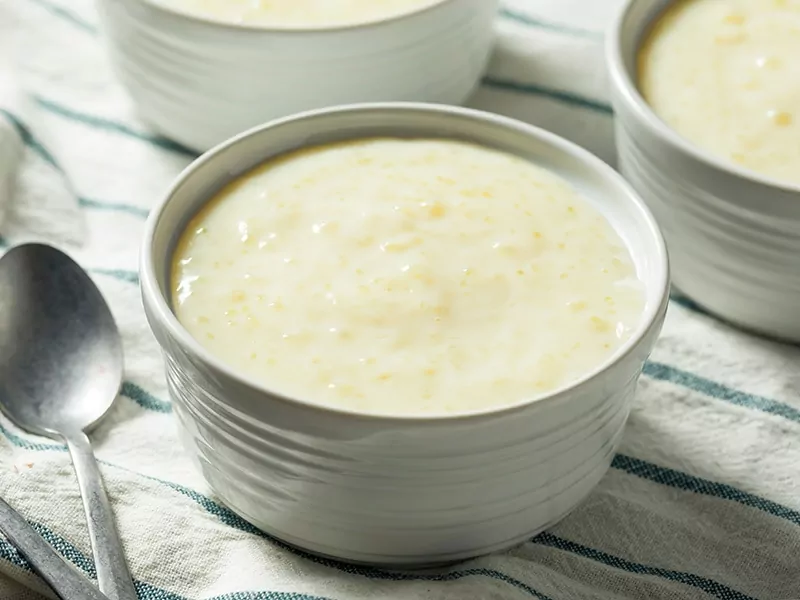 This is another tasty sweet porridge that you must try. Tapioca pudding is rich, creamy, and sweet. Every culture seems to have its own way of preparing tapioca pudding. Some are thin, while others have a very thick texture.
The tapioca used to make this porridge comes in various types, namely pearls, sticks, flakes, and coarse meals. You can serve it warm or cold, depending on your taste bud.
Tapioca pudding is not only delicious, but it also has some historical and cultural significance. In the siege of Petersburg, it was served for the Rhode Island army officers in the Fourth of July celebrations.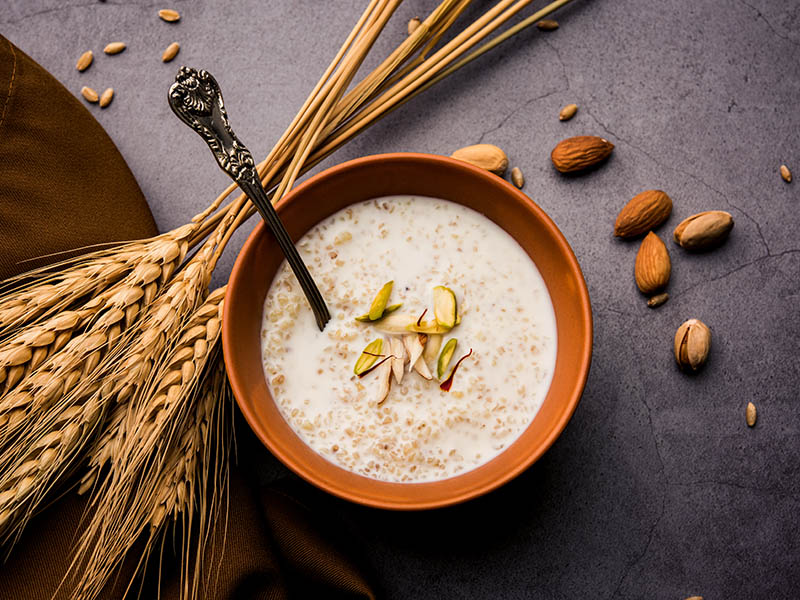 If you are a fan of wheat-based porridge, Dalia is another dish to try. It is an Indian dish made by cooking broken or cracked wheat in hot water or milk. Its thick, creamy texture and delicate taste make it a fulfilling and mouth-watering breakfast.
Besides the incredibly tasty flavor, Dalia is super nutritious. It contains fibers and protein. You can serve it as breakfast, lunch, dinner, or midday snacks.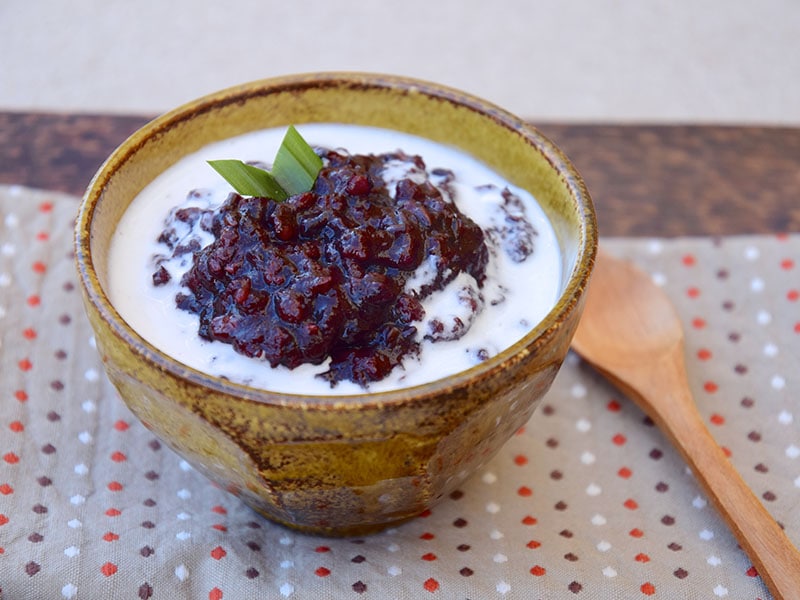 Bubur Ketan Hitam features a delicate and charming dessert from Indonesia. People make it from black glutinous rice, palm sugar, cane sugar, and coconut milk. People cook black glutinous rice in water. When it becomes creamy, they add other ingredients.
People also call this porridge "Ketan Hitam" and "Pulut Hitam". It is so versatile that people love to enjoy it all day round. It is one of the most loved breakfast dishes in Indonesia. People also serve it as a snack or dessert.
Sowans can be understood as fermented oats. It is native to Scotland. You will hear people call it "Sowens" and "Virpa".
Unlike other oat-based porridge, this one is cooked using the husks of oats. People ferment the husks after soaking them in water. Then, they remove the liquid content and boil the rest in salt and water.
Since people ferment the husks, they come out with a distinctive sour taste and creamy texture. People often enjoy it alongside milk and butter.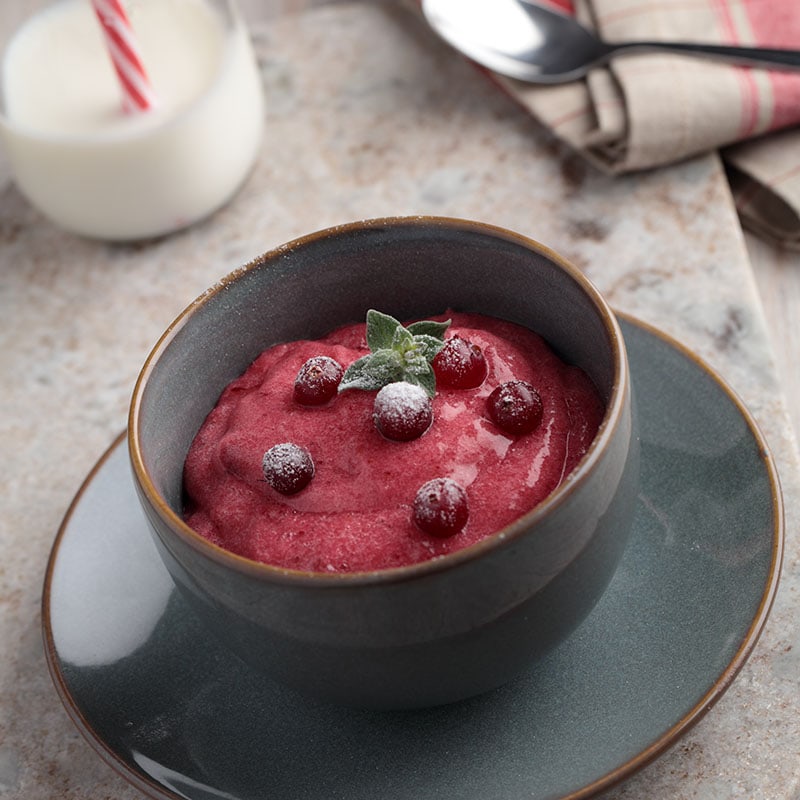 You can understand "Vispipuuro" as whipped porridge. Its main ingredients are wheat semolina and berries. People usually make it with lingonberries, but you can also use cranberries, gooseberries, and strawberries.
People make it by cooking semolina with berries. After that, they whip it until it has a creamy texture. Finally, they sweeten it with other ingredients, which vary from country to country. Vispipuuro often goes with milk and sugar.
This versatile dish is very popular in Finland, Estonia, and Sweden. People serve it as a light meal, a breakfast, and even a dessert. They often top it with fruit, milk, and cream.
Let's make this charming Vispipuuro to please the crowd.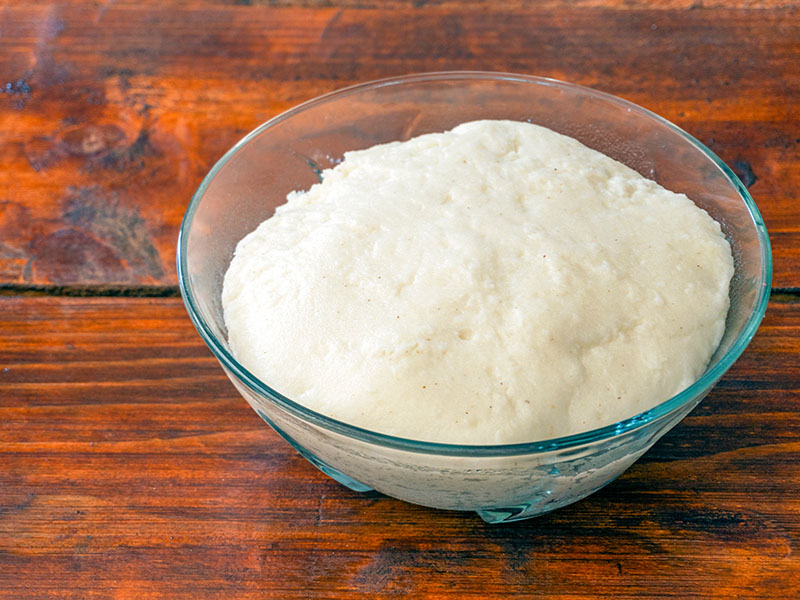 If you haven't tried African porridge, give Ugali a try. Although it has many names and regional variations, the main ingredient is flour, such as corn flour, millet, or sorghum flour. People cook the flour in milk and water.
Unlike other types of porridge, which have a creamy texture, Ugali comes in the form of firm white dough. This delicious treat is a staple in the cuisine of Kenya, Rwanda, Ghanian, and African nations.
Ugali is served with different ingredients, depending on the variations. Some of them are stews, meat, mashed vegetables, and sour milk.
Frumenty is also a kind of pudding made from wheat, broth, and milk. Its name came from the Latin word for "grain". It was very popular among peasants in Western European countries in the past.
Nowadays, people add more ingredients to Frumenty, such as orange flower water, almonds, sugar, and eggs. They serve it as a small dish eaten between the main courses and the banquet, often coming with meat.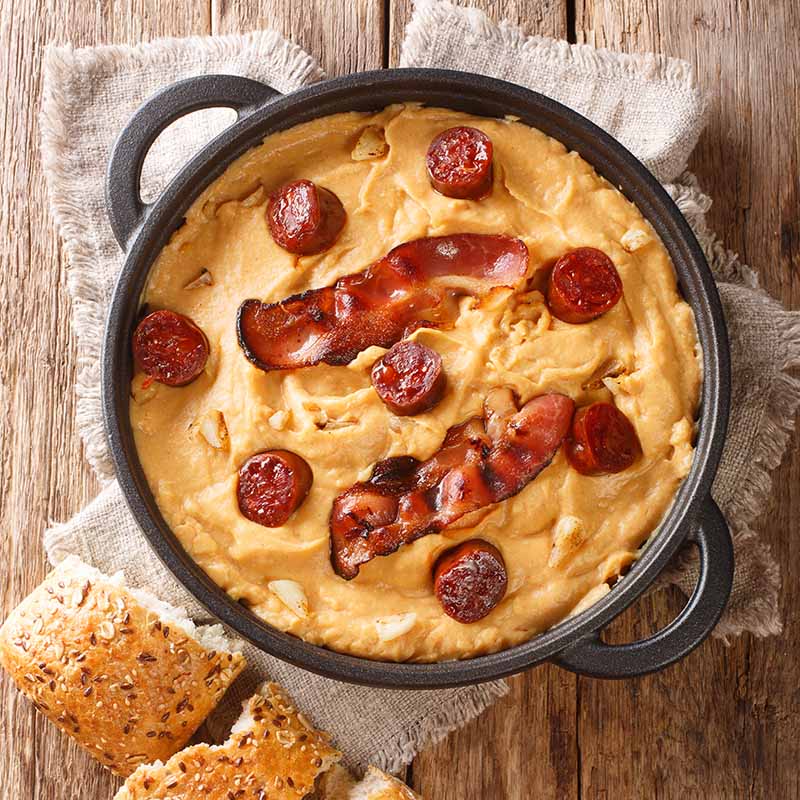 Gachas is another flour-based porridge. It is a very common dish in Southern Spain, where it originated. The types of flour used are often corn flour, wheat flour, or grass pea flour.
The exciting thing about this porridge is that there are many variations, and the texture varies accordingly. Some are thin and watery, while others look like cakes or crust. You can serve it with pork dishes such as bacon, salchichón, morcilla, and chorizo.
In Andalusia, people also serve Gachas as a dessert. They use sweet ingredients such as sugar to replace garlic and salt. They also add toppings such as raisins, bread croutons, and almonds.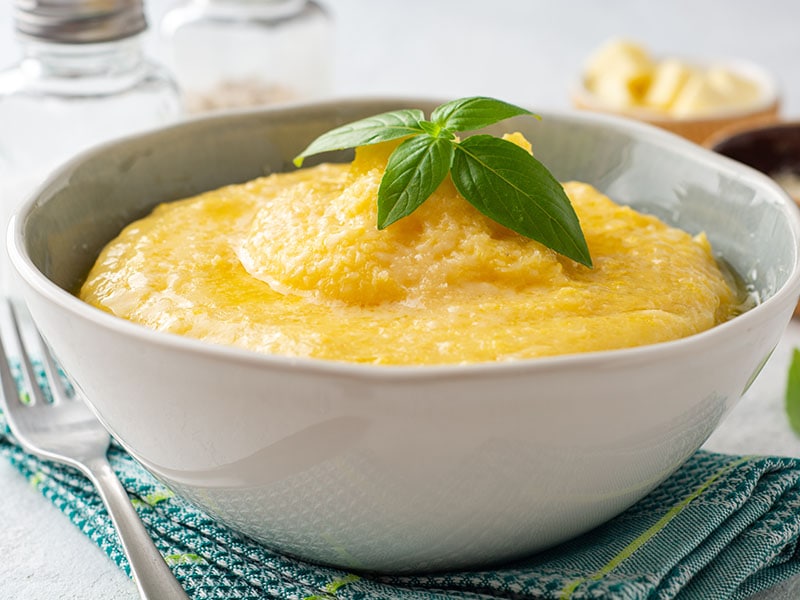 There is a delicious and beautiful porridge in beautiful Italy called "Polenta". Local people often call it "Polenta soup" or "corn porridge". It is one of the most common Italian recipes for breakfast.
It is most often made from yellow maize, but sometimes people use white maize or buckwheat. Depending on how you grind the maize, you will get a porridge with a coarse or creamy texture. People typically make it with flint corn. They grind it into cornmeal.
Traditionally, Polenta pairs with cheese, which creates a rich and tasty dish that can be enjoyed anytime in the day. It is also available in loaf form that you can bake or grill. Italian farmers enjoy it all day round.
To make a perfect polenta, you need to cook the maize with butter, cream, water, or milk on low heat and for a long time.
Although Polenta might be the most famous corn porridge worldwide, it's not the only version of this dish. Akume is a unique dish of Togolese gastronomy that consists of ground maize and fermented cassava. Give this West African treat a try if you want a breath of fresh air!
To make perfect Polenta, you need this excellent recipe.
Porridge And Oatmeal: How Are They Different From Each Other?
Although I have mentioned that oatmeal is a kind of porridge, in some areas, notably Europe and North America, people use the 2 terms interchangeably.
As such, I think that it is necessary to outline the differences between porridge and oatmeal to clarify the confusion.
| Process | Porridge | Oatmeal |
| --- | --- | --- |
| Preparation Method | Boiling grains in milk or water | Boiling oats in milk or water |
| Ingredient | Types of grains such as wheat, quinoa, and maize | Steel-cut, ground, or rolled oats |
| Serve with | Meat, spices, herbs, onion | Honey, syrup, dried nuts, jam |
The biggest difference between porridge and oatmeal is the ingredients. Porridge is made by boiling grains, such as wheat, maize rice, or oats in milk or water, while oatmeal contains oats solely.
Their ingredients are also not the same. Porridges include grains, such as wheat, quinoa, maize, barley, oats, and buckwheat, while oatmeal just contains oat. It is made using steel-cut, ground, or rolled oats.
Another difference between porridge and oatmeal is the topping that goes with them. Porridges pair with meat, spices, herbs, and onions. Oatmeal, on the other hand, goes with sweet toppings such as honey, syrup, dried nuts, and jam.
It's Time To Try Your Favorite Porridges
How's it going? Which types of porridges are most impressive to you? All of them are so amazing. I highly recommend that you try them all. The procedures are easy, and the ingredients are very simple.
Many people love porridge, and they are looking for some more types to try. Therefore, it would be great if you could share this article to reach a lot more people. All of your thoughts are welcomed. Feel free to leave them in the comment section.