Crown Royal cocktails are many people's choices when it comes to drinks. However, since there are so many interesting recipes with Crown Royal whiskey and other spirits, are you too confused to pick the best ones?
Don't worry, I'll help you pick out the most beautiful cocktail recipes with Crown Royal. They don't take a long time but still provide a burst of flavor in your mouth.
Read my post slowly and carefully! You will find some fascinating information regarding Crown Royal wine, its ingredients, and the best ways to mix Crown Royal cocktails.
I believe some cocktails on this list will become your favorite drinks later on!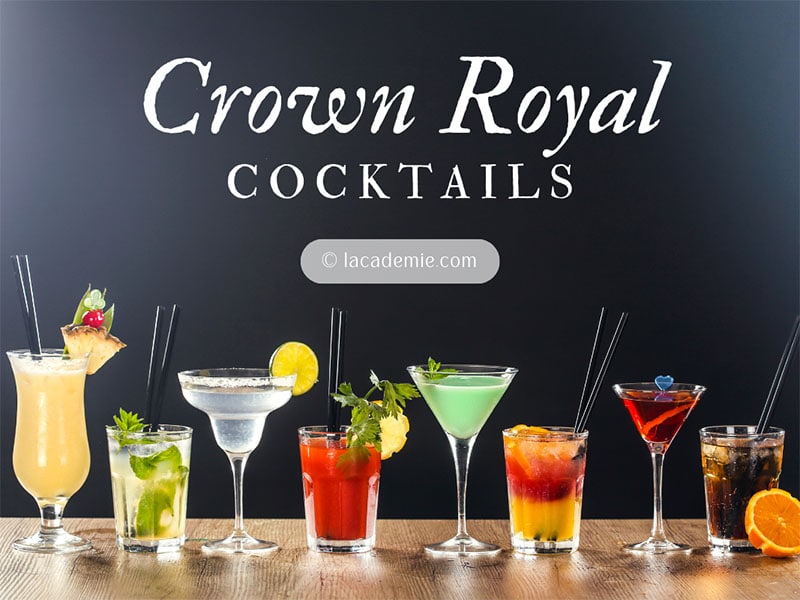 Some Common Informations About Crown Royal
Before starting with easy Crown Royal cocktail recipes, I'll give you some facts about this alcoholic drink.
Crown Royal is the best-selling Canadian blended whiskey in the US. This brand appeared on the Canadian royal tour of King George VI and Queen Elizabeth in 1939. By the 1960s, it had become popular in the US and other countries.
For veterans, the brand's velvet bag with gold embroidered letters has become a familiar identifying feature. Crown Royal company is located at Gimli, on the shores of Lake Winnipeg, Manitoba, Canada.
Royal Crowns has many current products on the market, such as Crown Royal Black, Crown Royal Peach, Crown Royal Apple, etc. Some of them have won awards for wine.
Crown Royal products require rye, corn, barley daily from Manitoba or nearby areas, and natural water. This water must be filtered through the limestone in Lake Winnipeg.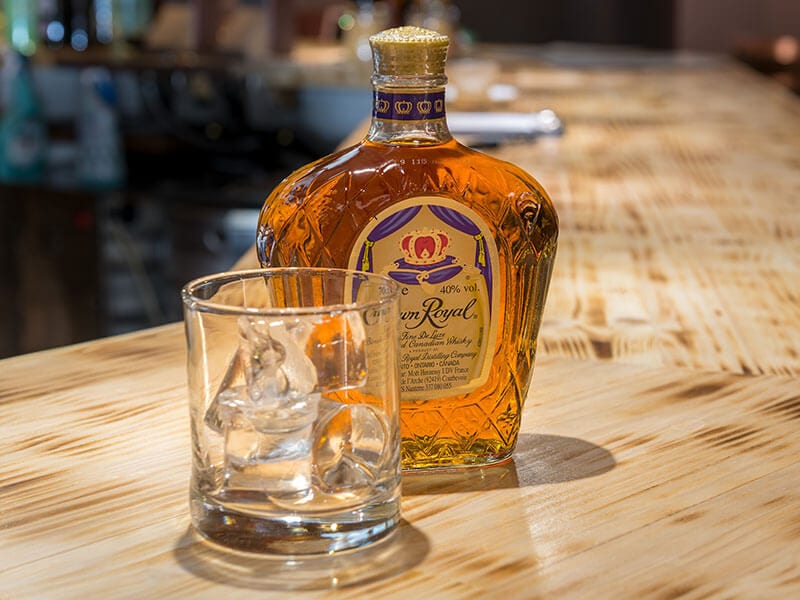 Crown Royal's Taste and Flavor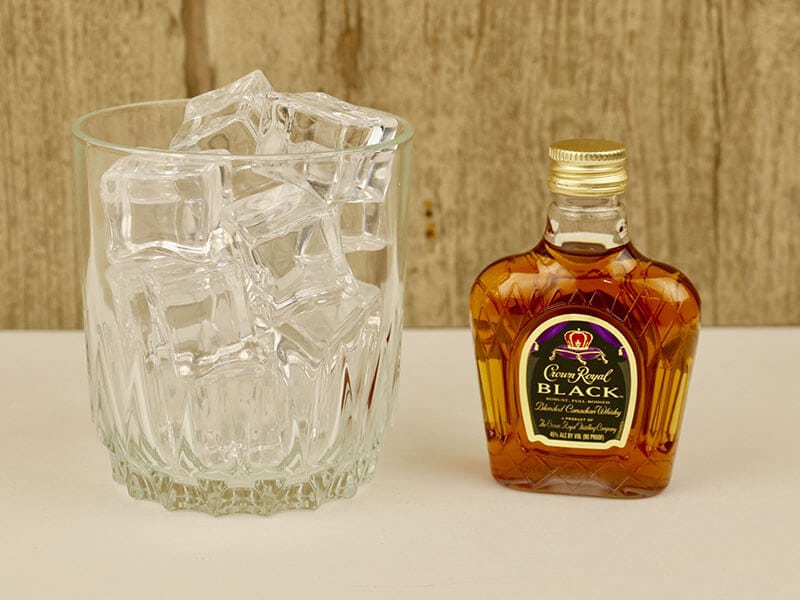 About the taste, Crown Royal gives a strong, bold, and smooth savor. The taste of Crown Royal closely resembles the rye whiskey.
Other variations will have their own distinctive taste, depending on the ingredients in the distillation process. For example, Crown Royal Northern Harvest Rye has a barbecue and pepper flavor. This unique feature has become Crown Royal's advantage in the market.
Regarding flavor, Crown Royal whiskey has a wide range of tastes, from vanilla, caramel, and fruit to spice or even smoke.
19 Beautiful Crown Royal Cocktails For A Luxury Night
When you read here, you're probably very excited to start mixing a Crown Royal cocktail, right? Now, discover the wonderful flavor of many Crown Royal Cocktail recipes I suggest below:
Total time: 2 minutes
Crown And Coke is a simple cocktail mixing with Coke, bringing an amazing combination of whiskey and fizzy drink. The sweet caramel of Coke works well with the basic taste of Crown Royal.
Coke can reduce the strength of the alcohol, so this drink is easy for people with low alcohol tolerance. In contrast, if you are a fan of high alcohol cocktails, you can increase the amount of Crown Royal.
In this cocktail, there is no need for lemon. But I've found that the lemon's sourness makes this drink even better. A little bit of lemon juice can reduce Coke's sugary taste, which can overwhelm the original cocktail flavors.
If you meet some problems when making Crown And Coke, let's follow this guide!
Total time: 5 minutes
Crown Royal Whisky Sour Apple is a common cocktail including whisky. If you are looking for a drink to enjoy during talks, this is it.
The rich traditional Crown Royal wine blends well with Apple Pucker's sweetness and sourness. The cocktail has an eye-catching blood red color because of cranberry juice.
You can substitute some ingredients in the recipe. To enhance the apple flavor, you can replace the traditional Crown Royal with Crown Royal Regal Apple or Crown Royal Apple Whiskey.
You can replace normal cranberry juice with diet cranberry juice to reduce calories if you are on a diet.
Total time: 3 minutes
Another easy-to-mix beverage recipe is the Crown Royal Press drink. This is a great recipe for those who want to enjoy the original taste of an alcoholic drink.
This simple cocktail is a classic combination of spicy wine and sour lemon. Crown Royal whiskey makes up the majority of the ingredients. To boost the tongue feeling, this cocktail includes lemon-lime soda. It is the most suitable citrus to go with this Canadian whiskey.
This cocktail has a faint citrus flavor. But the more you smell, the clearer Crown Royal's signature smell comes. You will definitely be interested in this sophisticated aroma!
Total time: 15 minutes
Crown Royal Peach Whisky is one of the juicy cocktails with peach. It is a delightful drink for summer or spring. Its aroma and flavor bring an extremely pleasant feeling.
This cocktail looks extremely adorable with its cute decoration. In a fishbowl, peach rings float above a light yellow cocktail. If you want a more attractive bowl, you can decorate it with red-yellow sugar jelly candy rings.
When you mix Crown Royal Peach with lemon juice and ice, it results in a cool drink with a slightly sour and sweet taste. This is the perfect choice for a summer party!
The following video will tell you how to mix a Crown Royal Peach Whiskey cocktail and decorate it colorfully!
Total time: 5 minutes
This is a must-try Canadian cocktail that you should shake once in a lifetime. It has many flavors, but each layer gives a very distinct taste. And its sparkling color makes you unable to take your eyes off it.
This cocktail begins with the bitter and slightly tart base of Crown Royal Fine De Luxe Whiskey. Then it has a little sour taste of Apricot liqueur. It ends with a bit of bitterness from the black walnut bitter.
Another indispensable ingredient is maple syrup. It reminds you of Canada as soon as you smell it. Canadian Whiskey Sour gives you a new experience of the signature Canadian drink.
Total time: 2 minutes
Crown Royal Apple cocktail is a refreshing fruit cocktail using apple juice. Aside from that, this drink's unique flavor lies in the Crown Royal regal apple.
It tastes like crispy green apples without being too sweet or strong. So, the apple flavor doesn't upstage the alcohol smell.
The cocktail gives a satisfying and light drinking sensation that makes you want to sip it for a long time. If you are vegetarian or on a gluten-free diet, this drink is for you.
Total time: 3 minutes
Do you know any fantastic cherry-flavored cocktail recipes? If not, I will show you a perfect cocktail: Crown Royal Cherry Coke Smash.
This drink is a nice summer recipe because its recipe includes fresh cherries. Raw cherry has its peak season in early summer. When cherry ripes, why don't you start making a cocktail with Coke immediately?
This cocktail favors sweetness from ripe cherries, Coke, and sugar. If you don't like a sugary cocktail, remove sugar from the ingredients. The original taste will be a little bitter and sour. Under the hot weather of summer, this drink can quench your thirst!
The way to make a Crown Royal Cherry Coke Smash is not difficult. Take a look and do it right now!
Total time: 5 minutes
If you are looking for a great party drink, why not try this Royal Peach? It really is a delicious alcoholic beverage to satisfy your guests.
Crown Royal Black combines well with pineapple juice. It makes your cocktail full of fruit flavors. It is also a yummy drink to stimulate the taste buds. The taste of peach and pineapple helps reduce the strong alcohol smell, making it easier to enjoy.
This drink also contains a lot of vitamin C, which is beneficial for your resistance and skin. Each serving of Royal Peach has 170 calories.
Total time: 3 minutes
Crown Red Snapper is a famous cocktail with cranberry flavor that you must try. It is such a sweet and delightsome cocktail, so it could easily become a favorite on your first try.
The recipe to shake it is very simple. You can also make some variations to create other interesting drinks. A Red Snapper can be a wonderful highball drink when you adjust the amount of spirit in the main recipe.
It can also become a sparkling cocktail if you mix cranberry juice with lemon-lime soda. You also can create Crown Royal Flush by adding peach schnapps. So amazing!
This Crown Red Snapper will make you addicted. Follow the guide and practice!
Total time: 15 minutes
Paloma is usually a cocktail with a Tequila base. But the key to this Mesquite Paloma is the combination of citrus fruit (grapefruit soda) and Crown Royal Texas Mesquite Whisky.
At first smell, you will find the basic whiskey odor. Then, the Mesquite wood smoke aroma will wrap up all the wine flavor. It makes for a very charming ending!
With every sip of Mesquite Paloma, you will feel a smoky and slightly spicy taste. This drink also brings an indescribably smooth feeling through the wonderful blend of grapefruit and Crown Royal.
Total time: 2-5 minutes
Another cocktail recipe from Crown Royal Peach is the Cherry Peach Royal cocktail. With a collaboration of cherry and peach, I think it's easy to become your new go-to cocktail!
Cherry combined with Crown Royal Peach and Sprite Zero creates a smooth texture and delicious and relaxing taste. This delightful Sprite cocktail has a low alcohol content so many people can drink it comfortably.
Keep in mind that when using a cocktail shaker, remember to add ice, shake quickly, pour on the glass, and enjoy right away to maintain the best savor. If you're not on a strict diet and want a little sweetness in your cocktail, use the regular Sprite.
Total time: 5 minutes
I can't ignore the Royal Flush recipe when listing the Crown Royal cocktails. It is a sophisticated cocktail with Crown Royal whiskey, cranberry juice, and peach schnapps.
The cranberry juice used in this drink must be pure and unsweetened. Sugar-free juice brings a bright flavor to the cocktail.
Peach schnapps is already sugary, so the tartness of cranberries helps balance out the sweetness. It also gives the cocktail a light red color. This powerful cocktail is amazing for evening enjoyment or late-night parties.
Royal Flush is a great drink for your night with friends, so let's make it and get the party started!
Total time: 5 minutes
The Royal Peach Fizz Cocktail is jokingly said to be the bad sister version of Mimosa. This cocktail is a strong combination of alcohol drink with Champagne that provides a flavor explosion in your mouth.
You will feel a little surprised at the first taste because it is easier to drink than expected. And after drinking it time after time, it can even be your summer go-to cocktail.
About its color, I will give it a perfect score. When holding this cocktail, I imagine that I can immerse myself in a tropical party of Brazilian aborigines. It provides a feeling of joy and refreshment.
Total time: About 3 minutes
Have you ever tried Kahlúa? If not, you can experience its pleasant chocolate flavor in this White Canadian cocktail. Although this recipe is named "White", it has only a thin white layer on top made with milk or cream.
People often use normal milk. But in some cases, almond milk is a nice and healthy choice. With this milk, your topping layer will be faint brown, not white as always.
The cocktail is already beautiful enough. But if you want it fancier, you can make a glass rim with raw cane sugar and kosher salt. Their combination of sweetness and saltiness will add another layer to your drink.
Total time: 2 minutes
In addition to the Crown Royal Peach, the Crown Royal Apple is also a popular choice for fall because of the flavors brought by two fall fruits. With a classic red color, this drink creates a peaceful and warm autumn vibe.
I say it is a favorite fall drink, but it doesn't mean that you can't sip it in other seasons. Nowadays, you can buy cherry and cranberry anytime, so you can enjoy the cocktail whenever you want. It will be a good choice for Thanksgiving or Christmas parties.
This drink has a clean, crisp taste and a slight sweetness. It's boldly fruity and has no hot whiskey burn down in the throat. Overall, it is an easy-to-drink cocktail
Get ready to be blown away with this Crown Apple And Cranberry cocktail!
Total time: 4 minutes
Every party must have a queen, right? And now I'll introduce this Carnival Queen to your Crown Royal drinking party. In fact, this cocktail is the main character for the Mardi Gras holiday, one of the Carnival festivals.
I believe this gorgeous Chambord mixed drink can capture all women guests at your party with its pink color. If you don't have this particular wine, you can replace it with any dark berry liqueur.
Fruity without oversweet, Carnival Queen's flavor can satisfy different drinking appetites. That comes from the shaking process with ice, helping dilute the strong alcohol feeling from all the wines in this cocktail.
Total time: 1 minute
Here comes another cocktail with a red hue. And this time, it's from the pomegranate juice. You will mix it with Crown Royal Regal Apple and ice to create an autumn taste: Full of sweet, sour, and crispy.
People also add ice to the mixture. But if you don't like this option, you can choose apple whiskey instead. And don't forget ginger ale or Sprite for the topping.
When making this cocktail for a party, make sure to refrigerate it beforehand. Prepare some other alcohol choices like apple cider, rum, Coke,… so your guest can mix their own drinks.
Total time: About 4 minutes
A glass of delicious ginger ale cocktail is refreshing enough. But when combining it with Crown Royal wine, you'll get a perfect mixed drink for summer. With some garnishing mint leaves, you can't even stop indulging in its thirst-quenching flavor.
What's better? You can create thousands of different variations from this recipe as the base. For example, swap out the normal Crown Royal with an apple kind for a stronger flavor. Or, if you have a spring party, let's try it with Crown Peach or Cherry Coke.
You won't believe how easy it is to make Crown Royal And Ginger Ale!
Total time: About 4 minutes
Although its name sounds fancy, this drink isn't hard to make at all. In fact, it doesn't require shaking, so even an amateur can make it without any trouble.
First, prepare a highball glass filled with ice. Then, pour Crown Royal Black, triple sec, and grenadine into the glass. The final layer will be club soda. After that, you need to stir the drink gently so that all ingredients can mix well.
Lime wedges are just for garnishing, but they also improve your drink's flavor aside from appearance effects. So, don't skip this step.
Putting Crown On Your Sense Of Taste
While some amateur drinkers may not know much about Crown Royal, it's undoubtedly a wonderful wine to mix with your cocktails. Diversifying your drinking menu with different Crown Royal wines is also a nice experience.
Make sure to share this article with your relatives to have a party together. And if you have other Crown Royal recipes, feel free to talk about them in the comment section. See you again in the next article!
Nutrition Facts
1 servings per container
---
Amount Per ServingCalories102
% Daily Value *
Sodium 5mg

1

%
Potassium 2mg

1

%
Total Carbohydrate 10.8g

4

%
Protein 0.1g

1

%
---
* The % Daily Value tells you how much a nutrient in a serving of food contributes to a daily diet. 2,000 calories a day is used for general nutrition advice.