Best ginger ale cocktails are people's favorite treats in every bar. So if you are a fan of ginger-flavored soft drinks, you have landed in the right place because I will show you how to add a little flavored twist to your favorite drinks with these cocktail recipes.
What's better, you can make them right in your home effortlessly. Indeed, people use ginger ale in many beverages, let alone cocktails. But in this article, a touch of booze will make your drinks taste much better.
If you are willing to learn all of them, you should follow me to explore these wonderful drinks here. Read on to see more!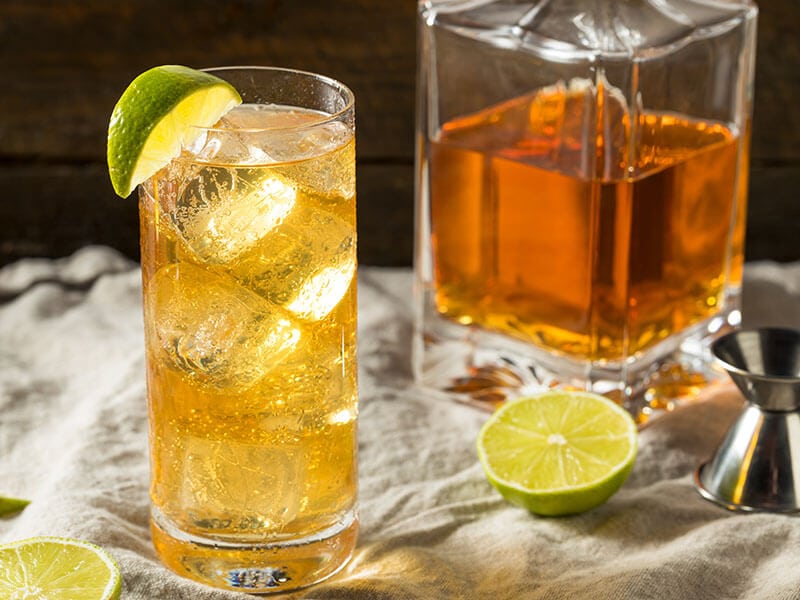 What Do You Know About Ginger Ale?
Ginger ale is a carbonated drink with a ginger flavor. This is an ideal ingredient in concoctions of cocktails or punch. In general, it is a soft drink that many people love to enjoy.
This drink contains fresh ginger root, microbial (yeast or ginger bug), sugar, water, and other flavorings. By fermenting these ingredients, you can create a perfect classic ginger ale.
This wonderful drink was created in 1851. There are 2 types of ginger ale. The dry variety has a lighter color and flavor invented by John McLaughlin. The golden version is a non-alcoholic style of ginger beer, credited to doctor Thomas Joseph Cantrell.
Besides using it as a beverage, people also consume ginger ale as a remedy for curing coughs and sore throats.
General View Of Ginger Ale Flavor
Ginger ale has a lightly sweet and bubbly flavor, and it's easy to go with every drink, especially a cocktail. You can use it to refresh your soul in the hot summer.
Enhancing the taste of your beer and wine with ginger ale is also a perfect option. It can make your drink have a smooth and lighter flavor.
These Best Tasty Ginger Ale Cocktails Will Make You Satisfied
The list of ginger ale cocktails will surprise you. Their flavors, colors, and alcoholic level vary based on other ingredients. So keep reading this article to know more about these fantastic drinks.
Total time: 5 minutes
You might not ever think ginger ale mixed with tequila can become a perfect drink like this recipe.
The Tequila And Ginger Ale is a cocktail containing alcohol and a non-alcohol mixer like ginger ale. This attribute makes it easy to drink and ideal for everyone with a bubbly and refreshing flavor.
This interesting cocktail is usually served in a highball or lowball glass with ice. You can also feel the ginger taste at the end of your drop. In short, this ginger ale cocktail is a fantastic drink that highlights tequila's delicate oaky and vanilla hints.
Total time: 5 minutes
If you are a big fan of red-colored cocktails, you will like this dark crimson cocktail. The drink is a mix of bourbon and ginger ale with a light note of mint leaves.
This drink tastes more like Mojito but is tangier in flavor. But instead of using rum, this recipe calls for bourbon whiskey. You can enjoy this drink every season. It will make you feel refreshed after a hard-working day.
The blackberries are a plus point for this cocktail. Its appearance creates a contrasting color and fruity taste. Add some fruits as a topping. The tangy flavor comes up with the sweet taste making you never feel bored when enjoying these fruits with your drinks.
Total time: 5 minutes
If you look at the ingredients in this cocktail, you will see one basic component is missing. Yes, this Dirty Shirley cocktail does not use soda like regular Dirty Shirley. It is an upgraded version of the famous Shirley Temple cocktail.
This beverage works for everyone looking for a sweet and fizzy drink. Why do people like it? Because it is very simple to make. You can simply mix vodka with homemade grenadine in a glass and add ginger ale with some maraschino cherry on top. All done!
If you want to make your Dirty Shirley with rum, check this instruction!
Total time: 5 minutes
People believe this delightful blue cocktail is a creation of Robert Butt in 1972 on the Long Island of New York. If you look at the bright blue color of this drink, you can imagine the freshness and blue color of the ocean.
This drink is a highball cocktail with seven main ingredients: ginger ale, white rum, vodka, tequila, gin, lemon juice, and blue curacao.
By using ginger ale, the ABV in this drink is lower than the original version of this cocktail. Overall, it has a fresh, citrusy, and milder flavor that surely amaze you from a first sip.
Total time: 5 minutes
This drink has a long name but it is simple to make. Raspberry Kentucky Bourbon Buck contains bourbon, ginger ale, and citrus fruit juice. It has a fruity flavor, so the cocktail is an ideal drink for your summer.
Speaking of fruity flavor, muddled raspberries also play an important role in this recipe. The fruit creates a sweet and fresh flavor for this drink. You can garnish your drink with some fresh raspberries as well to create a more attractive look.
Total time: 2 minutes
The Transfusion cocktail is a famous drink for every golf fan or any outdoor activity. But even if you are not a golf player, you can still enjoy it right in your home since it is straightforward to prepare.
You only need 2 minutes to make this sweet-and-tart, bubbly, and refreshing drink. Mix vodka and ginger ale in your glass. Don't forget to add some fresh lime juice and Concord grape juice. Now, you are all set to create a drink that can impress your friends.
I have a golf-style Transfusion recipe for you.
Total time: 5 minutes (exclude 12 hours of refrigerating time)
White Wine Sangria With Summers Fruits is an exciting drink for your summer. You can serve it at your party or pour it into a lidded jar to bring on a picnic. This drink is cool and fresh, making it perfect for any outdoor activity.
It is a low alcohol drink and will not require any effort to make. You can simply combine lime, lemon, and orange juice with wine.
After that, you can add your favorite fruits for the fruity taste and put them in the fridge for 12 hours. When you need to use them, take them out and add ginger ale with ice. It is now ready to serve.
Total time: 10 minutes
Gin cocktails are popular around the world with theirs. If you are a fan of Gin cocktails, you shouldn't miss this Cranberry Gin cocktail.
Why should you use cranberry in this recipe? Cranberry has a sour taste, so when combined with a sweet flavor drink like ginger ale, it will enhance the sweet and bitter flavor.
Cranberries are rich in vitamin C and fiber. People use it as a remedy for fighting cancer and improving heart health. It is one of the best fruits you should save on your food list.
Total time: 3 minutes
The cocktail's name brings me a winter feeling. The cold winter day prevents you from doing anything, but don't worry, this drink will warm you up. It is also a refreshing drink for your summer.
Snowball Brandy was created in Britain in 1940, it includes brandy to reduce the sweet taste from other ingredients.
To concoct this irresistible brandy cocktail, you need to combine syrup, brandy, and egg white in a cocktail shaker. Shake it vigorously until everything is mixed. Pour the liquid into a Collins glass and pour the ginger ale on top. See, very easy, isn't it?
Total time: 5 minutes
Today, I will introduce you to Diablo, I mean the El Diablo cocktail. This cocktail is a classic tequila drink with a medium to strong flavor depending on its ingredients. You have two different ways to make this special drink.
If you like a strong flavor and spicy taste, you should add ginger beer to your ingredients. It makes this drink stronger in alcohol level. But this is the basic style of El Diablo.
In contrast, if you prefer ginger ale to increase the sweetness in your cocktail, go for it! It also creates a milder taste but still refreshes your summer at its finest.
Can you feel the evil in this El Diablo cocktail?
Total time: 5 minutes
Sangria first appeared in Spain in 1600 and quickly became popular in many countries, it lists among the top 10 best cocktails in the world. Until now, Sangaria has more and more variations to diversify choices and bring new experiences to the guest.
Ginger Pear Sangria is a variant of Sangria. Its tasty and crispy taste is ideal for a crowd. It contains sweet Riesling (white wine from the Rhine), Cointreau, ripe pear, and ginger ale, with the addition of pear juice and orange.
Believe me, you will like it right after taking the first sip.
Total time: 5 minutes, plus 2 hours of refrigerating time
This cocktail is the best way to use up all the fruits in your refrigerator. Summer cocktails always please you with a fruity taste and a fresh vibe.
In this cocktail, the main fruits are peach and raspberry. You can also use other fruits you have on hand, but I must say that these 2 fruits are a perfect combo of sweetness.
Another important component is white wine. And I use Moscato in this recipe. Moscato itself has a sweet and fruity taste with low (or medium) acidity, so adding these fruits with ginger ale creates an extra sweetness that you can hardly say no to.
Total time: 5 minutes
When I first saw this Raspberry Champagne Rum Punch, I immediately fell in love with its red color. In particular, raspberry fruit never disappoints me. It turns every drink into an appealing red hue.
It also improves the taste and adds a fruity flavor to the drink. You can make this cocktail in no time.
Everything you need to do is mix the mixture of rum, champagne, and ginger ale evenly. Don't forget to add raspberries and stir them up. If desired, a couple of mint sprigs are preferable.
Total time: 5 minutes
Ginger ale pairs well with any fruit, and fruit cocktails are the key for your summer. I know that the summer might get hotter every year, so let me show you this mesmerizing Blueberry Smash cocktail.
A smash cocktail is a drink that contains sweetener, fruit, herb, and spirit. As its name suggests, you have to smash all the ingredients together. It is usually used to prevent the hot heat of summer. Blueberry fruit is an important ingredient in this Blueberry smash cocktail.
This fruit contains many nutrients that are good for health, especially the brain. It has a great source of vitamin A that helps improve and strengthen eyesight. By adding it to the cocktail, you have a better way to enjoy healthy fruit.
You must try this simple recipe for the Blueberry Smash cocktail.
Total time: 5 minutes
Here is another recipe to help you become a skillful bartender. This is Creamsicle Delight – an amazing drink that makes you feel like you are in the heaven of desserts.
If you like oranges, then you must like this cocktail. This recipe mainly contains orange juice. You need to mix orange juice, ginger ale, whipped vodka, and garnish with an orange wedge. Now it is ready to serve.
Total time: 5 minutes (excluding 30 minutes of refrigerating time)
Apple is my favorite fruit, and I am always looking for a drink that contains an apple taste. And I have found this one – the Crisp Apple-Ginger cocktail that I think you should try once.
You only need 3 inexpensive ingredients for this tasty drink. The vodka and apple cider mixture must be refrigerated for 30 minutes before adding ginger ale. Trust me; you can never forget its flavor when you take a sip.
Total time: 10 minutes
The weekend is a good time for a picnic. If you wonder what to make your picnic unforgettable, I suggest making a Blood Orange Sparkler cocktail. It is an excellent drink with sweet ginger ale and tangy citrus flavor.
Blood orange juice mixed with champagne (or Prosecco) and ginger ale creates a beautiful crimson color, increasing its fancy look for it. This is also a perfect combination of sweet and fruity taste if you prefer a not-too-strong cocktail.
Total time: 3 minutes
The vodka and ginger ale are fantastic combinations that cannot get easier. Why? Because there is no need to add other ingredients or use a cocktail shaker to make this cocktail.
As the name suggests, Vodka And Ginger Ale cocktails only ask for 2 ingredients. It is also a highball cocktail in which the non-alcoholic mixer is greater in amount than the alcohol.
It is clear to see that mixing alcohol with a carbonated drink is the easiest way to make a cocktail. If you try this drink once, you might not get enough of it.
Some people describe Vodka And Ginger Ale cocktails as a drink from heaven.
What Is The Best Substitution For Ginger Ale?
Ginger beer is the greatest replacement for ginger beer. However, they are not the same. If you like a more intense flavor of ginger with a spicy note at the finishing, go for ginger beer. Here is a short comparison table between these two.
| Attribute | Ginger Ale | Ginger Beer |
| --- | --- | --- |
| Characteristic | Non-alcoholic | Alcoholic |
| Flavor | Light and sweet | Strong and spicy |
| Homemade | Easy | Hard |
Choose The Best Cocktail For Your Upcoming Party or Picnic
In all of these recipes, what is your favorite cocktail? You should try to make all of these ginger ale cocktails to make sure which flavor can satisfy your taste bud. Who knows, you can open a home bar one day and sell delicious cocktails.
I hope that this useful information can help you become a real bartender. And please share this article with your friend or leave your idea in the comment section below. Have a nice day!