Don't miss out on these best blue cocktails for your next party. For some reason, the blue color of these beautiful cocktail ideas usually brings me a sense of relief and coolness. So I want to share with you this sensation with some simple cocktail ideas to fix right in your lovely kitchen.
While there are other colors for you to pick, I prefer to maintain a blue theme throughout the article to give you a broader sense of possible drink combinations. All you have to do is sit back and enjoy various cocktails here.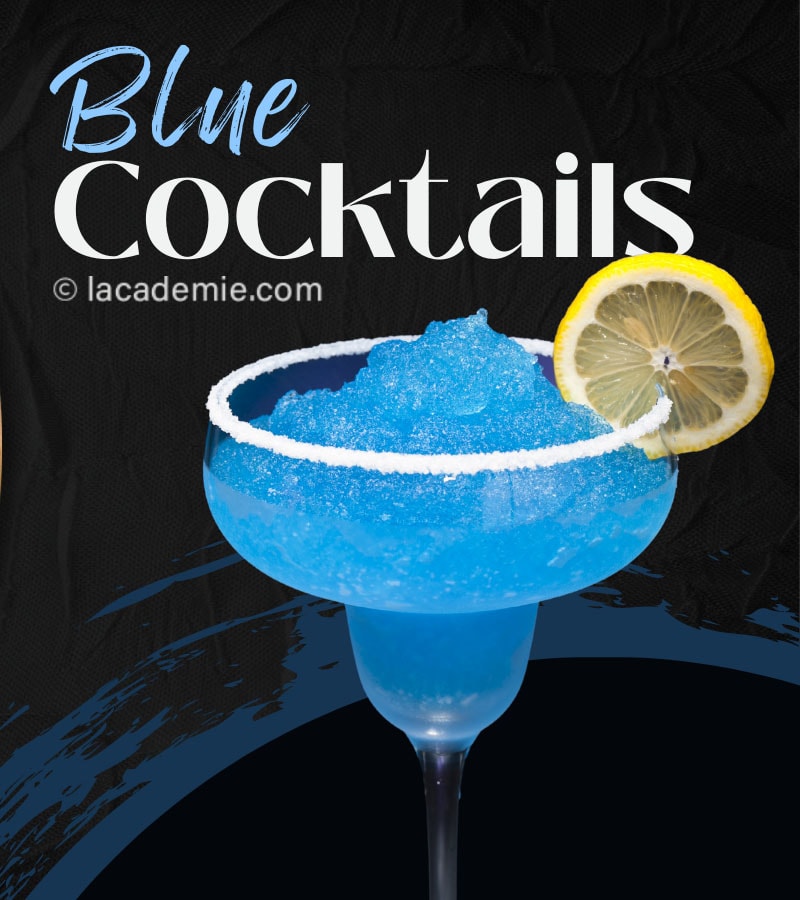 How To Turn Your Drink Blue?
Blue is not a common color that naturally appears in alcohol. Therefore, many bartenders tend to resolve the issue by using food coloring. However, the most popular method is to utilize blue Curaçao to elevate the color and flavor simultaneously.
Some vodkas can also possess a blue color but rarely appear at liquor stores. Another thing to note is blue spirits usually have a high price with good quality. People tend to favor blue cocktails because the color reminds them of a refreshing feeling to satisfy their thirst.
Enjoy The Refreshing Feeling Of Blue Cocktails In Your Home
It's satisfying to enjoy sweet and fruity spirits right on the rock, especially when the beverage possesses a beautiful color. Furthermore, you always feel excited to experiment with a wide range of alcohol to figure out your favorite mix.
Total time: 5 minutes.
The blue Margarita is not only a tasty beverage, but it's also mesmerizing to stare at that deep blue color. Typically, a classic Margarita glass is a classic tequila-based cocktail. However, you can fix the color by including blue Curaçao.
To better comprehend blue Curaçao, it is essentially a bittersweet liqueur originating from the Curaçao island. The liqueur gets its blue color from the addition of food coloring. The liqueur has a subtle bitter aftertaste and a sweet orange peel flavor.
Anyway, back to fixing this well-loved cocktail delight, you need to pour in the shaker a combination of tequila, blue Curaçao, and lime juice. I prefer using Agave syrup as a sweetener to complement the tequila. Next, drop in some ice cubes and shake the concoction until chilled.
As for the glass, you want to rim the glass with salt for a classic Margarita decoration. In addition, people also stick a wedge of lime for garnish. Pour the beautiful Margarita into a glass and enjoy.
It's time to renew the Margarita with a fantastic addition of Curaçao to make the drink more appealing.
Total time: 5 minutes.
The iconic Martini cocktail is another must-try, even if you're a newcomer to alcohol. With a slight twist to the classic cocktail recipe, you get a dreamy blue color to the mixture. Traditional Martini often uses gin as a base, but many variations also adopt vodka as the main focus.
For this recipe, I suggest grabbing orange-infused vodka as a fruity alcoholic base to combine with lime juice, cranberry juice, and blue Curaçao. Shake the contents thoroughly to ensure all the elements are well distributed.
Take the chalice, rim it with sugar, then pour in the Martini blend. The drink is a simple mix, but it possesses a pleasant refreshing taste.
Total time: 7 minutes.
Nothing is better than enjoying the summer with a refreshing glass of Mojito to fight against the intense heat. Furthermore, I can turn the traditional Mojito into a blue color to make the refreshment more appealing during summer.
For people who don't know about Mojito, the drink is a well-loved Cuban cocktail with a rum base infused and mint leaves. Until today, many people are still debating about the true origin of the Mojito.
To fix a Mojito recipe, you want to muddle the mint leaves in sugar and lime juice. Continue to pour in rum and blue Curaçao to a distinct twist to the concoction. While muddling the mint, I have to remind you to be gentle, as crushing the leaves too hard can result in a bitter mix.
Proceed to adjust the sweetness using simple syrup (sugar + water). Finally, top off the remaining space with soda water, and the blue Curaçao Mojito is good to go.
Total time: 5 minutes.
I know you guys are wondering who Jack Frost is. Allow me to explain; Jack Frost is a fictional character from a Disney animated movie. Jack Frost often represents ice, frost, and everything you love about winter, including Christmas.
The character also inspires bartenders with a holiday drink carrying the same name. The Jack Frost is a perfect cocktail option for Christmas because of its holiday spirit. Better yet, the refreshment also has a light blue color.
The cornerstone of Jack Frost is a vodka base with coconut cream, pineapple juice, and blue Curaçao. Combine all the elements into a blender with ice and blend until you get a slushie cocktail. You can keep blending the mixture longer to get a more runny drink.
You often want to rim the glass with corn syrup so it's easier to stick on the shredded coconut. The little pieces of white coconut mimic the snowflakes, giving the beverage more holiday spirit.
Impress everyone by whipping up a holy day theme Jack Frost.
Total time: 5 minutes.
The Blue Lagoon is never out of the list for its beautiful light color when it comes to blue cocktails. The beverage first came into the world in the 1960s by a bartender named Andy MakElhon. Interestingly, the cocktail is named after an Icelandic Thermal Resort.
To materialize the recipe, I recommend using a light alcohol combination of vodka and blue Curaçao. Then, top the remaining liquid with lemonade to dilute the alcohol content. Commonly, you want to serve the cocktail in a Hurricane glass with plenty of ice.
Make sure you shake the concoction first before straining it into a glass for serving. People often describe the Blue Lagoon as fruity, sweet, and has a perfect touch of lemon taste.
Total time: 3 minutes.
At first sight, this one-of-a-kind Martini cocktail may send a chill to many people's spines because of its spooky decoration. Commonly, people intentionally create a garnish that eerily resembles an eyeball to achieve a horror effect on the Mad eye Martini.
Let's handle the eyeball first; I usually utilize lychee for the white layer of the eye. After removing the lychee's seed, you need to spread some red fruit preserves for the blood effect and stick in blueberry for the pupil.
The beverage is ideal for serving as a fun Halloween cocktail to bring a mysterious atmosphere to the party. As for the liquid content, people tend to use vodka, lychee juice, and Hpnotiq Liqueur. Shake the Mad Eye Martini and strain it into a serving glass with the skewered eyeball.
Total time: 5 minutes.
The classic blue Hawaiian cocktail is a harmonious rum-blended alcoholic drink with creamy coconut cream. In some cases, people often mistake this Hawaiian drink for the Pina Colada, a renowned Puerto Rican beverage that also has rum and coconut cream in the recipe.
However, the easiest method to differentiate these two beverages is to rely on the color. Commonly, this outstanding Hawaiian cocktail has a distinct blue color. You need to shake a blend of rum, coconut cream, and pineapple juice in a cocktail shaker.
Of course, you also have to include blue Curaçao to give the cocktail its signature color. Strain the content into a Hurricane glass and serve it directly with ice. Another method is to blend the cocktail with ice for a more slushy and chilling approach.
The classic Hawaiian cocktail is a solid choice to enjoy the tropical breeze.
Total time: 5 minutes.
At first glance, the Bluewater bBreeze cocktail may look exactly like the blue Hawaiian classic, but the main difference lies in the ingredients. The blend brings a refreshing tropical breeze right into your house with only a few simple elements.
Aside from the rum and coconut cream, the recipe also calls for coconut water, vodka, and blue Curaçao. Typically, you need to shake the ingredients vigorously to combine all the flavors. Strain the concoction into a glass, and fill the remaining space with pineapple juice.
Total time: 5 minutes.
The Mermaid Water is ideal for people who enjoy a fruity and sweet cocktail with a tropical touch from the rum. This punch is also a fine addition to your list of summer drinks for a top-notch vacation.
Instead of using traditional rum, I highly advise you to lay your hands on spiced rum for that extra hint of herbs and spices taste. In addition, you should feature coconut rum for a refreshing tropical sensation.
Mix the spirit well and divide it into individual serving glasses. People often fill the remaining space at the top with pineapple juice. Of course, the Mermaid water needs a splash of blue Curaçao to sweeten up the flavor and gives the beverage an ocean blue color.
This Mermaid Water Rum Punch is usually on the sweet side, but the addition of lime juice helps balance it out perfectly. You can also slide in some lime slices for a better presentation.
Total time: 3 minutes.
If you ever get stuck at home and unable to enjoy the fresh sea breeze, allow me to bring that sensational feeling into your house in the form of a drink. The Ocean Water cocktail superbly captures the summer with a few easy-to-find liquors.
Simply combine blue Curaçao with coconut rum, pineapple juice, and coconut water in a glass. Stir the concoction a couple of times until you get all the liquid to infuse. Throw in a bunch of ice, and the Ocean Water is ready for serving.
Another way you can execute the Ocean Water is to omit the rum and replace Curaçao with syrup for an alcohol-free cocktail for the kids to enjoy. To adjust the sweetness of the Ocean Water, I suggest using simple syrup to avoid ruining the original flavor with other liquids.
Bring the ocean atmosphere right into your house by fixing a glass of Ocean Water.
Total time: 3 minutes.
The Moody Blue is a delicious gin alcoholic concoction infused with various fruity flavors for a refreshing summer cocktail to sip away with friends. The mixture has a deep blue color that catches everyone's attention at first sight.
You need to put gin with blue Curaçao, orange juice, and Sweet Vermouth (aromatic wine) in a shaker. Stir the liquid content thoroughly with ice, then pour it into a glass to serve with an orange wedge as garnish.
The Moody Blue possesses a note of spices like vanilla, dark fruit, and caramel, thanks to the appearance of Sweet Vermouth. Sometimes, I even feel the beverage is great for whipping out whenever you're alone.
Total time: 5 minutes.
I know some people are unfamiliar with Game of Thrones, but you should check out the series if you have free time. Better yet, you can follow the series while sipping on a Game of Throne-inspired beverage.
To bring life to the ice dragon cocktail, I highly recommend using a base of UV Vodka for a naturally sweet flavor of blue raspberry. However, you want to fill the glass with ice and a few scoops of pineapple sherbet first before incorporating the alcohol.
Ideally, there should be some space left at the top for the lemon-lime soda. Some of you may be excited to test this recipe, but I have to remind you to be careful because the UV vodka packs a heavy punch with around 30% alcohol content.
Total time: 20 minutes.
Here's another brilliant Game of Throne cocktail to whip up for your entire family to chill in front of the TV. I'm sure everyone will be left in awe because of the unique cocktail. If you're not a fan of the series, the mixture is also a fun way for you to experiment with a variety of spirits.
Commonly, the White Walker has a thin layer of sugar candy that you can easily make by combining equal parts of sugar and water in a heated pan. Once you dissolve the sugar completely, add a few drops of blue food coloring. Allow the candy to cool down and solidify.
As for the liquid content, you want to incorporate vodka, blue Curaçao, and freshly squeezed lemonade. Stir the concoction and serve it in a glass rimmed with blue salt (use coloring). Remember to break the glass candy to stick it alongside the glass as decoration.
The White Walker is the drink to sit back on every movie night.
Total time: 3 minutes.
The Blue Devil cocktail completely contradicts its name when people always describe the beverage as a tasty tropical mix. Although the refreshment also has a blue color, it's much lighter than other varieties.
The base of a Blue Devil mix is Bacardi rum, which has a sweet profile of banana, apple, and pear. In addition, I prefer combining lime juice and orange juice with blue Curaçao for a blast of citrus taste.
Now comes the fun part; it's time for you to put your hands to work and shake up the concoction thoroughly. Finally, strain the Blue Devil into a glass with a sugar rim and a wedge of lime as garnish.
Total time: 3 minutes.
The Envy cocktail is a tequila-based drink with striking blue color, making it an excellent choice for any outdoor party or a swimming pool refreshment. The best thing is you only have to gather three ingredients to fix yourself an Envy cocktail.
You should utilize a straightforward combination of Tequila Blanco, pineapple juice, and blue Curaçao. Most often, the taste of the Envy is dictated by the type of tequila you use. In the case of the Tequila Blanco, it has a strong agave flavor with a spicy aftertaste.
After shaking the Envy blend, pour it into a chalice for a fancy drinking experience. In addition, you can put in a maraschino cherry for garnish.
Total time: 5 minutes.
It's time to bring back a long-forgotten drink from the 80s and 90s with a distinct neon blue color, the Corpse Reviver No. Blue. The recipe used to be a fan favorite when almost every bar or hotel featured it on their menu.
The Corpse Reviver begins with blue Curaçao, lemon juice, and Lillet Blanc (French wine) for an extra citrus flavor. In addition, I recommend pouring in a splash of London dry gin for that strong juniper berries flavor.
Add in ice and shake the mixture to incorporate the alcohol before pouring it into a chilled Martini glass. For garnish, I like to decorate the Corpse Reviver with a simple lemon twist over the refreshment.
The Corpse Reviver is a throwback to the 80s and 90s cocktails that you have to try.
Total time: 5 minutes.
If you have grown familiar with the creamy White Russian or the coffee-flavored Black Russian, allow me to bring you a blue Curaçao concoction with the name Blue Russian. The drink is essentially a different take on the traditional vodka cocktail recipe.
Although many people often assume the White Russian and Black Russian as authentic Russian cocktails, the truth is far from it. Because of the addition of vodka, people gave the beverage a name that related to Russia.
Grab your Martini glass and fill it with ice. Next, you want to pour in blue Curaçao, so the liqueur is at the bottom layer. Ideally, you should utilize the different liquid densities to help the vodka float over the bitter citrus liqueur.
Finally, I suggest gently pouring a layer of cream over the vodka to make a third layer. Commonly, the cream will gradually make its way to the bottom to incorporate Curaçao. The Blue Russian is a creamy sweet mix with a touch of citrus to keep you relaxed.
Total time: 10 minutes.
I'm always excited to get an instant boozy energy boost from the electric lemonade punch to bounce back to the party. The refreshment is a great way to fire up a crowd and keep everyone hydrated during the summer heat.
Mix vodka with blue Curaçao, lemonade, and freshly squeezed lime juice. In addition, I like using monk fruit for its natural sweetness. Since you're using a lot of lemonade, stir the pitcher thoroughly to distribute the alcohol evenly.
For serving, I recommend placing simple syrup next to the pitcher so everyone can adjust the punch to their liking. This punch recipe also works well without the alcohol, giving you another fabulous option to whip up for kids.
Total time: 3 minutes
Traditionally, the Long Island Iced Tea is a potent combination of at least four spirits. Furthermore, I love adding my twist by pouring in blue liqueur to make the drink sweeter and easier to enjoy.
I prefer a lovely blend of gin with vodka, tequila, and rum for the liquor content. It's best to use equal parts of each spirit to ensure no alcohol flavor overwhelms others. In addition, people tend to accompany the alcohol with a splash of lime juice and lemonade soda.
But wait, that is just a conventional Long Island Iced Tea. Here is when I create my twist by introducing blue Curaçao to the mentioned alcohol mix. Some people even call this recipe an Elsa's Frozen cocktail, thanks to the blue color.
Uncover the simplest way to re-innovate your Long Island Iced Tea.
Total time: 2 minutes.
The Swedish Polar Bear is a fun way for you to enjoy pure vodka taste with a touch of sweetness and fizziness. It's super easy to whip up whenever you want because the recipe only calls for three components.
Although there are other variations of the Polar Bear, the Swedish variety is appealing thanks to the brilliant blue color thanks to the Curaçao liqueur. Simply combine the vodka and Curaçao with lemon soda until you get a desirable taste.
Finally, you need to throw in a lot of ice to cool down the mixture. Ideally, the Swedish Polar Bear should be super cold to represent the harsh environment on the Earth's pole.
Blue Cocktail Is Always A Great Choice For Any Occasion
I know you're more than happy with these blue alcohol mixtures. Still, I always advise you to set your mind free while mixing. You may be on the verge of discovering a new recipe that will gain popularity worldwide. I wish you luck!
If you have other types of blue mixes, please tell everyone about them through the comment section. And do not forget to share this article with your friends. Finally, please be sure to drink responsibly and don't drink and drive.
Nutrition Facts
1 servings per container
---
Amount Per ServingCalories107
% Daily Value *
Total Fat 0.1g

1

%
Sodium 1mg

1

%
Potassium 62mg

2

%
Total Carbohydrate 7.8g

3

%

Dietary Fiber 0.1g

1

%
Sugars 6.9g

Protein 0.2g

1

%
---
* The % Daily Value tells you how much a nutrient in a serving of food contributes to a daily diet. 2,000 calories a day is used for general nutrition advice.