Best Christmas cocktails can instantly put you in the festive spirit and set the tone for your holiday celebrations. These brilliant cocktail ideas are designed to help you unwind from the Christmas season's stress and enjoy it in style.
If you are looking for something refreshing to try this year, I've got you covered with the following list of merry and intriguing cocktail drinks. The compilation has something for everyone, from cozy toddies to extra-decadent concoctions like Eggnogs, Driven Snow.
This Christmas season, let's channel your inner bartender and get the festive spirits flowing with my collection of Christmas drinks that will undoubtedly brighten your yuletide.
Cocktails Vs. Mocktails: Which Are Better For Christmas Nights?
Before deciding which option is a better holiday beverage, it is essential to thoroughly understand the differences between the two. The main distinction lies in the alcoholic content.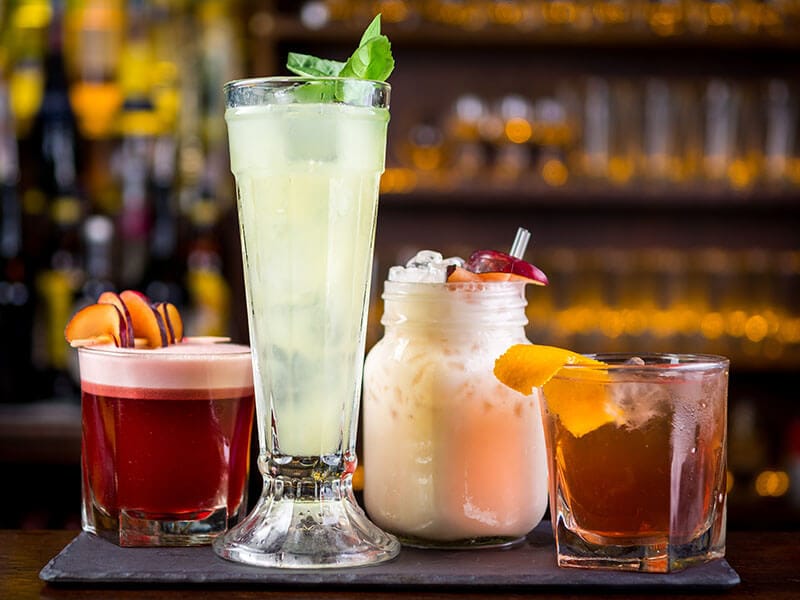 While cocktails include alcohol and thus have a bitter taste, amazing mocktail treats are totally free from the component. For that reason, numerous mocktails are nothing but sweet drinks spiked with carbonated water.
The following table shall elaborate more on how cocktails differ from mocktails:
| Aspect | Cocktails | Mocktails |
| --- | --- | --- |
| Alcohol | Contain alcohol | Free from alcohol |
| Taste | Sour, bitter | Mostly sweet |
| Post-consumption | Over consumption may cause a hangover, vomiting, and nausea | No effects |
| Preparation | Requiring conventional processes and stringent standards | Easier to prepare, requiring no special method or standard |
| Cost | More expensive | Less expensive |
| Applicable user | Adults | Children |
From the above comparison, it is clear that both drinks have their own audience. Since the Christmas holiday is for all people, both children and adults, it is tough to tell which drink is better.
If you plan to celebrate Christmas night with all your grown-up friends (including you), cocktails are the more prevalent choice. However, if there are children joining the celebration, I highly recommend mocktails for those particular attendees.
Enjoy Your Holiday In Style With These Christmas Cocktails
Besides Yule Log cake, nothing channels the celebratory spirits better than Christmas Cocktails. Let's discover some of the most popular drinks to sparkle your holiday!
TOTAL TIME: 5 minutes.
Rums, lime juice, almond, and simple syrup are all you need to make a traditional Mai Tai cocktail for your upcoming Christmas holiday. Ensure to acquire three distinct types of rum: black rum, gold rum, and silver rum for this recipe.
This cocktail with rum as the main ingredient is somewhat sweet and tangy but not too so. It is one of the drinks that I highly recommend you to self-generate. Avoid the pre-made mixes at all costs, as they are just overly sugary and not good for your health.
Here is a general idea of how to make it at home. Begin by mixing golden rum, silver rum, syrup, and lime juice in a cocktail shaker with ice. Then, strain the drink over ice. Add a float of black rum on top to get the proper layered look of traditional Mai Tai.
This holiday cocktail is traditionally garnished with a sprig of mint and a half-squeezed lime. If you only serve one drink during your Christmas holiday, make it this one as Merry Mai Tai will get everyone in the holiday mood!
Mai Tai cocktail is how you bring a little summer fun to your Christmas celebration!
TOTAL TIME: 5 minutes.
If you are searching for a festive Christmas drink, go no further than this Holly Jolly Christmas Citrus cocktail. Consider this easy cocktail recipe as a pleasant beverage for your guests to sip away their stresses and fully enjoy the holiday.
This is the simplest recipe, featuring vodka, freshly squeezed orange and grapefruit juice, and topped with fizzy ginger beer and appealing pomegranate arils. I can assure you that its refreshing flavors will blow your taste buds away.
Christmas Citrus cocktail pairs well with a wide array of foods. You may offer it as a pre-dinner beverage, an after-dinner drink, or just as a chilling sipper with companies. Give it another good stir just before serving to ensure everything is well-blended.
TOTAL TIME: 5 minutes.
Creating a Christmas-themed drink to wow your guests does not have to be difficult. If you are struggling to find an idea, give Candy Cane cocktail a try! Not only is the holiday's most popular beverage, but it is also the highlight of every Christmas event.
You can't go wrong with this Christmas cocktail. Besides candy canes, which scream Christmas, you also need to add bourbon, spiced rum, cherry juice, and cinnamon liqueur to a chilled glass whose rim is brimming with candy sprinkles and simple syrup.
Top your cocktail with 7UP to complete this Christmas cocktail. Don't be surprised if your guests keep demanding you refill their glasses with this fantastic drink!
How about learning not one but two delectable variations of Candy Cane Cocktail here?
TOTAL TIME: 8 hours and 15 minutes (including an 8-hour chilling time).
If you like your liqueur with gorgeous, vibrant tastes, you must try a sip of this Holiday Sangria. It is essentially dry red wine combined with cinnamon, cranberry and orange juice, brandy, chopped fruit, and cozy spices to create a delightful Spanish cocktail.
The great thing about this beverage is that you don't have to waste any fruit! Equip your guests with skewers, which help them enjoy the wine-soaked fruit from your drink. It is an excellent dessert or palate cleanser after a meal.
Serve the drink cold or over ice. And make sure to garnish it with fruit and enjoy!
TOTAL TIME: 5 minutes.
Cranberry Bourbon cocktail is also popular with the name "Blizzard". Both monikers refer to a Christmas whiskey cocktail brimming with bright and tangy flavors from orange juice and cranberry juice. It is well-balanced with no taste taking precedence over the others.
Besides, this winter-inspired drink comprises bourbon whiskey, sweet vermouth, and simple syrup. A sip of this cranberry cocktail recipe will shower your tongue with mildly sweet, fruity, and tart flavors.
Since it includes cranberries as a garnish, this refreshing drink would make an excellent party treat, especially for Christmas occasions. As it is getting cold outside, let's warm yourself by giving this sweet bourbon cocktail a chance!
TOTAL TIME: 3 minutes.
Winter Snowflake cocktail is a lovely, creamy drink flavored with whipped cream vodka, milk, and white chocolate sauce. It is an ideal Christmas beverage for warding off the winter cold and soothing your soul with a sweet taste and fabulous festive spirit!
This recipe is so simple and helpful when you are pressed for time. After creating a glass rim with corn syrup, you just combine all ingredients in the glass and top it with marshmallows or whipped cream.
TOTAL TIME: 5 minutes.
Let's raise a drink to Christmas' joyous heroine – Mrs. Claus. This Mrs. Claus Cranberry Whiskey Cocktail is tangy, sweet, spicy, and vibrant, which conjures up images of what she might drink.
All you need to prepare such a delectable drink is whiskey, cranberry juice, and rosemary simple syrup. Mix them with ice in a cocktail shaker before pouring the drink into a glass. Garnish your lovely cocktail with sugared cranberries and a rosemary sprig.
It is great to go all out and serve this cocktail in a glass moose mug or any old-fashioned mug you choose! It is the ideal holiday drink for those evenings spent watching Christmas movies with nothing but the glow of the Christmas tree!
TOTAL TIME: 2 hours and 5 minutes.
When the first cold in the air appears, you know the cozy drink season is around the corner! What better way to kick off the festivities than with a delicious Mulled Wine?
This amazing fireside drink is a beautiful combination of red wine, cloves, cinnamon sticks, and honey. Therefore, you will notice a distinct cozy flavor when sipping Mulled Wine.
To elevate the drink's taste to a genuinely fantastic level, never forget to add brandy or rum at the end. These components enhance the alcoholic content and infuse a bit of fruity aroma into the recipe.
Mulled wine is a fail-proof drink to offer at any Christmas celebration!
TOTAL TIME: 5 minutes.
Are you looking for a memorable homemade martini cocktail idea for your holiday? If the answer is yes, then this Mistletoe Martini Cranberry Christmas cocktail is everything you need.
Made with elderflower liqueur and cranberry juice, this vivid, energizing cocktail will extend the party late into the night! The taste is refreshing and invigorating, thanks to light fruit juice rather than heavier liqueurs.
What sets this cocktail apart is the St. Germain's elderflower liqueur. This mellow ingredient adds a touch of floral and certain brightness to the drink. Garnish the glass with cranberries for extra textures to the beverage.
If you present this Martini cocktail at a Christmas party, pair it with some snacks, such as a homemade Christmas Chex mix recipe. White meat dishes like succulent grilled chicken or grilled sea scallops also work well!
TOTAL TIME: 5 minutes.
Made with ice cream, Baileys, and hot chocolate, this delectable ice cream cocktail is ideal for the chilly winter months and pleasant to enjoy close to the warm fire, guaranteeing to melt any snowman's heart!
Since this beverage contains snowman-shaped ice cream, it is not a drink that will keep you warm. Yet, you have Baileys as the savior! As Baileys and the hot chocolate combine, the ice cream melts, giving rise to Drunked Snowman's name.
Serve this drink as a Christmas cocktail to your friends and family. It is also a brilliant choice for New Year's Eve celebrations!
TOTAL TIME: 5 minutes.
Not only is the Cranberry Kringle cocktail easy to create, but its vibrant red hue screams Merry Christmas so loud! With cranberry juice, peach Schnapps, and vodka as the base, this cocktail including vodka is sweet and sour, undoubtedly a crowd-pleasing treat!
With just three essential ingredients, nothing can get simpler than this recipe! This simplicity also allows easy scale-up to suit a party!
TOTAL TIME: 35 minutes.
Pomegranate Gin cocktail is a refreshing beverage with a tangy sweetness and frothy top! This succulent drink is the epitome of Christmas. It will wow everyone and is perfect for consumption throughout your yuletide!
This cocktail is a silky drink featuring gin, pomegranate juice, and rosemary simple syrup, garnished with rosemary sprigs.
Thanks to the simple ingredients employed in the recipe, this cocktail using gin combines all your Christmas flavors and colors into a glass without requiring too much fancy preparation.
This festive drink is best served cold or over ice. However, keep in mind that serving it over ice will somewhat dilute this appealing beverage.
TOTAL TIME: 15 minutes.
The Grinch is a simple festive cocktail to offer at your next Christmas party! This green mixed alcohol drink guarantees to soothe your inner soul.
Thanks to the Midori used in this drink, your Grinch cocktail possesses a distinctive green color and a sweet melon flavor. Besides Midori, there are coconut rum, blue curacao, and ginger ale that infuse a touch of citrusy flavor to this simple drink.
Christmas would be incomplete without the vibrant green hue and robust tastes of the Grinch cocktail. When your guests come, sugar the rims of their glasses and add a dash of ginger ale to each. You want the ginger ale to be bubbly when in your guests' hands.
This festive green cocktail got its moniker from Dr.Seuss's classic character – The Grinch.
TOTAL TIME: 10 minutes.
Here comes another show-stopping cocktail to offer your guests during the Christmas season: Gingerbread Martini. This creamy recipe is a festive take on the classic martini made with flavored vodka.
This cocktail is simply irresistible. If you have sampled it before, you would recognize that it is just sweet enough but bursting with warming flavors towards the end.
For an extra luxurious treat, it is advisable to rim each glass with gingerbread syrup and crushed cookies or decorating sugar. You can also include a cinnamon stick for a more lovely scent!
TOTAL TIME: 10 minutes.
It takes only ten minutes to craft this Christmas Punch for your Xmas gathering! This delicious, effervescent drink is made with cranberry juice, champagne (or ginger ale), star anise, and cinnamon sticks.
The drink imparts a light, refreshing, and not excessively sweet flavor. It is bubbly, festive, and a cinch to make! The greatest part lies in the garnish. You can use sliced citrus fruit, rosemary branches, and cranberries for the task! It could hardly be more festive!
TOTAL TIME: 5 minutes.
Let's add Poinsettia to your Christmas cocktail list! This champagne cocktail idea made with cranberry juice is so vibrant and cozy that it will surely be the brightest, most effervescent yuletide drink ever created!
Simply speaking, this drink is all about cranberry juice mixed with orange liqueur and then topped with bubbling champagne and fresh cranberries. Its delectable flavor enhances the enjoyment of every celebratory event!
Make sure to use 100 percent cranberry juice for this cocktail! Stay away from branded cranberry juice bottles, as they often have added sugar.
TOTAL TIME: 10 minutes.
This recipe for a Hot Toddy creates a warm and simple cocktail idea that requires just hot water, whiskey, lemon, and honey.
The nice thing about this traditional cocktail is its versatility. You can freely adjust the quantity of lemon juice and honey to your liking. You can even substitute dark rum or brandy for whiskey to bring about your most favorite Hot Toddy variation.
To me, nothing makes my tummy warmer and more fulfilling than a sip of this lemony, honey-sweetened cocktail on those chilly winter evenings. It can also aid in the relief of a cold, help relax your throat and weary muscles, as well as enhance your sleep.
While glass mugs are an elegant way to showcase the drink's gorgeous amber hue, normal mugs work just fine as well.
TOTAL TIME: 15 minutes.
Although this Hot Buttered Rum may be a bit more time-consuming to prepare than other cocktails, its mouth-watering and phenomenal flavor makes the drink a classic hot cocoa alternative and an ideal Christmas beverage!
This recipe is delicately sweet, warmly spiced with ground nutmeg, and boozy with rum. There is just enough butter and vanilla ice cream to give it a mild creaminess.
Hot is how you should offer this drink to your guests to maximize its tummy-warming effect. Your guests will be so grateful to have it by the fire on a winter evening!
Making Hot Buttered Rum is so simple with this step-by-step tutorial.
TOTAL TIME: 10 minutes.
Do you have a morning routine? My routine includes having a run in the neighborhood and making a good drink to energize the day. If it happens to be a Christmas morning, I would waste no time preparing a Christmas Mimosa for my own good!
The fact that it is non-alcoholic and full of fruity flavor makes me eagerly count down for Christmas! I even prepare all ingredients beforehand, including grape juice, non-alcoholic sparkling wine, and fruits (diced apples, cranberries, grapes).
You can add pomegranate arils to the recipe. This lovely ingredient helps make the drink fizz up even more! Christmas Mimosa would be a perfect Christmas brunch to accompany an Eggs Benedict Quiche, some Eggnog Waffles, or Snowman Pancakes.
TOTAL TIME: 25 minutes.
Eggnog cocktail is another must-have drink for the holiday season. Thanks to its thick texture and creamy flavor, this beverage is a show-stopper at every Christmas gathering.
This cocktail featuring eggnog as the main ingredient is unmistakably rich and eggy due to the addition of rum and other spices. While you may use any liqueur as a foundation, this recipe calls for vodka and amaretto for a rich and nutty taste.
Add a cinnamon stick and sprinkle some ground nutmeg over your beautiful glass to complete the sampling experience of the Eggnog cocktail!
You can even get more creative with rimming choices and toppings to make the drink fit more into your Christmas party!
TOTAL TIME: 10 minutes.
This Christmas, let's serve your guests a lovely teal-colored Jack Frost cocktail! This recipe is so gorgeous, delectable, and oh-so-festive! It tastes similar to a Pina Colada, but the blue curacao and sweet cream of coconut give it a jolly appearance.
Spare only ten minutes, and you will have this amazing beverage to indulge with friends and family in the chilly winter evenings. Especially for those like coconut, this ultra-chic drink is their dream coming true.
Jack Frost cocktail pairs nicely with coconut macarons, oatmeal craisin cookies, and coconut cream pie dip! This special ingredient adds a touch of wintery charm to the drink, making it a crowd-pleaser during the wintertime.
TOTAL TIME: 2 minutes.
In this refined Christmas cocktail, apple cider blends nicely with sweet and spicy bourbon! Plus, there is a touch of lemon juice and a delightful surprise of ginger ale that harmonizes the tastes into a fascinating and nuanced beverage.
With just a few simple ingredients, this bourbon cocktail indulgence is the ideal reason to host a joyous Xmas celebration. Its robust and rich taste guarantees that the drink will delight even the toughest crowd. So, grab your bar utensil and start bartending!
TOTAL TIME: 5 minutes.
Prepare yourself for the finest fruity twist on a classic cocktail: the Cranberry Moscow Mule. It is a tart take from the conventional recipe, perfect for autumn and winter parties! No other cocktail is more revitalizing and simple than this particular drink!
To begin, fill the cup halfway with ice and add vodka, cranberry juice, freshly squeezed lime juice, and ginger beer. Then, garnish with fresh cranberries and a lime wedge to complete the cocktail.
It is brilliant to incorporate cranberries into this concoction. These crisp fruits provide a clear contrast with the acidic lime and spicy ginger of Moscow Mule, making its taste so balanced and smooth.
TOTAL TIME: 5 minutes.
Resembling snow in a glass, this delectable Milk Punch is one of the oldest beverages known to mankind. Made with bourbon, whole milk, heavy cream, and sugar, this cocktail can pleasantly impress you with its deep and creamy taste.
Have I mentioned that the original classic of this variation has a lengthy history? It was originally documented in 1688 in Scotland. In 1711, Milk Punch was referenced in a cookbook. Benjamin Franklin even recorded a rendition of it back in 1763.
Although it tastes quite similar to Eggnog, the drink contains no eggs whatsoever. Yet, it is rich, creamy, and infuses a great festive touch upon every sip! Top the cocktail with nutmeg to make the drink even more irresistible!
It is so easy to get into the festive mood with this holiday staple named Milk Punch!
TOTAL TIME: 5 minutes.
This creamy and minty cocktail will keep you toasty from the inside out! Each sip of this modern Peppermint White Russian drink has a refreshing aftertaste. You can prepare this instant crowd-pleaser by combining all ingredients in a lowball glass.
Due to Kahlua and peppermint Schnapps, this drink becomes sugary yet minty. The tastes are more balanced than the original classic concoction. However, it is still a really sweet cocktail to enjoy on Christmas nights to satisfy your sweet craving.
TOTAL TIME: 5 minutes.
If you need a festive cocktail that is both enjoyable and a little bit surprising, try this Christmas Margarita! With pomegranate and cranberry juice, this drink is a fun spin on the original margarita!
This vibrant crimson beverage is not only appealing but also sharp and invigorating in taste. It retains all the original margarita's characteristics but with a stunning new aesthetic and a sweet-tart accent!
Top your cocktail with fresh cranberries and rosemary for a perfectly festive treat! This drink recipe is a wonderful complement to both big and small Christmas occasions, certain to wow your visitors and get everyone in the festive spirit!
TOTAL TIME: 12 minutes.
Thick and creamy are the two best adjectives to describe Spiked Hot Chocolate. This cup of liquid cocoa will ward off all the cold and warm you from the inside out!
Made with vodka, cocoa powder, Kahlua, whole milk, and heavy cream, this Spiked Hot Chocolate provides the perfect atmosphere and taste to enjoy at home under the Christmas tree.
The secret to rendering an excellent Spiked Hot Chocolate is fat. Fats in dairy products will offset the alcoholic's burn on your palate caused by heat.
A good trick is to use whole milk and heavy cream to mitigate the alcohol's strong burn and make your drink's flavor smoother and more pleasurable.
TOTAL TIME: 3 minutes.
French 77 cocktail is a refreshing concoction of lemon juice, elderflower liqueur, and champagne! Inspired by the classic French 75, this French classic cocktail is fizzy, featuring floral overtones and a botanical kick from the St. Germain liqueur.
The secret weapon of French 77 is its use of St. Germain liqueur as the substitution for simple syrup and gin in the original cocktail recipe. The ingredient infuses sweetness into the drink, transforming your ordinary champagne split into a honeyed indulgence!
If you love its delectable and festive flavor, you will become its diehard fan after knowing how simple preparation the drink requires. You just need to fill your flute with champagne, then pour other ingredients into it. That's all! You have nailed the cocktail!
A simple lemon twist is enough to garnish French 77, turning it into a classic. It is certainly a great crowd favorite at any Christmas party.
Which Christmas Cocktail Will You Serve Your Guests?
Does my list of best Christmas cocktails brighten your yuletide? Or at least, does it spark more ideas within you about the drink you want to serve your visitors throughout the year-end holiday? I hope it did!
Now, it is your turn to share opinions about your top favorite cocktail concoction! Drop a comment below to let me and other readers know. I am sure there are a plethora of other holiday beverages out there! So, surprise me with your answer! Thank you!
Nutrition Facts
6 servings per container
---
Amount Per ServingCalories164
% Daily Value *
Total Fat 0.2g

1

%
Sodium 2mg

1

%
Potassium 162mg

5

%
Total Carbohydrate 21.7g

8

%

Dietary Fiber 3.6g

15

%
Sugars 15g

Protein 0.7g

2

%
---
* The % Daily Value tells you how much a nutrient in a serving of food contributes to a daily diet. 2,000 calories a day is used for general nutrition advice.