On Thanksgiving or any holiday, you need the best cranberry cocktails to compliment your festive dinner with family members and friends. It's also convenient for you to find fresh cranberries at the supermarket and turn them into juice for the cocktail mixing process.
In this article, you can expect cranberries to become the star in a variety of recipes ranging from the classic ones to the more modern version. What's more, I will supply you with some knowledge about the well-known cranberries, including their benefits to human health.
I'm confident that after reading this post thoroughly, you can claim yourself as a cranberry cocktail expert and have the ability to apply the provided recipes in your kitchen. Don't wait any longer: it's time to read and take action!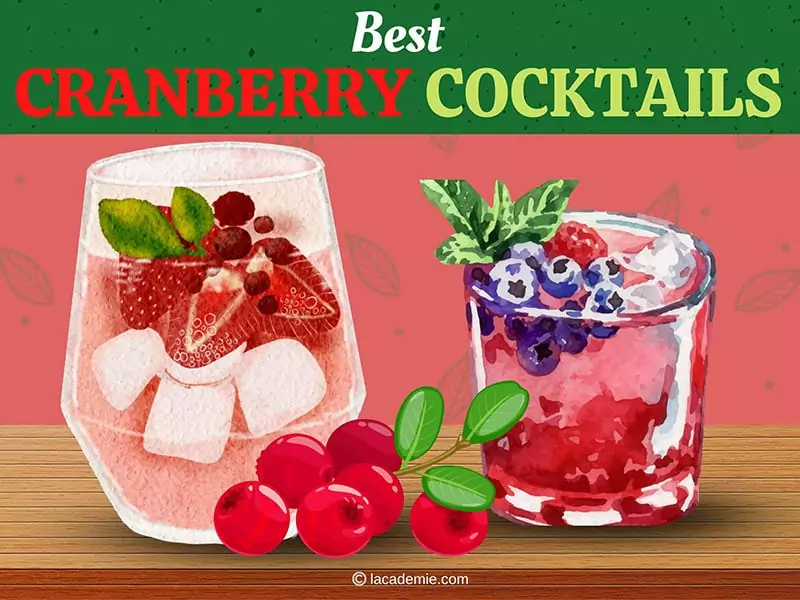 What Do You Know About Cranberries?
As you may know, cranberries are one of the fruits that are native to America. I bet you use this fruit with the letter C at the start a lot to make sauce or cook daily dishes. It's believed that American Indians probably started eating cranberries before the first Thanksgiving Day in 1621.
However, the traditional cranberry sauce that you have on Thanksgiving was just popularized around the 19th century. Interestingly, Native Americans originally used cranberries as a clothing dye and also as an anti-inflammatory medicine.
The reason is that, in fact, cranberries have the second-highest antioxidants (just behind blueberries) out of all the fruits. In addition, cranberries are also full of Vitamin C and bioactive constituents, which can fight against many chronic diseases.
What Can You Expect From Cranberry Cocktails?
Cranberries certainly have a tart and sweet flavor which can fit in many cocktail recipes ranging from the classic Old-Fashioned cocktail to the fascinating Vodka and Sprite cocktail. However, most of the time, cranberries can't stand alone.
You will need other fruits or spices to balance out the overpowering taste of cranberries to complete delightful cocktail recipes. The best options offered for you are fruits that have subtle sweetness like orange, apple, lime, or even pumpkin.
On a side note, it's quite important to keep your eyes on the cranberry juice that you decide to buy from the supermarket. While you may find fresh cranberry juice, the majority of available products are cranberry juice sweetened with syrup, sugar, or other juices.
22 Cranberry Cocktails That Can Energize Your Holidays
Are you ready to explore the most fruity and sugared alcoholic beverages that are made from cranberry juice? I'm confident that you will be surprised by how adaptable cranberries can be in the cocktails listed below!
Total time: 2 minutes
I start off the list with this holiday drink–the Cranberry Moscow Mule which is a perfect Christmas cocktail. Interestingly, the origin of the Moscow Mule actually has two different stories told by different groups of people.
The first one dates back to 1941 when three friends–John A. Morgan, John G. Martin, and Rudolph Kunett sat together at the bar of New York's Chatham Hotel. After a couple of sips, they decided to invent a drink that combined vodka, ginger beer, and lemon juice.
Another story said that the inventor of this cocktail was Wes Price, who mixed all the ingredients because he wanted to get rid of the unsold vodka and ginger beer in the basement. To this day, no one is sure 100% percent which story is the truth.
Besides the essential ingredients of Moscow Mule (vodka, lime, spicy ginger beer), this recipe also needs orange and frozen cranberries. When all of those blend harmoniously together, you will have a refreshing, spicy, and sparkling Cranberry Moscow Mule cocktail!
You can use this tutorial for your reference to make the Cranberry Moscow Mule.
Total time: 2 minutes
While French 75 is a classic cocktail whose name takes after a military weapon, Rosemary French 75 is a special version that additionally has rosemary simple syrup or rosemary-infused vodka. However, this recipe takes another twist by adding cranberry juice.
The Cranberry Rosemary French 75 is a festive-looking, slightly sweet, and citrusy cocktail blend with the cranberry's tart flavor. Besides fresh cranberries and rosemary, the lemon juice also needs to be squeezed freshly.
Total time: 2 minutes
You can't talk about the festive cranberry cocktails without mentioning the Vodka Cranberry And Sprite Cocktail. This cocktail utilizing Sprite is ideal for Christmas Eve. Also, it can be a treat for people who want to drink alcohol but also love the lemon-flavored soft drink Sprite.
You will only need Sprite, cranberry juice, vodka, and a few ice cubes since this is a very simple recipe to make. In addition, you also don't need a shaker: just simply pour the ingredients respectively over the ice cubes and slightly stir the mixture.
Total time: 2 minutes
Gin & Tonic was invented in Holland in the 16th century but it was first used as a medicine due to the high amount of quinine (a medication used against malaria) in Tonic at that time. Apart from the tonic water, you also need gin, cranberry juice, and lime juice.
Overall, Cranberry Gin & Tonic tastes like a zesty and tart juice with a bittersweet flavor. Use an old-fashioned glass to contain the cocktail and don't forget to garnish it with fresh cranberries and lime wedge.
This guide will help you mix a fresh Cranberry Gin & Tonic.
Total time: 5 minutes
Are you looking for a beautiful cocktail for Valentine's Day? This Pink Lemonade Cocktail will be a great beverage for your partners, spouses, or even special friends on such a special day.
The recipe is inspired by the original Pink Lemonade. The tasty lemonade-based cocktail was created by accident when Henry E. Allott–an ordinary American – dropped some cinnamon candies into the regular lemonade and turned it into a reddish color.
To make the beautiful cocktail using malibu, you have to prepare vodka, malibu, cranberry juice, etc. Generally, you can say that the Pink Lemonade Cocktail tastes better than a normal lemonade due to the addition of different juices and Malibu.
Total time: 5 hours (included 4 hours of freezing time)
If you wonder what slush is, it's a type of drink that is similar to a frozen drink but has enough sugar to keep it from freezing solid. This Cranberry Vodka Slush is not only dedicated to holiday seasons but also suitable for every party that you plan to throw.
It's quite complicated to make the drink but rest assured because following the instructions step-by-step will erase your anxiety. Regarding the ingredients list, you will need three separate juices: Spiced Cranberry Juice, orange juice, and lime juice.
While drinking this, you will first taste the top soda layer, then the sour mix between orange and lime, and finally the tarty cranberry flavor. Also, while the cinnamon stick is used as a garnishing detail, it actually can add a citrusy flavor to the cocktail.
Total time: 5 minutes
Classic Margarita is a drink that combines tequila – a distilled liquor – and fruit juice. Normally, the cocktail is garnished with a slice of lime and salt on the rim of the glass. This recipe is a classic margarita but with the addition of cranberry juice.
You can choose to make the cocktail in the frozen style by blending all the ingredients with ice in a blender or "on the rock" style by pouring the ingredients in an orderly manner over ice cubes. For the rim, if you don't like the salty taste, you can replace salt with sugar.
This tutorial will save you from failing to make the Cranberry Margaritas!
Total time: 5 minutes
The original Mimosa is thought to be invented by Frank Meier in 1925 but the person who popularized it was the well-known director Alfred Hitchcock. The name "Mimosa" is indeed a French word referring to silver wattle, a tropical plant that has yellow flowers.
The main ingredients that you must prepare are cranberry juice, Grand Marnier–a French liqueur, and chilled champagne. This holiday Grand Marnier cocktail is very simple to make without using any cocktail shaker or blender.
First, get yourself a champagne flute then fill one-third of it with cranberry juice. Then, add 1 tablespoon of Grand Marnier and pour champagne into the remaining space. Finally, garnish it with rosemary and there you have a delicious Cranberry Mimosa.
Total time: 20 minutes
By definition, an Old-Fashioned Cocktail consists of sugar, whiskey, bitters, and some other ingredients. It was invented in the 1800ss and got the name "Old-Fashioned" from how people order it at the bar.
According to this altered recipe, the drink needs bourbon or rye whiskey, spiced cranberry syrup, bitters for mixing, and orange peels for garnishing. While it's simple to mix the cocktail, it will take most of your time to simmer all the ingredients in a saucepan to make the syrup.
Total time: 15 minutes
The Amaretto Cranberry Kiss Cocktail is a flavorful drink that combines fruit juices with Amaretto, a sweet almond-flavored liqueur, on the base of vodka. It's a splendid cocktail for fall-themed parties due to the orangish red color of the cocktail.
The steps to make the flavorful Amaretto cocktail are very simple: mix all the ingredients together, cover the container and chill the mixture for about 1 day ahead of the time you plan to serve the drink. Apparently, I think that you will want to enjoy this fruity drink on a windy day.
If you find the recipe difficult to follow, go through this guide to make an Amaretto Cranberry Kiss Cocktail.
Total time: 5 minutes
Cranberry Martini, or Crantini, is a small but strong cocktail that has been around for a long time. But its origin and history are unknown. While it's totally fine to serve it at any time of year, Cranberry Martini is one of the cocktails that best suit New Year's Eve!
To make Cranberry Martini, you need a shaker to mix vodka, orange liqueur, simple syrup, and cranberry juice together with ice cubes. When you've done with that, pour the cocktail into a glass and garnish it with sugared cranberries.
Total time: 10 minutes
This Cranberry Orange Whiskey Cocktail is an appropriate cocktail to drink in winter. Because of the sweet and tart flavor, together with the spiciness from the herbs, the drink will warm your throat and whole body even in the middle of a snowy day.
In addition to some familiar ingredients, this recipe also requires Cointreau–a French orange-flavored liqueur, fresh thyme (or rosemary), and ginger beer. Even though the recipe uses whiskey to make a base for this cocktail, you can replace it with vodka if you want.
Total time: 10 minutes
The Blizzard, or Cranberry Bourbon Cocktail, is a cocktail that has a balanced taste because all the flavors are strong enough to restrain each other. It's best to enjoy this fantastic cocktail on Thanksgiving with your family and friends.
Regarding the ingredients list, you will need simple syrup, bourbon, unsweetened cranberry juice, and lemon juice. Remember to use spherical ice since it melts slower than normal ice, so you can nibble the drink without worrying all the flavors will fade away.
Learn how to make the Blizzard Bourbon Cocktail at home from scratch here.
Total time: 5 minutes
As you may find this White Christmas Margarita similar to a Cranberry Margarita, they still have some differences. One of them is the fact that this cocktail uses white cranberry juice, which is made from young cranberries.
White cranberry juice tastes a little bit sweeter and milder, so it fits a Christmas cocktail better than normal cranberry juice. For the container, you need a margarita glass or a lowball one. Also, don't forget that the rim of the glass needs to be salted for decoration.
Total time: 20 minutes
"Spritzer" is a name referring to chilled drinks that have wine (or vodka) and soda water as the main ingredients. Normally, Spritzers tend to be mixed and drunk in the summertime. Nevertheless, with this recipe, you can enjoy a warm Spritzer in the middle of winter.
To create a tasteful Spiced Cranberry Rosé Spritzers, you have to prepare a wide range of ingredients, ranging from honey and fresh cranberries to elderflower liqueur and cardamom. It's not an exaggeration to say that this is one of the most diverse cocktails on the list.
Total time: 5 minutes
You can't trust an article writing about cranberry cocktails without mentioning the one-and-only Cosmopolitan Cocktail. This is probably one of the most elegant and classic cocktails that you can order at a bar.
The person who claimed to have invented this drink is a bartender named Neal Murray. He also said that the cocktail's name was inspired by his initial thought after tasting his invention, "How cosmopolitan!".
Overall, the Cosmopolitan Cocktail has a uniquely sweet, tart, and tangy flavor that can tempt drinkers into wanting more. It's also very easy to prepare the ingredients for the cocktail; all you need is vodka, triple sec, cranberry juice, and lime juice.
In case you need help to make this classic Cosmopolitan Cocktail, use this tutorial to practice on your own.
Total time: 3 minutes
Now I present to you Cucumber Cosmo–a special and twisted version of the classic Cosmopolitan Cocktail above. Besides the must-have ingredients, this recipe uses cucumber-flavored vodka instead of regular or citrus vodka.
If you don't want to buy cucumber vodka, you can definitely follow the instructions and make it at home. To make the cucumber vodka, you just need a bottle of vodka (of course, it's better if you have a high-quality one) and a cucumber.
Then, peel the cucumber, get rid of the seeds, and chop it into pieces. Finally, add them to vodka and let the mixture sit for about 2 weeks. Eventually, the Cucumber Cosmo won't taste weird. Cucumber will add a refreshing and herbal highlight to an already sweet cocktail.
Total time: 15 minutes
If you don't know, Mojito is, in fact, a Cuban cocktail, which is served in a highball glass. It has rum, soda, lime, mint, etc., as the main ingredients. What's more, the combination of cranberry and pomegranate in this cocktail is absolutely the right choice to make.
While those two can have a similar taste, pomegranate is less tarty and has a hint of sweetness, making it a perfect base flavor when combined with cranberry. Before stirring all the ingredients in a tall glass, don't forget to make the mint syrup beforehand.
Total time: 5 minutes
Here comes another cocktail that is a can't-miss if you want a refreshing drink at Christmas–the Mistletoe Martini! This recipe aims to deliver a simple and delicate flavor that blends between tarty, citrus cranberry, and fruity, sweet elderflower liqueur.
You need to prepare a cocktail shaker to mix vodka, elderflower liqueur, cranberry juice, and simple syrup with ice. After the mixture is chilled enough, strain it into a martini glass, garnish the cocktail with some mint leaves, and you're done!
Are you in a rush to make Mistletoe Martini for Christmas? This manual may help you with that!
Total time: 5 minutes
Manhattan is a cocktail that uses scotch whiskey instead of rye or bourbon. It was invented in the 1870s and got its name from where it was made–the Manhattan Club in New York City. Also, you can say that the original Manhattan cocktail has a very distinctive flavor.
It's a wonderful combination of orange's bitterness, herbal flavors, and sweet vermouth. What's more, with this special version–Cranberry Manhattan, you can also taste the Brandied Cranberry Syrup which has the flavor of zesty orange and sweet brandy.
Total time: 3 minutes
As you may not know, not long after the adapted movie of the classic novel "Gone With the Wind" was released in 1939, a cocktail was invented to promote it! Therefore, the drink then got its name from Scarlett O'Hara–the famous fictional character from the novel.
Scarlett O'Hara Drink is a summer cocktail and a delightful drink if you need hydration. This cocktail consists of three main ingredients: Southern Comfort–American fruit-flavored whiskey liqueur, lime juice, and orange juice.
Hence, you can expect to taste a robustly refreshing and fruity flavor when you drink this cocktail. One note for you is that it's better if you can prepare fresh juice to mix the cocktail and sour glass or Collins glass to contain the drink.
Total time: 5 minutes
Malibu Bay Breeze is a Caribbean highball cocktail that combines coconut rum, cranberry juice, and pineapple juice. This drink is an altered version of the original Sea Breeze. It has several names; sometimes it can be called Downeaster or a Paul Joseph.
It's very simple to make this three-layer cocktail. Firstly, you have to prepare three equal parts of the Coconut rum, cranberry juice, and pineapple. After that, pour each of them orderly into a high class over the ice. Finally, stir the mixture and use cherries to garnish.
This detailed guide is essential if you want to mix a Malibu Bay Breeze Cocktail.
Let's Brighten Up Your Day With A Glass Of Cranberry Cocktail!
It's a must to enjoy cranberry cocktails while you are enduring hot sweats on a summer day or having a dinner party on holiday. Whatever you do, wherever you are, cranberry cocktails can totally fit in with your mood and help relax your mind.
What's more important is that cranberries also provide many benefits for your health. Therefore, you don't have to worry if you plan to make the cocktails beforehand and serve them to people of a wide range of ages. What a relief, right?
Do you want to share helpful knowledge from this article with your family and friends? If yes, then click the share button, leave honest comments below and get to making cocktails right away! Let's do it!