I completely lost my mind while enjoying these best Amaretto cocktails because they are amazing. I want you to enjoy the happy and beautiful feelings that I have experienced, so I would like to introduce these Amaretto cocktails through this article.
The advantages of these recipes are the simplicity of the process and the attractiveness of the taste. Therefore, they will help you save time and get positive feedback from diners about your party.
What Is Amaretto?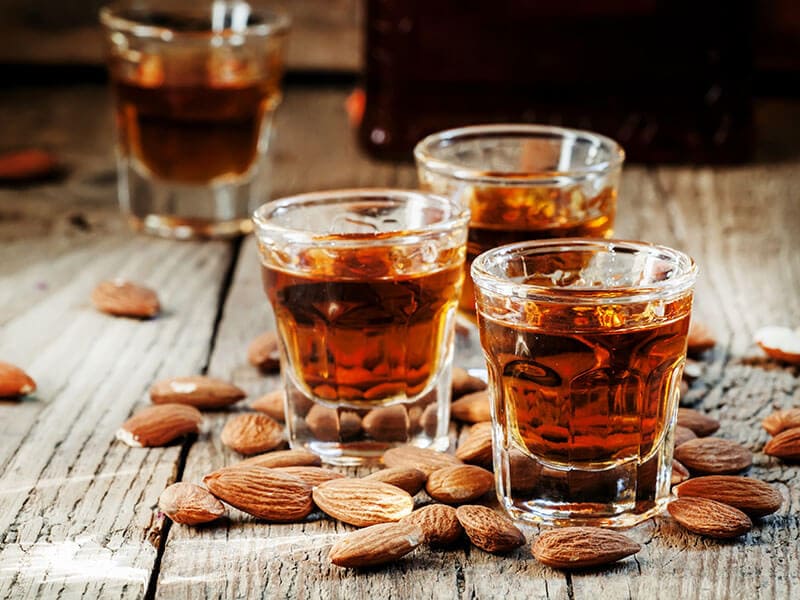 Italy is the paradise of famous wine, and Amaretto is one of the excellent liqueurs of this country. Saronno is the homeland of this sweet alcoholic drink. It is made from many fruits, such as bitter almonds, peach stones, apricot kernels, and almonds.
Therefore, it is simple to see many brands of this drink. Most of them taste like almonds. Luxardo, Lazzaroni, and Disaronno are the popular brands in Italy. Also, it is common in the Netherlands with Dekuyper and Bols brands.
The slight bitterness of Amaretto will make you remember it forever. In addition, its name is derived from the "Amaro" word, which means "bitter" in Italian. The alcohol by volume of this drink ranges from 21 to 28 percent.
It is a versatile ingredient in cuisine because you can use it for many purposes. People often use it in desserts, such as ice cream, Tiramisu (Italian cake), and other dishes.
Sometimes, you can find it in savory dishes, sauces, cocktails, syrup, and whipped cream.
Do You Know These Amaretto Cocktails?
You should not neglect this section if you prefer the sweetness and strong hint of almond in Amaretto. Because it provides choices to mix this liqueur in cocktails effectively. Let's check them out.
Total time: Around 5 minutes
If you are familiar with Margarita recipes (cocktails containing Tequila and citrus fruit juice) with Triple Sec and Cointreau, it is time to change by using Amaretto. This change will balance sourness and sweetness and bring an almond hint to this drink.
In addition, you also need to prepare silver tequila, lime juice, and simple syrup to complete this recipe. You can enjoy your result after shaking all ingredients for 30 seconds. It is perfect for serving at crowded events.
If you want it to be easier to serve, you should prepare Margarita in a large pitcher. Furthermore, preparing simple syrup and fresh lime juice in advance will save time when concocting this drink.
Please see the proper ways to prepare tasty Italian Margarita.
Total time: Around 15 minutes
Blood Orange Amaretto Sour is a fantastic cocktail with bourbon and Amaretto. It is an incredible option to chill with your friends. Besides the intense tartness, you cannot ignore the charming sweetness of this drink.
Furthermore, the citrus aroma of blood orange will wake you up immediately. When you look at it, the eye-catching red color of this cocktail will knock you out. I often use the Disaronno Amaretto brand for this drink to take advantage of its typical almond taste.
Besides the citrus breeze of blood orange, you will need a bit of sour taste of lemon juice to balance with the sweetness of Amaretto and simple syrup.
You should prepare the drink with fresh juice and serve it with ice to raise its quality. Do not forget to adjust the strength and sweetness by modifying the amount of liqueurs and simple syrup.
Total time: About 5 minutes
Amaretto Sunrise Mimosa is the perfect cocktail for your brunch, weddings, vacations, and holidays. You will be conquered by the fruity and delicate flavor of this drink. It will be better when you enjoy the cold.
Orange juice, white soda, sparkling wine, fruits, and grenadine are incredible supplements for this treat. If you want to enjoy the best cocktail, you should chill orange juice and wine for several hours before the party starts.
Typically, I often mix orange juice and Amaretto liqueur according to the ratio of 2.5:1 to achieve the perfect flavor. This cocktail comes in numerous variants that can easily revive your palate. The addition of cranberry, mango, grape, or blood juices will bring different experiences.
Furthermore, the cocktail will have a thicker texture when you puree all of its ingredients with crushed ice. Chilling the glass in the fridge before serving also enhances the quality of the alcoholic treat.
Total time: Around 15 minutes
In case you want to taste the combined savor of nutty liqueur and coffee in a glass, Amaretto Coffee is the incredible suggestion you have to try. This gluten-free cocktail is good for sipping after each meal in autumn and winter due to its warmth and nutty taste.
This concoction is a famous hot coffee with Amaretto liqueur and whipped cream additions. It is necessary to choose a high-quality coffee brand to get the best results.
Total time: Around 5 minutes
It is a shortcoming not to mention Amaretto Colada in this list. In case you don't know, it is a well-known rum-based cocktail and Amaretto. I fell in love with coconut cream's smooth texture and rich flavor that constitute this drink.
Typically, I often prepare this drink in a hurricane glass. After mixing light rum, pineapple juice, Amaretto, ice, and coconut cream in a blender, you will get a well-combined mixture.
After topping the cocktail with whipped cream, you will get a visually striking drink with two separated layers.
Total time: Around 5 minutes
Amaretto Sweet And Sour is one of the easiest recipes I have tried making. This mouthwatering cocktail is the savior for those who do not love the intense alcohol flavor of hardcore cocktails.
You will be surprised with the balance of sweetness and sourness that is made by Amaretto, orange juice, and sour and sweet mix (the blend of sugar, lime and lemon juices).
In addition, the lemon juice in the last ingredient will combine with orange juice to enhance the refreshing citrus note of this drink.
Total time: Around 5 minutes
Amaretto Sour is one of the famous cocktails of Italian cuisine. Typically, I find the slight sweetness of Amaretto in this cocktail. Furthermore, this liqueur adds mild vanilla and bitter notes to the cocktail.
Also, the flavor will become perfect with the sourness of fresh lemon juice. You will be immersed in the fruity breeze of this drink, thanks to the appearance of orange slices and maraschino cherry.
To create a delicious cherry cocktail, you need to mix Amaretto liqueur, simple syrup, ice, and lemon juice in a shaker and shake until the mixture is chilled and well infused.
Follow these tutorials to get the excellent Amaretto Sour for dessert.
Total time: Around 10 minutes
Do you have any cocktail ideas for the Christmas party? The excellent taste of a White Christmas cocktail, or Eggnog Martini, will not let you down. Right at first glance, you will be impressed with its beautiful white shade and creamy texture.
This sweet cocktail is a combination of Amaretto, eggnog, and vodka. When guests arrive, you will mix the ingredients for 30 seconds with ice. To beautify this recipe, you need to use grated fresh nutmeg seeds. It is good to enjoy this drink promptly after shaking.
Total time: Around 10 minutes
I love the enchanting flavor of cocktails containing brandy and Amaretto. So, I choose Cherry Amaretto Sidecar as my favorite alcoholic drink. This excellent cocktail is a mix of the gentle nutty flavor of Amaretto, the sweetness of cherries, and the tangy touch of lemon juice.
All of them will mingle perfectly to create a balanced cocktail. If you are looking for the fruity hint from this cocktail, brandy will bring it to you. It would be better when served with shaved or crushed ice and pureed cherry.
Total time: About 2 minutes
If you do not have much time to prepare the drink, this straightforward cocktail should be your top choice. The Godfather cocktail is a traditional and famous drink that was created in the 1970s. There are many stories about its origin.
Many people believe that the origin of this drink was associated with the regular drinking habit of Marlon Brando (leading actor in the Godfather trilogy). Other opinions state that the movies greatly influenced the birth of this cocktail recipe.
This yummy drink contains bourbon (or scotch) and Amaretto. So, it has the sweetness and mild bitterness of Amaretto as well as the smoky note of scotch. Rusty Nail is another close cousin of the Godfather cocktail.
Follow these instructions to prepare an outstanding Godfather cocktail.
Total time: About 5 minutes
Are you up for an exciting night? Tasty cocktails with dark rum and Amaretto always bring incredible experiences and flavors for diners, and Lounge Lizard is one of them.
When making this amazing drink, I will choose dark rum to have a deep and attractive color. In addition, cold cola is an indispensable part of the recipe.
Let's discard the monotonous appearance of the cocktail by adorning it with fresh lime and orange slices. The Amaretto, cola, and dark rum blend will pair well with ice. Usually, I would like to serve this drink in a chilled old-fashioned glass.
Total time: Around 5 minutes
Let's satisfy your mouth with a glass of Spiked Eggnog. It has a creamy texture and rich flavor with white rum and Amaretto fusion. You can feel the Italian breeze upon sipping it, thanks to the sweet almond touch of Italian Amaretto.
The fantastic taste of it will charm you in no time. Moreover, spices like nutmeg or cinnamon will add a warm and woody note to this delicious drink. In particular, the use of lactose-free eggnog in this cocktail will prove beneficial to your health.
By stirring all ingredients in a large pitcher, you will get a fantastic cocktail to relax with your friends on special occasions. It is finished with the addition of a dash of cinnamon or nutmeg powder.
Total time: Around 15 minutes
Cocktails with cranberries always leave a profound impression on my mind. And Amaretto Cranberry Kiss stole my heart at the first taste. This subtle cocktail is perfect for parties and celebrations.
The fruity touch also comes from fresh orange juice. In addition, vodka and Amaretto will bring a chilled feeling to you. To prepare the cocktail, you have to combine vodka, Amaretto, orange, and cranberry juice beforehand.
Let's store this mixture in the fridge for chilling, preferably overnight. When the party starts, you will shake the mixture with ice to serve. To get a lot of fresh juice from oranges, I recommend using a hand juicer to squeeze.
It is time to treat your family with a glass of delicious Amaretto Cranberry Kiss.
Total time: Around 3 minutes
Many unforgettable cocktail recipes are made from Amaretto, and Nilla Water Martini is one of such iconic representatives. If you love minimalism, it is an option you should consider because it just contains 2 common ingredients.
The combination of Amaretto and vanilla vodka always brings excellent effects. The sweetness of Amaretto will pair well with the subtle taste and vanilla hint of vodka. It will be a worthwhile drink after shaking the components with ice.
Total time: Around 45 minutes
If you are looking for a delicious cocktail for dessert, it will be a mistake to skip Sugar Cookie Martini. Its subtle flavor and rich flavor will make your holiday fun. Besides, decorating this cocktail with a sugar cookie is a brilliant idea.
This recipe calls for whole milk to bring the creamy texture. Nevertheless, you can choose to skim or other non-dairy milk for this cocktail. But it will lose the creaminess with the use of low or non-fat milk. There is no problem with using regular vodka instead of vanilla vodka.
However, the drink's flavor will not be as perfect without vanilla vodka. But let's give it a try to diversify your choices.
Total time: About 2 minutes
Bocce Ball is a famous cocktail made up of vodka and Amaretto. This delicious drink will give you an excellent chance to enjoy the sweetness and almond note of Amaretto as well as the subtle flavor of vodka.
Furthermore, orange juice and orange zest twist are the indispensable ingredients of this fantastic drink. You can serve it after shaking the mix of orange juice, Amaretto, and vodka. Adorn it with an orange zest twist.
Keep your eyes on these directions to make a perfect Bocce Ball.
Total time: Around 5 minutes
I always want to try an alcoholic mixed drink containing cognac and Amaretto. Fortunately, I was introduced to the French Connection recipe. Its particular name was derived from a movie of the same name that premiered in 1971.
You need to mix cognac and Amaretto so that they blend perfectly with each other. It is straightforward to feel the smoky touch of Amaretto and citrusy, fruity flavor of cognac. Typically, it will be served with ice.
You should take advantage of a few drops of oil from lemon or orange peel to bring a citrus scent to this drink.
Total time: Around 5 minutes
I was impressed with the unique appearance of this memorable cocktail. It includes multiple separated layers with different colors and ingredients. These layers are made with vodka, coffee liqueur, Amaretto, and Irish cream.
The coffee liqueur is the first ingredient you must fill into the glass to create an eye-catching appearance. After pouring Amaretto, you will apply an additional layer of Irish cream and vodka.
If you do not have much time and want to blend all ingredients in a harmonious mixture, you can shake all components and serve immediately.
Total time: Around 5 minutes
A glass of cool Amaretto Julep will help you relieve stress after a long working day. This delicious recipe includes Amaretto, bourbon, and cardamom bitters. It is also known as Vito's Julep. This cocktail has a connection with the Godfather cocktail.
Godfather is also an age-old cocktail made from Amaretto and bourbon. But in Vito's version, cardamom plays a vital role in bringing the bitterness and spiciness to balance with the sweetness of Amaretto.
Total time: Around 15 minutes
Do you know any tasty cocktails for the Easter party? What do you think about Simnel Cake Sour? I hope you will like it. This drink tastes sweet, warm, and fruity with Amaretto, cinnamon dust, and orange juice.
Also, this cocktail contains Brandy and Madeira (Portuguese white wine). To have a delicious cocktail, spiced syrup plays an essential role. It is made by boiling and chilling sugar, mixed spice, and orange zest. Finally, toasted marzipan will beautify this recipe.
Total time: Around 5 minutes
A glass of Flaming Dr.Pepper will give you a warm and novel feeling. This masterpiece comes from bubbly beer, strong rum, and sweet Amaretto. You will be impressed with the intense fire on the top of this cocktail.
Many people think that it was born in the 1980s. However, the birthplace of this drink is still shrouded in controversy. Both Gold Minnie Saloon in New Orleans and Ptarmigan Club in Texas, among others, claimed that this drink was their invention.
It is difficult for this cocktail version to be created in two different locations, so everything is still vague. Anyway, after adding Amaretto and rum to the glass, you will brighten the space with a fire. Please add a few drops of beer to extinguish the fire before drinking.
Let's check how to make the incredible Flaming Dr.Pepper Shot.
Total time: About 3 minutes
The Red Snapper Shooter is a gift I want to give to those who love yummy cocktails made with whiskey. This recipe is extremely charming thanks to helpful support from Amaretto. Moreover, its bright red color will captivate you instantly.
Do not confuse this sweet and juicy Crown Royal-based cocktail with gin-based Bloody Mary. Still, many people consider Red Snapper a prominent variant of Bloody Mary with Canadian whiskey. I like to bring about a slightly fruity scent by adding cranberry juice.
Total time: About 5 minutes
Tuesday Killer Kool Aid is a widespread cranberry juice-based cocktail. This essential ingredient adds the sourness to keep the balance with other sweet and fruity components, including Amaretto and Southern Comfort (a fruit-flavored, whiskey liqueur).
The simplicity of this recipe is reflected in the fact that you only need to pour Southern Comfort, Amaretto, and cranberry juice over ice. Moreover, you can diversify your menu with various variations of this cranberry juice-based cocktail.
The Scarlett O'Hana cocktail is one such famous version with a fusion of cranberry juice, lime juice, and Southern Comfort. Also, cranberry juice works well with Amaretto and rosemary in the Christmas Cooler variant.
Total time: Around 5 minutes
You will commonly come across Snickertini on the menu of many classic bars. This fun and mouth-watering cocktail will satisfy the criteria of cheapness, simplicity, and deliciousness that a drink needs.
It will have the sweet and rich taste of Van Gogh Dutch caramel vodka. The mandatory requirement to get a beautiful and quintessential cocktail is the inclusion of Irish cream, Amaretto, and chocolate liqueur.
Before preparing this excellent cocktail, chilling the glass in the refrigerator is an essential stage. Do not forget to create eye-catching and unique lines with chocolate and caramel sauce inside the glass.
Total time: About 5 minutes
Almond Joy is an excellent suggestion for creamy and dairy-free cocktail lovers. Also, you can find a bit of nutty taste while giving this drink a shot. The rich flavor and coconut fragrance of coconut cream will make you fall in love with the drink.
If you have tried cocktails containing Creme de Cacao, you will quickly recognize the characteristic sweetness of this alcoholic drink. Even better, everything will become perfect with the gentle and delicate taste of vodka.
The vegan cocktail is suitable for sipping at many parties and special occasions. You should serve it straight without ice to keep its smooth texture. Remember to adorn it with shaved coconut before serving it..
Find out the suitable steps to prepare a glass of Almond Joy with Amaretto.
Total time: About 5 minutes
If you are a loyal fan of Tom Cruise movies, I am sure you will know Alabama Slammer cocktail. The red color is a typical feature of this recipe. Also, its fruity and sweet taste will help you realize it quickly.
There is no information about the inventor of this delicious cocktail, but a theory says that this drink originated at the University of Alabama in the 1970s. Apart from Amaretto, Southern Comfort, orange juice, grenadine, and sloe gin are the other primary elements.
If you love a drink with a strong alcoholic taste, it is good to use liqueurs between 40 and70 proof. Making this drink in a pitcher is perfect for the pool party.
Because of the similarity in taste with cherry cough medicine, let's add cranberry juice to get the balance in flavor.
I'd love to know your thoughts and feelings after making and enjoying the cocktail recipes in this article, so please write them down in the comments. If you love this post, do not hesitate to share it to circulate the valuable information to many other people.
Why? Because nowadays, delightful cocktails are becoming common at parties because people need them for relaxation, dessert, and comfortable conversation. So, it is necessary to save these recipes with Amaretto for party preparation in the future.
Good luck with your cocktails!