Best Easter cocktails sound like a weird compilation of recipes since Easter is not synonymous with gatherings. Therefore, there is limited space for festive cocktails to sneak into the menu.
However, you will rethink this niche of Easter cocktails after going over my list. Besides the repeated activities like church visits and Easter prayers, these alcoholic mixed drink ideas will jazz up your holiday with beautiful flavors and vibrant hues.
Note these recipes down as you need them for your next Easter feast! They will be great additions to enjoy with your adult friends during brunches while your children are busy hunting Easter eggs and goodies!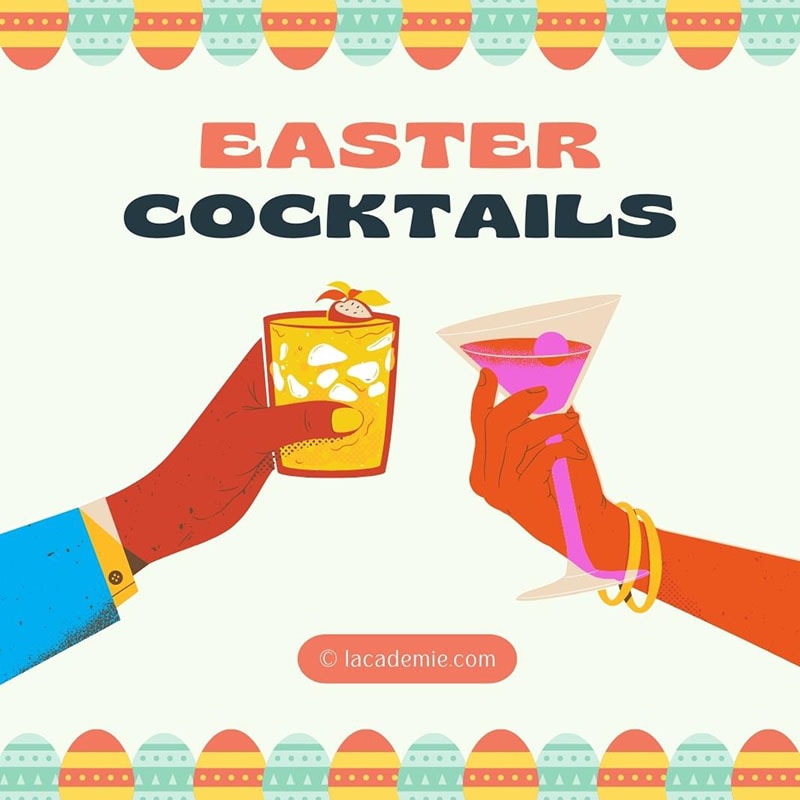 Why Is Easter Date Different From Year To Year?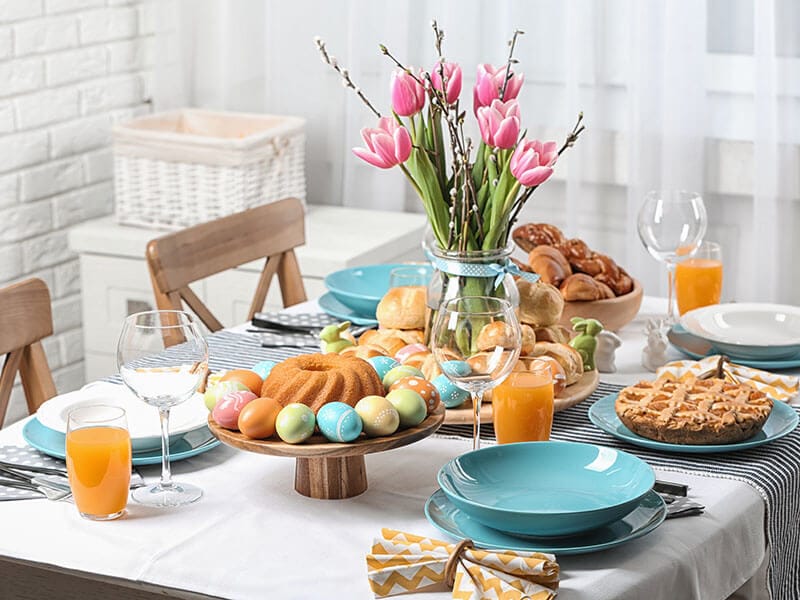 Easter is probably the most special holiday of all. Unlike Christmas or St. Patrick's Day, which always occurs on the same day annually, people celebrate Easter on a different date from year to year. Let's discover the mystery behind such an incident!
Easter Date Determination
Although the Easter date is not the same every year, there is a way to determine precisely when it comes.
The holiday always falls on the first Sunday after the Paschal Full Moon, the first full moon after the March equinox, signifying the beginning of spring in the Northern hemisphere.
As the March equinox's date changes yearly, the Easter date must fluctuate accordingly. Yet, based on such a rule, there is a certain window of time for Easter, which is between March 22 and April 25.
Preceding Easter Events: The Festival Of Lent
Easter is a popular holiday worldwide. However, not many people know about Lent – a 40-day fasting period that precedes the joyous celebration of Easter. The name is based on an ancient English term that meant "lengthen".
During Lent's six weeks of abstinence, many Christians choose fasting and giving up comforts in remembrance of Jesus Christ's 40-day fasting and facing the devil's temptations across the desert before commencing his public ministry.
To your surprise, the three most popular foods that people practice fasting during Lent are dairy products, meat, and… alcohol. Therefore, you might hear that alcoholic drinks like cocktails face a restriction during the time leading to Easter, including the holiday!
Alcoholic Restriction On Easter Day: How Much Do You Know?
Because of Lent's fasting practice, certain places prohibit liquor stores from selling alcoholic drinks, such as in Delaware (US). New Zealand even has the Sale and Supply of Alcohol Act 2012 to govern such activities.
Thus, for your smoothest cocktail experience on Easter, it is better to stock your required ingredients beforehand and generate your indulgence at home. If you don't know what recipe to follow, I have a list right below!
Get Ready For My Must-Try List Of Easter Cocktails!
Where are your pen and paper? It is time to sit down and look at these fabulous cocktails for your post-egg hunt! Your guests will surely go wild over them!
TOTAL TIME: 10 minutes.
It is a huge miss to exclude Dogwood Punch from Easter cocktail collections! This fruity and citrus punch is exactly what you need on holidays, beach trips, or pool parties! Whenever you want to cool down from the heat, serve up a batch of Dogwood Punch!
Yes, you heard it right! Prepare the drink in a large batch, as it will vanish in minutes! It is easy to understand since the recipe calls for refreshing ingredients, such as sparkling rose, grenadine, strawberry lemonade, and sliced strawberries.
With just 10 minutes and a sizable pitcher, you can achieve this Easter staple in a cinch! For the final touch before serving, top your glass with some mint sprigs!
TOTAL TIME: 5 minutes.
Festive drinks are not all about Mimosa and Sangria. Bellini is another potential cocktail you must try. Imagine enjoying BBQ with your friends while watching your kids hunt eggs in the backyard on Easter Sunday. How about a glass of Frozen Peach Bellini?
Inspired by a 1930s Italian classic, this beautiful-looking cocktail features frozen peaches and peach schnapps topped with red wine and raspberry liqueur. Don't worry if your peaches are overripe, as they work terrific in this recipe!
Slushy texture and refreshing flavor, this frozen alcoholic mixed drink is the ideal adult treat on Easter or any hot summer day. My advice is to consume this cocktail in martini glasses or wine glasses. Champagne flutes are not a potential option here.
This simple tutorial is the first step towards your Frozen Peach Bellini!
TOTAL TIME: 10 minutes.
Giggle Juice is a perfectly bubbly cocktail that lives up to its name. You will be giggling your way through sipping this concoction! The drink is a brilliant offer at get-togethers, special occasions, holidays like Easter, or just typical hot evenings.
If you have never made Giggle Juice Cocktail before, you will be surprised at how simple it is! Its primary ingredients include granulated sugar, lemon vodka, pink lemonade, and prosecco.
To elevate your cocktail's flavor to new heights, you can use some help from these tips! For pink lemonade, pick a strawberry or raspberry-flavored type. If you aim for a sweeter version, substitute sugar and prosecco for Moscato.
Before serving, dip your glass rims in lemon juice and then sugar. Pair it with orange pound cake to form a light, fruity dessert to conclude your hot summer day!
TOTAL TIME: 10 minutes.
This Raspberry Peach Prosecco Punch is not only breathtakingly beautiful to look at but also features an impressively fragrance evocative of crisp apples and peach blossoms. No spring or summer celebration is complete without this fresh party punch!
You only need three ingredients for this delectable concoction: peach nectar, prosecco, and frozen raspberries. Its preparation is so simple that you can never go wrong. Simply place peach nectar on your frozen fruits and tardily pour prosecco into the glass!
Prosecco is a brilliant choice for this recipe as it is affordable and infuses the drink with fruity flavor and soft bubbles. That is why this Italian sparkling wine has its own fan base. So, if you are in the mood for a refreshing Prosecco drink, give this recipe a try!
TOTAL TIME: 5 minutes.
Cucumber Cooler Cocktail lends some chills and cool relief whenever you need them! Featuring the heavenly mix of cucumbers, basil (or mint), and fresh lime, this green cocktail is super refreshing on a hot summer day!
All ingredients blend and balance one another so nicely in this recipe! You won't even taste the sharp, zesty taste of fresh lime.
One may ask if there is a mocktail version for this effortless mixed drink recipe. The answer is yes! Simply exclude the gin from the recipe and introduce more tonic water!
TOTAL TIME: 10 minutes.
When you run out of cocktail ideas for a hot summer night or your upcoming Easter Sunday, Strawberry Margarita Punch is my chilled and refreshing suggestion! Prepare for a sweet and tangy drink with just enough sweetness.
There are two rules for making this sweet and fruity drink with alcohol! Number one, use fresh strawberries! In case fresh fruits are not available, use frozen strawberries instead. And number two, stick to the proportions specified in the recipe.
Unlike other cocktail ideas that allow freestyle ingredient mixing, this Strawberry Margarita Punch requires a bit of self-discipline from you! Trust me, you won't regret it!
Before serving it right away with snacks like tacos or salsa, remember to make a glass rim of margarita salt or sanding sugar. Also, add a lime wedge to your delectable glass.
How about indulging in Strawberry Margarita Punch throughout Easter?
TOTAL TIME: 10 minutes.
Is there a more straightforward cocktail than Kir Royale since all you need to do is top your Creme De Cassis with chilled champagne?
Raspberry liqueur and mint sugar syrup infuse a hint of fruity, citrusy flavors and sweetness, together with a boozy kick. Make sure to put your champagne flutes in the freezer for a few minutes before creating the drink!
Kir Royale is an excellent choice for every holiday and celebration. Birthday parties? Sure thing! Easter? Bring it on! This effervescent and refreshing drink will never let you down!
TOTAL TIME: 2 hours and 5 minutes.
Have you ever heard of Color-Changing Margarita? It is a real cocktail whose color transforms from blue to purple-pink in front of your eyes as you slowly pour it into the glass! Once your beverage cools down, the tint becomes deep purple.
If you think that color-changing trait is impressive, you are right! Yet, there is another thing more intriguing: all those hues are entirely natural, thanks to Butterfly Pea Flower! This Asian ingredient is very popular in dyeing food.
Making this drink is very straightforward yet relatively time-consuming. The recipe requires at least two hours of soaking Butter Pea Flower in tequila.
For the final touch, toss a lime on top to complete the drink! All you need to do now is watch the magically color-changing scene unfold!
TOTAL TIME: 10 minutes.
If you are looking for a decent Easter cocktail to pair with some of your favorite holiday snacks, Sparkling Cucumber Mojito is my recommendation! This Easter brunch cocktail is ideal for enjoying in the heat of the day.
For this cool cocktail featuring rum as the main ingredient, you will need simple syrup, lime juice, mint leaves, cucumber, and topped with soda water.
Both versions turn out equally refreshing and zingy. The final step is to garnish the glass with extra fresh mint sprigs. Not only your kids but all your guests will joyfully consume the drink with Crostini or cured meats and cheese.
TOTAL TIME: 2 minutes.
Mint Julep is a must-have cocktail at every Kentucky Derby. However, you can still sip a glass of this beverage on other celebratory occasions, including Easter.
This racetrack classic is the simplest cocktail you could add to your beverage repertoire. Originating from the Middle East, this Southern American staple requires seconds to make with the help of Kentucky bourbon, seltzer water, and simple syrup.
As the name implies, it would be a crime not to include some mint leaves in the drink. Whatever mint you have on hand will work. Yet, if you need a quick suggestion, spearmint is my choice!
Not only exclusive for the Derby event, but this classic cocktail is also refreshing on any hot summer day. Serve it in rock glasses or julep tin cups for a more timeless appeal!
Whenever the Derby season hits, it's time for a Mint Julep!
TOTAL TIME: 5 minutes.
If you are a fan of the classic Mudslide but crave a more festive cocktail to fit your Easter-themed brunch, why not tweak it to become Strawberry Mudslide? The drink is also known as Easter Peeps Cocktail.
All you need to make this alcoholic mixed drink is to replace Bailey's Irish Cream with Bailey's Strawberries and Cream. The change gives this variation its iconic strawberry taste and festive pink hue.
To make it more Easter-like, rim the cocktail glass with pink sugar and simple syrup. Then, garnish it with a pink bunny Peeps. These smart decorative touches will make the cocktail the superstar of your Easter holiday.
TOTAL TIME: 3 minutes.
Manhattan is one of the greatest and oldest cocktails ever, calling for the classic combination of bourbon, sweet Italian vermouth, and bitters.
While bitters are great for balancing the drink's taste and aiding digestion, bourbon makes your Manhattan sweeter, less spicy, and easier to swallow. However, it is not a fixture as you can use rye whiskey instead to fit your preference.
Since its inception in New York City in the late 1800s, Manhattan has remained a real classic cocktail! Nowadays, it is still the number one choice for festive holidays or quiet night supper!
To complete this classic cocktail, garnish your glass with an orange twist and a maraschino cherry. This practice surely makes your drink more delightful!
TOTAL TIME: 9 minutes.
Cottontail Martini is a popular cocktail people sip at Easter gatherings. The experiences of eating chocolates, chatting with friends, and sipping this Cottontail Martini are what your guests will remember for the rest of the year!
If you don't have vanilla vodka, don't worry, as this recipe does not strictly call for vodka. Instead, you can use vanilla liqueur to infuse a more Easter-like flavor. It also makes the drink lighter and more refreshing.
Last but not least, rim the glass with shredded coconut and honey. It is the best practice for Cottontail Martini, making it more lovely to watch and enjoy!
TOTAL TIME: 5 minutes.
Eating dessert after the main meal is normal! But have you ever tried to drink your dessert? If you fancy such an experience, let the classic Brandy Alexander help you!
There is a rule of thumb in the cocktail-making world: a good cocktail is never a complicated one! That rule applies here, as this recipe only calls for three simple ingredients: a brandy of your choice, creme de cacao, and cream.
Troy Alexander, a former bartender at Rector's – a New York restaurant, is often credited with the invention of Brandy Alexander. After its emergence, the drink immediately became a big hit in the city!
This delicious brandy cocktail is not overly sweet and features a boozy kick that will keep you sipping more! A classy way to enjoy it is to use a coupe or martini glass. Don't forget to sprinkle it with freshly ground nutmeg before serving!
Brandy Alexander is a sweet dessert drink, on par with Eggnog!
TOTAL TIME: 5 minutes.
Spring White Wine Sangria is a headache relief if you are having a tough time looking for an Easter cocktail that is not too robust yet more potent than the usual ginger ale! This refreshing drink with peppermints will delight all adults in the room!
In addition to its mouthwatering freshness and delectable flavor, its versatility is also an outstanding point. Depending on your mood, feel free to alter its boozy taste by switching out the soda. There are also tons of other exciting ways to mix up this drink!
With all the above benefits, there is no reason to postpone making Spring White Wine Sangria, especially when it only takes five minutes of your free time!
TOTAL TIME: 5 minutes.
With a pleasant flavor and a beautiful rose shade, isn't this Blood Orange Gin Cocktail enough to change your view about dull gin fizzes with a light hue and white foam? I literally cannot find any reason not to try a sip!
Planning a batch for Easter? No problem! your grand marnier cocktail idea will be ready within five minutes! Featuring prosecco, gin, grand marnier, and blood orange juice, this delightful cocktail is so simple to create that you can enjoy it whenever you like.
For this cocktail using gin, smaller glasses are the best choice to serve it! After combining all essential ingredients (except for prosecco), garnish your glass with fresh sage, add ice and top it with the last component!
TOTAL TIME: 20 minutes.
This Strawberry Champagne is surely a crowd-pleaser at your next brunch meal or bridal shower. Chopped strawberries and fresh ginger will infuse your beverage with a spicy undertone. Everyone will go wild over this subtle flavor!
Also featuring the gorgeous rose hue, this festive mixed alcoholic drink for brunches is the best alternative to classic cocktails like Bloody Mary or Mimosa.
Although the word "champagne" is in the drink's moniker, it is not your only option. You can rely on Cava or other semi-dry sparkling wines. Just remember the wine should not be too sweet or dry to avoid conflicting with the taste of strawberries and ginger.
It is also brilliant to use ginger ale in place of the sparkling wine to generate a non-alcoholic drink. No matter your choice, there is always an appealing fizzing scene when the wine meets the strawberry syrup.
TOTAL TIME: 3 minutes.
Jelly Bean Shot will be your new go-to party launcher, especially on Easter Sunday, since it is sweet, tasty, and visually appealing with its layered look. Named after a worldwide confection, this cocktail will surely knock your socks off!
What makes Jelly Bean Shot so festive is its three-layer structure. If it is your first time building the shot, start with the strongest liquor on the bottom and work your way up from there!
The lowest layer contains heavy blackberry brandy. The component forms a brilliant foundation for the middle layer of anise-flavored liqueurs. Here, you can choose either anisette with a clear tint or sambuca in various colors.
For the top layer, I recommend a light liqueur or whiskey. Choose something fruity to form a bridge between the sweet bottom and the herbaceous middle!
TOTAL TIME: 5 minutes.
Everybody knows margarita is a Mexican staple. Yet, even the Mexicans consider Paloma, a pink-hued cocktail variation of margaritas, as the superior drink! It requires only a handful of ingredients like silver tequila, club soda, fresh grapefruit juice, and lime juice.
This colorful cocktail glass is everything you would crave for spring and summertime. Specifically, it is the perfect choice for a get-together with friends on holidays like Easter or Cinco De Mayo (a traditional Mexican celebration)!
If you are not a fan of alcoholic drinks, feel free to omit tequila from the recipe for a perfect mocktail concoction with similar deliciousness. You don't even need anything sticky to make your glass rim, as grapefruit juice is enough to pull off such a task!
Pair it with any spicy dish you love, such as Posole or Asian chicken noodle soup, for a complete cocktail experience!
You are only a tutorial away from Paloma, the most popular Mexican cocktail!
TOTAL TIME: 10 minutes.
Making a cranberry cocktail for Easter might sound bizarre since the fruit is only available from September through January. However, as this Vodka Cranberry Cocktail utilizes cranberry juice, there is no more problem!
You can tell from the drink's name the ingredients this recipe requires. Besides the vodka and cranberry juice, you also need lime juice and simple syrup. There are only four basic ingredients for a perfect Easter cocktail that come together in a flash!
What I love most about this cocktail using vodka is that you gain total control over its flavor.
You can freely adjust the vodka amount to make the drink stronger or weaker. You can also use sugar-free cranberry juice and substitute agave nectar for simple syrup for an equally sublime sugar-free option!
TOTAL TIME: 15 minutes.
If you need something chilling to offer friends at an Easter gathering, Peach Sangria is a great choice. Originated from Portugal and Spain, this cocktail is brimming with fruity flavors from peaches, strawberries, and cherries!
In addition, you will sense its boozy kick from the peach liqueur and chilled wine. Although red wine is a classic ingredient in Sangria recipes, you should use white wine in this case for a lighter version, allowing peach slices to take center stage.
This drink will win your heart right from the first sip, as it tastes exactly like a short vacation in a glass! Its refreshing and invigorating flavors complement nicely with a wide range of cuisines, such as lemon bundt cake for lunch or garlic shrimp pasta for dinner.
TOTAL TIME: 50 minutes.
Finding a nice brunch cocktail to offer your friends on their unexpected visit is a really headache task! Yet, with Mint Grapefruit Mimosa, the problem is solved! Brimming with tangy, fresh, and sweet flavors, even non-grapefruit fans will happily enjoy it!
Many Mimosa connoisseurs agree that this Mint Grapefruit Mimosa is the closest version to the classic cocktail. Although the grapefruit juice's bitterness is not a universally adored flavor, this concoction offers enough sugar from honey to balance it!
Prosecco is the typical choice for this Mimosa. However, you can always level up your drink with fancy champagne. Or, you can make a child-friendly, non-alcoholic cocktail version by substituting Prosecco with sparkling water or white grape juice.
Like the classic Mimosa, make sure to serve this drink in champagne flutes to preserve bubbles and wine flavor better. For the look, garnishing your flutes with some fresh mint sprigs is always a wise move!
TOTAL TIME: 10 minutes.
Kahlúa Coffee – Irish Cream Cocktail is a special cocktail with coffee as the main ingredient. The recipe is ideal for serving at every brunch party, including Easter brunch.
Hot coffee, coffee creamer, Kahlúa, and Irish cream form one of the fantastic flavors for your palate. Whether you consume it for breakfast, brunch, or as an after-dinner beverage, Kahlúa Coffee Cocktail will make you feel comfortably warm.
Pour the coffee cocktail into a glass mug and top it with whipped cream to complete an Easter treat for you and your friends.
TOTAL TIME: 5 minutes.
Serving Orange Creamsicle Mimosa for brunch is always a fail-proof idea! This creamy, fruity, tart, and bubbly drink will satisfy all mimosa fans and take your morning drink to a whole new level!
This cocktail mainly utilizes orange juice, heavy cream, vanilla vodka, and champagne. Its moniker reminds you of a childhood frozen treat made by Frank Epperson in 1905.
Thus, a sip of this cocktail will bring both your childhood joy and adult indulgence in a single glass! Besides weekend brunches, Orange Creamsicle Mimosa is also ideal for a lazy evening sitting by the pool! An orange slice is all you need for decoration!
TOTAL TIME: 45 minutes (including 30-minute syrup cooling time).
Did you know French 75's moniker was inspired by the lethal 75-millimeter field cannon used by the French in World War One? You get a perfect Easter drink by adding lavender flowers to the classic mixture of gin and lemon juice.
Lavender flowers are used to make syrup. This syrup will take the place of sugar in the classic recipe, infusing sweetness to the Easter beverage. Rest assured that you will taste no grittiness from the component in its pure form.
To serve it on holidays like Easter, there is always room for festive garnish like more lavender and topped with champagne or prosecco.
TOTAL TIME: 3 minutes.
St. Germain Spritz is a refreshing cousin of the Italian aperitif classic – Aperol Spritz. Sweet and flowery in flavor, it is the perfect way to cool down on a hot day. Whether for brunch or before dinner, while reading a book or drinking by the pool, feel free to sip it!
Made from prosecco (or champagne), soda water, and St. Germain elderflowers, this cocktail requires no skilled technique. Simply combine all ingredients in a glass and garnish it with the juice from squeezing lemon wedges.
You can further enhance your St. Germain Spritz with clear ice. This crystal clear component will elevate your drink to superstar status!
TOTAL TIME: 10 minutes.
Adding a dash of brown sugar to the classic Old Fashioned cocktail is the best idea ever, as it adds a festive and cozy vibe to the drink! On holidays such as Easter, sipping a Brown Sugar Old Fashioned is fail-proof!
Generating this cocktail from scratch is easier than most people think it is! After adding ice and bourbon to the muddled brown sugar mixture, give it one last swirl and garnish it with a cinnamon stick or orange peel before enjoying!
Instead of consuming bourbon or whiskey on its own, which might be dull, you can give this brilliant cocktail a shot! It does a wonderful job of enhancing the classic spirit's subtle taste and silky texture!
TOTAL TIME: 5 minutes.
Besides margaritas, Tequila Sunrise is the most popular cocktail in existence. Even non-alcoholic drinkers adore this recipe since it is almost impossible to detect tequila in the orange juice and grenadine (a non-alcoholic pomegranate juice syrup).
Most people's first impression of this tequila-based cocktail is its unique and vibrant color, with orange on top and red on the bottom. By pouring grenadine using the back of a teaspoon, you can achieve this drink's impeccable dawn appearance.
However, never attempt to add the red syrup straight down the center of the glass as it would discolor your orange juice color.
For garnish, you have two options: orange slices and maraschino cherries. This long drink is not overly potent, allowing you to enjoy it over longer periods with common snacks like crostini, avocado hummus, and guacamole.
TOTAL TIME: 45 minutes (including 30-minute chilling time).
Also known as a "Bunny Marry", this Carrot Juice Bloody Mary uses carrot juice along with the usual mix of ingredients to provide the most festive Easter alcoholic mixed drink! This Bloody Mary variation is tangy and spicy, perfect for an Easter luncheon.
The nicest part about this cocktail is that you can effortlessly tailor it to your own preferences. You have total control over what toppings to use and what seasonings to rim the glass. Making it non-alcoholic is also possible.
If you plan to include this in your Easter brunch menu, make sure to prepare Egg Breakfast Casserole or Baked Eggs. Either of the choices is the perfect accompaniment to your delicious drink!
TOTAL TIME: 5 minutes.
If Cadbury Creme Egg is a favorite Easter candy among children, Cadbury Creme Egg Cocktail is the ultimate Easter indulgence among adults! This creamy and chocolatey cocktail is more like a drunken dessert than a drink!
Besides creme de cacao, which gives the drink its chocolatey flavor, this "eggcellent" Easter beverage makes good use of various boozes, including vanilla vodka and yellow Chartreuse. Thus, consume moderately if you don't want to get woozy!
This Easter treat would be incomplete without the garnish of Cadbury Creme Eggs. Inside those exquisite chocolate eggs contain sweet and creamy fondue mixtures, which will have your friends hooked right from the first sight!
Let's witness the decadent Cadbury Creme Egg Cocktail come to life via this tutorial!
Let's Delight Your Easter Feast With These Cocktails!
Does my compilation of the best Easter cocktails ignite any creative ideas in your mind for the upcoming Easter celebration? Rest assured that my choices are fail-proof! They will infuse your holiday with colorful tints and delectable flavors!
I highly encourage you to try them out as soon as possible and share your experiences below! Trust me, you don't know what you and other readers are missing for this Easter! Thank you for reading!
Nutrition Facts
6 servings per container
---
Amount Per ServingCalories196
% Daily Value *
Total Fat 0.1g

0

%
Sodium 797mg

34

%
Potassium 156mg

5

%
Total Carbohydrate 29.1g

10

%

Dietary Fiber 0.5g

0

%
Sugars 25.9g

Protein 1g

2

%
---
* The % Daily Value tells you how much a nutrient in a serving of food contributes to a daily diet. 2,000 calories a day is used for general nutrition advice.