It's time to switch it up with these astonishing alcoholic mixed drinks from Asia. They're pretty simple to make, and with the addition of many exciting ingredients, the sensation of drinking these beverages is almost heavenly.
Aside from introducing you to the best cocktails, I also want to show you a bit more about the drinking culture in Asia and help you understand what styles of beverages locals prefer. No more hanging around because it's time to jump right in.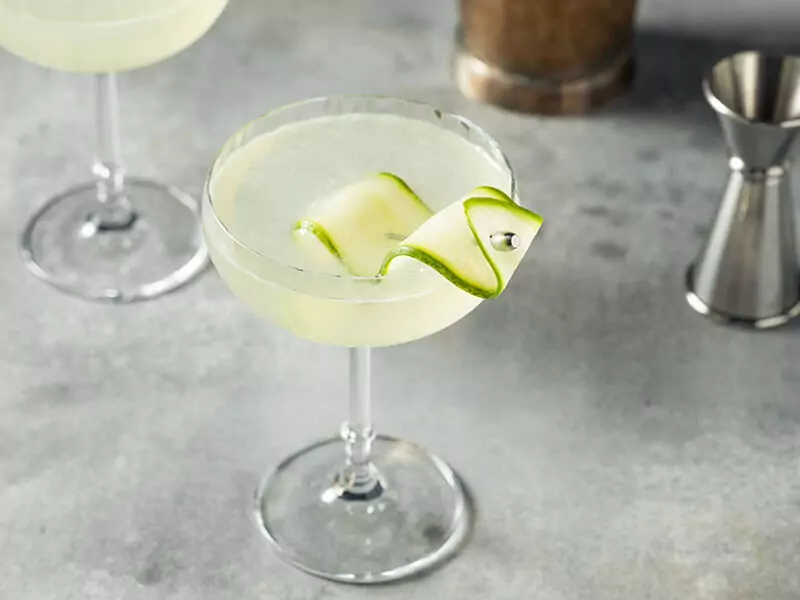 The History Of Alcohol In Asia
According to archeological findings from the Neolithic period (near the end of the Stone Age), some of the earliest signs of alcoholic drinks came from Asia, particularly Israel (11,000 B.C) and China (7,000 B.C).
Unlike its European counterpart, which used fermented grapes as the base for wine-making, ancient China preferred to use rice and other grains. The most common use for these rice and grain-based wines was medicinal drinks.
India is another country that has a long history with alcohol. There were many popular beverages around 2,000 – 3,000 B.C, including Sura, a type of distilled delicacy from wheat, sugar cane, and grapes. Many considered Sura a favorite drink of the Hindu god Indra.
Which Alcoholic Drinks Are The Most Popular In Asia?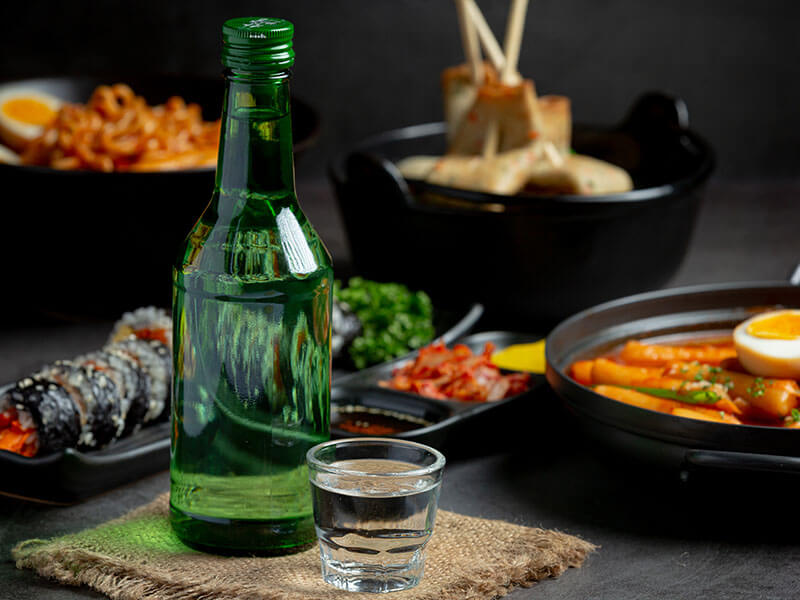 Due to the long existence of alcohol across Asia, most of its countries have developed their distinct wines and spirits. China has Baijiu (a distilled drink from a sorghum plant) in East Asia, while Japan considers Sake (Japanese rice wine) its national beverage.
On the southern side, India has Feni, which comes from distilling cashew fruit. Moving further west, the Levant also has a popular alcoholic drink called Arak, consisting of fermented grapes and aniseeds.
However, none can compare to the Korean rice wine called Soju. This beverage has exploded in popularity. Soju has also broken its sales record in recent years. It doesn't seem like the reign of Soju will stop anytime soon.
How Asian People Enjoy Their Drinks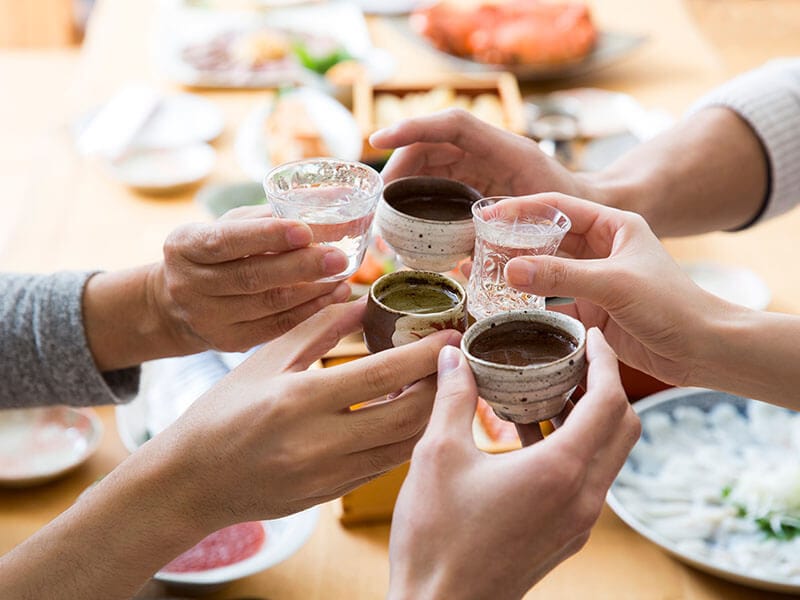 It would not be an understatement to say that the drinking culture of many regions in Asia is unlike anywhere else in the world. Aside from some countries which ban the consumption of alcohol, like Saudi Arabia, Yemen, or parts of Indonesia, Asian people can hold their liquor.
People in the region love to go out and drink without any particular reason. They usually find time after work or on the weekends to enjoy a glass of rice wine or beer.
Most restaurants and eateries usually serve neat wine or beer since it's easier to prepare. However, with the rising popularity of bars in the region, more people have started to drink cocktails as an alternative.
While the recipes take a lot of inspiration from western creations, the beverages often have their Asian flair to make them stand out. If you're curious, there's a list of options below.
Making Your Cocktails The Asian Way
With the general introduction out of the way, it's time to show you how to prepare these fantastic Asian-styled mixed alcoholic drinks properly. But I must warn you first, once you take a sip from one of these icy delights, you won't be able to stop until the glass is empty.
Total time: 15 minutes
One of the most popular fruits that people, especially those living in East Asia, love to have is the watermelon. It's super sweet and juicy that can relieve the excruciating heat of the summer. But, what if I tell you there is a way to make this experience a bit more fun?
With the addition of the famous rice wine from Korea, this Soju-infused cocktail will blast all your funk away. There are only three ingredients you have to get, including watermelon, Soju, and your favorite sweet syrup.
The preparation is quite simple since you blend the watermelon to get the juice. Strain it out and mix the liquid with the rice wine and syrup. You can refrigerate the cocktail first or drink it immediately in a glass of ice. The beverage is quite sweet, but it has a zingy undertone.
This summer is not complete without the Soju Watermelon Cocktail.
Total time: 3 minutes
Toji Moon Cocktails takes inspiration from a famous Japanese tradition. During the winter solstice (Toji), people would bathe in hot springs or baths infused with Yuzu (a type of Japanese citrus fruit). It's a way to help them fight off the cold.
To replicate the tradition, this alcoholic mixed beverage from Japan consists of Yuzu juice and marmalade. The combination makes the drink quite sour. But if you want to reduce the intense acidity, adding red bean syrup (simple syrup mixed with red beans) is the option.
As for the alcohol, both Sake and Benedictine are enough to flavor the cocktail. The Sake has a signature grainy undertone which provides a tingling sensation. On the other hand, Benedictine is a popular type of wine famous for its herbaceous taste.
Total time: 10 minutes
What would you do when you're craving that feeling of lying down on a sandy beach but can't travel right now? There's no need to think hard. Just whip your trusty blender to make this tropical-filled Mango Passion.
This type of mango-flavored cocktail is popular in South Thailand. Cut up the mangoes into cubes and blend them up to make it. Next, add Vodka, lime juice, and salt to the mixture. If the mangoes are too sour for your taste, syrup or sugar can sweeten the overall flavor.
The final step is to top the concoction with Champagne or sparkling water. The fizziness offers an interesting texture. You can feel the refreshing essence of the fruit spreading around your body. That's when the zing of Vodka hits you, and your mind slowly turns numb.
Total time: 1 minute
Mango-flavored cocktails are not exclusive to a single market like Thailand. There are various recipes across Asia if you look hard enough. As proof, I'm going to show you this recipe called Mango Melona Soju Cocktail.
Instead of using fresh mangoes, the beverage uses an alternative from Korea, Melona mango ice cream. This ice cream-based cocktail can cool your body down. The creaminess of the cold dessert also improves the overall texture.
The other ingredients include Soju and a lemon-lime soda (7-Up or Sprite). The Soju offers that signature zingy after-taste, like most rice wines. On the other hand, you can expect the soda to give this cocktail a delightful fizziness.
Total time: 5 minutes
It's always good to expand your palate to new and exciting cuisines. One of the best ways is through unique and famous cocktails around the world. In this case, let me introduce the classic Singapore Sling, a drink that got its start at the Raffles Hotel Singapore in 1915.
The alcohol base includes Gin (wine from Juniper berries), Benedictine (herbal wine), and cherry liqueur. The ingredient list of this cocktail enhanced with Gin might be a bit complicated for beginners. However, you will not regret it after tasting the cocktail.
With a base like that, the drink can be pretty intense and herbaceous for many. Of course, the best way to counteract this excessive number of spirits is to add pineapple and lime juice. Their sourness brings the tingling sensation to a more manageable level.
This Singapore Sling recipe is one you can't miss out on.
Total time: 10 minutes
Are you tired of the usual Margarita and looking for ways to spice up the drink? If you are, you've come to the right place since I have the answer here called Thai Lemongrass Margarita. It's full of exotic flavors that you can't appreciate enough.
To make the cocktail, you have to go through several steps. The first is to muddle ginger and lemongrass with agave nectar. This base gives the cocktail both sweetness and pepperiness. Next, combine the mixture with lime juice and Tequila in a shaker.
Finally, strain the concoction into a glass and top it with club soda. For a more authentic experience, you can cover the rim of the glass with salt and curry powder. The seasonings will mix with the cocktail to enhance the flavor more when you drink.
Garnishing your cup with a straw-like lemongrass stalk is the next best idea for beautifying your drink.
Total time: 5 minutes
It's not just Thailand with its own Margarita. Korea is also home to a special Margarita recipe called Korean Lime Margarita. If you're making this cocktail for a party or potluck, it will become the main attraction that draws everybody's attention.
Korean Lime Margarita is the perfect blend of sour and savory that is just exquisite. The lime juice offers a certain level of acidity to enhance the taste of this wonderful cocktail using Tequila. The peppery undertone also entices your taste buds.
The special ingredient that offers savoriness is Gochujang, Korean red chili paste. It has a mild spiciness and umami that can balance out the tingling flavor of the alcohol. To cap things off, the zesty essence of Triple Sec (an orange liqueur) improves the palatability of the cocktail.
Total time: 15 minutes
You've probably heard of Bloody Mary, but have you ever heard of her Asian cousin, the Tokyo Bloody Mary? If not, you're in for a treat since I'll show you a new way to improve this classic cocktail recipe.
This cocktail is another example of using savory ingredients to enhance the other flavors like spiciness and sourness. The savoriness comes from Worcestershire sauce (a type of fish sauce from England) and tomato juice. They provide the subtle umami taste to stir up your palate.
As for the spiciness, it's not from your usual chili sauce. This spiciness will blow your nose out since it comes from Wasabi, a special mustard sauce from Japan. And finally, pickled ginger and lime juice provide different levels of sourness to enhance the palatability of the drink.
Total time: 5 minutes
Lychee Cranberry Gin Cocktail is perfect if you want to have a classy drink without finding many ingredients to make. With the help of the signature fruit from Asia, the taste of this particular cocktail will stay on your mind for a long time.
You can easily recreate this amazing alcoholic mixed drink with Gin and three other ingredients, including lychee juice, cranberry juice, and carbonated water (soda water). Just use a shaker to combine the liquid components. Finally, strain it out into a glass with ice.
Appearance-wise, this red-colored cocktail exudes a beautiful aura that you can't find in most cocktails. The aroma is delightful because you can feel the zestiness of the drink. The flavor is even better since it is a mix of sweet and zing.
Total time: 5 minutes
So, you're throwing a very fancy Japanese-themed party, but you don't have time to make cocktails for your guests. How would you deal with that situation? It's easy as you can recreate this Japanese Highball recipe right here.
Why am I recommending this fantastic Whisky cocktail? Because it only takes you less than 5 minutes to make, with only two main ingredients. The first one is Japanese Whisky, and the second one is a type of club soda of your choice.
Prepare a highball glass (a tall cocktail glass) and chill it with ice. After a while, pour the whiskey in before topping it off with club soda. That's pretty much the whole cocktail. This delicacy is easy to drink since Japanese Whisky is relatively mild and fragrant.
Simple and delicious, these words are perfect to describe this Japanese Highball.
Total time: 3 minutes
When the leaves turn orange, you know the autumn season is coming soon. That means you'll be busy preparing for both Halloween and Thanksgiving. Don't let those jobs stress you out too much. Just sit down and make this Yamazaki Autumn Delight to relax.
Japan is all about zen and creating a balance. By making this cocktail with apple cider, Japanese Whiskey, and cinnamon, you can fully wind down and enjoy the moment. That's the beauty of most Japanese drinks.
The thing that you will notice most in this beverage is the fragrance. The combined floral and honey note helps slow your body down. The tartness and cinnamony flavor completely overwhelm your taste buds when you take a sip. Then everything comes to perfection.
Total time: 10 minutes
The summer is always a perfect time to enjoy a glass of cocktail. There are too many options, so you're going to have difficulty picking out the right one. I have your solution right here called Grapefruit Honey Sake Cocktail.
This delightful honey cocktail is a refreshing drink that you can make any time during the day. You have to find the right ingredients, like grapefruit juice, sugar, and Sake. To prepare the cocktail, coat the rim of the glass with sugar.
Next, mix the juice with honey. If you want the drink to be sweeter, sprinkle more sugar into the concoction. The final step is to top the mixture with Sake – the drink balances between the sour and sweet taste. The tingling sensation you get from drinking Sake is there, but it's not too strong.
Total time: 5 minutes
The best thing about being a food researcher is that you always have the chance to discover many unique recipes from various parts of the world. And one of my favorite finds is this beautiful recipe called Ginger Saketini.
This cocktail is a suitable replacement if the standard Martini doesn't cut it anymore. When you take that magical first sip, the ginger's pepperiness will hit you straight in the face. But then you can feel the combination of Gin and Sake creeping up.
The Sake has an incredible grainy undertone to keep the excitement going. This sensation blends well with the herbaceous and slightly bitter Gin. The sour lime is an excellent cap to end the multi-layered experience.
Branching Out These These Asian-Styled Cocktails
It doesn't matter where you're from or what you do; it's always good to drink with friends and family members. These meet-ups even get better if you have cocktails as accompaniments. They make effective mood-breakers and get the conversations to flow endlessly.
And that's why I have prepared the list above to give you ideas on what to make. Hopefully, you can utilize those recipes well and create a relaxing environment for your gatherings.
Before ending, I would like to say thank you for your attention. If you like this article, you can press the like button and share this post on various social media. Comment below which cuisine you would want to see next. Stay tuned, and I will see you again soon.
Nutrition Facts
1 servings per container
---
Amount Per ServingCalories65
% Daily Value *
Sodium 24mg

1

%
Potassium 3mg

1

%
---
* The % Daily Value tells you how much a nutrient in a serving of food contributes to a daily diet. 2,000 calories a day is used for general nutrition advice.