These American soups are delicious, attractive, and healthy for you to enjoy at any time of the day. When it comes to amazing American dishes, many will say hamburgers, french fries, or anything fried and fast.
However, have you ever been curious about different aspects of this country's gastronomy? This post will surprise you with the diversity of soups here. Bring the taste of America home to make every family meal more luxurious and hearty than ever.
Believe me or not, check the delicacies below for the answer.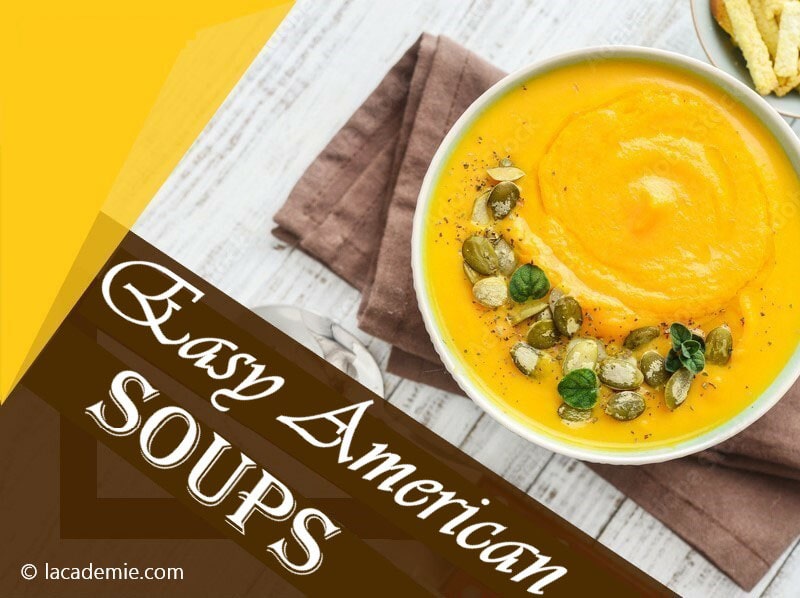 Amazing American Soups To Try Right At Home
If you are a true foodie, you must be very interested in American gastronomy due to its deliciousness and diversity. Keep following the list below to expand your knowledge about different types of soup in this country.
Total time: 4 hours 5 minutes.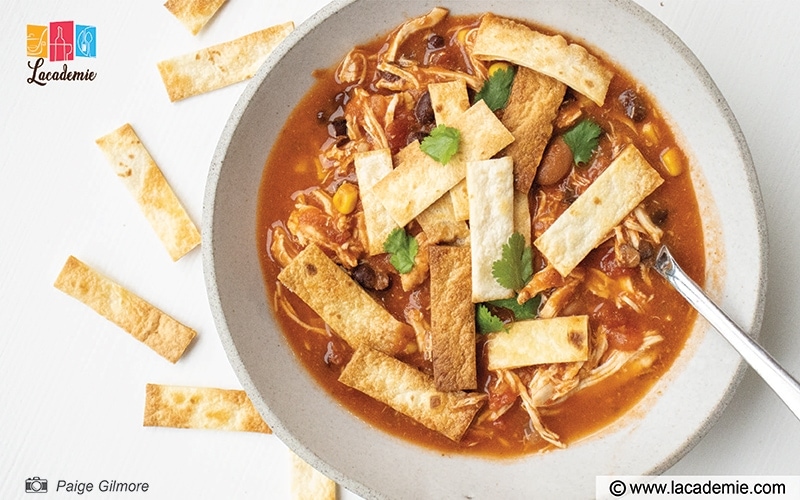 Chicken tortilla soup is creamy, attractive, healthy, and easy to eat. That's why this soup is worth being your main dish for your next meal.
This chicken tortilla soup consists of two types of beans: pinto and black beans. They will provide a creamy and tender texture, with a nutty and mild flavor, to make this dish more filling than ever.
Moreover, this chicken tortilla soup also offers an excellent source of nutrients from corn, making it an ideal option for maintaining good health.
Other condiments, such as garlic, onion, and cumin, make this dish's overall taste more diverse. Don't forget to top it with some crunchy tortilla strips to enhance your experience.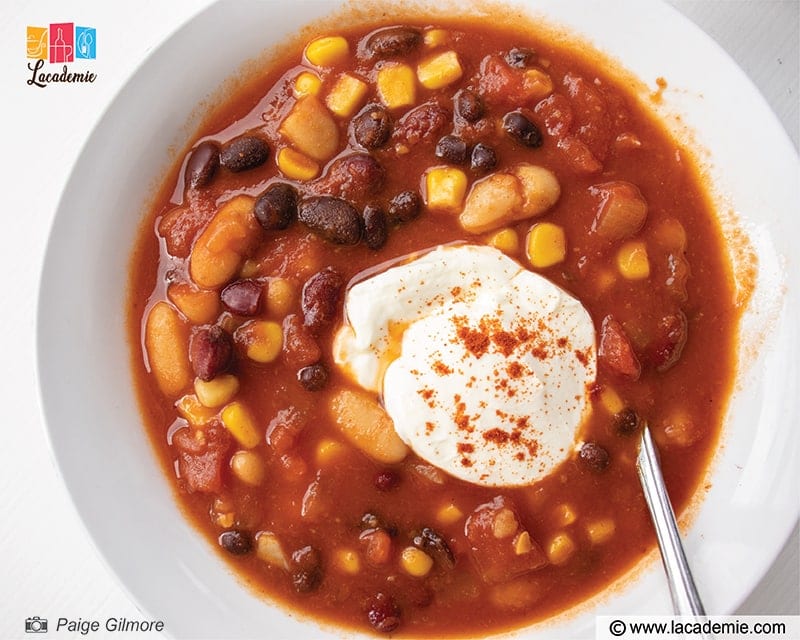 Chili has become a familiar dish in many American meals. No one can resist its wonderful flavor when eaten with bread or tortilla chips.
But this recipe slightly differs from the usual, as it doesn't use meat. Instead, you'll find three different types of beans here: kidney, white, and black beans. Some may think this will lead to a dissatisfied feeling, but the result is completely opposite.
However, if you want meat but still keep this recipe vegetarian-friendly, add some mushrooms or zucchini.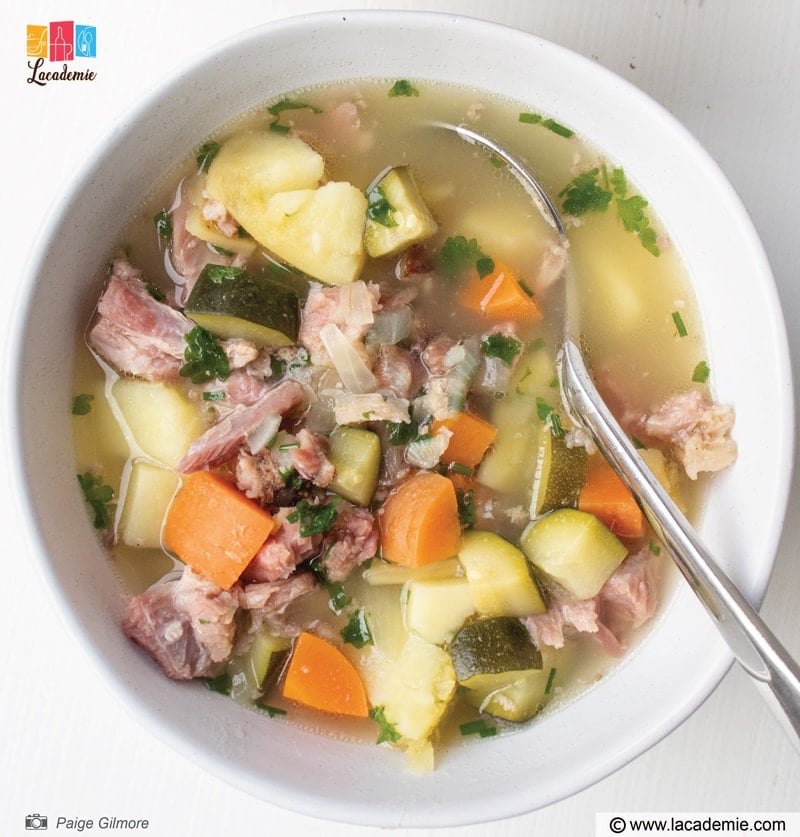 People usually consider ham as a type of meat to eat with bread. However, you can easily turn ham bone into a comforting soup with this recipe. It's so easy that even cooking beginners can succeed.
Since this soup uses ham bone and potatoes, it's quite thick. Or you can switch to sweet potatoes or pumpkins for different flavors. It also applies to herbs. Don't limit yourself to only parsley and chives. Look for other alternatives, like dill or cilantro.
Bread is a familiar partner with soups. So if you want some change, serve this recipe with sour cream or cracked peppers.
Total time: 4 hours 5 minutes.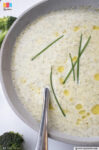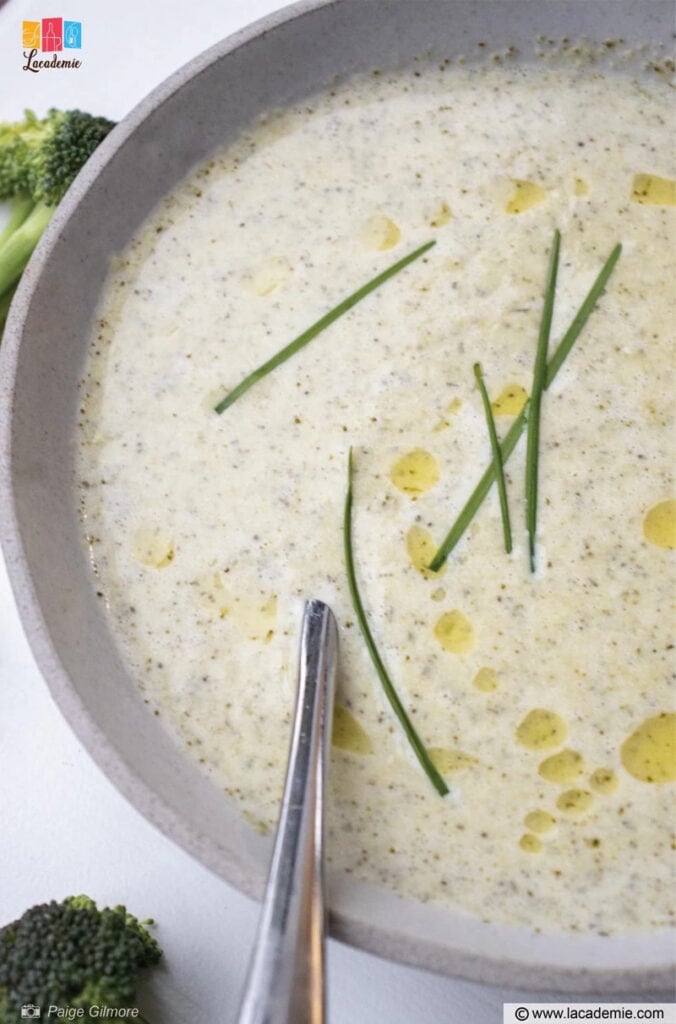 What will you make if you need something American to brighten up your daily dinner or lunch? Broccoli cheese soup will be the right choice for you, among countless other options.
This delight uses broccoli florets, which have a slightly sweet and intensely nutty flavor, for a creamy soup base. Moreover, sharp cheddar cheese also helps to enhance the taste of your soup, making it more addictive.
Your soup result will be a little thick, but you can adjust the amount of vegetable stock to make it more suitable for your appetite.
Total time: 40 minutes.
Three Sisters Soup is a traditional soup of Native Americans. Its name is inspired by the collaboration of the three main ingredients: corn, squash, and beans. They work well with each other to make this wonderful delicacy.
Not only do they combine well to give a great flavor to the dish, but these ingredients also support each other in the preparation process.
Chicken broth and fire-roasted tomatoes also play an important role in giving this soup a flavorful broth base, making you want to lick the bowl clean.
After combining all the ingredients and cooking until they are soft, you can serve it immediately with some peppery parsley and creamy cheese on the top.
Total time: 30 minutes.
In just 30 minutes, this Classic Cheeseburger Soup will be done and make you want to wolf it down all the time. To experience this savory delight, you just need to fulfill some simple steps.
Let's start with cooking some flavor boosters such as onion, garlic, celery, and beef. The next step is to add subtly minty basil and potatoes to your dish.
The final step to finishing this delicacy is to add all the leftover ingredients like slightly bitter mustard, ketchup with a sweet and tangy flavor, and America-originated cheese to the pot.
When the cheese melts, which is the key element in this soup making it creamier and more delicious, you can enjoy this gooey and cheesy treat.
Learn how to make Classic Cheeseburger Soup through this tutorial.
Total time: 1 hour 30 minutes.
When it comes to a typical American delight made from rice, Creamy Chicken And Rice Soup is a must-try. Warming, comforting, creamy and rich with flavor, this soup is the best choice to treat your family on winter days.
This recipe begins with baking the chicken for about 30 minutes and then dicing it. After that, just continue to add the other ingredients like carrots, onions, and celery to the crockpot and cook the combination. The next step is to add your brown rice to the mixture.
You can also use any other rice you like. This doesn't negatively affect your dish's taste. And now, let's enjoy your incredibly yummy soup right now.
Total time: 5 hours 10 minutes.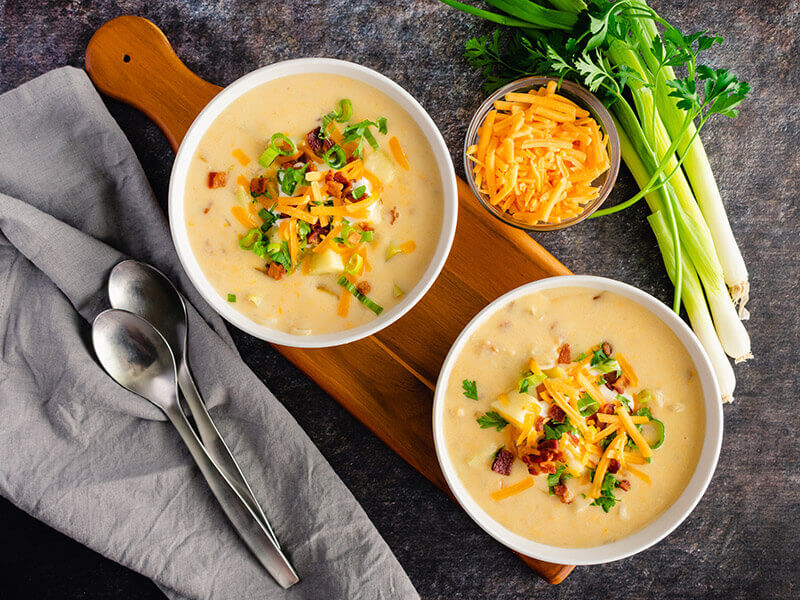 Want to enlarge your boring menu with a bowl of potato soup? If yes, follow this recipe because it won't disappoint you. From the name, you can guess that potatoes are the main ingredient. They give this soup a creamy texture.
Onions are also an important flavor booster. Moreover, this soup can't get the best quality without cream of chicken soup, which adds a rich taste and a hint of sweetness to your dish. Don't forget to garnish with some chopped green onions for a more attractive appearance.
The pairings of this flavorful delicacy are unlimited. Depending on your preference, you can serve it with some light American salads, bread, and sandwiches.
Total time: 35 minutes.
"Easy", "simple", and "healthy" are the beautiful words you can use to describe this seafood treat from America, Maryland Crab Soup. Serving this hearty soup with crackers, salads or even cornbread will make it more irresistible than ever.
This soup requires lump crab meat, but you can also use some canned crab meat instead. Anyway, you need to sauté the onion before adding the mixture of veggies and lima beans, which has a velvety and buttery taste, as well as other components to the pot.
Your dish now is complete with an aromatic flavor from different types of vegetables and the tastiness of beef-tomato broth. You don't have any reason to refuse to enjoy this wonderful delight.
Have Maryland Crab Soup to savor, thanks to this instruction.
Total time: 1 hour 30 minutes.
If you no longer have any interest in eating, Sizzling Rice Soup is a great choice for you to get rid of this hateful feeling. With an impressive touch of crispy sizzling rice, this treat is mouthwatering, healthy, and addictive.
This interesting soup appears to contain a variety of ingredients such as shiitake mushrooms, chicken, and some types of seafood such as shrimp and scallops. Moreover, a lot of different spices and veggies also play an important role in richening this delight.
After seasoning and achieving the wonderfully delicious soup, don't forget to add the crispy rice you have prepared. You can't get the best taste without this important contribution.
Total time: 45 minutes.
Have you ever tried a soup made from beer? If not, Beer Cheese Potato Soup With Sausage will tell you how well this ingredient works in this recipe. This soup is comforting, smooth, and creamy with a golden base broth which is visually satisfying.
You often find beer in baked or roasted dishes. For soups, this component also gives a special taste. It adds a rich and earthy flavor to your potato soup and gives the feeling that it has been simmered for hours.
Besides beer, this hearty soup is also a nice combination of a lot of ingredients such as turkey sausage, creamy butter, peppery thyme, and cheddar cheese. Don't ignore this perfect blend if you are an avid foodie.
Total time: 30 minutes.
Warming and comforting, Wisconsin Cauliflower is sure to become a regular for your family. With a thick and creamy texture, this soup is rich and cheesy. Moreover, topping it with green onions and bacon or serving it with bread and salad will make it suit your taste better.
This amazing delight consists of some common ingredients, such as cauliflowers, and creamy sweet butter. Moreover, chicken broth is also an indispensable component in this recipe, which enhances the consistency of this treat.
However, your dish can't be perfect without the inclusion of cheddar cheese and pepper jack cheese. They help your soup gain a distinct flavor. One gives it a sharp, pungent note, and the other a spicy hint that leaves a delicate and buttery taste in your mouth.
Total time: 1 hour.
When mentioning one of the most loved Puerto Rico-made delights, it is a must to list Sopa De Salchichon, also called Puerto Rican salami soup.
First of all, let's start by cooking Salchichon (Spanish summer sausage), which has a firm and compact texture, with onions and garlic. Next, add the other ingredients one at a time but remember that spaghetti should be added last.
With aromatic cilantro for garnish, this soup is ready to serve. You can enhance your experience by savoring this specialty with saltine crackers, white rice, or even avocados. I guarantee the dish will be a tremendous hit.
Total time: 47 minutes.
If you are a fan of tomatoes, don't ignore this delicacy because the taste it can bring will delight you magnificently. You can describe this condensed soup as a garden of veggies flavored with herbal herbs.
Sauteeing the combination of olive oil, pungent rosemary, and garlic is surely the first step of this recipe. After that, add the other components, except for three-cheese tortellini, to the pot.
After about 20 minutes, you can add the final ingredient, which is surely three-cheese tortellini, to your dish, and finish garnishing with some of your favorite toppings. This delicious and flavorful dish will be your new favorite treat.
This instruction will help you have a luscious bowl of Tomato Tortellini Soup.
Total time: 1 hour.
An interesting thing about this Rotisserie Chicken Noodle Soup is that you can make it on the stovetop or in the slow cooker, depending on your choice. If you choose the slow cooker option, it will take you about 6-8 hours but your chicken will absorb flavor better.
For a delicious bowl of noodle soup, you should prepare rotisserie chicken, chicken broth, pasta, and bay leaf, which adds a subtle bitterness that keeps your soups from being so heavy.
With a thick texture, your noodle soup will be chunky and bustling with flavors. It goes perfectly with saltine crackers, creamy biscuits, or even pretzel rolls.
Total time: 25 minutes.
Mushroom is an ideal alternative to replace meat in a variety of vegetarian dishes, thanks to its creamy and chicken-like texture. Therefore, this ingredient is extremely suitable to be included in this soup.
First of all, you should create the mushroom mixture by combining flour, citrus-smelling thyme, and other condiments until you get a smooth mix.
Next, continue to add the chicken broth and other ingredients to the pot and keep stirring it until the soup is suitable for serving. Flavored with bay leaf and rich butter, this soup is worth being present in your next meals.
Total time: 25 minutes.
Considered the principal ingredient of this delicacy, avocados have a smooth, creamy texture which makes them blend well into this soup. Moreover, they also add a slightly nutty and buttery hint to the dish's overall flavor.
To create this delight, you should cook the chicken breast, tomatoes, and oregano in the chicken broth for approximately 15 minutes. The next step is even simpler than what you may think. You just need to shred the cooked chicken and bring it back to the soup.
Don't forget to add avocados to the soup before serving. Moreover, some toppings you can consider to improve your experience include sour cream, crushed tortilla chips, or cheese. Just ignore them if the taste of Chicken Avocado Lime Soup has already satisfied you.
How to make Chicken Avocado Lime Soup? Check this guide to get the answer.
Total time: 30 minutes.
If you are looking for a vegan soup that is suitable to be a luscious option for authentic American appetizers, Vegan Carrot Ginger Soup is an ideal choice to please your taste.
This Vegan Carrot Ginger Soup recipe is a perfect blend of carrots, which is an excellent source of vitamin A, and ginger with a spicy aroma, not to mention rich and creamy coconut milk.
This results in a cozy soup with characteristic yellow color and aromatic flavor. Moreover, this soup is very convenient because you can store it in the freezer for later use for many months.
Total time: 1 hour 30 minutes.
A specialty from the Paradise of the Pacific is an indispensable name found in the most popular American cookbooks. You can say that Hawaii's Noodle Soup always has a place in American cuisine.
Consisting of chicken, noodles, and meaty, buttery shiitake mushrooms, this soup is filling, delicious and addictive. Ginger and green onions also play a key role in enhancing the flavor of your result. Never forget them to get the best taste of this treat.
Total time: 1 hour 10 minutes.
Great Northern beans, also known as "large white" or lima beans, are one of the most popular ingredients in most dishes in North America. With their neutral and nutty flavor, these smooth beans are an ideal addition to soups.
In this recipe, you will use chicken broth and ham hock to make the broth base. This perfect combination gives your dish a rich, smoky taste. I recommend you let the ham hock simmer for 45 minutes, but you can extend this period to make your dish richer in flavor.
Remember that your soup can't be complete without the inclusion of a lot of aromatic spices such as garlic, celery, and onions. Within just about 1 hour, your delight now is ready to complement crusty bread or crackers.
Total time: 3 hours 30 minutes.
Versatile, easy to make, and delicious, this soup will surprise you with the amazing taste it can bring. This thick soup, which has been served in the dining room of the United States Senate since the early 20th century, will refresh your boring menu.
Let's start with simmering the navy beans and ham hocks first because it will take you about 3 hours to finish. When the navy beans are soft, you can remove ham hocks from the pot and add the fried onions to the soup. Those ingredients are also the flavor boosters of this delight.
Many people suggest cooking the onions first, but I recommend you simmer the mixture of the beans and ham hocks first because this will help your soup to absorb more flavors. Moreover, your navy beans will be creamier and bring a velvety texture to your treat.
Are you interested in this historic Senate Bean Soup? Check this instruction to make it right now.
Total time: 1 hour 10 minutes.
If you are a soup fanatic, you shouldn't miss this beauty, Creamy Turkey And Wild Rice Soup. Although this recipe takes you a long time to finish, the result will deserve your time and effort.
When it comes to cooking this delight, you should cook the rice first because it requires a rather long time. During this period, you can saute butter with garlic, carrots, and mushrooms.
The final step is to add the broth and your prepared turkey and rice to your mixture. Your task right now is to season your soup and enjoy this thick and creamy dish with bread or crackers to enhance your appetite.
Total time: 45 minutes.
You can call this soup a perfect mash-up of chicken noodles and dumpling soup. Delicious, healthy, and comforting, Chicken Noodle And Dumpling Soup is a good choice to satiate your hunger.
Although this recipe uses a lot of ingredients, it only requires you about 45 minutes. To complete this delight, you should prepare egg noodles and dumplings first.
After that, just create the broth base with chicken broth, cabbage with a sweet taste, and celery, which adds a mild and earthy flavor to your soup. The final step is to place the noodles and dumplings in your dish. Now, let's enjoy your result!
Total time: 40 minutes.
Today's list will end with a toothsome American vegetable soup. This is a perfect mixture of a variety of greens and aromatic herbs.
To make the specialty from Southern America, you should begin with cooking the combination of ham, onions, garlic, and chicken broth to create a delicious soup broth.
Next, add the other components one at a time, and remember that tomatoes and beans should be added last so that they don't get crushed and preserve the flavor. A bowl of warm and colorful soup is what you will get after waiting.
Ready To Refresh Your Meals With These American Soups Yet?
American soups are always a great choice on cold winter days. With its diversity, deliciousness, and uniqueness, you can enjoy these perfect American culinary delights at any time of the day. Don't ignore these ideal options for your next meals.
Let me know what you thought after reading this article with a comment below. Is it useful for you, and what are your favorite delicacies on this list? I always appreciate your sharing, and I will be happier if you can share this post with your friends. Thank you very much!
Nutrition Facts
8 servings per container
---
Amount Per ServingCalories356
% Daily Value *
Total Fat 22g

34

%
Cholesterol 67mg

23

%
Sodium 2476mg

104

%
Potassium 408mg

12

%
Total Carbohydrate 14.4g

5

%

Dietary Fiber 2.4g

8

%
Sugars 4.3g

Protein 19.7g

38

%
---
* The % Daily Value tells you how much a nutrient in a serving of food contributes to a daily diet. 2,000 calories a day is used for general nutrition advice.