These luscious American appetizers will be the hit of your next party. If you don't know how, give these wonderful recipes a chance to tell you the answer. With their diversity, attraction, and deliciousness, they will satisfy your taste buds at the first bite.
If you want to enjoy signature American dishes, you can't skip these recipes. This post not only provides you with their names but also shows you some special characteristics of these recipes. So, check this out now!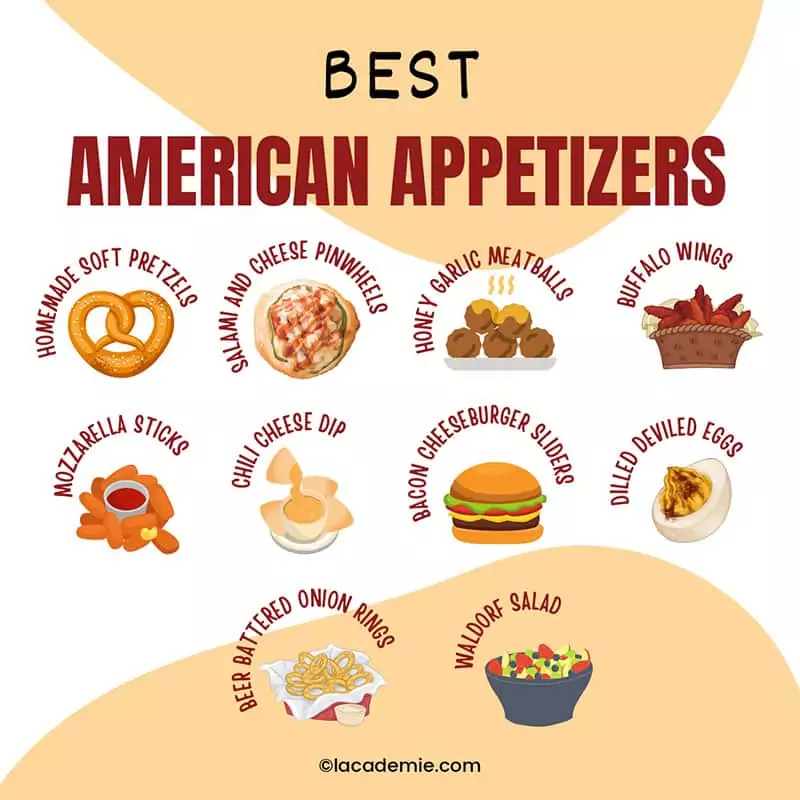 Tasty American Appetizers To Brighten Your Next Meals
This list will give you a variety of wonderful ideas for your meals. From simple to complicated, these American appetizers will amazingly surprise you. Don't skip them if you want to be a master in cooking.
Total time: 1 hour 5 minutes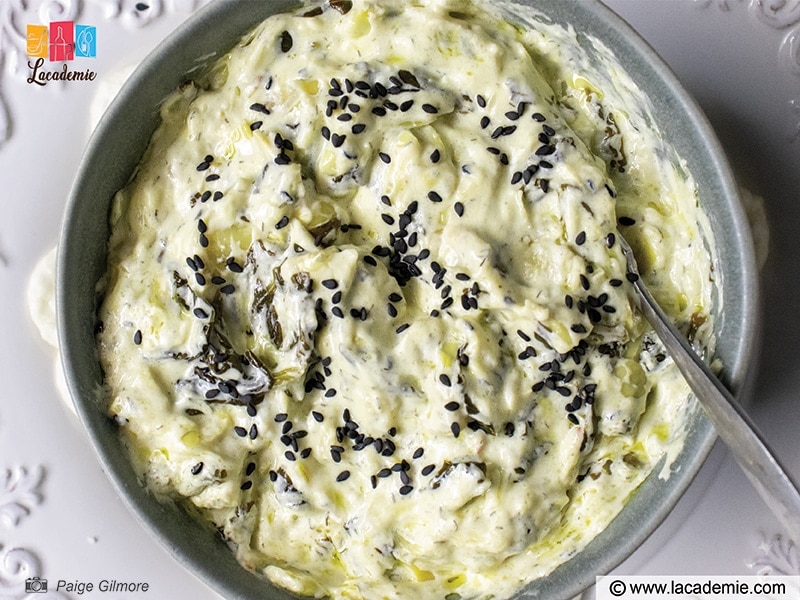 As its name suggests, this spinach artichoke dip delicacy mainly consists of spinach and artichoke hearts. This combination makes your dip very tender.
Moreover, it derives a creamy and cheesy texture thanks to its unique blend of cheeses. This dip uses 2 different kinds of cheese: Monterey Jack and cream cheese. Is it interesting?
After chopping spinach and artichoke hearts, all that remains is to mix all the ingredients, place them in your crockpot, and let it cook for 1-2 hours.
This spinach artichoke dip is a perfect accompaniment to eating with French stick bread, crackers, or tortilla chips. Or you can stuff it into a chicken to turn it into a main dish.
Total time: 30 minutes.
With gorgeous golden skin, Baked Cream Cheese Wontons are worth starting your hearty meal. These Wontons just contain some simple ingredients and require only half an hour to complete.
When it comes to cooking this delight, let's start with preparing the filling with cream cheese, green onions, and onions with a mild flavor. After that, you need to place these stuffings into wonton wrappers and carefully shape them.
After about 7-8 minutes of baking, you will have delicious Wontons that are crispy outside and sweet with a pleasant slight tang inside. Never forget to pair this wonderful dish with Thai sweet chili sauce to make it more irresistible.
One of the easiest ways to make Baked Cream Cheese Wontons is here.
Total time: 35 minutes (plus 1 hour of resting time).
Want to raise your party to a new height? There is nothing better than these homemade soft Pretzels. Although they come with a crunchy exterior, the tenderness inside will delight your taste magnificently.
Consisting of dry yeast, flour, baking soda, and creamy butter, these pretzels are golden brown and a little salty. Serving them warm with some cheese sauces, honey or even Dijon mustard will enhance your experience.
If you are a busy person, this delight is made for you because you can store it for use for 3 days in the fridge. Moreover, its shelf life even lasts 1 month if you place it in the freezer. Remember to reheat them before use to enjoy the best taste of them.
Total time: 45 minutes (plus 1 hour of chilling time).
The American style of making these Salami And Cheese Pinwheels involves whisking the puff pastry with sharp-tasting ground mustard which offers the perfect counterpoint to your cheese.
The next step is to sprinkle grated cheese and salami over the pastry. Remember to use egg wash to seal your pastry. This step will help keep the filling fixed and prevent it from sticking out.
After letting the pastry chill for 1 hour, you can take it out and slice it into pieces. 25 minutes of baking later, you can sink your teeth into their soft, creamy goodness. A garnish of chopped scallions will make your baked goods more attractive.
Total time: 1 hour 47 minutes.
From its name, you can easily guess that you will feel the crispiness of these Loaded Potato Skins at the first bite, right? Using potatoes as the pivotal ingredient, this delight is loaded with vitamins and minerals.
A touch of cheddar cheese also gives a sharp, pungent, and often slightly earthy flavor to your dish. Moreover, the green onions added also improve this delight's overall taste better. You can serve this treat by dipping it into sour cream.
Through this tutorial, you can make Crispy Loaded Potato Skins at home right now.
Total time: 30 minutes.
Spending time reading one of the popular cookbooks from America, you will never be disappointed when choosing this Honey Garlic Meatballs recipe among a lot of other options to start your meal.
Mouthwatering, juicy, and easy to make, these beautiful words are extremely suitable to describe this wonderful appetizer. The production of this delight has two stages: baking the meatballs and making honey garlic sauce.
To create the meatballs, you need to combine eggs, beef, milk, and other spices until the mixture is well seasoned. After that, you just need to shape it into meatballs and bake them.
During the baking, you can use ketchup, soy sauce, and creamy butter to make the awesome sauce. This sauce is an important flavor booster of this recipe, making the dish more delicious and aromatic.
Total time: 3 hours.
Are you interested in enjoying some Buffalo Wings with pungent blue cheese, carrots, or even celery with a mild and earthy taste? If yes, you have come to the right place because this delight is what you are looking for.
This delicacy uses chicken wings, sauce, and creamy butter. All you need to do is mix all the above components and cook this nice combination in the slow cooker for about 2 hours and 30 minutes.
All that remains is to bake the wings for a few minutes and stir them back with sauce. Your result should be brown in color and crisp. Its attractive appearance will score a big win with you right from the first bite.
Total time: 5 minutes.
In just 5 minutes, you will have a delectable dish from the Southern United States to enjoy for a hearty appetizer.
Let's start to make this easy recipe by whisking the mixture of cream cheese, powdered sugar, and brown sugar. You can stop beating if you get the thick and creamy texture of this delight.
Finally, just add your crushed candy bars to the mix. In this recipe, I use toffee bars, but you can use any other candies if you like. Finally, grapes, strawberries, graham crackers, and apples are a perfect accompaniment to this sweet dip, making it more addictive.
Total time: 35 minutes.
One of the easiest recipes to cook American pasta is this unbelievably tasty dish, Mini Mac And Cheese Bites. From its name, you can guess that macaroni and cheese play an important role in preparing this delight.
Besides the two main ingredients, this treat can't get the best quality of taste without the inclusion of milk, creamy butter, and different types of powder. This nice combination results in golden bites burning with flavors.
You can enjoy this comfort food as an appetizer. There is no problem if you want to utilize it for your dinners with some coleslaw, applesauce, or cornbread. Each version will give you a new experience.
Total time: 1 hour 17 minutes.
Coming with a golden brown appearance, these Mozzarella Sticks are splendidly savory with a mild flavor of cream. I swear, whenever you make these sticks, they disappear in about 10 minutes because they are so delicious beyond your imagination that you can't resist them.
The inclusion of Italian breadcrumbs imparts an amazingly crispy covering to your dish. Moreover, these Mozzarella Sticks also acquire the fruity and nutty hint from parmesan cheese.
With gooey melted cheese on the inside, this treat is worth being present on your menu to stimulate your taste buds before enjoying the next main course. You can enhance your experience by dipping these sticks into marinara sauce.
Making these scrumptious Mozzarella Stickers will be easier thanks to this instruction:
Total time: 30 minutes.
Supposing you need to whip up something tasty and attractive for your party or any get-together, what will you make? Velveeta Rotel Dip With Sauce is the best choice. It's perfect when you cook it in the slow cooker, but using a microwave is also good.
Bringing this perfect dip to your appetizers requires cooking the sausage separately first. When you make sure this ingredient is completely done, continue to boil mushroom soup, Velveeta cheese, and tomatoes together.
Remember to add the sausage when your combination is smooth and the cheese is melted. Once again, beer proves to be a great ingredient, adding a depth of flavor to this delight.
This smooth and creamy dip will be even more delicious when paired with some tortilla chips or pita chips. Now, enjoy your success after waiting.
Total time: 45 minutes.
Do you want to refresh your menu with delicious American-style bread? Pepperoni Pizza Monkey Bread is the solution for you.
You can enjoy this delicious cheese bread as an appetizer or a midday snack. The perfect combination of the crispy exterior and the melty, salty interior is how you can talk about this tasty delicacy.
Moreover, it also derives the spicy and tangy flavor from pepperoni, the ingredient that sets this bread apart from others. As beautiful as a flower with a brown color, this party treat will make you want to spend more time in the kitchen.
Total time: 8 minutes.
If you are not a master chef and have difficulties preparing a hearty meal, don't worry because you will know how to start a party more easily with this Chili Cheese Dip recipe.
Making this dip is a child's play. You just need to assemble cream cheese, Hormel chili, and shredded cheddar cheese in turn into the microwave dish. Baking the blend for 3 minutes, you will have a warm and comforting dish to serve.
This creamy delicacy has a sharp and pungent flavor thanks to the inclusion of cheddar cheese. The pairing of this dish is very diverse. You can enjoy it with bread, tortilla chips, fresh chopped veggies, or even pita chips to suit your appetite better.
Total time: 40 minutes.
If you are a shellfish fanatic, you must be looking for an American-made seafood delight from this list, right? Bacon-Wrapped Shrimp will satisfy your craving right now.
Enjoying this specialty with crab rangoon or smoked salmon dip will leave you a memorable experience. And now, let's discover how to make this delicacy. Baking bacon is, of course, the first step.
You can't get the perfect taste of this treat without a spicy-sweet sauce. To create this sauce, you need to mix soy sauce, brown sugar, chili sauce, and Worcestershire sauce before cooking this mixture for about 10 minutes.
The final step is to wrap the shrimp with bacon and bake them. You should use a toothpick to secure your shrimp and bacon. Just remove them before serving and you will have a savory delight to enjoy.
Do you want to enjoy this Bacon-Wrapped Shrimp delight? Check here for the tutorial.
Total time: 17 minutes.
Where are the pizza lovers? Known as a common fast food category in America, pizza always attracts people's attention by its deliciousness and convenience.
The Pepperoni Cheese Stuffed Pizza Bites recipe is a typical example. There are smaller than normal pizzas and, as a result, more convenient for you to enjoy.
Consisting of pizza crust dough, pepperoni, and cheese, these pizza bites are spicy and a little bit salty, thanks to the inclusion of pepperoni (an American spicy salami made from beef and pork).
Furthermore, the perfect blend of mozzarella cheese and parmesan cheese also adds a depth of flavor to this treat. Don't miss the combo of this delight with your favorite American-style salad, corn, and pizza sauce.
Total time: 15 minutes.
Delectable fried onion rings with an attractive golden exterior dipped in a thick sauce, is it enough to appeal to your palate? Lime mayo sauce plays an important role in this recipe. It is a delicious trick in the condiments that helps your dish be more addictive than ever.
To prepare this sauce, you just need to combine mayo, ketchup, cayenne pepper, and tart lime juice. The next step is to create the dough with flour, cumin, and garlic powder.
After that, dip your onion rings into the dough and fry them. Your crunchy and golden onion rings will be perfect when dipped into the lime mayo sauce.
Total time: 40 minutes.
When talking about a slider's recipe (very small hamburgers), are you familiar with stuffing everything in the middle of the slider buns and baking them?
You are not mistaken, but this recipe will make you forget all the classic ones that you have tried before. Although this recipe takes longer than traditional ones, their savory goodness will deserve your time and effort.
Stuffed with beef, sharp and earthy cheddar cheese, and bacon, these Bacon Cheeseburger Sliders will please your taste at the first bite. A touch of onions also makes the dish's overall taste better than ever.
Total time: 45 minutes.
Easy, quick, and delicious, this Dilled Deviled Eggs recipe doesn't have any reason for you to ignore it. Eggs are the main ingredient in this recipe. You should boil them before starting to prepare this delight.
Next, you need to slice them in half longwise and take the egg yolks out. For the perfect filling, you should mix the egg yolks with mayonnaise and mustard. When the mixture is smooth and completely blended, just scoop it back into egg white cups.
Never forget to add the dill with a bright and sweet flavor to the mix before scooping. A garnish of dill on top also makes your dish more exciting.
These step-by-step instructions will help you cook Dilled Deviled Eggs easily.
Total time: 10 minutes.
Within 10 minutes, you can enjoy delicious and aromatic Hush Puppies, which are small and round balls made from cornmeal. Don't hesitate to undergo this experience because their goodness will make you want to enjoy them the second time.
Let me tell you how easy the way to make this delicacy can be! First of all, you need to combine flour, cornmeal, and slightly tangy and sour buttermilk until you get a smooth mixture. All that's left is to fry the hush puppies.
The sweet goodness of the cornbread blended with the crispiness of every bite will make them become a regular for any get-together. You can enjoy them alone, but the taste will be better if served with butter, fried fish, or shrimp.
Total time: 40 minutes.
Caramelized Onion Dip refers to an ideal option to accompany your chips, crackers, and even crusty bread. It's not only delicious but also good for a vegetarian-friendly diet.
For the dip itself, start with preparing the caramelized onions by cooking them with butter in the skillet. You should spend about 10-15 minutes waiting for the onions to cool after adding the flavorful Worcestershire sauce to the mix.
The final step is to blend the onions with all the leftover ingredients including sour cream, mayonnaise, and other condiments, and stir the mixture until you get the creamy and aromatic dip.
Total time: 38 minutes.
With a shape like a gorgeous flower, these golden blooming onions will attract your attention at first sight. This delight will make you want to start the party right away. This is my promise!
First of all, you should create the coating for onions by combining flour, milk, and slightly sweet cumin with a nutty element. Thyme also adds a herbal flavor to this delight, making it more aromatic than ever.
When everything is ready, you need to coat your onions with the flour mixture and fry them. Remember that, the accompanying dipping sauce is very important to enhance the flavor of blooming onions.
Just combining mayonnaise, sour cream, and other things, you will have a tasty sauce to enjoy with your "flowers".
Total time: 15 minutes (excluding 2 hours of chilling time).
Bring this classic Waldorf Salad home to make your appetizers more exciting than ever. Consisting of various healthy fruits and nuts, this delight is a perfect choice to apply to your meals.
It not only contains some easy-to-find ingredients but also is very straightforward to prepare. You just need to chop all the components, such as grapes, apples, and celery. Next, let's make a creamy dressing with heavy whipping cream and brown sugar.
It's even easier than what you may think, right? And now, just combine all the ingredients and the dressing together, and you will have a colorful and mouthwatering salad to enjoy.
Don't skip this guide if you want to make the best Waldorf Salad.
Total time: 35 minutes.
An excellent source of vitamin B2, Portobello mushrooms are the main ingredient of this dish. With an intensely meaty and savory taste, Portobello mushrooms are the perfect choice to make this delight.
In this recipe, you will use crab, panko, creamy cheese, and sour lemon juice to make the filling. Season this mixture well and divide it into each mushroom cap. The final step is to bake them.
You can serve this wonderful treat as an appetizer or as a main course if you like. The combo of Crab Stuffed Portobello Mushrooms and a salad or light white wine will work well.
Total time: 40 minutes.
Unique, delectable, and easy, this Andouille Puff Pastry Sausage delicacy is one of the most popular appetizers in America. Coming with a crispy shell of pastry, these pastries will be the favorite for your family or any get-together.
To prepare, you must stuff the puff pastry with andouille sausages and cut the logs into small parts. After baking them for about 25 minutes, you will have golden pastries full of spicy and salty fillings.
Never forget to create a chutney mustard sauce because you can't get the best flavor of this delight without this sauce. About the accompaniments, baked beans, corn puddings, or fruit salad are excellent choices.
Total time: 55 minutes.
I'm sure you won't find another dish made with chicken wings that are as simple and delicious as this one. Just with a few steps, you will have the perfect finger food to start any party or picnic.
This Oven-Baked Chicken Wings recipe begins with placing chicken wings on the baking sheet. You can add some salt and pepper to make it more suitable for your appetite.
Next, you need to combine BBQ sauce, soy sauce, sweet honey, and spicy garlic to create a flavorful honey garlic sauce, and then pour it over your chicken wings and bake them. Your tasty dish is now complete.
Total time: 5 minutes.
Have you ever enjoyed an expensive caviar delicacy before? If not, stay tuned and refresh your taste with this Texas Caviar, also called Cowboy Caviar.
Consisting of black beans, blackeyed peas, sweet corn, and Roman tomatoes, this Texas Caviar delight is beautiful as well as easy to cook and melt in your mouth.
Cilantro adds a depth of flavor to this delicacy, making it stronger in taste and more irresistible than ever. Besides serving it as an appetizer, you can eat it as an American-themed snack to please your taste.
How to make Texas Caviar? Check this guide for the answer.
Total time: 16 minutes.
Enjoying naan bread topped with creamy goat cheese and refreshing blueberries will give you a perfect start to welcome the next dishes in a meal.
Although naan bread originates from India, it is still loved by Americans because it is more nutritious than pita and white bread.
First of all, you should create a mixture of goat cheese, thyme, yogurt, and honey first. After that, spread this creamy combination over your naan.
6 minutes of baking your naan later, garnish this delight with some blueberries, aromatic thyme, and amazingly sweet honey to enhance your experience.
Are You Ready To Start Your Meal With American Delights?
Most tasty American-style delights I suggested in this list are very easy to make. Moreover, they also only take you a short time to finish. Don't ignore them if you want to bring the American flavor to your party or even a get-together with your friends.
Have you ever tried these delicacies before? If yes, feel free to leave a comment below to share your experience with me and others. Finally, don't forget to give this post a "like" and share it with your beloved ones so they can try these wonderful treats too.
Nutrition Facts
10 servings per container
---
Amount Per ServingCalories146
% Daily Value *
Total Fat 11.5g

17

%
Cholesterol 33mg

11

%
Sodium 279mg

12

%
Potassium 239mg

7

%
Total Carbohydrate 6.2g

2

%

Dietary Fiber 2.6g

8

%
Sugars 0.8g

Protein 6g

12

%
---
* The % Daily Value tells you how much a nutrient in a serving of food contributes to a daily diet. 2,000 calories a day is used for general nutrition advice.