Wow your friends, family, and coworkers by arriving with my flavourful crockpot artichoke spinach dip recipe accompanied by a freshly baked crusty style bread.
Mixing together fresh spinach & marinated artichoke hearts with luscious cream cheese, Monterey Jack cheese, sour cream, and herbs & spices creates the best party dip.
What I love most about this wholesome dish is that it is a social crowd pleaser. Friends and family gather around this mouth-watering and wholesome crockpot dip and don't want to leave it alone until there is no more of it left to devour.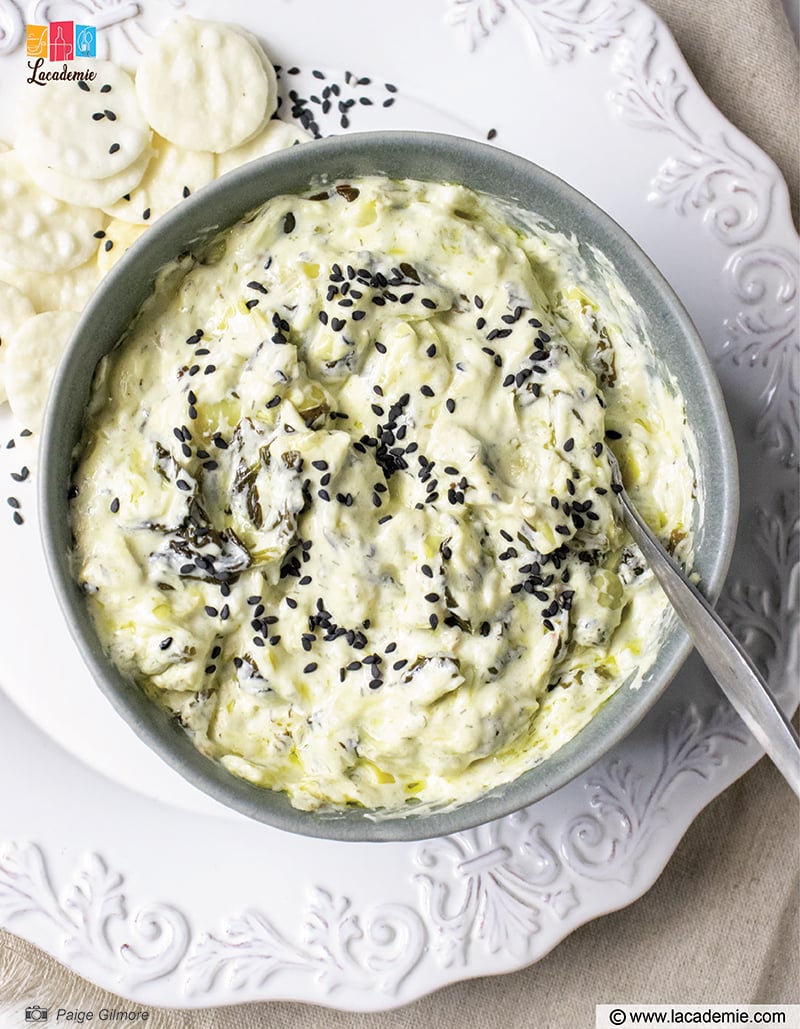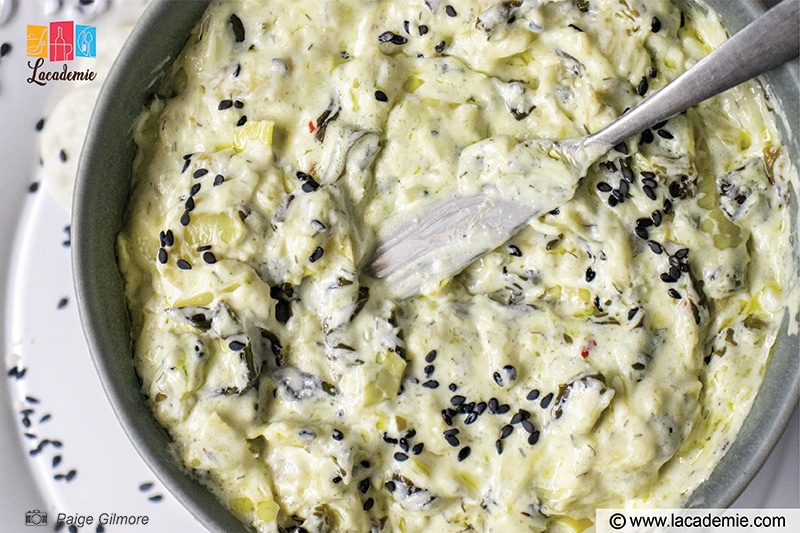 What is Crockpot Spinach Artichoke Dip?
Cheesy spinach dips rose to fame around the late 1970s and 80s when crockpot-loving hosts would stuff cob loaves full of this beautifully cheesy dip. This dish was simple to make and appeased large friends and family at gatherings.
My take on the favorite American starter is super rich and creamy, making it so moreish that it's difficult to leave alone.
You'll find yourself spreading it on crackers, crusty bread, in sandwiches and toasties, and even as a stuffing in chicken breasts or steaks. It really is a versatile dip that you are going to love to recreate time and time again.
Tools
My Spinach Artichoke Dip in the Crockpot is so simple to recreate. To make this at home, you'll need the following:
Crockpot. A crockpot is a convenient tool for making your mouth-watering dips. Most of your job is just to chop up the ingredients and throw them in the slow cooker. Easy-peasy!
Chopping Board. This is a must-have tool in any kitchen as you don't want to cut things directly on the kitchen countertop.
Sharp Knife. Make sure that your knife is sharp and well-maintained, so you have no problem with cutting the ingredients.
Wooden Or Metal Spoon. Use this spoon to stir your dip and scoop it out. If you don't own a wooden spoon, you can substitute it with a metal one.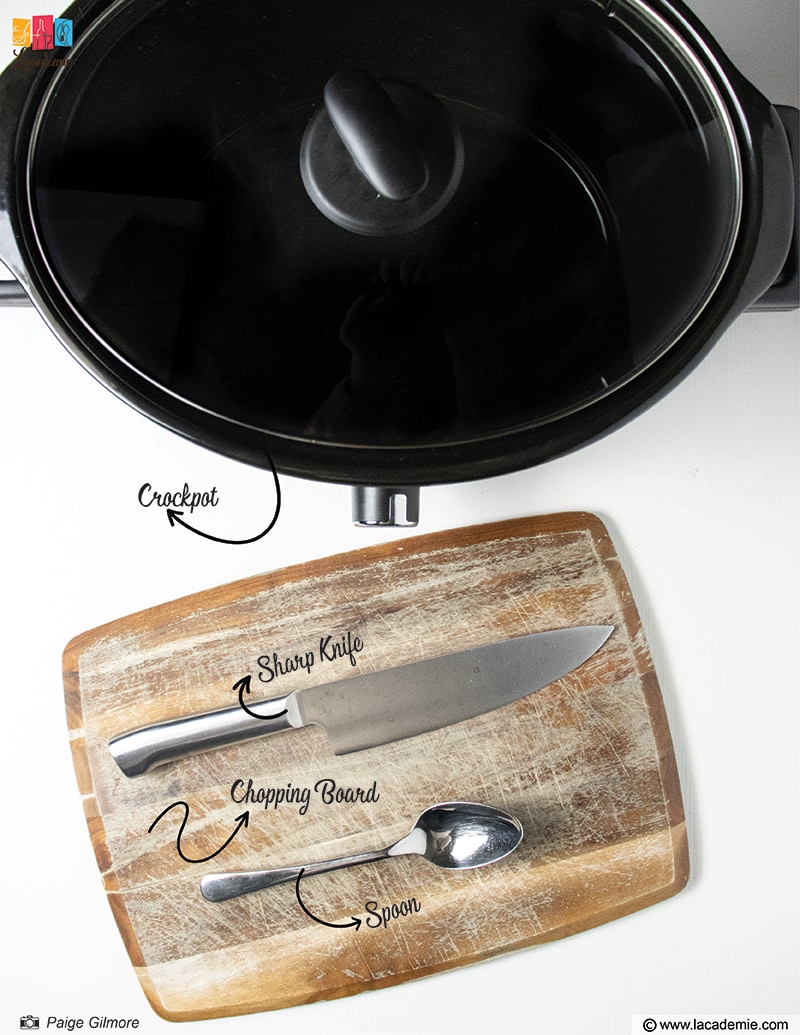 Ingredients
Below are the key ingredients to make my creamy, extra scrummy Spinach Artichoke Dip in your Crockpot.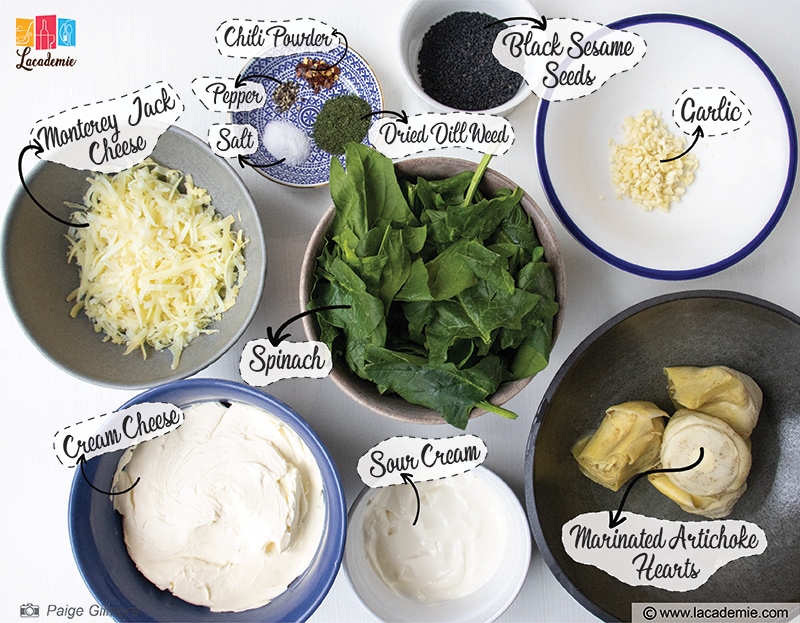 Spinach. Spinach is the main vegetable of the dish. You can opt for frozen spinach for convenience's sake. Just remember to thaw and squeeze the veggie dry before cooking. Besides, fresh spinach is also a good choice for this recipe.
Marinated Artichoke Hearts. Artichoke hearts marinated in oil and herbs are more flavorful than water-canned ones. If you use the unflavored type, you can make up for it with extra seasonings, like half a teaspoon of Italian seasonings.
Cream Cheese. Creates an ultimate creamy base for this delectable dip.
Monterey Jack Cheese. This subtle buttery cheese has a superior melt quality and is perfect for this creamy cheese dip.
Sour Cream. Adds a tangy creaminess to the dip base.
Garlic. Garlic is a must for the base of my dip recipes.
Salt and Pepper. Use to taste.
Dried Dill Weed. Makes this dip something a little extra in the flavor department.
How To Make Crockpot Spinach Artichoke Dip
Making this Crockpot Spinach Artichoke Dip is super simple and fuss-free. Follow these four key steps to get a perfectly blended creamy dip every time.
Step 1: Chop Your Spinach
Place a chopping board on a flat hard surface and place your fresh spinach leaves on it. Using a sharp knife, chop the spinach roughly. Set aside.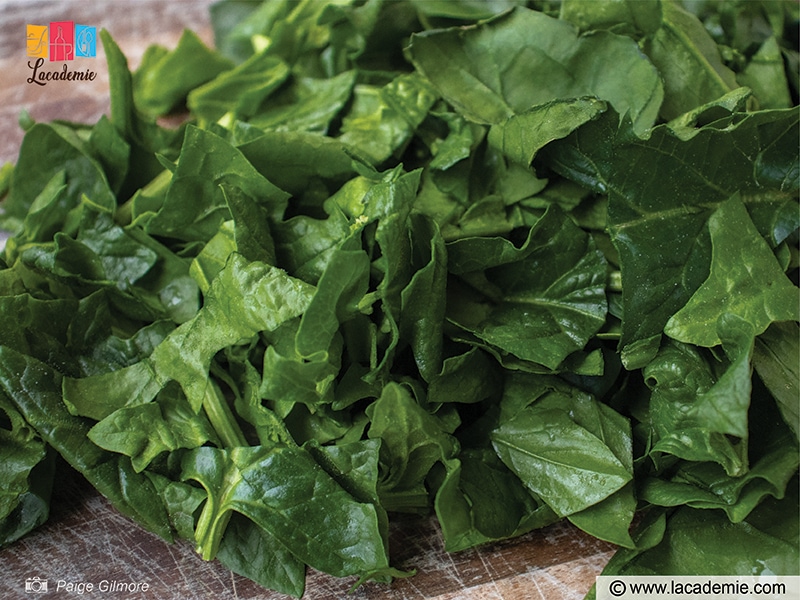 Step 2: Prepare Your Artichoke
Using the same chopping board and knife you used for the fresh spinach, finely dice the marinated artichoke hearts. Set aside.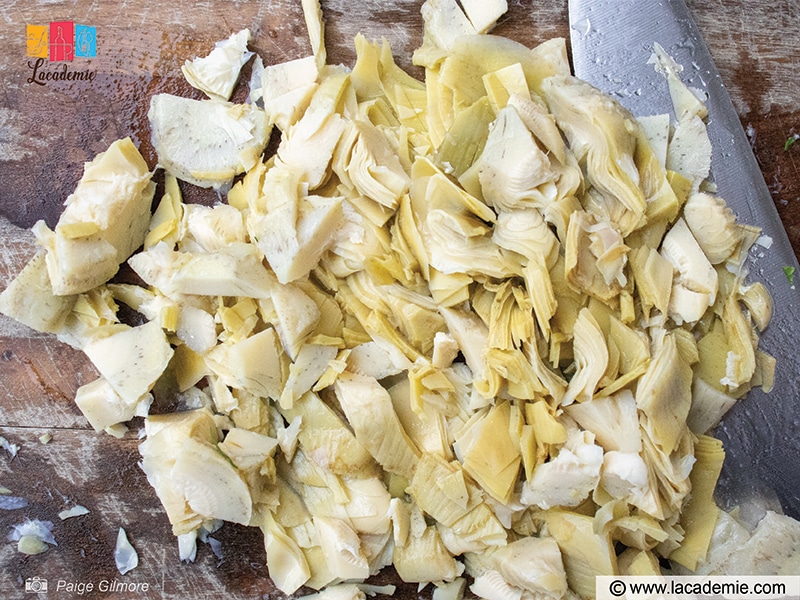 Step 3: Assemble Your Crockpot & Ingredients
In your kitchen, assemble the crockpot you plan to use and the prepared vegetables.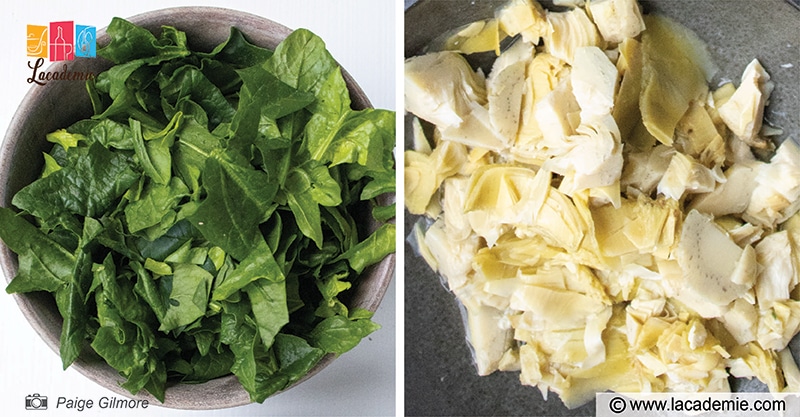 Step 4: Mix Your Crockpot Spinach Artichoke Dip
Put all your ingredients into the crockpot except for the black sesame seeds, and stir well. Switch the crockpot on and cook the spinach artichoke dip for 1 hour on the high setting or 2 hours on the low setting.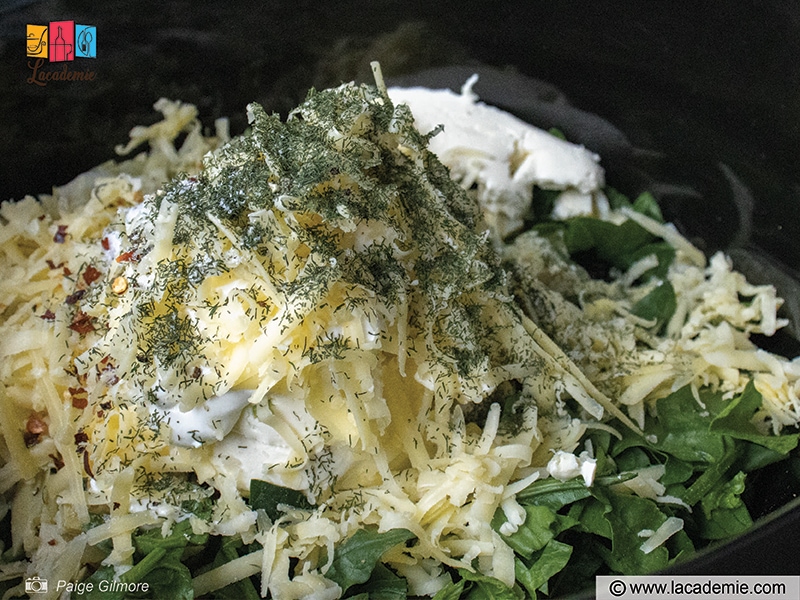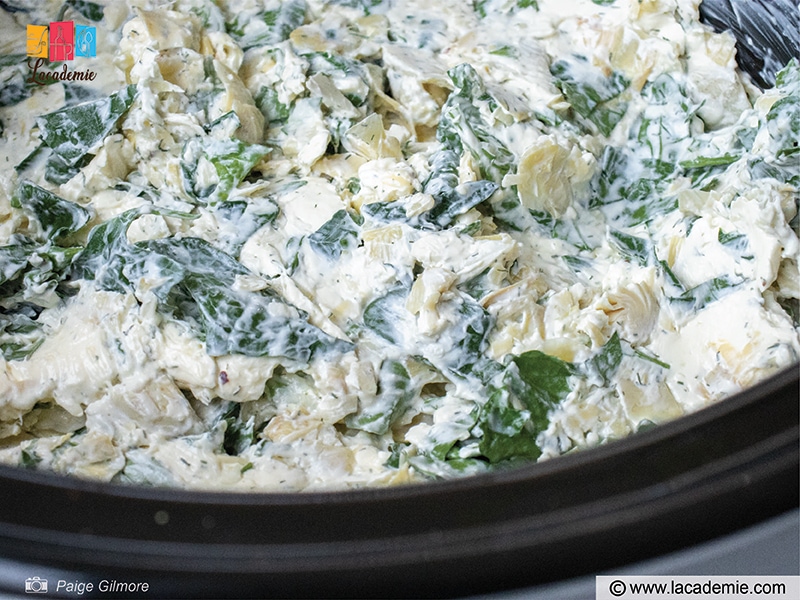 Step 5: Serve Your Dip
Once your spinach artichoke dip is cooked, serve in a bowl and sprinkle with black sesame seeds.
Alternatively, if you have prepared your dip in advance, spoon it into an air-tight container and store it in a refrigerator. You can enjoy the dip chilled or reheat it in a microwave for approximately 1 – 3 minutes.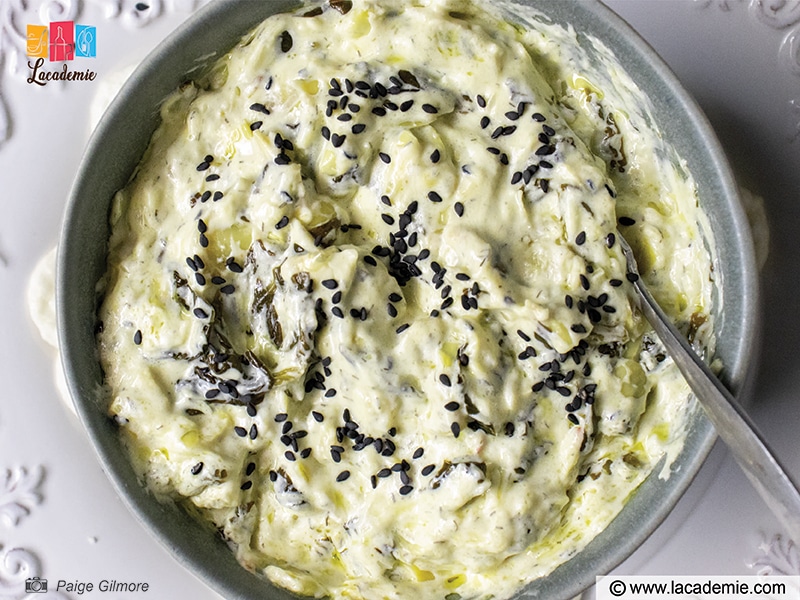 Tips And Serving Suggestions
This recipe is incredibly simple and tastes absolutely divine. Below are some of my favorite serving suggestions to really get this crowd-pleaser impressing your friends and family.
Tips for Spinach Artichoke Dip
My tips will ensure you get the perfectly cooked creamy spinach artichoke dip in your crockpot.
While there are various types of cream cheese, only choose the regular version for this dip. Other kinds, like the spreadable one, are too loose.
The recipe calls for dried dill weed, but fresh dill would be just as tasty, if not more!
I like to make this dip the night before. If I know I am going to be in a rush, I store it in an airtight container in a refrigerator and serve it either chilled or reheated in a microwave for 1 – 3 minutes, pausing to stir every minute.
There's nothing wrong with swapping out the Monterey Jack cheese for your favorite one. For example, try using shredded Mozzarella cheese for a different flavor.
Spice things up by spooning in hot sauces, sliced jalapenos, or crushed red pepper flakes.
Other veggies, such as kale, water chestnuts, and bell peppers, are also great choices for this recipe.
Add more protein by tossing in crab meat, chicken, beef, shrimp, or bacon.
What To Serve With My Crockpot Spinach Artichoke Dip?
My Spinach Artichoke dip is creamy and full of flavor, so you'll want to use very subtle flavored bread. Below are a few of my favorite options:
French Stick Bread. Sliced into thin pieces and toasted, French Stick makes the perfect companion to my spinach artichoke dip.
White Or Rye Baked Bread. I love to toast my bread and cut it into strips or triangles before serving it with this dip.
Crackers. The combination of crunchy crackers with soft oozing spinach artichoke dip is a dream combination.
Stuffed In Baked Chicken Breast. This scrummy dip makes a delicious stuffing for chicken breast. Simply create a pocket in the raw chicken breast and roast in the oven until your chicken is cooked.
Tortilla Chips. Who can resist some crunchy tortilla chips from famous brands with a delectable dip on the side? Well, certainly not me!
Vegetables. Crunchy veggies like carrots, celeries, broccolis, cucumbers, or cauliflowers are great pairings for this dip.
The Entertainers Dream – Crockpot Spinach Artichoke Dip
I'm sure that your friends and family will love this delectable dip made from fresh spinach melted together with robust marinated artichokes.
It has an ultra-rich and creamy dip base made from cream cheese, Monterey Jack cheese, and sour cream. Everything is tied together with some delicate herbs.
This Crockpot dip recipe is the perfect dish to throw together prior to your guests arriving, left to simmer and melt down into a beautiful creamy dip served warm with your favorite crusty bread. What would you serve this dip with? Drop your suggestions below!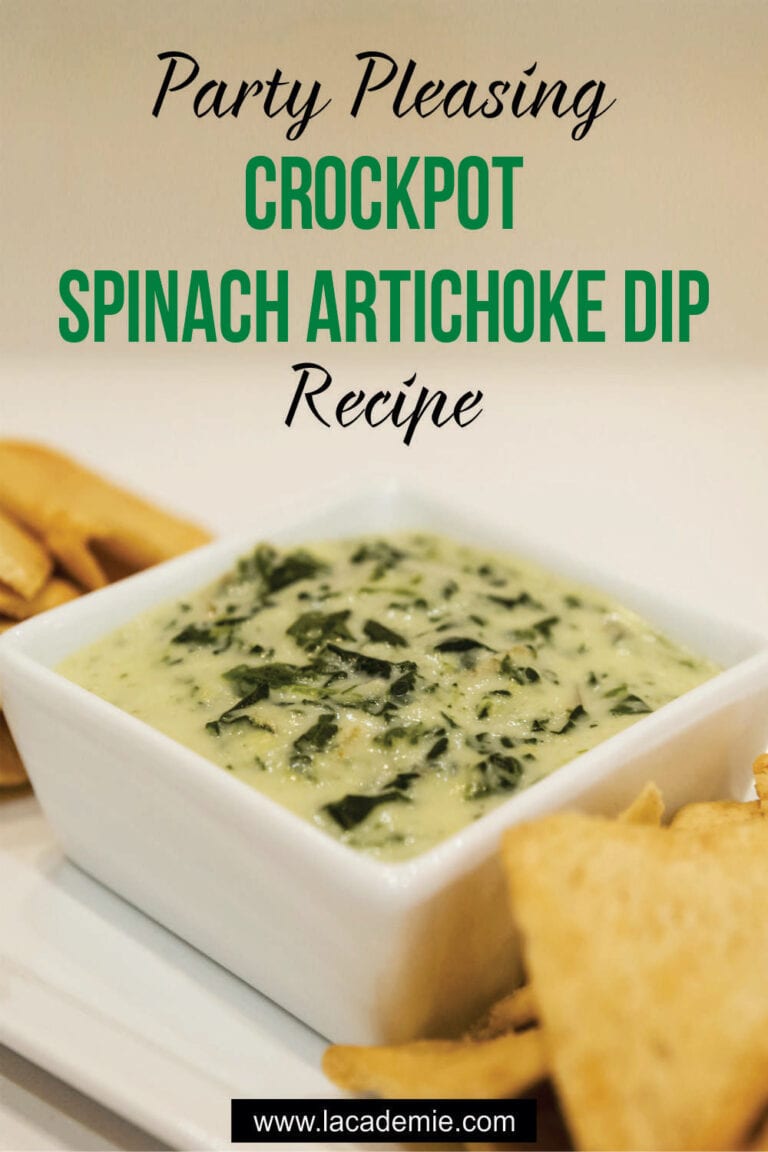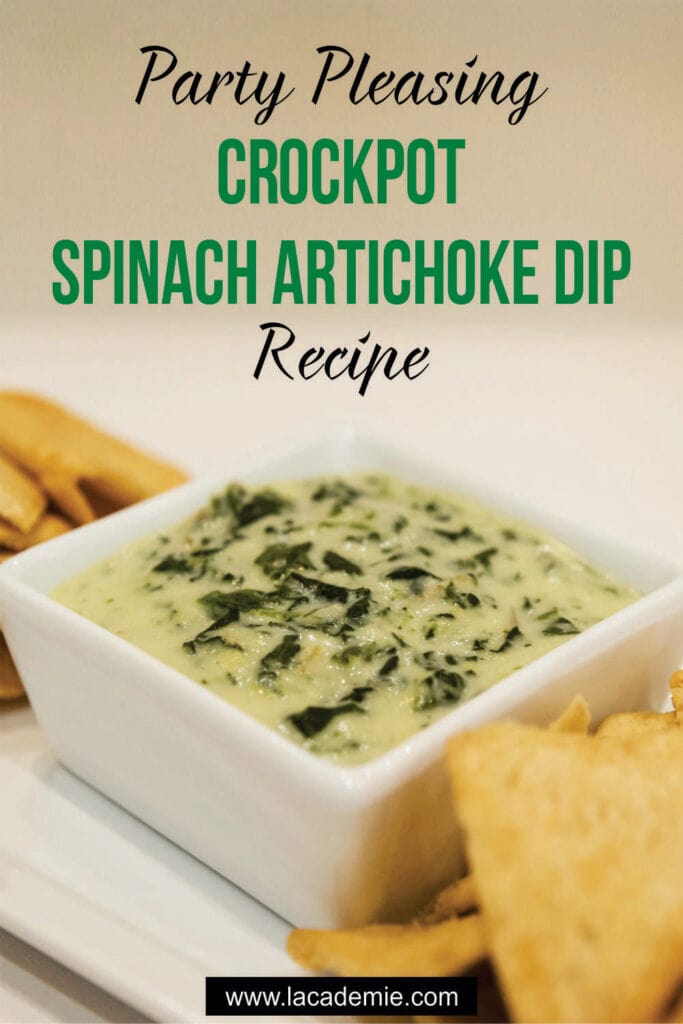 Nutrition Facts
10 servings per container
---
Amount Per ServingCalories146
% Daily Value *
Total Fat 11.5g

17

%
Cholesterol 33mg

11

%
Sodium 279mg

12

%
Potassium 239mg

7

%
Total Carbohydrate 6.2g

2

%

Dietary Fiber 2.6g

8

%
Sugars 0.8g

Protein 6g

12

%
---
* The % Daily Value tells you how much a nutrient in a serving of food contributes to a daily diet. 2,000 calories a day is used for general nutrition advice.