Searching for an easy crockpot potato soup recipe? Here is the one that only requires a few ingredients, and quick preparation yet your soup would come out amazingly.
The critical thing you need to prepare, obviously, is a slow-cooking device as it will be in charge of taking care of your soup for a few hours. But that is all it takes. Therefore, this recipe is perfect for every beginner, and it would make you feel like you are a real chef.
So let's see how to make it by reading this post. You are not going to regret it, I promise!
What Is Crockpot Potato Soup?
Potato soup is an old-fashioned dish. They have been a traditional food in many Western countries, like America, German, French, Irish, and more.
Each country has different ways of making this soup. Today's version is a simple American-style soup cooked in a crockpot.
Like most potato soup variations, this recipe is a comforting one that you can easily whip up by throwing all ingredients in a crockpot and letting it do the magic.
Creamy, hearty, and so tasty, there is no reason not to try this idea at home when the weather is getting a bit cooler. In this post, I also provide some tricks to make them more perfect. So make sure that you will not skip anything in this article.
Ingredients
Here are some important components to make your slow-cooking potato soup wonderful.
Gold Potatoes: The main star is potatoes. I highly recommend gold potatoes, such as Yukon, because it is a medium-starch variety. They also have a buttery taste with a creamy texture.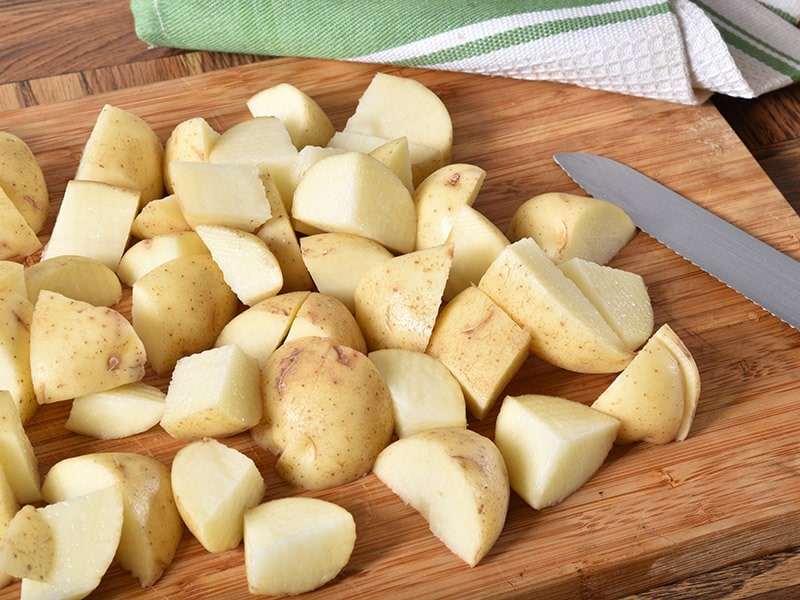 Chicken Broth or Stock: Opt for the low-sodium one so you can easily adjust the salt. Moreover, you can use vegetable broth if desired.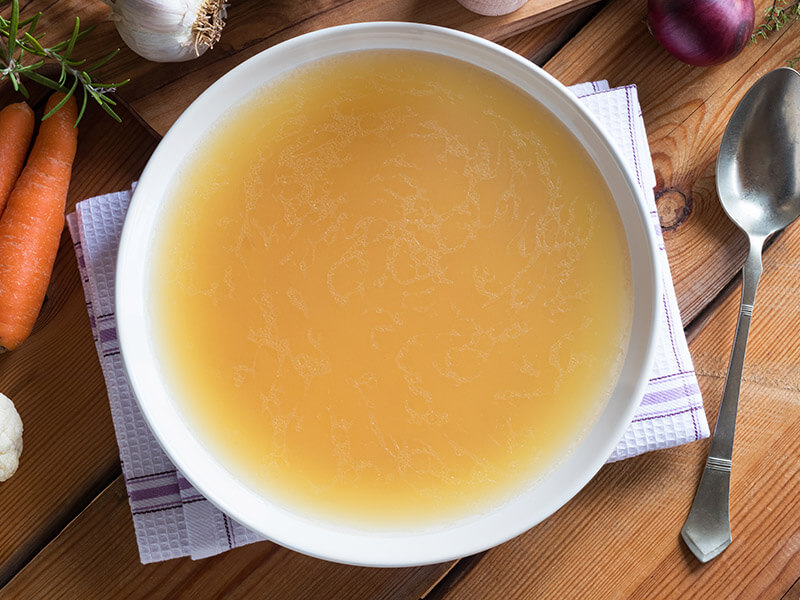 Cream of Chicken Soup: Add cream to the soup to make it thicker with more flavors.
Onion: You can use either white or yellow onion. It can add texture and flavor to the soup.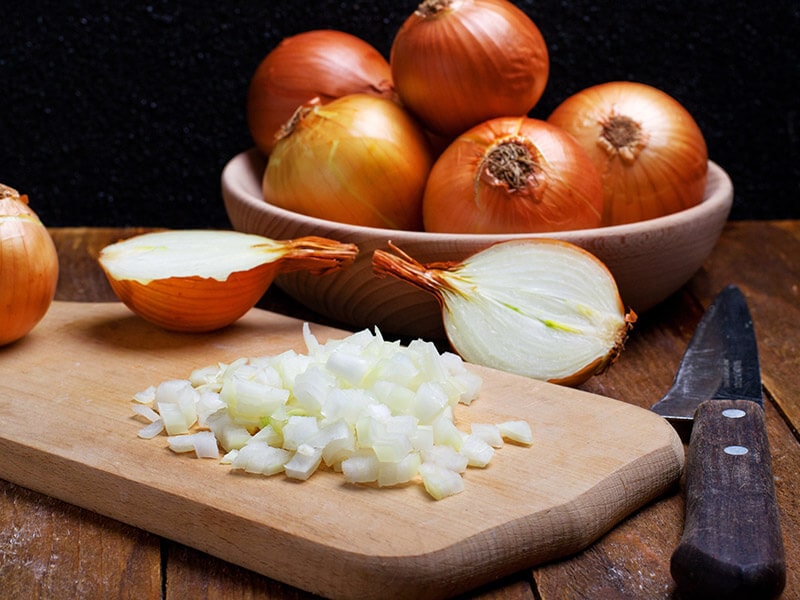 Cream Cheese: Enhance the creaminess and savoriness in the soup. No matter which kind of cream cheese you use, soften it before combining it with other ingredients in the cookware.
Black Pepper: To provide the light spicy bite in soup.
Garnishing: You can choose any kind of garnish you like. But ideal ones are chopped green onions, chives, bacon, or sour cream (if you want your potato soup creamier).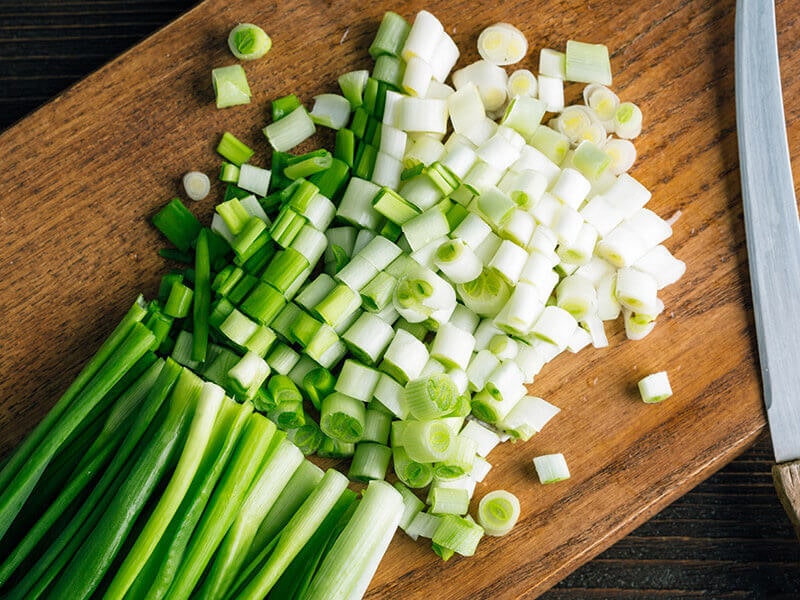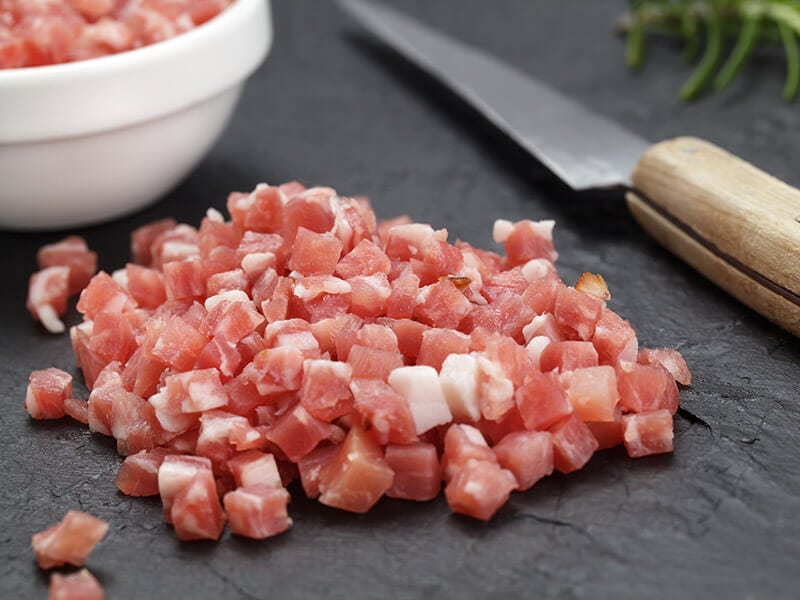 How To Make A Perfect Crockpot Potato Soup
Alright, it is time to prepare the soup. With a few straightforward steps, nothing can challenge you to make a yummy and comforting soup with potatoes. Let's get started!
Step 1: Cut Potatoes and Onions
Starting by cutting the veggies. Dice the potatoes into smaller cubes, around 3/4 to 1/2-inch pieces.
Step 2: Combine Ingredients In A Crockpot
Place cubed potatoes, chopped onion, chicken broth (or stock), cream of chicken soup, and ground black pepper in kitchenware.
Give them a good stir to combine, then cover the lid and cook the ingredients for 5 to 6 hours (or until the potatoes are cooked through) at a low setting.
Step 3: Add Softened Cream Cheese
After 5 (or 6) hours, you can open the lid and add the softened cream cheese. Cook them for another 30 minutes. Stir to combine.
Step 4: Add Garnishing (optional)
Once the soup is done, you can enjoy it with chopped green onion, chives, bacon, or sour cream, depending on your liking.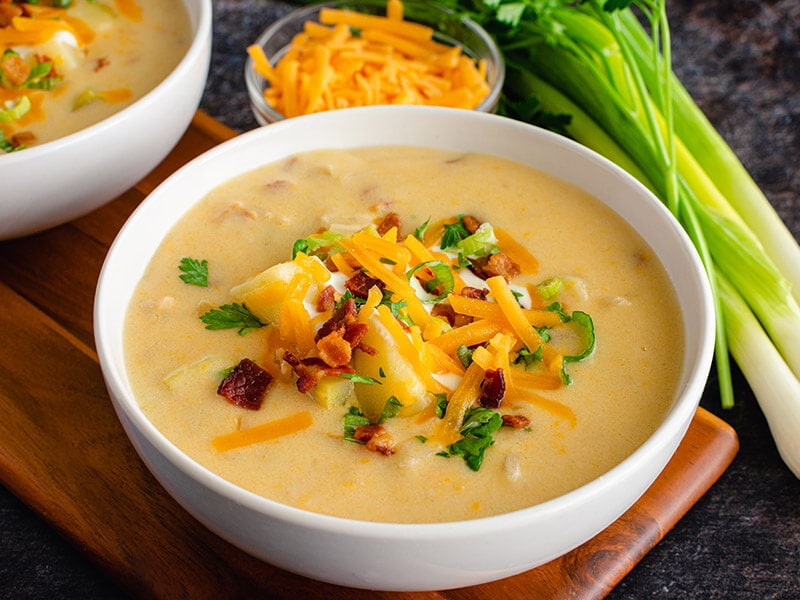 Tips And Serving Suggestions
See, it's so easy to whip up this soup, isn't it? But in order to make them flawless, I have a few tips that you should not ignore.
Tricks To Make The Potato Soup Tastier and More Convenient
Remember to clean and scrub the potatoes with water thoroughly and remove any potato eyes before peeling and cubing.
Cut the potatoes into equal pieces so you can cook them evenly.
Potatoes are easy to turn brown when exposed to the air for too long due to oxidation. Thus, if you have peeled a lot of them, you should submerge this root veggie in water before cooking.
You can use frozen store-bought potatoes if you cannot buy the fresh ones.
In case the soup is too thick, you can add evaporated milk or broth. Stir them well until the mixture reaches your desired consistency.
In contrast, if the soup is too thin, roux (made from flour and fat) is an ideal solution. However, if you prefer a healthier idea, you can use mashed potatoes to make the soup thicker.
You can also puree the potatoes in a food processor in advance if you like a smoother soup.
Besides onions, please feel free to add other vegetables like carrot or celery as the base to make your soup sweeter.
Adding other herbs or spices, such as garlic, parsley, chili powder, etc., to enhance the overall flavor of the soup.
Only add cooked bacon or sour cream before serving. Otherwise, the bacon will be too soft to enjoy. Moreover, the sour cream is very sensitive to the heat so it will curdle during the cooking, making your soup less appetizing.
For healthier soup, adding steamed broccoli to the soup is also a great idea.
What Should I Serve With My Potato Soup?
Besides toppings and garnishing, here are some ultimate side orders for your potato soup. They'll provide more textures and flavors to the soup:
A light salad
Buttered bread or cheesy Breadsticks
Or even with melted cheese sandwiches
Proper Storage And Reheating Tricks
In case you have leftovers, do not worry because you can keep your potato soup in the fridge (or freezer) for later use. Use a high-quality and air-tight food container to store them.
In the fridge: Your food will be safe for up to 4 days, so mark the date carefully so you can consume it safely.
In the freezer: Though the texture of potato soup is not too ideal for freezing, you can still do it if needed. For the best result, the soup should be smooth, not chunky, and your soup can last for up to 3 months in the freezer if stored properly.
Once you want to enjoy it, you can reheat the soup by:
A stovetop: Set the medium-low heat to reheat the dish. Do not forget to stir the soup.
A microwave: Cover the soup with a plastic wrap or a lid so it will not splat during the heating. Heat them for 30 seconds to 1 minute until hot.
Important trick: As the soup is cool, it will be a bit thicker than the freshly-made one so you might want to add more liquid (broth or milk) to make them thinner when reheating.
Crockpot Potato Soup Recipe
With a slow cooker, you can prepare an ultimate comforting dish like this crockpot potato soup recipe. Creamy, loaded with flavors, and easy to throw together, the soup is truly a lifesaver on any chilly day.
It's Showtime!
There is no difficulty in making a big batch of potato soup with your slow cooker. Indeed, this cookware is a good kitchen buddy for everyone, especially those who are so busy at work.
You can cook a lot of things with it, like this yummy potato soup. So if you have this device at home, take your crockpot out of the cabinet and let it do the work to deliver healthy and delicious meals. And with this recipe, I hope you have a good time with your family.
Please do not forget to rate or share this recipe with others. And let me know your experience after trying it in the comment section. Thank you and enjoy!