Let's imagine the scenario of why you need a list of mini-crockpot recipes. You have a rough nine-to-five job that forces you to stand numerous days of eating out. You don't want that lifestyle, so you get a mini-crockpot that helps you cook your meal while you're at work.
So, listing names of nourishing recipes that you can make with a small quota in a mini-crockpot is what you need. Therefore, I want to satisfy that culinary desire of yours via this post.
Here, you can find yourself lost for words with all the delicacies that you can make from your mini-crockpot. Are you ready to figure out all the potential of this kitchen gadget?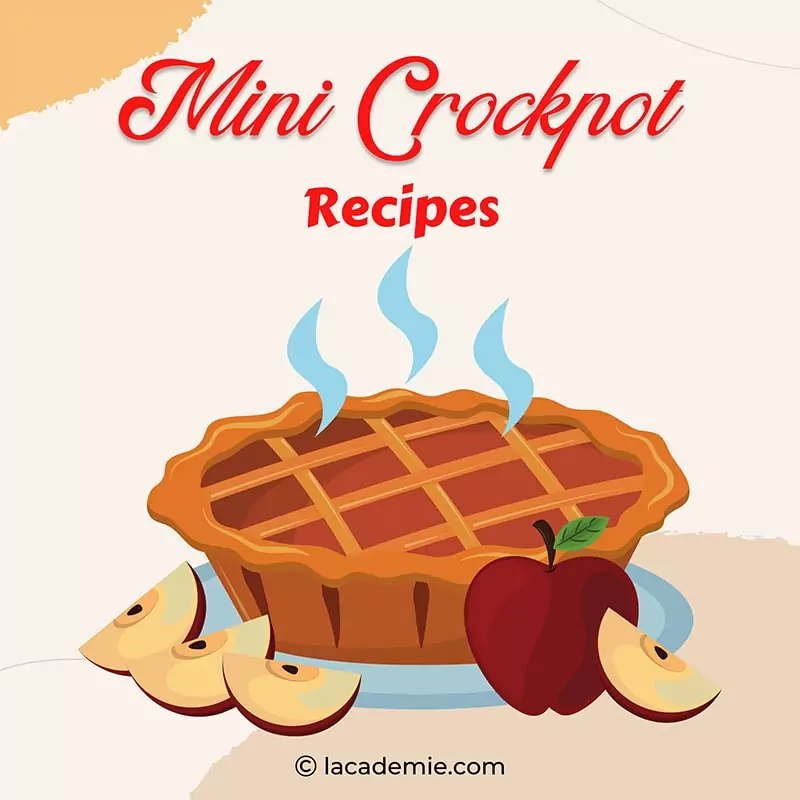 Prepare Delicious Meals With Your Mini-Crockpot
A gadget that considers a mini-crockpot is the one with less than a 4-quart capacity. With this volume, you can make a meal for four people which is a standard number for a family. Therefore, all of the recipes in this list have the serving from one to four people.
Now, since we have settled all the terms and conditions, let's get started with the first crockpot delicacy of this post!
Total time: 2 hours and 5 minutes (including 2 hours baking in the crockpot).
You might find this start unusual, but yes, this recipe is a dessert. This recipe combines Reese's peanut butter cups with chocolate to create a proud sweet child in a crockpot, and you can store the cake in the refrigerator for days.
The first thing you need to know about this recipe is Reese's peanut butter cups. This confectionery is a product of the Hershey Company in America. This product was introduced in 1928 and is still a classic product in every sweet aisle in the world.
To follow the busy vibe of this crockpot recipe, you can use premade cake mix to save time. All you need to do is stir the cake mixture with egg, melted butter, and water, and then add Reese's cups in. Pour that batter into the crockpot and set for 2 hours.
When the cake is ready, garnish the top with melted peanut butter and chunks of Reese's cups. You can make this topping by microwaving the peanut butter and spreading it over the cake. Then, sprinkle pieces of Reese's on top of that layer.
Total time: 7 hours and 35 minutes (including 7 hours and 20 minutes of slow-cooking).
I can only describe this Mexican-style slow-cooked recipe as "nourishing and easy-to-make". The recipe contains a lot of Mexican culinary specialties like Salsa and Tortilla. Therefore, the contribution of these ingredients promises you a fantastic meal that you always desire.
Salsa sauce is a frequent candidate in many Mexican-American recipes (like this one). There are many variations for this versatile sauce, but the one I like to use is Salsa Roja, which consists of tomato, garlic, onion, and other condiments.
And if you are into Tacos, you definitely know what Tortilla is. These flatbreads can be made of wheat flour and corn flour. In this recipe, corn Tortilla is the ultimate option.
The decoration of this recipe is also interesting, yet it's optional if you are not a fan. A dollop of Greek yogurt, avocado, and shredded cheese is the recipe's recommendation. These elements give the dish a fascinating taste that I think you should give a try.
A quick instruction on how to make the crockpot version of chicken Tortilla soup.
Total time: 5 hours and 15 minutes (including 5 hours in the crockpot).
One of the quickest meals that everyone can make is a jelly sandwich. Therefore, allow me to introduce you to how to prepare a jar of blueberry butter with your mini-crockpot.
Let's start this recipe by blending the blueberries into smoothie form, and then pour it into the crockpot with cinnamon, sugar, lemon juice, and lemon zest. Cook the mixture for an hour with a closed lid
Let the excess water evaporate by propping the lid with a wooden spoon. After that, cook for another 4 to 5 hours on low. Don't forget to check the butter every hour.
The jam is ready once the mixture is not running off the spoon. You can have this jelly on your toast or with Swedish meatballs that you can also make with your mini-crockpot.
Total time: About 4 hours and 20 minutes.
Creamy slow-cooked chicken and mushrooms are the right candidates to be your next dinner. It only takes you a few steps to prepare the dish before you turn on the crockpot.
Browning the chicken and sauteing the onion are the pre-work before tossing everything in the pot. Once all the ingredients are ready, layer the materials evenly and cook them for 4 hours at low heat. Remember to sprinkle some pepper and salt before closing the lid.
When the 4 hours is over, remove the chicken from the pot and add cornstarch to the mushroom. Whisk everything until smooth, then put the chicken back in the pot and cook for another 20 minutes. The broth should thicken during this final stage.
Serve this dish with rice or pasta like Fettuccine and Tagliatelle. Don't forget to sprinkle some chopped parsley on top to give more green color to your plate.
Total time: 2 hours and 5 minutes (including 2 hours in the crockpot).
The chicken marinade for this recipe is pretty unique since it combines Asian soy sauce with Orange Marmalade.
Marmalade is a fruit preserve made of peel and the flesh of citrus fruits. Its taste is tangy and sweet while its scent is super fragrant and refreshing. Combining this product with soy sauce's umami taste is an interesting choice and works incredibly well.
To make this recipe, you also need rice wine vinegar, ginger, sesame oil, green onions, and garlic. This mixture of many elements penetrates deeply into the chicken meat and develops an intense flavor once the dish is ready.
Total time: 6 hours and 15 minutes (including 6 hours of slow-cooking).
In Italian, "osso buco" means "bone with a hole" which implies the marrow hole in a cross-cut shank. This delicious Italian slow cooker dish demonstrates Italian cuisine in an interesting way that urges you to give it a try.
The ingredients to go with the beef shank in this delicacy are onion, carrot, garlic, and tomato passata. It's always a hassle to soften this beef since this part of the cow is one of the toughest. Therefore, a crock pot is your best option for making this delicious dish.
After around 6-8 hours of slow-cooking, hefty beef shanks will become tender and irresistible. Your plate will be beautiful if you serve the shank with mashed potato or rice and green vegetables like broccoli.
Total time: 4 hours and 10 minutes (including 4 hours of slow-cooking).
Quinoa is one of the most common choices for vegetarians, but you don't have to be a vegetarian to try out this recipe. After all, quinoa itself is rich in nutrition and also well-known for being a yummy pseudocereal.
To prepare this delicious crockpot side dish for yourself, there are several vegetables that you need to dice. Carrot, onion, green bean, and bell pepper are what the recipe suggests.
Also, you can choose chicken broth if you want some animal protein in this dish. Otherwise, the vegetable broth would work. Adjust the flavor with other spices and let the mixture cook for 4-6 hours at low temperature or 2 to 4 hours on high.
You can have this side dish with a heavy treat like grilled chicken or lamb shank. Also, if you want to turn this recipe into a full meal, you can add black beans or chicken. After a tiring day at work, having a refreshing meal like this is exactly what you need.
Total time: 4 hours and 15 minutes (including 4 hours in the crockpot).
Having a decent meal with homemade Lasagna can be a hustle-bustle for many people. Sometimes, their only option is to order one from a restaurant at a costly price or get premade ones. Fortunately, you can now make your own lasagna with a mini-crockpot.
The structure of a standard Lasagna consists of layers of meat sauce, cheese, and pasta. Lasagna pasta has a shape of a large flat sheet, and to make this dish, arrange these sheets with sauce and cheese in between. It's like building a house if you ask me.
There are two types of sauce: the red sauce (meat sauce) and the white sauce (cheese sauce). And these two sauces alternatively "sandwich" the Lasagna to build up the dish.
Red sauce has its recipe assembled with Spaghetti sauce. White sauce is a combination of Ricotta, Parmesan, Mozzarella, parsley, and egg. Each delivers a different texture and flavor that you would want to have more of.
Crockpot Lasagna is a superb feast that you should not miss out on.
Total time: 8 hours and 30 minutes (including 6 hours of slow-cooking and 2 hours of marinating).
This curry recipe has such a masculine name, but that is not a name of a real person. The "Rogan Josh" is actually a transformation of the word "Roughan Jus" which means "stew in ghee" – a Kashmiri-style curry.
This Indian recipe gives your senses an explosion of flavors and fragrances. This crockpot Roger Josh doesn't let you down with its clever combination of strong spices like Garam Masala, smoked paprika, cumin, and other elements.
And those ingredients are just for marinating your lamb for ideally 2 hours. For the sauce, mix yogurt with coriander, chili pepper, sugar, and tomato paste. Use water to adjust the viscosity of the sauce, and then pour it on the lamb and vegetables in the crockpot.
After 6 hours of slow-cooking at low heat, your lamb is ready. And you can serve this mouthwatering dish with Basmati rice or Naan (Indian flatbreads).
Total time: 7 hours and 15 minutes (including 7 hours of slow-cooking).
Beef Stroganoff, or Stroganov, is a Russian recipe invented by the Stroganov family. This recipe has observed all the up-and-down of Russia as one of the biggest nations in the world.
Let's start this creamy recipe by preparing the steak by cutting it into quarter-inch pieces. Toss the tasty beef into the pot with other ingredients like mushrooms, mustard, onion, etc. Make the broth mixture with flour and beef broth, then add to the crockpot.
Once everything is ready in the crockpot, let the food cook for 6-7 hours with a closed lid. After that time, let the stew chill for 10-15 minutes in the pot without the cap.
This beefy crockpot dish is what you need after a busy day. With dill for garnishing, I bet that you can't tackle your tummy's growling until you satisfy it with a mouthful of Beef Stroganoff.
Total time: 8 hours and 30 minutes (including 8 hours of slow-cooking).
The tenderness of lamb is something that you cannot resist. Classic lamb meat with herbal rosemary and fragrant garlic already sounds too delectable. Therefore, it would be my honor to suggest this crockpot delicacy via this post.
Before arranging all the ingredients in the crockpot, don't forget to season your lamb with salt, pepper, and garlic. Next, brown that lamb on a frying pan before locating it in the crockpot with onion, carrot, potato, and more garlic.
On top of the lamb and vegetables is a layer of oregano and rosemary. Then, pour the chicken stock in to immerse the ingredients. The lamb requires around 8 hours to cook perfectly.
You can consider this recipe as a Thanksgiving crockpot delight with all the cozy and festive vibe that the recipe has. This dish is tasty, but because it's a bit heavy, I think having mashed potato or a bowl of salad as a side dish would complete this meal nutritiously.
Total time: 3 hours and 35 minutes (including 3 hours and 30 minutes of slow-cooking).
This traditional recipe of the Italian might be what you want whenever you are under the weather. Polenta is boiled cornmeal, and then people can make porridge from that thick paste.
This Polenta recipe only includes cornmeal, Parmesan, milk, and other condiments for adjusting the taste. It always takes a lot of time to make this comfort food, so the voodoo trick from your crockpot can take care of this cooking for 3 to 4 hours of work at low heat.
Add the milk after 4 hours of cooking and cook for 30 minutes on high. Now, toss grated cheese in the pot and stir the mixture until that cheese melts. This Polenta seems pretty simple, and I totally recommend you give it a chance.
Here's a vegan crockpot version of this Italian comfort food.
Total time: 6 hours and 25 minutes (including 6 hours of slow-cooking).
Grandma's apple pie is always a nostalgic afternoon snack for everybody. Another favorite treat that you are into is sweet oatmeal. Now, I have to tell you that there's a way that you can combine these two masterpieces with the assistance of your crockpot.
Having a bowl of this dish at home gives you a December vibe. I think categorizing this recipe in the list of must-make Christmas crockpot dishes is a good idea.
All you have to do with this recipe is to combine every ingredient in the crockpot and let them cook for 6-8 hours at low heat. The outcome has a cinnamony and delightful sweet taste. The texture is complex with the contribution of nutmeg, apple, and cooked oatmeal.
Total time: About 8 hours and 15 minutes (including 8 hours in the slow-cooker).
You don't even have time to think about treating yourself to a Japanese-themed meal, do you? And I'm not talking about sushi or a bowl of ramen. Sometimes, those dishes are too problematic to make. Just a bowl of hot rice and a savory side dish at the side is all you need.
Kakuni is one step closer to what I just described. With the richness of belly pork and an intense kick-in of ginger flavor, this meal can be both delicious and nourishing to get yourself ready for your day.
Just prepare the pork with your crockpot while letting your rice cooker take care of the rice. The next morning, all you have to do is get yourself a bowl of rice and dive in. You can push the meal furthermore by making a bowl of tofu soup to complete this hot breakfast.
Total time: 6 hours (including 5 hours of slow-cooking).
There are various recipes for stuffed cabbage around the world, and the Polish version is called "Gołąbki". The two main parts of this recipe are the filled cabbage and the sauce to submerge the cabbage in it.
Perhaps, the most difficult part of this delicious ground beef crockpot recipe is how to get all the cabbage leaves. You need to boil the whole cabbage, and then use the tong to get the desired number of leaves. Once you get the leaves, you have to simmer them again so they can be soft enough to bend.
The filling is a mixture of ground beef, chopped onion, rice, other herbs, and condiments. The way you roll is exactly like how you fold the burrito. And when you put these rolls in the pot, give each roll enough space since the rice will expand when cooked.
What to do left is to pour the tomato sauce in and let the crockpot cook these rolls for about 5 hours. One person can consume from two to three of these rolls, and that's all you need to have a full stomach.
Total time: About 3 hours and 30 minutes.
Macaroni and cheese might be one of the best inventions of humanity. Many people think that it is part of Soul Food cuisine. However, the dish was actually born in the 14th century in Italy. This recipe delivers a more American vibe, especially with the corn contribution.
With a sticky consistency and creamy flavor, you can have a bowl of corn mac-n-cheese anytime in the day. You can just get the dish ready in the crockpot and enjoy a whole weekend with this delicious treat.
To add some spiciness to the dish, paprika is a typical option. And I almost forgot! You should only pour the pasta into the pot in the last 30 minutes. Pasta is extremely fragile with heat and humidity, so cooking it too early will turn your mac-n-cheese into a pot of porridge.
Total time: 8 hours and 15 minutes (including 8 hours in the crockpot).
Satay is a traditional dish in Indonesia. Other world-renowned variations of Satay are Japanese Yakitori and Chinese Chuan. Basically, they are seasoned grilled skewered meat, and the difference among them is their national sauce.
In this crockpot version of Satay, sliced rump steak is the recipe's recommendation. Sear and brown that steak on your frying pan before moving it to the crockpot with the rest of the ingredients.
The most iconic thing in Indonesian cuisine might be the application of coconut oil. To the Indonesians, coconut is gifted, and they utilize coconut in countless traditional delicacies.
Another highlight of this recipe is the combination of soy-based products and peanut butter for the sauce. This formula of Satay sauce is the Javanese original. The sauce delivers a sweet and creamy flavor to your beef after hours in the crockpot.
Total time: Around 5 hours.
Duck confit is a classic dish in French cuisine. Apparently, confit is a cooking technique where you slowly cook the meat (often duck or goose) in animal fat. It is a common way for the French to preserve their meat, especially during scarcity.
This recipe highlights how the crockpot dishes can be convenient and healthy. The science of this kitchenware is to form an enclosed environment where all the heat, water, and other elements are trapped inside. Therefore, the fat from the duck itself covers its meat and forms a confit-like condition.
Another stellar point that I want to mention is the appearance of the sweet and fragrant plum sauce. To make this sauce, you can simply blend the ripe plums, and then use the squeeze bottle to arrange the sauce on the plate.
The mix of savory duck melts in your mouth, and the stellar sweet and tangy taste of plum sauce pops up. This recipe is a flavorful culinary masterpiece.
Before cooking that duck, you need to learn how to break down a duck properly.
Total time: 8 hours and 10 minutes (including 8 hours of slow-cooking).
Another proud child of Italian cuisine joins this list of crockpot delicacies. Cacciatore is a traditional recipe and was invented by the ancient hunters. "Cacciatore" in Italian means "hunters", and the two main ingredients of this recipe are the chicken and the vegetables.
To make a flavorful chicken Cacciatore with your crockpot, you can start by seasoning your drum sticks with salt and pepper and moving them into the pot. Next, add vegetables, mushrooms, herbs, and chicken broth.
Now, close the lid and allow your crockpot to cook for 6-8 hours at low heat. Once the meat starts to fall off the bone, you know that your Cacciatore is ready.
Typically, people serve this stew with Spaghetti noodles and garnish the dish with dried parsley. Other options are bread or rice. You can pick any staple solution that fits your diet and desire.
Total time: About 2 hours and 30 minutes.
Having crackers for an afternoon snack or movie night doesn't ask for too much preparation. But you can upgrade your snack with a more healthy and luscious sauce like this crab dip.
All you have to do in this recipe is to toss every ingredient except the caper, parsley, lemon zest, and pepper sauce in the crockpot and set the temperature at low heat for 1-2 hours. Another 30 minutes after you stir in the caper and pepper sauce.
Once the dip is ready, you can see a white paste with crab and mayonnaise aroma. Besides being a snack, crackers with crab dip can be an appetizer for a dinner or a part of the neighbor's stand-up party.
Total time: 8 hours and 15 minutes (including 8 hours in the crockpot).
Let's follow that snack theme and try out this recipe. While crackers and crab dip are delicious, this combination can be a little dry. Caramel glazed sweet potato can give you something to munch while refusing to deprive your mouth of its moisture.
To make this great munchy, you can begin by slicing the sweet potato into chip sizes. After that, toss them into the pot and sprinkle some salt on it. Next, add a mixture of cinnamon, sugar, and cornstarch evenly and generously on top of the sweet potato slices. Finish with dots of butter.
Close the lid and let the crockpot take care of your snack for 7-9 hours at low temperatures. When the time is up, your potato will have a beautiful glaze that shines and enhances its intrinsic orange color.
Total time: 5 hours and 20 minutes (including 5 hours of slow-cooking).
Allow me to introduce you to this Swedish specialty – Kottbullar. It would be a big mistake if I didn't include at least one meatball recipe in this list. Therefore, I choose these creamy and tender Swedish meatballs.
Köttbullar typically appears smaller than its foreign cousins like Italian Polpette or Russian Kotlety. In Sweden, "köttbullar" means "meat buns", and its most traditional type is the ground beef meatball.
Perhaps, the sauce makes this Kottbullar differ from its family members. That sauce consists of a unique creaminess that comes from the contribution of heavy cream.
Another cultural note you might want to try is what to serve with the Kottbullar. The Swedish often have their meatball with boiled potato (or mashed potato), a spoonful of lingonberry jam, gravy, and pickled cucumber.
You have to taste the seductive flavor of these Swedish meatballs.
Put Everything In The Pot Before Work And Have A Meal After
A busy modern life can deprive you of a lot of things, including a nutritious meal. But you can improve the situation with the support of technology. A mini-crockpot is a suitable example of this statement.
With this gadget, you can make a snack like glazed sweet potato or an entree like tasty Polenta. There is more to discover with all of the possibilities from a mini-crockpot. So, if you want to share some of your knowledge with me, don't be shy to leave a comment.
Also, if you think that this list of mini-crockpot recipes is legitimately informative, you should share it with your beloved. They are undoubtedly happy to widen their horizon with you. Thanks for dropping by, and see you in the other post. Goodbye!
Nutrition Facts
2 servings per container
---
Amount Per ServingCalories394
% Daily Value *
Total Fat 5.8g

8

%
Cholesterol 54mg

18

%
Sodium 1483mg

62

%
Potassium 1096mg

32

%
Total Carbohydrate 62.3g

21

%

Dietary Fiber 8.7g

32

%
Sugars 10.7g

Protein 30.1g

60

%
---
* The % Daily Value tells you how much a nutrient in a serving of food contributes to a daily diet. 2,000 calories a day is used for general nutrition advice.