Who doesn't love these types of cream cheese? Not only does cream cheese freeze up well, but it is also incredibly delicious and can go with anything, be it sweet or savory. No surprise to see thousands of cream cheese variations cropping up in just a few years!
If you are bored of regular cream cheese and want something new for your daily rotation, I'm here today to help. Just keep reading, and I will guide you through the most excellent cream cheese flavors you have ever met!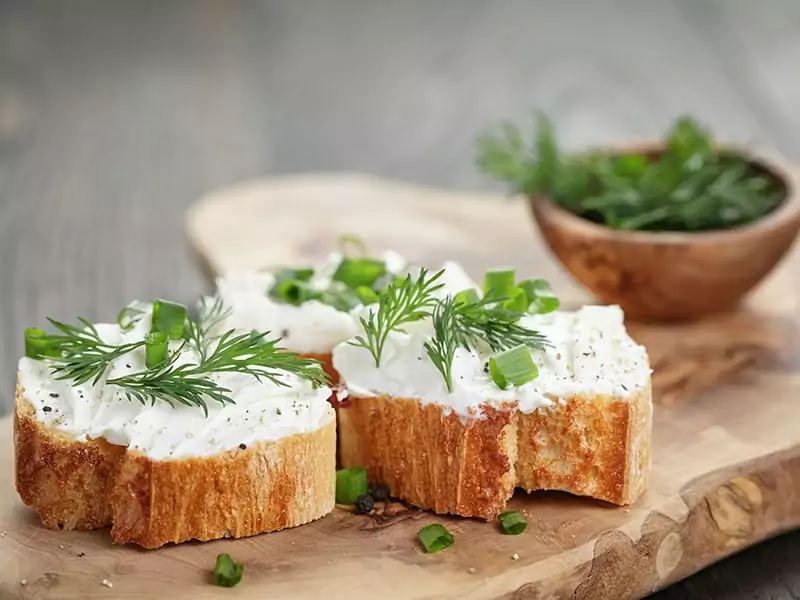 Quick Facts About Cream Cheese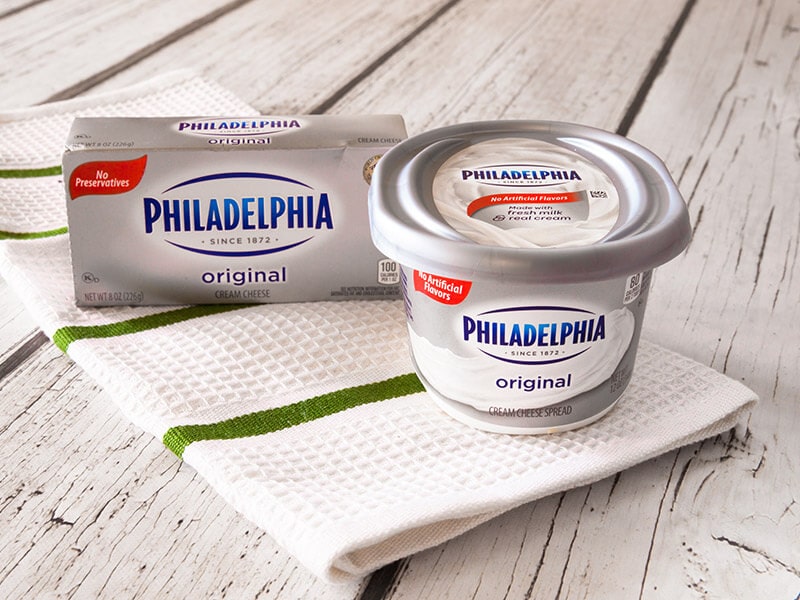 Without cream cheese, it's difficult to imagine how your desserts would turn out. Surprisingly, it can also be incorporated into savory recipes with a mild sweetness. Even when on its own, the difference between cream cheese and Neufchatel cheese is pretty striking.
Nowadays, you can find cream cheese in many options. It can be plain or flavored with fruits, honey, and even vegetables. No worries if you have special dietary requirements since there are light and fat-free alternatives, which strike a perfect balance between health and taste.
Given that, I will divide the list below into two uneven sections, with the first one showing you different cream cheese flavors and the second one catering to special needs. Without further ado, let's scroll down now!
These Flavored Cream Cheeses Have Got You Hooked!
As mentioned, cream cheese comes in tons of flavor options. Besides the conventional ones like vanilla or strawberry, there are choices that can make you recoil as soon as you hear the names: scallion, jalapeno, and even, well, pizza.
Sweet Cream Cheese Options For Your Sweet Tooth
Perfect for desserts or eating straight from the container, these cream cheeses will fulfill your sweet cravings and put a smile on your face. From chocolate, strawberry to funfetti, read on and be amazed by what's being offered!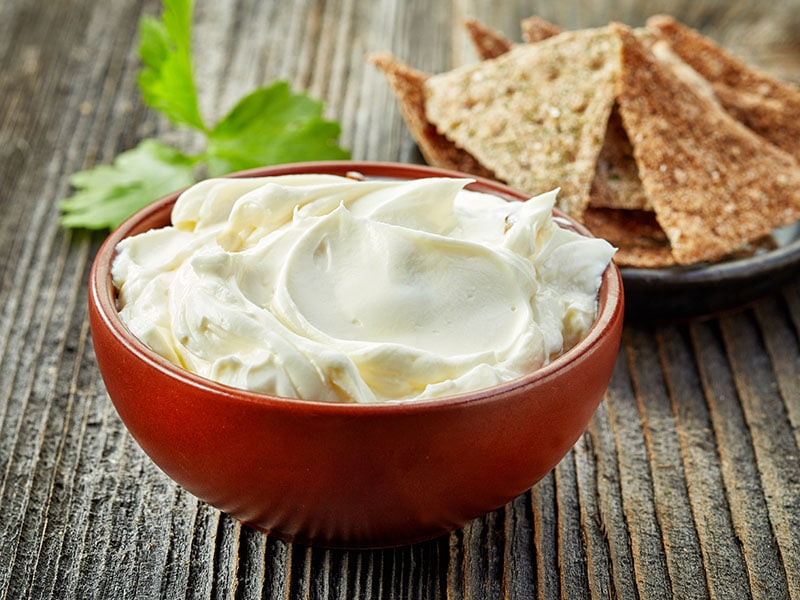 Plain cream cheese is just, you know, plain. As boring as it sounds, it is highly adaptable and perhaps the best choice for knocking up some delectable cream cheese desserts. It works in savory dishes as well, from meatballs, egg dishes to fondue.
Making cream cheese has never been easier with these instructions.
Trust me; while there are various substitutes when you have no cream cheese left, nothing is as delectable as it is. To illustrate, this chocolate cream cheese can add to your cookies and brownies with an extra depth of richness, which can be further complemented with honey.
This cream cheese recipe is about to outshine the original at Panera. This toothsome combo is made from a handful of crushed walnuts, honey, and aromatic spices like cinnamon. Since the time cream cheese can sit out is not long, no need to make it ahead of time. Serve it with whatever you want!
Granted, this cream cheese with honey and walnuts will please you.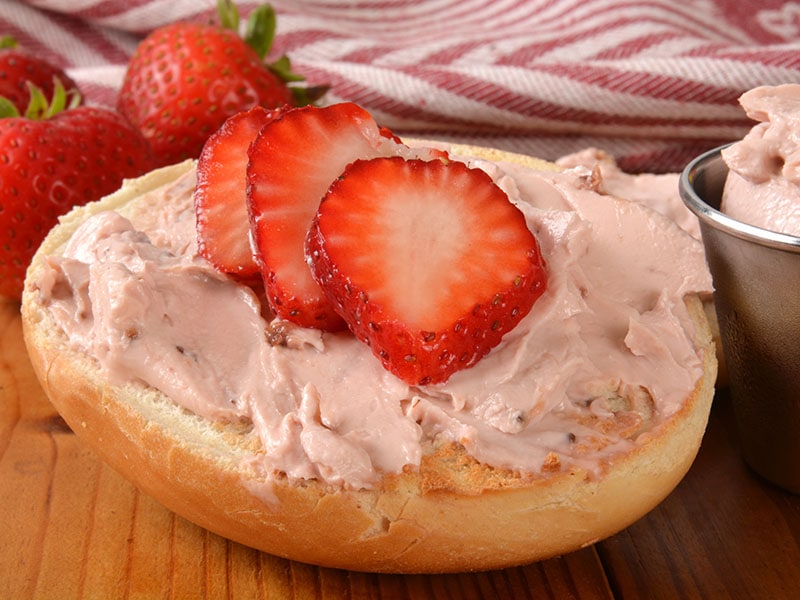 If you prefer a delicate tang, look no further than strawberry cream cheese. It can put a fancy twist on your desserts, from crispy cookies to ultra-moist brownies. Indeed, you can spread it on your bagels as well, and don't forget your favorite toppings!
Spice up your vanilla life with this wonderful strawberry cream cheese!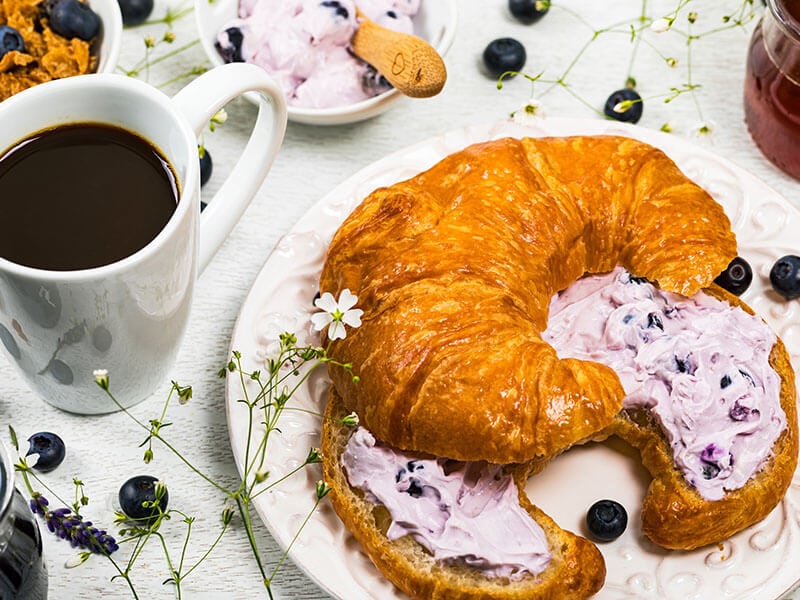 Blueberry cream cheese has more than just that gorgeous purple tint. Its tangy richness is to die for, which is perfect against bagels, croissants, or a serving of fresh fruits. Of course, you can bring it into your desserts, just like how McDonald's did with their pies!
Keep your guests entertained with this lovely blueberry cream cheese.
You have been baking your crispy autumnal cookies with cinnamon, but how about stirring it into your cream cheese? The result will take your breath away! Just add a pinch of the spice, along with brown sugar, and run the blender. That's it!
Embrace the holiday season with this splendid cinnamon cream cheese.
With this funfetti cream cheese, you will feel as if there is a party in your mouth. Starting with a block of cream cheese, you will mix in the colorful sprinkles, and lastly powdered sugar or any available substitutes. Now, bring out your dunking goodies and enjoy!
All the flavors of your favorite apple pie are rolled into this smooth, delectable cream cheese, which is made from less than eight ingredients. While pecans offer a nice crunch, cinnamon punctuates the taste with a warm, soothing mouthfeel.
These (Bizarre) Savory Cream Cheese Options Are Awe-Inspiring
Scallion cream cheese? Yes, that's a thing. Also, there's cranberry jalapeno and pizza flavor, in case you think things cannot get any weirder. Despite that, these cream cheeses are very palatable and can turn your savory dishes into an instant crowd-pleaser.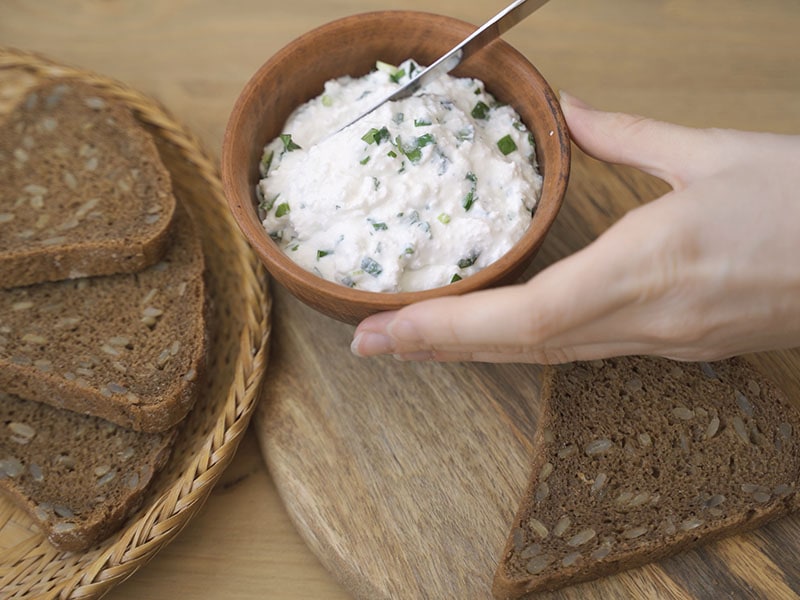 Sweet, tangy, with a refreshing sharpness from scallion, this cream cheese will help you start the day more delightfully than ever. To enhance its flavor, go ahead and stir in fresh herbs or add a pinch of lemon juice for extra tanginess. Then, bring out your bagels!
Rest assured you will swoon over this cream cheese, which is infused with an aromatic smell from fresh herbs and a warm touch from garlic. To achieve the best outcome, ensure that you use only fresh garlic stored in a high-quality garlic keeper. Spice it up with parmesan or black peppers if you wish.
It is no big deal to make this refreshing herb and garlic cream cheese.
High-grade smoked salmon in the form of cream cheese? What can get better than this? You will love to have it with anything, from bagels and sandwiches to other meat-based dishes. A healthy serving of salad should make an excellent accompaniment as well.
Nothing is more exciting than a sweet and spicy combo, isn't it? Take this cream cheese as a perfect example, where you get to enjoy a pleasing tartness from cranberries and a kick from jalapenos in a single bite.
Spicy lovers, if you think that cayenne pepper and its stand-ins cannot bring much heat, this cream cheese should make you feel satisfied. Its spicy depth will complement your meat and other snacks perfectly – in fact, you don't even want to stop and grab a glass of water.
Put a pizza twist on your cream cheese with this creative recipe, which calls for pizza sauce, grated mozzarella, Italian seasoning, and crispy slices of pepperoni. The result is more than just delicious, and I'm confident that you will slather it on anything.
As odd as it sounds, caviar cream cheese promises to be the next big hit in your kitchen. It is mildly sweet, salty, and refreshing, which is perfect against other blank-canvas food like your morning toasts. Breakfast has never felt this opulent!
These Cream Cheeses Will Help You Balance Health And Taste
When it comes to cream cheese, some are obsessed; meanwhile, others frown upon it since cream cheese is not very healthy. If you are from the second group, check out the following health-conscious options.
16. Low-Fat Cream Cheese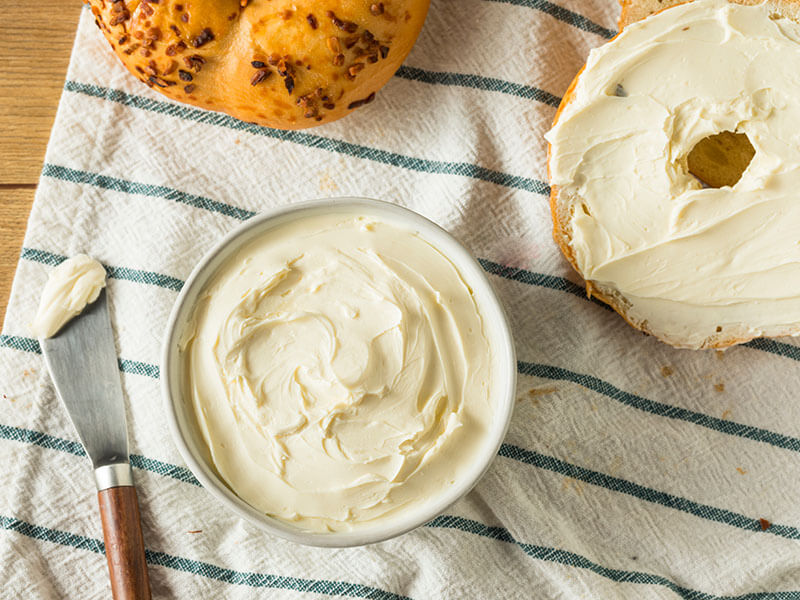 Also known as reduced-fat cream cheese, this option is perfect for those weight watchers or whoever is trying to cut down on their fat intake. There will be a minor change in texture, but it should not alter the taste at all – still the same sweet and tangy flavor you love.
17. Full-Fat Cream Cheese
On the other hand, there's full-fat cream cheese, which contains a higher amount of calories than the regular and low-fat version. However, its rich taste is genuinely addictive, and it can offer your chilled desserts a far more desirable texture.
Some Trust-Worthy Cream Cheese Brands To Consider
What happens when you are in a bind? These store-bought cream cheeses are your saviors. Indeed, I'm talking about those trusted brands only, say, Philadelphia, which is probably one of the biggest names in the cream cheese industry, followed by Dutch Farms, Prairie Farms, and more.
Philadelphia
Established in New York, 1872, Philadelphia soon cornered the market with its wide range of high-quality cream cheeses. In fact, when someone mentions cream cheese, you can be sure that it's 99% Philadelphia. It is that popular!
Dutch Farms
The thing about Philadelphia cream cheese is its tanginess, which can be more intense than needed. If you don't think you will miss it, turn to Dutch Farms, which offers milder products with a firm, spreadable consistency.
Prairie Farms
Prairie Farms was founded in Illinois, 1932 by a group of dairy cooperatives. Over the course of history, their cream cheese has received massive love and even won the most votes in an annual poll by Dairy Foods as "Best New Dairy Product of 2021."
Great Value
Great Value is a bang for your buck. Indeed, with low prices come average quality, but cream cheese produced from this brand is still a solid choice. It still has that spreadable texture, but the tang is not too noticeable and should be accompanied with other toppings.
A Creamy Deliciousness Awaits!
Have these cream cheeses got you intrigued? I bet they have! From now on, your dishes will no longer be lackluster but be loaded with a rich and creamy deliciousness. Wherever cream cheese goes, satisfaction is guaranteed.
If you have more extraordinary cream cheese flavors to share with other readers and me, let me know via the comments. Indeed, extra questions or brilliant ideas on using cream cheese are also highly welcome. Have a good day, my fellow cream cheese enthusiasts!