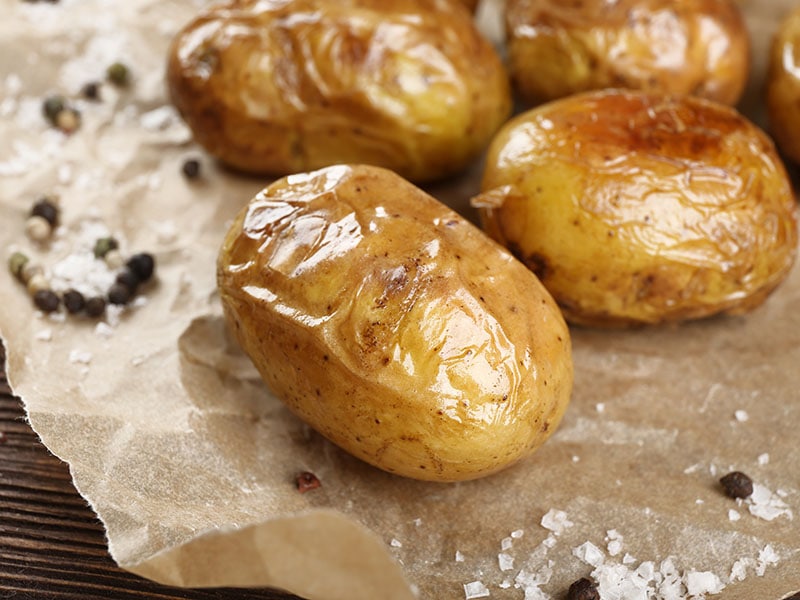 How long to bake potatoes at 4000F, and what is the best way to bake this kind of food? If you are still confused over these questions, stay here and I will satisfy you with the answer you will receive.
This post is here to help you know more about the exact baking times for different potatoes, how to bake them, and some useful tips to realize that your potatoes are done. Keep on reading!
Time For Baking Potatoes At 4000F: Essential Facts To Know About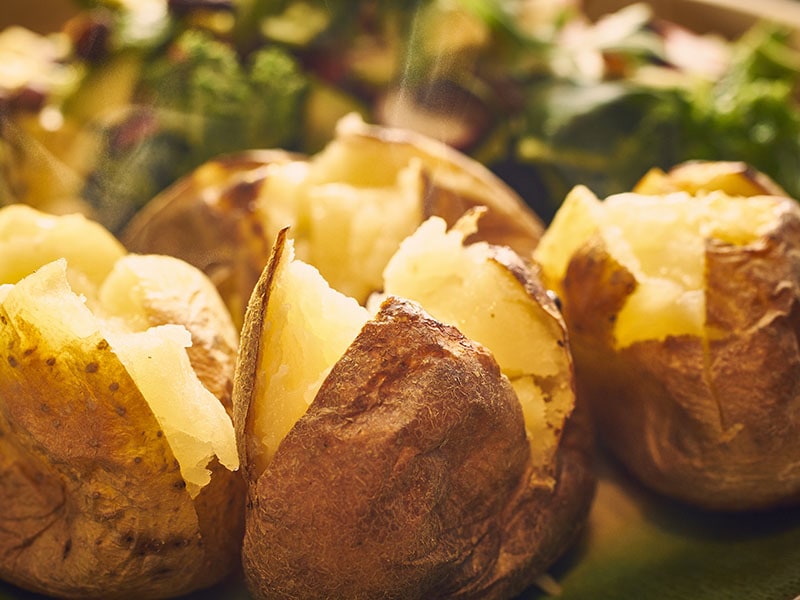 Timing is very important in baking potatoes. If you want to enjoy the full flavor of the resulting potatoes, you have to adjust the time accordingly. So, how long is an ideal amount of time? Check this out!
I recommend you bake this kind of vegetable at 4000F in the oven for 50-60 minutes. This is the ideal time and temperature for spuds about 1 pound in size. Potatoes take more time to bake than other vegetables because they are rich in starch and very dense.
Sure enough, this time will vary slightly depending on the size of the potatoes. You can extend the time a bit for larger ones and take a little less time with smaller ones.
Why Should You Bake Potatoes At 4000F?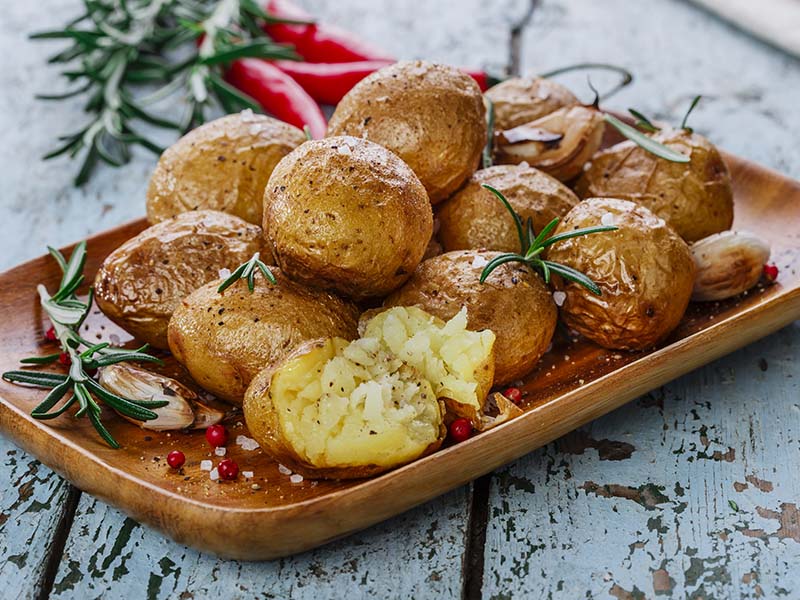 The temperature is the second important factor contributing to a delicious baked potato. Some may ask you how long they should bake potatoes at 350°F. But before the time, the precise temperature should be 400°F. Why is it 400°F? Let this section give you the answer.
4000F is the best temperature to bake potatoes. At this temperature, your baked potatoes are not only crispy on the outside but also soft and stuffy on the inside. This is the most successful outcome for a cook.
If you bake these tubers at a higher or lower temperature, your results won't taste as good. They may be burnt, not fully cooked in the center, or not crispy.
Another great thing about this baking temperature is that you can also utilize it to make different dishes. For example, nailing the perfect baking time for chicken tenders at 400⁰F will give you a delicious dish to enjoy alongside baked potatoes. How neat is that!
General Guide For Baking Potatoes At 4000F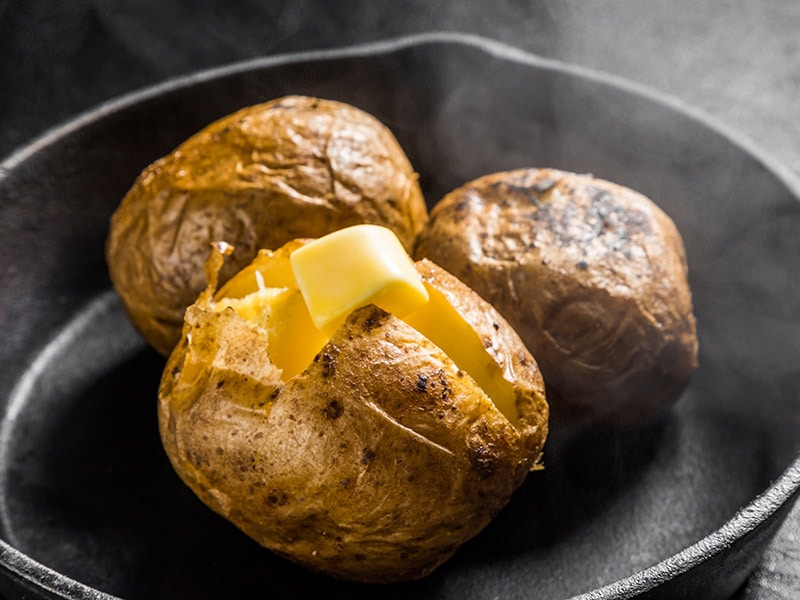 Here is the basic instruction to help you have the full-flavored potato dish. You can apply this guide for baking different types of potatoes, but I will share more specific instructions for each type of potato in the next sections.
These are some simple and easy-to-apply steps you can follow to become a more professional cook when baking potatoes:
Step 1: Preparing
You need to prepare potatoes and some necessary ingredients such as olive oil, kosher salt, and other toppings like butter, sour cream, pepper, scallions, etc.
You should preheat the machine to 4000F for some minutes before starting to bake your vegetables.
Notes:
Choose firm potatoes with very few blemishes. Remember to check if the potatoes have any signs of spoiling
Choose the ones that are roughly the same size to ensure that they are perfectly done at the same time.
Step 2: Rubbing
Make some holes in these tubers three or four times with a skewer or a fork to help them escape moisture during the baking.
Use the olive oil and salt you prepared to rub the potatoes. This will help to prevent your baked potatoes from sticking to the baking sheet.
Make sure that you apply these ingredients well, and soak them into the whole potatoes.
Step 3: Baking And Serving
Place your potatoes on the baking sheet and bake them for 50-60 minutes in the oven. You can also bake this kind of vegetable in an air fryer. Place them in the air fryer basket; it will take you about 30 minutes.
Remember to adjust the time a little bit if your ingredients are too big or too small.
Your baked potatoes are ready; just enjoy them with your favorite toppings for the best quality of this dish.
Enjoy a delicious dish from potatoes baked in the oven with just a few simple steps.
How Long To Bake Different Types Of Potatoes At 4000F
Baking time for crispy potatoes not only depends on their size but also varies for each type of potato. Below is detailed information about times for baking potatoes in the oven. Take a look!
| | |
| --- | --- |
| Types Of Potatoes | Time |
| Red Potatoes | 45-75 minutes |
| Russet Potatoes | 45 minutes |
| Scalloped Potatoes | 45-60 minutes |
Red Potatoes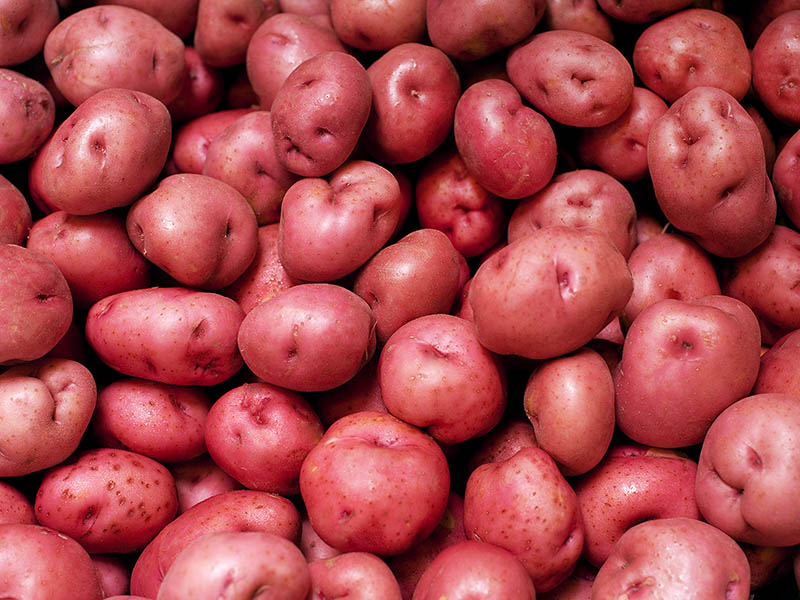 Red potatoes are medium-sized potatoes. Their skin is redder than regular potatoes. Moreover, they contain less starch and more sugar than their cousins. These potatoes are useful for a lot of recipes and make for delicious corned beef side dishes.
With these characteristics, how much time should you take to bake them? Let's check!
For this kind of vegetable, you should spend 45-75 minutes cooking them in the oven at 4000F. Similar to other types of potatoes, their size also plays an important role in determining time. Make the right adjustments for the perfect result.
If you have determined a reasonable time, what are you waiting for? Let's follow these step-by-step directions to bake them right away.
Step 1: Prepare potatoes and other ingredients then preheat your machine to run at 4000F.
Step 2: Mix your vegetables with the pre-prepared ingredients. Make sure that all of them mix well and evenly.
Step 3: Arrange the potatoes in a single layer on the baking sheet. Do not stack them on top of each other so they all cook evenly.
Step 4: Place the spuds in the oven and bake them for 20 minutes. Then flip them over and continue baking for another 20 minutes.
Step 5: Take cooked potatoes out of the oven and add some of your favorite seasonings like pepper, salt, etc. to make your dish more palatable.
Russet Potatoes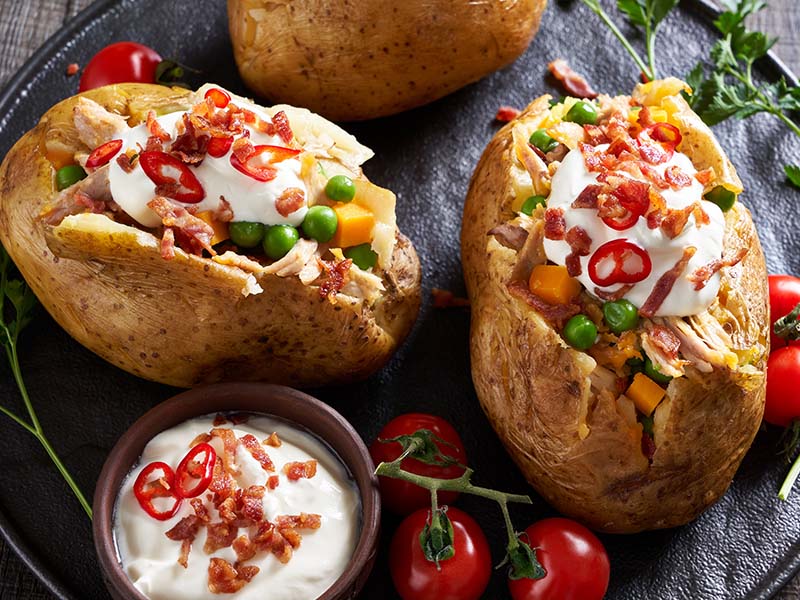 Russet potatoes come with a brown appearance, and their skin is often tougher than that of other types of potatoes. They have beige-white flesh, and you can even use them to substitute for cremini mushrooms.
Can you apply the baking time of the above types to this? Let's find the exact answer.
The best amount of time for baking this type of vegetable at 4000F in the oven is about 45 minutes. This is also one of the most common types of potatoes used for baking because they are not only high in starch but also low in moisture.
When you cook potatoes in the oven, the starch granules inside russet potatoes will absorb moisture. Moreover, the process of forming steam from the moisture will facilitate the separation of starch granules. As a result, your baked potatoes will be soft and smooth.
Some simple and easy steps you can follow when cooking russet potatoes at 4000F:
Step 1: Prepare russet potatoes and the necessary ingredients. Preheat your oven to the temperature of 4000F.
Step 2: Make some holes in your ingredients with a fork or a skewer.
Step 3: Use the oil, pepper, and salt to coat the potatoes.
Step 4: Place them on the baking sheet and bake for 45 minutes.
Step 5: Cut your result lengthwise and then crosswise to create a cross in the center of the potatoes. Then add some butter and sour cream to this dish and enjoy them.
Here is the family-friendly recipe with russet potatoes you shouldn't miss.
Scalloped Potatoes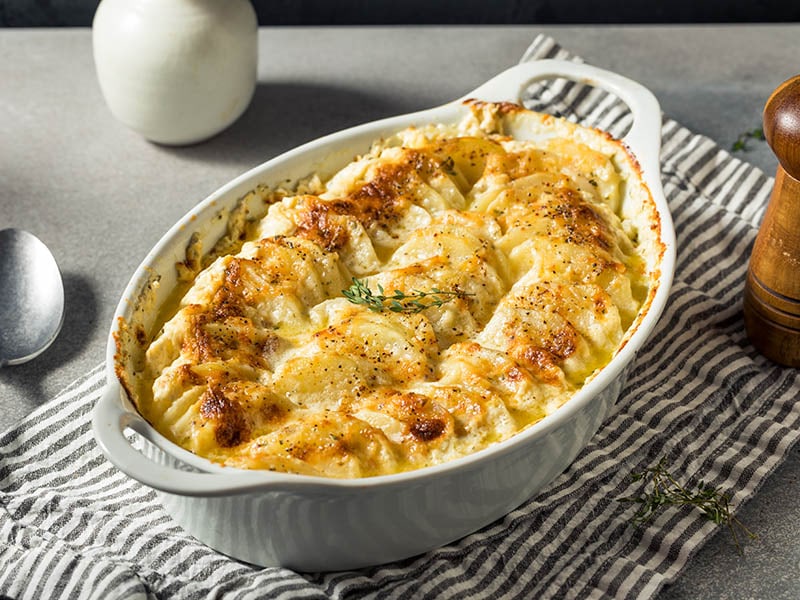 Scalloped potatoes are one of the most delicious dishes made from leftover potatoes. Although its origin is unknown, people believe that it came from England. As with other types, the baking time and temperature are the key factors to getting the perfect outcome.
At 4000F, it takes 45-60 minutes to bake scalloped potatoes to get this dish's flavor at its peak. This is enough time for all the seasonings to soak into the potatoes, making for a great side dish.
Read the instructions below carefully to achieve the desired results.
Step 1: Prepare the necessary ingredients as above and heat the oven to 4000F.
Step 2: Cut the potatoes into pieces.
Step 3: Make a creamy sauce with the prepared ingredients like butter, onions, garlic, milk, etc. You should keep the heat low during the cooking period to avoid burning it.
Step 4: Divide your potatoes into two parts. Place the first part in the pan, and coat with the cream sauce you just prepared. Then put the rest of the potatoes in, and continue to add the rest of the cream sauce. You can add cheese to enhance the flavor of the dish.
Step 5: Bake them for 45-60 minutes at 4000F.
Step 6: Serve warm to enjoy the best flavor of this dish.
Is Sweet Potatoes' Baking Time Any Different?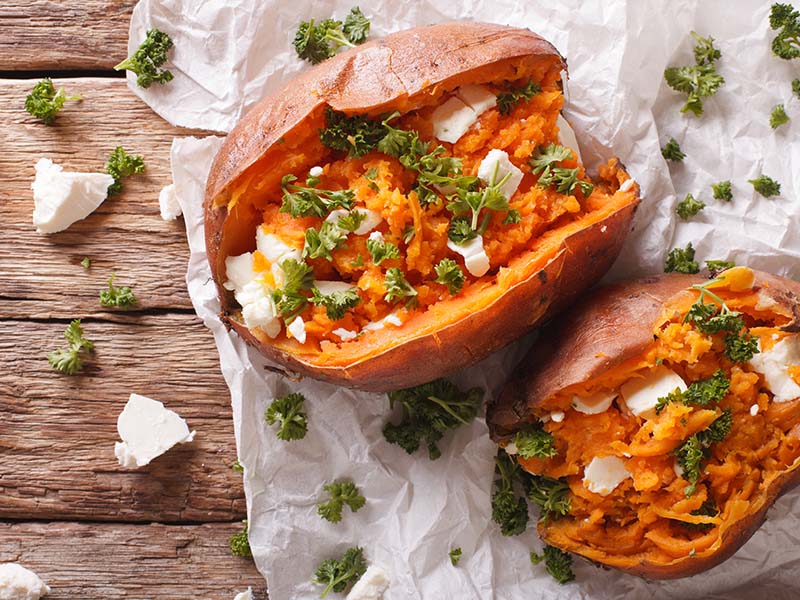 Although sweet potatoes are not potatoes, they are also the popular tubers used to bake. Let's go through the information below to understand better the difference in the baking time of this type of vegetable with potatoes.
The bake time for sweet potatoes at 4000F is from 30 to 75 minutes. Because different kinds of sweet potatoes have a large difference in size, below is the more specific information about the bake times for a range of sweet potato sizes.
| | |
| --- | --- |
| Size | Time |
| Very small (under 2 inches wide) | 30 minutes |
| Medium (2-3 inches wide) | 60 minutes |
| Large (3 inches + wide) | 75 minutes |
As you can see, sweet potatoes with medium size have the same baking time as potatoes. However, if their size is too small or too large, it will vary a little bit.
Keep following to collect some simple steps for cooking this kind of vegetable at 4000F:
Step 1: Prepare your sweet potatoes and other ingredients and heat your oven to 4000F.
Step 2: Rinse your vegetables. You should use a vegetable brush to scrub the sweet potatoes. It also helps you remove all fiber-like eyes on the surface of your veggies. Use paper towels to dry them.
Step 3: Poke your vegetables 4 or 5 times with a skewer or a fork to help the steam escape during the baking and make your results cook evenly.
Step 4: Cook your prepared spuds in the oven at 4000F for 30-75 minutes, depending on their size.
Step 5: Serve them with your favorite toppings.
Should You Cover Potatoes With Foil Before Baking?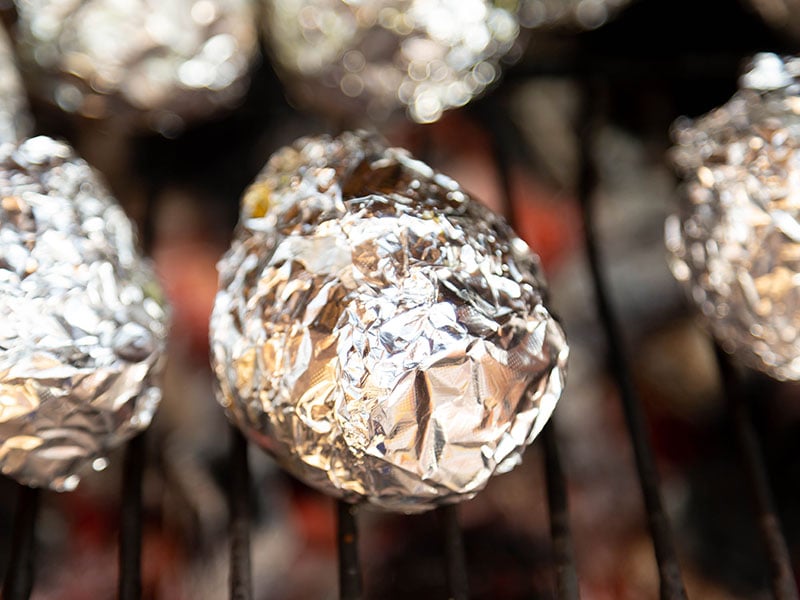 Some people think that using aluminum foil to wrap potatoes before baking will help your veggies cook faster. Restaurants also serve these spuds that way. So, is this the truth?
Restaurants often serve baked potatoes in foil because they want to increase their aesthetic appeal. These foils don't make your results taste better.
People also believe that using aluminum foil will help your potatoes cook faster. However, this is still a myth. Therefore, don't wrap your potatoes because of these reasons.
You shouldn't use foil to wrap this type of vegetable because it will reduce the crispiness and the softness of the potatoes. The reason is that water accounts for 80% of potatoes. (1)
So, when you wrap them, you get the dish full of water outside because the steam doesn't escape during the baking.
Moreover, it's hard for you to know your dish is fully cooked. When unwrapped, you can observe the color and texture of these spuds. However, when you cover them with foil, you can't check them. Even when they are burnt, you can't detect them in time.
Why do you have to pay extra when you can cook your potatoes to the best flavor, right? The cost of aluminum foil is also quite expensive. Furthermore, you have to spend effort and time packing them.
However, wrapping your potatoes with aluminum foil also brings you some advantages. Your resulting potatoes will stay hot longer and be softer than ones baked without foil. If these characteristics are what you like, you can apply this method to your potatoes.
If you want to bake potatoes in foil, you can follow this guide.
How To Tell If Your Potatoes Are Cooked?
The potato's size varies greatly, so you still have difficulty baking this kind of vegetable. You don't know if they are fully cooked or not. Here are some small tips to help you make sure your results are ready for serving.
Use A Fork Or A Skewer
You can use a fork or a skewer to pierce the core of your potatoes. If it's easy to go through, your results are perfectly done. If you feel resistance when you poke them, you need more time to cook them.
Use A Food Thermometer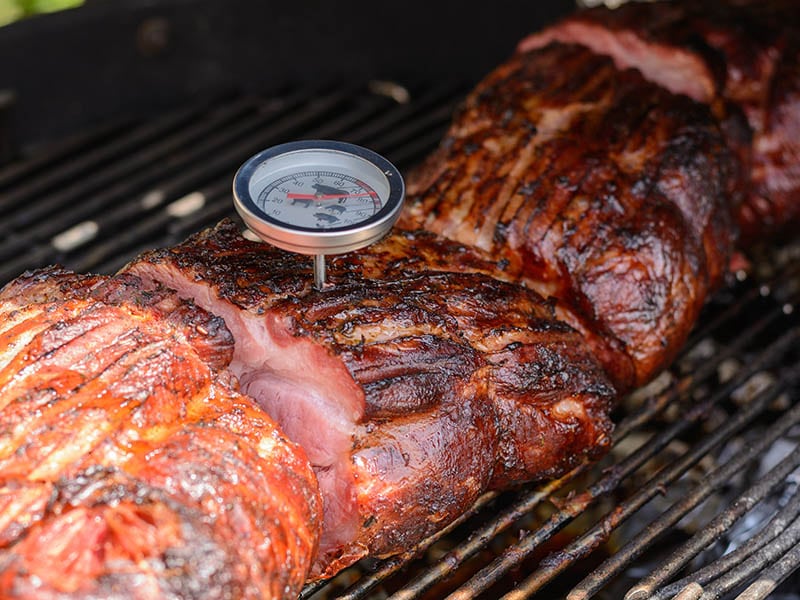 Place a food thermometer in the thickest part of your veggies. If it reaches 2100F, your potatoes are ready to serve.
Here are the step-by-step directions to help you use the thermometer properly:
Step 1: Prepare your thermometer and check to know if your thermometer is still working well.
Step 2: Insert it into the core of your potatoes.
Step 3: Keep it for approximately 15 seconds. If the internal temperature of your results reaches 2100F, your potatoes are perfectly done.
Note: Eating undercooked potatoes can cause some digestive issues. (2) Therefore, you should use the two methods above to make sure that your results are safe for your health.
This tutorial will show you how to use a food thermometer to make sure that your dish is done.
FAQs
I know baking potatoes has given you a lot of trouble. Below is some extra information I think you should know. Let's go through them.
Make Your Baked Potatoes Tastier Than Ever
Indeed, the baking time applied to different types of potatoes is so complicated. However, I think you had a better understanding of this problem, right? Don't let the element of time get in the way of your great food.
If you think these baking potato tips are helpful, please share them with your beloved and other cooks to help them know this useful information. I will be happier if you can leave a comment in the comment box to let me know your feelings about this post. Thank you!
Nutrition Facts
4 servings per container
---
Amount Per ServingCalories228
% Daily Value *
Total Fat 7.2g

11

%
Cholesterol 0mg

0

%
Sodium 592mg

25

%
Potassium 888mg

26

%
Total Carbohydrate 38.5g

13

%

Dietary Fiber 2.8g

8

%
Sugars 1.3g

Protein 4.6g

8

%
---
* The % Daily Value tells you how much a nutrient in a serving of food contributes to a daily diet. 2,000 calories a day is used for general nutrition advice.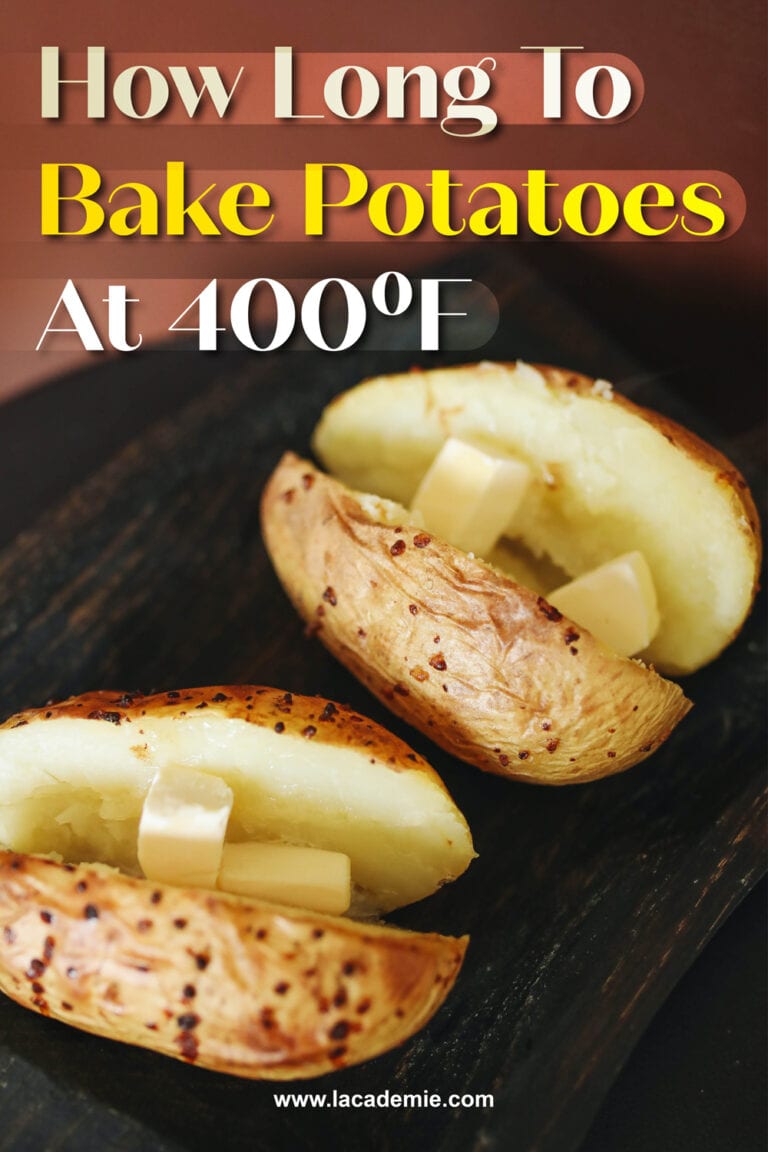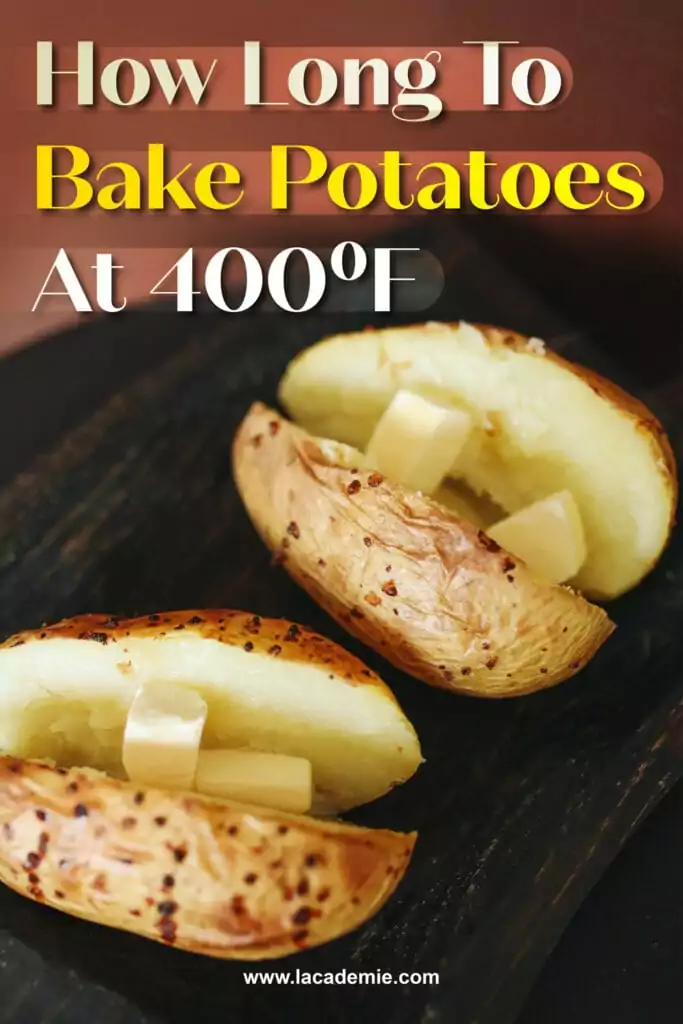 References
Websites.umich.edu. 2022. Some potato facts.
Healthline. 2022. Eating Raw Potatoes: Healthy or Harmful?.