Potato soup is such a common dish, but do you know what to serve with potato soup? If your dinner is planned to be that soup but you still don't know which are the best side dishes for your meal, then here's the place for you to figure it out!
Side dishes pairing with this soup are plenty and diverse. It can be served with slices of bread, salads, sandwiches, rice, etc. Most common and delectable sides are listed below! Hope you find yourself the best one to eat with your favorite soup!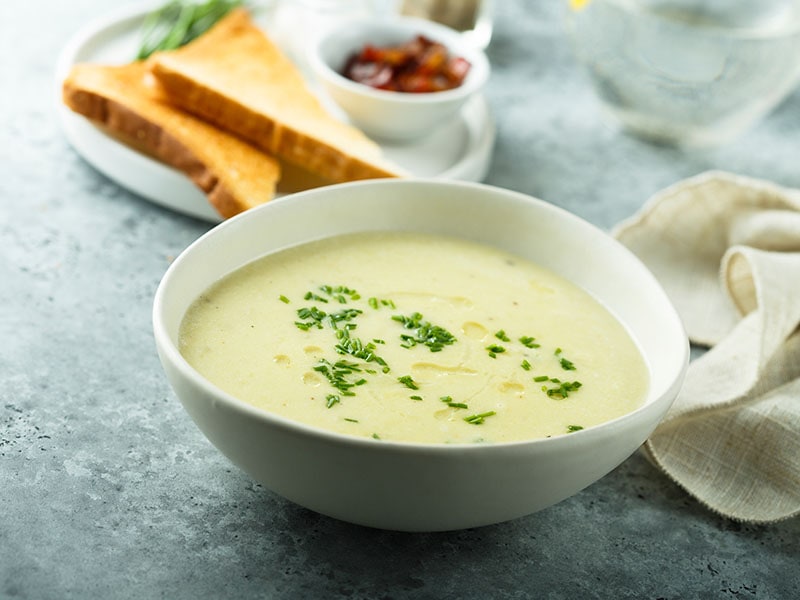 What Are The Most Delicious Sides For Potato Soup?
I know it's hard sometimes to choose a proper side to serve along the main course. Here's a brief list of the best side dishes to go with potato soup! Take a glance at these names and learn how to make them in the next sections!
Bread
Crockpot Baked Beans
Garlic And Shallot Bread
Pizza Dough/Crust Cheesy Breadsticks
German Soft Pretzel Sticks
Buttered Cornbread
Hawaiian Sweet Rolls
Homemade Rye Bread
Broccoli Cheese Cornbread
Salads
Pomegranate Rice Salad
Broccoli Salad With Bacon And Cheddar
Arugula Salad With Apples And Pecans
Warm Spinach Salad With Bacon Dressing
Bourbon Braised Bacon Brussel Sprouts
Classic Coleslaw
BLT Chopped Salad
Others
Coconut Rice
Greek Lemon Rice Pilaf
Spicy Sautéed Kale
Lemon Garlic Roasted Asparagus
It's time to get more information about these delicious side dishes accompanied by potato soup! Are you ready?
What Exactly Is Potato Soup?
Potato soup may be one of the most popular soups in the world to tell. It is not a local dish; everyone can make it, and its ingredients are super easy to find everywhere. This dish originates in Peru and has been in this world for 7000 years!
This soup is typically made of two basic components which are potatoes and milk. Some varieties include more vegetables, herbs, and spices. It is a dense, creamy texture with a mild, little milky taste. The flavor may be affected by the component inside.
You can serve this hearty dish as an appetizer, a side dish, or even the main course. And in case you go with a side-dish option, potato soup is a perfect treat to pair with sandwiches or other main courses. Overall, you will not get enough of it because of their delectability.
Plus, Its ingredients may easily be changed based on personal likings. So don't hesitate to throw in anything to your soup and make it your only unique soup!
Potato soup is usually paired with some other side dishes if it plays the main course in a meal. The sides coming with this soup often contain starch components such as bread or rice, or high-fiber ingredients like salads and some veggies.
Curious what the side dishes of potato soup are? Let's come to the most exciting part!
15+ Best Side Dishes Recipes To Pair With Potato Soup
As I said, there are tons of foods to come with potato soup! Some of them are easy to make at home, but some are a little bit complicated with many ingredients. However, I believe that with these detailed recipes, you can make all of them right in your kitchen!
Let me take you to the potato soup side dishes kingdom!
Bread And Beans – The Kings Of Potato Soup Side Dishes
Bread is one of the most common side dish types to serve with potato soup. You can dip it into the soup or just consume it like two different dishes. Beans, especially baked beans are also excellent choices. Check them out!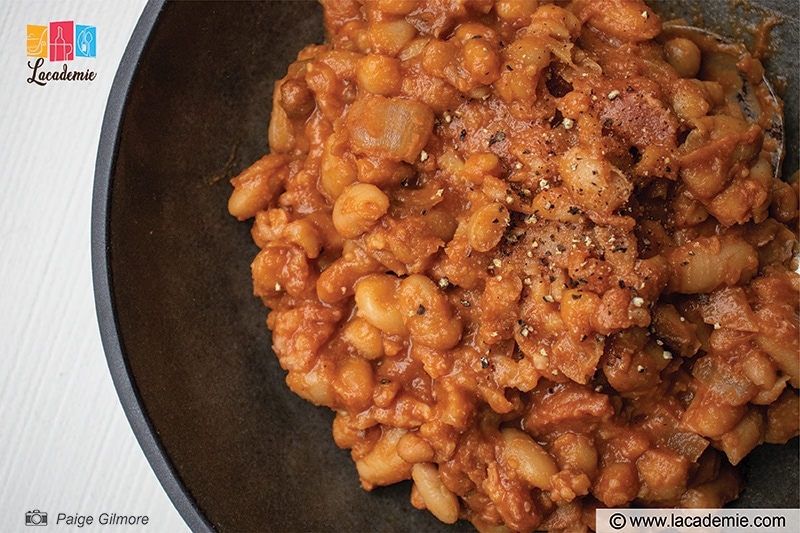 Baked beans are full of flavor and substantial in texture. They're an ideal side dish to include in your meal! The special texture with beans makes a fun experience in your mouth!
Baked beans are usually served on the Fourth of July and on many holidays as a separate dish. It is also a must-have food item at BBQ parties.
This instruction will help you to make baked beans from scratch! Enjoy!
Some slices of this delectable rustic bread are perfect to go with your main dish. It tastes intense with the smell of garlic and shallot. The combination of garlic granules and fresh or dried shallots is exploding and gives the bread loaf a unique flavor.
Plus, some people refer to choosing garlic powder for their bread. Even though there are differences between garlic granules and garlic powder, you can still use either of them for any bread recipe.
In this recipe, I will give you two ways to create this tasty bread. You can make your own bread from the beginning, or you can just buy the sourdough bread available at the bakery to start with.
Having this bread to eat with potato soup will enhance the mild taste of the soup with the sublime flavor of the included herbs. Also, the crunchy, golden outside layer with the soft, melting inside filling will make you surprised at the first touch to your tongue!
These recipes will help you to create the cheesiest breadsticks ever! It looks like some pizzas but has a thinner base. These breadsticks are usually served as an appetizer or a snack, especially a side dish.
The rich taste of cheese will dominate this side's flavor. It is also very soft and moist inside, with a little crisp touch outside. So, it's perfect to balance the taste of the whole dish. You will take less than 30 minutes to accomplish this recipe!
These classic pretzel sticks from Germany are also called Laugenbrezel. It is way simpler to make than other pretzel recipes because they don't need to twist the yeast dough into the signature shape.
German pretzel sticks have a beautiful brown color outside and dense filling inside. In America, they are usually consumed as a crispy snack and also as a side dish.
This bread is a basic type of bread with some simple ingredients like butter, flour, and milk. Its smooth texture with sweet and buttery taste will fill in your mouth and be a great sidekick to your potato soup!
Try these recipes with just some quick steps, and you will be amazed by the result! Butter and corn flavors are incoming!
The Hawaiian sweet rolls are one of my favorite Hawaiian-authentic ideas that work well to serve along with potato soup. It consists of the most satisfying aroma with a buttery and tropical flavor.
Hawaiian rolls taste a bit different from other sweet rolls because of the pineapple extract, giving the rolls the subtle sweetness of fruits. This must-try Hawaiian dish is very soft and milky inside, so it's suitable when combined with many types of soup.
Learn to make the best homemade Hawaiian sweet rolls ever! the video below should be able to help you:
The rye bread is not only good for your health but also a delectable bread choice to accompany potato soup. This type of bread is usually consumed in dietary meals because of its amazing health benefits. It is low-calorie, thereby can be added to your dietary meals.
It is such a basic bread to come with your soup, but it isn't bland at all! Rye bread itself has a mild taste. Since caraway seeds are added in the recipe, they make the bread taste unique. You can have some jams or butter on them and enjoy them with your soup.
This specific variation of cornbread includes broccoli and cheese, which may be an odd combination but actually, they blend well together. With this side dish, you can secretly add some broccoli – a healthy but hard-to-eat veggie – into the bread for your children to eat without their knowing.
It can also be consumed as a separate snack. It has a soft and moist texture because of the cottage cheese as an ingredient. The recipe that I provide you here is super simple and can be made at any time! Try them to have a great side for your potato soup!
Salads – The Refreshing Queen To Serve Along With Potato Soup
Salads are great to feature potato soup! They will accompany the soup very well with subtle tastes of veggies and the flavorful tastes of the dressings. Find out these below spectacular salad recipes to go with your soup!
This wild salad recipe will surely blow your mind away! The pomegranate seeds make the salad special. Their juicy sour bursts will explode in your mouth like tiny grenades and will make you feel excited!
This salad suits well with most soups and can bring a delightful taste to your meal! Try these recipes right now for a delicious popping experience!
The broccoli salad with bacon and cheddar is an excellent package of crispness, sweetness, tanginess, creaminess that you can hardly find in any other salad recipe! It is the mixture of bacon, broccoli, and cheese that makes the side dish so special.
Keep in mind that high-rated cheddar cheeses are better for this dish because they will make your dish more attractive and tasty. And in this recipe, you should opt for shredded type.
For the flavorful signature taste, this delectable salad is frequently served with potato soup in order to enhance the mild and subtle taste. If you don't like the little bland taste of the soup, try to eat with this salad and you'll be surprised!
The broccoli salad will never let you down! Check out the steps now!
Because of the ingredients' seasons, this salad is seasonal and usually appears in fall. With the special honey or maple syrup dressing and the combination of arugula, crunchy apple, and pecans, the salad is totally worth having a taste!
This arugula salad will be a perfect sidekick to pair with your main dish! Try this salad mixture right away and you'll be surprised by the outcome!
This spinach salad is delicious, combined with some bacon dressing, boiled eggs, mushrooms, sautéd salmon, and chicken. Cook all of them, then mix them in one bowl with your favorite sauces, and voila, you have a yummy side dish to go with your soup!
Spinach salad will provide a subtle and elegant taste to your meal. It will be an exciting side dish and worth a try!
Bourbon braised bacon Brussel sprouts include a type of whiskey – a fragrant bourbon wine – so its flavors are somehow enhanced a lot. It also tastes a little bit smoky because of the bacon, but it is overall savory and tasty.
I bet this side dish will suit well with your favorite soup, so you should give it a try! I'm sure that you won't be disappointed!
This coleslaw recipe may be used in so many different ways! It calls for an appealing homemade dressing, which boosts the taste of the coleslaw to creamy and pretty sweet. You may serve it as a topping for sandwiches or a side dish for the main-course soup.
You can prepare this recipe pairing with potato salad as well. So don't hesitate to make this delectable and classic coleslaw for any potato-based dishes. You will not regret it!
This family-friendly coleslaw recipe will please the grumpiest consumer! See the instructions for yourself!
This colorful and flavorful salad is usually served in summer. Its taste is boosted by the savory, creamy feta with crunchy, sweet corn, and salty, smoky bacon. All together creates the best BLT chopped salad ever!
Why don't you try this beautiful and tasty salad to accompany the main dish soup? It will undoubtedly be an exploding combination!
Other Faithful Servants Of Potato Soup Sides Kingdom
There are some other dishes that can also accompany potato soup on the dinner table. I will show you a few easier recipes with less ingredients, so try these if you don't have time to cook the above recipes!
Coconut rice is a famous dish in Indian cuisine. But it is also popular in Asian delicacies that are cooked in instant pots. Moreover, it includes savory and sweet variations from all over the world.
Coconut rice is super creamy and rich with a tropical taste. Apart from being a delicious side dish, you can also use it with stir-fries and curries as a main course. Children usually love this dish, so make it for them now!
Greek lemon rice pilaf is a combination of onion, garlic, fresh lemon juice, and herbs. It tastes flavorful and vibrant. It is super easy to make at home, just with a few steps!
Greek lemon rice pilaf goes well with many kinds of soup. So, try it if you're finding a simple but effective rice recipe to serve with your soup! Moreover, it can be consumed with Mediterranean dishes, such as souvlaki or Greek cooked fish.
Kale is super high in nutrients. It consists of more vitamins and minerals than any other leafy green veggies! The spicy sautéed kale recipe is not only great to add more nutrients to your meal but is also a really yummy side dish.
If you've never cooked with spinach before, this is a fantastic side recipe for you to get started with!
Asparagus is a super veggie with countless health benefits, especially for pregnant women. Roasting asparagus will keep its nutrients but also get a little burnt and out-of-this-world taste. It is one of the most common veggies to pair with most types of soup!
Don't wait any longer. Grab the asparagus in your fridge and make this excellent dish to amaze yourself now!
Have You Got Your Best Potato Soup Side Dish?
Have you chosen for yourself at least a complement for dinner by far? Which one do you think will be the best, and why do you think so? Share your opinions with me in the comment sections below!
If you have any more suggestions for this list, don't hesitate to leave them here to share with others! I hope you enjoy the above list and try to cook some of them when you have time! Love to see your masterpiece!
Nutrition Facts
4 servings per container
---
Amount Per ServingCalories291
% Daily Value *
Total Fat 11.7g

17

%
Cholesterol 30mg

10

%
Sodium 765mg

32

%
Potassium 506mg

15

%
Total Carbohydrate 29.8g

10

%

Dietary Fiber 8.4g

32

%
Sugars 11g

Protein 14.9g

29

%
---
* The % Daily Value tells you how much a nutrient in a serving of food contributes to a daily diet. 2,000 calories a day is used for general nutrition advice.