How about having Crockpot baked beans for something wholesome and hearty? You may have learned the precise way to make nice BBQ baked beans. But this recipe will save you time by letting the Crockpot do all the hard work for you, a set-and-forget dinner.
This no-fuss, quick, and easy Crockpot recipe will become one you'll want to add to your weekly meal rotation. Instead of buying mass-produced baked beans that are possibly laced with additives, treat yourself and your family to this nutritious and versatile dish.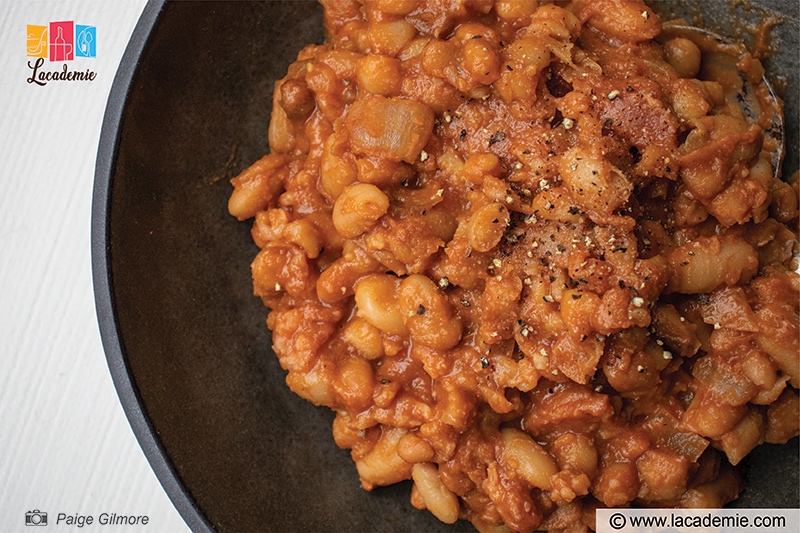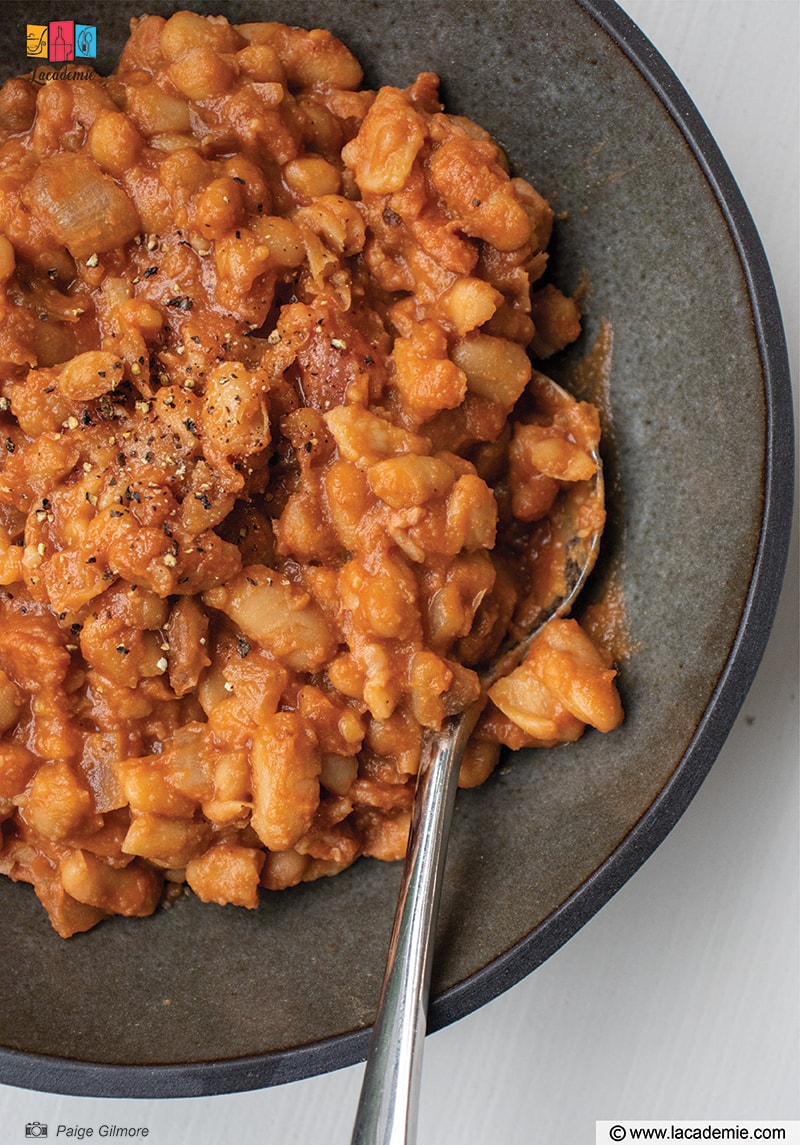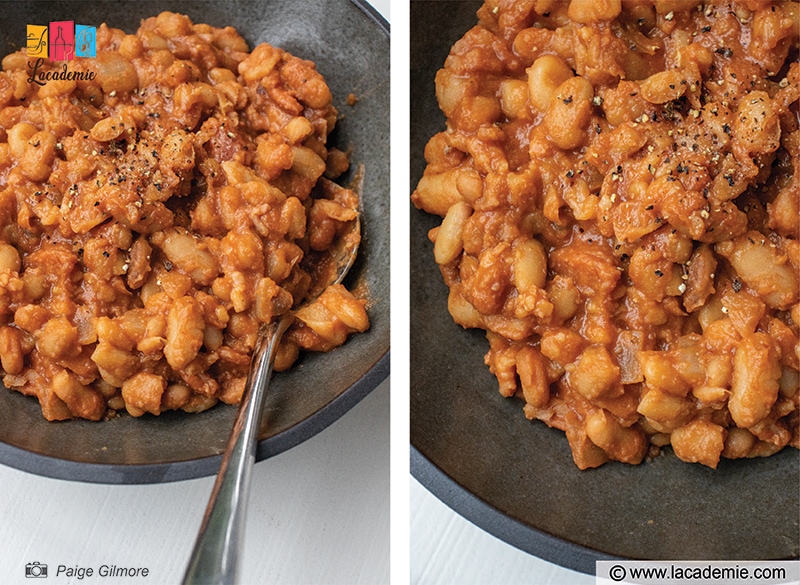 What Are Crockpot Baked Beans?
Generally, baked beans are a traditional savory favorite consisting of white kidney beans in a tomato sauce base. They have a very long history, dating to the early 17th century at least. This is a very nutritious and fulfilling recipe from Native American cuisine.
A good pot of baked beans usually takes hours and a lot of care to make. However, a Crockpot will take much of the burden off your shoulders. Simply toss all the ingredients into it, and you enjoy a warm comfort food with hearty deliciousness at your leisure.
Tools
My Crockpot baked beans require very little food preparation, making cleaning up a breeze. To re-create this simple Crockpot recipe, let's prepare the following tools:
Crockpot / Slow cooker: this appliance will take care of the cooking, releasing you from kitchen duty.
Chopping board: to cut the bacon rashers.
Sharp knife: to cut the bacon rashers.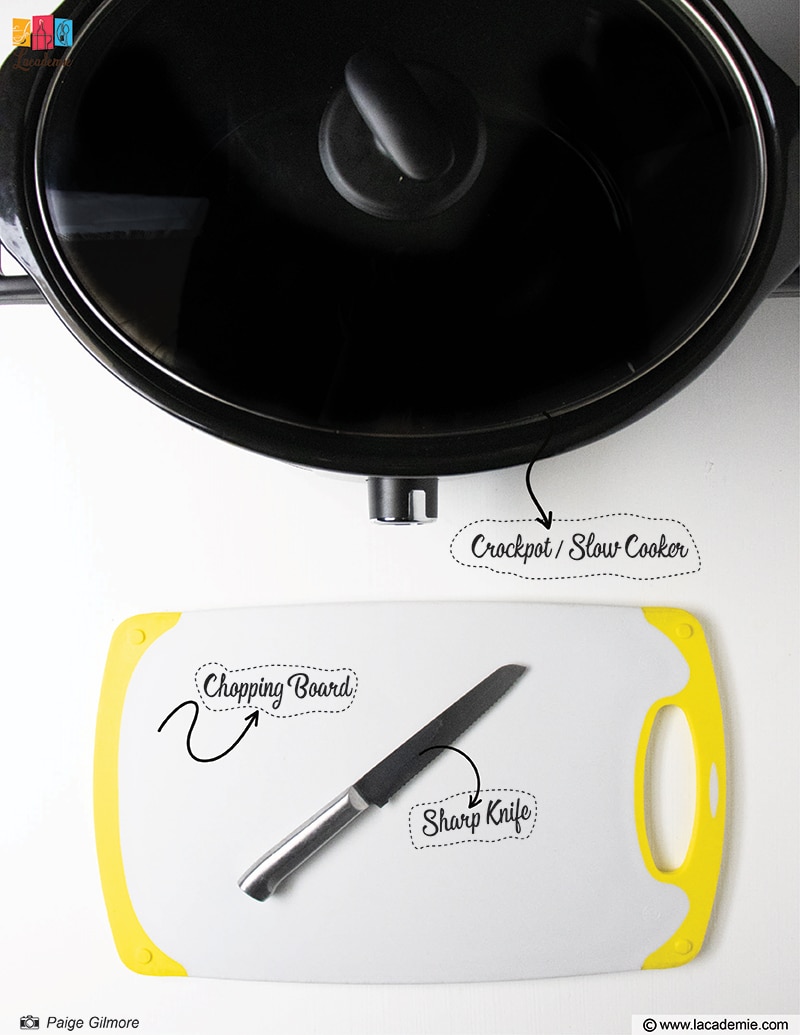 Ingredients
Below are the key ingredient components to realize this Crockpot baked bean recipe. You can easily find them at any supermarket.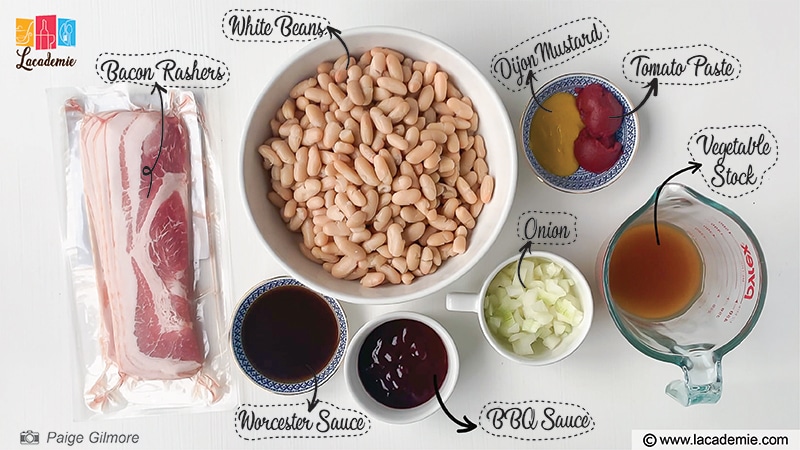 White beans: the healthy, hearty, creamy bean makes the perfect baked bean scrummy.
Bacon rashers: salty bacon adds extra flavor and texture to your baked beans.
Dijon mustard and Worcester sauce: add extra savory tones to your sauce.
Brown sugar: creates a slight sweetness to this dish.
Tomato paste: a traditional and flavorsome sauce base
BBQ sauce: creates a tangy kick to the traditional baked beans.
Onions: add classic flavors to your sauce base.
Vegetable stock: enhances the flavor base and adds extra moisture.
How To Make Crockpot Baked Beans
Make this supremely easy recipe by following these simple steps. You only have to cook a couple of ingredients into delicious Crockpot baked beans.
Step 1: Prepare Your Bacon
On a plastic chopping board, use a sharp knife to slice your bacon rashers into ¼-inch x ¼-inch pieces.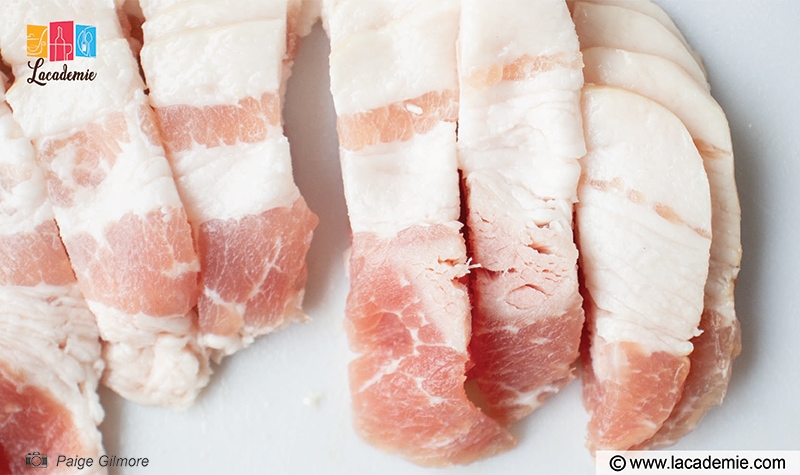 Step 2: Organize The Crockpot
Following the manufacturer's instructions, set up your Crockpot for cooking.
Step 3: Add The Ingredients To The Crockpot
Pour the beans and bacon slices into your Crockpot, followed by the remaining ingredients.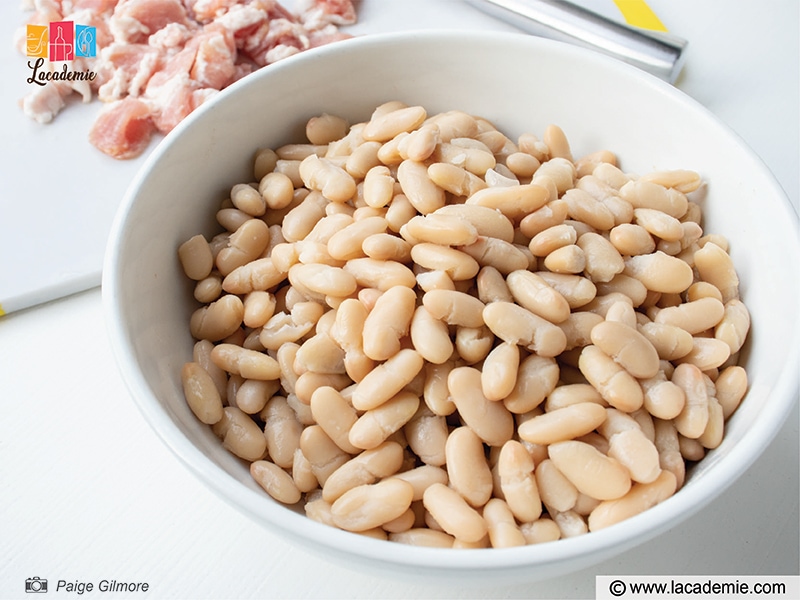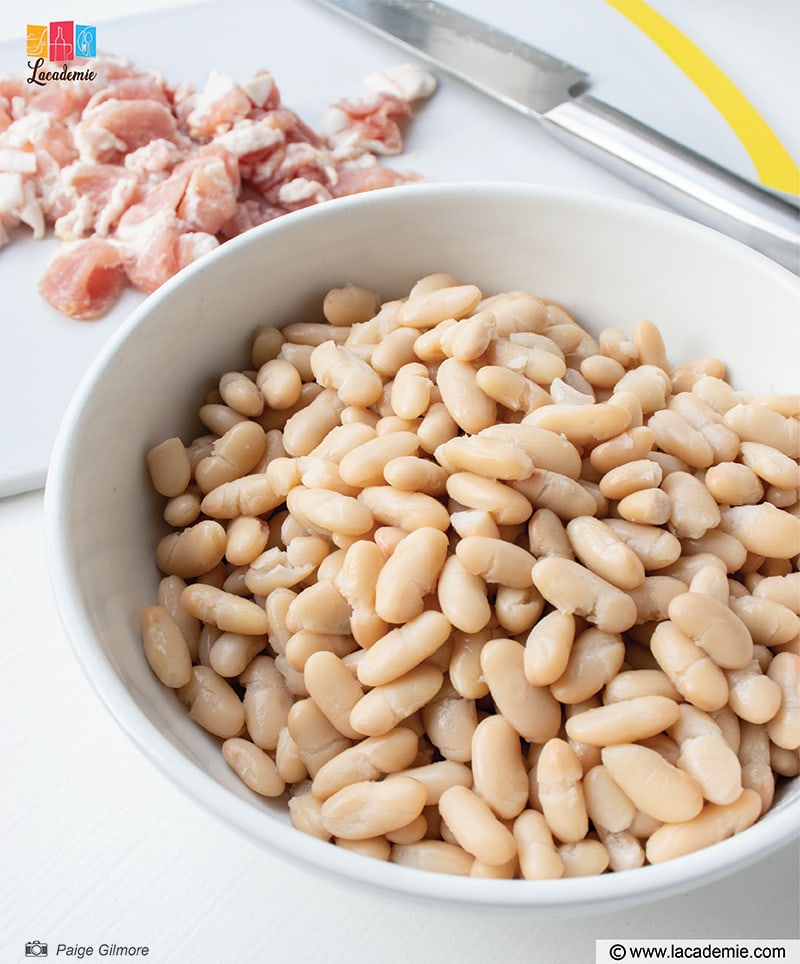 Step 4: Stir The Ingredients
Stir the beans, bacon, and condiments thoroughly. This type of dish is thicker than a soup, so you want to make sure all the ingredients are evenly distributed.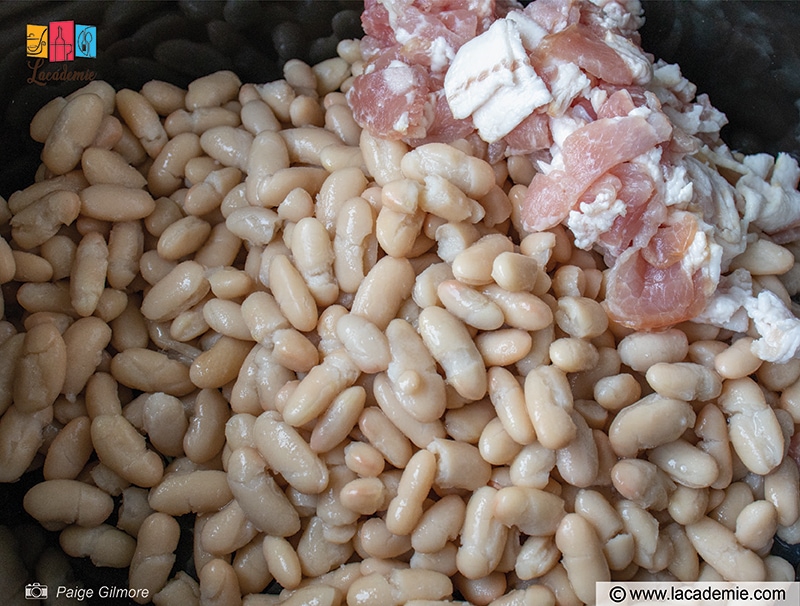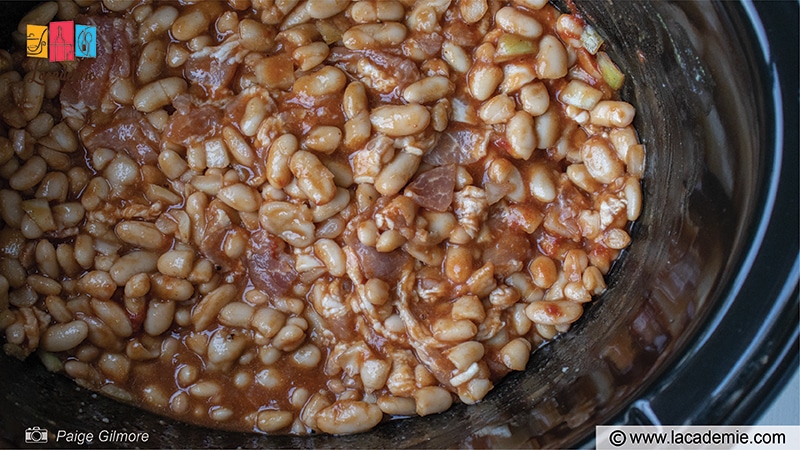 Step 5: Cook Your Crockpot Baked Beans and Serve
Turn on your Crockpot. Cook for 3 hours on a high setting or 6 hours on a low setting. When the beans are tender and fragrant, serve hot and enjoy!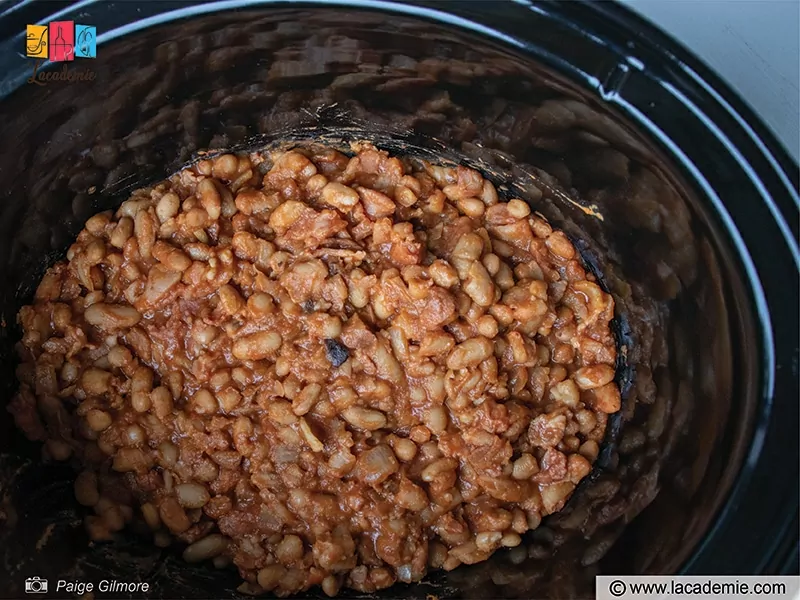 Tips For The Best Crockpot Baked Beans
Following these simple tips to recreate beautifully cooked baked beans in a flavor-packed savory sauce.
While it might be tempting to skip the BBQ sauce, don't do so! The BBQ sauce adds a whole lot of deep flavor and a little extra sugar to make your baked beans perfect.
This recipe calls for really easy-to-find canned white beans. But if you feel like going the extra mile, you can purchase dried beans and then rehydrate them yourself.
To use dried beans, soak them in warm water for approximately 8 – 10 hours or overnight. Then, cook them in the Crockpot with the rest of the ingredients according to the recipe.
If you like your baked beans to be sweeter, add an extra 1 – 2 tablespoons of brown sugar. To make them more savory, reduce the amount of brown sugar from 2 tablespoons to 1 tablespoon.
What To Serve With My Crockpot Baked Beans?
Now, you know every step and tip to make Crockpot baked beans. And this part will help you elevate your baked beans with all these side dishes. They'll take your beans to another level:
Fresh parsley: the perfect fresh herb to compliment the savory flavors.
Hot sauce: if you like a little spice kick to your traditional baked beans, hot sauce will give this meal a spicy kick.
Crusty bread: it is a good idea to place some baked beans on crusty toasted bread to soak up the sauce base.
How To Store Crockpot Baked Beans For Later
Don't worry if you bake too many beans. Compared to other foods, baked beans' storage life in the fridge is quite long. For this version, you only need to pour it into an airtight container (or a pot with a lid) and put it in the refrigerator. This way, your baked beans can last for 3 – 4 days.
While the answer to whether baked beans are suitable for freezing is quite complex, this Crockpot recipe can last for 6 months in a freezer. Prepare some freezer-friendly bags or containers to keep the beans in.
Don't forget to divide them into many portions so that you only have to reheat enough beans for your meal rather than the whole pot.
Crockpot Baked Beans Are Awesome!
You have just learned how to make a fun and highly addictive alternative to the traditional baked beans in a can. It has everything, from extremely hearty white beans to a perfectly balanced savory and sweet sauce, plus some salty bacon pieces.
When you want a filling dinner for your family, this Crockpot baked beans recipe will become your new favorite meal! Give this recipe a try, and tell me if you like it extra sweet or savory in the comment section. And don't forget to share this recipe with your friends!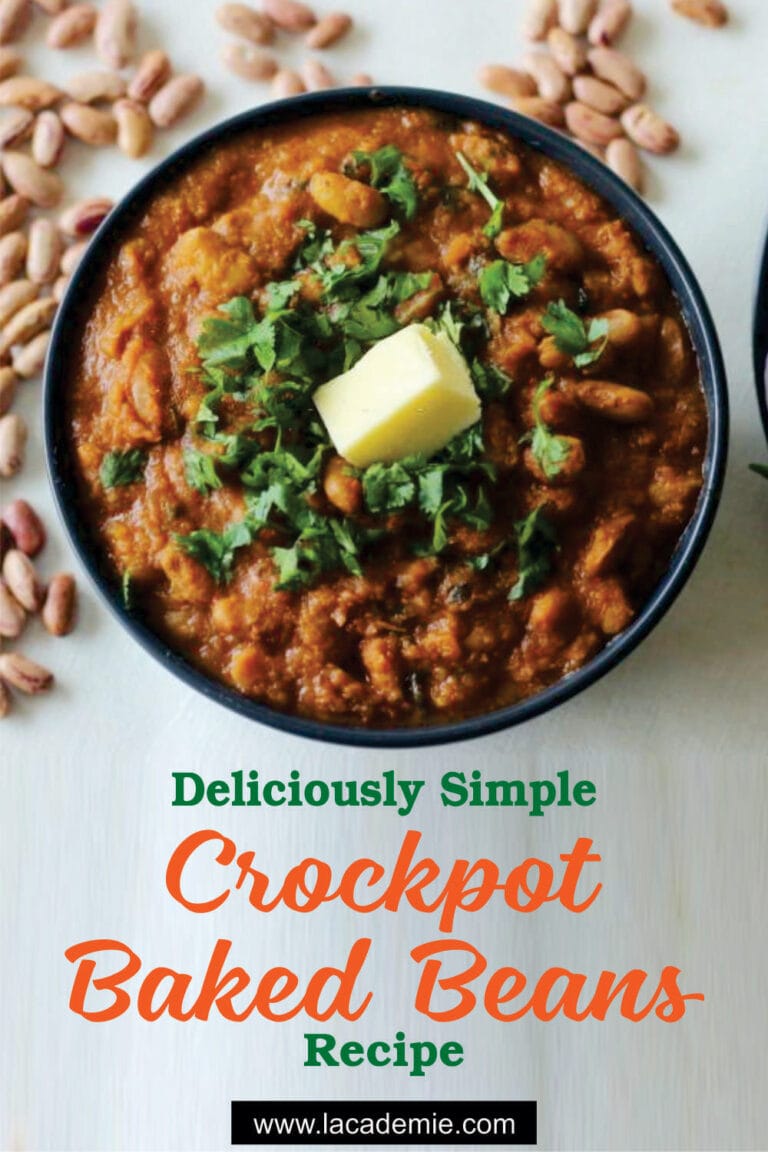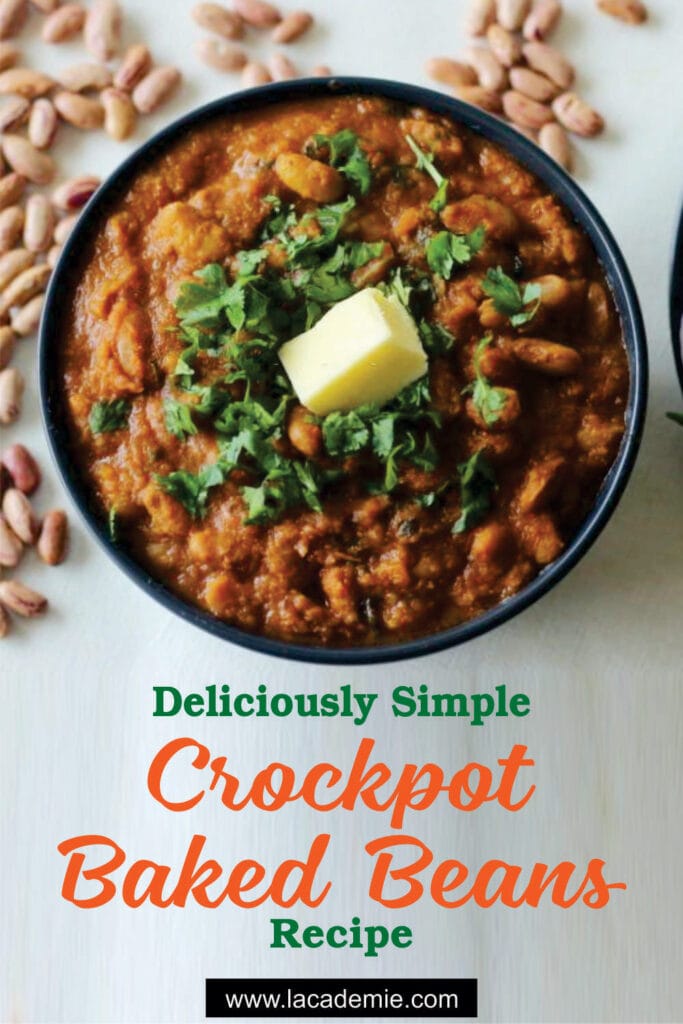 Nutrition Facts
4 servings per container
---
Amount Per ServingCalories291
% Daily Value *
Total Fat 11.7g

17

%
Cholesterol 30mg

10

%
Sodium 765mg

32

%
Potassium 506mg

15

%
Total Carbohydrate 29.8g

10

%

Dietary Fiber 8.4g

32

%
Sugars 11g

Protein 14g

29

%
---
* The % Daily Value tells you how much a nutrient in a serving of food contributes to a daily diet. 2,000 calories a day is used for general nutrition advice.