How to make an easy BBQ baked beans recipe? This is a common question you can come across on online culinary forums. Understanding your desire, I will present the specific tutorials in this post to make this treat the most convenient way.
Why don't you try preparing this amazing recipe with Italian sausage to treat your friends right now? This is a good opportunity to show your cooking talent and leave a profound impression on your guest's mind. Please go for it now!
A Few Words About Delicious BBQ Baked Beans
If you plan to hold a barbecue party on the weekend, you can try to put your faith in BBQ baked beans. This fantastic treat is an excellent accompaniment to delicious and smoky grilled meat.
It is a well-combined mixture of bell peppers, bacon, sausage, and canned baked beans. Its flavor is an incredible fusion of hearty, tangy, sweet, and savory tastes. Moreover, the deep shade of this treat can catch your eyes instantly.
Baked beans are a famous recipe that originated in the Americas, made with beans native to this area by the indigenous people since time immemorial. English colonists adapted this fantastic food in New England in the 17th century, giving birth to the modern version.
Nowadays, you can use different ways to make this dish. For example, cooking baked beans with a crockpot is a familiar way. Or there are various canned baked beans at many supermarkets worldwide.
You can consume it cold, hot, or straight from the can since they are cooked. It was commercially produced for the first time in 1886 and became widely famous in the 20th century.
Important Ingredients
The first step for having the incredible BBQ baked beans is to gather the needed ingredients. You can find them quickly and correctly with the support of this list in the section. Check and buy them right now!
Sliced Bacon: This essential element adds salty and umami flavor to the treat. Also, the distinctive meaty taste can awaken your taste buds immediately.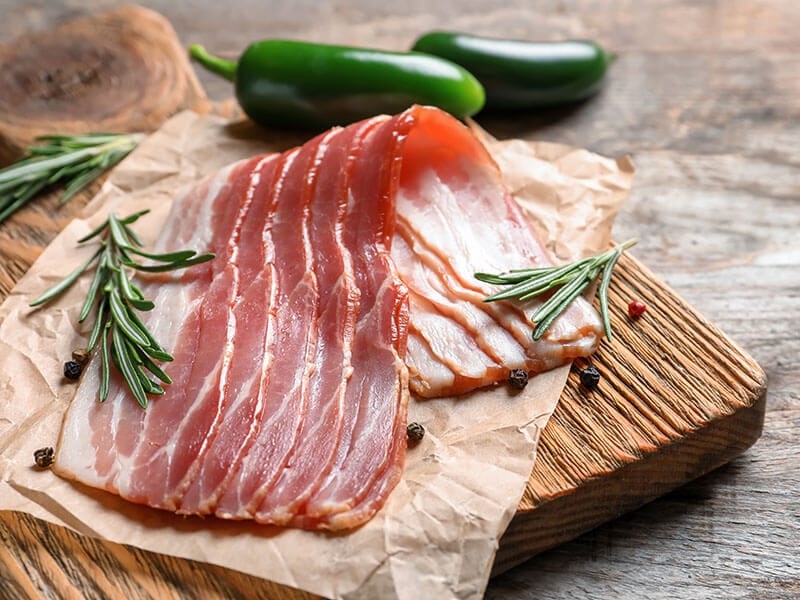 Canned pork: Enhance the quality of this recipe by adding savory taste and dense consistency. But you can replace it with short ribs or salt pork. The baked beans are still as savory as ever.
Brown sugar: I need a caramel and toffee-like flavor of this sugar for this fantastic dish. Of course, it gives your baked beans an alluring sweetness.
Molasses: This dark condiment can provide the characteristic smoky, sweet, and warm flavor to your dish. You can opt for light molasses for the mildest taste.
Chili powder: Make the treat more fascinating and delicious with the heat and spiciness of the hot powder.
Soy sauce: The main task of this ingredient is to give your baked beans the typical umami flavor. Plus, it makes your dish richer and more profound.
Worcestershire sauce: Tangy, sweet, umami, and sweet tastes are what your dish gets from this ingredient.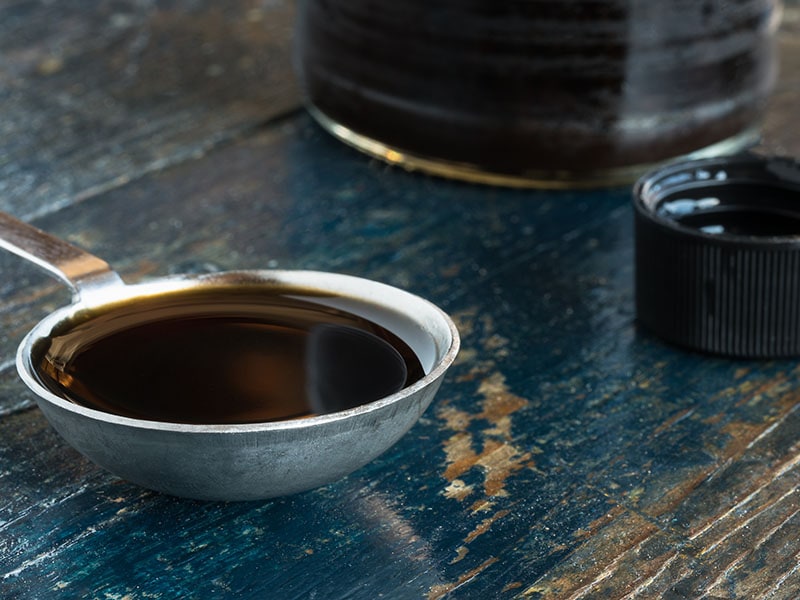 Mustard: Elevate the flavor with this element's pungent, spicy, and malty taste.
Ketchup: Diversify the taste with the addition of sour, sweet, savory, umami, and bitter touch.
Barbecue sauce: To enhance the sweetness of this fantastic treat.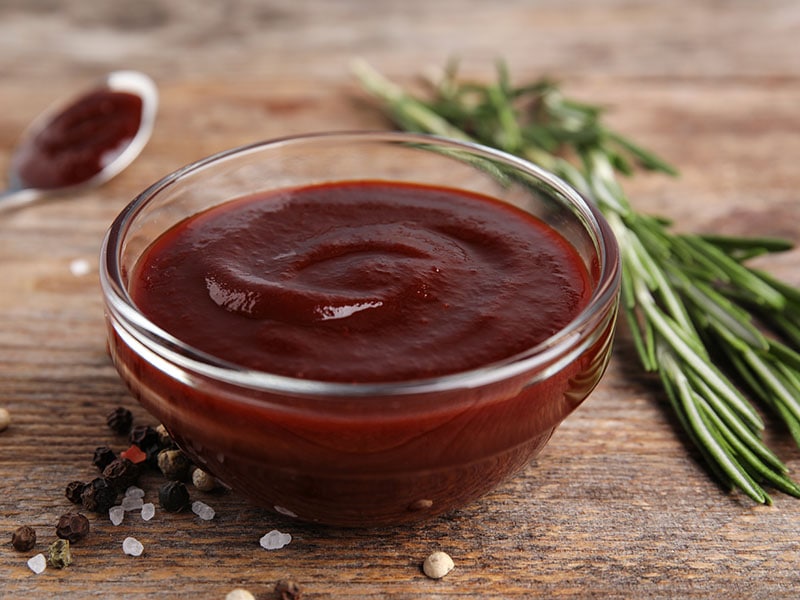 Canned baked beans: You can purchase your favorite canned baked beans at the supermarket to add a sweet and subtle earthy hint to your recipe.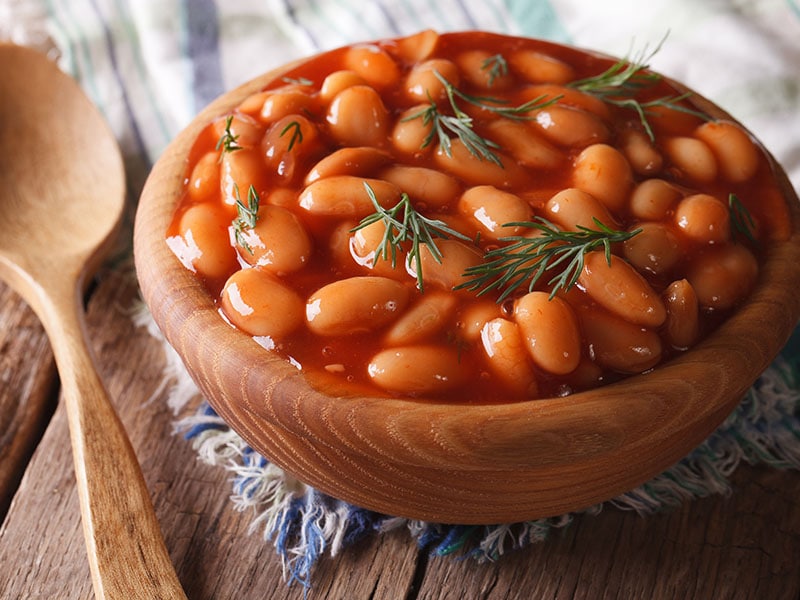 Using canned beans helps save you time, but you can prepare this dish with fresh beans if you prefer. I also love to use navy and pinto beans for the best result when making this dish.
Chopped and seeded bell pepper: Make your dish colorful with red and yellow pepper. In addition, the recipe gets a light crunch and spiciness.
Hot Italian sausage: To provide the licorice and anise-like taste as well as a bit of earthiness.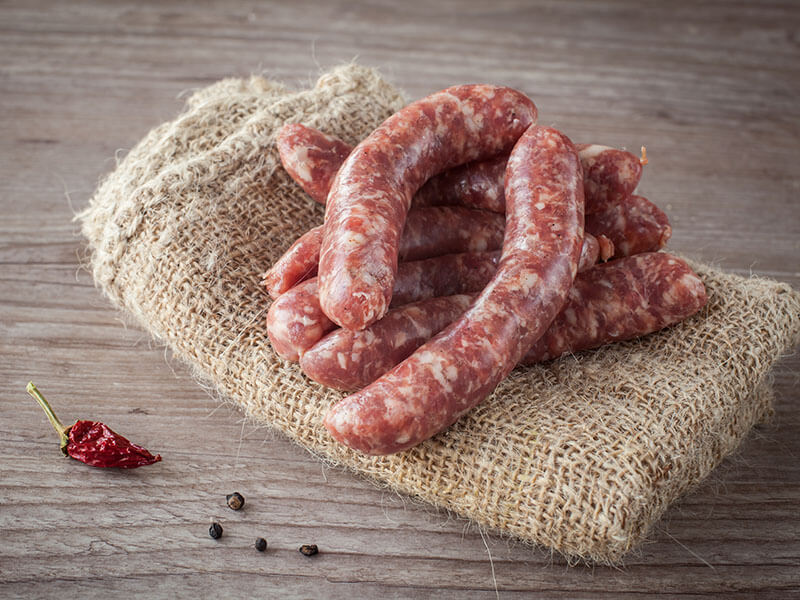 Chopped onions: Add an intense and appealing fragrance to the dish.
Olive oil: Opt for this oil for cooking this dish to add the wine-like flavor and subtle aroma to the food.
Chicken stock: You can enrich this side dish with the tasty and distinctive flavor as well as the appetite-whetting aroma of chicken.
Save The Simple Directions To Your Cookbook Now
Are you ready to go to the kitchen and bring the delectable BBQ-baked beans out? Keep the tutorials beside and follow all the steps carefully to have a wonderful baked dish for your dinner.
Step 1: Preparation
An oven and a baking dish are 2 essential pieces of equipment you must prepare for making this dish. Let's set the oven to 300 degrees F and cover the baking dish with a layer of cooking spray to prevent it from sticking.
In case you use fresh beans for this wonderful dish, please do not forget to soak them in water and salt concoction for about 8 hours before making these excellent baked beans. After that, let's drain and rinse them carefully to get the best result.
Step 2: Cook Bacon
To give the dish an excellent crunch, you need to cook the bacon in the Dutch oven for about 7 to 10 minutes until it reaches the crispiness you desire.
Once you have the crispy bacon pieces, you will place them on a large plate with a paper towel to discard the excess oil and fat from the bacon.
Step 3: Brown the Sausage and Veggies
In the meantime, fill the Dutch oven with 1 teaspoon olive oil, add onions and cook for about 7 minutes. After that, add the Italian sausage and cook until the sausage acquires a light brown shade (half done).
Next, give the mix a light spiciness with the addition of bell peppers. Please continue to cook until the sausage gets the entirely brown hue and the veggies are tender.
Step 4: Cook the Beans
You should combine the sausage and veggie mix, beans, water, bacon, and chicken stock. Boil the mix and simmer it for 1 hour (300 degrees F).
Stir the mixture in the ketchup, barbecue sauce, mustard, Worcestershire sauce, and chili powder blend before covering and cooking the mix for about 4 hours.
Step 5: Finish and Serve
After 4 hours, you continue to cook the delicious mixture without covering for about 1 hour until you get tender beans and dense sauce.
Take your result out of the oven and wait about 15 minutes for the BBQ baked beans to cool completely. Finally, add a bit of salt and serve the yummy dish right now.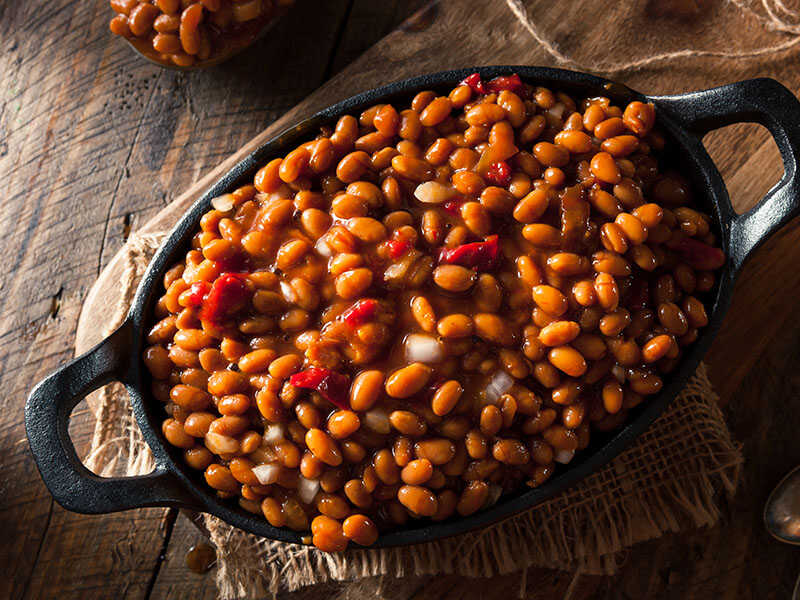 Exciting Secrets To Achieve Wonderful Baked Beans
Let's check out a few useful tips that will take your BBQ baked beans to the next level. They are quite easy to follow, so there is no excuse not to save them in your notebook.
You can freely leave out bacon, pork, and chicken stock to make your baked beans vegetarian-friendly. Even in its purest form with just beans and veggies, the dish is still delicious.
If you do not like the juiciness of the canned version, utilize different ways to make your baked beans thicken. For example, stir a mix of water and cornstarch in a pot and simmer it until you have a thick paste. Add the blend back to your baked beans.
Do not forget to add green onions or herbs to the recipe to beautify it and give the treat a fresh breeze.
In order to enjoy a delicious baked bean with fantastic flavor, you have to choose high-quality baked beans, bacon, sausage, and other ingredients.
The recipe tastes better if you simmer all the components first to combine them together and bake the mix later. In fact, you can eat the treat without baking, but the baking process makes your dish better. Hence, do not ignore this step.
The smokey flavor of bacon plays an essential role in this recipe, so please make the dish with a whole package of bacon to get the best result. On the other hand, you can use less if you want.
In case you want to enjoy a baked beans recipe with a light tangy taste, you can reduce the mustard content while making the treat.
I have tried many different beans, and navy beans give me the most satisfactory results. Also, you can try pinto beans as they work well in this recipe.
Since bacon has some similarities with salt pork or short ribs, you can make the BBQ baked beans recipe with them instead. The results will not let you down.
Though you can skip it, soaking the beans overnight is really helpful for this treat. If you want to eat the creamier baked beans dish as well as shorten the cooking time, do not miss this step.
It's better to cook the beans in 212 degrees F water for about 1 hour beforehand since this helps reduce the cooking time.
Suitable Partners To Eat With Baked Beans
I usually make this delicious dish for potlucks or picnics since it is suitable for crowded parties. And there are numerous choices to go with baked beans. Below are some of them: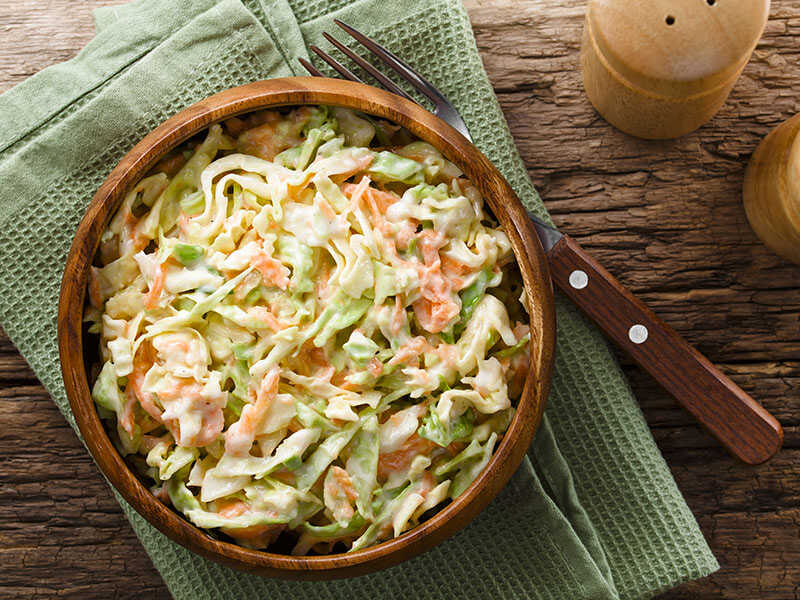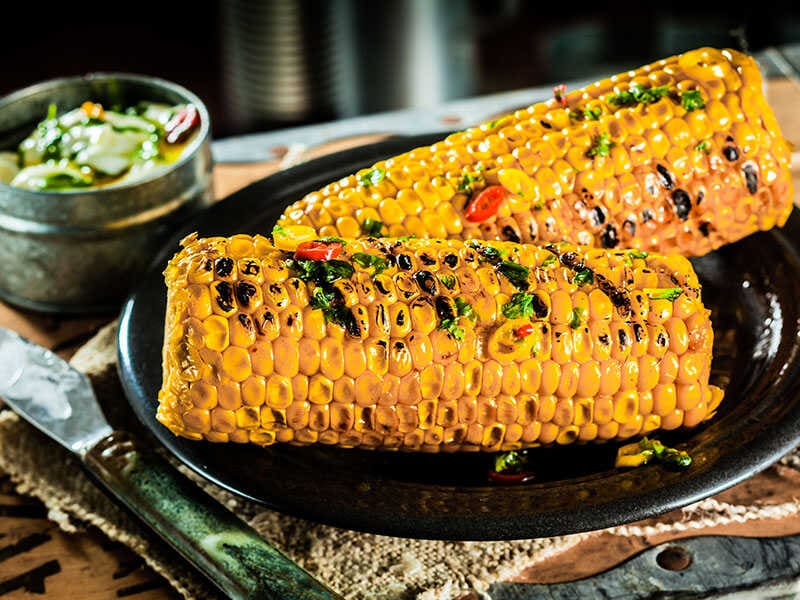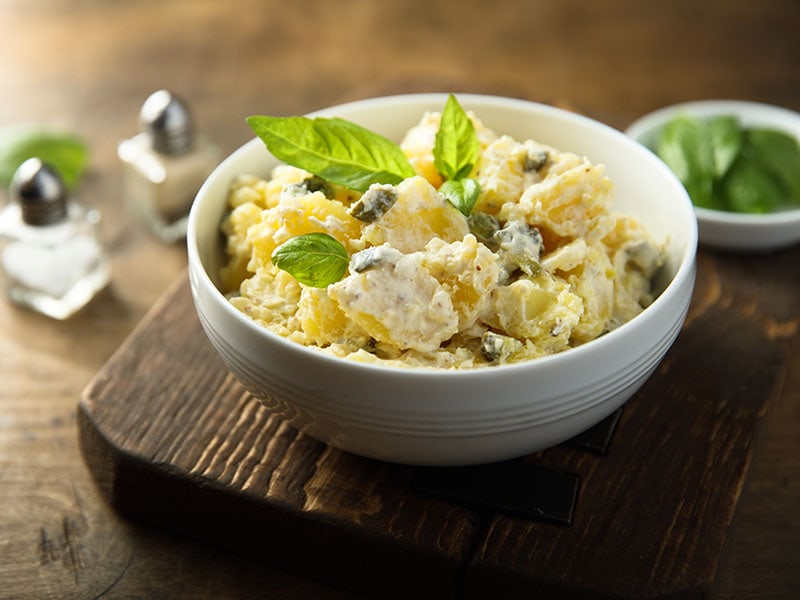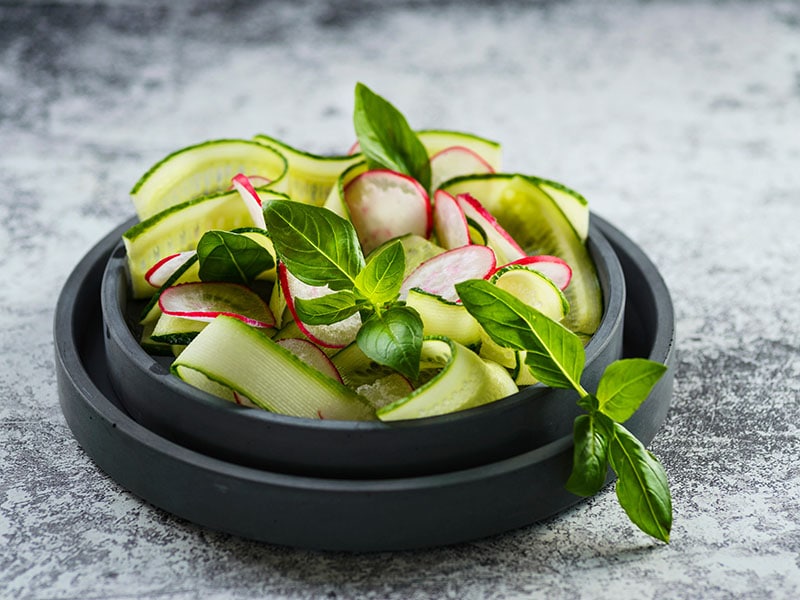 Do you know other ways or amazing tips to make this food better? Do not hesitate to write them down in the comment section. Moreover, many people will know the way to make delicious BBQ baked beans if they see this post, so let's share it!
It's time to enjoy the fun and exciting moments in your kitchen by making this treat with your loved ones. I am sure you can create a yummy dish after reading this helpful article. Show me your results. Many thanks, and good luck to you!