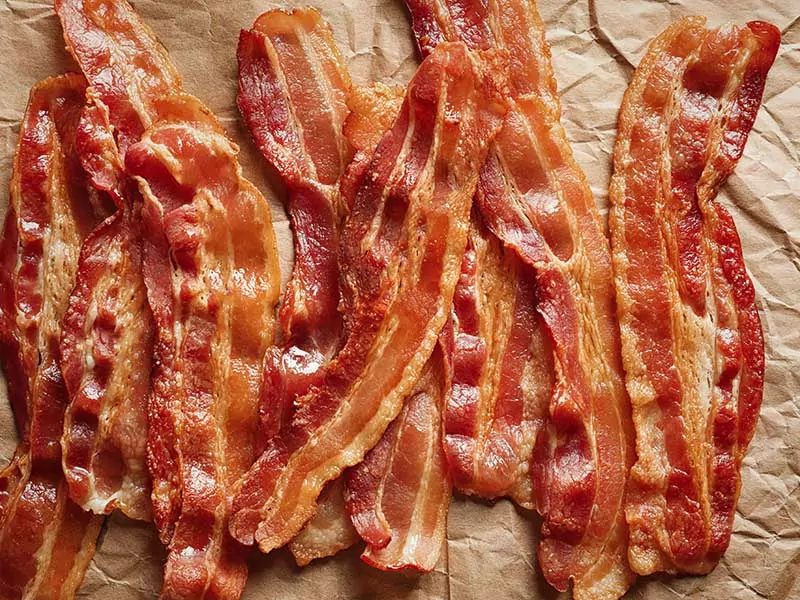 Salt pork vs bacon, what makes them different from each other? All the information that you need is in this post. This article will help you determine which kind of meat you need to buy for your next trip to the supermarket.
Bacon is a popular choice for many people. What about salt pork? What similarities do the 2 dishes share? All these questions will soon have reasonable explanations that satisfy your curiosity.
So keep scrolling, and you will uncover more secrets that separate pork belly from bacon. Let's dive right into it.
An Overview About Salt Pork
First, you need to understand how salt pork came into the world of cuisine. Although salt pork has already appeared for quite some time along with human history, many people don't fully understand what salt pork is.
1. Origin
It is unclear when salt pork made its way into the world's cuisine. But it was popular among navy personnel and military in the 17th century. Thanks to its long-lasting feature, salt pork was used in long voyages as reserved foods until the 19th century. (1)
Salt pork is often used as a seasoning for soup and stew in today's world. Because of the saltiness and fat, it's a great way to enhance and give flavor to dishes.
2. Characteristics
Salt pork is mostly extracted from the belly part of the pig. In some rare cases, people will use the fatback to make salt pork.
After that, it will be cured in a suitable salt variety or brine solution for at least 2 days. The pork belly has the highest fat content and gives salt pork a smooth texture.
In addition, the excessive use of salt will make the meat saltier than any traditional cured meat. Salt pork is known to last long. If it is kept whole, preservation time could last up to 4-5 months in a fridge or freezer.
3. Types Of Salt Pork
Salt pork can have many varieties around the world. Here are some of the most common salt pork that is well known worldwide.
Jerky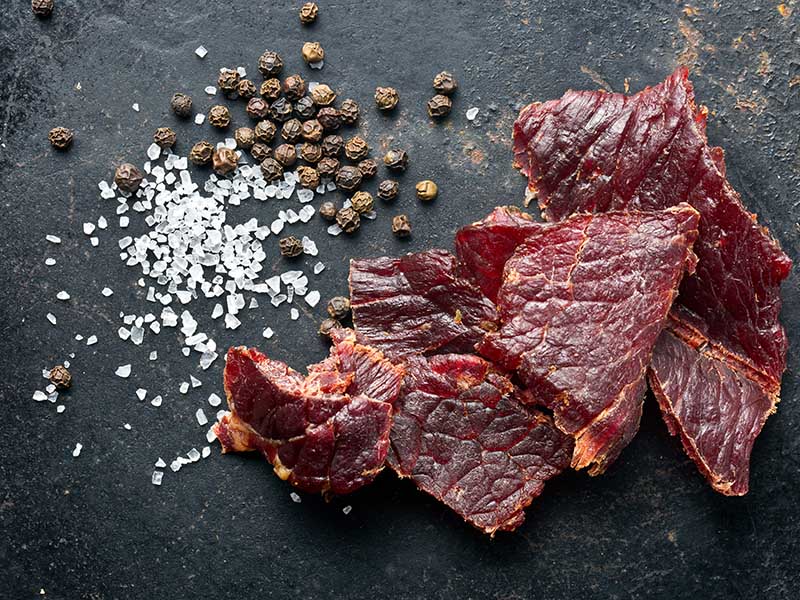 Jerky is a dehydrated version of meat. It is often cut into strips and marinated with other spices to create a flavorful taste. Salt is applied to jerky to prevent the development of bacteria that could lead to spoilage of the meat.
The type of meat used for jerky will often be lean and devoid of fat. This is to ensure that the meat can dry properly.
Lardon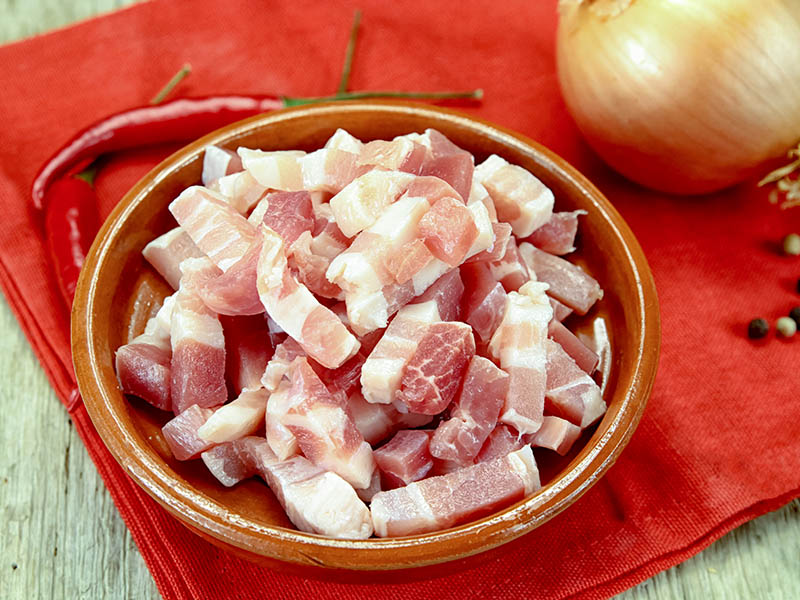 It is sometimes pronounced as lardoon, this type of salt pork is often cut into strips or small cubes for easier handling. Lardon is salted fat or fatty bacon that is often used to bring the savory to dishes. In cuisine, people often use the extracted fat from lardon to sauté vegetables.
Petit Salé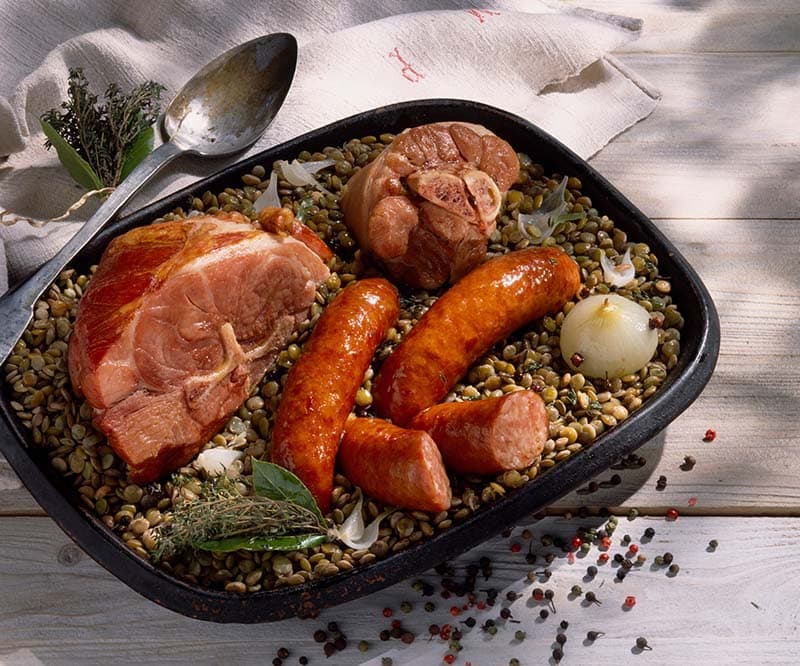 Petit salé is a famous dish in France. People make it by soaking pork in a brine solution for 2 days before serving. The dish's full name is Petit salé aux Lentilles, a combination of pork, lentils, and vegetables.
Discover how you can make Petit Salé for your next dinner.
Salo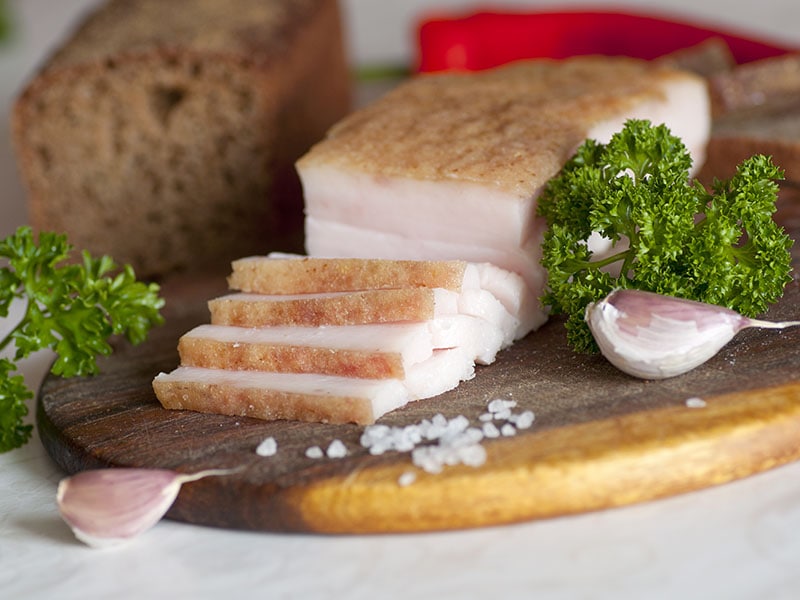 Salo is a traditional Slavic food stored in cold and dark places. The fatback meat is extracted and cured with salt or brine solution to make Salo. After that, the slab of meat will be cut down into small cubes and put inside a barrel to store.
Salo is considered a national food in Ukraine and some Slavic countries. You can sometimes find paprika in the Salo barrel for better preservation in some areas of Eastern Slavic.
An Overview About Bacon
First, you will need to understand what pork will have to go through to create your favorite bacon. Here are some details that I can provide you about bacon.
1. Origin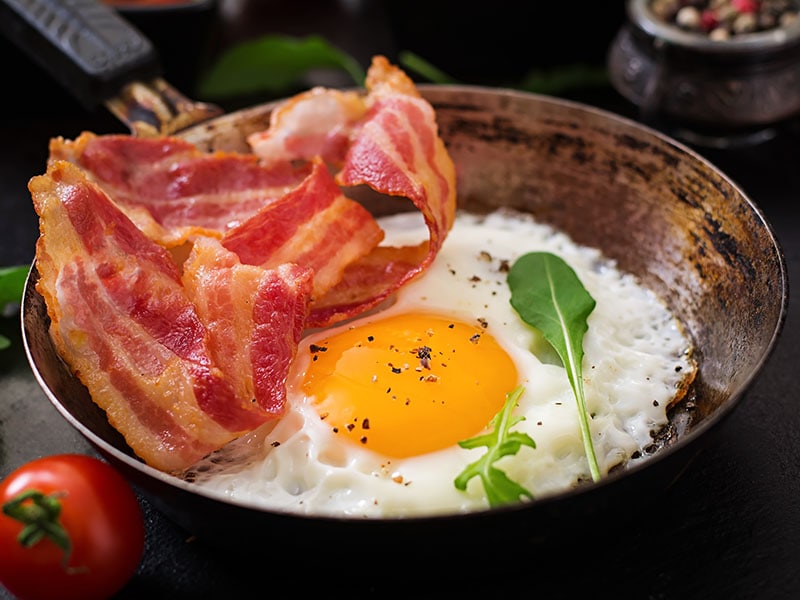 The first known form of bacon was recorded in China when people started curing meat using salt. The cut of meat is often taken from the pork belly and cured for 5-10 days. This has raised a question: Which is tastier between pork belly and bacon?
Many countries around the world later adopted this method of curing into their cuisine. England first used the term bacon to refer to a special cut of meat of the pig. Bacon made its way to America when Hernando de Soto introduced it. (2)
On average, an American consumes around 18 pounds of bacon per year. The United States produces more than 2 billion pounds of bacon every year. (3)
2. Characteristics
Bacon is mainly known for its excessive amount of fat. Depending on which part of the meat you extracted, bacon can be crunchy or meaty. A bacon cut can be served as strips, slices, or small cubes.
It is not only used in main courses, but bacon can also sometimes appear as a seasoning to add in the savory and smoky flavor to a dish.
3. Types Of Bacon
Although bacon is typically seen as fatty, smoky, and crunchy by people worldwide, there are still many types of bacon that you should know.
Side Bacon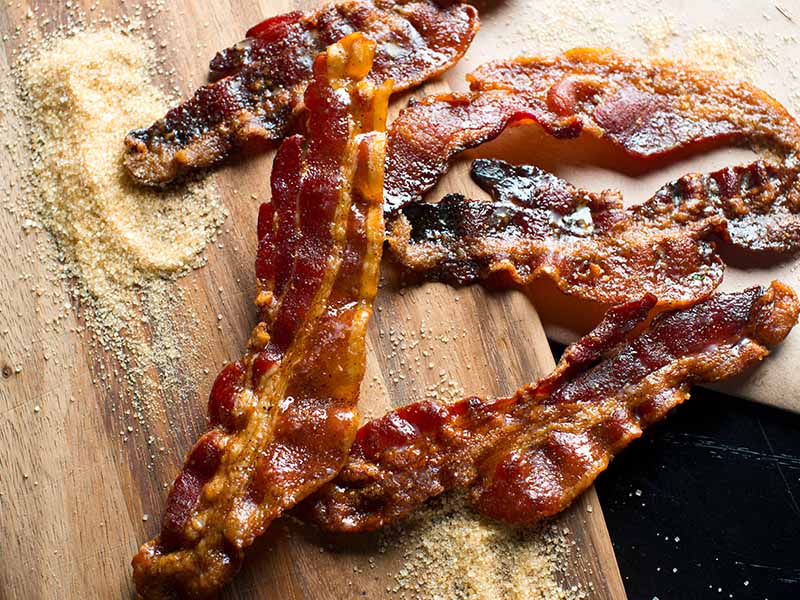 Side bacon is the most popular cut of meat to make bacon. It has high-fat contents, making it a favorable choice for curing. When fried, side bacon excretes a lot of oil and has a great crunchy texture.
After curing, side bacon will go through the smoking procedure to give the meat that distinct smoky bacon flavor.
Pancetta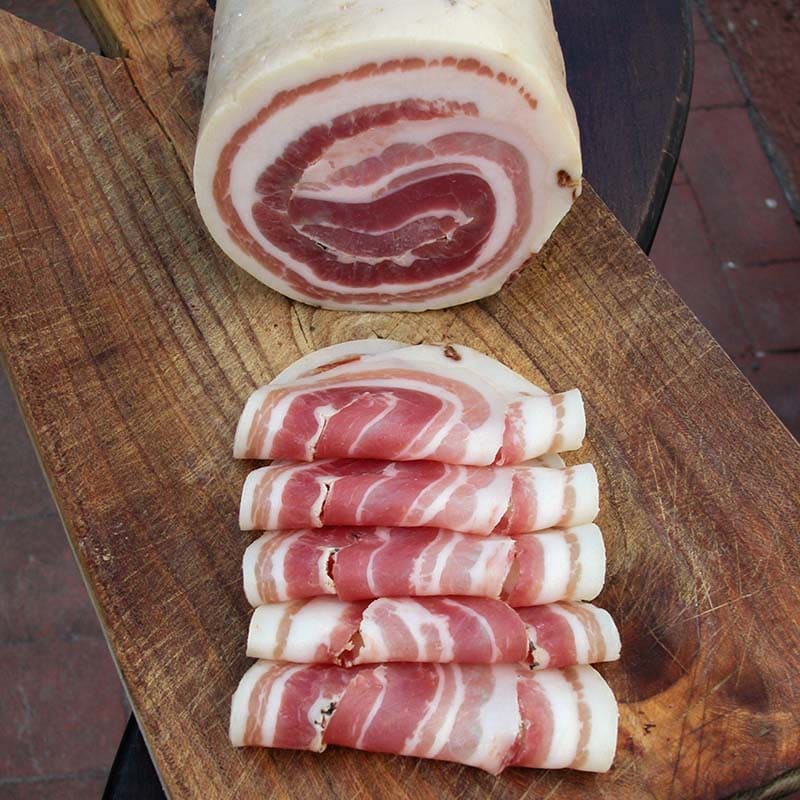 Italy has a unique version of bacon as well. Pancetta is rubbed with salt for curing. The meat in use here is still pork belly. However, Pancetta doesn't undergo the smoking procedure. Instead, the meat preserves more of its original flavor, and it is often described as richer and deeper.
Back Bacon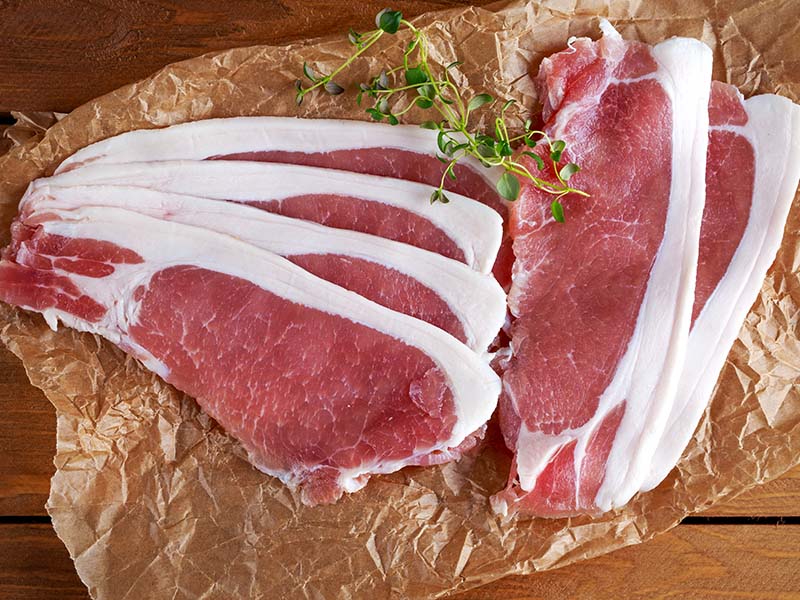 The meat used for back bacon is extracted from the back of the pig. The back meat texture is leaner and has less fat. It is often served in thick cuts to ensure the meat texture remains intact.
You can find all these great features in Irish bacon or Canadian bacon since, in these countries, bacon is not a term to refer to cured pork belly. Instead, the Canadian and English make bacon from various meat parts of the pig.
Middle Bacon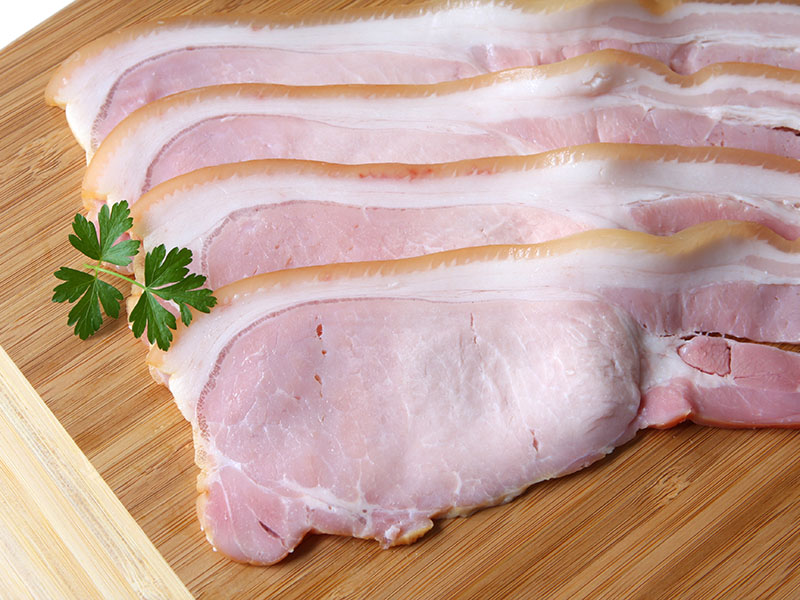 The middle bacon is extracted where the back meat and the steak meet. This cut has a decent amount of fat and has a great texture resembling steak. It is often described as fatty and streaky slices of bacon.
Cottage Bacon
Extracted from the shoulder area of the pig, cottage bacon has a lean meat texture. Sometimes, people will use meat from the butt area of the pig to make cottage bacon. Buckboard bacon is the name people often use for this variety.
Cottage bacon is cured and smoked like regular bacon. The result is a meatier texture than bacon made from pork belly.
Discover how you can make cottage bacon by yourself.
Slab Bacon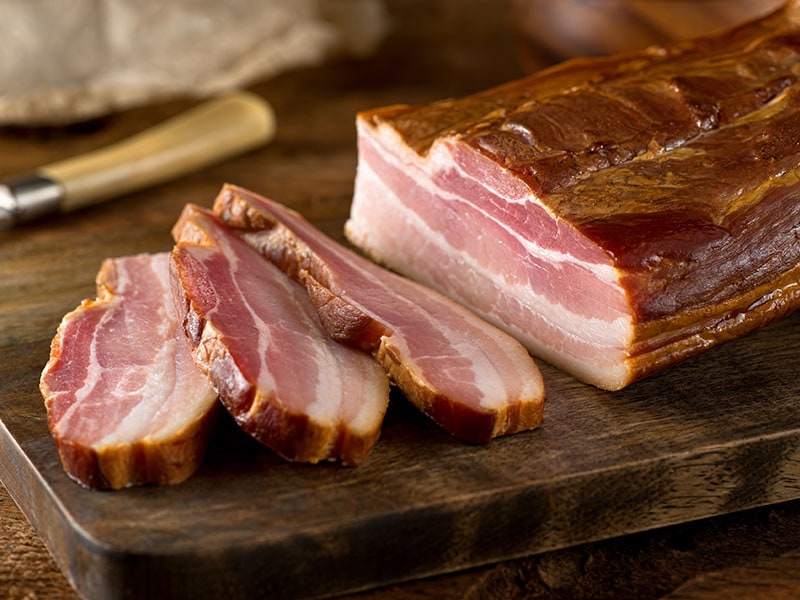 Slab bacon is the meat on the side of the pig. This part of the meat is connected directly to the pork belly making it have a fair share of fat like the side bacon. After curing, the meat is often kept as a whole slab for better preservation. It will be cut into thick slices when served.
Jowl Bacon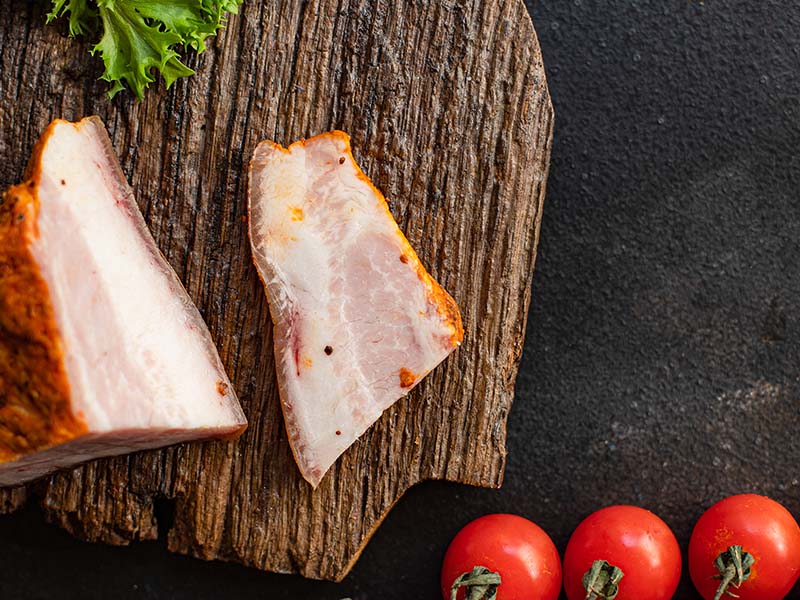 A pig's cheek is often considered a by-product after extracting all the good meat from the carcass. However, people can turn pig cheeks into delicious jowl bacon. You can fry jowl bacon and enjoy it as a main course.
Similarities And Dissimilarities Of Salt Pork And Bacon
Maybe you can already begin realizing the differences between salt pork and bacon. Here is a table that will provide you with general information about the similarities and differences between salt pork and bacon.
Main Characteristics
Salt Pork
Bacon
Origin
Gained popularity in the 17th century.
Started appearing in the 11th/14th century.
Texture
Velvety.
Crunchy.
Ingredients
Salt.
Salt, herbs, and smoke.
Fat Contents
High.
It depends on the type of bacon.
Cooking Process
Can be eaten raw. Soak in water to lower the saltiness.
Shouldn't be eaten raw.
Pork Product
Made from pork belly.
Preferred fatty meat includes pork belly and fatback.
Curing Procedure
Dry curing or wet curing.
Dry curing and wet curing.
Flavor
Savory and salty.
Savory and smoky.
Uses in cooking
Use as an enhancer for flavor.
Versatile in options.
Shelf life

2 weeks unrefrigerated.

4-5 months in a fridge or freezer.


Sealed package



1 weeks past the sell-by date in the fridge

4-6 months in the freezer (best quality)

Broken package



7 days in the fridge

3 months in the freezer (best quality)
Differences Between Salt Pork And Bacon
Salt pork and bacon may share the same curing process by using salt. However, each dish has different progressions alongside human development, leading to their differences in many elements.
1. Origin
Both salt pork and bacon have a history that can be traced back to the early days in China 1500 B.C. Originally, the Chinese figured out a way to preserve meat by curing it with salt.
This method was passed on through many generations and made its way to world cuisine.
Bacon became popular in the 11th/14th century to refer to a special cut of pig meat. Later on, the term would generally be used to talk about cured and smoked pig meat.
In 1770, John Harris built his first commercial bacon factory in Wiltshire, making his factory the first in the world to process bacon. In 1930, Britain imported 99% of the world's bacon. This proved bacon was a necessary ingredient in many European cuisines at the time.
Although, it is unclear when salt pork was adopted into the culinary world. In the 17th century, it became a standard portion meal for military and navy personnel in many parts of the world. Salt pork is now everywhere and is used to add flavor to dishes.
Discover how US soldiers created and preserved salt pork in the past.
2. Texture
In terms of texture, bacon is often served as thin slices, giving it a crunchy feeling when consumed. Most bacon will often have a smoky flavor when cooked.
Salt pork is often added to soup or stew to extract the saltiness and enhance the broth's general flavor. It is claimed to have a velvety texture and is often served as small cubes or thinly sliced strips.
3. The Curing Process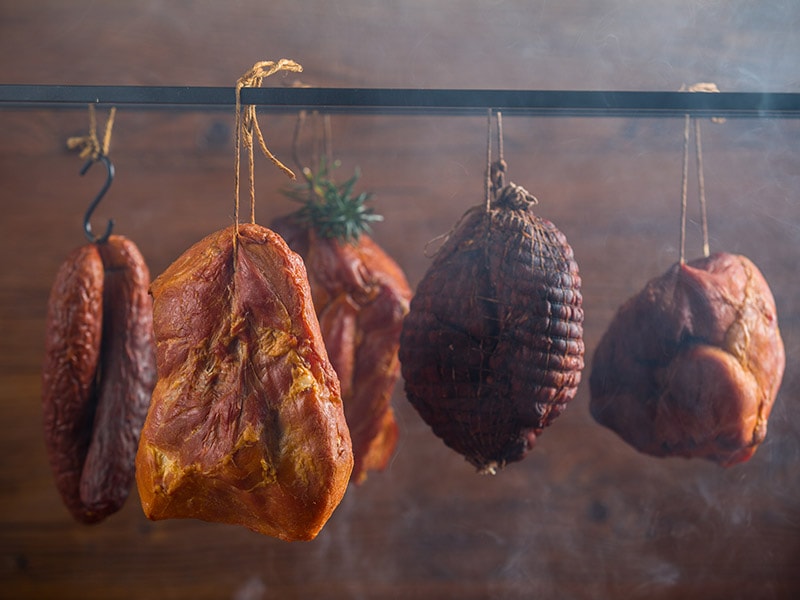 While it may seem similar in the curing process of salt pork and bacon, the smoking process sets these 2 foods apart.
Salt pork doesn't require you to go through many complicated processes. All you need is to find yourself a sizable piece of pork belly and cover it entirely in salt or brine solution. Salt pork will need to be cured for 2 days in a fridge before it's qualified to be served.
Bacon is made in the same way by rubbing or injecting the meat with brine solution. However, nitrate is introduced into the curing to speed up the process. After that, the meat will be hung to infuse smoke into the meat, giving it the signature smoky flavor of bacon.
Check out the differences between nitrate-free bacon and regular bacon.
4. Fat Contents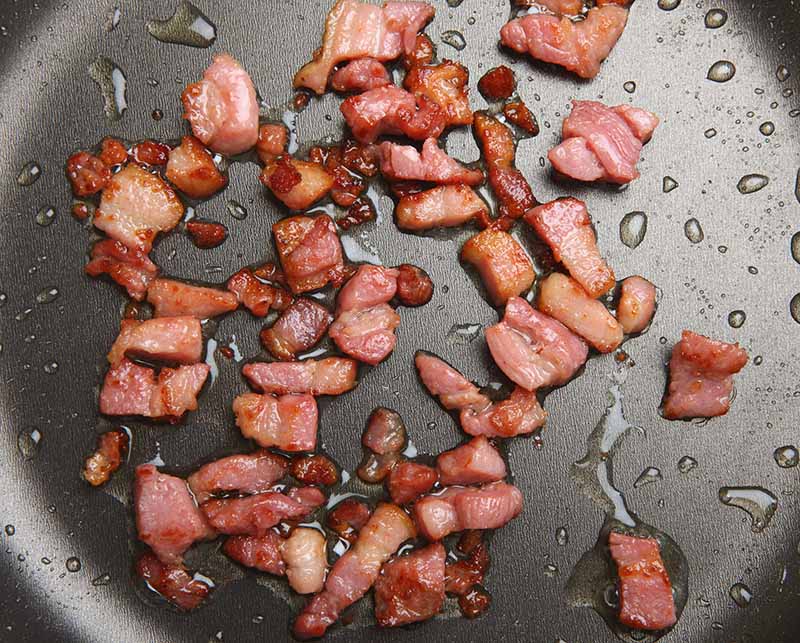 There are many types of bacon, each made from different parts of the pig carcass. This means the fat content varies depending on the type of bacon.
Salt pork, however, is mainly made from the fattiest part of the pork belly. Therefore, the fat content of salt pork is often higher than bacon.
5. Flavor
Many people will say that salt pork and bacon have the same salty flavor. This is true, considering that salt is the key ingredient to making these foods. However, salt pork tastes more similar to the pancetta bacon variety.
Since salt pork is left unsmoked, it will lack the unique smoky flavor that you often find in other types of bacon. When fried or grilled, bacon will give off the distinctive aroma of Hickory wood or other woods used in the smoking process.
6. Cooking Process
Salt pork can be eaten raw with little worry of food poisoning. However, it's recommended that you soak salt pork in water to lower the level of saltiness.
Bacon, typically, is raw and could contain harmful bacteria. You should always cook bacon thoroughly to ensure that you've eliminated all the potential food poisoning risks from your dish. However, boiled bacon and smoked bacon can be eaten raw.
Check out this ultimate guide to how you can cook bacon.
7. Uses In Cooking
Bacon is easy to make into any dish. Thanks to the crunchiness texture when fried, you can add bacon into hamburgers as delicious, crunchy strips. Adding bacon bits into soups will elevate the flavor and give it a smoky taste.
People around the world love bacon for its versatility. You can use bacon as a sweet and savory dessert. Mixing your rich demi-glace sauce with bacon will create a smoky, savory layer of flavor. Dairy products in Casserole will also complement well with smoky bacon.
For salt pork, it works great as a flavor enhancer when it is added to soup or stews. The concentrated fat and salt are great additions to any soup's depth. In many Asian cuisines, people will use salt pork to enhance the fat content and add savory to the dishes.
You will see that cuisine cultures around the world utilize salt pork as an additional source of fat to many dishes. In addition, the soft meat texture brings a nice experience to the plate. Try experimenting with salt pork in many dishes and you may fall in love with it.
8. Shelf life
Salt pork can last up to 2 weeks unrefrigerated. But if you decided to use the freezer or fridge, you would be looking at 4 to 5 months of storage.
Salt pork is quite simple, but to answer whether your bacon can spoil, you have to consider various conditions. If your pack of bacon is unopened, it will last a week in the fridge past the sell-by date.
As for a storage solution that can last you months, then try the freezer. But for the best taste, you should use your bacon within 4 – 6 months of freezing.
Also, make sure you know everything about thawing frozen bacon. Or else your bacon can become edible.
But if you have already broken the package then the bacon can only be stored for about 7 days in the fridge. You should remember, the flavor of bacon will start deteriorating after 3 months in the freezer
Similarities Between Salt Pork And Bacon
It may seem easy for you to realize the similarities between salted pork and bacon. But here are some features that these 2 dishes share before they are completely separate from each other.
1. Pork Product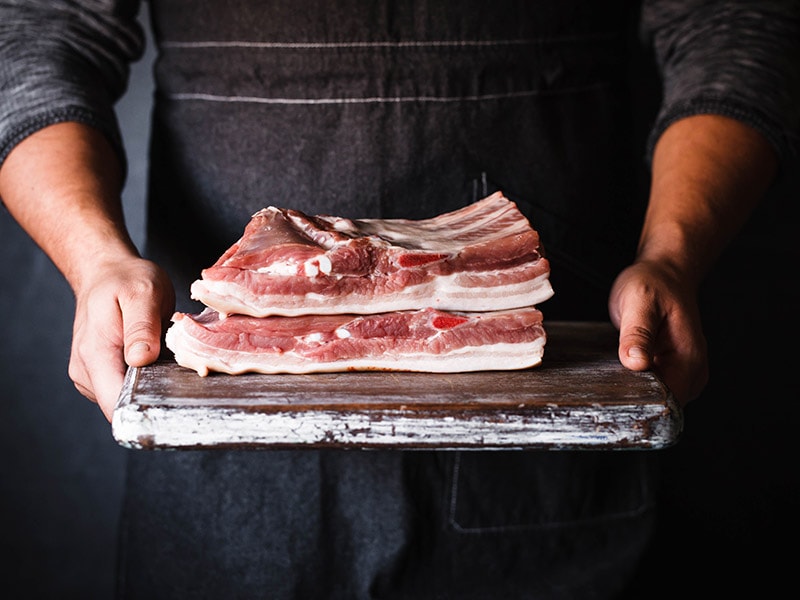 Both of these products are made from meat extracted from pigs. Although, there are other types of meat used to substitute pig to make bacon such as lamb, chicken, beef, and turkey. People around the world still recognize that bacon and salt pork need to be made from pig meat.
Generally, the pork belly is the preferred part to make both bacon and salt pork.
2. The Curing Procedure
Curing is necessary for both salt pork and bacon. This is to eliminate all the elements that could spoil the meat. Normally, there are 2 approaches that people use to cure meat.
Dry curing means you can directly rub salt to your cut of meat. Then put it in a refrigerator for 2 days to kick start the curing process.
Wet curing involves using a brine solution. Your cut of pork will need to be submerged in salted water for a few weeks to complete the curing process.
Uncover the secrets to how you can cure meat at home.
Can Salt Pork Go Bad?
The fridge will help you preserve the salt pork for 4 – 5 months. But if you think that your salt pork has gone bad, you can inspect it in many ways.
Check for smells. Your salt pork shouldn't smell like rotten eggs, ammonia, or sulfur. If there are any of the scents present in your meat, that means it has been contaminated, and you shouldn't consume it.
Visual check, a normal piece of salt pork will be brown. Look for any discoloration. Colors such as gray or light green are indications of fungi and mold infestation on the meat.
Can You Substitute Bacon For Salt Pork?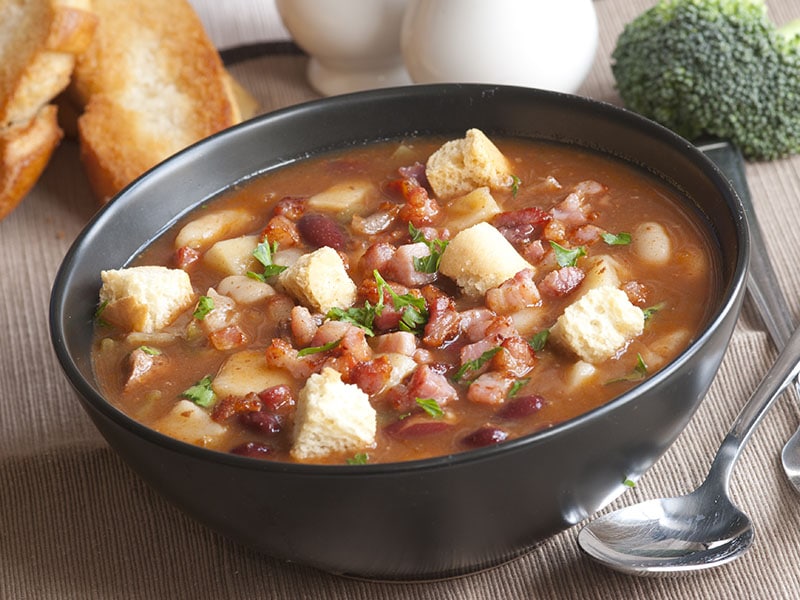 Salt pork is considered to be a perfect substitution for bacon. Thanks to them sharing a similar curing process.
To replace bacon, salt pork will need to be seasoned with spices to make it more flavorful. In addition, smoking the salt pork using hickory wood, applewood, or cherry wood will infuse the meat with the signature smoky flavor of bacon.
Vice versa, using bacon to replace salt pork is entirely possible. You need to pick unflavored and unsmoked bacon so that it will go well with other seasonings of your dish. You may consider adding extra fat because bacon has less fat than common salt pork.
If you find it difficult to get your hands on bacon or salt pork, you can consider using beef jerky, cured vegetables, smoked ham, or flavored olive oil as reliable substitutes.
Tasty Dishes That Incorporate Salt Pork And/Or Bacon
If you're interested in incorporating salt pork or bacon into your meal and still don't know how to do it. Here are some recipes that you could give a try.
Collard is slow-cooked along with onion, salt pork, and red pepper flakes. The fat from frying salt pork can be used to sauté the onion, creating a base flavor for the dish. For this recipe, you can use Bacon and salt pork together.
Traditionally, salt pork will be used to flavor the broth for clam chowder. If you decided to use bacon to replace salt pork, you would need to pick non-smoked bacon. That way, the smoky flavor from the bacon won't interfere with the original flavor of the soup.
Simmer baked beans with salt pork to enhance the level of savor and fat in the liquid of the dish. You can use some premium canned baked beans to save some time. The cooking process will take a while to complete, but the result will be a thick and amazing mixture.
If you're a fan of bacon, this is the ultimate food you must give a go. All you have to do is boil some macaroni and then drain it from water. Then add some cheese on top and put it in the microwave for the cheese to melt. Add some fried bacon bits on top for a perfect finish.
This recipe utilizes the original hash to make its base. Then a combination of bacon, eggs, potatoes, and cheese will be added into the mixture to truly level up your classic hash. Try it yourself since you can't go wrong with a bacon and egg hash for breakfast.
That's right. You don't just use peanut butter for your breakfast sandwich anymore. You can now incorporate peanut butter as the sauce for the burger.
Uncover new flavors when combining sweet and salty peanut butter with smoky bacon. The experience will be unlike any burger you have ever tasted before.
FAQs
Are you still having questions related to salted pork and bacon? I hope these answers will satisfy your curiosity.
Salt Pork And Bacon Are All Favorites By People Around The World
Although bacon is more popular among the 2 products because of its wide implication in cooking, you can still use salted pork to substitute bacon.
Now that you have learned about the differences between salted pork and bacon, you can confidently pick the one that suits your taste the most.
I always have a special feeling for bacon. Every time I have a taste of a slice of bacon, it's really difficult for me to stop munching away on the rest of them.
So what is your favorite? Share your idea about salt pork with me in the comment section.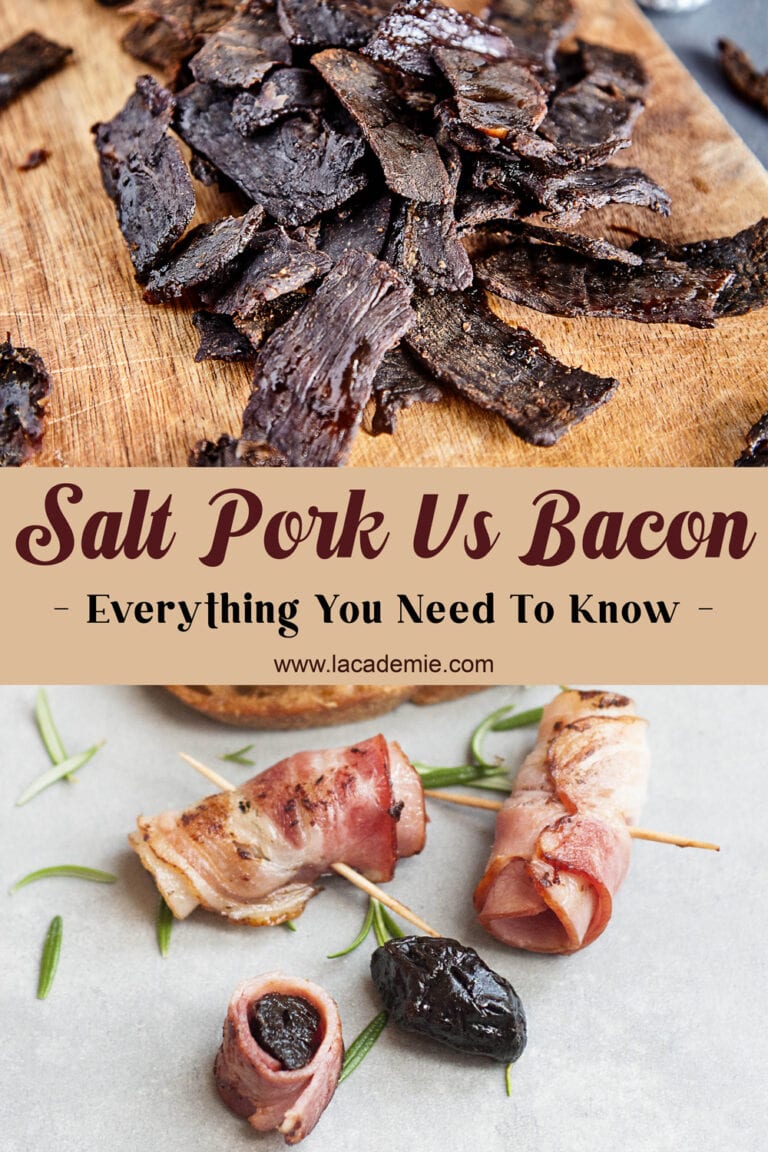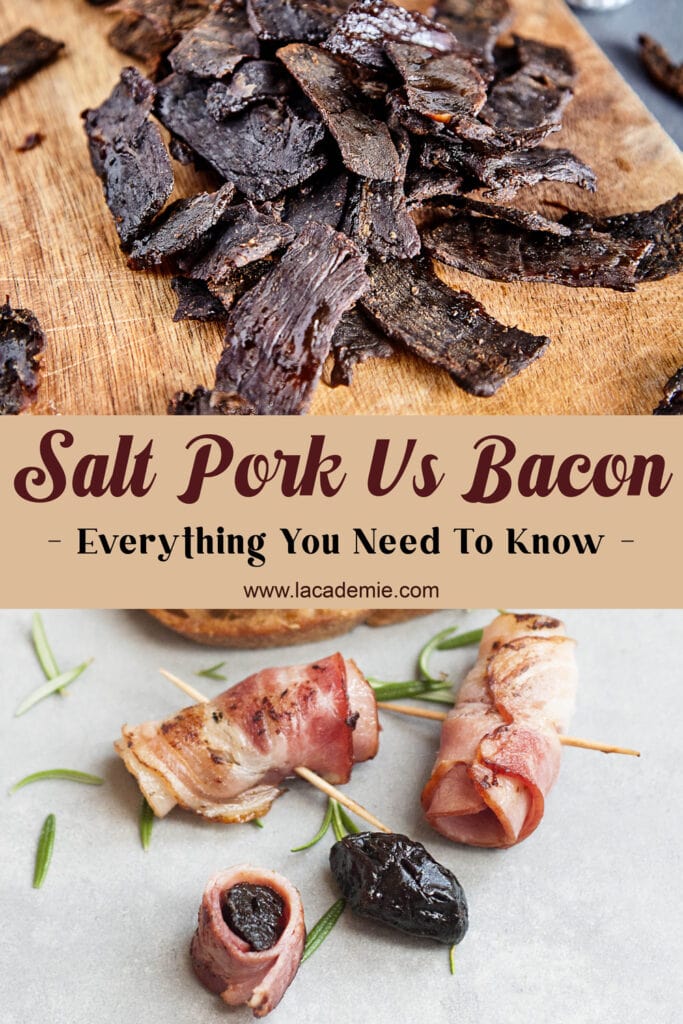 References
En.wikipedia.org. Salt pork – Wikipedia.
Texas Pork Producers Association. History of Pork – Texas Pork Producers Association.
Kidadl.com. 60+ Bonkers Bacon Facts And Statistics From Around The World.