When it comes to pork loin vs. pork shoulder, what is your favorite? Apparently, pork meat has been indispensable for many people, including me and maybe you.
There are many cuts of pork that you can use for making various delicious dishes. But in this post, I will specifically analyze and discuss 2 pork cuts: pork loin and pork shoulder, as they are popular and economical.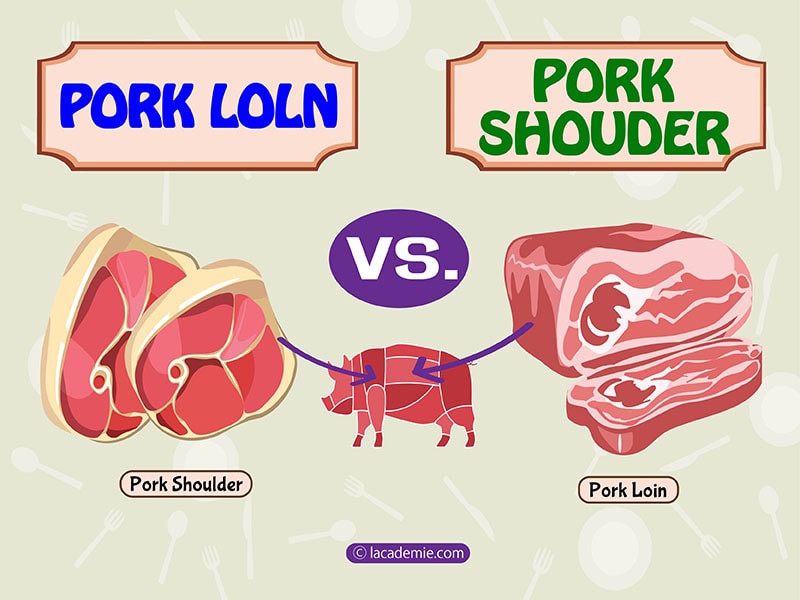 How Do You Tell Apart Between Pork Loin And Pork Shoulder?
The detailed information in this post will show you the easiest way to learn pork loin and pork shoulder.
I will briefly discuss each pork cut before comparing them in various aspects, such as their location on a pig, their texture, flavors, cooking methods, prices, or nutrition so that you can have a better choice for your health or your wallet. Check it out, guys.
Pork Loin – Where Is It On A Pig?
You might have heard (or eat) numerous pork loins in life. But have you ever wondered where it is on a pig? Let me tell you with the following part.
The Overview of Pork Loin
Pork loin is located on the back of a pig, starting from the shoulder to the back legs. They are the muscle that protects the bones; therefore, pork loin is thick yet tender with lean meat and fat layer.
Pork loin is the largest and leanest cut of a pig. Other names of pork loin are center loin roast or a pork center rib roast. Don't confuse pork loin with pork tenderloin, though. Despite their names, the two cuts are different.
You can create many dishes with these cuts. They are also perfect for ideas to revive leftover pork. In this case, you can make various decent dishes like salads, rolls, or casseroles with your remaining foods.
They can be sold in bone-in or boneless form. However, boneless cuts are more popular as pork loin is the main muscle near backbones.
The butcher usually cut them in small pieces with an average weight of around 1 pounds . Or more than 21 pounds for a bone-in pork loin.
For your information, the bone-in loin with unremoved backbones and untrimmed rib refers to pork racks or pork crown roast.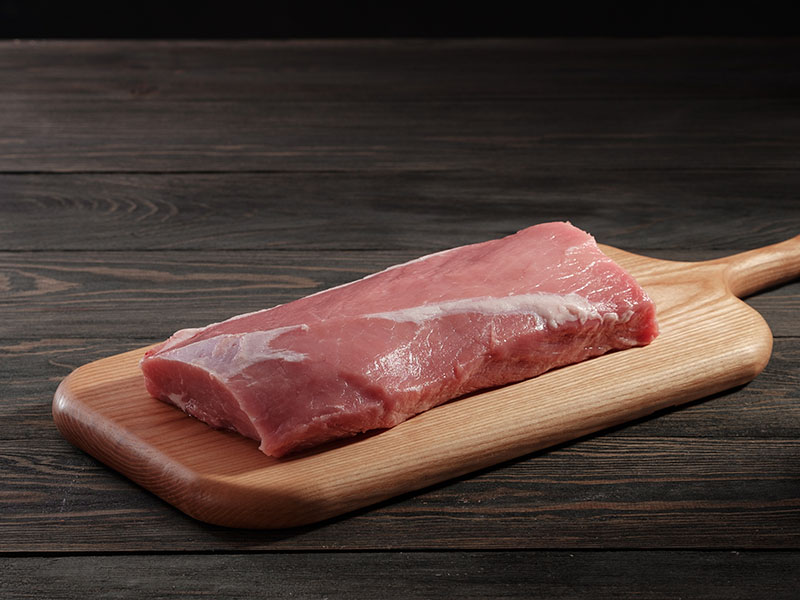 How To Cut Pork Loin Properly
Now I will guide you on how to cut the boneless pork loin. First of all, you will get to know 3 different parts of 1 pork loin cut. These parts are:
Blade end: Located at the end of pork loin that is thin and tapered. The meat in this area has a darker color compared to the other 2 parts.
Center part: Pork chops, butterfly chops, and breakfast-style chops come from this center area. The meat's color is lighter and lean. And do not forget to prepare some treats to serve with your pork chops. They will make your meals more irresistible.
Sirloin end: The other end of pork loin that is lean and fatter with more marbling. You can have sirloin roast or sirloin chops from this part.
Alright, let's dig into the preparing and cutting process through 2 stages. You need to prepare a large cutting board and a chef knife (or a large knife). Ensure your knife is sharp enough to cut the meat.
Stage 1: Preparation
First, you open the meat package and drain the bloody juice. Then remove the cut from the package and wash the meat gently. You should use a paper towel to dry the cut and place them on the cutting board.
Stage 2: Cutting The Meat
First, cut off 1 inch on both ends. You can use these 1 inch-thickness chunks and cut them into small cubes so you can use this stew or chili.
Depending on what dishes that you are going to prepare, you can chop them down into 5 popular types of cuts from a pork loin such as:
Roasts: You will cut 6 to 8 inches of the sirloin end and of the blade end. They have more marbling, making them ideal for slow cooking.
Chops: The center part of this pork is lean. I will use this part for chops. The minimum thickness for 1 chop is around 3/4 inches, but you can cut them into 2 inch-thick chops for special events if desired.
Butterfly chops: Now, you will cut a thick piece, then you cut this piece in half down to the center but not going all the way through to the other side. Then splay them open like the shape of the butterfly's wings.
Breakfast chops: They are thin chops from the center part that you can cook fast for breakfast.
Ribeye chops: They are the cuts next to the blade end. Ribeye chops are neither thinner like breakfast chops nor thicker like butterfly chops.
Let's learn how to cut pork loin for various smaller chops with this clear presentation.
Pork Shoulder And Everything You Should Know About It
Pork shoulder must be from the shoulder of a pig, right? Are you sure? Do not skip this part; otherwise, you would never know the truth about pork shoulder and how versatile it is.
Interesting Facts About Pork Shoulder
Pork shoulder is the part above the pig's front leg on a pig shoulder area. Pork shoulder is sometimes called pork butt. However, it is a confusing concept.
Pork shoulder and pork butt, in fact, are 2 different cuts of pork from the same region, with pork butt being higher than pork shoulder. It simply means that pork shoulder and pork butt are the cuts on the opposite ends of the whole shoulder area.
The other names of pork shoulder are picnic shoulder, picnic ham, or picnic roast. They are often sold with the skin, a fat layer, and connective tissue attached.
Pork shoulder is located in the upper shoulder, between the shoulder blades from the front pig's legs. Pork shoulder is pretty fatty with connective tissue and collagen.
Plus, you can find both bone-in and boneless pork shoulder in the butcher or supermarket. Actually, pork shoulder often has backbones attached but most butcher will remove the bones before selling them.
Their regular weight could be around 5 to 10 pounds per pork shoulder cut. Sometimes it could be up to 18 pounds per cut.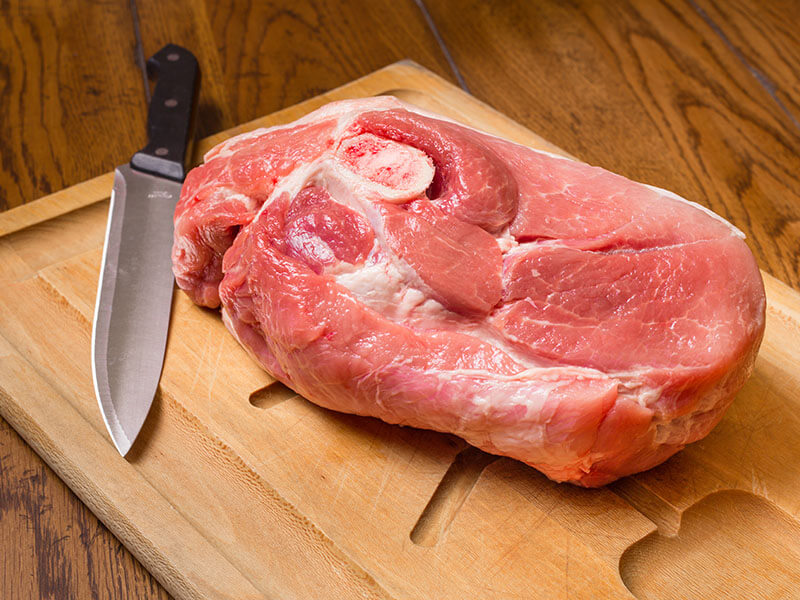 3 Stages Of Cutting Pork Shoulder
In this part, I will show you how to cut the bone-in pork shoulder with detailed instructions that include 3 stages. Grab an apron, a sharp knife, a cutting board, and let's get it started.
Stage 1: Preparation
Place the packages of pork shoulder in the sink and remove the cut from its package. Gently wash to prevent the water or bloody liquid from splashing on your clothes or outside the sink. After that, use a paper towel to dry the pork shoulder and place it on a cutting board.
Stage 2: Remove Bone From The Meat
Place the skin side down so you can see the bone and meat face. Find the white membrane layer on one end of your pork shoulder, then slowly cut it to separate the meat until the other end of the pork shoulder and the bone are exposed.
Remember that the bone is not straight; some are bent. Therefore, use a knife to cut around the bone with one hand and the other hand pulling the meat so you can remove the bone easier.
Once you can lift the bone, slide the knife underneath to cut until you can separate the bone from the meat.
Stage 3: Chop Down The Meat
At this point, you can already cut the big pork shoulder into smaller chunks, and they can be used to make various types of dishes, such as stews, roasts, and stir-fries.
Find another membrane and use a knife to slice between and cut along it. Pork shoulder chunks can be cut into any shape or size, so chop them according to your preferences or the recipes you want to prepare.
Continue cutting along the membrane until you see the skin, then remove the skin from the meat with the knife tip. Repeat this process until all of the chunks on the pork shoulder have been separated.
The thickest part of your pork shoulder is suitable for roasting or stir-fried dishes as they are pretty lean. To avoid chewy meat in stir-fried meals, remember to remove the membrane.
Just bought a big cut of pork shoulder and do not know how to prepare it? This straightforward instruction will guide you.
Comparison Between Pork Loin And Pork Shoulder – Which One Is Better For You?
For your better understanding, I draw a comparison table of pork loin and pork shoulder with varied information below.
Characteristics
Pork Loin
Pork Shoulder
Other Names
Center loin roast, or Pork center rib roast
Picnic shoulder, Picnic ham, or Picnic roast
Where They Are Located On A Pig
Located on the back of a pig around the backbones that run from the shoulder to the back legs
Located on the upper part of the pig front legs that run between the shoulder blades and the front pig's legs
Boneless or Bone-in

Both boneless (mostly) and bone-in
(pork loins are mostly boneless because they are the main muscle around the backbones)

Both boneless and bone-in
(pork shoulder often comes with backbones but most butcher will remove it before selling)

Size of Cuts From Them

Depending on your preference, pork loin is mostly cut small
An average weight is around 1 pound per piece.

Cuts from pork shoulder are usually larger than pork loin pieces
Can weigh up to 18 pounds per piece (regular weight is from 5 to 5 pounds)

Texture and Flavor

Lean with little fat
Have light color
Flavorful, juicy, and tender if they are cooked right (or become tougher when low-cooked)

Super lean with some fat
Have bright pink or dark red color
Milder flavor compared to pork loin
Tender, and succulent if they are cooked right

Best Ways To Cook
Grilling, pan-frying, or roasting

Prefer slow-cooking methods (e.g., stew or braise)
Roasting or smoking

Best Dish To Make From
Pork steak
Pulled pork, roasted pork
Cooking Time
Shorter cooking time compared to pork shoulder
Slow-cook for the best result, so they will have longer cooking time
Price
From $3 to $5
From $1 to $3
Nutrition Level

Higher in protein, sodium, and potassium than pork shoulder with less in calories, fat and cholesterol
Better for your health

Lower in protein, sodium, and potassium than pork shoulder with higher in calories, fat and cholesterol
1. Texture and Flavor
The pork loin is the leanest part of a pig with little fat, while pork shoulder texture is lean with some fat marbling. The color of fresh pork loin is light but pork shoulder has bright pink or dark red color.
With different textures, their flavors are also quite different. The well-cooked pork loin is flavorful, tender, and juicy as they also have a thin fat on each cut, whereas pork shoulder is tender and juicier due to the fat with a not-too-strong flavor than other cuts' flavors.
However, the low-cooked pork loin can result in a tough meat easily. So make sure you choose the best ways to cook with them by reading the next part.
2. Best Ways To Cook
For pork loin, the most popular cooking method is in the oven, like roasting.
Set the oven temperature at 350 F degrees and cook for 25 minutes for each pound of pork loin. The minimum internal temperature of the meat must reach 145 F degrees for your safety (1). Other ways to cook pork loin that you can apply are grilling and pan-frying.
if you're wondering if you can eat pink pork, the short answer is yes. However, always make sure that the internal temperature of your pork reaches at least 145F.
For pork shoulder, slow-cooking techniques such as slow-roasting, smoking, stewing, or braising are preferred as they have fat marbling. You can braise pork shoulder in an oven or a slow cooker. It's also important to know the proper time to smoke pork shoulder at 225 for the most tender result.
The best dish to make from pork loin is pork steak. And you can have super tasty pulled pork or roasted pork with pork shoulder.
What's more, do not ever waste any leftovers because you can use the remaining pulled pork to make delicious dishes. These dishes not only save your time but also your money on food purchases.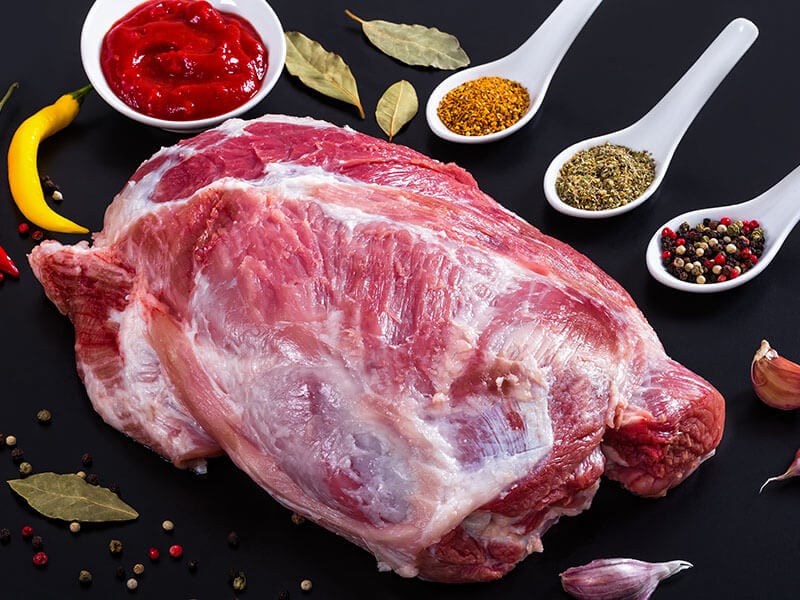 3. Cooking Time
Now you might guess what cuts will take a longer time to cook, right? Yes, pork shoulders require a long duration to be cooked perfectly to prevent the chewy or fewer flavor pieces.
Therefore, if you have a huge crush on, for example, Mexican-authentic crockpot ideas, pork shoulder is truly an ideal component to create plenty of wonderful dishes. And I bet your family would be impressed with your culinary skills.
Plus, pork shoulder should be cut into smaller chunks if you want to cook faster. Or, if you have a pressure cooker on hand, use them to reduce the cooking time.
However, though pork loins are smaller pieces with less cooking time, they also require more attention as they are not as tough as pork shoulder, so they can easily be overcooked.
And you will never want an overcooked piece of pork loin as it is so dried, chewy, and loses all the flavors.
4. Price
Both pork loin and pork shoulder are cost-efficient choices. However, pork loin's price is slightly higher than pork shoulder, with the range from $3 to $5 per pound for pork loin and $1 to $3 per pound for pork shoulder.
However, the price also depends on the quantities you buy. If you purchase large amounts, you might have a special price for the meat.
5. Nutrition Level
For the overview about which cut is healthier, let's look at the table below for pork loin and pork shoulder nutrition.
| Nutritional Amount Per 135g | Pork Loin | Pork Shoulder |
| --- | --- | --- |
| Calories | 258 | 394 |
| Fat | 12 g | 29 g |
| Carbohydrates | 0 g | 0 g |
| Cholesterol | 108 mg | 122 mg |
| Sodium | 62 mg | 92 mg |
| Potassium | 470 mg | 444 mg |
| Protein | 35 g | 31 g |
Obviously, pork loin contains fewer calories, fat, sodium, and cholesterol, with more proteins than pork shoulder in the same amount of meat.
On the other hand, pork shoulder contains more calories, fat, and cholesterol. So you can conclude that pork loin is healthier than pork shoulder at this point.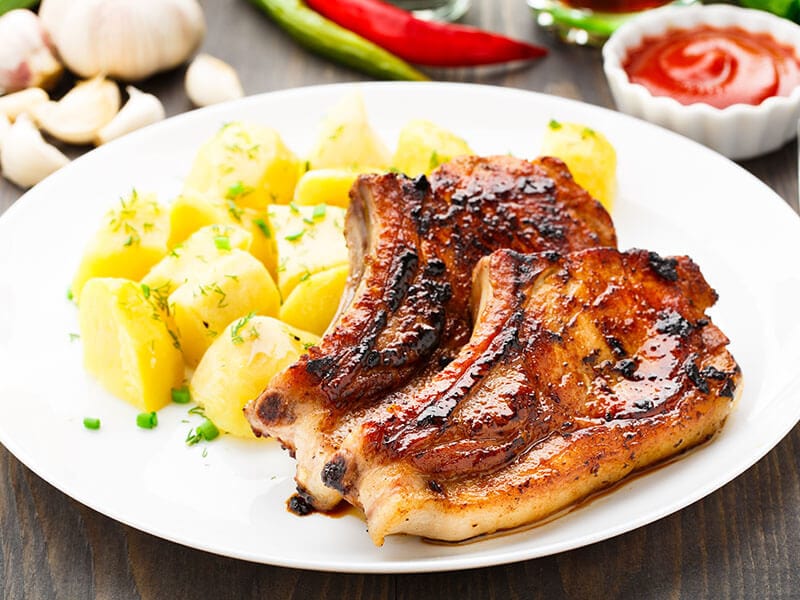 How To Pick The Best Pork Loin And Pork Shoulder
There are 3 special ways to choose the high quality, delicious pork loin and pork shoulder as below:
Prefer Grassland-Grown Pork: Because the pig from these farms can have better quality and taste. And, of course, the price for them is higher than other pork. You can check the label to find the origin of this meat.
Choose Bright Colored Meat: Meat with bright pink color indicates good freshness. You should avoid those with brown color on the surface of meat or bones. Also, do not buy those that are discolored.
Check The Marbling: Good pork cuts should include some white marbling fat to have more flavors and moisture.
Storage Tip For Pork Loin And Pork Shoulder
Regardless of whether the pork is cooked or raw, the time it takes to store it in the fridge and freezer is the same. However, it is preferable to consume your food as soon as possible for the best flavor and safety.
Storing In The Fridge
You can refrigerate cooked pork loin or pork shoulder for up to 4 days (2). For fresh pork, you can keep them safe for up to 5 days in the fridge.
One critical note is that you should not let your food be cross-contaminated with other foods – for example, separate raw meat from cooked food. So please keep them in an airtight and good-quality freezer food container to prevent contamination.
Overall, the safer they are stored, the longer the shelf life. Otherwise, your pork will start showing signs of degrading in just 1 or 2 days. And it will be a pity if these foods are wasted.
Storing In The Freezer
Keeping food in the freezer is the best way to extend its shelf life. For the best flavor and quality of cooked pork, you should consume them within 6 months after putting them in the freezer.
Fresh cuts have a longer shelf life with up to 1 year to store in the freezer. It might take 24 hours to thaw 5 pounds of pork meat.
Brilliant Cooking Recipes For Pork Loin And Pork Shoulder
Though they have different textures and flavors, there are numerous ideas to cook with pork loin and pork shoulder. Below are the 4 most-saved recipes for both pork cuts.
You will need a slow cooker to make this dish. Pulled pork will take at least 8 hours to cook your pork shoulder, but it is worth it.
With various seasonings rubbing on your pork, then slow-cook them in a slow-cooker, all seasonings can be absorbed into your meat, making them so flavorful.
And by slow-cooking, your pork is too soft to melt on your tongue. Serve the shredded meat with sandwiches for the best pulled pork dish.
You will never fail in cooking the pork shoulder with this funny yet delightful demonstration for a pulled pork dish. The video below should be able to help you:
This is a recipe for slow-roasting pork shoulder with rosemary and garlic. And their flavor is so bursting that you will never forget. They are also soft enough to fall apart easily.
The low-and-slow method will help your pork shoulder have the best tender texture after cooking. You can use either boneless or bone-in pork shoulder to cook for the same duration, but the boneless ones would be easier for you to cut.
The important preparation part for this dish is making the balsamic marinade to marinate your pork loin. The minimum time for marinating is 3 hours for the most delicious balsamic pork loin roast.
For roasting the meat, it will take approximately 20 minutes per pound. But make sure you will not overcook them to keep them juicy and tender. So if you see inside of them is still a little bit pink, it is fine if they are already at 145 F degrees for internal temperature.
This roasted pork loin is a wonderful dish to serve in a special event as they have a beautiful color on the outside after cooking.
You should use a digital thermometer to check the temperature of your meat to make sure they are cooked. Plus, do not forget to make some gravy to spoon over the meat so you can enhance the deliciousness of this dish.
With only a few ingredients, you can make a basic roasted pork loin, but of course, they are still super tasty and easy to make. Watch this video to know more:
Ways To Avoid Dried Pork Loin
As pork loin is low in fat, they are quickly dried out after cooking if you do not know these techniques, such as:
Use their fat layer: You should place the fat side down when grilling (or smoking) them to melt the fat, preventing your meat from drying out.
Brine your pork loin with salt and herbs: Soak your meat in a combination of water, salt, and herbs to reduce the possibility of drying out.
Avoid low-cook them: The texture of pork loin is not suitable for slow-and-low cooking methods as they will be chewy and tough if you cook them that way.
Therefore, the ideal time for cooking pork loin is around 10 minutes. The time also depends on the meat's weight, but as long as they reach the minimum internal temperature at 145 F degrees, your pork loin is excellent to eat.
FAQs
There are 5 more questions related to pork loin and pork shoulder to expand your knowledge about them and enjoy them at their finest.
Let's Turn Your Pork Cuts To Tasty Dishes
After reading this post, I guess you are ready to make some fantastic meals with pork, especially with pork loin or pork shoulder.
If you have time to cook, pork shoulder could be the ideal choice. But if you are too busy and cannot wait any longer for a yummy pork dish, pork loin can satisfy your stomach.
They are both affordable pork cuts with various cooking recipes, so it would be a shame if you do not give them a try.
Finally, I hope that everything in this article has helped you better understand these 2 cuts. Let's share it with your family or friends if you believe they should know how to make wonderful pork loin and pork shoulder meals as well.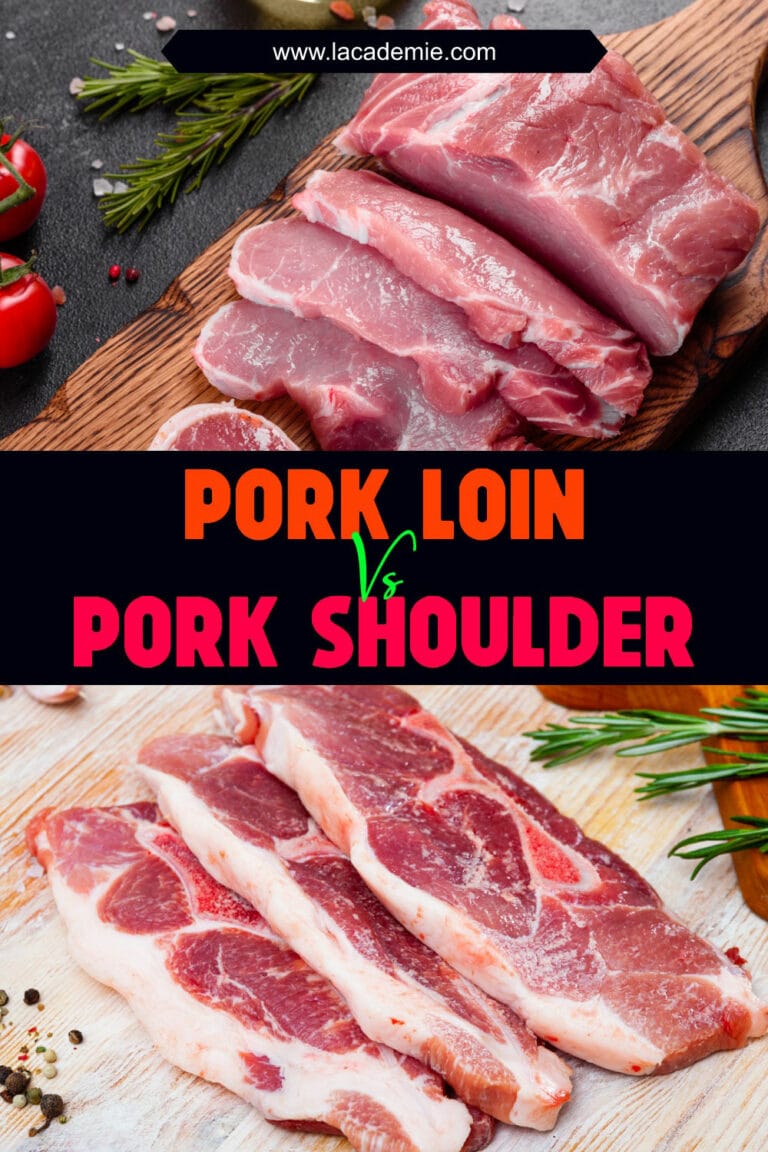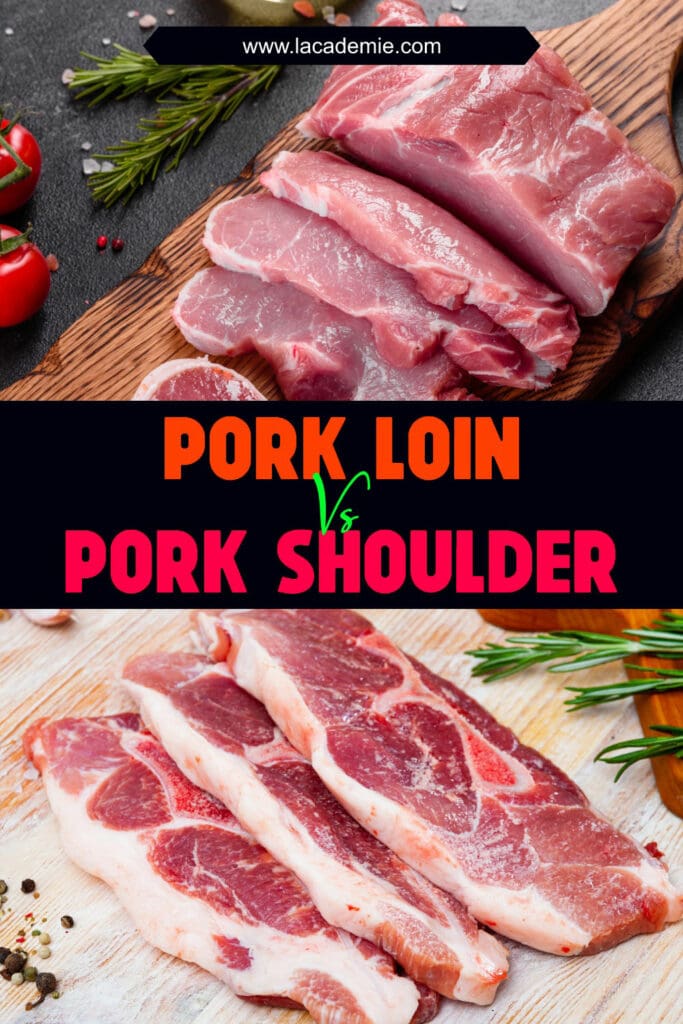 References
Fda.gov. 2021. Meat, Poultry & Seafood from Food Safety for Moms to Be [Online]. Available at: <https://www.fda.gov/food/people-risk-foodborne-illness/meat-poultry-seafood-food-safety-moms-be>.
Foodsafety.org. 2021, Cold Food Storage Chart [Online]. Available at: <https://www.foodsafety.gov/food-safety-charts/cold-food-storage-charts>.