Have you ever stood in the meat deli section of your supermarket wondering, "what's the deal between pork loin vs. pork tenderloin?" The name sounds the same, and the cut of meat looks almost the same visually. So are they the same cut that goes by two names?
I am here to settle this debate for you once and for all. I assure you that by the end of this article, not only will you grasp the distinction between the two, but you will also know how to seek out the best of both cuts.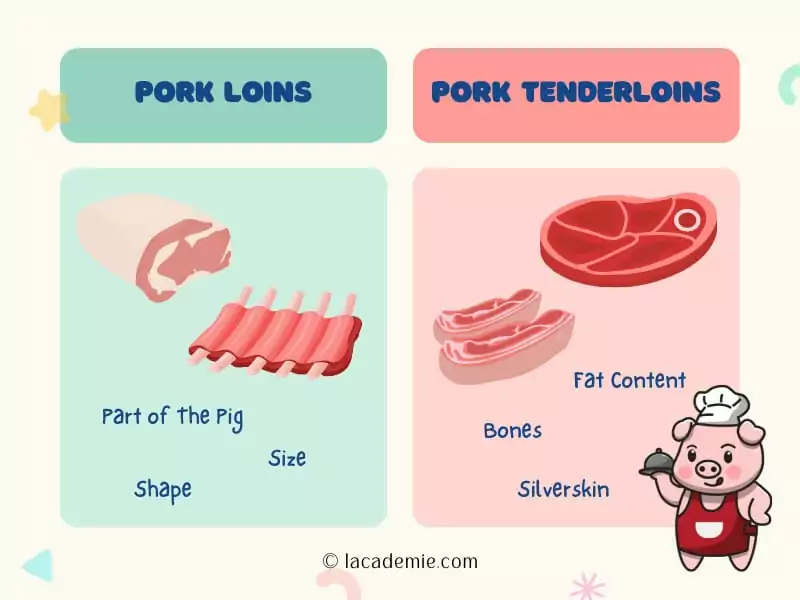 The Anatomy Of Pork – Quick Guide
There are 3 types of pork that you will be able to find commercially available at your local grocery store. Each of them requires different levels of attention and can be utilized in so many different ways.
Pork Shoulders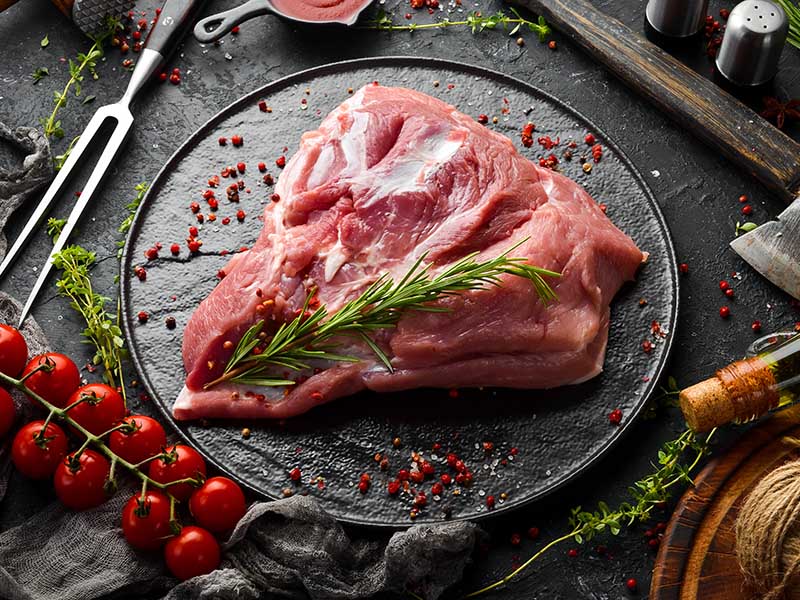 This group of muscles is used primarily in the everyday movement function of the pig. That means that the connective tissue (the tissue fiber that makes up the muscles) is dense where this part of the pig is concerned.
Cuts from this portion are usually a bit tougher than any other cuts of meat. They are ideal for roasting or smoking because they can tolerate a lot of seasoning and long, slow cooking time. For the best-tasting dish, make sure you know the correct length of time to smoke pork shoulder at 225.
Pork Loins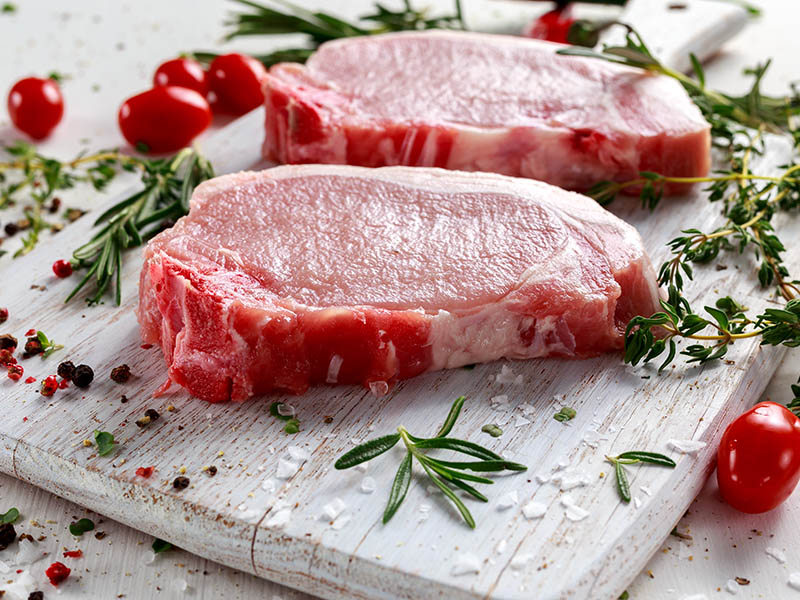 This is the section of pork that comes from the back of the pig. Here you will be able to find all of your family's favorite cuts of pork, such as the pork loin, pork tenderloin, pork ribs, and pork chops. This section of the pig is mostly muscles with a low concentration of subcutaneous fat.
Though it is mostly muscle here in this region, the connective tissues here are not as abundant as they are in the shoulder areas. As a result, they can be more tender while still being lean.
To make sure that you don't overcook your pork chops, you should learn the right amount of time to bake pork chops at 350. Pork loin is ideal for quick dinners where quicker cooking time is required.
Pork Sides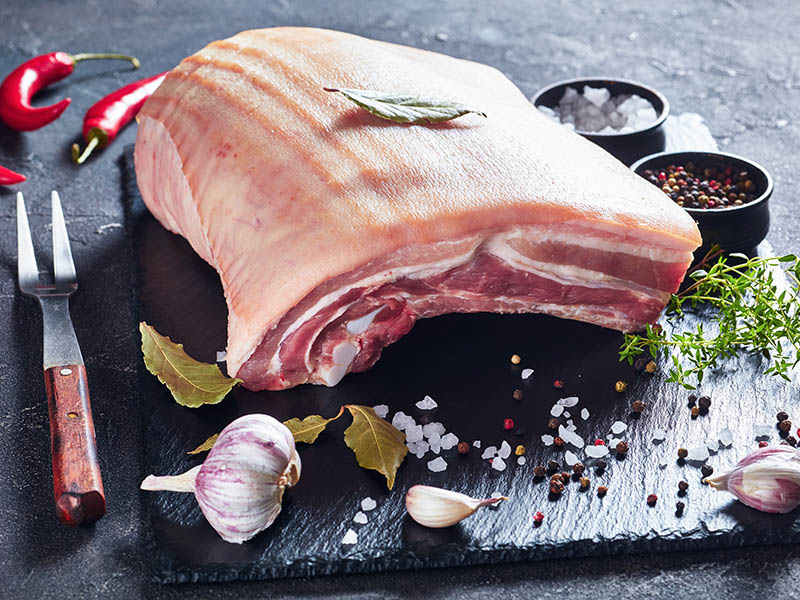 Like the name portrays itself to be, this section of meat comes from the side of the pig where there isn't a lot of movement going on. Consequently, it has less lean tissue and more fat storage. You can find the less popular cuts like the pork belly and the spare ribs in this region.
This portion of the pig is more well known for its high concentration of saturated fat, which is also part of the reason why this cut isn't more popular in the US market. What it lacks in the health department, it makes up for in tenderness and flavor.
Now that you have learned about the anatomy of pork, I will direct your attention only to the two cuts of meat you are most interested in learning about today: the pork loin and the pork tenderloin.
Let's learn more about different pork cuts and how to use them.
Difference Between Pork Loins And Pork Tenderloins
There are multiple indicators that you can look for when trying to differentiate these two cuts of meat. Aside from the visual difference that you can see at the store, this table should give you a pretty good overall scope of the distinction between these two cuts of meat.
Types
Pork Loin
Pork Tenderloin
Other Names
Center Loin Roast, Pork Center Rib Roast
Gentleman's Cut, Pork Filet, Pork Steak
Part Of The Pig
The back muscle
Along the back bone
Size
Bigger
Smaller
Shape
Flat
Cylindrical
Fat cap
Has a fat cap
No fat cap
Silverskin
No silverskin
Has silverskin
Bone
Can be sold bone-in or boneless
Always boneless
Texture
Firmer
More Tender
Cooking Time
Longer over medium high heat
Quick on high heat
Price
$1.99 per pound
$2.99 to $3.99 per pound
Nutritional values per 100g

Carb: 0g




Protein 26.2g




Fat: 3.51g


Calories: 143 kcal
Similar to pork loin
Now that you know what separates the pork loin and pork tenderloin in general, let's get into the details about what truly sets them apart from each other.
Key differences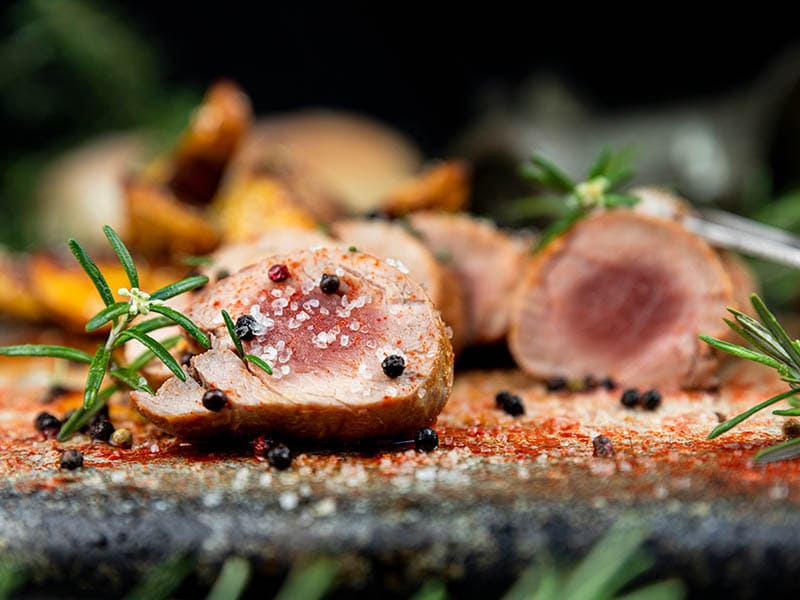 Okay, plain talk, this is what you are looking at right off the bat when you are presented with these two cuts of meat. From the size right down to the fat content of the meat will be your telling marks should you feel the need to arise.
Other Names
You may come to know these two cuts of meats by their other names
Pork Loin: Center Loin Roast, Pork Center Rib Roast.
Pork Tenderloin: Gentleman's Cut, Pork Filet, Pork Steak.
Part Of The Pig
Although their names are somewhat similar, pork loin and pork tenderloin are from two different parts of a pig.
Pork Loin: This cut comes from the back of the pig. It consists of the loin muscle between the ribs and the back fat.
Pork Tenderloin: This cut contains the muscle that runs along the pig's central spine. It lies above the ribs and belly. The pig doesn't use this muscle for movement, which is the reason for its tenderness.
Size
This is the most noticeable difference that you can see right off the bat
Pork Loin: A typical pork loin is rather big and can weigh up to 5 pounds. This is why you can get it cut to order should you wish.
Pork Tenderloin: The pork tenderloin is usually sold whole and averages about 1 pound per piece.
Shape
The pork loin is flat, almost like a slab, whereas the pork tenderloin is thin and narrow like a cylinder.
Bones
The pork loin can be sold with the bones still attached or removed, but the pork tenderloin always comes boneless.
Fat Content
The pork loin has a fat cap attached to it to help tenderize the lean meat, whereas the pork tenderloin does not.
Silverskin
The pork tenderloin has a grayish layer of tissue called a silverskin, a tough and chewy layer of connective tissue. It will not only not melt away as you cook it but will also shrink and contort your pork tenderloin. The pork loin does not.
You can see these characteristics on the meat right at the meat counter before buying it. But not only does it look different, but the structure of the meat also affects how it tastes after cooking.
Texture And Flavor Profile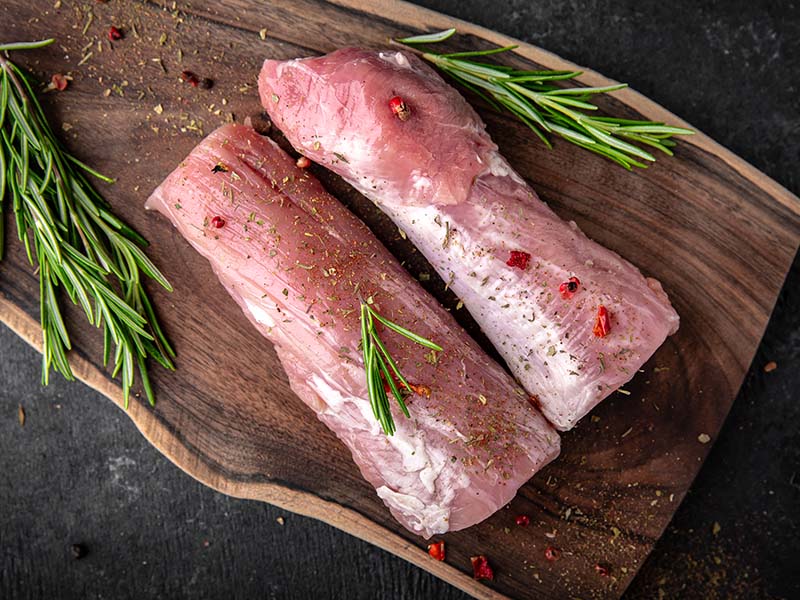 The pork loin and the pork tenderloin taste subtly different, but that small variant affects the dish you are cooking the most. You wouldn't want to use a piece of pork tenderloin as a Sunday roast or a piece of pork loin as a quick stir-fry. Here is why:
The pork loin is leaner and tougher than the pork tenderloin, but that is all made up for by the piece of fat that surrounds the lean tissue. More fat means more flavor. That is why you will get a meatier taste in pork loin.
The pork tenderloin is softer than the pork loin. Some would argue that it is the most tender piece of lean meat you will ever find on a pig. But since it has so little fat, the flavor is much more delicate, which is more suitable for more marinate-heavy dishes.
Price difference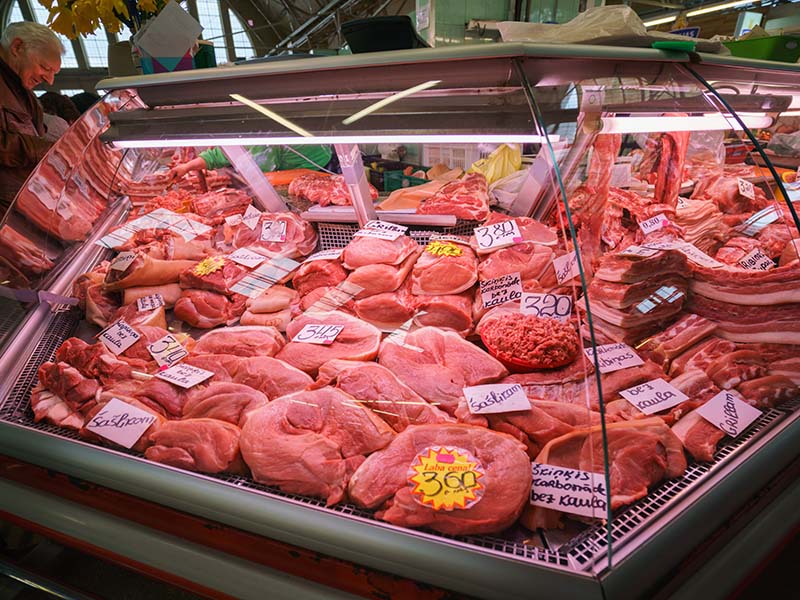 In addition to the differences in the pork cuts themselves, the market value and the price of the pork loin and pork tenderloin are also different. Though the price may fluctuate slightly depending on various market factors, the gist of the matter remains the same.
Pork tenderloin is a more expensive cut due to its "lean but tender quality." It is very hard to find a cut of meat that is mostly lean meat but remains soft after cooking. It usually comes in at $2.99 to $3.99 per pound.
Pork loin is much cheaper because it is a bit tougher than pork tenderloin. Also, due to its size, you get a much bigger bang for your buck. Pork loin is usually sold at around $1.99 per pound and is much more commercially available.
Culinary Uses
Now you are equipped with complete knowledge on how to tell pork loin and pork tenderloin apart. But are you sure you know what to do when it comes down to turning chunks of raw meat into delicately crafted specialty dishes?
Because of inequality in flavor, the flavor profile, and the price for these two cuts of meat, you will want to cook smartly and correctly. Avoid entirely avoidable mistakes by learning pork loin and pork tenderloin's best utilization in the kitchen.
Pork Tenderloin
As it probably is well established by now, pork tenderloin is a culmination of elements that makes it a very delicate piece of meat with a very delicate flavor. Low fat means that the meat tissue cannot hold on to its moisture if cooked for an extended amount of time.
The lack of fat also makes the pork tenderloin have a milder, less meaty flavor which is perfect for when you want to pack it in a heavy marinate and grill it quickly. To ensure that your pork tenderloin comes out tender and juicy, make sure you add just a bit of fat to it.
Another thing to remember when you cook pork tenderloin is to remove the tough silverskin that we mentioned earlier. This piece of connective tissue can be tough and indigestible when cooked.
You can also cook pork tenderloin in the oven at 400 for a proper amount of time. Make sure you don't let your pork tenderloin sit too long in the heat because once overcooked, it becomes so very dry and really unappetizing.
Watch how to make a one-pan pork tenderloin dinner.
Pork Loin
Just like the qualities present in the pork tenderloin, the pork loin is also rather lean, but it is not quite as tender, so it requires a bit more time in the oven. But the pork loin has some subcutaneous fat attached to it, making the finished product more flavorful.
Pork loin is a meat cut that is so simple yet quite tricky to get right every time. You need to understand that though the loin is the tougher one of the two, if you overcook it too much, it will be much tougher than the pork tenderloin.
Remember when we talked about the connective tissues. As you expose these tissues to heat for a long time, they tense up and lose all the moisture, making them a dry and chewy mess.
For the best color and the taste, pan-sear the pork tenderloin on the stove so it takes up a beautiful golden-brown crust. Then, finish cooking it in the oven until the thickest part of the loin reads 145F when you check it with a thermometer. (2)
Another fun and enjoyable application of the pork tenderloin is to cook it in a slow cooker. The pork loin becomes soft and flavorful when submerged in spices and cooked in low and slow heat. Plus, it is a great way to treat many people on a budget.
Making pork loin delicious is easy if you know the basics.
Nutritional values
All the leaner cuts of meat, such as the pork loin and the pork tenderloin, have fairly similar nutritional values. For every 100g of oven-baked lean pork, you will find the following nutritional makeup
Carb: 0g
Protein: 26.2g
Fat: 3.51g
Calories: 143 kcal
Magnesium: 29 mg
Phosphorus: 267 mg
Potassium: 421 mg (1)
As you can conclude for yourself, pork is an excellent source of protein and not a significant source of complex carbohydrates, so if you want to maintain and grow your muscles, I would recommend you stock up on some pork loin.
Learn more about how to tell the pork loin and the pork tenderloin apart.
Substitute Pork Loin For Pork Tenderloins?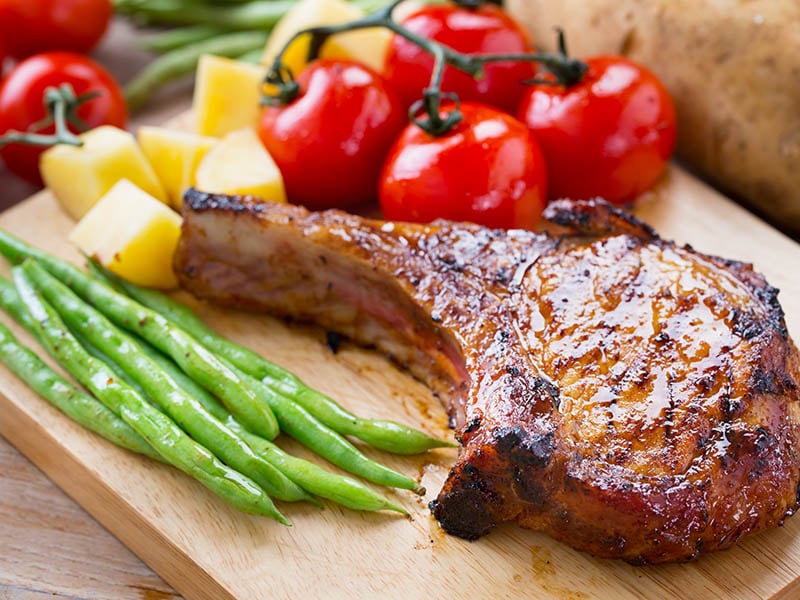 Have I answered all of your burning questions about the distinctions between the pork loin and the pork tenderloin? I guess another subject to cover would be whether, in a pinch, you can use one or the other interchangeably?
The short version of this answer is yes, but you shouldn't if you don't have to. Since pork loin and pork tenderloin have different cooking requirements, using them in place of one another might not be the best idea.
Pork loin is bigger and tougher than pork tenderloin. Therefore you shouldn't apply cooking techniques reserved for cooking pork tenderloin. Not to mention that the taste of pork loin is a bit meatier than that of the tenderloin, which is light and mild.
In contrast, you shouldn't use the pork tenderloin in place of the pork loin unless your pork has shown signs of spoilage. The pork loin has a bit of fat that keeps it softer with a longer cooking time.
The pork tenderloin, lacking the fat, can dry out much quicker and is only suitable for quick and high heat cooking.
A viable replacement for the pork loin is the sirloin roast. The sirloin roast comes from the same region of the pork loin, which is along the back of the pig. An alternative for the pork tenderloin would be some thick-cut bone-in pork chops. It is lean but just as tender.
These Pork Tenderloin Recipes Are Addictive
Pork tenderloin is arguably one of the most tender cuts of pork. That is why you need to give it the special kind of attention it needs. Learn how to make pork tenderloin just right with these fun recipes.
There is nothing quite as complementary to the porky flavor of the pork tenderloin as a healthy portion of garlic. This umami, savory and sweet combination is even further improved when you add honey to it. There is a magic to this madness, and I will need you to trust me on this.
If you accidentally cooked too much and are wondering whether you can freeze cooked pork tenderloin, then worry not. This recipe allows you to keep the leftovers in the freezer for at least 2 months!
One of the best ways to make sure that your pork tenderloin is evenly cooked and that the pork tenderloin has time to soak up all the flavor that you have added to it is to bake it. But baking a piece of meat this delicate can be challenging. Fear not because I have just the thing you need.
I promised to deliver you some bacon-wrapped goodness, and here I am to deliver them. Wrapping anything in bacon is a game-changer, and pork tenderloin is my number one choice for this method. The smokiness combined with the tender meat can win over the pickiest eaters.
Pork Loin, You Just Gotta Make It To Believe It
One of the many kitchen staples that every cook must know. The key to a good pork loin is getting all the flavors right, which can be tricky if you are new at this. Learn what needs to come together to make a pork loin happy.
For those of you wishing to slow roast your pork loin to make it soft and melt in your mouth but do not want the meat to dry out, the handy dandy dutch oven will be your best friend. With a heavy lid and a cast iron core, it will surely keep all the moisture inside.
Do make sure you sear the pork loin first on all sides before putting it in the dutch oven since the trapped steam will inhibit the caramelization of the meat. I recommend you dredge the loin in flour before searing it to develop the best golden-brown crust.
Your repertoire of pork-related knowledge cannot be considered adequately equipped if you do not know how to make some seriously addictive pulled pork. This beautifully juicy and flavorful recipe will be your go-to choice the next time you go to a potluck.
Pork is one of those rare types of meat that goes very well with something fruity and bright, like some pan-seared apricot. Make your next Sunday dinner hassle-free with this make-it-and-forget about-it slow-cooked pork loin recipe.
This is how to properly prepare your pork loin in the crockpot
FAQs
You are now a pro in the art of telling pork loin and pork tenderloin apart. But just because you know about the differentiation doesn't mean that you have had all your curiosities met. You and many others may have questions, so I have compiled the most common ones.
Pork Loin And Pork Tenderloin Are Different After All
Do you feel confident enough to settle the debate of "pork loin vs. pork tenderloin"? Remember that the pork loin is bigger and tougher than its smaller cousin, the pork tenderloin, which is thinner and more tender.
Besides the size difference, look for the fat content and whether it has bones attached to it, and you should be good to go. There are so many wonderful applications for these two versatile cuts of pork, and we have just barely scratched the surface.
The next time this question comes up, I trust that you will be the expert that will have all the answers. Don't forget to share this article to help save your friends and family from all the hassle and confusion. See you the next time you have a question that needs answering.
References
USDA. 2019. Pork, fresh, loin, tenderloin, separable lean only, cooked, roasted.
USDA. 2020. Safe Minimum Internal Temperature Chart.