Have you ever wondered how long to cook pork tenderloin in the oven at 400 degrees F, or how do you know when your pork tenderloin is cooked all the way through but still remains juicy and tender?
To make the best pork tenderloin, you need to know your meat and your oven. Different cuts of meat require different methods of preparation. Not to mention not all ovens are created equal as they may have different heat distribution ratios.
Since you are wondering how long you have to bake a piece of tenderloin, I have compiled all there is to know in this article just for your convenience. So preheat your oven to 400 F, put on your apron, and let's get cooking.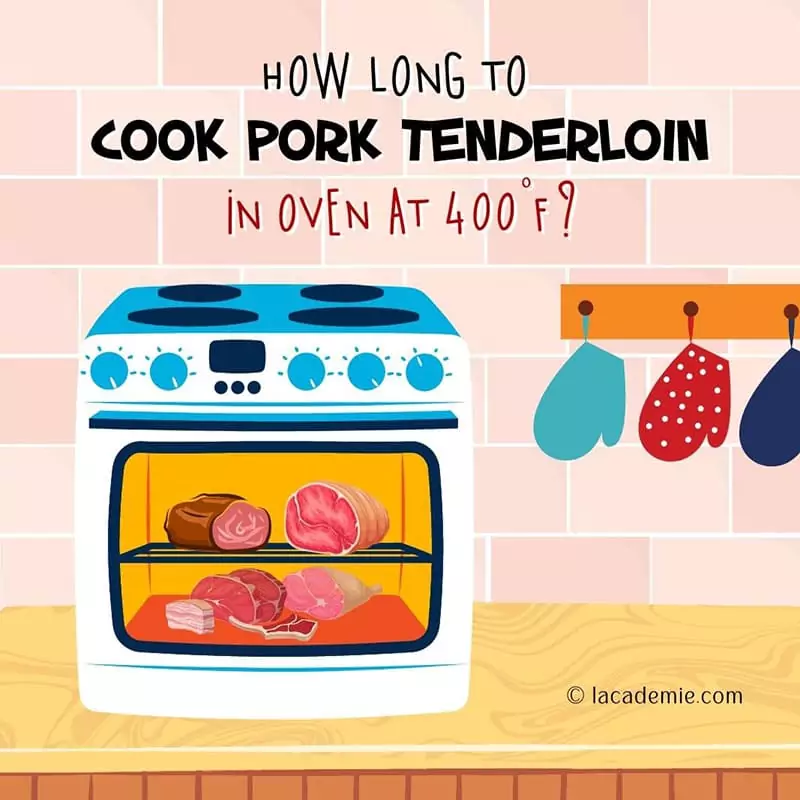 Pork Tenderloin, A Flavor Bomb That Is Both Lean And Tender
Great! You found yourself a fantastic recipe to try out tonight, but it involves a cut of meat called the pork tenderloin. Obviously, you want to select the best quality meat you can, but you aren't sure what pork tenderloin is and how best to cook it. I have the answers right here.
Know Your Pork Tenderloin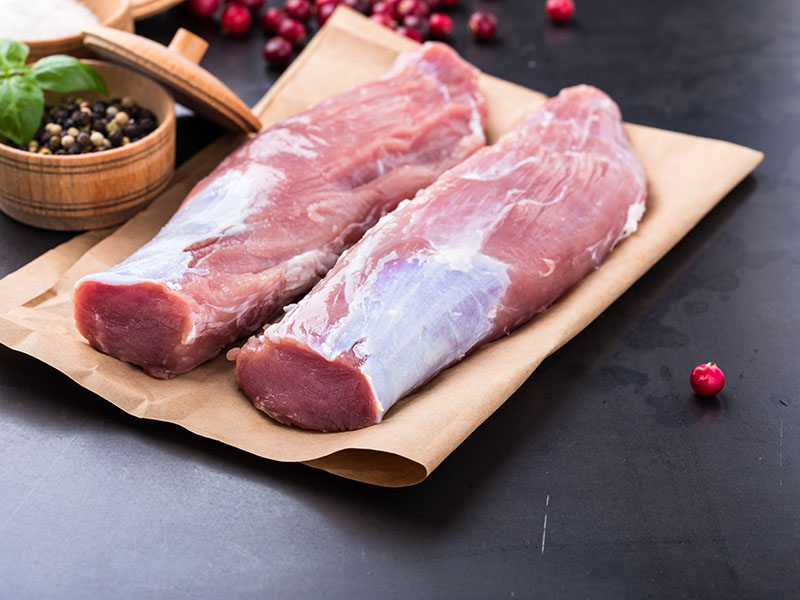 Pork tenderloin is a thin strip of muscle that runs along the pig's backbone. This group of muscles is not used much when the pig is walking; therefore, there isn't a significant amount of connective tissue or fat.
Connective tissues are tough tissues found in muscles of animals that, when exposed to heat, will tense up and become tough. The more an animal uses a muscle, the more connective tissues.
On the other hand, the more fat surrounding a meat cut, the juicer the meat would be when cooked. This is what I learned in Culinary School. Fat is flavor. That is why lean and tender are the two qualities that don't often go together.
Pork tenderloin is not fatty. In fact, it is quite lean. That said, though a muscle, pork tenderloin does not have tough tissues woven into the meat. This is the key characteristic that makes this cut of pork tender and lean at the same time.
Pork Loin And Pork Tenderloin Are Two Different Cuts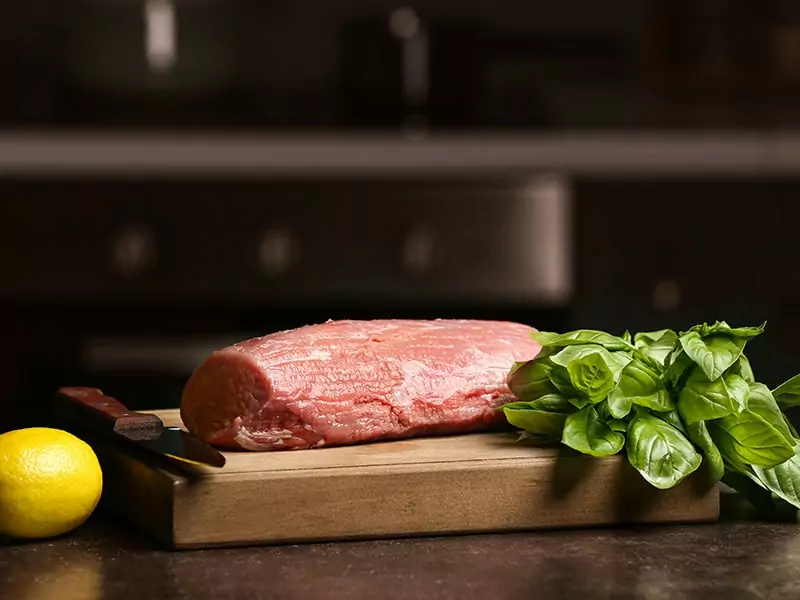 These two cuts of meat have an almost similar name and might even look similar to unseasoned eyes. However, pork loin and pork tenderloin are two different meat cuts that require quite different cooking methods to be delicious.
Pork loin is much bigger and has a higher fat content. Pork loin is usually sold with a fat cap to avoid the meat drying while cooking. The lean meat on the pork loin has more connective tissue, requiring a longer cooking time.
Pork tenderloin is much smaller in size and is usually sold boneless instead of the bone-in option that you can find with pork loin. Pork loin requires very minimal cooking time and can be used more versatilely.
Nutritional Facts Of Pork Tenderloin
Pork tenderloin is quite a store of nutritional benefits. So make sure you include it in the next family dinner.
Carbs
Pork tenderloin is completely free of carbohydrates.
Protein
Pork tenderloin is a reliable source of lean protein and is important to muscle repair and growth.
Fats
Fats are not a concern when it comes to pork tenderloins. They are as lean as they go.
Vitamins And Minerals
Pork tenderloins are rich in potassium, phosphate, and zinc, which are all important for producing lean muscle tissue. Not to mention it is chock full of vitamin B, which is vital for blood circulation and the production of certain growth hormones.
The next time you hit the gym, load up on your meat intake to ensure a great physique. (1)
How Long Do You Cook The Pork Tenderloin In The Oven At 400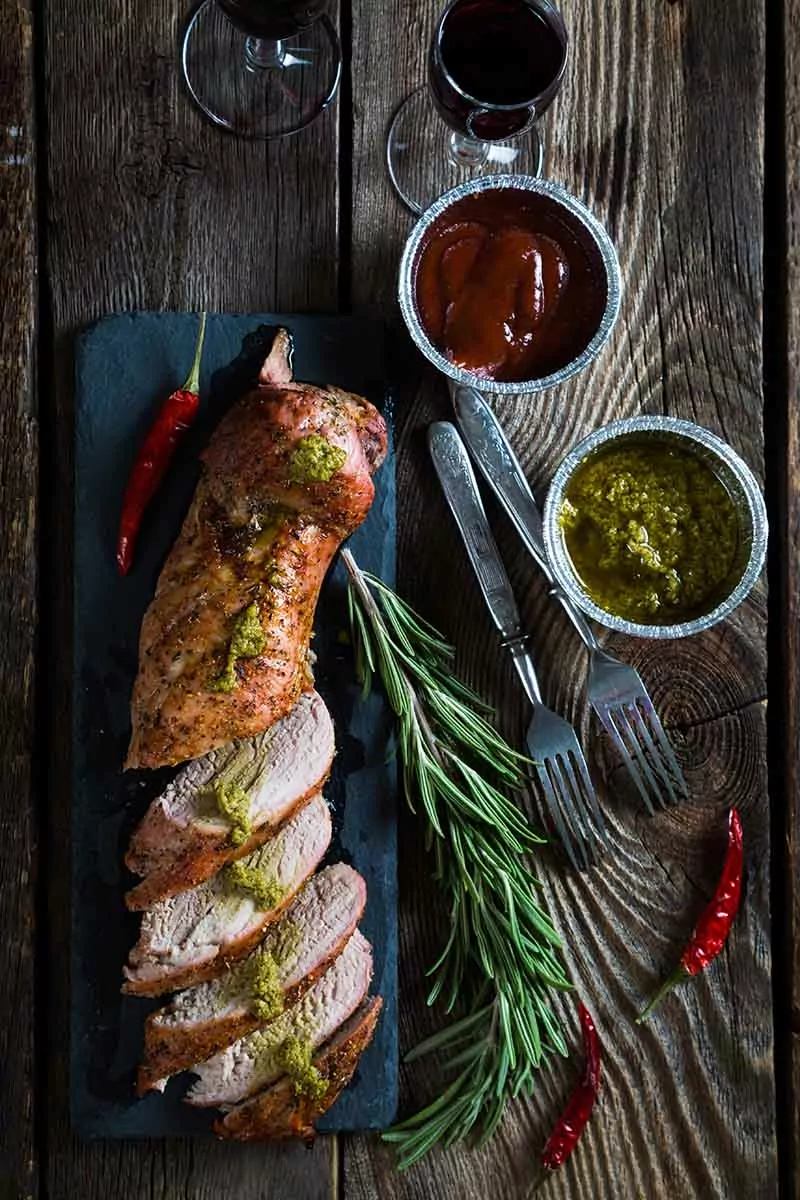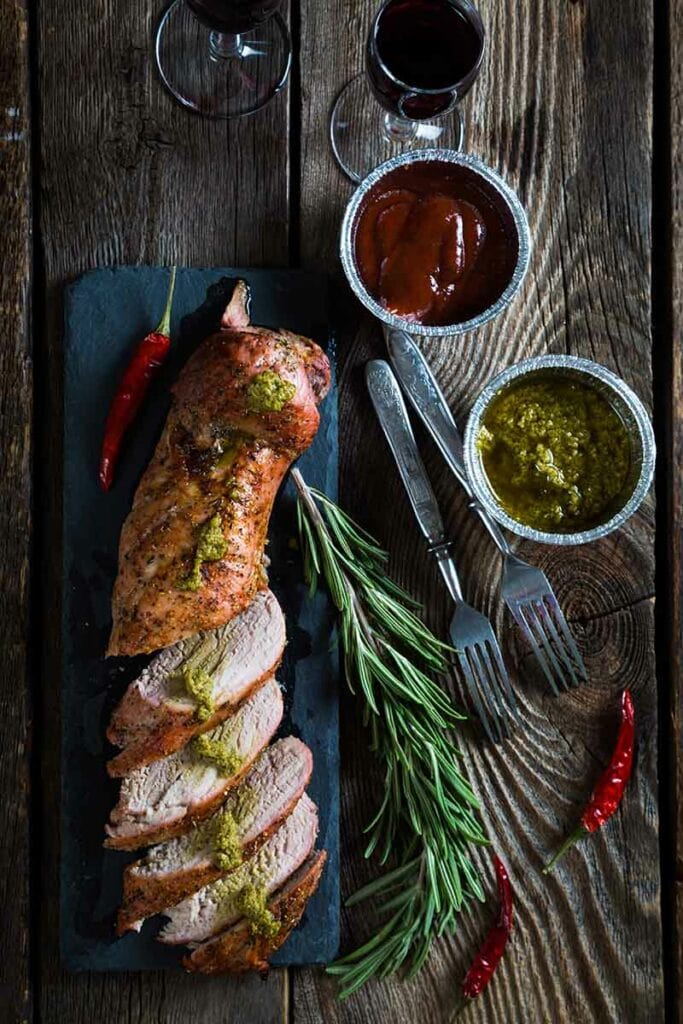 Okay, you know how to pick out your meat from the store; now you need to bake it in the oven at 400. But your meat is turning an alarming shade of dark brown, and you are not sure whether it is cooked all the way through.
"Can I eat medium rare pork?" is also a common question to come across. Let me save you from the anxiety of it all.
The external surface of the pork will look vastly different depending on the seasoning of your choice and the oven you are using. If the marinade has a ton of sugar, rest assured that it will caramelize and burn quite quickly.
If you don't calibrate your oven correctly and it becomes too hot or not hot enough, the stake starts to rise. But there is a reliable way to check the doneness of the pork. You can use an instant-read thermometer to gauge the internal temperature of your pork.
The internal temperature of pork tenderloin should reach 145 F regardless of whether you decide to cover your pork tenderloin with foil. (2) That translates to about 18 to 20 minutes in a 400 F oven.
I know what you are thinking now; what if I decide to cover my pork tenderloin with foil when I cook it? As a general rule of thumb, add 5 minutes to the cooking time that you would set for uncovered pork tenderloin.
In other words, a covered pork tenderloin will take about 25 minutes to cook initially. After the 25-minute mark, many recipes will ask you to continue roasting for another 10 minutes without the foil.
The cooking time might also fluctuate depending on how big your cut of meat might be. Refer to this quick table for the desired doneness of your pork tenderloin. Think of it as a reference guide to how long you should cook your meat at different temperatures.
| | |
| --- | --- |
| Oven Temperatures | Cooking Time For Pork Tenderloin |
| 325℉ | 25-30 minutes |
| 350℉ | 25-27 minutes |
| 375℉ | 20-25 minutes |
| 400℉ | 18-20 minutes |
Since the pork tenderloin is quite a lean cut of meat, you do not want it to stay in a hot oven for too long, waiting to dry out and burn. A great rule of thumb is to allow about 18 to 20 minutes per pound, give or take 5 minutes, depending on the thickness of the meat.
But this is just a guideline for your expected cooking time, so don't go running off into the next room and watch TV because the difference between golden brown and charcoal can be just 5 minutes. Double-check with the trusted thermometer before serving.
Hear it from an expert about how long to leave your tenderloin in a 400 F oven.
How To Tell If Pork Tenderloin Is Cooked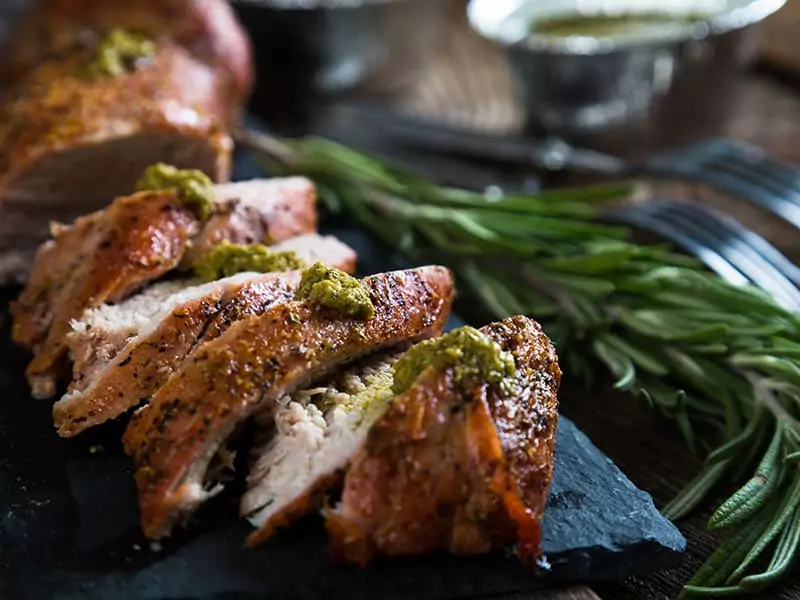 The shortest and most reliable answer is honestly investing in an instant-read thermometer to do the job for you. Save yourself from the speculation and uncertainty when you see the numbers on display reach 145 F.
To get the most accurate reading, insert the instant-read thermometer into the thickest part of the tenderloin. The thickest part will always be the best indicator for the temperature in the rest of the cut.
But if you want to do it the traditional way or if you do not have access to an instant-read thermometer, you can rely on your eyes to look for visual indicators of whether your meat is cooked or not.
When taking the pork tenderloin out of the oven, the crust on the outside that is directly exposed to heat should be a rich golden brown and not a dark shade of charcoal, nor should it be pale gray.
When you cut into the meat, there should be just the slightest hint of pink to retain the meat's moisture. If you worry about whether eating pink pork is safe and want your pork tenderloin well done, feel free to put it back in the oven for an additional 10 minutes.
Can you eat pork tenderloin with a little pink in the middle? Here's the answer.
Let's Make Delicious Pork Tenderloin In The Oven At 400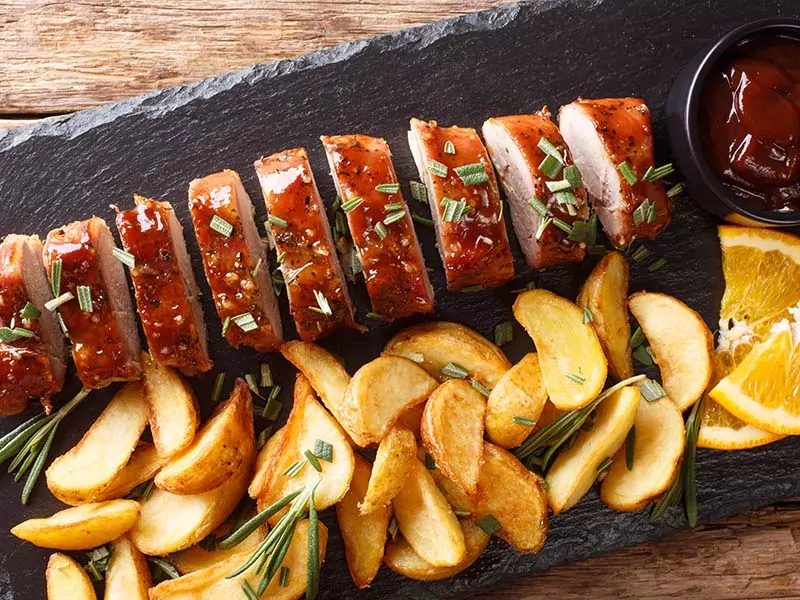 Now that you are versed in all the preliminary information on how to handle your pork tenderloin, let's put this knowledge to good use. I will guide you through the list of ingredients you will need and how you can cook them.
Ingredients
Think of your pork tenderloin as a blank canvas and can take on a variety of flavors and seasoning. But when stripped back to the basics, you just need some salt, sugar, and pepper to make it good. Tune in to the next section for detailed recipes.
Should you want to dress up your meat to impress, here are some spices that go especially well with the meaty flavor that pork has:
Sage
Rosemary
Thyme
Coriander
Paprika
Cumin
Garlic
Shallots
Mix and match these flavor-packed spices, and you will get an array of stunning dinner main courses.
Season Your Meat
If you want your pork tenderloin to soak up all the flavor, you should marinate this steak type according to the suggested time, normally overnight. There are so many ways to impart great flavor and soften the meat. Let me show you how.
Step 1: Make Your Spice Mix
Combine salt and sugar along with your favorite meat spices. Paprika, sage, rosemary, cumin, thyme, and coriander works exceptionally well with the flavor of pork. Mix and match, and you can have yourself so many tenderloin dishes.
Step 2: Season The Meat
You can rub the pork tenderloin with some olive oil to help make the lean meat more tender and rub the spice mix equally and generously on all sides of the pork tenderloin.
Step 3: Let The Meat Rest
This step is crucial. Let the pork tenderloin sit for at least a few hours in the fridge to give the spices some time to work their magic. The salt, sugar, and oil will soften the meat as they penetrate the tissues.
Best Way To Cook Your Tenderloin With Foil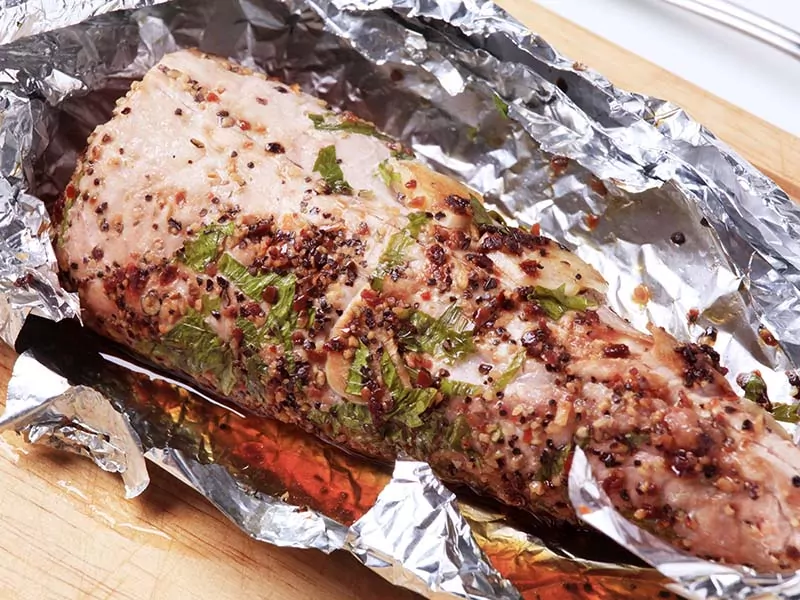 Here is how to tackle the foil-wrapping needs that you may have. What's going to happen is that when you wrap a layer of tin foil around your tenderloin, it will trap moisture inside the pocket which will hinder caramelization.
But there is a solution to this problem. Follow these simple steps to ensure your pork tenderloin gets all the attention it needs to be tender and golden brown.
Step 1: Season Your Meat
You can season your pork tenderloin to taste with your favorite spice blend. Make sure you give the pork tenderloin some time to soak up all the flavor so that it doesn't come out bland.
Step 2: Wrap The Pork Tenderloin In Foil
Wrap your pork tenderloin in some aluminum foil. Make sure the pocket has some ventilation holes so that the steam can escape. Also, place this foil-covered tenderloin on a baking tray to prevent the meat juices from getting all over your oven and making a mess.
Step 3: Bake The Tenderloin For 18-20 Minutes
This is the standard time to bake your pork tenderloin in the oven to achieve the doneness of medium-rare.
Step 4: Check The Temperature
After you have cooked the pork tenderloin, it is crucial to gauge the temperature of the pork before you serve it. Insert the thermometer's needle into the thickest part, and if the temperature reads 145, you are all set.
Step 5: Pan-Sear The Pork Tenderloin (Optional)
This step is optional, but I always finish my oven-baked pork tenderloin with some good caramelization on the stove to deepen the flavor and improve the color. Nobody wants to serve a gray log of meat at a dinner party.
This is the best way to cook your pork tenderloin wrapped in foil.
Best Way To Cook Your Tenderloin Without Foil
So you have decided to take the foil-free route and live life on the edge. Your decision to cook your pork tenderloin uncovered will make the meat much better. But nothing good ever comes easy, so here is how.
Step 1: Season Your Meat
This step is a staple before you cook pork and every other cut of meat. It goes without saying that nobody wants to eat bland meat.
Step 2: Rub It Down With Some Oil
The oil will do two things for your pork tenderloin: it will help the exterior of the pork tenderloin take on a beautiful golden crust and make the meat more tender.
Step 3: Give It Some Color With Searing
They say you eat with your eyes before you eat with your mouth. So give your pork tenderloin the chance to develop some beautiful color on the stovetop. Simply heat a cast-iron skillet until it is smoking hot, and give every side of the tenderloin about 2-3 minutes of pan time.
Step 4: Bake It In The Oven At 400 F For 20 Minutes
Keep the pork tenderloin on the pan and add both the pan and the pork tenderloin into a 400 oven. Remember to rotate the pork tenderloin halfway through the cooking time so that the meat has the opportunity to cook evenly.
Step 5: Check The Temperature
Good pork tenderloin is a properly cooked pork tenderloin. For this reason, check the internal temperature of the pork tenderloin before you take it out of the oven. As soon as it hits 145 F, your pork tenderloin is ready.
Let this be your guide on how to cook your tenderloin without foil.
Cooking Your Pork Tenderloin Without Searing
If you want to skip all the fuss of having to sear the pork tenderloin before cooking it in the oven, then that is something that I can definitely help you out with. All it takes is three simple steps to prep your pork tenderloin before spending some time in the oven.
Step 1: Dry Brine Your Pork Tenderloin
A dry brine is simply a mixture of salt, sugar, and spices of your liking. You just simply rub the mix onto the outside of the pork tenderloin. The dry brine will flavor the meat while also drying out the outside of the meat, creating a crust. This crust is important.
Let the meat sit in the fridge for up to overnight to give the meat sufficient time to dry out.
Step 2: Preheat Your Oven To 400 F
It is important that your pork tenderloin has to hit a hot oven right away so that the outside can be cooked and brown first before all the juices evaporate from the meat, leaving behind a dry tenderloin.
Step 3: As Soon As It Reaches The Color Of Your Choice, Test The Temp
Because there is sugar in the dry brine, the outside crust of the pork tenderloin will caramelize quite quickly. I would advise you to take the tenderloin out of the oven once it has reached the color you want and test the temperature of the meat.
Step 4: Cover With Foil, And Cook Some More
If the internal temperature of the pork tenderloin has not quite reached the safe temperature of 145 F, simply cover the tenderloin in some foil to prevent further browning and stick it back into the oven. Cook until the meat thermometer reads 145 when inserted into the thickest part.
You might be thinking to yourself now that it can't be that easy? I assure you, it can be if you know what you are doing.
Notes For Storing Leftovers
There are several to store your leftover pork tenderloin. Is it acceptable to freeze your cooked pork tenderloin? It is one of the most preferred methods. However, you can also put the pork tenderloin in an airtight container and refrigerate it for about 3-4 days.
5 Common Mistakes When Making Pork Tenderloin In The Oven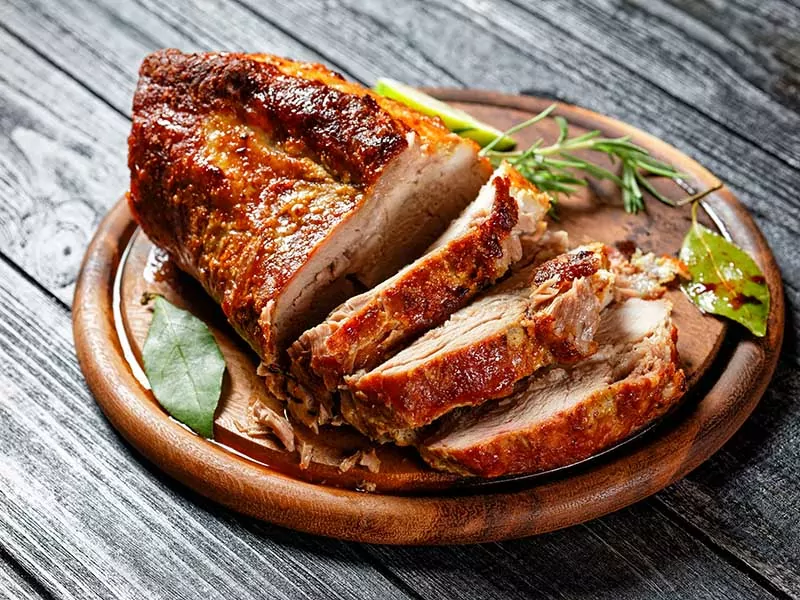 If you are a newcomer to the world of baking your pork tenderloin, let me be the one to tell you about the common mistakes that I wish somebody had told me about. Apply these tips and tricks, and you can become a master in no time.
1. Overcooking The Meat
This mistake happens all the time and can happen with even the best of us. Since pork tenderloin is a lean cut of meat with not a lot of fat marbling, it dries out really quickly if you put it in the oven for too long.
This is how you fix it. Make sure you rub some fat onto the pork tenderloin before you cook it to seal in the moisture. What I like to do is wrap the uncooked pork tenderloin in bacon so that the bacon grease can lend its wonderful addition to the dish.
2. Undercooking The Meat
On the opposite spectrum, what you can do to ruin dinner is to undercook your meat. In addition to it being incredibly awkward and disappointing, it is also a health hazard. Undercooking your meat will present itself to many bacterias and parasites.
A tried and trusted way is to use a meat thermometer. If the meat thermometer registers 145 F, it is safe to eat. Or simply cook off all of the pink juices that you don't want from the inside of the meat if it gives you the ick.
3. Under Season The Meat
I cannot stress this enough. You have to season your meat properly. If the meat is not seasoned properly before cooking, all you will taste when you bite into your tenderloin is a bland, gamey, metallic taste that will surely ruin tenderloin for you forever.
Run the loin down with a generous amount of salt and pepper. In addition to imparting flavor, pepper is also good at eliminating the meaty odor of pork. Don't be shy to use more spices in your cooking. Be creative.
4. Too Much Seasoning
Yes, anything too much is bad, and that includes seasoning. If you use too many spices or even too much salt, the meat will just soak up all of that and become almost inedible. So make sure you season to taste and don't go too crazy on the salt.
Another way you can overseason your pork tenderloin is to leave it marinating in the seasoning too long. Prolonged exposure to salt can dry out the meat or make it too soft. Salt, sugar, and fat break down connective tissue, so 24 hours maximum.
5. You Forget To Trim Away The Silverskin
In most cases, when you are preparing pork, experts will tell you to hold on to the fatty portion so that they can add some extra flavor and tenderness to the meat. But the case is different with pork tenderloin.
The tenderloin comes with something called silverskin, which is a tough and chewy piece of connective tissue. When you expose the silverskin to meat, it can shrink and contort the tenderloin. Not to mention, you'll have a difficult time chewing through the tough skin.
Tips On Selecting The Best Cut Of Pork Tenderloin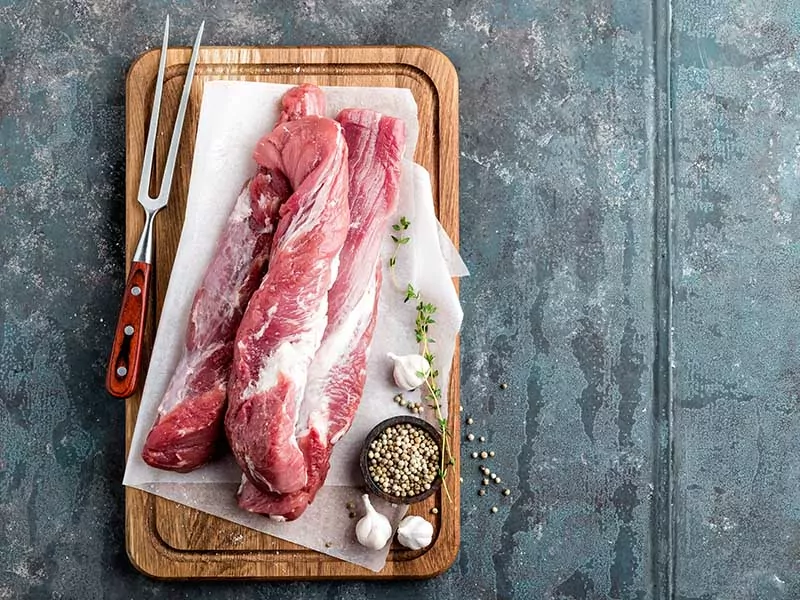 There are a few key characteristics that I want you to focus on the next time you are on the hunt for a good pound of delicious pork tenderloin.
The Color
The color is usually one of the obvious signs of good pork tenderloin and can be applied to the rest of the pig for good measure. Good pork tenderloin will be light pink, almost blush. This color is an indicator of the freshness of the meat.
If the pork tenderloin you are picking out has a grayish color to it, or it looks a bit paler than it should be, it could be a sign of old and bad pork. Blood cells within the meat will turn gray after it is exposed to air for too long.
The Smell
The next thing you should be on the lookout for when selecting pork tenderloin is the smell that comes off it. Fresh pork does not have a strong scent but rather a faint metallic smell.
If the pork meat has gone bad, you will know because it will let off quite a stale, sour odor that is unpleasant to smell. Combine this with the visual indicator above, and that should be a shopping cart no-no.
The Texture
Fresh pork tenderloin will have a firm but soft feel to them. They will be quite tender, but when you poke them, they should not leave an indentation but spring back quite quickly. Furthermore, the biggest indicator is if they are slimy.
Best Pork Tenderloin Recipes
You want to make pork tenderloin the star of the party. It is delicious and tender, but it can also be dry and rubbery if you don't handle it with care. Here are a few examples of how to do things the right way.
There is nothing quite as classic as a flavor combination of pork and apple. Add a little bacon and traditional stuffing spices, and you've got quite an addition to the clean plate club. Give the recipe a try the next time you are entertaining.
It's buttery, garlicky, and packed with juicy goodness from the pork tenderloin. I think garlic and butter is a classic combo, and when used in the right way, it can make any cut of the meat shine. The pork tenderloin is a perfect sponge to soak up all of these heavenly flavors.
You've had honey glazed ham every Christmas growing up, so why not switch things up this year with the innovative honey glazed roasted pork tenderloin. It's refreshingly new with just a sprinkle of nostalgia to make sure it always feels like home.
This honey-glazed pork tenderloin recipe will be a big hit on your holiday dinner table.
What To Serve With Pork Tenderloin
You have the star of the show, but don't underestimate the supporting elements that can elevate the deliciousness of your pork tenderloin even more. Not everything goes with your pork tenderloin, but these are a few classics that have worked over the years.
The flavor of Brussels Sprouts is best when paired with meaty dishes as the flavor is mildly floral and earthy. When roasted to perfection with some brown sugar, they become crispy, savory balls of heaven. Cut through the sweetness with some balsamic vinegar, and you're set.
Nothing beats the classic mashed potatoes as your go-to side dish for pork tenderloin when you run out of ideas. They are hearty, comforting, and just an overall dose of familiarity that you need. Do you know what would make that even better? Garlic and butter. I rest my case.
Now that you have all the stomach stuffers and the heart-heavy dishes out of the way, why not go for something light, savory, and tangy? This fig, walnut, and arugula salad would work immensely well to cleanse your palate after your serving of pork tenderloin.
FAQs
Making pork tenderloin delicious does not come without some unavoidable mishaps in the kitchen. From your pork drying out to burning, I am here to point out all the little things that might contribute to your completely normal kitchen disaster.
You Are Now An Expert On Pork Tenderloin
You are now equipped with everything you need to know about how to master the art of cooking pork tenderloin. Besides being an absolute joy to eat, pork tenderloin is also beneficial for weight loss and muscle building.
You can make some seriously impressive pork tenderloin the next time Christmas comes around for a potluck that you haven't a clue what to bring. And when they ask you where you got the recipe from, feel free to share this article with them. See you next time.
Nutrition Facts
4 servings per container
---
Amount Per ServingCalories209
% Daily Value *
Total Fat 7.7g

11

%
Cholesterol 83mg

28

%
Sodium 212mg

9

%
Potassium 494mg

15

%
Total Carbohydrate 3.9g

1

%

Dietary Fiber 0.3g

0

%
Sugars 3.2g

Protein 29.8g

58

%
---
* The % Daily Value tells you how much a nutrient in a serving of food contributes to a daily diet. 2,000 calories a day is used for general nutrition advice.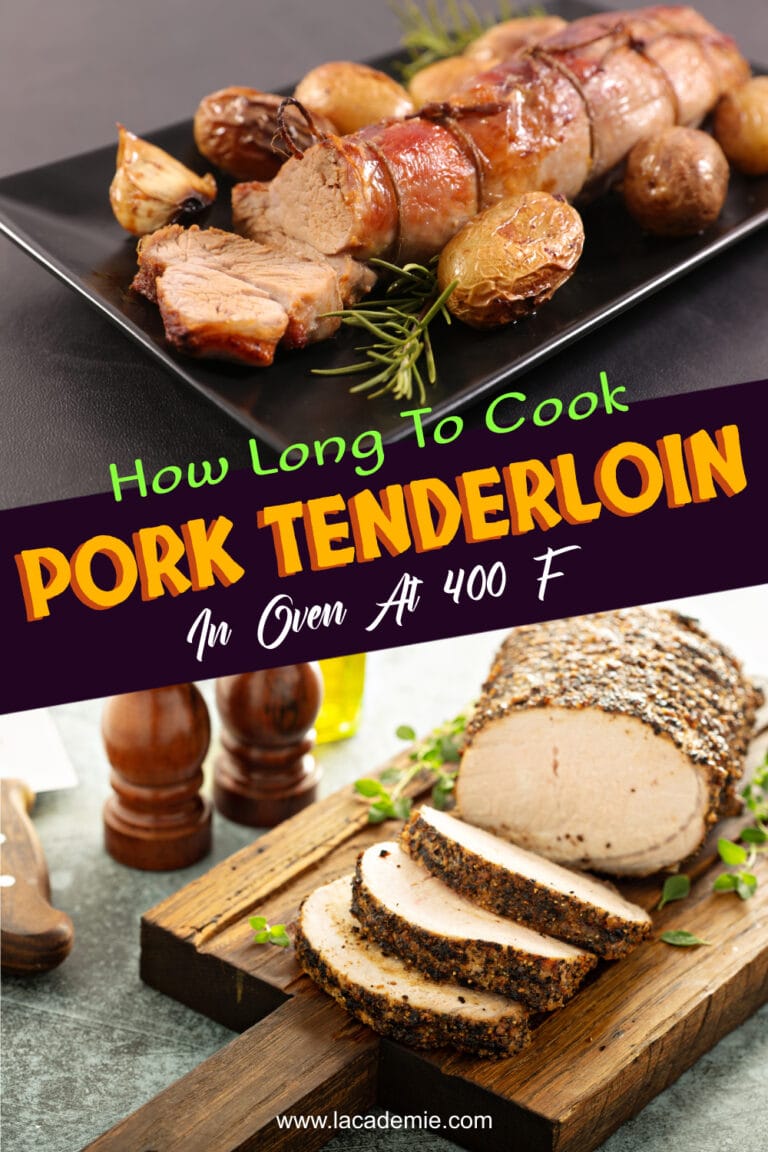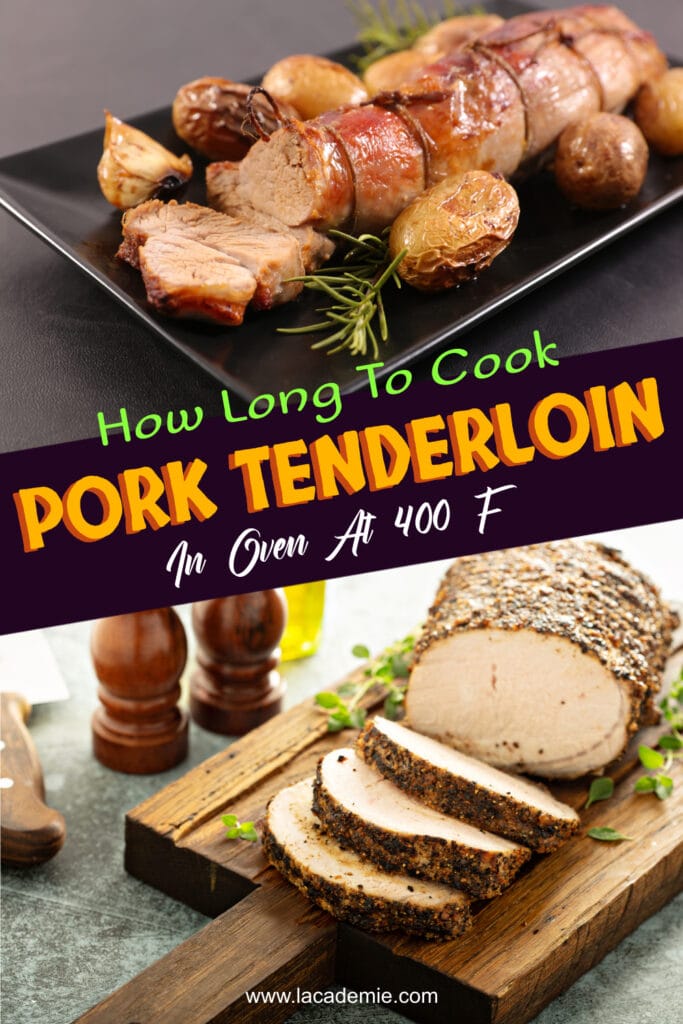 References
U.S Department Of Agriculture. 2022. Pork, fresh, loin, tenderloin, separable lean only, cooked, roasted.
Van, D., 2020. Cooking Meat? Check the New Recommended Temperatures.