"Can you eat pork medium rare?" This question wasn't common in the past because obviously, your parents taught you to always overcook pork before consuming it. But believe me, that is about to change, albeit slowly and with great resistance.
If you are a foodie and trying new food is your pride, you cannot miss this new trend. As you read on, you will firm up your knowledge about whether pink pork is safe for consumption, learn more about trichinosis, and some recipes to try at home. Enough talking! Let's dive right into it.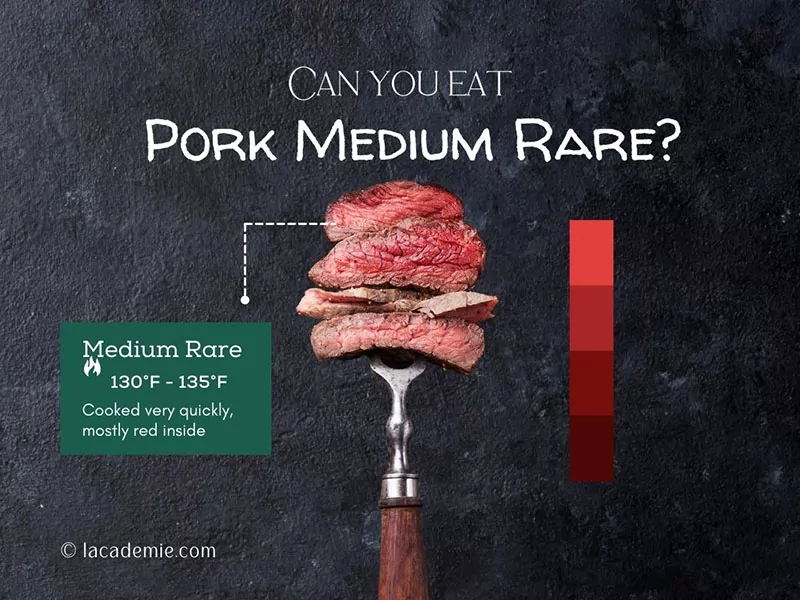 Pork Medium-Rare – A New Trend For Restaurants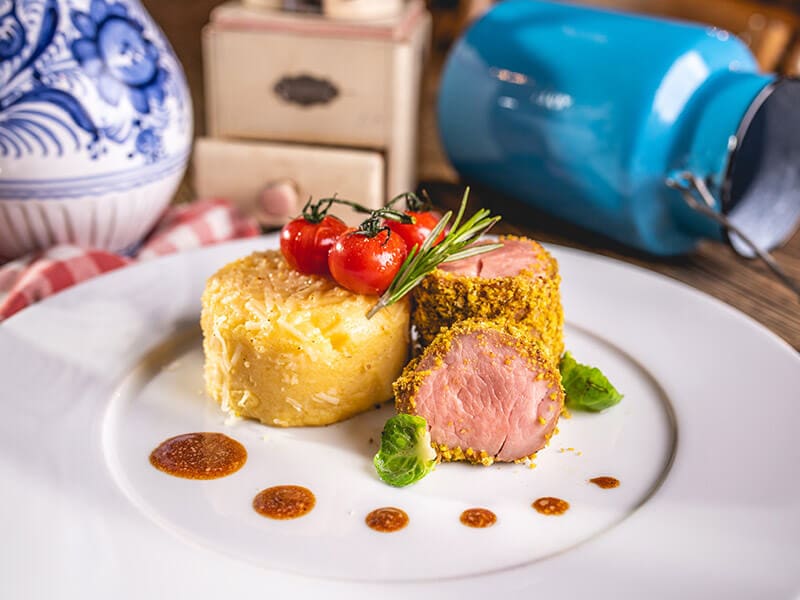 Over the past 10 years, "medium-rare" has no longer been an exclusive term for beef, and "pink pork" has breathed new life into the world of fine dining in restaurants.
Chefs Support Serving Pink Pork
Nearly 40 years ago, many believed that "less well done" pork was just a fad and that beef was the only meat "not invariably cooked until well done." People have been taught for generations that pork must be cooked to 170°F or more due to the fear of trichinosis.
The American's craving for raw animal products began decades ago due to the popularization of beef tartare in the 50s and sushi in the 80s. But you would rarely see raw pork on the menus or on family tables.
Everything has changed, and pink pork is gradually becoming a new cooking method. Both professional culinary artists and backyard chefs are interested in this trend.
Serving pork on the pink side has become a noticeable trend in restaurants for the past ten years. From small restaurants to prestigious eateries, diners love the tender pink meat.
What About Food Experts?
Not only has gained the support of the chefs, but medium-rare pork has also gotten the approval of the critic.
The pink pork trend intensified in 2011 after the U.S. Department of Agriculture lowered the minimum temperature of cooking pork from 160 to 145°F, at the same standard as fresh beef, veal, and lamb.
When cooked to 165°F, there are great chances that the meat will be dried out and robbed of flavor. Critics insisted that medium-rare pork would have better taste and pose no health risks as long as you follow the food safety regulations carefully.
What Is Medium-Rare Pork?
I have mentioned the word "medium-rare" a few times earlier. Now let me explain it in full detail for you.
Cooking Temperature Of Pork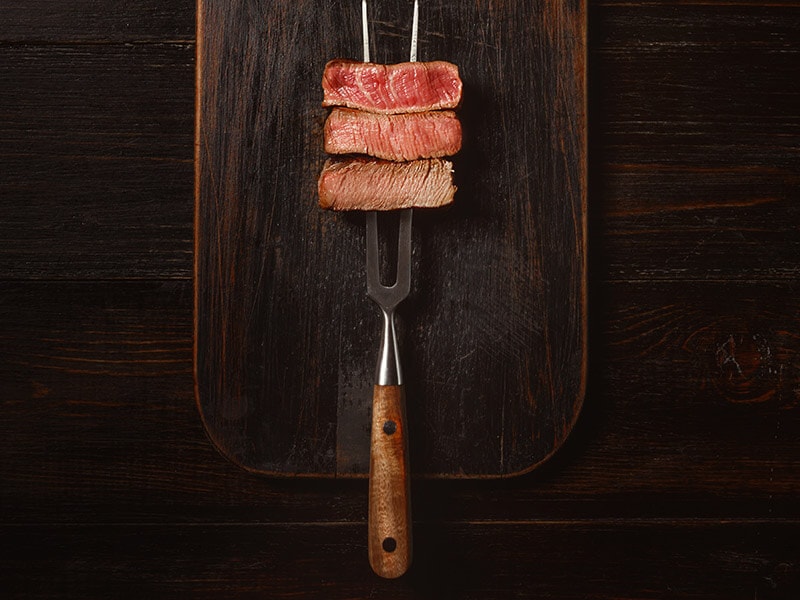 You can see from the table below that different cuts of pork will require different internal temperatures. Read more to discover the reasons for this varied temperature.
| | |
| --- | --- |
| Pork Cuts | Internal Temperatures (Fahrenheit) |
| Pork Loin | 145 – 160 |
| Pork Tenderloin | 145 – 160 |
| Pork Chop | 145 – 160 |
| Precooked Ham | 140 |
| Ribs | Tender |
| Pork Shoulder | Tender |
| Cutlets | Tender |
| Ground Pork | 160 |
Improvements in pig production make pork lean and do not need to be overcooked. The safe internal cooking temperature of fresh cuts should be at 145°F for tough and tender pork alike.
To check doneness properly, you have to make sure that the cooking thermometer stays away from bone, fat, or gristle. Following the USDA guidelines, you should let the meat rest for at least 3 minutes, so this time will allow harmful bacteria to get killed at 145°F. (1)
That is for small and tender meats. And for most large cuts of meat, the pork should stay still for at least 15 minutes so the juices won't escape from the flesh when you cut the meat.
The muscles responsible for movement are firmer and contain numerous collagen in the meat. Collagen only breaks down into gelatin with an internal temperature of at least 160°F for a prolonged period, at the same standard temperature as ground pork.
Chefs usually apply low-and-slow cooking to these tougher cuts. For example, although pork butt and pork shoulder has several differences, they both require a decent amount of cooking time to become tender and flavorful.
Therefore, doneness for the large cuts such as pork shoulder, ribs, or cutlets is measured as "tender." Additionally, you can also smoke pork shoulder at 225°F for some time to infuse the meat with a unique smoky flavor.
Plus, you can reheat precooked ham with a USDA-inspected label to the minimum internal temp of 140°F or just enjoy it cold. Wait until the thermometer reads 145°F if you want to cook a fresh ham.
You may not need a pink pork experiment until now! Do you want to know what pink pork looks like?
What Is Special About Medium-Rare?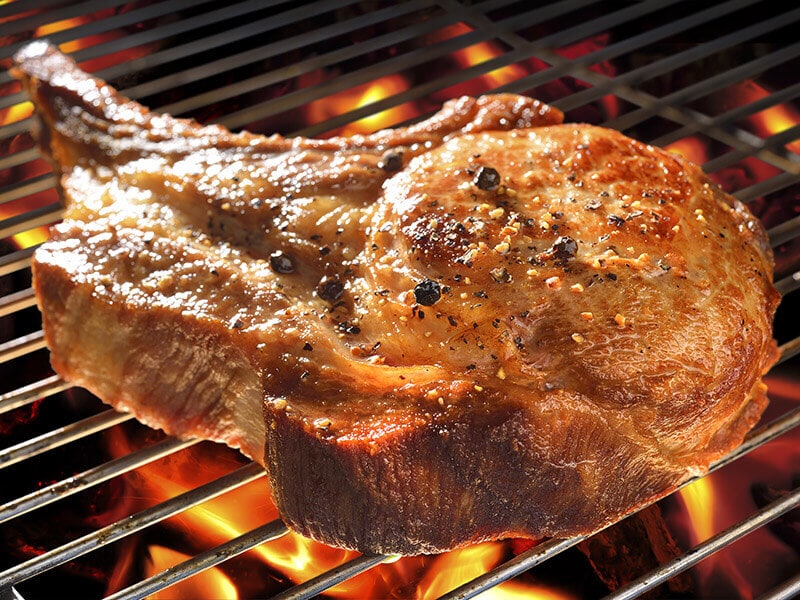 I mean, these things sound trite, but you have heard the classic story of overcooked pork. Those days are gone, my friend. Who says you have to smoke your pork chop to 165°F? Who says you can't have a medium-rare cooked pork loin?
You can cook the pork chops, steaks, or roasts, until the thermometer hits 145°F for medium-rare. To enjoy perfect pork chops every time, make sure that you know the best baking time for pork chops at 350.
Remember to let the meat rest for 3 minutes or more before serving. The finish will be juicy, tender, and perfect with some red wines.
Pink pork was rarely seen back in the days due to the fear of trichinosis. Whereas the threat is almost zero in this day and age. 137°F is enough to kill the trichinella parasite, and with medium-rare temperature followed by the resting time, your meat will reach 155°F+.
The temperature is enough to eliminate any health risk.
Can You Eat Pork Medium Rare?
Considering the safety issues, many people will freak out when they see the pink in their pork. But is medium-rare pork bad for you? Let's find out!
Is It Safe to Eat Pork Medium Rare?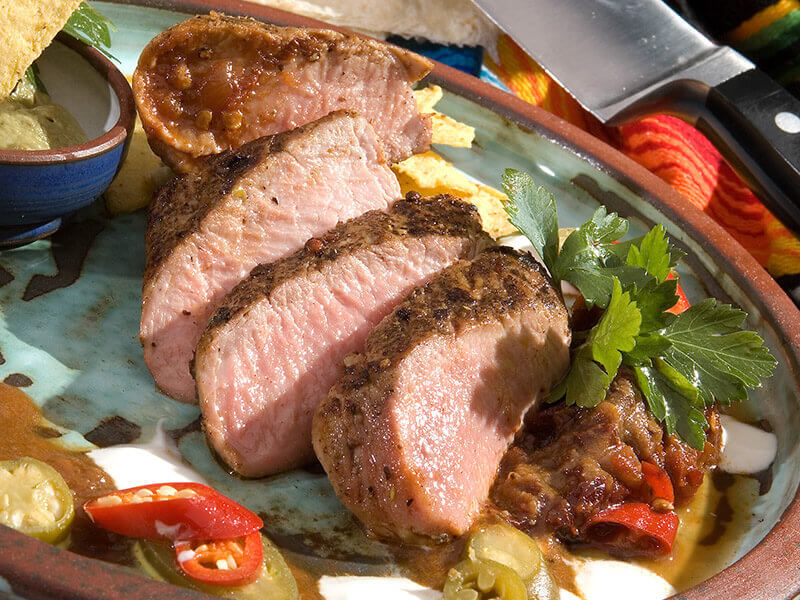 Theoretically, the USDA has approved medium-rare pork. In 2011, the U.S. Department of Agriculture: Food Safety and Inspection Service agreed that 145°F would be the minimum internal temperature for cooking pork.
Based on new pig farming methods that have reduced the risk of pathogens, manufacturers proposed the change in 2008. Following several years of research and discussions with industry experts, the USDA ultimately approved the proposal.
While pink pork had been common practice long before for chefs, this was the milestone for pork medium-rare to be officially adopted by the public. The USDA also claimed that cured pork, the meat with salt added for preservation, will remain pink after cooking.
Pink pork or medium-rare pork is completely safe and edible as long as you follow the temperature guidelines. Worry not about digestive problems because 145°F or more is enough to kill bacteria and parasites.
Make sure to use the food thermometer to check for accuracy. Moreover, medium-rare pork is high in minerals, vitamins, and proteins that are good for your health.
Learn more about the USDA guidelines for medium-rare pork here.
Can All Pork Embrace The New Change?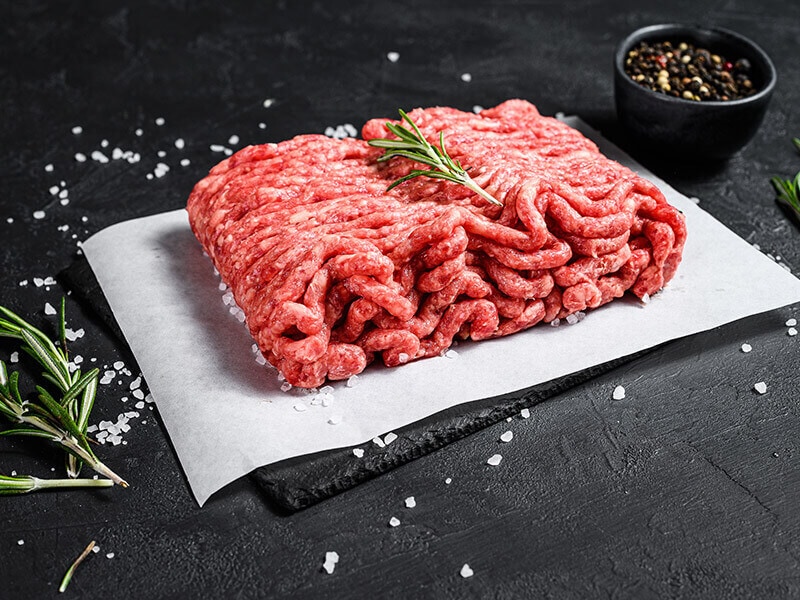 In short, no. Not all cuts of pork can be cooked to medium-rare. In terms of safety, the minimum internal temperature of the meat has to reach 145°F, 15 degrees lower than before. However, the new change doesn't apply to every cut of pork.
When referring to cooking pork medium-rare, I mainly focus on the tender cuts such as pork tenderloin or nice bone-in pork chops. For example, you can enjoy beautiful and delicious pink pork if you know the right timespan to cook pork tenderloin in the oven at 400 F. By the way, you should also know that pork tenderloin is different from pork loin, meaning that they require different cooking methods.
Besides, bacteria appearing on the surface of roasts, steaks, and chops will be destroyed during cooking when the exterior temperature of the meat is higher than the temp in the center of the pork.
For larger and tougher cuts of pork, as I mentioned earlier, 145°F is not enough to soften the connective tissues within the meat.
Most importantly, ground pork and sausages need to be cooked above 160°F, and you don't need a rest time for them. Meat that has been processed through a grinder has a greater chance of being contaminated by bacteria such as salmonella and E-coli.
During the grinding process, the bacteria appearing on the surface may mix with the meat inside. As such, the meat will face the omnipresent threat of bacteria, and you will need higher temperatures to kill them.
One of the things you should look for when buying pre-packed meat is to check the "blade or mechanically tenderize" label on the package. This label will tell you if the packing house used blades and needles to tenderize your meat.
Check out how the meat grinder works here!
Risks Behind The Curtain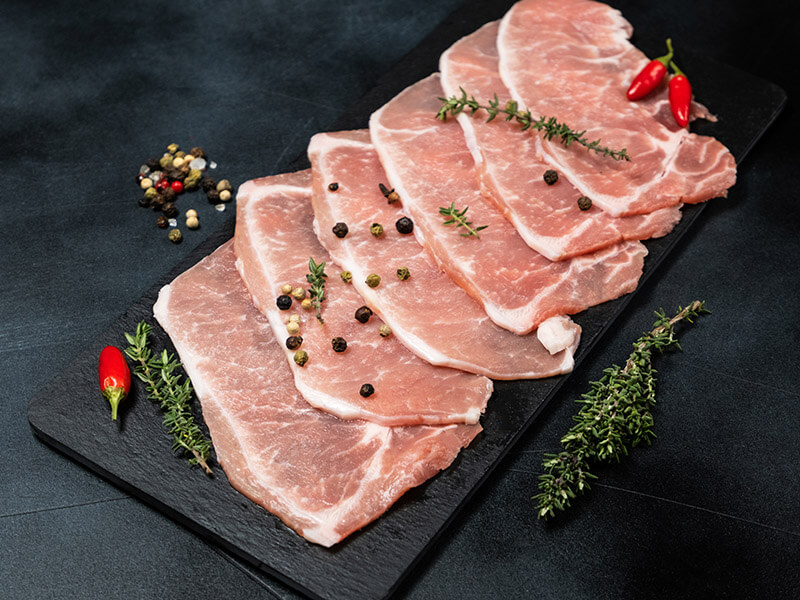 In the past, parents, teachers, and everybody taught you to cook pork until there were no signs of pinkness. Probably, that advice is not utterly unfounded.
Other pork products such as the liver may contain hepatitis E, which can cause a number of severe complications to the body. Cooking meat at medium internal temperature can also give chances for bacteria to live and spread to your system once you consume the meat.
In addition, yersiniosis is one of the other infections you must beware of when consuming raw or undercooked meat. CDC reports that there were 117,000 illnesses, 640 hospitalizations, and 35 deaths related to yersiniosis each year in the U.S. (2)
Fever, abdominal pain, and diarrhea are the early symptoms of this infection. You may experience joint pain and a skin rash on your legs and torso in the long term
Also, don't forget that consuming pork in large quantities adds a layer of harm and diseases to your health. Pork is rich in saturated fat and cholesterol, so it poses the risk of some heart diseases and diabetes.
Say Goodbye To An Old Enemy: Trichinosis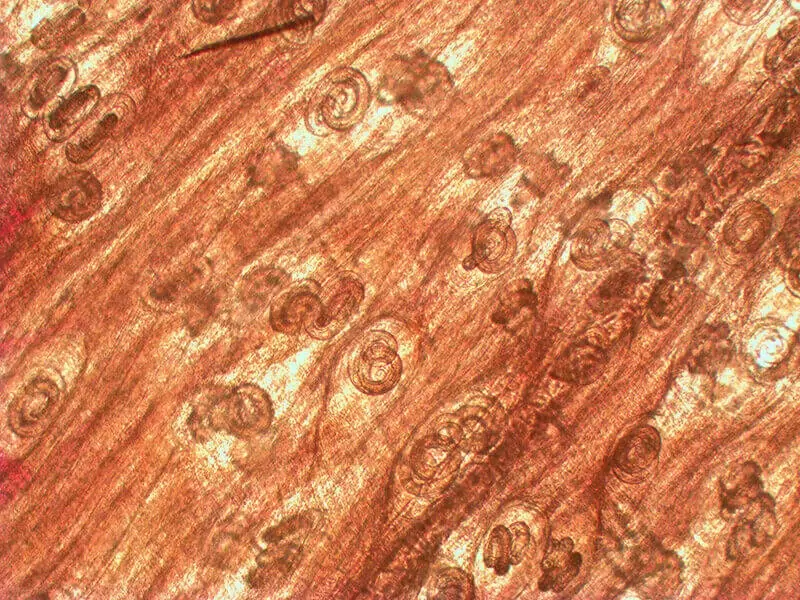 Many people grew up on pork being traditionally overcooked, including me, and trichinosis is one of the main reasons responsible for the anxieties of pink pork. But I am here to change your heart and mind
What Is Trichinosis?
Looking at the past, eating raw pork was the cause of trichinosis in humans. The pork was infected with Trichinella spiralis, a particular parasite roundworm. You can find trichinosis in other meat contaminated by grinders or other equipment.
This parasite can invade the body and spread through the intestines, muscles, and other human organs. Symptoms like nausea, abdominal pain, high fever, sweating, and muscle pain are common. (3)
Trichinosis can also lead to more serious complications in the brain and heart. Although rare, some cases are so severe that they can be fatal. With proper medical treatment, most patients can recover within eight weeks.
In general, if you get infected with trichinosis, it won't go easy on you at all.
Listen to what this health expert talks about trichinosis.
Changes in Practices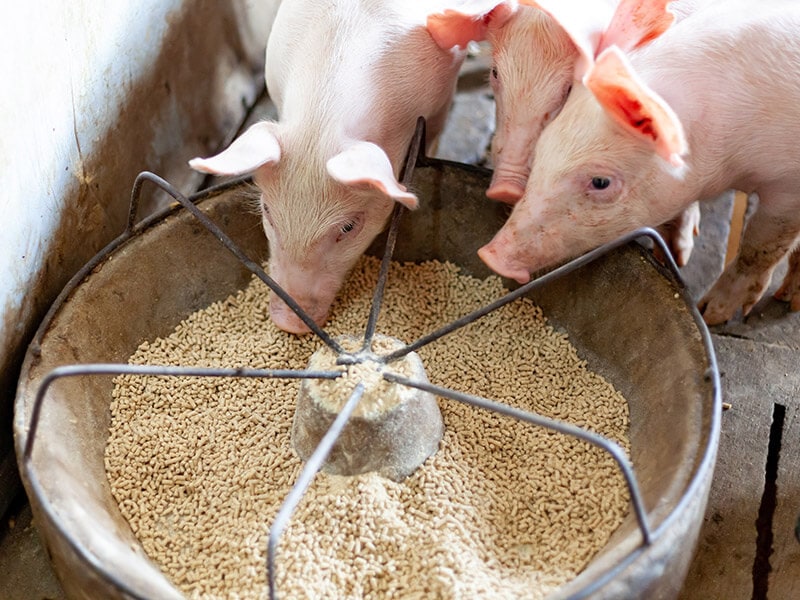 In the last several decades, cases of trichinosis have been virtually nonexistent due to improved agricultural practices. Pig farming has undergone a few profound changes, resulting in significantly improved pork quality.
More specifically, a shift of focus was on pig feeding practices. Pig growers no longer use raw foods or meat to feed them because raw materials get spoiled easily and help the trichinae parasite to multiply.
Pig feed is strictly regulated as researchers have found that feeding pigs with "slops" contributed to the presence of parasites in the pork. Since that change in pig feeding practices, the number of trichinosis cases from undercooked pork has gone nearly to zero.
A Drastic Decline in Trichinosis Cases
Between 2011 and 2015, an average of 16 cases of trichinosis in the U.S. each year were reported, according to the CDC (4). A figure of 10,000 cases is cited each year worldwide, mostly from Southeast Asian countries, China, or Eastern European countries (5).
Looking at 2017 alone, you will realize the U.S. produced about 26 billion pounds of pork. Therefore, you will see 16 cases over four years proving the risk has been almost eliminated.
Just to be clear, the talk here is about commercially reared pork. Pork from homegrown pigs still carries the threat of trichinosis if their food comes from "prohibited pig feed" or "swill." For safety's sake, it is crucial to comply with the USDA internal temperature guideline and cook your pork thoroughly.
Benefits of Pork Medium Rare That You Should Know
Medium-rare pork isn't just delicious, but it will provide numerous nutrients to your body. So, what's stopping you?
Nutritional Value
Here are the details of nutrients for a 100 gram of medium-rare pork:
25,7 grams of protein
297 calories
20,8 grams of fat
53% of water
0 gram of carbs
0 gram of sugar
0 gram of fiber
Pork contributes to the body with multiple vitamins and minerals such as phosphorus, potassium, thiamine, zinc, and vitamins B. In particular, vitamins B perform essential functions, such as creating red blood cells, maintaining healthy kidney function, and energy production.
What's more, pork also contains all nine amino acids needed for your body's growth and development, such as histidine, isoleucine, leucine, and more. Consequently, pork is especially beneficial to those who need to increase athletic performance.
Like other meat products, pork is an excellent source of protein. Inadequate intake of high-quality protein in food accelerates the loss of muscle mass and increases the risk of sarcopenia. (6)
Consuming pork and other vitamin-rich foods provides adequate amounts of high-quality protein to the body and maintains muscle mass.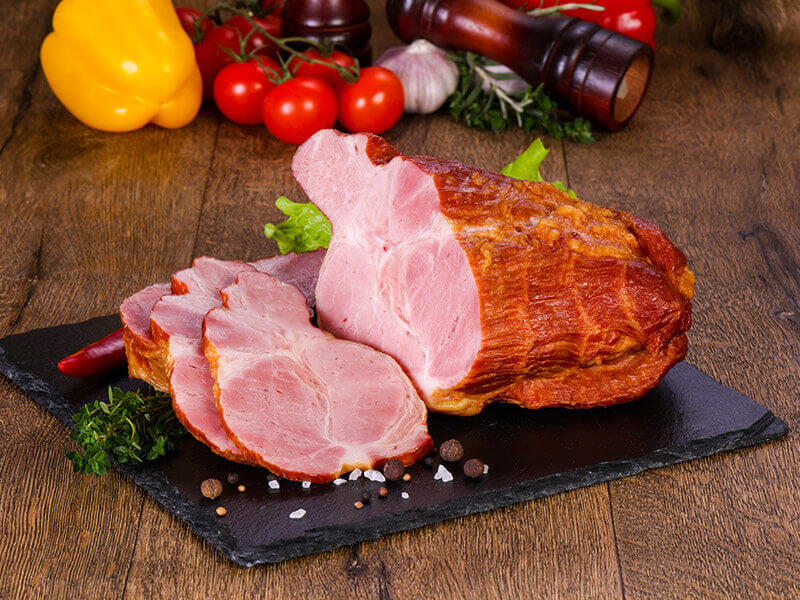 A More Moist and Tender Finish
It's a shame that pork takes too much abuse as people have considered it second-class meat and a less-likable brother of beef for years.
Pork doesn't receive the same "treatment" as beef since pigs have a bad reputation for being trash eaters, conducive to the fear of all sorts of nasty stuff, especially trichinosis.
Long gone are the days when beef was the only raw meat accepted as a luxury item in the U.S. Don't get me wrong. Eating raw pork is still not a good idea at this point. But I'm thinking, you should cook pork medium to medium-rare, just like steak or salmon.
Furthermore, cooking meat at a lower internal temperature speaks to a well-sourced, safe-to-eat, and more expensive product. The quality of meat will greatly affect the texture and flavor, retaining the tenderness and succulence that high heat drives away.
The most important factor you look for in a medium-rare temperature is tenderness. Your pork will taste better, juicier, and more flavorful.
How to Know Your Pork Is Done?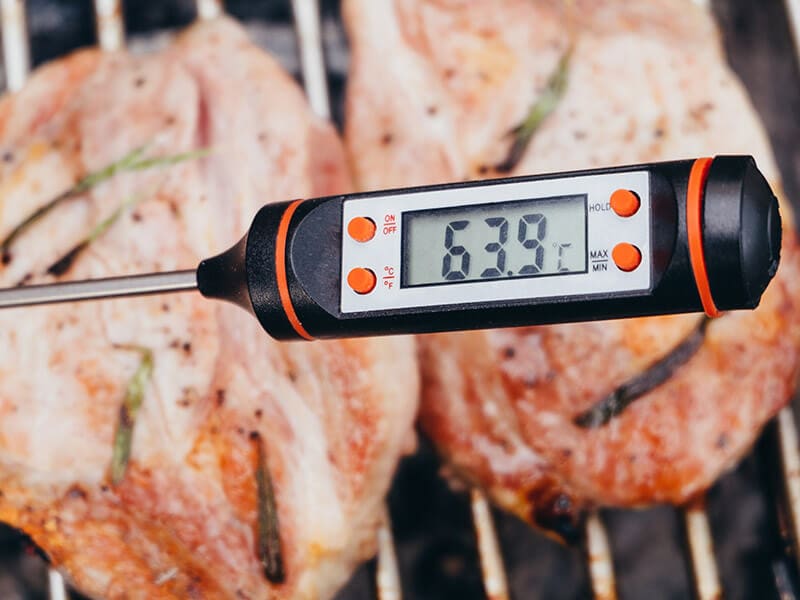 After completing the cooking cycle of tender cuts of pork, you can remove the meat from the cooking heating sources once the internal temperature hits 145°F on the food thermometer.
To get an accurate result, you have to insert the thermometer into the thickest part of the pork, and an inch away from the bone. Once the meat reaches the required temp, set it aside and let it stand for 3 minutes or more before carving or serving.
To put it simpler, you can follow the rule of thumb of meat resting time, as any 100 grams of meat should rest for 1 minute. When cutting the medium-rare pork, you can expect the inner has a hint of pink.
While the thermometer is the most accurate measure of meat doneness, you still have other ways to check with visual evidence.
For instance, you can test the juices when you probe the meat with a knife or skewer. If the juices run clear and are slightly pink, your pork is ready to serve. Or, you can look at the slices of meat after letting them stand for 3 to 5 minutes.
The flesh is not the bright pink like rare-cooked pork, but still, the medium-rare pork should be languid white-gray around the edge and decidedly pink in the middle.
Sure, I don't guarantee these "by hand" methods will let you know if your meat has reached the safe temp or not.
Some Tips To Protect Your Health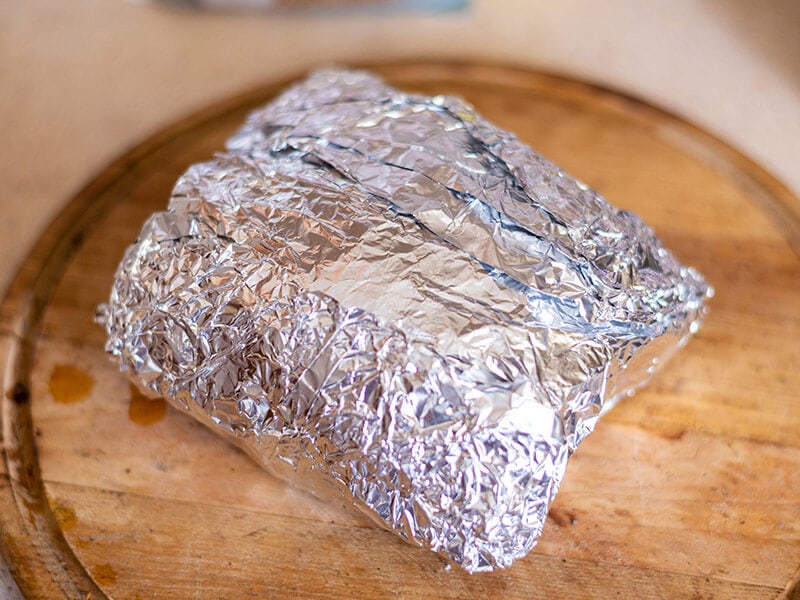 Even though pork is lean meat now with new agricultural practices, keep your guards up when you cook pork at a lower temperature. Bear in mind these tips so the next time you try medium-rare pork, you could nail it!
From a health standpoint, trichinosis gets killed at 137°F. The medium-rare temperature, which happens to be 145°F, is enough to get rid of the parasites. So at least you should wait for the pork to reach that inner temperature before removing them from the heat.
Always check for indications of your pork going bad before cooking or consuming them.
The internal temperature for muscle meats such as pork chop, pork roasts, and pork loins is 145°F.
Always let the meat rest before consuming or carving regardless of any cuts of pork.
Use a calibrated thermometer to measure your food temperature.
Don't forget to have a clean preparation. Wash your utensils before and after using them with hot soapy water.
Welcome to The Future With These Medium-Rare Pork Recipes
Let's come to my favorite part. Here I will introduce you to some tasty medium-rare pork recipes. Please! You don't want to miss them.
Pork chops are ideal for preparing at medium-rare because this piece of meat is already tender and easy to cook. The lower temperature helps retain the juiciness of the cut.
After smoking pork chops to give it enough smoky flavor, you will finish it in a butter bath for a few more minutes.
The hot butter melts and coats the pork, giving it the perfect level of creaminess. Remember to let the meat rest for 10 minutes before starting your meat party.
For your information, sous vide also means "under vacuum" in French. Sous vide is a technique of cooking food (both meat and vegetables) in a vacuum bag, under a lower temp than normal, which is about 50°F to 60°F.
Pork tenderloin is suitable for applying sous vide. And thus, the meat will be cooked from the inside out and it's impossible to overcook it.
You have to try these perfect sous vide pork tenderloin!
If you are familiar with sous vide, I suggest you should add some styles to it. I'm going to introduce you to a Korean version of this dish. Sweet, spicy, and juicy are wonderful adjectives to describe the sous vide Korean BBQ pork loin.
No no. Don't get scared easily because of the word "sous-vide". You will make this dish without any stress, I promise.
FAQs
How can I say this? I do believe that all the information I mentioned earlier is enough for you. But, the more the merrier, and you may find these extras helpful.
Will You Follow The Trend?
Medium-rare or pink pork is not a common phenomenon in every restaurant or on the table of American families though. But as I said already, the new method of raising pigs has almost completely solved the threat of trichinosis.
In addition to the USDA recommendation, I don't think you need to tug on that leash. Try to make a dish at home or boldly order it at a restaurant.
Either way, the choice is yours. Do you want to embrace the new trend? Don't forget to let me know in the comments. And share this post with your loved ones to update this pink pork trend to them.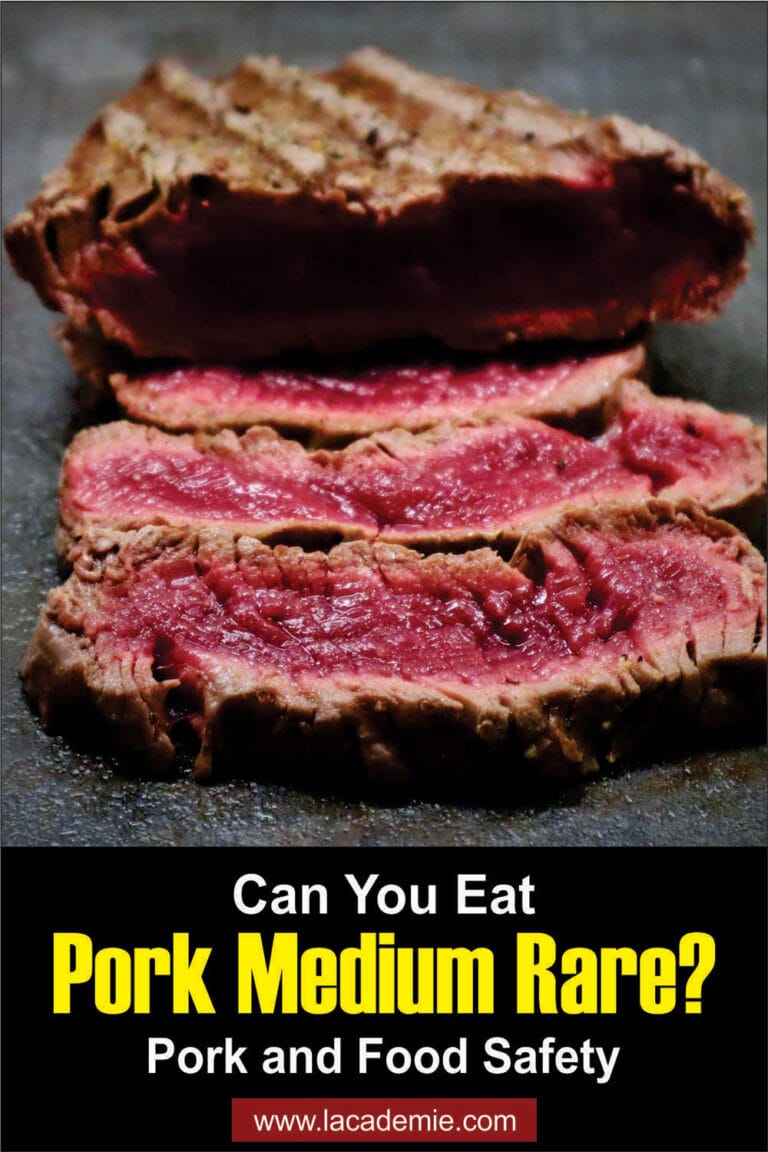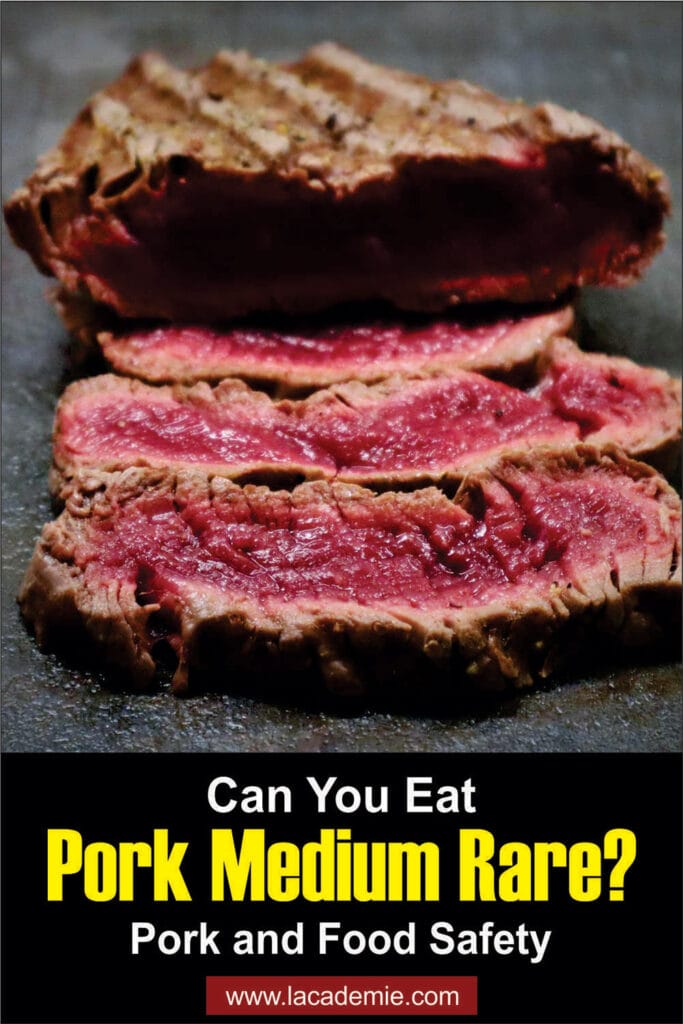 References
usda.gov. 2022. Cooking Meat? Check the New Recommended Temperatures.
cdc.gov. 2022. Yersinia enterocolitica (Yersiniosis).
Shimoni, Z. and Froom, P., 2015. Uncertainties in diagnosis, treatment and prevention of trichinellosis. Expert Review of Anti-infective Therapy, 13(10), pp.1279-1288.
cdc.gov. 2022. Parasites – Trichinellosis (also known as Trichinosis).
Gottstein, B., Pozio, E. and Nöckler, K., 2009. Epidemiology, Diagnosis, Treatment, and Control of Trichinellosis. Clinical Microbiology Reviews, 22(1), pp.127-145°F.
Beasley, J., Shikany, J. and Thomson, C., 2013. The Role of Dietary Protein Intake in the Prevention of Sarcopenia of Aging. Nutrition in Clinical Practice, 28(6), pp.684-690.