Stuffed bitter melon soup (Canh Khổ Qua) is a delicious and healthy Vietnamese dish with a refreshing and unique taste. By combining bitter melon – a kind of gourd boasting a distinctive flavor profile, with meaty and savory fillings, the Vietnamese have created a truly one-of-a-kind delicacy.
Now, I understand that you might be a little hesitant to try this tasty Vietnamese soup recipe due to the word "bitter" in its name, but trust me on this. As long as you stick to the steps in today's post, bitterness is the last thing you need to worry about!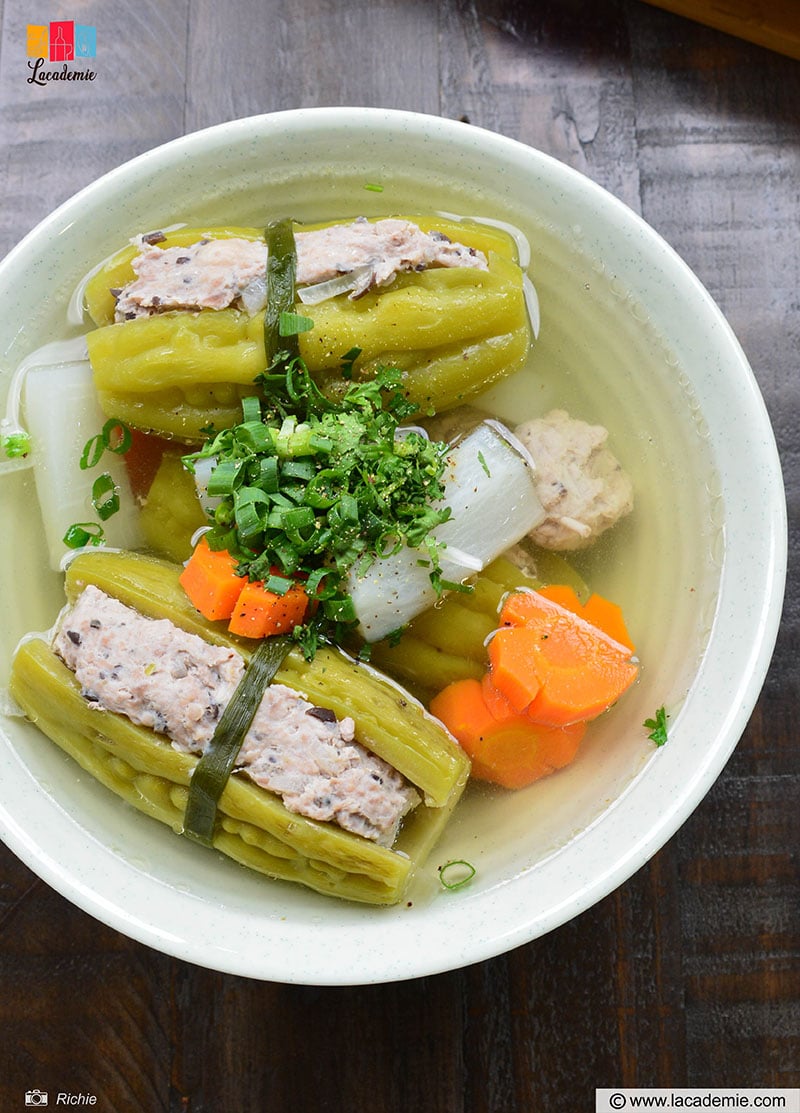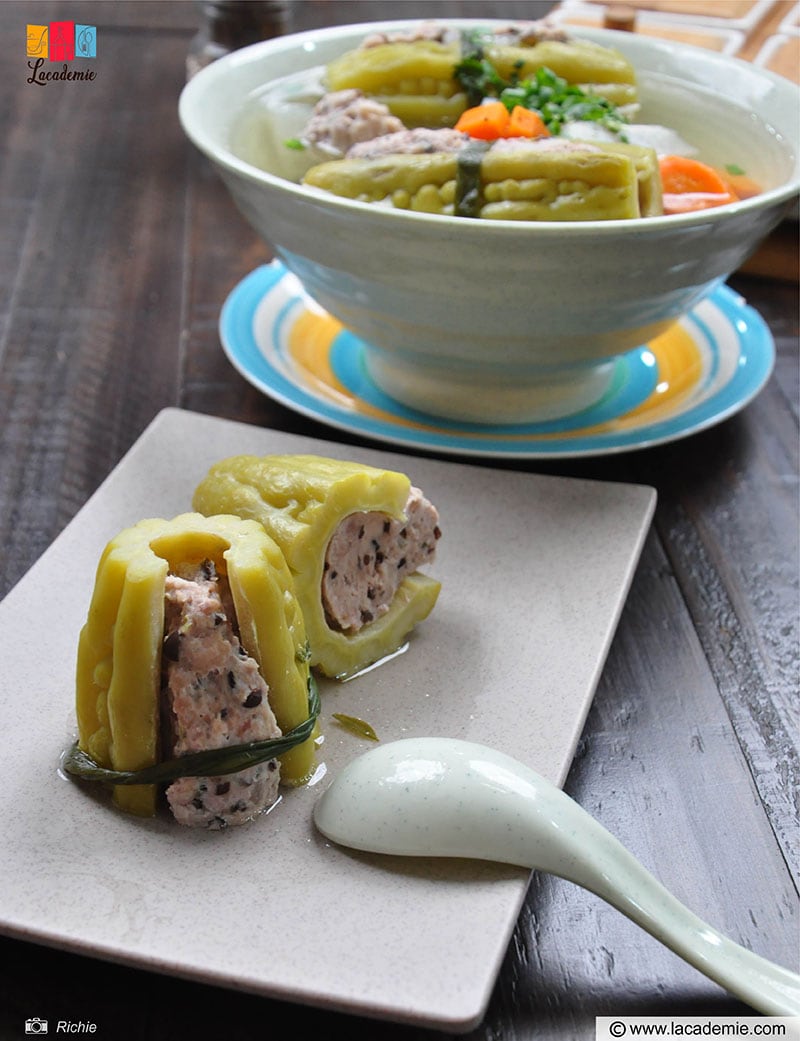 Canh Kho Qua – A Wonderful Childhood Dish
"It's bitter, but it's good for you" are the words that most Vietnamese children hear from their parents when they are made to eat Canh Kho Qua. In all honesty, I can't find a better way to describe this dish.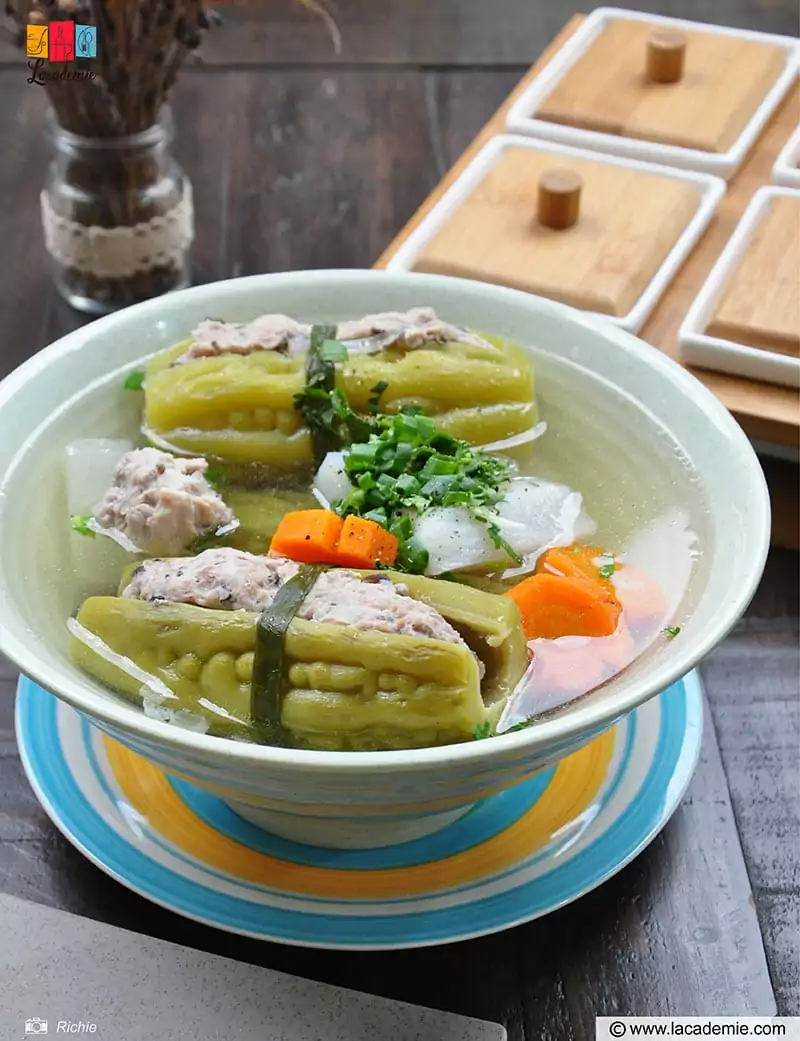 But is Kho Qua (bitter melon) really that bitter? While it's true that this gourd has notes of bitterness, they are not so unbearable, especially after being blanched and stuffed with a tasty pork-based filling.
With the proper preparation, the gourd's unique flavor profile actually adds depth to your dish, making it extraordinary. And let's not forget that it's a vitamin and mineral powerhouse. According to folk medicine, Kho Qua also has exceptional cooling properties.
In addition, Canh Kho Qua is a must-have during the Tet Holiday (Lunar New Year celebration) in Northern Vietnam. This is because "Kho Qua" can be translated to "hardship has passed"; thus, people enjoy it as a way to leave all the struggles of the past year behind and wish for a better new year.
On a side note, if you enjoy Canh Kho Qua, I highly recommend taking a look at Canh Chua, a wonderful soup that perfectly balances sweetness and sourness. Both recipes fall into the "Canh" category, an iconic part of daily Vietnamese meals.
Tools
Ready to start cooking? Here are the tools you need to whip up this signature Vietnamese soup!
Stockpot: For cooking the soup.
Ladle: For spooning the soup.
Knife and chopping board: For all the cutting and slicing tasks.
Other handy tools: Mixing bowl, saucepan (for blanching the bitter melons and scallions), tablespoon, teaspoon, food prep gloves, and tongs.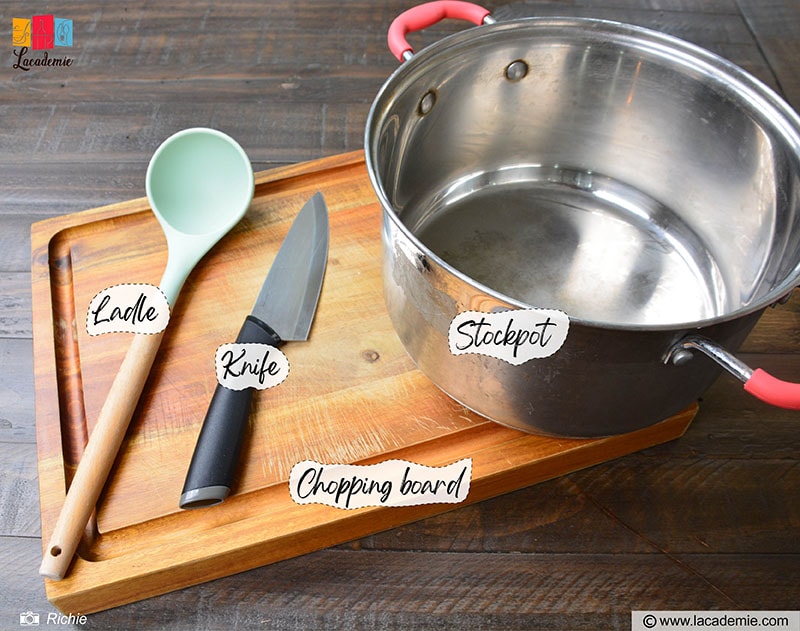 Ingredients
With the right tools on hand, the obvious next step is gathering the necessary ingredients. Prepare the following:
Ground pork: You can grind pork at home if you own a food processor. Buying pre-ground pork is also not a bad choice.
Pork paste: Works great as a binder for the filling. You can also use fish paste or eggs.
Bitter melons: Long and large ones are the best for stuffing.
Carrot and daikon: Reduce the bitterness from the gourd and slightly sweeten the broth. Go for small or medium ones.
Pork bone broth: For the tastiest soup, I highly recommend making some pork bone broth in advance and using it as the liquid base. That said, you can also use packaged broth or plain water.
Wood ear mushrooms: Diversify the taste and texture of the filling and prevent it from being too meaty. You can replace them with your favorite mushrooms.
Onion: Adds aroma and a little sweetness to the filling.
Scallions and cilantro: For garnishing. You'll also utilize the scallions to secure the stuffing.
Spices: Ground pepper, brown sugar, soup powder, and salt.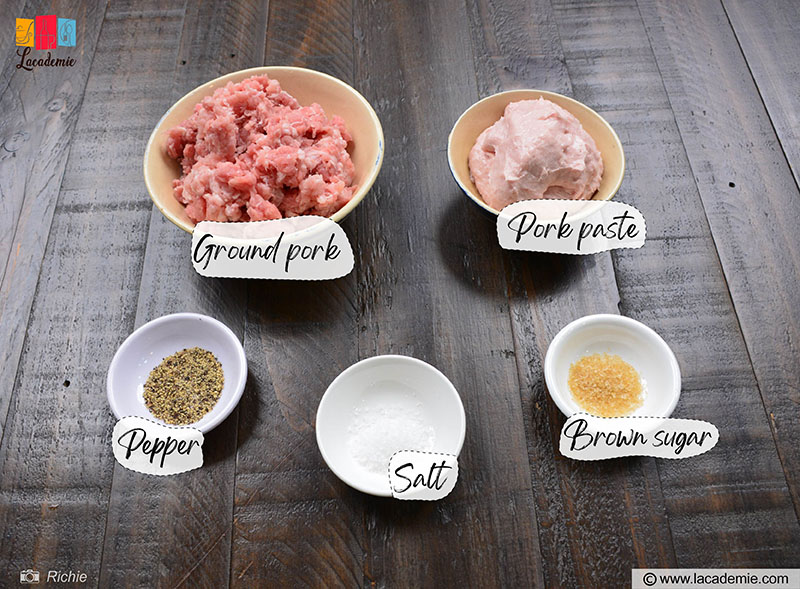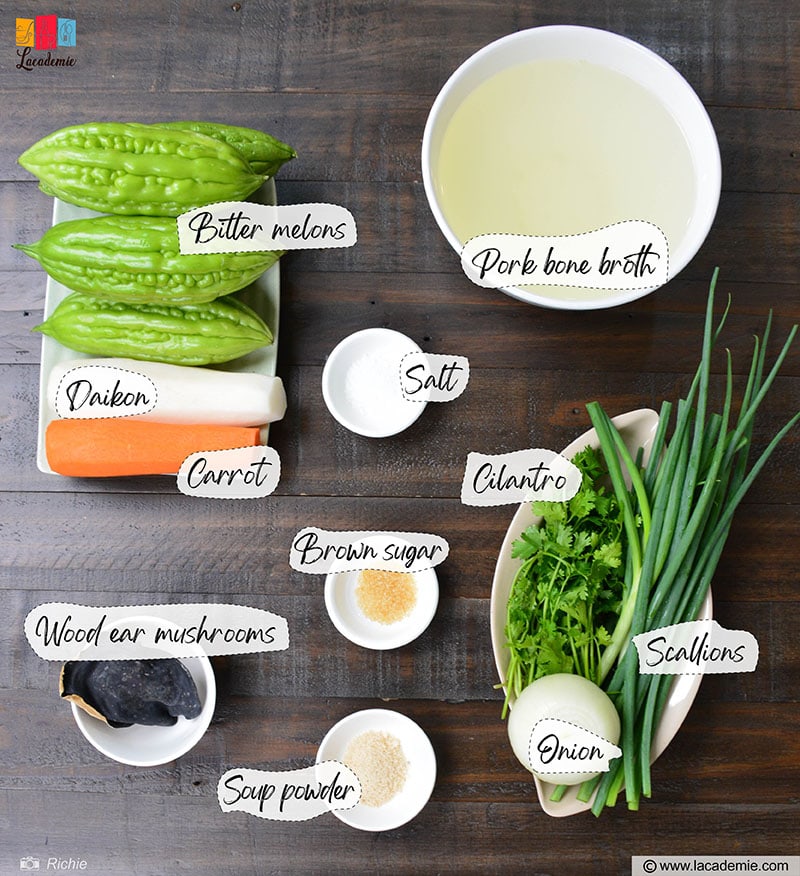 Directions
Now that you've reached this part, there is only one thing left to do. Without further ado, here's the detailed recipe for Canh Kho Qua!
Step 1: Prepare The Vegetables
Rinse the vegetables and let them dry.
Soak the wood ear mushrooms in warm water for 10 to 15 minutes. Then, mince them.
Chop the cilantro, onion, and scallions into small pieces. Leave some scallion leaves intact to use as binders for the bitter melons.
Cut the carrot into pieces or flower shapes.
Chop the daikon into large pieces.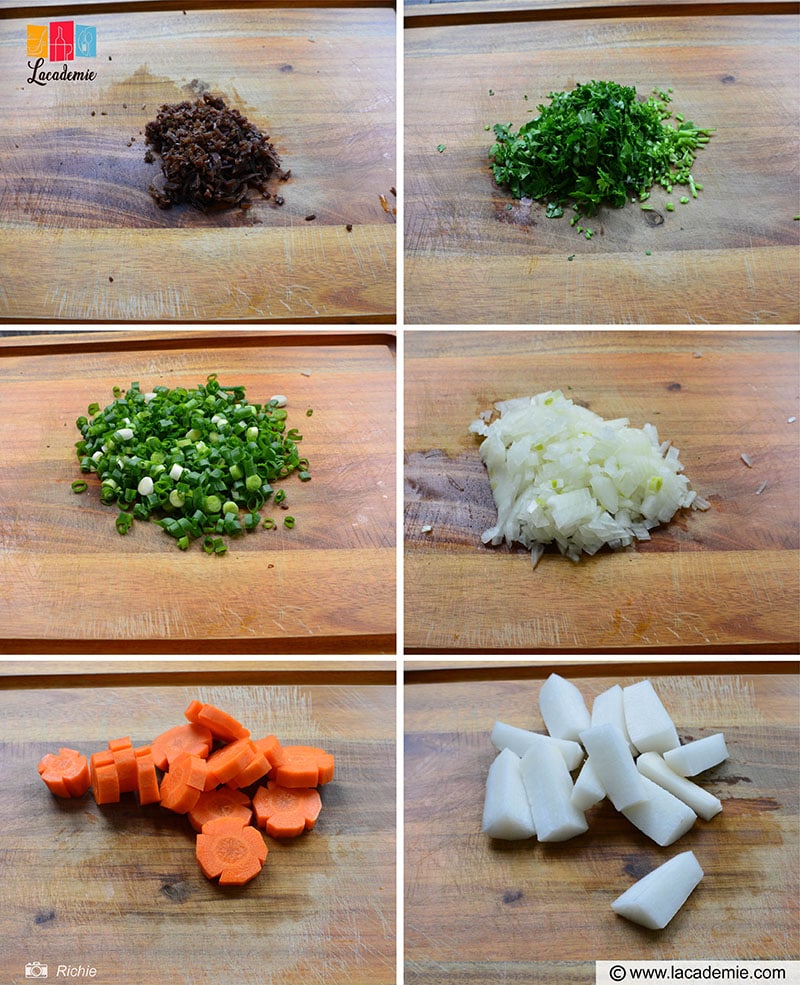 Note: As daikons tend to soften quickly when cooked, cutting them too small can cause them to be mushy. For this reason, I prefer to chop the daikon into large chunks.
Cut off both ends of the bitter melons. Then, slice them open lengthwise. Use a teaspoon or the handle of a tablespoon to remove the seeds.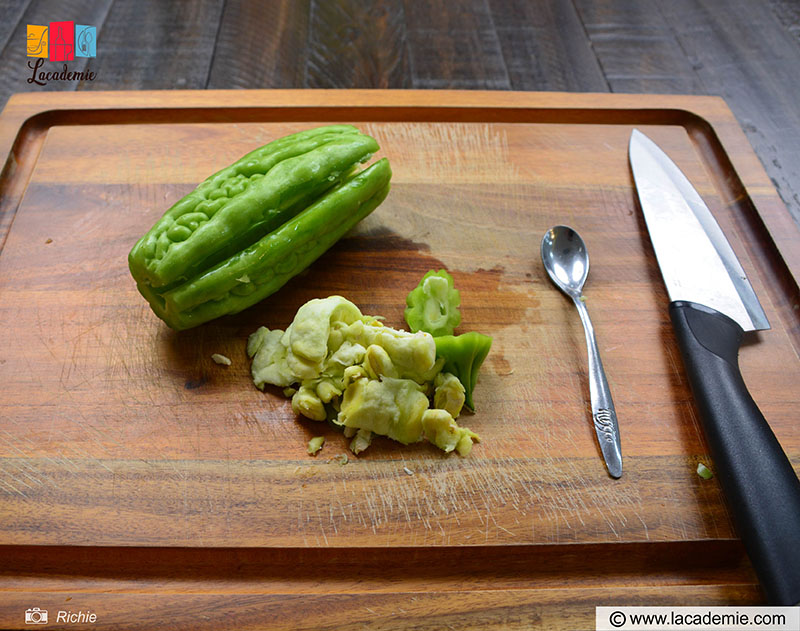 Step 2: Make The Filling
Combine the ground pork with the pork paste, onion, and wood ear mushrooms. Season the mixture with 1 teaspoon of sugar, 1 teaspoon of salt, and 1 teaspoon of ground pepper. Mix well using a spoon or your hand (remember to wear food prep gloves).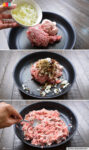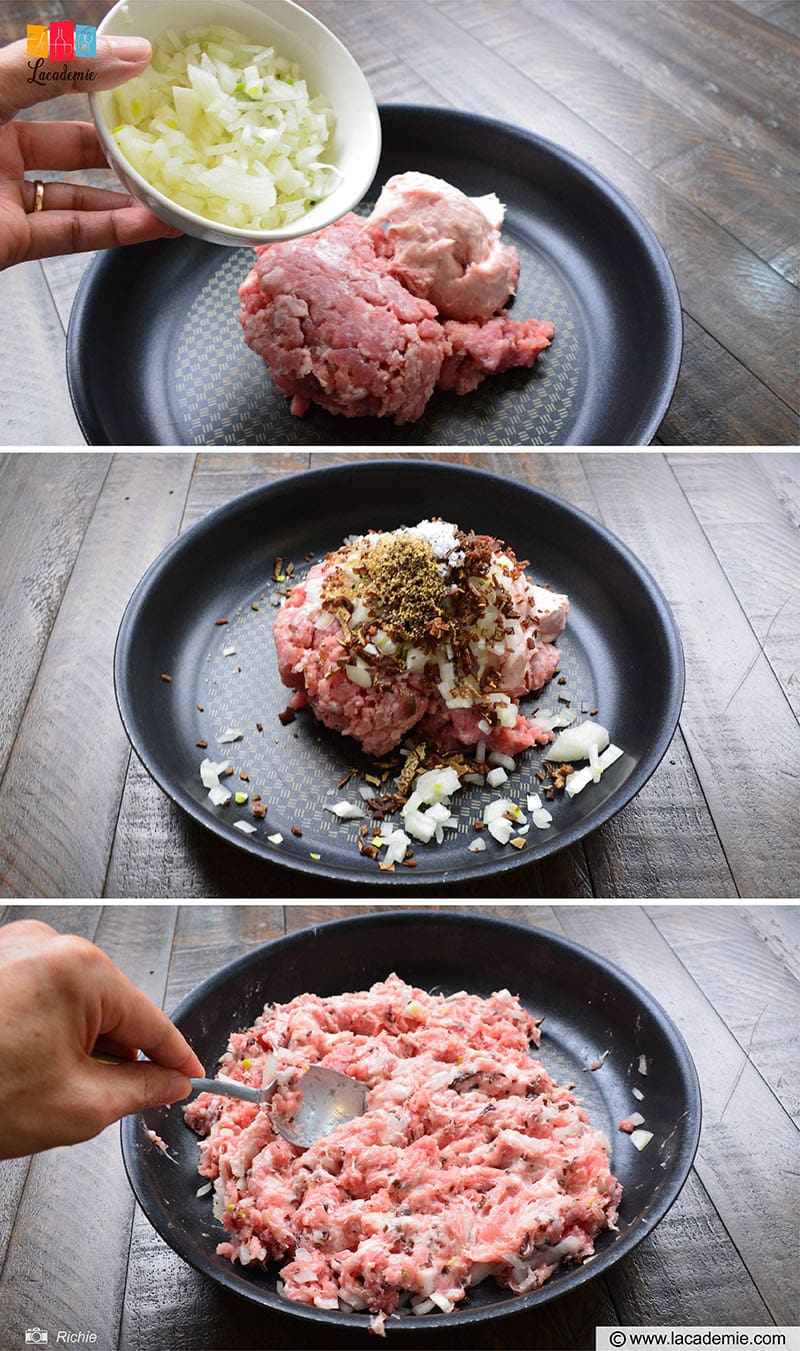 Note: It's important that you mix the pork paste well, as it helps bind other ingredients together.
Step 3: Blanch The Bitter Melons
Fill the saucepan with water. Bring the water to a boil and add 1 teaspoon of salt. Blanch the bitter melon along with a few whole scallion stalks. Once done, transfer them to an ice bath.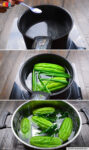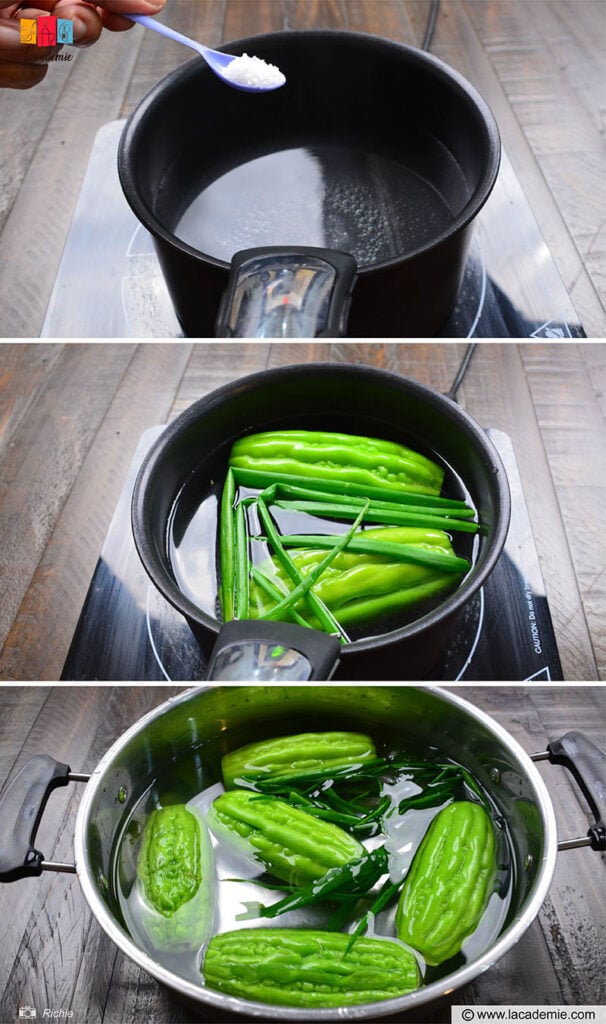 Note: Blanching the bitter melons in advance improves their color and elasticity, making it easier to stuff them without tearing them apart. Likewise, the scallions will be tougher, so you can use them to tie the gourds more securely.
Step 4: Stuff The Bitter Melons
Stuff the filling into the bitter melons. You can use a spoon to help with this task.
Tie a scallion stalk around each bitter melon to keep the filling from falling out during cooking.
Roll the unused filling into meatballs.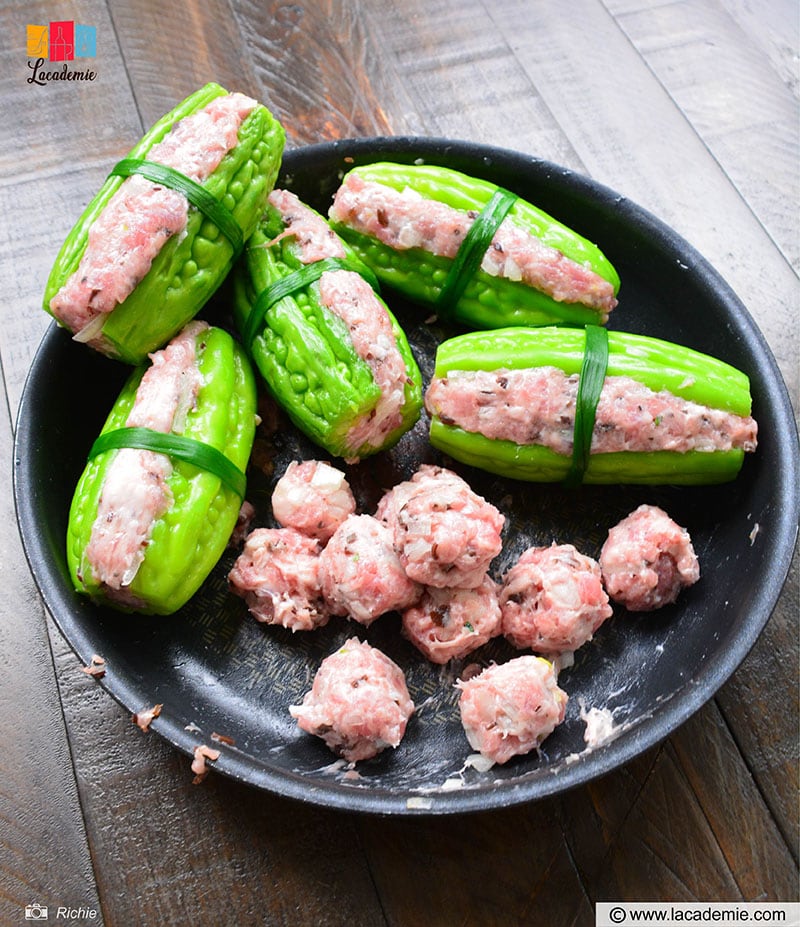 Step 5: Cook The Soup
Pour 10.5 cups (about 2.5 liters) of pork bone broth into the stockpot and bring it to a boil. Once boiled, add all ingredients to the pot. Cook for 20 to 25 minutes on medium-low heat.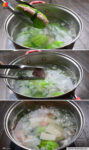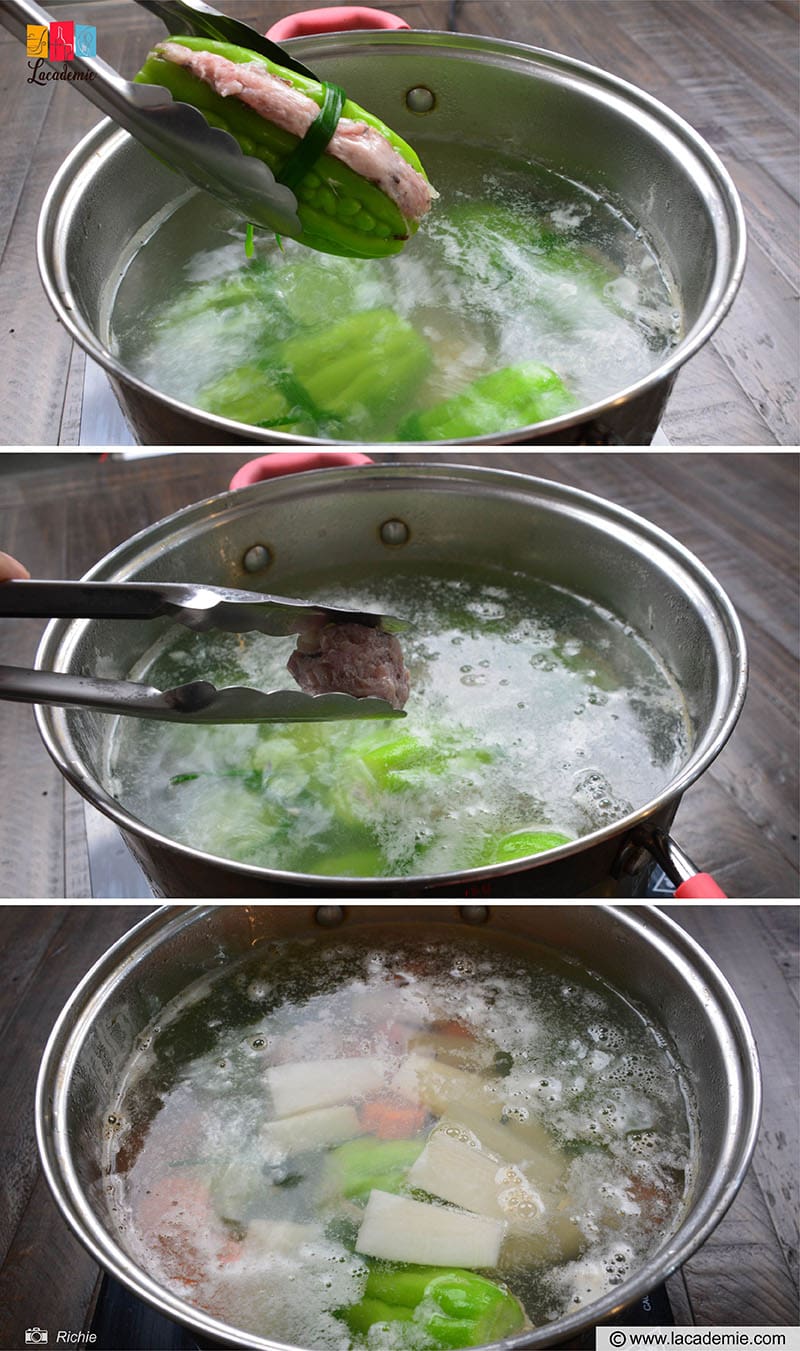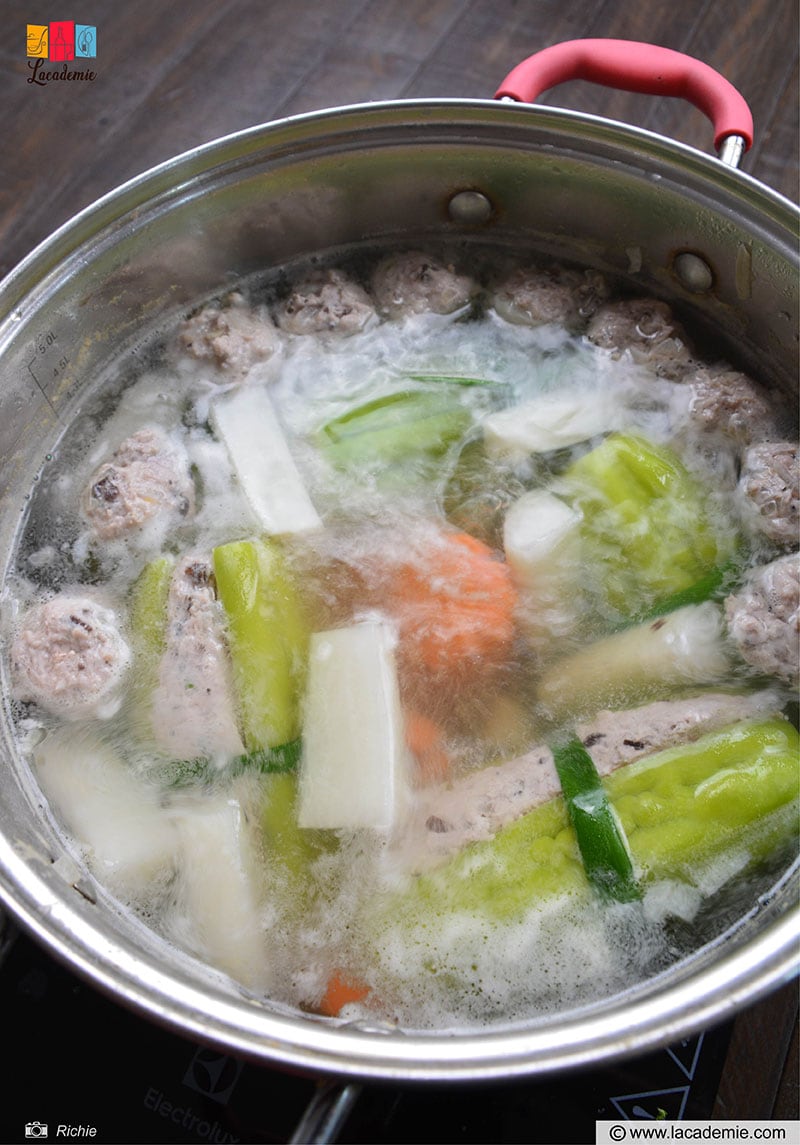 After 20 – 25 minutes, season the soup with 2 teaspoons of soup powder, 3 teaspoons of salt, and 1 teaspoon of sugar. You can adjust the seasonings to your taste.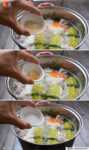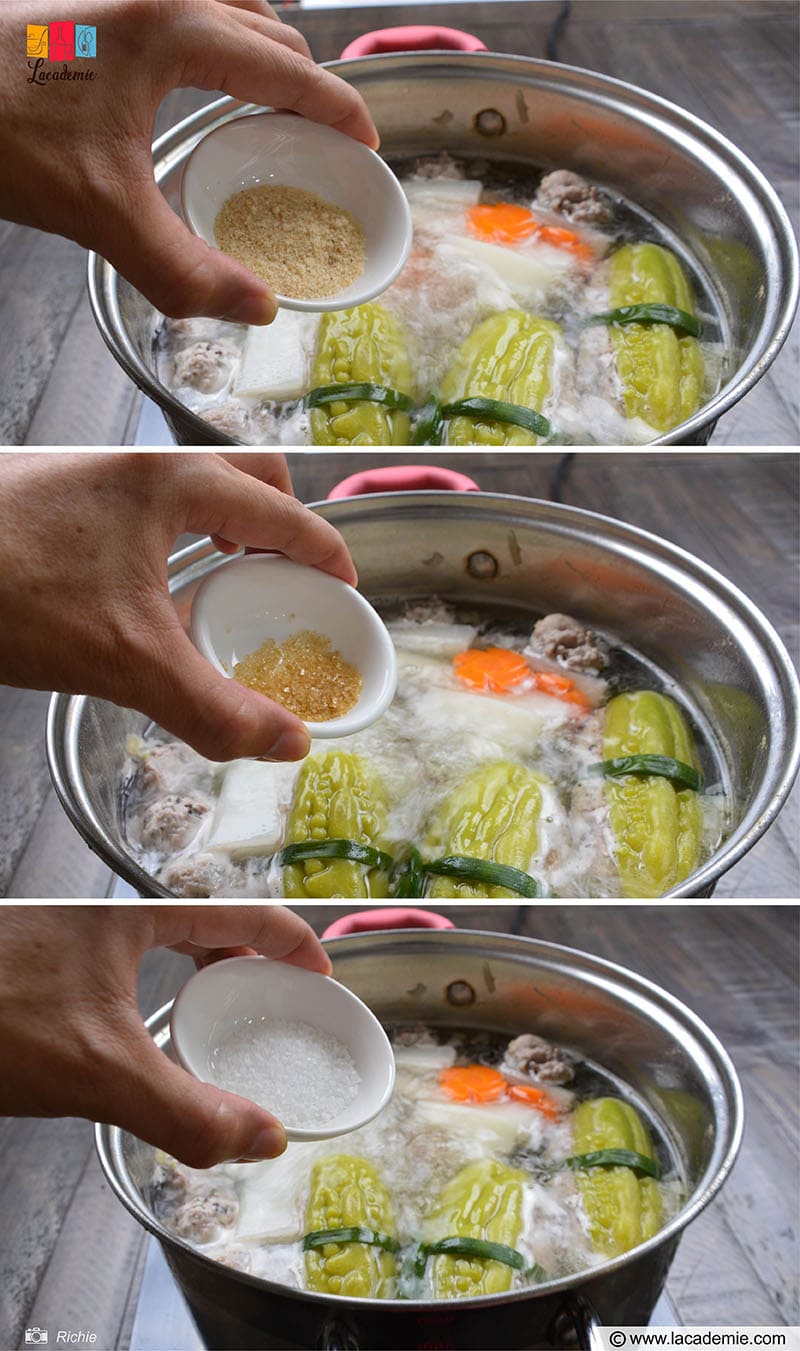 Cook for another 5 minutes, then turn off the heat.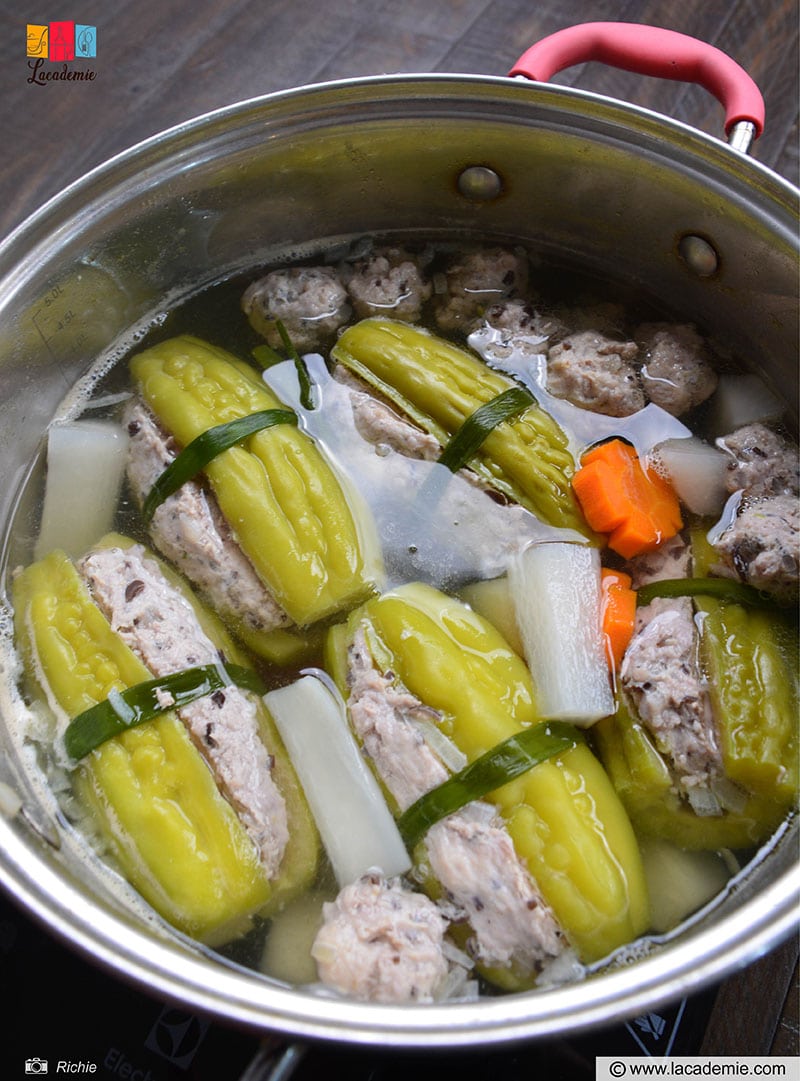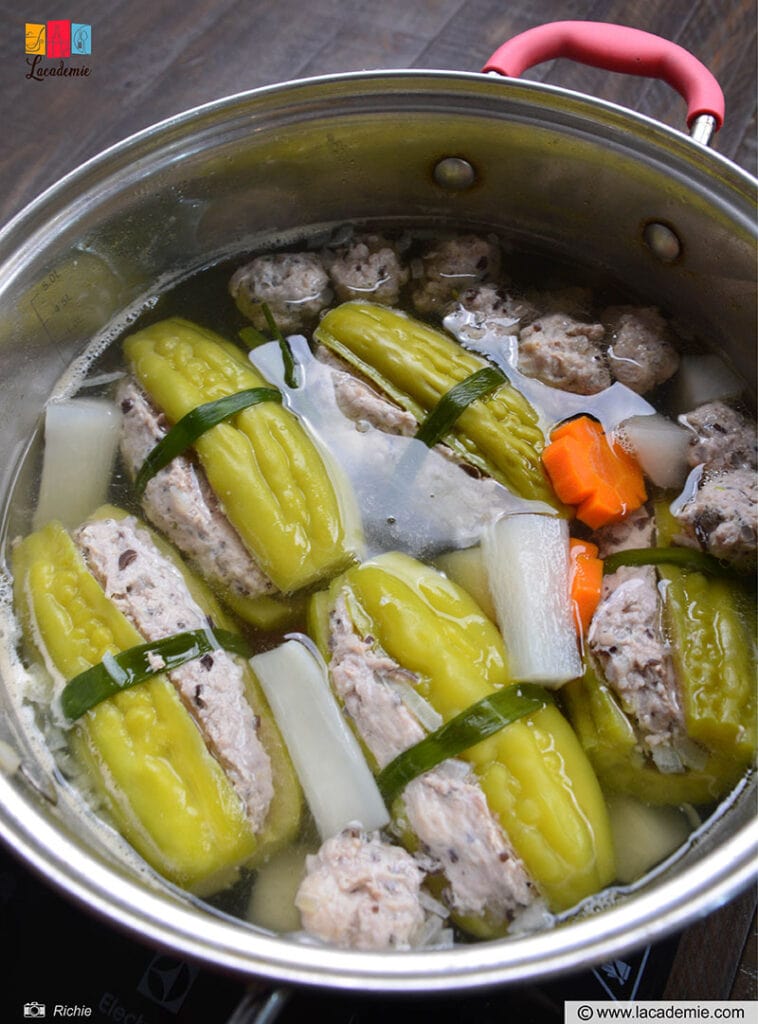 Step 6: Present And Serve
Sprinkle scallions, cilantro, and a little ground pepper on the soup.
Ladle the soup into a bowl and enjoy it with hot steamed rice. Try dipping the bitter melon in garlic and chili soy sauce for a unique blend of flavor.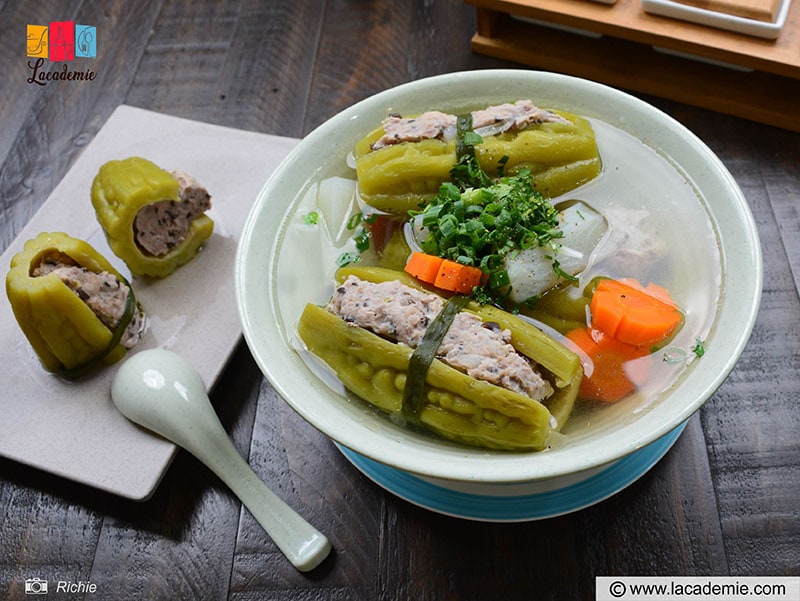 Tips You Should Know
Afraid that something might go wrong when cooking? The following tips will help you avoid all the common mistakes!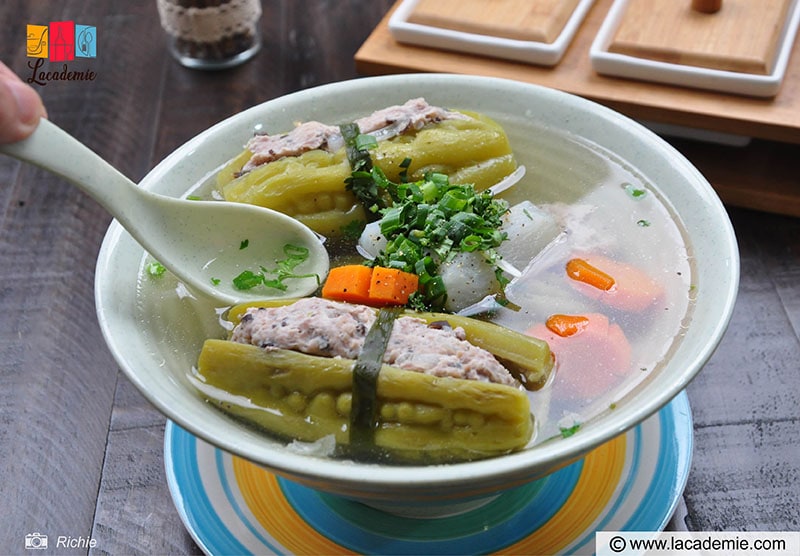 You can adjust the seasonings of the meat filling to your preference.
Wait until the broth comes to a rolling boil to add the veggies and meatballs. In doing so, you can ensure that the meat filling firms up without breaking. If you add them too soon, the filling might break apart as the broth boils.
If you don't want to cook the bitter melons whole, feel free to cut them into pieces, then stuff them. Note that the filling is more likely to fall out this way.
Blanching the bitter melons is recommended but not a must. If you're running short on time and don't feel the need to improve the vegetables' color, you can skip this step.
May All Your "Hardship" Soon Pass!
Although I used to frown upon the sight of Canh Kho Qua when I was a kid, I've grown to appreciate this dish more and more as time passes. Now, I can't wait to make this nutrition-packed and yummy dish whenever I have the chance. I guess it's true that bitter melons are an acquired taste!
How do you find stuffed bitter melon soup? Have you tried making this recipe for the little ones (and watching their faces turn funny after the first bite)? Leave your answers in the comment section! Moreover, please like and share today's post to show it some love. Thank you very much!
Nutrition Facts
4 servings per container
---
Amount Per ServingCalories493
% Daily Value *
Total Fat 27.7g

42

%
Cholesterol 86mg

29

%
Sodium 5334mg

223

%
Potassium 889mg

26

%
Total Carbohydrate 18.6g

6

%

Dietary Fiber 2.9g

8

%
Sugars 5.9g

Protein 36g

72

%
---
Calcium

82

%
Iron

5

%
Vitamin D

26

%
* The % Daily Value tells you how much a nutrient in a serving of food contributes to a daily diet. 2,000 calories a day is used for general nutrition advice.