If you haven't experienced a full Korean meal before, you'll be surprised by the number of side dishes (which are called banchan in Korean) it has. Some may say banchan is a pillar of Korean cuisine.
But learning all of them can be time-consuming since there are too many side dishes divided into various categories that non-Korean like you and I can't fully understand. However, with this article, I will divide them into simple, understandable groups.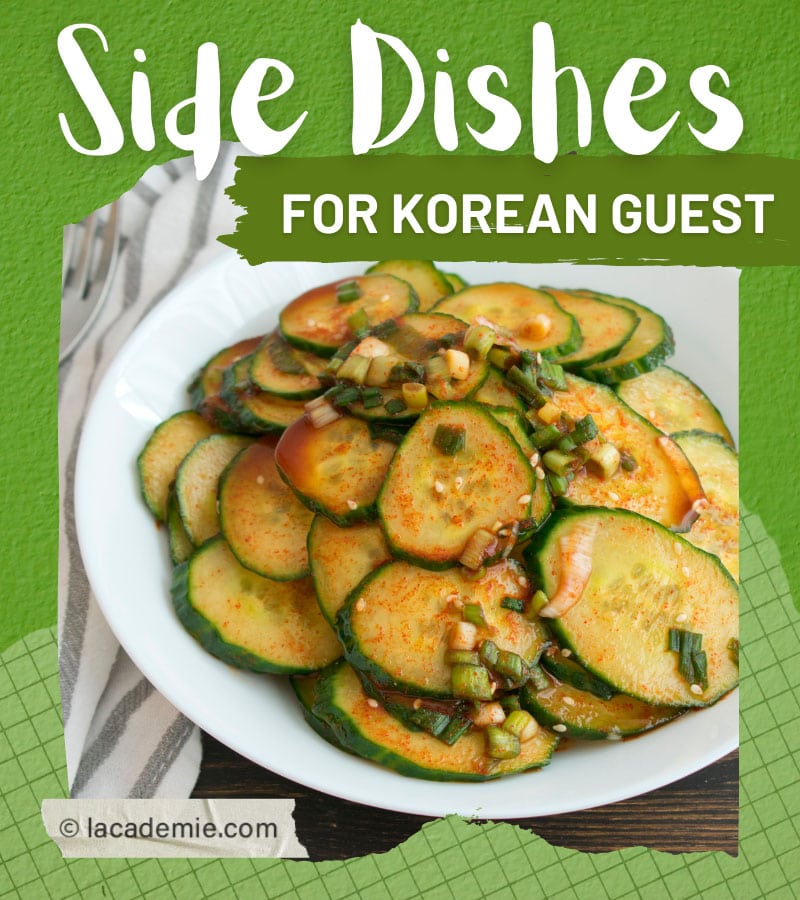 What Korean Side Dishes Do I Have In Store For You?
Anyone knows that Korean cuisine is famous for its spiciness in almost every dish. But if you can't handle the heat well, don't worry because there are milder or even non-spicy recipes on this list.
No-Cook Side Dishes
Kimchi
Dongchimi (Radish Water Kimchi)
Oi Muchim (Spicy Cucumber Salad)
Pa Muchim (Scallion Salad)
Doraji Muchim (Spicy Bellflower Root Salad)
Mu Saengchae (Spicy Radish Salad)
Sangchu Geotjeori (Lettuce Salad)
Spicy Korean Coleslaw
Frying Dishes
Gyeran Mari (Egg Roll Omelet)
Hobak Jeon (Fried Zucchini)
Chamchijeon (Tuna Pancakes)
Pajeon (Pancakes With Scallions)
Kimchijeon (Kimchi Pancakes)
Ojingeochae Bokkeum (Spicy Dried Squid Strips)
Mandu (Dumplings)
Steaming Dishes
Gaji Namul (Steamed Eggplants)
Sigeumchi Namul (Seasoned Spinach)
Gyeranjjim (Steamed Eggs)
Gamja Jorim (Braised Potatoes)
Dubu Jorim (Braised Tofu)
Kongnamul Muchim (Seasoned Soybean Sprout)
Let's dive into these flavorful side dishes now!
8 Korean Side Dishes Don't Require Any Cooking
Since Korean meals require various side dishes, sometimes the number can be up to 10 or 20. So, it can be challenging to prepare them all. Luckily for you, several recipes don't require cooking.
This list will go to waste if kimchi isn't mentioned here. Even non-native people know that kimchi is a must-have side dish on every Korean table.
However, many misunderstand that there is only one kind of kimchi with napa cabbage as the main ingredient. In fact, there are hundreds of kimchi versions, each using a different vegetable. And the most well-known are the cabbage ones.
If you're asking whether kimchi is good for a vegan diet, the answer depends on whether animal-based ingredients are involved. Traditionally, people make kimchi using fish sauce, which is not vegan-friendly. That said, today, there are entirely plant-based variants.
Making kimchi is not easy. Don't worry, you have this instruction!
I put this kimchi into a separate part as it's pretty different from other regular kimchi on the market. Instead of the usual striking red, dongchimi looks quite bland with white radish and clear water.
Not only that, but this Korean vegetarian-friendly dish tastes much milder, leaning more on the sweet and tangy side. However, since it still belongs to kimchi, it's an ideal choice for your BBQ party. Or you could use it in porridge as radish helps with digestion.
Leave out all your regular side dishes, it's time for this cucumber salad to shine. In Korean, "oi muchim" means "seasoned cucumber". So, I guess that sums up everything about this simple dish: Fresh, crunchy cucumber slices flavored with various Korean seasonings.
Besides typical ones like onion, garlic, and sugar, you must not forget these two crucial components: Gochugaru (Korean red pepper flakes) and sesame oil. After done, this spicy cucumber salad is a perfect side dish for your BBQ party.
When eating BBQ dishes from Korea, your palate tends to get tired pretty fast with all the oil and fat. But with pa muchim, you can freely enjoy your grilled meat and seafood without even stopping for once.
At first glance, this salad is pretty bland with just scallions and simple seasonings. However, when you wrap it with meat in lettuce, you'll get more flavors and textures thanks to it.
You can also make a flavorful version of pa muchim by adding sugar, vinegar, salt, or soy sauce. But, this will make your scallion wilt faster. So make sure you only make this mixture right before serving.
Follow this and make an authentic pa muchim!
While all the yummy Korean recipes above use familiar ingredients, not many people know about bellflower – the main component in this banchan. However, in Korea, bellflower appears not only as food but also in various traditional medicines.
For this doraji muchim, you can use either fresh or dried ones. However, I'm more into the latter option since I don't have to get stuck with all the peel and soak. In addition, it is quite hard to find fresh bellflower in usual grocery stores. Let's try your luck at Asian shops!
Compared with other Korean side dishes, this radish one is quite special because it includes a unique Asian flavoring called "fish sauce". Despite its unpleasant smell, the flavor of fish sauce will enhance your dish by a mile. But if you can't stand it, feel free to swap it with soy sauce.
Consisting of only radish strips and other seasonings, Mu Saengchae provides both sour and sweet, even spicy, flavor. This radish salad goes well with any meat dishes, such as bulgogi.
Although this dish is in the "kimchi" category, people usually eat it right after making it instead of letting it ferment like other dishes. Thus, it has the word "geotjeori" in its name.
If you ever eat out at different Korean BBQ restaurants, you must have seen various versions of this lettuce salad. But no matter what version, sangchu geotjeori is still a perfect match with all grilled meat, especially the unseasoned one.
Here is a full guide to make sangchu geotjeori.
Everyone knows about kimchi, but a few are aware of its modern rival – spicy Korean coleslaw. Compared to traditional kimchi, which needs Korean cabbage and takes a lot of time to ferment, this side dish is less time-consuming and still preserves the crunchy cabbage's texture.
And since it doesn't ferment, you can still taste the sweet, refreshing taste of the vegetable. That makes this coleslaw a perfect side order for your BBQ meatballs or other BBQ dishes. You can even put in your hamburgers, tacos, or burritos.
7 Frying Korean Recipes To Accompany Your Main Dishes
Besides those salads, Korean cuisine is also famous for its frying dishes. Well, I can't deny the satisfaction when biting into the crunchy, piping hot exterior. However, having too many fries is not healthy-friendly.
That's why I'll provide you these frying recipes so you can indulge yourself a bit without having to worry about your health.
If you have just begun learning Korean cuisine, egg roll omelet will be one of the first recipes for you to try. It's because this dish can be easily made and goes perfectly with any food. Nowadays, besides being an accompaniment, it's also a favorite Korean breakfast and snack among youngsters.
There are no fixed recipes for gyeran mari. Apart from eggs, you can choose numerous ingredients to combine. Regularly, Korean egg rolls contain veggies, diced ham, and seaweed.
Find out the secret for the fluffy egg roll omelet with me!
Unlike other banchans, hobak jeon doesn't have many flavors on its own. It's just thin zucchini slices coated with a light batter of flour and egg mixture. And instead of deep-frying, Koreans usually pan-fry them to reduce the oil amount.
What brings up the flavor for this fried zucchini is the dipping sauce. You can go with the safest choice – soy sauce. But why choose it while there are more exciting options? For example, a spicy one with chili pepper flakes will awaken your palate.
Same as gyeran mari, chamchijeon is a regular side dish in almost every Korean lunch box for its versatility. Some even enjoy it with rice as a main dish or make it into a sandwich filling.
But first, let's learn more about these pancakes! Despite its name, chamchijeon hardly contains any flour as it mainly relies on eggs to combine all the ingredients.
You'll realize pajeon right at first glance with tons of scallions in it. And that's the reason why it got its name: "Pajeon" means a pancake with scallions.
Of course, you can add various other ingredients to this classic Korean breakfast. Pajeon is a pretty forgiving dish as you can't mess it up even if you change the batter ratio or the components. One of the most well-known versions of this pancake is haemul pajeon with seafood.
I can claim that pajeon with shrimps is a must-try Korean side dish.
If you're tired of having kimchi meal after meal, you can try including them in pancakes. Just like other "jeon" recipes, this is a perfect side dish with rice or a sandwich.
For these pancakes, I suggest adding kimchi liquid to the batter to have a distinct orange color and a stronger kimchi flavor. If your kimchi doesn't have much juice, gochujang is a decent substitute since it will provide extra umami flavor.
This side dish makes use of the dried squid strips, a well-liked snack with beer. Thanks to its texture, you can store it for a long time and still retain its taste.
And turning this snack into ojingeochae bokkeum is easier than you thought. Just take your dried squids, cut them into long, thin slices if necessary. And after stir-frying them in oil, mix all these strips into a gochujang-based sauce.
Actually, there is more than one way to cook mandu. You can steam, boil, deep-fry, or pan-fry them. No matter what method you choose, your mandu still turns out perfect.
While Chinese dumplings tend to take the central role, Korean version often comes out on a small plate as a humble side dish. And for the filling, you can create as much as you want. Make it with meat, seafood, or in vegetarian style.
After this, you will know how to turn your frozen mandu into a tasty dish!
These 6 Steaming And Boiling Side Dishes For Your Korean Meal
In fact, in Korean, there are more cooking methods than just simmering and boiling. They have "jorim" (simmered in seasoned broth), "jjim" (steamed), or "namul" (refers to both fried and steamed dishes). Before you get confused with all these terms, let's look at the examples below!
Summer coming means only one thing: It's time to cook some eggplant dishes! And if you haven't tried any Korean recipe with it, gaji namul is an ideal choice as it's super easy to make.
Traditional recipe follows this process: Steam the eggplants first, slice them into thin strips and season them for the final step. However, since steamed eggplants turn pretty tender, I recommend cutting them first.
For me, this seasoned spinach is born for those who can't handle spicy but still want a taste of Korean cuisine. Completely lacking in the signature gochugaru or gochujang, this spinach salad still contains various flavors from different seasonings like soy sauce and sesame oil.
Since it's the main ingredient, you should pay close attention to the spinach. The most vital step in making sigeumchi namul is completely draining your veggie. Or else your seasoned spinach will turn into a wet mess.
If you're looking for a flexible side dish that can be cooked quickly, don't forget these Korean steamed eggs. While there are multiple ways to cook it: steam, double-boil, or boil on low heat, many people nowadays just use their microwave to make gyeran jjim.
To make this true to Korean style, remember to mix eggs with water until they thicken into a cream-like texture. You can switch water with kelp or anchovy stock for more flavor. Also, scallions, chili flakes, or toasted sesame seeds are perfect toppings for this dish.
Here lies the guidance to elevate your regular steamed eggs to another level!
This is another familiar side dish of Korean cuisine. Usually, gamja jorim uses baby potatoes with whole skin on, hence its other name – algamja jorim. The skin will prevent them from becoming brittle when simmered.
But, of course, you can use large potatoes instead. Just remember not to choose ones with a creamy or floury texture. Or else, they will break down after a long time cooking, and your gamja jorim will turn into an unappetizing potato mash.
When you don't have time to make gamja jorim, you can consider this recipe instead. As its main ingredient is tofu, it takes less time and is lighter than the previous dish.
To make dubu jorim, you just need to sear both sides of the tofu until slightly golden. Then, quickly braise it in a soy sauce-based broth. If you want extra, gochugaru is an appropriate choice. And guess what? This braised tofu can taste even better on the second day.
How to make your dubu jorim crispy on the outside yet the inside still stays silky. The answer is right here.
Just like seasoned spinach, this kongnamul is one of the non-spicy Korean side dishes. Well, actually, it has two versions: one is mild while the other contains Korean chili flakes. The latter is more prevalent in South Korea.
Classic seasoned soybean sprouts only need to be seasoned with sesame oil and salt. And gochugaru is what brings extra heat to this dish. Kongnamul is a familiar face on every Korean meal, especially in bibimbap recipes.
What Do You Think About This List?
While some of these side dishes require a long time to ferment, like kimchi, there are ones that taste better if served right away. So make sure you read the instructions carefully for the best result.
Have you ever tried one of these dishes? And do you know other Korean banchans? Let's share your thoughts in the comments section below. And if you find this article interesting, please introduce it to your family and friends!
Nutrition Facts
1 servings per container
Serving Size1 Gallon
---
Amount Per ServingCalories867
% Daily Value *
Total Fat 4.8g

7

%
Sodium 60574mg

2524

%
Potassium 6086mg

174

%
Total Carbohydrate 165.9g

56

%

Dietary Fiber 26.2g

104

%
Sugars 130.9g

Protein 37.1g

74

%
---
* The % Daily Value tells you how much a nutrient in a serving of food contributes to a daily diet. 2,000 calories a day is used for general nutrition advice.