Japanese desserts are no less delicious than savory dishes. Depending on the region, they come with different ingredients and ways of preparation. Moreover, there are so many unique kinds that you'll have difficulty choosing which one to eat.
Thus, this article provides you with a list of sweets in Japan, from the traditional Wagashi dishes to the modern ones with a touch of Western flavor. So let's start your journey of discovering those desserts!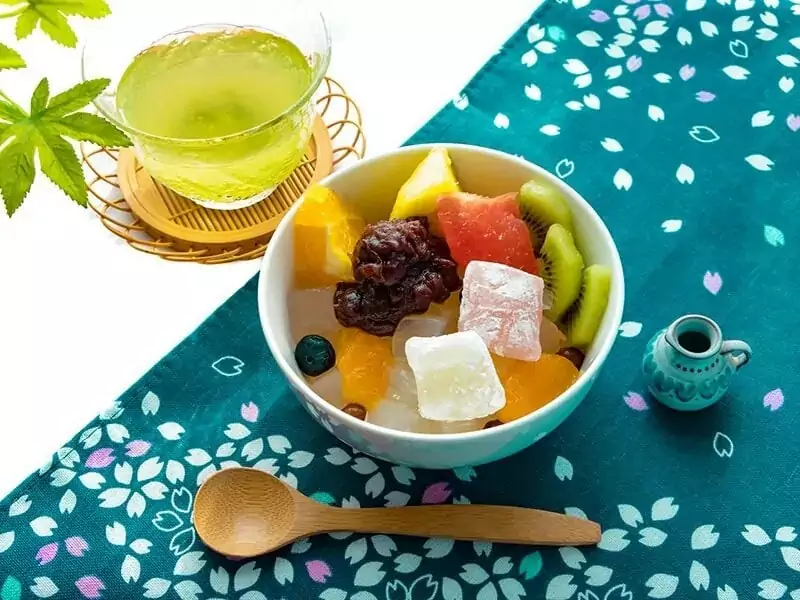 30 Heart-Felt Japanese Desserts
Here is a list of beautiful sweets in Japan separated into two categories: Wagashi (traditional) and Yogashi (modern)!
Wagashi
Daifuku (Mochi With Sweet Fillings)
Taiyaki (Fish-Shaped Pastry)
Monaka (Wafer Sandwich With Sweet Fillings)
Dango (Rice Dumplings)
Oshiruko/Zenzai (Red Bean Soup With Mochi)
Anmitsu
Dorayaki (Sweet-Filled Pancakes)
Mochi (Glutinous Rice Cake)
Sakura Mochi (Cherry Blossom Rice Cake)
Mizu Shingen Mochi (Raindrop Cake)
Yokan (Red Bean Jelly)
Manju (Buns With Red Beans)
Anko (Red Bean Paste)
Daigaku Imo (Candied Sweet Potatoes)
Kakigori (Shaved Ice)
Yatsuhashi (Cinnamon-Seasoned Rice Flour Confectionery)
Amazake (Fermented Rice Drink)
Yogashi
Kasutera (Castella Cake)
Souffle Pancake
Japanese Cheesecake
Soft Cream/Soft Serve Ice Cream
Matcha Roll Cake
Japanese Parfait
Nama Chocolate
Mille Crepe Cake
Mochi Ice Cream
Purin (Japanese Pudding)
Japanese Coffee Jelly
Japanese Strawberry Shortcake
Matcha Ice Cream
Melon Pan (Melon Bread)
Overview Of Japanese Sweets
Japanese desserts have always been a well-loved topic among anime (Japanese animation movie) fans and those interested in Japanese culture. So, let me introduce a little more about them in this section.
History
Since Japan is quite close to China, its traditional sweets (Wagashi) were under Chinese culture influence. As time went on, they also evolved. And the birth of the tea ceremony in the Heian period (794-1185) led to more complicated desserts, such as Yokan or Mochi.
When Japan finally opened its doors in the late 19th century, Western merchants brought with them various modern sweets. From there, the yogashi (Western-based desserts) was born, like strawberry shortcakes or pancakes.
Types
As mentioned above, Japanese desserts are divided into two main types: traditional (Wagashi) and modern (Yogashi).
Wagashi
Wagashi is a traditional Japanese confectionery born years ago. Most of these desserts are to accompany matcha (green tea) in the tea ceremony, so they are quite sweet.
People make them with seasonal ingredients to reflect the seasons and nature. Some famous examples are Mochi (rice cake), Dorayaki (sandwich pancake), and Daifuku (Mochi with sweet fillings).
Yogashi
Yogashi refers to those Western-based desserts that have been altered to the locals' tastes. Instead of Western ingredients, they use natural components in Japan, such as matcha (green tea), azuki (red bean), and yuzu (citrus fruit).
Common Ingredients
There is no end to ingredients used in Japanese desserts. But here are several common ones you can find in almost every treat:
Azuki beans/Red beans: The locals often use them to make a sweet paste called Anko. This paste is a filling in various desserts.
Matcha (Green tea): Unlike azuki beans, matcha has a distinct flavor, from subtly bitter to sweet. It also provides a unique green color to the dishes.
Glutinous rice: The most familiar treat using this ingredient is Mochi, with its chewy and sticky texture.
Fruits: The Japanese use many local fruits in Japan to make sweets. Some are toppings or fillings, while others are needed to infuse fragrance.
Cultural Importance
Wagashi and Yogashi are like two faces of Japanese culture: traditional yet modern. While the former stays true to its nature, the latter shows how innovative local people are.
These sweets are also vital to all festivals, gatherings, and special occasions in Japan. They unite people, fostering community and appreciation for Japan's rich cultural heritage.
17 Wagashi – Japanese Traditional Sweet Treats
Below is a list of popular Wagashi, and you may be able to find them in authentic Japanese restaurants and Asian markets in your area.
1. Daifuku (Mochi With Sweet Fillings)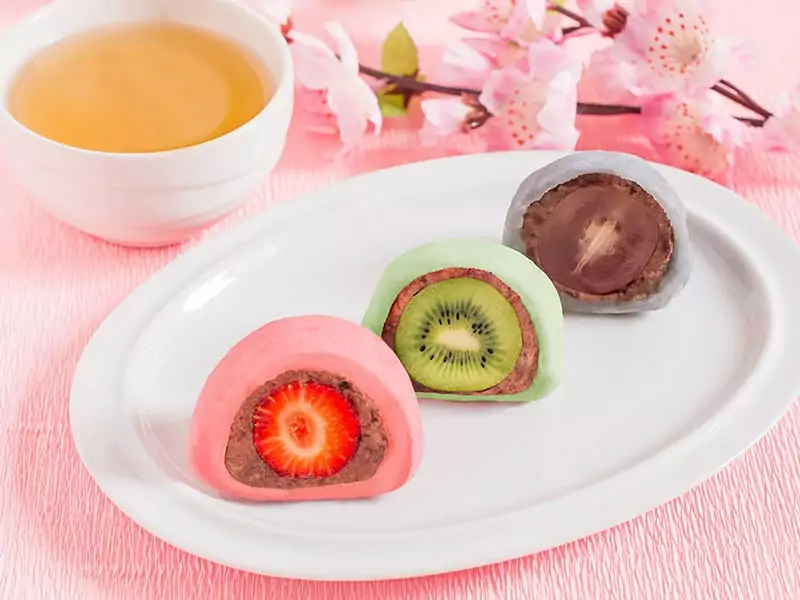 Daifuku is a beloved Wagashi that has won the hearts of many dessert enthusiasts. This delightful treat is crafted from Mochi, pounded glutinous rice, giving it a unique, chewy texture.
Meanwhile, the filling varies based on personal preferences. Red bean paste, either creamy or coarse, is a popular choice, while apricot, chestnut, mugwort, and even ice cream are delightful alternatives.
Another must-try variation is Ichigo Daifuku, which features a whole strawberry inside. You can easily find this sweet in stores and supermarkets.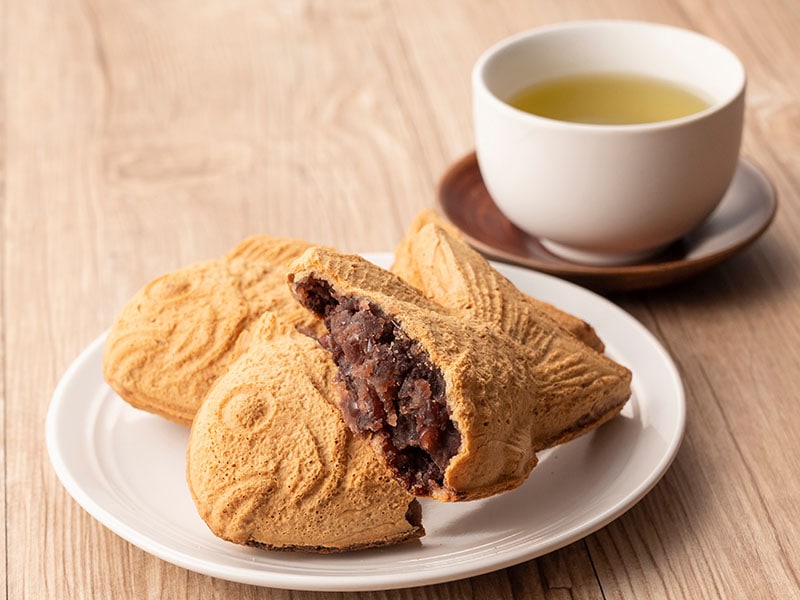 Taiyaki is an exquisite Japanese dessert with a fish-shaped design. Its appearance resembles the red seabream, a symbol of good fortune in Japan, making it the best choice before any critical event.
And inside this cute pastry are various fillings, from the classic sweet red bean paste to custard, chocolate, or even cheese. Taiyaki is typically served warm, making it perfect for a winter snack. Remember to look for Taiyaki stands at festivals in Japan!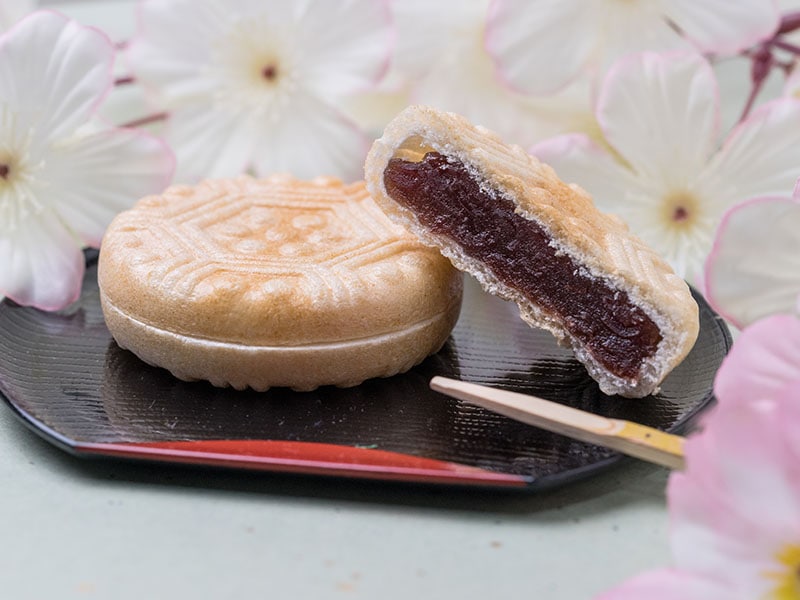 Monaka features azuki bean jam nestled between two thin Mochi wafers. These crispy, airy wafers offer a neutral flavor, allowing the filling to shine. If you're looking for a twist, some modern versions even contain ice cream!
Monaka comes in countless shapes and sizes, including squares, triangles, and even beautiful cherry blossoms or chrysanthemums. This elegant dessert is often served with tea, ideal for a relaxing afternoon break.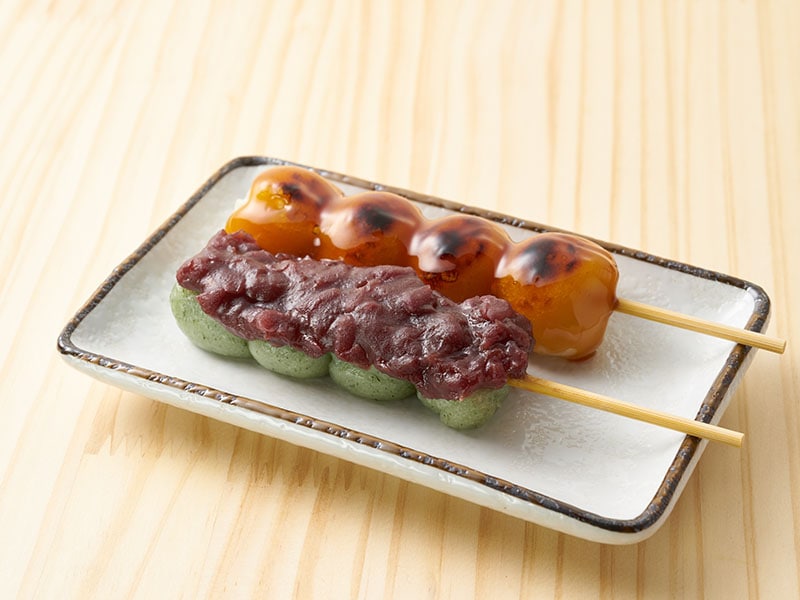 Dango is a national street food in Japan made with Uruchi and glutinous rice flour. That combination results in a Mochi-like consistency. These round-shaped snacks are often sold on skewers, with three to five pieces per skewer, ideal for eating on the go.
Dango has various flavors. For example, the Mitarashi Dango comes with a savory soy sauce glaze, while Anko Dango is coated in sweet red bean paste. And the cute hanami Dango features three vibrant colors. You can enjoy Dango year-round with green tea.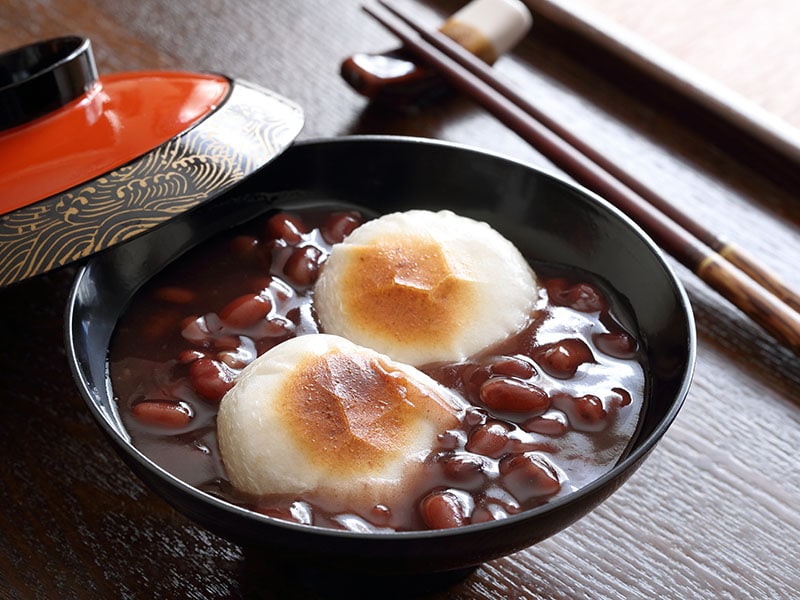 Oshiruko, or Zenzai, is a comforting sweet featuring a thick red bean soup with Mochi. This soup can be coarse or smooth, depending on how you cook the red beans. Some places may include orange zest or sweetened condensed milk to enhance the flavor.
Before serving, the locals will add grilled Mochi cakes, candied chestnuts, or glutinous rice flour dumplings to the soup. Often appearing during winter, Oshiruko comes with a sour or salty side to cleanse the palate. It even becomes a New Year soup in Tottori and Shimane Prefectures!
Making Oshiruko at home is not as hard as you think.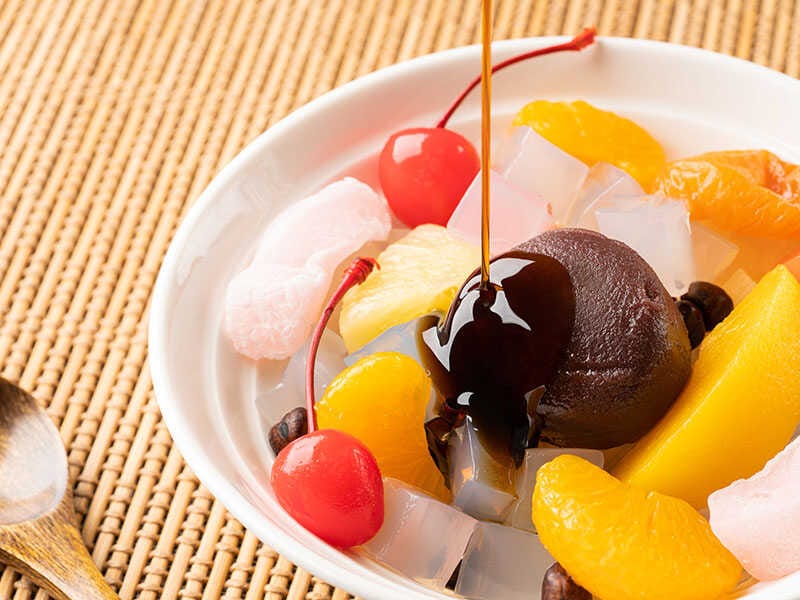 Originating during the Meiji Era, Anmitsu is a mouth-watering dessert with the main components of agar jelly, sweet beans, fruits, and syrup. Aside from them, it also has other ingredients such as Mochi, chestnuts, ice cream, and peas.
Its name is derived from "an" (Anko, sweet red bean paste) and "mitsu" (molasses syrup). It's usually served in a bowl with Mitsu (black syrup) or kinako (roasted soybean flour) on the side. The locals then use a spoon and a fork to enjoy it.
Be sure to explore other variations, like cream Anmitsu with ice cream or Mitsumame (Anmitsu without bean paste).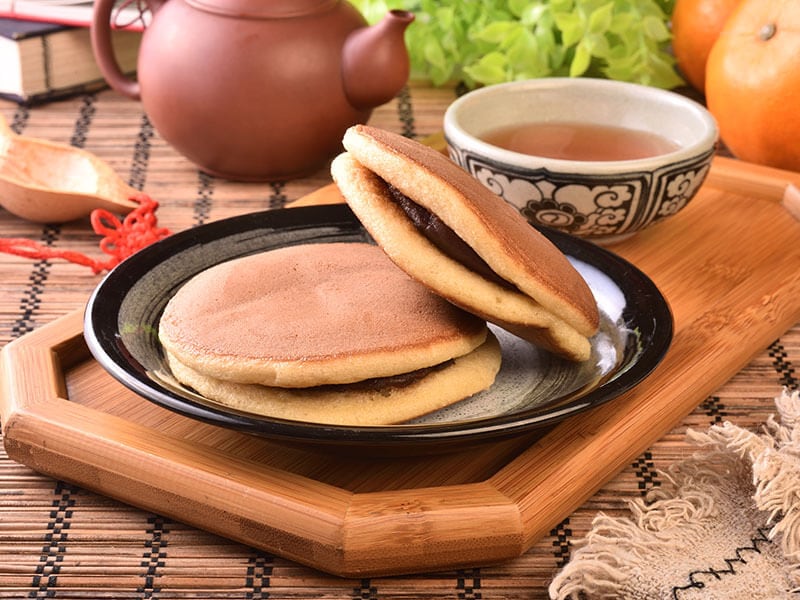 At first look, Dorayaki resembles a pancake sandwich, with red bean paste as the filling. Then, the two fluffy castella pancakes are infused with honey, mirin (sweet rice wine), and soy sauce for a distinct flavor.
The current Dorayaki form has been around since the early 1900s. And this Wagashi's popularity continues to soar even now.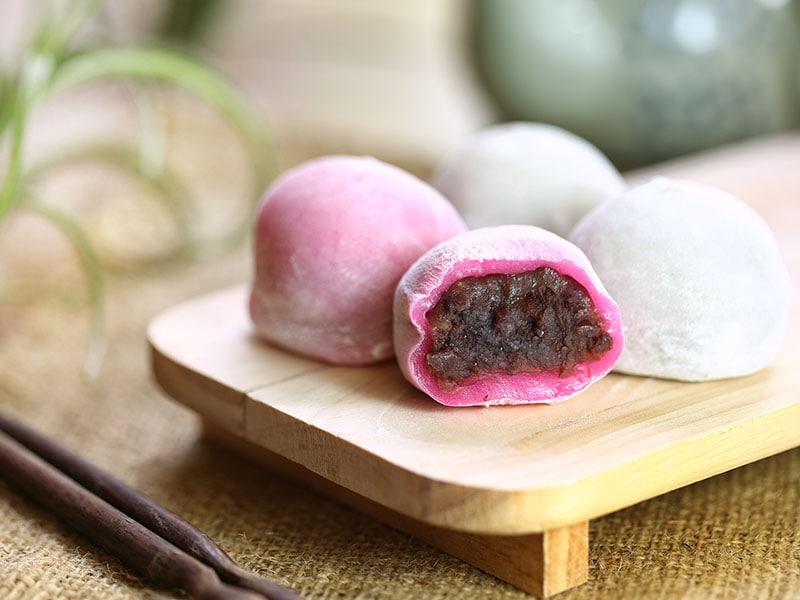 Mochi is a delicious and versatile food made from Mochigome (pounded sticky rice), hence a sticky, chewy texture. While it's an essential food during Japanese festivals, like the New Year, the locals also enjoy Mochi all year round.
And besides eating it alone, they even use it in various confections and savory dishes in Japan. To make Mochi, two people must work together to pound and wet the sticky sweet rice flour paste.
At Nakatanidou, a famous mochi shop in Nara City, you can relish the flavors of mochi crafted by the nation's most skilled and fastest mochitsuki masters. This esteemed establishment specializes in yomogi mochi and attracts throngs of eager visitors daily.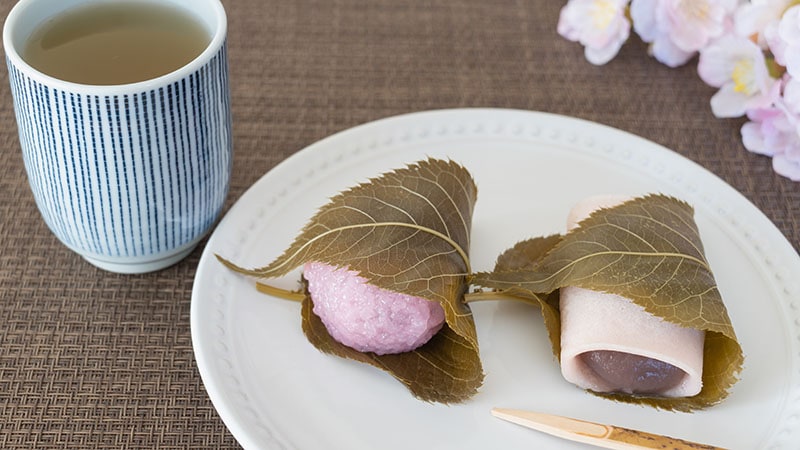 Sakura Mochi embodies the beauty of sakura, or cherry blossoms, with its lovely pink color. The inside is sweet red bean paste, while the outside is wrapped in a salty, edible pickled cherry blossom leaf.
As its name implies,sakura Mochi mainly appears in spring during the cherry blossom season. Another event where you can find this treat is Hina Matsuri, the Girls' Day celebration, since it is believed to bring good fortune and good health.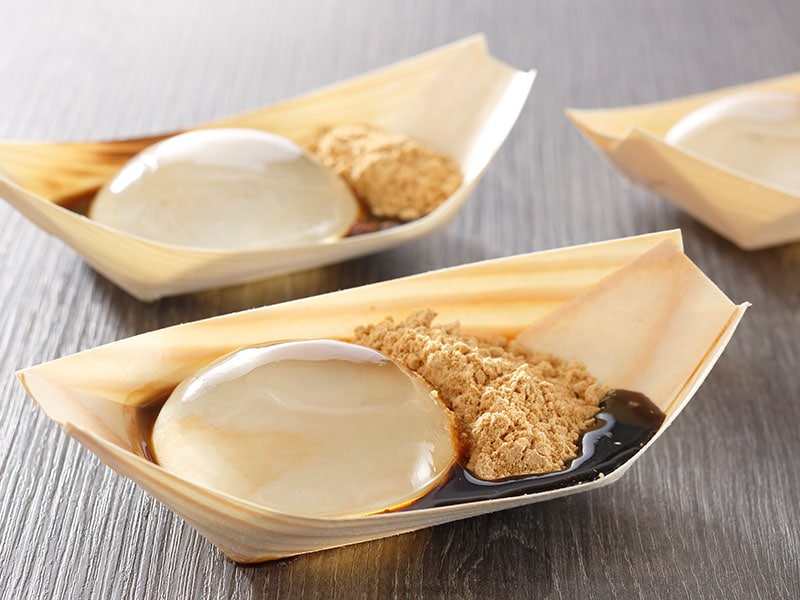 Here comes the raindrop cake, a dessert appearing in 2014. This transparent, spherical jelly-based treat is identical to a raindrop, as it's made by combining mineral water with agar-agar
Since the original treat's water must be from Mount Kaikoma (Southern Japanese Alps), the cake is mildly sweet. Moreover, its lightness and low-calorie content make it a refreshing indulgence.
Raindrop cake usually goes with kuromitsu (a molasses-like syrup) and kinako (soybean flour). Remember to eat it immediately, as it will melt and evaporate after just twenty minutes!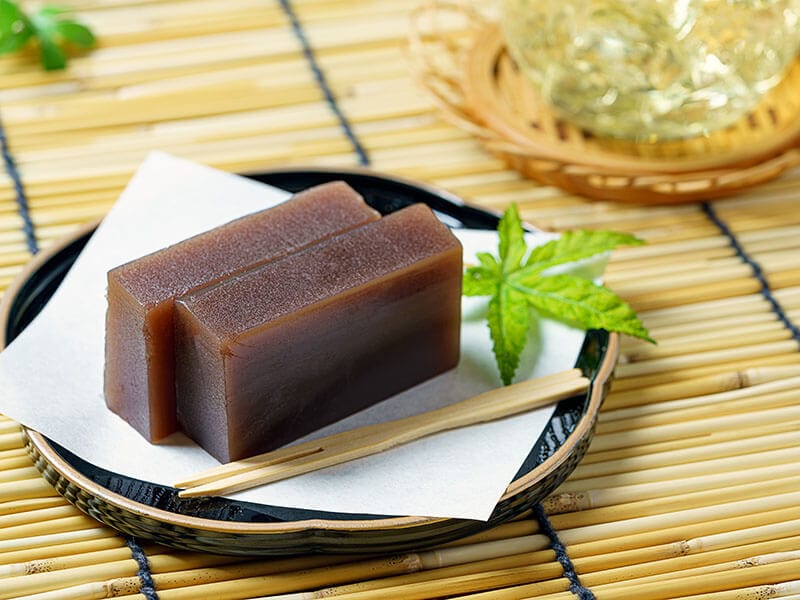 Yokan has a firm jelly-like texture thanks to red bean paste, sugar, and agar-agar. This treat is often molded into long rectangular blocks and sliced into smaller, easier-to-enjoy pieces.
There are two primary types of Yokan: The former version is neri Yokan, and the lighter one for summer is mizu Yokan, usually served chilled. Other yummy variants also feature chestnuts, sweet potatoes, or white kidney bean paste.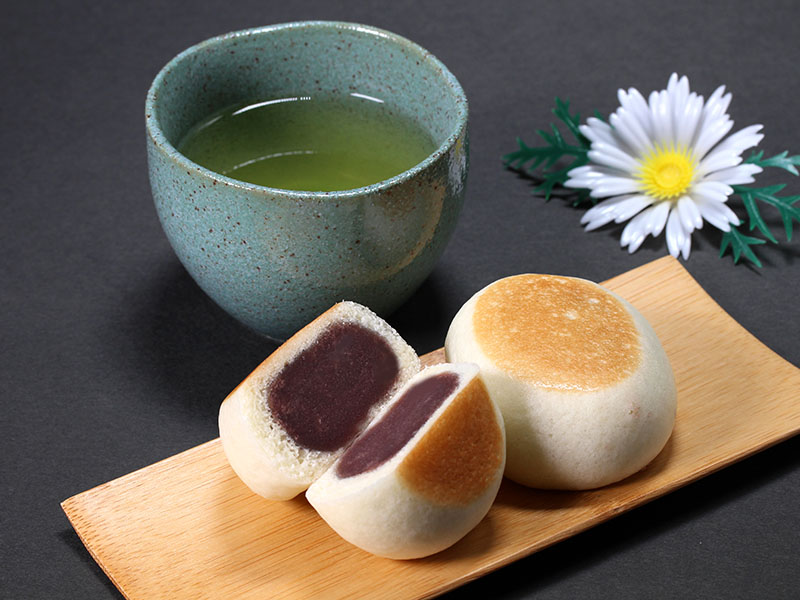 Manju is a steamed Japanese confectionery with various forms, ingredients, and flavors. It consists of two main parts: a chewy outer shell made from kneaded wheat or rice flour, and a creamy filling, often red bean paste.
Originally from China, Manju was later modified by Japanese vegetarian monks. Today's modern fillings include white bean paste and cream flavors like citrus, fruit, chocolate, and vanilla. You can even find savory versions!
Besides a thoughtful thank-you gift at weddings, Manju is also a delightful everyday dessert and a traditional souvenir.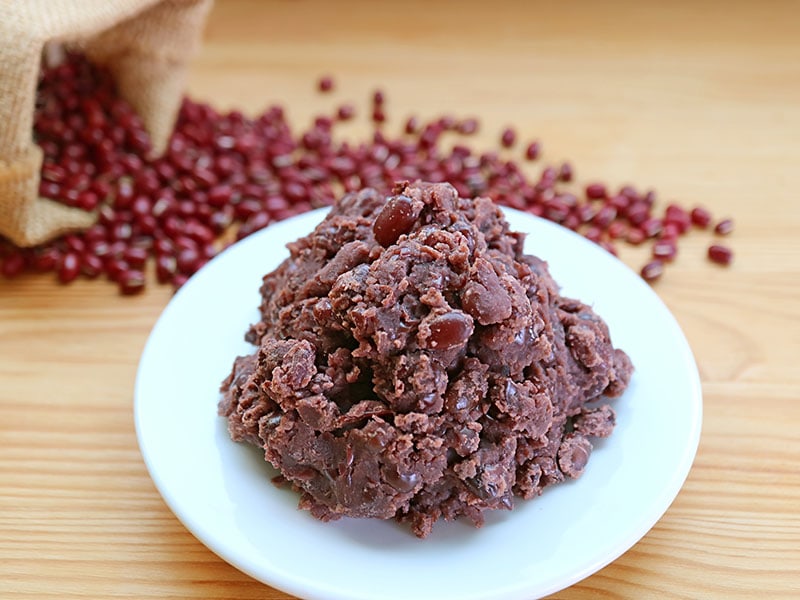 Anko is made by boiling and mashing azuki beans. Then, add honey or sugar to sweeten the mixture. Although originally from China, this versatile paste is now everywhere in Japan, especially as a filling in bread, ice cream, cakes, and dumplings.
Anko has two famous varieties: Koshian, with a smooth and creamy consistency, and Tsubuan, which has a coarser texture with whole beans. You can easily find both types at your local grocery store.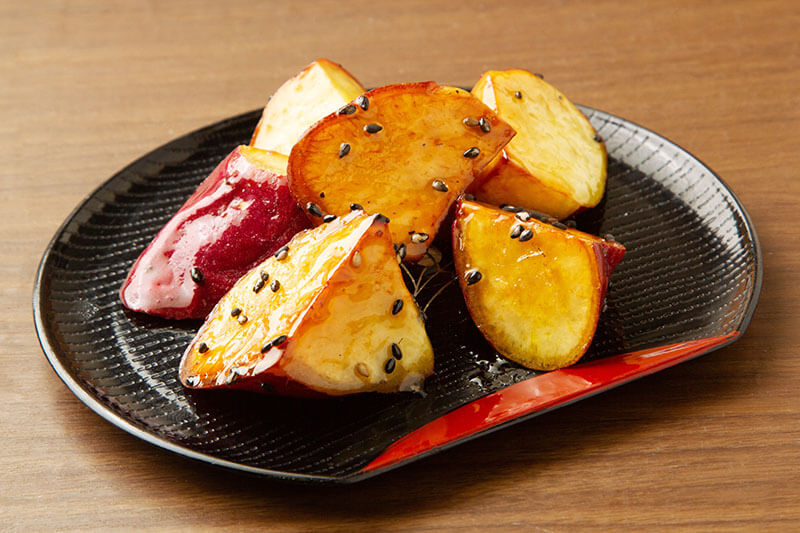 Daigaku Imo, directly translated as "university potatoes," has been a beloved snack at Tokyo universities since the early 1900s, hence its name.
When autumn and winter roll in, candied sweet potatoes are perfect for warming you up. With creamy flesh inside the crisp deep-fried skin, all covered in a delightful sugar coating, they will satisfy all sweet teeth to the fullest.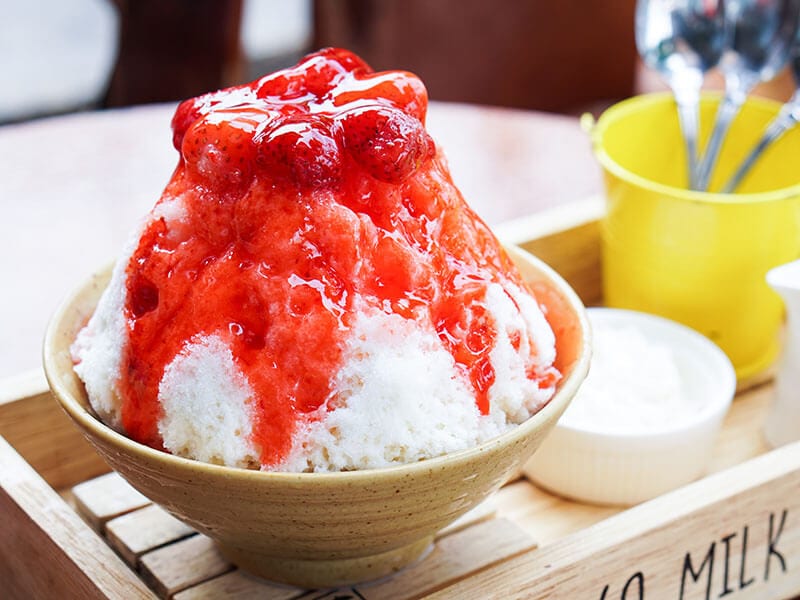 Kakigori is a shaved ice dessert with a fluffy, snowflake-like texture that sets it apart from traditional snow cones. This refreshing dessert is ideal for summer days.
Its main two flavor enhancers are condensed or evaporated milk and fruit-based syrups. The popular options include cherry, strawberry, melon, green tea, and lemon. To elevate Kakigori even further, the locals adorn it with tasty toppings such as chewy Mochi or sweet bean paste.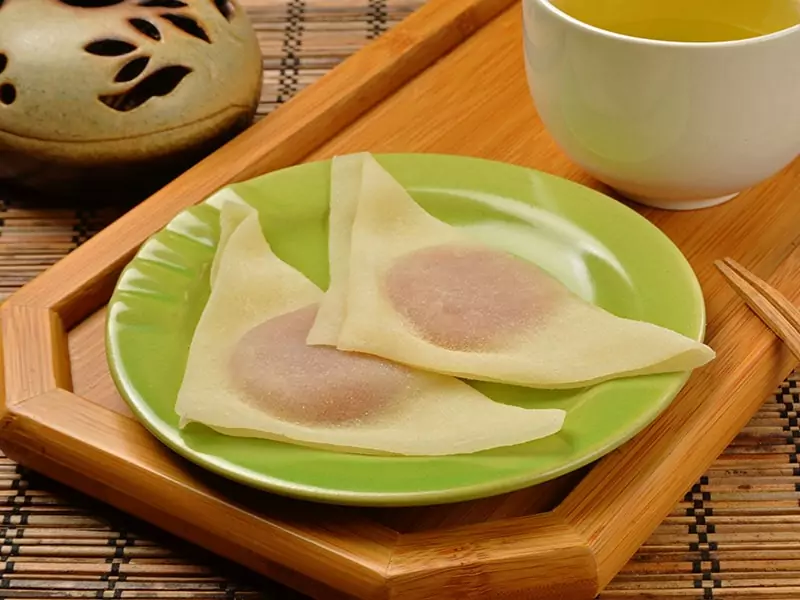 Yatsuhashi is a famous regional specialty from Kyoto that pairs wonderfully with tea. Mainly sold as souvenir sweets, these tasty treats are made from glutinous rice flour, sugar, and cinnamon.
There are two distinct types: The baked version has a hard, senbei-like texture, while the raw, unbaked version is soft and mochi-like. The latter usually has red bean paste as its filling before rolled into a triangle shape. You can also try other flavors, like cinnamon and matcha.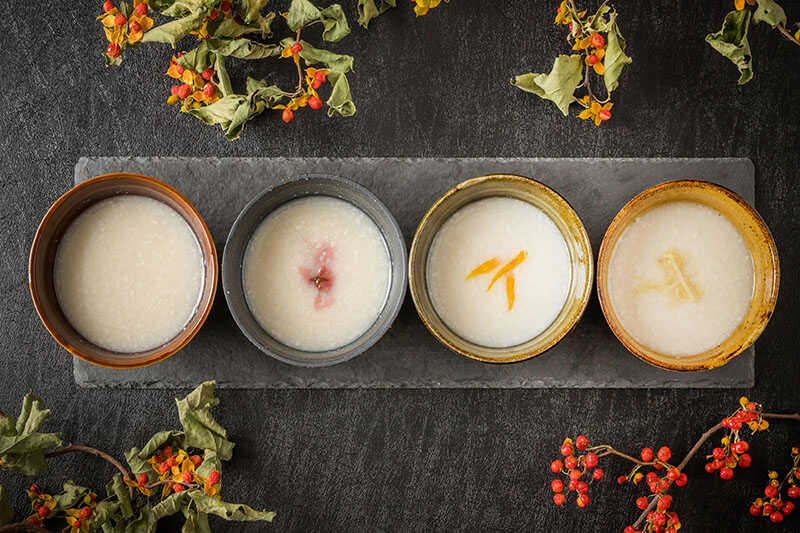 Amazake is a sweet, low-alcohol or non-alcoholic drink made from fermented rice, with a creamy and thick consistency. It has existed since the Kofun period as a dessert, snack, or even a natural sweetener.
At street vendors, inns, teahouses, and festivals, people usually mixed Amazake with water and topped it with grated ginger before serving. During the New Year and the Hina Matsuri (the Girls' Day celebration), you'll find it at Shinto shrines and Buddhist temples.
13 Yogashi – Modern Japanese Sweets
The Japanese have a unique way of turning foreign desserts into their own styles. So, let's learn about all well-loved Western-based sweets in this section.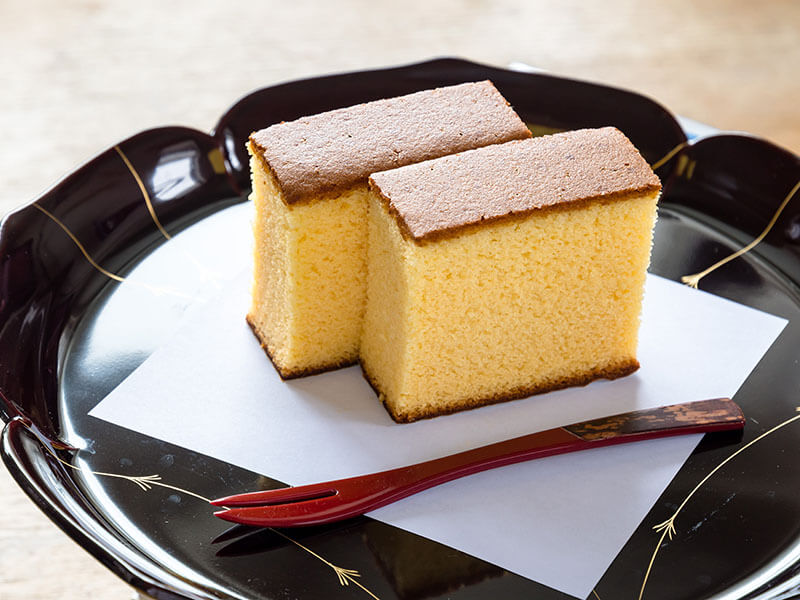 Castella is a sponge cake with a unique history: Portuguese merchants brought it to Japan in the 16th century. Hailing from Nagasaki, this delicious dessert comes from the Portuguese treat "pão de castella," meaning "bread from Castille."
Since it uses mizuame (a Japanese sugar syrup), Castella has a distinctive moist texture. This cake is about 11 inches, thus usually sold in long boxes measuring.
While the traditional version is already delightful, other varieties add flavors like powdered green tea, brown sugar, or honey, adding a lovely twist to this centuries-old dessert.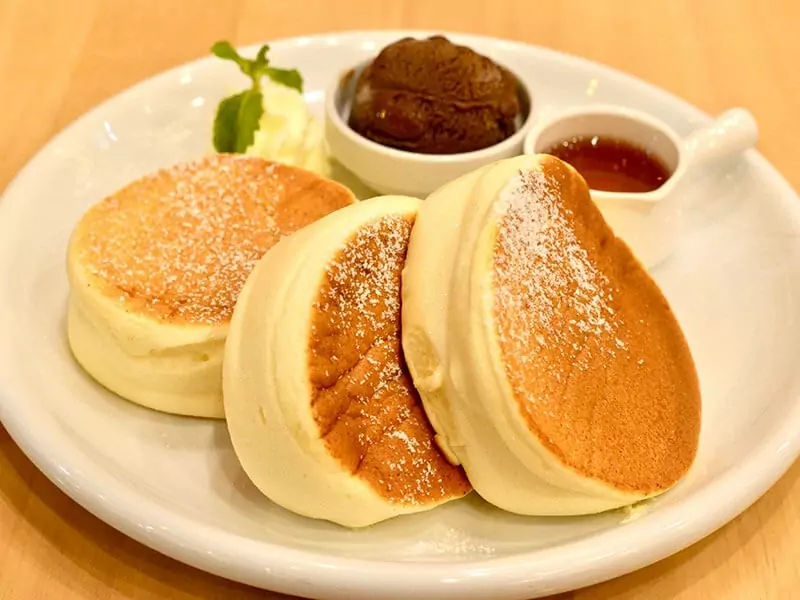 Souffle pancakes are a dream come true for fans of thick and fluffy pancakes. These pancakes gain extra height and fluffiness since their batter includes beaten meringue into the batter, thus creating an airy texture.
Souffle pancakes are cooked gently at low temperatures, so they can puff up beautifully. To further elevate them, chefs add other toppings like sweet syrup, powdered sugar, whipped cream, fresh fruits, or even ice cream.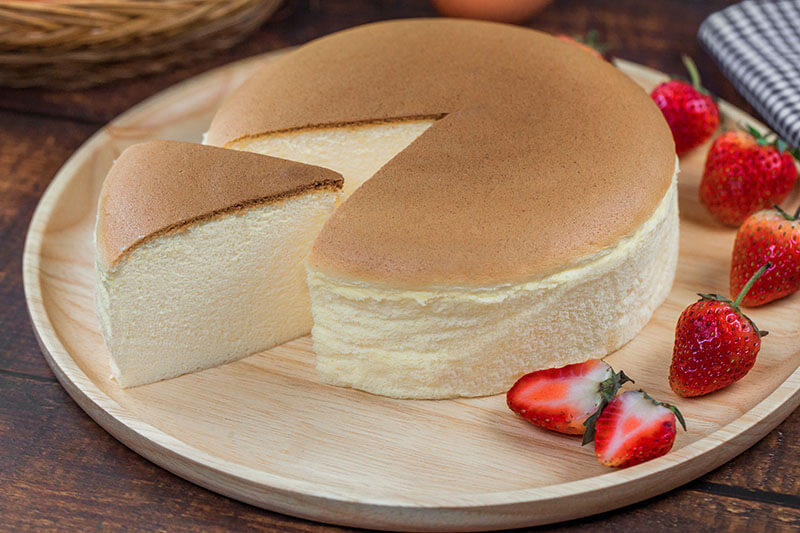 Japanese cheesecake, also known as souffle or cotton cheesecake, is a delightful twist on traditional cheesecake. It's lighter and sponge-like, thanks to whisked egg whites in the cake mixture.
Baked in a bain-marie, this fluffy dessert has a unique texture. While some might prefer it cold, the true magic unfolds when enjoyed fresh from the oven. Inspired by the German käsekuchen, Japanese cheesecake offers a beautiful balance between airy and rich.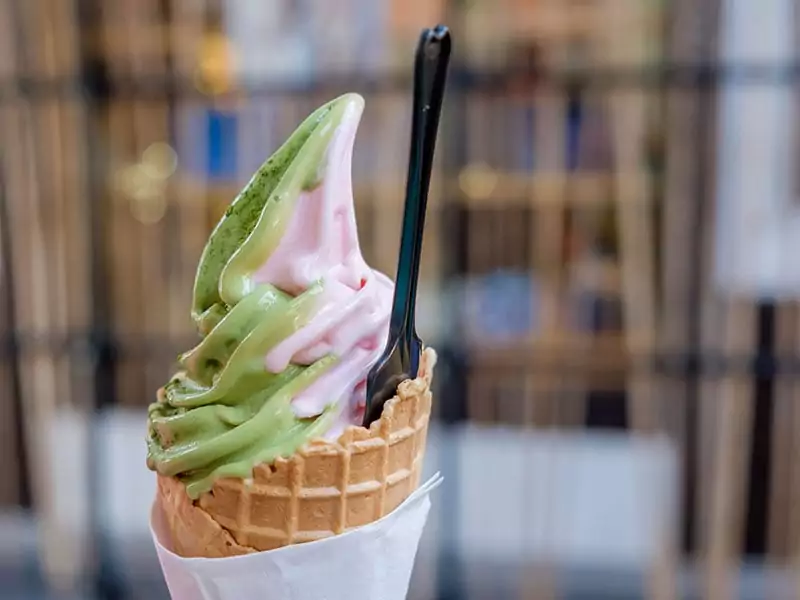 Soft cream is a deliciously smooth and creamy dessert you can find all over Japan. And in Sapporo, its velvety texture goes to another level thanks to the Hokkaido milk.
While the classic vanilla flavor remains a national choice, soft cream also has other mouth-watering flavors. For instance, you can find a refreshing matcha flavor using Uji's green tea powder, rich chocolate, or even fruity options like peach.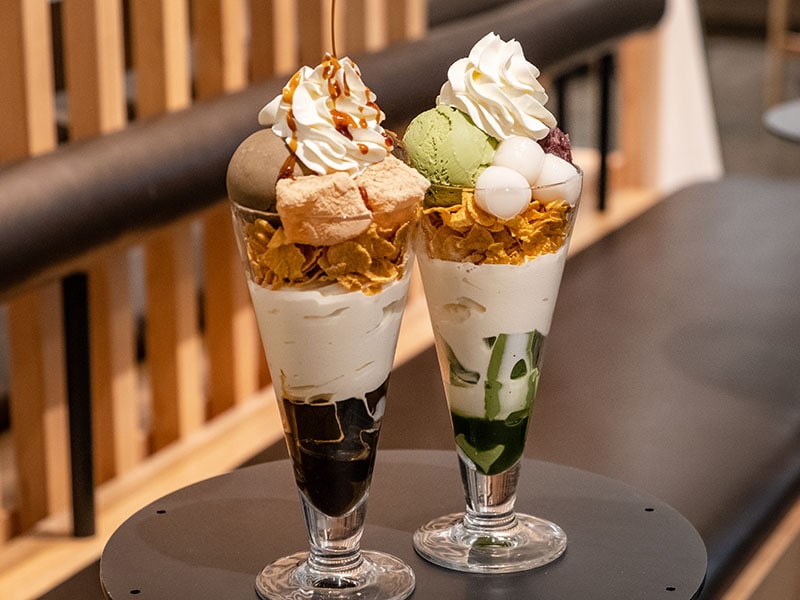 With roots in France, Japanese parfaits are an aesthetic dessert. This beautiful treat contains countless ingredients: Mochi rice cakes, glazed fruits, red bean paste, green tea jelly, cornflakes, etc.
That's why Japanese parfaits have become a trend on Instagram. You can find them almost anywhere, even in convenience stores, with various types.
The fruit parfaits feature seasonal fruits, while matcha parfaits use high-quality Uji tea powder. And there are others with sweet potatoes or chestnuts.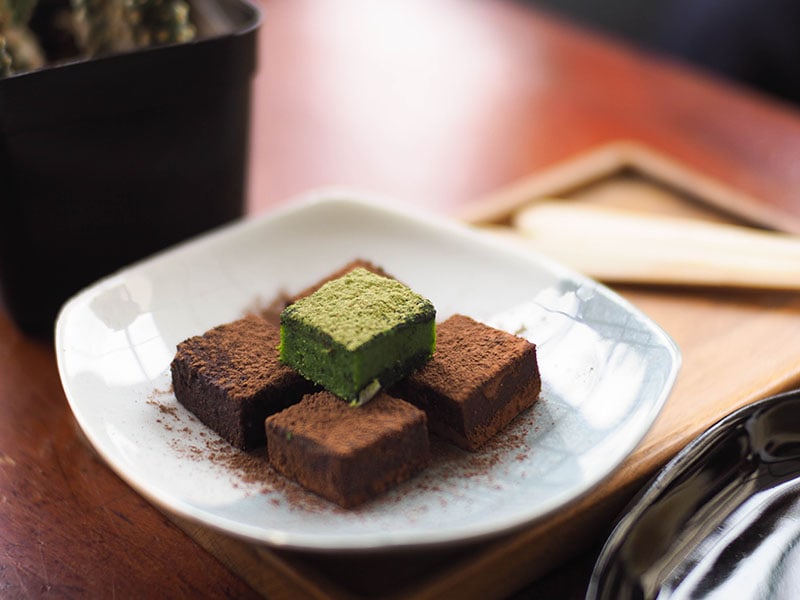 Nama chocolate is a decadent ganache made with fresh cream and chocolate, then dusted with fine cocoa powder. Some well-known products in Japan are Meiji's Melty Kiss and ROYCE' Nama Chocolate.
Nama chocolate cubes must have at least 40% chocolate, 10% cream, and no more than 10% water. "Nama" means raw or fresh, referring to the rich, fresh cream found in the chocolate.
To fully preserve Nama chocolate's flavor, keep it in the refrigerator and finish it within four days.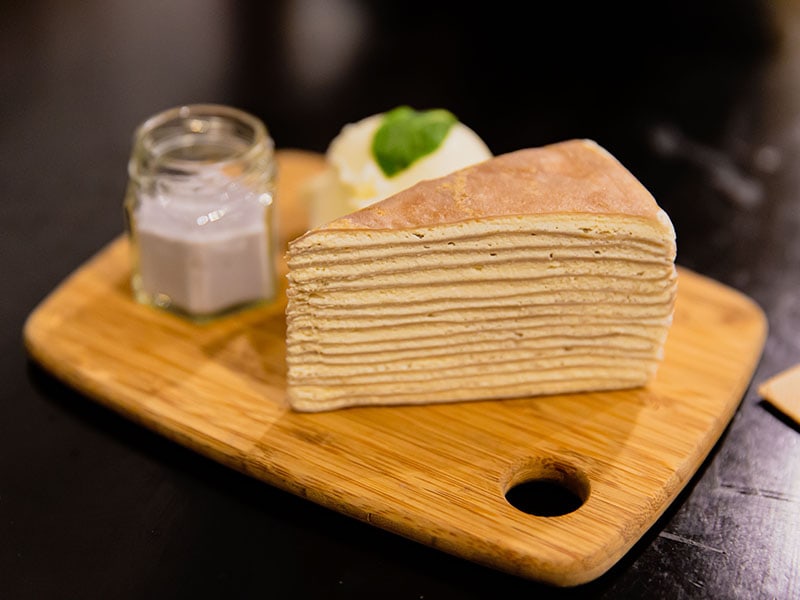 Mille crepe cake is especially popular in big cities like Tokyo and Osaka. Emy Wada, a patissier who studied in France, popularized this magnificent creation in the 1980s. The rounded edge is the signature touch of the Japanese version.
"Mille crepe cake" translates to "thousand-crepe cake," which perfectly describes its structure. Although it doesn't really have a thousand crepes, this dessert has about 10 to 20 crepes layered with various fillings.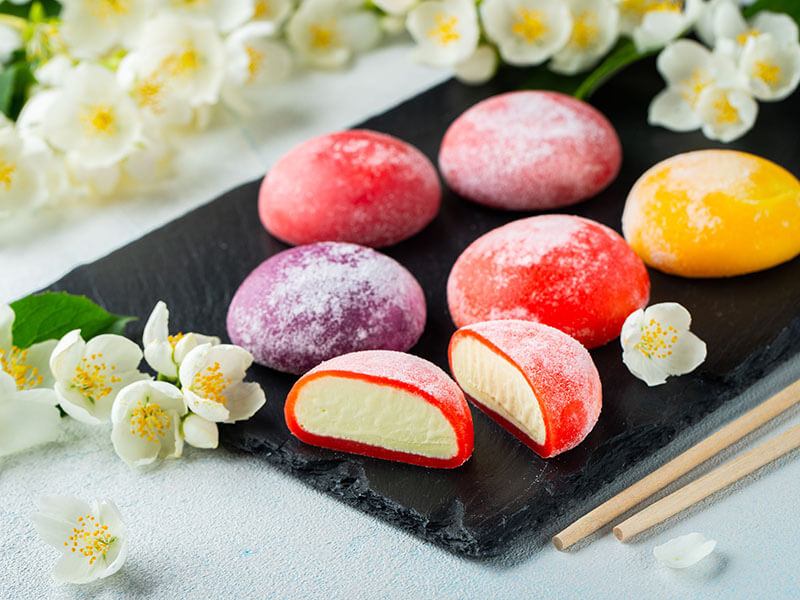 Mochi ice cream is a fusion of traditional Mochi and ice cream, invented by a Japanese-American woman named Frances Hashimoto. Each Mochi ice cream ball is carefully dusted with potato or cornstarch, protecting it from turning cakey.
These super kawaii (cute) treats hide various flavors inside their small and round shape. They can be classics like vanilla, chocolate, and strawberry or more complex like Kona coffee, green tea, plum wine, and red bean.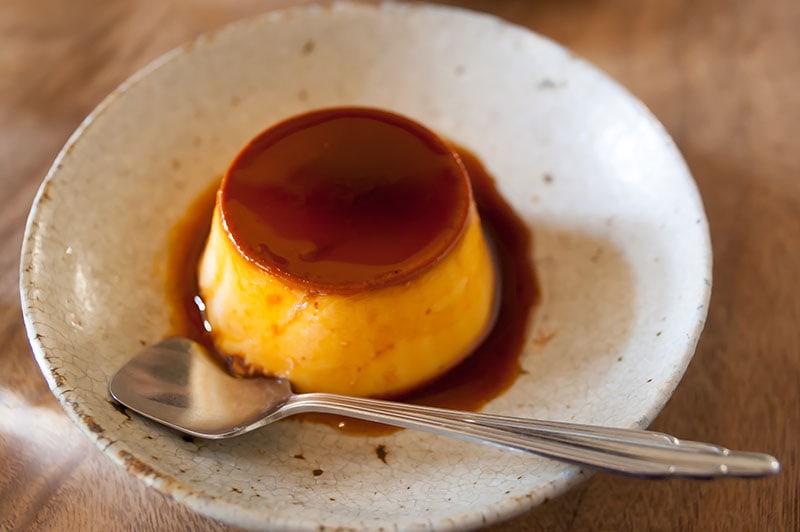 Purin, meaning "pudding," is a beloved comfort food in Japan with a rich, creamy, and silky texture. It has two layers: a soft, smooth, creamy custard and a sweet yet slightly bitter caramel glaze.
You can easily find Purin in grocery stores, bakeries, pastry shops, and supermarkets across Japan. It's quite similar to flan or creme caramel but firmer than the French creme brulee. To achieve its unique texture, the locals use a bain-marie technique to cook Purin in the oven.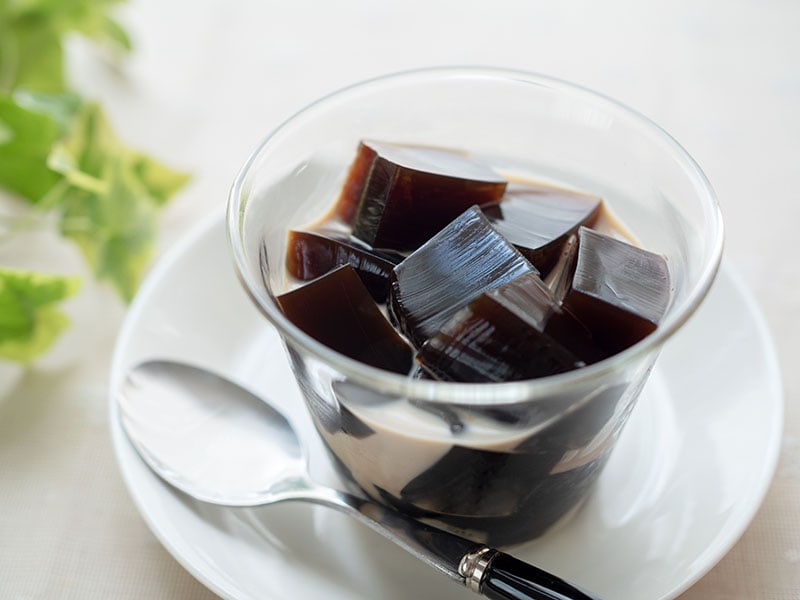 Japanese coffee jelly is basically coffee-flavored agar jelly. You can eat these bouncy and chewy cubes on their own, top them with whipped cream, or add them to other treats like ice cream floats, bubble tea, and iced coffee.
This classic dessert is available in both supermarkets and convenience stores, often served in small cups. With its unique texture and versatility, coffee jelly is an irresistible addition to your list of must-try Japanese sweets.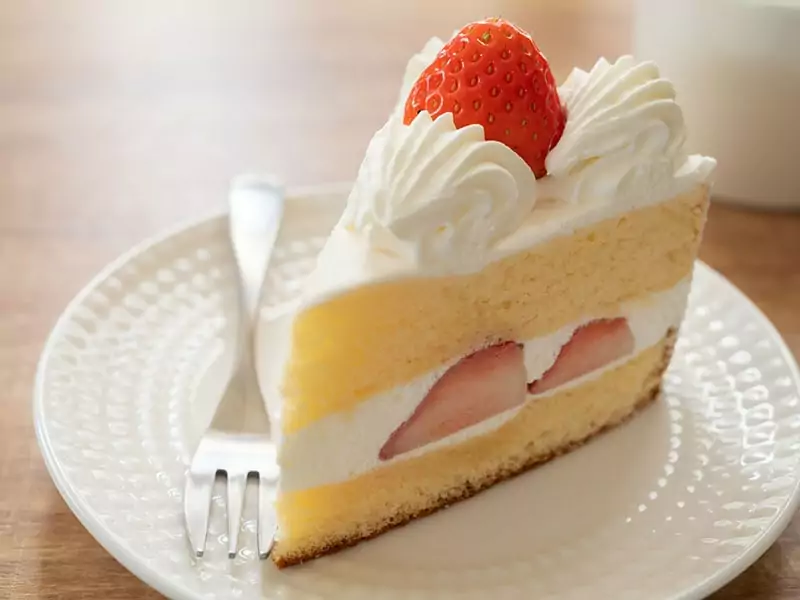 The Japanese strawberry shortcake is famous among all ages for its moist, airy, and fluffy texture. This cake is decorated with a light cream frosting and fresh strawberries for a perfect balance of flavors.
Strawberry shortcake is also a classic option for many Japanese celebrations: Christmas, birthdays, etc. since it symbolizes prosperity. While it draws inspiration from its American counterpart, it has a unique twist that makes it a beloved treat in Japan.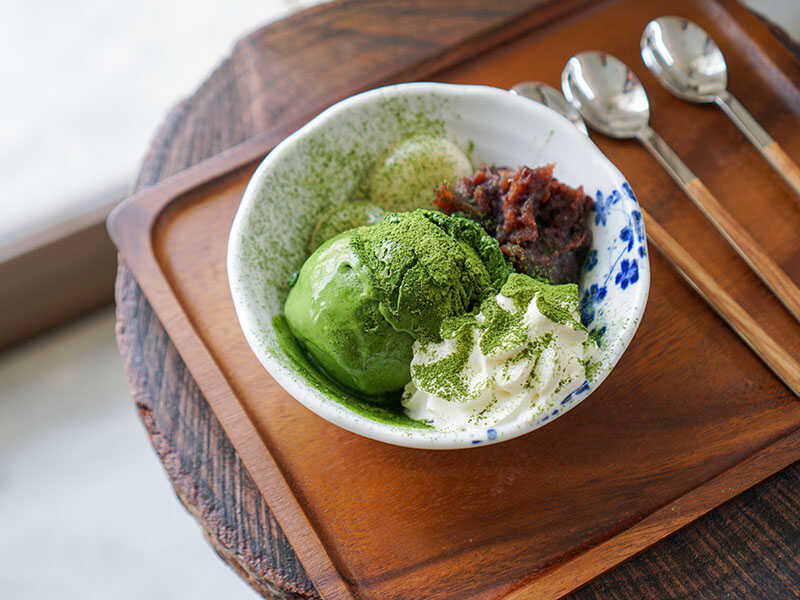 Matcha ice cream offers a rich, creamy flavor thanks to the high-quality matcha powder. This dessert tastes subtly sweet with a touch of bitterness.
Matcha ice cream alone is already a refreshing treat in summer. Yet, when paired with other Japanese sweets like azuki beans, Dango, and Monaka, it earns a sophisticated touch.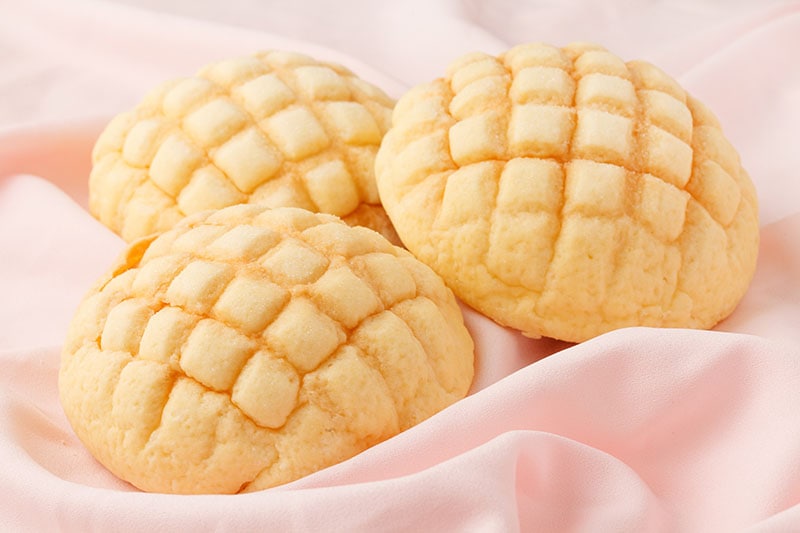 Melon pan is a traditional Japanese sweet bread quite similar to Hong Kong's pineapple buns. Crafted with enriched dough and crisp cookie dough, it features a grid pattern on top, reminding people of a melon.
Although the classic melon pan doesn't actually contain melon, modern adaptations have begun incorporating melon flavoring to match its name. So, if you're looking for a Japanese staple, melon pan is definitely worth a taste.
FAQs
I bet you are now even more interested in Japanese desserts. So, let this section satisfy your curiosity with the most intriguing questions.
So, What Japanese Desserts Are You Craving For?
You have made it to the end of the list, and how many desserts have caught your attention? One, two, or there are so many that you can't choose? I've also faced this problem when picking out the best Japanese options for my snack time.
Feel free to state all your thoughts via comment. I also appreciate other suggestions that have yet to appear on the list. And if you know anybody interested in Japanese sweets and cuisine, don't hesitate to share this article with them.
Nutrition Facts
8 servings per container
---
Amount Per ServingCalories131
% Daily Value *
Sodium 8mg

1

%
Potassium 19mg

1

%
Total Carbohydrate 30.3g

10

%

Dietary Fiber 1g

4

%
Sugars 8.9g

Protein 2.2g

4

%
---
* The % Daily Value tells you how much a nutrient in a serving of food contributes to a daily diet. 2,000 calories a day is used for general nutrition advice.