Through the best Korean cookbooks today, let's delve into interesting things about Korean food culture to understand why Korean cuisine makes so many diners passionate.
Korean cuisine is so unique that it makes thousands of people fall in love. All the signature Korean dishes, such as fatty grilled meat, rich stewed soup, accompanied by Kimchi, or the spicy Tteokbokki, are tempting and worth craving.
Starting from an agricultural country, Korean dishes are signature with the taste of plants and veggies. The distinctive feature of Korean culinary culture is the delicate combination of traditional culture and impressive artistry.
The interweaving between the traditional quintessence of thousands of years and the breakthrough of modern life has created a strong attraction of today's Korean cuisine. These fascinating cookbooks today will give you wonderful experiences.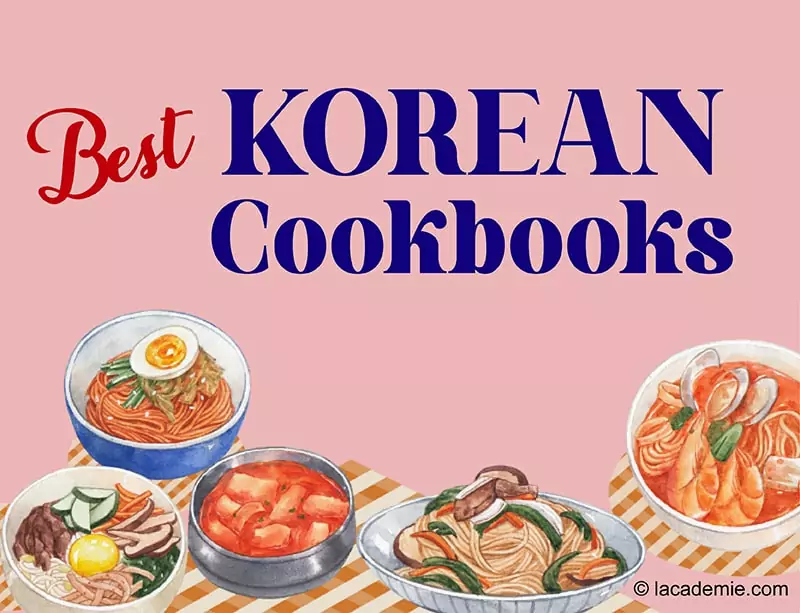 Some Exciting Overviews About Korean Cuisine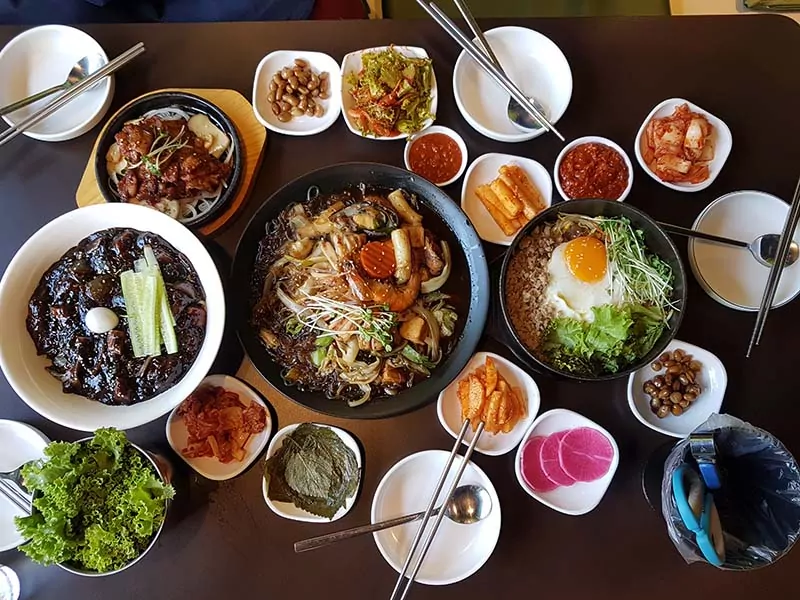 Koreans are very picky when it comes to preparing a meal. On the table are various dishes, from main dishes to assorted side dishes. Usually, there will be rice, porridge, flour dishes, and many side dishes, all of which are nutritionally balanced for the eater.
Dishes with diverse flavors and textures are typical Korean cuisine. Korean chefs not only create unforgettable flavors but also focus on eye-catching and elegant looks for dishes.
Another special thing is that each Korean-style meal usually contains 5 dishes with 5 main flavors and 5 different colors. This 5-principle makes Korean dishes unique.
Characteristics Of Korean Food Culture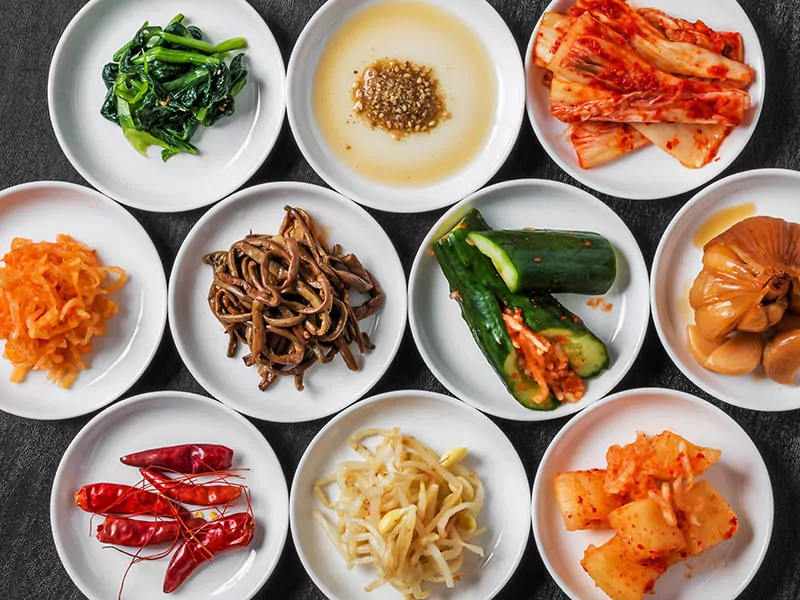 There are a few cultural features of Korea that you can easily notice when you come into contact with this country, specifically as follows:
Differentiated By Season
The four-season spring, summer, fall, and winter in Korea is a factor that governs the cultivation and harvesting of agricultural products. Based on different seasonal ingredients, the seasonal dishes make Korean cuisine unique.
The special thing is although the ingredients are the same, the nutrition and taste can still change with the seasons. This makes Korean dishes turn into many different variations in each season.
The ingredients in the cold winter are often in short supply, not as plentiful as in the rest of the seasons. Therefore, Koreans often stock up on dried vegetables and Kimchi to eat gradually instead of fresh. The salted fermented fish (Jeotgal) is ideal for both hot summer and cold winter.
Besides, foods such as cold noodles or red bean Patbingsu give people a cool aftertaste in the hot summer sun. When the weather is cold, sipping a bowl of Kimchi soup, enjoying grilled food, or supplementing with a stew warms diners' hearts.
Varieties By Region
Each region in Korea has different climates and soils. That creates many different characteristics of each region. Each place leaves its mark with specialties.
For example, grilled beef Bulgogi is the dish that welcomes you when you come to Ulsan city. Leave for Gyeonggi Province – this is where you'll find the traditional authentic rice wine.
Stand-Out Dining Table Arrangement
Not only brings great taste, but Korean cuisine also preserves artistic and sophisticated features in the way of decoration and arrangement of the table. Looking at a Korean meal, you can see the thoughtfulness and respect for the eater. There are some specific arrangement rules:
Hot dishes: on the right of the table
Cold dishes: on the left of the table
Soup and stew: on the dinner's right side
Vegetable and rice: on the left of the dinner's side
Kimchi and side dishes: to the back
Sauces: in the front
Rice bowl, spoon, chopstick: on the right side of the dinner
Some Famous Dishes Of Korean Cuisine
Several dishes have made a name for Korea that probably no one does not know. Let's take a look at some of the most prominent below:
Kimchi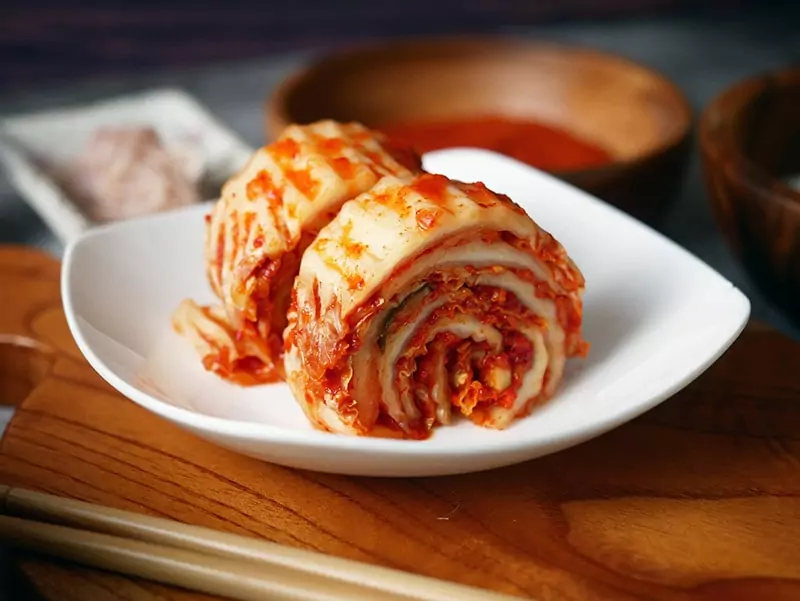 Among all the side dishes from Korea, Kimchi is the most important. Almost every Korean meal includes Kimchi. The type of Kimchi depends on the season and personal preferences, but the most popular is cabbage Kimchi.
In Korea, there are more than 200 different types of Kimchi, such as radish Kimchi, green onion Kimchi, cucumber Kimchi, cabbage Kimchi, conifer Kimchi, etc.
Koreans use Kimchi to accompany many dishes or as an ingredient for savory dishes such as braised fish, braised meat, stewed beef, and more.
Tteokbokki (Spicy Rice Cake)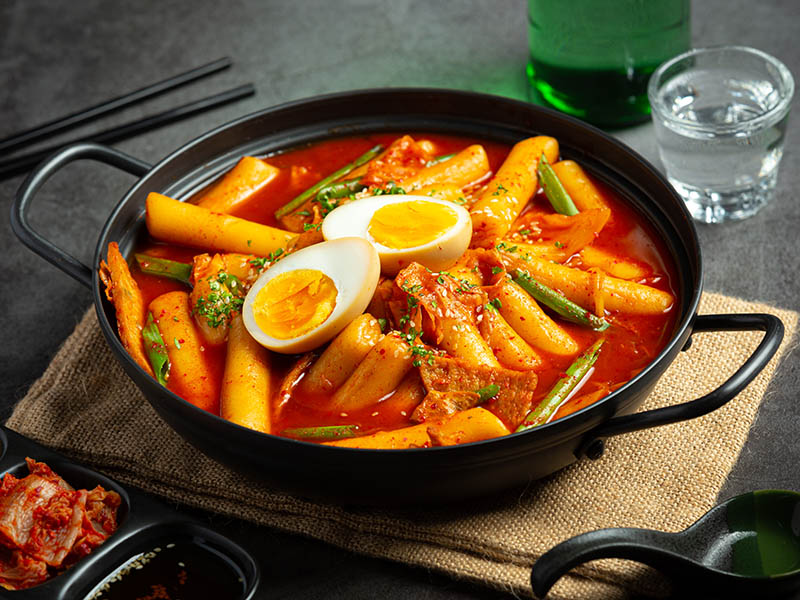 This is one of the famous street foods of Korea. It would be great to have a plate of hot Spicy Rice Cakes in front of you on cold days, the smoke rising and the intense aroma dispelling the gloomy atmosphere.
The Tteokbokki are chewy and soft with an irresistible intense flavor. The most memorable thing is the beautiful orange-red sauce. This sauce is a blend of different sauces and chili peppers.
Bibimbap (Korean Mixed Rice)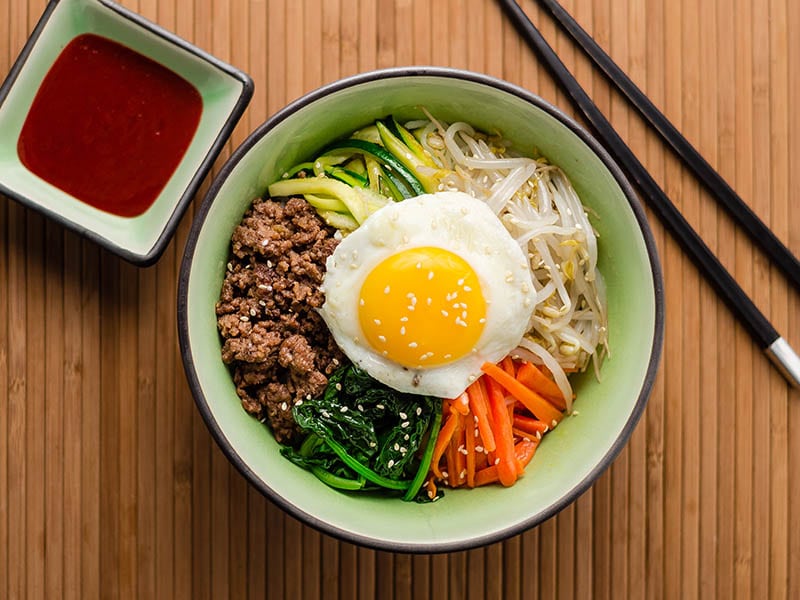 Korean mixed rice, also known as Bibimbap, is a rice dish with many ingredients. The requirements of an appetizing Korean mixed rice dish are white rice, yellow chicken eggs, green vegetables, and brown meat.
All the ingredients are meticulously cut. The vegetables in this Mixed Rice dish are often used seasonally, such as cucumbers, carrots, spinach, bean sprouts, etc., which carry the cultural value of Korean cuisine.
Miyeok-Guk (Seaweed Soup)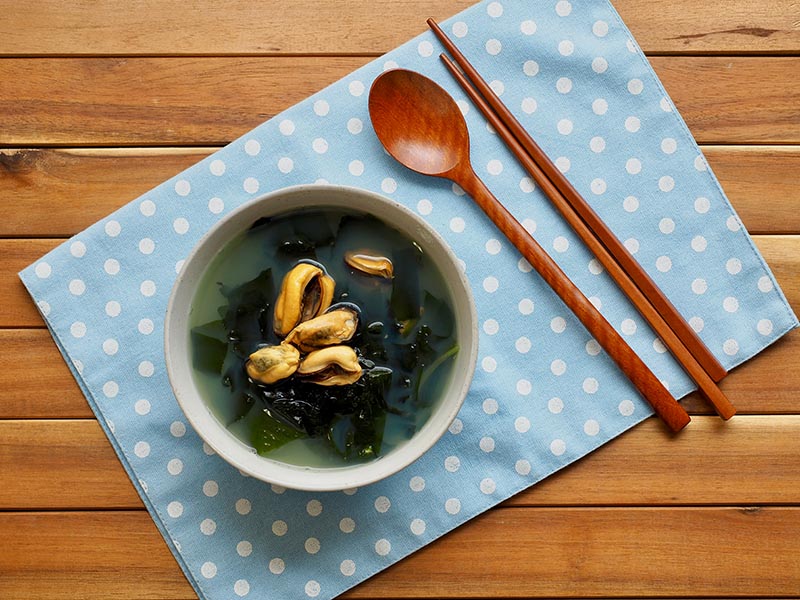 Among all the famous Korean soup dishes, Koreans widely choose seaweed soup on important occasions when families gather together. The soup consists of mussel-based broth, beef, anchovy, soy sauce, clams or oysters, and more.
Gimbap/Kimbap (Rice Rolls)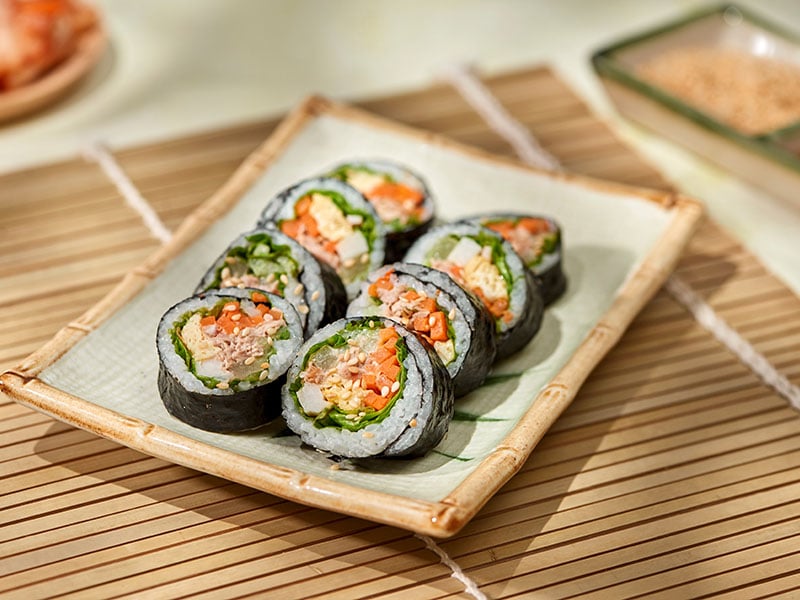 Rice rolls, also known as Kimbap, stand out in many rice recipes of Korean. People can make Kimbap filling with many ingredients depending on their preference. The filling can be crab stick, cucumber, carrot, tuna, cheese, anchovies, etc.
Jajangmyeon (Black Bean Paste Noodles)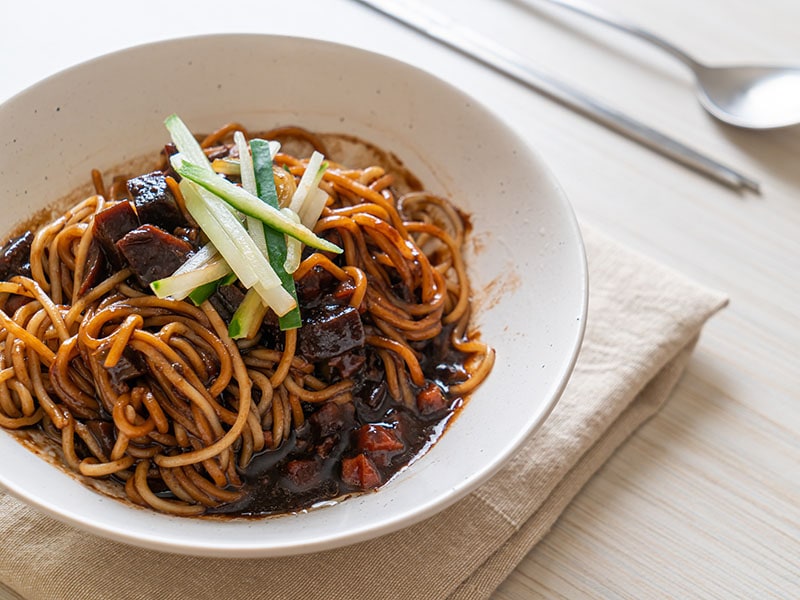 So familiar to young people worldwide, Jajangmyeon or black bean paste noodles are loved for their signature tasty flavor. Smooth black soy sauce combines with vegetables and fragrant soft pork sprinkled on top. Just mix well and enjoy!
Doenjang-Jjigae (Soybean Paste Stew)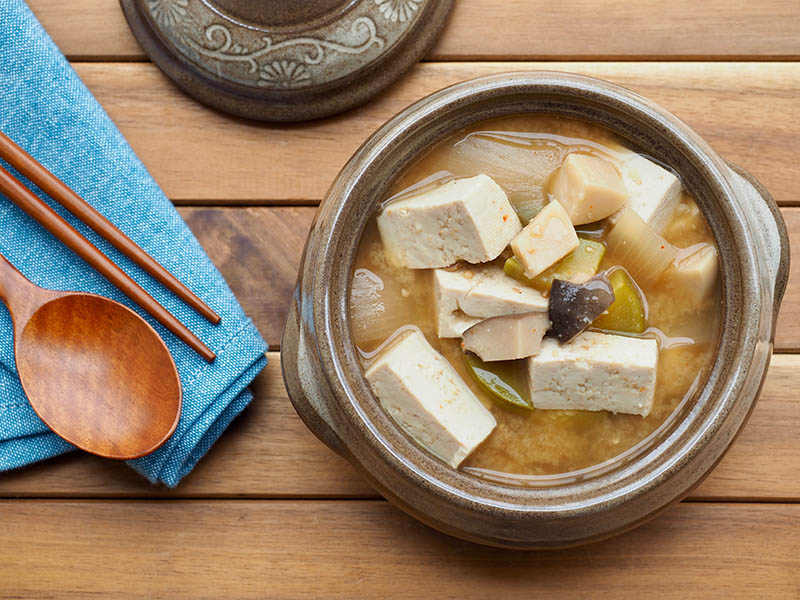 Soybean paste stew soup is one of the popular Korean stew dishes that is super simple and easy to make. You can feel the fatness of fermented soybean paste, the typical spicy taste of chili pepper, and the savory taste of seafood and meat.
Koreans make a broth of soybean paste stew with anchovies, white radishes, and chili peppers. They usually serve this dish with steamed rice and other side dishes such as meat and vegetables.
Naengmyeon (Cold Noodles)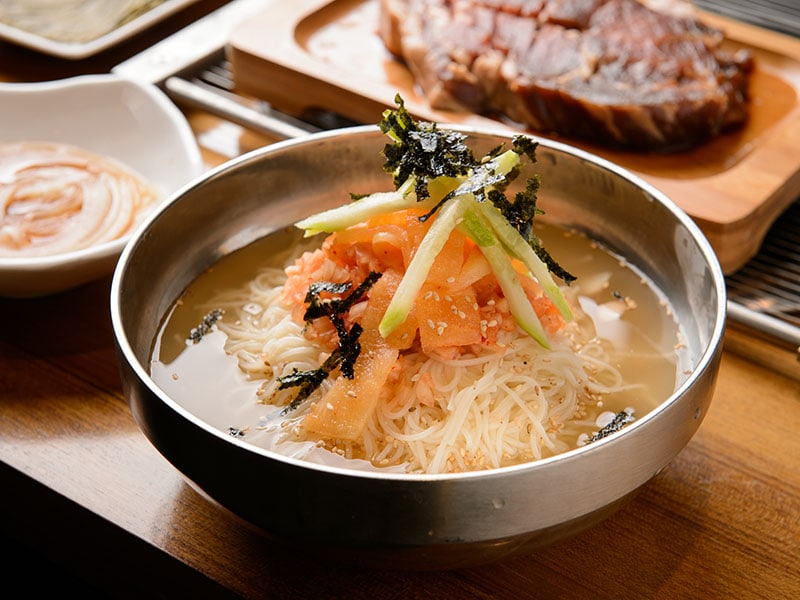 With many processing stages, Naengmyeon or cold noodles require your time investment. However, the result will definitely not disappoint you because of this traditional noodle dish's flavorsome taste.
Naengmyeon cold noodles are nutritious and palatable with chewy noodles, cool beef broth, and pear sweetness.
Which Are the Best Korean Cookbooks You Must Have In 2023?
Each of the 14 cookbooks below is full of delectable tastes and shows Korean expectations' view of the world around them. Just take a quick look:
14 Best Korean Cookbooks To Enhance Your Cooking Skills
Koreans always know how to change, combining what they have learned from other countries to refresh and create their own unique culinary features. 14 fascinating cookbooks below will let you know all you need about this exceptional cuisine:
1. Maangchi's Big Book Of Korean Cooking: From Everyday Meals to Celebration Cuisine by Maangchi and Martha Rose Shulman
(Best Timeless)
---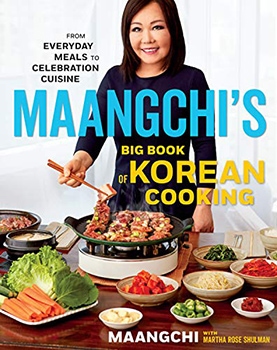 Shop now at Amazon
Shop now at Walmart
Shop now at barnesandnoble
Shop now at target
Shop now at omnivorebooks
Shop now at strandbooks
---
Despite living in New York, Maangchi was born and raised in Korea, which gave her the firm basics of Korean cooking. As the founder of the online Korean food site maangchi.com and a popular YouTube channel, she brings readers unique Korean cooking guidelines.
Martha Rose Shulman is an award-winning author and a culinary collaborator specializing in healthy food. These two culinary talents are co-authors of Maangchi's Big Book of Korean Cooking, the perfect writing for cooks to practice Korean food right in the home kitchen.
The book is an interesting trip to the soul of Korean cuisine, presenting classic Korean cooking yet rewritten to suit new trends. The writing keeps the spirit of pure Korean cuisine and gives readers new cooking experiments.
Maangchi updates and improves all the dishes, from Korean vegetarian dishes, snacks, Kimbap, and fried chicken to Bulgogi, Bibimbap, and even toothsome lunch boxes. There is also party food, side plates, and different kinds of Kimchi.
The beautiful presentation with hundreds of outstanding photos shows you exactly what raw material you need for recipes. The book presents the cooking method step-by-step for easy following. All your senses will awake when you see the finished dish illustrated images.
Pros
Won the New York Times best cookbooks
Comprehensive and creative books
Inspire and encourage a passion for food
An understandable and specific step-by-step formula
Realistic finished illustrations
Clear pictures of ingredients make it easy to prepare
Cons
There should be more recipes
Should improve the paper quality
Take a quick tour of Maangchi's Big Book of Korean Cooking to see how it works!
2. Cook Korean!: A Comic Book with Recipes by Robin Ha
(Best With Food And Comic)
---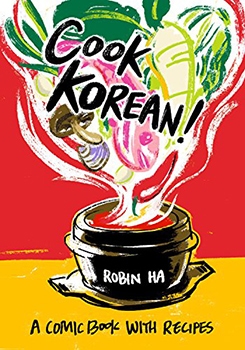 Shop now at Amazon
Shop now at Walmart
Shop now at barnesandnoble
Shop now at penguinrandomhouse
---
Robin Ha graduated with a BFA in illustration. She began a career in fashion, with numerous comic books published. She owns the Banchan blog and creates many popular Korean recipes.
Talking about Korean cuisine, she uses the attractive graphic form to create "Cook Korean!". The book collects 64 recipes and ingredient lists, presented in colorful and easy-to-access 1-or-3-page comics.
Each dish is a story with clear illustrations for each process step and required ingredients. The author incorporates her funny story and her deep knowledge of Korean culinary culture cleverly and interestingly.
Each story and the character will bring you into a lively space. You and the characters have exciting moments in the kitchen and share amazing food stories. You can feel Korean culinary culture clearer, closer, and friendlier than ever.
Pros
Novel presentation like a comic book creates excitement
Preset ingredients, recipes, and methods are clear and in detail
There are many dishes, from simple to complex, for you to choose easily
Suitable for both professional chefs and home cooks
Cons
Some may find it hard to focus on the recipes because there are many illustrations
Discover the amazing Korean recipes, great stories, and fantastic artwork in "Cook Korean!: A Comic Book with Recipes"!
3. The Korean Vegan Cookbook: Reflections and Recipes from Omma's Kitchen by Joanne Lee Molinaro
(Best Vegan)
---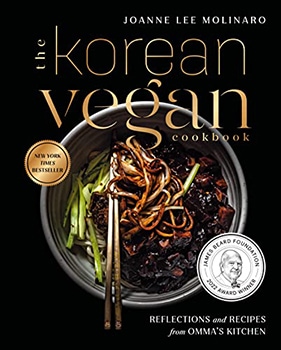 Shop now at Amazon
Shop now at barnesandnoble
Shop now at bookpassage
Shop now at whistlestoppers
Shop now at mcnallyjackson
Shop now at vromansbookstore
---
The Korean Vegan Cookbook is the work of Joanne Lee Molinaro, a former Korean-American lawyer living in Chicago. Molinaro has a massive passion for Korean vegan cuisine.
In this well-written vegan cookbook, cooking is not only about food but also honors inner beauty, shaping human identity. It touches readers' hearts, conveying strong emotions about Korean family food.
Joanne shares with you a collection of her favorite vegan Korean dishes. And you will find that Korean cuisine is not only about grilled meat but also about many succulent dishes with completely plant-based ingredients.
The author attaches traditional dishes and new variations with meaningful photos of her family, which creates her culinary background. The book is a skillful combination of food, culture, and education through sincere and emotional stories of the author's childhood.
Pros
Introduce a bunch of authentic vegan Korean dishes
The presentation is new, interesting, and clear
Recipes integrated into stories that are easy to remember
The stories behind the dishes are emotional
Cons
There may be some novice mistakes
Some ingredients are hard-to-find
4. Korean BBQ: Master Your Grill in Seven Sauces by Bill Kim and Chandra Ram
(Best For BBQs)
---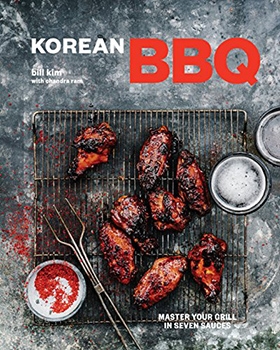 Shop now at Amazon
Shop now at Walmart
Shop now at barnesandnoble
Shop now at crateandbarrel
Shop now at collectedworksbookstore
---
Author Bill Kim is an Asian-inspired chef who has worked in many well-known kitchens. He wrote this cookbook with editor Chandra Ram. This piece includes 80 fabulous Korean BBQ recipes to meet both Western and Eastern kitchens.
In Korean BBQ, the authors try to harmonize Korean and American cuisine in a modern and friendly writing style. The author provides fundamental BBQ concepts with main factors such as ingredients and flavors that the grillers can always get creative with.
The book presents each dish with a detail-described formula. First, you will learn about the seven main sauces and the three main BBQ seasonings. Besides the popular main dishes, the author also offers snacks, desserts, side dishes, and a lot of creative drinks for BBQs.
Moreover, the writers suggest all the proper alternatives for difficult-to-find ingredients in the US. Therefore, you can have no challenge enjoying Korean BBQ right in your home kitchen.
Pros
Won James Beard Award Finalist
Numerous recipes to suit your dinner
Korean flavor adjusted to suit American taste
Simple recipes that are accessible to beginners
Useful ingredient substitute suggestions
Cons
Recipes require a long time
5. Maangchi's Real Korean Cooking: Authentic Dishes for the Home Cook by Maangchi
(Best Authentic)
---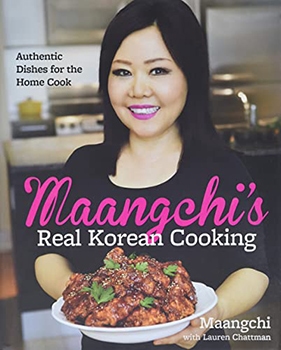 Shop now at Amazon
Shop now at barnesandnoble
Shop now at target
Shop now at abebooks
---
Maangchi is the author of the above cookbook Maangchi's Big Book Of Korean Cooking. In her hometown, she learned basic cooking at home from loved ones in the family. Her book covers authentic Korean food and inspires readers with her huge passion for cooking.
The book contains recipes for the best Korean food, from simple, easy-to-make dishes with few ingredients to more sophisticated dishes from restaurants. You can feel the uniqueness and variety of Korean cuisine that Maangchi conveys.
The book presents each type of food in each chapter: Korean sweets, main dishes, side dishes, and a whole chapter on Korean Kimchi and pickles, etc. You'll also have a thorough explanation of ingredients, processing techniques, and presentation of typical Korean meals.
Moreover, 800 colorful, step-by-step photos make it easy and quick to finish the dish. A glossary of Korean cooking terms, explanations of ingredients, and proper ingredient substitutions are also extremely helpful.
The more Maangchi express the answers to many readers' questions, the more Korean cooking secrets you will learn from her. Whether a professional chef or a beginner, this book is perfect for anyone!
Pros
The recipe for each dish is clear and detailed
The variety of dishes makes it easy for you to choose
Useful and practical cooking tips
Ingredients are easy to find
Step-by-step illustrations make it easy to follow
Cons
Some recipes may not match the author's YouTube channel
6. The Kimchi Cookbook: 60 Traditional and Modern Ways to Make and Eat Kimchi by Lauryn Chun and Olga Massov
(Best For Kimchi)
---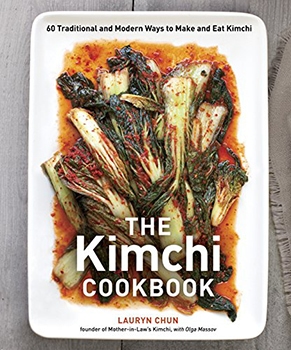 Shop now at Amazon
Shop now at Walmart
Shop now at barnesandnoble
Shop now at penguinrandomhouse
Shop now at abebooks
---
"The Kimchi Cookbook" is an excellent work on Korean Kimchi-making techniques. The founder of Mother-in-Law's Kimchi, Lauryn Chun, and Kimchi-loving food writer, Olga Massov, have brought insights into the Kimchi everyone loves.
The author will lead you into profound stories about Korean culinary culture. The book is a whole world of fermented foods for you. You can find out in this book any kind of Kimchi you like.
The book provides a specific recipe for every Kimchi, such as spicy napa and daikon blends or modern and creative pickles from pumpkin, radish, tomato, and French butter. The book also has many recipes for turning Kimchi into a meal and awakening the taste buds.
The book also gives you various ways to make fermented foods, from traditional Kimchi and time-saving salads to suitable recipes for spring, summer, and winter vegetables. Beautiful photos and funny writing style of the authors also satisfy you.
In addition, the tutorial on different "cutting" of vegetables will surely bring you a lot of exciting knowledge. This book will be a great resource for those who love Korean cuisine and specially fermented vegetables!
Pros
Easy to access with clear, specific, and simple formulas
A wide variety of dishes for you to choose from
Eye-catching, interesting images and presentation
Funny, attractive word use
Cons
May lack some background information about traditional Kimchi
Take a quick look at some interesting The Kimchi Cookbook pages!
7. Koreatown: A Cookbook by Deuki Hong and Matt Rodbard
(Best For American-Korean)
---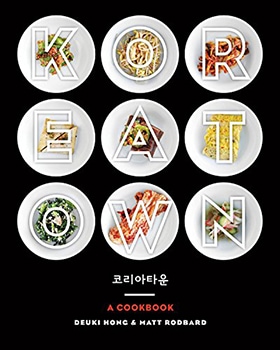 Shop now at Amazon
Shop now at Walmart
Shop now at barnesandnoble
Shop now at asianartmuseumstore
---
Deuki Hong is a former executive chef of the famous Kang Ho Dong Baekjeong, majoring in Korean-American dishes. Matt Rodbard is the editor-in-chief of the online food magazine TASTE and the Taste Podcast host.
They are co-authors of the New York Times Bestseller: Koreatown, one of the most critically acclaimed books of all time. The sophisticated flavors of Korean street food and an American vibe come to you through this book.
The book introduces 100 recipes for grilled foods like Bulgogi and Kalbi to stews, soups, noodles, and salads. You also have many signature Korean beverages and some unpopular dishes.
Moreover, the authors give a good impression of Korean cuisine through exciting stories, interviews, and essays with their vibrant and elegant voices.
Detailed and accessible recipes with vivid photos lead you to the experience of cooking Korean dishes with distinctive flavors yourself. Enjoying authentic Korean food at an American home is no longer difficult while you have "Koreatown" in your hand.
Pros
Selected Korean recipes to suit American taste
A variety of dishes to choose
Detailed formula, easy-to-make recipes
There are illustrations and many inspirational stories
Cons
The measurement may be a bit hard-to-apply
The short interview will let you know more about Koreatown and the unique flavors of Korean cuisine!
8. Seoul Food Korean Cookbook: Korean Cooking from Kimchi and Bibimbap to Fried Chicken and Bingsoo by Naomi Imatome-Yun
(Best For Seoul Food)
---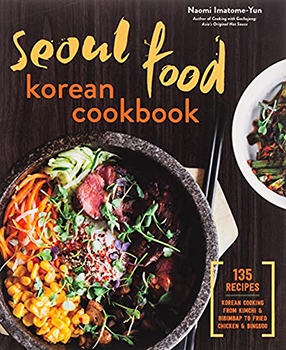 Shop now at Amazon
Shop now at Walmart
Shop now at Ebay
Shop now at abebooks
---
Naomi Imatome-Yun is a Korean cookbook author and food editor of About.com. Growing up in the suburbs of the United States, Naomi was lucky to have her grandma teach her how to cook authentic Korean dishes.
She has spent more than 15 years discovering and spreading simple Korean cooking techniques to Americans. The cookbook introduces you to a wide range of recipes, from traditional to new dishes.
There are 135 detailed recipes to help you cook Korean Kimchi and BBQs. In particular, a specific chapter guides you through cooking Korean fusion dishes and bar dishes.
Naomi also reveals special cooking techniques, ingredient substitutions, and new recipe variations. The book also has interesting culinary customs and cultural information on the Korean table.
You will also find the specific categories of important utensils with vivid pictures and information on how to buy ingredients for home cooks. The book is handy for those passionate about Korean cuisine who want to enjoy Korean food's authentic taste.
Pros
Simple and easy to understand the recipe for anyone
Many levels of dishes, from easy to difficult, simple to complex
Special chapters for Korean fusion and bar recipes
Useful information about Korean culture and cuisine
Absolutely practical kitchen tips
Cons
Some ingredients may be hard to get
9. Korean Paleo: 80 Bold-Flavored, Gluten- and Grain-Free Recipes by Jean Choi
(Best For Paleo)
---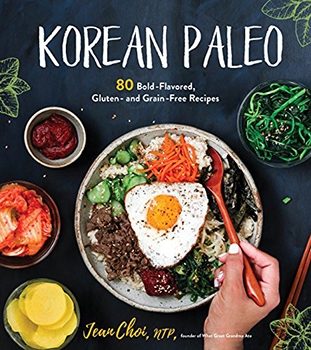 Shop now at Amazon
Shop now at Walmart
Shop now at barnesandnoble
Shop now at bulkbookstore
Shop now at kinokuniya
---
Korean Paleo was written by Jean Choi, who established "What Great Grandma Ate". As a Nutritional Therapy Practitioner, she has great knowledge and passion for the healthier versions of familiar Korean favorites. She brings them all into this cookbook – "Korean Paleo".
This book takes you into Korean Paleo cuisine to discover various wonders and uniqueness of this culture. 80 delectable and healthy recipes take all the advantage of the signature Korean flavors.
Throughout the book, you will get a lot of information about classic Paleo Korean foods and their characteristics with 3 criteria: gluten-free, dairy-free, and grain-free.
There are many popular dishes such as Bibimbap, Bulgogi, and Kimchi. The author also provides useful notes for family meals. The background of the deep philosophy behind Paleo Korean-style is also an interesting part of this cookbook.
In addition, the notes on identifying healthy ingredients and using kitchen utensils are also valuable for you. You can experience a new way of eating Koran with this cookbook's diversity!
Pros
An innovative spin on the traditional recipes
Help you follow a strict Paleo diet
Suggest many healthier dishes at home
Select ingredients to ensure healthy
All are gluten-free, dairy-free, and grain-free
Cons
The ingredient list is a bit too long
10. Everyday Korean: Fresh, Modern Recipes for Home Cooks by Kim Sunée and Seung Hee Lee
(Best For Everyday)
---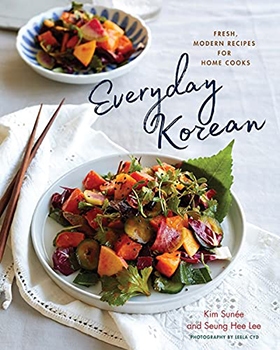 Shop now at Amazon
Shop now at gothamgrove
Shop now at wiley
Shop now at barnesandnoble
Shop now at wwnorton
---
Kim Sunée is a former culinary editor and bestselling author of cookery books and many well-known magazines. Seung Hee Lee is a culinary teacher specializing in nutritious and traditional Korean royal dishes.
Together they published the book Everyday Korean, opening various opportunities for anyone starting to get acquainted with Korean cuisine. Here, you can approach Korean cooking by following modern style everyday.
The book guides you on cooking a variety of typical Korean dishes, such as traditional and modern Bulgogi, sweet potato noodles, Kimchi-bacon mac and cheese. There is also a wide range of side dishes: Kimchi, sweets, sauce, Soju cocktails, etc.
Based on the typical Korean flavors: saltiness, sweetness, and spiciness, these two authors share some unique, mouth-watering cooking methods. With 80 beautiful photos and simple, clear recipes, you can easily cook an authentic Korean meal right in your kitchen.
The authors also suggest ideas about building your pantry to store food for everyday cooking, how to combine drinks, and more. Whether you're a professional or a beginner, this is the perfect book!
Pros
Simple dishes for everyday cooking
Detailed explanation of materials and techniques
Recipes categorized from easy to difficult, easily accessible for all cook levels
Beautiful images, clear content presentation
Cons
It will be better if nutrition facts or cooking times mentioned
11. My Korea: Traditional Flavors, Modern Recipes by Hooni Kim and Aki Kamozawa
(Best With Traditional Dishes)
---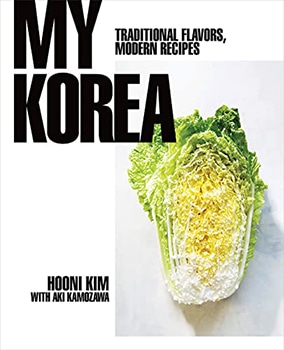 Shop now at Amazon
Shop now at barnesandnoble
Shop now at cravingsbychrissyteigen
Shop now at omnivorebooks
Shop now at pastforward
---
This cookbook is the work of Hooni Kim, the first chef to own a Michelin-starred Korean restaurant. He is also the founder of a non-profit organization called Yori Chunsa, which helps teach orphans to become future chefs.
Co-writing with Aki Kamozawa, an award-winning chef, culinary consultant, and photographer, he released the book My Korea. With all their talents and souls devoted to Korean cuisine, these two renowned chefs bring readers a cherished Korean culinary heritage.
Here, the authors compile and share Korean traditional culinary techniques for Ganjang, Doenjang, And Gochujang (traditional Korean sauce and paste). This signature trio can enrich 90 other Korean dishes such as stews, Banchans, and more.
There's an entire chapter on Kimchi with specific instructions for those who love this fermented food. Illustrated with 100 colorful photos of Korean food and beautiful places, the cookbook will give you a lot of inspiration.
The authors also provide you with many useful tips on how to find ingredients and cooking techniques. With an encouraging voice, this book puts in your heart the desire to make yummy traditional Korean dishes at home.
Pros
The traditional formula is specific and clearly described
Useful notes about ingredients and cooking techniques
Many vivid and eye-catching color photos
Bring many interesting experiences for home cooks
Cons
The intros to each recipe may be a bit wordy
12. Korean Home Cooking: Classic and Modern Recipes by Sohui Kim and Rachel Wharton
(Best For Home Cooks)
---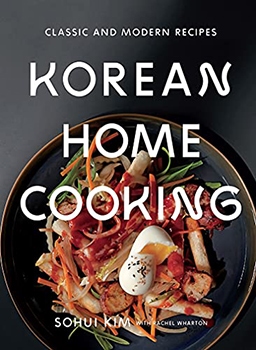 Shop now at Amazon
Shop now at abramsbooks
Shop now at barnesandnoble
Shop now at ebay
Shop now at neighbourhoodbooks
---
Korean cuisine is a vast treasure trove, but it takes a long route to bring it into your kitchen. Readers can have a shorter route when Sohui Kim shares it all through her book Korean Home Cooking. She is a seasonal chef-owner of many famous restaurants.
Her co-author is Rachel Wharton, a journalist and food writer who won the James Beard award. The book opens the door to authentic and yummy Korean dishes with familiar components such as salt, grain, chili peppers, cereals, soybeans, etc.
100 recipes from the author's restaurant and her family present the right choice for you. The mung bean pancakes, Kimchi, Japchae noodles, seaweed soup, Soondae, spicy chicken stew, and more will conquer your taste buds.
The book also takes you on an exciting tour around Korea with the author's stories and photos about Korean rich culture and traditions. That infuses you with positive energy to dive deeper into Korean cuisine.
Pros
Simple ingredients, easy to find anywhere
Clear, easy to follow the description for sourcing and processing
Useful information about Korean culinary traditions and culture
Vivid artwork gives you lifelike experiences
Cons
Some are not suitable for home cooks without advanced techniques
13. Judy Joo's Korean Soul Food: Authentic Dishes And Modern Twists by Judy Joo
(Best With Modern Recipes)
---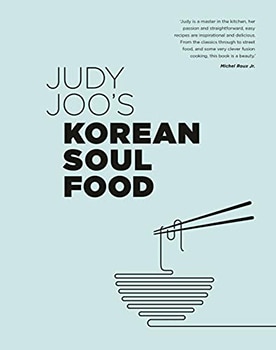 Shop now at Amazon
Shop now at barnesandnoble
Shop now at souschef
Shop now at ebay
Shop now at abebooks
Shop now at betterworldbooks
---
Korean food always has a special attraction with diners around the world. And it's even more amazing when chef Judy Joo creates many new features for traditional Korean dishes.
With culinary experience from many countries, Judy shares with readers a modern sense of Korean food through this Korean Soul Food cookbook. This is an experience full of surprises for your taste buds and your soul.
Here are 100 variations based on typical Korean traditional flavors. You will easily understand how to prepare street foods and snacks to surprise your taste buds. Vivid photos of dishes will make you eager to cook them right away.
The book is full of basic cooking knowledge. The glossary of food and spices is useful for those new to Korean cooking. It also teaches you how to properly store your food, along with many other kitchen tips.
Pros
Innovative formula for Korean novel flavors
The steps are simple, logical, and easy to follow
The image of the finished dish inspires cooking
Provides a lot of useful knowledge about Korean cooking
Cons
Should add more illustrations with each step
14. The Kimchi Chronicles: Korean Cooking for an American Kitchen: A Cookbook by Marja Vongerichten and Jean-Georges Vongerichten
(Best Kimchi For Americans)
---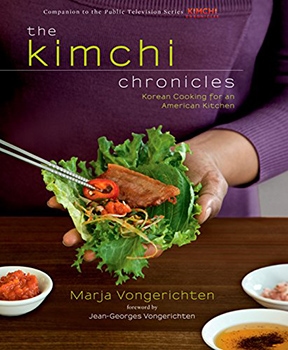 Shop now at Amazon
Shop now at bulkbookstore
Shop now at walmart
Shop now at abebooks
Shop now at bookdepository
Shop now at barnesandnoble
---
Korean food and Kimchi have an easy-to-enjoy taste for every country in the world. Marja Vongerichten and her husband Jean-Georges Vongerichten express that in The Kimchi Chronicles, which is especially suitable for Americans.
As a talented culinary author, Marja blows up the taste of Korean food in an American family meal. Accompanying a TV program, The Kimchi Chronicles offers readers typical Korean dishes that are effortless to make.
The book turns all knowledge of traditional Korean cuisine into attractive dishes right in your kitchen. The author subtly put novelty and modernity into the formulas. That creates a different taste and emotion when you enjoy the food.
With this book, you will understand the closeness between Korean cuisine and culture. Whether you are an American or come from any other land, the taste of Korean dishes in The Kimchi Chronicles will conquer your taste buds.
Pros
Basic knowledge of Korean cuisine
Recipe to suit the taste of the majority
Beautiful food images that inspire cooking
Tips for buying ingredients quickly to save time
Cons
There should be more illustrations that go closely with the recipe
Miss some important authentic Korean dishes
FAQs
To know more about the signature Korean cuisine, let's learn some of the knowledge in the section below:
My Top Pick
Korean traditional dishes appear a lot in movies and popular entertainment programs of the land of Kimchi, which have helped bring Korean food culture to more people. And in today's great cookbooks too.
In Maangchi's Big Book Of Korean Cooking: From Everyday Meals to Celebration Cuisine by Maangchi and Martha Rose Shulman, most Korean dishes are authentic, scrumptious, and have become quite popular dishes in many countries around the world.
I hope you will feel as good about these cookbooks as I do and spread them to many people by sharing this article. And don't forget to leave a comment to express your feeling right away!