Vietnamese chicken salad (Gỏi Gà) is a classic dish that perfectly showcases the bold and vibrant flavors of Vietnamese cuisine. Featuring succulent boiled chicken, crispy fresh vegetables, and a sweet, umami fish sauce dressing, this salad will be a big hit on your dinner table.
And with the addition of fresh herbs that enhance the refreshing flavor, you won't be able to resist going back for seconds. In today's post, I'll show you how to make this stunning and delectable at home from start to finish. Get ready to elevate your salad game!
The Beauty Of Vietnamese Chicken Salad
Salad (or Goi in Vietnamese) is a vital part of Vietnamese cuisine. The salad in this country is often a mixture of crispy veggies or fruits, such as cabbage, onion, and green papaya, and a tangy, sweet, and slightly spicy dressing made from Nuoc Mam (fish sauce).
Among the many options, chicken salad is certainly one of the most well-loved ones, thanks to the ease of preparation and irresistible flavor. This dish is a vivid-looking and incredibly refreshing combination of tender shredded chicken with two kinds of cabbage and other colorful herbs and vegetables.
In addition, since the recipe doesn't include cream or mayonnaise, it's low in calories and can fit perfectly into many dietary plans.
Tools
You won't need any special tools to make Vietnamese chicken salad. However, to ensure a good cooking experience, you should prepare the following cookwares.
Knife and chopping board: For chopping up the herbs and vegetables.
Saucepan: For making the fish sauce dressing.
Food prep gloves: Fish sauce has a strong aroma that can make your hands smell like fish after tossing the salad. A pair of plastic food prep gloves can help you prevent this.
Peeler: For peeling and shredding the vegetables.
Mixing bowl: For tossing the salad.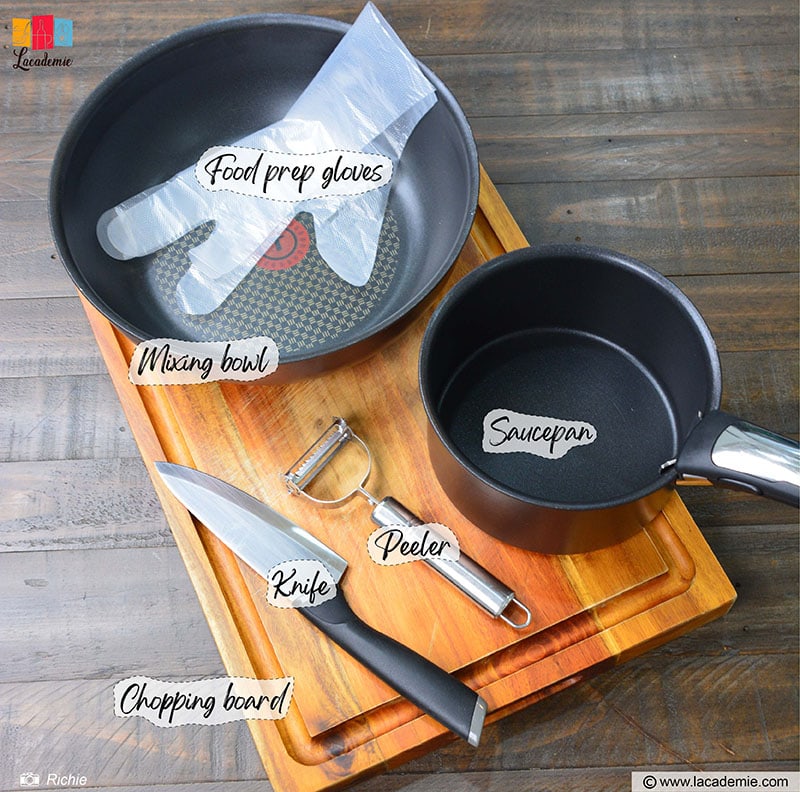 Ingredients
The ingredient list consists of two main groups: one for the salad base and the other for the dressing.
For the salad
Chicken breast: You can also use chicken thighs if you prefer a firmer texture.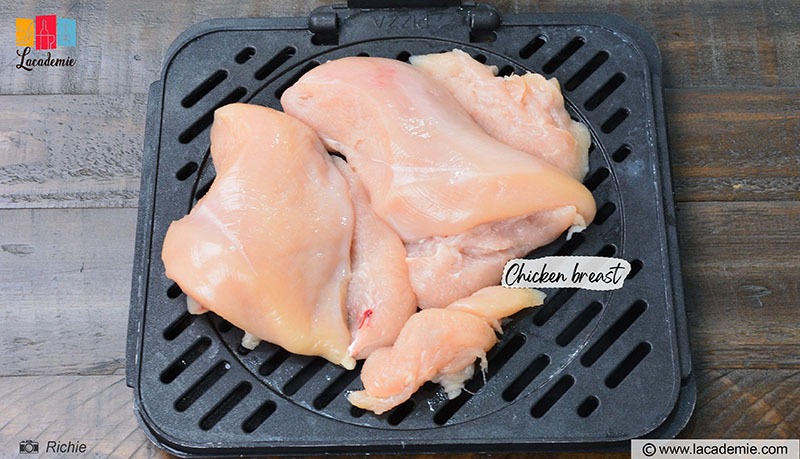 Cabbages: Use two kinds of cabbage: white and purple, to make the dish more vibrant.
Roasted peanuts: Adds more crunch and an earthy, slightly sweet taste to your salad.
Fried shallots: An excellent garnish with a caramelized flavor.
Herbs: Vietnamese coriander and spearmint
Carrot: Improve the dish's texture and overall appearance.
Onion: Some people don't like the pungent taste of onion but don't worry. I'll show you how to sweeten this vegetable, which only takes about 5 minutes.
Iced water: For soaking the onion.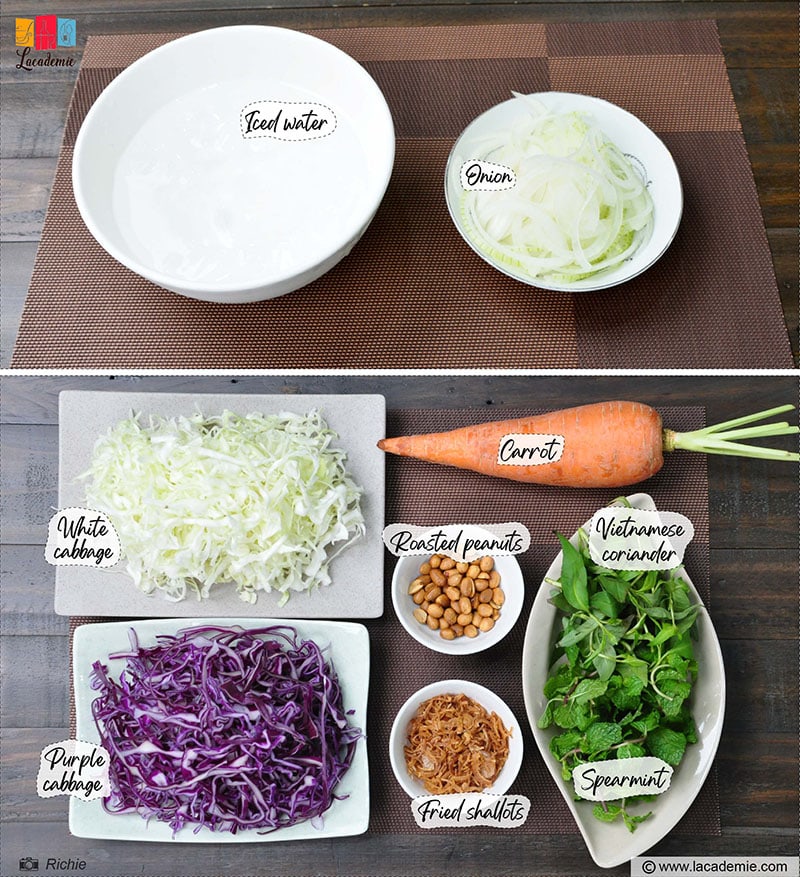 Spices and fish sauce dressing
Fish sauce: A must-have condiment for making Vietnamese dishes. This sauce is the base for most Vietnamese sauces and salad dressings.
Water: Fish sauce can be quite salty, so you need some water to balance the taste.
Rock sugar: Brown or white sugar are acceptable alternatives. Note that the sauce won't taste as good.
Lime juice: Adds acidity and gives the sauce an addictive zest.
Other spices: Salt, brown sugar, and vinegar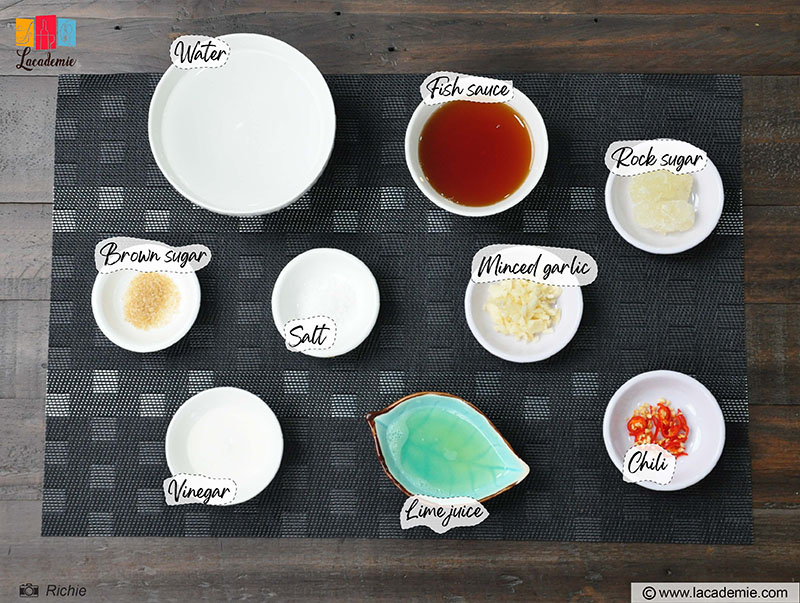 Directions
Follow these steps, and you'll have a classic Vietnamese delicacy to satisfy your taste buds in no time!
Step 1: Prepare The Herbs And Onion
Chop the Vietnamese coriander and spearmint into small pieces.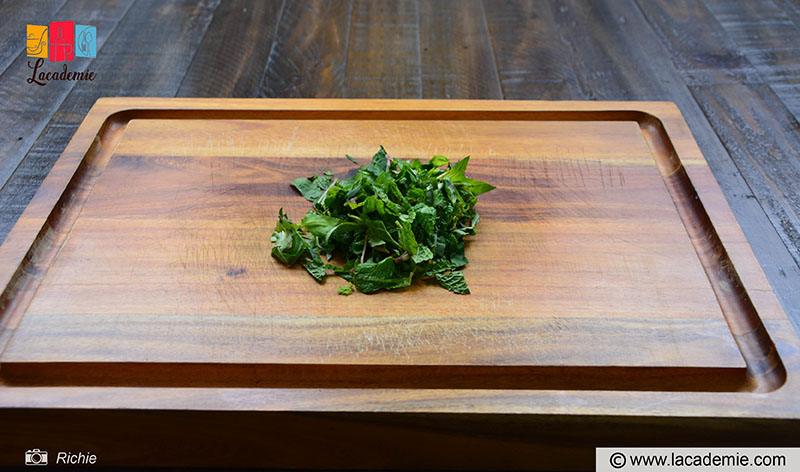 Mix the onion with 1 teaspoon of sugar. The sugar will reduce the onion's pungent taste and enhance its crispness.
Then, soak the onion in cold water for 5 minutes, which improves its flavor and color. After 5 minutes, drain the onion.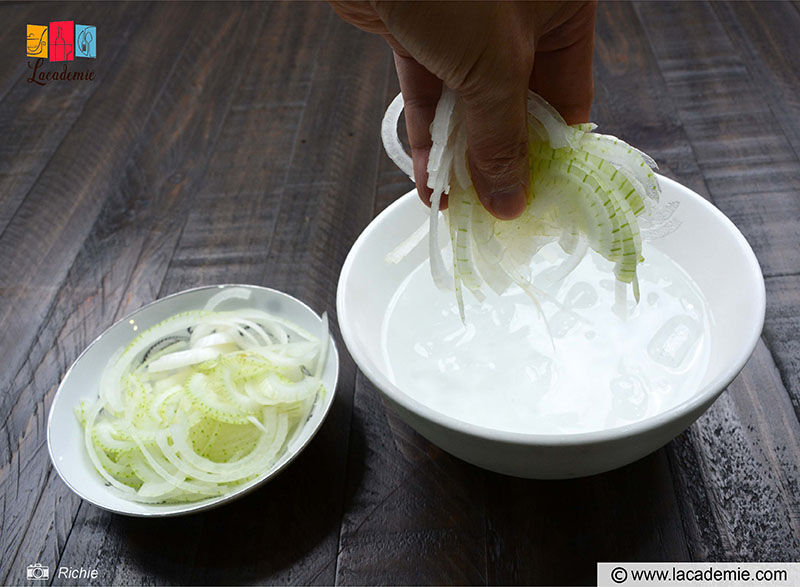 Step 2: Make The Fish Sauce Dressing
Add 3.5 tablespoons of fish sauce, 7 tablespoons of water, and 2.1 ounces of rock sugar to a saucepan. Cook the mixture briefly on low heat, then cut the heat. Let the dressing come to room temperature, and stir in minced garlic, chili peppers, and 1 tablespoon of lime juice.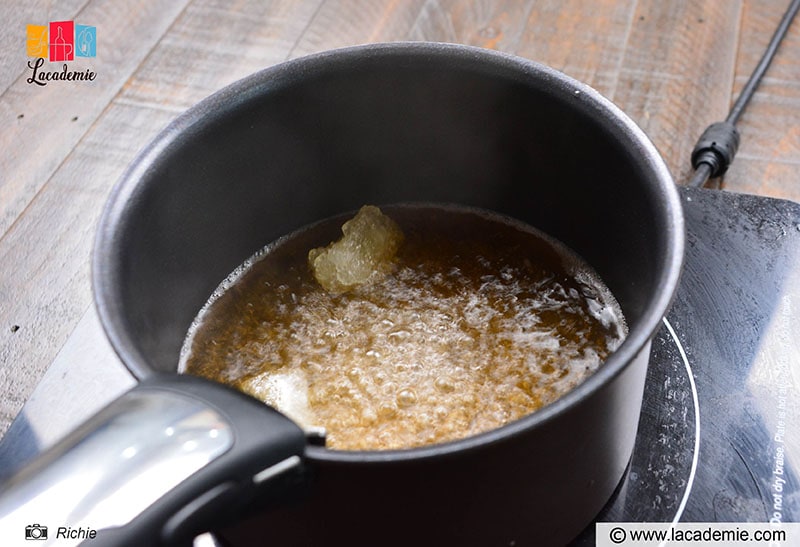 In addition to this dressing, you can also toss your salad with traditional Vietnamese Nuoc Cham. Both are great options!
Step 3: Prepare The Carrot And Cabbages
Use a peeler to shred the carrot into thin slices.
Mix both kinds of cabbages with 1 teaspoon of brown sugar and vinegar. Marinate them for 5 minutes.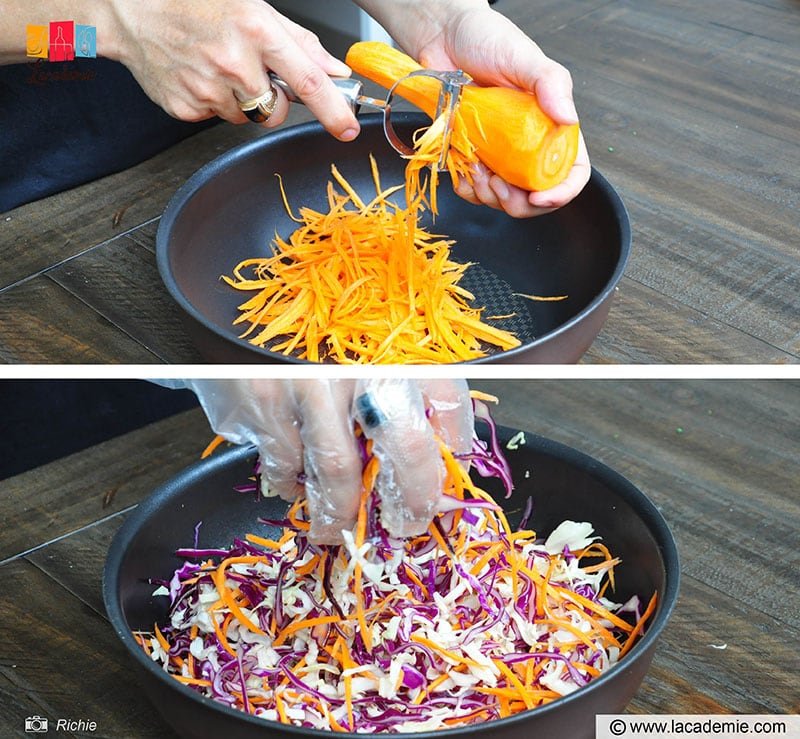 Step 4: Boil The Chicken
Boil the chicken breasts for 15 minutes to ensure that they're fully cooked. Learning the best way to boil chicken breast for shredding will result in better taste and texture.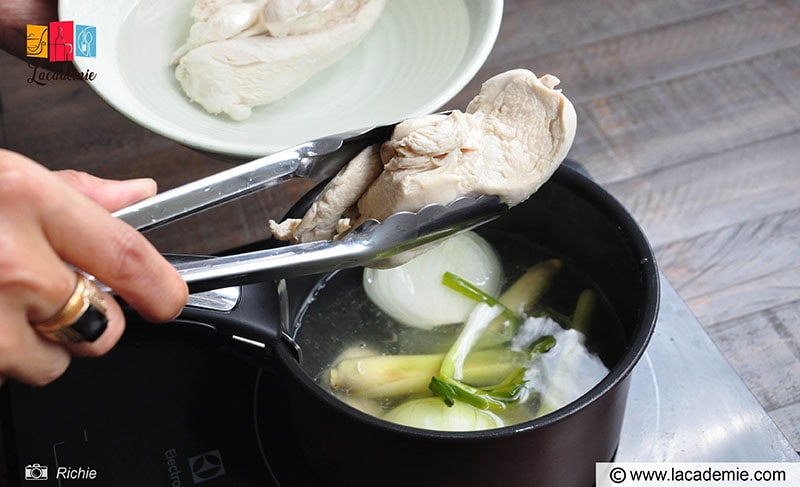 Wait for the chicken breasts to cool and shred them into bite-sized strips.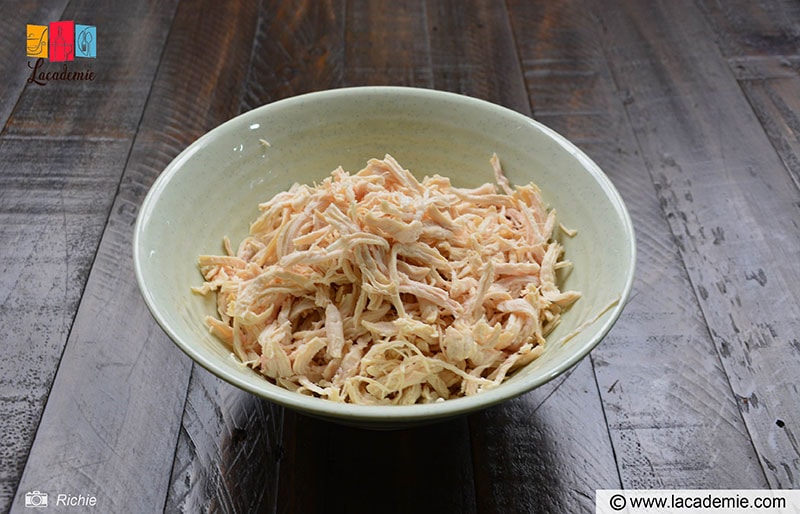 Step 5: Toss The Salad
Mix the shredded chicken, Vietnamese coriander, spearmint, roasted peanuts, fried shallots, carrots, onions, and cabbages in a large bowl. Season the salad with 1 teaspoon of salt and pour the fish sauce dressing over it.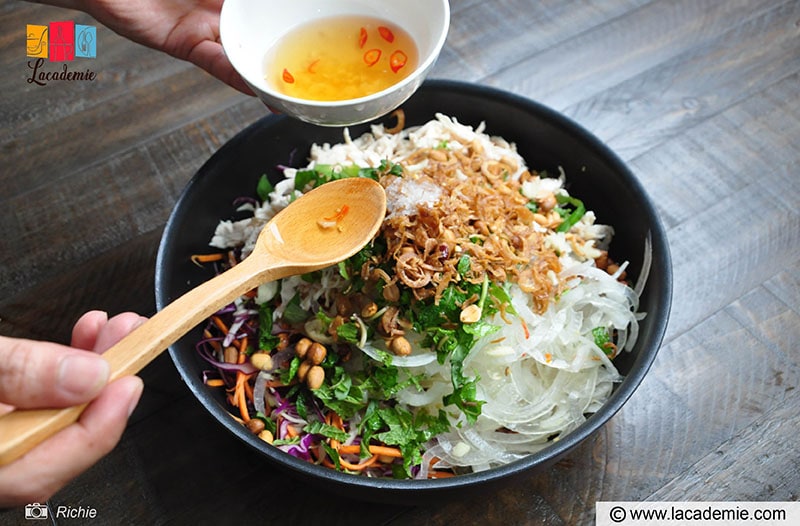 Put on your food prep gloves. Toss the salad well to combine.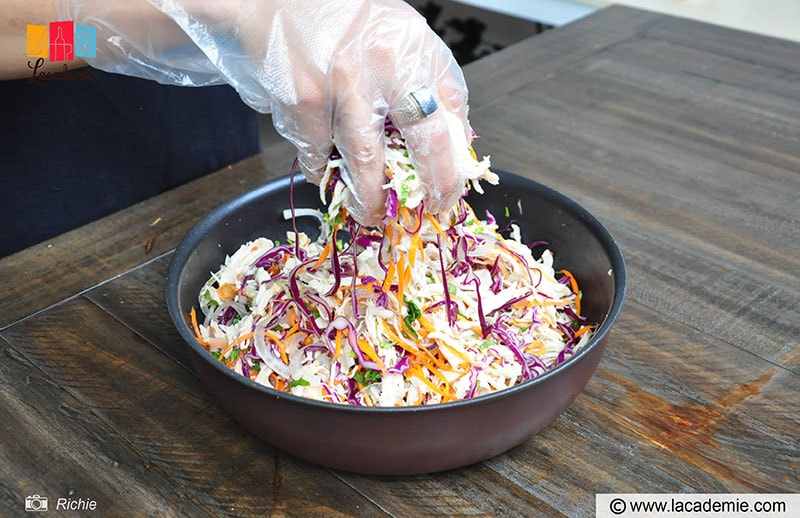 Step 6: Present The Dish
Transfer the salad to a serving plate. Garnish with extra coriander and spearmint. Enjoy!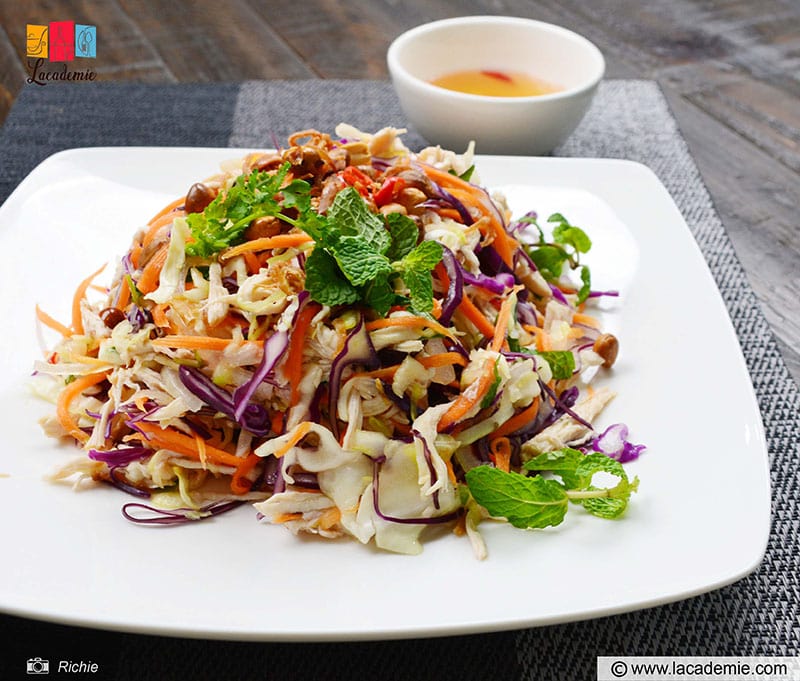 Tips And Tricks
Here are a few extra tips to help you achieve a perfect Vietnamese chicken salad or turn it into a full meal.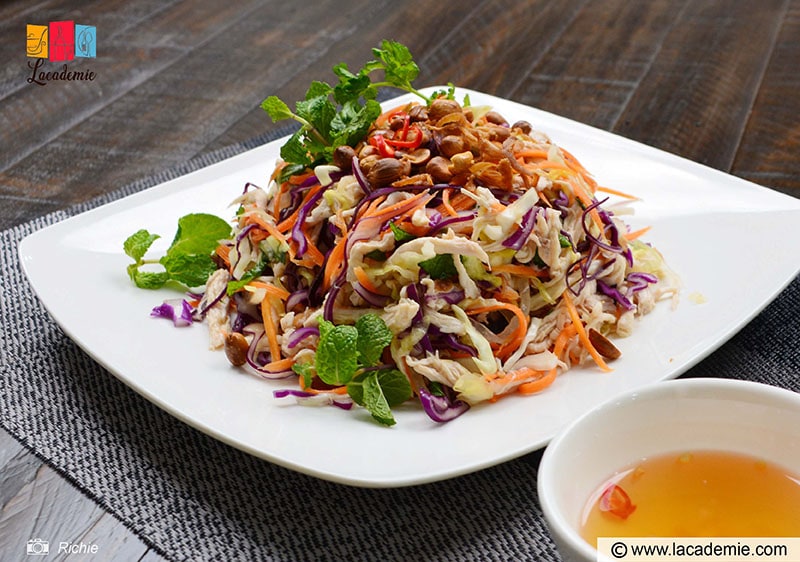 Don't toss the salad with the dressing for too long, as the vegetables might shrink.
Pour the fish sauce dressing on the vegetables spoon by spoon, so you can adjust the taste to your liking.
The dressing also makes a great dipping sauce for other dishes.
Some Vietnamese family households enjoy their chicken salad with plain Chao (Vietnamese congee). You can try doing so to turn the salad into a filling meal.
Time To Take Your Salad To Another Level!
Made from simple and readily available ingredients, Vietnamese chicken salad is one of the best dishes to whip up when you crave something healthy and delicious. Whether you're a fan of Vietnamese cuisine or just looking for a new recipe to try, this recipe is definitely worth a try!
What are your thoughts on this Vietnamese delicacy? Have you decided to try it out? Feel free to leave a comment and let me know how the dish turns out for you. And don't forget to like and share the post with your friends and family so that they can enjoy it too!
Nutrition Facts
4 servings per container
---
Amount Per ServingCalories271
% Daily Value *
Total Fat 3.2g

5

%
Cholesterol 72mg

24

%
Sodium 692mg

29

%
Potassium 1100mg

32

%
Total Carbohydrate 31.8g

11

%

Dietary Fiber 5.3g

20

%
Sugars 12g

Protein 28.5g

57

%
---
* The % Daily Value tells you how much a nutrient in a serving of food contributes to a daily diet. 2,000 calories a day is used for general nutrition advice.