Easy Asian shrimp recipes are beloved globally due to the unique and creative methods Asian countries employ with this ingredient.
That's because seafood has been an essential part of the diet in many Asian countries. Since the start of civilization in Mesopotamia (Iraq), humans have learned to take advantage of the water, including seas and rivers, for food like shrimp and other types of shellfish.
If you genuinely want to experience how delicious recipes from Asia are, this is the best place. The following list contains some of the best recipes to show to your family members and friends. It's time to get the cooking going!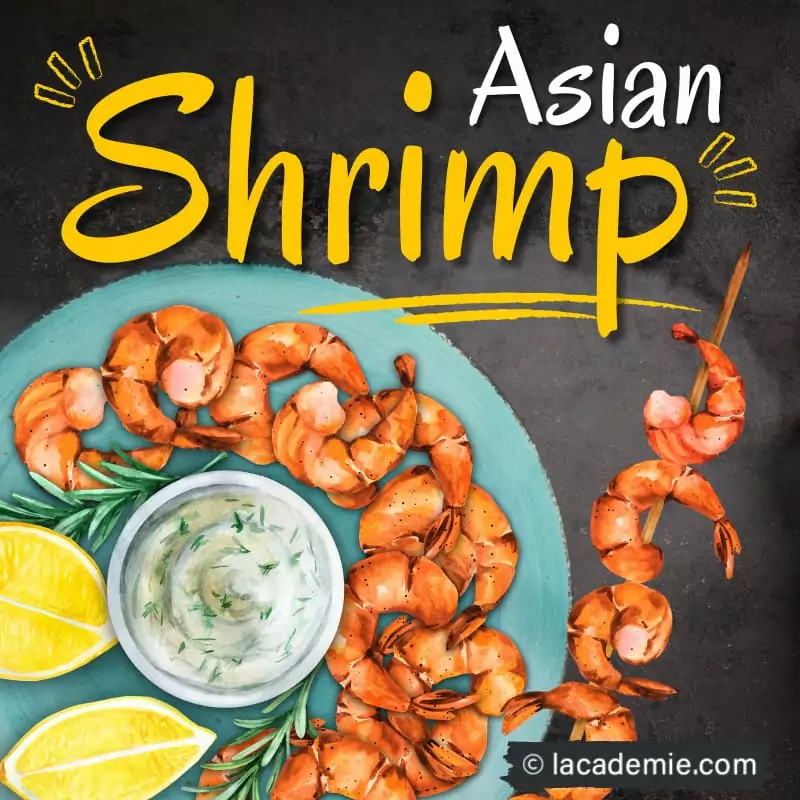 Try these easy Asian Shrimp recipes. Organized by country, their success depends on your cooking skills, but the results will be tasty.
Total time: 15 minutes
While visiting a foreign country for its food might be fun, you don't always have the free time to do so. The best way to enjoy a country's food is by cooking the delicacy yourself. And lucky for you, the Philippines has a straightforward yet unique dish that you can try out immediately.
If I can describe this Filipino dish called Halabos Na Hipon in a simple term, it would be "addicting sweetness". The shrimp is not simply being sauteed with garlic. No, the secret here is adding a type of lime soda, like 7-up.
Traditionally, the Halabos style utilizes salt water to make the shrimp more savory. However, modern interpretations ditch that for sweeter drinks to give the shrimp a juicy and precious essence. If you want to balance the flavors out, sprinkle some salt to your liking.
Total time: 55 minutes
There's a reason why crunchy food is prevalent across the world. When you experience a pleasant crunch inside your mouth, the sensation releases various flavors, making eating more enjoyable.
With Filipino cuisine, you find that feeling thanks to a simple delicacy called Shrimp Fritters. This Filipino starter is great if you want something to eat on a lazy afternoon. The Shrimp Fritters feel balanced since they contain shrimp and vegetables (carrots and potatoes).
What makes this Filipino specialty so good is a dipping sauce combining vinegar, fish sauce, and garlic. This sour and savory sauce makes these shrimp cakes more impactful. When the fried batter soaks in the sauce, the greasiness becomes less overwhelming for your taste buds.
This Filipino Shrimp Fritters recipe is too easy to recreate.
Total time: 20 minutes
If you're a fan of sour food, this next entry is the one dish you cannot pass up. Shrimp Sinigang is a favorite amongst the Filipinos since the sour tamarind soup manages to enhance the shrimp to a higher degree.
This beloved soup from the Philippines excels in its simplicity. You don't have to find many ingredients to create this heart-warming delicacy. The most important thing to focus on is the sourness. Without that specific flavor, the Sinigang can lose its magic.
That acidity level also affects how you can taste other components. For example, the sour tamarind brings out the sweetness of the shrimp. At the same time, the umami from tomatoes will be able to blend in with the soup much better.
If you want to enhance the soup further, a dash of fish sauce might come in handy because the saltiness will release the whole essence of tamarind.
Total time: 30 minutes
When you get a chance to visit Thailand, you have to experience the authentic Pad Thai. However, if you don't have the time or budget, let this recipe be your gateway to that beautiful delicacy without leaving your home.
The two main focuses of this delicacy from Thailand are shrimp and the sauce. Measure the correct amount of fish sauce, honey, and vinegar for the dressing. A good Pad Thai has to be sweet and sour to entice your taste buds.
As for shrimps, the method here is to cook them with butter, garlic, and chili flakes. The butter will caramelize and infuse all of that goodness into shrimps. The garlic and chili flakes make them more fragrant and give an extra spicy kick to the flavor.
This tutorial teaches you a good way to make Shrimp Pad Thai.
Total time: 26 minutes (Marinating for 3 hours)
Are you running out of ideas for your dinner? If that's the case, I have a surprising recipe for you. Let me introduce you to a simple Thai dish called Curry Grilled Shrimp. This specialty only requires just a bit of effort to recreate.
While grilled shrimp is not a strange dish, curry paste makes this version more unique. The Asian-style seasoning helps this seafood become more fragrant and flavorful. The savoriness, heat, and mild sweetness bring the experience to a new height.
You can also marinate shrimps in vinegar, garlic, and lemon juice, apart from the curry paste. The tanginess from the mixture just stimulates your taste buds even more. Grilling also helps improve shrimp taste since it will have that pleasant smoky essence.
Total time: 25 minutes
The winter morning is quite miserable, isn't it? You just don't feel like getting up from your warm bed. But it will be easier with the help of this beautiful rice noodle dish called Curry Shrimp Noodle Soup.
The nourishing Thai-styled soup acts as an energy charge for you in the morning. The soup stock consists of chicken broth, fish sauce, and coconut milk, guaranteeing to be a flavorful and nutrient-rich result.
Not ending there, the other components also play significant roles in making this must-have delicacy. Shrimps offer the necessary proteins. On the other hand, the rice noodles can soak up the broth and puffs up, creating an interesting texture.
Total time: 1 hour 10 minutes
Singaporean cuisine is not as famous as Thai or Vietnamese cuisine in Southeast Asia. However, it doesn't mean you can't find a unique menu in the country. One notable example I want to show you is this Cereal Prawn.
Instead of using flour or bread crumbs to create a crispy exterior, this Singaporean specialty utilizes instant cereal. The most significant advantage of instant cereal is that it already contains sugar and creamer, so you don't have to season much.
The frying process comes in two steps. The first is to fry shrimps in cooking oil until golden. The second step is to remove the oil and melt the butter in the pan before tossing the shrimp back in. When you see the exterior of the shrimps become browner, it's finally done.
Cereal Prawn is quite simple, and you can make it at home.
Total time: 15 minutes
People love authentic Indian curry since the exotic flavors can keep your palate engaged. While most recipes use mutton or chicken, there is a fascinating variant that uses shrimp instead.
While the recipe is quite different from the usual Indian curry, you can rest assured since this Indian-inspired dish can taste just as good. The seafood essence from shrimps perfectly makes up for the lack of cattle meat.
Like I said above, eating curry is like opening your mind up to waves of fragrance and sensations, from sweetness to savoriness and even spiciness. The intensity and variety are why people keep coming back to this dish. Shrimp Curry goes nicely with a side of rice.
Total time: 30 minutes
Shrimp Toast is a Chinese delicacy from the Guangdong region. It's particularly popular as a Dim Sum in Cantonese brunch cuisine. It's effortless to make, so this recipe is for you if you want a snack on a lazy day.
What attracts people to this starter from China is the texture. The bread is so crunchy that you can hear a delightful scratching sound whenever you scrape a fork on the toast. And when you finally take a bite, the cracking is one of the best sensations you will ever feel.
Opening a Shrimp Toast resembles that of a pirate opening his treasure chest. The shrimp paste inside is substantial and flavorful. That seafood aroma in your sense of smell will let your mind fall into culinary bliss.
Total time: 30 minutes
Steamed Rice Noodle Rolls, or Cheung Fun, are a part of the Dim Sum culture of the Guangdong region. There are various versions of this Chinese noodle delicacy. But for today, I want to show you a simple shrimp-based variant to cook at home.
You have to make a batter consisting of rice flour, wheat starch, and cornstarch. The combination can give the noodle skin a firmer texture and a creamy taste to contrast with the rich shrimp.
An essential part of every Cheung Fun plate is the sauce, consisting of soy sauce, garlic, and sugar. This mixture usually goes directly on top of the rolls, which means the noodle skin can absorb that sweet and umami goodness.
Total time: 45 minutes
It's not an exaggeration to say that a Chinese feast contains some of the world's finest and most spectacular delicacies. For this entry, I want to introduce you to a staple of a Chinese dinner party called Steamed Shrimp With Glass Noodles.
Also known as Ku Xia in China, this seafood-based Chinese dish can grab anyone's attention with its presentation. Everything looks vibrant because of the orange shrimp, the caramel-like sauce, and green scallions.
Ku Xia gets even better when you finally have a taste. The shrimps are fresh and firm. Thanks to the cooking process, the sauce seeps inside the meat to make it more flavorful. The glass noodles offer a type of spongy texture.
Total time: 15 minutes
Kung Pao Shrimp is a derivative of the Kung Pao Chicken, a popular delicacy from China, particularly in the Sichuan province. Despite the primary protein source change, this version of Kung Pao is still just as good as the original one.
The most famous aspect of Sichuan food is its high level of spiciness. But don't worry, this recipe doesn't cause your tongue to burn down. Kung Pao Shrimp only uses red pepper flakes and Sriracha as spice components.
As for the rest of the ingredients, there are still shrimps, bell peppers, and condiments (including maple syrup, salt, and soy sauce). The shrimps provide a chewier texture. And the bell peppers have a refreshing crunchiness that improves the dish's delectability.
Kung Pao Shrimp can be a healthy meal for you.
Total time: 15 minutes
This staple is always a must-have whenever you eat at a Chinese restaurant. But you don't have to spend much money on takeout anymore since I'm bringing you a simple homemade Spicy Honey Garlic Shrimp recipe.
The preparation is nothing to break a sweat over. You only need to peel the shrimps and devein them before throwing them into a frying pan. Cook until the meat turns orange and the texture firms up.
This delicacy has many Asian-styled seasonings, including Sriracha hot sauce, soy sauce, and rice vinegar. When you saute the shrimps with the condiments, they form a lovely sheen around the meat. The attractive coating is where most of the flavors pack.
Total time: 30 minutes
Shrimp Lo Mein is suitable if you want a speedy dish for breakfast, lunch, or dinner. The recipe doesn't require too many complicated ingredients. The cooking process is so simple that you can master it by following the instructions closely.
When creating this dish, you should focus on two different sections. One section contains the shrimp, garlic, and an assortment of vegetables (carrots, bean sprouts, and bamboo shoots). The veggies offer a pleasant contrast to the meaty shrimp.
The other section is about the sauce mixture of soy sauce, Chinese cooking wine, and sugar. When you coat the entire Lo Mein with this mixture, one bite is enough to let the flavors explode all over your taste buds.
Total time: 1 hour 20 minutes
During the cold winter, it's tough to maintain a healthy body since you tend to become quite lazy to cook. But with this recipe, cooking might no longer be a problem. This classic Asian-style soup bowl lets you feel all your energy coming back.
For the Wonton, make the filling by combining minced shrimp, egg whites, and chicken bouillon (chicken powder). Wrappers are easy to get at any Asian grocery store. When you finish assembling the Wonton dumplings, boil them in water with egg noodles until both firm up.
Like other Chinese-style soups, the broth contains many nutrients and flavors. The best way to eat this delicacy is by scooping a spoonful of dumplings and noodles. You can feel creamy noodles blend into the savoriness of the Wonton dumplings.
Total time: 26 minutes
Shrimp Dumplings, or Har Gow as the Cantonese people call them, are iconic in Dim Sum cuisine. They're similar to Wonton as their filling mainly consists of shrimp, but the wrapper is a lot thicker.
To see how the texture affects the taste of this morning meal from China, you must know the ingredients. The dough comes from combining wheat and tapioca starch, increasing the stickiness and elasticity of the wrapper. You can feel that chewiness with each bite.
And for the filling, you mince shrimp alongside bamboo shoots. Drizzle in soy sauce, Chinese cooking wine, and sesame oil to let the savoriness expand. When you steam the dumplings, the moisture will get trapped inside and increase the juiciness of the filling.
Total time: 25 minutes
Are you looking for a quick dinner dish when you're busy? If that's your reason, you have come to the right place. Thanks to this convenient Chinese Omelet recipe, you don't have to worry about eating bland canned food again.
There are quite a few types of Egg Foo Young you can make, from shrimp-based to pork-based. I choose the shrimp version since it takes less time. Add deveined shrimp to an omelet mixture consisting of eggs, bean sprouts, and onions.
The fluffiness of the eggs goes so well with the crunchy veggies and firm shrimp. Traditionally, this delicacy comes with a special thick sauce that includes soy sauce, oyster sauce, and cornstarch, which can improve the umami and stimulate your palate.
You can make Egg Foo Young anytime now with the help of this recipe.
Total time: 15 minutes
Imagine yourself in a Chinese restaurant, and a plate of Salt And Pepper Shrimp is in front of you. The fragrance and appearance beckon to come closer and experience that wicked crunchiness. You don't have to imagine anymore because there is a recipe right here.
Salt And Pepper Shrimp is one of the most straightforward Asian staples to replicate. First, you get the shrimps to turn crispy by coating them in flour and deep-frying. This step helps the texture become more delightful. The seasonings can also stick to the surface better.
To improve the flavors, sprinkle some seasonings on top, like Sichuan peppers, sesame seeds, and salt to enhance the flavors. The numbing sensation from the peppers can come through and put your taste buds in high gear. This specialty is going to be intense.
Total time: 20 minutes
Szechuan Shrimp, or Sichuan Shrimp, is a perfect Chinese-styled delicacy when you're on a diet. The dish allows you to experience many flavors on a tiny plate, but it doesn't contain too many calories to compromise your new lifestyle.
What makes the Szechuan Shrimp so irresistible is the Szechuan sauce. It's savory, sweet, and tangy at the same time. Combine soy sauce, maple syrup, and rice vinegar to make the sauce. This simple condiment is all you need for this specialty.
For the cooking process, cook the vegetables (bell peppers, snap peas, and green onions) at the start. Then, toss the shrimp and pour the sauce mixture into the frying pan. When you see the shrimp curl up, and the sauce thickens, serve the food alongside white rice.
Total time: 15 minutes
Shrimp is truly the greatest gift that nature has given to the collective Asian cuisine. You can never run out of shrimp-based dishes from the region. Instead of wracking your brain to choose a recipe, let me pick out one for you called Sweet Chili Garlic Shrimp.
What attracts me is the clever mixture of different sauces. You don't feel a clash of flavors, from sweet brown sugar to savory soy sauce and the heat of red pepper flakes.
By cooking the shrimp alongside the condiments, you actively infuse the meat with multiple layers of taste and fragrance. As a result, the shrimps will take you to a flavorful paradise.
Total time: 30 minutes
Spiciness is not the only flavor that goes well with shrimp. If you can't handle spicy food, I can suggest this Honey Walnut Shrimp as an alternative. The nutty sauce keeps your palate happy while you can still feel an overwhelming wave of flavors.
Apart from the shrimp and walnuts, you have to make a special honey sauce with mayonnaise, honey, and condensed milk. This mixture will bring the creaminess of the shrimp to a whole new level.
For the cooking process, dip the shrimp into an egg whites batter and fry it until the exterior becomes crispy. The final step is to combine the shrimp with walnuts and honey sauce before serving with white rice. The crunchiness will enhance the sweet sauce.
Total time: 40 minutes
A standard Chinese menu is not complete if you leave out Fried Rice. This iconic staple originates from China, but soon its influence spreads all over Asia with countless variations. In this entry, I want to show you the Shrimp Fried Rice.
The best type of rice to use is leftover rice since it provides a firmer and chewier texture to the delicacy. However, you can still cook fresh rice if you don't have any leftover ones in your refrigerator. Boil the grains in a pot until the white rice puffs up nicely.
The other ingredients include shrimp, mixed vegetables (you can get this at your local supermarket), and onions. You can drizzle soy sauce to make the rice less bland to get an extra umami flavor.
Shrimp Fried Rice is quick to whip up when you're in a hurry.
Total time: 24-26 minutes
For those who do not know, Miso is a soybean paste from Japan. It's a staple ingredient in the iconic Miso Soup. However, you can also use Miso more creatively, like this recipe called Spicy Miso Shrimp.
The role of Miso in this Japanese-inspired specialty is to make a marinade, which includes other components like unsalted butter, chili paste, and brown sugar. The combination contains so much umami and sweetness that it will seep into the shrimps.
You can finally toss them onto a skillet when the marination time is up. This process has two effects: One is firming up the outer layer and creating an exquisite texture. The other impact is caramelizing the shrimps to give them that smoky aroma.
Total time: 45 minutes
Tempura has been a regular part of Japanese cuisine since the 16th-17th century A.D. There are various versions of this well-known recipe in Japan, from vegetables to seafood. In this entry, I'm going to show you how to make the Shrimp Tempura.
First, you have to make a batter by combining eggs, all-purpose flour, and icy water. Whip the ingredients together until you have a smooth and dense mixture. The secret to keeping the batter from thickening up further is to add a few ice cubes.
To cook the Tempura, coat the shrimp in a layer of flour and dip it again in the wet batter. This doubling-coating technique helps the shrimp crisp in the hot oil. When the Tempura turns golden, take it out and serve.
You can use the same batter for deep-frying vegetables as accompaniments to the Shrimp Tempura. While the veggies are refreshing, it still has the same level of crunch as the shrimp-based variant.
Total time: 30 minutes
It's the weekend, and you feel like cooking up a wicked meal to reward yourself. In that case, you might want to recreate this scrumptious Teriyaki Shrimp Sushi Bowl. It's healthy, fresh, and nourishing enough to fill your stomach for a long time.
Sushi Bowls are fantastic since you can top them with any ingredients. In this version, the preferred toppings are shrimp, avocado, and cucumber. The shrimps provide so many proteins and minerals. On the other hand, avocado and cucumbers can detox your body.
You can make a special sauce to drizzle on top. This sauce includes mayonnaise, Sriracha, and water. It has both spiciness and sweetness, with a little tang undertone.
For presentation, you scoop white rice into a bowl first, then add the toppings before pouring the sauce on top. When eating, get a bit of everything to feel each layer of flavor.
Total time: 15 minutes
It's time to change up your snack time. Throw away those Doritos and Hot Cheetos bags because I have a special Korean-based delicacy that you will go crazy over. The Shrimp Pancake will provide more flavors while keeping your health in check.
This popular Korean recipe will not take too much time. The preparation is only around 5 minutes. First, you form the batter by mixing flour, egg, and green onions. Next, mix soy sauce, rice vinegar, and Gochujang (Korean chili paste) to make the dipping sauce.
Frying the batter with shrimp is even more straightforward. The result will be a tasty and great-looking plate of pancakes. The texture alone is quite fantastic because the dough is chewy and creamy. The shrimp offers that familiar savoriness.
But the whole experience gets more divine when you dip the pancake into the sauce. The spicy and tangy liquid just coats everything evenly. The first bite can send you to another dimension.
Korean Shrimp Pancake makes a good afternoon snack.
Total time: 25 minutes
Summer is always a good time to whip out your beloved BBQ kit and recreate a memorable menu. There are so many excellent BBQ recipes. So, to help you, let me recommend this mind-blowing delicacy called Korean BBQ shrimp.
To start preparing this specialty from Korea, marinate the shrimp in soy sauce, honey, and Gochujang (Korean chili paste). This process will let the shrimp soak in all of those flavors. In the meantime, you can get going with a particular type of citrus butter.
Citrus butter is just melted butter infused with orange juice and lemon juice. When the shrimp is ready, grill it until the meat turns orange. The change in color signals that the shrimp are finished. The final step is to drizzle the citrus butter on top.
When you eat the shrimp, you can feel the marinade work its magic all over the meat. It's savory and sweet, with an underlying heat. At the same time, the citrus butter adds a creamy tang that crashes into your taste buds. The experience is almost inexplicable.
Nutrition Facts
4 servings per container
---
Amount Per ServingCalories640
% Daily Value *
Total Fat 7g

11

%
Cholesterol 1000mg

334

%
Sodium 878mg

37

%
Potassium 15mg

1

%
Total Carbohydrate 16.9g

6

%

Dietary Fiber 0.1g

0

%
Sugars 2.8g

Protein 131.5g

262

%
---
* The % Daily Value tells you how much a nutrient in a serving of food contributes to a daily diet. 2,000 calories a day is used for general nutrition advice.