There is a saying, "Choose Chinese food whenever you want to eat," and you can understand why that quote exists with these Chinese appetizers below.
Thanks to its massive territory, China owns various cuisines. For example, Guangzhou with its fresh ingredients or Szechuan is famous for its spicy foods. There is no end to Chinese dishes and Chinese appetizers in particular.
Thus, here in this article, you'll get a full glimpse of what Chinese cuisine is about through its appetizers.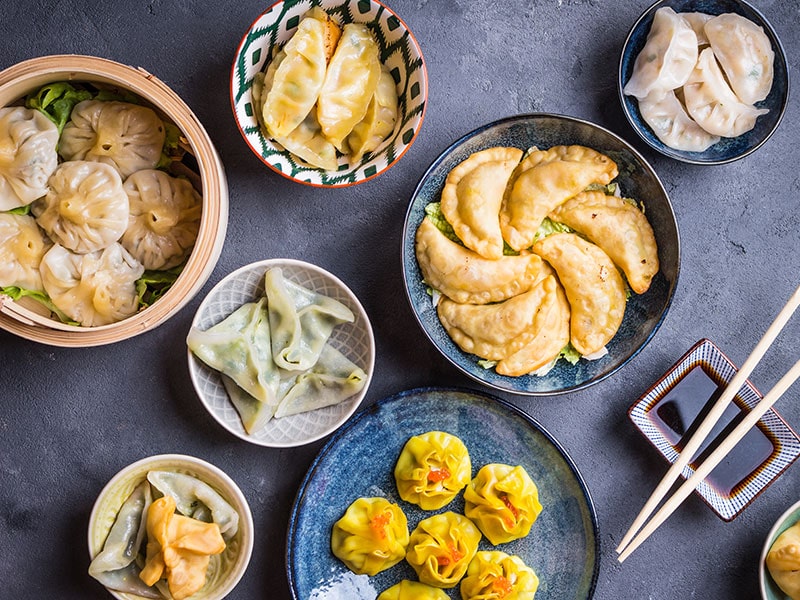 You Will Never Get Tired Of These Chinese Appetizers
Be careful when you try these Chinese appetizers. You may not stop yourself from devouring them more and more and end up forgetting the main courses.
Southern Chinese Dishes
Fish Balls
Cantonese Spring Rolls
Lo Mai Gai (Sticky Rice In Lotus Leaf Wraps)
Yusheng (Chinese Prosperity Toss Salad)
Northern Chinese Dishes
Jiaozi (Chinese Dumplings)
Mantou (Chinese Steamed Buns)
Hua Juan (Chinese Steamed Buns With Scallions)
Tofu With Century Eggs
Eastern Chinese Dishes
Xiaolongbao (Chinese Soup Dumplings)
Shengjianbao (Pan-Fried Steamed Buns)
Chinese Tea Eggs
Shaoxing Drunken Chicken
Western Chinese Dishes
Wood Ear Mushroom Salad
Dan Dan Noodles (Szechuan Noodles)
Foreign-Born Chinese Dishes
Crab Rangoon (Chinese Crab Wonton)
Egg Rolls
Other Chinese Dishes
Cong You Bing (Chinese Scallion Pancakes)
Egg Drop Soup
Pearl Balls
Chinese Shrimp Toast
Prepare your cooking tools beforehand because you'll want to make these appetizers right away!
Let's Try These Delish Appetizers From South China!
When discussing South Chinese cuisine, Guangzhou one in particular, many will think of the diversity of fresh ingredients here. And that's reflected on these dishes.
You can't come to South China without trying this appetizer. Famous like that, these fish balls are actually straightforward to make. They contain nothing but fish meat and some basic spices, making diners experience the fish flavor to the fullest.
Besides the original recipe, Fuzhou people also have their own variant made of fish and minced pork, making these balls larger and more satisfying.
Usually, chefs will use white fish to make this recipe. And if you don't know how to prepare the whole fish, you can buy some fillets at supermarkets.
You may wonder why it's called spring rolls? That's because, according to Chinese tradition, they often eat these rolls in the New Year dinner meal as a way to welcome spring.
This traditional appetizer has also appeared in other Asian countries. And now, every country has its own versions with different wrappings and fillings.
Come back to Chinese ones. Actually, in China, there are various ways to make these spring rolls depending on each region. But these Cantonese rolls are the most well-loved as they bring the fresh flavor exclusive only to the Guangzhou area.
If the meaning of this name is confusing, here is a simpler calling for you: Sticky rice with chicken. Usually, in other Asian countries, sticky rice appears as a breakfast or main dish. Here, in China, it's a part of the dim sum meal or acts as an appetizer.
While lo mai gai is eaten all around China, there's a significant difference between the North versions and the South, also the more well-known ones. South lo mai gai is heartier with its filling full of chicken, sausages, and mushrooms, while the other is sweeter.
These lotus leaf wraps are a treasure behind the humble look. Check out this video to know:
Right from its name, some of you may have guessed that this dish is for a Chinese New Year party. But why is this salad called "prosperity?" It's because yusheng (魚生, which means fish salad) sounds similar to yusheng (余升, which means prosperity growth), hence its fancy name.
According to Chinese tradition, every ingredient in this salad will mean some good omen for the family. For example, lime sounds like "luck," or pepper represents the wish for more money. But today, you can just add any fish and vegetables you like.
Appetizers In North China Are No Less Luscious
Compared to South China, people in the Northern regions prefer wheat foods like dumplings or buns over rice. Thus, their appetizers are mainly made of wheat flour, too.
You can think of these dumplings as a relative of Japanese gyoza. The differences between these two appetizers reflect the continuous war between Chinese and Japanese cuisine. While gyoza is often pan-fried, Chinese chefs often make jiaozi by steaming.
Jiaozi is usually filled with pork, veggies, and scallions. But you can change this food whose name begins with "J" to how you want. These dumplings are pretty bland by themselves, so they are served with a dipping sauce, including lots of seasonings.
Though it's also steamed buns, don't mistake it with the "bao" dish. While the latter often includes sweet or savory fillings, mantou is served plainly. When presented as an appetizer, this dish is often deep-fried beforehand.
Unlike other buns, mantou is enjoyed by many Chinese people as a stand-alone dessert since their dough already contains sugar and milk, making it lightly sweet. However, Chinese people will mainly enjoy it with condensed milk or thick dipping sauce.
These rolls look as beautiful as their other name: Flower buns. There are various options to shape them into flowers, but if you are just a beginner in cooking, here is the easiest way.
First, fold the dough several times and separate them into equal parts. Then, stack two portions on top of each other and use a chopstick to press them down right in the middle. It might be a bit tricky at the beginning. But when you are familiar, it is surprisingly simple.
You can enjoy these rolls with condensed milk like mantou. But since they are a little saltier, feel free to eat them on their own.
These flower rolls look good and taste good at the same time! Let's see this video:
Century eggs have always been a signature dish in Chinese cuisine with their unique appearance, flavor, and aroma. After being preserved, regular eggs have their yolks turn dark green, and the white become dark brown with a jelly-like texture.
You can find century eggs everywhere in China, from street carts to high-class restaurants. In the Northern regions, they are served with chilled silken tofu as a light appetizer with chopped spring onions.
4 East Chinese Appetizers That Are Unforgettable
A signature characteristic of Eastern foods is they are often soup or contain soup. One exemplary appetizer in East China, xiaolongbao, is famous for its hot broth inside the wrapping. So, keep scrolling down to find out whether other recipes are the same.
Be careful when eating this dish! The first time I tried xiaolongbao, I was so hasty that I got a light burn in my mouth because of the hot soup inside the dumplings. Afterward, I learned that xiaolongbao is served right after steaming, so the soup inside stays hot and flavorful.
That's why you should stay calm to enjoy these dumplings to the fullest. First, place your xiaolongbao on a spoon and use your chopsticks to spread the wrapping for a bit, enough for the broth spill.
Then, take a good sip of this soup and feel its warmth run through your body. After that, you can eat the rest of this dumpling!
For me, these buns are like an older brother of the famous xiaolongbao as they are slightly bigger with a more complex cooking method.
To make these buns, you need to cook them in a skillet filled with water so that the filling is steamed thoroughly. And when the water evaporates, it causes the bottom to be crispy.
These buns are among the most well-known Chinese pork-based dishes. However, you can change it to your likings. For example, make them into seafood or vegetarian versions.
Your local Chinese restaurants will want to know the recipes of these pan-fried steamed buns. Let's see this video:
Just like its name indicates, this recipe used to be eggs simmered in tea with other spices. The result is alluring eggs in terms of both taste and aroma. Nowadays, people change tea leaves to Chinese five-spice powder. However, that doesn't change its flavor much.
Besides that, what makes tea eggs unique is the marble patterns on the eggs' surface. To make those, people will crack the boiled eggs' shells before placing them in the marinating liquid. After several hours of simmering, water will slip through the crack and leave traces on the surface.
Well, you may get drunk when eating this dish. Just kidding! But this recipe indeed requires using wine, and you can't leave it out. So, it's better if you warn your guests before serving it.
Drunk chicken needs some time to marinate thoroughly, but the cooking process is straightforward. You just need to boil the chicken, chill it, and let it soak in the wine-based sauce overnight or for several days.
Shaoxing wine is the best choice for this recipe for its signature sweetness and fragrance.
Don't Skip Out These West Chinese Appetizers!
Of all four regional cuisines, the Western one is the spiciest with the appearance of Szechuan and its iconic red chili peppers. If you are a spicy lover, here must be your heaven on Earth!
This salad's name is amusing, isn't it? It's because the mushrooms used here are grown on trees and look like ears, hence their name "wood ear."
Their black color may look a bit unappealing, but their texture is perfect for a salad. Their crunchiness makes these mushrooms so irresistible.
Wood ear mushrooms don't have much flavor themselves, but they are really good at absorbing seasonings. So, with this salad, you'll get to experience all the flavors to the fullest with this mushroom only.
It's crunchy, it's full of flavor. What else can you ask for this wood ear mushroom salad? Let's see this video:
While Chinese restaurants in America often serve this exquisite Chinese noodle delicacy as a main course, dan dan noodles are treated as an appetizer or a snack in its homeland.
Szechuan's initial recipes include boiled noodles dressed in a spicy sauce with different toppings like ground meat and pickled vegetables.
If you are familiar with the American version, prepare yourself before ordering an authentic bowl of dan dan noodles because it's really, really hot! This dish comes from Szechuan – the province famous for spicy foods, for a reason, you know?
2 Toothsome Foreign-Born Chinese Appetizers
Not all Chinese appetizers you see nowadays are 100% authentic. Some of them are the result of cultural exchange between China and other countries like America. But that doesn't mean they aren't worthwhile like other genuine ones.
It looks like a Chinese dish, it tastes like a Chinese dish. But it's not an authentic Chinese appetizer because it contains cream cheese, an ingredient that doesn't appear in Chinese cuisine.
But that doesn't change the fact that crab rangoon, with its creamy filling full of crab flavor, makes an easy and tasty appetizer for every Asian party. Not to mention, it tastes even when piping hot or served cold, with an accompanying sauce like soy sauce or duck sauce.
There are various people confusing egg rolls with spring rolls, but they are actually two different kinds. Spring rolls are an authentic Chinese recipe.
In contrast, egg rolls are more like a product born from the cultural exchange between America and China. Even traditional Chinese restaurants in the US have divided these dishes into two different categories.
Compared to the Chinese native rolls, these egg rolls have a thicker and sturdier wrapping because the dough has flour and eggs. And most of the time, egg rolls are filled with pork and cabbages, less abundant than spring rolls.
Others Flavorful Chinese Appetizers
For these appetizers below, their origin remains a mystery as no one knows who created them or where they come from. Just one thing is clear: They are loved by every person in China!
Cong You Bing is a famous Chinese dish that's also a well-loved street delight in Taiwan. Though its name is "pancake," this dish uses dough instead of batter. This way, it becomes flakier and chewier.
However, depending on what dough types you use, the texture of these pancakes can change significantly. Hot water ones are softer, whereas ones made with cold water dough are chewier.
Whichever method you choose, make sure you don't overpack these pancakes with scallions, or their flavor will become unbalanced.
Besides an appetizer, these Chinese scallion pancakes are also a perfect snack! Let's see this video:
No Chinese recipe can be easier than this egg drop soup. In its simplest form, this yummy Chinese soup delight only contains beaten egg mixture stirred in a chicken broth and is garnished with some chopped scallions. Some say this is the most suitable soup when you are under the weather.
Every region in China has its distinct version of this soup. Some add shrimps, while others ask for corn and tofu. Even American Chinese restaurants have their own creativity by putting some cornstarch to thicken the soup.
Some call this dish "pearl meatballs," but I prefer this name more as it makes this recipe sound really fancy. But don't worry, despite that fabulous name, this dish is only meatballs coated with sticky rice.
Then, why does it gain this name? Well, it's because if you soak the grains long enough, after cooking, they will gain a pearl-like appearance. These balls are often served at New Year parties as a good luck omen.
Crunchy on the outside and a rich, creamy filling, that's how a shrimp toast would taste. Making it will take a bit of time, especially when you are not used to making a shrimp paste, but the final result will pay off!
Thanks to its outstanding flavor, this outstanding Chinese shrimp dish's popularity has passed the China border. And now, even Western people in Australia, America, or Ireland crave for a plate of shrimp toast at a dim sum party.
This shrimp toast is better than any toast you've tried! Check out this video to know:
Have You Decided On Which Recipes To Use In Your Party?
Compared to main dishes, these Chinese appetizers are less time-consuming and much easier to perfect. So, don't be afraid of them even if you just begin learning cooking. And for the best result, remember to buy some authentic Chinese spices in your local Asian groceries.
And if you still have some unsolved problems after reading this article, please write them down in the comment section so that I can help you. Also, don't forget to share this article with your friends!
Nutrition Facts
4 servings per container
---
Amount Per ServingCalories324
% Daily Value *
Total Fat 19.4g

30

%
Cholesterol 89mg

30

%
Sodium 731mg

31

%
Potassium 4mg

1

%
Total Carbohydrate 3.2g

1

%

Dietary Fiber 0.1g

0

%
Sugars 3g

Protein 31.3g

62

%
---
* The % Daily Value tells you how much a nutrient in a serving of food contributes to a daily diet. 2,000 calories a day is used for general nutrition advice.