Many still don't understand what makes Chinese desserts different from their Western counterparts. So, are you ready to discover these yummy treats' unique flavors and textures?
This post will give you a newfound appreciation for all Chinese sweets. Besides an overview of sweet Chinese cuisine, you'll also get to learn about various famous treats throughout the country. So, let's get started!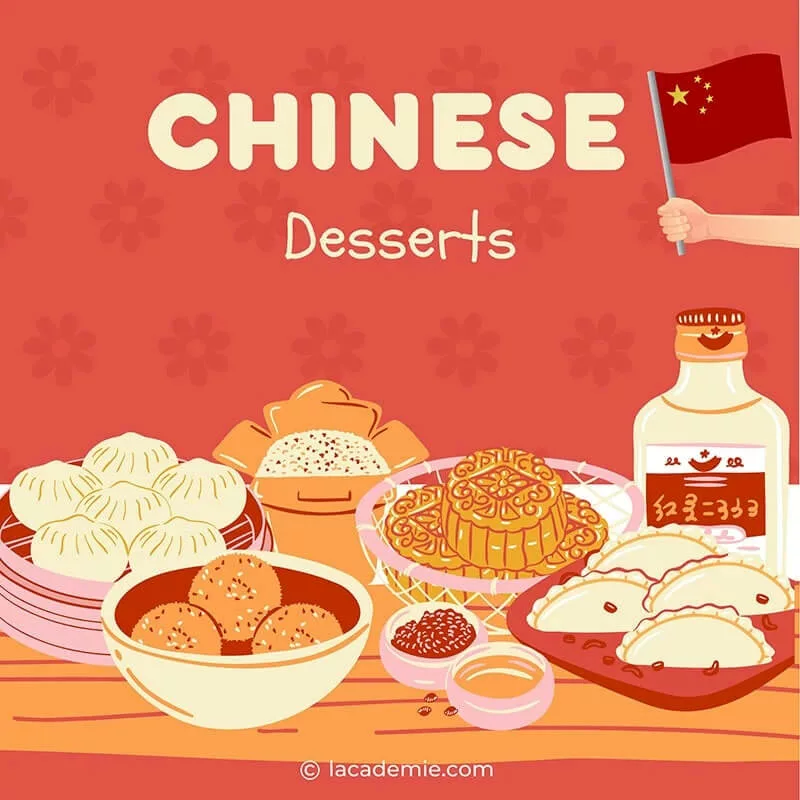 Overview Of Chinese Sweet Cuisine
As one of the biggest countries on Earth, China has a vast amount of sweet treats, varying according to regional cultures and culinary traditions. So, let's join me in a short introduction to this cuisine.
History
Chinese desserts have a rich history dating back thousands of years, evolving and adapting to different dynasties and regions. Their starting point can be the Shang Dynasty (16th – 11th century BC). At that time, sweet foods were sacrificed to gods and ancestors.
Chinese desserts grew even more during the Tang Dynasty (618 – 907 AD), thanks to new ingredients and culinary techniques gained from the Silk Road trade. Even now, they continue improving with modern treats like bubble tea.
Cultural Significances
As mentioned above, Chinese desserts were once an offering to gods and ancestors in the hope of the best things in the future. That's why many of them symbolize good fortune, happiness, and unity.
Besides an everyday snack, these snacks are indispensable for any celebration and ritual. For example, in the Mid-Autumn festival, the locals will prepare mooncakes. Meanwhile, no Lantern Festival or Spring Festival can lack Tangyuan (glutinous rice balls).
Familiar Ingredients
Like other Asian sweet cuisines, China takes advantage of natural ingredients for its desserts. Here are some standard examples:
Red beans/Azuki beans: The Chinese often use them to make a sweet paste for cakes, pies, and pastries filling.
Glutinous rice flour: Made from short-grain sticky rice, this component creates a chewy texture. Also, using it keeps the sweet gluten-free.
Lotus seeds: Thanks to their slightly sweet and nutty taste, they are a familiar face in Chinese desserts.
Jujube/Red dates: Red dates are used to add a naturally sweet flavor and a chewy texture.
Tapioca pearls: These pearls are loved in both traditional and modern sweets. With a chewy texture, they are an indispensable part of sweet soups and bubble milk tea.
Top 38 National Chinese Sweets
I'll show the best sweet treats in the Chinese culinary world in this marvelous collection! Whether you like Chinese food or not, you'll love these delightful desserts.
Cakes
Put Chai Ko (Red Bean Pudding Cake)
Ma Lai Go (Steamed Sponge Cake/Malay Sponge Cake)
Nian Gao (New Year Cake)
Osmanthus Cake
Fa Gao (Prosperity Cake)
Zongzi (Sticky Rice Pyramid-Shaped Dumpling)
Pie & Pastries
Lo Mai Chi (Chinese Coconut Mochi)
Er Duo Yan Zha Gao/You Zha Gao (Fried Sticky Rice Cake)
Ang Ku Kueh (Red Tortoise Cake)
Jian Dui (Sesame Balls)
Egg Tarts
Mooncake
Bolo Bao (Pineapple Bun)
Lao Po Bing (Sweetheart Cake)
Sachima/Saqima (Chinese Soft Flour Cake)
Hong Kong Egg Waffles
Chinese Almond Cookies
Fortune Cookies
Dragon's Beard Candy
Gelatins & Puddings
Grass Jelly
Xingren Doufu (Almond Tofu)
Nailao (Beijing Yogurt)
Shuang Pi Nai (Double Skin Milk)
Ginger Milk Curd
Mango Pudding
Eight Treasure Rice Pudding
Sweet Soups
Laba Congee (Eight Treasure Congee)
Jiuniang (Sweet Rice Wine)
Hong Dou Tang (Red Bean Soup)
Sweet Potato Soup
Sesame Tong Sui (Black Sesame Soup)
Tangyuan (Glutinous Rice Balls)
Sai Mai Lou (Sago Soup)
Other Desserts
Mahua (Fried Dough Twist)
Tanghulu (Candied Fruit)
Bubble Tea
Fried Milk
Taro Puree
6 Chinese Cakes
Chinese cakes are available across China and even throughout the world. They are commonly served with coffee, tea, or other tasty beverages.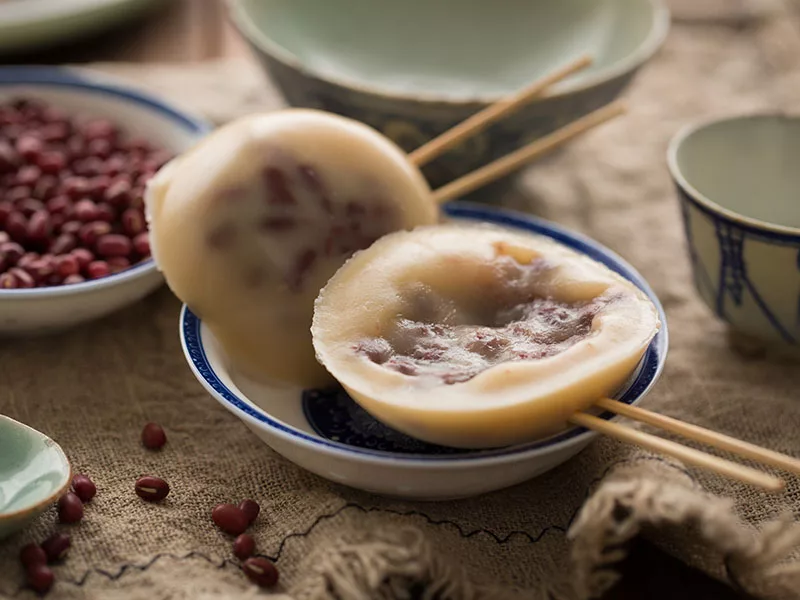 Put Chai Ko is a traditional street dish originating from Hong Kong. The main components of this sweet treat don't contain any butter, but white or brown sugar, long-grain rice flour, wheat starch, or cornstarch.
Of course, red beans are also necessary, with their earthy, naturally sweet, and mellow flavor. This cake is inserted with bamboo skewers before steaming in porcelain bowls. When it cools to room temperature, people will hold the skewers to eat it.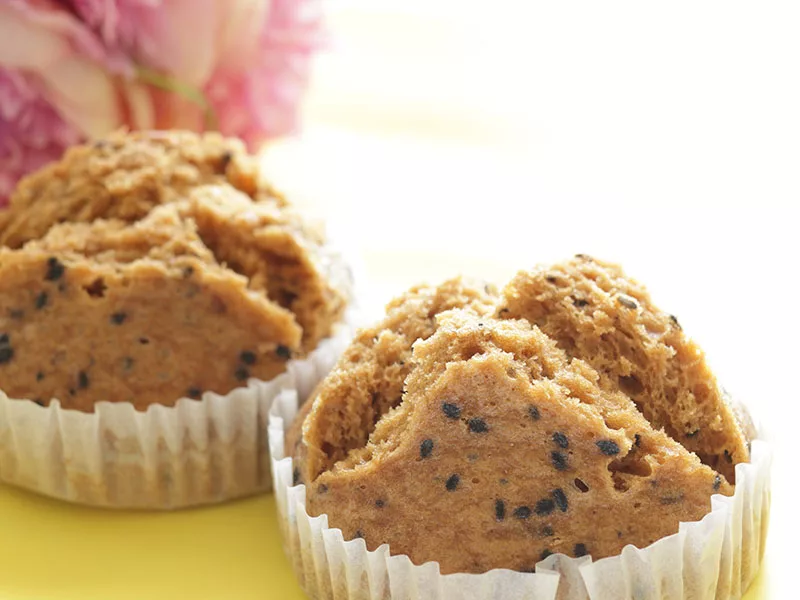 Ma Lai Go is a famous and nutritious cake you definitely don't want to miss. Known as Hong Kong's national cake, it tastes sweet, with chewy and soft textures. People of all ages enjoy this white and yellow treat, from children to older people.
You can find Ma Lai Go in traditional teahouses, especially in Guangdong. Among varieties, the Longyou version is even recognized as a cultural heritage. Fermented with glutinous rice wine, this cake is a fantastic way to learn about Hong Kong's lively teahouse scene.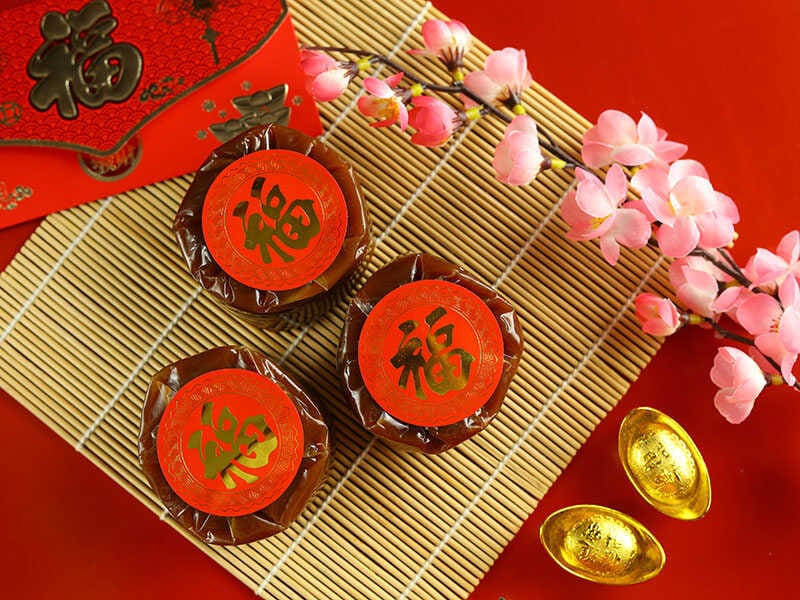 Depending on the Chinese region, Nian Gao can look quite different. But no matter where, this steamed rice cake is a must-have dessert for Chinese New Year. It symbolizes growth and progress, wishing for a better year.
Families also make it an offering to the Kitchen God, so he won't badmouth them in front of the Jade Emperor, who rules them all. It's also a familiar treat in the Dragon Boat Festival (in late May or June).
Besides sugar and water, the main ingredient is glutinous rice flour for a soft and stretchy texture. Then, it's steamed in a bamboo steamer for about three hours (until the cake is firm).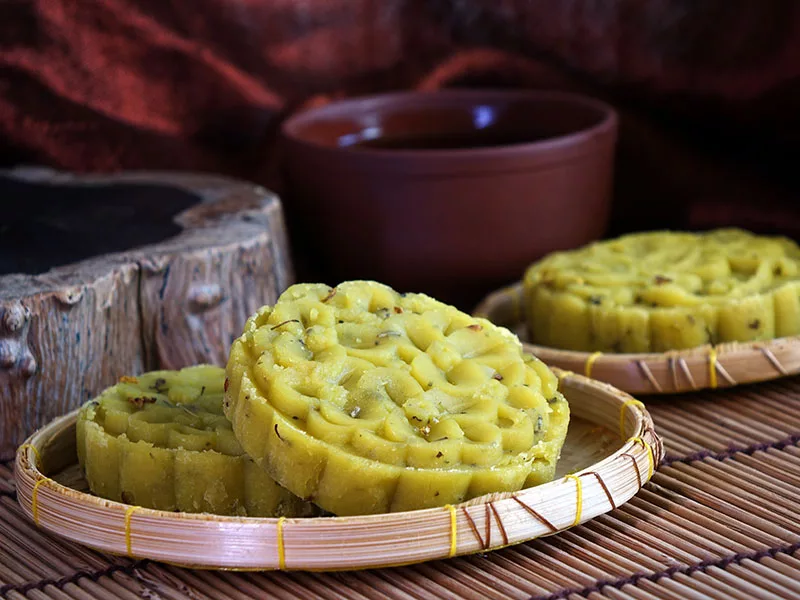 Osmanthus cake is another Chinese pastry for the New Year. It started at the end of the Ming Dynasty, a peddler from Xindu used the osmanthus fragrans (osmanthus flowers) to this cake. That's why osmanthus cake is a Xindu specialty.
This sweet treat contains no spices, just dried osmanthus, glutinous rice flour, and rock sugar (or honey). Eating it can prevent depression, reduce mental stress, and balance the body and emotions.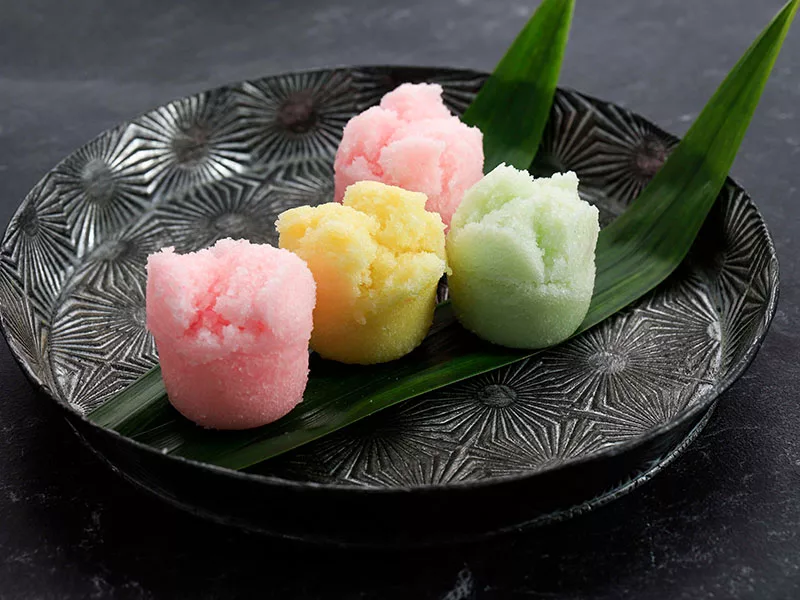 Fa Gao is commonly used for ancestor worship during the Chinese New Year. The cakes' signature is to have a "smile" at the top, bringing good luck and happiness. The bigger the smiler, the better luck.
Fa Gao is quite simple to prepare, requiring only sugar and rice flour. Then, let it rest before steam-cooking for a "split top." Those used for New Year will get dyed in bright colors. White and pink are typical colors, but some add palm sugar for a brown hue.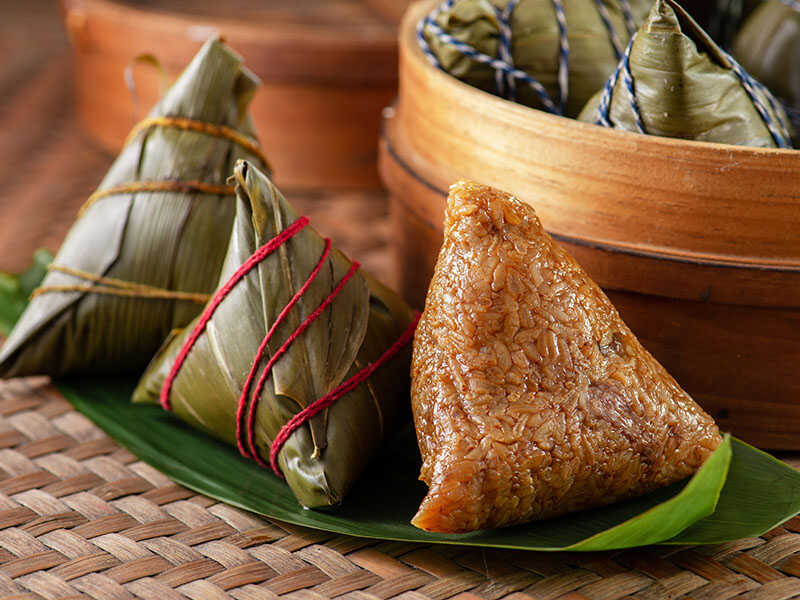 Zongzi is a traditional staple during the Dragon Boat Festival. Made with glutinous rice and various fillings, it's wrapped in bamboo leaves (generally the Indocalamus Tessellatus species).
Making Zongzi starts in early May (based on the lunar calendar). The locals need to soak rice, wash leaves, and wrap the dumplings before steaming them. This festive dish is cherished for its unique flavors and textures.
10 Chinese Pie And Pastries
Pies and pastries are also excellent representatives of Chinese sweets. They'll bring a totally different experience compared to cakes.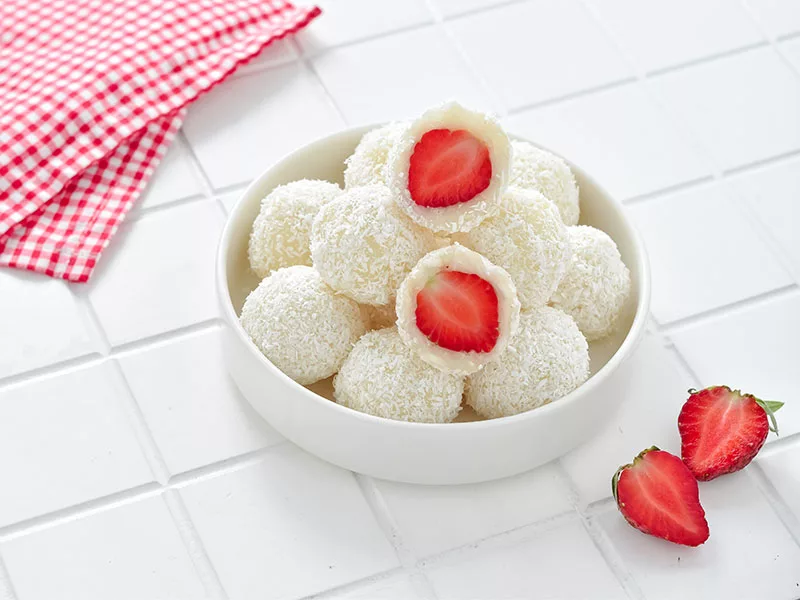 Lo Mai Chi is one of the most standard pastries in Hong Kong and is available even in overseas Chinese bakeries. Its small size makes people keep on eating forever.
People often use glutinous rice flour and dried coconut shreds to make the chewy and bouncy outer layer. That's why many compare Lo Mai Chi with Japanese Mochi. You can customize it with sesame seeds.
As for the filling, the options are endless. Traditional choices include coconut, crumbled peanuts, red beans, or black sesame seeds. Modern variations can consist of green tea, mango, etc.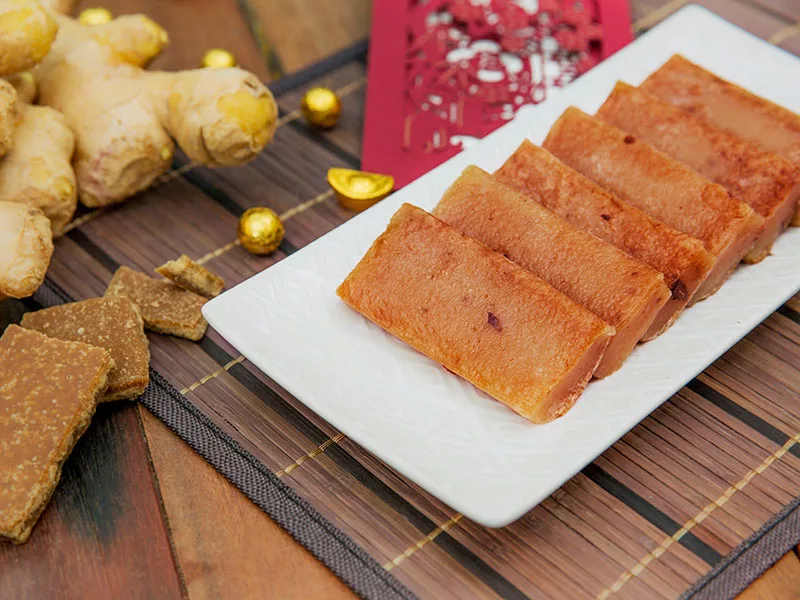 Er Duo Yan Zha Gao, a well-loved snack in Tianjin city, boasts a history of over 100 years. Its name, meaning "ear hole fried cake," hints at its unique appeal. Contrary to the name, this cake is entirely vegetarian. It is called "You Zha Gao" (fried cake) in Northeast China.
Er Duo Yan Zha Gao is made with sticky rice flour, warm water, red bean paste, and plenty of oil. That's why inside the golden, crispy exterior is the soft, sweet red bean filling. As a popular street food, it is best savored immediately after deep frying.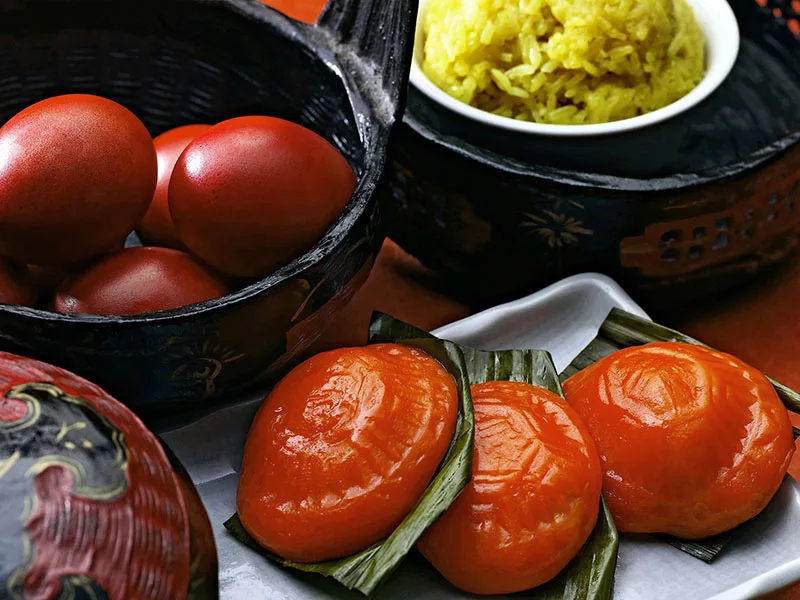 Red tortoise cake often appears during Chinese New Year and other important celebrations like the elder's birthdays or the baby's first birthday.
Its sticky, chewy skin is made from glutinous rice flour and sweet potato, resulting in a dark orange-to-red color. This vibrant hue symbolizes joy and happiness, while the tortoise shape represents longevity, power, and prosperity.
This traditional Chinese pastry is filled with either mung bean or ground peanuts, thus a perfect partner with a cup of tea. People often steam and serve it on a banana leaf.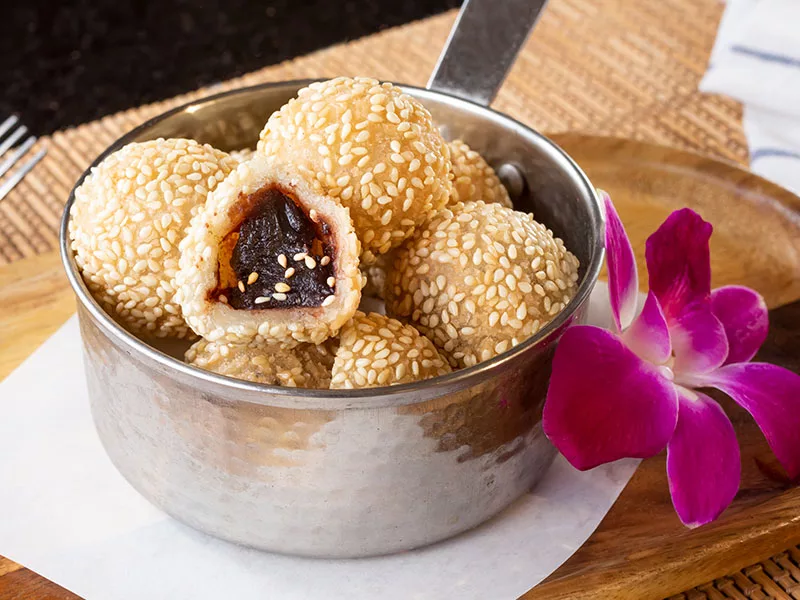 Meet Jian Dui, a delicious deep-fried Chinese pastry. Besides glutinous rice flour and sesame seeds for the cover, its filling typically uses lotus, black bean, or red bean paste, resulting in a nutty and sweet flavor.
Dating back to the Tang dynasty, Jian Dui was once considered a royal food in Chang'an. Nowadays, it's everywhere in China with different names, such as Matuan in the North and Northwest, Mayuan in the Northeast, or Zhendai in Hainan.
You can find this crispy and chewy pastry in both China and Taiwan, served at dim sum restaurants and street vendors alike. Remember to eat them as soon as possible for the best experience!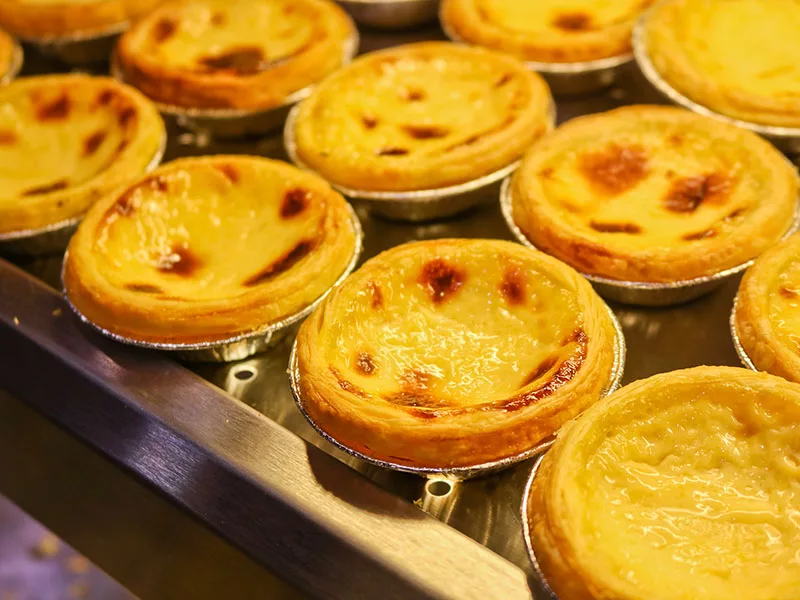 Thanks to their subtly sweet flavor and bite-sized appearance, no one can refuse Chinese egg tarts. Inside the flaky crust is a smooth custard filling with milk, egg, vanilla, and sugar syrup.
To achieve the perfect texture, the locals first bake the tarts at a high temperature for a crispy crust, then at a lower temperature to set the filling. Enjoy them warm from the oven, at room temperature, or cold.
There are two popular versions to try: Hong Kong and Macau. The former is available in many dim sum restaurants, bakeries, and cha chaan tengs (Hong Kong tea restaurants).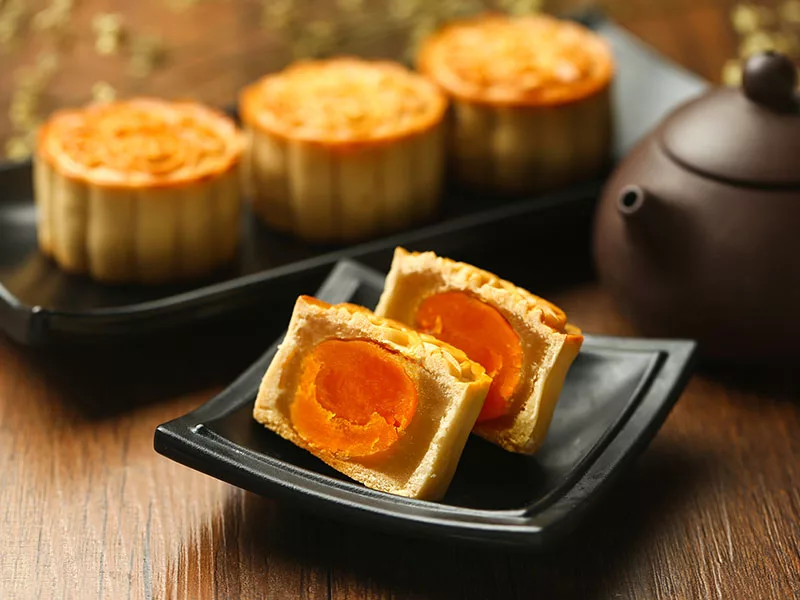 Mooncake is an indispensable bakery product in the Mid-Autumn festival as an offering to the Goddess of the moon. Today, watching the moon and eating this cake has become a custom throughout China.
The mooncake reflects fulfillment, prosperity, happiness, and family reunion in Chinese culture. And people will cut it into six or eight pieces to share with others; the even numbers stand for harmony and balance.
Mooncakes are available with both sweet and savory fillings, with lotus seed paste being the traditional choice. The modern ones use red bean paste, green tea, cream cheese, or fruits. This treat goes best with tea.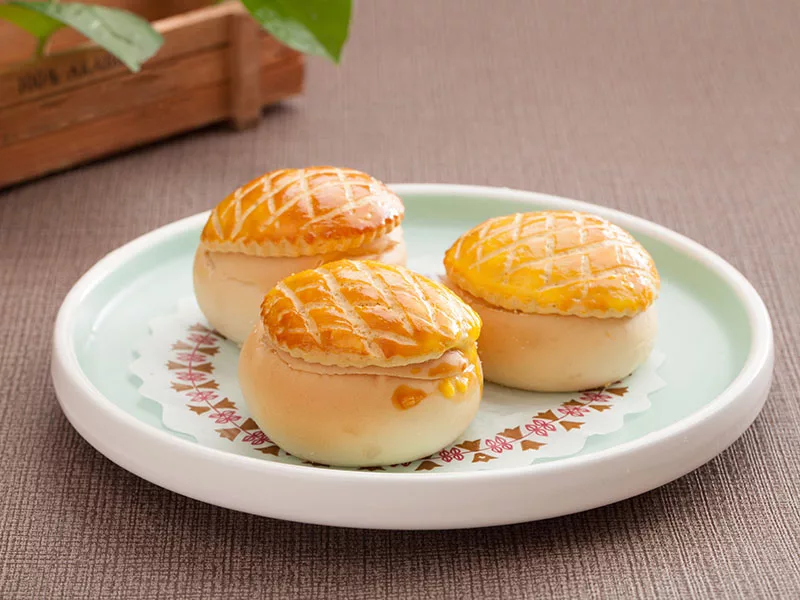 The pineapple bun is a classic Chinese sweet bun mainly available in Hong Kong and foreign Chinatowns. Although pineapple does not appear in the bun, it gets its name from the unique topping resembling pineapple skin.
Its sweet, crunchy top layer uses sugar, eggs, flour, and lard, similar to sugar cookies. And contrasting to it is the softer, sweeter Hong Kong-style bread beneath. This unique combination makes pineapple buns perfect for breakfast or afternoon tea.
In 2014, the Hong Kong Government recognized this treat as an intangible cultural heritage.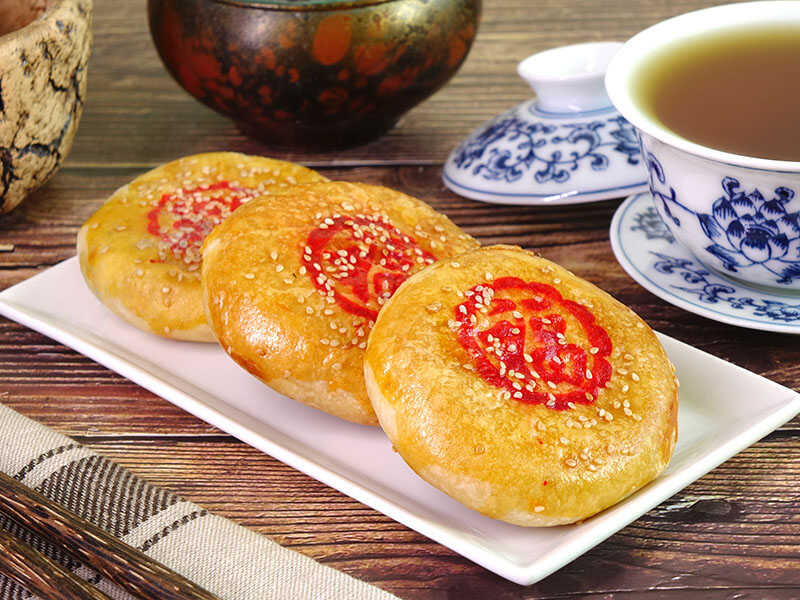 Sweetheart cakes, also called wife cakes, are a famous dessert in the Guangdong provinces. Traditionally, it uses flour, egg wash, and pork lard shortening for the outer layer. When baked, the exterior becomes flaky and crumbled.
Then, the filling often contains candied winter melon, sesame seeds, and almond paste. Other variants have other spices, such as the Southeast Asian one with Chinese five-spice or the husband cake with star anise.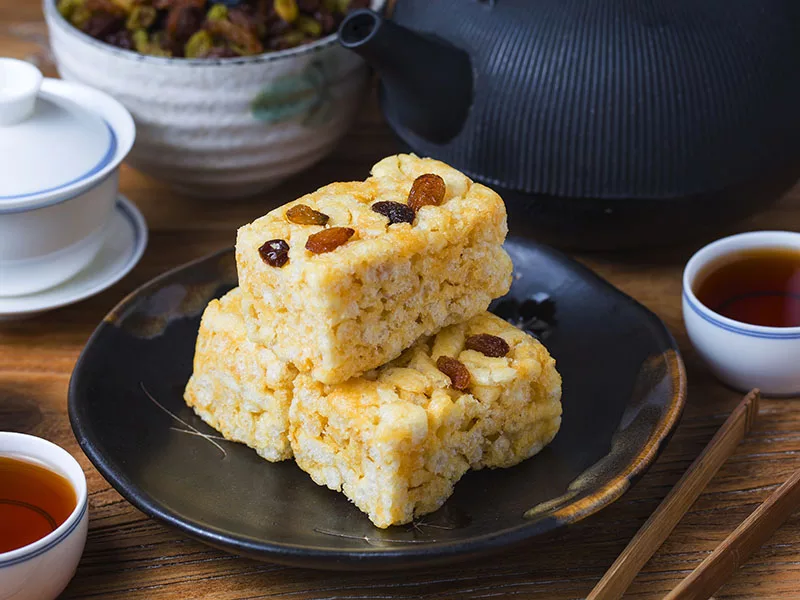 Sachima is a fluffy and sweet snack from Manchuria. It consists of fried batter strands held together with sugar syrup. Though its appearance remains consistent, different regions offer some exciting variations.
Machu Sachima is sweeter, featuring flour, butter, and rock sugar. Meanwhile, Cantonese Sachima is sprinkled with sesame seeds, raisins, or dried coconut, thus a slightly sweet taste and a chewy to a crunchy texture.
Lastly is the packaged variant from Fujian. It is comparatively plain but includes sesame seeds. Sachima, especially the Cantonese one, can be found in Hong Kong and overseas Chinatowns.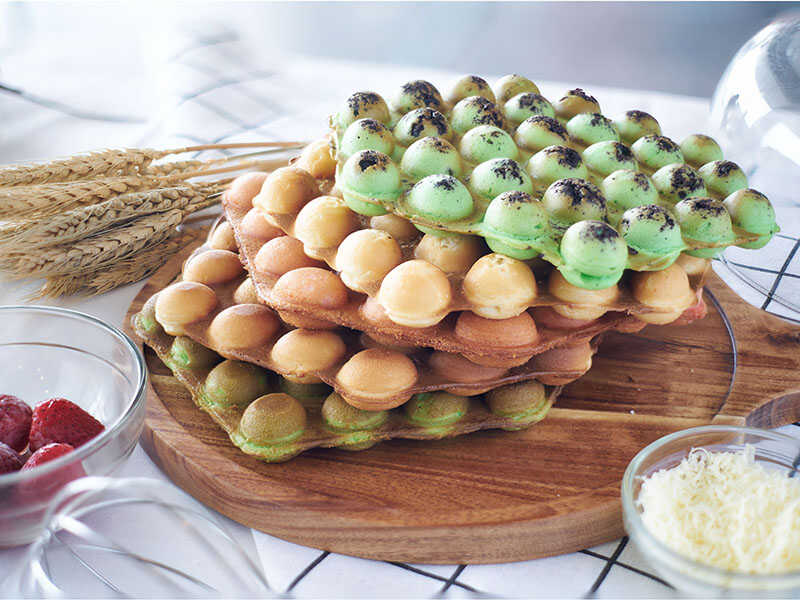 Egg waffles are another famous delicacy in Hong Kong and Macau. They consist of a leavened batter cooked with an egg-shaped mold, hence their honeycomb shape. This treat is now the most popular snack in Hong Kong and is well-known worldwide.
People often eat these waffles plain or with flavors such as coconut, strawberries, and chocolate. Some places even serve them with different kinds of ice cream to make them a complete dessert.
Chinese cookies and candies will satisfy both children and adults. And with the recommendations below, you will never want to buy commercial cookies and candies anymore.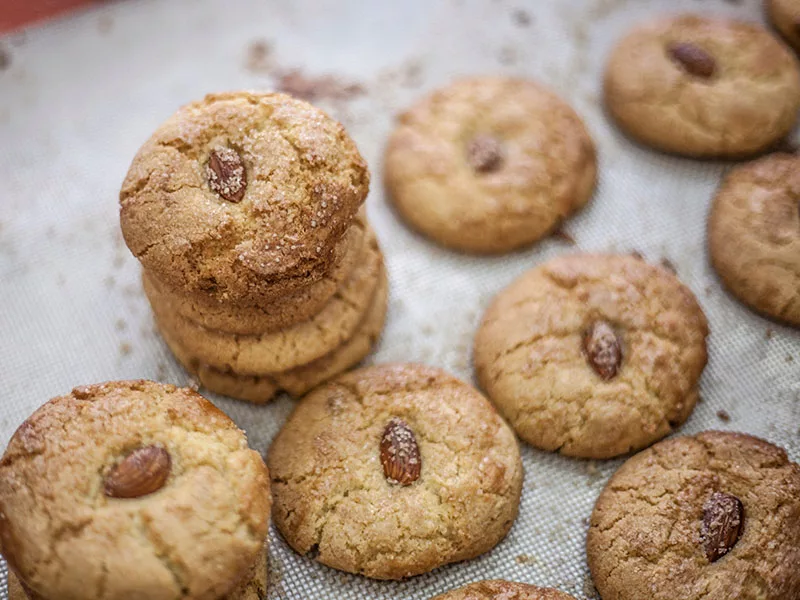 Chinese almond cookies are a delightful pastry with a fascinating history. Made from ground mung bean, these biscuits were initially crafted without almonds and got their name from their almond shape.
This dessert is not only famous in Guangdong, Hong Kong, and Macau but is also available in overseas Chinese bakeries. As almond cookies represent good luck, they are a traditional treat during Chinese New Year celebrations.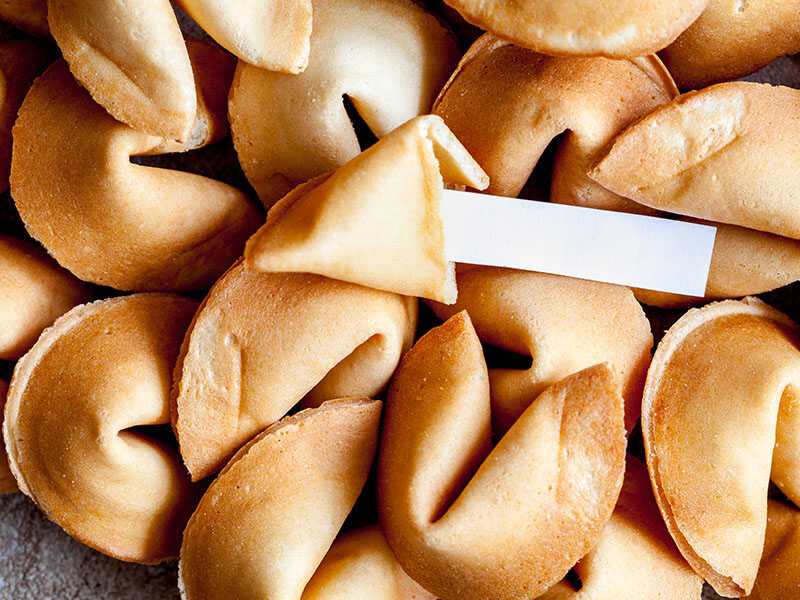 Many may be familiar with fortune cookies, a cute Chinese dessert. These crunchy sugary cookie wafers mainly include flour, sugar, vanilla, and sesame seed oil. There's a Japanese version often enjoyed with tea.
What makes them unique is a hidden piece of paper inside each one, which bears a Chinese phrase and lucky numbers. Although they're mainly associated with Chinese restaurants abroad, immigrant groups were actually the creators of these fortune cookies.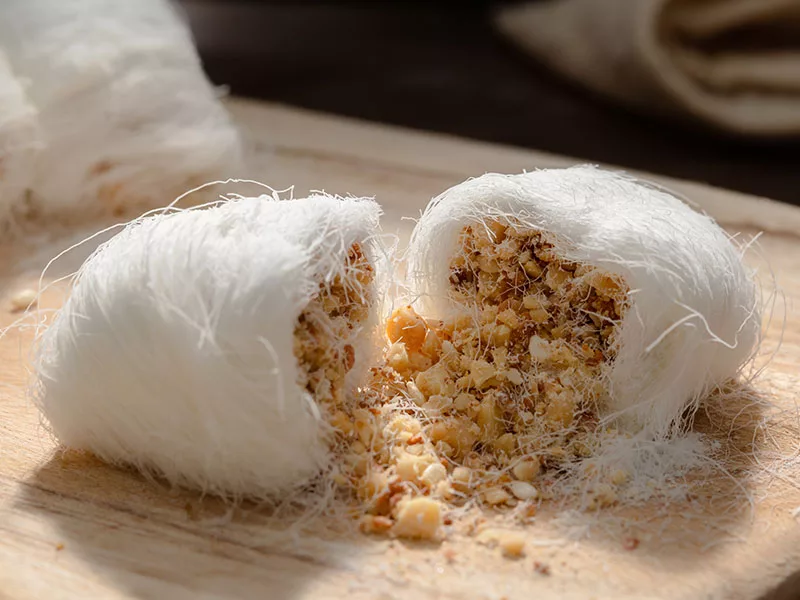 Dragon's beard candy, formerly silver candy, is a traditional dessert in China. It contains various thin strands of spun sugar wrapping around sugar, peanuts, shredded coconut, sesame seeds, etc. Many say it looks like cotton candy or candy floss.
Dragon's beard candy originates in the Han Dynasty as a delicacy for the Emperor; the "dragon" in its name refers to the Emperor. Remember to eat as soon as possible since the sweet candy is extremely sensitive to excessive moisture, so it can melt quickly.
7 Chinese Gelatins And Puddings
Making a tasty dessert full of milk and gelatins is undoubtedly one of the most compelling ways. Furthermore, there are so many delicious milk puddings and gelatins out there. Why not give them a chance?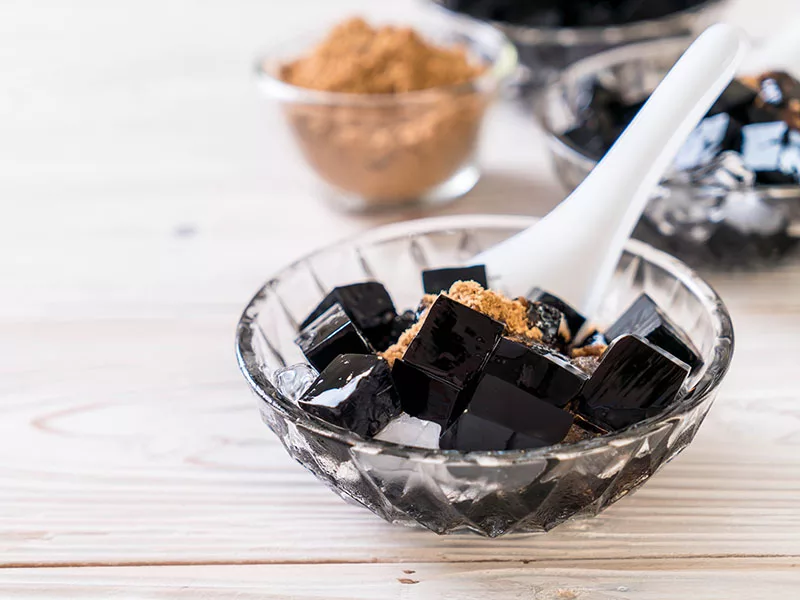 Grass jelly, also known as leaf jelly or herb jelly, is a unique Chinese dessert made from Chinese mesona (a member of the mint family). It's mostly popular in East and Southeast Asia during hot weather for its cooling properties. Chinese people call it "liangfen" or "leung fan."
With a mild, slightly bitter taste, this jelly is typically served chilled with sugar syrup. You may find it topped with fruits like mango, sago, watermelon, or cantaloupe or drizzled with condensed or evaporated milk. Grass jelly even appears in bubble tea and other drinks!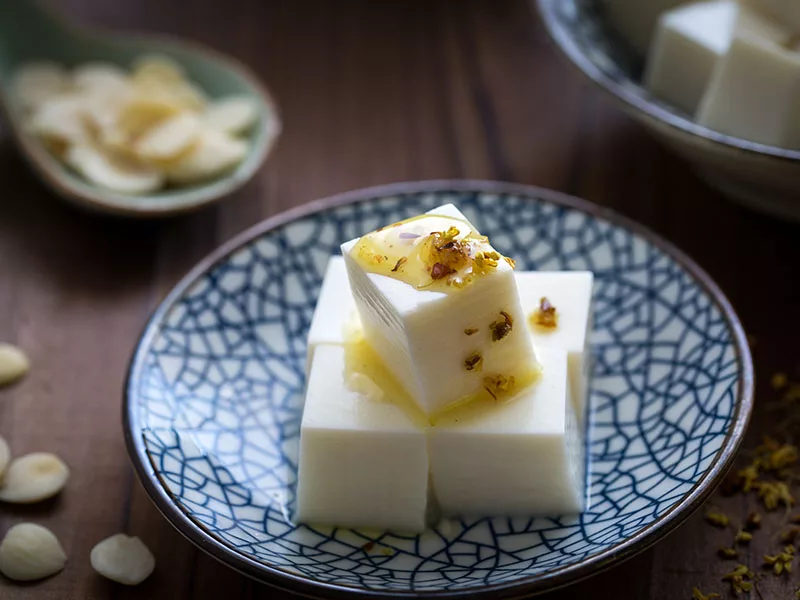 Don't be fooled by its name; almond tofu is a jelly-like treat made from apricot kernel milk, agar, and sugar. Not only in China, but people in neighboring areas, like Hong Kong, Japan, Malaysia, and Singapore, also enjoy it.
Almond tofu is somewhat similar to French blancmange, with its "tofu-like solid" texture. You'll find variations of this dessert using dairy products, flavored extracts, or gelatin.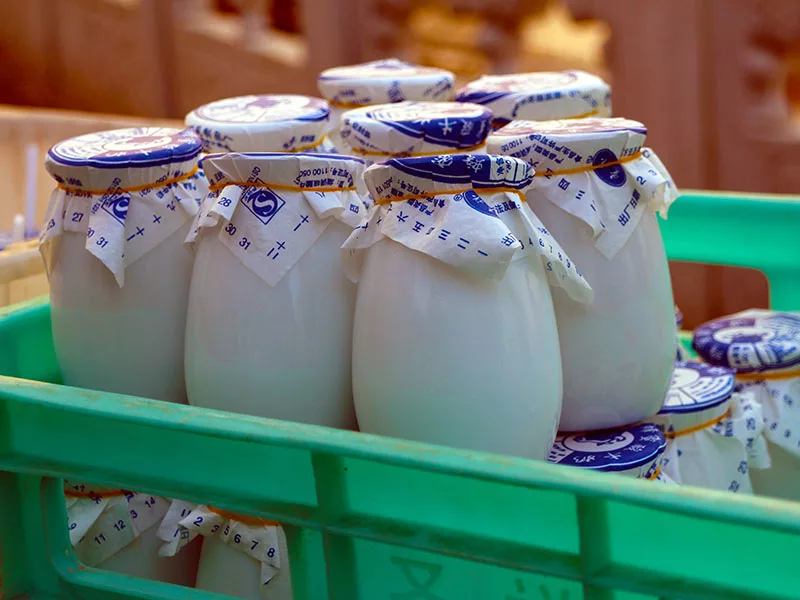 Many foreign visitors are interested in Beijing yogurt, a traditional fermented milk drink widely enjoyed throughout China. Its unique flavor comes from milk, rice wine, sugar, nuts, and raisins.
When making this yogurt, the locals use a particular device called lao tong (a yogurt barrel). In earlier times, Nailao was served in ceramic containers that had to be returned to the vendor. But these days, disposable plastic cups are more widely used for convenience.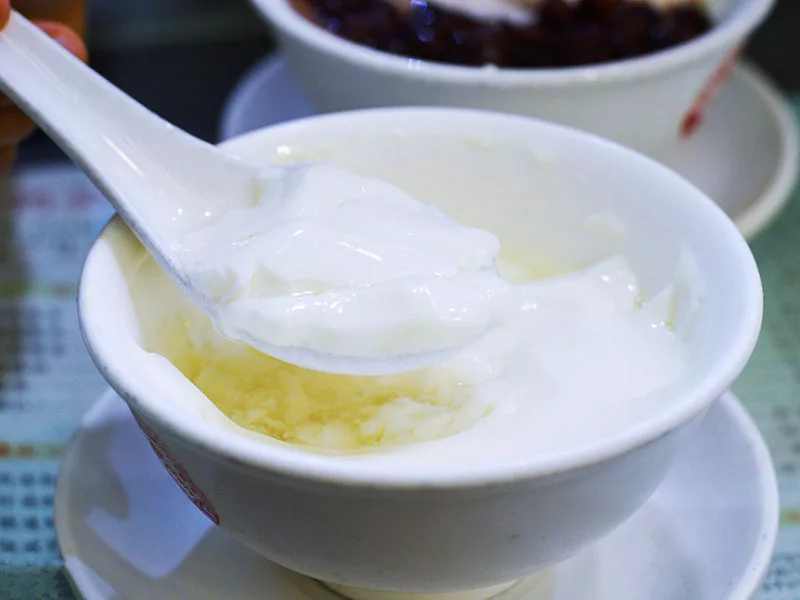 Double-skin milk is a Cantonese dessert from Shunde, Guangdong. Made from milk, egg whites, and sugar, this velvety smooth milk custard is quite similar to panna cotta.
The dessert gets its name from the two "skins" forming during the preparation process: when the boiled milk cools down and when the cooked custard cools. Interestingly, double-skin milk was initially a method to store milk. Today, it's an intangible cultural heritage in Shunde.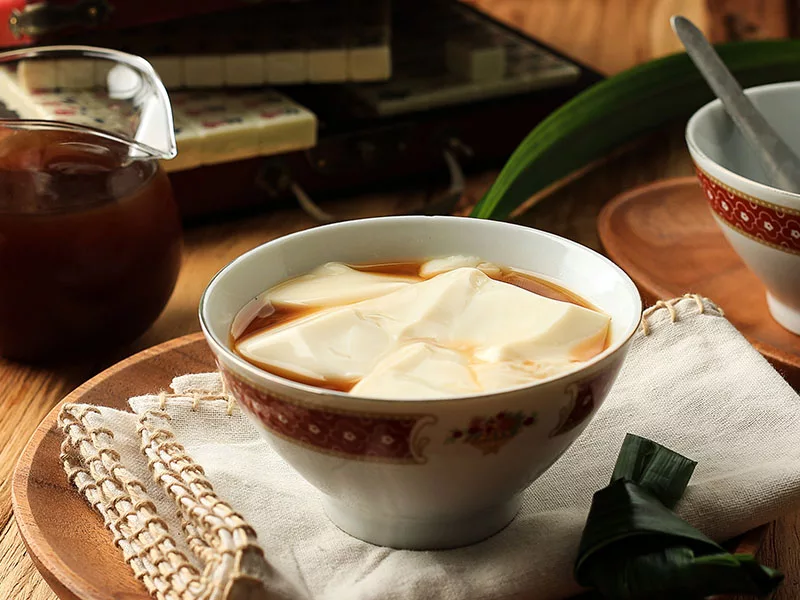 Ginger milk curd is a warm Chinese dessert originating in Shawan Ancient Town, Guangdong. The key ingredients in this delicious dessert are ginger, milk, and sugar.
The traditional recipe calls for water buffalo milk, adding a unique touch to the taste and texture of this delightful dish.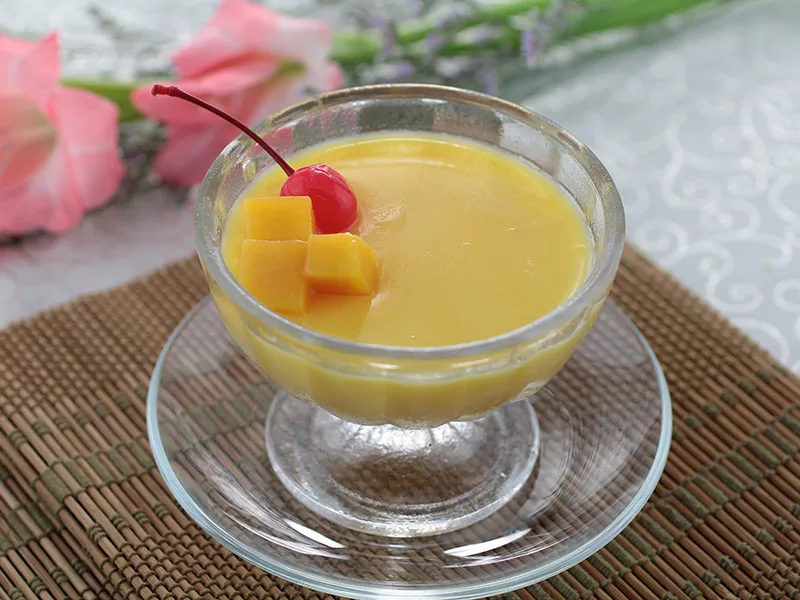 Mango pudding, a beloved dessert in Hong Kong, has gained popularity in Singapore, Malaysia, Thailand, and Macau. You'll often find it in many Chinese dim sum restaurants. Besides that, you can buy mango pudding at Asian grocery stores or supermarkets.
This dessert often includes agar or gelatin, mangoes, evaporated milk, and sugar, with an optional garnish of fresh fruits. Its rich and creamy texture is best enjoyed cold. Some Chinese restaurants even shape mango pudding like goldfish or koi for good luck.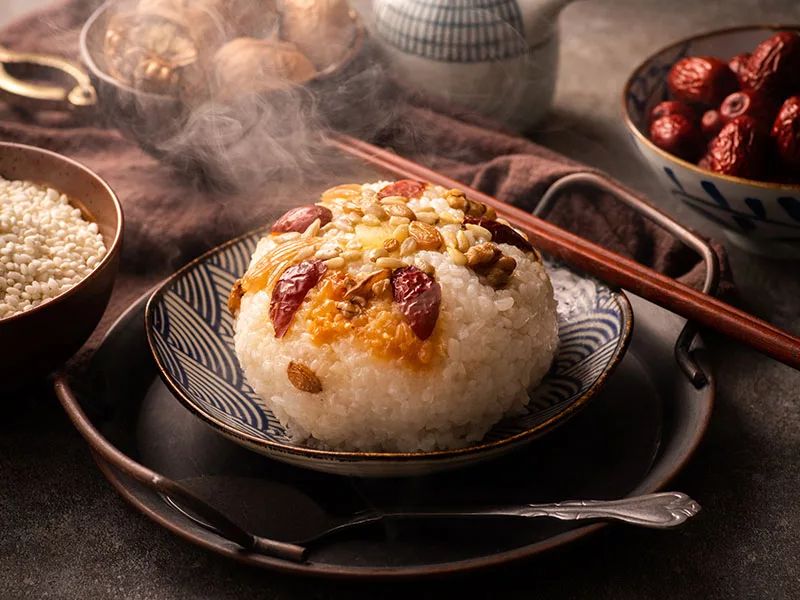 Eight treasure rice pudding is a dessert of sweetened sticky rice. It's filled with red bean paste and adorned with different kinds of dried fruit and seeds: raisins, lotus, cherries, apricot, etc. When served, people drizzle some chrysanthemum syrup for an earthy aroma.
In Chinese culture, the number eight sounds like another Chinese word: rich, blessed, and prosperous in business. That's why this pudding often appears at New Year parties.
7 Chinese Sweet Soups
Unsurprisingly, seeds, beans, and rice are prominent in sweet soups since they are naturally sweet and beneficial for human health. Hurry up; it's time to find out the answer to why the ingredients make an excellent addition to these sweet treats.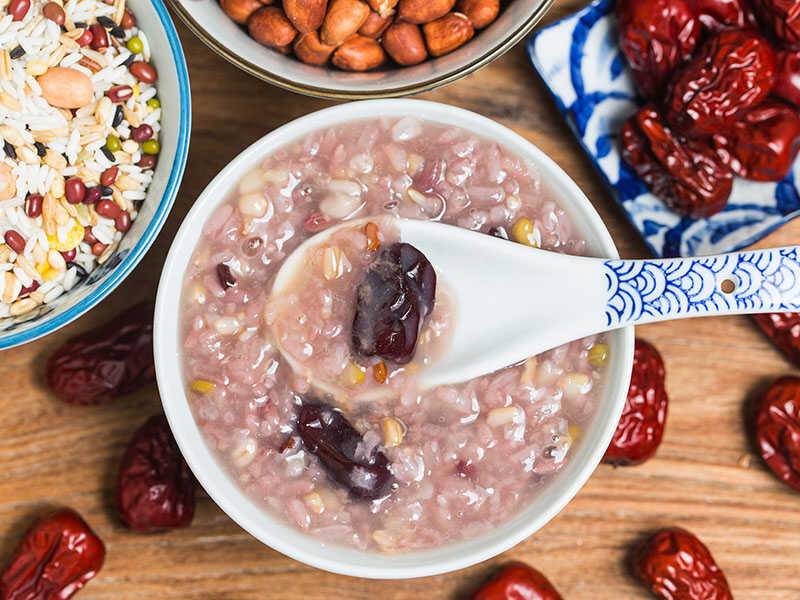 As its name implies, Laba congee is related to the Laba festival (the eighth day of the twelfth lunar month). Before, it used only red beans and was offered to the gods in worship ceremonies.
Nowadays, Laba congee is filled with at least eight ingredients, including rice, beans, peanuts, dried fruit, and lotus seeds. The number symbolizes good luck, making it not only a delicious congee dish but also a meaningful part of Chinese celebrations.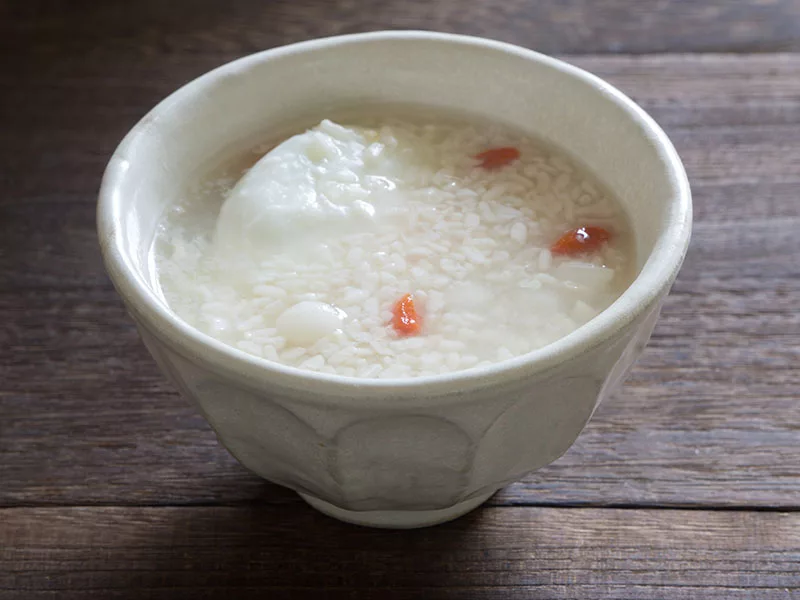 Summer is an ideal time for all fermentation experiments. Jiuniang is a favorite Chinese dish with a soup- or pudding-like texture. Making it starts by fermenting glutinous rice with a starter named "jiugu," containing yeast and bacteria.
Jiuniang is frequently served warm, hence a desired dish for winter. Its accompaniments are often sticky rice dumplings or sweet Tang Yuan.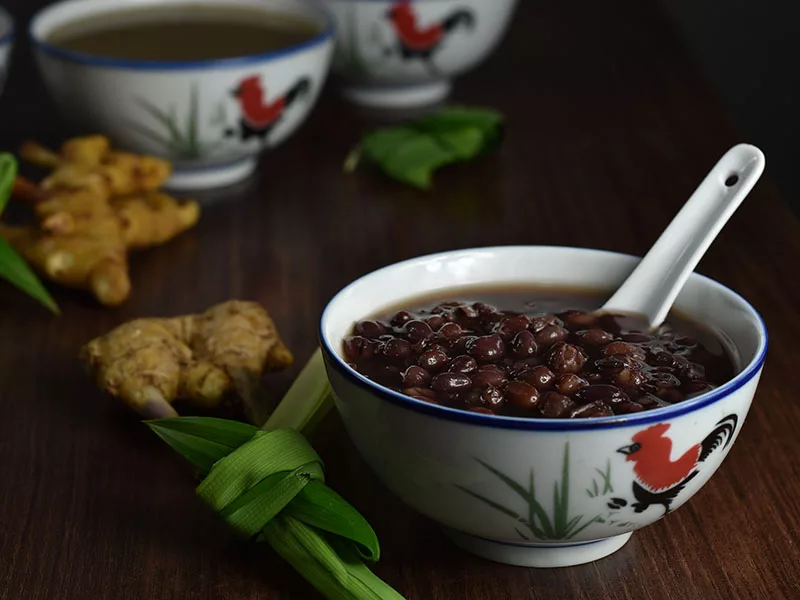 Belonging to the sweet soup category, red bean soup is a versatile Chinese dessert. You can enjoy it cold during the summer or hot in the winter; it even transforms into ice pops when frozen.
The key ingredients are sugar, tangerine peels, and lotus seeds. As for sugar, rock and sliced sugar are the two most common. It's often a dessert at restaurants or banquet meals.
To customize your red bean soup, try coconut milk, sago, tapioca, glutinous rice balls, ice cream, or purple rice for a delightful twist.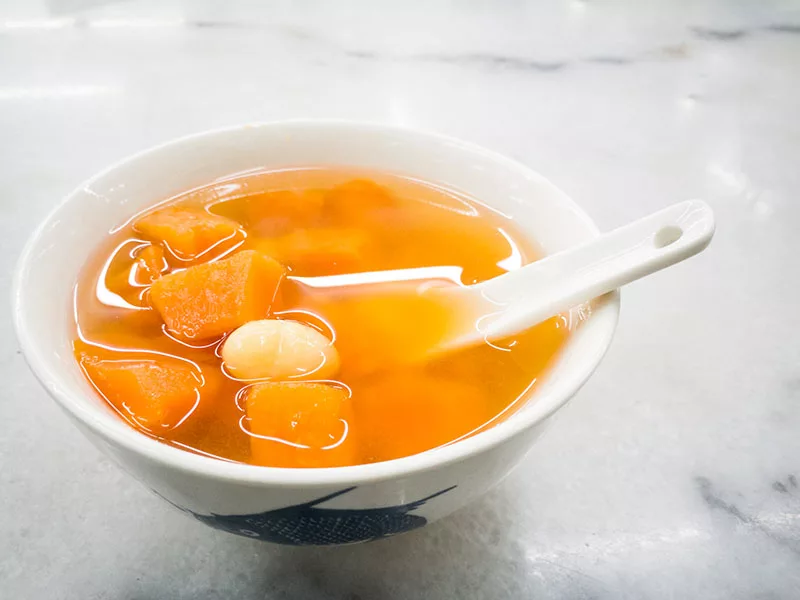 Sweet potato soup, a popular Cantonese treat in Southern China and Hong Kong, offers a delightful twist to traditional sweet soups. Its thin texture and rich taste come from boiling sweet potatoes with rock candy and ginger.
Perfect for those looking for a unique and comforting dessert, sweet potato soup might just be the warm and satisfying treat you're searching for.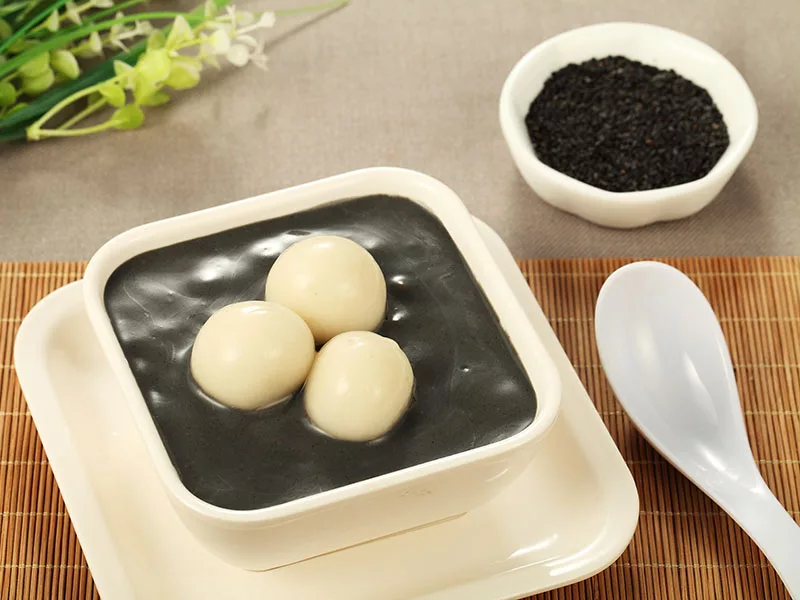 Here is another sweet Cantonese soup: black sesame tong sui. Found throughout China, it's particularly well-loved in Hong Kong and Southern China.
This hot dessert contains black sesame seeds, rice, water, and added sugar for sweetness. Sometimes, there is Tang Yuan to enhance the texture. People typically enjoy it warm after meals or as a mid-afternoon snack to satisfy their sweet tooth.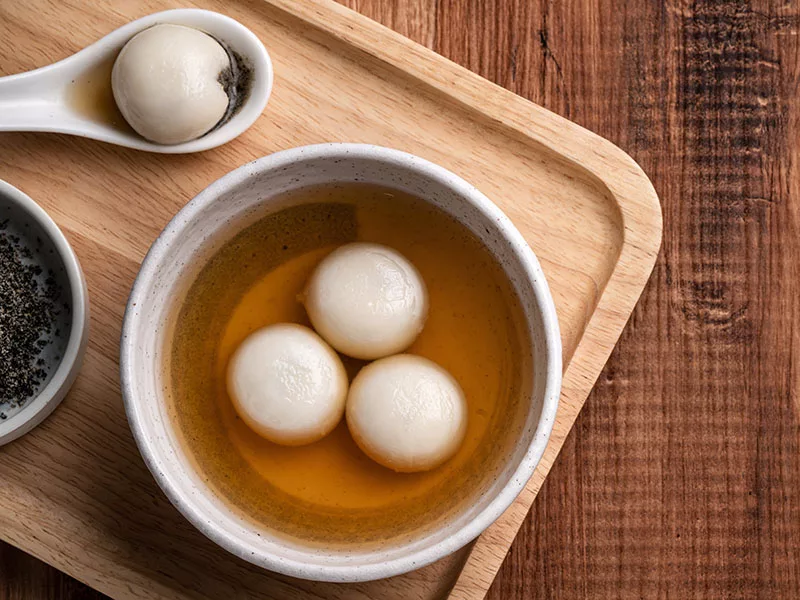 During the Spring Festival, especially the Lantern Festival (the last day of Chinese New Year), the Chinese make Tang Yuan as its name stands for the phrase "family reunion." Eating it is similar to wishing for family happiness.
Since Tangyan comes from the Sichuan region, you can find it at any Sichuanese restaurant. These sticky rice balls are often filled with black sesame and boiled in a sweet ginger soup. It now comes in many different colors and fillings, like matcha, beetroot powder, pumpkin, etc.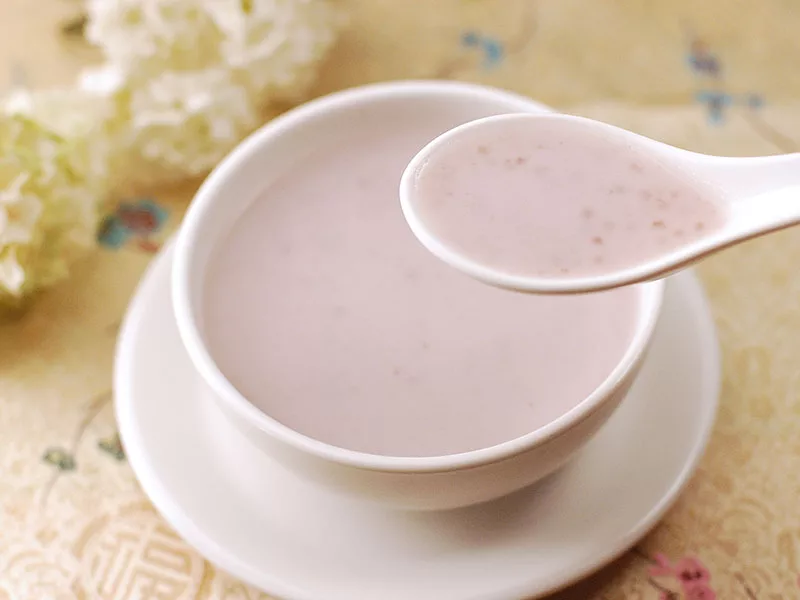 Sago soup is a delightful dessert, somewhat like tapioca pudding. The main ingredients include pearl tapioca (sago), coconut milk, and evaporated milk, creating a creamy, luscious texture.
Sago soup traditionally uses sago starch, but it can be customized with additional ingredients like taro, pumpkin, or mango for added flavor and texture. Often found as a dim sum dessert, sago soup is a tasty treat that's sure to bring a smile to your face.
5 Other Desserts In China
Today, grains are mainly eternal centerpieces of China's sweet recipes. The following is a list of using products you might already have on hand! Keep going!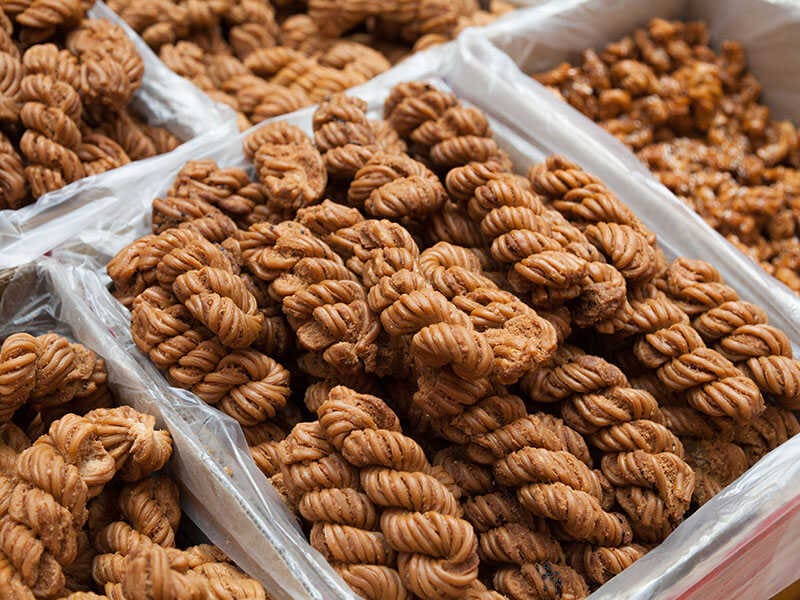 Mahua is a tasty traditional Chinese dessert well-known for its crispy texture. Since it's fried in peanut oil, it earns a bright golden outer look. This snack comes in various shapes and flavors, from sweet and savory to spicy.
Originating from thousands of years ago as an easy-to-store treat for festivals, Mahua is now eaten everywhere, even becoming an iconic food in Tianjin city.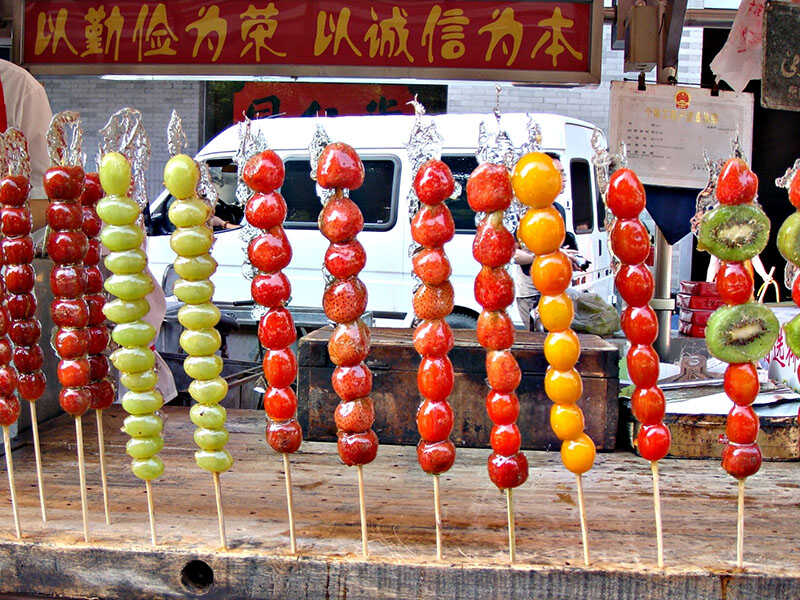 Tanghulu is basically fruit dipped in thick simple syrup. The traditional way uses hawthorn berries, making them look like red candy apples. But nowadays, the locals also replace them with other native fruits in China, such as berries, grapes, oranges, etc.
You'll find these sugar-coated fruits in any food markets or vendors in China. And the authentic one lies in Beijing, Tanghulu's birthplace.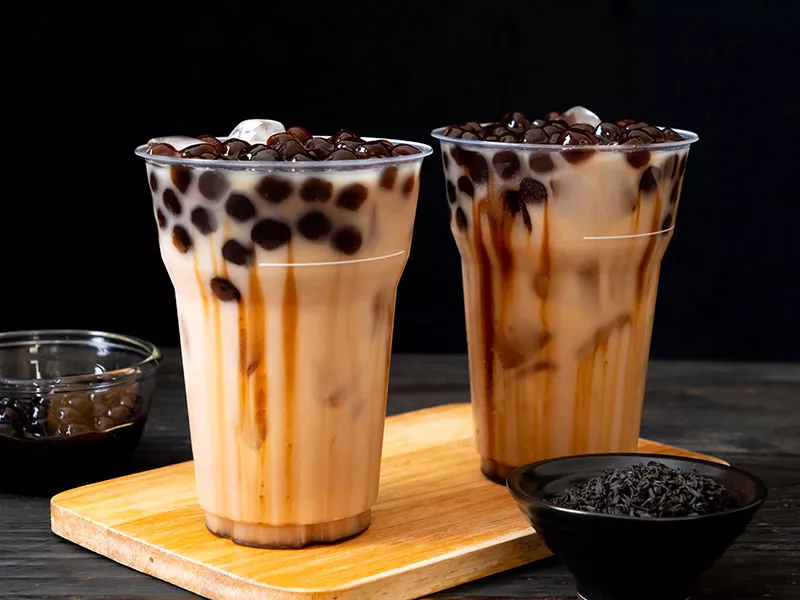 Bubble tea is a tea-based drink that first appeared in Taiwan in the 1980s. Aside from chewy tapioca balls, you'll find it filled with other toppings, like grass jelly, aloe vera, red bean, or popping boba.
Bubble tea can start from any kind of tea: black, green, or oolong tea. Typically served cold in a plastic cup, it comes with an oversized straw, perfect for slurping up those tasty bubbles. In China, it's even become a modern way to say "Thanks!"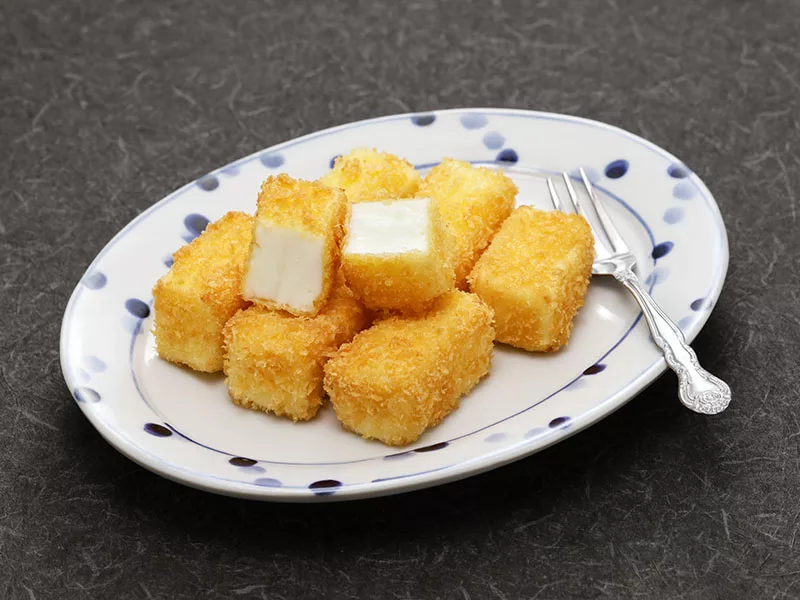 Fried milk is a Cantonese dessert hailing from Guangdong. The outside is golden and crisp, while the inside remains soft, white, and full of milky flavor. In a modern twist, this tasty treat is coated with breadcrumbs, adding an extra layer of crunch.
At first sight, fried milk resembles a Spanish dessert called leche frita. With its delightful contrast of textures, this dessert is a must-try for anyone exploring Chinese sweets!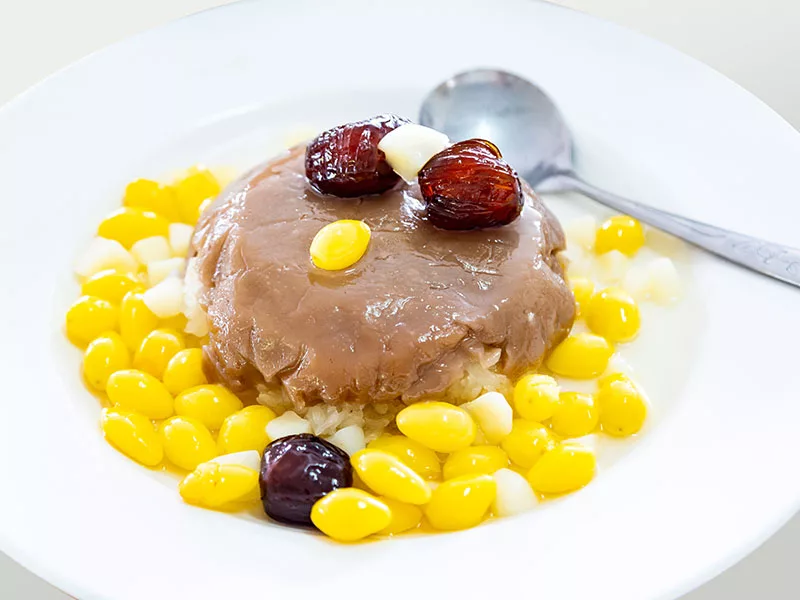 Taro puree is the representative of the Fujianese and Chaoshan cuisine, with the latter being part of the Guangdong. Its appearance may not be so mouth-watering, made with pureed taro and lard.
So, to enhance its visual, people will use sesame seeds, melon seeds, ed dates, or candied ginkgo as its toppings. These ingredients also help develop the taro puree's flavor.
FAQs
There are still many things to learn about Chinese desserts. So, don't stop yet; this FAQ section will bring you even more surprises.
You now know more about these well-known Chinese sweet recipes to optimize your menu. In China, deserts are usually a small part of the meals. Still, they are as crucial as savory ones.
Thanks so much for passing by. I hope you soon try the masterpieces mentioned in my post and share them with your beloved family. Finally, in the comment, let me know your thoughts about these signature desserts from China!
Nutrition Facts
24 servings per container
---
Amount Per ServingCalories41
% Daily Value *
Total Fat 0.1g

1

%
Sodium 2mg

1

%
Potassium 9mg

1

%
Total Carbohydrate 9.8g

4

%

Dietary Fiber 0.1g

1

%
Sugars 4.4g

Protein 0.3g

1

%
---
* The % Daily Value tells you how much a nutrient in a serving of food contributes to a daily diet. 2,000 calories a day is used for general nutrition advice.