Chinese New Year desserts are an essential part of the local culture. At this time of the year, family members often gather to cook and enjoy New Year's Eve dinner to say goodbye to the passing year.
They also prepare delicious, mostly sweet desserts to share with friends and neighbors. The meaningful thing about these treats is that they always represent a wish for a better year, including reunion, prosperity, wealth, business thrives, luckiness, and more.
Giving cakes or cookies as a gift plays an important role as much as saying best wishes. So, if you have a chance to stay in China during the New Year, be sure to prepare red envelopes for children and bring one of these desserts for other members when visiting local friends or colleagues' houses.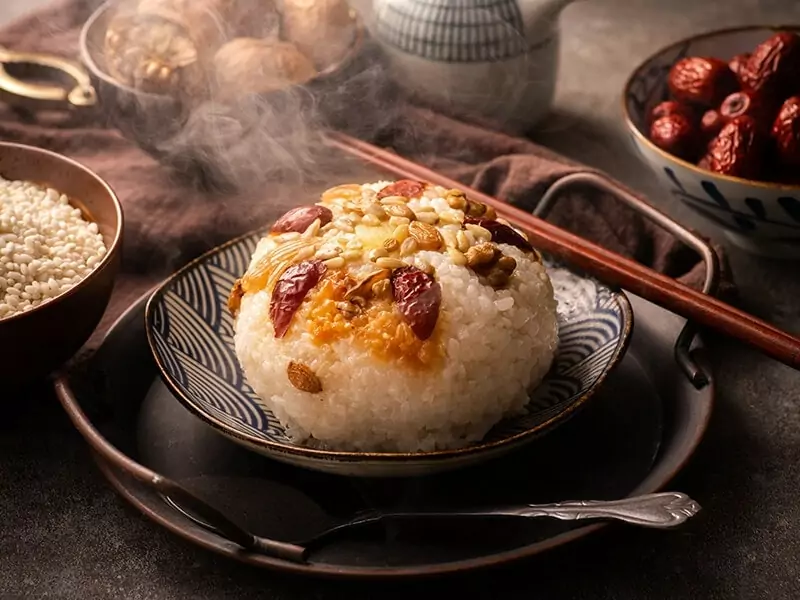 17 Traditional Chinese New Year Desserts
Go to the kitchen, read my recipes, and make your new favorite holiday desserts. Chinese neighbors might have introduced them to you a long time ago every Lunar New Year.
Cake Recipes
Sweet Rice Cakes (Nian Gao)
Chinese Glutinous Rice Balls (Tang Yuan)
Water Chestnut Cake
Prosperity Cake (Fa Gao)
Turnip Cake
Peanut Puffs (Kok Chai)
Chinese Peanut Cookies
Fortune Cookies
Honeycomb Cookies (Kuih Loyang / Kuih Rose)
Chinese Almond Cookies
Pastry
Sesame Dessert Balls (Jian Dui)
Chinese Egg Tart
Pineapple Tart
Others
Osmanthus Jelly (Gui Hua Gao)
Eight Treasure Rice Pudding/Chinese Rice Pudding (Ba Bao Fan)
Fried Dough Twists (Mahua)
Candied Kumquats
Overview Of Chinese New Year Desserts
Chinese New Year, also known as Spring Festival, is the most vital festival in China. According to the lunar calendar, it begins from the first day of the new year to the Lantern Festival, which takes about 15 days.
These days, aside from other savory Chinese dishes, desserts are also an indispensable part. And here are some highlights about these sweet treats.
Symbolism And Cultural Significance
As part of the New Year meal, these desserts are meant as a blessing for the next year. That's why many have their looks or names representing good luck, prosperity, and happiness.
Moreover, since the Spring Festival is when all family members unite, multiple dishes also portray family bonds.
Popular Ingredients
There are countless ingredients for the New Year desserts in China. Each has its own meaning, and all are equally important. Still, there are several options you often see:
Sticky rice/Glutinous rice: Almost all Chinese sweet dishes use this rice or its flour version. Since it makes the dishes chewier, it represents family unity and bonding.
Red beans: Red is a significant color in Chinese culture, representing luck and prosperity. Depending on the dishes, it can also mean unity and strength.
Sesame seeds: Sesame seeds often accompany the Jian Dui (sesame seed balls) dish. This treat wishes for luck and growth in prosperity. And sesame alone is believed to deliver good health.
Dried fruits and nuts: Besides the colorful appearance and lovely textures, dried fruits and nuts mean a healthy and healthy beginning. They're also a nice way to show hospitality to the New Year guests.
Kumquats/Tangerines/Oranges: These citrus fruits are often available in cold weather, so you'll often see them in Chinese families during this time. Their round shape and vibrant yellow shade stand for good fortune and wealth.
Presentation
As mentioned above, red and gold/yellow are the two most vital colors in the Chinese Spring Festival. That's why the locals try their best to bring these shades into the desserts by using garnishes like flowers or dyeing them with natural colorings.
Another exciting aspect is the sweet treats are always served in groups of specific, such as 8 or 12, as they have good meanings. Then, sometimes, people also shape the dishes into animals or other symbols related to the year.
Regional Variations
As China has a vast territory, each region can have different ways to celebrate New Year. For example, Tang Yuan (Chinese glutinous rice balls) is a familiar dish in Southern areas.
The Northern also has a similar dish called "Yuan Xiao," but it's more popular during the Lantern Festival. The locals there love dumplings since they look like silver ingots in ancient times.
Beverage Pairings
Tea is always the most appropriate dessert partner since its subtle and slightly bitter flavor matches the sweetness. Among numerous types of tea, I recommend jasmine and oolong tea.
Wine is also an excellent choice for adults. If you go the traditional way, rice wine, like Shaoxing or sake, is the best option. But don't hesitate to buy other sweet brands with a delicate, fruity, or flowery flavor.
17 New Year Desserts In China
These celebratory desserts make New Year's time sweeter and happier. Make sure to stay tuned for my recipes.
5 Chinese Cakes
Ring in the Lunar New Year with plenty of yummy cakes to treat your family and guests. Sounds exciting enough?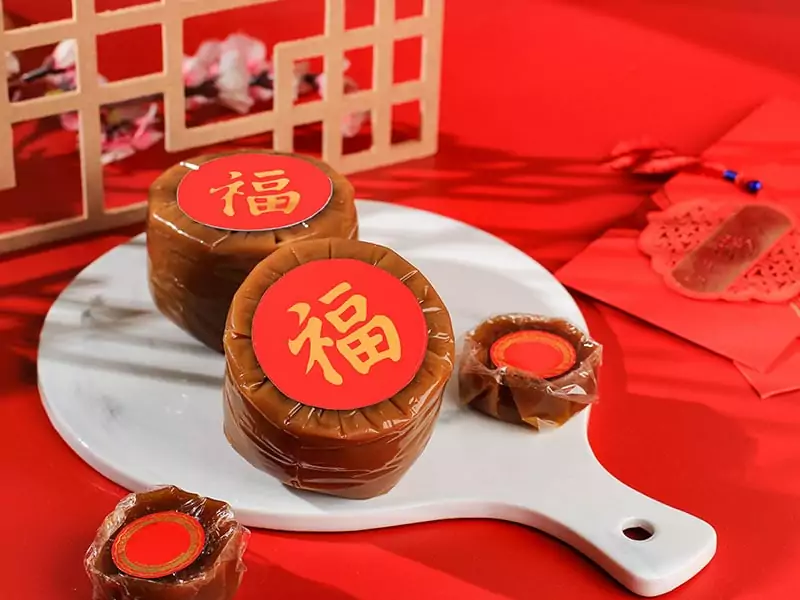 Nian Gao is a national dessert during Chinese Spring Festival. Made from sticky rice flour and sugar, these gluten-free cakes are symbols of prosperity, luck, and hope for a higher income.
Friends often exchange Nian Gao as gifts, wishing each other a fantastic new year. Nian Gao has a delightfully chewy texture and sweet taste, perfect for impressing the Kitchen God.
It used to take 20 hours to prepare, but now you can make this treat in under 3 hours. Some even use molds to shape it better. You can enjoy Nian Gao right out of the mold or let it sun-dry for a week for a fully-developed flavor.
Are you curious about a quick and easy way to make Nian Gao? Let's find out now.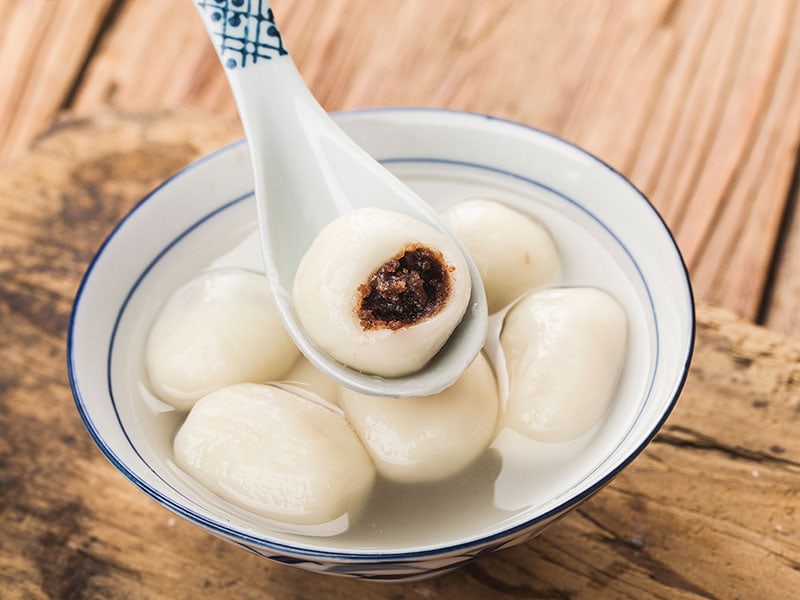 Made from glutinous rice flour, Tang Yuan offers various sweet fillings like black sesame, red beans, peanuts, osmanthus flowers, etc. Served piping hot in syrup or broth, it's perfect for warming up in winter.
Now, these treats go by different names and traditions depending on where you are in China. In Southern China, they use "Tang Yuan," meaning "soup ball." The locals love to indulge in this dessert for New Year's first breakfast.
On the other hand, Northern Chinese call them Yuan Xiao, the Lantern Festival's Chinese name. These tasty bites usually appear on the last day of the New Year holiday and the first full moon after this festivity.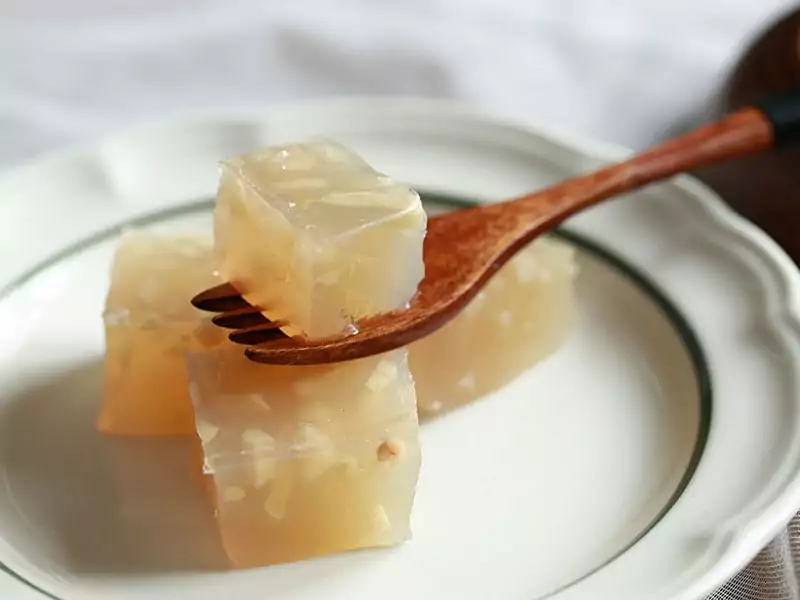 Water chestnut cake is a standard dim sum option in Hong Kong. You can even find it at some overseas Chinese restaurants. Its beautiful translucent appearance makes it as pleasing to the eye as it is to the taste buds.
This cake's key ingredient is shredded Chinese water chestnuts, but sometimes people use chopped pieces instead for visual enhancement. To serve, the cake is pan-fried and cut into square-shaped slices.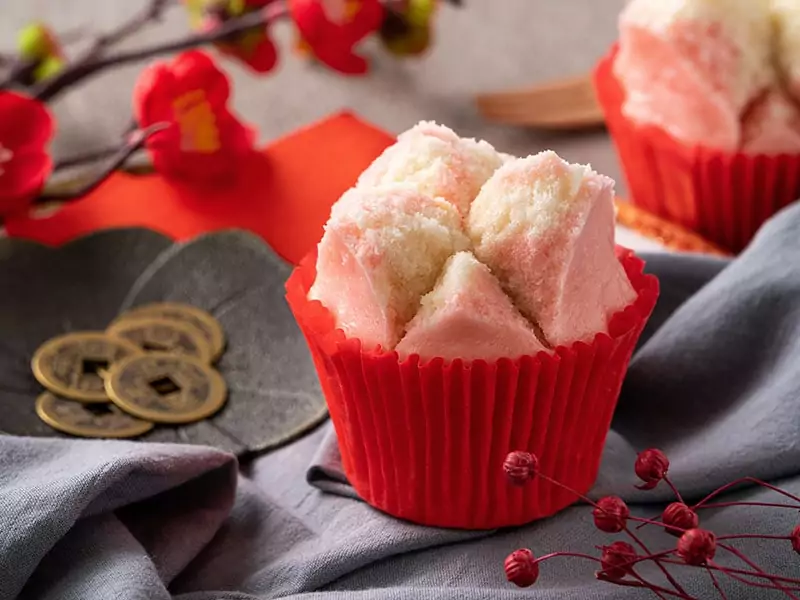 Fa Gao is not only a Chinese cake but also symbolizes good luck and success. Picture a cross between a sponge cake and a muffin; you've got Fa Gao.
Its top divides into three or four sections. Moreover, the more pronounced these cracks are, the greater the luck! While the traditional version has a golden brown hue, these cakes now come in various colors.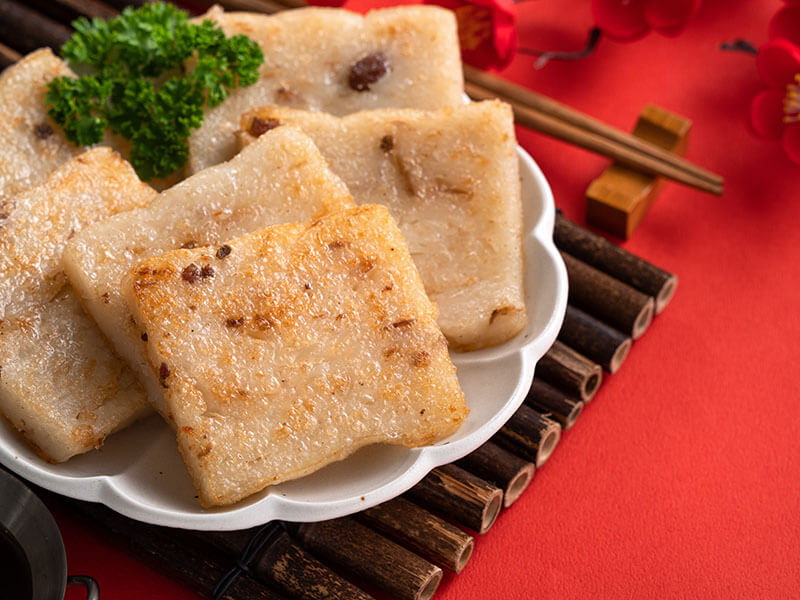 Turnip cake is a flavorful dessert from southern China, especially in the Fujian and Guangdong provinces. Its main component is shredded Chinese radish.
And interestingly, this ingredient sounds like "good luck and fortune" in Chinese, thus a familiar face in New Year. And in Hakka culture, turnip cake is a typical dish on the 7th day of the Spring Festival.
People dip it in soy sauce, kumquat jam, or hot chili sauce to elevate the taste. Depending on your preference, you can enjoy it steamed or pan-fried with XO sauce.
Yummy to eat and fun to understand – these cookie recipes make me feel eager to give them to other family members and friends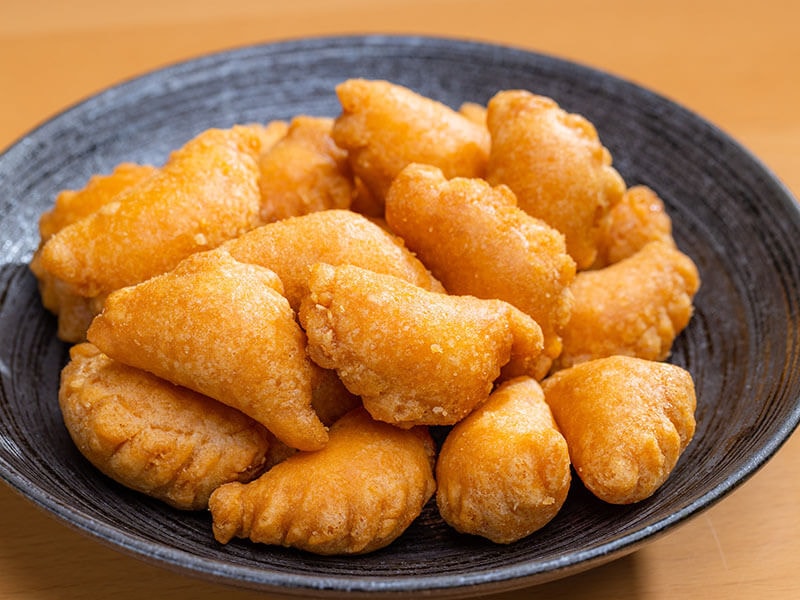 Kok Chai, or peanut puffs, are Cantonese cookies for Spring Festival. They are also familiar faces in Malaysia and Singapore. Their formal name, Yao Kok (deep-fried dumplings), perfectly describes these pastries.
Shaped like a wallet and filled with different ingredients (crushed peanuts, sesame seeds, and sugar), Kok Chai symbolizes prosperity. The chef will deep-fry it until near crispy before serving.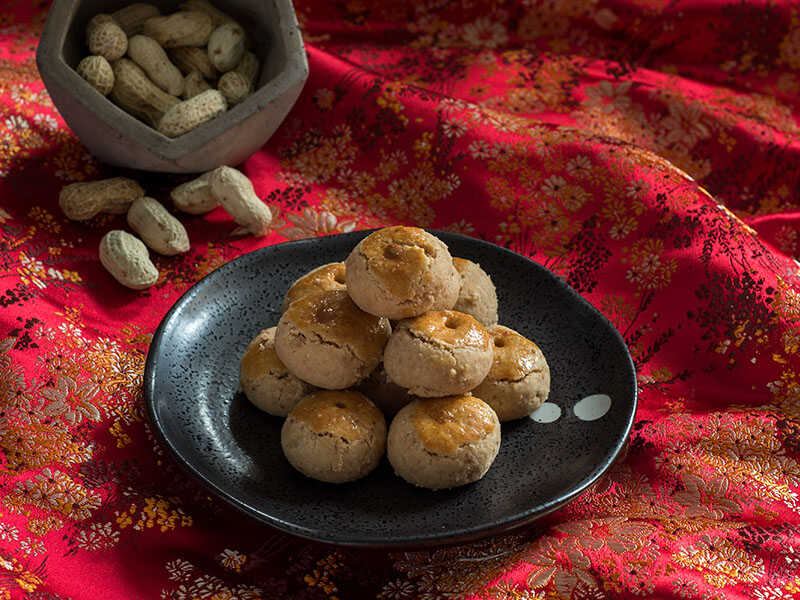 Peanut cookies are a Chinese favorite at the beginning of the year. While roasting, shelling, skinning, and grinding peanuts into powder can take lots of time, the result is worth the effort!
Besides the holiday season, these melt-in-your-mouth, fragrant, and nutty cookies are perfect for any time of the year. This irresistible dessert will immediately impress your guests at the weekend buffet party.
I can't wait to make homemade Chinese peanut cookies today. How about you?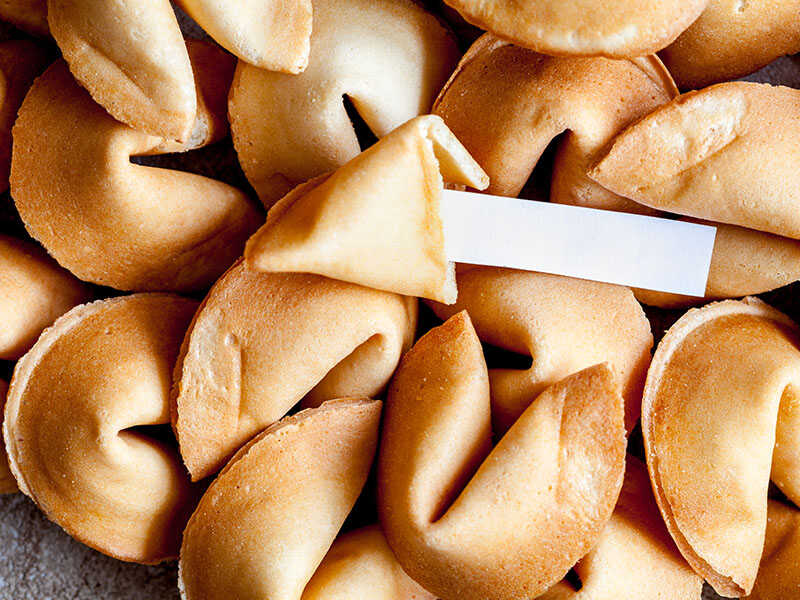 Apart from being a fascinating part of Chinese cuisine, fortune cookies also represent a unique chapter in Asian American immigration history. When you open one, you'll find a Chinese message and a lucky number for the lottery.
Once lovingly handmade, these sweet and crunchy cookies are now mass-produced to satisfy cravings worldwide. It even becomes a lovely sweet treat in many American-Chinese restaurants.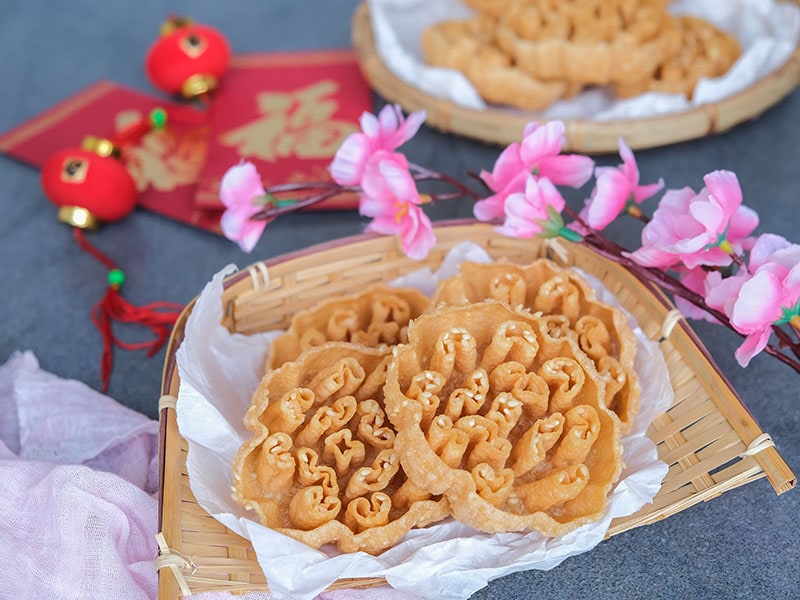 Kuih Loyang (honeycomb cookies) is a rare snack that only appears in Hong Kong and Taiwan during Chinese New Year. As its popularity has waned, this traditional treat is only kept alive by grannies.
Kuih Loyang's unique shape resembles a lotus flower that curves upward. It is now a special treat for those who cherish past flavors. So, if you come across it in this holiday, savor the taste of this vanishing treasure.
Are you ready for some homemade Kuih Loyang? Watch this video: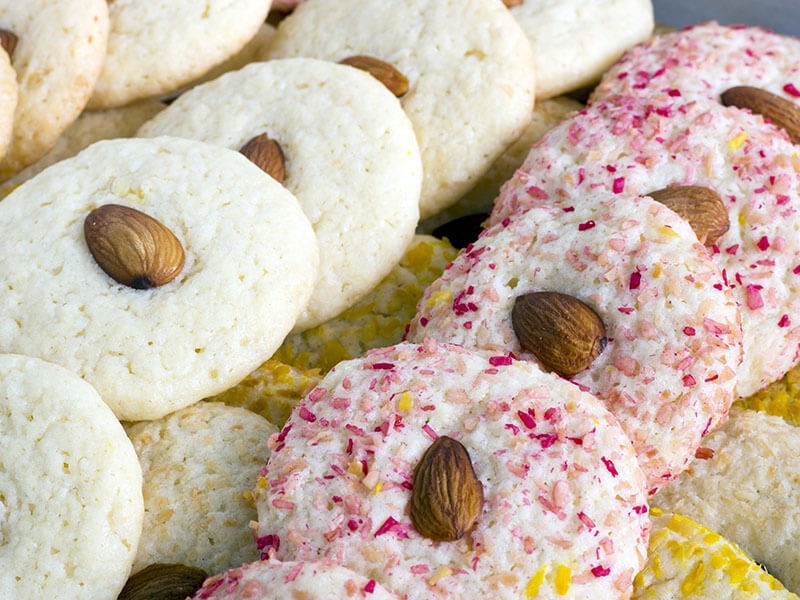 Chinese almond cookies are a classic dessert in Hong Kong, Guangdong, and even in Chinese bakeries in foreign countries. With their round shape symbolizing coins, they're believed to bring good fortune.
These crispy, light, and crumbly cookies make them a delightful treat to enjoy. Unlike other Chinese pastries, they have no filling, but a single almond is on top for more flavor and texture.
Chinese Pastry Recipes For New Year
Send off the passing year and welcome a new one with stunning Chinese recipes for making delicious and meaningful pastries.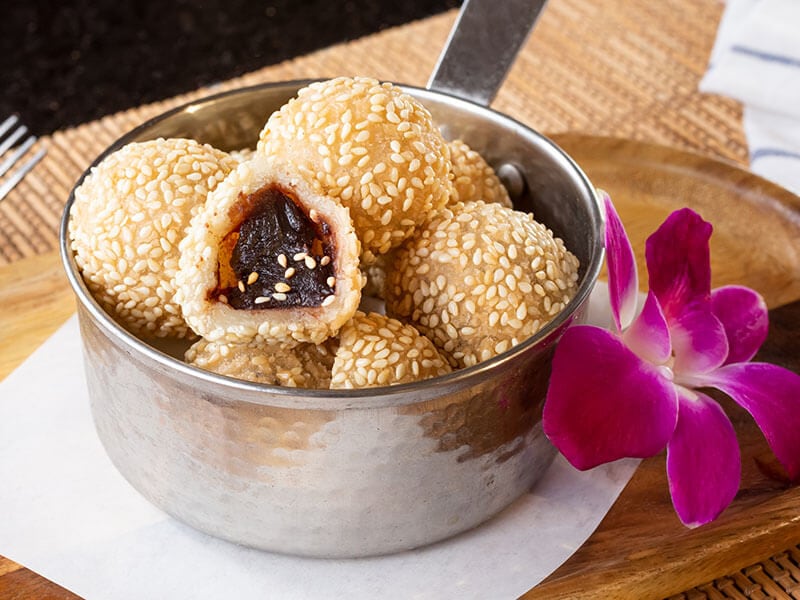 Jian Dui is a well-loved snack in both China (Cantonese region) and Taiwan. These deep-fried dessert balls use glutinous rice flour for the dough and a sweet paste for the filling.
Then, a unique touch lies in the sesame seed cover, giving them a crunchy exterior contrasting with the soft interior. Not only for Spring Festival, but Jian Dui is also suitable for enjoying all year round.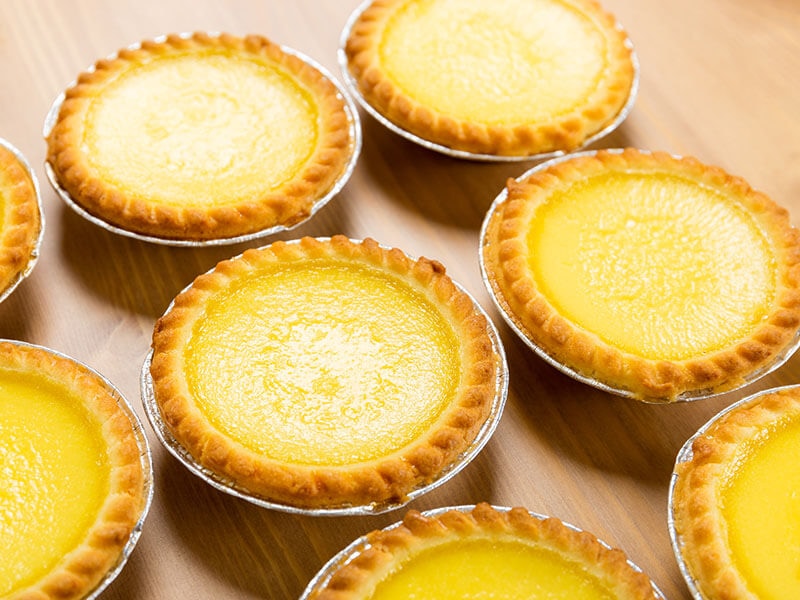 Hong Kong egg tarts are a delicious Cantonese dessert originating in Guangdong province! Yet, the Hong Kong version is slightly smaller than its Guangzhou counterpart.
These tarts combine Cantonese steamed egg pudding with English custard tart: Egg custard in a crispy, buttery puff pastry shell. The next time you're in Hong Kong, give them a try!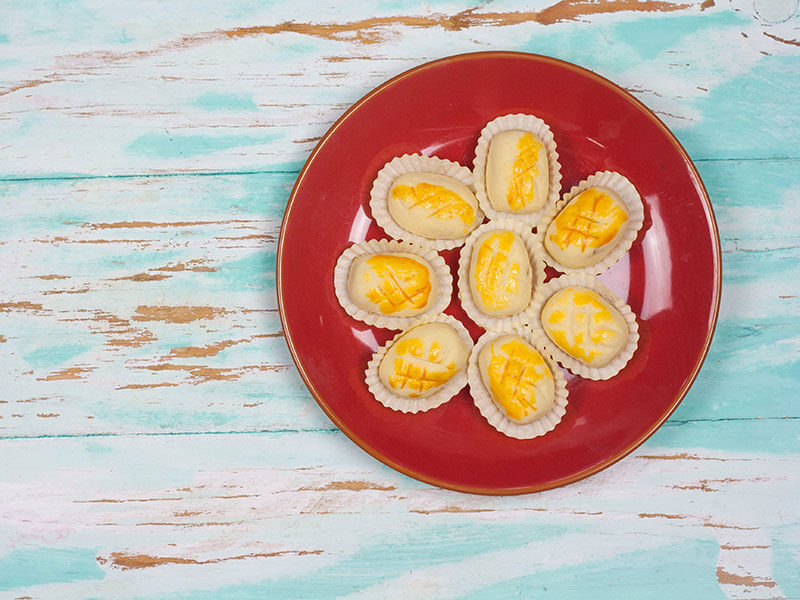 Pineapple tarts are a cherished gift to begin a new year, particularly among the Hokkien community. Since pineapple means "fortune come"t, it's a favorite fruit of the Chinese.
These tarts contain a buttery biscuit base topped with pineapple jam. Not only do they make a thoughtful gift during the festive season, but they're also a delicious way to celebrate and share good fortune with your loved ones.
Pineapple tart seems to be easier than you think. Let's find out why:
Other 4 Chinese Desserts
Let's wrap up the list of Chinese New Year treats with yummy and good-looking dishes you've ever tried.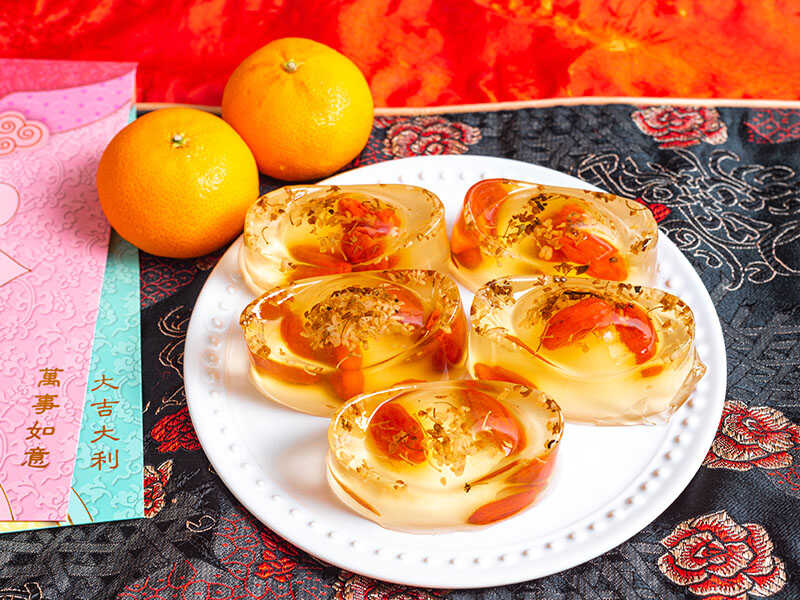 During the Spring Festival in Shanghai, many enjoy a special dessert called Gui Hua Gao. Osmanthus flowers are the symbol of luck, friendship, and achievement, and the word "gui" even sounds like the word 'noble' in Chinese.
Using glutinous rice powder, fresh osmanthus petals, and crystal sugar, this jelly is delicate, soft, and light. That explains why it's a well-liked dish in this festival.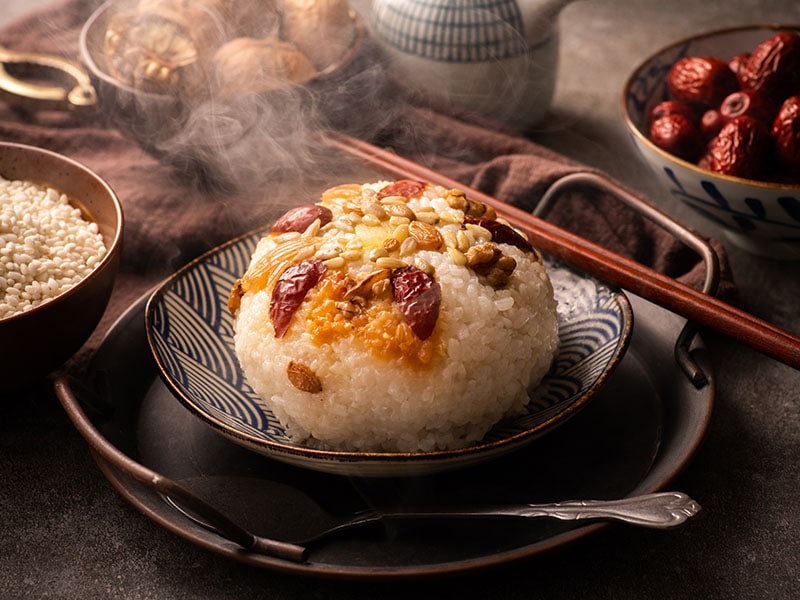 Another delicious dessert to enjoy during this time is Ba Bao Fan (eight-treasure rice pudding). This sweet and sticky dish pays tribute to the eight warriors and represents prosperity and wealth.
That's why besides glutinous rice, it features eight types of dried fruits or nuts, explaining the "treasure" in its name. People form Ba Bao Fan in a pan and chill it before serving it.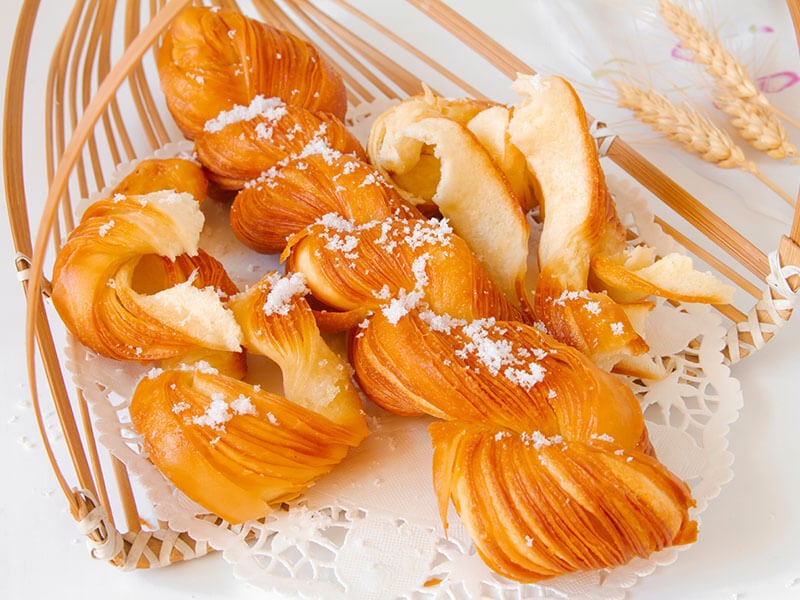 Mahua is a traditional Chinese snack that has a history dating back over a thousand years. This Tianjin specialty from North China boasts a crispy texture and rich flavor. You can share this snack with friends and family with tea.
It symbolizes reunion and happiness, as the twists in the dough represent the strong bonds between family members and friends. That explains why it is a popular gift at the start of a new year.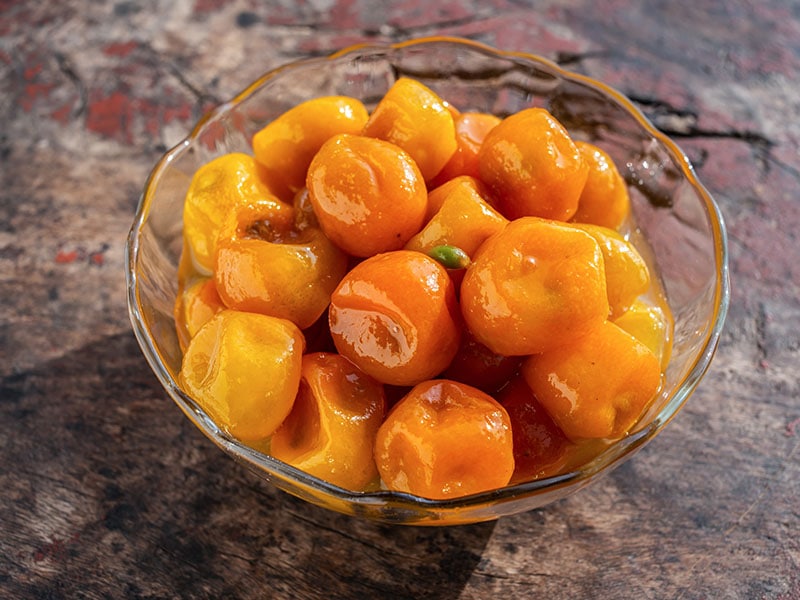 Thanks to their sweet and tangy flavors, preserved kumquats are an irresistible snack. Their vibrant color and texture can enhance many delightful recipes.
Moreover, kumquats symbolize good fortune, making them an everyday pantry staple in Asian households. Their sour scent is suitable for numerous yummy recipes.
Candied kumquats take time to achieve the best flavor. Make it ASAP. Let's see this video:
FAQs
This FAQs section will help broaden your knowledge about Chinese New Year desserts. Any trouble you still have with this theme will be solved immediately.
Symbolic Chinese Desserts For New Year
Here's a selected list of all national desserts during Chinese New Year. As a sweet tooth, I completely love these treats and their hidden notes. They make me rethink my cooking and become more mindful in the kitchen.
What do you think? Share your cooking experiences with other readers and me. And remember to introduce this list to whoever is interested in Chinese cuisine, so they can prepare their New Year meals!
Nutrition Facts
16 servings per container
---
Amount Per ServingCalories148
% Daily Value *
Total Fat 5.2g

8

%
Cholesterol 10mg

4

%
Sodium 59mg

3

%
Potassium 9mg

1

%
Total Carbohydrate 24.9g

8

%

Dietary Fiber 0.5g

0

%
Sugars 15.4g

Protein 0.6g

0

%
---
* The % Daily Value tells you how much a nutrient in a serving of food contributes to a daily diet. 2,000 calories a day is used for general nutrition advice.