If you love inexpensive and easy homemade desserts, you have the right reason to take a trip on Belgian dessert recipes.
The sweet stuff comes with specialties in both taste and appearance, which allows this country to become more and more famous with its local desserts.
It's time to add stunning Belgian desserts to your list so that you and your family members can enjoy new flavors of desserts.
Then, you can even come up with your own favorite recipes by making a link between the new ones with those you have already known.
So, are you ready for the adventure? Let's head into this post in which I am going to bring you 18 authentic Belgian dishes that you will surely love!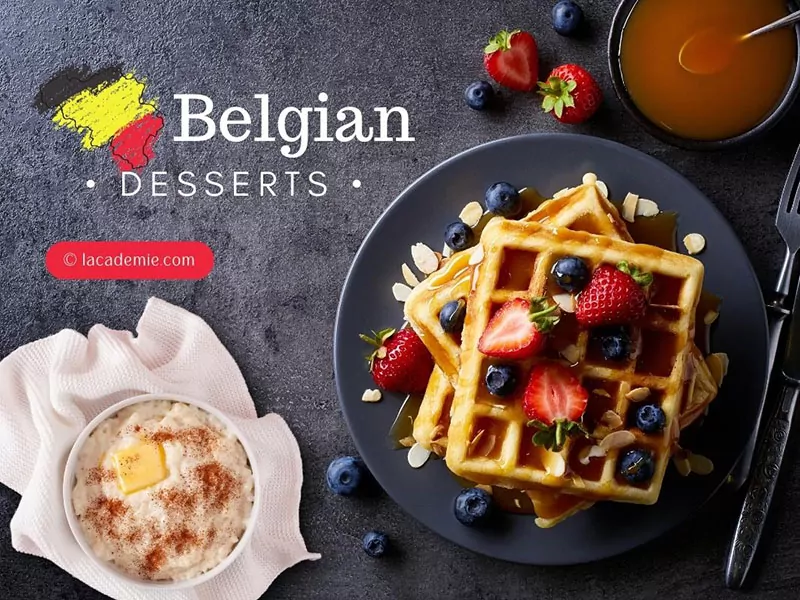 List Of 18 Palatable Desserts Coming From Belgium
When talking about Belgian desserts, you have different choices, ranging from comforting cakes to sumptuous tarts.
Cakes
Belgian Waffles
Apple Turnover (Appelflap)
Pannenkoeken (Belgian Pancakes)
Oliebollen (Doughnuts)
Speculoos (Spice Cookies)
Cinnamon Belgian Waffles
Belgian Chocolate Waffles
Puddings
Pouding Aux Pommes (Apple Pudding)
Riz Au Lait (Rice Pudding)
Belgian Chocolate Pudding
Creams
La Dame Blanche
Strawberries and Whipped Cream
Heavenly Chocolate Mousse
Belgian Cream Puffs With Chocolate Cherry Sauce
Tarts
Geraardsbergen Mattentaart
Belgian Tarte Au Fromage
Flemish Sugar Tart
Belgian Chocolate Strawberry Tarts
18 Worthy Belgian Desserts You Should Try Once!
If you want to check your cooking skill, just try the following dessert recipes. I guess you will not go wrong with them!
7 Cakes For Your Perfect Desserts
When you want to feed a crowd, making some cakes seems to be the best option. Reference the following recipes to find your favorites!
For those who are waffle lovers, you should not miss these recipes with waffle iron for your desserts or breakfasts. It is so easy to make with a few ingredients. So, just scroll up your sleeves and head in your kitchen now!
The waffles you make will be light and fluffy in texture and sweet in flavor. Compared to regular waffles, the Belgian version comes with a larger surface, which allows you to put tons of toppings in it.
You can top it with fresh blueberries, strawberries, or chocolate chips. Or, if you want a touch of sweetness, some drizzles of maple syrup or cinnamon sugar would be fine.
Just spend some time making this stunning dessert, and you will never have to regret it! It is so convenient to buy the cake pastry from the store. The rest of your job is cooking buttery cinnamon apples to fill in the pastries.
The combination of flaky pastry and apples with sticky syrup will surely blow your mind! For a sweeter taste, some sugar milk glaze and sprinkles of powdered sugar on top will work better than anything!
For a super fruity dessert, the cakes will be served with some fresh fruits like diced apples or strawberries.
You can also find this dessert in the Netherlands. If anything, you can say that Appelflap is one of the most iconic Dutch food. It'll be a huge overlook if you fail to mention this delightful dessert when talking about this country's cuisine.
If you want a step-by-step direction in making apple turnover, watch this video:
Pannenkoeken is a classic Belgian dessert. Different from typical American sweets with pancakes, the Belgian ones are larger and thinner.
With some simple ingredients available in your pantry and fridge, making some Pannenkoeken is just a piece of cake! All the ingredients you need are eggs, milk, butter, sparkling water, flour, and salt.
After making the batter from the prepared ingredients, you will pour it into a skillet over heat and shape round pancakes.
What you will get are airy and buttery pancakes that are best served warm with some powdered sugar sprinkled on top.
Oliebollen is a classic Belgian sweet donut, but it is also a popular dessert in the Netherlands. The doughnuts can be made with raisins, currants, or apples. The dough is not sweet on its own, so you can fill it with jams or whipped cream for a sweeter flavor.
Or, if you want a simpler option, just sprinkle some sugar powder on it. The bite-size donuts with the shape of balls will be a big hit for your family members or friends at weekend home parties!
Speculoos is a lightly spiced cookie that comes with different designs like heart, teddy bear, or doggie. So, this would be a great dessert for kids! It just takes about 15 minutes to complete the baking process of a batch.
Therefore, spending about an hour baking will give you enough cookies for your whole family's consumption during holidays. The slightly sweet and aromatic cookies will surely be loved!
Are you craving crispy waffles coated with sweet glazing? If your answer is yes, take this recipe, and you will never go wrong with it!
What you will have are the fluffy and buttery waffles that will match well with some sweet toppings such as caramelized apples or bourbon maple syrup.
In addition, the crispy but tender waffles can be spiced up so much with some dusting of ground cinnamon and powdered sugar. Such a beautiful dessert!
For those who are thirsty for a chocolate flavor, I have a stunning Belgian dessert for you. In this waffle recipe, the chocolate will be blended well with the waffle dough, which will surely bring you the most delicious waffles with a hint of rich chocolate.
It would be a great dessert for weekends when you have some free time for your family.
Just stand in front of your kitchen counter and prepare some chocolate waffles and then serve them warm to everyone with various addictive toppings such as syrup, butter, or powdered sugar. What is better than this?
3 Pudding Dessert Recipes From Belgium
When you crave soft and moist desserts, some Belgian-style pudding can serve you well.
If you are a big fan of apples, you should not turn down this recipe! It is a soft and moist sponge cake with crispy edges. The pudding is coated with buttery and sweet glazing made of butter, egg, and sugar.
In case you do not have apples on hand, you can replace them with pears or peaches. That's Ok!. Just make a big batch of apple pudding for your family members or friends to enjoy, and you will see them constantly reaching for more!
Have you ever tried any pudding made with rice? Does it sound weird? Actually it is a familiar idea of Chinese desserts, but how about rice pudding in Belgian style? Let's discover this pudding recipe, and you will realize rice is worthier than serving you a full meal!
The pudding is thick in texture and creamy in its flavor. It is a combination of rice, milk, vanilla extract, salt, and spices, which is best to be served warm with some brown sugar topping.
Do you go crazy with prepared chocolate pudding? If yes, I have good news that you can make your favorite at home. All the ingredients you need are milk, cream, eggs, sugar, cocoa powder, cornstarch, salt, and vanilla.
After undertaking steps of sifting, whiskings, stirring, and pouring the ingredients, you will get a thick and creamy chocolate pudding. As the last step, enjoy it cold with some whipped cream topping!
How About Desserts With Whipped Cream Or/And Ice Cream?
Sometimes you are full after a big meal but still want to enjoy some sweet food. Then, the below cream recipes can fulfill your craving.
During hot summer days, what better than enjoying some vanilla ice cream with a rich chocolate glaze on top? This Belgian ice cream recipe is one of the best and simplest desserts you should try at least once!
The melting dessert will be served with a chocolate sauce topping made of water, sugar, chocolate, and butter. Adding some extra sweet and aromatic whipped cream will create a more attractive treat for everyone.
Sometimes, you just have enough time for a quick dessert with whipping cream after meals. For me, it is completely fine when it comes to the combination of strawberries and whipped cream. I must say that this is definitely a match from heaven!
The slightly sour strawberries match wonderfully with the creamy and sweet whipped cream. When this combo sits in your mouth, I just have only one word to describe your feeling: "Marvelous" Try it once, and I guess you will repeat it for more in the future!
13. Heavenly Chocolate Mousse
If you have some eggs and chocolate chips on hand, just use them to make a stunning sweet and rich chocolate mousse. And you will get excited a lot with the result!
It is an elegant combination of chocolate, butter, egg yolks, sugar, and whipped cream. Everything is blended thoroughly in a smooth and thickened mousse texture.
When serving the dessert, it is better for you to top it with some additional whipped cream for more creaminess. The chocolatey and creamy mousse will become a new favorite of you and your family members!
This video will show you a visual instruction for making chocolate mousse:
You can eat a Belgian cream puff on its own, but if you want to transform it into an eye-catching and yummy dessert.
You can try this recipe in which cream puffs will be folded with chocolate cherry sauce, whipped cream, and a maraschino cherry for a lovely decoration. Is it easy? Yes, that's it, but its flavor will surely cool your brain!
4 Lovely Tart Recipes
Welcome to the world of talking tarts! The small-size but irresistibly delicious tarts are waiting for you to discover.
I must say that the tart recipe is so simple in the making method but super complicated in flavor. So, let's find the proof for what I am saying!
The tender but crispy pastry of each tart contains a filling of milk curd, egg, sugar, and almond mixture. The almond-flavored tarts will bring you a distinct taste that would be hard to be found in other desserts.
Now, it's time to make a big-sized dessert full of aromatic vanilla flavor to serve your whole family. In this recipe, the tart crust will be spread with applesauce and filled with the cheese and foamy egg mixture made of cheese, eggs, creme fraiche, sugar, butter, salt, and vanilla.
And it is baked until the surface turns golden brown. The slightly sweet and rich Belgian Tarte au Fromage will wow your family members so much!
If you are craving a cinnamon-flavored tart, you should not skip this baking recipe. The pairing of tender and crunchy crust with a sweet caramelized filling in the hint of cinnamon will definitely be a heaven-sent dessert!
You will find it easy to make this sugar tart at home with a handful of main ingredients such as all-purpose flour, granulated sugar, egg, and whole milk for making the tart dough.
The sweet and eggy filling is made of heavy cream, beaten eggs, butter, dark-brown sugar, and a little bit of salt and vanilla extract.
For those who love the combo of strawberries and chocolate, I have a lovely dessert recipe for you! Just melt your mouth with some fruity and chocolatey Belgian tarts. The tart base will be made with pressed cookie crumbs.
Next, it comes with sweet strawberry paste filling and then some melted dark chocolate topping. Top it off with some sliced strawberry to create a stunning dessert. So simple!
Spend Time Making Desserts And Taking Care Of Your Family As Well!
I remember someone saying that discovering beautiful dishes is as valuable as the discovery of new stars. Therefore, just select your favorite recipes, prepare necessary ingredients, and then start to make them with your optimal creativity!
In addition, no matter how busy you are, you should spend time with family members. It is because family is the best in this universe.
Let's imagine after a long day, everyone sits in front of a food table together and shares a sweet dessert with each other. What is better than this cozy moment?
How about you? Please feel free to share with me your experiences in Belgian desserts by leaving your comment below this post. Like or share it if you think what I bring you today is useful. Thanks for reading!
Nutrition Facts
6 servings per container
---
Amount Per ServingCalories383
% Daily Value *
Total Fat 25.3g

39

%
Cholesterol 36mg

12

%
Sodium 392mg

17

%
Potassium 70mg

2

%
Total Carbohydrate 36.5g

12

%

Dietary Fiber 3.5g

12

%
Sugars 22.8g

Protein 2.9g

4

%
---
Calcium

15

%
Iron

3

%
Vitamin D

8

%
* The % Daily Value tells you how much a nutrient in a serving of food contributes to a daily diet. 2,000 calories a day is used for general nutrition advice.