Haitian desserts have a complex combination of different cultures. Spanish, French, and African cuisines shape the traditional Haitian culinary culture from the ingredient choices to the cooking style.
So, if you are looking for one-of-a-kind desserts for the next family meal, the following sweet courses will spice up the entire table. The best part is you can enjoy these recipes any time of the year!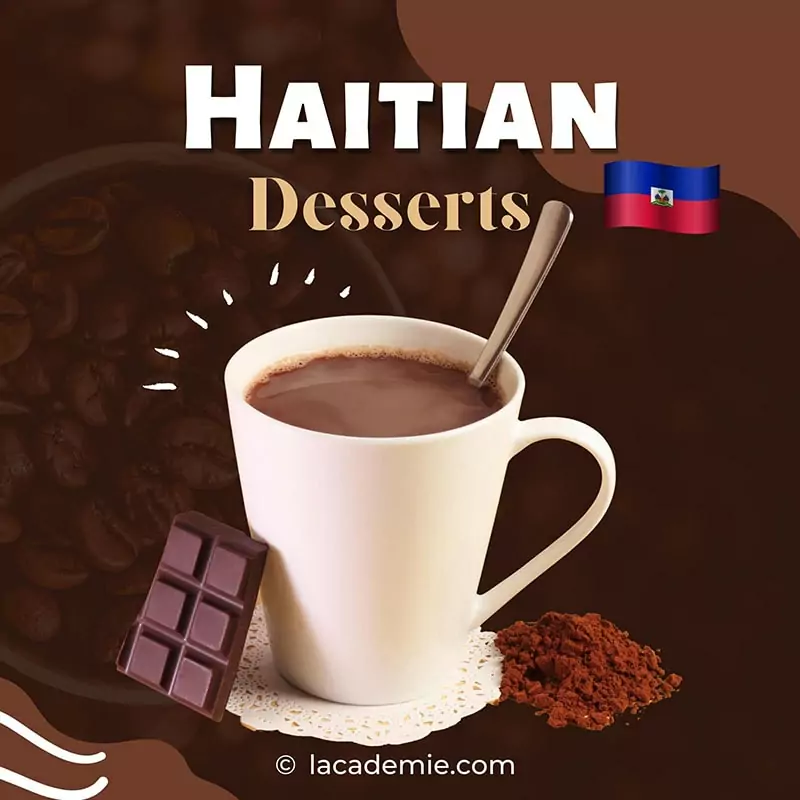 13 Incredible Haitian Desserts To Treat Your Loved Ones
Trust me! If you make these scrumptious Haitian specialties for your lover or family, they will be wowed by your incredible cooking skills.
Pain De Mais is a sweet and delectable kind of cornbread from Haiti with a dense and slightly spongy texture. This is one of the most popular dishes because corn is a native ingredient aggressively used in this country.
You will find a gentle buttery and sugary flavor in this airy dish. A touch of ginger and rum gives this sweet treat a kick of bold taste and pungent aroma.
The presence of coconut gives this dessert a creamy taste with many exciting textures. Just take a bite, and you will understand what I said.
Don't you want to try a delicious Haitian morning dish? Yeah! This classic French dish with Haiti's style will charm you with its breathtaking appearance and fascinating flavor.
As Haiti used to be a colony of France, this country has one of the best French toast recipes that you can not find anywhere else. The toast is thicker, with a moist structure waiting to please your sweet tooth.
A hint of citrusy orange and fragrant cinnamon will be a perfect choice to balance the rich flavor of whipping cream. You can serve the dish alone but pairing it with a glass of champagne is not a bad idea.
Hurry up! These Haitian French Toast is waiting for you.
Gateau Au Beurre is a traditional dessert from Haiti that boasts lots of taste. The first impression of the cake is the fragrant rum aroma spreading all over the room after you take it out of the oven.
Although the structure is a bit denser than other sponge cakes, you will be satisfied with its slightly airy texture. In Haiti, people usually use Barabancourt rum, one of the most famous Haitian rum consumed worldwide.
You can pair the cake with some sweetened syrup to tie with the tropical flavor of the cake.
Hey! How about making a delightful Haitian midday dish? These crispy beignets will suit your desire. Beignets are a deep-fried banana fritter originating from France; Haiti has developed its own version with a beautiful tropical taste.
Fry these beignets in hot oil until you achieve a brownish-golden cover. The cover has a flaky texture that highlights the sweet banana filling. There are many versions of beignets; you can choose the original Haitian version or a hybrid of French and Haitian one.
Don't forget to dust a small amount of powdered sugar to form a powdery texture and sweet taste in every piece.
I think you will fall in love with these crispy Beignets.
Pain Patate is another beloved cake in Haiti that you should not miss when visiting the country. The dessert's main ingredient is sweet potato, one of the most common native ingredients in Haiti.
Sweet potatoes give the cake a thick and moist body. By applying coconut milk while making the treat, you boost the moisture and creamy taste to a higher level. Ginger and cinnamon will give you a kick of spiciness with a delightful aroma.
Pain Patate works well with your favorite ice cream or whipped cream if you wish. Don't forget to let the cake cool down for around 30 minutes to one hour before serving. I guarantee this cake will be a hit for your family.
Hold on! This delectable Haitian dinner specialty will enrich your family meal. Cremas (or kremas) is a buttery drink with a strong touch of dark rum. In Haiti, people make this drink on special occasions like weddings, christenings, or Christmas.
This irresistible Haitian drink has a slightly thick and smooth texture that resembles the appearance of Bailey's. The creaminess of coconut cream is balanced with a citrusy flavor of lime juice.
You can use Cremas to substitute dessert wine at any festive party. Be careful while enjoying the drink because the pleasant taste will allure and make you consume a significant amount of alcohol without noticing.
OMG! This beautiful Cremas will be a hit at your upcoming party.
Have you ever tasted peanut butter with a spicy flavor? Haitian has special peanut butter recipes with a unique fiery kick. The piquant taste comes from paprika or Scotch Bonnet pepper, depending on your preference.
You can serve Mamba on a hot and crispy slice of bread for a wonderful meal. Add it to your banana smoothies or ice cream to form a piquant tropical taste for these desserts.
One note for this incredible Mamba is that you must use dried ingredients while making it. If not, the moisture from fresh pepper will ruin the whole paste after a short duration.
Akasan is a traditional Haitian porridge-like beverage made from rich milk, cornflour, and fragrant spices. The dessert has a perfect consistency that is not too thick or too watery. If you cook the drink properly, it will have a lovely brownish-yellow color.
Anise and cinnamon sticks will spread an alluring aroma to your entire kitchen when you add them to this cornmeal drink. A dash of salt will create a balanced flavor for this beautiful dish.
Akasan will be an excellent on-the-go breakfast for busy weekdays. Serve the dessert hot or cold up to your favorite taste.
The best Akasan recipe is right here! Make it now.
Gateau Ayisyen Zoranj is a Haitian sweet sponge cake that will melt your heart. The cake is enriched with a wonderful nutty flavor from nutmeg. By using this ingredient, you have created a distinctive pungent fragrance for this cake.
You can replace the evaporated milk with a touch of citrus from orange juice. A strong kick of rum completes the cake with a memorable flavor. Make it for your friends and family; I'm sure they will appreciate your cooking skills.
Due to its requirement of sophisticated preparation, this Haitian cake is usually saved for special occasions. In fact, the cake's total preparation and baking duration are around one hour and fifteen minutes. So, remember to plan before trying the recipe.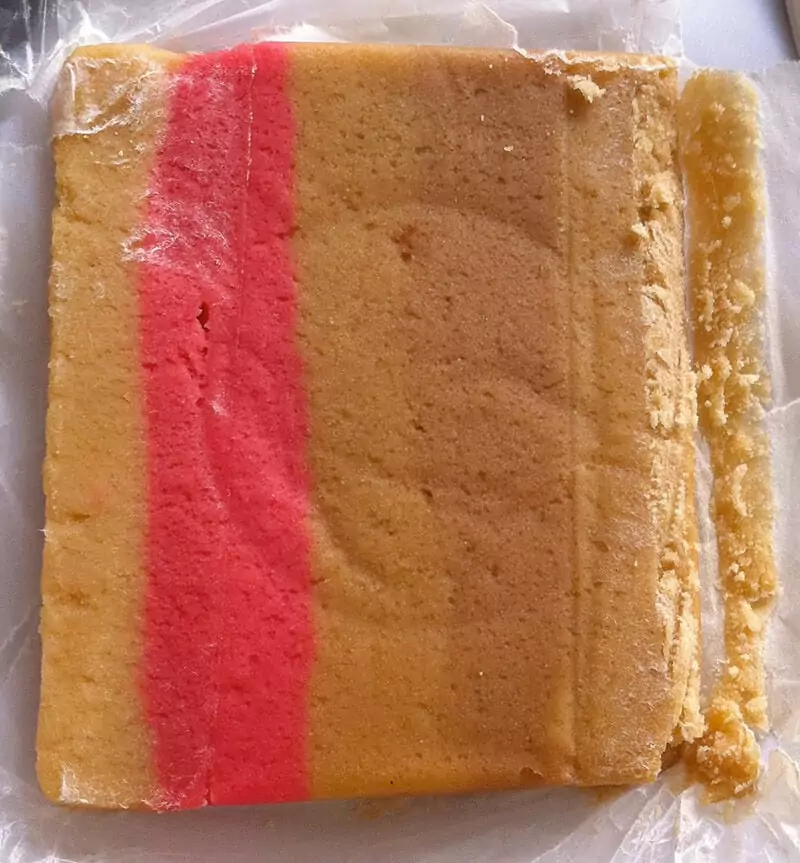 Dous Makos is a sweet fudge that looks like a brownie bar but is lighter in color. The Dous Makos's texture is a bit gooey and chewy, leaving a mesmerizing sweet taste in your mouth.
This sweet fudge is named after Fernand Macos; he is Haiti's version of Mr. Milton S. Hershey. Mr. Macos is not as prominent as Mr. Hershey, but he is admired for his contribution to Haitian cuisine.
There are many variants of this Dous Makos that you can choose to explore its taste. The one with layers of vanilla and chocolate will surprise you in every bite. You can make these sweet treats for your kids; I'm sure they will go crazy for this recipe.
These Dous Makos look impressive. Don't hesitate to try them!
Coconut is a native fruit in Haiti that significantly contributes to the diversity of Haitian cuisine. Blancmange is a representative of this tropical feature in this country's cuisine. The dessert has a beautiful appearance influenced by the French-cooking style.
This dessert has a jiggly and soft texture enriched with coconut milk. Additionally, you can boost the creaminess by applying some evaporated milk for this Blancmange.
There are plenty of choices to add a fruity taste to this dessert. Fruit cocktails or fresh diced fruit like mangoes or papayas are some tropical options for you.
Do you know that Haiti also has a special hot chocolate drink? Chokola Ayisyen will change your perception of a standard hot chocolate. Unlike the typical chocolate drink, this Haitian version has a beautiful fragrance from cinnamon and star anise.
Traditionally, Haitian people make this drink from round-shaped cocoa balls. However, you can use cocoa powder to create a rich drink full of different characters.
For those who love their drink to have a strong flavor, you can add fresh ginger or a pinch of cayenne pepper; the taste is just amazing.
Don't miss out on this wonderful Haitian hot chocolate. It's incredibly tasty!
Bonbon Siwo will add a brilliant way to twist your loaf of bread with a piquant touch from ginger. This gingerbread has a wonderful sweetness with an incredibly moist texture. Baking soda helps the cake rise, forming a lovely crumbly texture.
Another signature feature of this lovely ginger-flavored dessert is the presence of a sweetener like molasses or dark sugar cane syrup. If you love coconut flavor, choose the recipe using unsweetened shredded coconut.
This gingerbread cake is the perfect choice to kick off the morning with excitement. You should make this dessert for your kids; I bet that this Bonbon Siwo will become their favorite.
A Small Country With Rich Cuisine
Although Haiti is just a small nation in the Caribbean region, it has a diverse culinary culture that gourmand should not skip. If you want to discover a tropical country cuisine with an eclectic fusion of other cultures, Haiti is an excellent choice.
Such a beautiful exploration, right! Remember to hit the subscribe button for more tasty recipes. Goodbye!
Nutrition Facts
18 servings per container
---
Amount Per ServingCalories305
% Daily Value *
Total Fat 17.9g

27

%
Cholesterol 51mg

17

%
Sodium 139mg

6

%
Potassium 250mg

8

%
Total Carbohydrate 33.7g

11

%

Dietary Fiber 2.3g

8

%
Sugars 15.6g

Protein 4.5g

8

%
---
Calcium

77

%
Iron

1

%
Vitamin D

9

%
* The % Daily Value tells you how much a nutrient in a serving of food contributes to a daily diet. 2,000 calories a day is used for general nutrition advice.