Do you know that there are many different types of cornbread? Cornbread does not always consist of one recipe with the same ingredients. It actually includes a lot of different elements and various cooking methods! It's not easy to produce an appealing cornbread loaf!
Are you so curious about the varieties of cornbread, aren't you? I bet that's the reason why you are here! I will take you from one surprise to another! Follow my lead and explore the spectacular world of cornbread, so that you can pick your favorite to serve on Thanksgiving!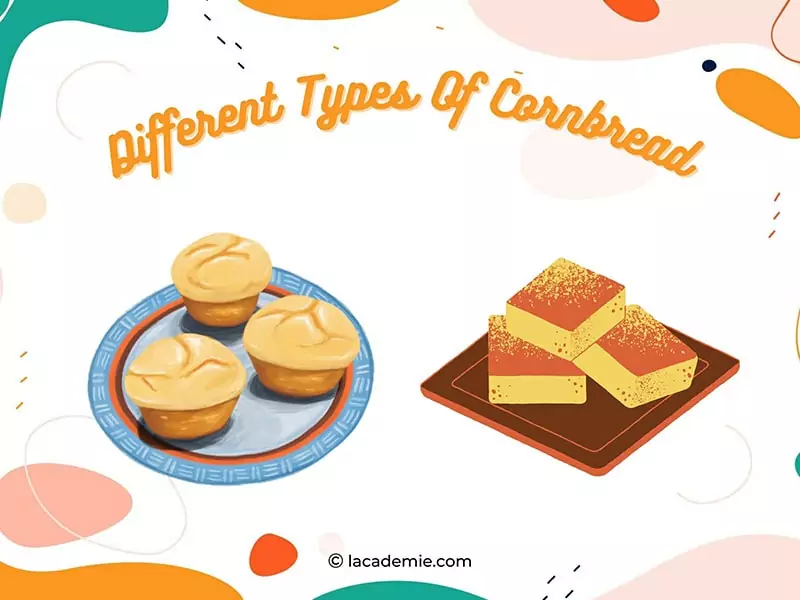 First, Let's Get Back To The Cornbread Origin!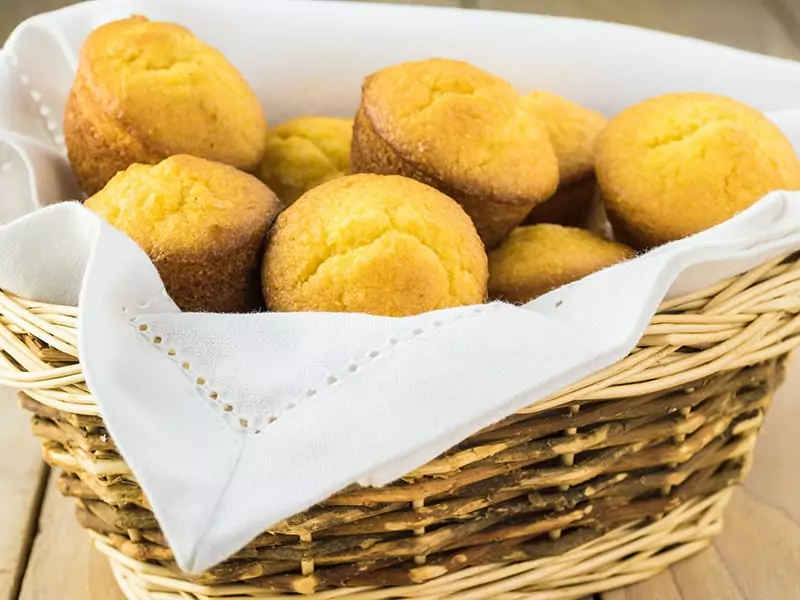 As you may know, cornbread is a type of quick batter bread from cornmeal and some other ingredients. It has a close relationship with American cuisine, especially in the Southern regions. It originates from Native American cuisine.
Let's go back to the time when Native Americans usually used ground corn as a primary staple food. They had been eating it for like, thousands of years before the appearance of Europeans in the New World.
After that, European settlers quickly learned the recipe of the indigenous Southern Americans in using cornmeal to make bread. They started to make cornbread inspired by grain bread in Europe. Since then, it has become so popular in the U.S. until now.
Cornbread was a rising star during the American Civil War. It was nutritious and affordable food for everyone. There have been many variations of it from the past to the present. In this article, I will reveal some cornbread types that are still renowned nowadays!
6 Classic Types Of Cornbread That You Should Know
Do you know what type of cornbread you are eating? All varieties of cornbread may look the same at first sight, but they are actually really different with distinctive ingredients and cooking methods! Go ahead and explore everything about them!
| Types of Cornbread | Ingredients | Cooking Method |
| --- | --- | --- |
| Baked Cornbread | Cornmeal, eggs, milk or depending on different regions | Using a heavy, cast-iron skillet covered with bacon grease or any type of oil |
| Corn Pone | Thick cornmeal dough that doesn't include any egg or milk | Using an iron pan that is put on an open fire with butter, cooking oil, margarine or shortening |
| Cracklin' Bread | Cornmeal, pork cracklings | Any suitable method |
| Hot Water Cornbread | Self-rising cornmeal with soda, chemical leavener and boiling water | One frying method with a range top with cooking oil |
| Johnnycakes | White or yellow cornmeal, hot water, milk and salt | One frying method, but in an ordinary skillet or griddle |
| Hushpuppies | onions, jalapenos, onion seasoning, beer | Deep frying |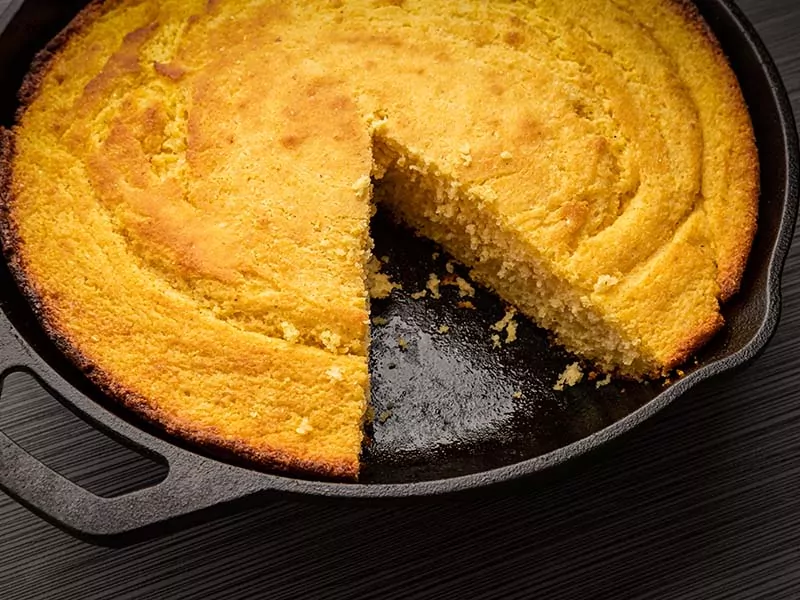 There is no better type of cornbread to start this list with! Baked Cornbread is the most popular staple dish in Southern and Southwestern American cuisine, especially as a side dish for chili con carne and barbeque.
You can use leftover cornbread to make other delectable dishes, like a brand new breakfast! You may want to dip it into milk or buttermilk for a filling breakfast, especially in the South.
People make this cornbread with a heavy, cast-iron skillet covered with bacon grease or any type of oil. They usually fry the batter mixture containing cornmeal, eggs, and milk by pouring it directly into the hot oil. Then, they will bake it as a whole in an oven.
A successful Baked Cornbread has a slightly crispy crust outside and soft, moist, cake-like texture inside. Beside the recipe using cast iron skillet, the cornbread may appear as loaves, sticks, or muffins. And I bet that they are all delicious!
Baked Cornbread has different variants in Southern and Northern America with many types of cornmeal batter, including various degrees of sugar and eggs. The Southern Cornbread version uses little to no flour and sugar, while the Northern version is sweet and cake-like.
Make your best Baked Cornbread ever with this detailed instruction!
Corn Pone, also called Indian Pone, is a classic staple in Southern America. Its thick cornmeal dough doesn't include any egg or milk. People will cook it with an iron pan on an open fire. They will use butter, cooking oil, margarine, or shortening to cook.
Corn Pone is also a famous pastry in the Appalachian Mountains. Here, the locals will bake it on a round iron skillet or an ordinary pan in any shape. A lot of American writers have brought this cake to their works. Mark Twain talks about it all the time in his novels.
Cracklin' Bread is another well-known dish in Southern America. The cornbread batter will consist of pork cracklings and you can cook it with any suitable method. The pork rinds make the bread become more crunchy beside the moisture.
In the South, the locals use the skillet to make Cracklin' cornbread, so that the outer skin will be more crunchy.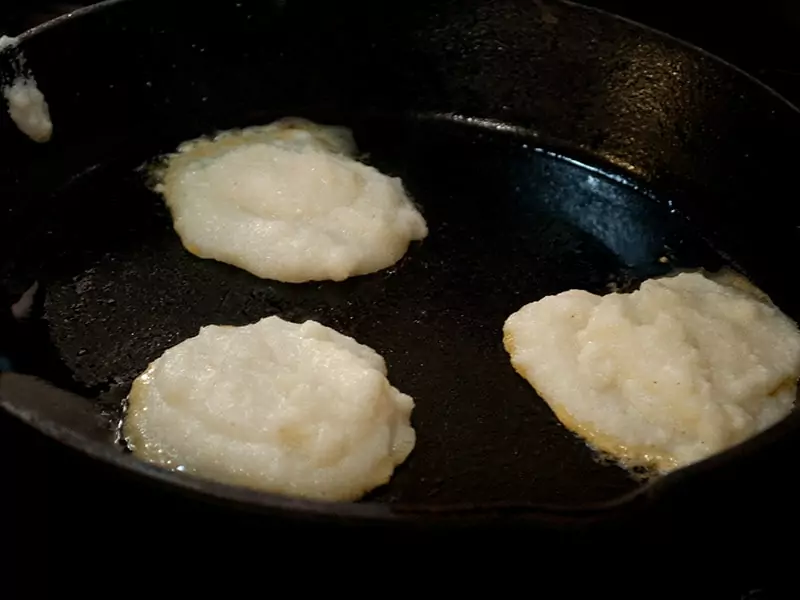 Hot Water Cornbread uses one frying method with a range top. The batter mixture will include self-rising cornmeal with soda, chemical leavener, and boiling water. By using a range top, this cornbread is somehow different from the others.
To make Hot Water Cornbread, the cook will pour some batter on the hot pan with oil and wait for the crust to turn golden and crispy, just like making pancakes. The inside of the batter will be mushy and crumbly.
For a bread-like texture, the native Americans will sometimes add some wheat flour to the batter. They have made Hot Water Cornbread for centuries. It may even exist before European colonization.
Hot Water Cornbread resembles pancakes with round pieces. One piece of it can be 3-4 inches in diameter. It has a really soft texture and rich flavor. People likely top or dip it in fresh honey – it's the formula for a perfect breakfast.Try it and you won't be disappointed!
Hot Water Cornbread is easy to make with simple ingredients!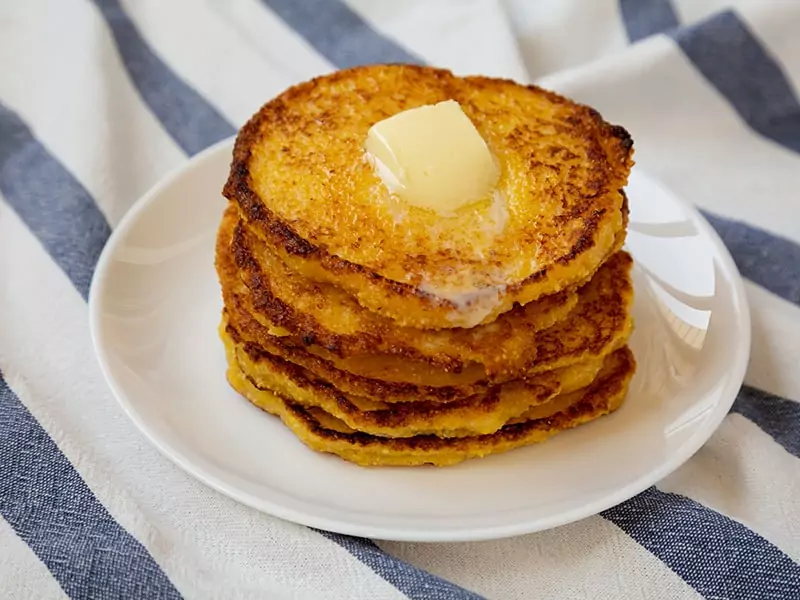 Like Hot Water Cornbread, Johnnycakes also use one frying method but in an ordinary skillet or griddle. However, the batter is slightly thinner, which the Americans usually call flatbread. It includes leavening ingredients and sometimes butter or eggs.
Johnnycakes actually include various names, such as Johnny bread, Shawnee cake, journey cake, or spider cornbread. It is an American staple dish that consists of a long history. Nowadays, it's popular in the U.S., Canada, Colombia, Saint Croix, or Bermuda.
While not entirely similar, a "cousin" of Johnnycake called Vetkoek also appeared in the cuisine of Botswana, Namibia, and South Africa.
The modern version of Johnnycake can have cornmeal gruel, including white or yellow cornmeal, hot water, milk, and salt. The cook will also fry them in a hot skillet. You can find this cornbread in Southern America under the name Hoecake.
Americans love to eat Johnnycakes with maple syrup, honey, and many other sweet topping choices.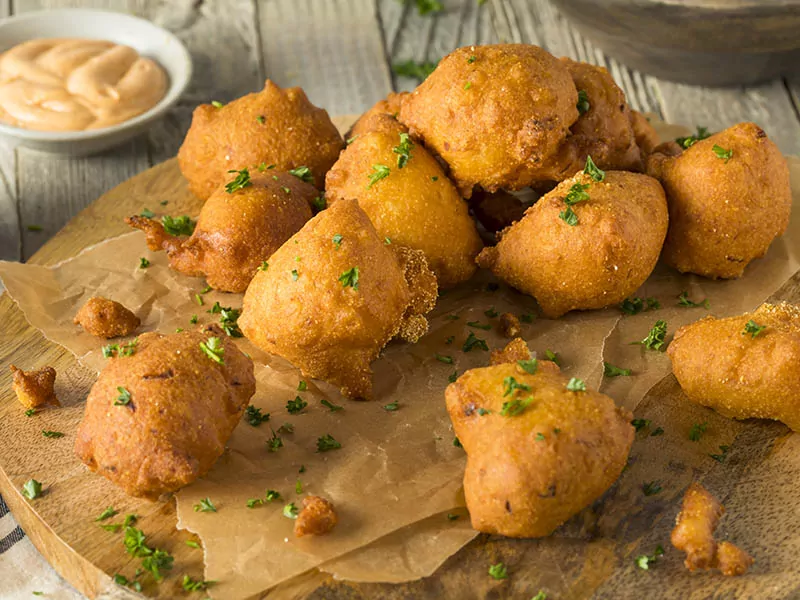 Unlike other sweet types of cornbread, Hushpuppies are a savory version of cornbread. They are also from cornmeal batter, but with a deep-frying method in hot oil. The savory batter may contain onions, jalapenos, onion seasoning, or even beer!
If you fry them perfectly, Hushpuppies will consist of a beautiful golden brown and crispy cover outside with a moist, yellow, or white center. They are a famous dish in the Southern U.S. The natives likely serve it along with seafood dishes as a side dish.
Do you know that there's even an annual Hushpuppy championship in Texas? How cool is that!
Let's learn how to make these yummy fried Hushpuppy balls!
Amazing Cornbread Recipes For You To Make At Home
Finding some wonderful recipes for cornbread? Here you go! I have chosen some of the most popular and easiest recipes only for you!
The special thing about this cornbread version is that it includes maple syrup, which gives the bread moisture and distinctive sweetness. The maple will be an extraordinary twist on the traditional cornbread recipe that may surprise your family members with its tastiness!
This recipe is a great Southern-style Cornbread Dressing that you can easily make at home with a skillet. It is delicious, crispy in a golden crust that can make you want to eat all day long! The dressing part can consist of many herbs like celery, sage, thyme, etc.
You may want to prepare this dressing in a large amount then store it in the fridge for future use. It can last for up to one month!
Let's learn how to make the perfect cornbread dressing!
The Pumpkin Cornbread is super moist with a twist of honey! The pumpkin adds a subtle and delightful taste to the cornbread. You may experience a unique flavor that you cannot find in any other cornbread! Try this cornbread recipe right away!
How To Make A Perfect Classic Cornbread Loaf
How about making a perfect basic cornbread? Grab your cornmeal, flour, skillet, and essential things to make this yummy summer dish for breakfast! If this is your first time making this type of bread, don worry; it is easy even for those fresh bakers!
Here are the secrects to get a successful homemade cornbread!
Ingredients
Yellow cornmeal: 1 cup
All-purpose flour: 1 cup
Sugar: ¼ cup
Baking powder: 4 teaspoons
Milk: 1 cup
Salt: ½ teaspoon
Egg: 1 large egg
Cooking oil: ¼ cup
An oven
Cast iron skillet/ 9-inch pie plate/ Casserole dish
Non-stick spray/ Butter
Large bowl(s)
Instructions
Step 1: First, preheat your oven to 425ºF. Use the non-stick spray to spray over the cornbread container that you have. You may also use butter to cover the surface if you don't have a non-stick spray. The butter will add more flavors to your cornbread.
Step 2: Mix the main ingredients together in a large bowl. This mixture includes cornmeal, flour, baking powder, sugar, and salt. Gently stir it until it gets even.
Step 3: In another bowl, combine milk, cooking oil and eggs then whisk it carefully.
Step 4: Start to pour the wet mixture from the first bowl to the dry mixture from the second bowl. Stir everything together gently – don't stir too much! If you see a few lumps on the surface, then it's ready to go!
Step 5: Pour the batter mixture into the prepared container in the oven. Set the oven to bake the bread for about 20 minutes and observe it continuously until it gets a beautiful golden brown.
Step 6: Take your perfect cornbread out of the oven and enjoy! People usually cut it into 8 pieces, or you can serve it in any way you like!
5 Brilliant Methods To Serve Your Cornbread
You have made the best cornbread loaf ever! But what's now? What are you going to serve it with or do you just eat it directly from the skillet? Don't worry; check out these best food items you can use to pair with the freshly baked cornbread!
Butter And Jam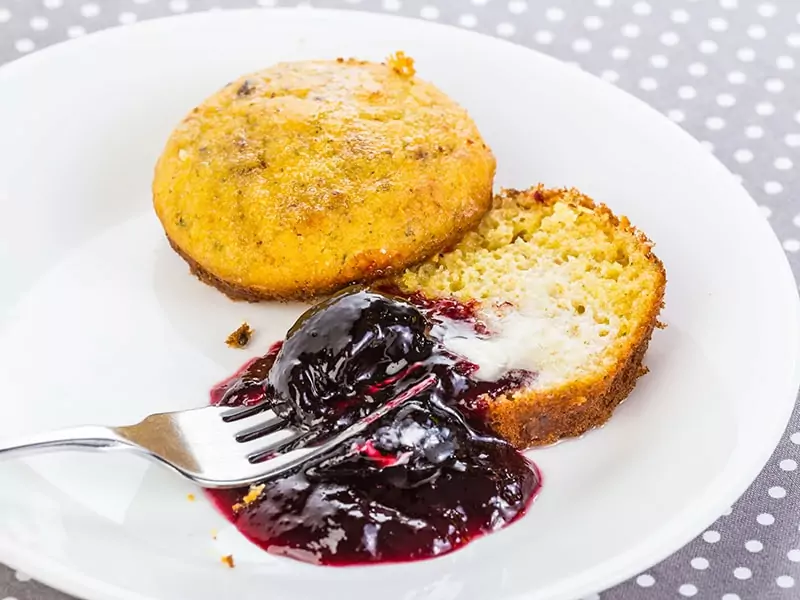 Butter and jam are always a match made in heaven! They can suit almost every type of bread available, and cornbread is not an exception! You may want to use jams with low sugar content like fig, berry, or apricot jams so that their taste doesn't overpower the bread.
Butter And Honey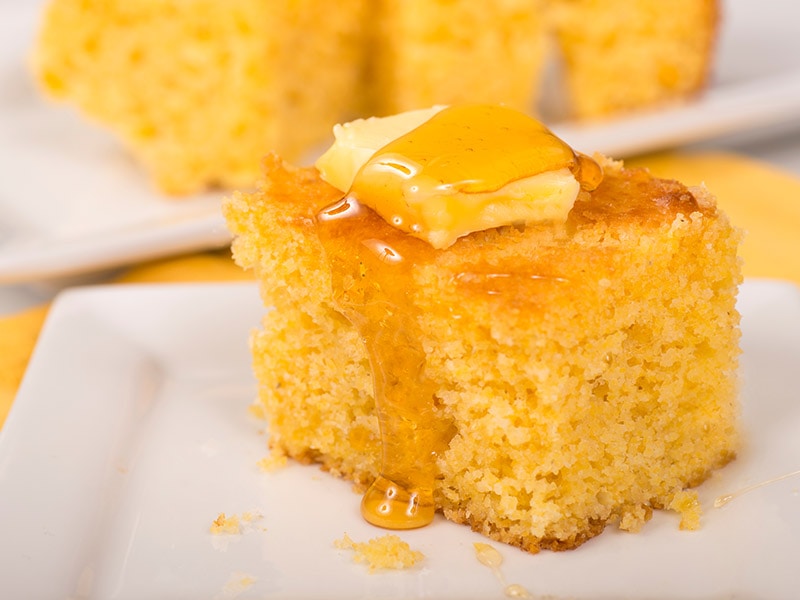 There's nothing better than a slice of cornbread with some butter and drips of fresh honey! It is one of the most delicious ways to eat cornbread since many honey varieties have a pretty mild and pleasant taste. So, it can pair well with the sweetness of cornbread!
Seafood Gumbo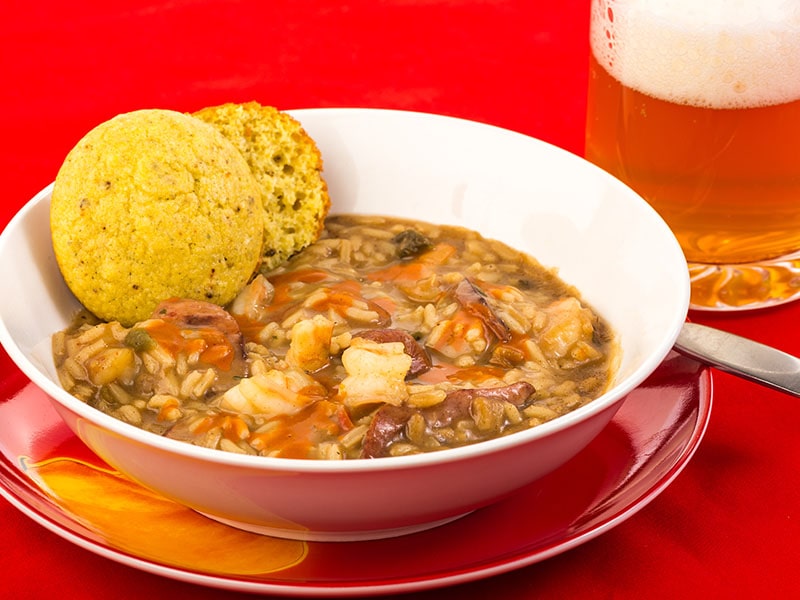 If you want to dip cornbread in a stew for a hearty meal, you may love Seafood Gumbo! It is a classic South Louisiana stew dish including oysters, shrimp, red snapper, and especially Louisiana blue crab! Its savory taste and sweetness of cornbread are a great combo!
Let's see what makes Seafood Gumbo so special!
Chili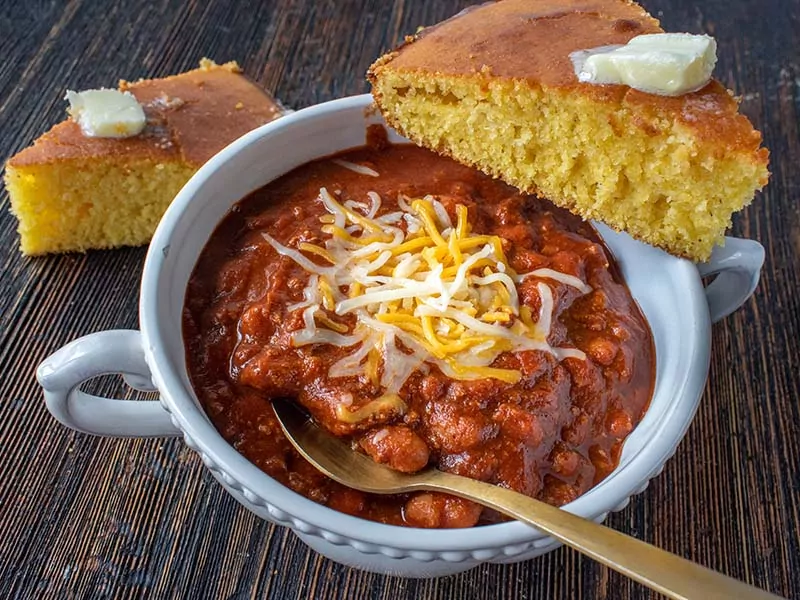 Chili may sound odd for pairing with a sweet cake, but they are actually one of the best combinations ever! The cook will steam chili with many ingredients and turn it into a type of dipping sauce to use with cornbread. Try them and you'll fall in love with them!
Barbecue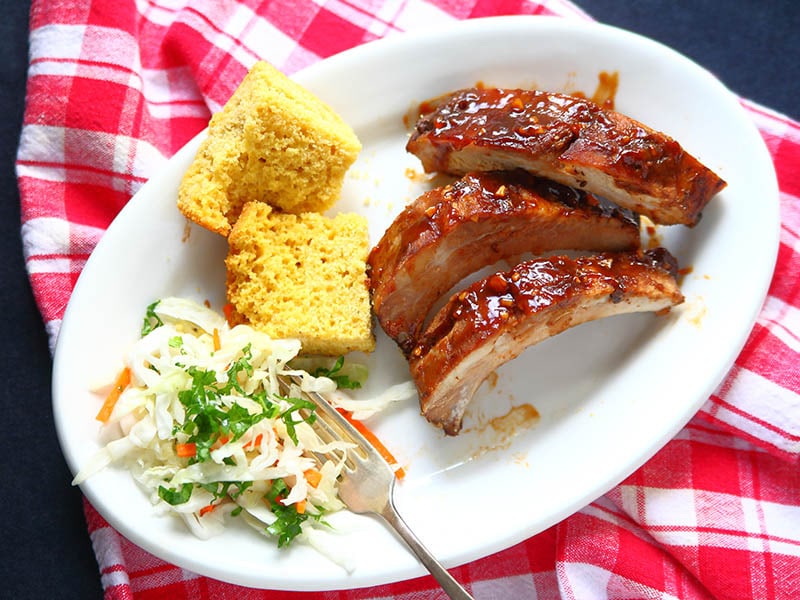 You can always dip your cornbread wedges into the BBQ sauce to enjoy the excellent smoky and sweet flavors! Besides the sauce, you may want to have some sweet cornbread with barbecued pork ribs, shoulder or chicken steaks right at the BBQ party!
Choose Your Favorite Cornbread For The Next Thanksgiving!
Now that you know everything about the different types of cornbread, you can totally pick one for your breakfast or the next holiday dinner table! They are all easy to make with the basic ingredients that you can find anywhere! Don't hesitate and make one for your family!
Just leave a comment in the box below if you have anything to say or ask me about this entire thing! Don't forget to like, share and subscribe to the newsletter to receive the latest news! I hope that you feel satisfied with this article! Thanks for reading!