Discover the rich flavors of Botswana, a culinary gem nestled in Southern Africa. While it's renowned for its majestic wildlife and landscapes, its food tells a story of cultural fusion and age-old traditions.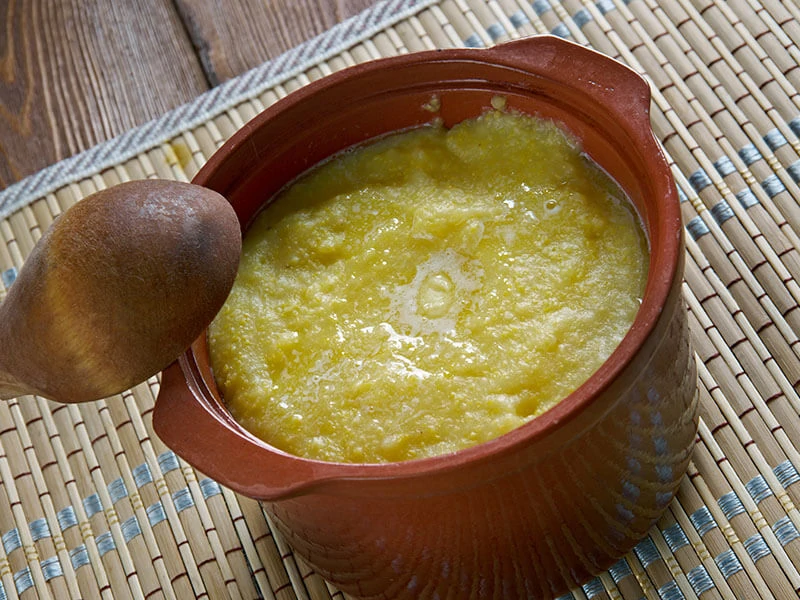 From hearty stews of the Kalahari to vibrant dishes in Gaborone's eateries, each bite offers a taste of Botswana's soul. Ready to whet your appetite? Delve into our curated list showcasing 21 of Botswana's most beloved dishes.
1. Seswaa – Stewed Beef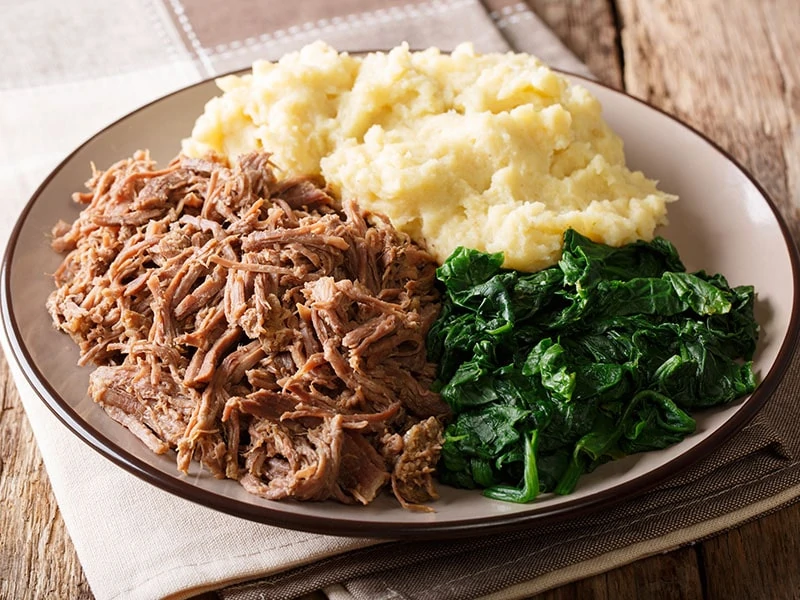 Seswaa is an iconic dish for a Botswana evening meal that you can add to your list. Seswaa is a popular name in northern Botswana, also known as Loswao in South and West African countries.
This traditional dish is made up of beef or goat meat. Chefs will use leftover cuts like legs, neck, and back to process this food. Typically, this recipe takes about 5 hours to cook with salt and water so that the meat becomes soft and melts in your mouth when eating.
In the rural areas of Botswana, people often cook this dish in the morning and enjoy it at dinner. It is an essential recipe for special occasions like weddings, funerals, and national events like Independence Day.
2. Morogo – Stewed Spinach Greens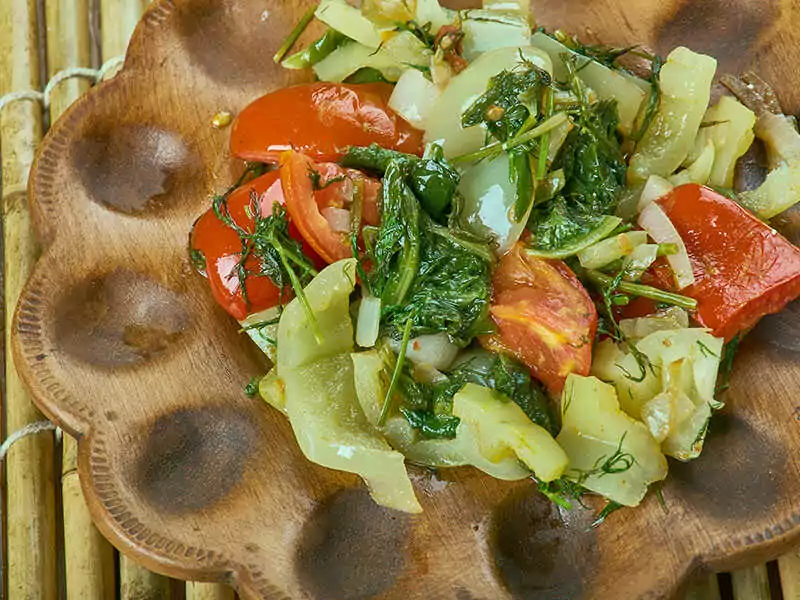 Morogo is a favorite choice for people who like plant-based dishes. It is a staple dish in many African countries, including Botswana. Morogo is a dark green spinach leaf that often occurs in the middle of beans.
Morogo has various flavors, but it is basically a gentle taste. This food becomes more flavorful with onions and tomatoes. In Botswana, there are two standard versions of Morogo, including Morogo Wa Dinawa and Morogo Wa Thepe.
You can easily find Morogo Wa Dinawa in the backyard of houses in Botswana, while the remaining type appears outside of cattle Kraals. This dish will provide a large amount of protein, vitamin A, C, and minerals for your body.
3. Motogo – Fermented Millet Porridge
Motogo will be a fantastic Botswana morning meal when you stay there. Sorghum and millet powder are the main components that make this delicious food. To get the bubble and thick mixture, Botswana will stir sorghum and millet powder in boiling water.
When using sorghum, the chef will ferment sorghum for weeks to obtain a bitter product called Ting and process Motogo. When taking Ting, the taste of Motogo will be stronger. This food usually combines milk, jam, and peanut butter.
4. Bogobe – Stiff Porridge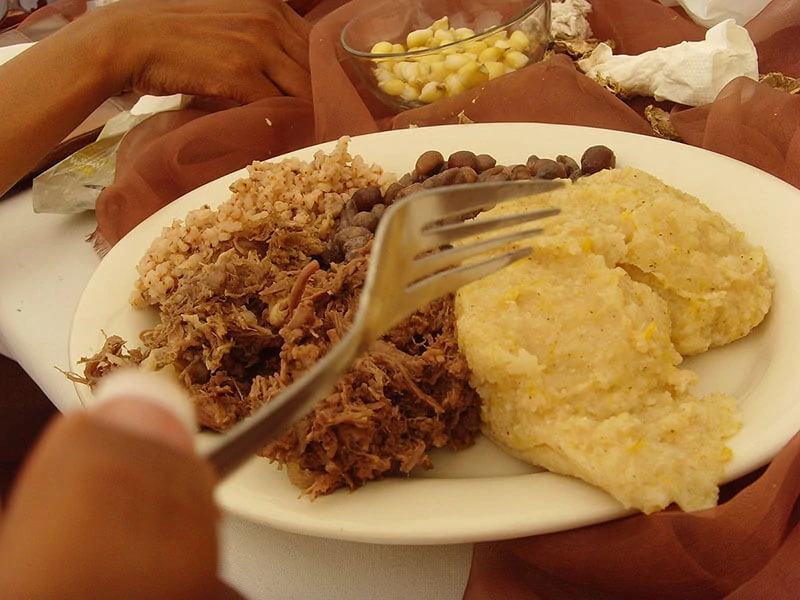 Bogobe or Slap-Pap is a well-known type of porridge in Botswana. It is considered a national dish of this country's cuisine. The exquisite taste of it will make you flutter when enjoying it. Its highlight comes from the taste of Lerotse melon.
This fruit tastes similar to cucumber and has orange-colored flesh. When cooking, it will bring a typical flavor to the food. This incredible food has a consistent texture pretty similar to the porridge and is a favorite option for weddings and social gatherings.
You can choose the Bogobe Jwa Legala version if you like the creamier texture because it contains milk. Bogobe will become better when eating with Seswaa and the indigenous vegetables.
5. Koko Ya Setswana – Tswana Chicken Stew
Koko Ya Setswana is a dish you can only find in Botswana because the Setswana chicken used to make this food is indigenous. Its chewiness is like rubber, so it needs about 2 to 3 hours of slow-cooking.
Chicken marinosis will be done after the slow cooking process, so this food has an intense flavor. You will not find Setswana chicken on the market because it is sold while alive and is slaughtered and processed by hand.
6. Vetkoek – Fried Dough Bread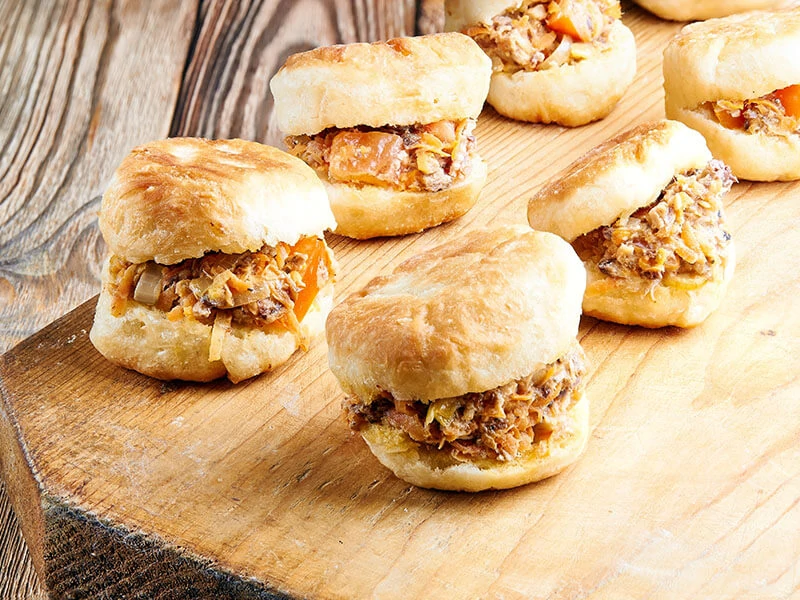 It is a pity if you do not enjoy Vetkoek when you go to Botswana. This bread with ground beef filling is quite famous in many African countries. This food includes fried bread and ground meat filling. It is pretty similar to the Caribbean's famous dish Johnny Cake.
The word "Vetkoel" in Afrikaans means "fat cake". You can easily buy it in takeaway restaurants, fast food shops, or roadside vendors when you arrive in Botswana. In addition, it also appears often at festivals and cultural events.
7. Mogatla – Oxtail Stew
Mogatla is a great Botswana dish for lunch. It is a perfect choice for those who like to eat oxtail stew with a rich and distinctive flavor. It is a national dish tied to Botswana's culture.
This recipe comes from the tradition of breeding and selling cattle of Batswana. They will retain cheap parts like tails for cooking on special occasions. Because the cow's tail has tough meat and big bones, cooking takes a long time.
However, when cooking for a long time, the flavor of onions, broth, bay leaves, and tomatoes will absorb evenly into the whole bull tail and bring an appealing taste when eating.
8. Leleme – Toasted Beef Tongue
Leleme is a unique dish in Botswana. Cow's tongue plays an essential role in making the great taste of Leleme, and in Setswana, this part is called "Leleme La Kgomo".
Its processing is similar to other pieces of meat, but a woman will eat it because Tswana women are rumored to talk a lot. However, it's unclear whether this dish is a cure to their talkativeness or not.
When enjoying the slices of toasted beef tongue, you will feel the delicate and warm flavor that this delicious food brings. In particular, this food must be enjoyed by women in Botswana tradition.
9. Braai Meat – Meat Over Open Fire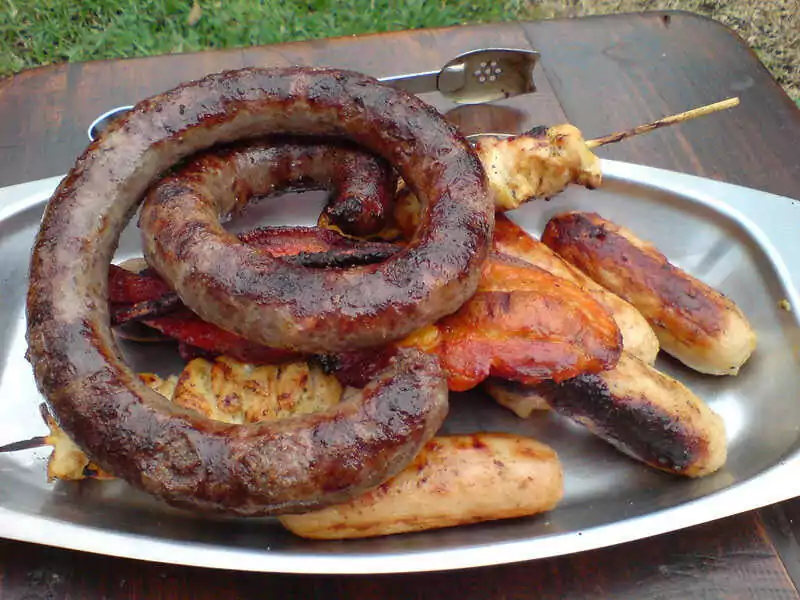 Braai meat is a typical dish you can find anywhere in Southern Africa. This excellent food includes poultry, meat, and seafood cooked over hot coals. In Botswana, lamb chops, steak, and Boerewors (farmer's sausage) are the main options.
The meat marinated with salt, pepper, and indigenous spices will bring a rich taste. This item often appears with relish (including garlic, tomatoes, and onion). This fantastic recipe appeared in ancient times when people created fire.
In particular, it is considered a national heritage when there is National Braai Day (24 September). People will pause their work to participate in cultural and traditional activities with this food.
10. Dikgobe – Samp and Beans
Dikgobe is a harmonious combination of peas and beans and is cooked in low heat for a particular time to get the desired flavor and texture.
To enhance its taste, you should enjoy it with a savory sauce. In some cases, you can find corn and lamb in this food. It appears commonly at Setswana celebrations like weddings or marking death. It usually goes with sorghum at funerals.
11. Cornmeal Pap – Corn Porridge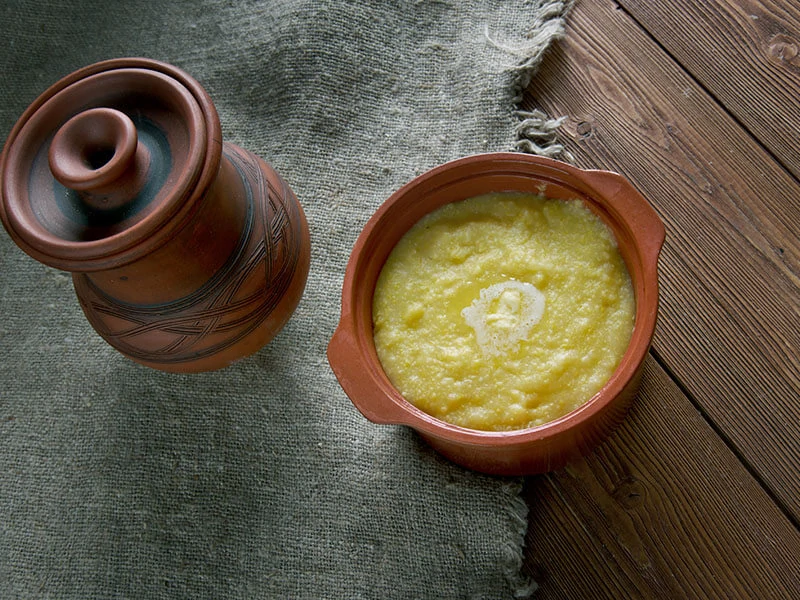 Cornmeal Pap is an ideal choice to start a new day in Botswana. For its taste to become more delicious and attractive, you will be served with stewed meat or vegetables when eating it at Botswana restaurants.
It is a traditional food derived from Botswana. Primarily, you will use your fingers to eat this food instead of using chopsticks or spoons. You will not have to wait too long to enjoy it because it is processed pretty fast and straightforward.
12. Chicken In A Hole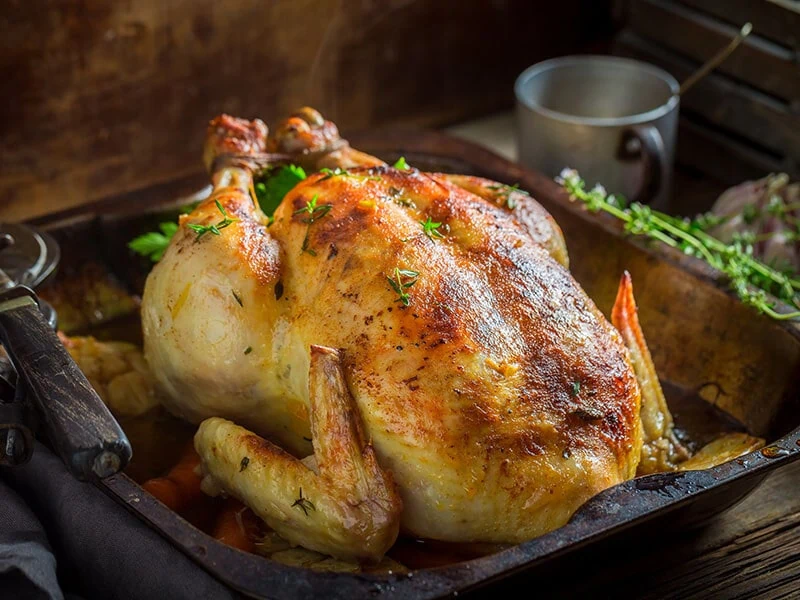 If you are looking for a yummy chicken dish of Botswana cuisine. Chicken In A Hole is a good suggestion you can consult. It is a type of chicken barbecue with incredible fragrance and flavor. You will love the tenderness of the chicken meat after grilling.
After seasoning with various spices, the chef will wrap the whole chicken in cabbage leaves and aluminum foil, then grill it in a hole in the ground. Therefore, it has the name " Chicken In A Hole". The appearance of cabbage, paprika, and herbs will enhance the taste of meat.
13. Matemekwane – Dumplings
Matemekwane is another excellent dish that I want to introduce to you in this post. It is a famous dumpling dish of Botswana. Although it does not originate in this country, it is loved widely and has become a staple food here.
You will love the crispness of the outside fried dough and the rich taste of meat or vegetable filling. You can choose the Matemekwane version with veggie fillings if you are a vegetarian. This food usually appears with dips and soup.
14. Menoto – Chicken Feet
If you want a delicious snack to sip some beer glasses, Menoto is a good choice. In Setswana, Menoto means "chicken feet", which is also the main component of this attractive dish. In Botswana, it is a portion of famous street food.
Before toasting chicken feet over a barbecue, the chef will marinate them with various spices, so their flavor will stimulate your taste buds right away. Occasionally, the chef will be processed in a stew to take advantage of their gelatin.
When you go to Botswana restaurants, you will have the chance to enjoy large Menoto portions due to the lack of meat. If you want to be more comfortable, you can buy and enjoy this dish at the fast-food store on the nationwide street.
15. Segwapa – Beef Jerky
Segwapa is an achievement of Botswana's meat preservation method. Traditionally, they will divide into different parts for processing, storage, and consumption after slaughtering a cow.
Segwapa, also known as Biltong or beef jerky, is crucial for winters. In particular, you will easily catch this food in rural Botswana because there is no refrigerator.
You will feel the mild salty taste and the typical flavor of vinegar, coriander, black pepper, and cloves when eating shredded Segwapa.
16. Ditloo – Bambara Groundnuts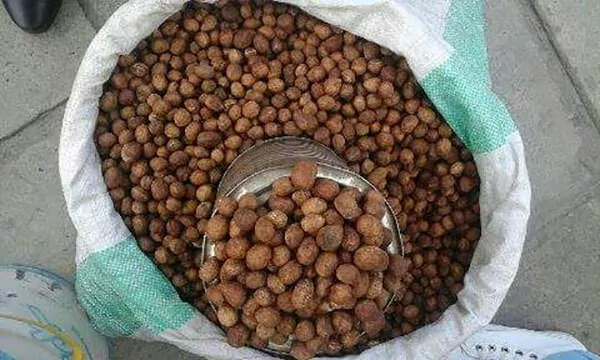 Ditloo or Jugo beans, Nyimo beans, or Bambara groundnuts is a famous food in Africa. It originated from North Africa and was widespread throughout the continent. It is an essential dish in meals in Botswana.
This recipe is associated with the culture of African countries and contains many healthy nutrients. Soaking overnight will make the Ditloo softer and easier to process. You can enjoy it as a snack or add to porridge in powder form.
17. Mopane Worms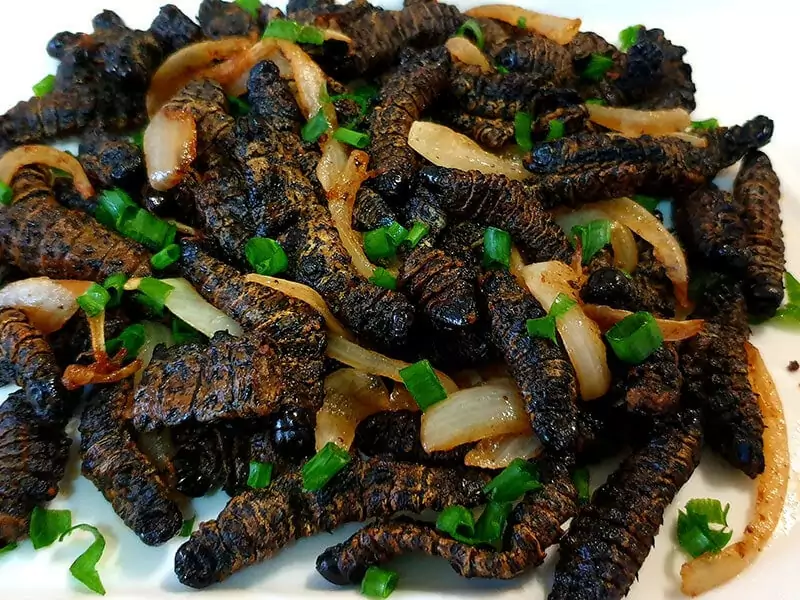 Mopane worms are one of the worth-trying dishes of Botswana cuisine. These caterpillar-like worms are served with peanut sauce or tomato stew to enhance their flavors. There are many traces of Mopane worms found in Pomongwe cake.
There are many traces of Mopane worms found in the Pomongwe Cave. These traces show that this dish was born 6000 years ago. In particular, this is a portion of good food for your health when it contains many helpful calcium and proteins for your body.
18. Madila – Cultured Milk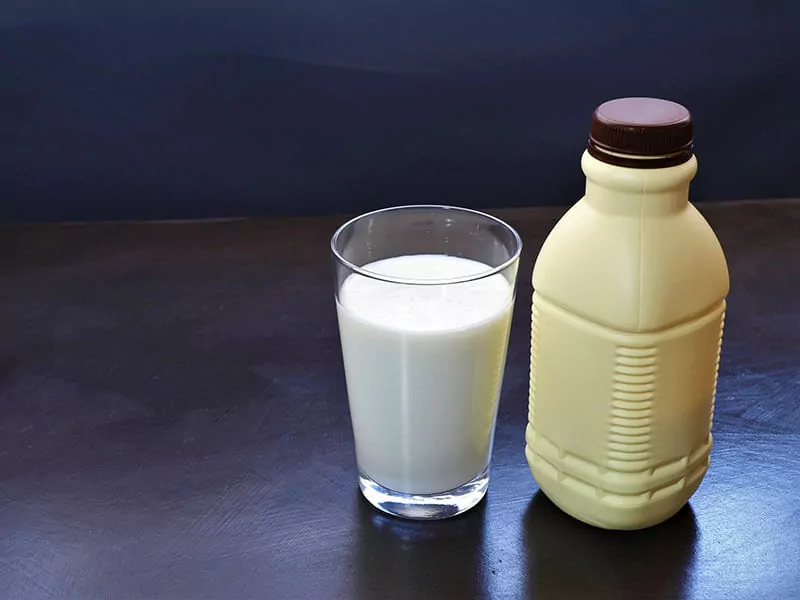 Madila is fermented milk or yogurt with a characteristic sour taste. This fantastic dessert is an indispensable part of celebratory events.
Goat or cow's milk are the main ingredients that create this food. To get Madila, milk should be incubated for more than a month, and after the extraction process, the creamy curds are Madila. Previously, this food was processed in a Lekuka (a leather sack).
19. Diphaphatha – Stovetop Muffins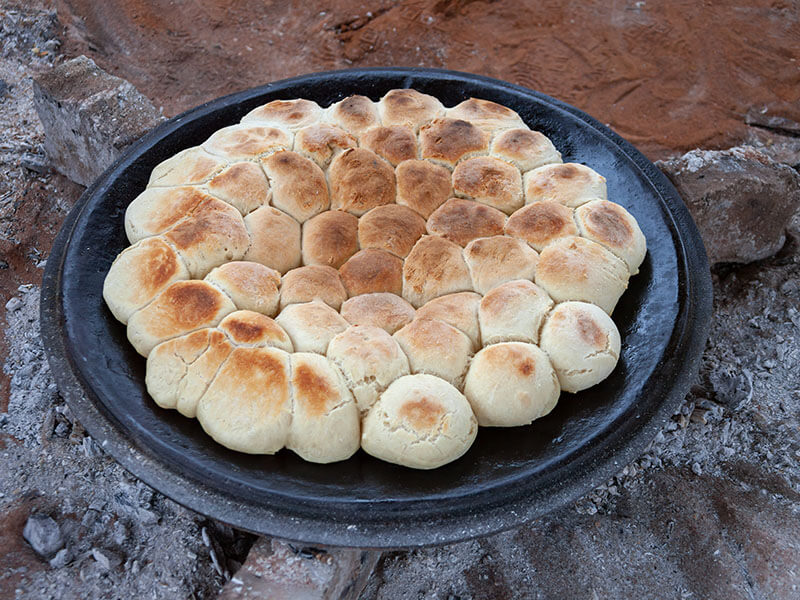 Diphaphatha is a kind of stovetop muffin of Botswana cuisine. This recipe is pretty similar to muffin – an iconic British dessert. The British brought materials and baked goods to Tswana soil and gradually became mainstays in Botswana.
Compared to English muffins, this food requires less processing time, materials, and tools. This soft and chewy muffins recipe with the savory and sweet filling is processed in cast-iron pans.
20. Mapakiwa – Tea Buns
A mark that the British brought to Botswana cuisine is Mapakiwa. It is a dish interference between a scone and a bun with a texture of a brioche roll. The butter layer is brushed when baking will bring a fascinating aroma to this dessert.
Despite the British influences, Mapakiwa is an authentic Botswana dish, with flour, butter, and eggs being the main components. Botswana people often enjoy it along with a cup of tea during the relaxing time. A little jam, butter, raisins, or apple will enhance its flavor.
21. Malva Pudding – Pudding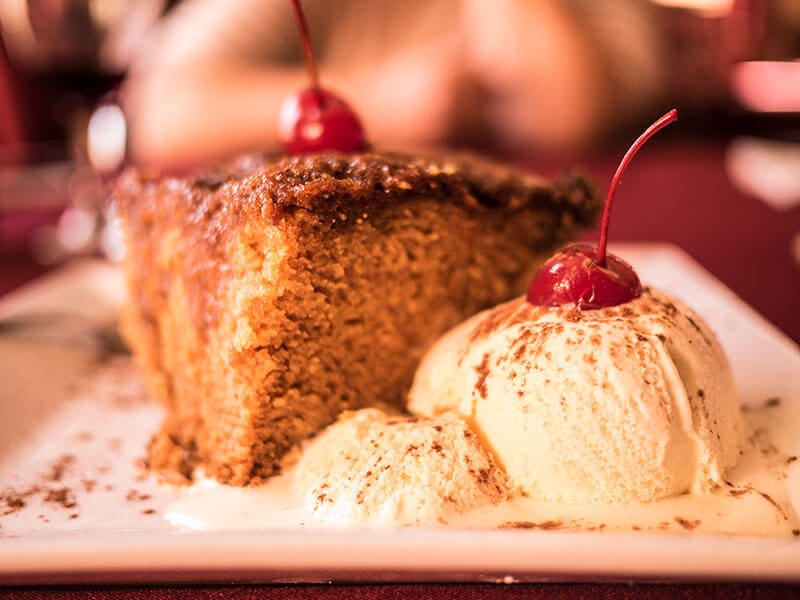 It is time to refresh your taste buds with the sweet Malva pudding of Botswana cuisine. This extraordinary dessert originates from the Netherlands, and the Dutch brought it to South Africa in the middle of the 1600s when they invaded this continent.
This delicious recipe has the appearance of Apricot jam and cream sauce. Its spongy caramelized texture will fascinate you. And it is often served with custard or ice cream at restaurants.
Not only is Malva famous in Africa, but it is also a popular dessert in the U.S, especially on the West Coast. The pudding gained popularity in the States when chef Art Smith introduced it at a Christmas dinner in 2006 to Oprah Winfrey Leadership Academy For Girls' pupils.
---
Perhaps, the information about Botswana dishes and cuisine is pretty strange to everyone, so I hope this article will bring this country's cuisine and culture closer to many people. If you have the opportunity to come to this country, let's try these foods.
Please spread this exciting and valuable article to many people through likes and sharing it. I always look forward to receiving your questions and contributing ideas after reading this post in the comment section. Thanks for reading!