Listing foods that start with b can be an amazing game for everyone to play and challenge each other. However, when joining this game, you just know the names of foods, or you even do not know what these foods are or whether they are edible or not.
Therefore, I write this article to show you general and nutritional information about foods starting with b so that you can be a knowledgeable player.
List Of Foods That Start With B That Are Beyond Ordinary
Vegetables And Legumes
Broccoli
Beetroot
Bell Pepper
Borage
Brussels Sprout
Bok Choy
Bamboo Shoot
Black-Eyed Peas
Broccoli Rabe
Broccolini
Butter Lettuce
Butter Bean
Black Bean
Fruits And Berries
Banana
Breadfruit
Barberry
Blueberry
Blackberry
Black Cherry
Black Grape
Blood Lime
Blood Orange
Boysenberry
Beautyberry
Babaco
Grains & Starches
Basmati Rice
Black Rice
Brown Rice
Bulgur Wheat
Bran
Buckwheat
Barley
Herbs & Spices
Basil
Bay Leaf
Black Cumin Seed
Black Mustard Seed
Black Pepper
Meat And Seafoods
Beef
Black Cod
Bison
Bass
Blue Crab
Barramundi
Beef Wellington
Cured Meat And Sausage
Bresaola
Bacon
Banger
Bratwurst
Braunschweiger
Savory Dishes
Bruschetta
Burrito
Baba Ghanoush
BBQ
Burgers
Biryani
Beef Stroganoff
Baked Ziti
Bouillabaisse
Butter Chicken
Bulgogi
Bibimbap
Birria
Ballotine
Soups, Stews, And Broth
Bigos
Bisque
Burgoo
Bouillon
Borscht
Dairy Products
Buttermilk
Blue Cheese
Butter
Brie
Burrata
Bavarian Cream
Bocconcini
Brown Butter
Butter Cream
Bread Varieties, Bread Products, And Sandwiches
Bagels
Brioche
Baguette
Banana Bread
Bannock
Barmbrack
Bologna Sandwich
Bánh Mì
Buns
Breadsticks
Bialy
Bread Crumbs
Baozi
Desserts And Sweets
Butter Cookie
Boston Cream Pie
Banana Cream Pie
Baklava
Beignet
Biscuits
Brownies
Biscotti
Bread Pudding
Black Forest Cake
Blondies
Baked Alaska
Bananas Foster
Butterscotch
Bûche de Noël (Yule Log Cake)
Baba Au Rhum
Babka
Blintzes/Blintz
Blini
Beverages
Bloody Mary
Bellini
Beer
Bourbon
Bubble Tea
Brandy
Blue Curaçao
Other
Brazil Nut
Baking Powder
Baking Soda
Begun Bhaja
Bercy Sauce
Bonito Flakes
Vegetables And Legumes
1. Broccoli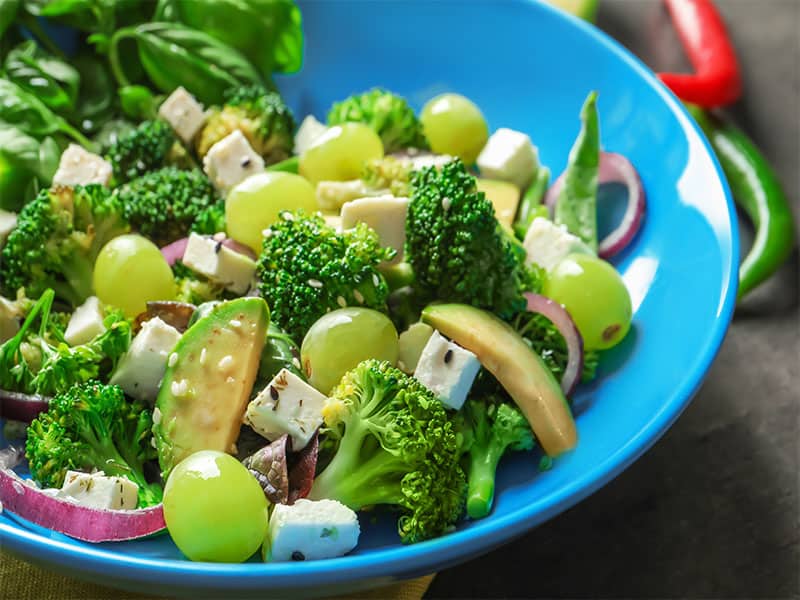 Broccoli is a kind of vegetable in the shape of a flower. It can be served as raw or cooked food, such as soups or stir-fries. Broccoli's content includes vitamins B6, C, and A and calcium, which are beneficial for people's eyes, hair, skin, teeth, and bones.
The verdant veggie with Italian roots certainly earns its status as one of the healthiest greens around. Italian immigrants brought this antioxidant-rich green to America, and it's been a table favorite ever since. Steaming is a fantastic way to prepare it, preserving its nutrients and vibrant color.
In addition, adding broccoli to your daily meals can help you lose weight effectively because of the rich fiber broccoli contains (1).
2. Beetroot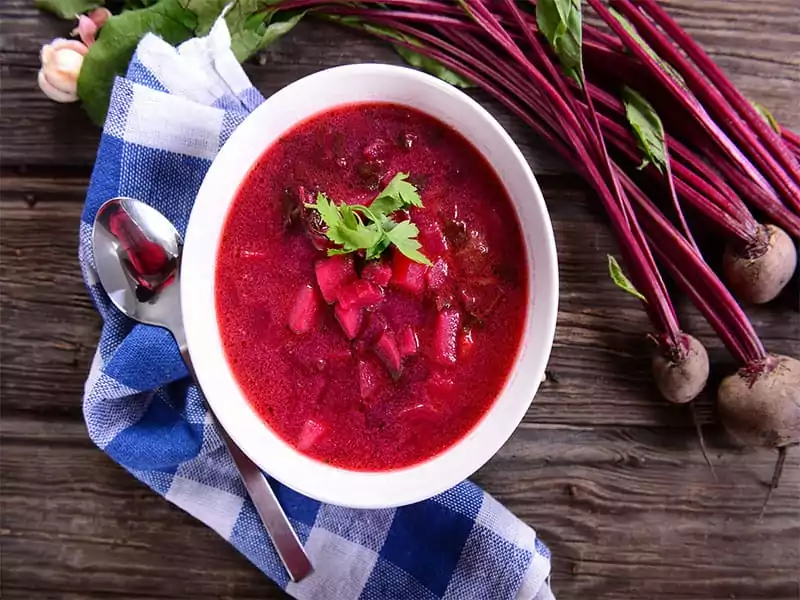 Beetroot is a popular vegetable in daily meals. It can be an ideal ingredient for soups, steams, or salads. Beetroot contains vitamins A, C, folate, magnesium, and phosphorus, encouraging blood flow and reducing blood pressure.
From the taproot portion of the beet plant, beetroot is popular around the world. In addition, the betalains, powerful antioxidants, gift beetroot that signature vibrant color.
This versatile root is called "beet" by Americans, while it goes by "beetroot" in other English-speaking lands, with some even calling it the garden beet or red beet.
Although not as common, beetroot can also be used to make dessert. One notable example is a staple dessert in Australian cuisine – beetroot cake with orange frosting. Some other famous desserts containing beetroot are beetroot brownies, beetroot halwa, and beet ice cream.
In addition, drinking beetroot juice regularly helps improve your mental and physical health (2).
3. Bell Pepper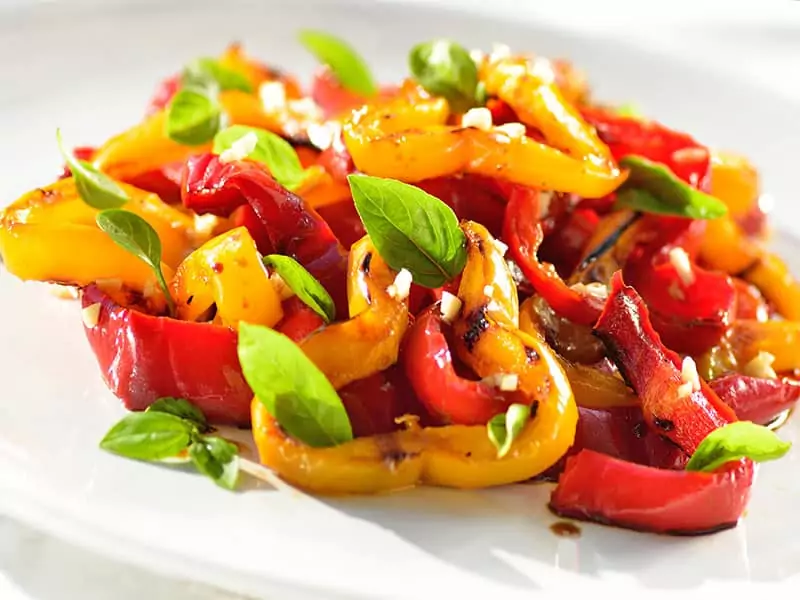 Bell pepper can be found almost everywhere in the world. You can call it a fruit or a vegetable in different colors, commonly red, green, and yellow. Bell pepper is an ingredient in many recipes in which you can eat raw bell pepper as a salad or cook it.
Bell peppers, sweet peppers, or capsicums, whatever you prefer to call them, have a unique sweet and slightly grassy flavor with no spicy kick.
One of the most common ways to cook bell peppers is by stuffing them with meat, and cheese, then baking them. You'll find that bell peppers are a fantastic idea to serve as dinner for your family, as long as you know the correct method to store bell peppers and how to cook them.
Bell pepper also provides you with vitamins A and C which help reduce cancer risks. In addition, there is no saturated fat in bell peppers, so it is a great food choice for those who suffer from high cholesterol and heart diseases.
They're particularly rich in beta-carotene, and antioxidants. Among the various colors, red bell peppers are the most nutritious (3).
4. Borage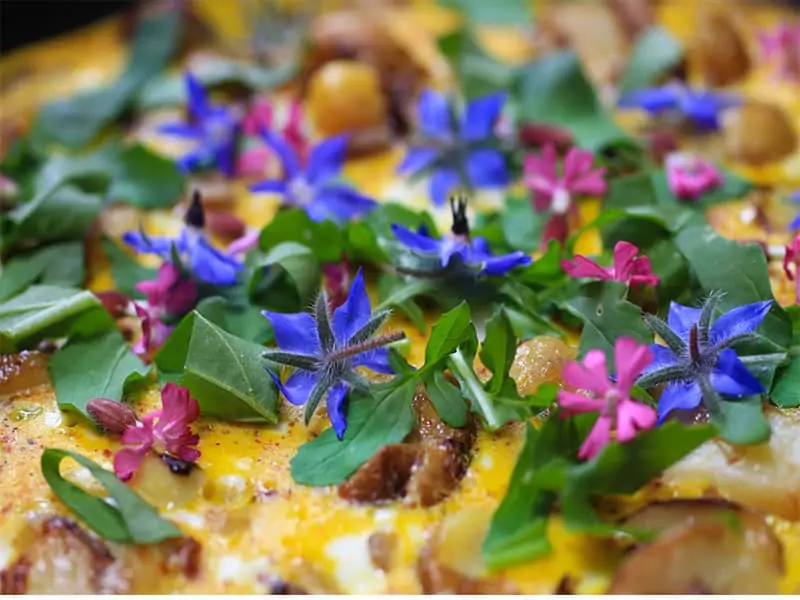 Borage is a flowering plant with edible leaves, stems, and flowers. It is cultivated for cooking and medical purposes.
Also known as bee flower or starflower, it has its roots in the Mediterranean but has spread its star-like blooms worldwide. This plant holds a secret in its seeds with oil extract that offers potential medical benefits.
Its leaves taste like cucumbers and can be consumed as a vegetable for salads, and its flowers are used as a topping for desserts and cocktails as decoration. In terms of herbal medicine, borage flowers and leaves are used for curing depression, cough, and fever.
5. Brussels Sprout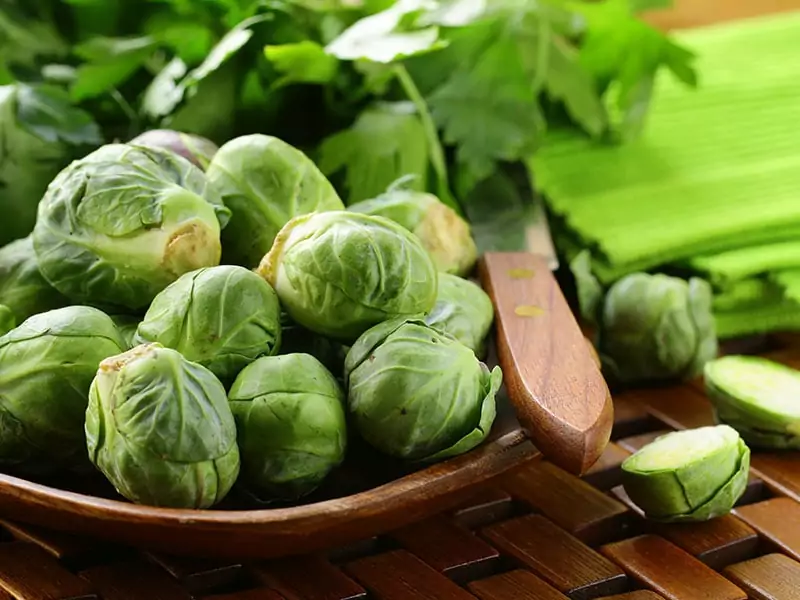 Brussels sprouts are like mini cabbages, sharing a family tree with kale and broccoli. These petite veggies owe their name to Brussels, Belgium's capital, where they gained popularity in the 16th century.
Packed with vitamins C and K, they offer various health benefits, from boosting immunity to supporting bone health. Also, it can help you prevent cognitive degradation and promote tissue repair (4).
You can find Brussels sprouts all year, but late fall to early winter is prime time. They're versatile for pairing with many savory dishes or as simple starters and side dishes, especially when roasted for everyday consumption.
6. Bok Choy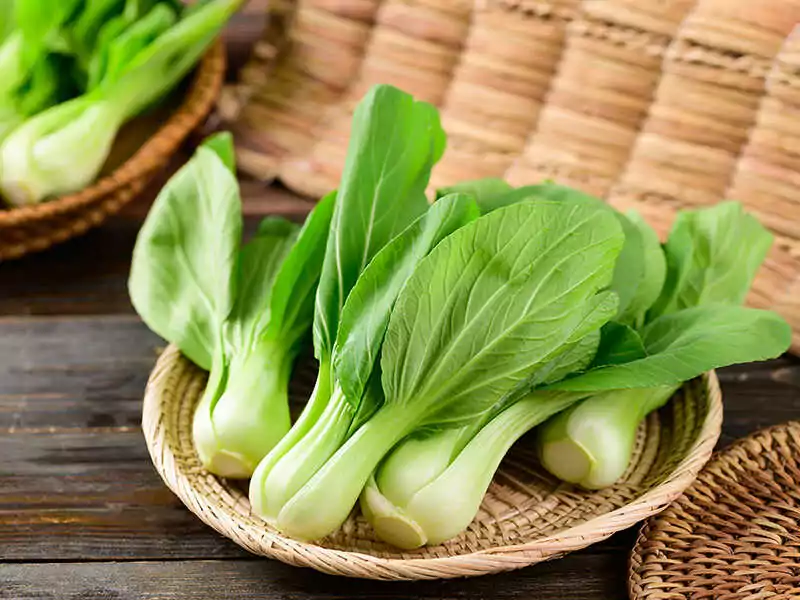 Bok choy, pok choi, or pak choi as some call it, is a winter-hardy leafy green with a Cantonese name meaning "white vegetable". It's a staple in East Asian and Southeast Asian cuisine, boasting a sweet, cabbage-like flavor with juicy, crunchy stems.
Although you can enjoy it raw, its fibrous texture lends itself well to light steaming or stir-frying options. This superfood comes full of vitamins A, C, K, minerals, and antioxidants, making its price tag slightly higher than other veggies (5).
7. Bamboo Shoot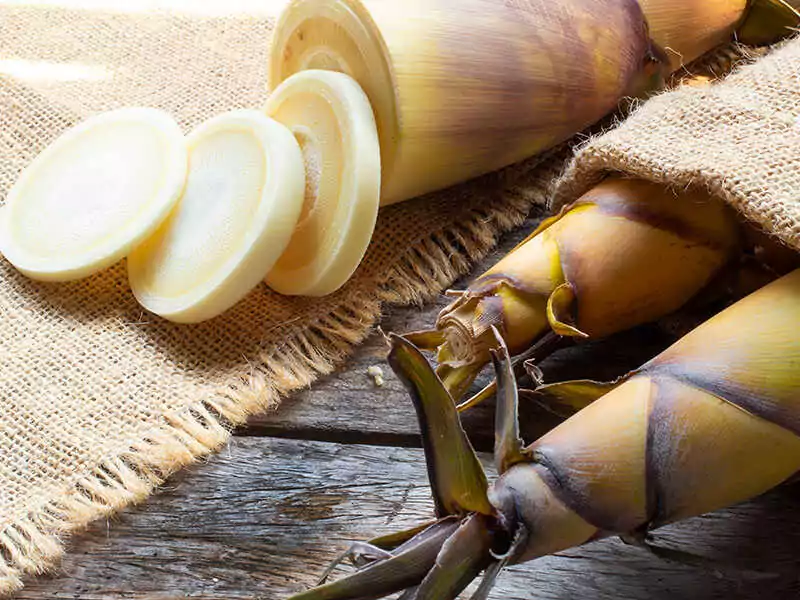 Bamboo shoots are edible sprouts of many bamboo varieties. They are a culinary favorite in Southeast Asia, East Asia, and South Asia. Crunchy in texture and boasting a sweet, earthy taste, they're perfect for vegetable stir-fries or soups.
But beware, they contain toxins when raw, so it's crucial to boil or pickle them first. Keep in mind that those with thyroid disorders should avoid consuming bamboo shoots.
8. Black-Eyed Peas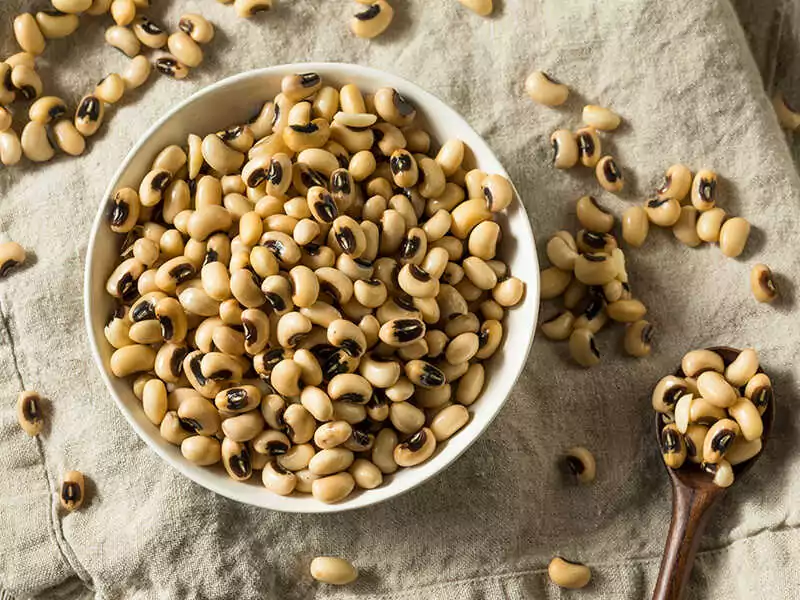 Black-eyed peas, despite the name, are actually beans. These medium legumes first popped up in West Africa with their characteristic pale skin and black 'eye' dots. From there, they found their way into Asian and European dishes back in the Middle Ages.
They've even become a New Year's Day tradition in the Southern United States! Whether you fancy fried patties, hearty casseroles, warm stews, nourishing soups, or refreshing salads, these versatile beans fit the bill.
9. Broccoli Rabe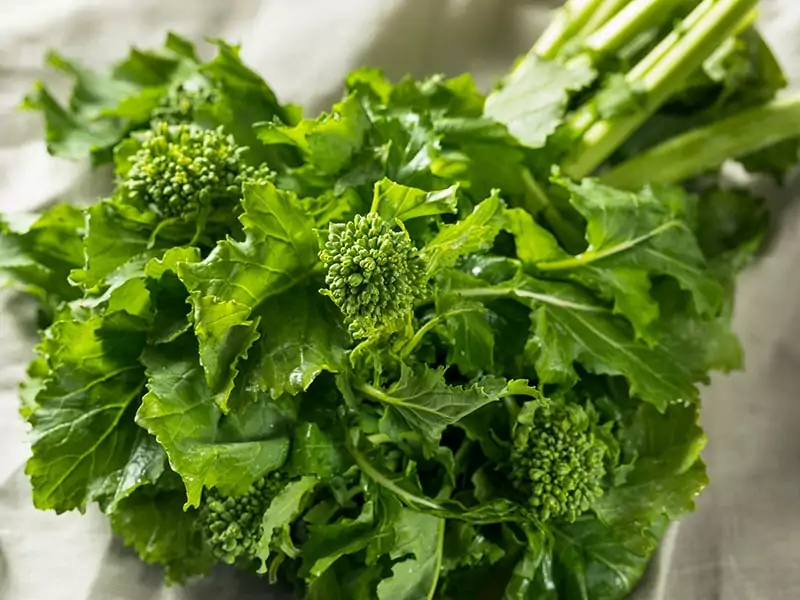 With another name that goes by rapini, broccoli rabe adds a unique twist to your usual broccoli. This spiky-leaved variant is a tad smaller, with a sharper, more bitter flavor. But don't worry, a quick blanching mellows out its bite!
This broccoli variety boasts edible buds and softer stems, and it's just as nutritious as its larger cousin, packed with vitamins A, C, and B9 and potassium (6). A star in Italian and Italian-American cuisine, this little broccoli might be pricier, but it's worth every penny!
10. Broccolini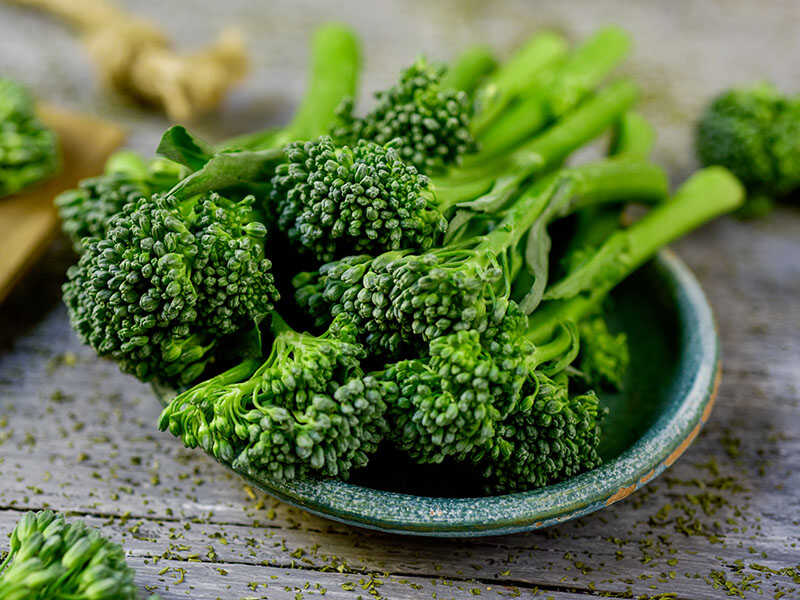 Baby broccoli is a wonderful fusion of broccoli and gai lan, the brainchild of the Sakata Seed Company in Japan. Commonly goes by the name Broccolini, it became a popular pick for American consumers in 1996.
The veggie offers an enticing combination of longer stalks and smaller florets than traditional broccoli. It can be a little more pricey, but you get a higher dose of vitamin A and the bonus of eating the entire plant, yellow flowers and all.
Flavor-wise, it's a delightful blend of broccoli and asparagus sweetness. Just like its broccoli cousin, you can incorporate broccolini into many recipes.
11. Butter Lettuce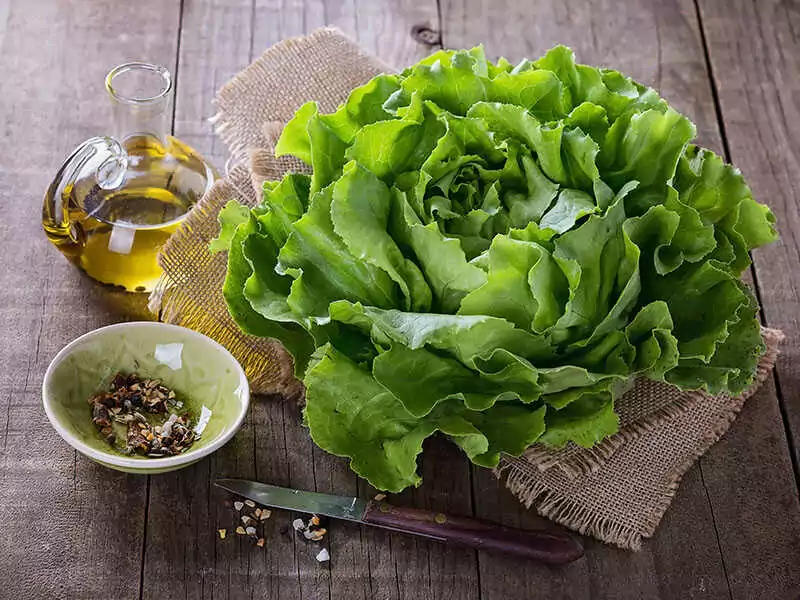 Butter lettuces have loose, round-shaped heads accompanied by sweet and mild bright green leaves. Unlike the crispness of romaine lettuce, its texture mimics the smoothness of butter, hence the name.
Savory dishes or sharp-tasting foods like meats or pickles are the lettuce's perfect partners. You'll find it in two main varieties: Boston and Bibb. And here's a freshness tip: look for those sold with roots still attached, and keep it that way in your fridge, ideally in its original container.
12. Butter Bean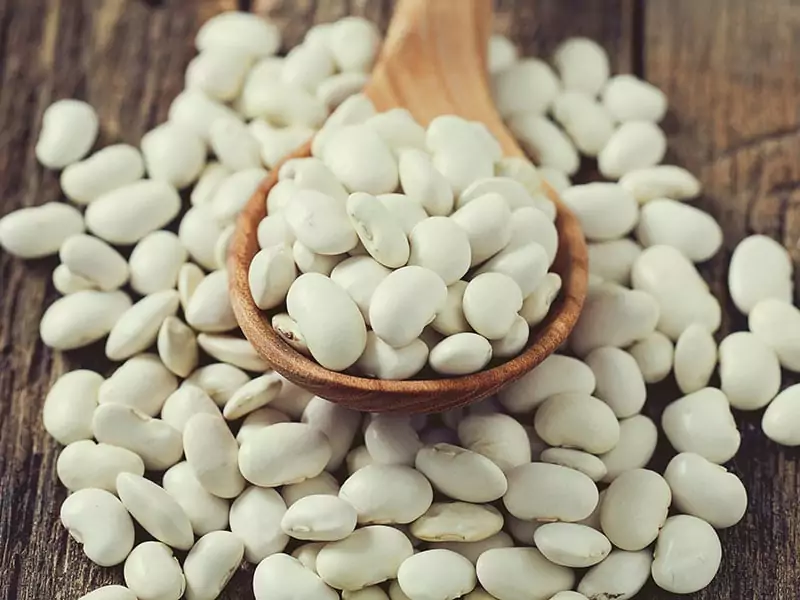 Known scientifically as Phaseolus lunatus, the butter bean is a delight with its creamy texture and mild, buttery flavor. This bean has Central and South American roots, a staple in Mayan, Aztec, and Inca diets. It also goes by other names, like sieva beans, wax beans, or lima beans.
However, in certain American regions, "lima beans" refers to the immature ones, while 'butter beans' are the fully ripe ones. Today, California tops the charts as America's biggest butter bean producer.
13. Black Bean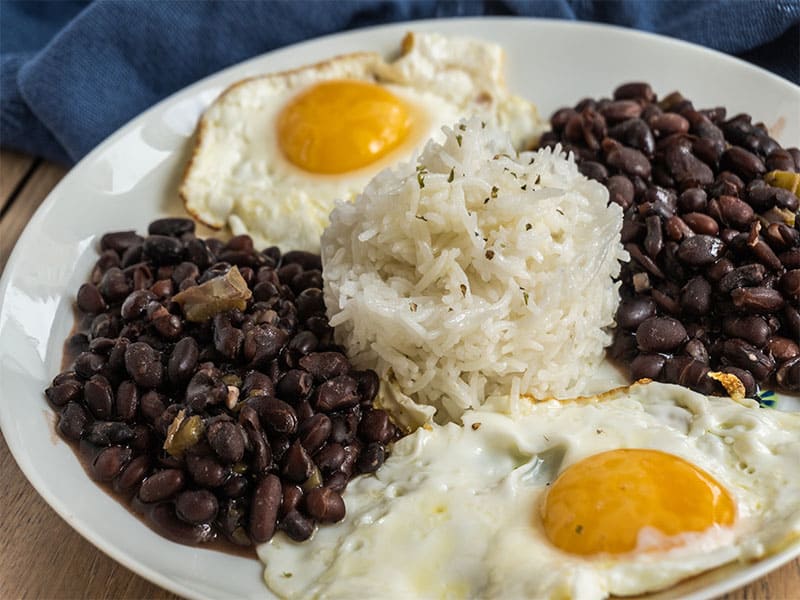 Black bean is a healthy dry seed that belongs to legumes. It has a slightly sweet flavor, so it is the right choice for making soups, stews, or steams. It comes with fiber, potassium, and Vitamin B6, which is good for human digestion and heart health.
Black beans stand out as a cholesterol-free and low-calorie food, making them a great choice for a healthy diet. These beans are stars in Spanish and Latin American cuisine, particularly in Mexican and Caribbean dishes.
In addition, black beans are a great source of minerals such as calcium, iron, and phosphorus (7). Therefore, adding black beans to your diet will help strengthen your teeth and bones. Another fascinating use of black beans is as a meat substitute in plant-based burgers.
Fruits And Berries
14. Banana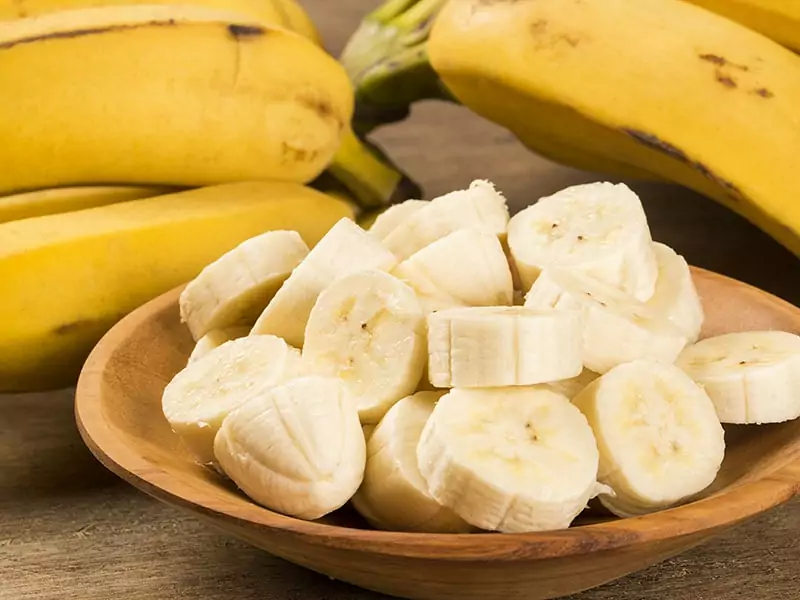 Astonishingly, bananas are botanically berry and grow from a trunk that's technically a herb. They are known for their juicy and sweet flesh inside a usually yellow peel. Rich in fiber, vitamins C and B6, potassium, and magnesium, bananas are even rumored to aid sleep (8).
You can enjoy the fruits raw, in a smoothie, or mixed with oatmeal; they're also fantastic in baked goods. Additionally, you should learn to distinguish them from plantains, their starchier look-alikes.
Just remember, despite their appeal, their acidity means it's not best to eat them on an empty stomach. In the US, Cavendish is the go-to banana variety.
15. Breadfruit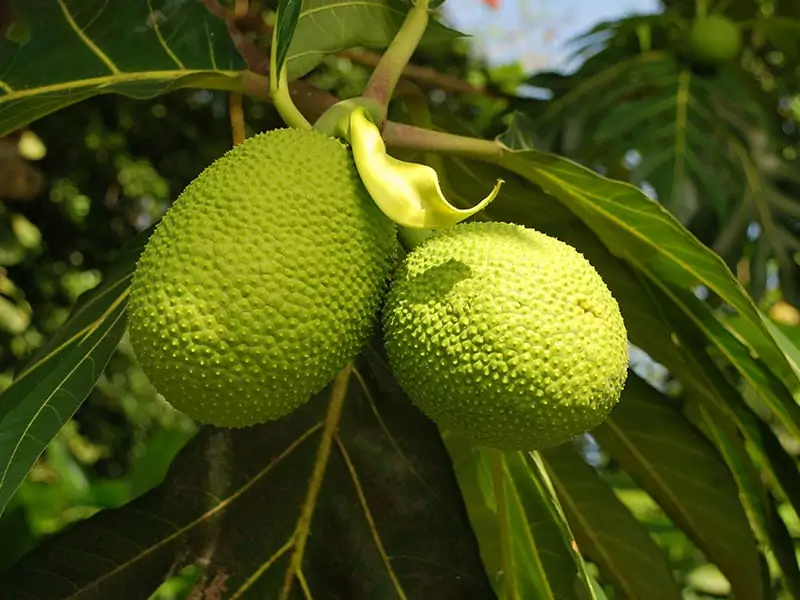 Hailing from New Guinea, breadfruit is a close relative of jackfruit, offering a potato-like texture and bread-like flavor. It's a common fruit in the Americas and Southeast Asia, despite being considered an exotic delicacy in mainland America.
In its ripe state, breadfruit can be eaten raw. You can treat it like a potato – steam, fry, roast, or bake it if unripe. Or, you may try blanching the raw fruit first for an easier time separating flesh from the skin.
Not only is it low in fat and gluten-free, but breadfruit is also richer in proteins and minerals than many starchy products. Also, you may find breadfruit a favorite delicacy in Hawaiian cooking.
16. Barberry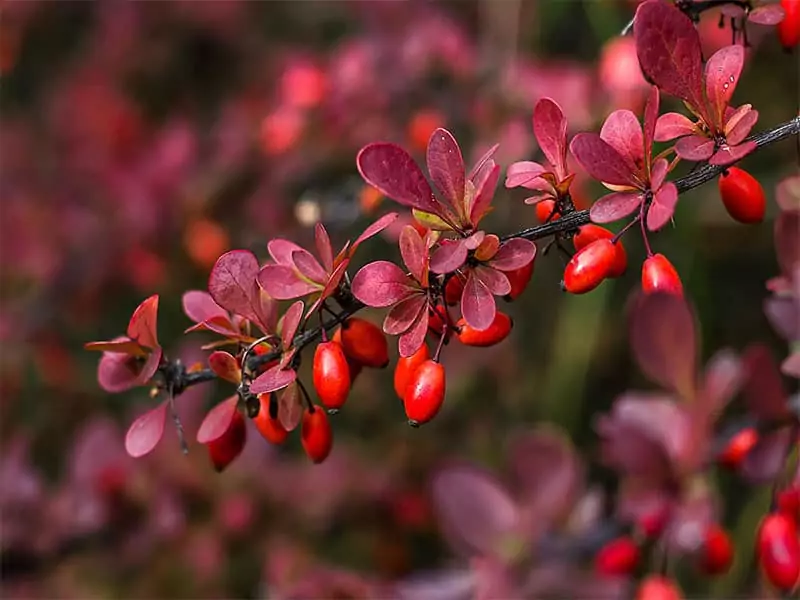 Barberry is a bushy plant with small red fruits. These tiny fruits come with vitamins and minerals, with a reputation in the herbal medicine world for helping with digestion and acne.
Though they're a bit on the sour side, a sprinkle of sugar transforms them into the ideal salad topper or the refreshing zing in your cold drink. Even candy and soft drink makers use barberry as a natural flavoring.
17. Blueberry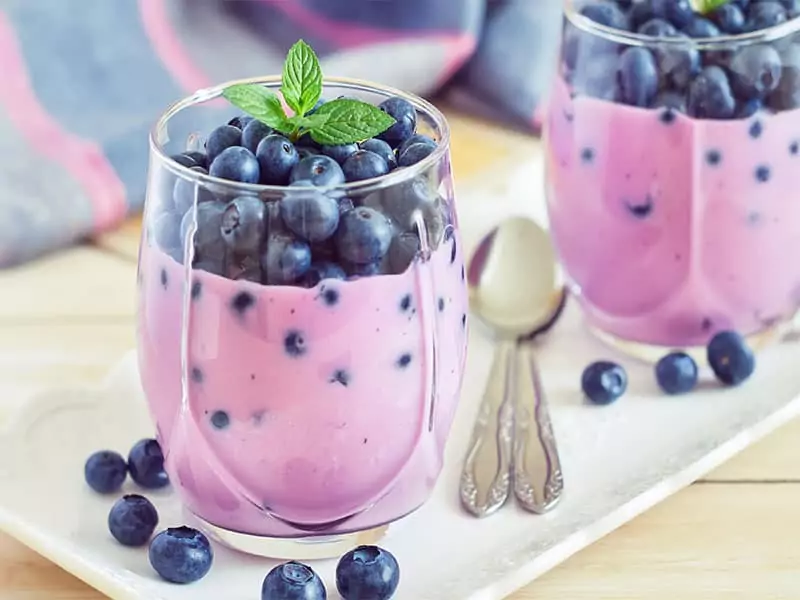 Blueberry is a kind of small fruit in blue or purple. You can find fresh blueberries in the wild and on farms or buy frozen blueberries at supermarkets. Blueberry is usually used to make toppings for cakes, yogurts, or drinks.
Those small but flavor-packed fruits trace their roots back to North America, where Native Americans relished them for ages. Commonly, Pemmican is their signature blueberry dish! Usually, blueberries come in two types, the wild lowbush kind and the cultivated highbush variety.
Now, these berries don't just grow anywhere. Typically, the time between May and August is the best season for blueberry hunting.
Even if you can store blueberries in freezers, fresh ones can retain the nutrition better. In addition, vitamins A, C, and calcium in blueberries help prevent heart problems and cancers as well as strengthen your bones and mental health (9).
18. Blackberry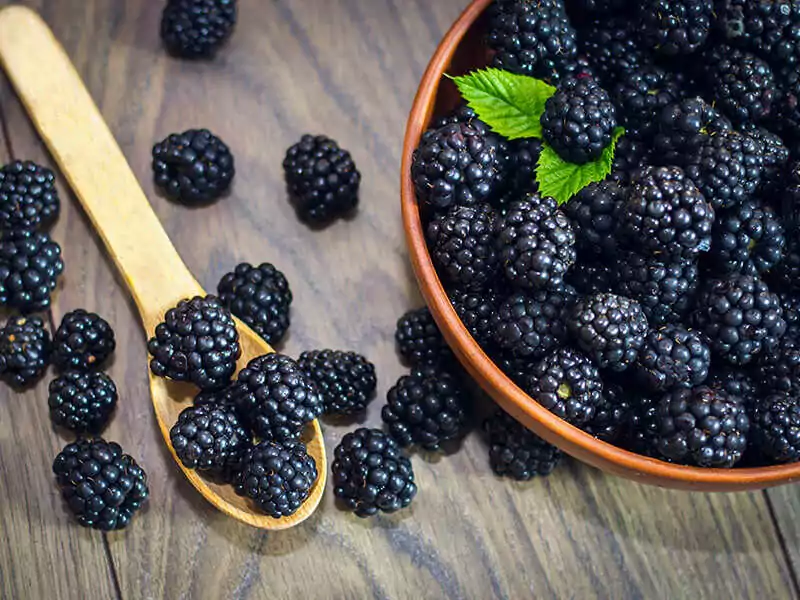 Blackberries, despite the name, aren't true berries but fall under the umbrella of aggregate fruits. They're the delicious offspring of the Rubus plant family, which is also related to raspberries and dewberries.
These berries are everywhere in the wild, to the point of being called weeds in some US and Canadian states. They come in a palette of colors and are nutritionally rich with antioxidants, vitamins E and C, B-complex vitamins, and various minerals.
19. Black Cherry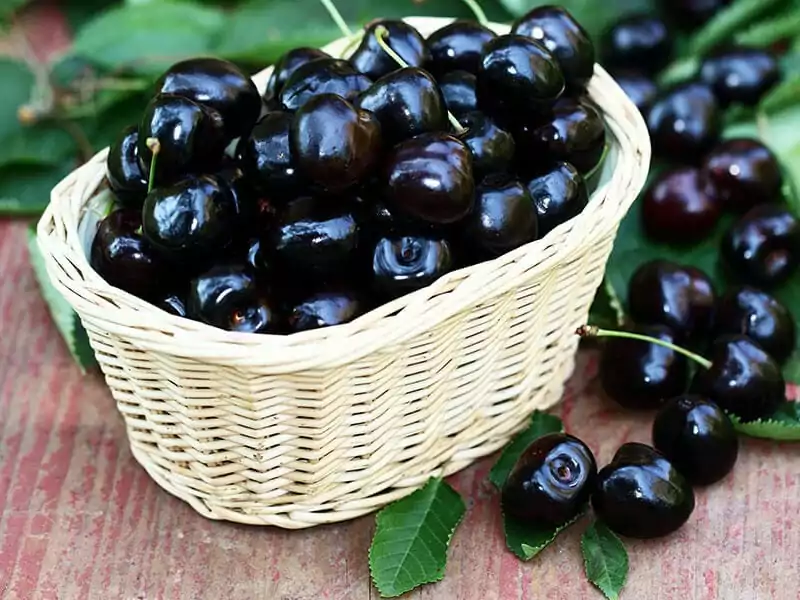 Black cherries, swathed in dark purple or near-black hues, are a sweet twist on the classic cherry. Known as rum cherry or mountain black cherry, their initial name was given because the fruits were a favorite choice for rum, brandy, and cocktails.
You can relish these plump fruits raw or transform them into wines and jams. However, they're quite rare, appearing only in June and July. Beyond their fruity appeal, the wood of black cherry trees holds high value in furniture-making.
20. Black Grape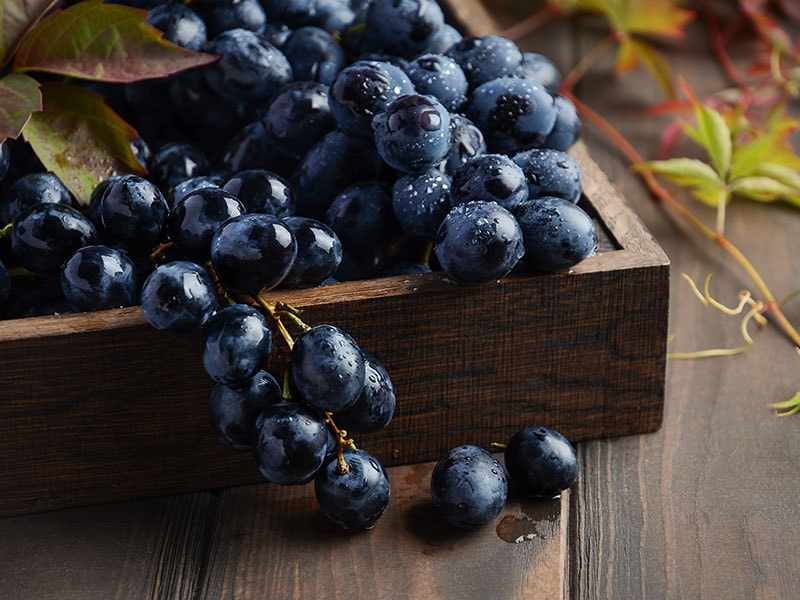 With their royal blueish-purple skin, black grapes are surprisingly sweet, surpassing their green relatives in the sugar department. They pack a nutritional punch with an abundance of polyphenols.
Furthermore, these little gems contain more antioxidants than other grape varieties. Despite their high sugar content, they stay low on calories, making them a guilt-free snack at any time of the day.
21. Blood Lime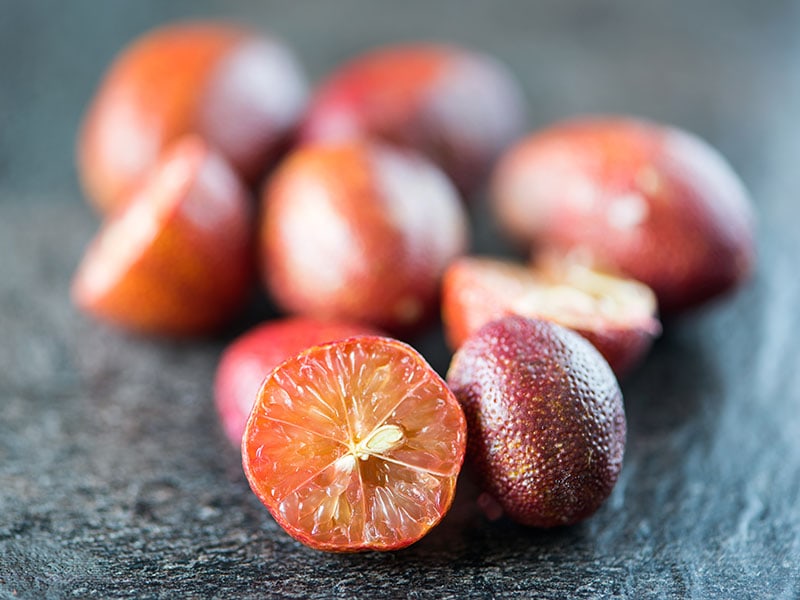 Blood limes, a creation of Australia since 2004, are tenacious little fruits able to sustain high-salt conditions. They're tinier than their lime relatives, but what they lack in size, they make up for in their attractive color.
Their skin boasts a unique burgundy hue, hiding orange-red juicy pulps. Flavor-wise, they pack a tart, lemon-like punch. Versatile in the kitchen, they're perfect in juices, sauces, jams, and marmalades or as an exotic garnish to make dishes pop.
22. Blood Orange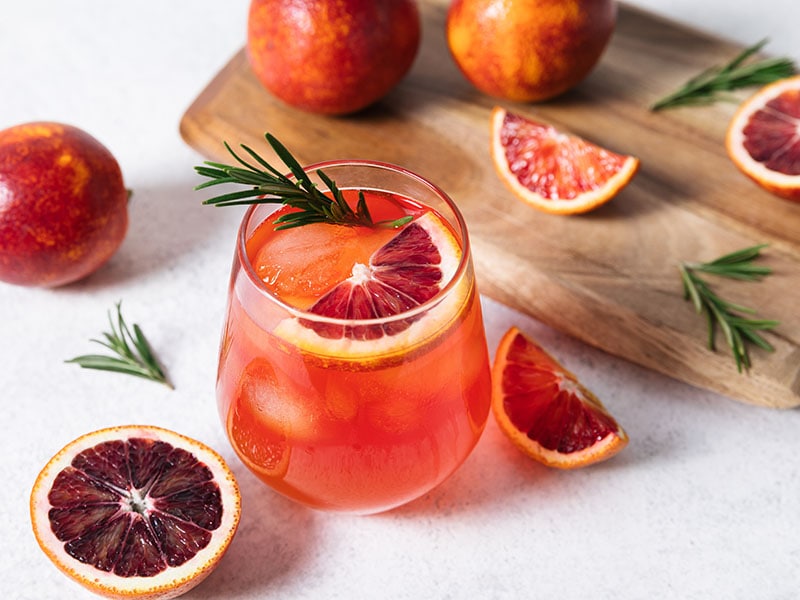 Blood oranges, with their distinctive crimson flesh, are a feast for the eyes and palate. Their dramatic color stems from anthocyanins which have antioxidants and anti-cancer properties.
They're a bit scarce compared to normal oranges, making them pricier. Typically, the Mediterranean is where you can find this type of orange. Notably, in Italy and Spain, the orange has three varieties, including Tarocco, Moro, and Sanguinello.
Their flavor ranges from tart to sweet, depending on the cultivar. In cooking recipes, they're a stunning substitute for regular oranges.
23. Boysenberry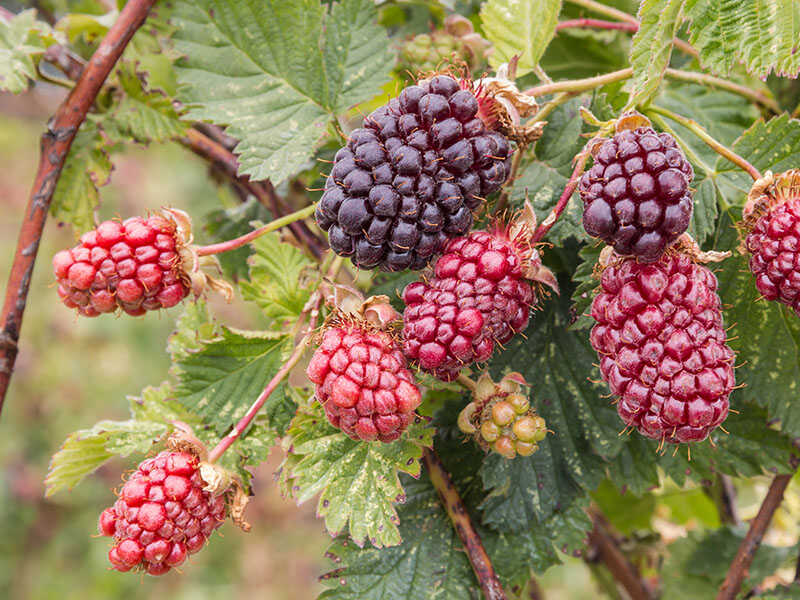 Boysenberries, from the Rubus genus, aren't berries at all! They're aggregate fruits boasting a deep maroon hue with their name inspired by its creator, Rudolph Boysen. Among the priciest "berries" in the US, these rarities are a hybrid concocted by Florida horticulturist Rudolph Boysen.
They started winning hearts in the 1930s, offering a wealth of minerals, vitamin K, and fiber. Their flavor is a pleasing blend of blackberry and raspberry—sweet, floral that is slightly tangy. Whether fresh or transformed into gratins, pies, jams, or tarts, they're a taste sensation.
24. Beautyberry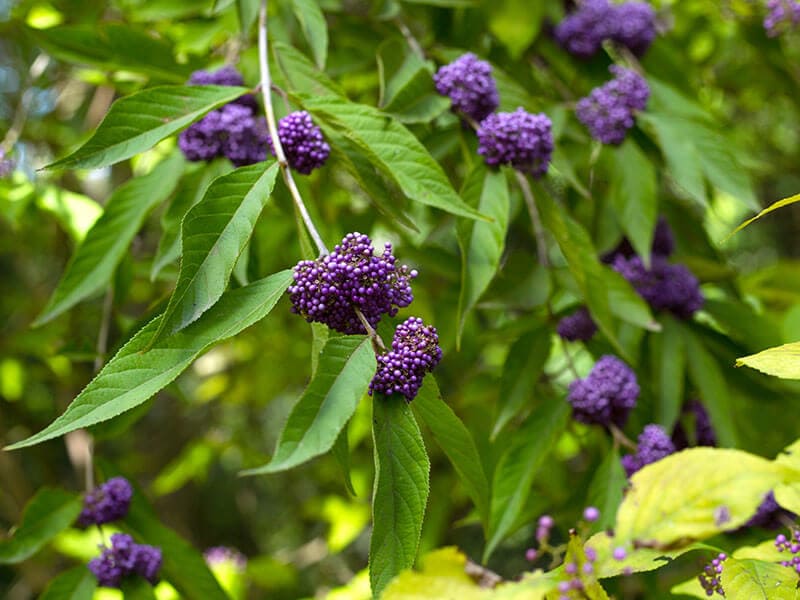 Beautyberries usually come with eye-catching purple hues. This berry family includes the American beautyberry (Callicarpa americana) and the East Asian purple beautyberry (Callicarpa dichotoma) as its most popular members.
These edible fruits offer a tart flavor similar to elderberries and are ideal for crafting jams and wines. Leaf extract from these berries even releases a citrusy aroma that wards off mosquitos and other pesky bugs.
25. Babaco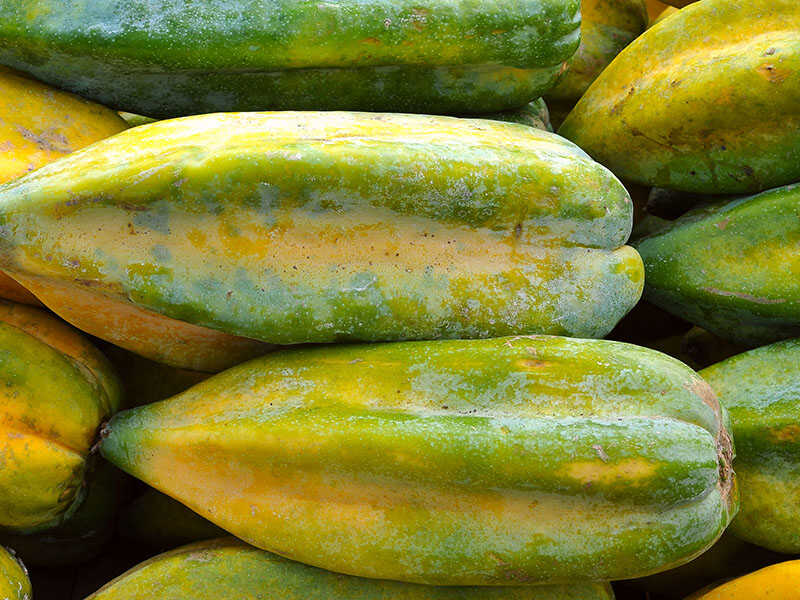 Babaco is a hardy plant from Ecuador. It is essentially a mountain papaya's more resilient cousin, able to withstand cold temperatures.
This hybrid brings a unique taste profile that combines the flavors of papayas, strawberries, and pineapples, minus the musky undertones often found in papayas.
You can savor it raw or cooked or feature it as a vibrant addition to ice creams, smoothies, salads, and pies. When ripe, babacos boast soft, yellow skin full of vitamins.
Grains & Starches
26. Basmati Rice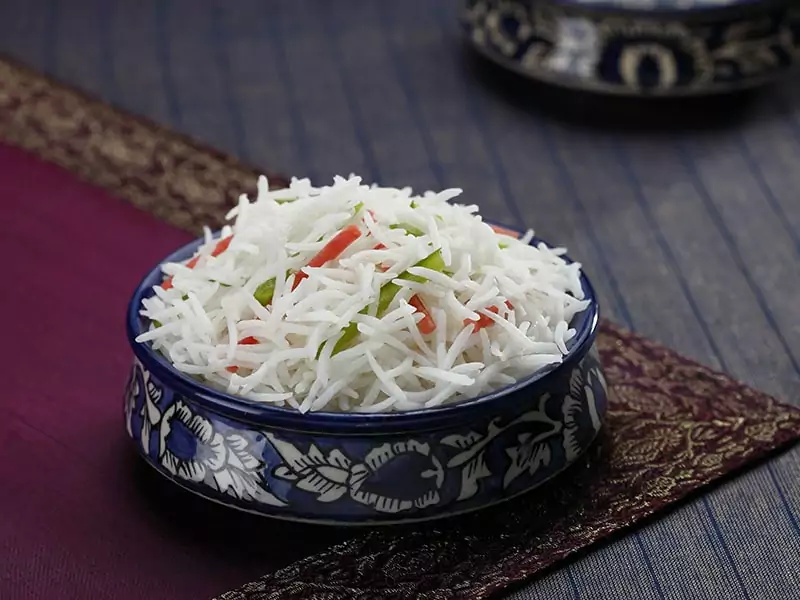 Basmati rice, a long-grain variety, is known for its captivating popcorn-like aroma and nuttier taste than other rice varieties. When cooked, the grains have a fluffy and firm texture, adding a unique character to your meals.
What's more? It's even lower in arsenic than many other rice types. This aromatic rice is primarily grown in Asian countries, with India and Pakistan leading the pack. Also, jasmine rice, a common sight in Southeast Asia with its distinct pandan fragrance, is a great swap-in for basmati.
27. Black Rice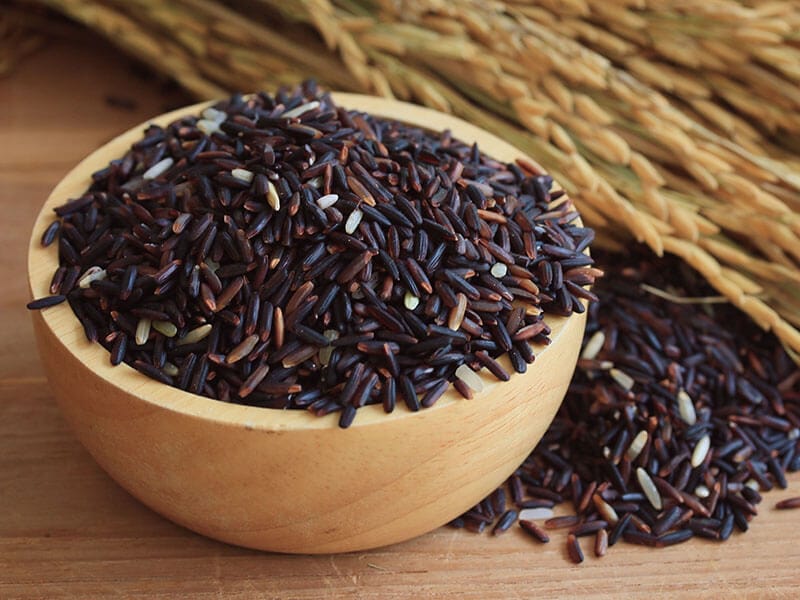 Black rice, known as forbidden or purple rice, is a wild rice species. Its deep black grains, which turn a striking purple when cooked, were once reserved for the powerful. Commonly, the flavor is sweet and nutty alongside a delightfully chewy texture akin to brown rice.
These rice grains are packed with fiber, vitamins, antioxidants, and minerals, it's often hailed as the healthiest rice.
28. Brown Rice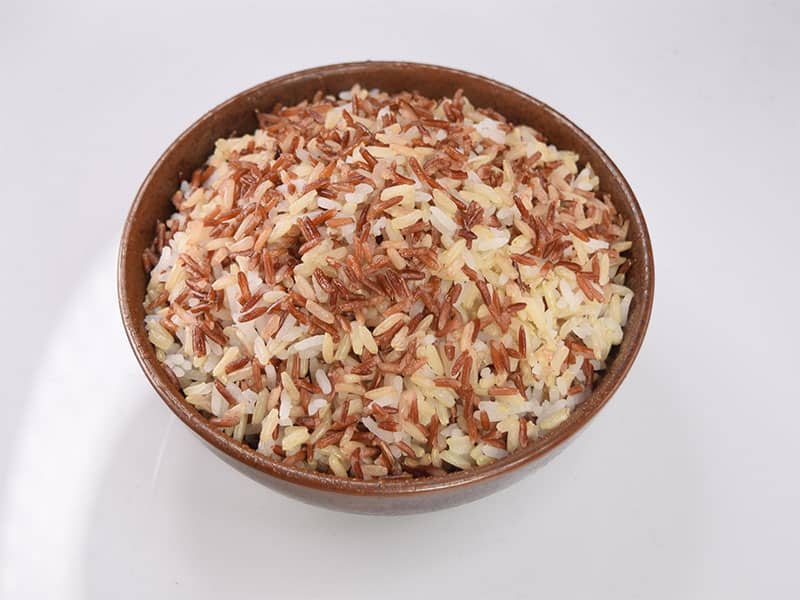 Brown rice comes with a whole grain wearing a brown outer layer known as the bran. These grains take a bit longer to cook than their white counterparts. Commonly, this rice variety is brimming with fiber, vitamins, and minerals like phosphorus and potassium than white rice (10).
If you're trying to shed some pounds, brown rice could be your new best friend. Its lower calorie content and higher fiber mean it'll keep you feeling full longer than white rice.
29. Bulgur Wheat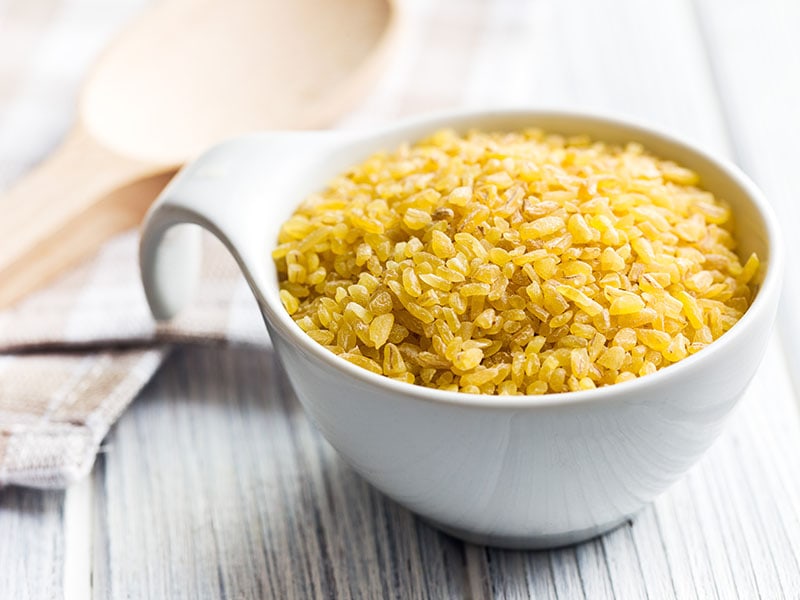 Bulgur wheat, or burghul, holds a cherished place in Middle Eastern cuisine. It comes from crushed wheat kernels, particularly durum wheat, then parboiled and dried. Typically, Americans might recognize it as whole wheat. In addition, it might cause bloating for those with gluten intolerance.
You can eat it immediately or sprinkle it into your favorite savory dishes. With fiber and nutrients from every part of the wheat grain, it is a nutritional upgrade from regular wheat and rice, rivaling even quinoa in the health stakes. Also, the price is cheaper than many grain varieties.
30. Bran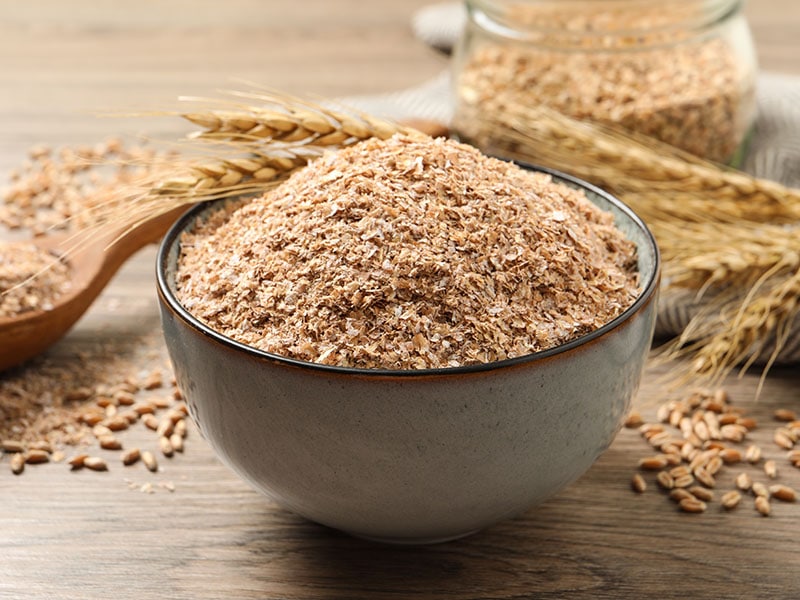 Miller's bran, simply known as bran, plays a protective role as the outer layer of cereal grains like wheat, rice, and corn. It wraps around the endosperm, forming the starchy part of the kernel.
This grain guardian is a fiber-filled creation full of B-complex vitamins, minerals, and antioxidants. However, its oil content can reduce a cereal's shelf life, leading to its removal during refining.
Proper cereal storage with bran is key, and beware, wheat bran might lead to bloating after consumption.
31. Buckwheat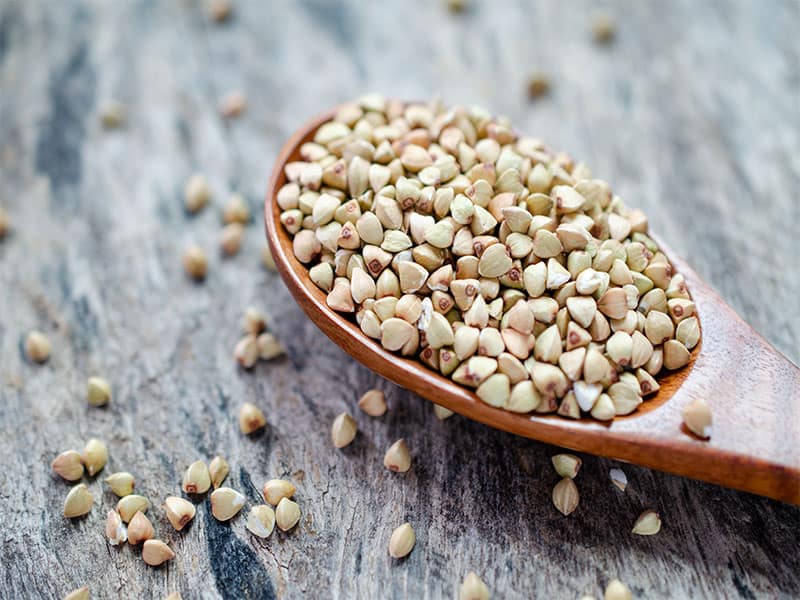 Buckwheat is a kind of seed in the form of triangular grain. It is known for different valuable nutrients, including protein, carbs, and minerals, which help control the sugar level in the blood and reduce high blood pressure as well as cholesterol.
Despite its misleading name, buckwheat is a seed from a rhubarb relative, not wheat at all. This gluten-free marvel brings a richness in antioxidants that outmatches cereals.
Buckwheat can be consumed as a rice alternative or manufactured as flour, noodle, and other food products.
32. Barley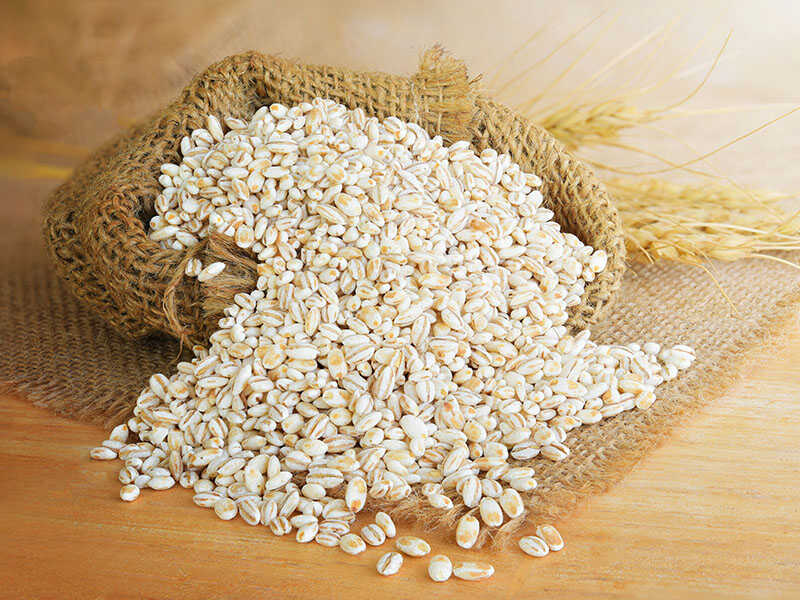 Barley is a cereal grain used for making soups, bread, salads, and also a rice alternative. Barley is rich in beta-glucan, a type of fiber that is found in the endosperm of the grain.
This kind of fiber helps maintain lower cholesterol in the human body. In addition, barley also contains different minerals and vitamins that benefit people's health.
Barley can come in two forms. One is the whole grain variety, keeping all its nutritious goodness intact. The other is pearled barley, minus the outer husk and bran.
Both are excellent for adding a hearty touch to your salads, soups, stews, and casseroles. For a nutritional pick, whole-grain barley has the upper hand.
Herbs & Spices
33. Basil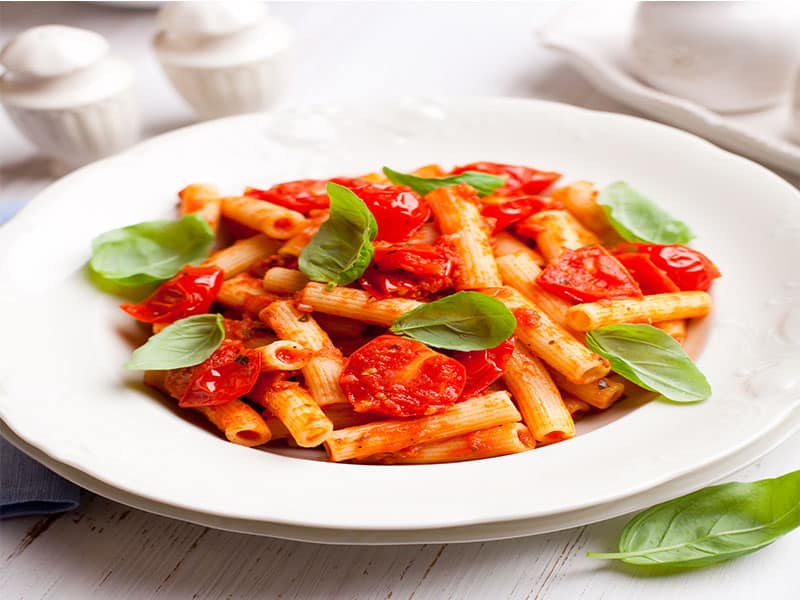 Basil is a kind of medicinal herb and can be found in many places with a variety of types. It has a strong, distinct flavor and is used as a spice for many recipes. It comes in various flavorsome varieties, too, from Thai basil to lemon basil.
Sweet basil is another name people often call this aromatic herb. With a flavor profile that's a delightful mix of sweet, and slightly pungent, with hints of clove and anise, it's an essential ingredient in both Asian and Mediterranean dishes.
Basil contains a high amount of vitamins A, C, and K as well as minerals that keep your liver and skin healthy. In addition, it is also a natural herb remedy to reduce the sugar level in human blood.
However, vitamin K can interfere with the effects of several kinds of drugs, so you should not consume too much basil to avoid vitamin K building up in your body (11).
34. Bay Leaf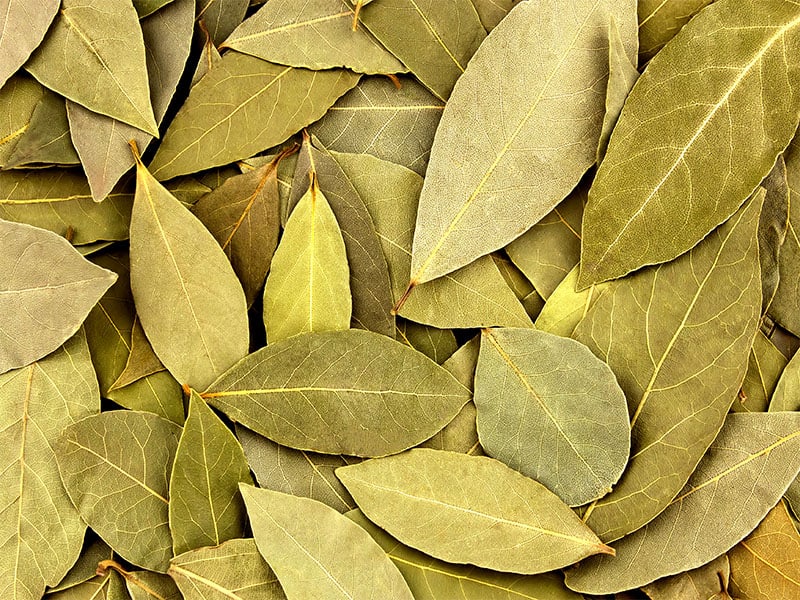 Bay leaf is a spice used in particular dishes, especially stews or soups. It comes with both fresh and dry leaves. Before adding bay leaves to the food you cook, you need to crush or chop them in order that your dish will have a sharp flavor of bay leaf.
There are quite a few distinctions between bay leaf and basil, meaning that it's not always the case that you can use these two herbs interchangeably.
Bay leaves are those larger-than-basil herbs with their striking olive-green color from the majestic bay laurel tree. The flavor is what really sets these leaves apart. It's usually a blend of minty freshness underpinned by pine-like aromas and a punchy hit of black pepper.
This famous sort of garnish contains vitamin A, C, and some minerals such as calcium, magnesium, potassium, and iron that help improve human health. It is also known as a natural treatment for migraines (12).
Moreover, the typical smell of bay leaf is utilized to make a natural insect repellent.
35. Black Cumin Seed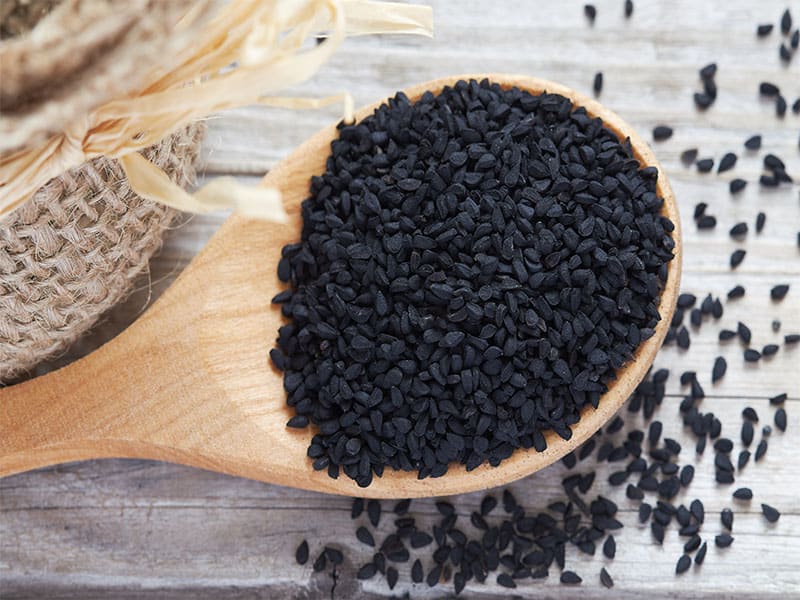 Black cumin seed is the seed fruit of a flowering herb plant called Nigella Savita. As a spice, it can be crushed and flavored foods as pepper. In addition, black cumin seed is also famous for its extracted oil for cooking and pharmaceutical products.
Known by many names like Roman coriander or fennel flower, black cumin seeds are unique and distinct from regular cumin seeds. Their flavor is a spicy, pungent blend reminiscent of nutmeg.
These tiny seeds are a favorite condiment, adding depth to Mediterranean, African, and Middle Eastern dishes. They also serve as traditional medicine, relieving everything from digestive issues to arthritis.
36. Black Mustard Seed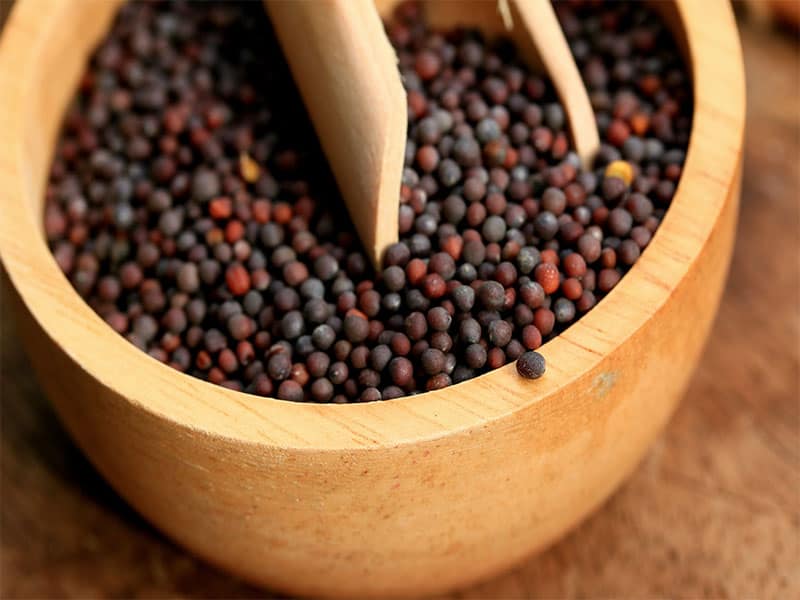 Black mustard seed is a popular spice that is paired with fish recipes, yogurt, or curries. When being used to flavor foods, it does not need to be ground like black cumin seed or pepper.
Black mustard seeds have the smallest of the mustard varieties. This seed isn't as popular as its siblings, brown and yellow mustard. With origins spreading across North Africa, Europe, and Asia, its spicy and sharp flavor creates a distinct culinary experience.
Despite its lesser popularity, it still adds an exciting kick to dishes worldwide. Usually, you just fry it a little bit so that its flavor can release better. This kind of seed and its oil is used to produce medicines.
37. Black Pepper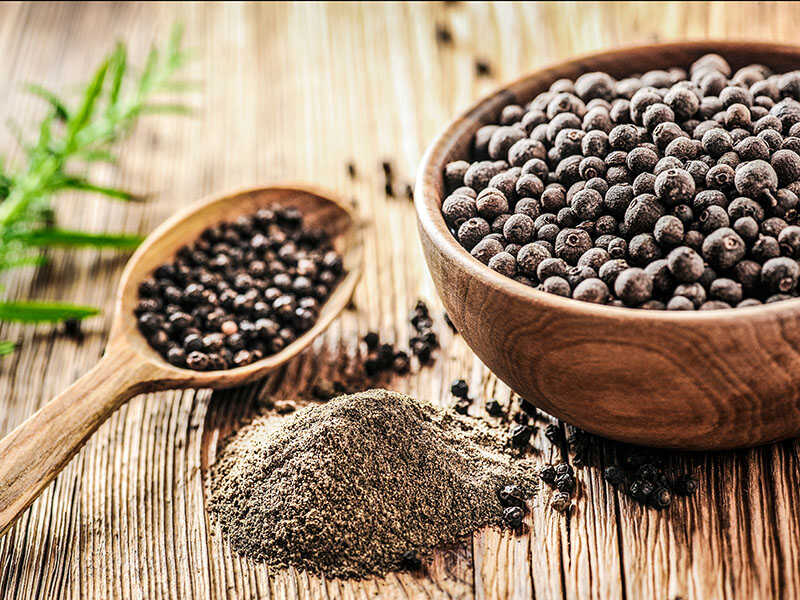 Black pepper comes from the lush Malabar Coast of India. This flowering vine produces dried berries or peppercorns, creating one of the earliest known and most adored spices. Commonly, the term black pepper can refer to the plant or the spice derived from its fruits.
Thanks to piperine's unique heat, black pepper stands out from other white and green peppers. And it doesn't stop at flavor; black pepper boasts a rich cache of vitamins and even caffeine.
Interestingly, you can add black pepper to coffee to reduce the bitter taste. From adding a kick to meals, and elevating baked goodies, to balancing the bitterness of coffee, black pepper can adapt to many cooking recipes.
Meat And Seafood
38. Beef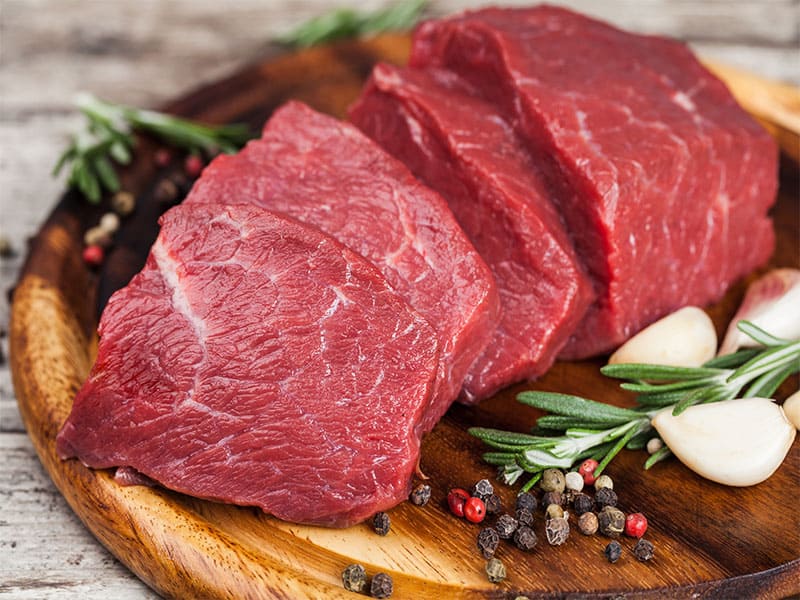 Undoubtedly, beef is one of the most popular types of meat in the world. Many people choose beef for their daily meals because it contains lots of protein, vitamins, and minerals such as iron or zinc that benefit human health.
They come in different cuts, such as chuck, flank, brisket, tenderloin, rib, etc. There are also a lot of ways to cook it, but it is important to note that never overcook the beef. Otherwise, you will have very tough and chewy meat.
However, consuming too much beef, a kind of red meat, may cause health problems like cancers or heart diseases. Beef in different places will have varied meat qualities depending on the environments where cows are raised and the raising methods.
39. Black Cod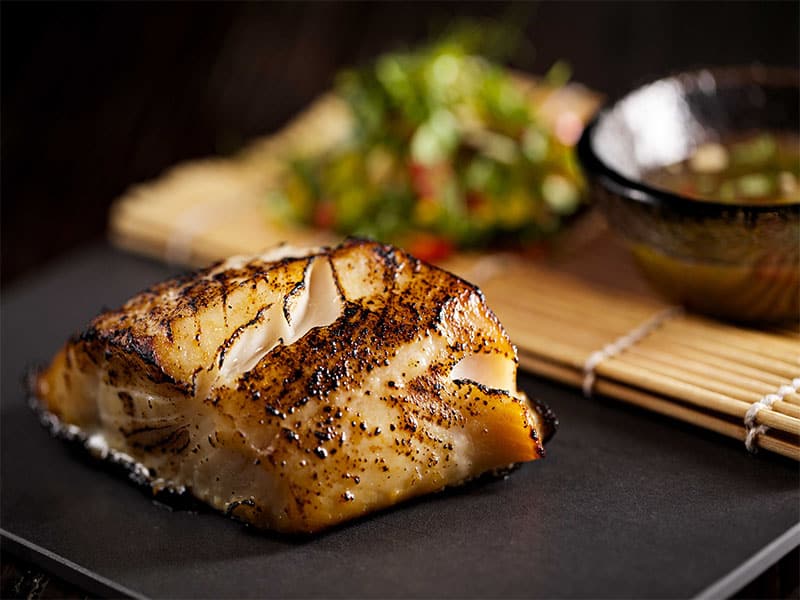 Black Cob or sablefish or butterfish is a kind of fish living in deep levels of the sea. It is called butterfish because it tastes buttery when being cooked. The high fatty acid level is the main characteristic to distinguish this fish from regular cod.
In addition, its raw flesh is white and almost transparent with high fat and omega-3 content. Black cod can be used in different recipes like grilling, roasting, or broiling.
40. Bison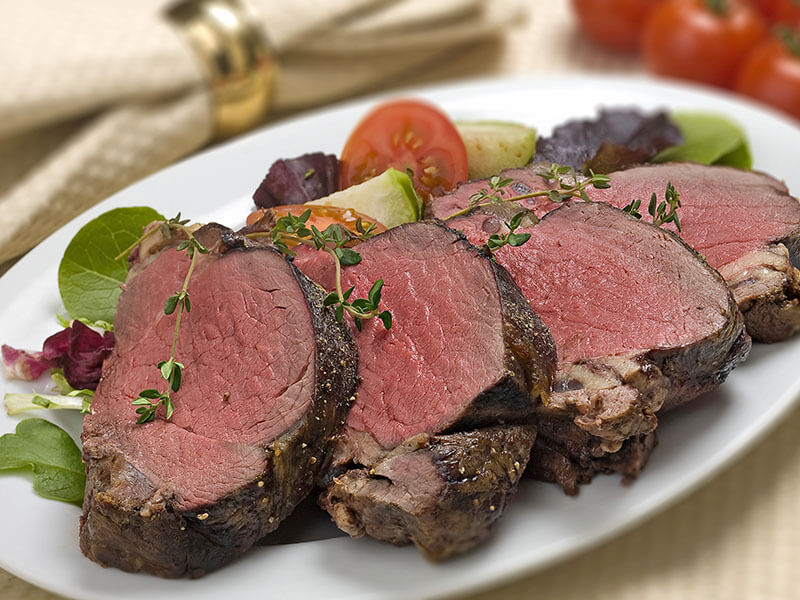 Bison, the large, hump-backed game meat, is a delightful change from your regular beef. Health-conscious foodies appreciate its lower saturated fat and cholesterol, despite its slightly higher price tag. Also, it's a handy source of minerals like iron, magnesium, and zinc (13).
The taste is reassuringly similar to beef but brings its own earthy notes and a mild sweetness without being too gamey. Like beef, you can roast, grill, or even make burger patties from bison. And remember, the perfect internal temperature while cooking should range from 145 to 160 degrees F.
41. Bass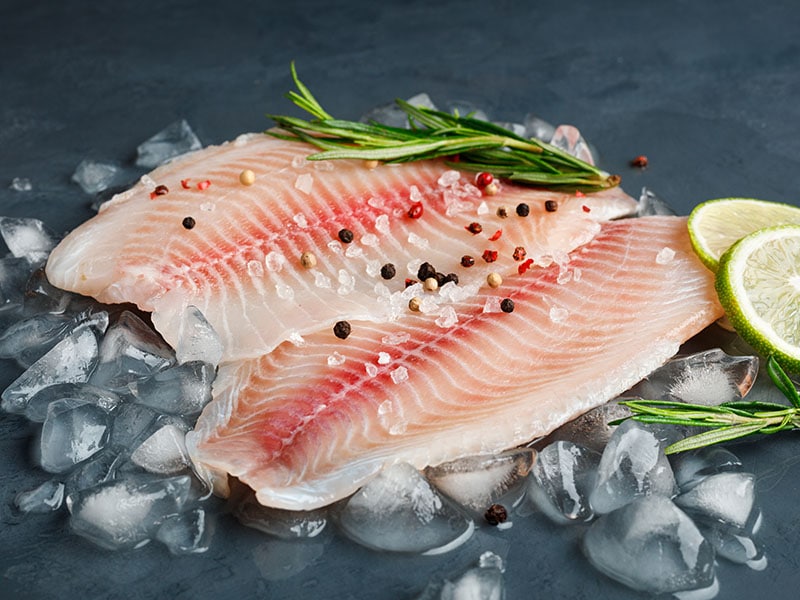 "Bass" is a wide term for a multitude of fish species, both freshwater and ocean types. They're part of the Perciformes family, with three main types, including Asian seabasses, black basses, and temperate basses.
The flavor profile is always a surprise, ranging from mild to fishy. One popular variety is the largemouth bass, known for its tender texture and mild taste. Whether you choose to grill, roast, or sear it, this versatile fish is always a hit.
42. Blue Crab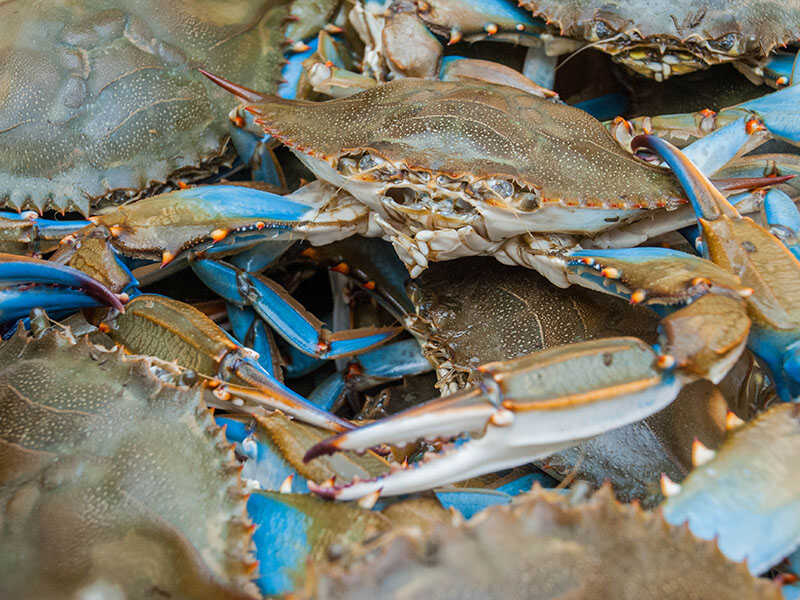 The Atlantic blue crab, also known as the blue crab, originates from the western Atlantic Ocean and the Gulf of Mexico. The crustacean is a native of Chesapeake Bay, USA.
Its flavor is like the sea itself – briny with a sweet undertone, and its meat is tender to the bite. You can steam it until it turns a vibrant orange or red. Alternatively, the crabs are ideal in crab cakes, soup, dip, or pasta. Remember to clean it well and cut it into quarters for easy eating.
43. Barramundi
The white-fleshed fish with an elongated body is usually known as Barramundi, Asian sea bass, or giant perch. The fish calls Australia, China, India, and the Persian Gulf home. Typically, the taste of its firm, flaky flesh with a subtly sweet buttery profile can pair well with any robust-flavored sauce.
Whether you want to fry, bake, roast, steam, or BBQ, this fish can always deliver top-quality flavors. Plus, it's a staple in Australian and Thai cuisines and is rich in omega-3 (14) while low in fat.
44. Beef Wellington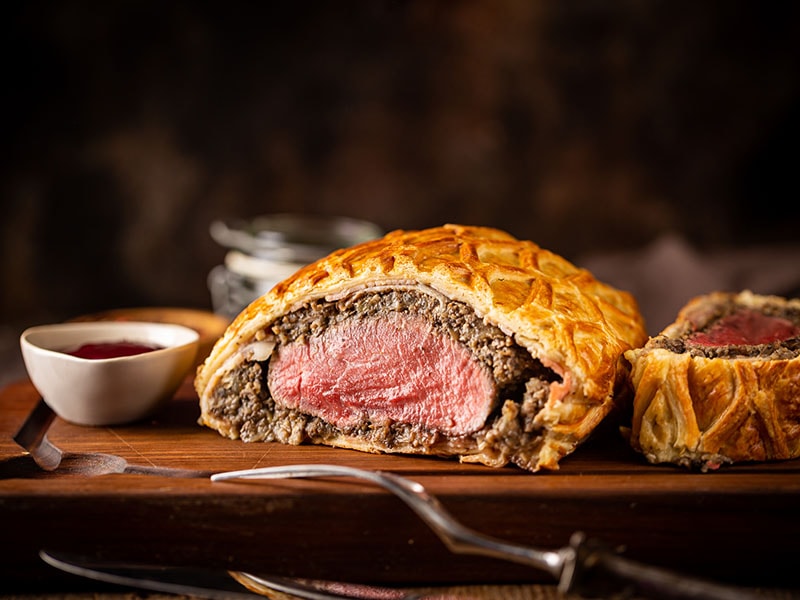 Beef Wellington is an English-origin dish, including a baked steak wrapped in layers of pâté, mushroom duxelles, Parma ham, and puff pastry. While it's not a beginner's recipe, the effort is worthwhile.
The key to nailing the dish is selecting a prime cut of beef like tenderloin or filet mignon and cooking it just right. Then, ensure a tight wrap with no holes or gaps in the pastry around the meat. The result is a dish with flavors from different layers, tender meat, and ideal with veggie sides.
Cured Meat And Sausage
45. Bresaola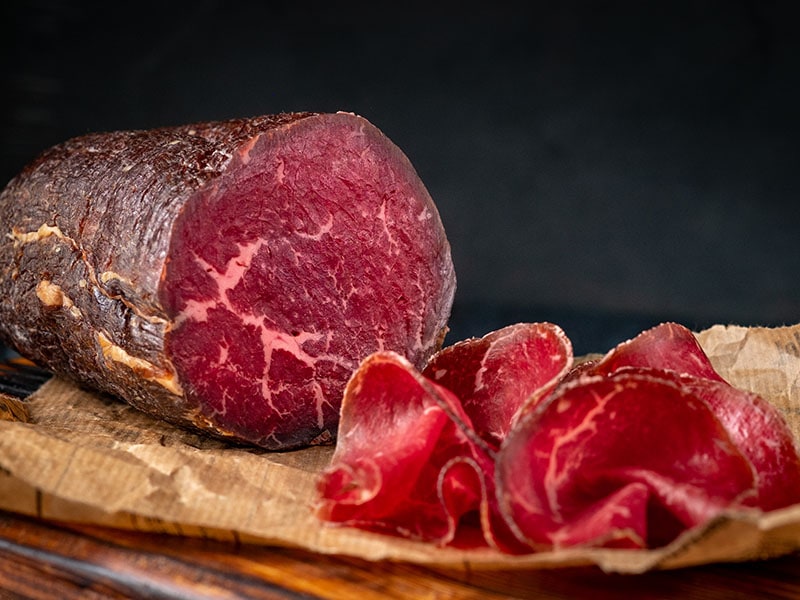 Bresaola from Valtellina, Italy, is an air-dried, salted beef known for its lean and tender top round. You might find versions made using pork, venison, or horse meat. It's usually served in thin slices, dressed in virgin olive oil and lemon juice.
With a color range from dark red to purple, Bresaola dishes up a salty, meaty flavor, sprinkled with spice hints like juniper, garlic, and pepper. Compared to other cured meats, it's less fatty than prosciutto and definitely not carpaccio, made from raw meat.
46. Bacon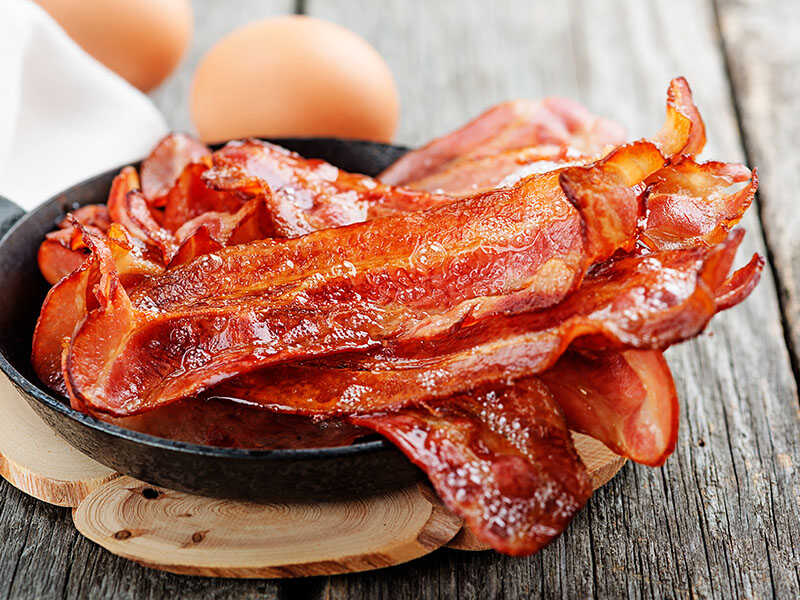 Bacon, a salt-cured pork delight, comes primarily from the pig's fatty belly, back, or sides. This breakfast favorite isn't just for the morning. Its smoky flavor extends beyond morning dining, finding a place in burgers, eggs, and cheese dishes.
Crunchy texture is the iconic sign of perfectly cooked bacon – chewiness means it needs more skillet time. Despite its lip-smacking goodness, remember bacon can be high in sodium due to the brining and curing process.
47. Banger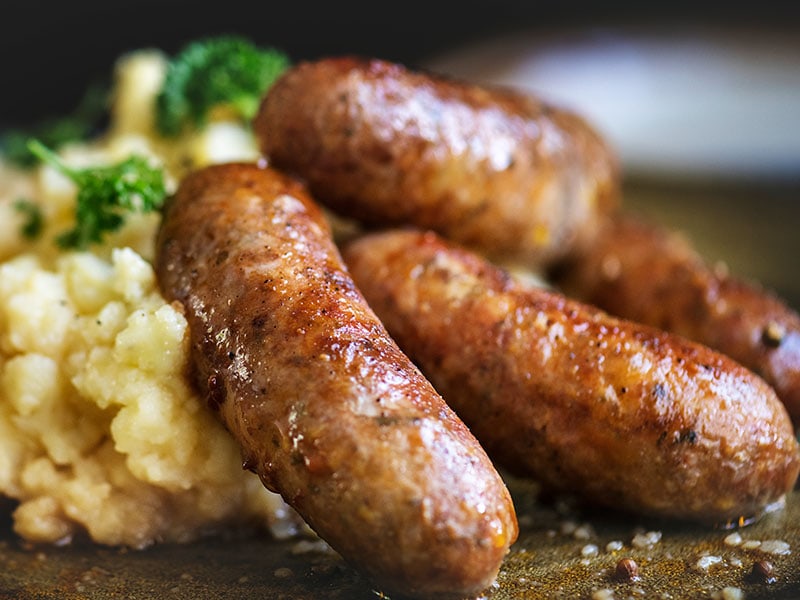 Banger is a cheeky slang term for breakfast sausages. The word refers to the traditional British dish, usually going by the phrase bangers and mash. Commonly, banger makes a frequent appearance on pubs' menus.
Various sausages can be featured in a banger, but the classic choice is a pork sausage seasoned with herbs and spices. Normally, the flavor profile is a delightful blend of savory, subtly herbal, and peppery.
48. Bratwurst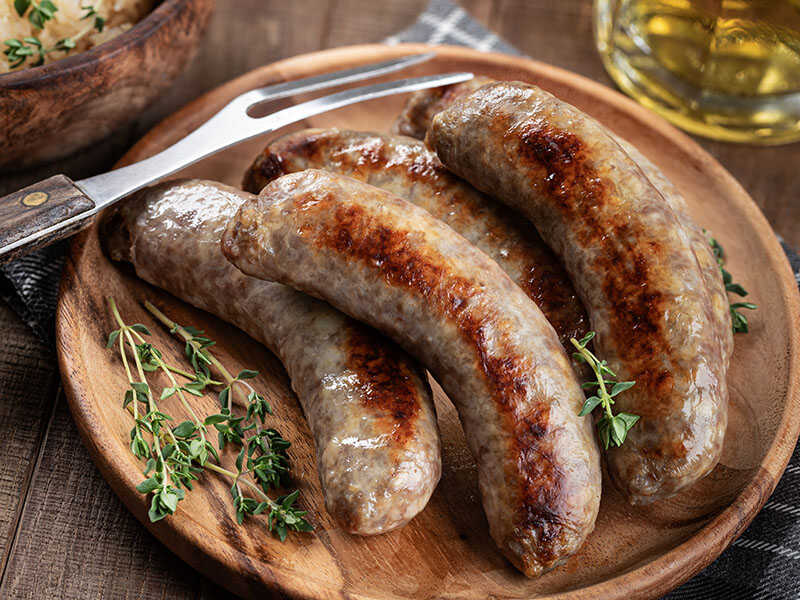 Bratwurst stands proud as a German sausage crafted from finely chopped pork, veal, or beef. Infused with spices such as nutmeg, caraway, and marjoram, it exudes a smokey flavor with subtle spicy notes.
Unlike hot dogs, bratwurst has a coarser, more substantial texture. The German sausage truly shines when grilled or fried, and it's even better alongside sauerkraut, pretzels, mustard, and a frothy beer. Unsurprisingly, it's a big hit at Oktoberfest and other festive events in Germany.
49. Braunschweiger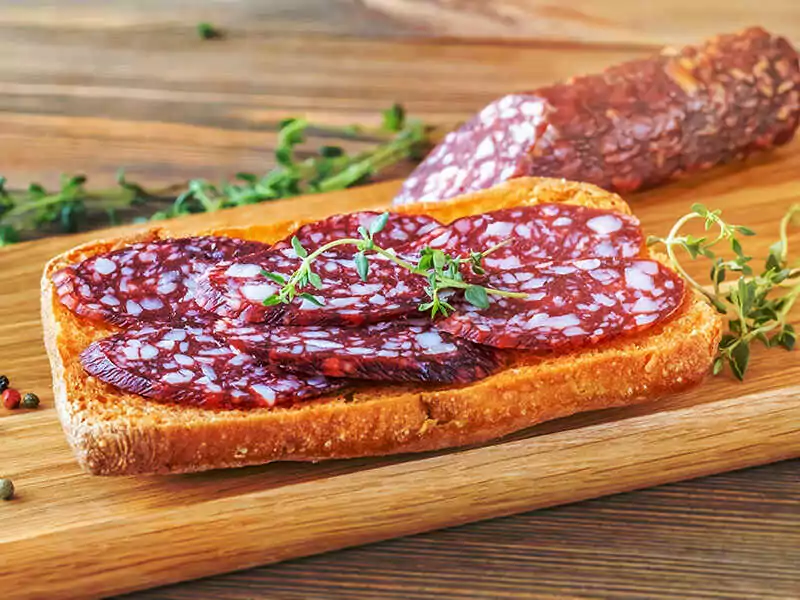 Braunschweiger is a multifaceted sausage with regional twists. In Germany, it's a Mettwurst-style delight made from minced pork, pepper, salt, and garlic. However, in Canada or the USA, you'll find a pork liver-based Braunschweiger, often smoked.
But don't confuse it with Liverwurst, as Braunschweiger has its unique identity, notably in its unsmoked-making process. It's a robust source of protein and vitamins like A and B12 (15). Ideally, you can toast, pan-sear, or pair it with bread for a nourishing, satisfying meal.
Savory Dishes
50. Bruschetta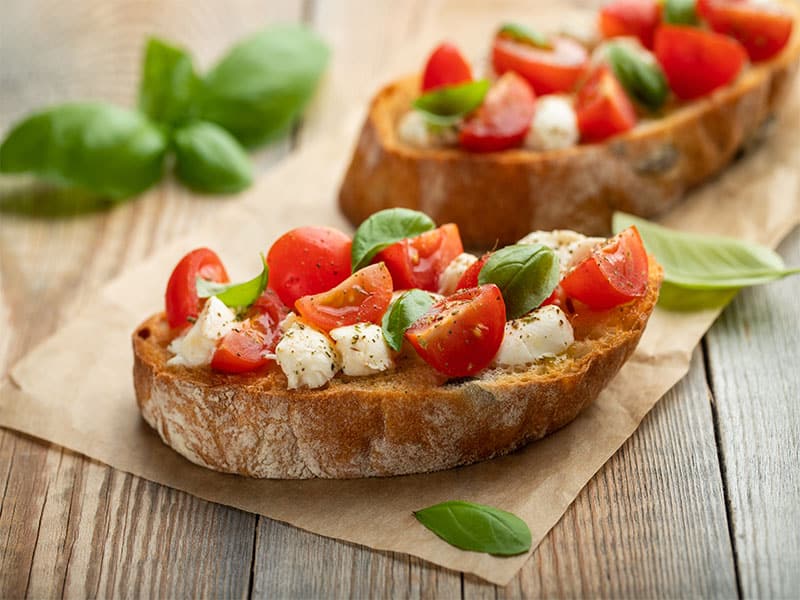 Bruschette is a popular antipasto of Italians with simple ingredients. Bruschetta is a piece of toasted bread with garlic flavor and a topping of juicy tomatoes, meat, vegetables, and olive oil.
People have varied creative ways to make this food, like adding other toppings as they prefer, which meets their own taste. Plus, this one is very easy to make and can be served cold.
51. Burrito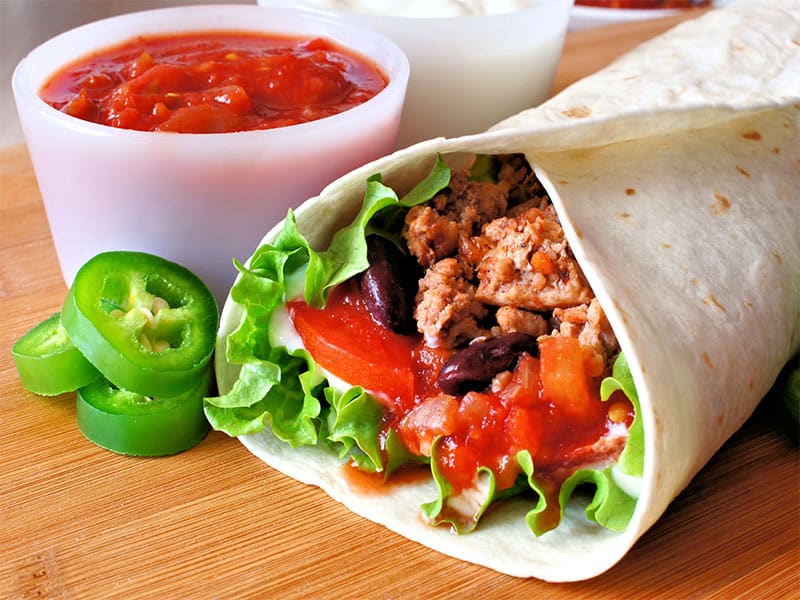 Burrito is a traditional cuisine of Mexico and Tex-Mex, which is very convenient for fast breakfasts. It is quite simple and does not take you much time to prepare this food. Additionally, the proper techniques to reheat burritos are simple and time-saving, making them even easier to prepare.
It consists of a flour tortilla to wrap a mixture of ingredients. The ingredients can be pork or beef mixed with cooked beans or rice and chopped vegetables, like tomatoes.
The burrito's secret lies in the tortilla, which is either slightly steamed or grilled. This simple step transforms it into a pliable wrap, ready to envelop a delicious filling. However, don't mistake it for a fajita, which is usually smaller and filled with grilled meats and veggies.
52. Baba Ghanoush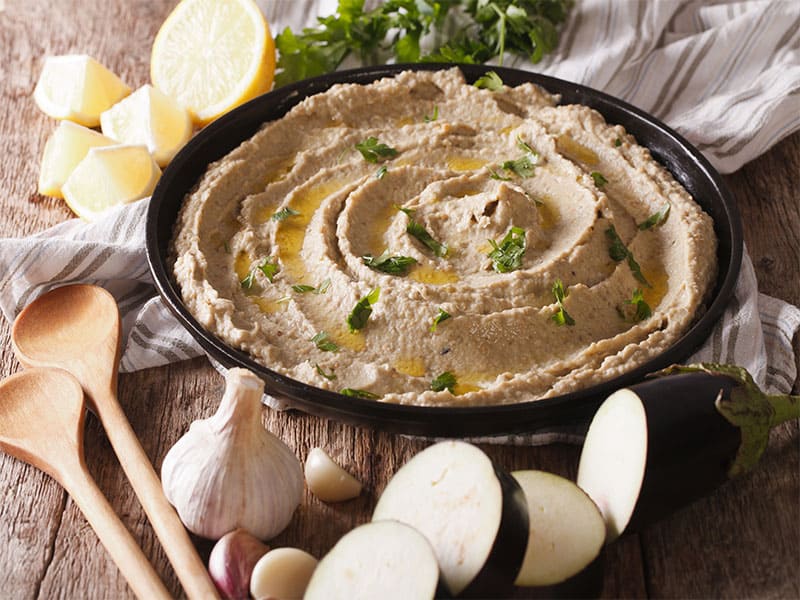 Baba Ghanoush has its origin in the Middle East and is especially famous in Jordanian cuisine. It is a kind of dipping sauce made from crushed eggplant, olive oil, and other spices. The dish can be served with bread, rice, or pitas as an appetizer.
The eggplant in this traditional food provides you with a high amount of fiber as well as different minerals and vitamins that help prevent blood cholesterol, cancer and improve your heart and eye health (16).
53. BBQ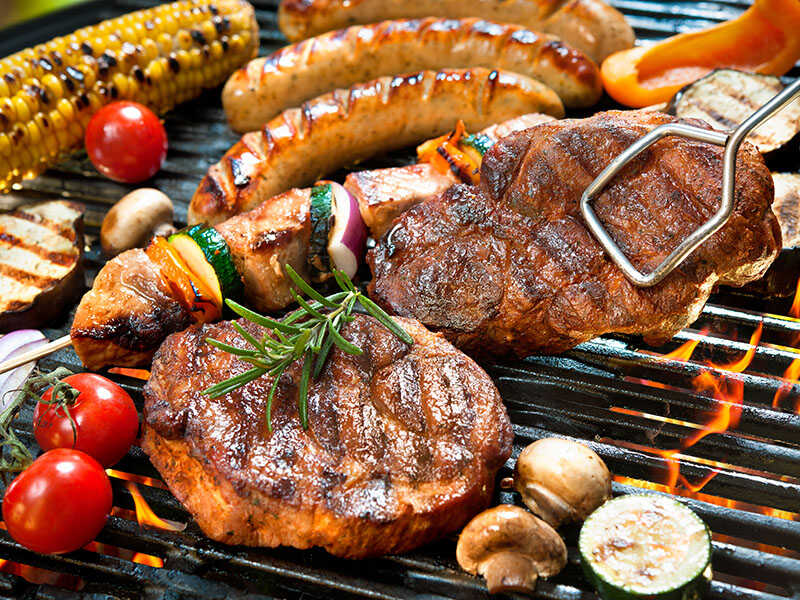 BBQ is a term that's versatile enough to be both a noun and a verb. It is an abbreviation of barbecue or barbeque that describes a cooking method, a type of food, or the event where this food is prepared and enjoyed.
Tracing its roots in the Caribbean term "barabicu," the technique involves slow-cooking meat over an open fire fueled by wood or charcoal. While Australians call it "barbie," the concept of BBQ is widespread worldwide.
In the United States, it's a time-honored tradition dating back to colonial times, with different regions like Texas, Carolina, Memphis, and Kansas City, each boasting some of the best BBQ styles.
While you'll find large, tough cuts like beef brisket seasoned with dry rub and served with sauce in America, there are numerous global interpretations of BBQ. Take Korean BBQ, for example, with its marinated pork cooked on a portable grill.
54. Burgers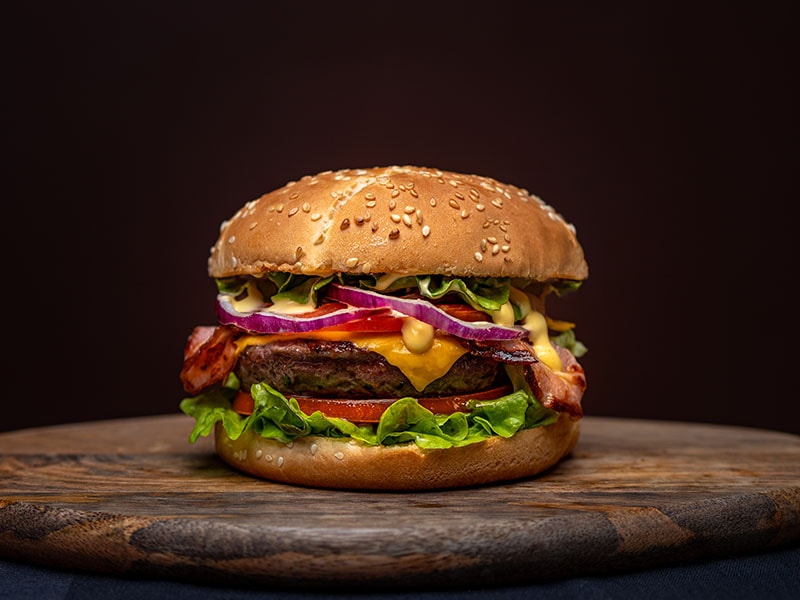 Burgers are the shorter and more casual term for hamburgers, a staple in American cuisine and a fast-food icon. This sandwich is an ensemble of a beef patty, fresh vegetable slices, and a dollop of mayonnaise and sauce, all sandwiched between two bun halves.
Originally, hamburgers only featured the patties called the 'Hamburg steak.' Then, vendors were inspired by hot dogs at state fairs, including the two buns sandwiching the patties. You can pair a hamburger with sides like french fries or a milkshake for a hearty meal.
Interestingly, the patties are not just beef when you can use a range of other meats or plant-based options. Once labeled as an indulgent, greasy dish, burgers have adapted to modern, healthier recipes created by German immigrants.
55. Biryani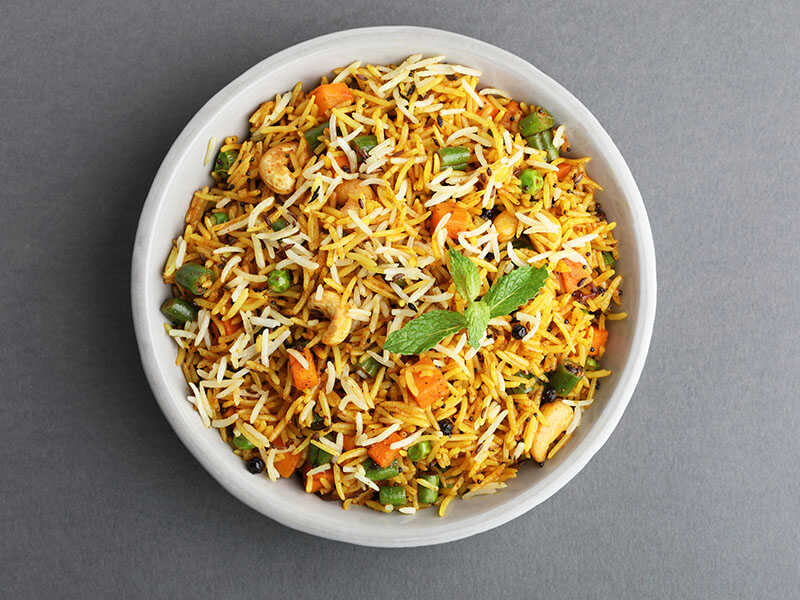 A delectable Indian mixed rice dish, biryani beautifully blends basmati rice, proteins, vegetables, and a medley of aromatic spices. This flavorful dish, deeply rooted in Muslim communities of South Asia, is suitable for any meal of the day.
While it takes inspiration from the pilaf or pulao, biryani has many unique variations. A standout among these is the Hyderabadi biryani, hailing from the city of Hyderabad (the capital of Telangana state), known for its rich, spicy, and tantalizingly tasty qualities.
56. Beef Stroganoff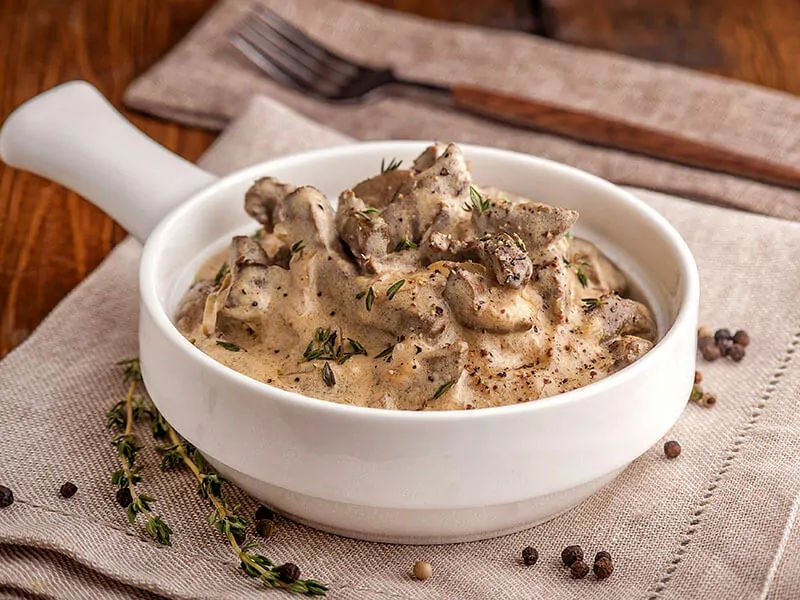 Beef Stroganoff, alternatively known as beef Stroganov, is a notable Russian culinary recipe. The name is a nod to a prestigious Russian family, with the dish's creation possibly tracing back to France or being an entirely Russian invention.
The dish is a sumptuous combination of thinly sliced beef, lightly sautéed and simmered in a rich sauce of onions, mustard, smetana, or sour cream. Optional mushrooms can add an extra layer of flavor. Also, the tang of sour cream enhances the dish's savory character.
Serve it with rice, egg noodles, or mashed potatoes for a satisfying meal.
57. Baked Ziti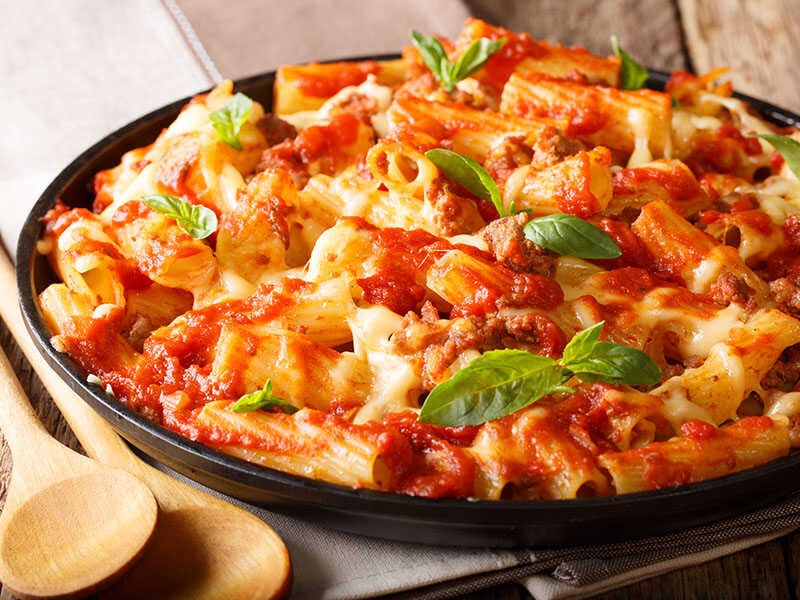 Baked ziti is a beloved Italian-American dish with its rich, tangy tomato sauce and creamy layers of ricotta and mozzarella. Its fame was amplified by the classic TV series, The Sopranos, giving it fame in pop culture.
Ziti, a tubular pasta, is the classic choice for many recipes, but feel free to substitute it with other similar shapes of pasta. Toss in ingredients like sausage, ground meat, or mushrooms for an extra flavor twist.
58. Bouillabaisse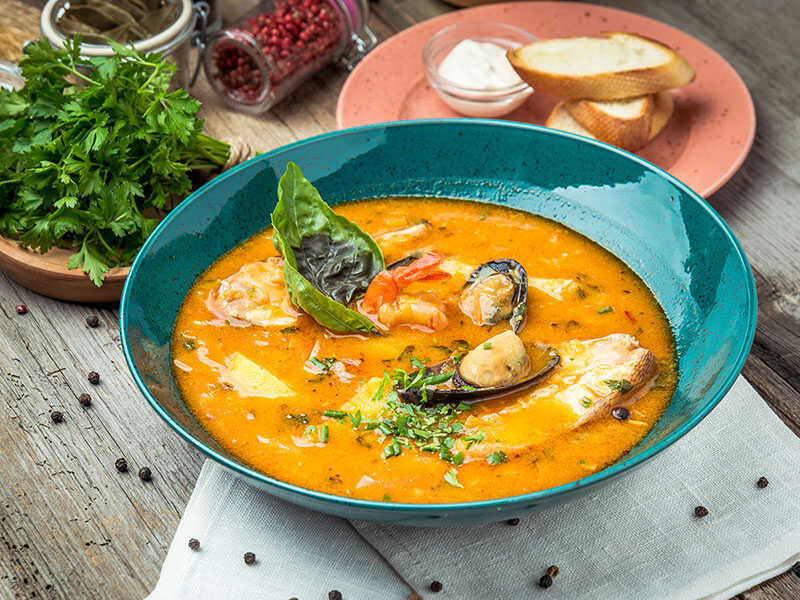 Bouillabaisse is a flavor-packed fish soup coming from Marseille with aromatic Provençal spices and herbs. Its core is a mix of Mediterranean fish, like rockfish or sea robin, that were once overlooked, giving the dish humble roots among the poor.
Nowadays, it's a gourmet delicacy, celebrated and embellished with lavish seafood like oysters and lobsters, skyrocketing its value. Though resembling a creamless chowder, this delicious dish has a unique broth that requires a long time to cook.
Try accompanying this exquisite soup with crusty bread and a glass of fine French wine to elevate the experience.
59. Butter Chicken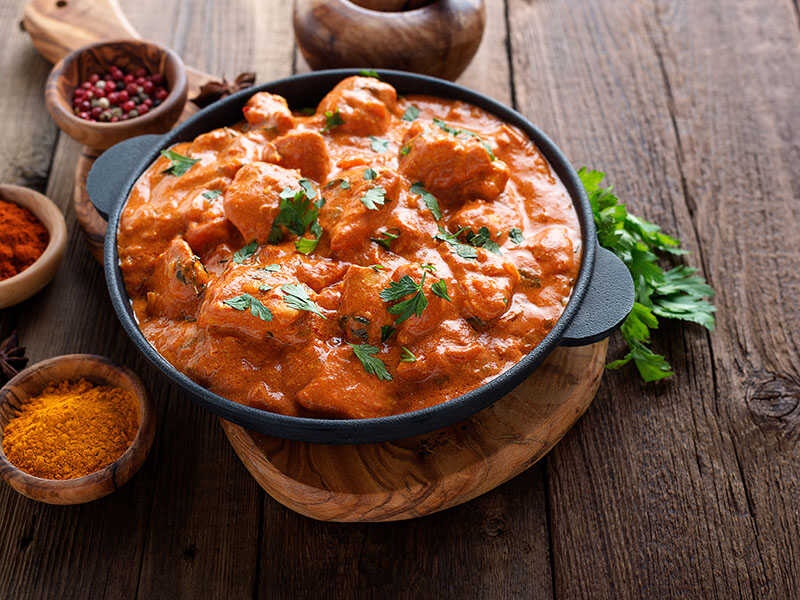 Butter chicken, also known as murgh makhani, is a cherished Indian curry from New Delhi. As the brainchild of Kundan Lal Gujral, a chef at Moti Mahal restaurant in 1947, the dish revolves around the chicken with a spiced tomato and butter (Makhan) sauce.
In some ways, the recipe is similar to chicken tikka masala using tomato sauce. Commonly, the sauce provides butter chicken with its rich texture and a blend of savory, sweet, and deeply satisfying flavors.
60. Bulgogi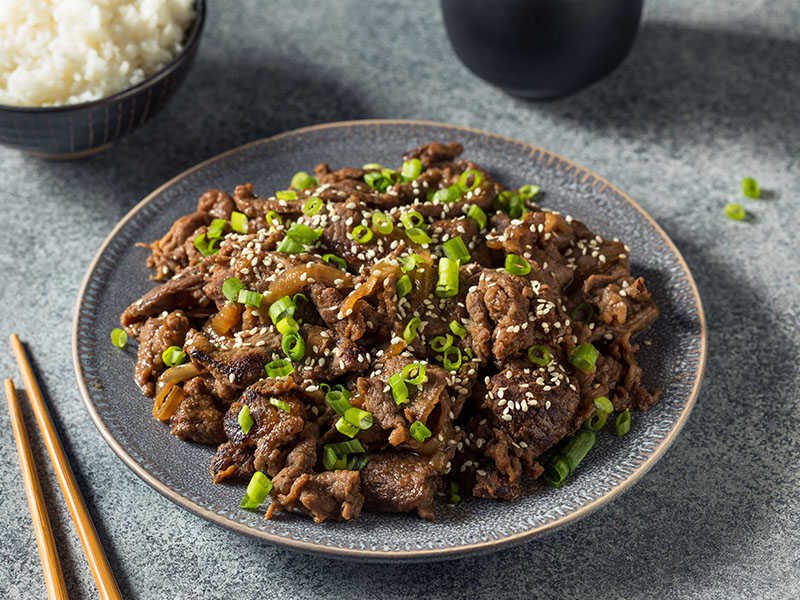 A direct translation of Bulgogi means "fire meat", a South Korean favorite that dates back to the northern regions of the Korean Peninsula in the Goguryeo era (37 BCE–668 CE). This enticing dish involves thin slices of marinated meat – often premium cuts like sirloin or rib-eye, sizzling away on a grill or a stove-top griddle.
While traditionally, the meat is cooked over an open flame, many home cooks opt for stir-frying in a pan. From upscale restaurants to ready-to-cook supermarket packs, Bulgogi has made its delicious mark everywhere.
61. Bibimbap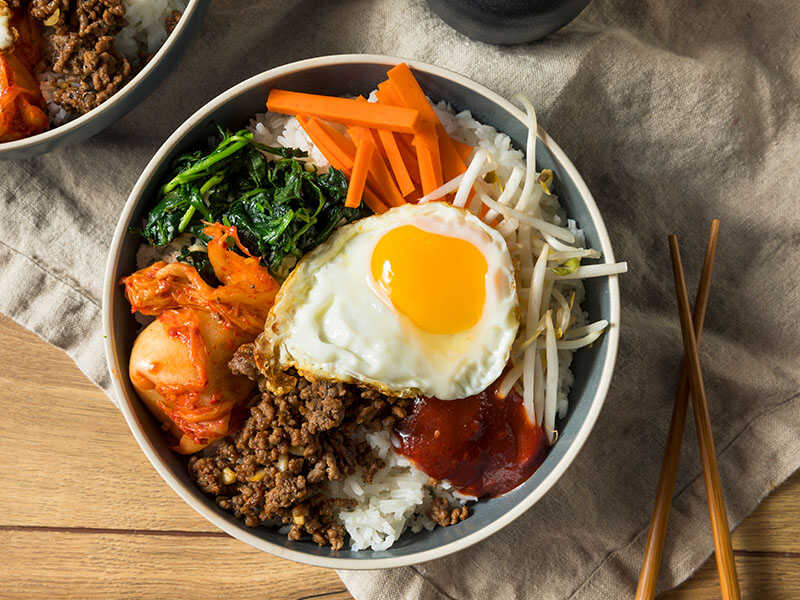 As a Korean culinary classic, Bibimbap is an impressive creation with its array of vibrant colors. The name, whether you call it bibimbap, bi bim bap, or bi bim bop, comes from "bibim" signifying "mixing" and "bap" standing for cooked rice.
This dish is a nourishing mix of warm white rice adorned with namul and gochujang, offering a balanced meal of proteins, nutritious vegetables, and hearty carbs. In addition, cities like Jeonju, Jinju, and Tongyeong are renowned for their distinctive versions of bibimbap.
Adaptable and versatile, Bibimbap transitions seamlessly from a cold-served summer dish to a comforting warm winter meal. Its recipe lends itself to endless variations, ensuring each encounter with bibimbap is a unique experience.
62. Birria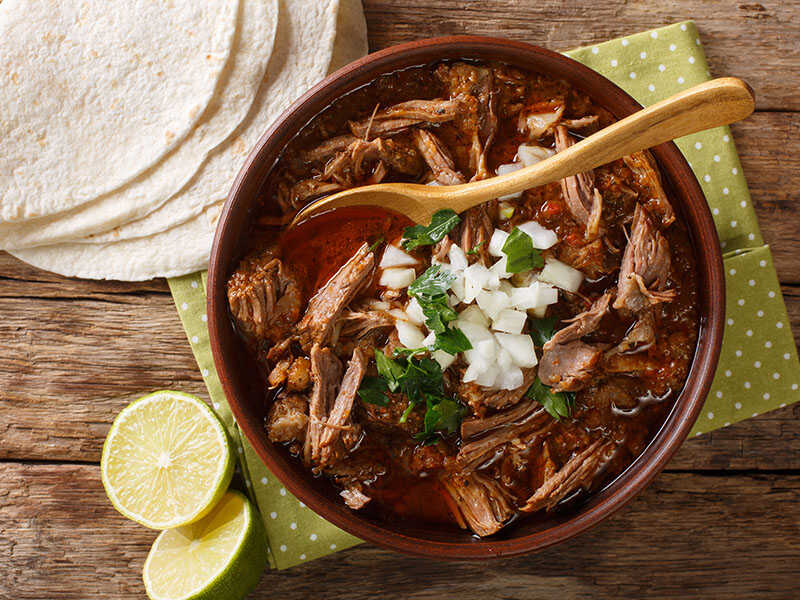 From Jalisco, Mexico, this Mexican specialty is a stew or soup traditionally crafted from goat meat, although variations with beef, lamb, mutton, or chicken are also popular. Birria is a highlight at festivals such as weddings, baptisms, and Christmas and Easter holidays.
The meat in Birria is marinated with adobo, a concoction of vinegar, dried chiles, garlic, and an assortment of herbs and spices. Then, people simmer it in a flavorful broth.
Additionally, Birrierias, the restaurants or street carts that whip up Birria, are a common sight in Mexico, particularly in Michoacán and Jalisco.
63. Ballotine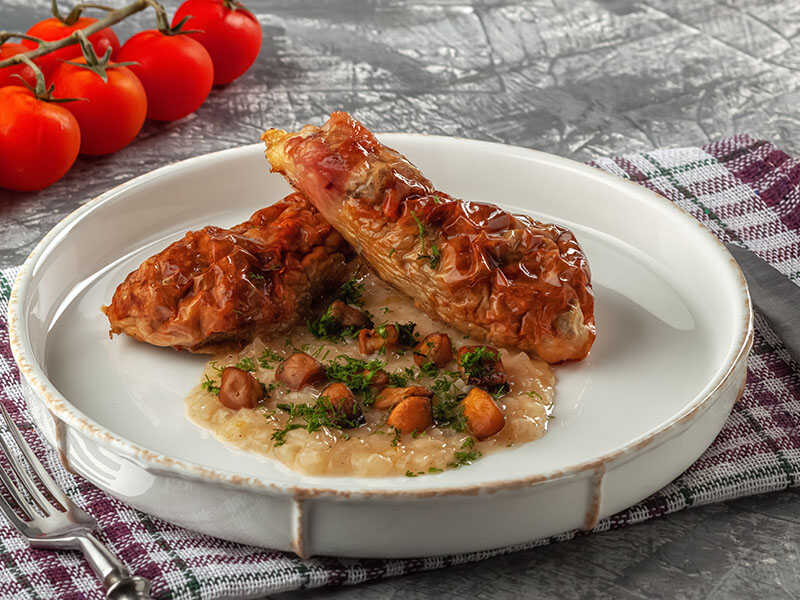 Ballotine is made from poultry's deboned thigh or leg parts like chicken or duck. It's not restricted to poultry, as lamb or veal can also make a fine Ballotine.
Typically, the meat is stuffed with forcemeat and various other ingredients, tied securely to maintain its shape. Some even stitch up Ballotine with a trussing needle at times. Cooking methods can range from roasting to braising or poaching for savoring, either hot or cold.
Soups, Stews, And Broth
64. Bigos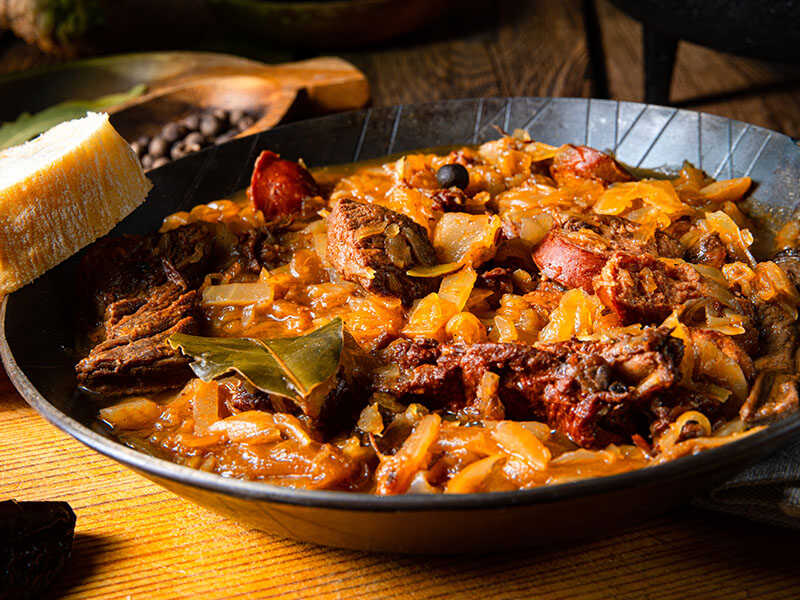 Bigos, Poland's national dish, is a heartwarming hunter's stew, also favored across the expansive Polish-Lithuanian Commonwealth. This stew has its roots traced back to a medieval dish named compositum, with various chopped meats, sauerkraut, and fresh cabbage shreds.
Served hot, Bigos provides a warming and satisfying meal, especially on a chilly winter's day. The stew can go well with an assortment of vegetables, spices, or even a splash of wine.
65. Bisque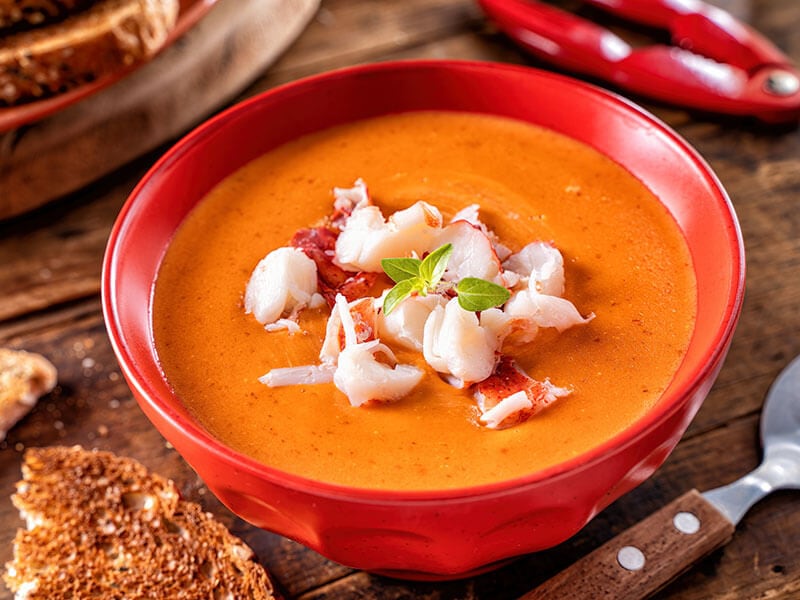 Hailing from France, Bisque is a smooth, creamy, and well-seasoned soup loved by seafood enthusiasts worldwide. Its name comes from the Bay of Biscay, emphasizing its maritime roots.
This velvety delight is meticulously crafted from a strained broth of crustaceans. Whether it's lobster, crab, shrimp, or langoustine that catches your fancy, Bisque gracefully incorporates these flavors, presenting a world-class culinary experience.
66. Burgoo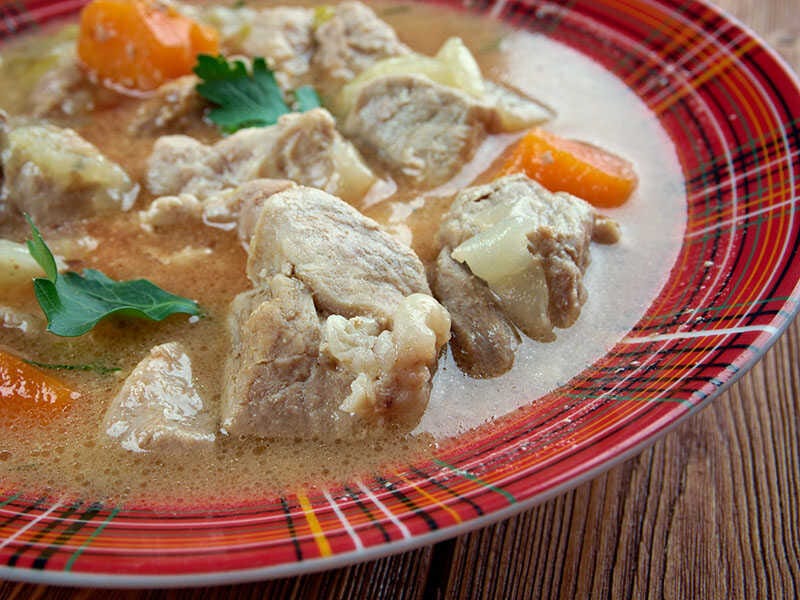 The pride of Kentucky, Burgoo is a rich, hearty stew with a legacy related to the Civil War. Surprisingly, this culinary masterpiece owes its invention to a French chef. Also, Burgoo is relatively similar to Irish or Mulligan stew.
With its flavors akin to Irish or Mulligan stew, it pairs beautifully with cornbread or corn muffins. What's special about Burgoo is its social significance. Preparing the stew is usually a communal event, fostering connections and raising funds for citizens across the American Midwest and South.
67. Bouillon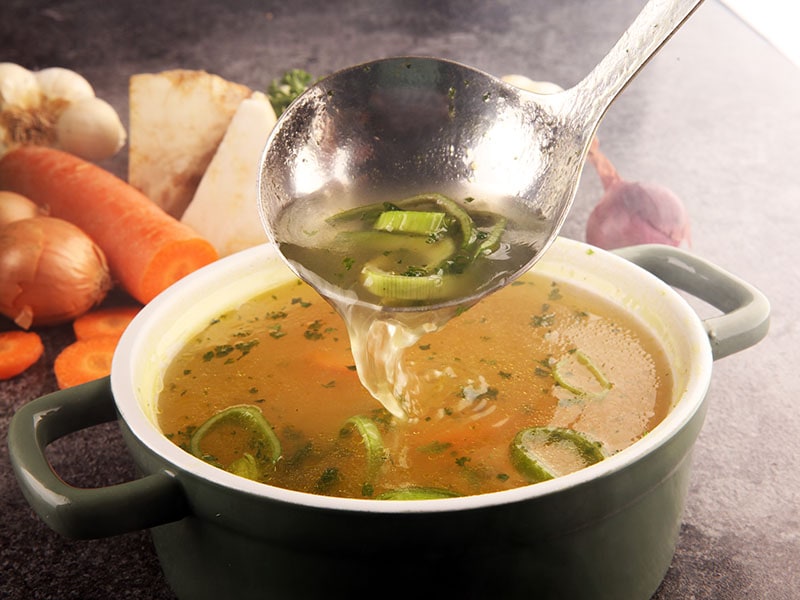 Bouillon, or Brodo as it's also known, is like the Swiss Army knife of the culinary world. This savory liquid, prepared by simmering meat, fish, or vegetables in a short while, can either be sipped solo or used as the secret ingredient in other dishes.
From soups to gravies and sauces, it adds a depth of flavor that's hard to match. Commercial options are always at your fingertips if you're in a hurry. But remember, you can call it Bouillon, Brodo, or stock, however, you want.
68. Borscht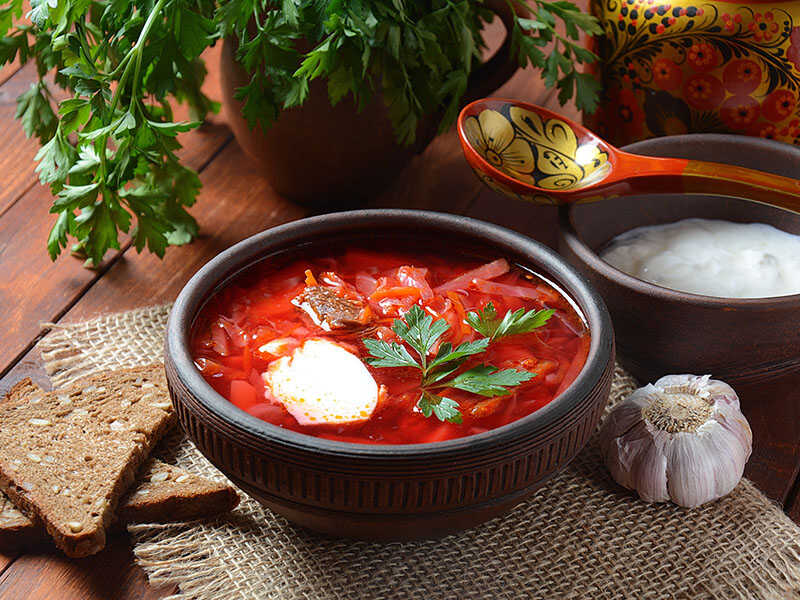 Borscht, or Barszcz as some call it, is a soup of Eastern European and Northern Asian origin. It usually comes with a characteristic red hue from beetroots.
Interestingly, this sour soup can swing any way you want – hot or cold, meaty or light, creamy or clear. Its sweet, sour, and savory flavors make it a hearty yet refined dish that can cater to your cravings.
Dairy Products
69. Buttermilk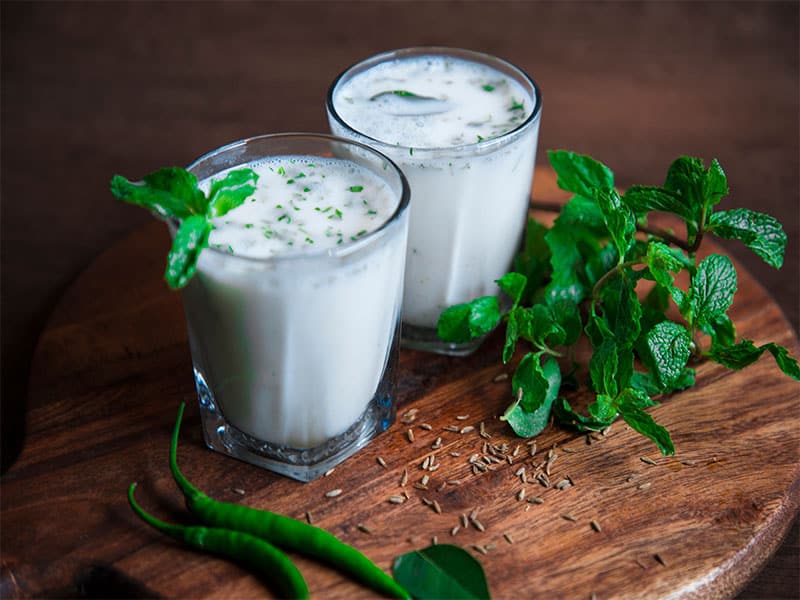 Buttermilk is a kind of nutritious drink and is used in both baking and cooking to create a creamy and good flavor for food. When seeing its name, people assume that buttermilk contains butter and are afraid of its high fat.
Actually, buttermilk is a no-fat drink but rich in calories, so you can add it to baking products such as cookies to have high-calorie food that can boost your energy.
In addition, buttermilk contains a low amount of tyramine but should be consumed in limited amounts to avoid health issues such as blood pressure and migraine caused by high tyramine in the human body.
70. Blue Cheese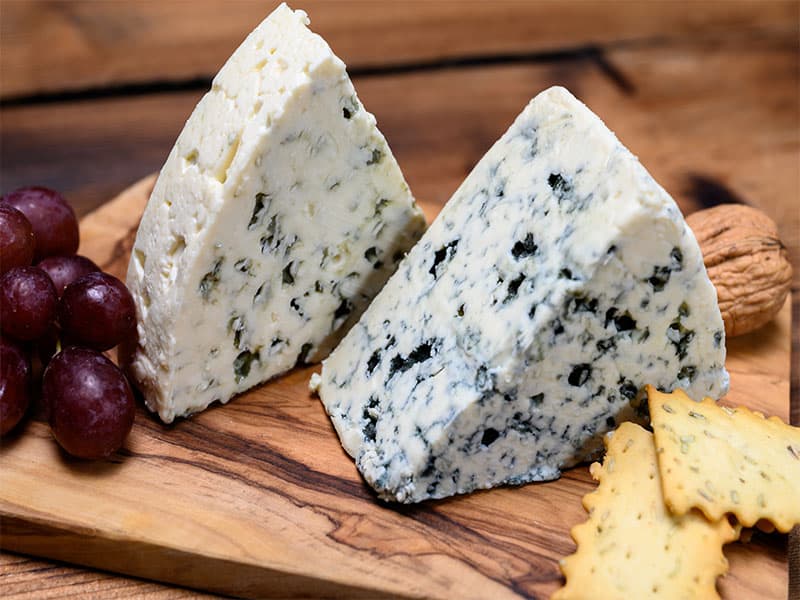 It is called blue cheese because its typical color is blue. However, the color can be changed a little bit from blue to green, which depends on the methods people use to make the cheese.
Blue cheese is a nutritious food made from animals' milk undergoing the activity of mold and bacteria, so blue cheese has a creamy and salty flavor.
People usually make blue cheese from cow and sheep milk to create different favorite flavors of blue cheese. Blue cheese is softer and creamier than other kinds of cheese with a hard texture.
71. Butter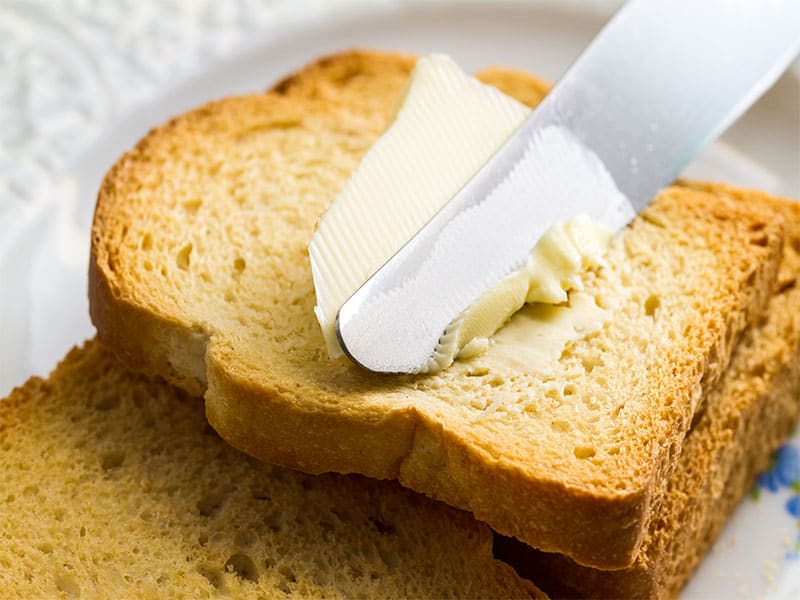 Butter has a yellow dairy product made with cream that can be derived from cow's milk. Butter is used in making palatable foods such as pasta, bread, and desserts.
It contains vitamins A, E and minerals such as calcium and phosphorus that are good for human health. However, butter consumption needs to be under control because it has a high amount of fat and calories.
72. Brie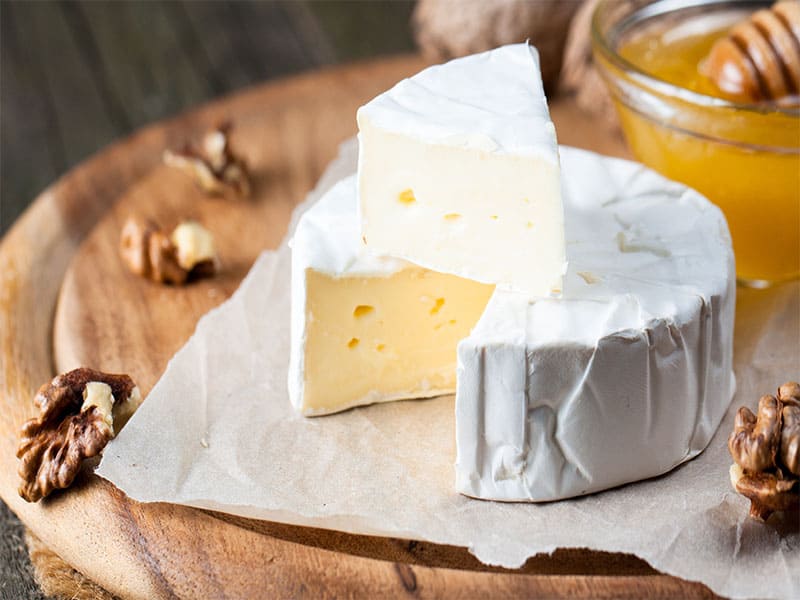 Brie is a soft and creamy cheese made from cow's milk. It can be served with crackers, fruit, or bread. Brie is a rich source of fat, vitamins, and minerals.
The cheese stands out with its pale color and grayish tinge beneath a white mold rind. It is a close relative to Camembert but has a distinct French region and carries a higher butterfat content – between 60% and 75%.
This buttery richness of Brie mingles with fruity notes and an earthy depth that deepens as it ages. Brie is a creamy dream that tastes beautifully when ripe. Pair that with its strong, earthy aroma, and Brie becomes a flavorful experience.
Though, you should not consume too much brie, especially for daily meals. Excessive brie consumption may cause high blood pressure due to the high sodium content of brie.
73. Burrata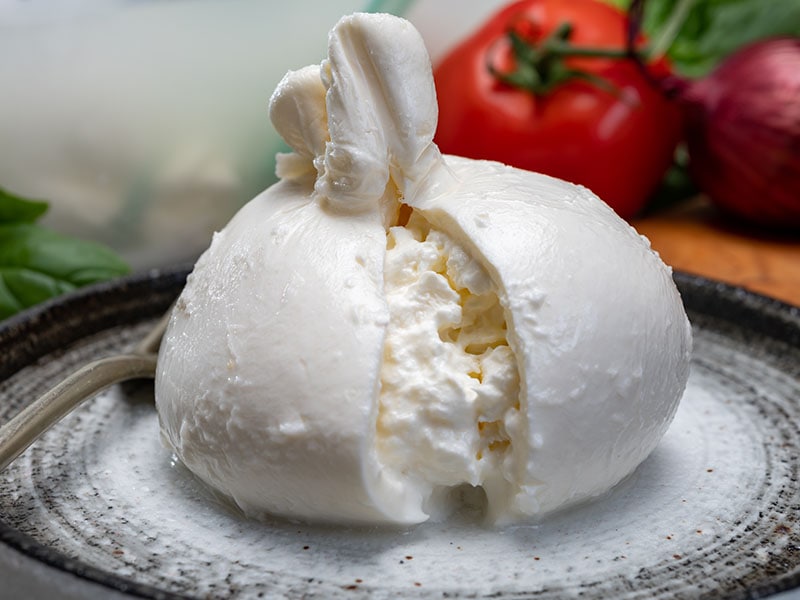 Originating from Puglia, Italy, Burrata is a unique cow cheese that first appeared in 1900. It's an exquisite blend of mozzarella and cream, forming a solid exterior. On the inside, it opens up to a delicate, creamy core of stracciatella and cream.
This Italian wonder offers a rich, buttery milk flavor. Furthermore, its unusually soft texture, fresh exterior, and creamy interior make it a versatile companion to salad, prosciutto crudo, crusty bread, pizza, and pasta.
74. Bavarian Cream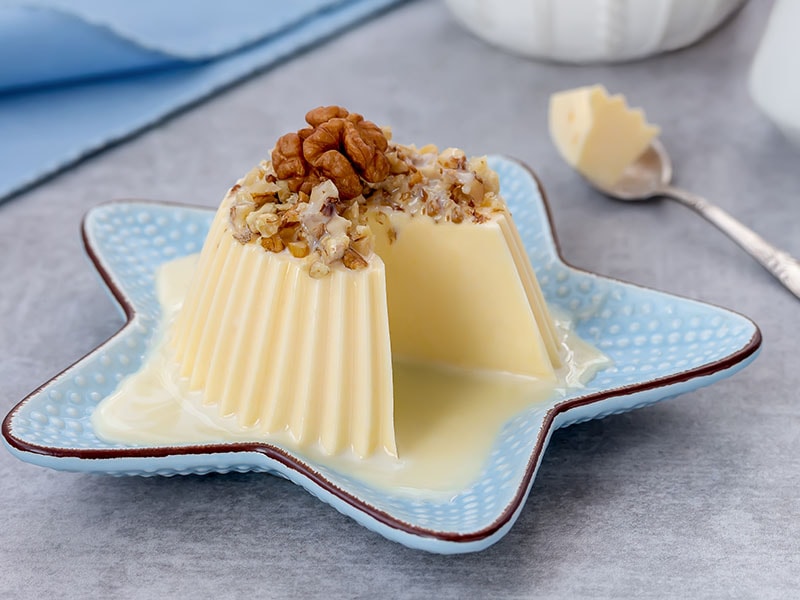 Also known as crème bavaroise or bavarois, Bavarian cream is a sweet treat that takes you back to the culinary artistry of the late 1800s. Traced back to the inventiveness of Marie-Antoine Carême, a French chef, this dessert bursts with a rich vanilla custard flavor.
The beauty of Bavarian cream lies in its consistency, similar to custard, yet it carries a light, whipped texture from the blend of egg-based custard and gelatin (or isinglass). Bavarian cream also doubles as a versatile filling, topping for pastries, cakes, and other desserts.
75. Bocconcini
Bocconcini are small mozzarella cheese balls from Naples. These white, rindless, and unripened mild cheeses are semi-soft with a sweet buttery taste that's simply irresistible. Typically, it's widely available in most Italian supermarkets.
Their spongy texture and elasticity make them perfect for absorbing flavors. Commonly, Bocconcini is the secret ingredient to a mouthwatering caprese salad or a pasta dish.
You can enjoy Bocconcini solo by popping them in your mouth with fresh basil and tomato for a burst of flavor, or pair it with a Sauvignon Blanc or Merlot for a memorable culinary experience.
76. Brown Butter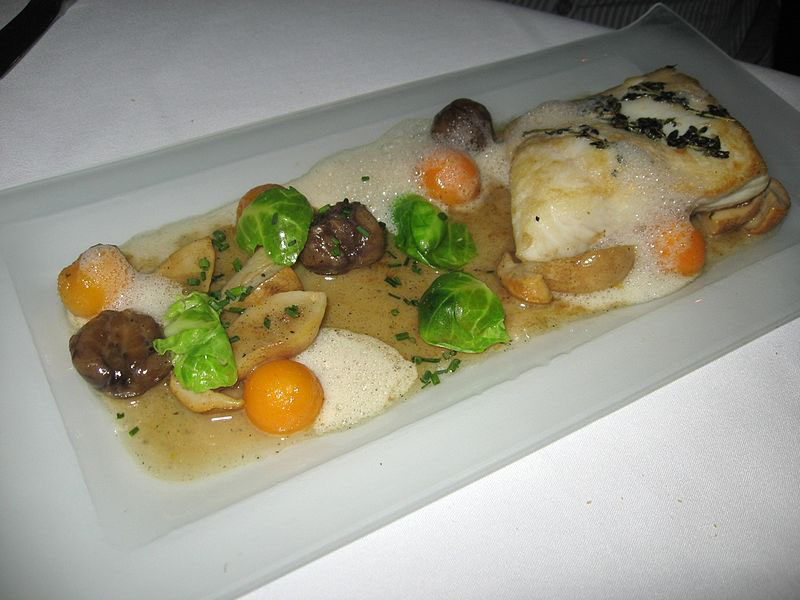 Brown butter, or buerre noisette in French, is your regular butter with a twist. It's cooked slowly over low heat until the milk solids caramelize, resulting in a golden hue and a nutty, toasted flavor. It's a secret weapon in the kitchen for infusing baked goods and pan sauces with a subtle nutty charm.
77. Butter Cream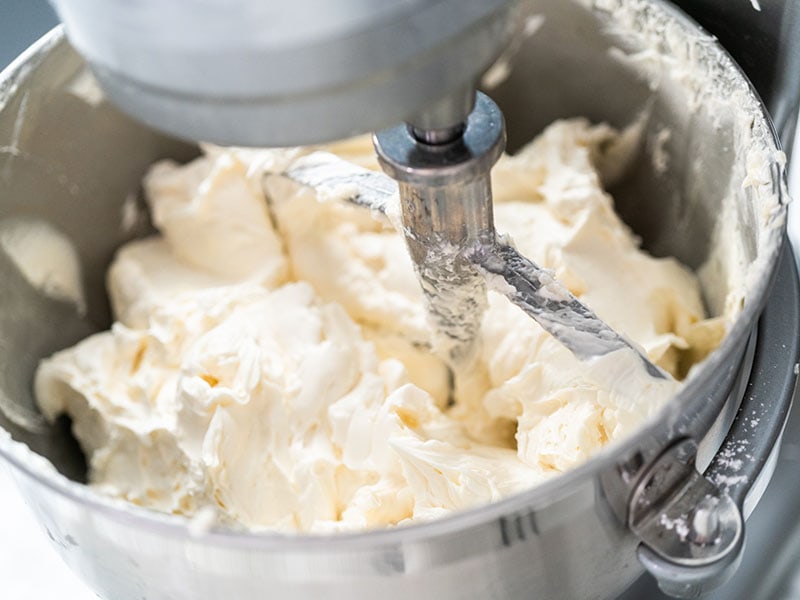 Also known as butter icing or butter frosting, buttercream is like any cake's sweet, fluffy frosting. With butter and sugar as the main ingredients, the creamy creation can be a filling, coating, or frosting for decorating cakes.
Vanilla is a classic choice for flavor, with limitless possibilities like chocolate, fruit, or other liquid extracts. Whether piped into patterns or spread in decorative shapes, buttercream is a baker's dream come true.
Bread Varieties, Bread Products, And Sandwiches
78. Bagels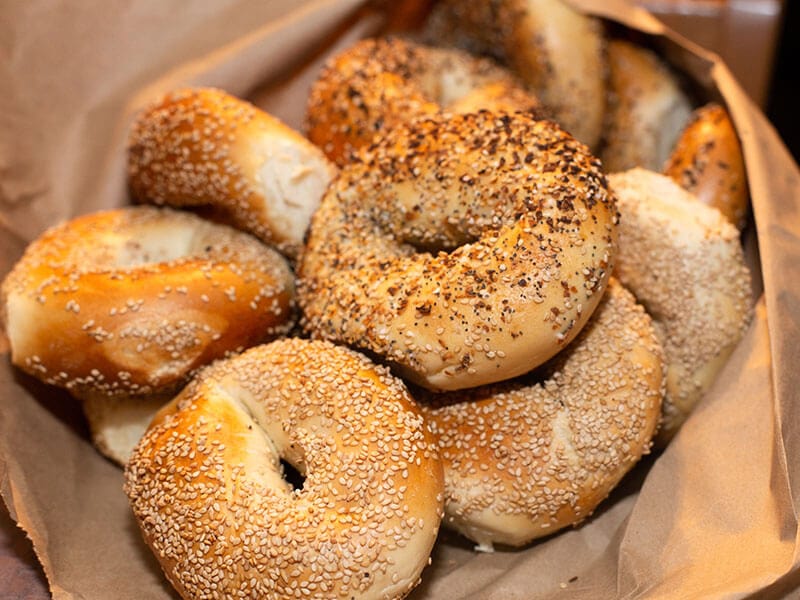 Bagels are bread rolls from the Jewish communities of Poland. Their unique preparation method involves a two-step process – a brief boil in water before being baked. This technique creates a dense, chewy, and doughy interior, contrasting beautifully with the browned, sometimes crisp, exterior.
While the hand-sized rings formed by hand are the distinct sign, their poppy and sesame seed toppings that adorn the outer crust are a game changer for adding an extra layer of flavor and texture.
79. Brioche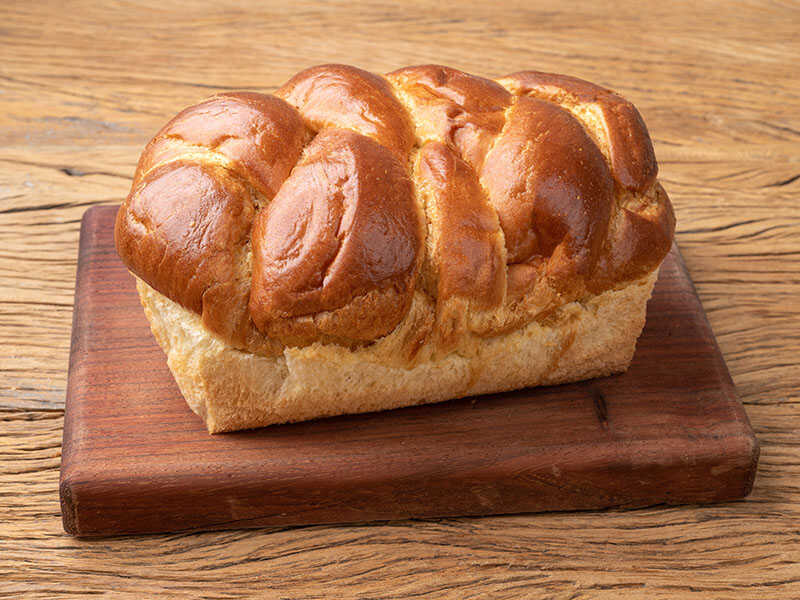 Brioche, with its French roots, is a luxurious bread, thanks to a generous amount of eggs and butter. This combo creates a tender crumb alongside the dark, golden, and flaky crust.
While it's a soft, lightly sweet, and rich bread, Brioche can go as a savory offering. In terms of shape, you can admire numerous forms of this treat. Additionally, the golden color and soft texture of Brioche make it simply irresistible.
80. Baguette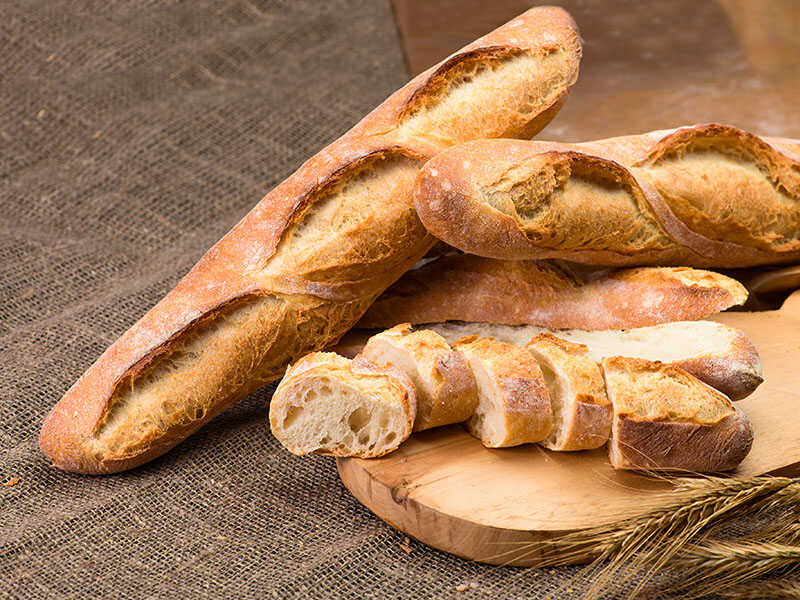 The French-origin bread baguette is a marvel of simplicity with its basic lean dough. This long, thin loaf, about 26 inches long with a diameter of around 2-2.5 inches, boasts a crisp crust and an airy, light interior.
The taste is a delightful balance of nutty, buttery, sweet, and savory notes. In 2022, the artisanal know-how and culture of baguette bread was added to the UNESCO Intangible Cultural Heritage List.
It's a beloved staple, especially in Algeria and France, with daily consumption hitting around 49 million and 30 million baguettes, respectively.
81. Banana Bread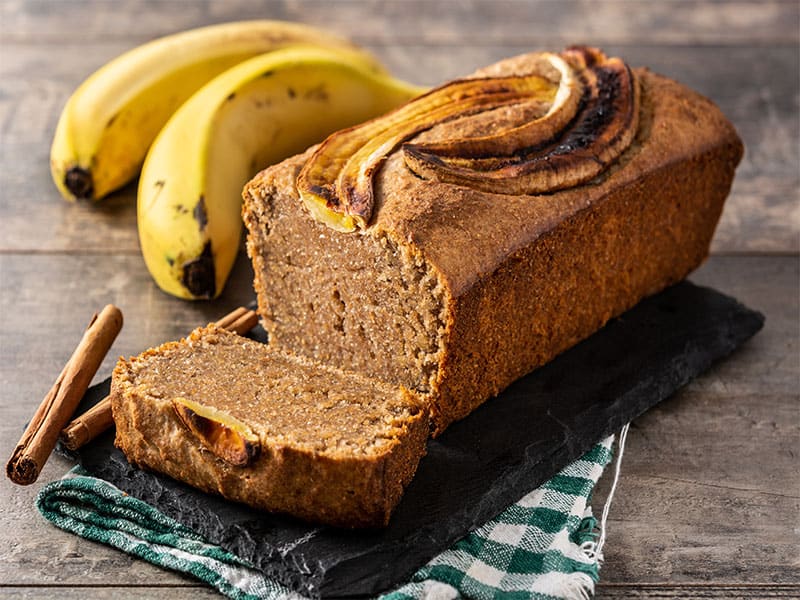 Banana bread has been known as a fast breakfast, perfect for your rushing mornings. This sweet bread can raise your energy a lot, which allows you to get ready for busy working days.
Did you know that banana bread usually doesn't contain butter? That's right, this butterless sweet treat gets most of its flavors and moisture from the ripe bananas themselves. That's why you usually won't be able to notice the absence of butter in this fruity dessert.
When enjoying pieces of banana bread, you can taste the great flavor of banana and butter and the natural sweetness of honey. Because banana bread has its main ingredient as banana, you can enjoy some fruit's nutrients like fiber and potassium when eating banana bread.
Fiber is good for our bones, hair, and digestion. In addition, potassium can help prevent or reduce high blood pressure and improve your heart health. Preparing banana bread does not take you much time because its dough is not required to raise much like other dough cakes mixed with yeast.
Compared to normal bread, banana bread is moister and sweeter, so you can fill your empty stomach well with this convenient food.
It is quite easy to make banana bread, and it comes with varied recipes in which people can adjust the quantities of its ingredients to get a banana bread taste as they prefer.
82. Bannock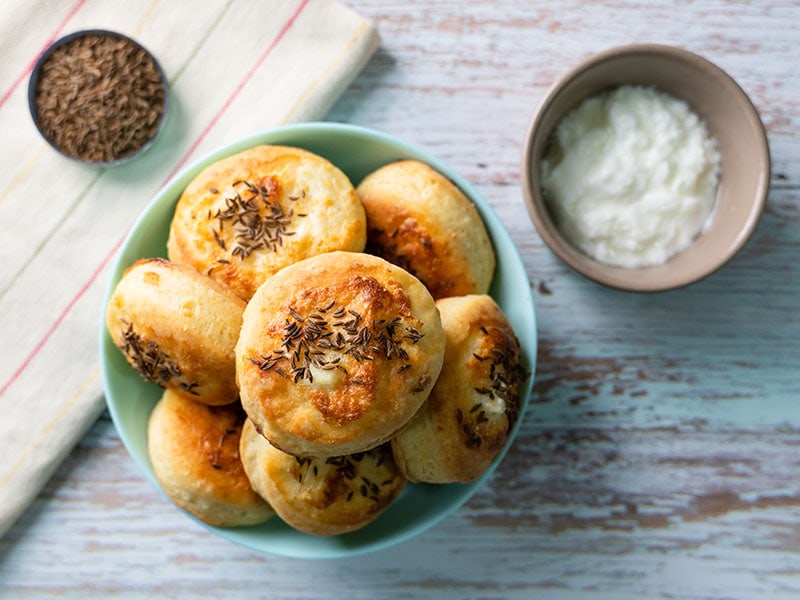 The round flatbread (or quick bread) from the British Isles, particularly Scotland, Bannock, involves nothing more complex than flour. Yet, the result is bread with a smoky, nutty flavor with a hint of butteriness. The texture is reminiscent of a scone or biscuit, with a fluffy, slightly crumbly center.
83. Barmbrack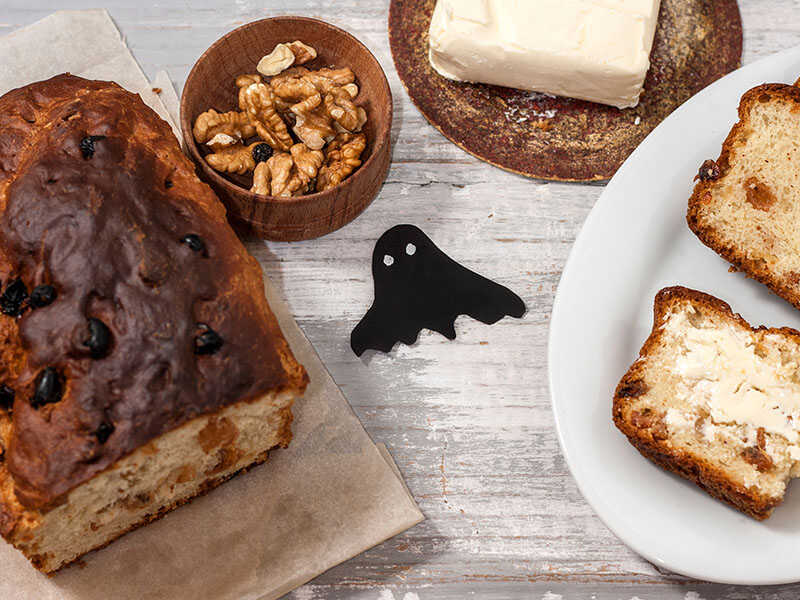 Barmbrack, shortened to "brack," is a yeast bread from Ireland, studded with sultanas and raisins. The bread is a traditional item, especially on Irish Halloween, with a lucky item hidden inside for good fortune to the finder.
New Year's Eve is always when you can encounter a large Barmbrack baked by the woman of the house. As dusk arrives, the man takes three bites, casting pieces at the door as a spiritual plea to ward off poverty and starvation. The remaining bread is shared among the family as a tasty treat.
84. Bologna Sandwich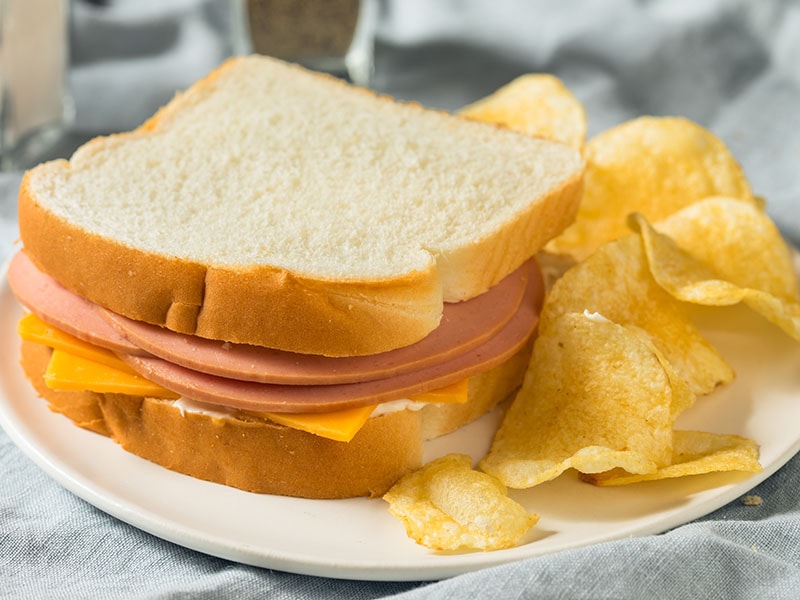 A Bologna sandwich, also known as a baloney sandwich, is a classic comfort food in the United States and Canada. It's a simple, tasty creation consisting of slices of bologna sausage nestled between white bread with condiments like mayonnaise, mustard, or ketchup.
This sandwich is a specialty in regions like the East, Midwest, Appalachia, and the South. It's a familiar sight at the lunch counters of family-run markets near the Great Smoky Mountains. Also, for a Southern twist, you might find it fried on restaurant menus.
85. Bánh Mì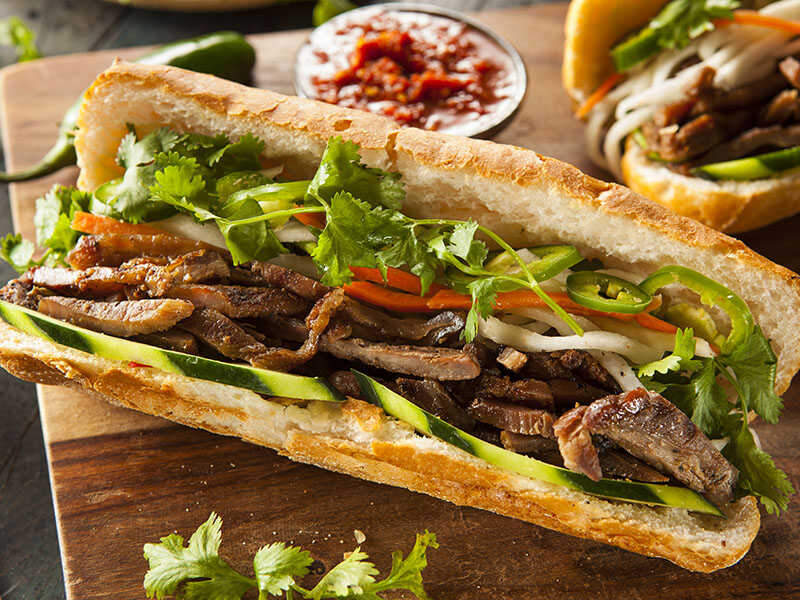 Saigon, now known as Ho Chi Minh City, gave the world the gift of Bánh Mì. Commonly known as Banh Mi, this delightful Vietnamese culinary creation is a short baguette with a thin, crisp crust and fluffy, airy inside.
The baguette can be split open and filled with a flavorful array of savory ingredients to create Bánh Mì Thịt. The stuffing, a deli-style pork, pate, and veggie medley, offers a tantalizing taste experience, balancing salty, sweet, sour, and spicy flavors. Interestingly, even a plain Bánh Mì serves as a hearty staple food.
86. Buns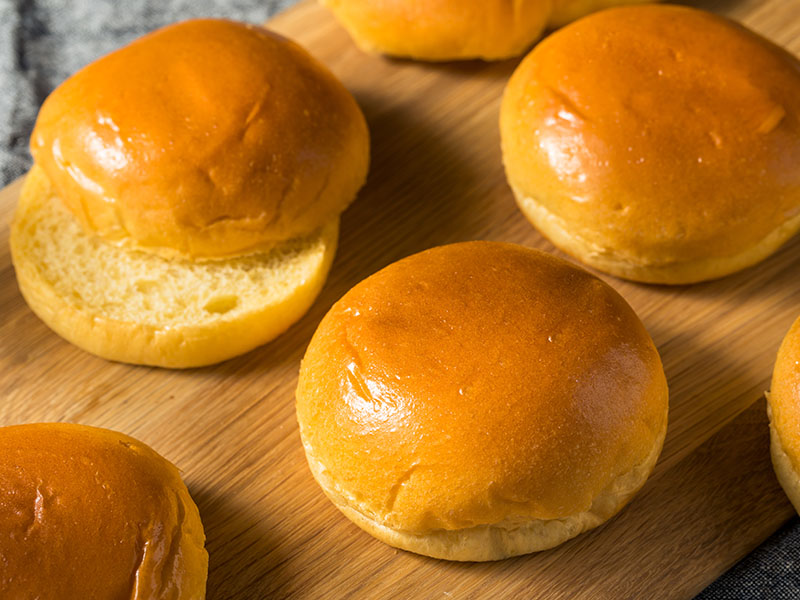 Buns are versatile bread rolls, small enough to fit in your hand. They can show up in a multitude of shapes and sizes, though round is their go-to form. They result from a simple recipe, a blend of flour, milk, yeast, and a touch of sugar or butter.
While a savory filling like hamburger meat is a popular choice, buns can be adapted to a sweet call in certain parts of the world. The Baozi, an English-referred "bun," is proud to have either sweet or savory surprises.
87. Breadsticks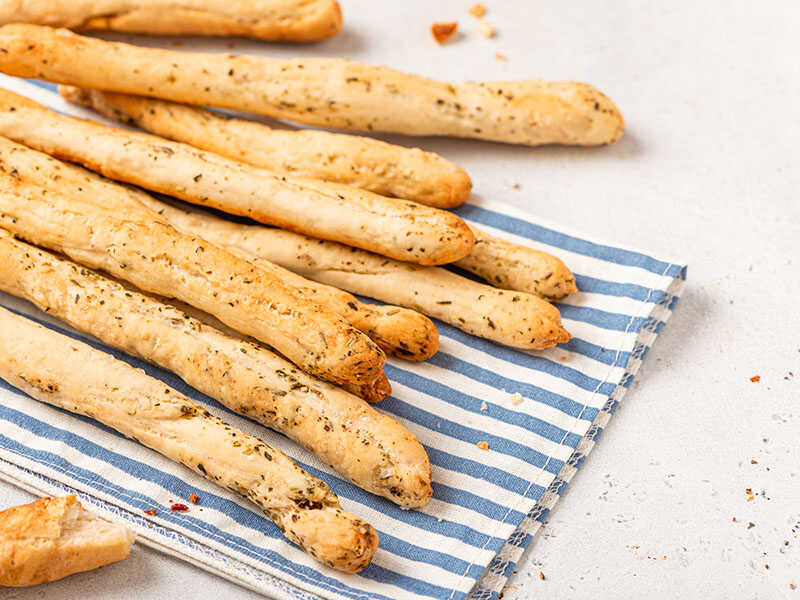 Breadsticks, grissini, or grissino in Italy are slim, crisp, baked bread that adds a crunch to any meal. Piedmont, an Italian region, has been their home since 1643, when it was created by a baker named Antonio Brunero.
With the size of a pencil, these breadsticks are relatively cute to admire. Every year, on the last Friday in October, breadstick lovers worldwide commemorate these delicious dipping sticks during National Breadstick Day.
88. Bialy
Bialy, a bread roll deeply rooted in Polish Ashkenazi Jewish cuisine, traces its origins to Białystok, a city in Poland. It's a chewy yeast roll, closely resembling bagels in taste and texture.
With a diameter of up to six inches, it is a savory delight that can appear in a warm breakfast or any other time of the day on a special occasion.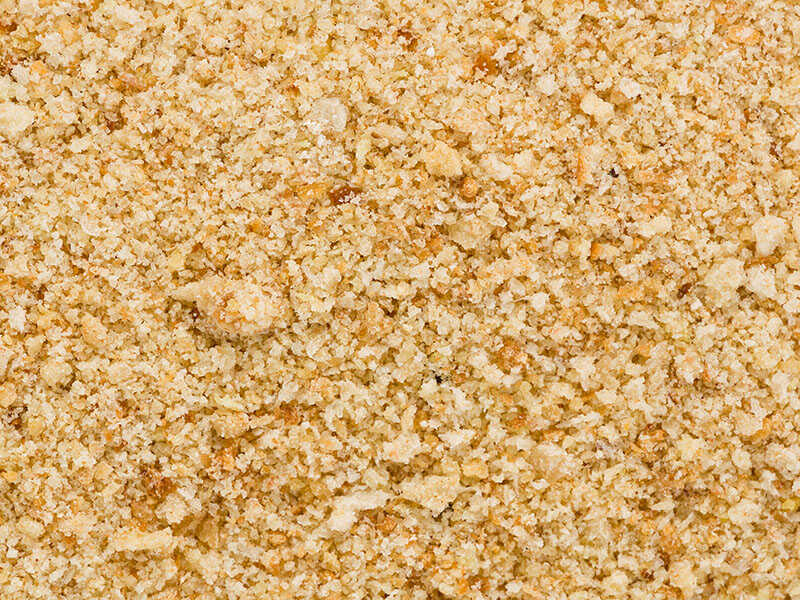 Breadcrumbs, with regional variants like breading or crispies, are an indispensable ingredient in many kitchens. They come in three main styles, each with a unique twist.
Fresh breadcrumbs are simply slices of bread blitzed in a food processor. On the other hand, plain dried breadcrumbs are the result of grinding dried loaves. The final style is Panko, a Japanese variation made from a special type of crustless white bread that's been shredded.
90. Baozi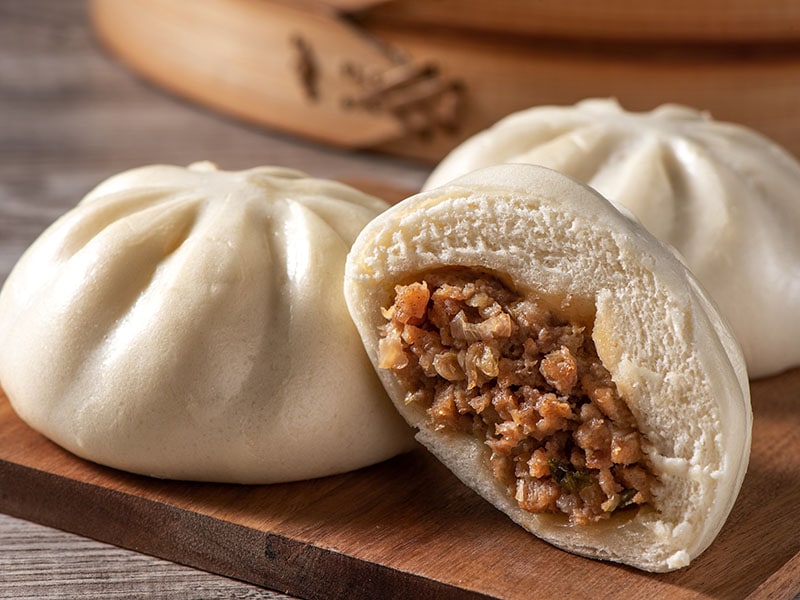 Baozi, sometimes referred to as "Pao-tsih," "bao," or "steamed buns," owe their creation to Zhuge Liang, a renowned military strategist from China's third-century Three Kingdoms period.
These yeast-leavened buns, similar to dumplings, mainly consist of flour, but their size sets them apart. Baozi is significantly larger, providing a fluffier and slightly sweeter bite. These buns are often savored during the last month of the Lunar Calendar to celebrate Chinese New Year.
Desserts And Sweets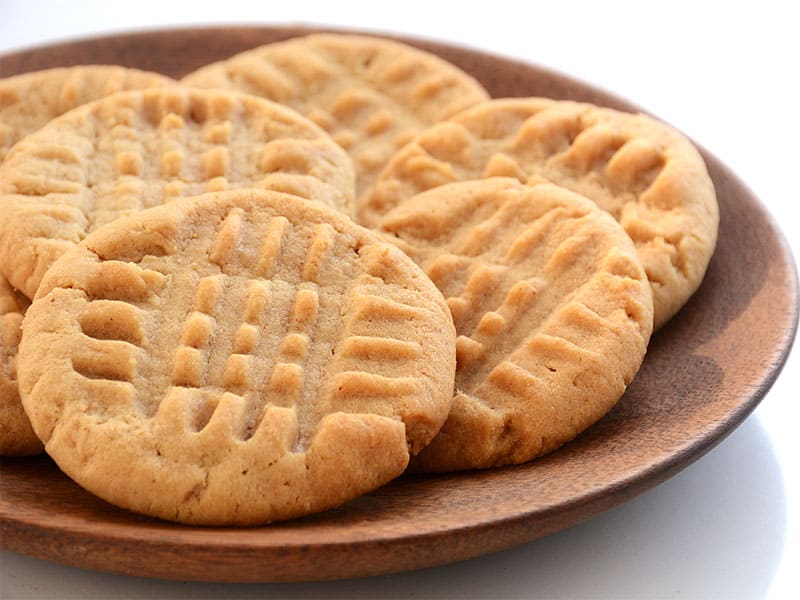 Butter cookies are a famous food around the world. In Europe and North America, butter cookies are mostly eaten during the Christmas holidays and consumed as a snack during normal days.
Its ingredients are so simple with butter, flour, and sugar. This is why you'll find that a lot of desserts with only 3 ingredients are variations of butter cookies. Most people love butter cookies because they are soft, buttery, and quite sweet with crispy edges.
If you like the original taste of butter cookies, you do not need to add any flavors to the cookie dough but remember to sprinkle some white sugar on their top to make them taste sweet.
However, it seems to be boring to enjoy cookies without flavor, so you can be creative by putting vanilla, chocolate, and other flavors you love into the cookie dough.
In addition, you can also shape the cookies as you want, from square to circle ones, or you can even curve your family members' faces on them.
92. Boston Cream Pie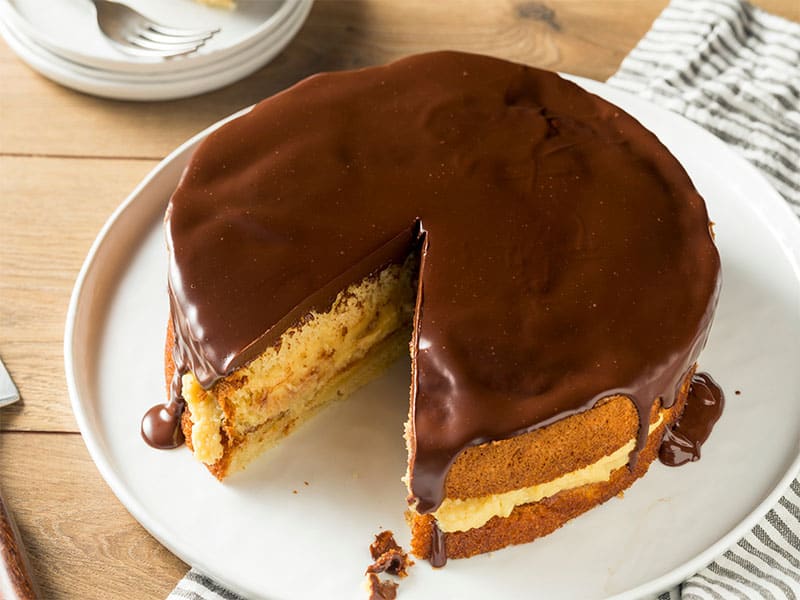 The name Boston Cream Pie points out that this cake comes from Boston. It has been a famous food in America for a long time. People usually make this cake to serve for desserts at home meals or parties.
Sometimes, it is also a gift for birthday parties. It is made from layers of sponge cake with some chocolate on top, and vanilla cream is filled between two layers of the cake.
93. Banana Cream Pie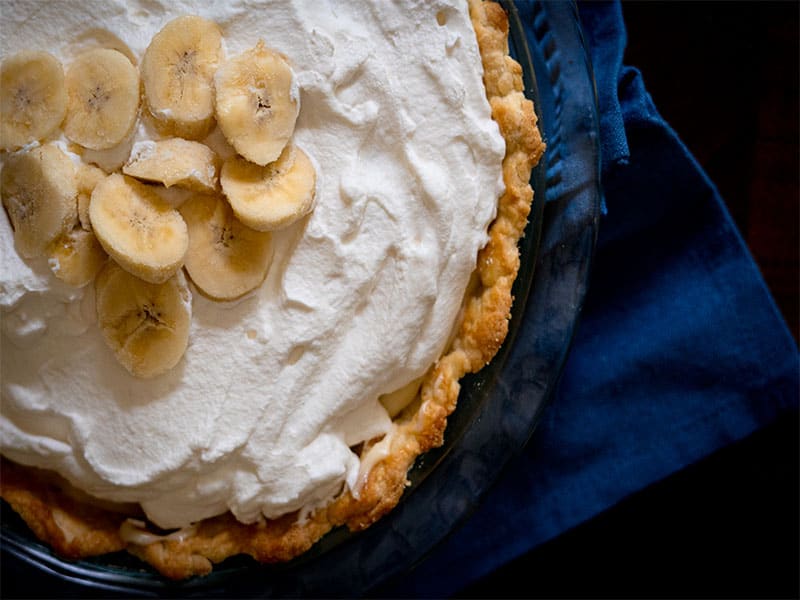 Banana cream pie is a perfect dessert for different occasions. This recipe has existed for decades, and its amazing taste always appeals to big fans of sweet food. It has a base of crispy pie crust covering fresh slices of banana and a layer of vanilla cream on top.
The treat, possibly created by people in the Midwest, is an old-fashioned favorite. Its allure lies in the flaky crust that harbors fresh bananas and a creamy vanilla layer with a cloud of whipped topping.
It's the kind of pie that benefits from prior preparation, making it an ideal choice to prepare ahead of the holidays or any occasion.
94. Baklava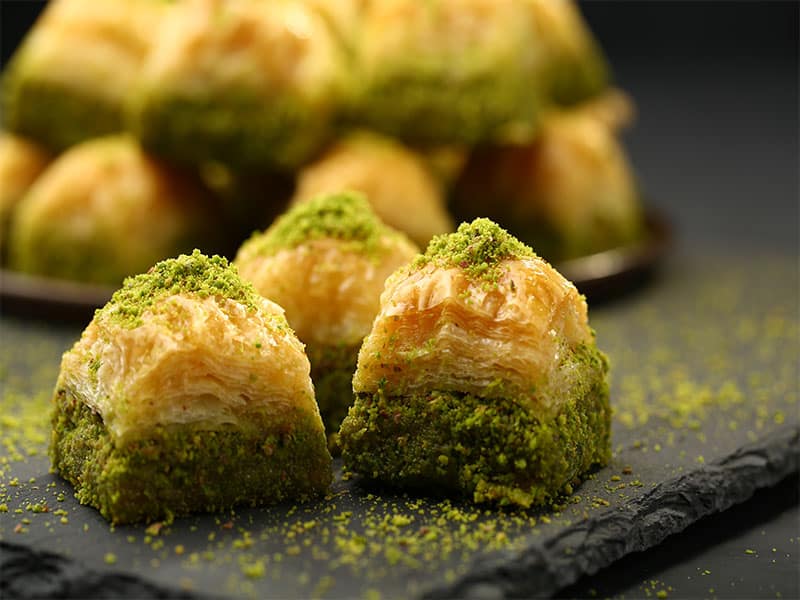 Baklava is a crunchy cake with many thin layers of dough. Considered a specialty, Baklava is one of the many unique desserts originating from the Middle Eastern. To many people, Baklava's plain and simple appearance belies the complex flavors that it can bring about.
Each cake is a combination of two crispy phyllo doughs with a mixture of crushed nuts inside, and some syrup made with cinnamon, lemon, and honey will be sprinkled on the cake to make its sweet flavor.
There are many variations of Baklava in the Middle Eastern world. In Azerbaijani cuisine, these treats are called Pakhlava and can be made in various ways. The people in Greece also have a version that consists of 33 layers!
95. Beignet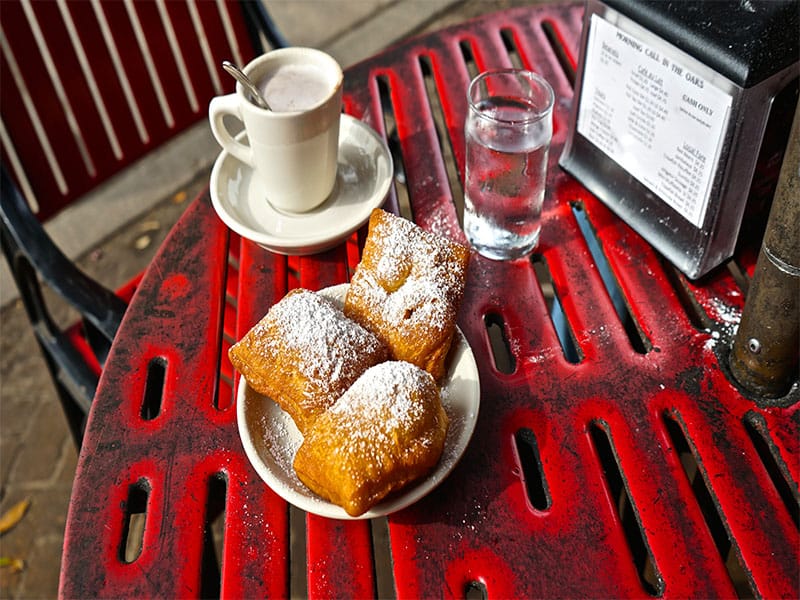 Beignet is a specialty of New Orleans and comes with varied recipes when it is brought to the French. It is a piece of dough in a square shape that is deep-fried and then covered on top with some powdered sugar.
Beignets are delightful deep-fried pastries or a type of fritter. They make their mark in French, Italian, and French-American cuisines with diverse shapes, various flour types for the dough, and a range of fillings.
These versatile delights can be your breakfast, dessert, or even a midnight snack, satisfying your cravings at any time of day.
96. Biscuits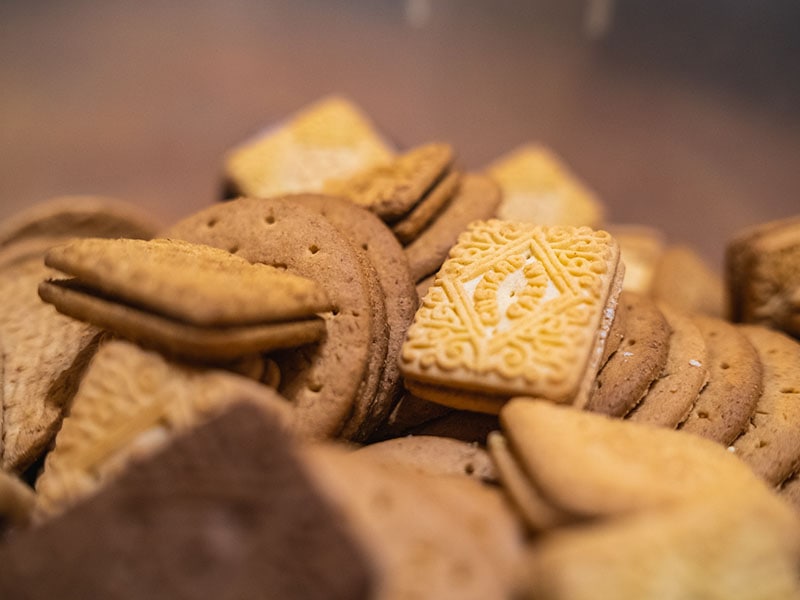 Biscuits are charming baked delights, unleavened, hard, and typically flat. Crafted from flour, biscuits come in myriad flavors, from the sweetness of sugar and chocolate to the spicy kick of ginger and cinnamon.
These biscuits are a family favorite for stirring up feelings of warmth, happiness, and nostalgia. Here's a sweet fact – their rich, sugary composition can trigger your brain's reward mechanism, releasing a wave of dopamine for that comforting, feel-good sensation.
97. Brownies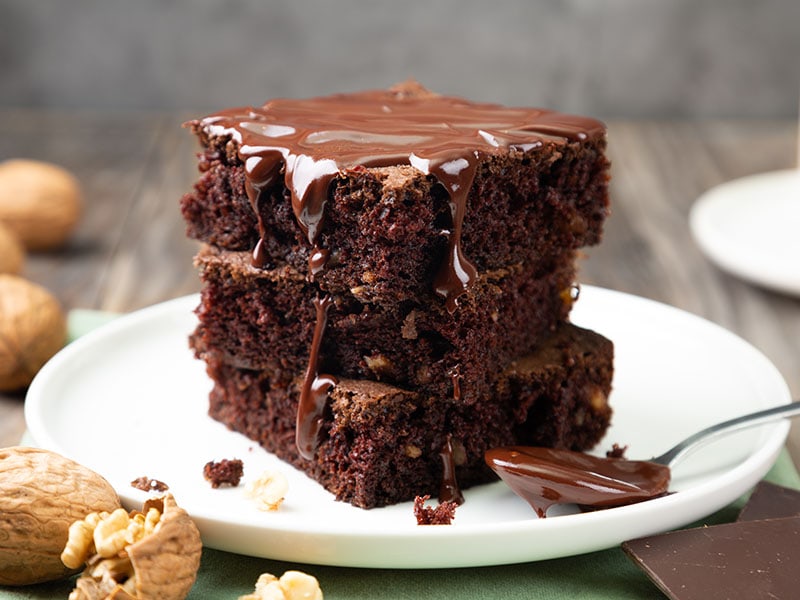 Brownies are a beloved chocolate confection, birthed in the US in the late 19th century. They soon found a special place in the nation's culinary conformation of the early 20th century. Brownies can be fudgy or cakey, dictated by their density and form.
The irresistible combination of a crunchy exterior with a gooey inside is the brownies' signature feature. You can use your hand to enjoy these treats with a glass of milk.
Plus, brownies can also be warmed and coupled with ice cream, crowned with whipped cream, or given a festive dusting of powdered sugar and fudge.
98. Biscotti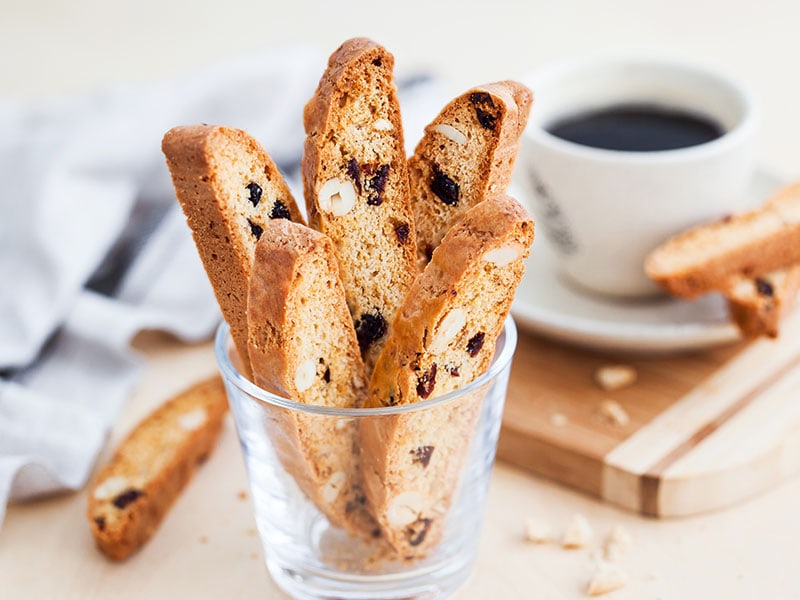 Biscotti, or cantucci, are Italian almond biscuits with roots in the Tuscan city of Prato. The name 'biscotti' draws from the Latin 'biscoctus', referring to their twice-baked cooking process.
As tradition suggests, these dry, oblong-shaped bites are crunchy and ideal for a dip in Vin Santo. Besides their irresistible crunch, biscotti are a healthy snack choice, low in fat yet abundant in essential vitamins and minerals. They are a perfect light snack without overindulging.
99. Bread Pudding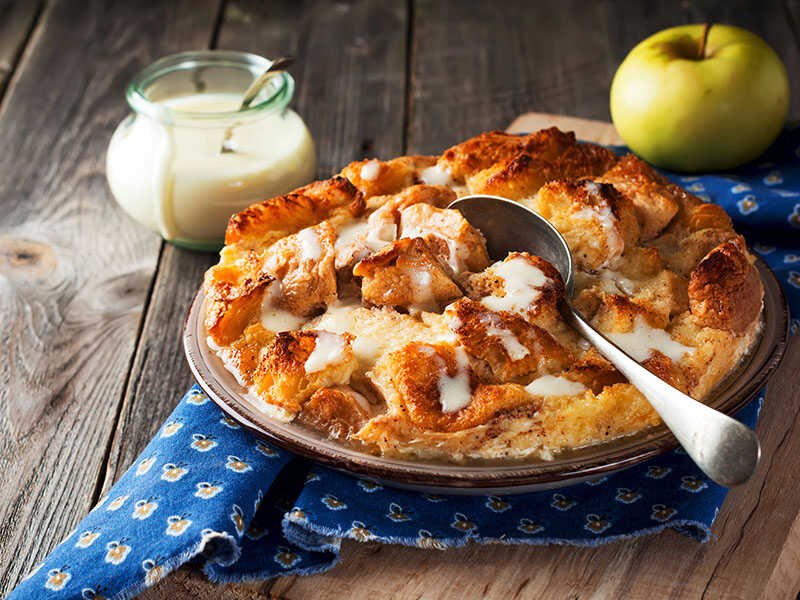 Bread pudding is a cozy, bread-based dessert that has found its way into cuisines around the globe. Particularly in Louisiana, USA, it's a sweet delight often served as dessert, drenched in indulgent sauces like whiskey, rum, or caramel.
Usually, people adorn the bread pudding with a layer of sprinkled sugar before serving it warm, cold, or at room temperature. With a taste reminiscent of French toast, it has a softer, custardy texture and creamier flavor, ready to be enjoyed in slices or squares.
100. Black Forest Cake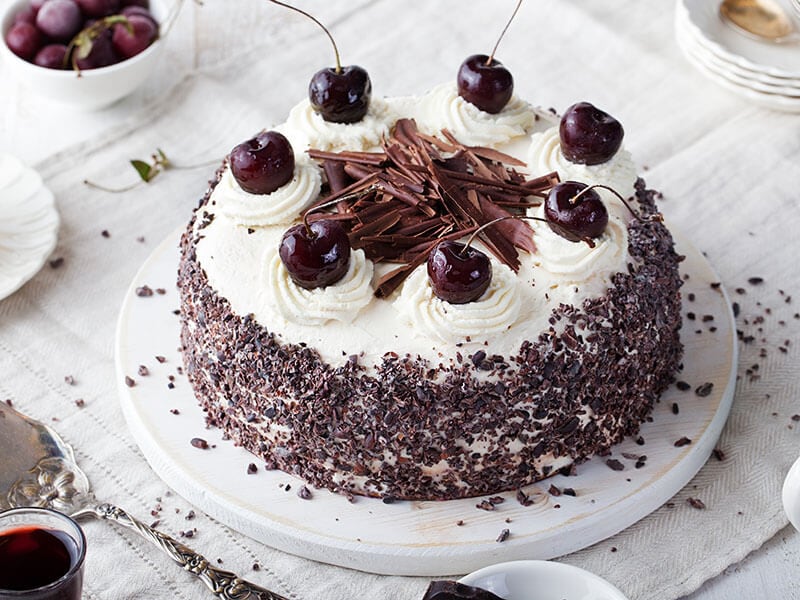 Black Forest cake, or Black Forest gateau, is a chocolate lover's dream, taking its name from 'Kirschwässer,' a cherry brandy used to flavor the cake.
This German dessert comes with layers of chocolate cake, whipped cream, and sour cherries. Also, the cake has a lavish topping of cream, cherries, and chocolate flakes for a final decorative touch, making each slice as visually stunning as delicious.
101. Blondies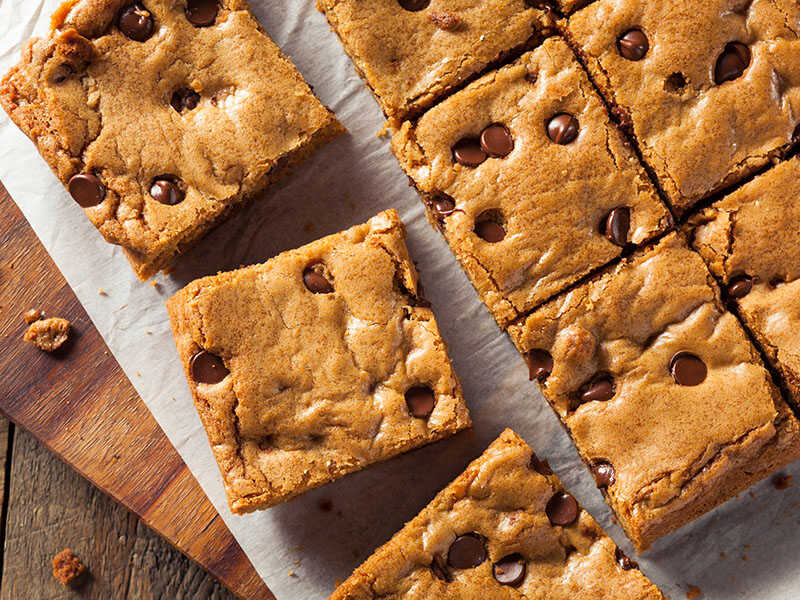 Charmingly known as blonde brownies or blondies, these sweets are a unique spin on dessert bars. Blondies are usually lighter and softer while providing a sweet sensation for at least a decade before chocolate brownies make their debut.
Commonly, these blondie squares are similar to their brownie counterparts but with a twist. The recipe usually has a rich vanilla flavor instead of the brownies' cocoa profile.
102. Baked Alaska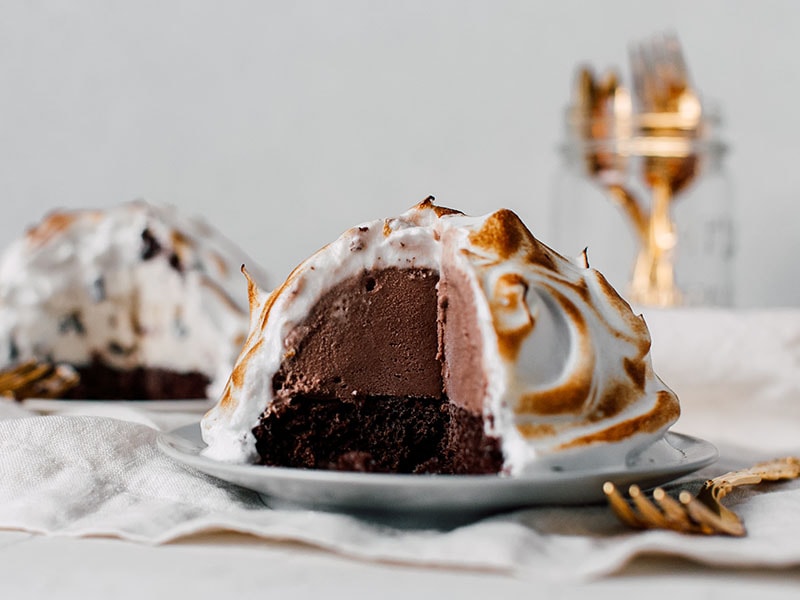 Baked Alaska, fondly known as Bombe Alaska, is a classic dessert that brings together ice cream and cake under a golden layer of browned meringue.
It usually has a contradiction of temperatures, being cool on the inside yet warm on the outside. This dessert was whipped up for the first time in 1876 at Delmonico's Restaurant in New York City to commemorate the acquisition of Alaska.
103. Bananas Foster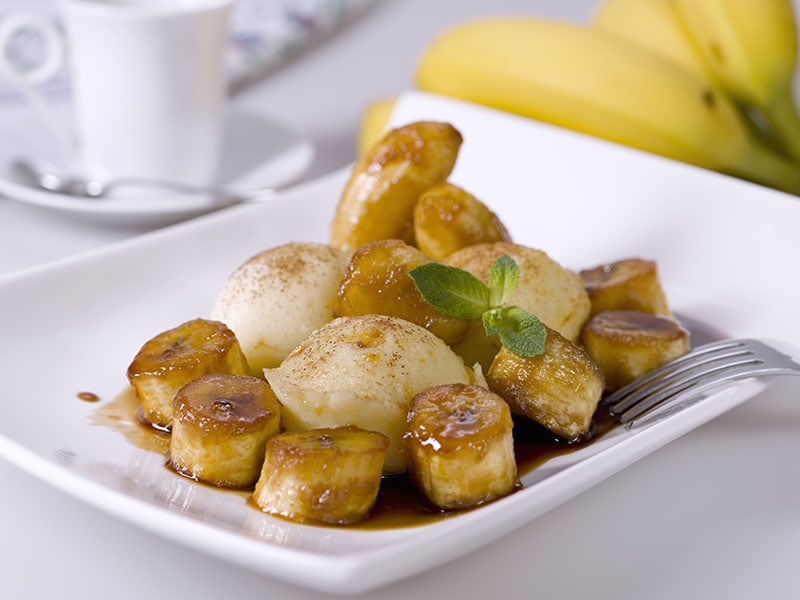 Bananas Foster is a luscious dessert that pairs bananas with vanilla ice cream. The treat is a gift to the world from Paul Blangé of Brennan's restaurant in New Orleans. The dish, which got its name from a local businessman named Stephen Foster, has won hearts since 1951.
The banana creation usually has a tantalizing sauce, a mix of dark rum, banana liqueur, cinnamon, butter, and brown sugar. Prepared as a flambé at your table, it's often garnished with whipped cream and nuts.
104. Butterscotch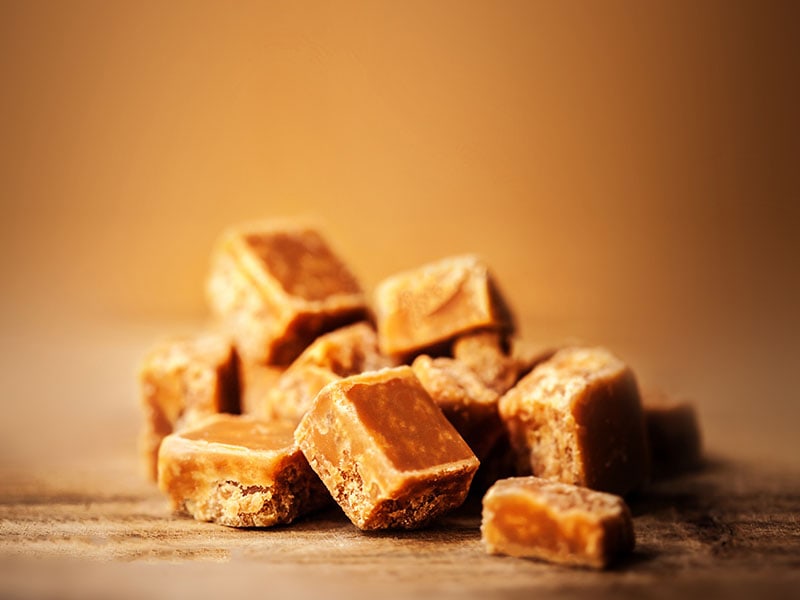 The delightful confectionery of butterscotch is all about the beautiful blend of brown sugar and butter. However, this sweet treat doesn't stop there, as some recipes also call for additions like corn syrup, cream, vanilla, and a pinch of salt.
Unlike toffee, the sugar in butterscotch is boiled until it reaches the soft crack stage, giving it a unique texture. Its rich, sweet flavor greatly enhances the taste of dessert sauces, puddings, and even biscuits.
105. Bûche de Noël (Yule Log Cake)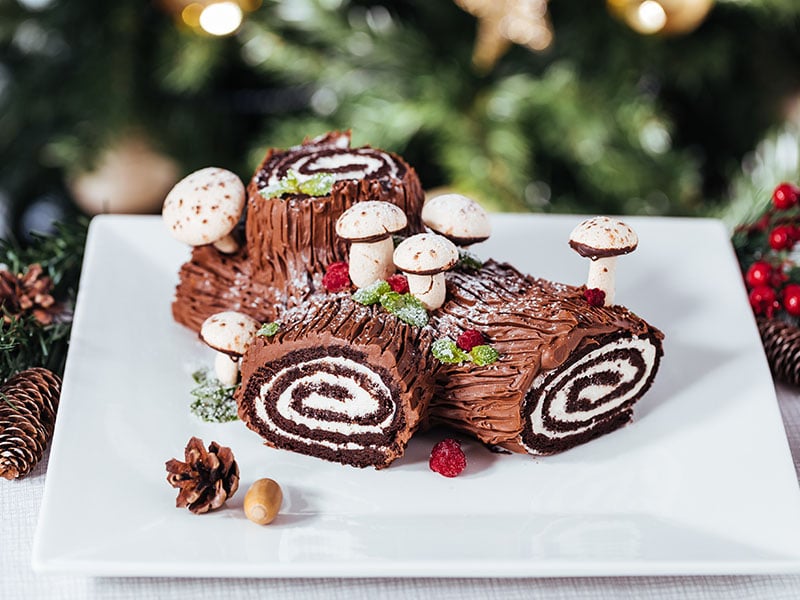 Bûche de Noël is a traditional Christmas cake that likely originated in 19th-century France. This dessert, made of sponge cake, is soft and airy. Its design symbolizes the Yule log that families used to burn on Christmas Eve, a ritual that brings good luck and welcomes the new year.
106. Baba Au Rhum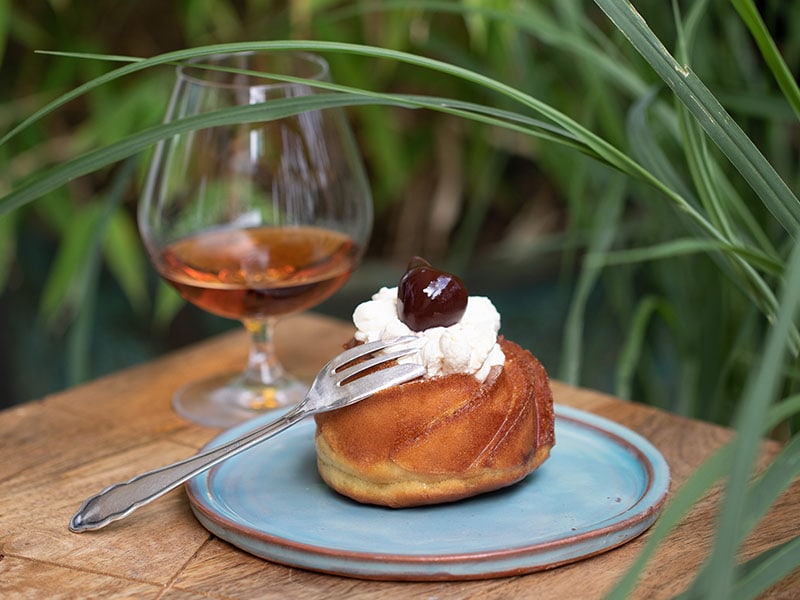 Baba Au Rhum, also known as rum baba, is a small yeast cake full of raisins or currants. This creation of pastry chef Nicolas Stohrer is baked in a ring mold and soaked in rum. This dessert has captured hearts in Poland, France, Naples, and Italy.
Its center can have various fillings like pastry cream, fresh fruit, or whipped cream. In addition, a cherry garnish and a dollop of whipped cream make the perfect finishing touches.
107. Babka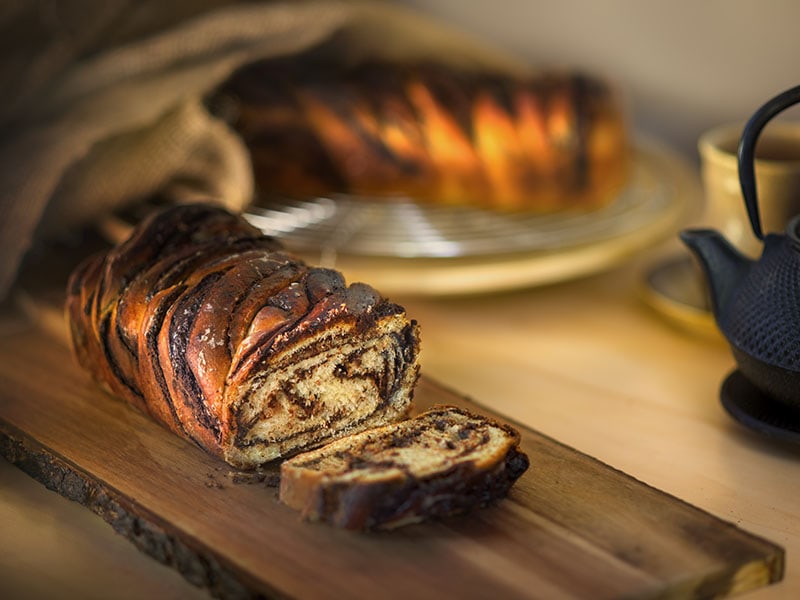 Babka, a sweet braided bread, has its roots in the Jewish communities of Poland and Ukraine. Today, it has found popularity in Israel and across the Jewish diaspora.
Starting with yeast-leavened dough, it is rolled out and spread with fillings like chocolate, cinnamon, fruit, or cheese. The dough is then rolled up, braided, and baked to perfection. Babka's soft, sweet layers make it the perfect companion to your afternoon tea or as a dessert.
108. Blintzes/Blintz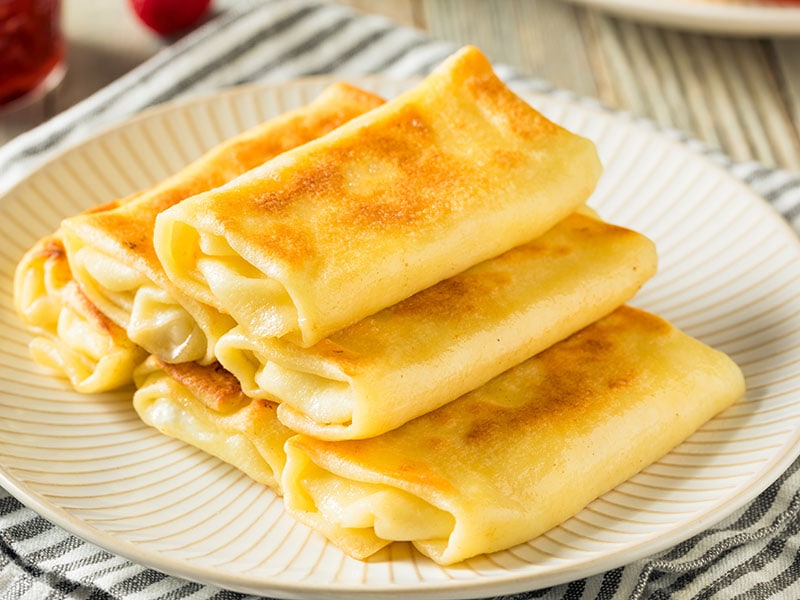 Blintzes, these rolled-filled pancakes with Ashkenazi Jewish roots, closely resemble crepes and Russian blini. Though it can be a bit thicker than their crepe cousins, Blintzes carry a smooth texture that melts in your mouth.
They're a popular choice during Shavuot with a filling of sweetened cheese and occasionally raisins. With their versatile nature, they can be the center of attention at breakfast, a standout at brunch, or an irresistible dessert.
109. Blini
Blini, Bliny, or Blin, is a pancake beloved in Russia and across Eastern Europe. It is originally crafted from buckwheat flour with a slightly nutty, toasty flavor. Additionally, the round shape of Blini symbolizes the sun in pre-Christian times.
Nowadays, wheat-based Blini appears on many plates adorned with smetana, tvorog, butter, and even caviar.
Beverages
110. Bloody Mary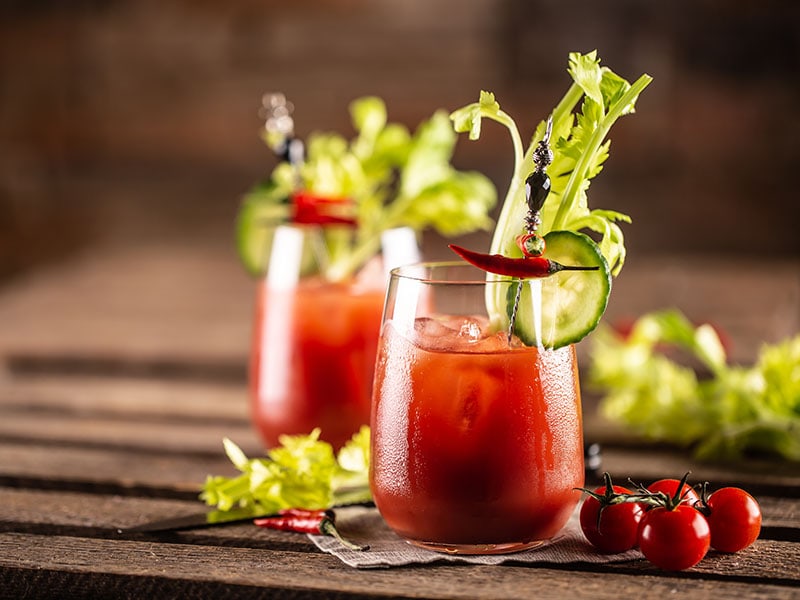 With origins shrouded in mystery, Bloody Mary possesses a spirited blend of vodka, tomato juice, and an exciting mix of spices. Named perhaps after Queen Mary Tudor of England or maybe a certain Mary from a Chicago bar, the cocktail appeared around the 1920s or 1930s.
Known for its savory and spicy kick, Bloody Mary is a favorite for mornings or early afternoons, and some swear by its powers as a hangover cure. There are also many variants, like the Red Snapper (Bloody Margaret), the Caesar, the Michelada, and the Virgin Mary.
111. Bellini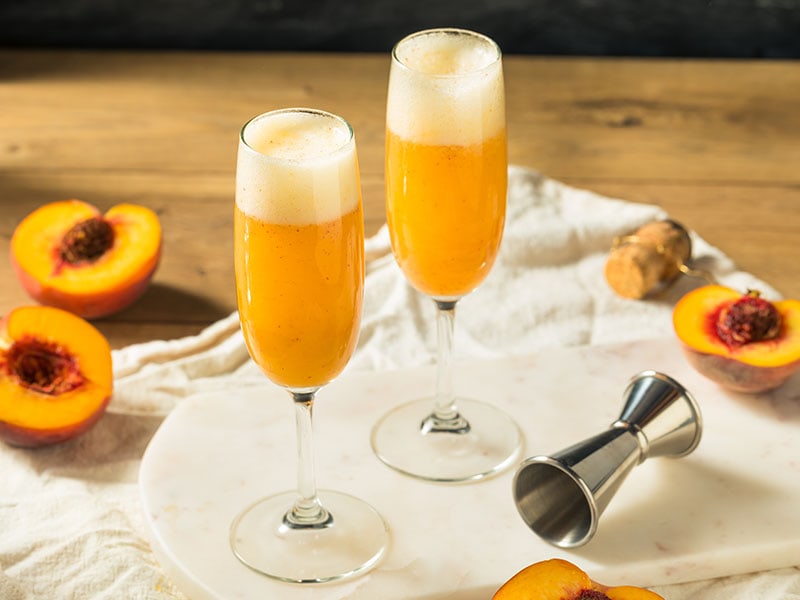 Bellini is a captivating concoction that originates from Venice, Italy. This refreshing blend of Prosecco and peach purée (or nectar) owes its name to Giuseppe Cipriani, the founder of Harry's Bar, who was inspired by the pink toga of a saint in a 15th-century painting by Venetian artist Giovanni Bellini.
The cocktail provides sweet, fruity notes, making it a fantastic choice for a welcome drink or a summer soiree.
112. Beer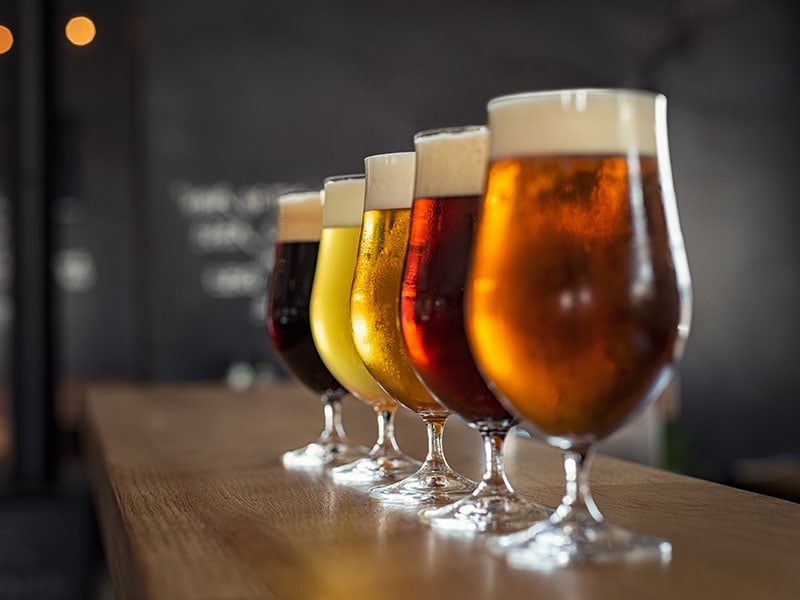 Beer ranks third in global popularity, sitting comfortably after water and tea. Its roots stretch back to the era of the Sumerians around 4,000 BCE, marking it as one of the oldest drinks in the world.
The brewing and fermentation of starches are the secret to beer production. Taste profiles range from mildly bitter and sour to malty and subtly sweet, with some varieties offering hints of fruit, spice, or floral notes.
113. Bourbon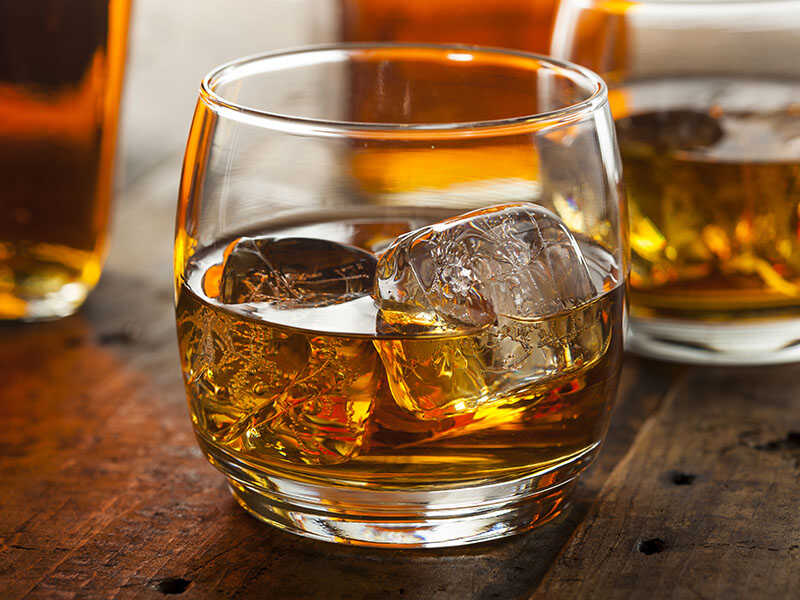 Bourbon, a barrel-aged American whiskey with a name inspired by the French Bourbon dynasty, is primarily crafted from corn. This delightfully robust beverage, with about 40% ABV, owes its creation to Elijah Craig in 1789, who had the innovative thought of aging corn whiskey in charred oak barrels.
The flavors of bourbon bounce between sweet and spicy, featuring robust notes of vanilla, caramel, and oak. Compared to whiskey, bourbon leans towards the sweeter side. Beyond sipping, the spirit is handy in marinades, rubs, and sauces, and it can even soothe a pesky cough or cold!
114. Bubble Tea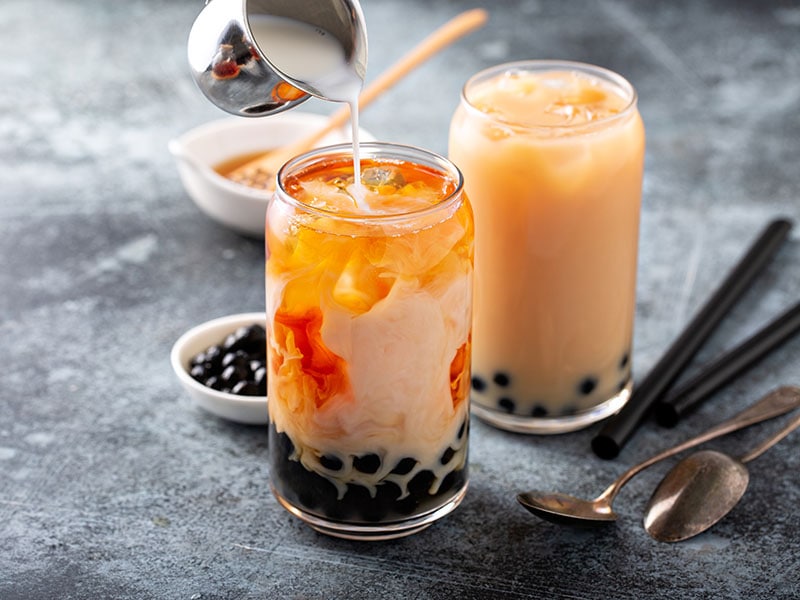 Bubble tea, with aliases like pearl milk tea or boba, is a tea-based delight of Taiwan invented in the early 1980s. This sweet milk tea comes loaded with chewy tapioca balls for a unique drinking experience.
Additionally, you can personalize your bubble tea with various toppings, like grass jelly, red bean, or aloe vera. Among the diverse flavors, pearl black and pearl green milk tea hold the crown. Also, the fun of bubble tea lies in its balanced taste and the boba pearls' twist!
115. Brandy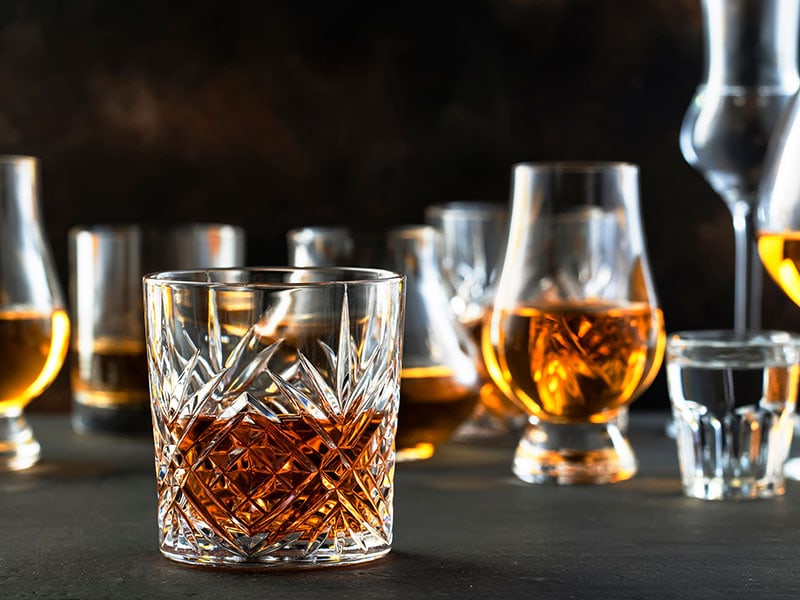 The liquor distilled from wine, brandy, is a potent creation with an alcohol by volume (ABV) of 35–60%, making it significantly stronger than your average beer or wine. It's a smooth, delicate sipper, best savored straight, and commonly serves as an after-dinner digestif.
Also, South-western France is where you can find the most renowned varieties of brandy, Cognac, and Armagnac. Apart from its role in mixed drinks, brandy also lends a distinct flavor to various dessert dishes.
116. Blue Curaçao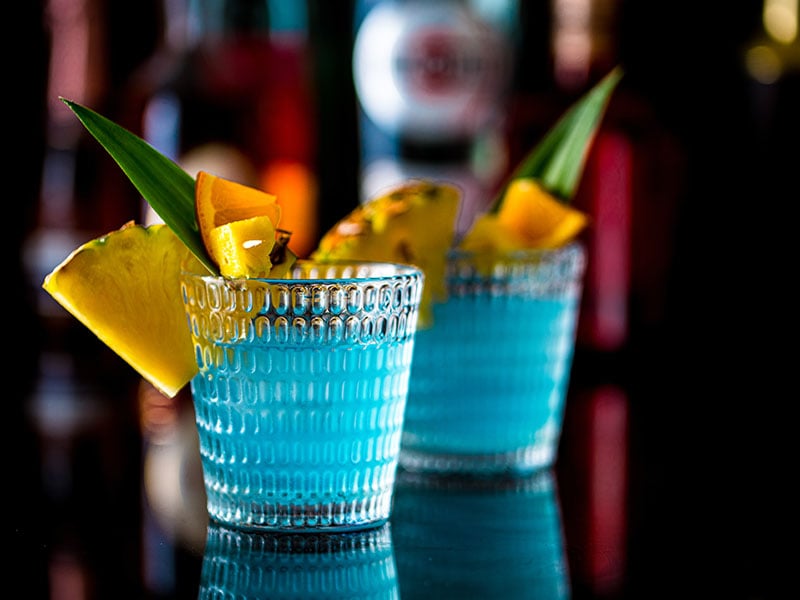 Blue Curaçao is a vibrant variant among the diverse forms of Curaçao. The liqueur has a striking hue and a sweet orange flavor, thanks to the dried peel of the laraha citrus fruit.
It's a staple in cocktail recipes, lending a splash of color without disrupting the drink's balance. With an alcohol by volume (ABV) of around 25%, it's lighter than straight liquors. Compared to triple sec, its citrusy sibling, Blue Curaçao has a subtly more bitter finish.
Other
117. Brazil Nut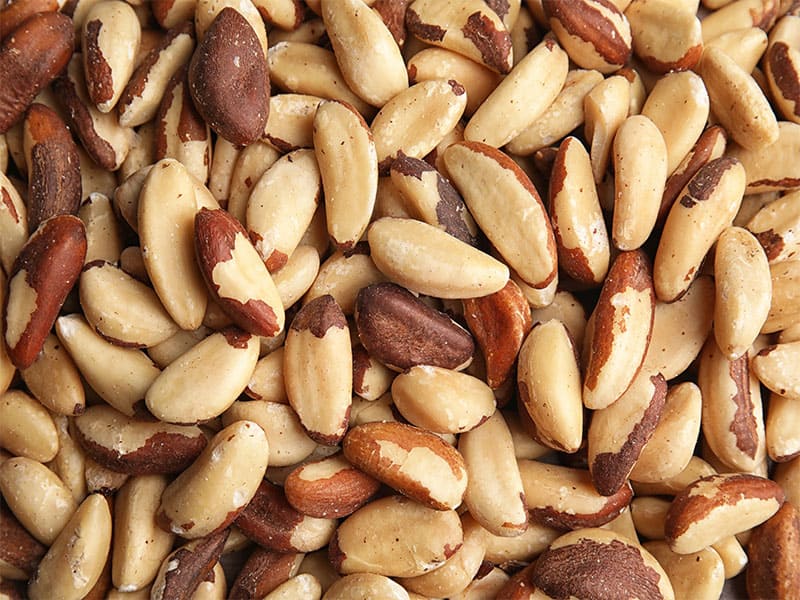 Brazil nuts are an extremely nutritious and low-carb food. It contains a variety of nutrients like carbohydrates, protein, fat, calories, vitamins, and minerals, so this kind of nut is considered an energy-boosting food.
In addition, there is a high amount of selenium found in this nut. Specifically, selenium can help prevent heart diseases and improve your mental health, immune system, and asthma symptoms (17).
118. Baking Powder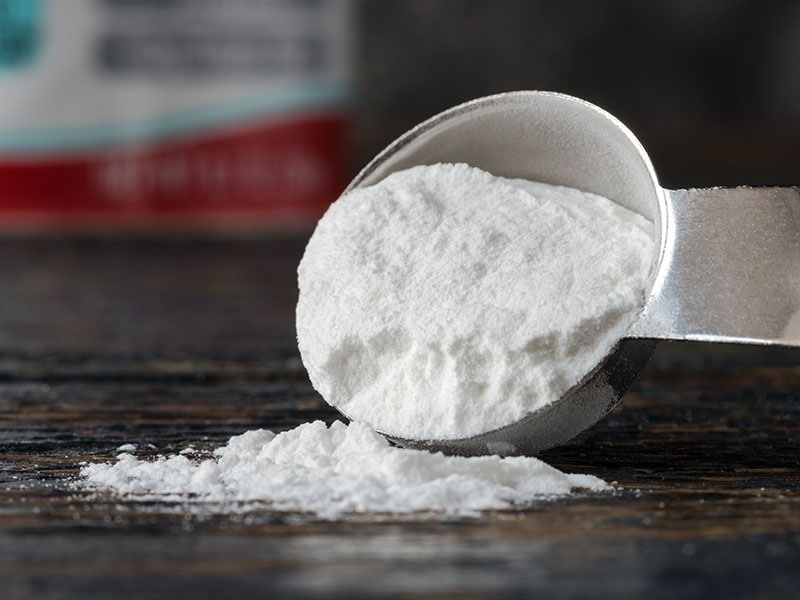 Baking powder is a dry chemical leavening agent essential in the kitchen to achieve light, airy baked goods. It's a blend of a carbonate (or bicarbonate) and a weak acid that triggers an acid-base reaction when added to dough or batter.
This reaction releases carbon dioxide gas, creating bubbles that expand in the wet mixture. The outcome is an increase in volume and a delightful lightness to the texture of your baked goodies.
119. Baking Soda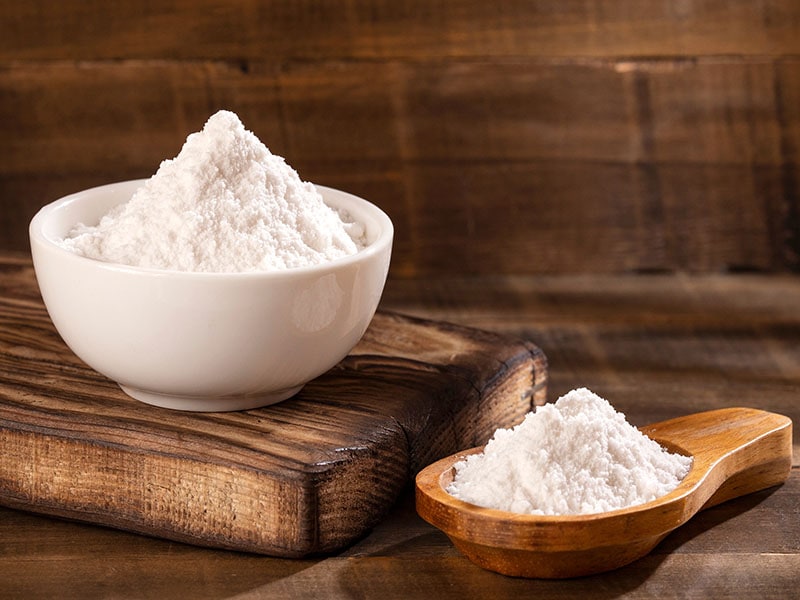 Baking soda, or sodium bicarbonate, is a handy helper in the kitchen. It's a chemical compound with the formula NaHCO3, with some impressive culinary properties.
When you're baking goodies like cookies or pancakes, baking soda steps up as a leavening agent. It teams up with acid and moisture, releasing tiny bubbles of CO2 that make your baked goods light and fluffy.
Plus, it nudges up the pH level, softening gluten and leading to more tender treats. Keep in mind, though, that baking soda can lose its potency over time. To check, just blend a pinch with vinegar – if it foams up, it's ready for your next baking adventure!
120. Begun Bhaja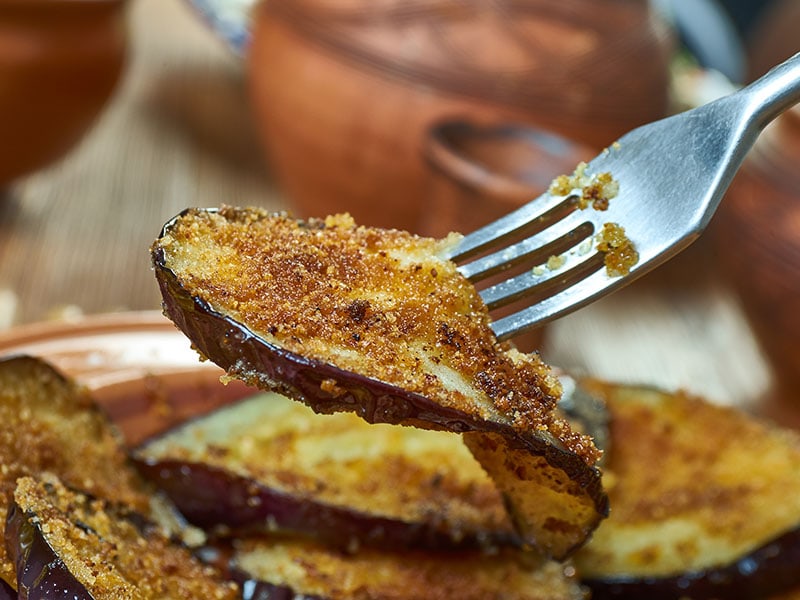 Begun Bhaja is a beloved Bengali snack from the vibrant country of Bangladesh. This delicacy, also known as aubergine or brinjal, has found its place in Eastern Indian cuisine and is a popular iftar item.
The preparation involves slices of eggplant dipped in gram flour batter and fried to perfection. The result is a dish in many colors, shapes, and sizes, blending crispy and tender textures. Begun Bhja can play the role of a snack, side, or appetizer perfectly.
121. Bercy Sauce
Bercy sauce is a gem of French cuisine. This classic sauce is a smooth blend of fish stock, Velouté sauce, white wine, shallots, and butter. Its subtle flavor and delightful creaminess make it an ideal companion for your baked, poached, or broiled fish.
122. Bonito Flakes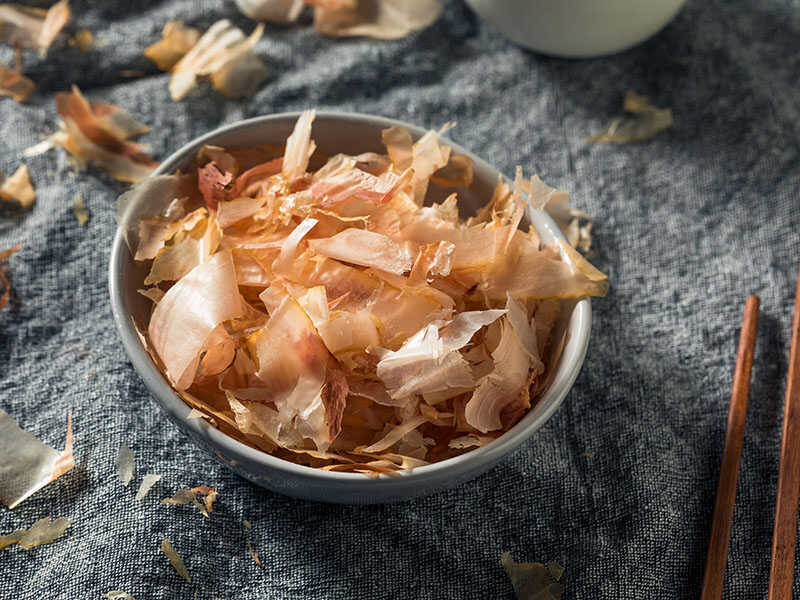 Bonito flakes, also known as Katsuobushi or Okaka, are a staple in Japanese cuisine. These flakes are thin shavings of simmered, smoked, and fermented skipjack tuna. They serve as key ingredients in dashi, a fundamental stock in Japanese cooking.
Aside from broth, these flakes are ideal topping, garnish, and seasoning for many recipes. Typically, Bonito flakes offer a mildly salty, smoky, and slightly fishy taste with a distinct umami kick, thanks to the high inosinic acid content.
FAQs
Now, I Guess You Have Learned Tons Of Useful Information!
Whether foods starting with b are nuts, grains, or dishes, they have valuable nutrients that help improve human health. Understanding these things deeply will allow you to have smart food choices for daily meals.
I hope that you can expand this list in the future in order that you and your family members can enjoy good health with different nutritious foods. Do you know any other healthy foods that start with b?
Just feel free to share your experiences about them in the comment section below, and if you find my post interesting, just share it for everyone to know!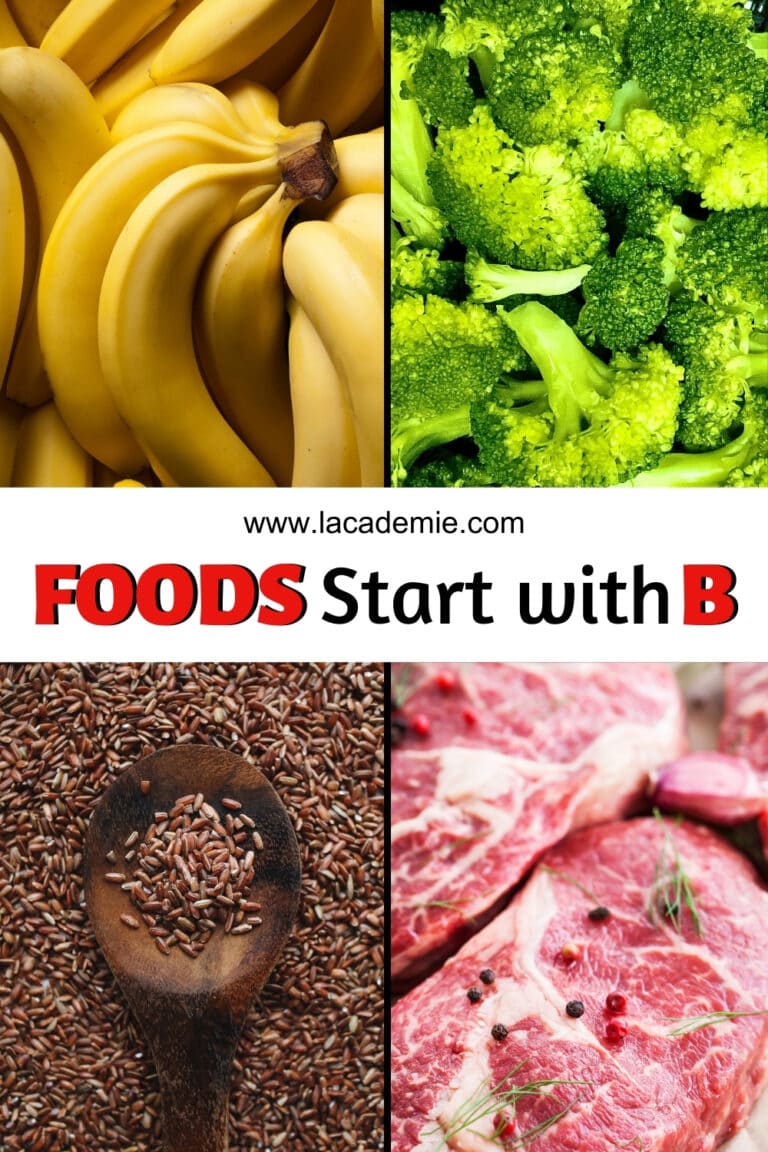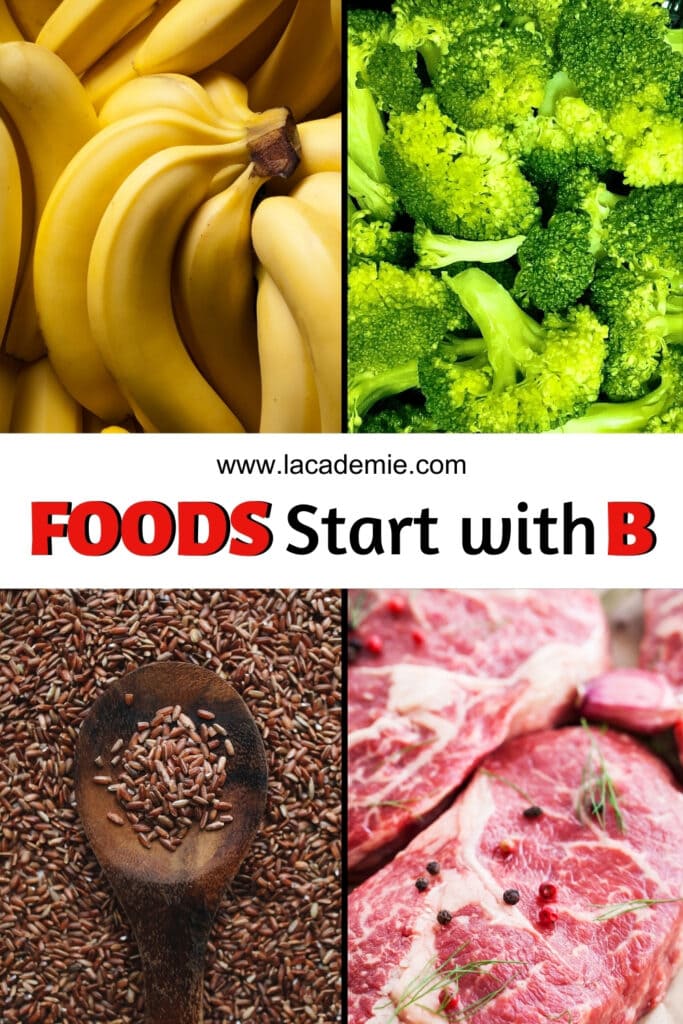 References
Broccoli (no date) SNAP Education Connection.
E;, M.M.K.R. (no date) Whole beetroot consumption acutely improves running performance, Journal of the Academy of Nutrition and Dietetics.
Red Pepper: Health benefits, nutrients, preparation, and more (no date) WebMD.
Brussels sprouts: Benefits and nutrition (no date) Medical News Today.
Bok choy: Benefits, nutrition, diet, vs spinach, and risks (no date) Medical News Today.
Broccoli Rabe (no date) Musc Urban Farm.
Julie Garden-Robinson et al. (2022) All about beans nutrition, health benefits, preparation and use in menus, NDSU Agriculture and Extension.
Bananas (2021) The Nutrition Source.
Blueberries: Health benefits, facts, and research (no date) Medical News Today.
Brown Rice vs. White Rice: Which is most healthful? (no date) Medical News Today.
Fooddata Central Search Results (no date) FoodData Central.
Bay Leaf – PMC – National Center for Biotechnology Information.
Bison meat: The Health and Nutrition Benefits (no date) WebMD.
Barramundi: How it can benefit your overall well-being (no date) WebMD.
Nutrition facts (no date) Braunschweiger (a liver sausage), pork, 1 slice (2-1/2″ dia x 1/4″ thick) | University Hospitals.
Eggplant (no date) SNAP Education Connection.
SMF;, C.B.G.B. (no date) Brazil nuts: Nutritional composition, health benefits and safety aspects, Food research international (Ottawa, Ont.).