Listing foods that start with b can be an amazing game for everyone to play and challenge each other. However, when joining this game, you just know the names of foods, or you even do not know what these foods are or whether they are edible or not.
Therefore, I write this article to show you general and nutritional information about foods starting with b so that you can be a knowledgeable player.
List Of 30 Healthy Foods That Start With B
Foods starting with b can come from different group foods as below:
Vegetables & Fruits
Broccoli
Barberry
Beetroot
Bell pepper
Blueberry
Borage
Snacks & Desserts
Butter Cookie
Boston Cream Pie
Banana Bread
Banana Cream Pie
Baklava
Beignet
Appetizing Dishes
Baba Ghanoush
Burrito
Bruschetta
Beef
Black Cod
Nuts & Grains
Brazil Nut
Black Bean
Brown Rice
Buckwheat
Barley
Dairy Products
Buttermilk
Blue Cheese
Butter
Brie
Herbs & Spices
Basil
Bay Leave
Black Cumin Seed
Black Mustard Seed
30 Healthy Foods Begins With "B"
Now, let's discover which foods starting with "b" are beneficial for human health.
Vegetables & Fruits
Vegetables and fruits are always great food choices for nutritious and rich fiber meals.
1. Broccoli
Broccoli is a kind of vegetable in the shape of a flower. It can be served as raw or cooked food such as soups or stir-fries. Broccoli content includes vitamin B6, C, A, and calcium that are beneficial for people's eyes, hair, skin, teeth, and bones.
In addition, adding broccoli to your daily meals can help you lose weight effectively because of the rich fiber broccoli contains(9)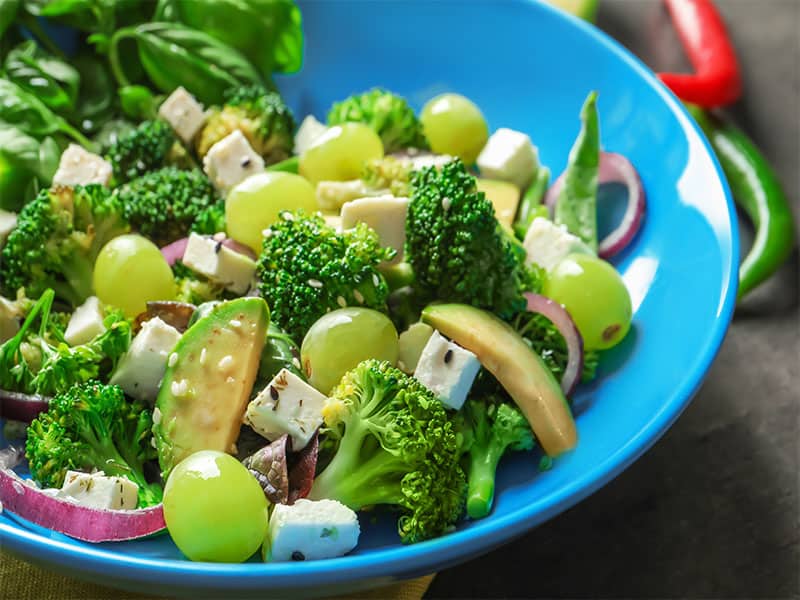 2. Barberry
Barberry is a kind of plant that grows as a bush and has small red fruits. This fruit contains a rich source of vitamins and minerals and can be used as herbal medicine to improve digestion and skin conditions, especially reducing acne (10).
Due to its sour flavor, people usually cook it with sugar and serve as toppings of cold drinks or salads. In addition, it is used as a natural flavor of candy or soft drinks by food manufacturers.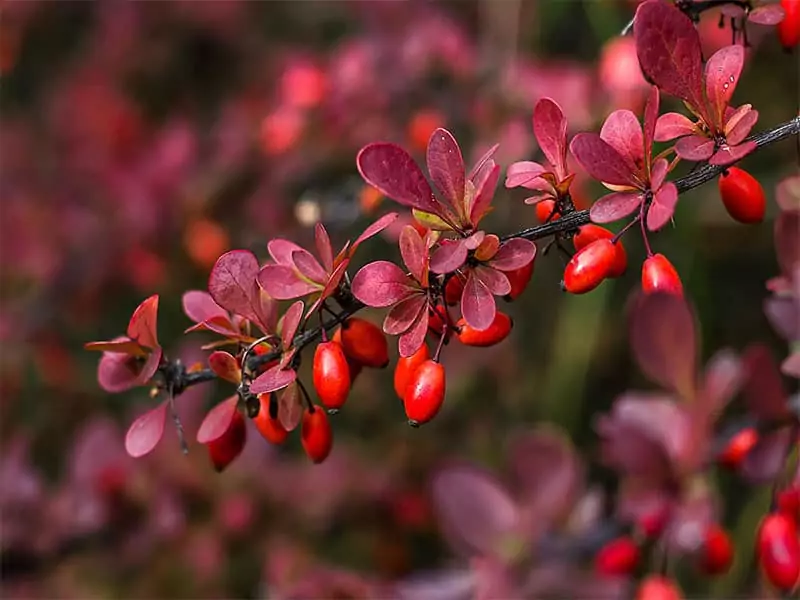 3. Beetroot
Beetroot is a popular vegetable in daily meals. It can be an ideal ingredient for soups, steams, or salads. Beetroot (12)contains Vitamin A, C, folate, magnesium, and phosphorus that encourage blood flow and reduce blood pressure.
Although not as common, beetroot can also be used to make dessert. One notable example is a staple dessert in Australian cuisine – beetroot cake with orange frosting. Some other famous desserts including beetroot are beetroot brownies, beetroot halwa, and beet ice cream.
In addition, drinking beetroot juice regularly helps improve your mental and physical health(13).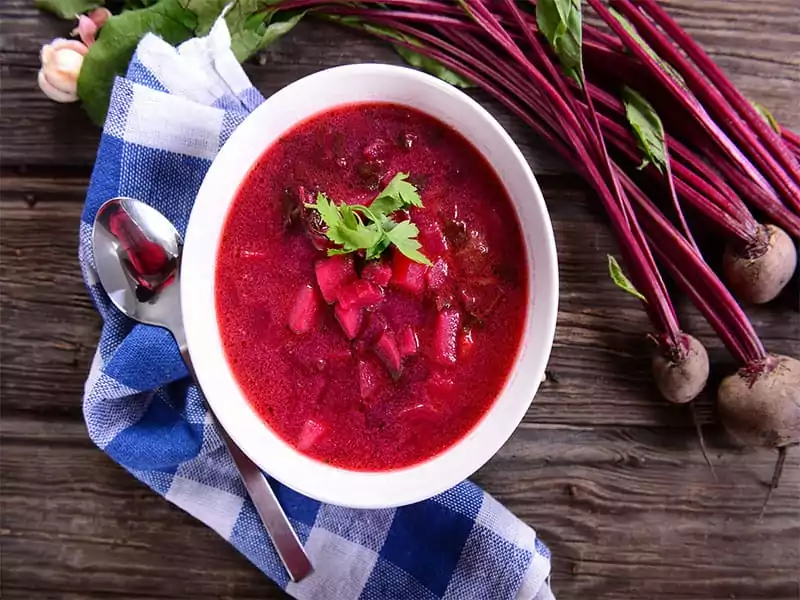 4. Bell Pepper
Bell pepper can be found almost everywhere in the world. You can call it either a fruit or a vegetable coming in different colors, commonly red, green, and yellow. Bell pepper is an ingredient in many recipes in which you can eat raw bell pepper as a salad or cook it.
One of the most common ways to cook bell peppers is by stuffing them with meat, cheese and baking them. You'll find that bell peppers are a fantastic idea to serve as dinner for your family, as long as you know the correct method to store bell peppers and how to cook them.
Bell pepper also provides you with Vitamin A, C that helps reduce cancer risks. In addition, there is no saturated fat in bell peppers, so it is a great food choice for those who suffer from high cholesterol and heart diseases(14).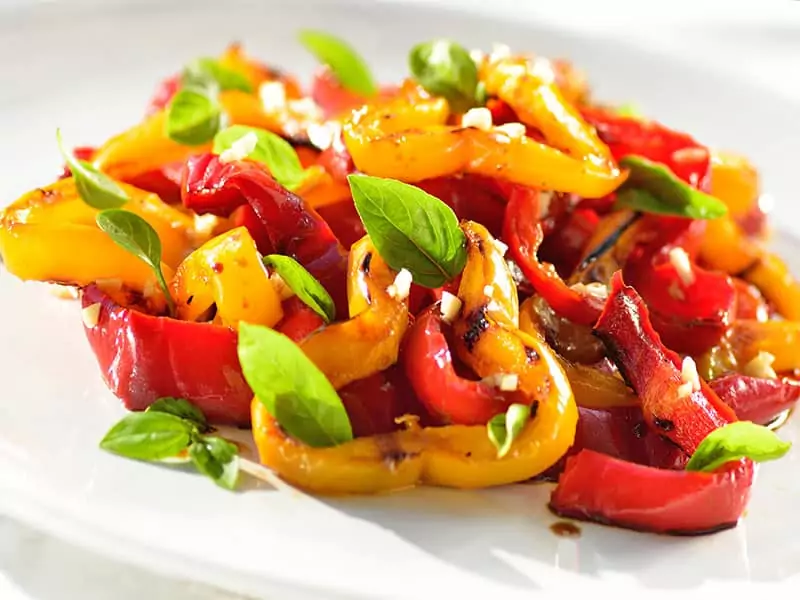 5. Blueberry
Blueberry is a kind of small fruit in blue or purple. You can find fresh blueberries in the wild and farms, or you can buy frozen blueberries available at the supermarkets. Blueberry is usually used to make toppings of cakes, yogurts, or drinks.
Even if you can store blueberries in freezers, fresh ones can retain the nutrition better. In addition, Vitamin A, C, and calcium in blueberries help prevent heart problems and cancers as well as strengthen your bones and mental health(15).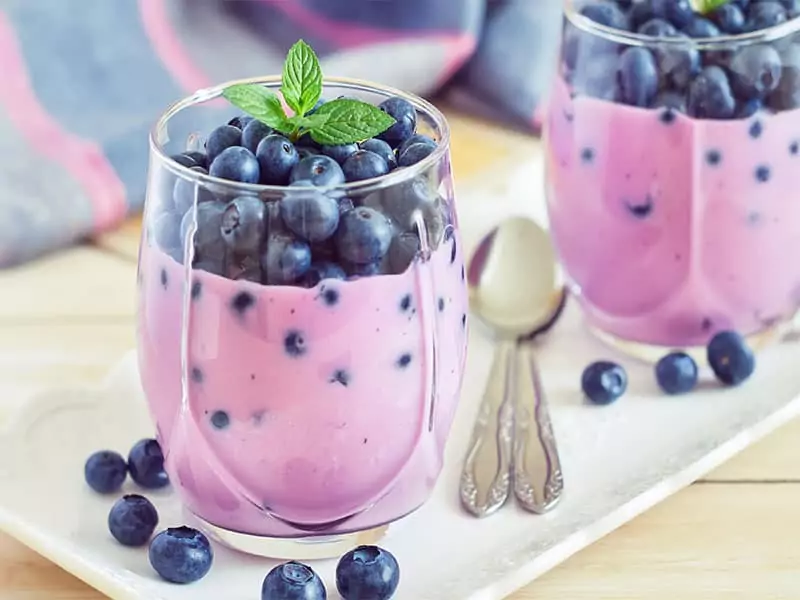 6. Borage
Borage is a flowering plant with edible leaves and flowers. It is cultivated for cooking and medical purposes.
Its leaves taste like cucumbers and can be consumed as a vegetable for salads, and its flowers are used as a topping of desserts and cocktails as decoration. In terms of herbal medicine, borage flowers and leaves are used for curing depression, cough, and fever (16).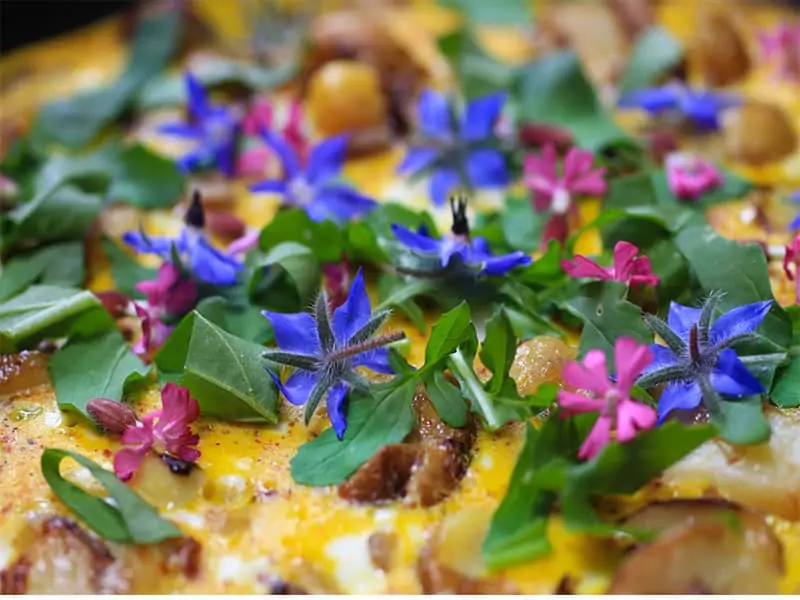 Snacks & Desserts
Snacks and desserts bring you the sweetness or creaminess flavor for boosting your energy and mind.
7. Butter Cookie
Butter cookies are a famous food around the world. In Europe and North America, butter cookies are mostly eaten during the Christmas holidays and consumed as a snack during normal days.
Its ingredients are so simple with butter, flour, and sugar. This is why you'll find that a lot of desserts with only 3 ingredients are variations of butter cookies. Most people love butter cookies because they are soft, buttery, and quite sweet with crispy edges.
If you like the original taste of butter cookies, you do not need to add any flavors into the cookie dough but remember to sprinkle some white sugar on their top to make them taste sweet.
However, it seems to be boring to enjoy cookies without flavor, so you can be creative by putting vanilla, chocolate, and other flavors you love into the cookie dough.
In addition, you can also shape the cookies as you want from square to circle ones, or you can even curve your family members' faces on them.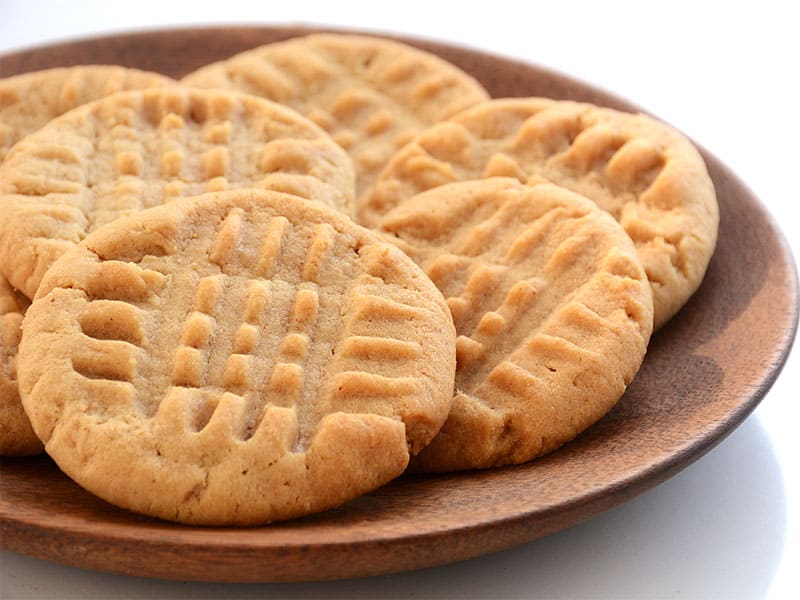 8. Boston Cream Pie
The name Boston Cream Pie points out that this cake comes from Boston. It has been a famous food in America for a long time. People usually make this cake to serve for desserts at home meals or parties.
Sometimes, it is also a gift for birthday parties. It is made from layers of sponge cake with some chocolate on top, and vanilla cream is filled between two layers of the cake.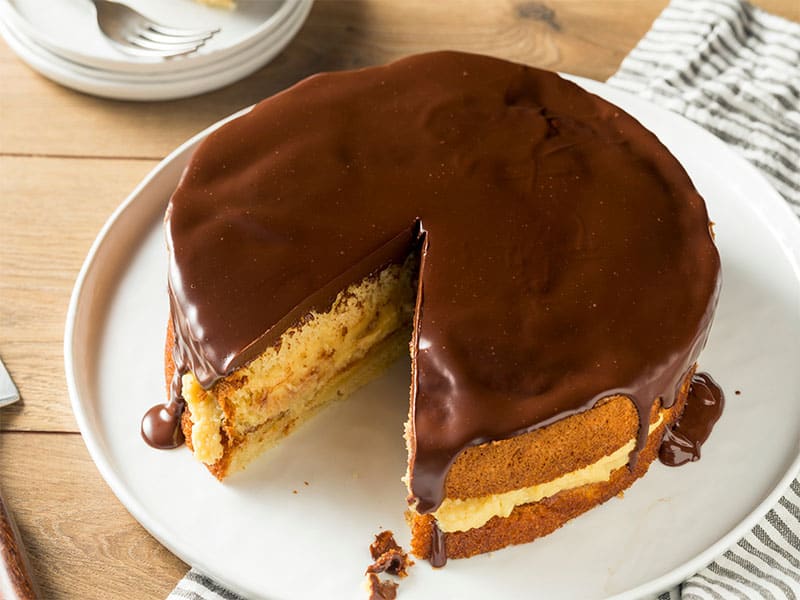 9. Banana Bread
Banana bread has been known as a fast breakfast perfect for your rushing mornings. This sweet bread can raise your energy a lot, which allows you to get ready for busy working days.
Did you know that banana bread usually doesn't contain butter? That's right, this butterless sweet treat gets most of its flavors and moistures from the ripe bananas themselves. That's why usually you won't be able to notice the absence of butter in this fruity dessert..
When enjoying pieces of banana bread, you can taste the great flavor of banana and butter and the natural sweetness of honey. Because banana bread has its main ingredient as banana, you can enjoy some fruit's nutrients (1)like fiber and potassium when eating banana bread.
Fiber is good for our bones, hair, and digestion. In addition, potassium can help prevent or reduce high blood pressure and improve your heart health. Preparing banana bread does not take you much time because its dough is not required to raise much like other dough cakes mixed with yeast.
Compared to normal bread, banana bread is moister and sweeter, so you can fill your empty stomach well with this convenient food.
It is quite easy to make banana bread, and it comes with varied recipes in which people can adjust the quantities of its ingredients to get a banana bread taste as they prefer.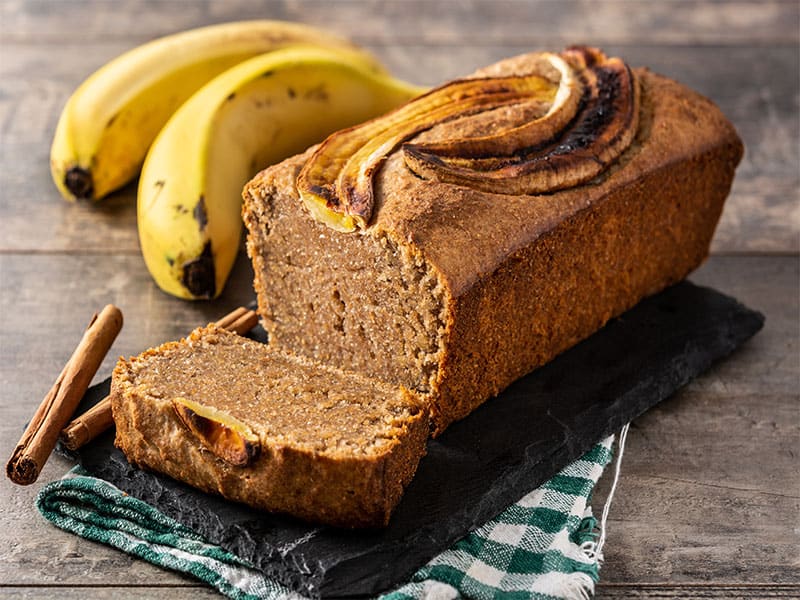 10. Banana Cream Pie
Banana cream pie is a perfect dessert for different occasions. This recipe has existed for decades and its amazing taste always appeals to big fans of sweet food. It has a base of crispy pie crust covering fresh slices of banana and a layer of vanilla cream on top.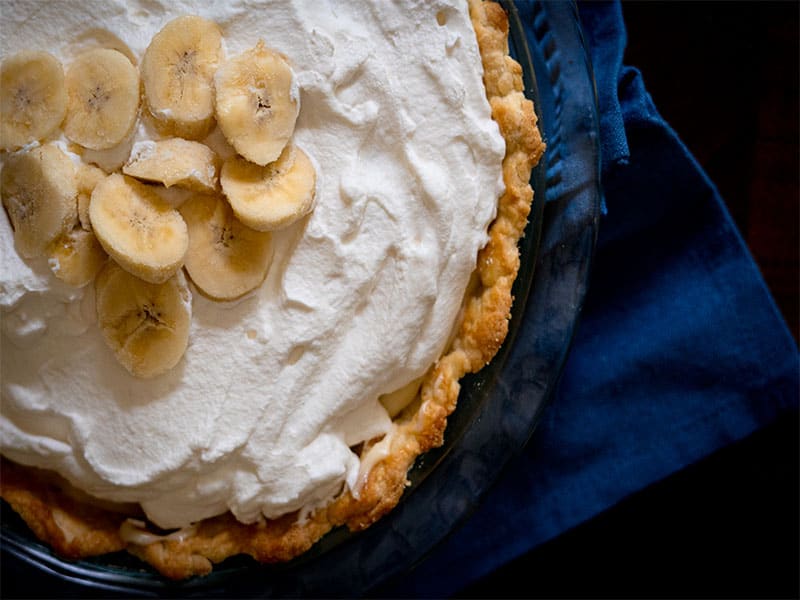 11. Baklava
Baklava is a crunchy cake with many thin layers of dough. Considered a specialty, baklava is one of the many unique desserts originating from the Middle Eastern. To many people, baklava's plain and simple appearance belies the complex flavors that it can bring about.
Each cake is a combination of two crispy phyllo dough with a mixture of crushed nuts inside, and some syrup made with cinnamon, lemon, and honey will be sprinkled on the cake to make its sweet flavor.
There are many variations of balkava in the Middle Eastern world. In Azerbaijani cuisine, these treats are called Pakhlava and can be made in various ways. The people in Greece also have a version that consists of 33 layers!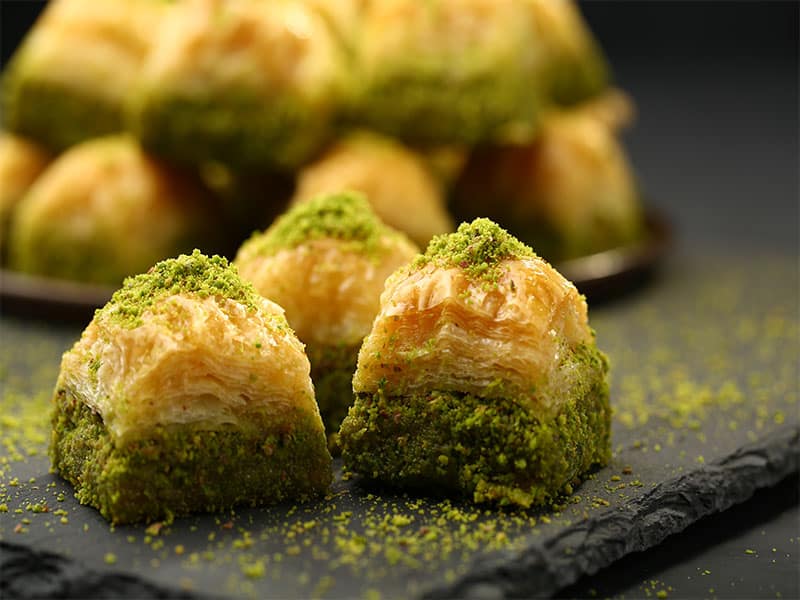 12. Beignet
Beignet is a specialty of New Orleans and comes with varied recipes when it is brought to the French. It is a piece of dough in a square shape that is deep-fried and then covered on top with some powdered sugar.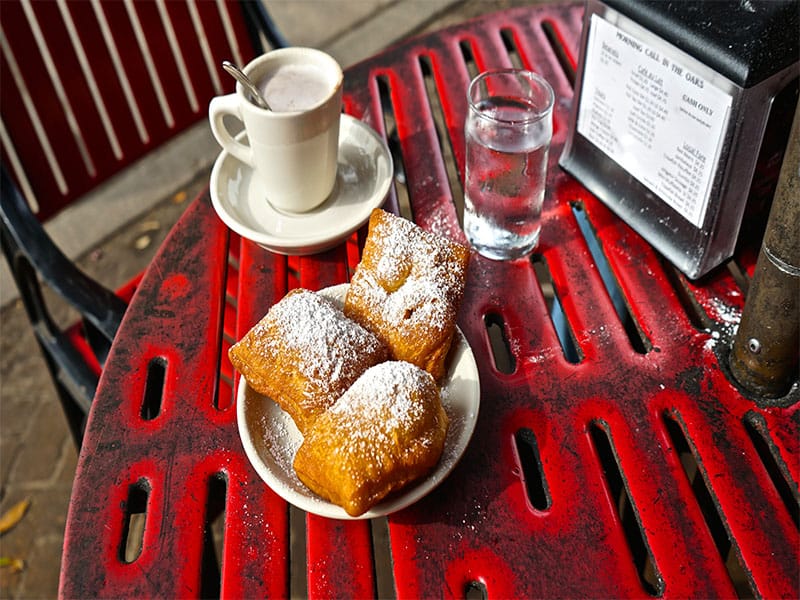 Appetizing Dishes
Savory dishes always satisfy you with the tasty flavor and nutrition values they bring you.
13. Baba Ghanoush
Baba Ghanoush has its origin in the Middle East and is especially famous in Jordanian cuisine. It is a kind of dipping sauce made from crushed eggplant, olive oil, and other spices. The dish can be served with bread, rice, or pitas as an appetizer.
The eggplant (2) in this traditional food provides you with a high amount of fiber as well as different minerals and vitamins that help prevent blood cholesterol, cancer and improve your heart and eye health.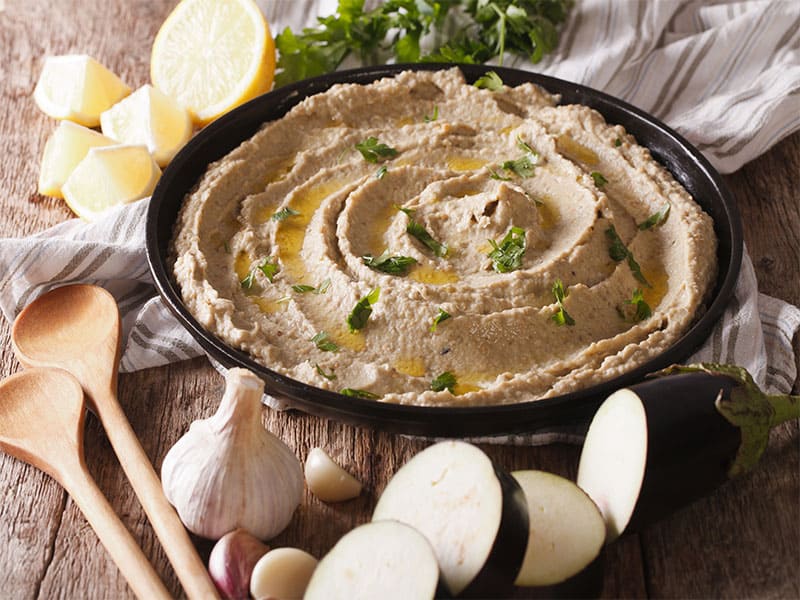 14. Burrito
Burrito is a traditional cuisine of Mexico and is convenient for fast breakfasts. It is quite simple and does not take you much time to prepare this food. Additionally, the proper techniques to reheat burritos are quite simple and time-saving, making it even an easier dish to prepare.
It consists of a flour tortilla to wrap a mixture of ingredients. The ingredients can be pork or beef mixed with cooked beans or rice along with chop salad and tomatoes.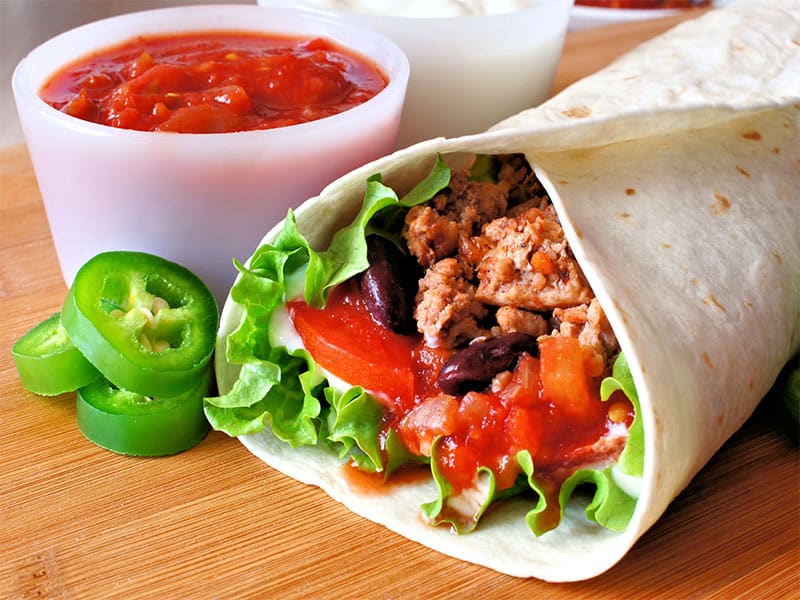 15. Bruschetta
Bruschette is a popular appetizer of Italians with simple ingredients. Bruschetta is a piece of toasted bread with garlic flavor and the topping of juicy tomatoes, meat, vegetables, and olive oil.
People have varied creative ways to make this food, like adding other toppings as they prefer, which meets with their own taste.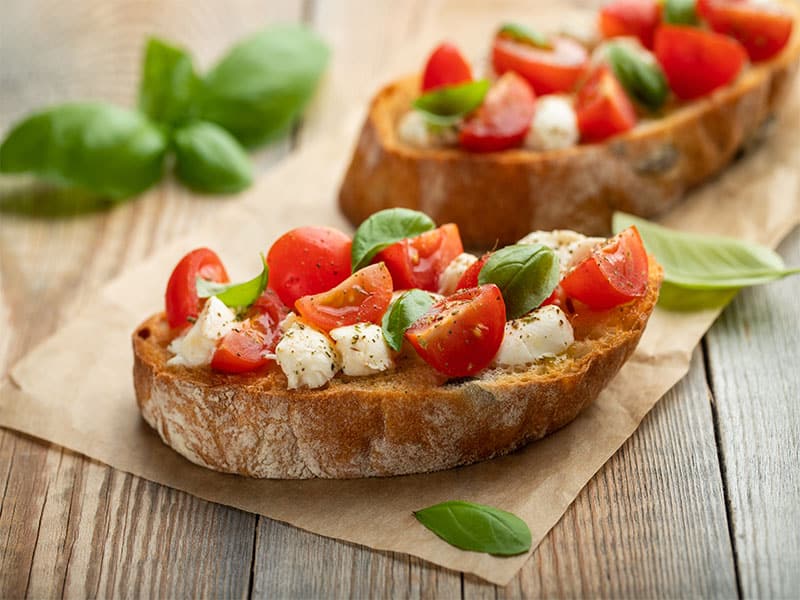 16. Beef
There is no doubt that beef is one of the most popular types of meat in the world. Many people choose beef for their daily meals because it contains lots of protein, vitamins, and minerals such as iron or zinc that benefit human health.
However, consuming too much beef, a kind of red meat, may cause health problems like cancers or heart diseases(8). Beef in different places will have varied meat qualities depending on the environments where cows are raised and the raising methods.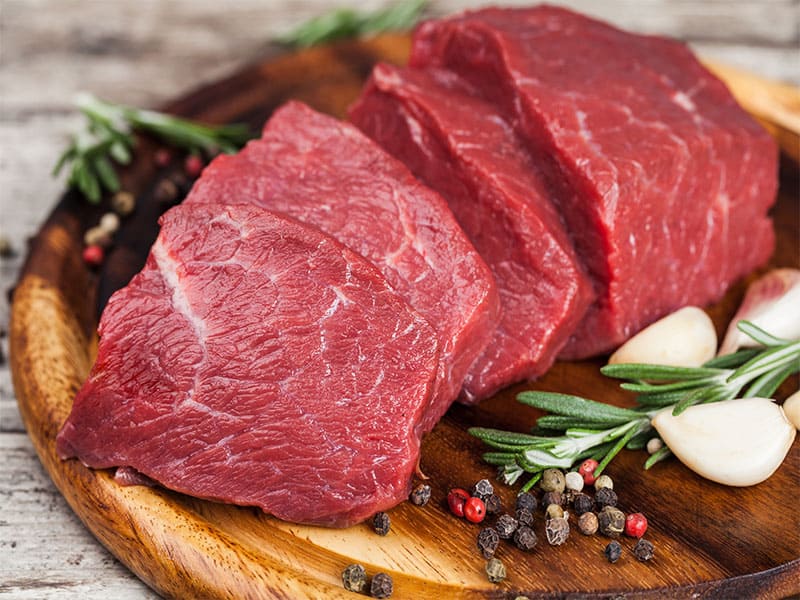 17. Black Cod
Black Cob or butterfish is a kind of fish living in deep levels of the sea. It is called butterfish because it tastes buttery when being cooked.
In addition, its raw flesh is white and almost transparent with high fat and omega-3 content(20). Black cod can be used in different recipes like grilling, roasting, or broiling.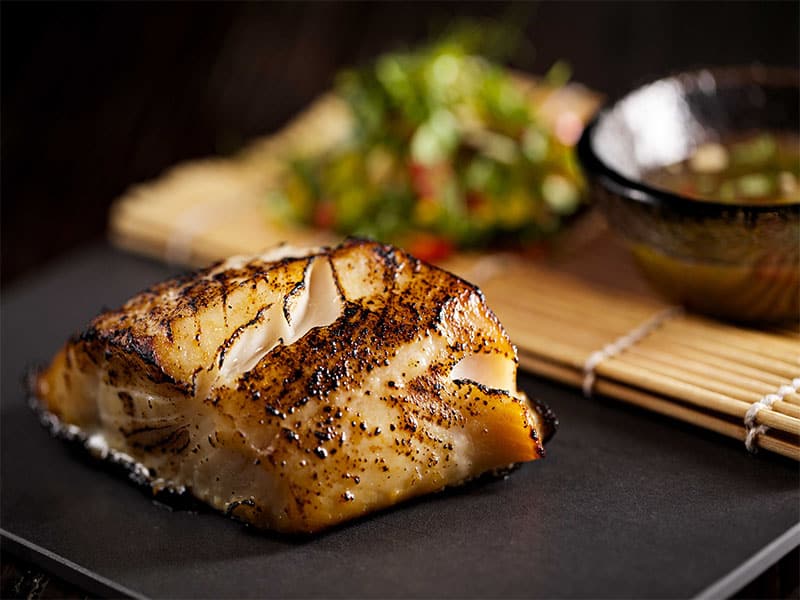 Nuts & Grains
Nuts and grains can be combined with daily main courses to enrich your nutrition intakes.
18. Brazil Nut
Brazil nuts are an extremely nutritious and low-carb food. It contains a variety of nutrients like carbohydrates, protein, fat, calories, vitamins, and minerals, so this kind of nut is considered an energy-boosting food.
In addition, there is a high amount of selenium found in this nut. To be more specific, selenium can help prevent heart diseases as well as improve your mental health, immune system, and asthma symptoms(17).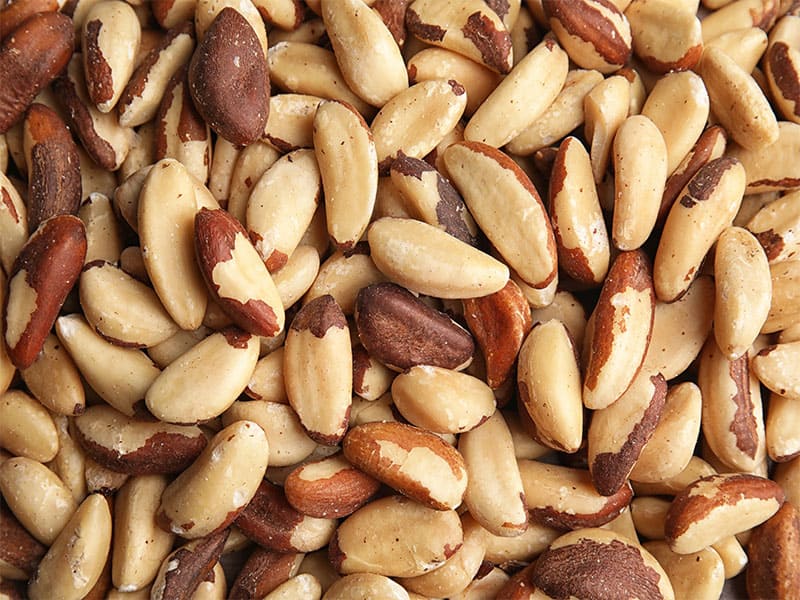 19. Black Bean
Black bean is a healthy dry seed that belongs to legumes. It has a slightly sweet flavor, so it is the right choice for making soups, stews, or steams. It comes with fiber, potassium, and Vitamin B6, which is good for human digestion and heart health.
In addition, black beans are a great source of minerals such as calcium, iron, and phosphorus(7). Therefore, adding black beans to your diet will help strengthen your teeth and bones.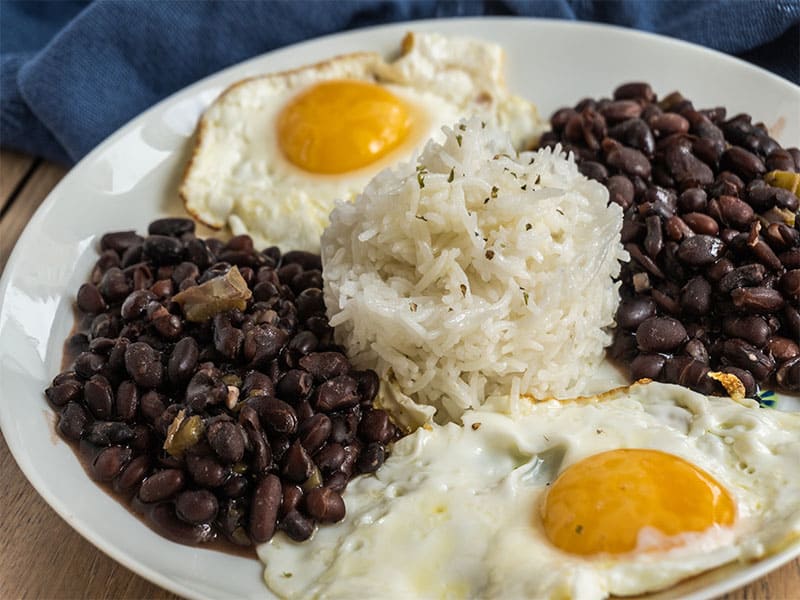 20. Brown Rice
Brown rice is a whole grain with a brown outer layer without a hull. Due to the cover, it will take you more time to cook brown rice(18) than white rice without an outer layer. Brown rice is rich in fiber, vitamins, and minerals like phosphorus and potassium(19).
Therefore, if you are considering a balanced diet to lose weight, you should choose brown rice. This is because the fiber in brown rice can make you full longer in comparison to consuming white rice.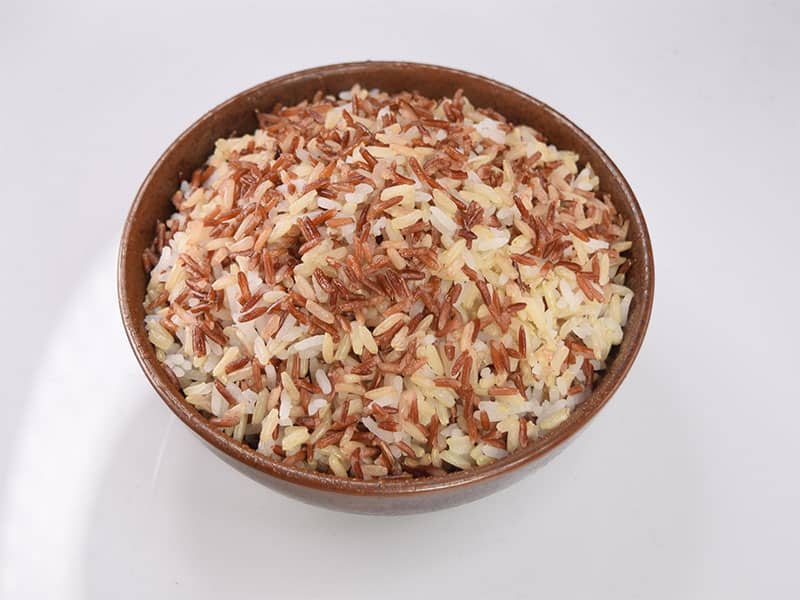 21. Buckwheat
Buckwheat is a kind of seed in the form of triangular grain. It is known for different valuable nutrients, including protein, carbs, and minerals, which help control the sugar level in the blood and reduce high blood pressure as well as cholesterol(21).
Buckwheat can be consumed as a rice alternative, or it can be manufactured as flour, noodle, and other food products.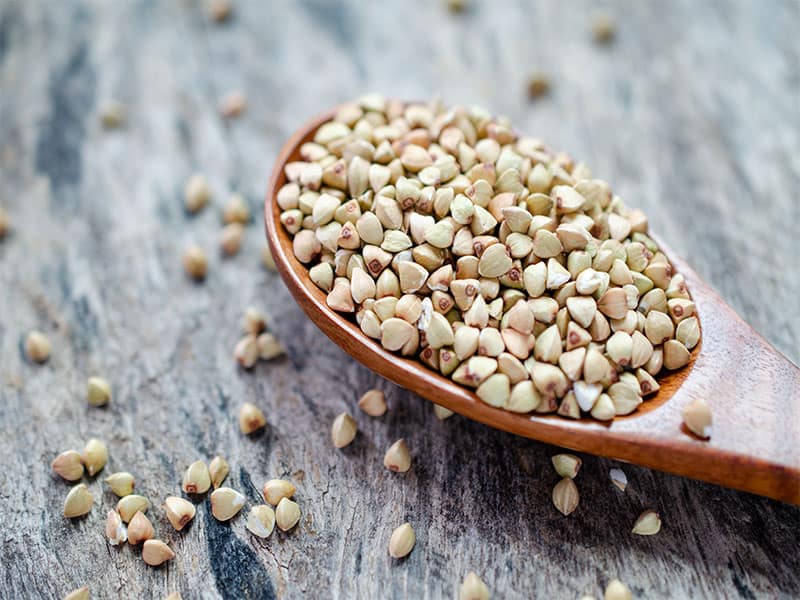 22. Barley
Barley is a cereal grain used for making soups, bread, salads, and also a rice alternative. Barley is rich in beta-glucan, a type of fiber, which is found in the endosperm of the grain.
This kind of fiber helps maintain lower cholesterol in the human body. In addition, barley also contains different minerals and vitamins that benefit people's health.
Dairy Products
Dairy plays an important role in supplying you with necessary calories besides your main meals.
23. Buttermilk
Buttermilk is a kind of nutritious drink and used in both baking and cooking to create a creamy and good flavor for food. When seeing its name, people assume that buttermilk contains butter and are afraid of its high fat.
Actually, buttermilk(4) is a no-fat drink but rich in calories, so you can add it to baking products such as cookies to have high-calorie food that can boost your energy. In addition, buttermilk contains a low amount of tyramine (5) but should be consumed in limited amounts to avoid health issues such as blood pressure and migraine caused by high tyramine in the human body.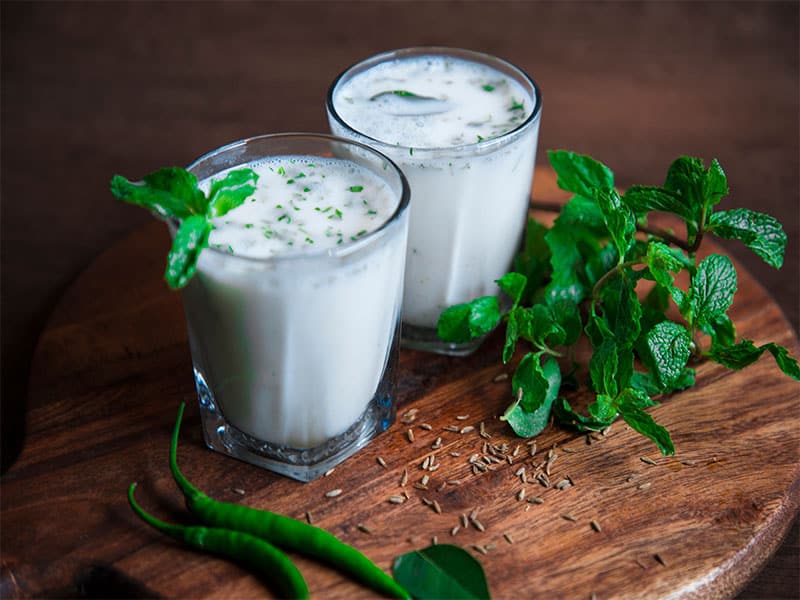 24. Blue Cheese
It is called blue cheese because its typical color is blue. However, the color can be changed a little bit from blue to green, which depends on the methods people use to make the cheese.
Blue cheese is a nutritious food(3) made from animals' milk undergoing the activity of mold and bacteria so that blue cheese has a creamy and salty flavor.
People usually make the blue cheese from cow and sheep milk to create different favorite flavors of blue cheese. Compared with other kinds of cheese having a hard texture, blue cheese is softer and creamier.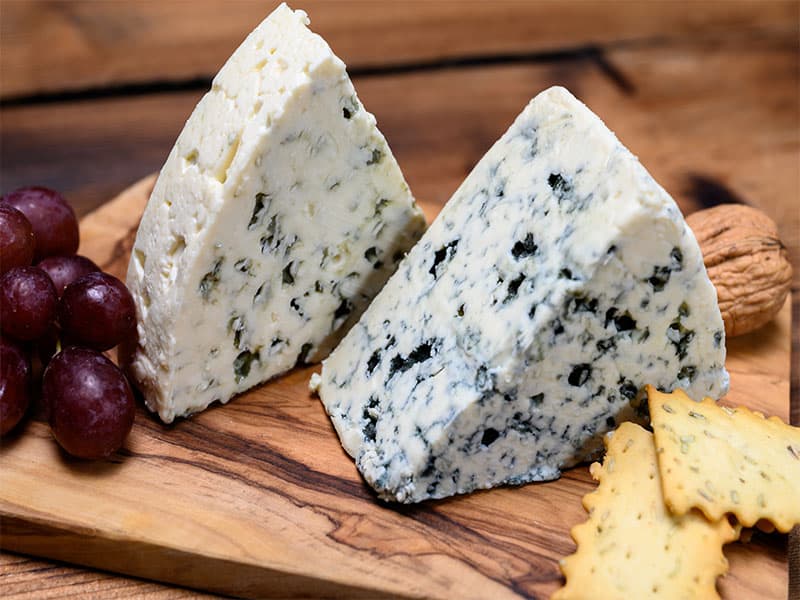 25. Butter
Butter has a yellow dairy product made with cream that can be derived from cow's milk. Butter is used in making palatable foods such as pasta, bread, and desserts.
It contains Vitamin A, E, and minerals such as calcium and phosphorus that are good for human health. However, butter consumption needs to be under control because it has a high amount of fat and calories.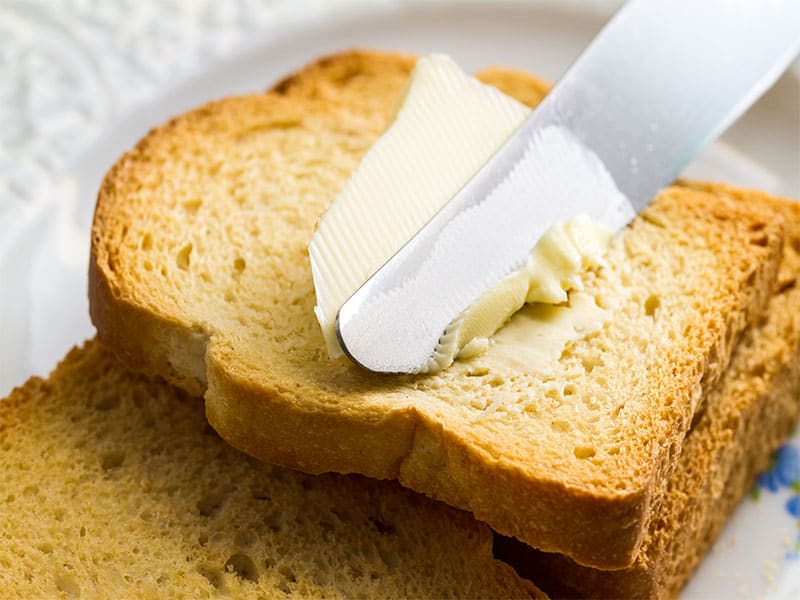 26. Brie
Brie is a soft and creamy cheese made from cow's milk. It can be served with crackers, fruit, or bread. Brie is a rich source of fat, vitamins, and minerals.
You should not consume too much brie, especially for daily meals. Excessive brie consumption may cause high blood pressure due to the high sodium content of brie.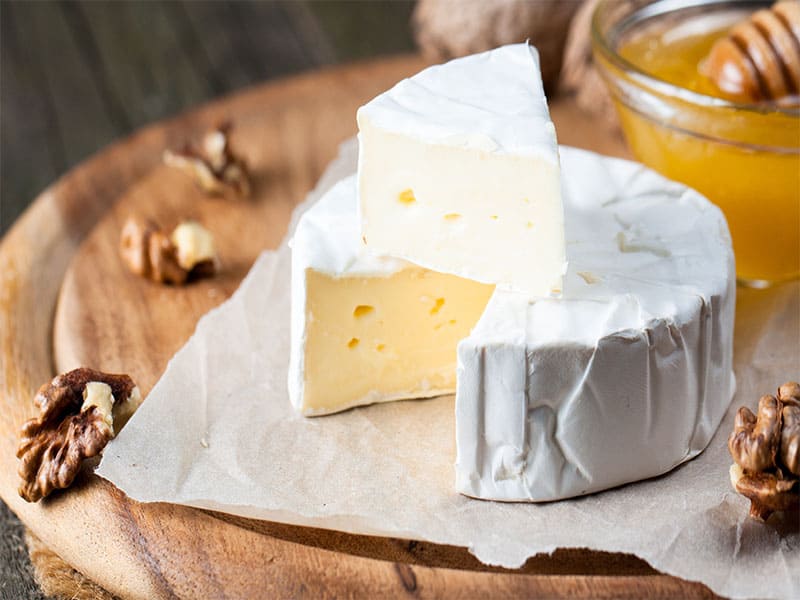 Herbs & Spices
Herbs & spices not only flavor your foods but also provide you with a great source of nutrition.
27. Basil
Basil is a kind of medicinal herb and can be found in many places with a variety of types. It has a strong distinct flavor and is used as a spice for many recipes.
Basil(6) contains a high amount of Vitamin A, C, K, and also minerals that keep your liver and skin healthy. In addition, it is also a natural herb remedy to reduce the sugar level in human blood.
However, Vitamin K can interfere with the effects of several kinds of drugs, so you should not consume too much basil to avoid Vitamin K building up in your body.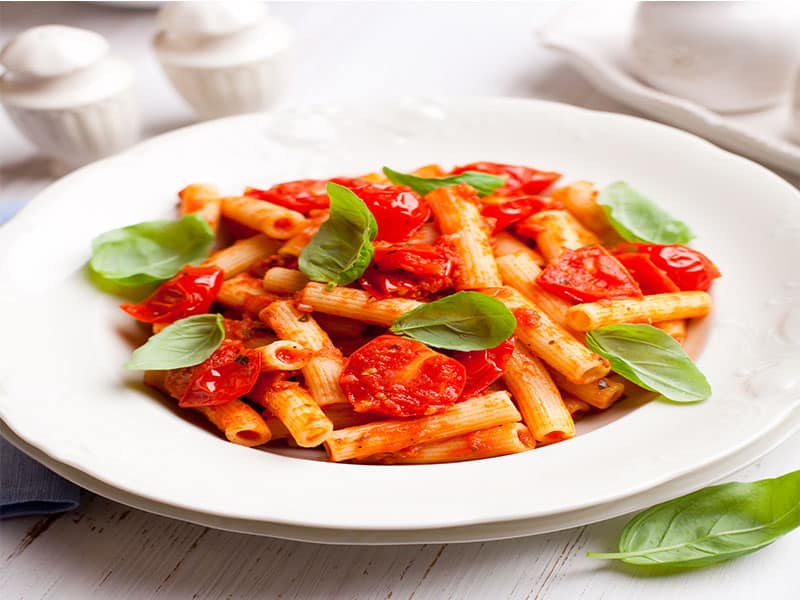 28. Bay Leaf
Bay leaf is a spice used in particular dishes, especially stews or soups. It comes with both fresh and dry leaves. Before adding bay leaves to the food you cook, you need to crush or chop them in order that your dish will have a sharp flavor of bay leaf.
For those who are not familiar with herbs, bay leaf and basil can look quite similar. However, there are quite a few distinctions between bay leaf and basil, meaning that it's not always the case that you can use these two herbs interchangeably.
This famous sort of garnish contains Vitamin A, C, and some minerals such as calcium, magnesium, potassium, and iron that help improve human health. It is also known as a natural treatment of migraines(11).
Moreover, the typical smell of bay leaf is utilized to make a natural insect repellent.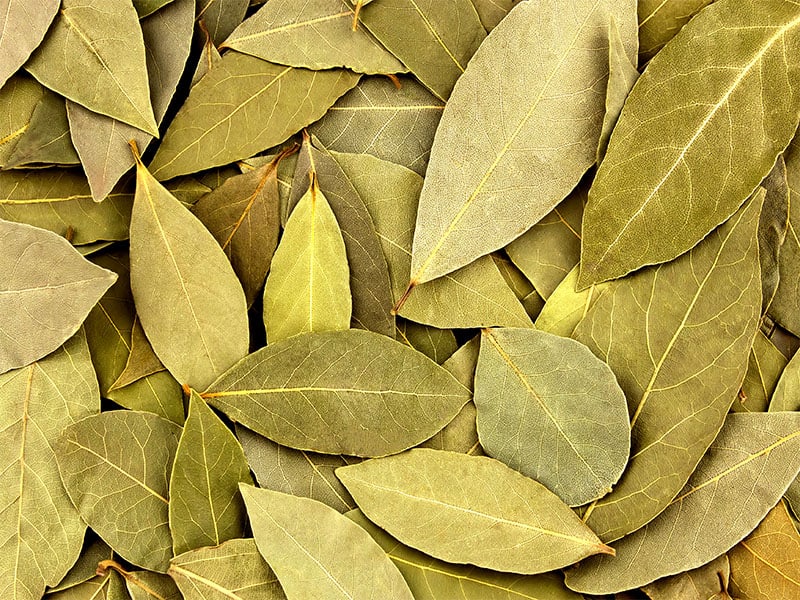 29. Black Cumin Seed
Black cumin seed is the seed fruit of a flowering herb plant called Nigella Savita. As a spice, it can be crushed and flavored foods as pepper. In addition, black cumin seed is also famous for its extracted oil for cooking and pharmaceutical products.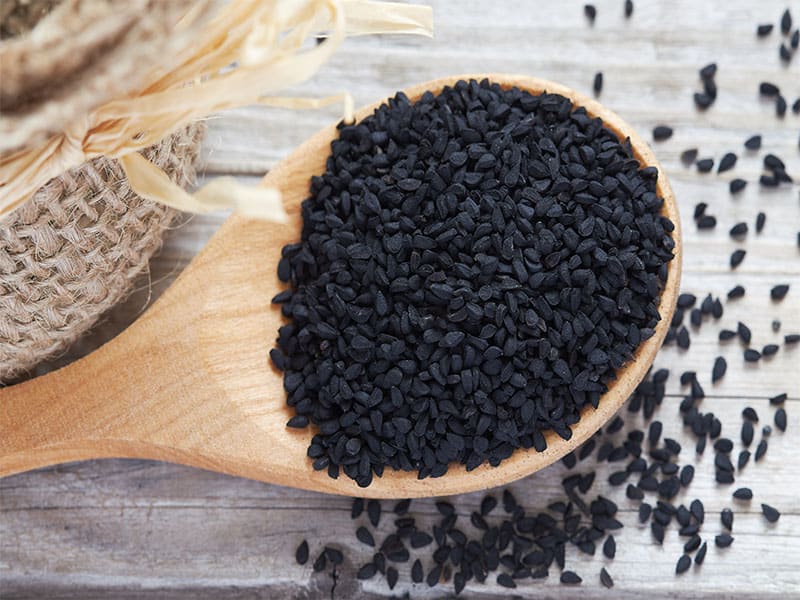 30. Black Mustard Seed
Black mustard seed is a popular Indian spice that is paired with fish recipes, yogurt, or curries. When being used to flavor foods, it does not need to be ground like black cumin seed or pepper.
Instead, you just fry it a little bit so that its flavor can release better. This kind of seed and its oil is used to produce medicines.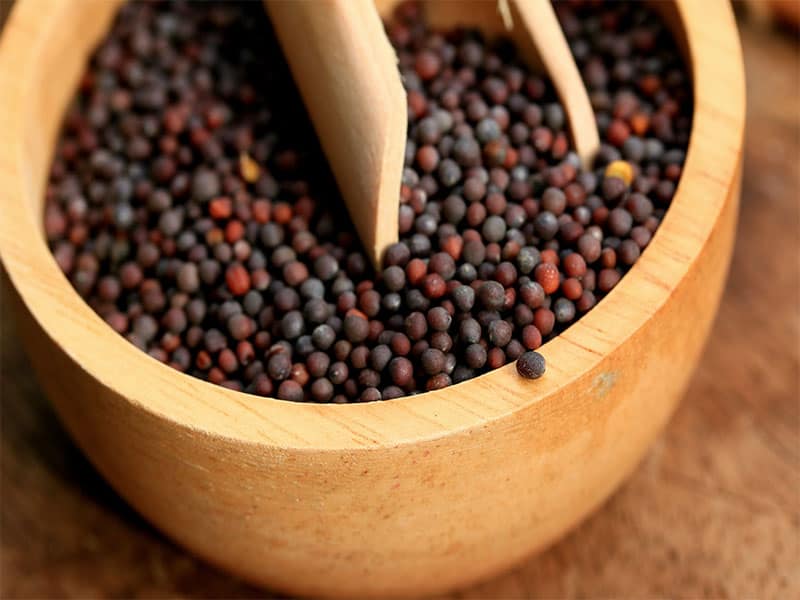 Now, I Guess You Have Learned Tons Of Useful Information!
Whether foods starting with b are nuts, grains, or dishes, they have valuable nutrients that help improve human health. Understanding these things deeply will allow you to have smart food choices for daily meals.
I hope that you can expand this list in the future in order that you and your family members can enjoy good health with different nutritious foods. Do you know any other healthy foods that start with b?
Just feel free to share your experiences about them in the comment section below, and if you find my post interesting, just share it for everyone to know!
References
Bananas. (2021). Retrieved 11 May 2021, from https://www.hsph.harvard.edu/nutritionsource/food-features/bananas/
Eggplant. (2021). Retrieved 11 May 2021, from https://snaped.fns.usda.gov/seasonal-produce-guide/eggplant
The World from PRX. 2021. Blue cheese may be good for your health, study suggests. [online] Available at: <https://www.pri.org/stories/2012-12-22/blue-cheese-may-be-good-your-health-study-suggests>.
Buttermilk – Wikipedia. (2021). Retrieved 11 May 2021, from https://en.wikipedia.org/wiki/Buttermilk#Nutrition
Low-Tyramine Diet | Winchester Hospital. (2021). Retrieved 11 May 2021, from https://www.winchesterhospital.org/health-library/article?id=213314
Basil – Wikipedia. (2021). Retrieved 11 May 2021, from https://en.wikipedia.org/wiki/Basil#Diseases
All About Beans Nutrition, Health Benefits, Preparation and Use in Menus — Publications. (2021). Retrieved 11 May 2021, from https://www.ag.ndsu.edu/publications/food-nutrition/all-about-beans-nutrition-health-benefits-preparation-and-use-in-menus
Beef – Wikipedia. (2021). Retrieved 11 May 2021, from https://en.wikipedia.org/wiki/Beef#Nutrition_and_health
Broccoli. (2021). Retrieved 11 May 2021, from https://snaped.fns.usda.gov/seasonal-produce-guide/broccoli
The Health Benefits of Barberry. (2021). Retrieved 11 May 2021, from https://www.verywellhealth.com/barberry-berberis-vulgaris-what-you-need-to-know-89546
Batool, S., Khera, R. A., Hanif, M. A., & Ayub, M. A. (2020). Bay Leaf. Medicinal Plants of South Asia. https://www.ncbi.nlm.nih.gov/pmc/articles/PMC7152419/.
Solutions, B. (2021). Beets: Nutrition Facts You Need to Know. Retrieved 11 May 2021, from https://beetrootpro.com/blogs/news/beetroot-nutrition-facts-you-need-to-know
Whole beetroot consumption acutely improves running performance. Journal of the Academy of Nutrition and Dietetics. https://pubmed.ncbi.nlm.nih.gov/22709704/.
Bell Peppers. Have A Plant. (n.d.). https://fruitsandveggies.org/fruits-and-veggies/bell-peppers/.
"Health Research." U.S. Highbush Blueberry Council, 17 Nov. 2020, www.blueberrycouncil.org/health-professionals/health-research/.
"Borage: Health Benefits, Uses, Side Effects, Dosage & Interactions." RxList, RxList, 17 Sept. 2019, www.rxlist.com/borage/supplements.htm.
Grain of the Month: Brown Rice | Sargent Choice Nutrition Center. (2021). Retrieved 11 May 2021, from https://www.bu.edu/scnc/2012/01/03/grain-of-the-month-brown-rice/
Grain of the Month: Brown Rice | Sargent Choice Nutrition Center. (2021). Retrieved 11 May 2021, from https://www.bu.edu/scnc/2012/01/03/grain-of-the-month-brown-rice/
Brown rice – Wikipedia. (2021). Retrieved 11 May 2021, from https://en.wikipedia.org/wiki/Brown_rice
(2021). Retrieved 11 May 2021, from https://eeu.alaskaseafood.org/wp-content/uploads/2019/12/BlackCodFactSheet.pdf
Apjcn.nhri.org.tw. 2021. Buckwheat and health. [online] Available at: <http://apjcn.nhri.org.tw/server/info/articles/diets-foods/buckwheat.htm>.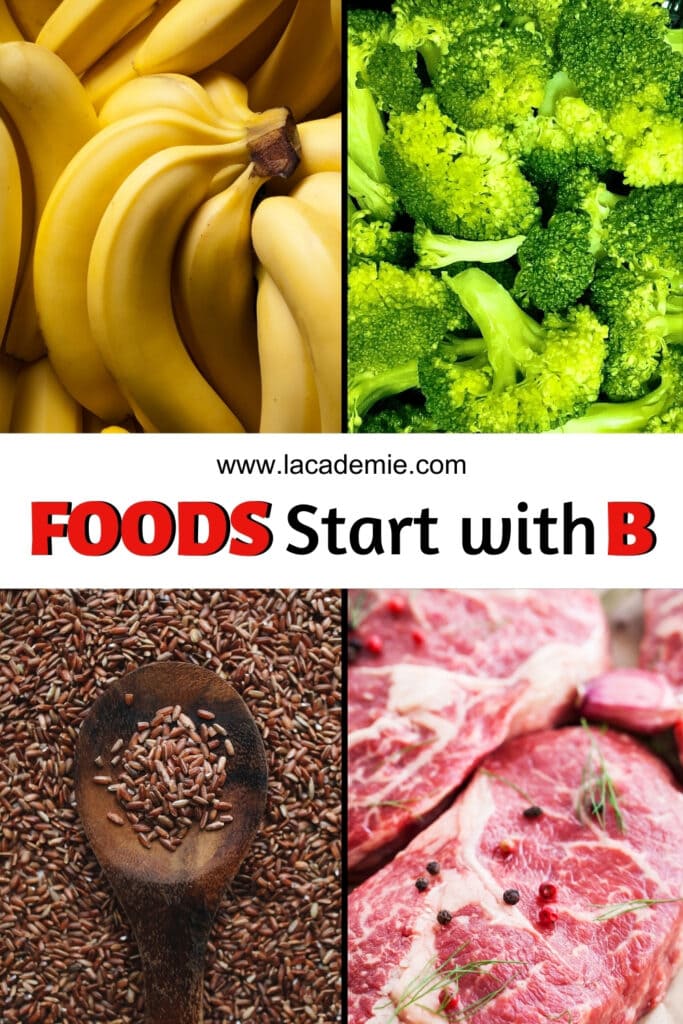 Foods by The Alphabet
Foods That Start with B (You are here)