I bet you're always on the lookout for exciting foods that start with K to try. I'll help you with exploring some of the best options. In this post, you'll discover numerous culinary treasures that expand your palate and give your taste buds a delightful experience.
Plus, I'll show you how these foods can add a creative twist to your favorite dishes. So, buckle up and join me on this scrumptious journey through the world of K-starting foods!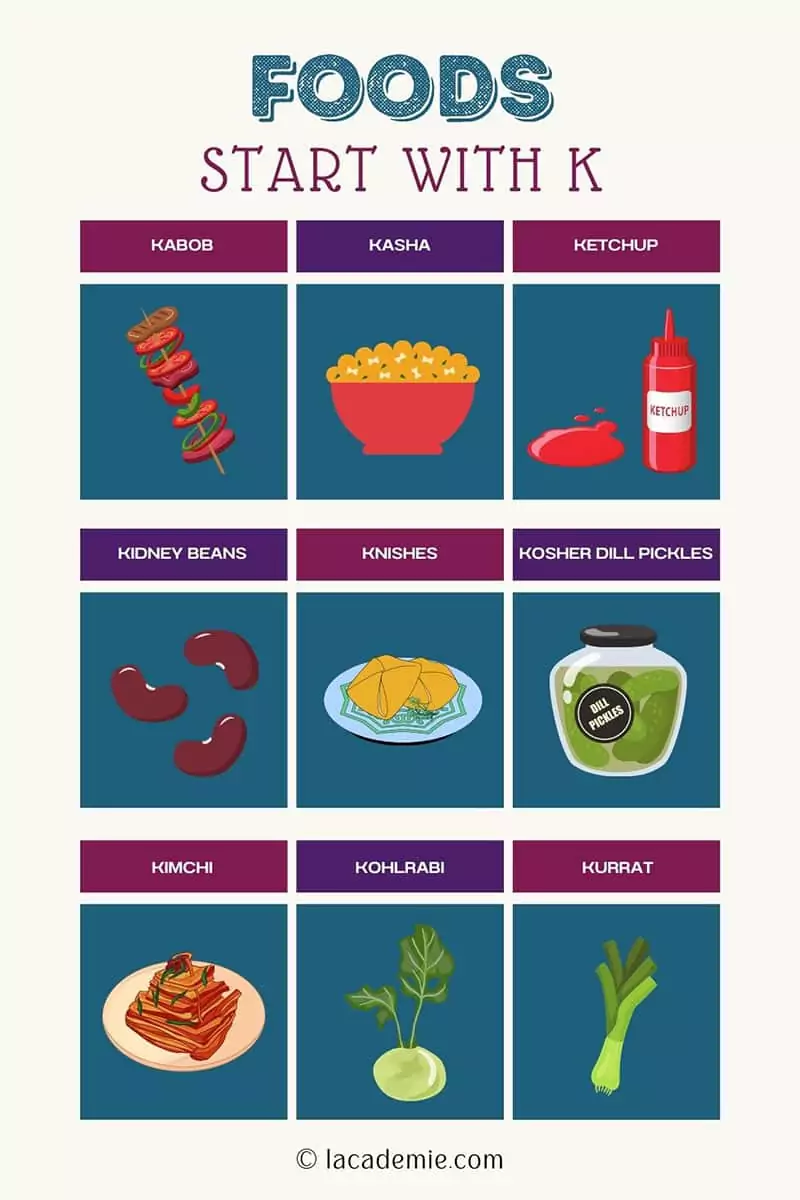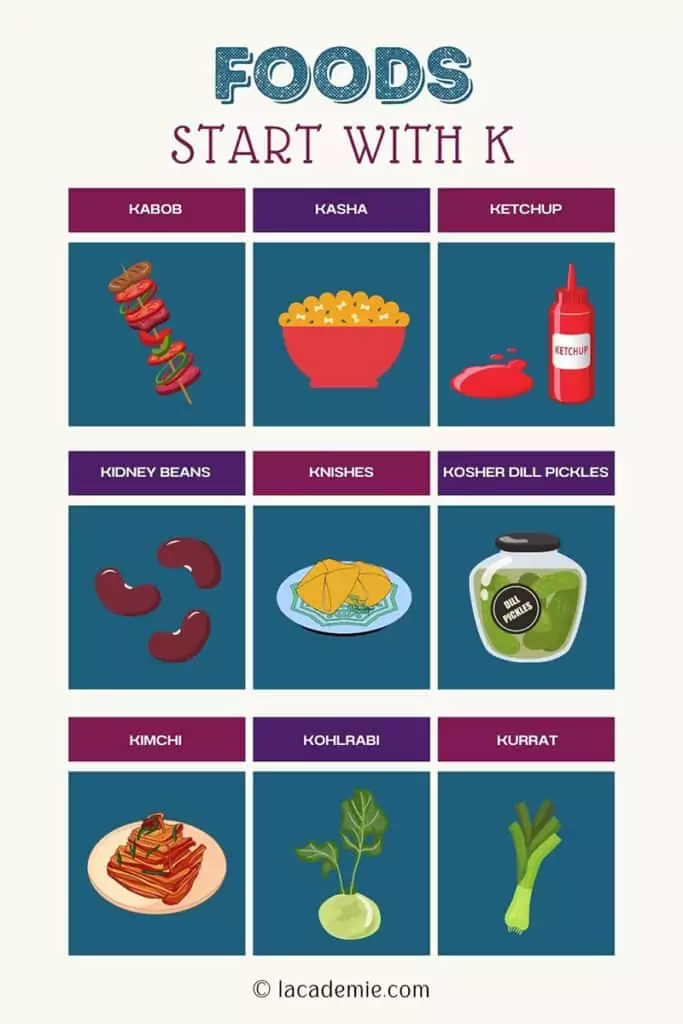 A Symphony Of Foods That Begin With The Enchanting Letter 'K'
Here are several foods that start with K I recommend for you. You should take a glance to remember these names that help you quickly access your favorite foods.
Meat and Seafood Dishes
Kabob/Kebab
Kansas City-Style BBQ
King Crab Legs
Kingfish
Kipper
Knockwurst
Kedjenou
Kitfo
Kung Pao Chicken
Kielbasa Sausage
Kare Kare (Filipino Oxtail, Vegetable & Peanut Sauce Stew)
Grains, Legumes, and Starches
Kasha
Kidney Beans
Knishes
Kenkey
Kedgeree (Curried Rice With Smoked Haddock)
Koshihikari Rice
Konkonte
Koshari
Kicha
Koki
Kushari
Condiments, Sauces, and Spreads
Ketchup
Kosher Dill Pickles
Kimchi
Kuchela
Kecap Manis/Ketjap Manis (Indonesian Sweet Soy Sauce)
Vegetables and Fruits
Kohlrabi
Kabocha Squash
Kabosu
Khaki/Kaki
Kale
Kamote (Sweet Potato)
Ketembilla
Key Lime
Kiwano
Kiwi
Kumquat
Kurrat
Kwai Muk
Kenponashi
Kalyna
Kakadu Plums
Snacks and Side Dishes
Kettle Popcorn
Kachumbari (Fresh Tomato And Onion Salad)
Kelewele (Spicy Fried Plantain)
Kamote Cue (Caramelized Sweet Potatoes On Skewers)
Kuli-Kuli
Desserts and Sweets
Kit Kat
Koeksisters (Afrikaner Confectionery)
Kentucky Jam Cake
Kouign-Amann (Breton Cake)
Kalamay (Filipino Sweet Sticky Rice)
Kouglof (Alsatian Brioche)
Beverages
Kasiri
Kava
Kirsch
Kombucha
Kahlua
Kvass
Meat and Seafood Dishes
1. Kabob/Kebab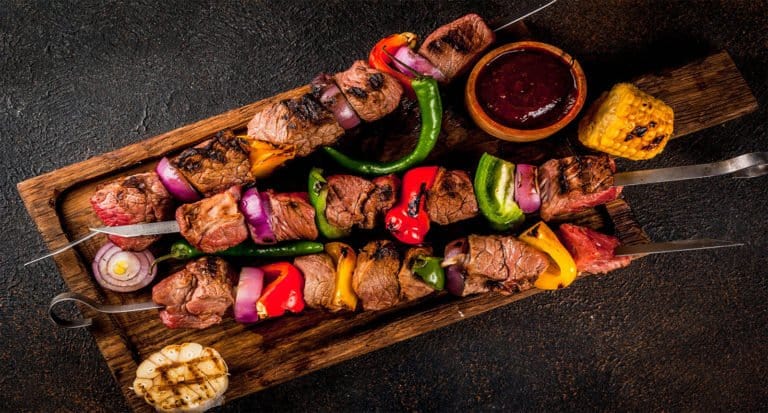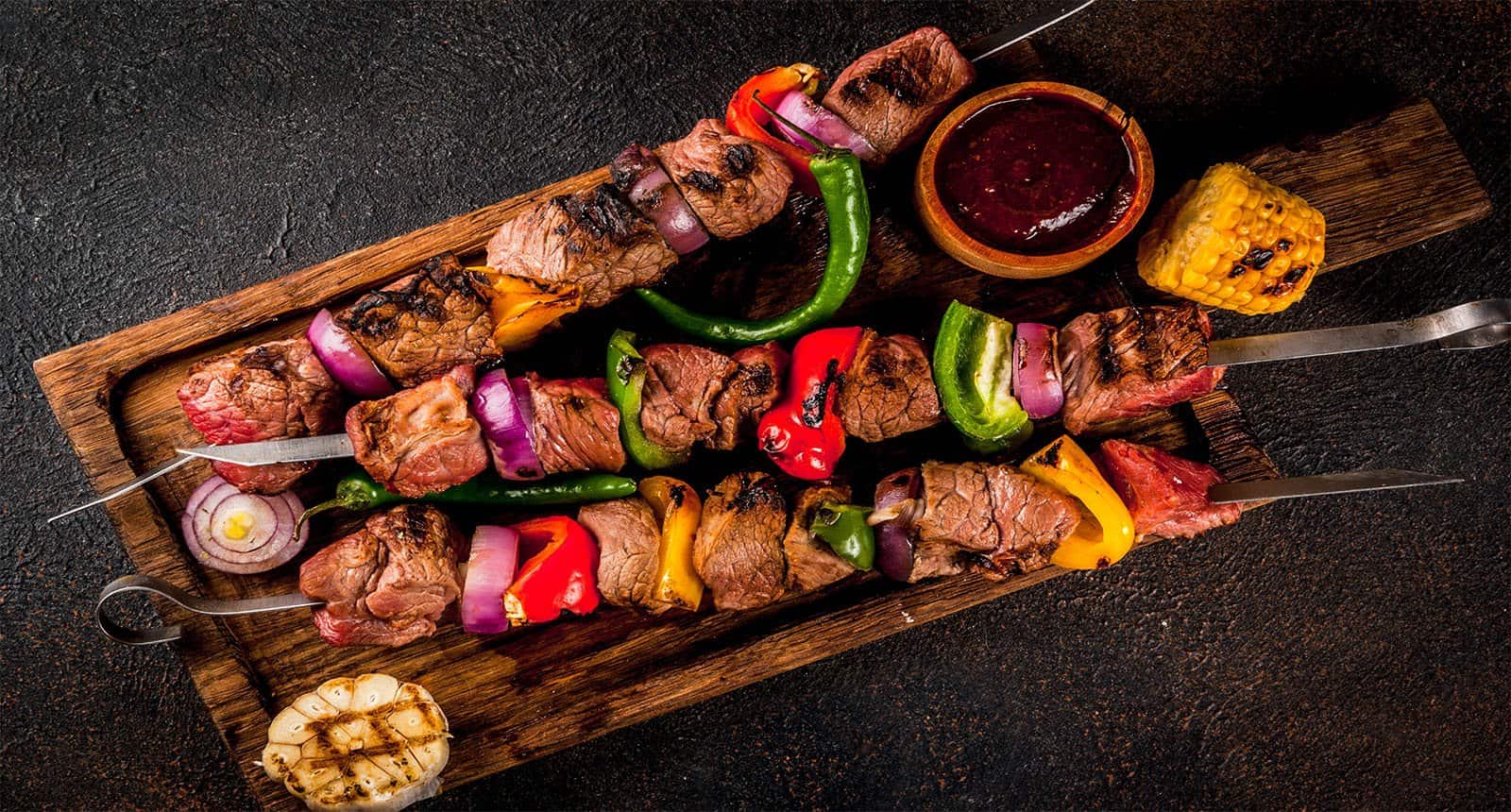 Kabob (aka Kebab) is a combination of meats and various vegetables with honey and teriyaki sauce. Originating from the Middle East, this is one of the perfect dishes that can prevent meats from losing their moisture.
You can choose chicken or steak to prepare the dish, and the key to making it become excellent is to marinade all ingredients for up to 24 hours during the refrigerated condition.
The longer you marinate, the more flavorful the dish is; however, you should keep them for up to 1 day since if they are exposed to the sauce too long, the sauce can change the texture of ingredients.
Another way to make your treat more pleasant is to make some kabobs' accompaniments. They could be salads, potatoes, or rice dishes.
You can learn how to cook beef kabob by watching this easy-to-follow video.
2. Kansas City-Style BBQ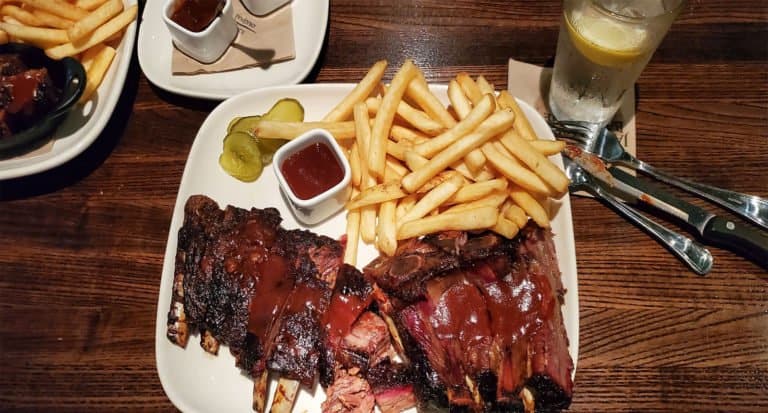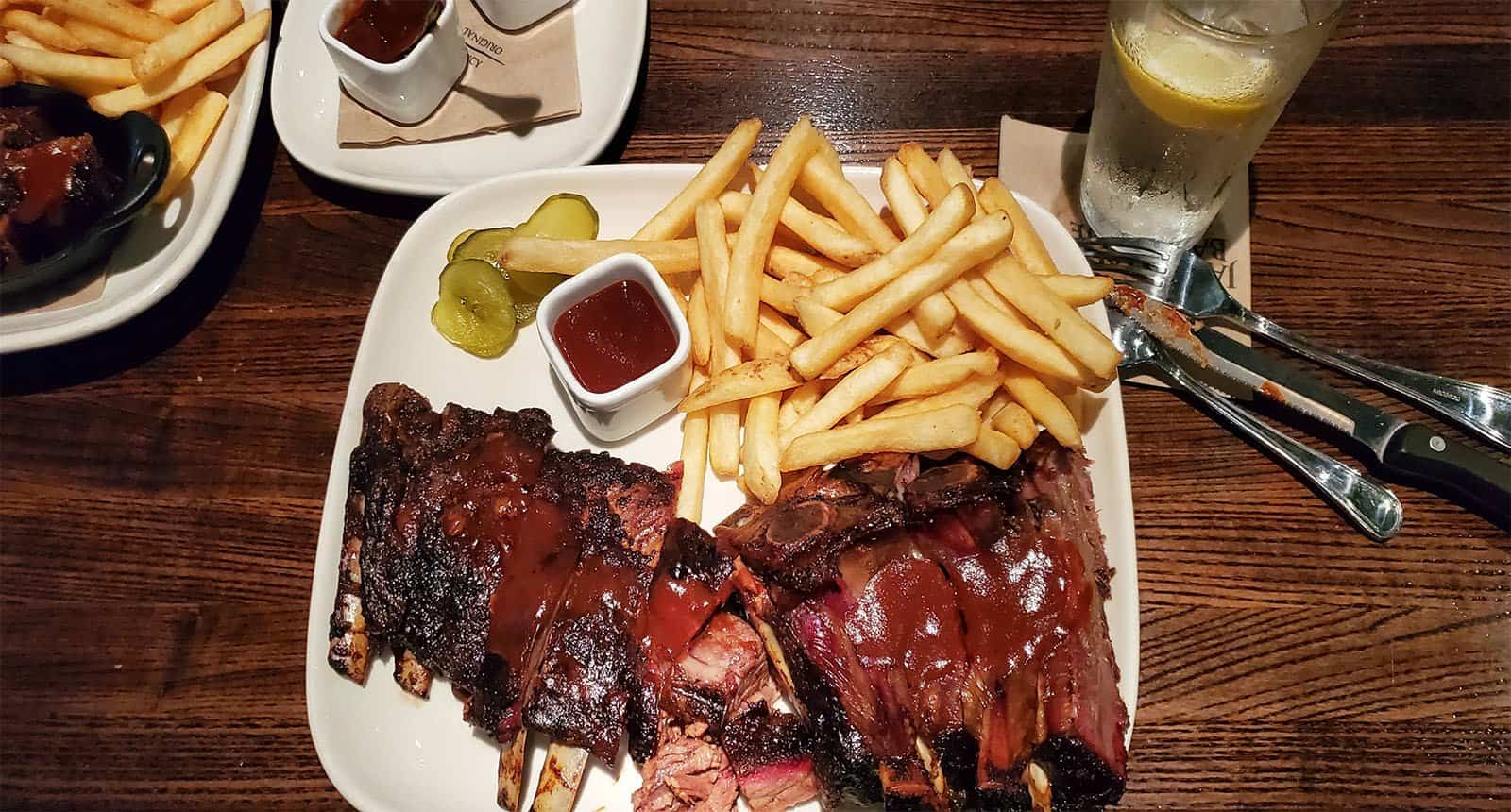 Hailing from the early 20th century, this dish has been an important dish at any BBQ party in Kansas City.
Overall, you can taste a smoky hickory flavor from the hickory wood chips people use to cook it. With the sauce made mainly from tomatoes with other spices, these BBQ treats are both tangy and spicy.
Plus, you can use diverse meats, such as beef, pork, chicken, lamb, turkey, or fish, to cook it. You will cook the meat according to slowly-smoked meats and attract people to enjoy it through its aroma when you hold a BBQ party outside.
Are you curious about how to cook Kansas City-Style BBQ? Let's check this cooking clip.
3. King Crab Legs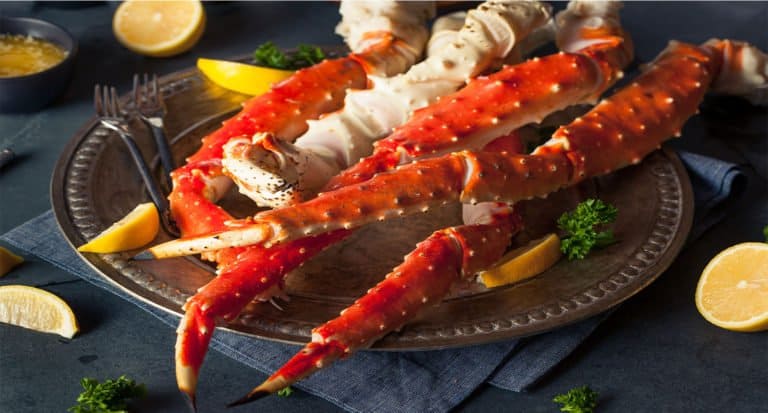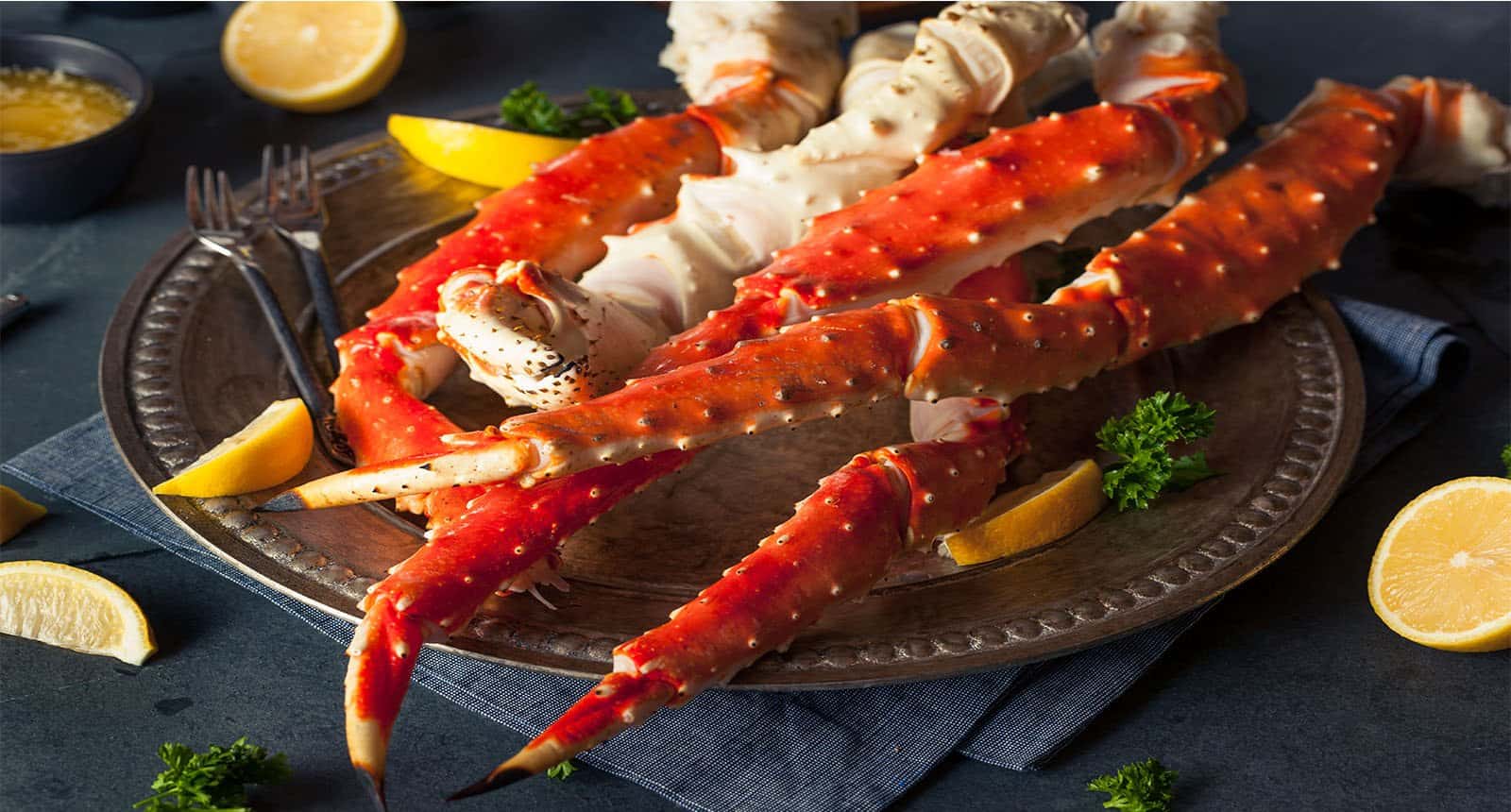 King crab is considered a luxurious food, and not all people can afford to taste them. However, you can purchase King crab legs at a more reasonable price. The sweet taste, rich profile, and tender texture will make you unforgettable.
You can cook them in various methods, such as boiling, steaming, and baking. To keep all the flavor of legs, you shouldn't remove their shell. If you steam them, then enjoy them with garlic butter and lemon wedges for the best experience.
King crab legs are expensive food, so they shouldn't be wasted. If there are any leftovers, it is very important to know the right ways to reheat crab legs. No one wants to eat overcooked king crab legs, do they?
Moreover, you should cook them carefully to avoid wasting them, and this video is worth watching.
4. Kingfish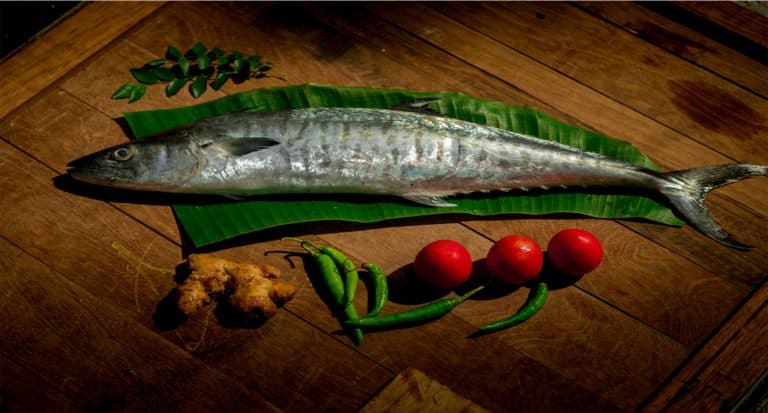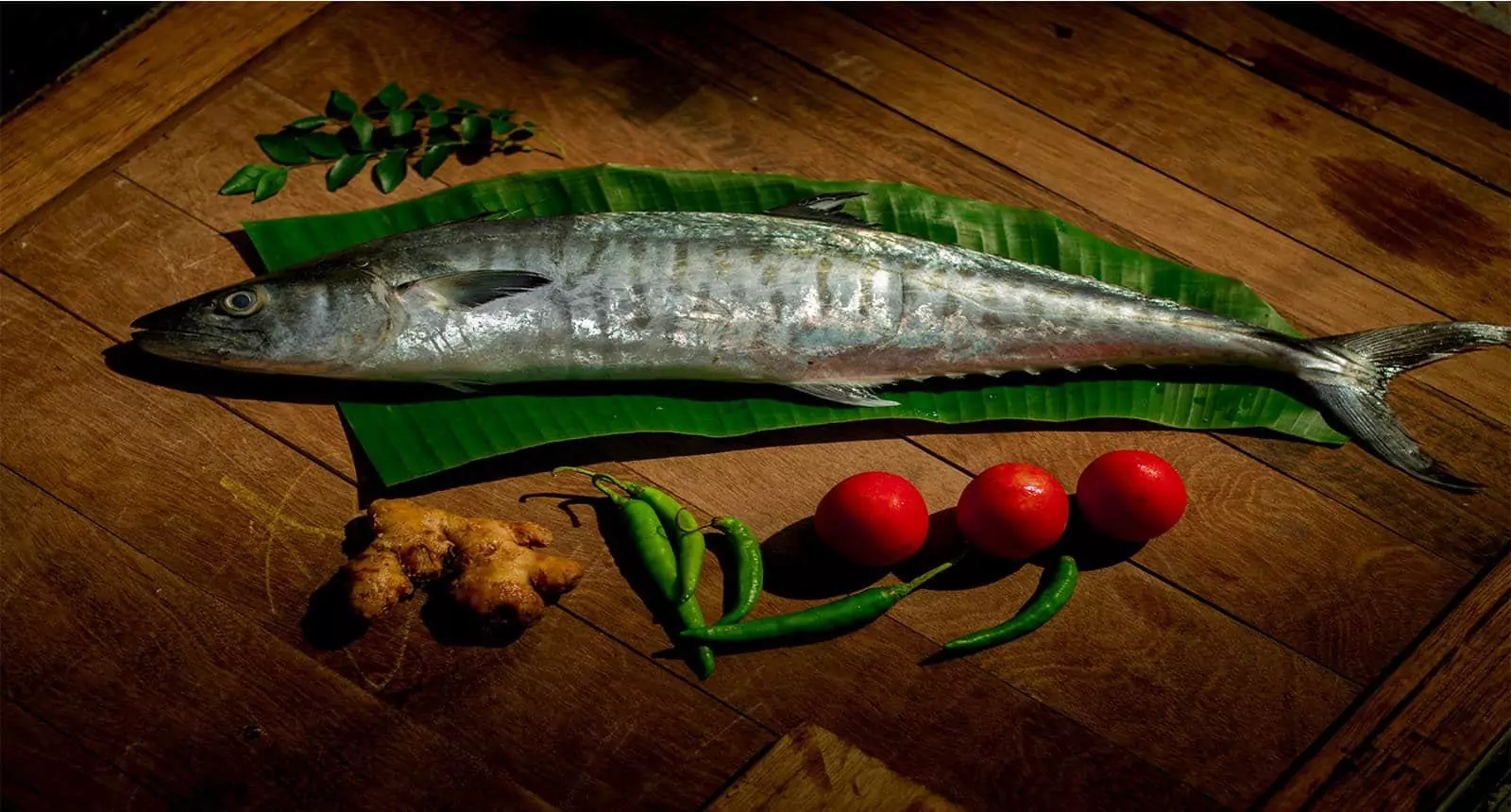 Kingfish (or king mackerel) live in the natural cold and clean water, and many people have become fans of this fish after enjoying it. Kingfish contains omega-3 significant fatty acids that are excellent for your health (1) .
You can make various dishes from this fish, but I recommend trying to taste sashimi. You will find it soft, naturally sweet, and with a dedicated tender texture you cannot find in other sashimi.
However, you should note that the taste and texture of kingfish may vary depending on the specific type of it and how it is prepared. Plus, it is important to consume it in moderation due to some species' mercury contamination risk.
5. Kipper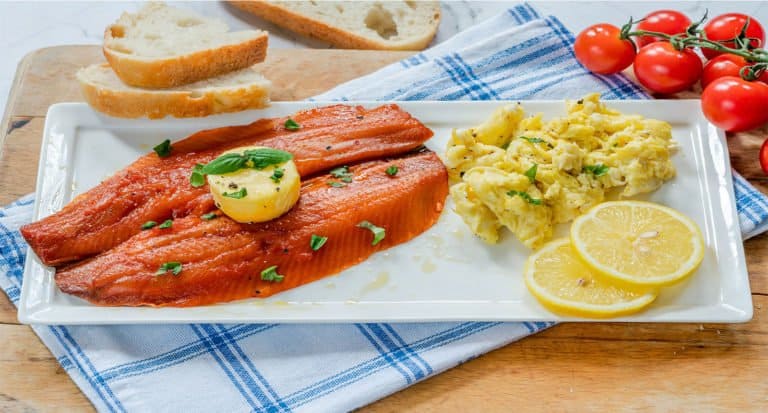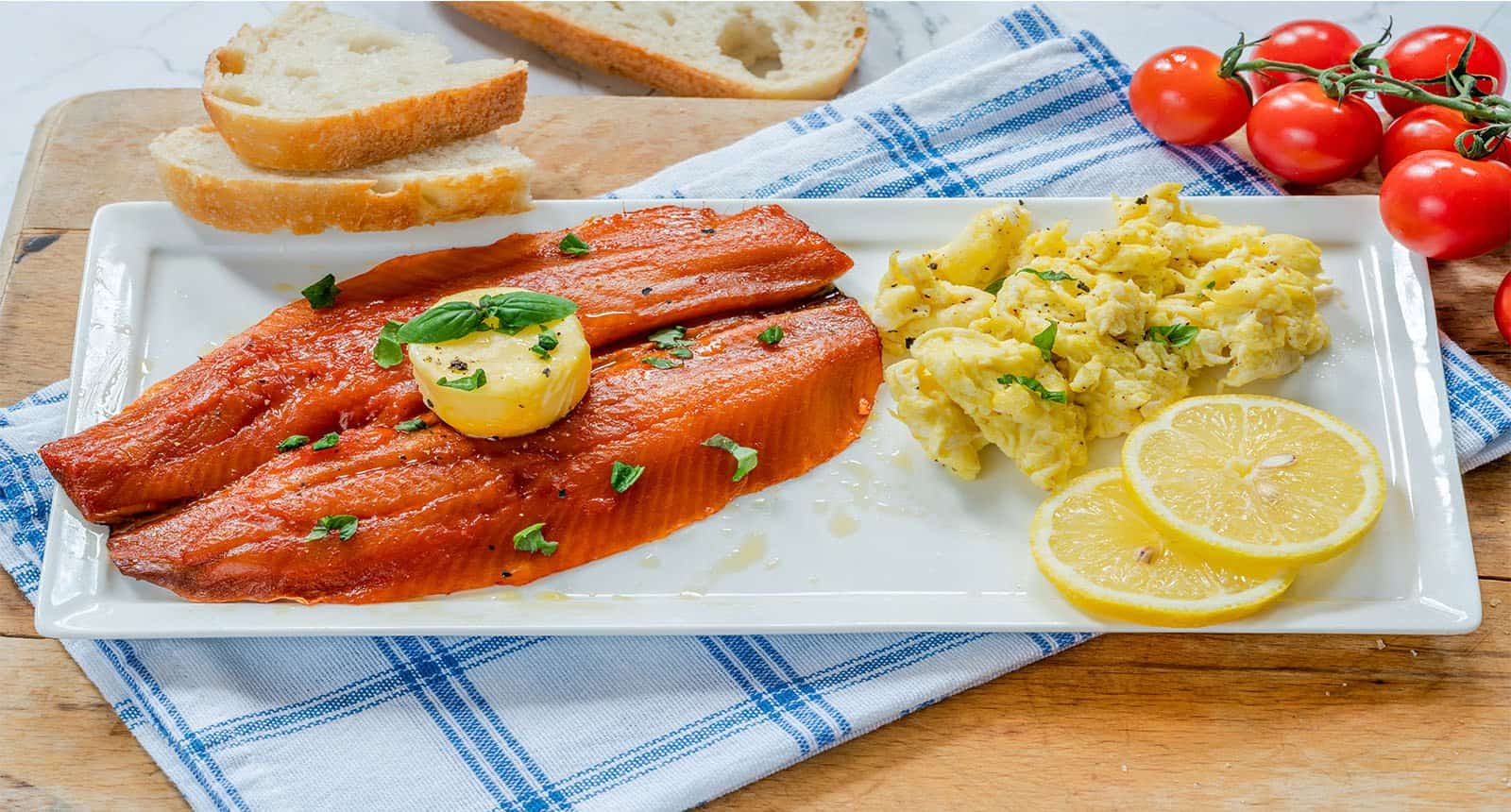 Indeed made from herring, kipper is an oily fish that's often split open and smoked. This process gives it a distinct salty, smoky, and fishy flavor many people adore. In the UK, kipper is a popular breakfast choice, typically savored with melted butter.
Kippers can be used to make a wide range of dishes, but the most famous one is smoked kippers. After catching them, you need to separate their bones and meat, then marinade filet kippers in salt water to eliminate as much water content as possible.
Cold smoking is a method used to process this food as it can upgrade the flavor of kippers without exposure to heat. The high-quality kippers will have a golden color.
6. Knockwurst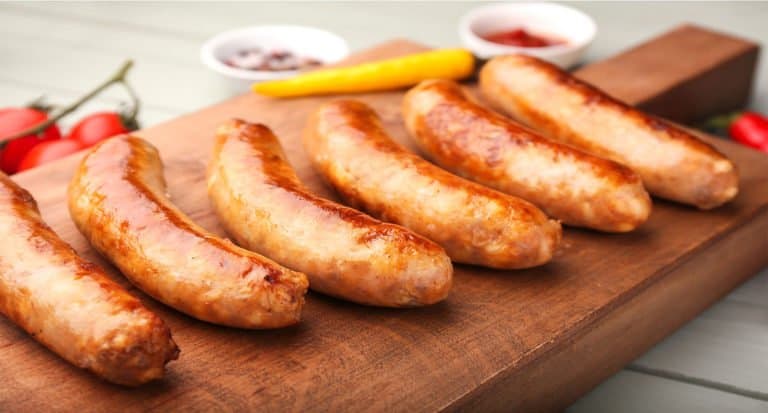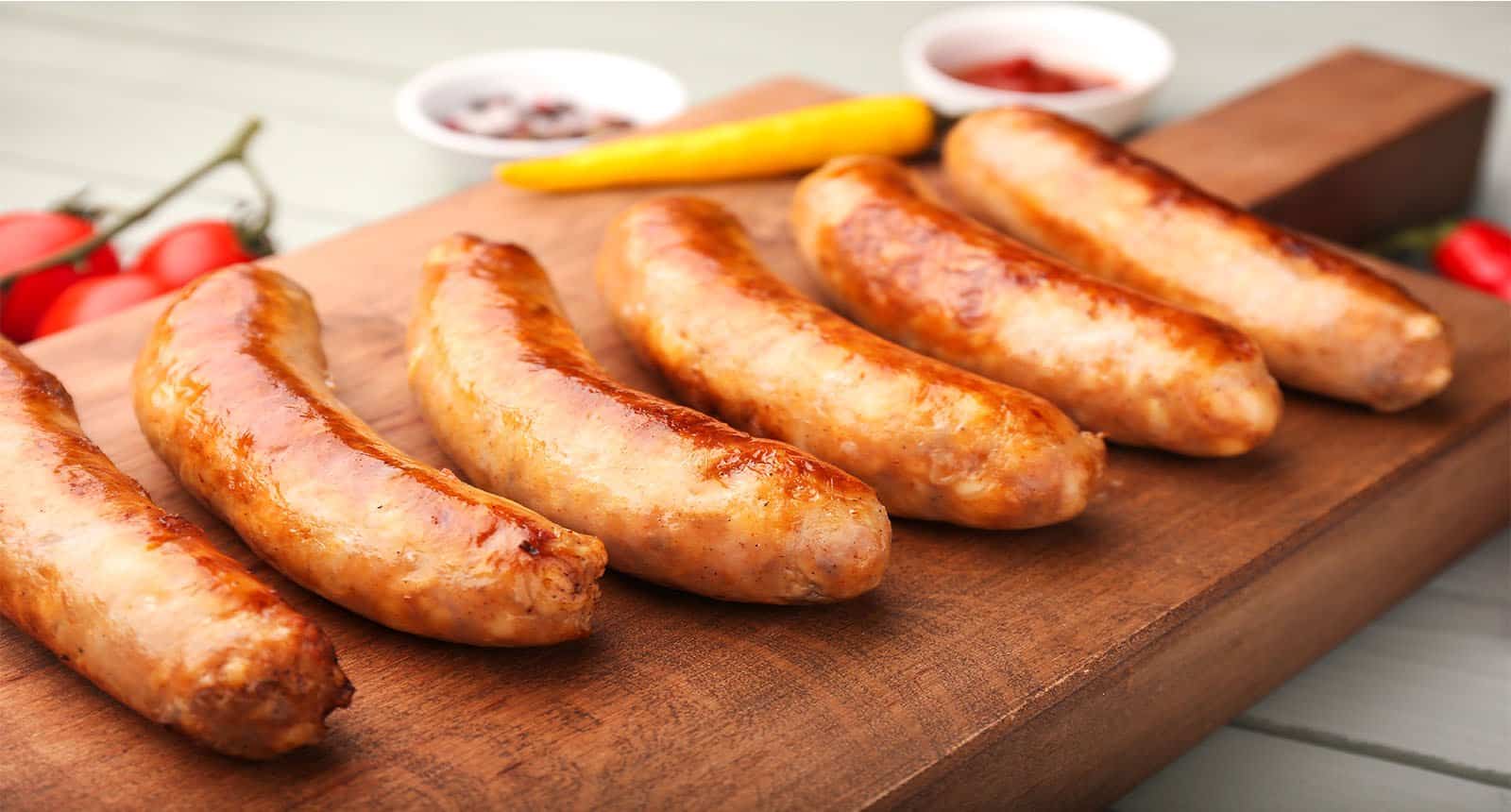 Knockwurst appeared for the first time in German in the 1810s. German sausages are well-known worldwide, and you have certainly eaten bratwurst and frankfurters, which are the most popular ones, at least once.
However, I will introduce you to another less famous sausage, but its taste is impressive: Knockwurst. It is made of two 2 kinds of meat: ground pork and veal, but you can use beef instead, and you cannot miss garlic which is the soul of the dish.
These sausages are relatively short and plump that are quite popular in North America. With its distinct garlic taste, it boasts a more robust flavor compared to bratwurst. One noticeable difference is the color; while knockwurst has a more reddish or orange tint, bratwurst appears pinkish.
The exclusive feature of this food is to age for several days before smoking with oak wood. You don't need to worry about the sausage being dried as if you cook it properly, the first bit is full of juice.
7. Kedjenou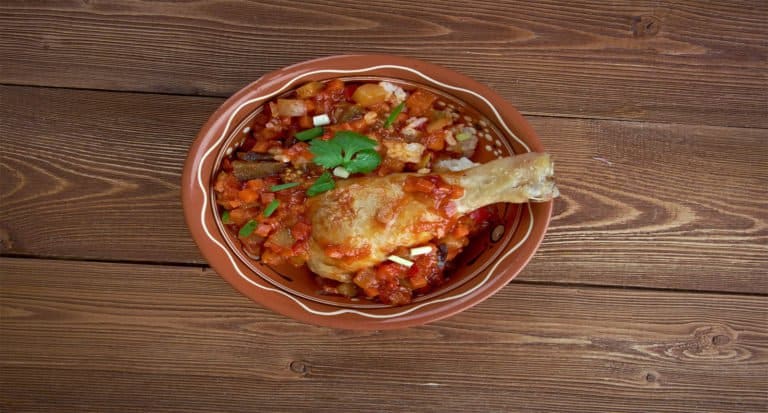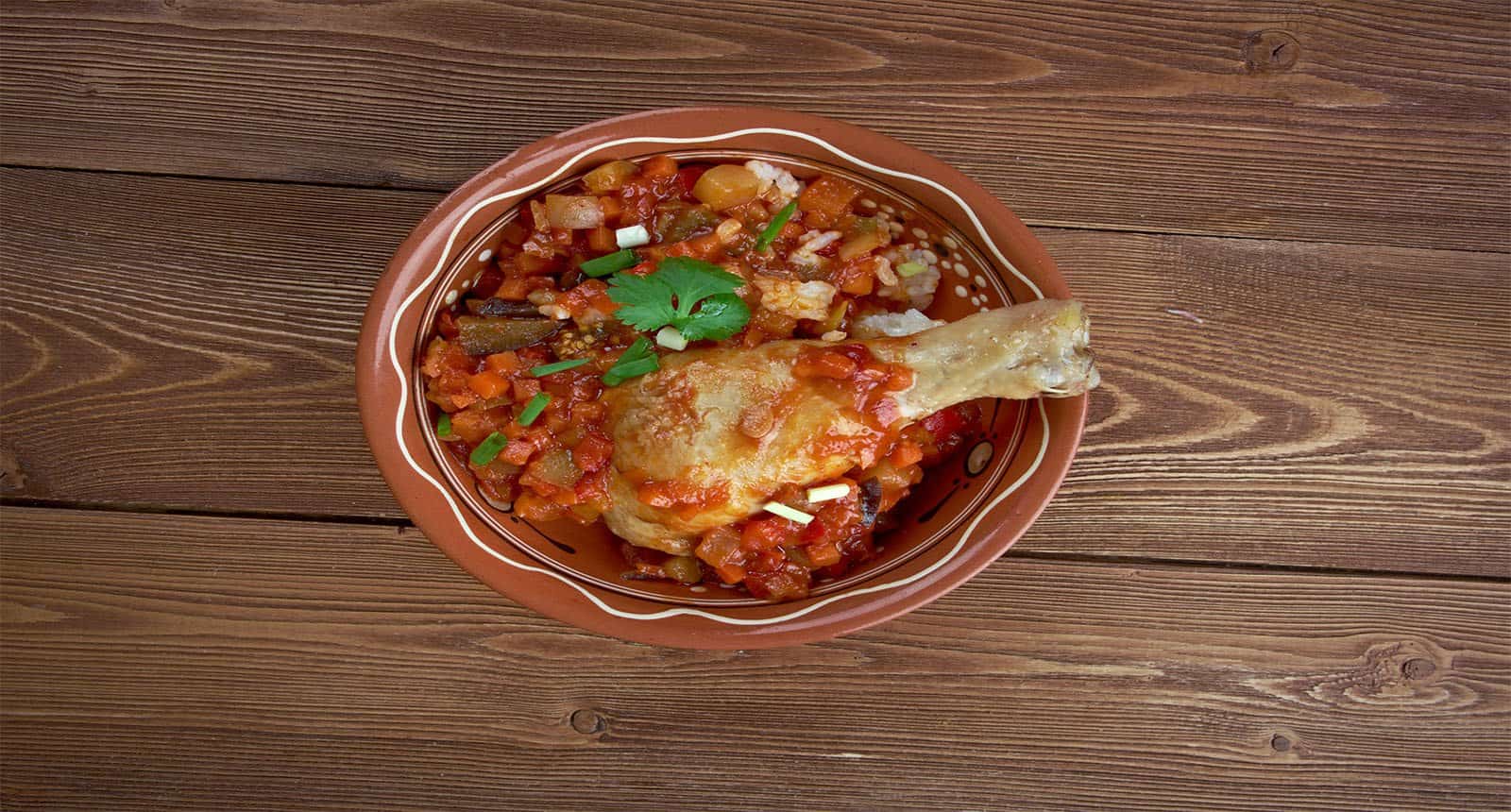 Here is a stew dish from Ivorian cuisine called Kedjenou. Its red color can forecast for you a spicy flavor coming from habanero peppers and paprika. You can cook this food for your family at the weekend, especially on rainy days since the hot and spicy soup will warm you.
You can choose any meat you like to cook, such as chicken, beef, seafood, and pork. Besides, don't forget to supplement fibers by adding different veggies like eggplants, bell peppers, tomatoes, and onions. Believe me; you will not be disappointed when trying this stew soup.
8. Kitfo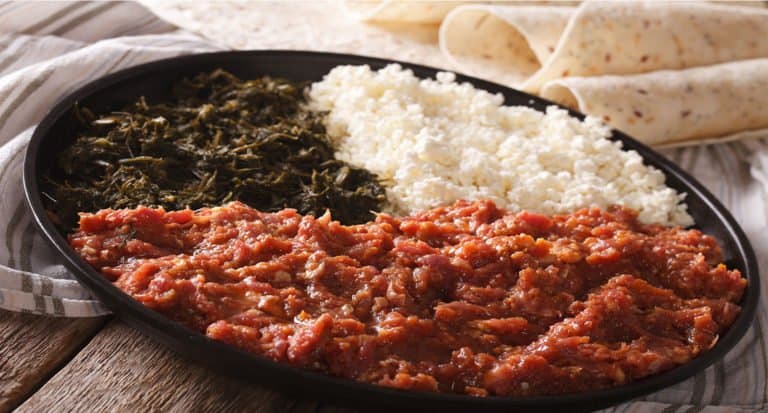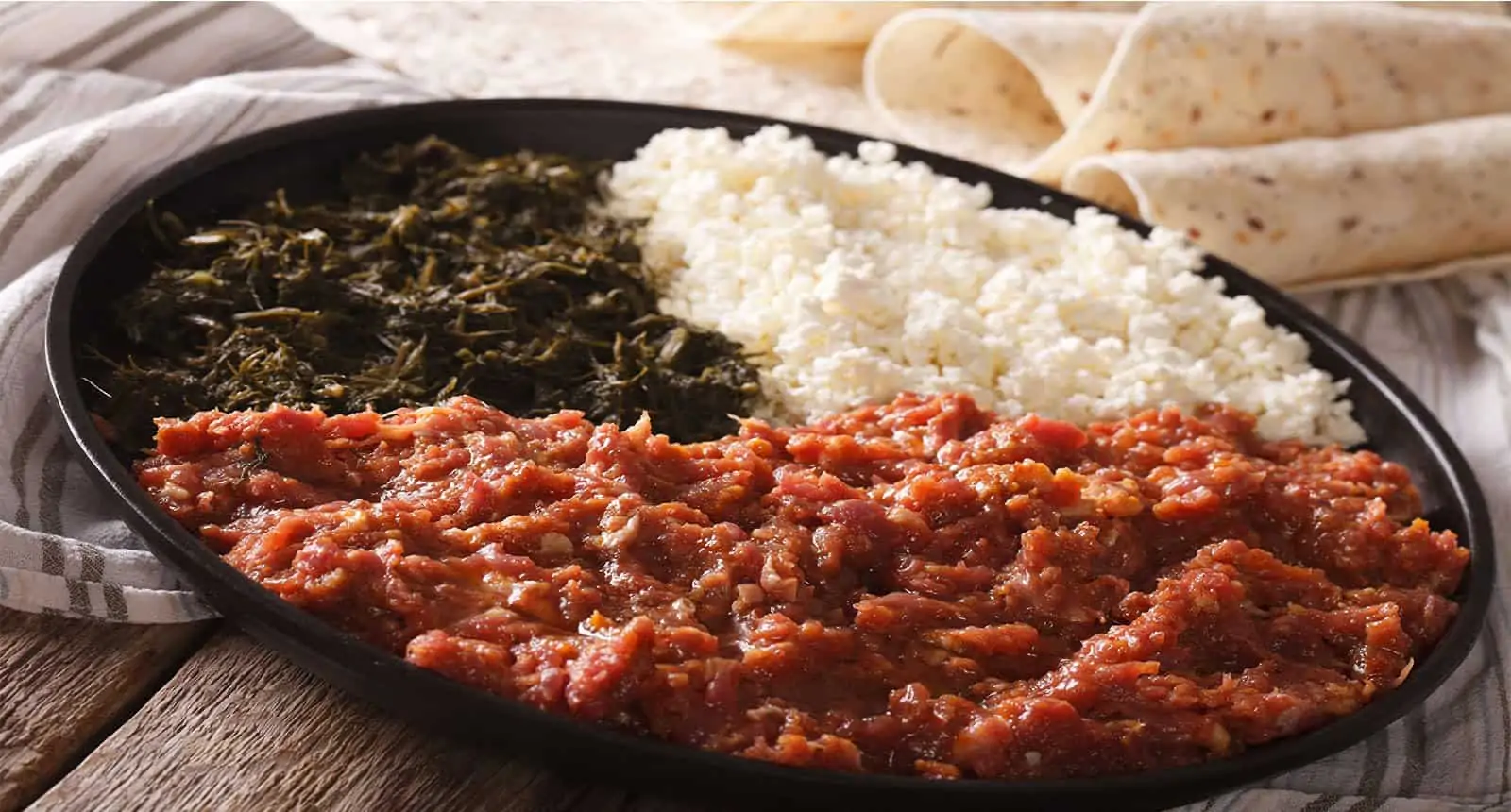 This is a traditional dish from Ethiopia – Kitfo. This dish is made of raw minced lean beef with various spices (called mitmita in Ethiopian). It includes red pepper powder, salt, and mustard seed. The topping is seasoned butter with korerima, koseret, and aiwan seed.
You can taste the exclusive flavor of raw beef with condiments without the fishy smells of beef. For a flavorful meal, eat this food with injera or serve it with mild cheeses, leafy greens, and ensete leaves.
Finally, you should enjoy Kitfo at restaurants since the experienced chefs always know to choose fresh and safe beef for eating raw.
9. Kung Pao Chicken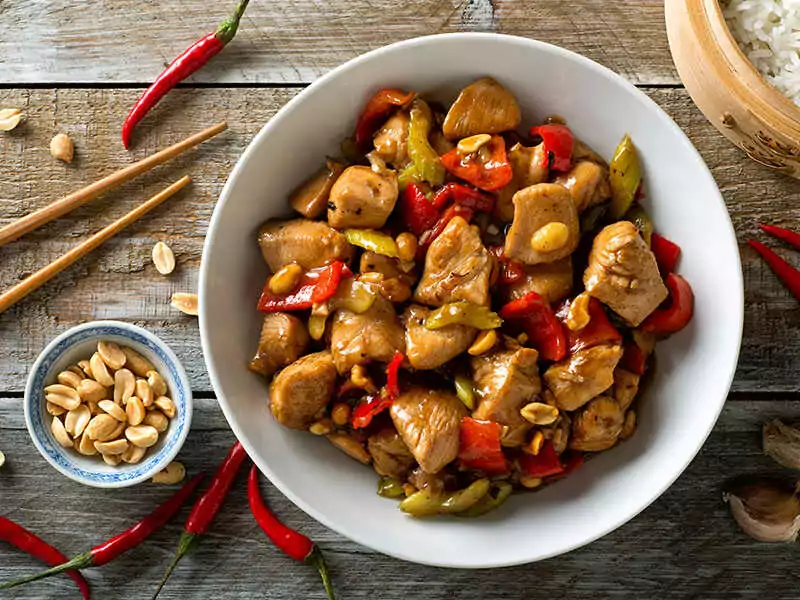 Kung Pao chicken, also known as Gong Bao or Kung Po, is a delicious stir-fried dish from China's Sichuan province. The dish combines cubed chicken, soy sauce, dried red chilies, and Chinese-based ingredients, such as Sichuan peppercorns, black vinegar, and rice wine.
For that, the dish offers a delightful blend of sweet, sour, and mildly spicy flavors, mainly coming from the pepper. Just remember, it's not the same as General Tso's chicken, which is deep-fried instead of a stir-fried delicacy like Kung Pao chicken.
10. Kielbasa Sausage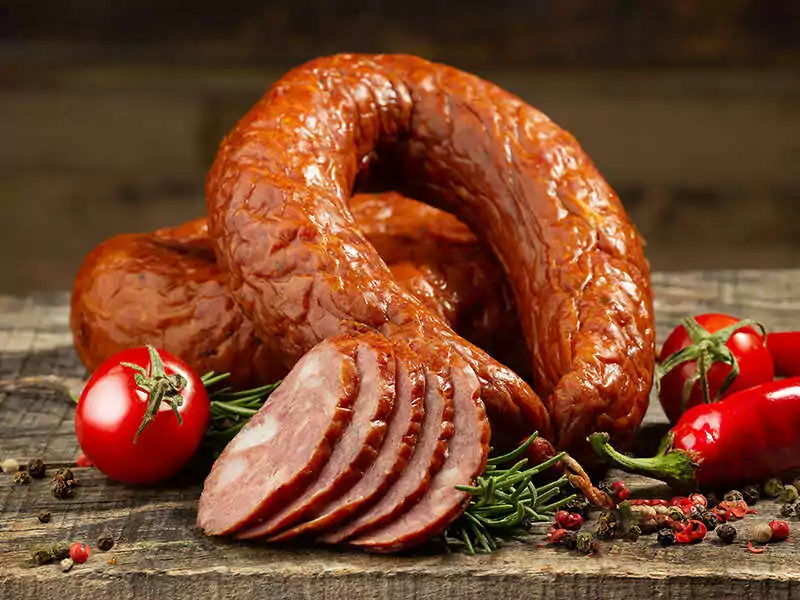 Kielbasa sausage is a Polish term for any kind of sausage made from a variety of meats like beef, pork, lamb, turkey, veal, or chicken. People often season it with garlic, marjoram, cloves, and other spices, giving it a unique garlicky taste.
Shaped like a horseshoe, Kielbasa is not only delicious but visually appealing too. Try serving the sausage with mustard and sauerkraut, or pair it with polenta, potato salad, mac and cheese, or grilled veggies for a delicious meal!
11. Kare Kare (Filipino Oxtail, Vegetable & Peanut Sauce Stew)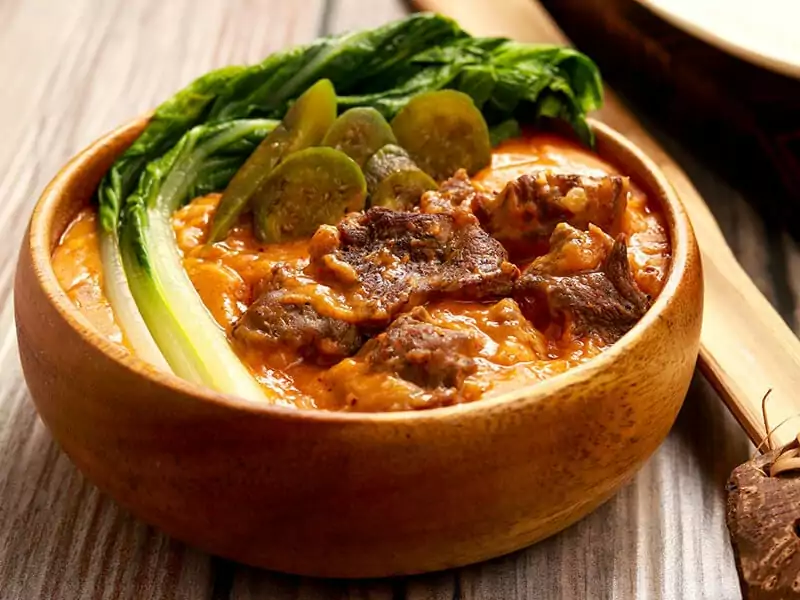 Originating as a Philippine stew that features oxtail, beef tripe, or pork cuts, Kare Kare lets people indulge in a savory, peanut buttery, and slightly sweet sauce. This thick and rich stew is loaded with vegetables and tastes best when served hot alongside plain white rice.
Furthermore, Kare Kare gets its name from the word "curry." And if you can visit the Philippines, you can find the dish a popular option at many locals' feasts.
Grains, Legumes, and Starches
12. Kasha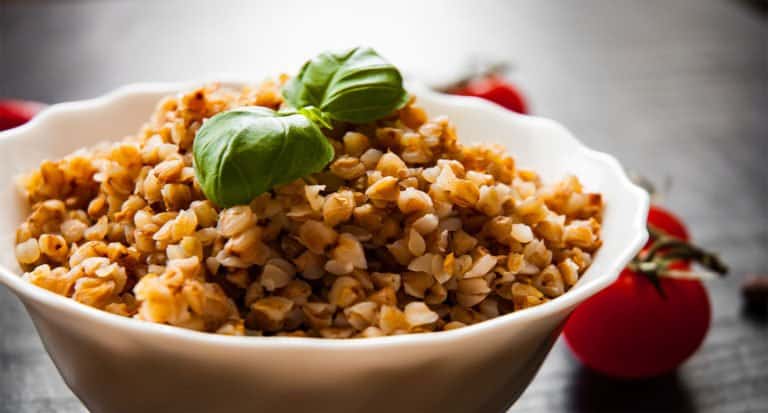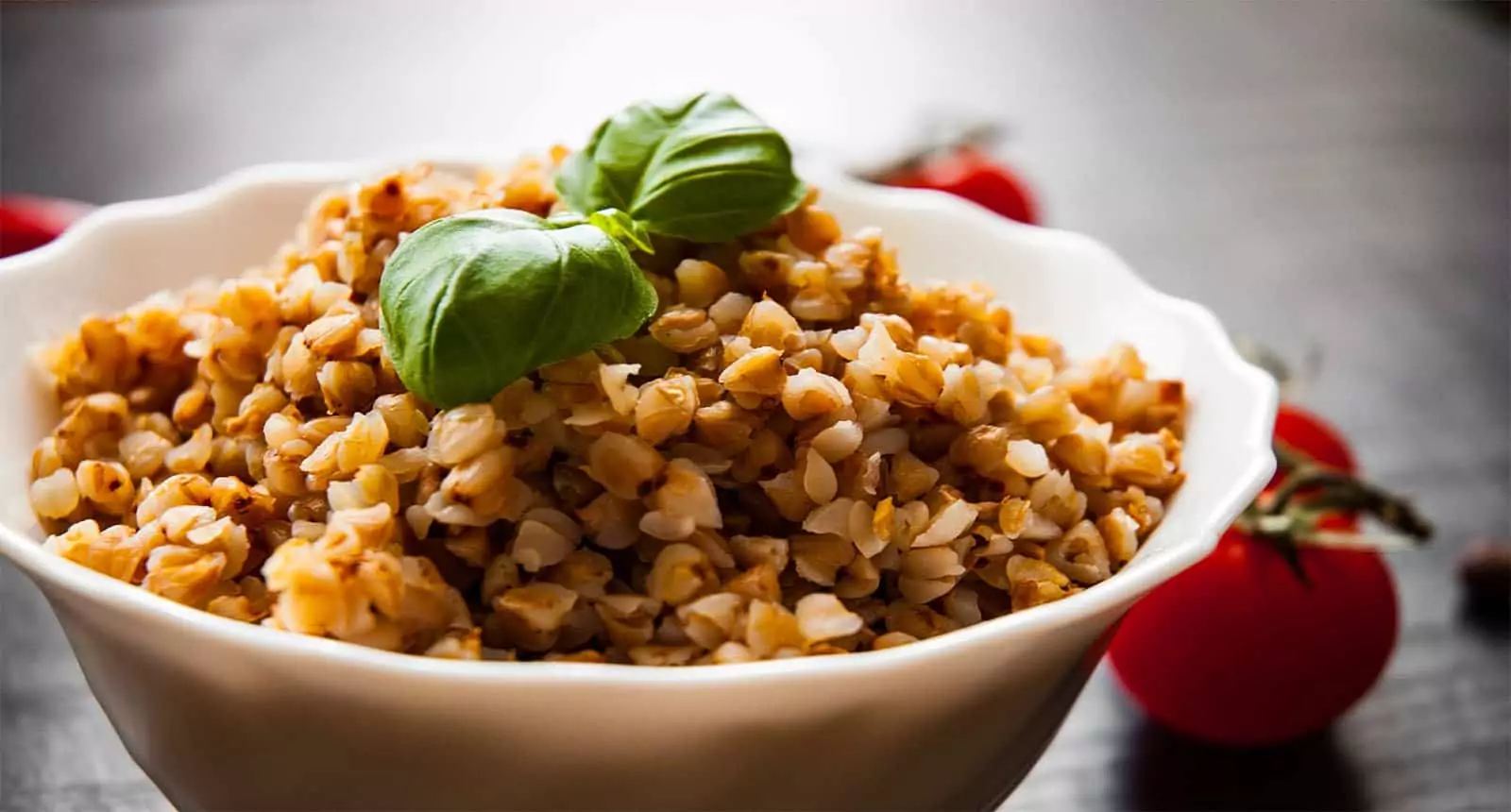 Have you ever heard this name? Kasha is a well-known dish in Eastern Europe and in Jewish communities. It is used as a porridge style or cereal. Kasha is made from buckwheat groats. Roasted groats have nutty and strong profiles.
The method to cook porridge is you need to roast groats first, then leave them to soak into water (or milk) for a few hours and simmer them until you find them soft and quite thick consistency. Plus, it has a special earthy and nutty taste, which can replace quinoa, rice, or other grains.
If you want to follow buckwheat groat cooking instructions, don't miss this detailed video.
13. Kidney Beans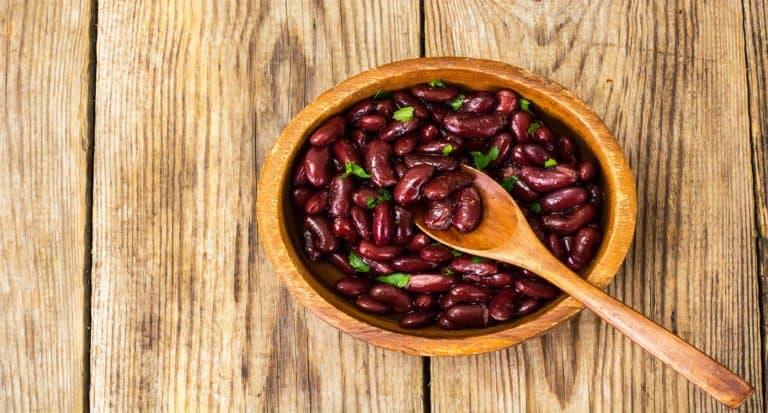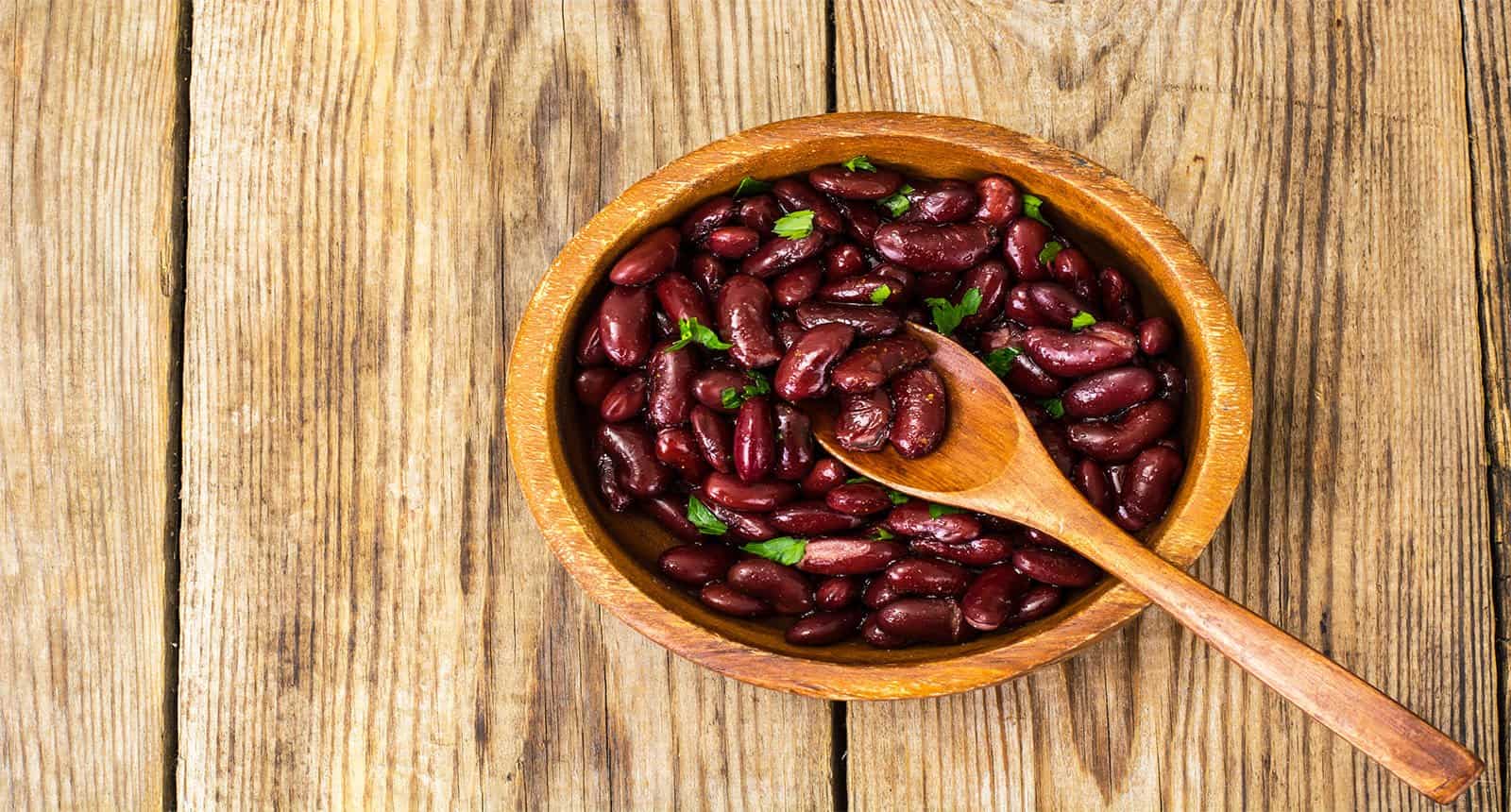 Kidney bean is a kind of Phaseolus Vulgaris – common bean. They are named according to the colors and the shape of the beans. Their red color and shape look like human kidneys, which is why many people call it that. These beans can be classified according to their color changes from red, light red, to white.
Kidney beans' flavor is slightly sweet and soft after cooking. They appear in various cooking dishes such as chili con carne, Creole, and more. Besides their versatility in cooking, they are a nutrient-packed food as it is rich in iron, phosphorus, potassium, fiber, and more (2) .
Cooking kidney beans is not too complicated, but you should know some tips when cooking them through this recommended video.
14. Knishes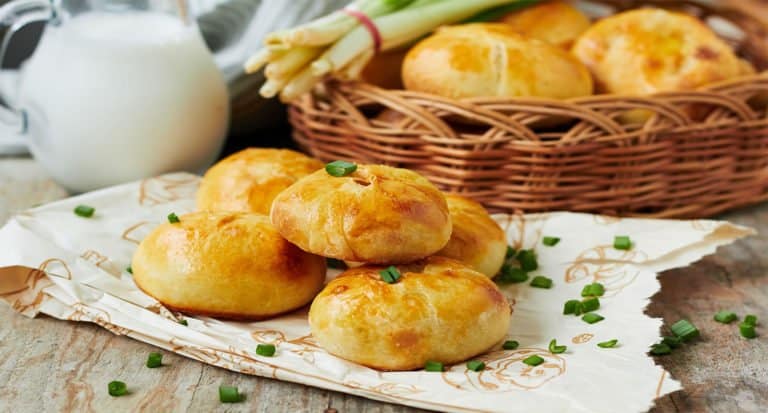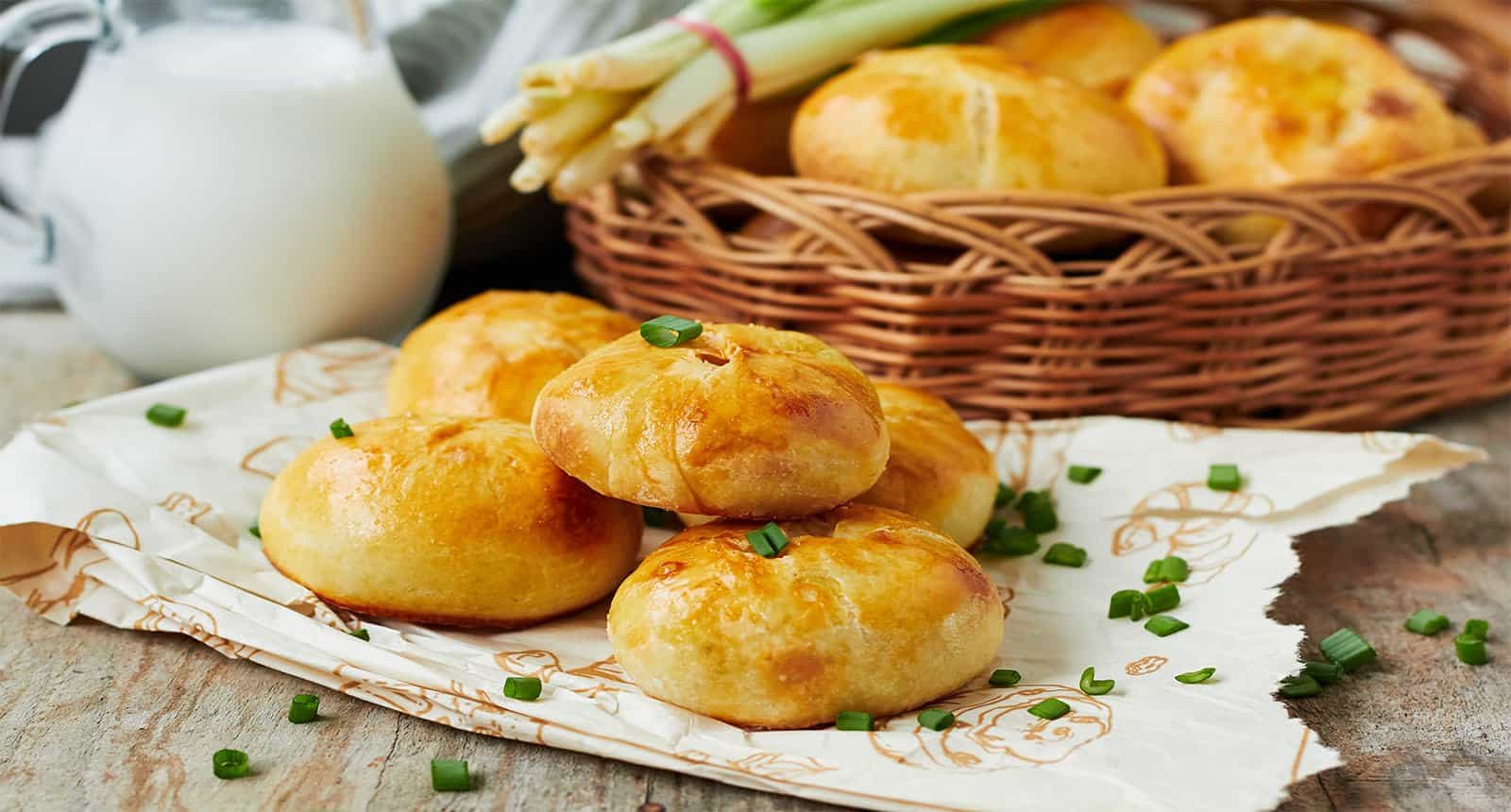 Have you ever tried knishes? This dish has the dough to cover all ingredients and deep-fry or bake them. The knishes will be shaped into round balls or squares.
You can make them with traditional flavor with mashed potatoes with seasonings or modern flavors with meat, cheese, onion, or even spinach. These treats are crispy with sweet and salty filling ideal for preparing them for your kids to bring to school for snack time.
This traditional Ashkenazi Jewish snack food is simply mouthwatering when enjoyed with mustard. With a thin dough exterior, knishes are distinct from pierogi, which have a thicker dough. You can grab one from a street vendor in Jewish urban areas or at some butcher shops.
Let's see how to make knishes through this short clip from a famous chef.
15. Kenkey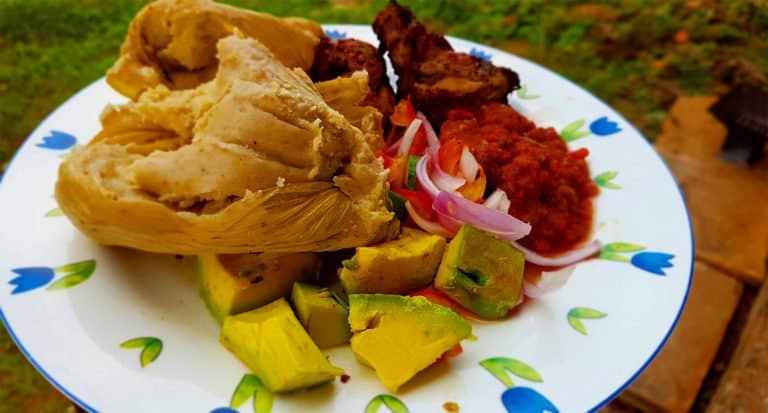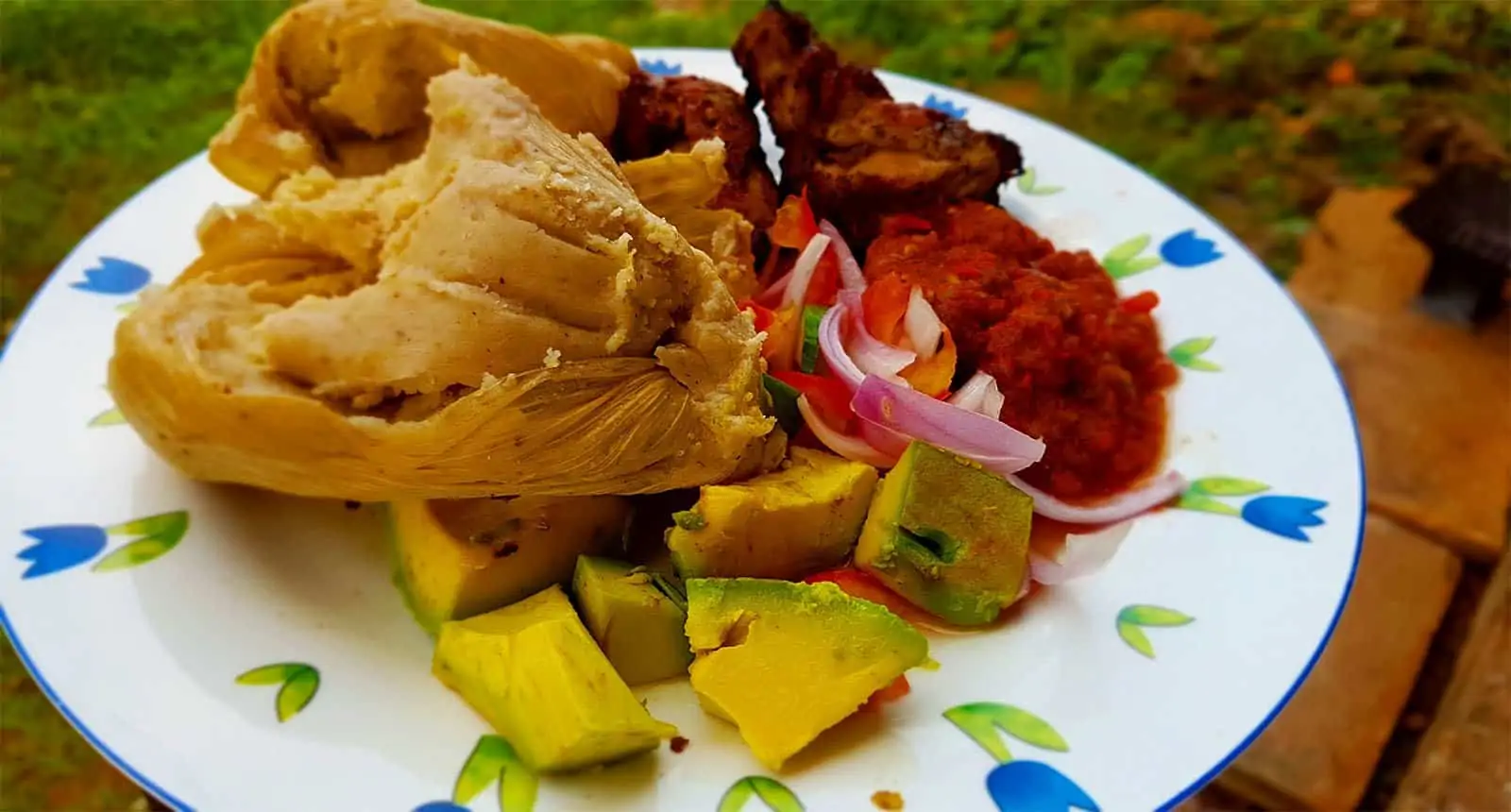 Kenkey is a well-known dish in Ghana and made from fermented white ground corn; thus, you will find it a little acidic when tasting it. You can wrap this ingredient in banana leaves and steam it for several hours.
The bread or dumpling-like dish is known as komi by the Ga people and dokono by the Fante people. With a soft yet pliable texture, it's a versatile staple that pairs wonderfully with tomato-based sauces, soups, stews, and even fried fish.
16 Kedgeree (Curried Rice With Smoked Haddock)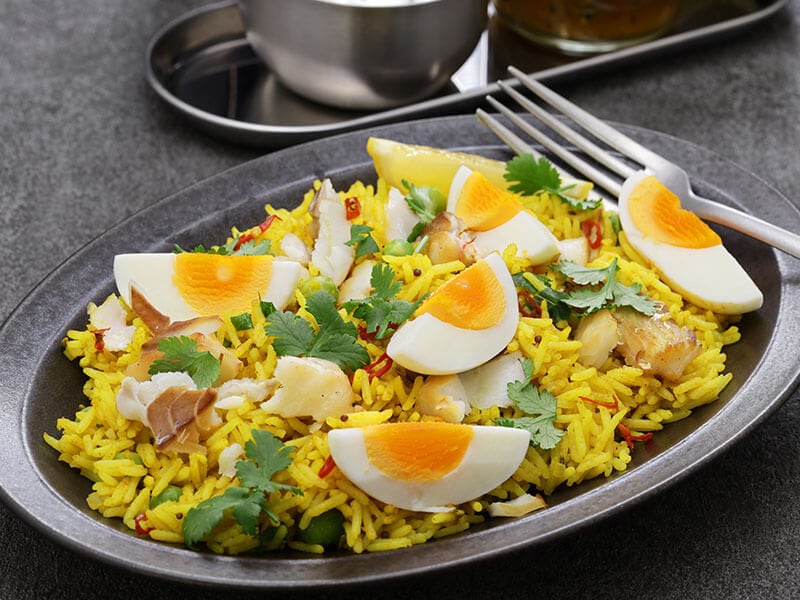 This incredibly flavorful dish has an Indian root that comes from the traditional Khichri and has gained quite a following in the UK.
Kedgeree meal includes cooked flaked fish (usually smoked haddock), rice, parsley, eggs, curry powder, butter or cream, and spices.
Originally served as a breakfast dish, this comforting and wholesome meal is also available at lunch or dinner as well.
17. Koshihikari Rice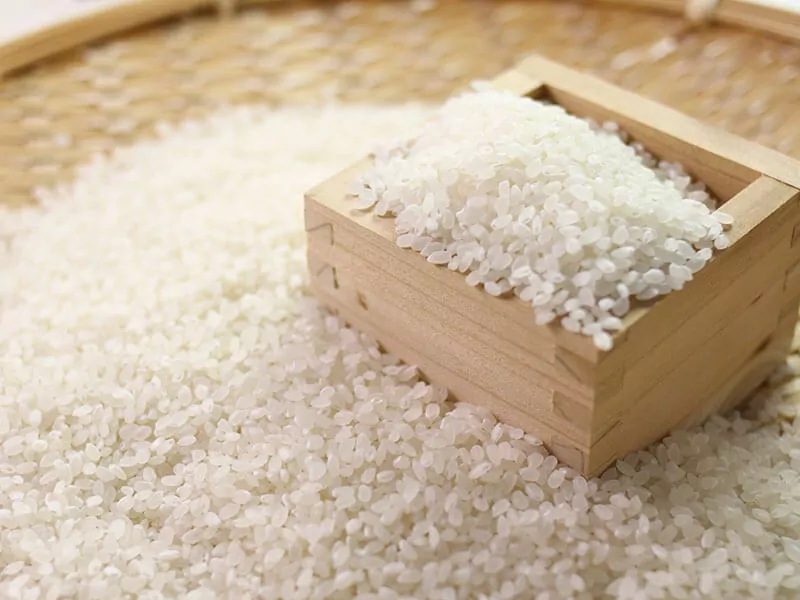 Koshihikari rice, a premium short-grain Japonica rice cultivar, gets its name from Japan's historic Koshi Province. Today, it's grown in Japan, Australia, and the United States.
These grains are pricier than regular rice, with a sticky, chewy texture, making it a top choice for sushi and other short-rice-based dishes.
18. Konkonte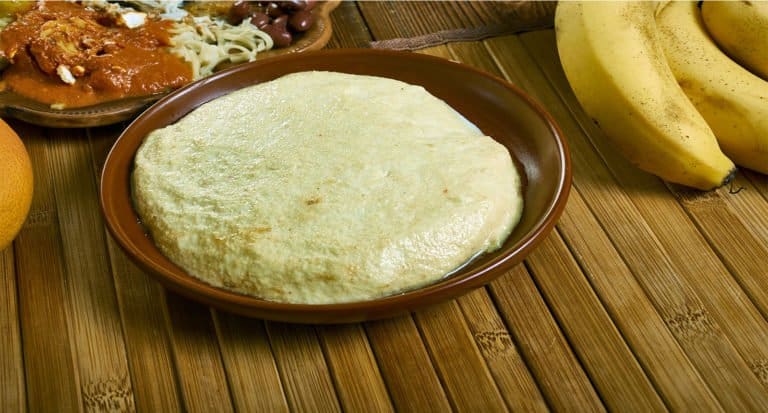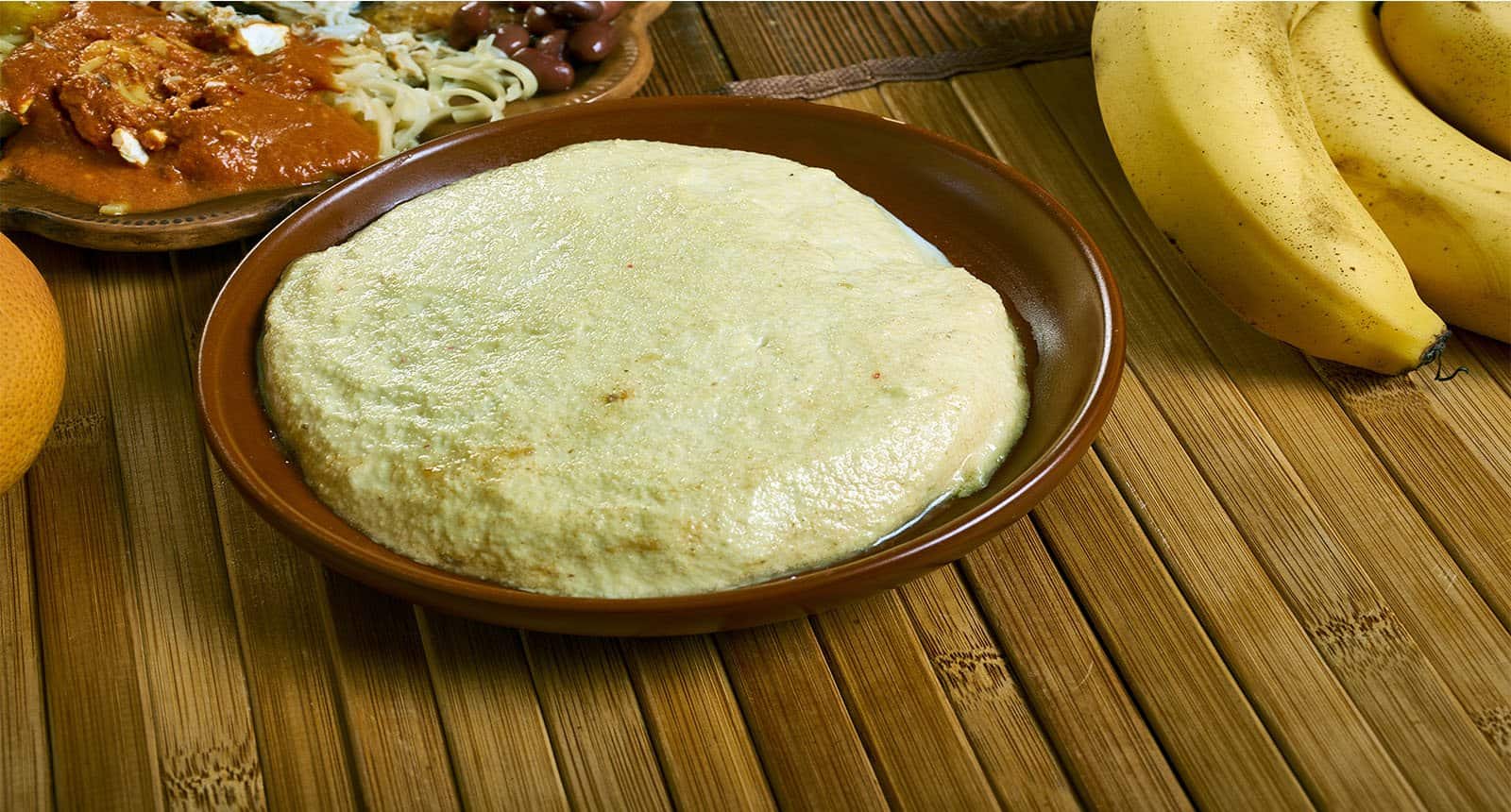 Konkonte (or kokonte, abeti3, and lapiiwa) is eaten popularly in West African and combined with groundnut or palm nut soups. The dish is made from pounded or dried cassava or root, manioc, and has an exclusive brown color when it is done.
After the cooking process, you need to scoop a konkonte into a bowl and pour these soups to enjoy. This dish doesn't take you much time to complete, but it is delicious to taste.
This is also a traditional Ghanaian dish that strongly associates with poorer households due to its low cost. Despite its humble reputation, this dish is a hot and satisfying meal for many families.
19. Koshari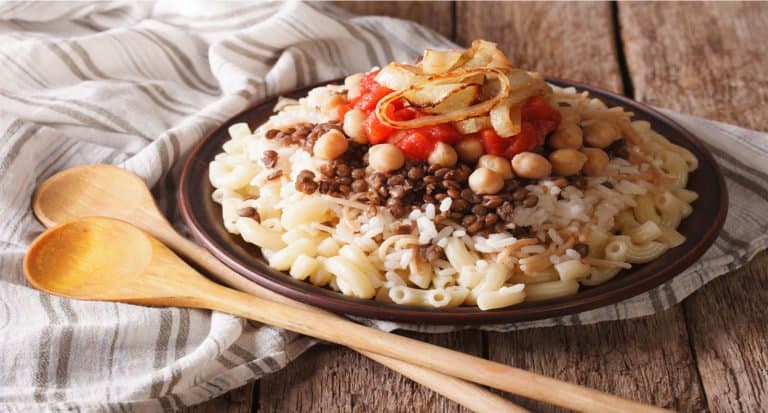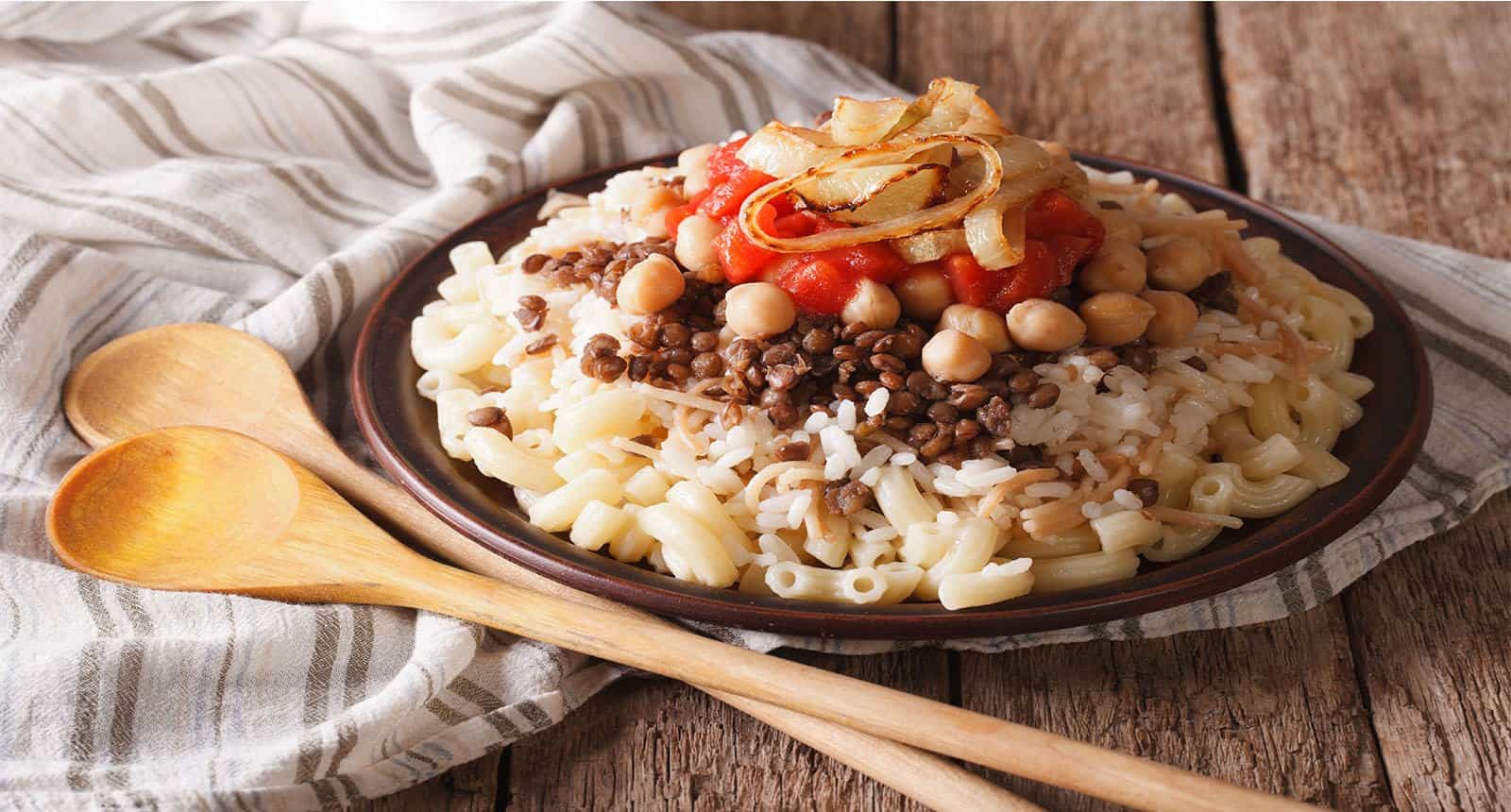 If you research Egyptian culture, you surely know the traditional Egyptian dishes, and Koshari is one of these dishes. Although it is street food, its flavor will make you shout "Wow".
This dish is a combination of common ingredients: rice, lentils, pasta, and more, and the topping is tomato or cumin sauce. It will take you quite a lot of time to prepare, but its taste is worth spending. You can feel a spicy and savory taste and frugal sauce.
Moreover, it is ideal for sprinkling garlic juice or vinegar before enjoying this dish. And it would be much better to serve Koshari hot or warm.
20. Kicha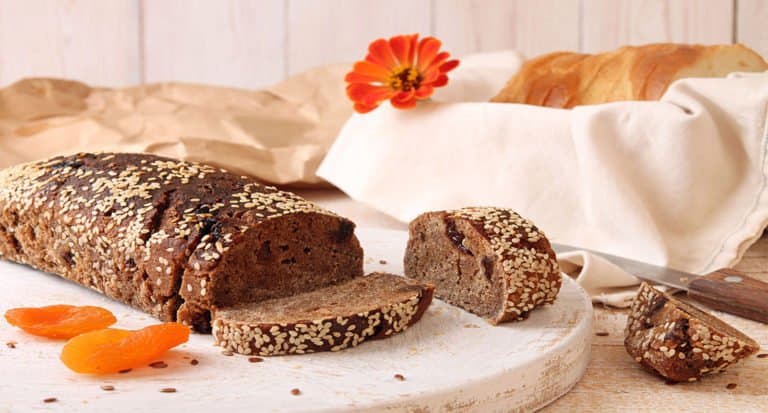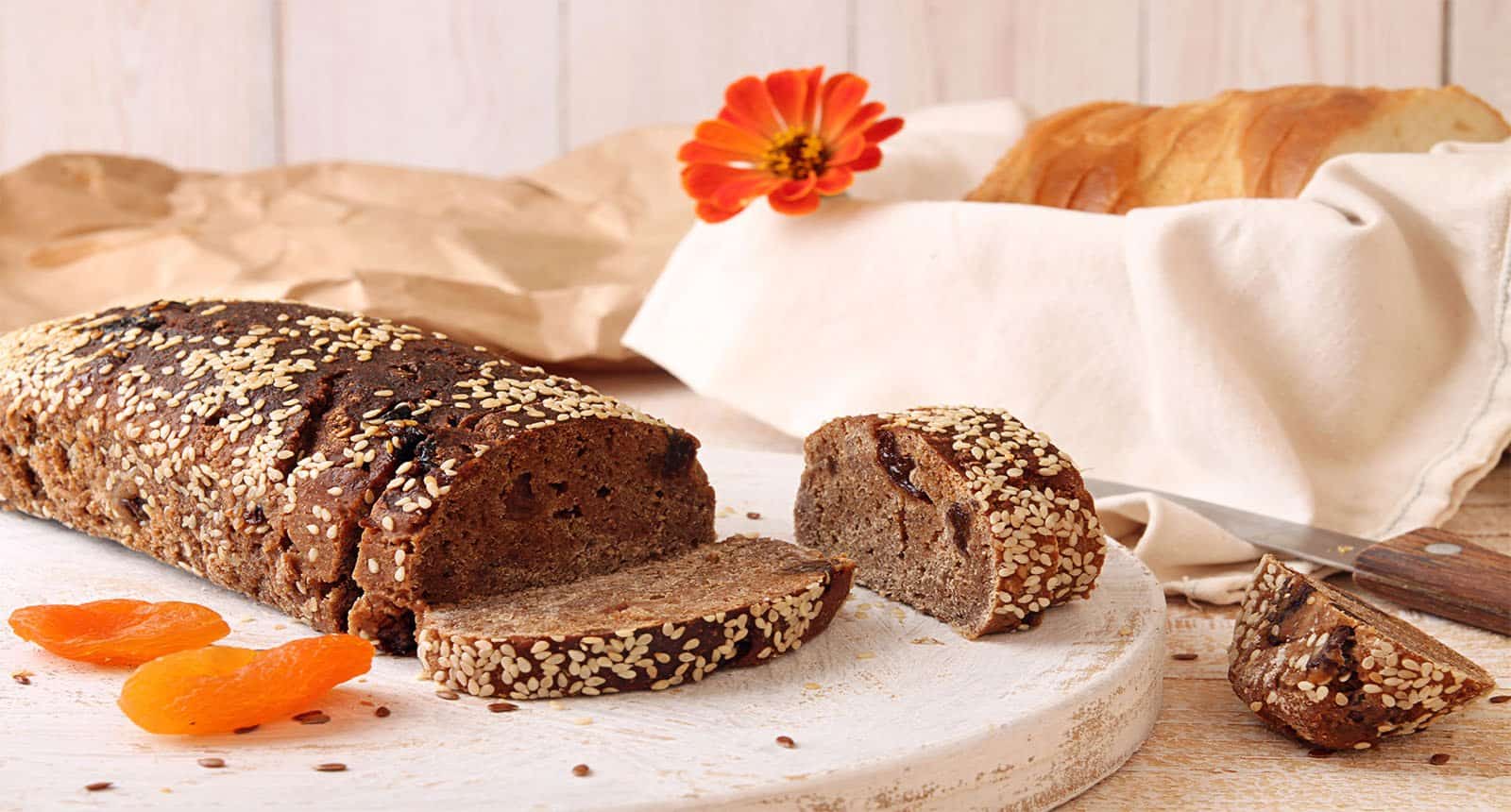 Kicha is a traditional dish from Ethiopia and can be used for breakfast. It is an unleavened bread that can rise naturally without supporting yeast.
You can make this dish with 3 basic ingredients appearing in any kitchen that are wheat flour, salt, and water. After mixing the dough, you need to bake it until it slightly burns, and you can find it quite spongy, like a pancake.
Finally, if you want to eat like a local, pair these bread slices with Kitcha Fit-Fit (a Ethiopian breakfast with sauce).
21. Koki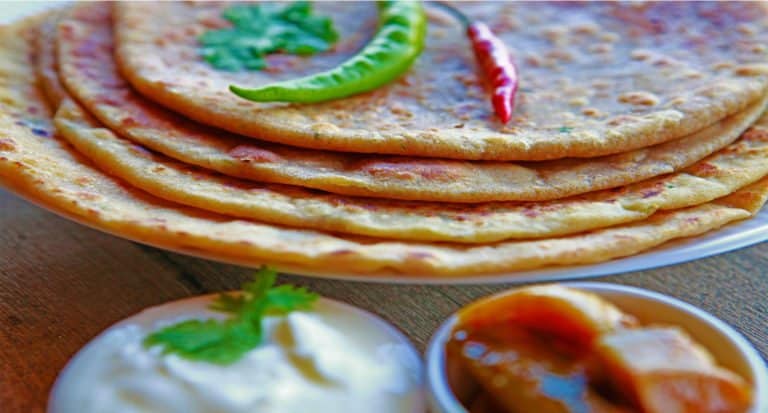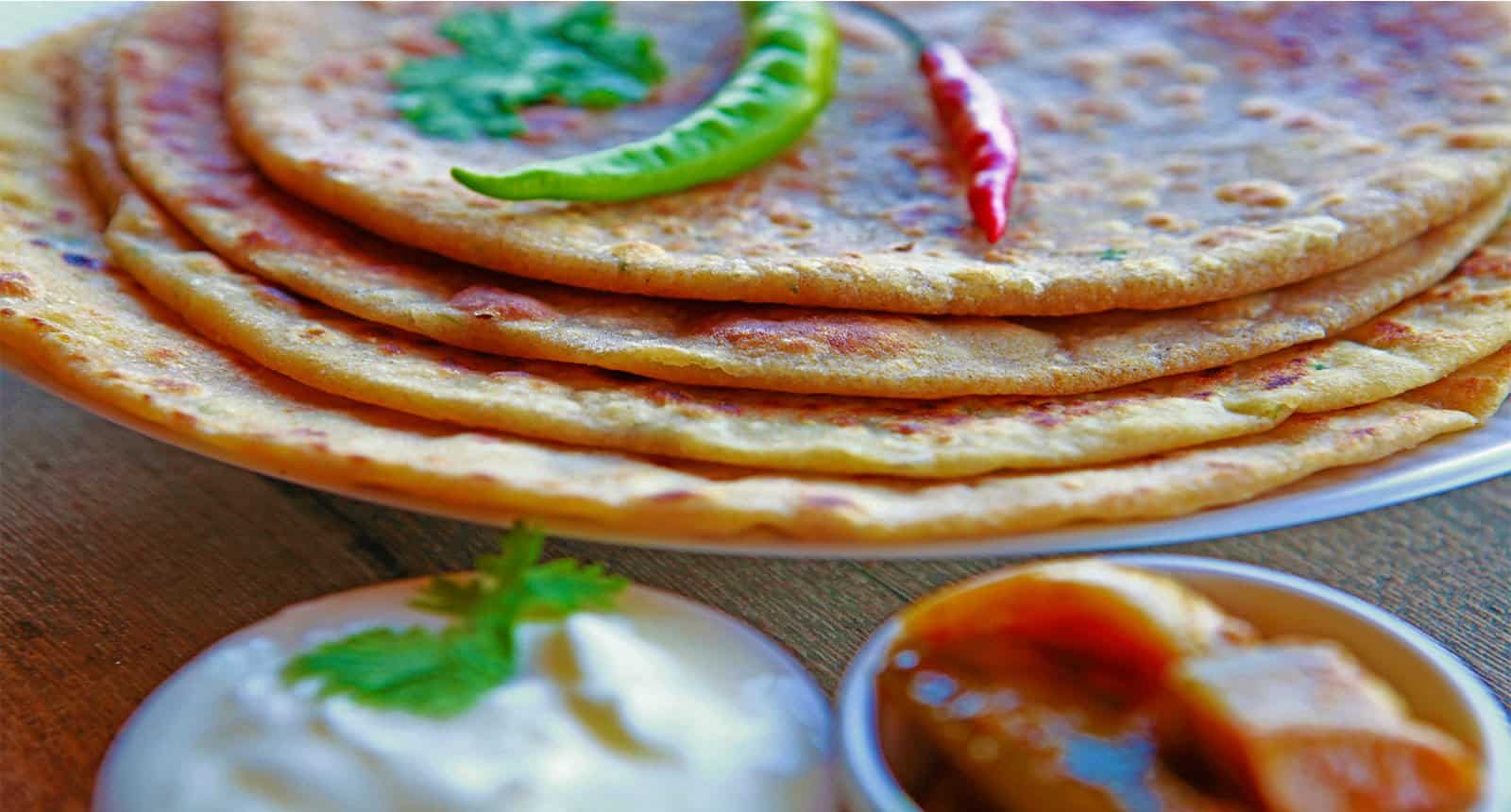 Koki is one of the common types of flatbread in Sindhi, with the prominent ingredient being wheat and gram flour. However, its flavor is not the same as any flatbread you eat, as you need to add chopped chilis, spices, and herbs when making it.
After getting the dough, you have to roast it until there is a slight burn on the rim of the bread. This bread has a crispy as well as spicy flavor that makes it perfect when pairing with stir-fries, pickles, gravy dishes, or vegetables. Otherwise, eating koki alone is still delicious.
22. Kushari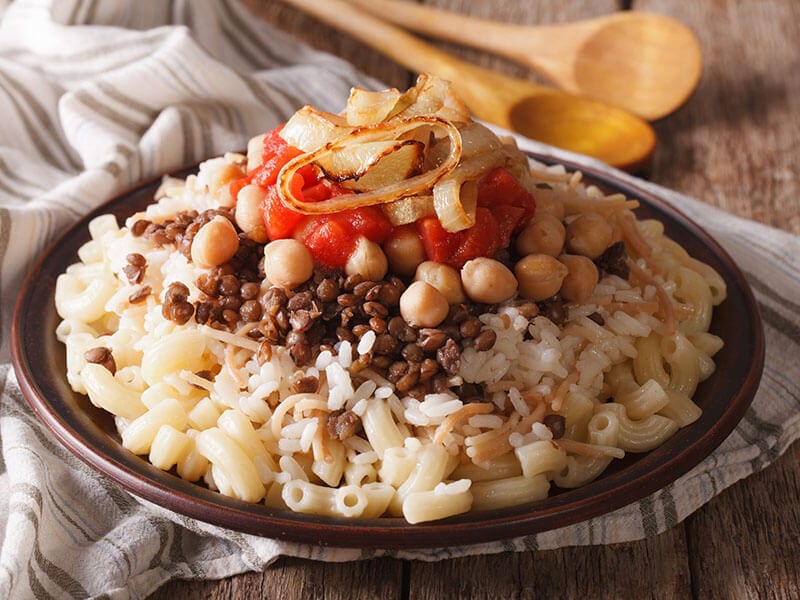 With roots tracing back to Indians traveling with British soldiers to Egypt in the early 1900s, Kushari is the beloved national dish of Egypt.
It is also a common sight on street food stalls. In general, Kushari is a flavorful combination of fried rice, lentils, chickpeas, pasta, and spices.
This spicy, garlicky, and savory dish is also known as kushari or koshari. To add even more punch, people pair kushari with vinegar, spicy tomato sauce, and fried onions.
Condiments, Sauces, and Spreads
23. Ketchup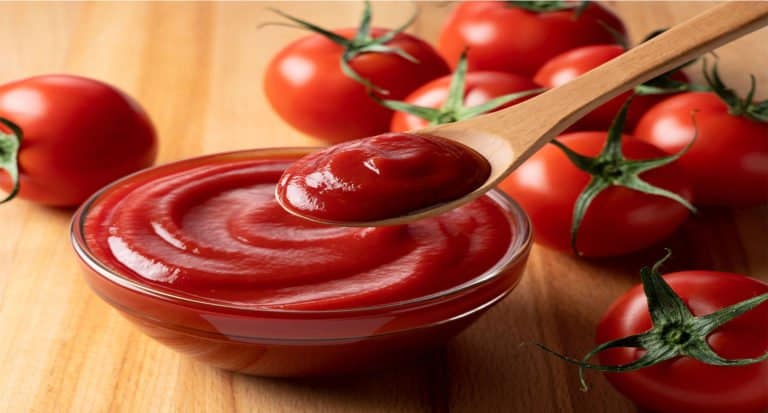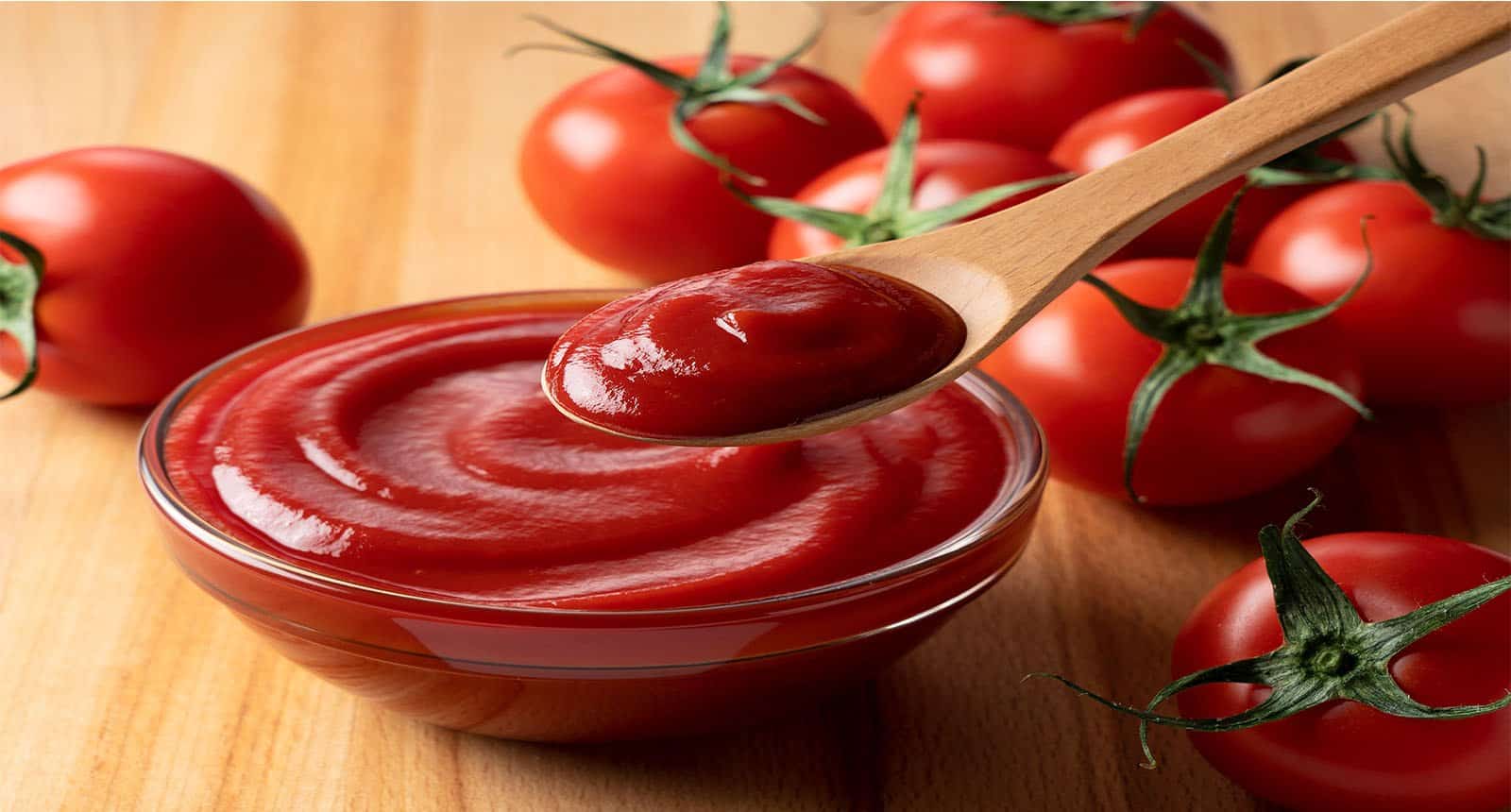 Ketchup is one of the most common sauces to enhance food flavor. It is mainly made from tomato or other ingredients such as mushrooms, egg whites, and more, but I will mention tomato-based ketchup in this section.
This sauce has a little bit of an acidic and sweet taste; therefore, it has become a favorite sauce of almost all children and adults. They love to dip fries, hamburgers, hot dogs, and other food into the sauce.
In case you want to add a little twist to your dish with different sauces, there are various alternatives for ketchup to try on.
Although ketchup is not packed with vitamins, it does contain lycopene, which has antioxidant properties (3) . Fianlly, some of the best ketchup brands you might want to try include Heinz, Hunts, Whataburger, and Trader Joe's Organic.
24. Kosher Dill Pickles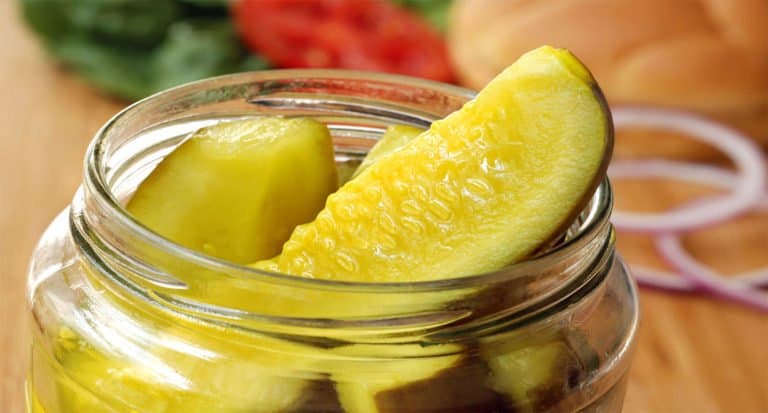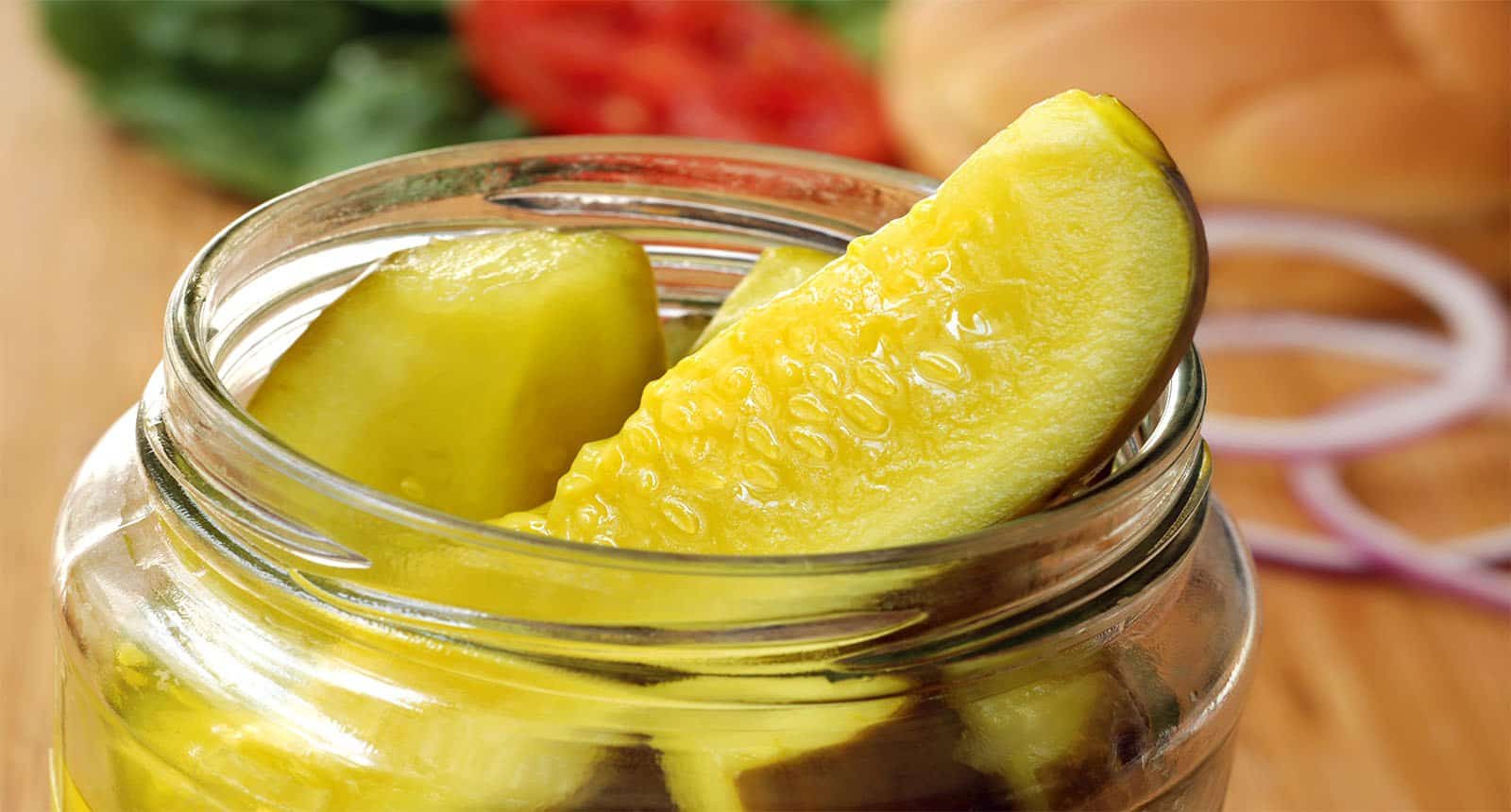 Pickles are a common side dish to help you reduce fatty feelings when eating meat. Kosher dill pickles are made from small cucumbers, which are a favorite vegetable in India.
To process this dish, you should add garlic, salt (typically Kosher salt), and dill to fully marinate cucumbers that allow them to have an eye-catching golden color.
Kosher dill pickles are a tasty snack, offering a slightly sweet flavor and mild saltiness. They have a satisfyingly crisp texture that many people love. Moreover, what sets kosher dill pickles apart from regular dill pickles is the addition of garlic, giving them a unique twist.
25. Kimchi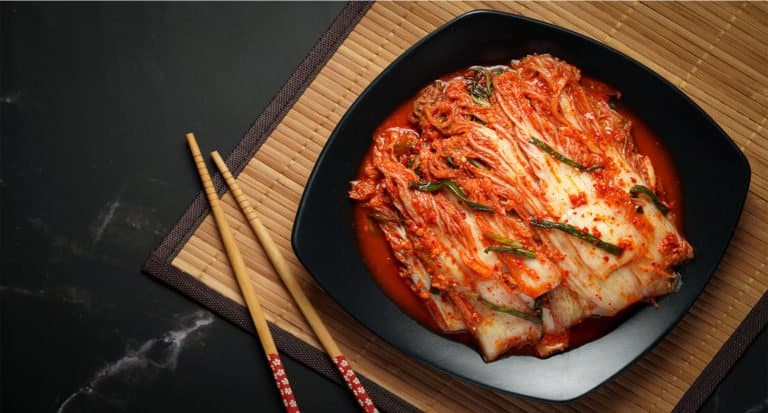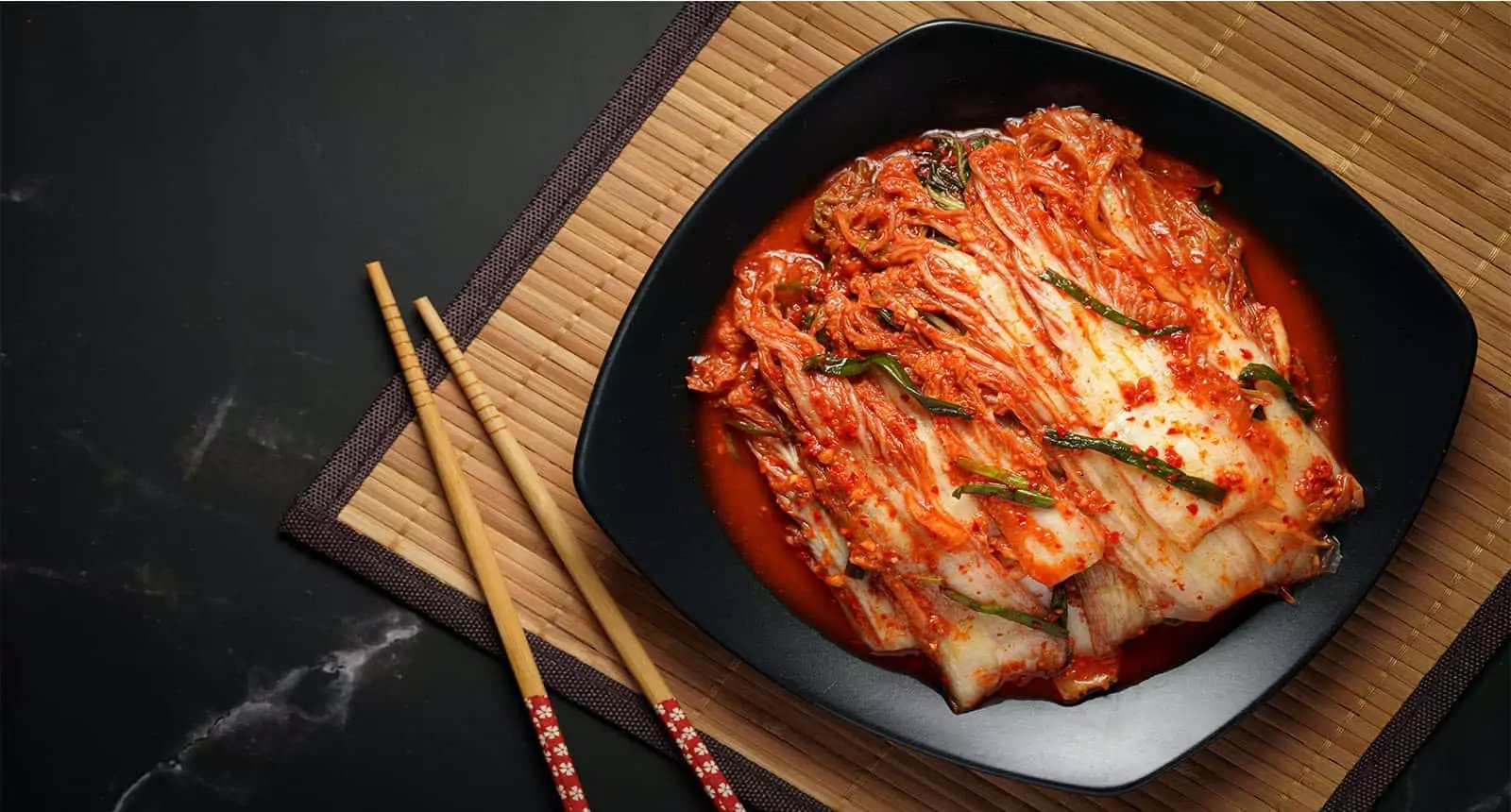 Kimchi is a traditional side dish in Korea. You can make kimchi with various vegetables such as radishes, cucumbers, green onions, and more, but the most common kimchi is made from cabbage (like napa cabbage).
After mixing vegetables with ginger, salt, chili peppers, garlic, and Jeotga (salted seafood), you need to wait until the mixture is fermented. The kimchi's flavor differs from other pickle dishes, which are spicy and salty.
As a fermented food, kimchi includes beta-carotene, antioxidants, and various vitamins to benefit your health (4) .
To enjoy it, you can wrap boiled pork with a half leaf of fresh kimchi or prepare long-fermented kimchi for kimchi jjigae; you surely fall in love with this dish. It is also a perfect side dish for potstickers. So go get some in the nearest Asian, or Korean store and relish them this weekend.
Maangchi is a Korean chef, and she will instruct you to make authentic kimchi in her cooking instruction video.
26. Kuchela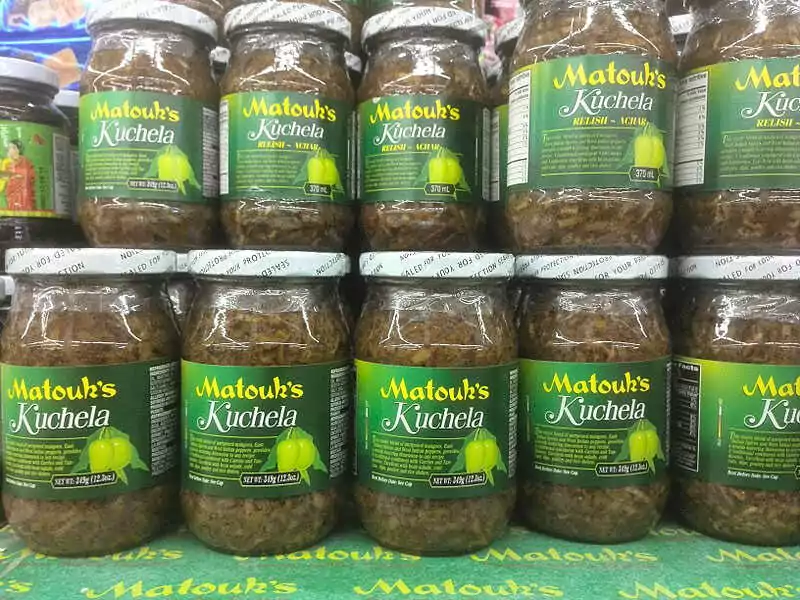 Kuchela is a tasty hot relish from Trinidadian cuisine. Its base consists of grated and strained unripe mangoes.
Commonly, kuchela gets its distinctive taste from amchar masala, a spice blend featuring cumin, cilantro seeds, fenugreek seeds, peppers, fennel seeds, and brown mustard seeds.
This relish is a spicy, salty, and sour mix, further seasoned with garlic, vinegar, or oil. Kuchela makes a fantastic side dish, accompanying pelau, a rice dish, or various curries.
27. Kecap Manis/Ketjap Manis (Indonesian Sweet Soy Sauce)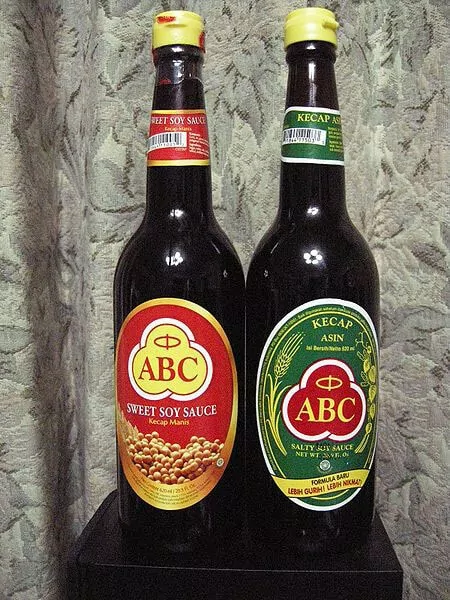 Considered an Indonesian gem, Kecap Manis is a sweet and aromatic soy sauce that dominates about 90 percent of the country's soy sauce production. Unlike regular soy sauce, Kecap Manis is sweeter rather than salty.
Crafted from fermented soy and palm sugar or molasses, this sauce displays a dark color and syrupy consistency with a delightful molasses-like flavor.
It's a star ingredient in famous Indonesian dishes like Nasi Goreng (fried rice), Mie Goreng (noodle dish), and Kwetiau Goreng (fried flat noodle).
Vegetables and Fruits
28. Kohlrabi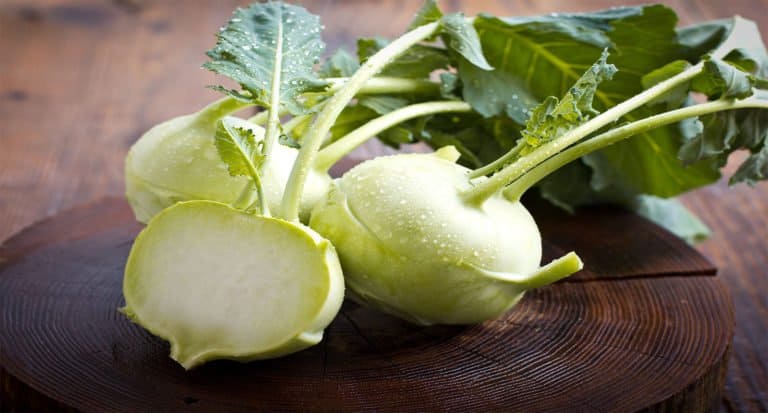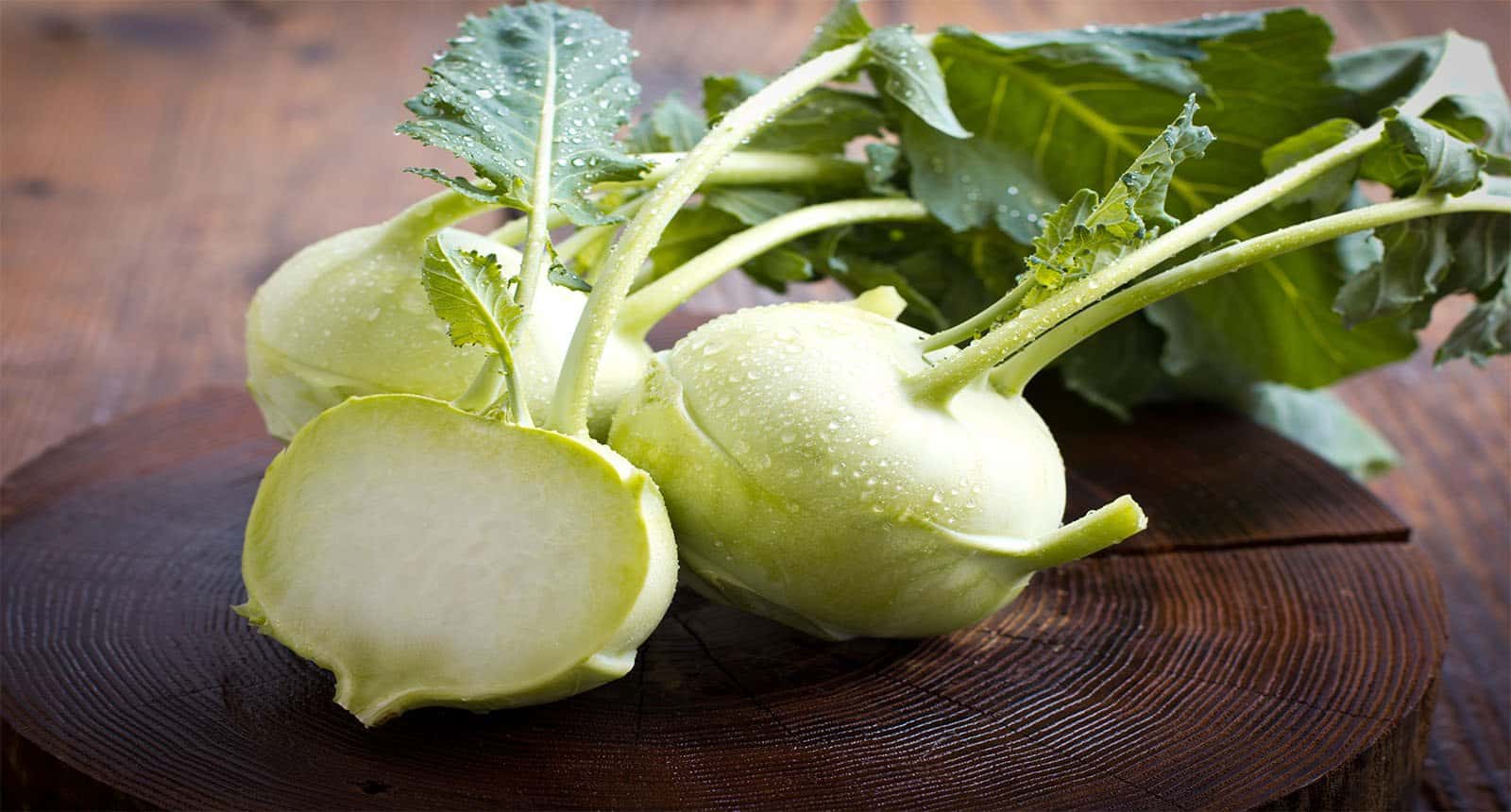 Kohlrabi belongs to the cruciferous cabbage family just like cabbage, broccoli, and kale. From Northern Europe, kohlrabi is a unique vegetable called German turnip or turnip cabbage. The flavor is reminiscent of its cousins but with a sweeter touch.
You can easily catch about 10 types of kohlrabi on the market, ranging from white to dark purple. You can find a natural sweet flavor comparable to Brussels or cabbage.
Whether eaten raw, roasted, or sautéed, kohlrabi is a versatile choice. It is delicious and rich in calcium, magnesium, and vitamin C (5) . Adding kohlrabi to your diet can boost metabolism, improve bone health, and even aid in weight loss.
The kohlrabi is quite solid, allowing you to store it in the fridge for up to a week without squishy. You can cook many dishes with this vegetable, such as salads, soups, and more.
29. Kabocha Squash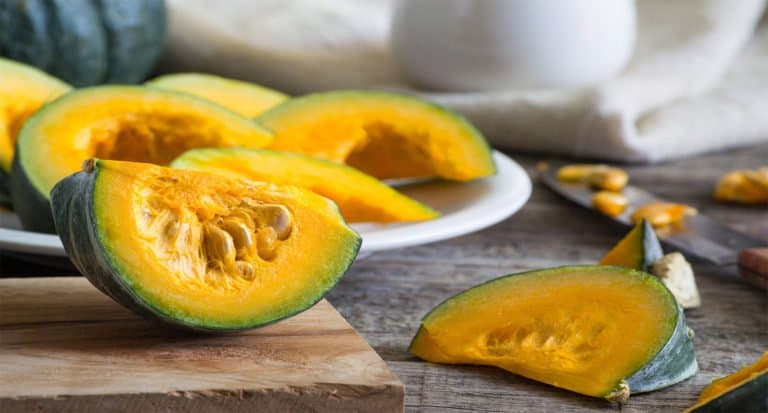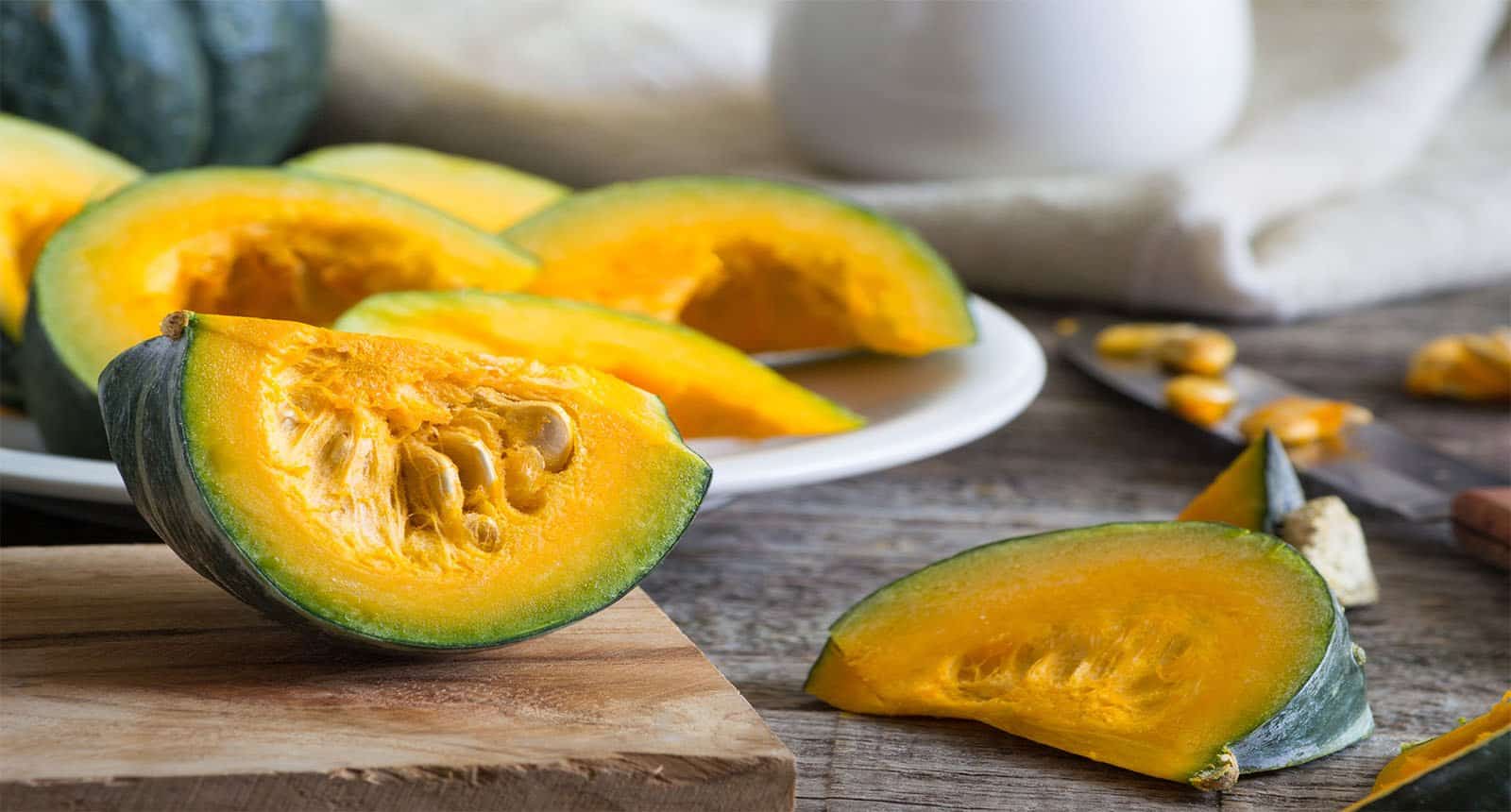 Kabocha squash has another name which is Japanese pumpkin. It is favored by many chefs thanks to its natural sweetness, soft and smooth texture after being cooked. FYI, in Japanese, "kabocha" refers to Western pumpkins
Kabocha squash is a winter favorite with hard, dark green, knobbly skin and bright orange flesh. The skin is edible as well and often appears in tempura recipes. Normally, kabocha's flavor is a delightful fusion of sweet potatoes and pumpkins.
You can process various dishes with kabocha squash, such as baked, fried, steamed or mashed and pureed dishes. In Japan, you can see kabocha squash when eating hot pots.
Despite being fat-free, it's rich in potassium, fiber, and beta-carotene (6) . If you can't find kabocha, try acorn or butternut squash as a substitute.
This video provides you with valuable information about kabocha squash and several dishes you should try to cook.
30. Kabosu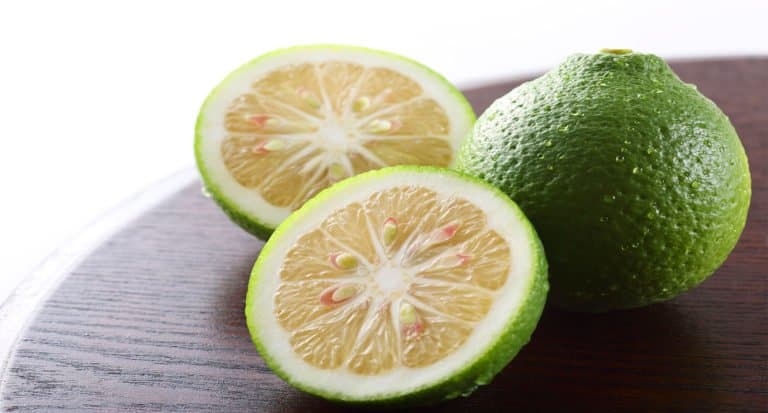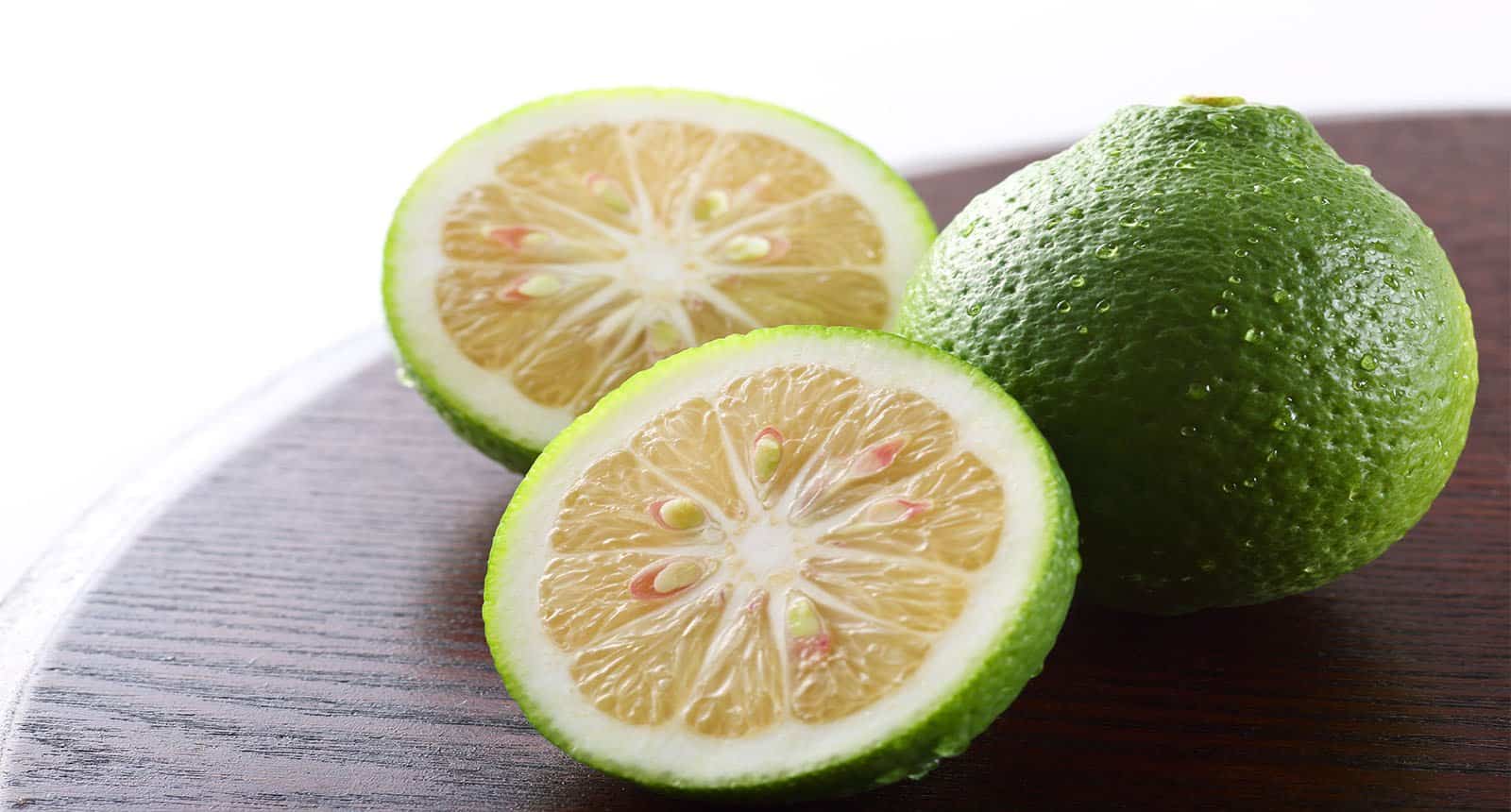 Kabosu is a name coming from Japan. It belongs to the citrus family and has an acidic flavor similar to lime. You can confuse it with lime, but it is grown mainly in Japan. It is harvested when being green, then waiting to be ripe.
The fruit combines the flavors of lime, lemon, and yuzu. This one-of-a-kind citrus fruit has edible skin and is quite sour with a fantastic aroma. It is also rich in vitamin C and anti-inflammatory compounds.
Kabosu is popular in Japanese cuisine for adding a tangy twist to numerous dishes, such as sashimi, seafood, miso soups, and hot pot creations.
On the other hand, many chefs use it to replace vinegar and add its juice to numerous dishes such as cooked fish, hot pot, and sashimi. The oil and acidic taste of kabosu can reduce the fishy smell; therefore, it is a perfect addition to fish dishes.
31. Khaki/Kaki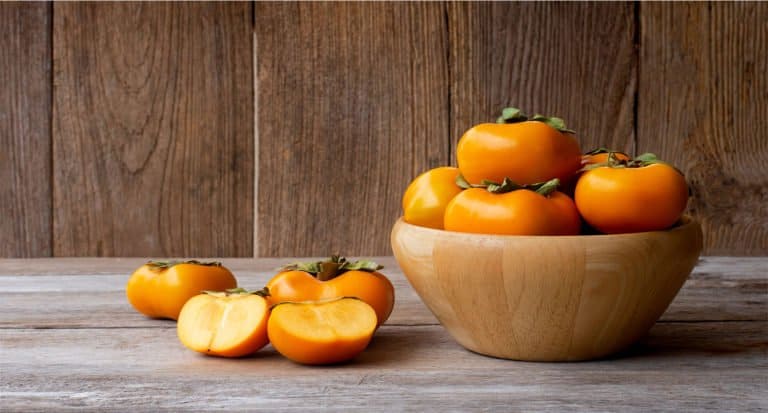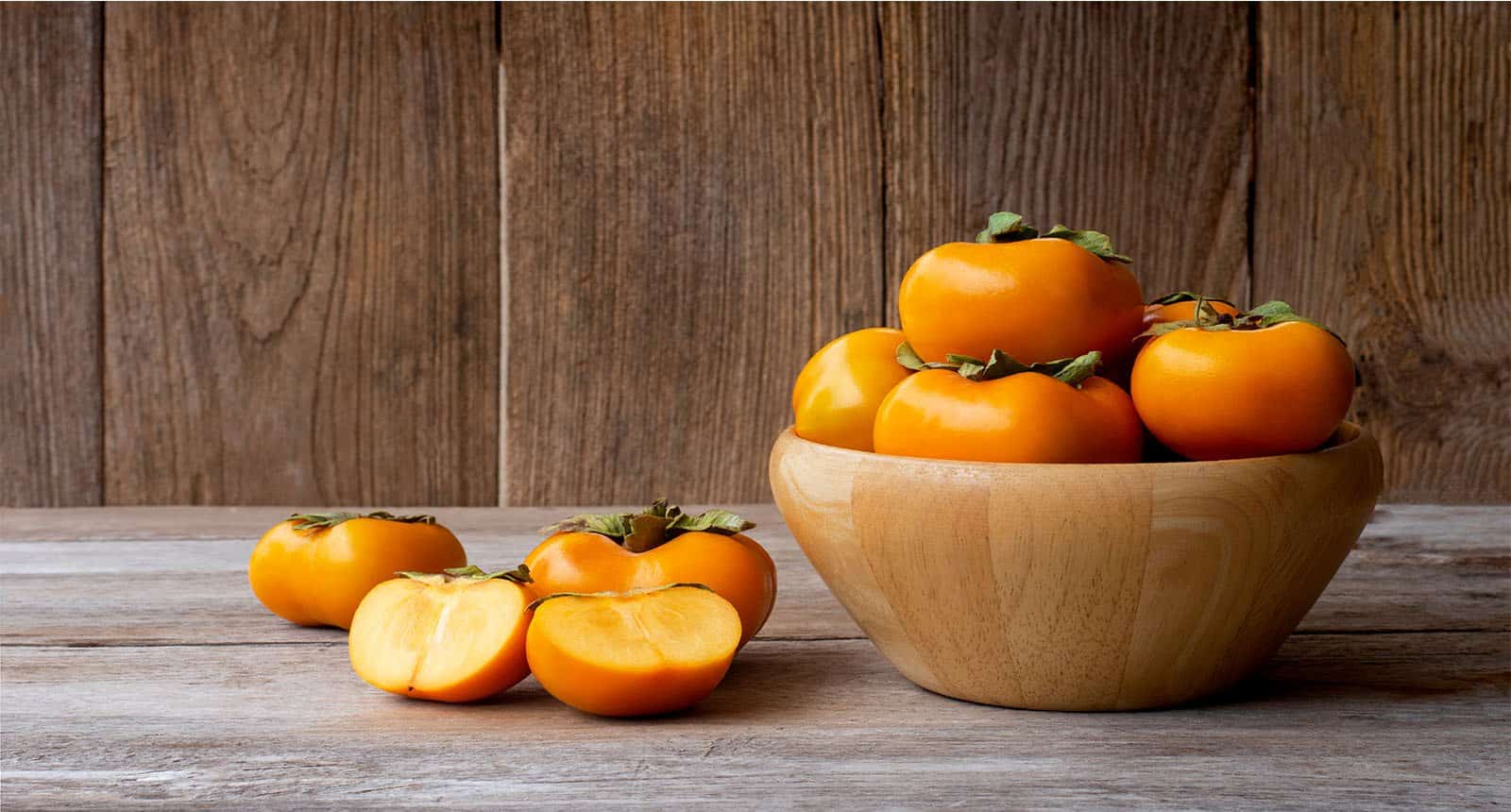 Khaki can be called by a different name of persimmon. Khaki was cultivated for the first time in China, but now various countries can grow them. Their color is a combination of yellowish tinge and shade brown.
Khaki is Japan's national fruit with the scientific name Diospyros kaki. The Hachiya cultivar, boasting heart-shaped fruits, reigns as the most popular variety in Japan. These fall fruits have a sweet, honey-like flavor, but their high tannin content can make them astringent and bitter if unripe.
You need to peel Khaki before eating. Khakis have a slippery texture and a silky-like feeling when you touch them. Its flavor is not similar to any kind of fruit as it is a mixture of sweet and cinnamon after tasting.
Regarding its benefits, this fruit is a tasty and nutritious addition to your diet, packed with vitamins A, C, beta-cryptoxanthin, and dietary fiber (7) .
32. Kale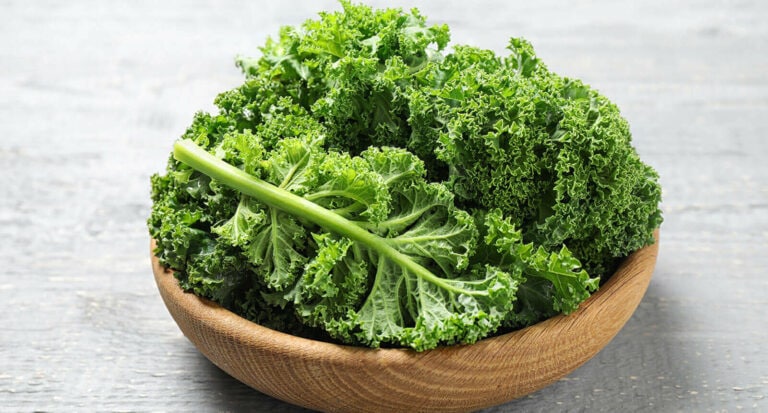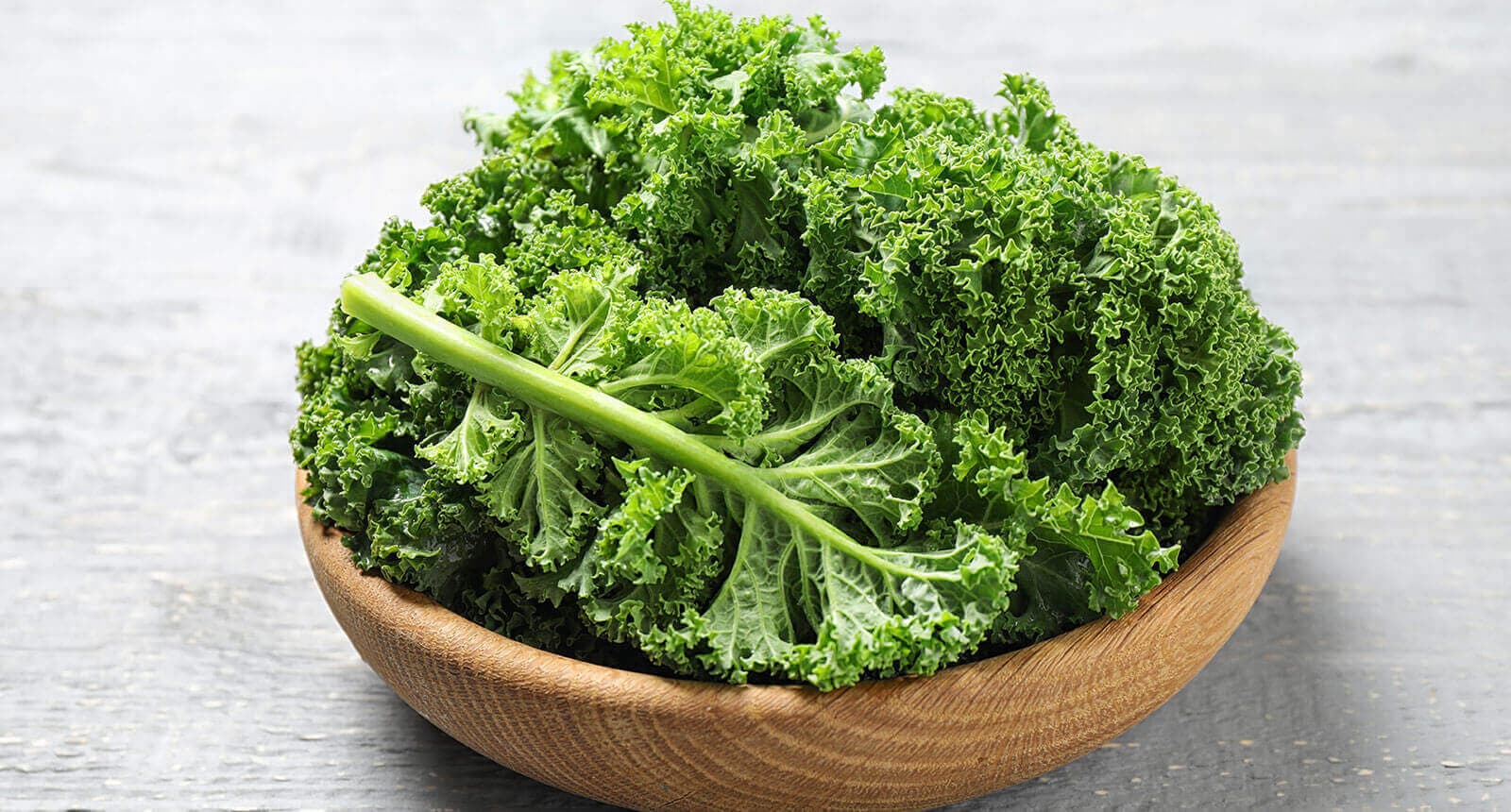 Kale is sold at many supermarkets, and you can simply find it to add to your diets thanks to its numerous benefits. There are 2 kinds of Kale you can purchase: Brassica oleracea and Brassica napus. The key to differentiating between them is their looks.
The Brassica napus are ruffed and curly-leaf, while the other is a smoother leaf. However, kale's features have thicker veins and stems than other veggies. You can eat fresh Kale to taste its crunchy and robust taste.
The superfood, also known as leaf cabbage, comes in various colors like red, lavender, blue, violet, and white. Furthermore, kale can even serve ornamental purposes. This nutrient powerhouse contains antioxidants, calcium, vitamins C and K (8) .
With its powerful cleansing properties, kale is a popular ingredient in juice and smoothie recipes. While you can enjoy kale raw, cooking methods like steaming, sautéing, and boiling can enhance its taste. Limit your intake to one or two servings daily to protect your kidneys.
How to cook Kale properly? This short clip will answer your question.
33. Kamote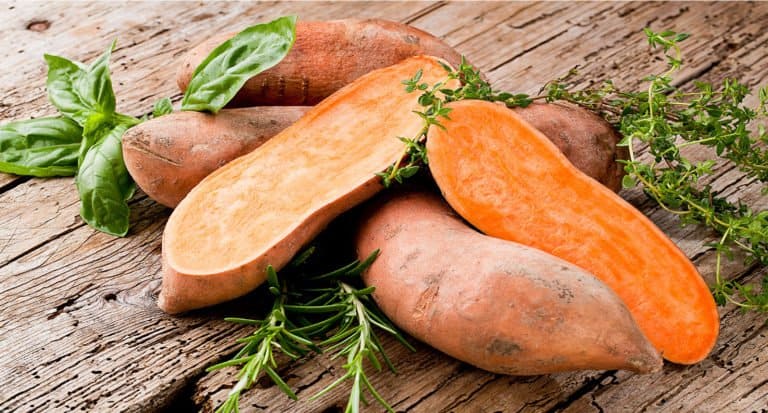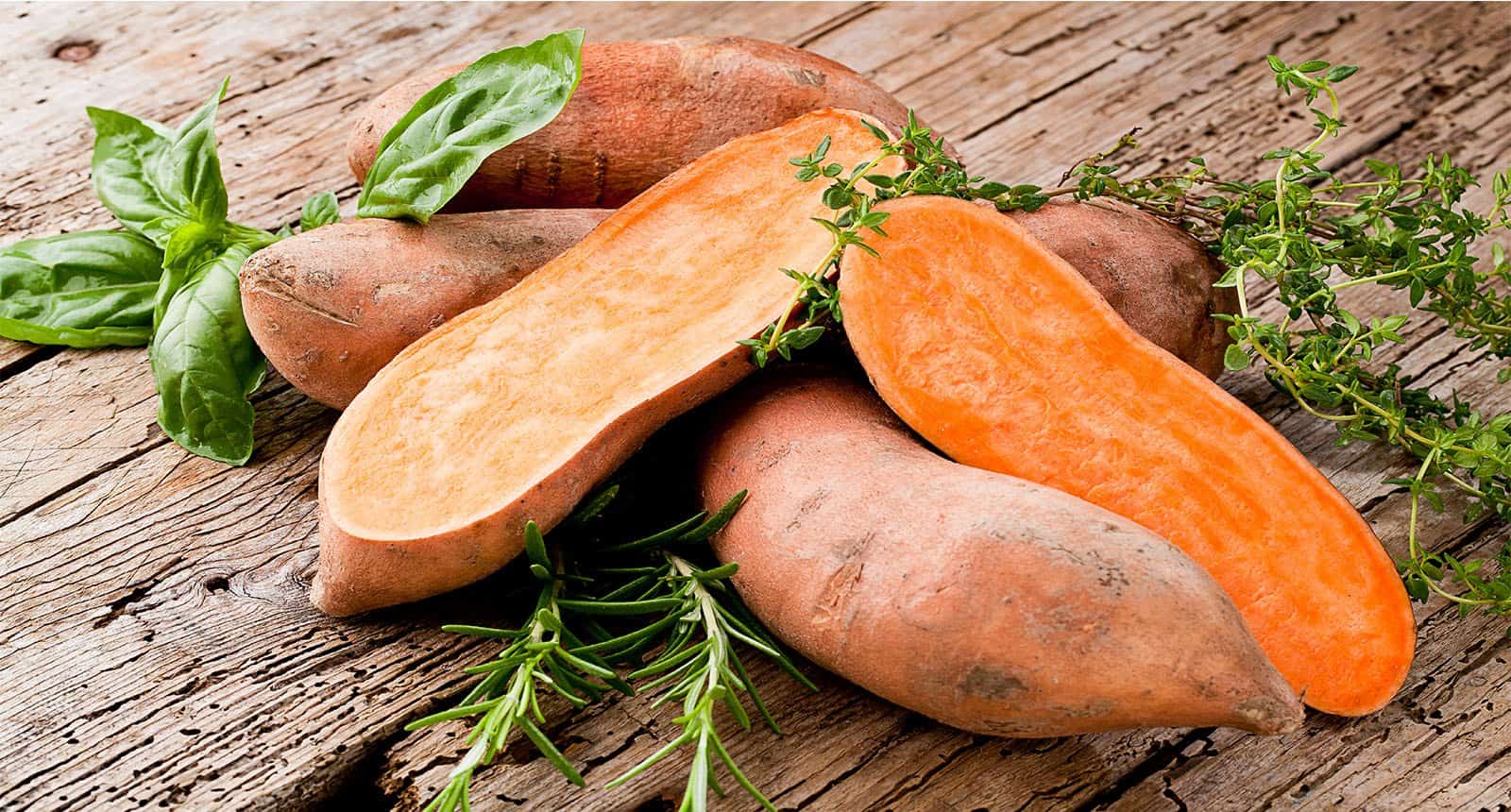 This is a popular name for sweet potatoes in the Philippines, and this is not a strange food to many. You can eat kamote raw or cooked, and it seems to be the most common starch to thicken some sauces.
These tasty tubers made their way to the country from South America during Spanish rule in the 16th century. Starting from Luzon, they eventually spread to other countries.
Known as a "poor man's crop," kamote is affordable and easy to grow. This versatile ingredient is a staple in many Filipino street food and iconic dishes like Halo-halo (a mixed dessert with shaved ice and fruits), Sinigang (a sweet and savory stew) and Camote cue (caramelized sweet potatoes).
The kamote has a sweet and tangy flavor, and there are just a few people who are sensitive to it; thus, you can freely cook it at parties. It is quite easy to grow, and you can cultivate it any time of the year.
Have you ever wondered how many ways to cook kamote? If you have, don't forget to watch this video.
34. Ketembilla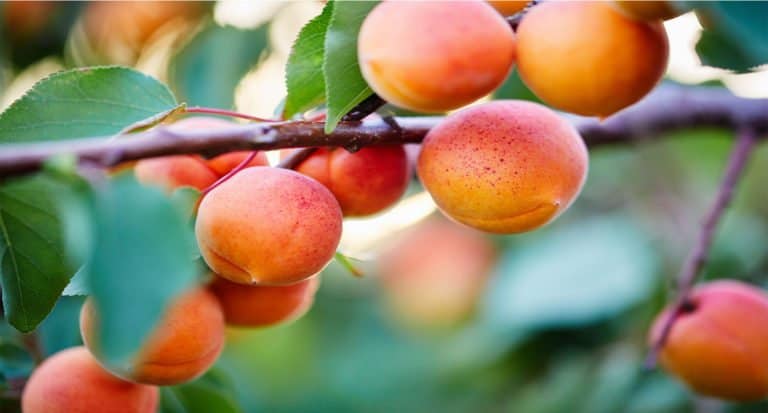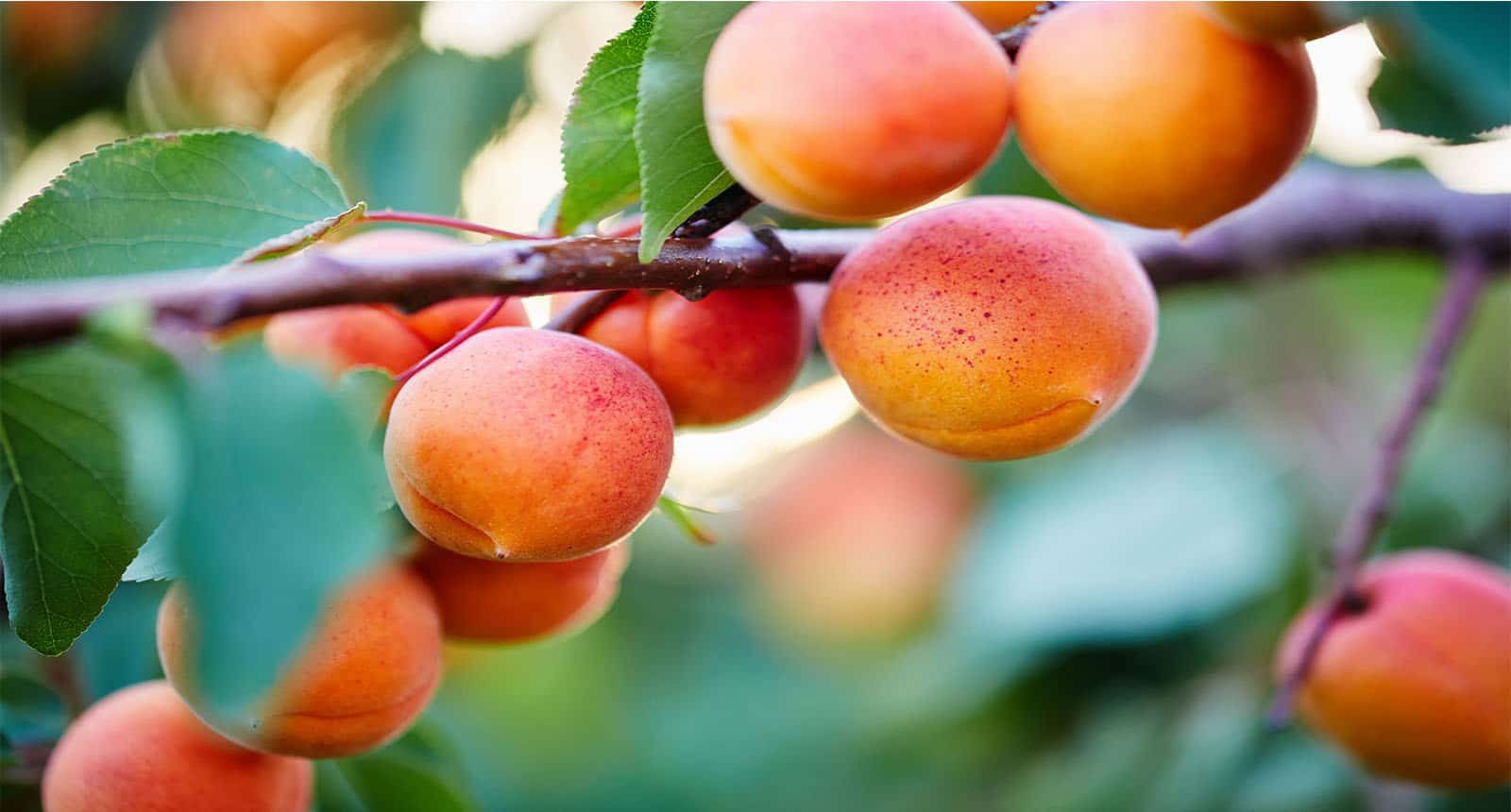 You can recognize when it is ripe by choosing dark purple ketembilla as its skin will change from orange to purple over time. It is pretty juicy, but the acidic profile may make you unpleasant when enjoying it for the first time.
Ketembilla has an alternative name of Ceylon gooseberry or kitambilla, whose scientific name is Dovyalis hebecarpa. They are packed with anthocyanins – a group of antioxidants, especially in the fruit's skin, making them a good source for industrial applications (9) .
Plus, it's a fruitful tree, providing a plentiful supply of fruit with sweet and tart flavors – think of it like a tropical apricot.
I think the most mouthwatering way to process ketembilla is making jam or drinks. When you marinate it with sugar and leave the mixture for a few days, you can get a special drink. The flavor is a little acerbic, sweet and has an alcohol hint.
35. Key Lime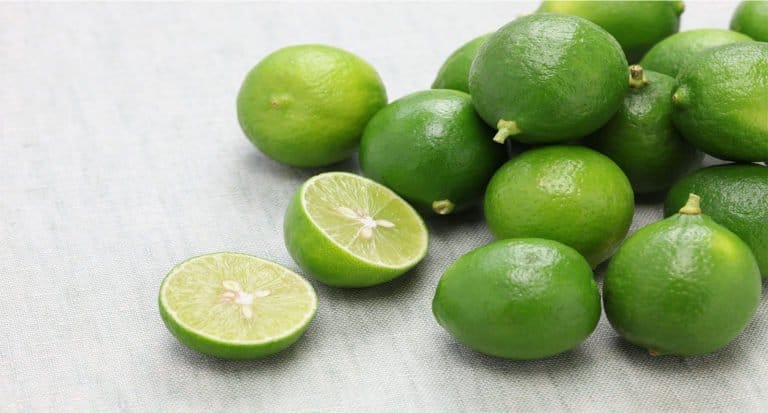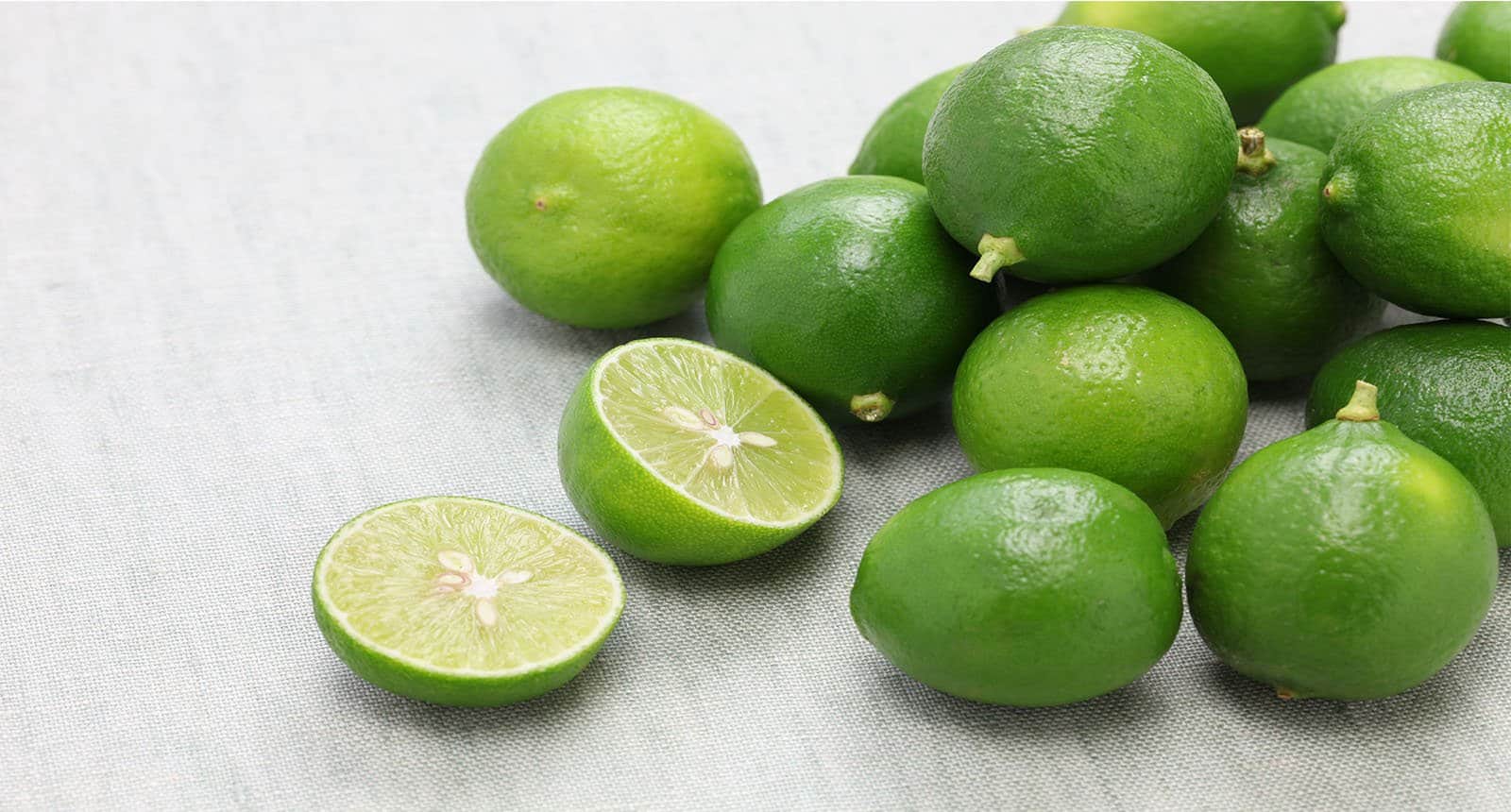 Key limes set themselves apart from regular limes. Smaller, more yellow, and with thinner skin and more seeds, they pack a more acidic and aromatic punch. While they're pricier than your average lime, you can swap them in recipes and adjust the quantity for the right flavor.
Commonly, you need to remove the seed carefully and use the lime when the skin turns light yellow. The iconic key lime pie perfectly showcases these limes with its graham cracker crust and a filling of key lime zest, juice, egg, and condensed milk with whipped cream or meringue!
Key lime cream pie is a signature dish made with key lime, and you can consider checking this excellent video to learn how to make it.
36. Kiwano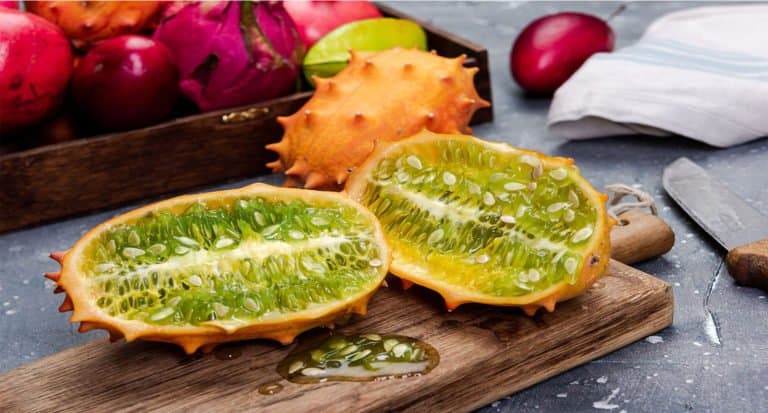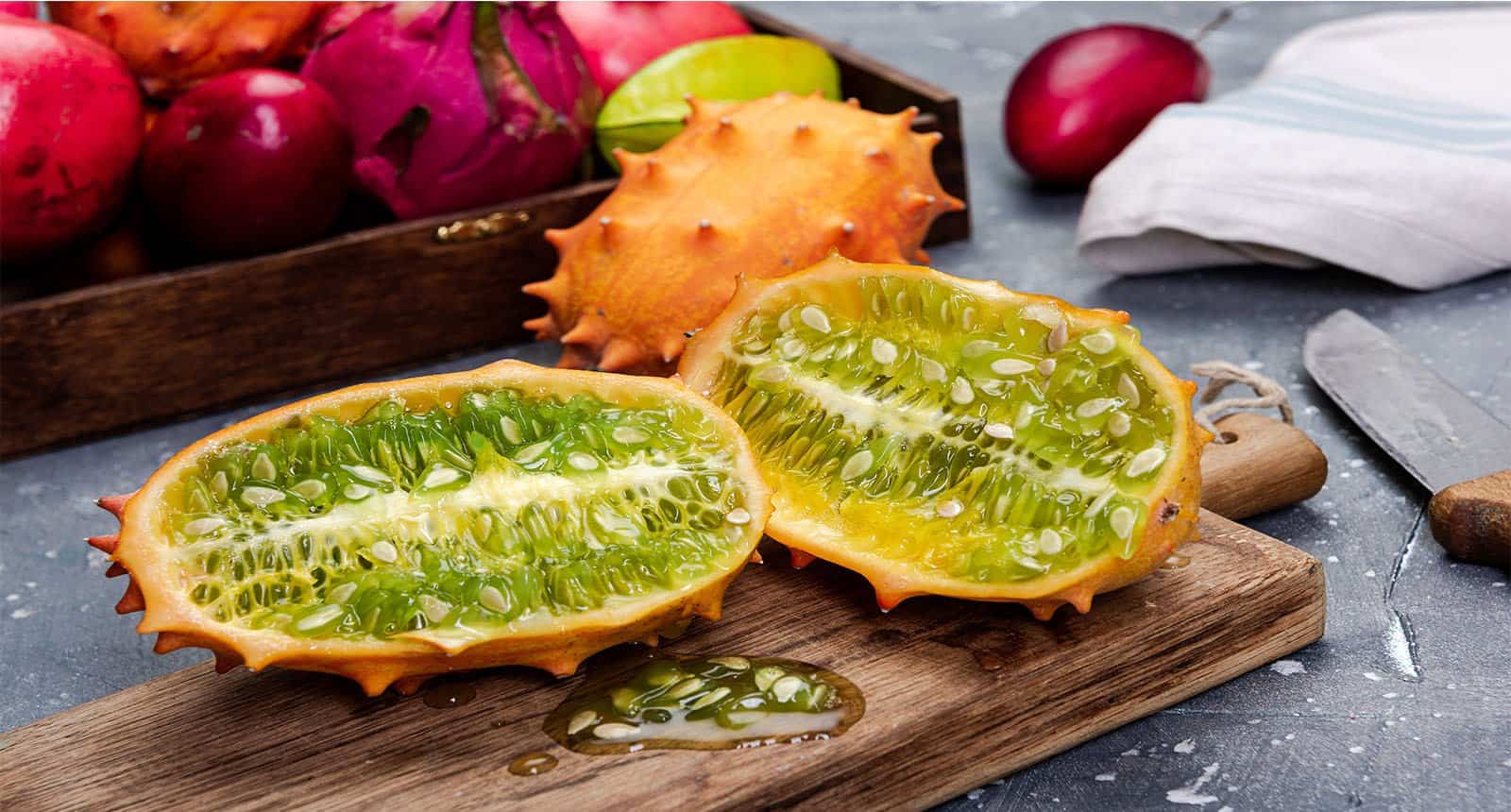 Kiwano is cultivated mainly in Sahara, Africa, and it starts to flower in spring and turns ripe in summer. When it is ripe, it has a dark orange color.
This tropical fruit native to Africa, kiwano, goes by many names like horn melons, spiked melon, or horned cucumber. When unripe, they're quite hard, but ripe ones turn orange and are easy to slice.
While the rind and seeds are edible, the real prize is the green, jelly-like pulp surrounding each seed, boasting a sweet cucumber-melon flavor. Nutritious and delicious, kiwano is full of water, fiber, vitamin C, minerals like iron and magnesium, and antioxidants (10) .
37. Kiwi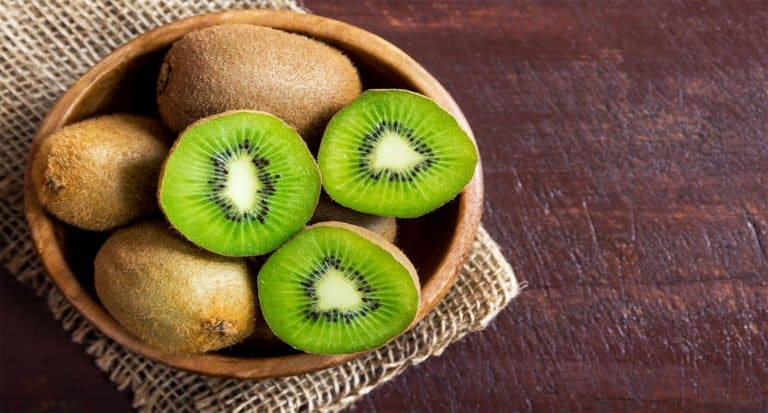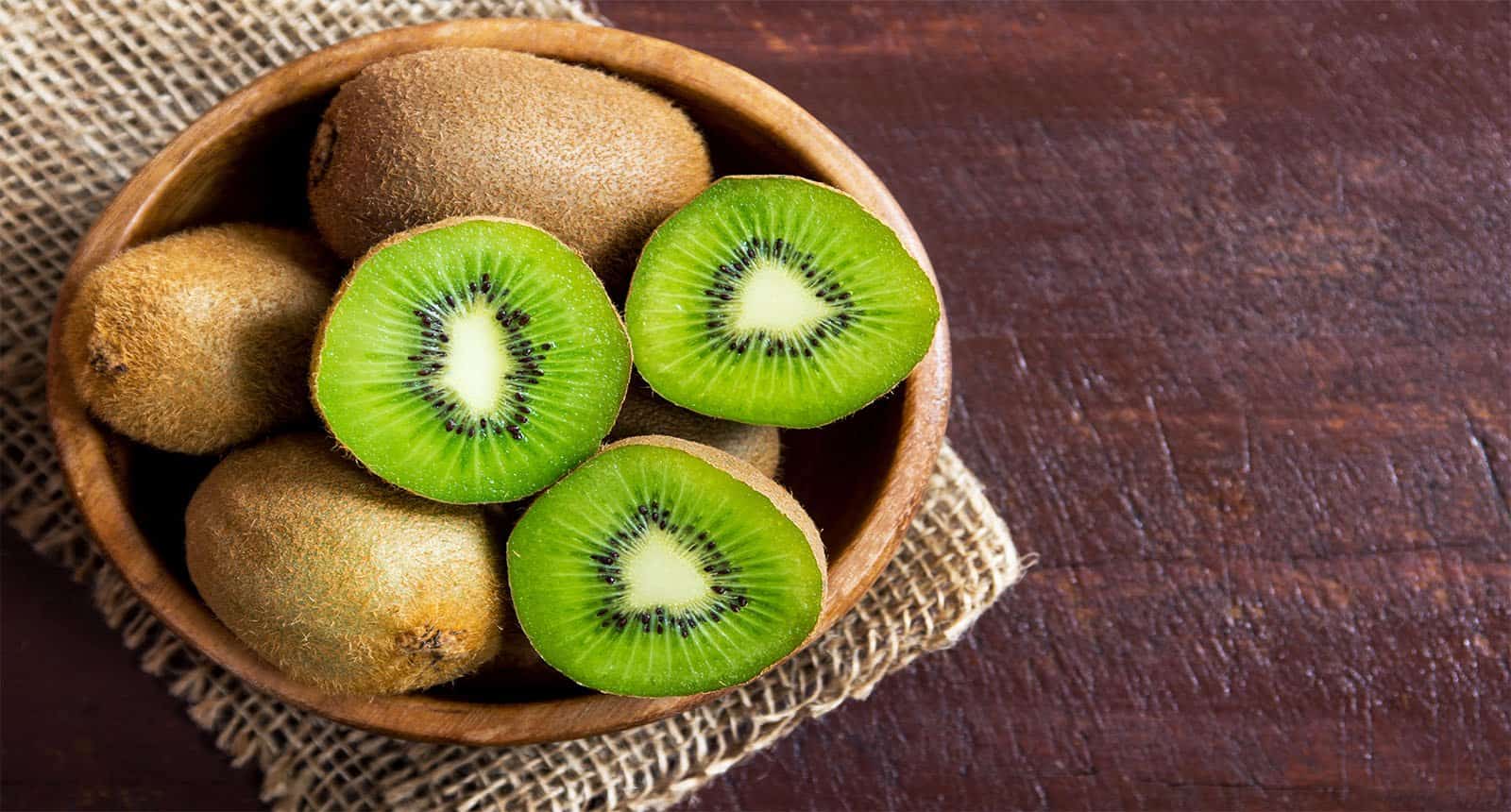 I am sure you are familiar with kiwi as this K-something fruit has become more popular in recent years. There are 2 basic types of kiwi: green and yellow kiwi. Both of them have shade brown skins with soft hair covering them.
The fruit, strongly associated with New Zealand and sharing its name with an iconic bird, actually has Chinese origins. That's why it is sometimes called Chinese gooseberry. Growing on woody vines that can thrive for decades, kiwi has a sweet and slightly tart flavor.
As kiwis are quite a delicate fruit and can get bruised easily, you'll need to learn the correct ways of storing kiwis. Otherwise, there's a high chance you might end up damaging the delicate fruit.
It is also rich in water but less than water content in melons. You need to peel before eating, or you can use a spoon to scoop the meat inside. Or you can use them to impress others with many stunning and appetizing kiwi ideas. I guarantee they will ask you for the recipes.
This fruit is a powerhouse of vitamin C and dietary fiber. Consuming it daily can improve gut health, lower blood pressure, reduce stroke risk, and boost sexual health (11) . Kiwi shines in salads, juices, and smoothies!
38. Kumquat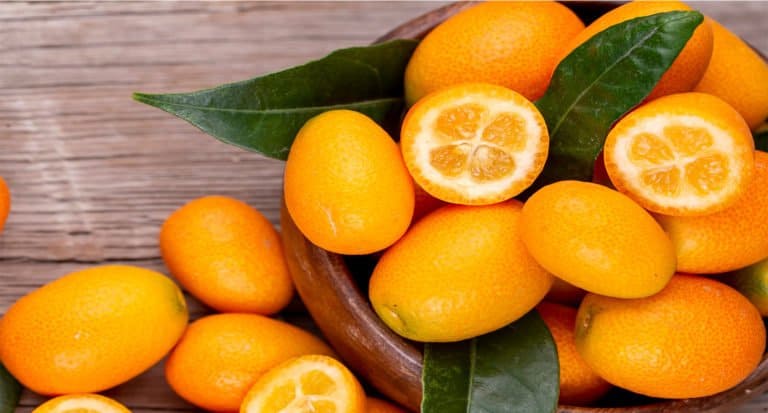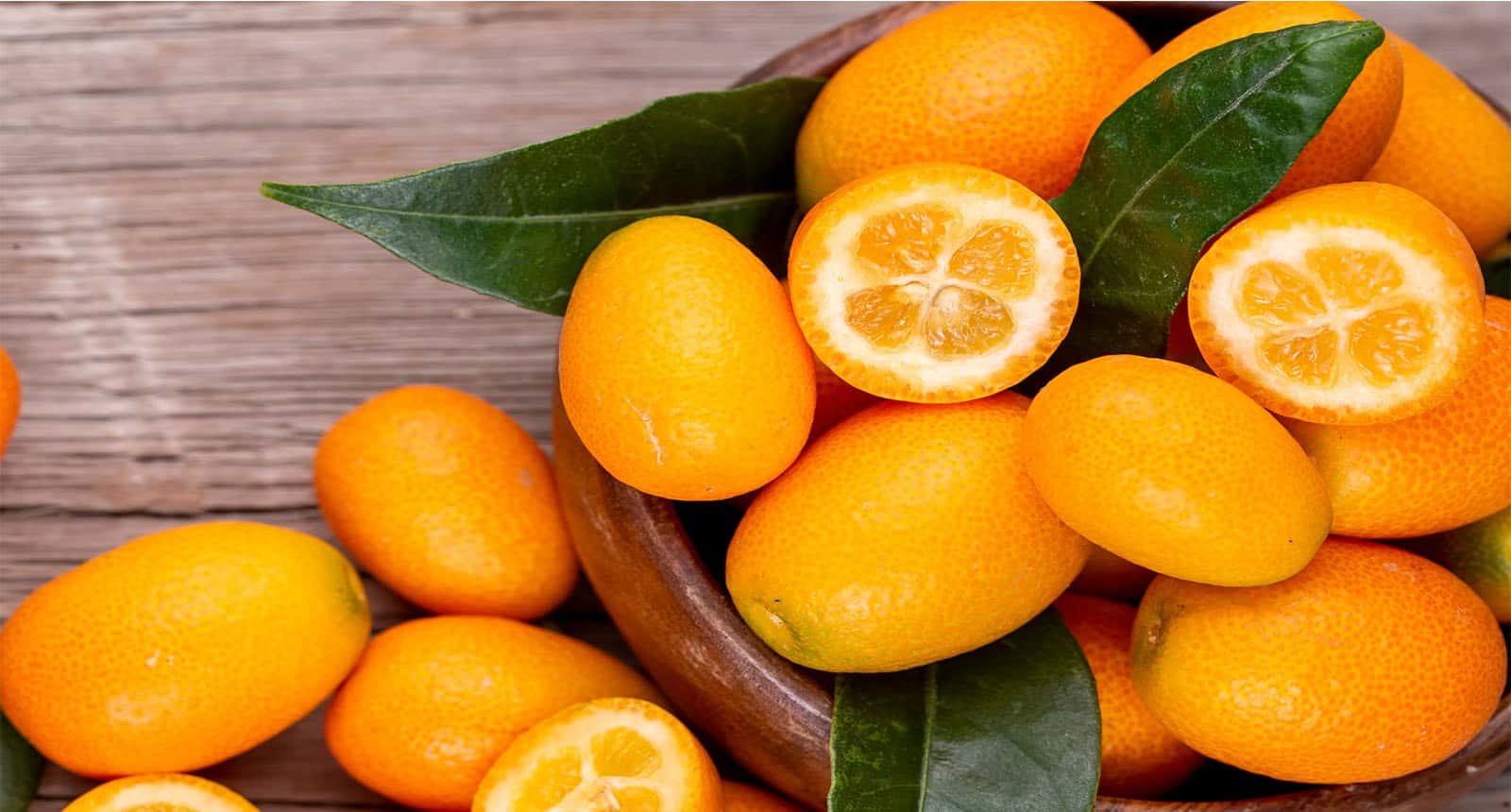 Kumquat is a fruit that belongs to the citrus family. The shape is relatively small and has an orange color. Kumquat originated in Southern China.
You can eat all parts of this yummy fruit with an orange appearance, from peel to flesh, or remove the peel to make dishes. Its peel is a little bit bitter, and the meat is pretty acerbic; therefore, eating with peel can help you neutralize the flavor.
Kumquats are popular in East Asia and Southeast Asia, which is also known as cumquats in Australia. Unlike oranges, they're small, like olives or grapes.
They can be enjoyed raw with a slightly sweet and quite sour flavor, but cooking or using them in jams and chutneys can reduce acidity. Low in calories and packed with vitamins (especially vitamin C), antioxidants, and fiber (12) , kumquats offer a tasty, nutritious bite!
Like other citruses, kumquat contains several seeds that you should get rid of when eating as they are bitter.
Let's see the step-by-step guide to make kumquat marmalade in this short clip.
39. Kurrat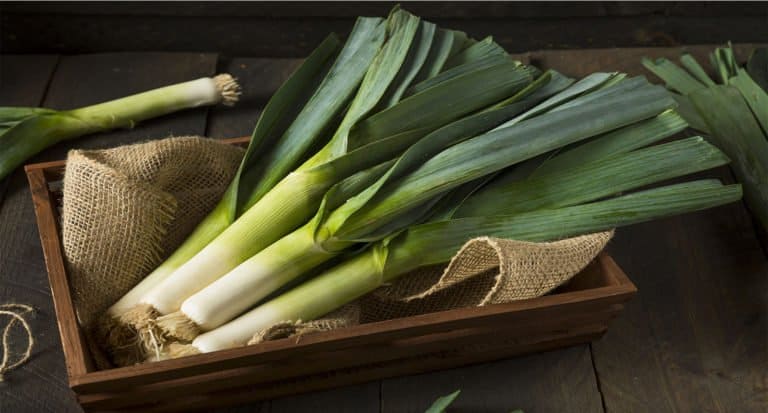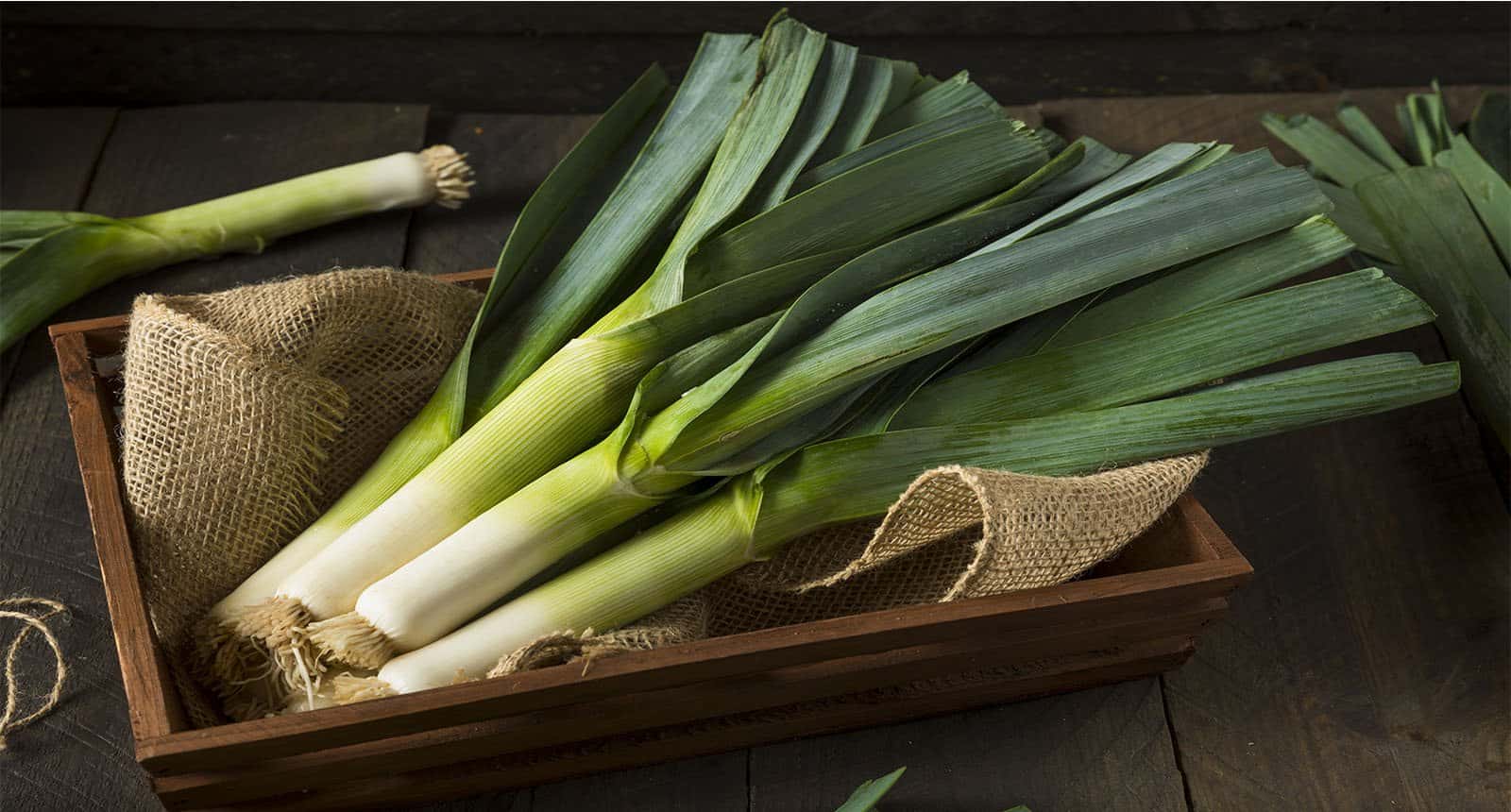 Kurrat has another name, which is Egyptian leek. You can eat almost all parts of kurrat that are leaves, flowers, and roots. It seems to have close relation with garlic and is grown dominantly in the Middle East.
Kurrat, known scientifically as Allium ampeloprasum, shares similarities with elephant garlic and regular leeks. Although its roots can be traced back to the Middle East, it's now grown and enjoyed in various countries worldwide, including parts of Asia, Europe, and America.
Kurrat has an intense flavor that can be tasted when eaten raw, similar to the taste found in onions. However, the aroma of kurrat is distinct and strong.
40. Kwai Muk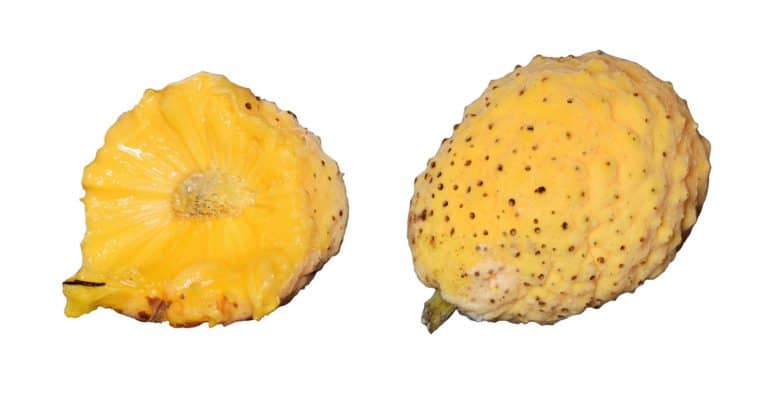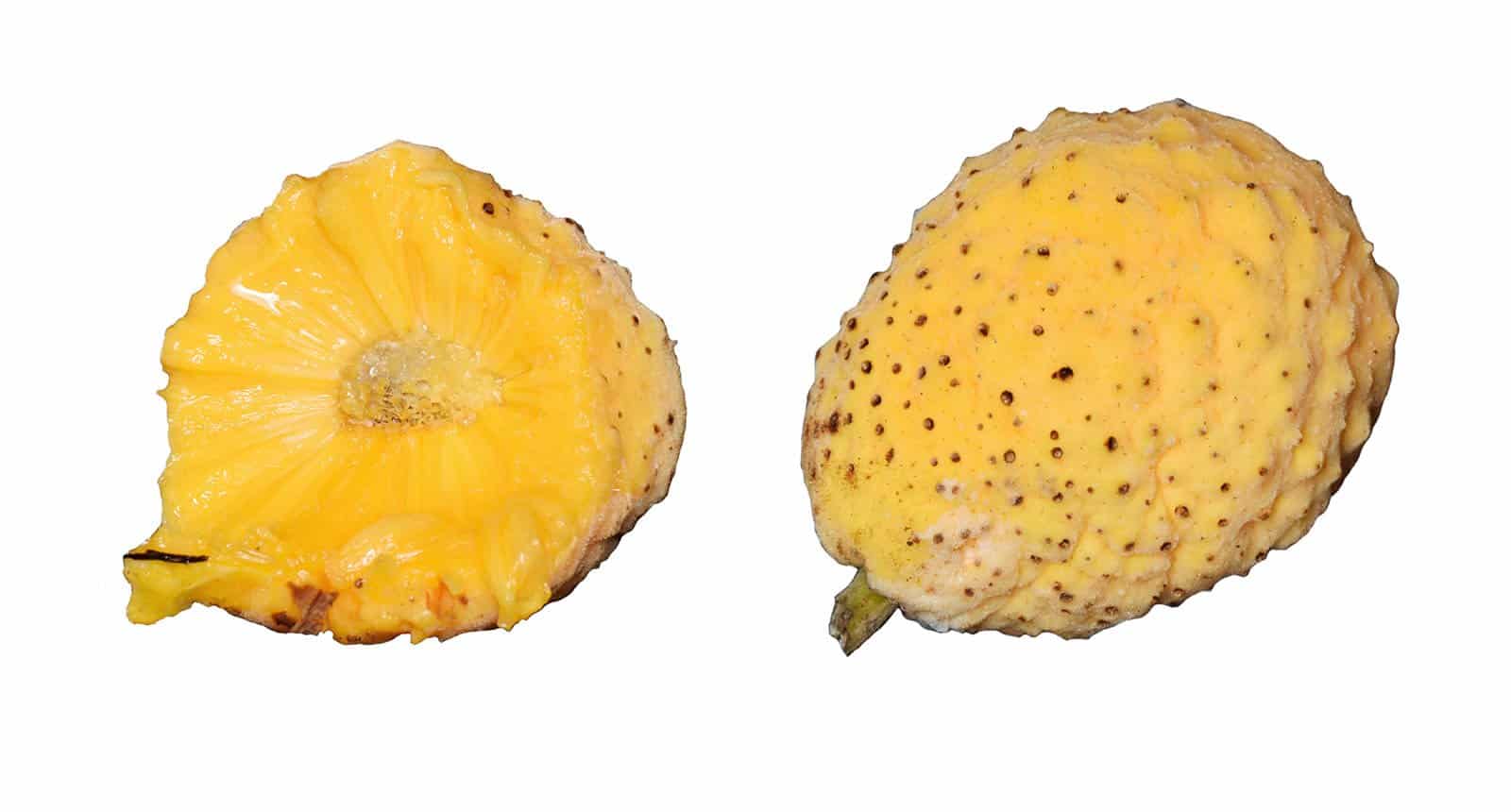 Artocarpus hypargyreus is what scientists name kwai muk, an evergreen tree with cold-hardy characteristics native to China. This slow-growing beauty can double as a decorative tree in your garden.
This fruit has a round shape with light orange, and you will find its acerbity when you taste it. You can process it by drying or eating it raw if you want. As a cousin to breadfruit and jackfruit, Kwai Muk bears fuzzy, orange-brown fruits with a deeply sweet taste and a hint of tanginess.
41. Kenponashi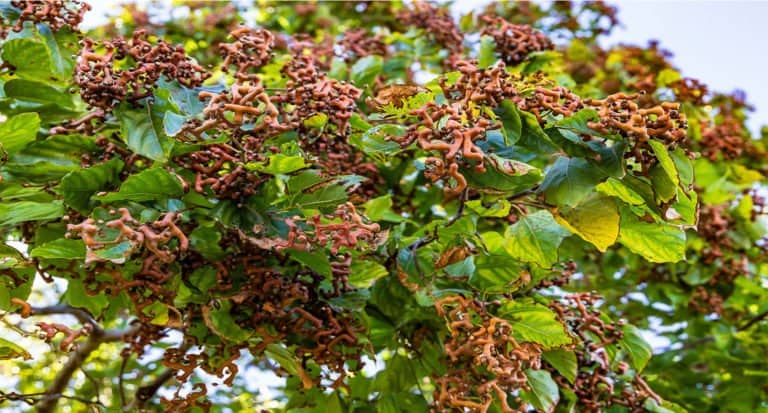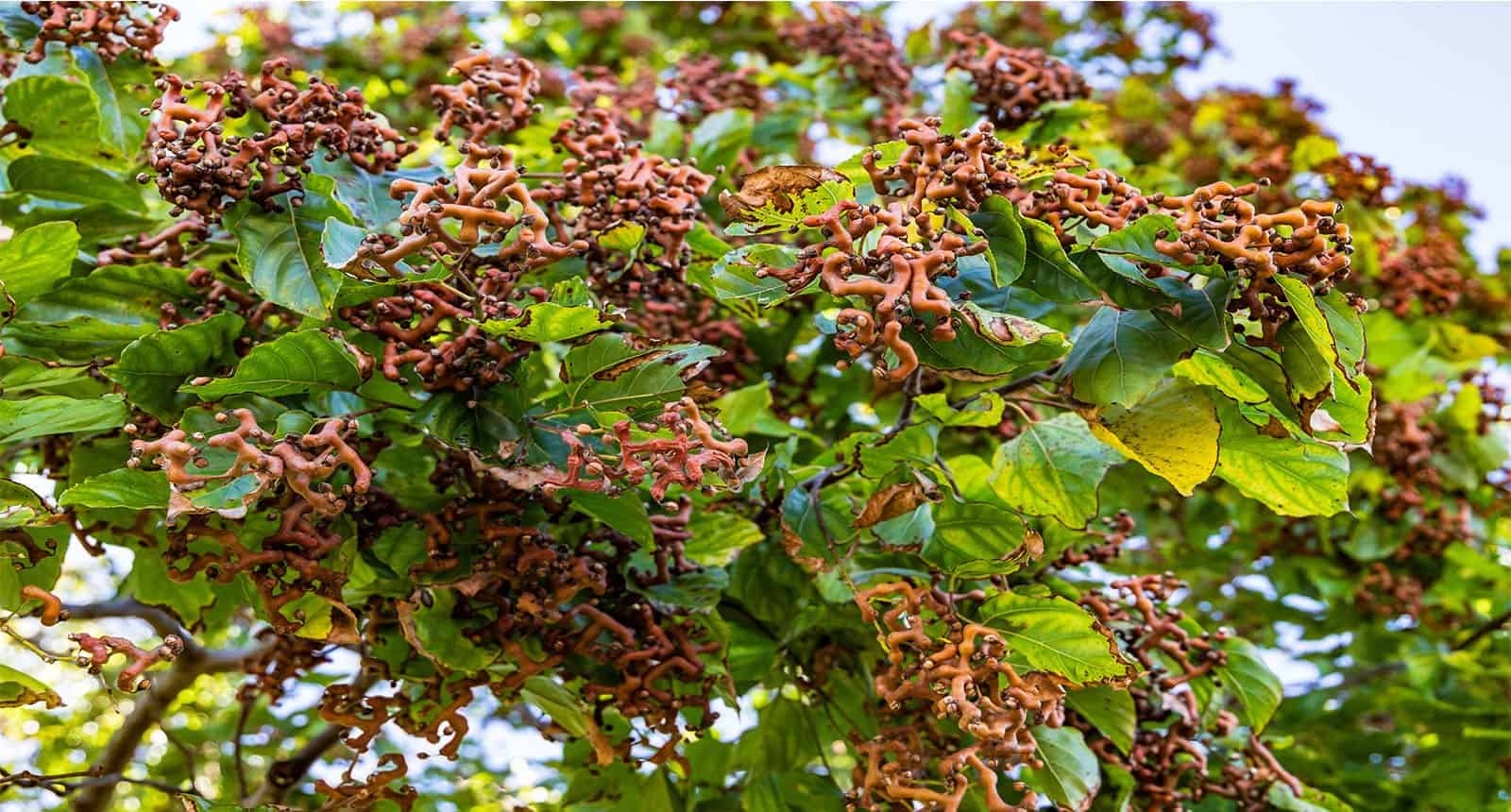 Kenponashi is the fruit of the Japanese raisin tree (Hovenia dulcis). It is a cold-hardy tree and is beautiful for landscaping. The so-called "fruits" are actually edible flower stems with a raisin-like taste, perfect for eating raw, cooking, or even using as a garnish in desserts.
This versatile plant is popular for its medicinal properties, such as alleviating hangovers, acting as a laxative, and treating fevers. Plus, you'll find kenponashi in Chinese and Korean cuisine too!
42. Kalyna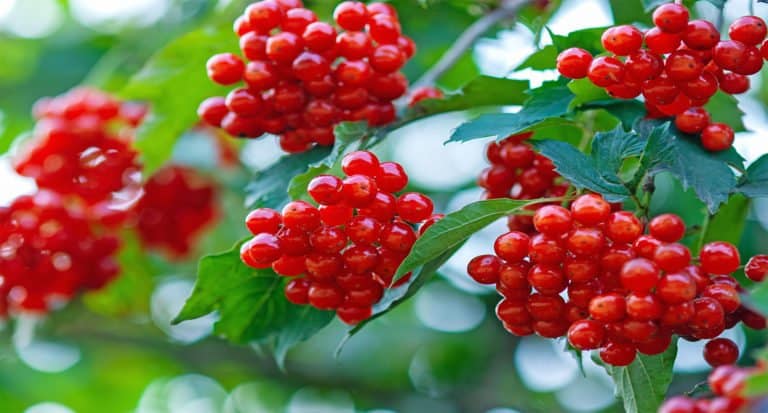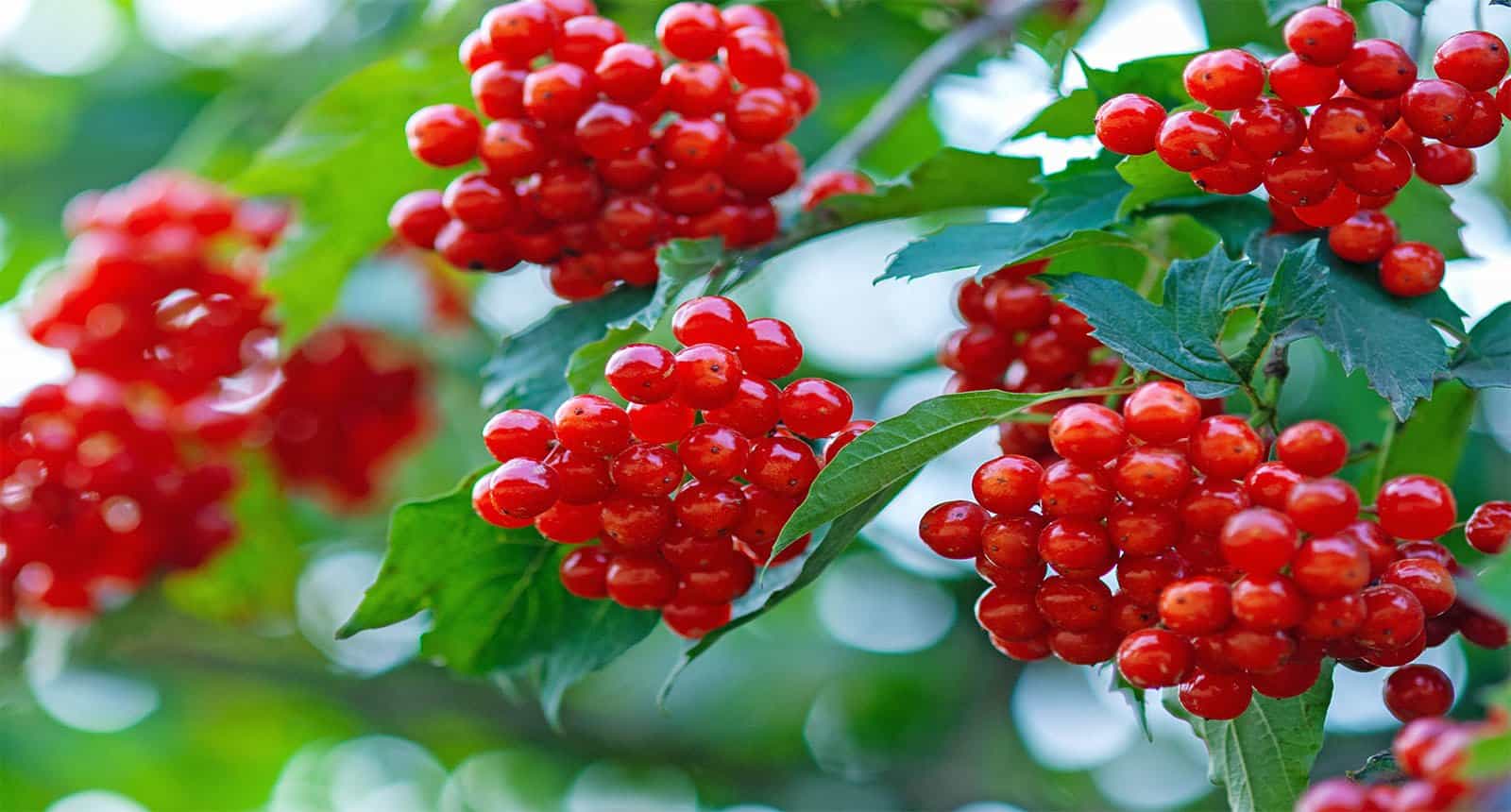 Have you ever heard a more beautiful name than kalyna? Kalyna has various names in different countries. In Ukraine, people call it kalyna, but Viburnum opulus, guelder rose, or snowball viburnum are other names that you should know.
This plant is significant in Ukrainian culture thanks to its ties to Slavic paganism. Furthermore, it's also popular in Russia.
Although Kalyna berries are edible, they're relatively bitter and best incorporated into dishes. Be cautious, though, as consuming large amounts of these berries may cause vomiting.
When it blooms, you can see flowers like snowballs, and later on, juicy and red fruits appear. Thanks to its special flavor, you can make sauces, syrup, jelly, and juice from kalyna. You need to add sugar to it as it has a really acidic taste.
43. Kakadu Plums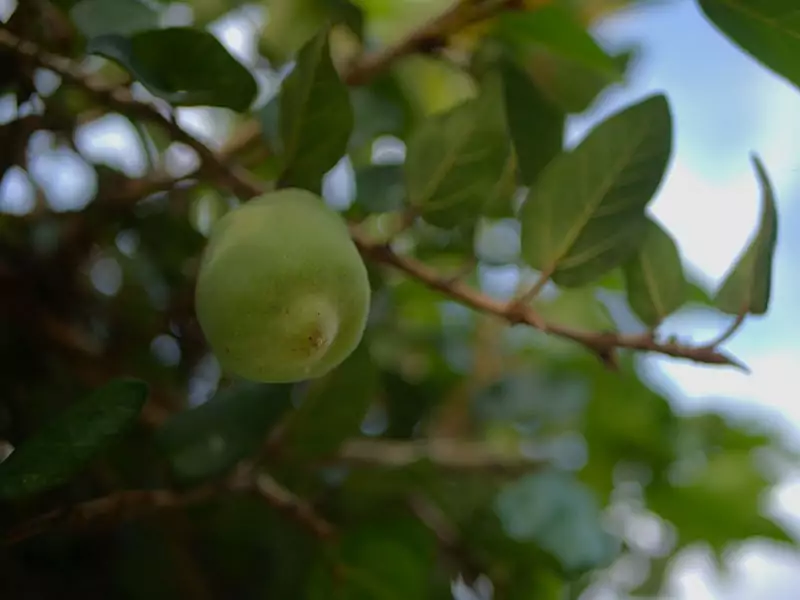 Native to Australia, kakadu plums are known by various names like salty plum, billygoat plum, and green plum. They hold the title for having the highest vitamin C content of any fruit, making them a popular food and traditional medicine among Aboriginal Australians.
These fleshy, egg-shaped fruits offer a mix of sour and occasionally salty flavors. Though you can eat them raw, they're even better when transformed into delicious sauces and relishes.
Snacks and Side Dishes
44. Kettle Popcorn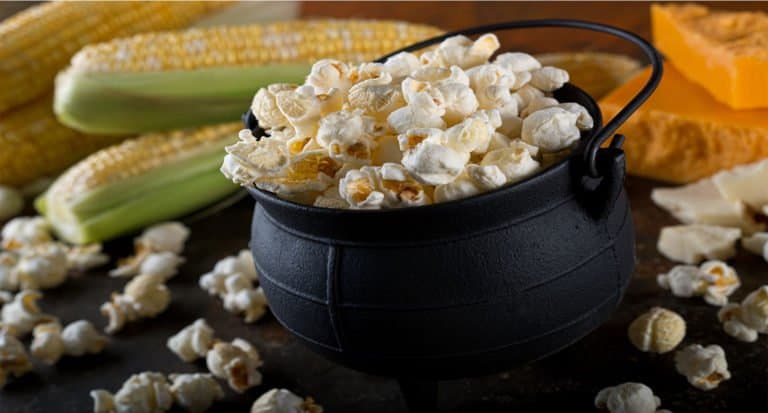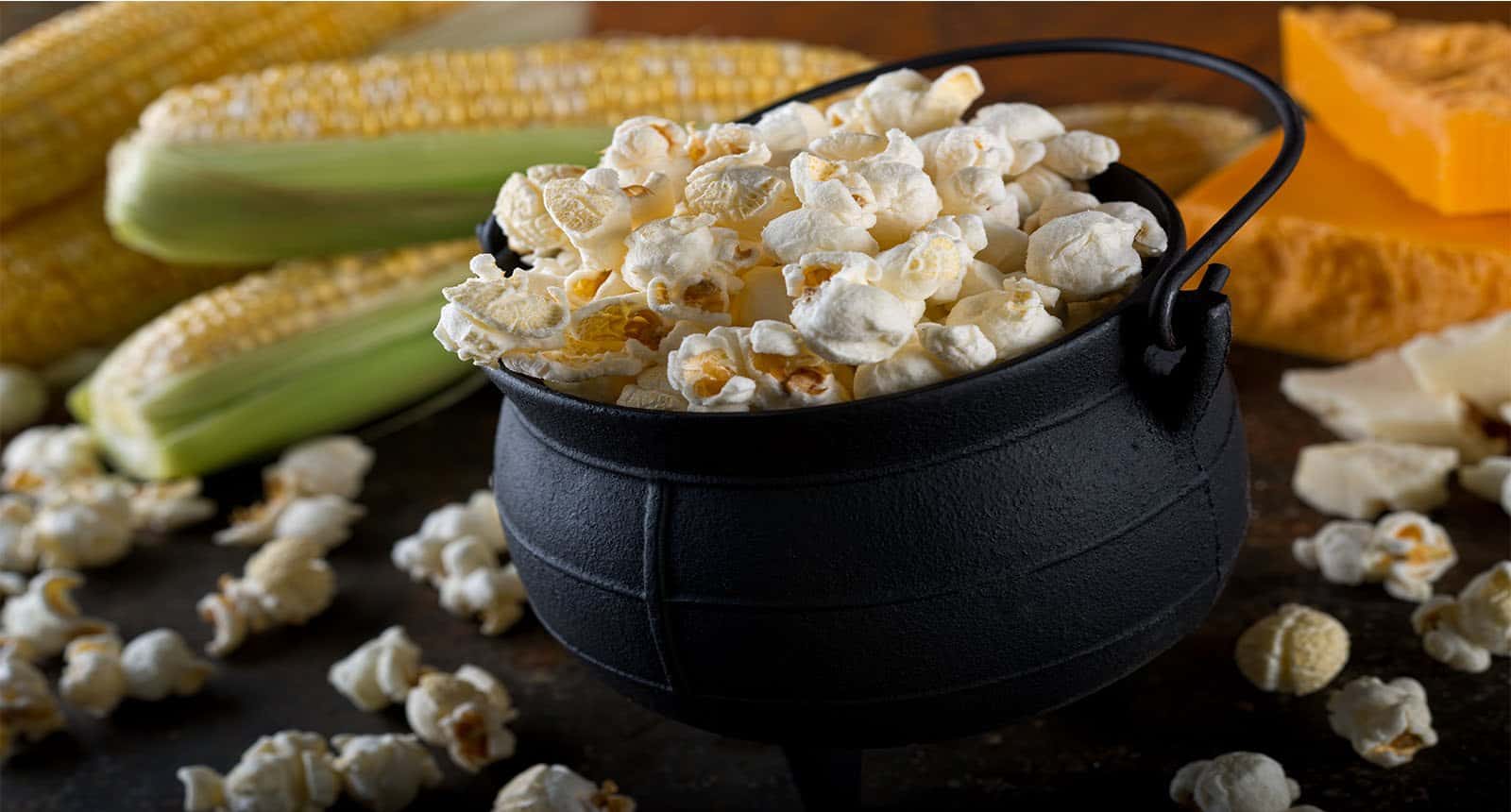 Who are fans of the movies? Kettle popcorn is a side dish you cannot miss when watching a movie. The popcorn will have a sweet and a little bit salty profile when you taste them. You can easily cook this dish at home with melted sugar that will coat each popcorn.
Kettle popcorn is air-popped in a large, oiled cast-iron kettle. The addition of sugar and salt sets it apart, giving it a delicious sweet and salty flavor. To achieve this, the popcorn requires more stirring than ordinary popcorn to prevent the sugar from burning.
While it contains less oil and butter than regular popcorn, do note that it has higher sugar content.
45. Kachumbari (Fresh Tomato And Onion Salad)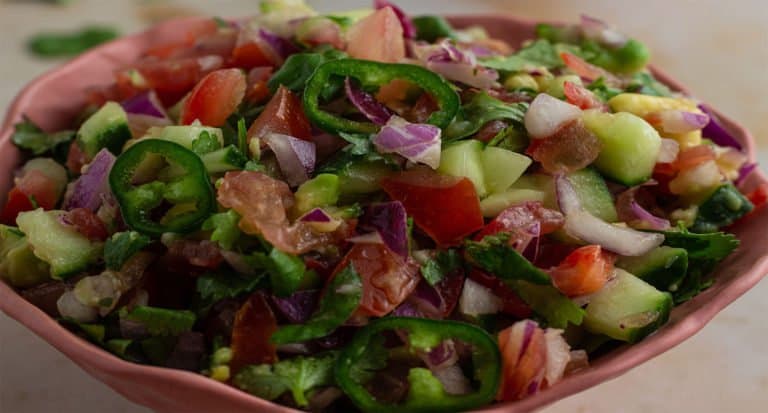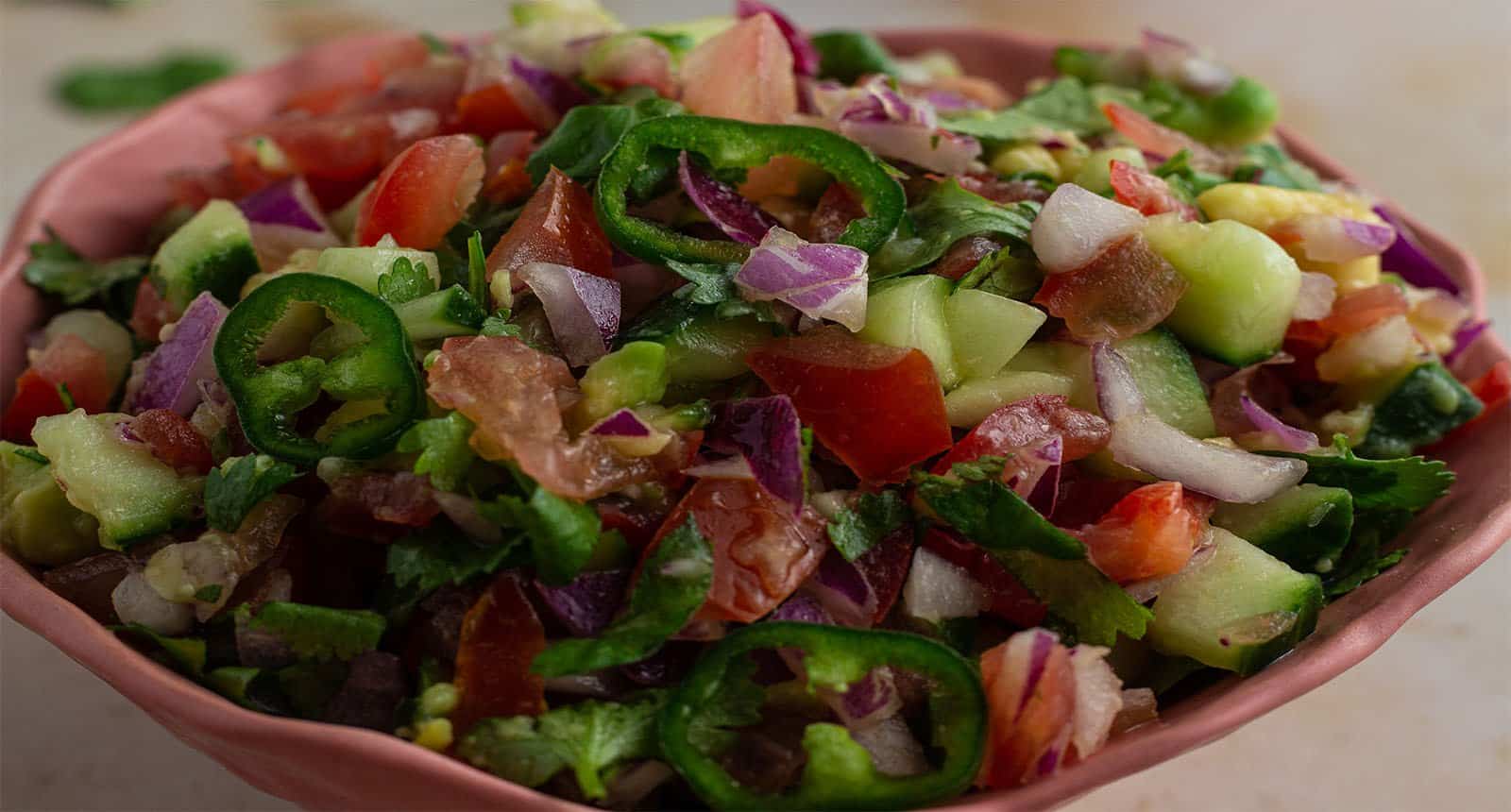 Kachumbari is the name of one kind of salad that originates from East Africa. It's a must-try dish when visiting Kenya, Tanzania, Rwanda, Nigeria, and other nations in the African Great Lakes region.
This salad is an excellent dish you must try in summer as it is made from fresh veggies such as chili peppers, tomatoes, avocado, onions, and dressed with cilantro and a little lime juice.
The vegetables are fresh and crunchy, mixed with a pretty acerbity and aromatic sauce that makes you wake up and cool on hot days. Don't forget to soak onions to remove the pungent smell from onions.
This refreshing side dish pairs wonderfully with pilau, ugali, BBQ meat, and sausages. This simple yet flavorful dish mixes veggies with lemon juice and vinegar, creating a perfect balance of zesty flavors. Kachumbari is full of fiber and vitamins, making it a healthy addition to your meal.
46. Kelewele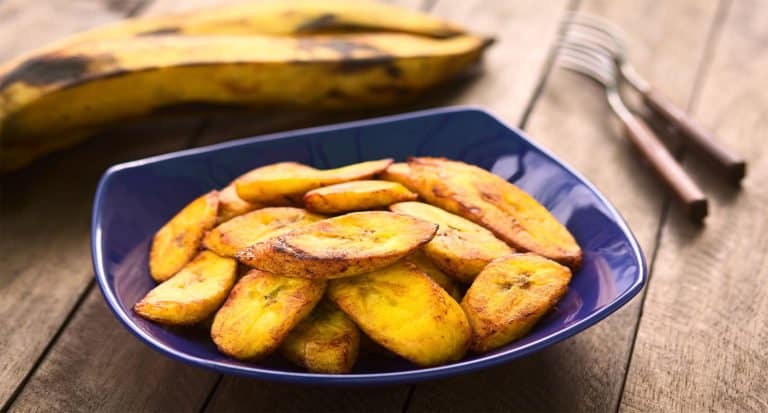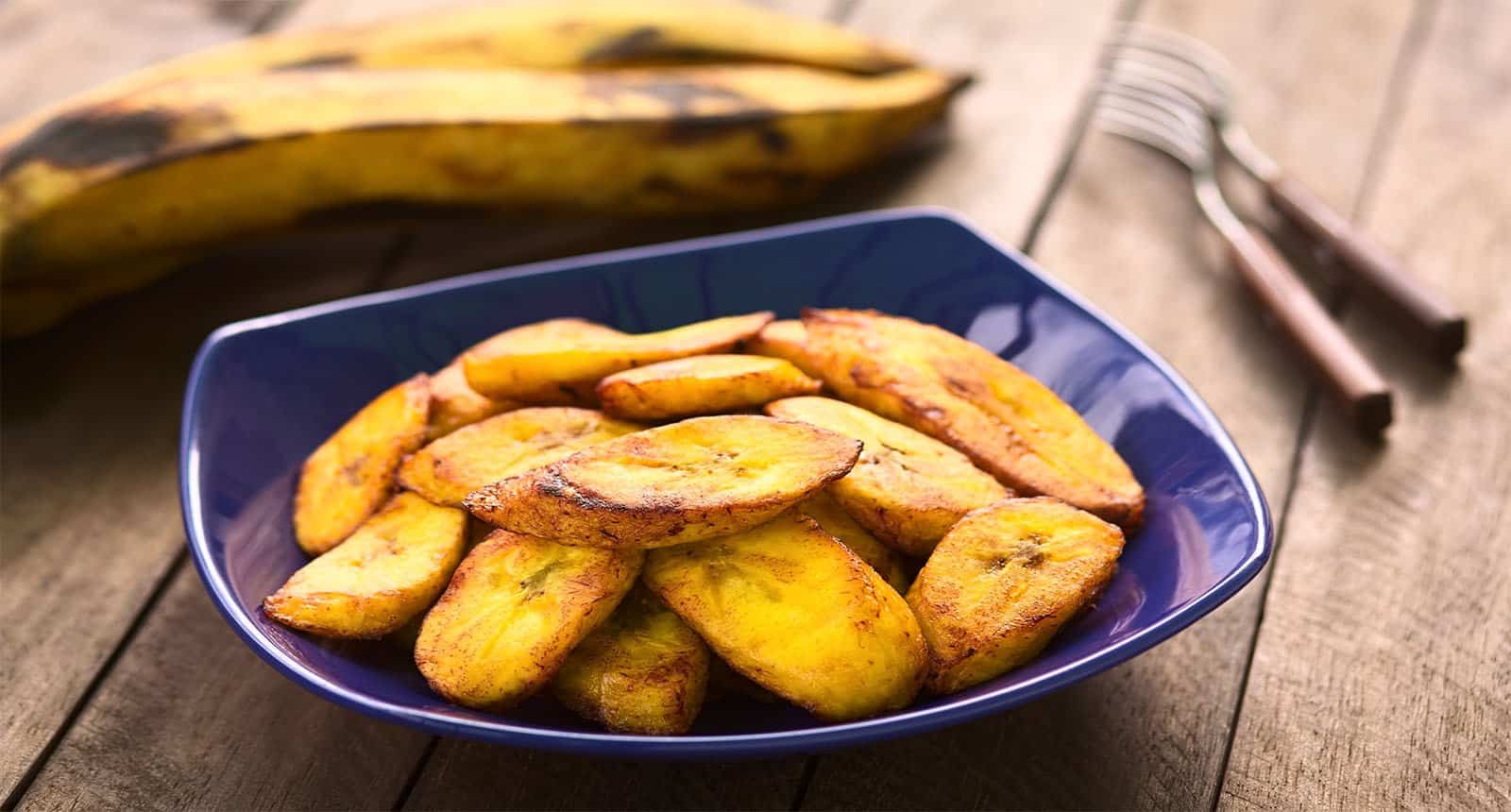 The main ingredient of kelewele is ripe bananas; you need to cut them into cubes and sprinkle them with some spices such as hot pepper, salt, and ginger. Many people change the recipe by adding nutmeg, cinnamon, and more.
Also known as hot plantain crisps, the dish is a mouthwatering fried spicy treat popular in Ghana and surrounding countries. This street food delight is easy to find in Accra, Ghana's capital city, and comes in large chunks or cubes.
Kelewele is great as a snack, starter, or even a side dish for pairing with roasted peanuts. This African street food has soft and sweet on the inside and crispy on the outside.
47. Kamote Cue (Caramelized Sweet Potatoes On Skewers)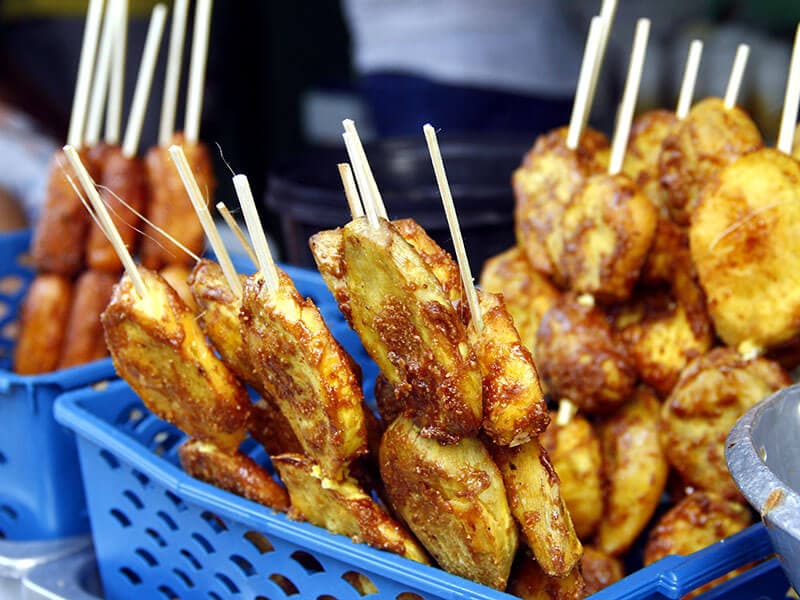 In the Philippines, you'll find a popular, inexpensive snack called Kamote Cue, made from sweet potatoes or "kamote" as the locals call them.
To prepare this sweet and crispy treat, locals coat kamote slices in brown sugar before deep-frying them and then skewering them on bamboo sticks for easy munching. In a modern twist, you might even see kamote cue served in brown paper bags, similar to French fries.
48. Kuli-Kuli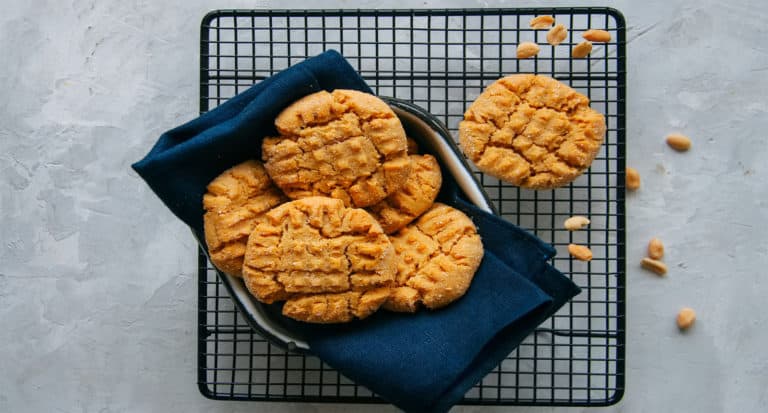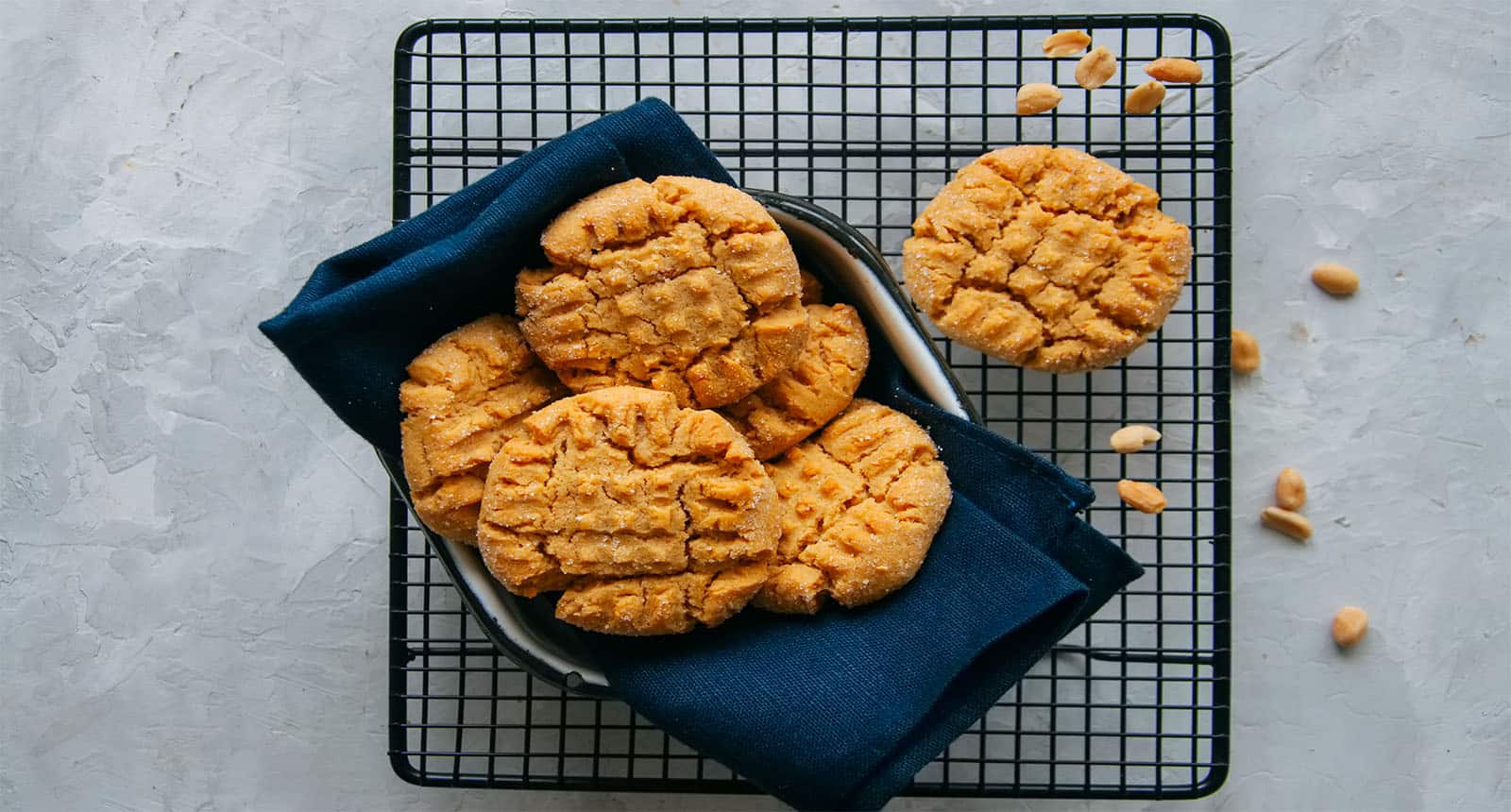 I want to introduce to you a popular food in Nigeria that is made from mashed peanuts. Peanuts are one of the healthy nuts as they can provide you with protein and fat. Plus, they are easy to purchase thanks to their budget-friendly price.
Kuli-Kuli is a crunchy, spicy West African snack loved in Ghana, Nigeria, and Benin. Also known as groundnut cakes or groundnut chips, this snack is made from roasted peanuts ground into a paste and mixed with spices before being deep-fried.
Available in various shapes and sizes, kuli-kuli is rich in proteins, vitamin E, and magnesium. You can enjoy this tasty treat with porridge, salads, or simply on its own as a delicious pick-me-up!
Desserts and Sweets
49. Kit Kat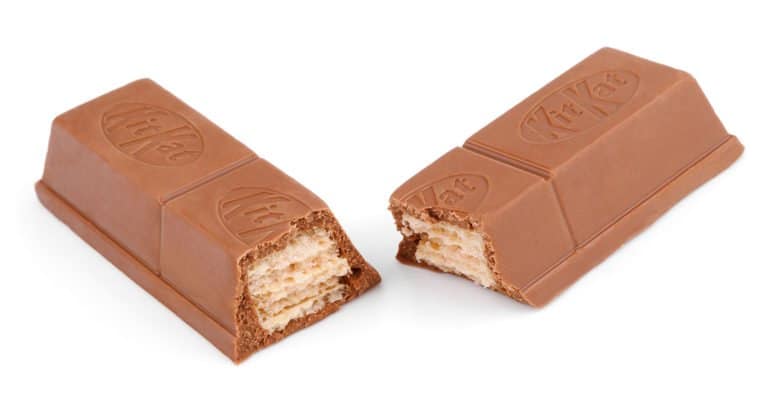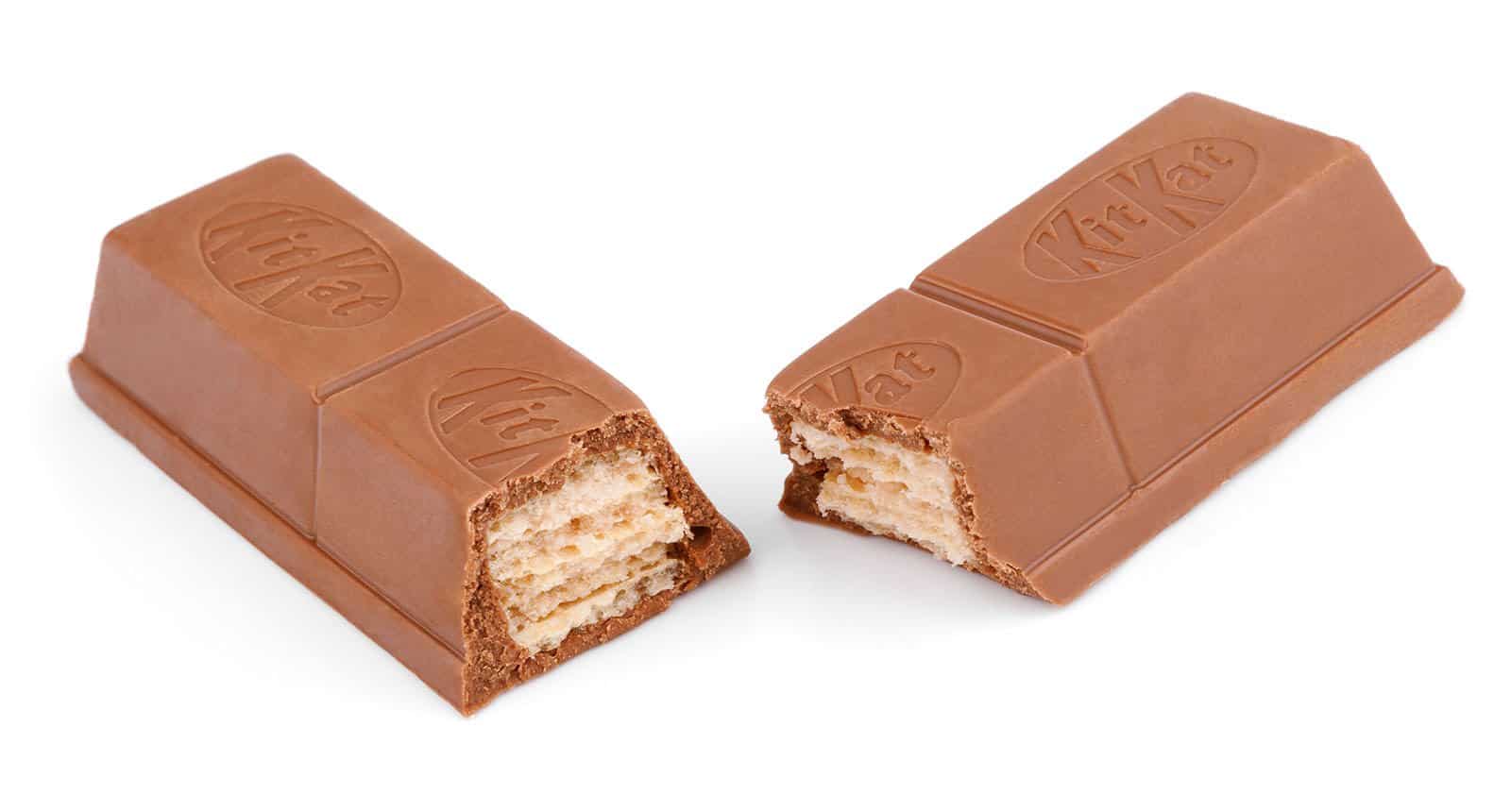 Kit Kat is a perfect gift for sweet-tooth people, and it will help them supplement calories during the working process. It is one of the signature products of Nestle Company. This brand has produced kit kat with chocolate and wafer bars.
This beloved chocolate-covered wafer bar has a wide array of flavors, from fruity to green tea, and even soy sauce or crème brûlée with some flavors have limited availability. Plus, there's a vegan, dairy-free option too!
Made from 100% sustainable cocoa, Kit Kat is considered a good luck charm in Japan. Thanks to the phonetic similarity between "kitto katsu" and "surely to win," Japanese students often snack on Kit Kats before exams for a boost of confidence.
Each pack of Kit Kat contains 2-4 pieces; you can use your finger to separate it and share it with people.
50. Koeksisters (Afrikaner Confectionery)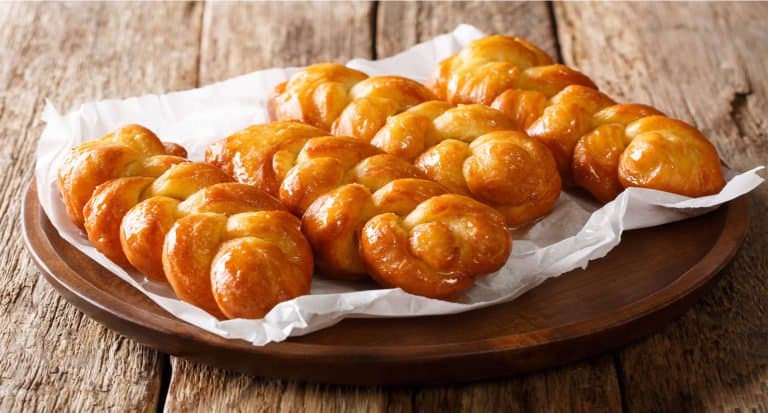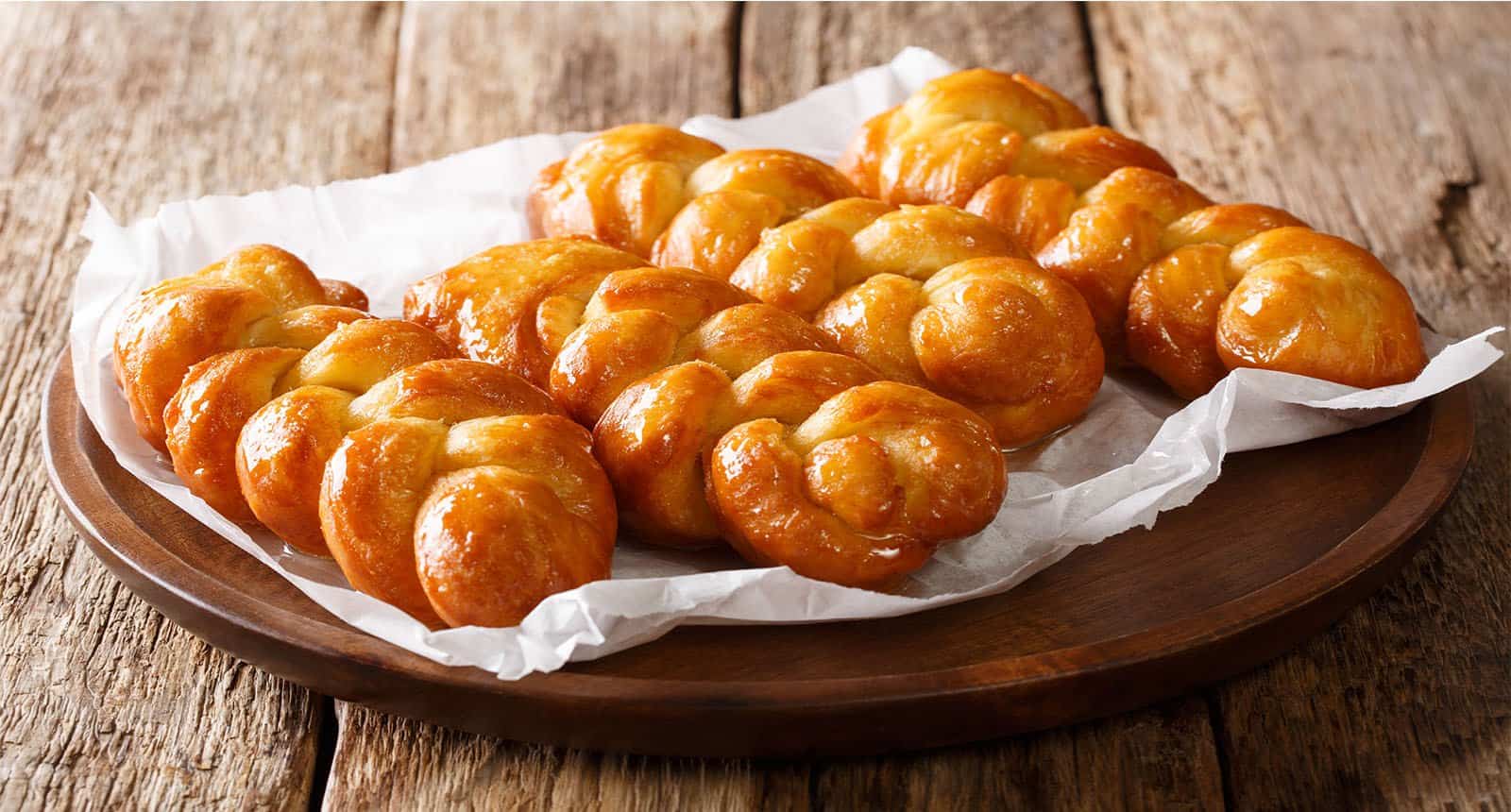 Koeksisters is a traditional food in South African cuisine, and you can consider it as a donut as the making process is quite similar to making donuts. After stripping the dough, you can drop these strips in oil and fry until turning into golden color.
Koeksisters are likely the creation of Dutch settlers. These fried dough confections, similar to doughnuts, boast a crunchy exterior and a sticky, honey-like sweetness inside. The name comes from the Dutch word "koek," which refers to wheat flour confectionery.
The sauce you use to infuse these South African sweet delights is not chocolate but honey or syrup. There's also a variant called "koesister," which swaps the syrup for desiccated coconut.
In 1995, Nelson Mandela shared Koeksisters with the widow of an apartheid president as a symbol of reconciliation in South Africa.
51. Kentucky Jam Cake
Kentucky jam cake, a tasty treat with roots in Kentucky, might have been created by German immigrants.
This layered cake combines berry jam, such as blackberries or blueberries, with spices like cinnamon, cloves, and allspice. Typically, the cake has nuts and old-fashioned caramel icing.
The result is a moist, sweet, and slightly spicy cake with a refreshing tartness. Additionally, you can store it in the fridge for a few days to enhance the flavors, making it even more delicious!
52. Kouign-Amann (Breton Cake)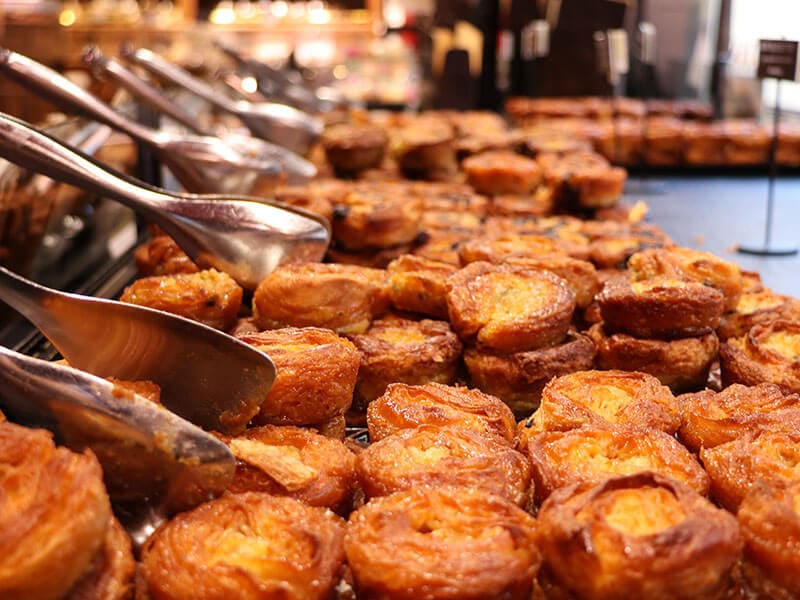 Pronounced koong-yah-mahn or queen-yah-man, kouign-amann is Brittany's mouthwatering muffin-shaped, caramelized croissant. Dating back to the 1860s, this sweet delight boasts multiple layers with sugar sprinkled in between.
Its name translates to "butter cake" in Breton, which is fitting as this pastry is rich in butter, making it one of the fattiest options worldwide. The soft center and crispy outer coating create an irresistible contrast that will make you crave more.
53. Kalamay (Filipino Sweet Sticky Rice)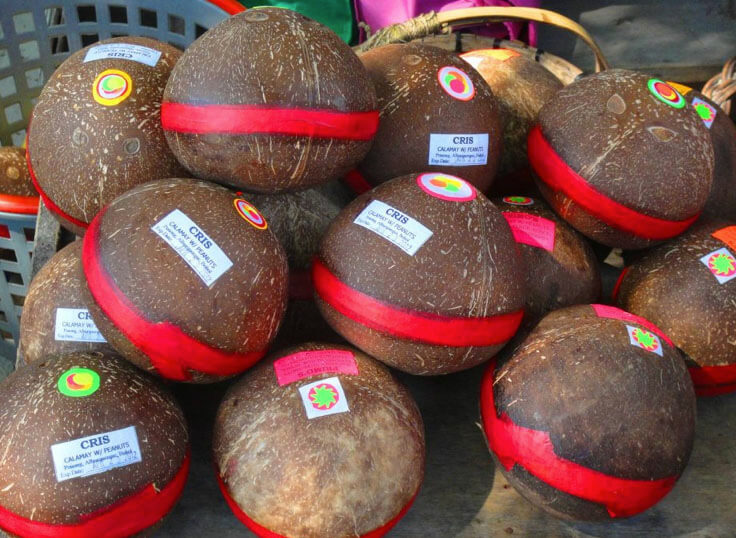 Kalamay is a popular ball-shaped sweet from the Philippines with a toffee-like flavor and a hint of coconut aroma. This treat combines ground sticky rice, brown sugar, coconut milk, and vanilla or peanut butter flavorings.
Although it takes time to create, it is a versatile addition to various Filipino dessert recipes, including cakes, cookies, and bread. As you explore the country, you'll discover regional variants with unique sweetness levels, consistency, and wrappings.
In Tubigon, Philippines, you can find this treat in coconut shells.
54. Kouglof (Alsatian Brioche)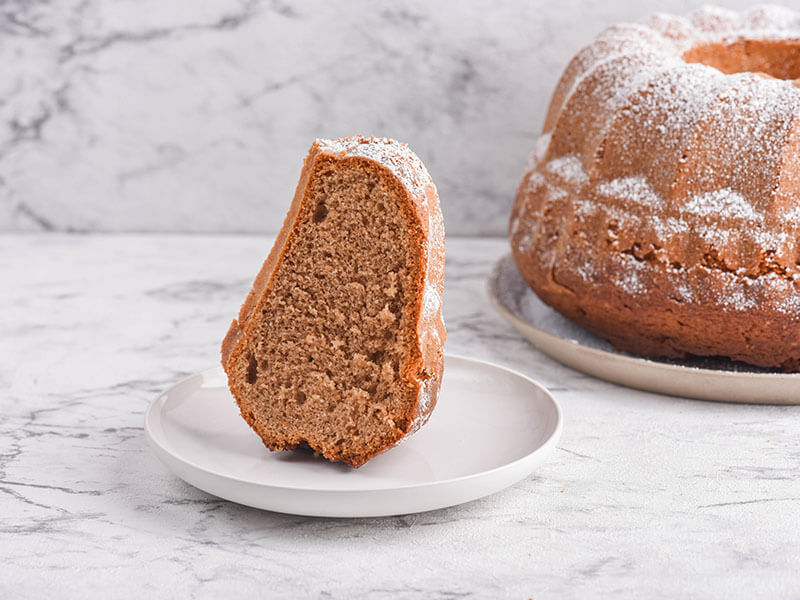 Kouglof, sometimes spelled Gugelhupf or Kugelhupf, is a fluffy cake made from soft yeast dough and baked in a unique, ridged pan similar to a Bundt pan. Though many believe it originated in Austria, its true birthplace remains a mystery.
This delightful dessert is popular across European countries like France, Germany, Austria, and Switzerland. Studded with raisins and almonds, kouglof's taste and texture are reminiscent of Italian panettone, yet with fewer flavor variations.
Beverages
55. Kasiri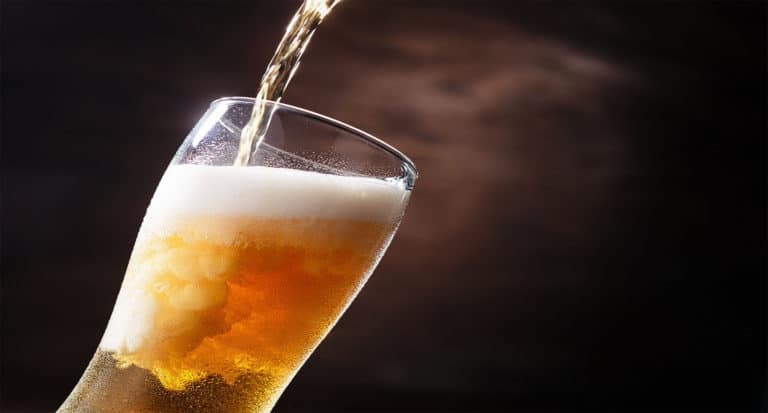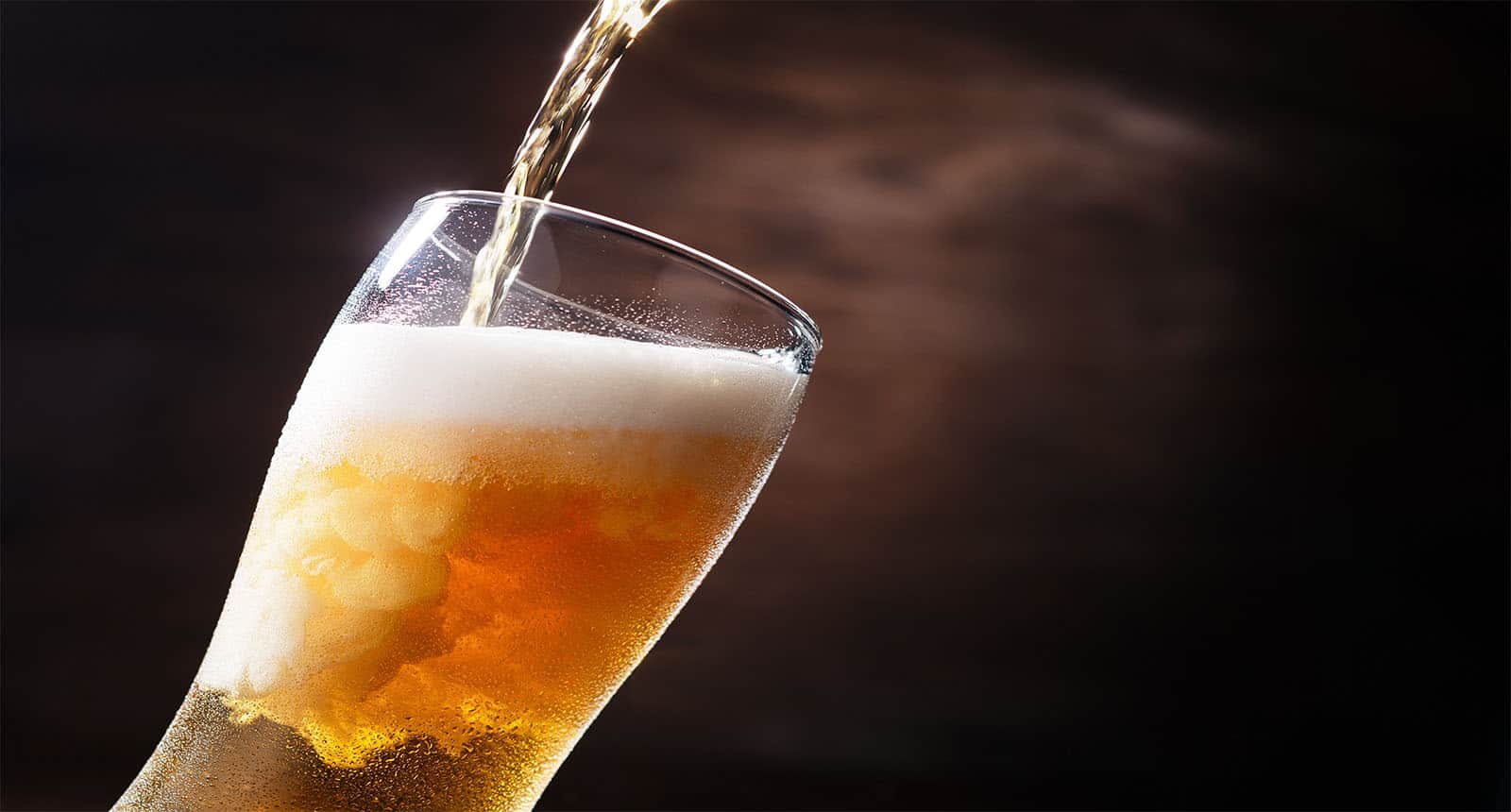 Both Kasiri and Kaschiri refer to cassava beer.
Kasiri is a fermented drink made from the roots of cassava. After harvesting cassava roots, you need to press them to get their extraction, and the extracted juice is the key ingredient to produce this drink.
Besides enjoying the fermented drink, you can boil it and allow water to steam; then, you will have viscous syrup. The syrup can be used for disinfection purposes or flavoring.
56. Kava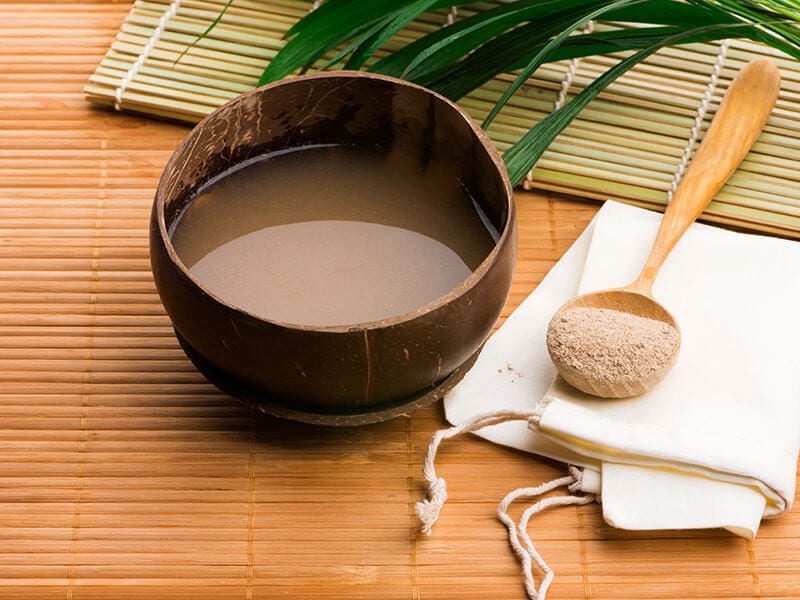 With a rich history, Kava holds a special place in Pacific Island culture as a ceremonial drink. Derived from the Piper methysticum plant, the drink is also a supplement.
In Fiji, people consume kava powder, made from sun-dried kava root, mixed with water and served in a half-shell of coconut, forming a beverage known as grog. Though its flavor is bitter, kava is praised for its relaxing properties and mood-boosting effects.
57. Kirsch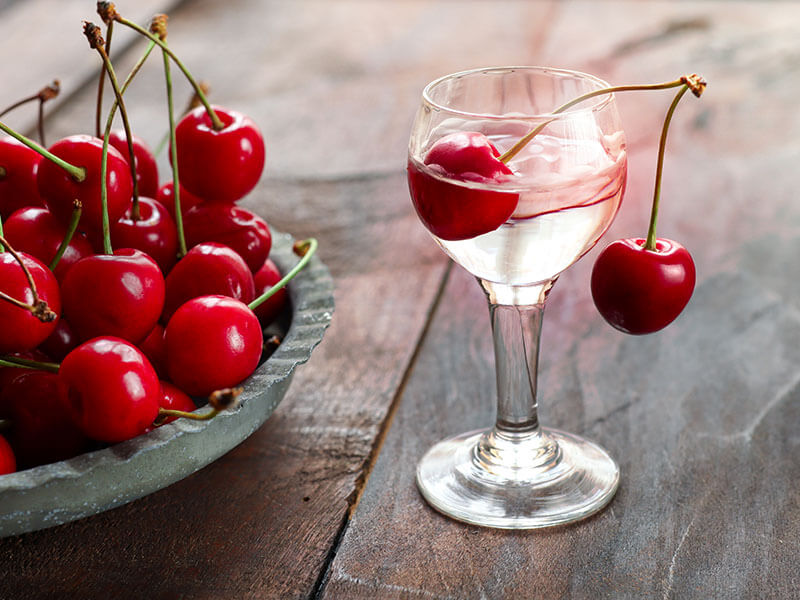 Kirsch, or Kirschwasser, stands out as a clear, colorless liqueur traditionally made by distilling sour cherries or other cherry varieties. Unlike sweet cherry brandies or cherry liqueurs, Kirsch has a non-sweet, bitter taste with a light tart finish.
With an alcohol content of around 40%, Kirsch can be a hard-hitting liquor that goes as an apéritif in a small glass. It's also used to craft cocktails and for culinary purposes, such as baking cakes or making Swiss fondue.
58. Kombucha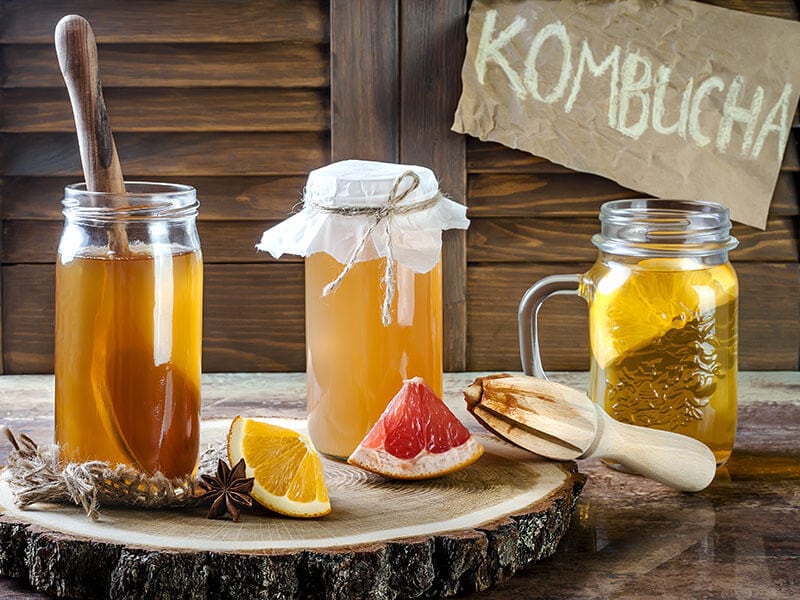 Sometimes called kombucha tea, kombucha is a fermented beverage made from tea, sugar, bacteria, and yeast, with optional flavorings like spices or juices. With an alcohol content of only 0.5%, it's a cloudy, pale, or dark brown drink that tastes tart and mildly sweet.
In some ways, the flavor can be similar to ginger ale or apple cider. Kombucha is known for its probiotic benefits and B vitamins. To enjoy it safely, the Centers for Disease Control (CDC) recommends consuming around 4 ounces per day.
59. Kahlua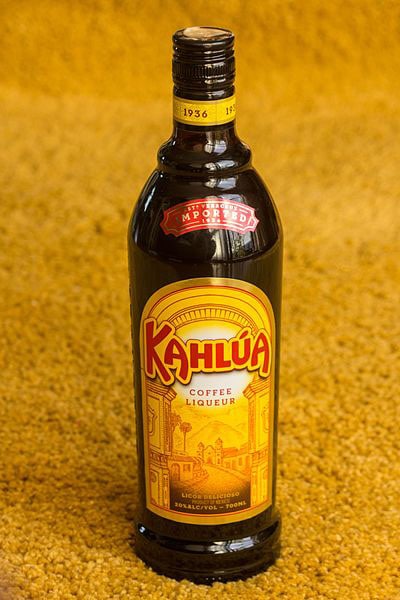 Created by the Pernod Ricard company in 1936, Kahlua is a well-loved coffee liqueur from Veracruz, Mexico. By combining rum, sugar, and arabica coffee, this flavorful drink has a 20% alcohol content.
Regarding taste, it is a delightful mix of bitter black coffee and sweetness. Its versatile nature lends itself to various applications, including cocktails, desserts, and even as a topping for ice cream or cakes.
60. Kvass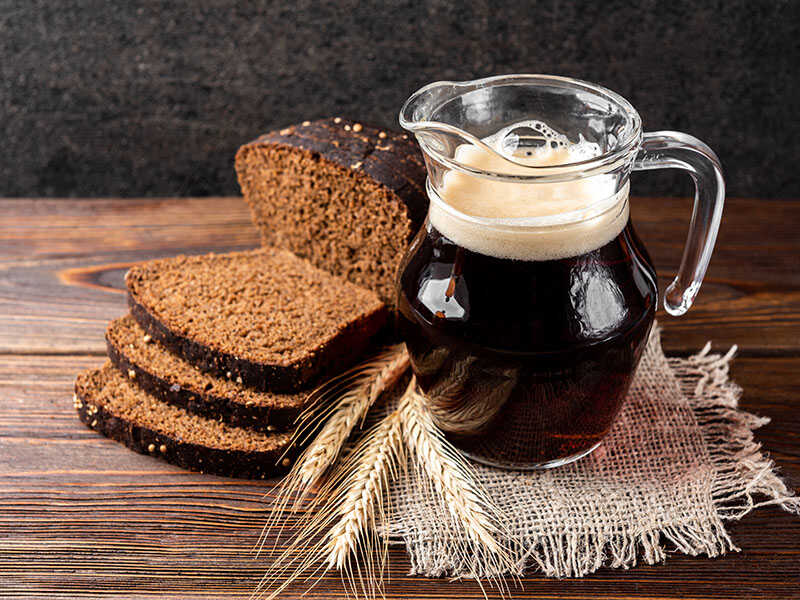 Kvass, sometimes called Kvas, Quass, or Quasse, is a unique fermented beverage with a cereal base. It originates from northeastern Europe and is especially popular in Russia. Made with rye or dried rye bread, this drink may be flavored with berries, fruits, honey, or herbs.
The mixture tastes like beer: sour and slightly sweet, with an alcohol content generally not exceeding 1.5%. Packed with amino acids, vitamins, and lactic acid, Kvass offers benefits like improved digestion (13) .
FAQs
Curiosity piqued? Get ready to satiate your taste buds and explore the vibrant culinary landscape of 'K' foods that are just waiting to be discovered.
There you have it – a flavorful adventure exploring foods that start with K! I hope you've found your favorite dishes or ingredients to add to your culinary arsenal. So, don't hesitate to try something new and share your experiences with friends and family.
If you enjoyed this journey as much as I did, I encourage you to leave a comment on this article. Make sure to share the post with people around so they can learn more about food starting with K. Let's spread the word and inspire others to expand their culinary horizons too!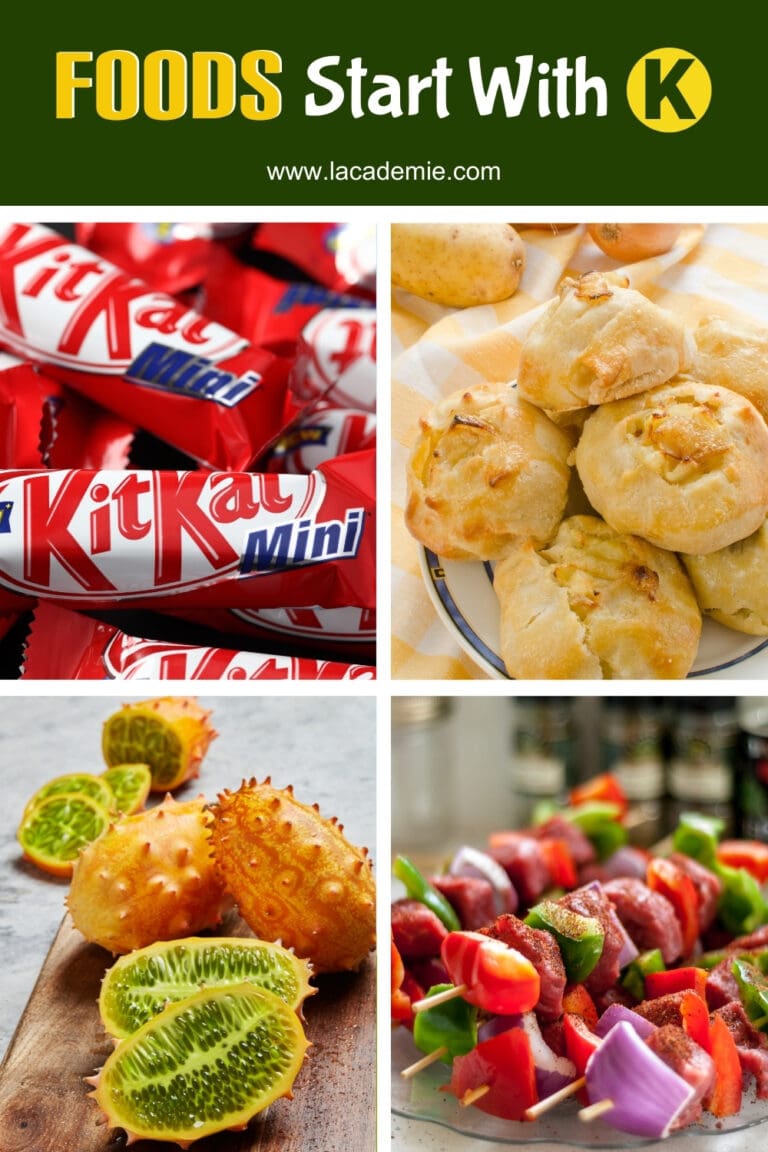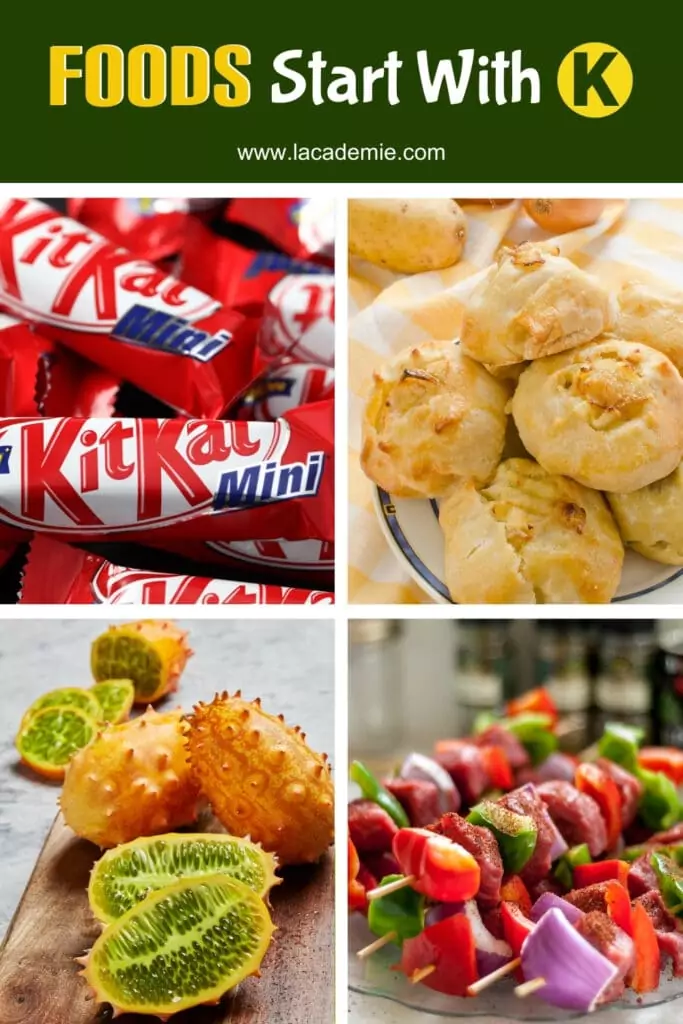 References
What Are the Health Benefits of Mackerel? (2022). webmd.com.
Kidney Beans 101: Nutrition Facts and Health Benefits (2019). healthline.com.
Ketchup Nutrition: All You Need to Know (2022). healthline.com.
Health Benefits of Kimchi (2022). webmd.com.
Kohlrabi, raw (2019). fdc.nal.usda.gov.
Are There Health Benefits of Kabocha Squash? (2022). webmd.com.
What are the health benefits of persimmon fruit? (2021). medicalnewstoday.com.
9 Health Benefits of Kale (2023). healthline.com.
Vivian Caetano, Milene Teixeira, Daniele Rodrigues, Helena Teixeira Godoy (2015). Biochemical Characterization of Dovyalis hebecarpa Fruits: A Source of Anthocyanins with High Antioxidant Capacity.
7 Benefits of Kiwano (Horned Melon) — And How to Eat It (2019). Healthline.com.
Health Benefits of Kiwi (2022). Webmd.com.
Health Benefits of Kumquats (2021). Webmd.com.
Zhanmei Shao, Jidong Zhong, Yuming Fang, and Yongqiang Ma (2022). Effect of Kvass on Improving Functional Dyspepsia in Rats.