These mouth-watering ketchup substitutes will put a bold spin on your plain old meals. It's no secret that ketchup owns a special place in many people's hearts. But whether you're all out of it or want to try something new, I've got you covered.
From healthy salsa to luscious tomato paste, I've gathered the stand-ins for ketchup for every occasion. Some of these sauces might have already been in your cupboard, whereas others can be found at most spice aisles.
Here in this post, you'll find the best sauces to use in place of ketchup, their basic flavor profiles, and some health benefits they offer. Chances are, you'll never have to worry about your ketchup bottle being emptied midway through your snack time again.
Let's dive in and find out the best sauces for switching up your dipping selection!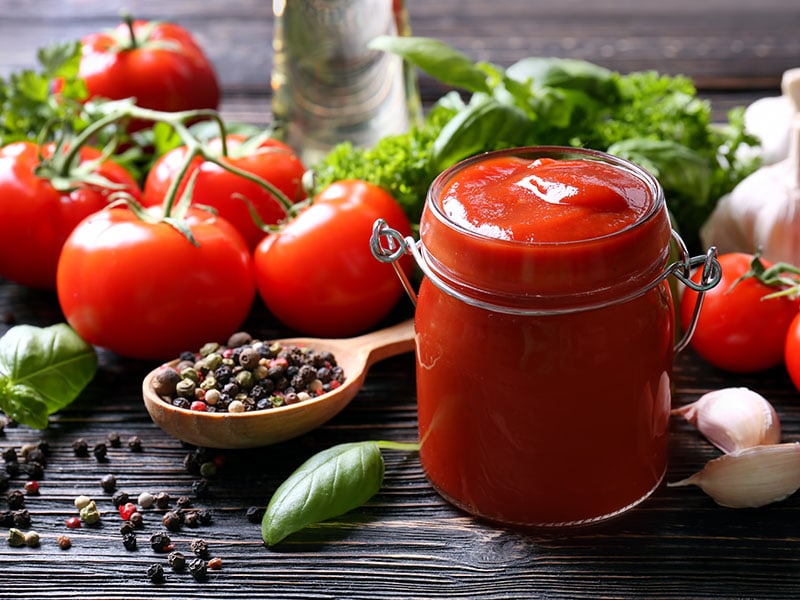 Time-Saving Ketchup Substitutes For Last-Minute Needs?
Whether you suddenly run out of ketchup or need another sauce that meets your diet requirements, finding an excellent ketchup substitute is a breeze. Here's a rundown of top-notch options you can try out.
Ketchup Substitutes For Dipping
Salsa
Sun-Dried Tomato Hummus
Barbecue Sauce
Mayonnaise
Mustard
Sriracha
Tomato Jam
Ketchup Substitutes For Cooking
Tomato Sauce
Apple Cider Vinegar
Tomato Paste
Homemade Ketchup Substitutes
Simple Homemade Ketchup
Healthy Homemade Ketchup
DIY Ketchup For Cooking
Catch Up On Your Ketchup Facts – Did You Know It All?
It's safe to say that it is already everyone's favorite sauce. It's the perfect complement for burgers, hash browns, French fries, and more. You get the idea!
What Is Ketchup Anyway?
At its most basic, ketchup is a sweet, seasoned pureed condiment typically made from tomatoes, green peppers, onions, and other spices. Flavor-wise, it gives off an obvious tomato taste with a mild tang and sweetness.
The origin of ketchup remains debatable. From China to Britain and Southeast Asia, the spice is said to have a rich history. However, the first published tomato ketchup recipe hit the scene in 1812 by James Mease, a scientist from Philadelphia.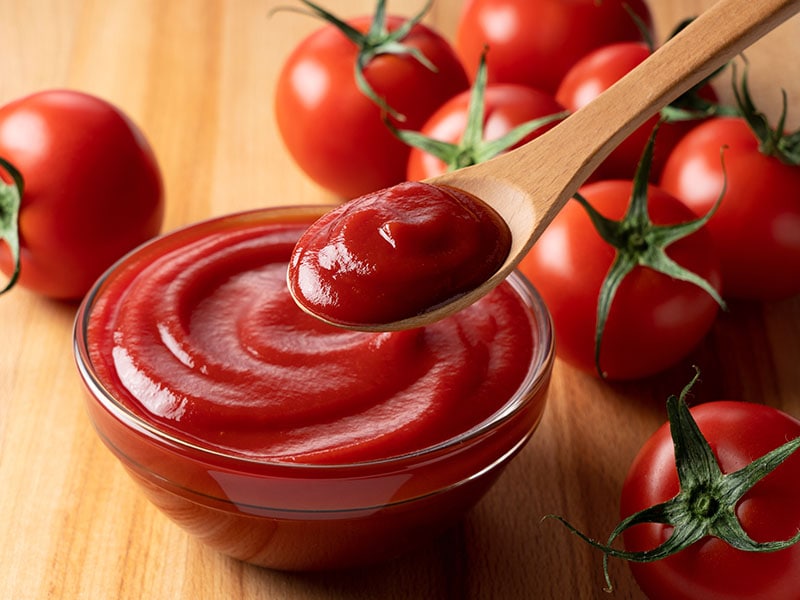 Ingenious Ways To Use Ketchup In Everyday Dishes
How did such a simple condiment come to be the world's favorite sauce? The secret lies in its diverse sensations: salty, bitter, sweet, sour, and umami all at once. It goes down wonderfully with just about anything.
As far as seasoning goes, tomato ketchup adds just the right pop of zest and a sharp, delicious taste. Plus, it also provides accents of textures, colors, and a pleasant fragrance.
Quintessentially American, ketchup is nowadays a staple in most kitchens. You can find it as an accompaniment for grilled cheese, French fries, burgers, mac and cheese, pizzas, etc. So many dishes don't taste the same without this condiment, just to name a few.
If you'd like a few more ideas for using up that bottle of ketchup, you're in for a treat today!
Meatloaf: A tasty ketchup-based sauce makes your meatloaf irresistible.
Stir-fries: Ketchup adds a sweetness that perfectly balances the heat of stir-fries.
Sloppy Joes: Hearty tomato sauce served with toasted buns is a classic dinner.
Scrambled eggs: Delicious tomato flavor is just about right with some rich scrambled eggs.
Barbecue sauce: With ketchup as the base, your BBQ sauce is great for all grilled food.
Salad dressing: Ketchup works like a charm for quick and easy salad dressings.
Mashed potatoes: As with fries, mashed potatoes are a great match for ketchup.
Mac and cheese: Who knew a mix of ketchup with mac and cheese could be so addictive?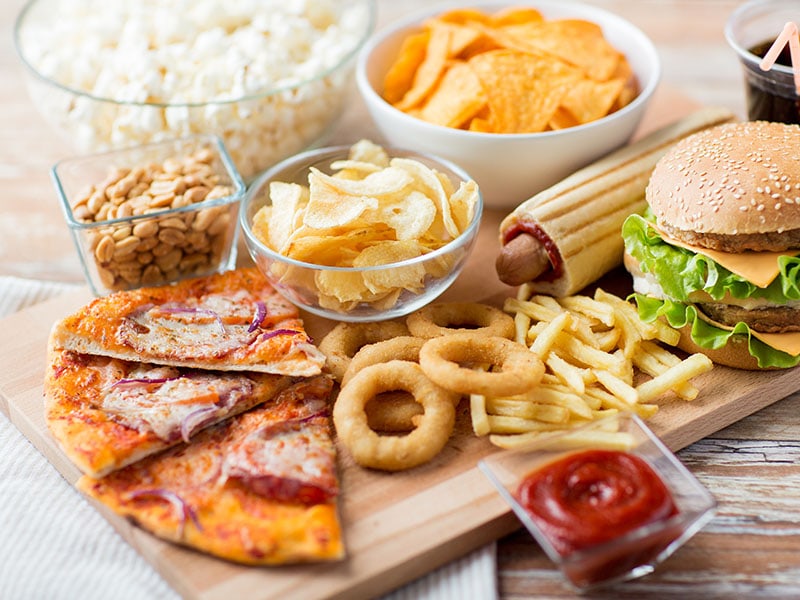 Ketchup Nutritional Facts
Provided by the USDA, these nutrition facts on ketchup will let you in on what's inside each tablespoon (15g). (1)
| | |
| --- | --- |
| Nutrients | Value |
| Calories | 15 |
| Fat | 0.02g |
| Sodium | 136mg |
| Carbohydrates | 4.1g |
| Fiber | 0.05g |
| Sugars | 3.2g |
| Protein | 0.16g |
6 Surprising Health Benefits Of Ketchup
Besides enlivening your meals, ketchup offers several health benefits that you probably never knew about, as long as the intake is in moderation. So if you're a huge ketchup lover, let's see what good it does to your body.
1. Keeps A Healthy Heart
As the base of ketchup, tomatoes provide an antioxidant called lycopene, which is the compound that gives it the red color. By boosting your body's antioxidant defenses and dilating blood vessels, it helps to protect your heart against heart attacks and strokes.
2. Reduces The Risk Of Prostate Cancer
Eating ketchup or tomato sauce twice a week has a significant impact in reducing prostate cancer risk for men. This is because a high level of lycopene can help ward off several types of cancer with its antioxidant properties.
3. Improve Eyesight
Thanks to its vitamin A content, ketchup does a great job of improving your vision. Plus, it also contains lutein, a compound that offers protection to your eyes against macular degeneration. Hence, increasing ketchup intake might just do your eyes a favor.
4. Increases Sperm Count
An unlikely aid to male impotence, ketchup can improve sperm quality. This happens because the antioxidants in lycopene help increase sperm count up to 70 percent, reduce the number of abnormal sperms, and boost swimming speed.
5. Low In Fat
In most varieties, ketchup consists of a negligible amount of fat, often less than 0.1 grams each tablespoon. Compared to its counterpart, mayonnaise, ketchup is much lower in calories and completely free of saturated fat.
6. Makes Healthy Food Easier To Eat
Plain vegetable salads may be harder to eat, especially for folks who are used to more savory food. This is when ketchup comes in to save the day. By adding just a bit of flavor to satisfy your tongue, it's so much easier to commit to a healthy diet.
What Can Be Used As Ketchup Substitutes For Your Recipes?
Stick around as we walk through the best ketchup substitutes together. The primary rule of thumb when you lack a certain ingredient is to use what works best for you. However, if there's time to spare, don't be shy to experiment with different flavors.
Quick And Simple Ketchup Dipping Sauce Substitutes
When it comes to savoring those yummy finger foods, a classic dipping sauce is a must. If you're all out of ketchup, here're the best ketchup substitutes that you'll come to love.
1. Salsa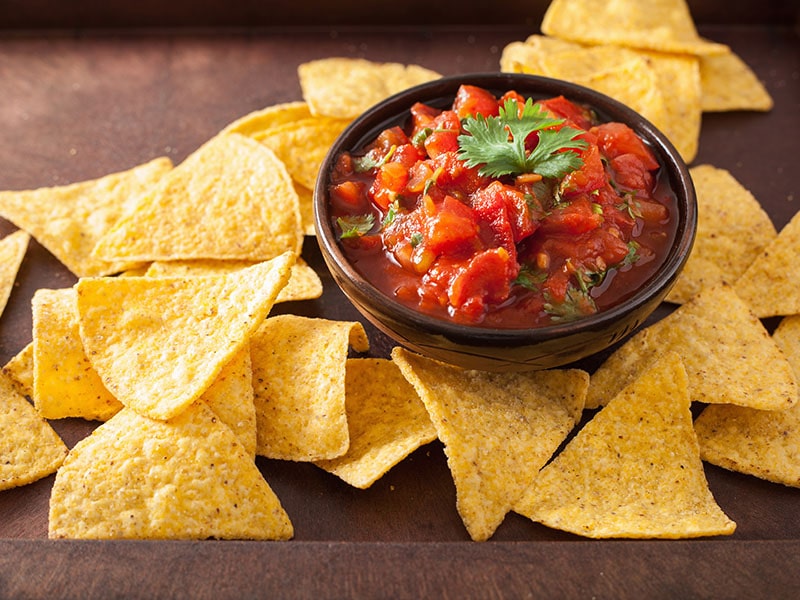 Salsa means "sauce" in Spanish and refers to a wide array of forms. More often than not, this hot sauce combines tomatoes, herbs, chili peppers, onions, and garlic.
With such an open-ended definition, salsa may be raw or cooked, smooth or chunky, spicy or mild based on the ingredients and cooking method. Moreover, there are some tricks to make salsa thicker until it reaches your desired consistency.
When you need a dip for chips and suddenly realize you're all out, fresh salsa is your best bet. You can grab a high-quality jar of salsa in your nearest supermarket or just chop a bunch of fresh ingredients and give everything a whirl in the food processor. Only minutes to finish!
The taste of salsa can be anywhere savory, zesty, spicy, and pungent. Though hard to define, salsa is so easy to relish. Spoon it with tortilla chips, salads, chickens, and you can enjoy your mealtime with peace of mind!
On top of that, salsa is one of those guilt-free snacks that you can indulge in regularly. By nature, the mix of healthy veggies is a good source of vitamins, antioxidants, and little calories, making a healthy diet so much more bearable.
Did you know the best way to make salsa from scratch? See it from the expert here!
2. Sun-Dried Tomato Hummus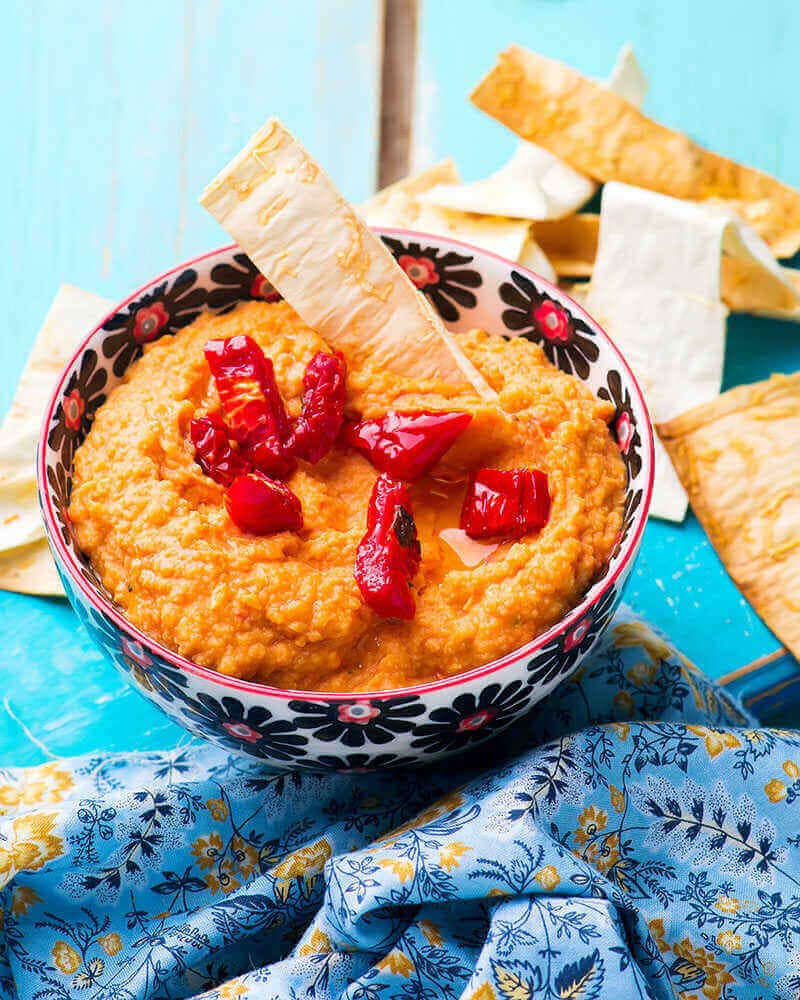 Originally from the Middle East with a Mediterranean influence, tomato hummus is all the rage for many good reasons. If this is new to you, hummus is a tasty spread or dip made by simply pureeing all ingredients. No worry if hummus can spoil, for you will finish this dish within mere minutes.
As the base, chickpeas, and tahini create a rich texture. Then, lemon juice and minced garlic add a little kick. Other spices, herbs, and olive oil are also tossed in the mixture. If you're unsure whether hummus is vegan, these ingredients should already give you the answer.
Though less common to come by, sun-dried tomatoes make a great addition to hummus. Plus, it makes the whole thing seem a bit more like ketchup.
Flavor-wise, hummus tastes like nothing else in the world. It's oozing with a rich, umami flavor that's slightly nutty and garlicky. At the first bite, you'll feel a creamy consistency that melts across your tongue.
Apparently, with such an addictive flavor, it's a shame not to use this tomato hummus on more things. You can pair it with some veggies, chips, or slather it on sandwiches and wraps, basically anything you would dip in ketchup or mayo.
For more reasons to love tomato hummus, it's a true power snack. With natural ingredients, the dip is low-fat, high in protein and fiber. (2) Whether you're a vegan or not, it's an excellent stand-in for whenever you're all out of ketchup.
3. Barbecue Sauce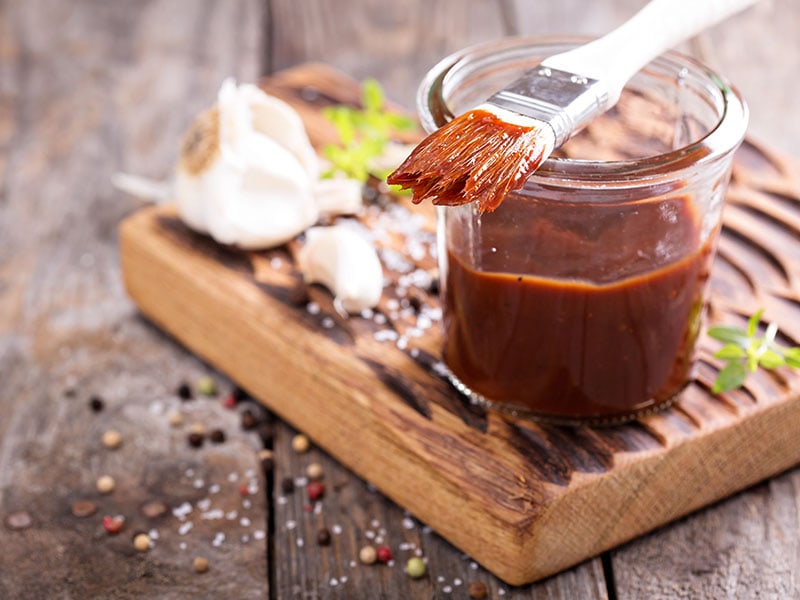 It's no secret that barbecue sauce is one of the most versatile sauces out there. Many varieties of barbecue sauce start with ketchup or tomato sauce as the base, making it a suitable substitute for ketchup in most cases.
Essentially, a simple barbecue sauce includes tomato paste, vinegar, brown sugar, liquid smoke, and added spices. Sweet, tangy, and with a touch of smokiness, it's the right condiment for a delightful meal.
An easy barbecue sauce meets all your saucing needs. Feature it in marinades, meat or poultry topping, dipping sauce, and many other savory dishes of your choice.
Next summer cookout or backyard party, bring this mouth-watering barbecue sauce as a match with your potato salad and other dishes. Make sure you'll always have enough sauce to serve the crowd, even if your ketchup runs out.
If you're a vegetarian who misses smoky flavors, a combo of fries and barbecue sauce hits the spot and satisfies your cravings. So what are you waiting for? Put that bottle of barbecue sauce in your fridge to work now!
Take your skills up a big notch with these three ways of making barbecue sauce! The video below should be able to help you:
4. Mayonnaise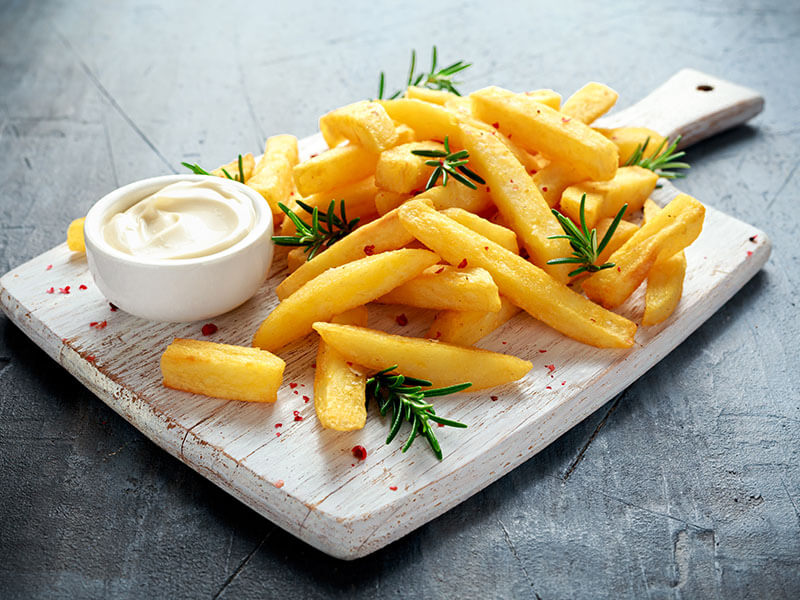 It's true. Mayonnaise and ketchup are two completely different condiments. However, when you need to jazz up some meatloaves or hamburgers with no ketchup on hand, mayo can always do the trick.
Mayo claims its throne as the most popular condiment in all of America. At its most basic, mayo is one of these recipes making use of your left-over egg yolks, with some oil, vinegar, and salt. The recipe is super easy and takes a matter of minutes to come together.
Classically, mayonnaise comes in a pleasant custard texture. It has a great balance of tartness and saltiness, along with a mild, clean taste. With such a neutral flavor, mayo serves as the base for thick sauces and dressings.
If you haven't tried spreading a layer of mayo on bread and sandwiches as you would ketchup, you're totally missing out.
There are also good reasons why mayo and fries are a match made in heaven. Mayo amplifies the greasy, crunchy texture of fries, making the snack even more satisfying.
On a side note, there's no doubt; mayo is brimming with fat and calorie-dense. One tablespoon of mayo provides 90 calories. So it's best that you have only a few tablespoons per day.
Discover just how versatile mayonnaise is in this quick guide!
5. Mustard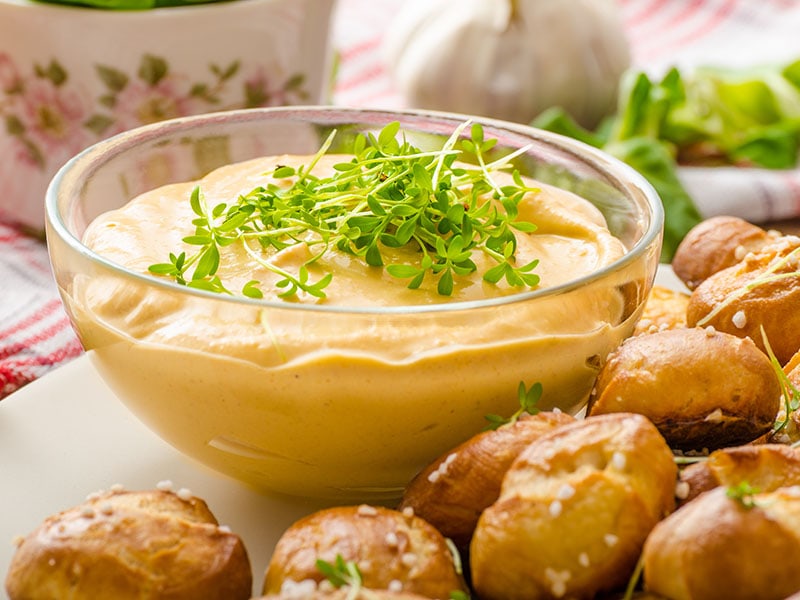 In the world of condiments, mustard and ketchup are iconic combinations. The sweet, spicy taste of ketchup perfectly complements mustard's tangy, slightly bitter tone. No wonder so many foodies have this pair near and dear to their hearts.
Therefore, when you're all out of ketchup, a quick fix is to skip it and add mustard only. This condiment alone makes up for its partner in crime's tanginess in plenty of recipes. You may want to check if mustard can spoil first for safety reasons though.
From hearty one-pot meals to salad dressings and tender greens, a spoonful of mustard is enough in most cases. Or else, mix it with some mayo, and you have yourself a luscious spread for sandwiches in a pinch.
But wait, aren't there vastly different versions of mustard? You're right, there are up to 17 types of mustard. In this case, the most suitable mustard kind to substitute ketchup would be the classic American mustard.
As a plant-based condiment, mustard provides essential nutrients for your body to boost your metabolism, prevent cancers, and strengthen bones. This happens as long as it's not a big part of your daily diet.
6. Sriracha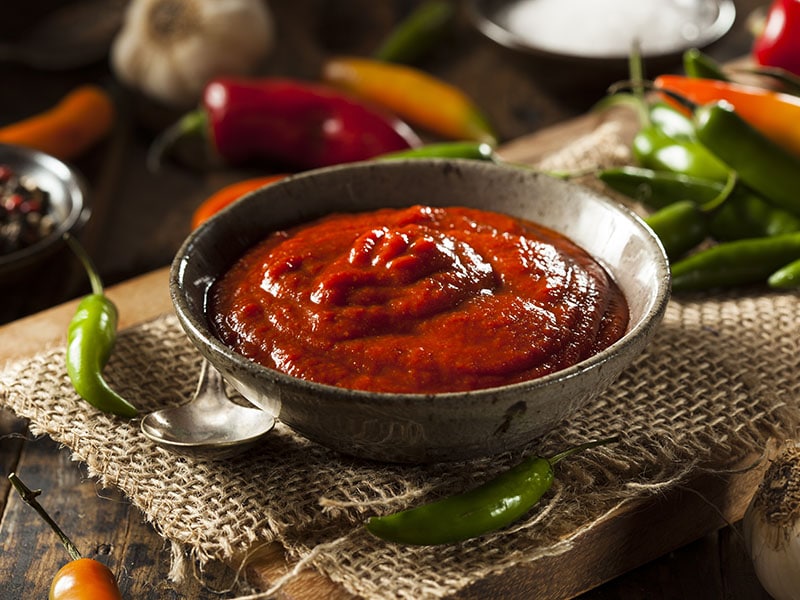 If you have an affair with spicy food, especially with Chinese homemade dishes, Sriracha is definitely what you need to put a bold spin on plain old meals. Simply put, it's a hot sauce in which the mild spiciness of peppers dominates the sweetness.
Hailing from Thailand's coastal town of the same name, Sriracha is no doubt the country's most famous sauce. You can use it in omelets, seafood, and a variety of Pad dishes for an extra kick in flavor.
Chili peppers give the sauce its spicy essence. Meanwhile, sugar and garlic add extra depth. Seriously, Sriracha is good on almost anything. When substituting it for ketchup, you might want to use half the amount and add more as you taste.
Some people love a splash of Sriracha with chicken wings, fries, and frittatas, while others enjoy it mixed in with creamy sauces and dips. Either way, it's so darn delicious and addictive!
With a Scoville ranking at 1000 to 2500 units, this hot sauce is actually moderately spicy. That means even people who can't take much heat can give it a try.
7. Tomato Jam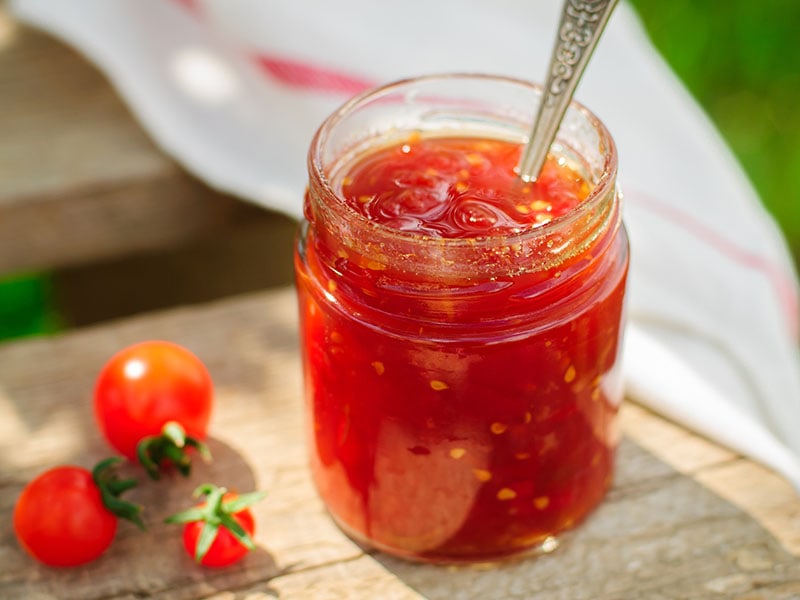 A classic Southern condiment that's near and dear to many people, tomato jam serves as a versatile replacement for ketchup in different scenarios. Essentially, it's a thick, savory, and chunky spread that's a lot sweeter than ketchup.
The making of tomato jam starts with chopped tomatoes being cooked down to a jam-like consistency. Sugar, spices, and occasionally pectin are added to the mixture. It's actually pretty easy to execute if you want to seize the beautiful in-season tomatoes at home.
Old-fashioned tomato jam has an oh-so-good flavor that's almost beguiling. It's deeply concentrated, sweet, sour, and with a distinctive umami note.
More often than not, I'll just eat a spoonful right out of the jar to satisfy an instant craving. This condiment is the secret weapon to turn any plain snack into a real treat.
Spread a thick layer on your toasts, sandwiches, and brie cheese or serve it as a dip for crackers and mezzo. The gooey texture also pairs well with cured meat, grilled lambs, and salmon as a complement.
Since tomato jam and ketchup largely share the same basic ingredients, you can use it as a fun, sweet alternative. Although tomato jam packs way more sugar and less spiciness than its counterpart, you can rest assured that it makes a great dipping sauce for just about anything.
Mouth-Watering Ketchup Substitutes For Cooking
Beyond pairing with French fries, ketchup has what it takes to elevate the flavors in a wealth of recipes. With these tried-and-true ketchup substitutes, it's a breeze to nail your dishes even without the sauce.
8. Tomato Sauce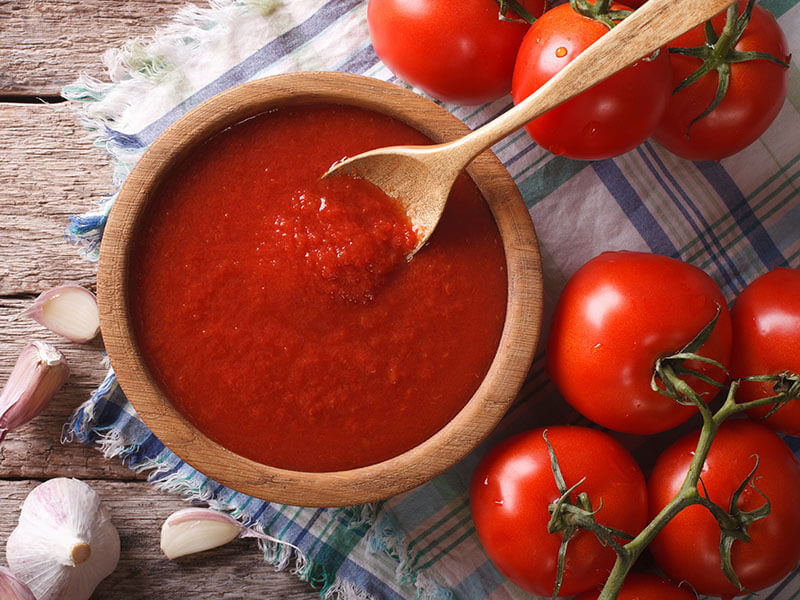 Tomato sauce and ketchup are not the same things. One of the easiest ways to distinguish these two is that ketchup is a condiment, whereas tomato sauce can be described as a thin gravy.
A simple tomato sauce is only made of chopped tomatoes simmered in olive oil and seasoned with spices and herbs. Hence, it resembles fresh tomatoes more in taste compared to ketchup.
Sweet, acidic, and often with a distinctive umami edge, the sauce acts as the perfect base for a variety of complex dishes. Use it in braises, stews, thickening spaghetti sauces, or anywhere you would need a jar of marinara.
Since tomato sauce contains more water and doesn't share the same concentrated content, it needs to be seasoned to enhance the flavor. Toss in some fresh garlic, pepper flakes, herbs, or even red wine and taste as you go.
Making tomato sauce from scratch isn't much of a struggle. Plus, by having full control over the ingredients, it's easy to stick to a healthier lifestyle.
Turn that canned tomato sauce into a restaurant-worthy meal in a pinch! The video below should be able to help you:
9. Apple Cider Vinegar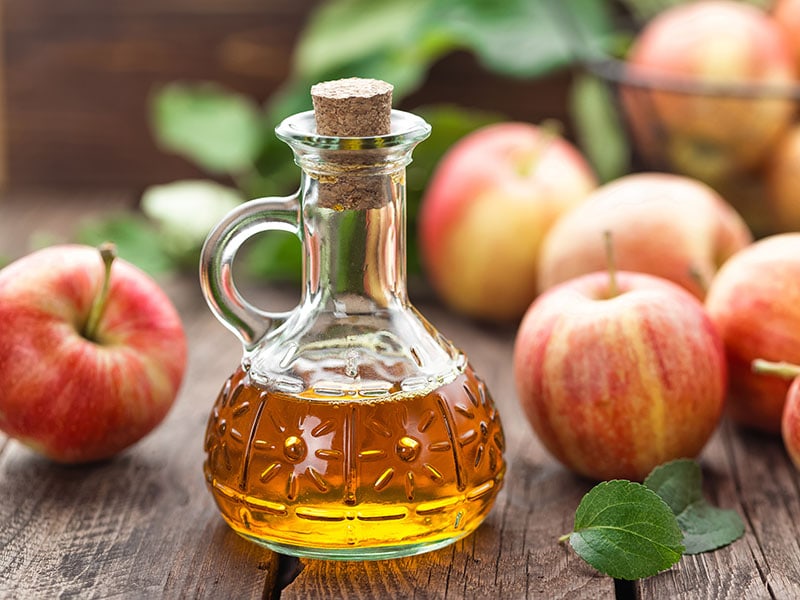 The basic theme for apple cider vinegar isn't tomato sauce. However, with its tangy and sweet punch, this spice can be used in seasoning blends for cooking in place of ketchup.
In essence, apple cider vinegar is a fermented apple juice from crushed apples, sugar, and yeast. The end result is a tangy, smooth vinegar that often leaves a woody aftertaste. It's brown in color, and the aroma is much more pleasant than regular vinegar.
Apple cider vinegar is responsible for the most tanginess in Chinese cuisine. You can use it in virtually any aspect of cooking, from baking to hearty courses and even candy making.
As far as health benefits are concerned, cider vinegar has long been a natural remedy to treat various ailments like a sore throat or varicose vein. Thanks to acidity, it also helps to fight acne-causing problems.
Of course, you don't need to take a straight shot of vinegar to reap its benefits. A small dosage of 1-2 teaspoons per day, either mixed in water or cooking, is ideal for best results.
10. Tomato Paste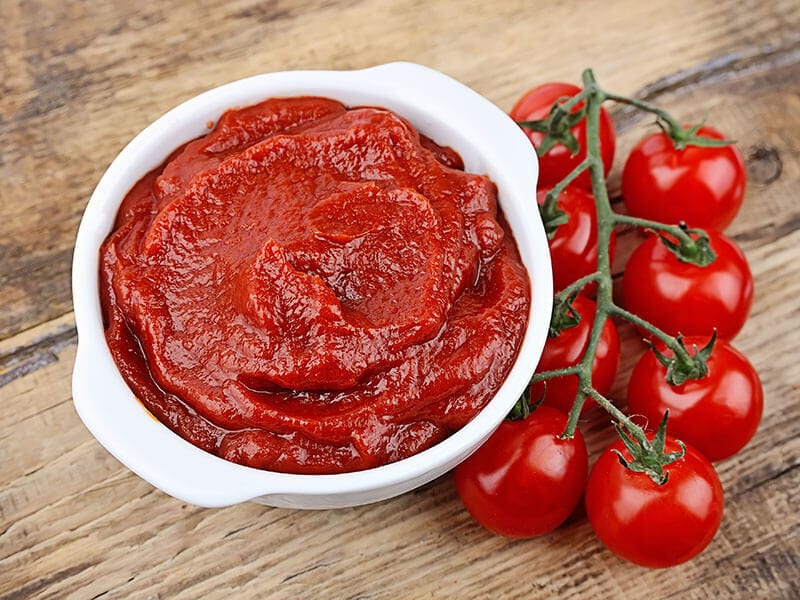 For folks who are unclear, this and tomato sauce are not the same thing. One of those things setting tomato paste and tomato sauce apart is their preparation. Tomato sauce is a seasoned puree, whereas tomato paste is a thick tomato concentrate.
Since it's simply the concentrated form of tomatoes, in essence, it's safe to say tomato paste is a healthy option to use in place of ketchup. Nutritionally, you get plenty of benefits as that of fresh tomatoes.
Thick and super creamy, tomato paste adds body to everything that you love, such as casseroles, stews, and other slow-cooked recipes. It enhances the tomato flavor without watering down your dishes.
Use one tablespoon of tomato paste for every tablespoon of ketchup for best results. Keep in mind that tomato paste lacks the complexity of flavors. Thus, you should add spices to tweak the flavors as you desire.
Fool-Proof Homemade Ketchup Substitutes For Quick, Healthy Meals
Homemade ketchup is more versatile than others since you can use it for both cooking and dipping. Fresh ketchup will always be available in your pantry if you follow these recipes.
11. Simple Homemade Ketchup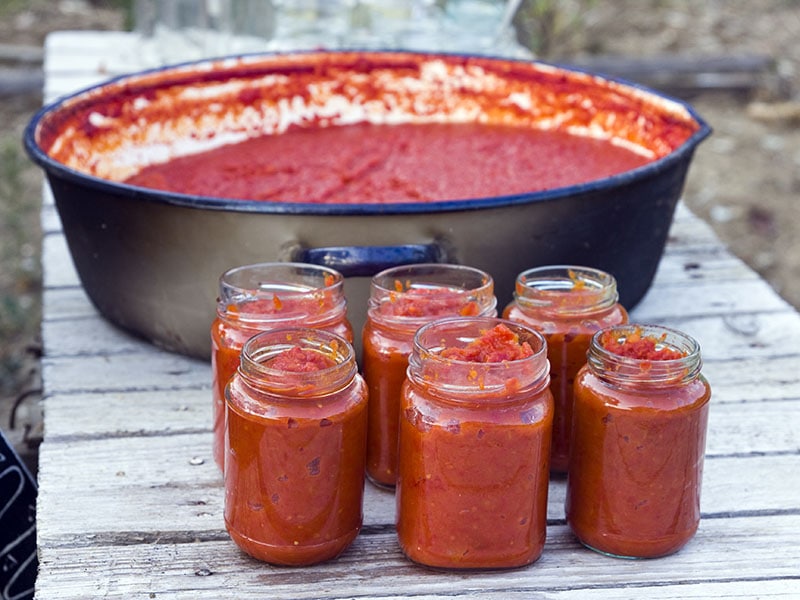 Made from scratch, ketchup is a real treat, not to mention this simple tomato sauce can be a cinch to whip up. All you really need is a few pantry staples, including ready-made tomato paste, vinegar, sugar, salt, and spices of your choice.
Combine these ingredients and use a quality food processor blender combo to pulse until smooth and creamy. Five minutes in with no cooking needed, and you've got yourself healthy, delicious ketchup.
On the other hand, if you start with freshly crushed tomatoes, the mixture is likely to take an hour of simmering. You know it's really when the texture gets thicker and shiny.
No doubt, your own DIY ketchup is bursting with true tomato flavor and spices that you love. Serve it right away, or keep it on hand for whenever your cravings strike. More often than not, homemade ketchup keeps well in the fridge for about two weeks.
The good thing about making the sauce at home is how you can totally manipulate the ingredient list, especially with the sodium and sugar content to suit your diet needs.
Follow the instructions, and your own DIY ketchup is totally worth it!
12. Healthy Homemade Ketchup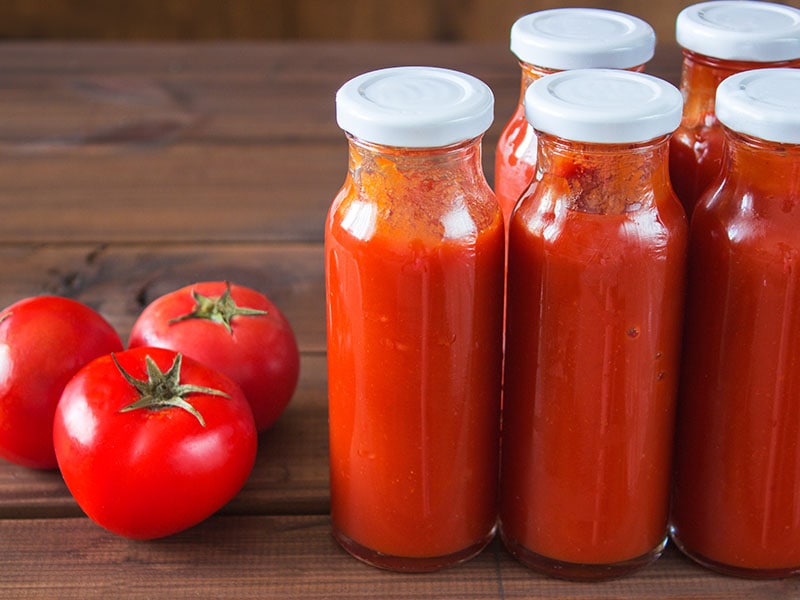 Besides being fun to make, homemade ketchup allows you to control what goes in it completely. Given how high in sugar and sodium store-bought ketchup is, a DIY version is a great start to a more health-conscious diet.
If you're new to homemade sauces, you'd be surprised to find out just how easy it is. The recipe is quite simple, not to mention you have total flexibility to toss in some of your favorite spices and herbs.
For a big batch of healthy ketchup, here's my recommendation on all the essential ingredients.
1 cup of tomato paste
1 teaspoon of onion powder
1 teaspoon of oregano
2 tablespoons of apple cider vinegar
4 tablespoons of maple syrup
Salt (optional)
Other ingredients such as garlic powder, smoked paprika, or ground cloves can also be added to your liking. With no cooking needed, mix all these ingredients well in a bowl. Refrigerating the mixture will give the flavors a chance to meld, but it's also good to use straight away.
This homemade ketchup keeps well in the fridge for the next two weeks, so that you can indulge in your favorite snacks any time. Though not quite like the bottled version, it tastes fantastic, which is why you should give it a try.
By avoiding unnecessary ingredients, this DIY version is brimming with so many health benefits. It's lower in sugar, sodium, and additives than in conventional ketchup that you buy from the stores.
13. DIY Ketchup For Cooking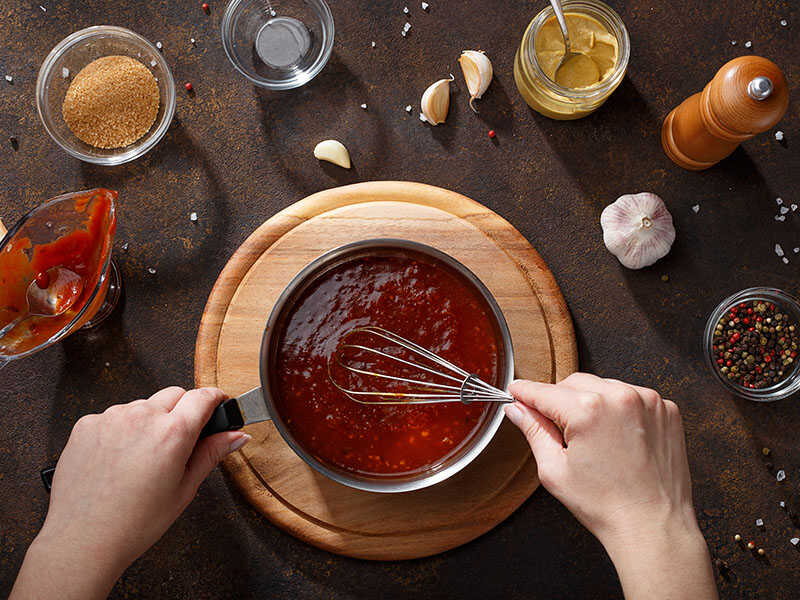 Whipping up homemade ketchup for cooking is way simpler than for a dipping sauce. In fact, for a taste of ketchup in your cooking, the list of ingredients tends to be shorter and less complex.
A little bit of something sweet, something acidic, and a touch of tomato are all elements that make up this recipe. At the most basic, here's a foolproof combination to help you achieve that flavor:
1 cup of tomato sauce
2 tablespoons of vinegar
½ cup of sugar
The quickest way to put it together is by giving all ingredients a good whirl in your blender. Perfect ketchup is all about the texture. So if your sauce is too thin or watery, let it simmer on the stove for a few minutes.
Typically, the longer it cooks, the more flavorful, smooth, and complex it becomes. This DIY sweet-sour combination is sure to elevate your food even better than supermarket ketchup.
Once you've mastered the basics, don't be shy to experiment with different types of sweeteners and vinegar. Plus, tossing in some herbs and spices for extra flavors is also a great way to take your recipes up a notch.
Classic Recipes You Can Make With Ketchup
That bottle of ketchup works for so many delicious dishes rather than just a condiment with fries. For more ideas to use ketchup in your meals, head to my favorite suggestions as follows.
Just like how it sounds, sweet and sour chicken delivers the perfect balance of tartness and sweetness in every bite. A little bit of ketchup enhances the dish's complexity besides giving it a gorgeous red color.
Serve these chickens over some steamy white rice or with a side of tender broccoli, and you've got yourself just a go-to busy weeknight dinner.
Watch this video to know more:
This steam, log-shaped meatloaf stuffed with sliced ham, hard-boiled eggs, and sausages is a bomb at parties and special occasions.
The wonderful aroma is enough to draw everyone to it, let alone the crazy savory taste. Some ketchup or banana ketchup is the perfect complement to enjoy with Embutido.
One of the greatest appetizers for summertime, this Mexican shrimp cocktail tastes like a marriage between salsa and shrimp cocktail.
Layers of shrimps, salsa, jalapenos, and extra ketchup with some freshly squeezed lemon makes up a fresh, creamy, and spicy dish that'll transport you to a Mexican beach in a snap.
Mexican shrimp cocktail doesn't get any simpler than this! Watch this video:
Tangy, savory, and chock full of flavors, slow-cooked calico beans is the ultimate comfort food. This recipe gets its depth from loads of beef, bacon, canned baked beans, ketchup, and mustard.
All the flavors meld to create a thick, hearty recipe that'll leave everyone around the table satisfied. It's great for parties, cookouts, or simply an indulgent dinner at home.
FAQs
Ketchup may have a special place in your heart, but did you know everything about the sauce and its amazing substitutes? Stick around to discover some interesting facts as follows.
Whip Up Your Sauces Like A Chef!
It's a given how a delicious sauce can truly take a recipe to the next level. So give these dipping and cooking sauces a try, and I guarantee you'll find your new favorite.
For peeps who are sticking to a health-conscious diet, salsa and sun-dried tomato hummus are certainly your best shot. Brimming with nutrients, these sauces still don't skimp on some crazy addictive flavors.
On the other hand, Sriracha and barbecue sauces are perfect if you want to try out your finger foods with new flavors. After all, cooking is an adventure. Plus, most of these condiments take little to no prepping, so you can satisfy your cravings in minutes.
It's my greatest pleasure that you enjoy these new sauces in place of ketchup. And finally, don't hesitate to let your friends and loved ones know about these brilliant discoveries!
Nutrition Facts
23 servings per container
---
Amount Per ServingCalories3
% Daily Value *
Sodium 53mg

3

%
Potassium 31mg

1

%
Total Carbohydrate 0.7g

0

%

Dietary Fiber 0.1g

0

%
Sugars 0.5g

Protein 0.1g

0

%
---
* The % Daily Value tells you how much a nutrient in a serving of food contributes to a daily diet. 2,000 calories a day is used for general nutrition advice.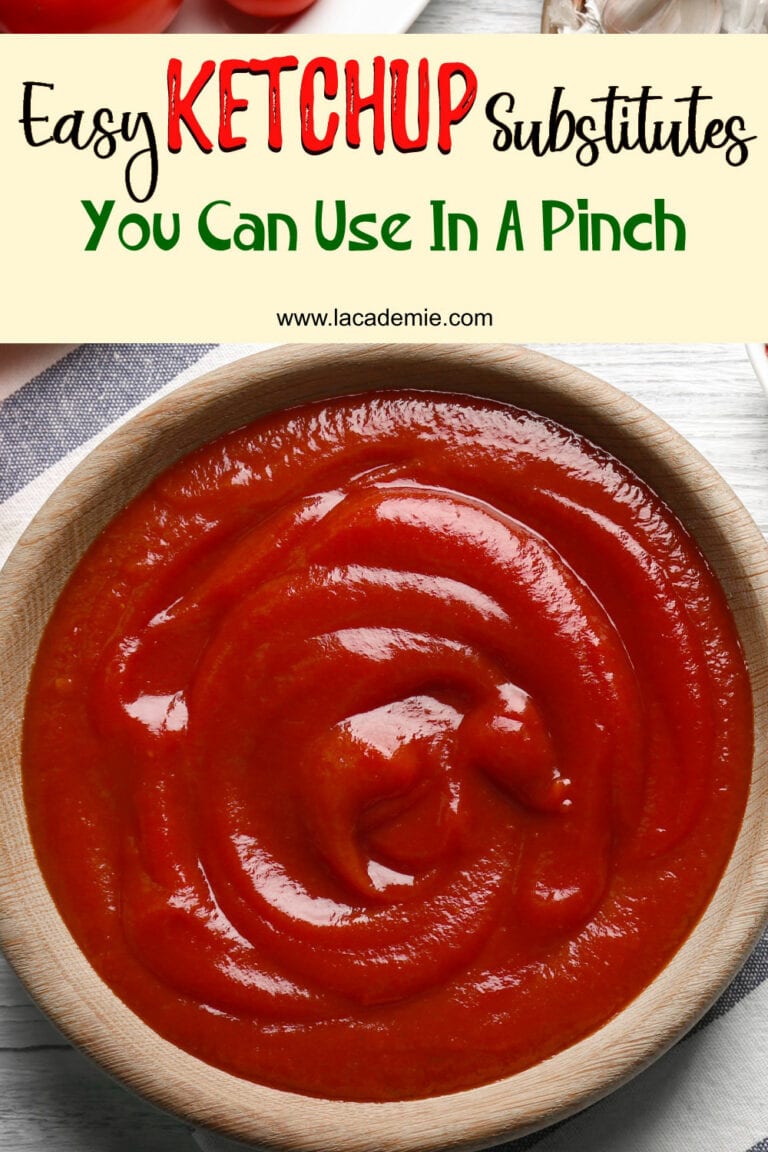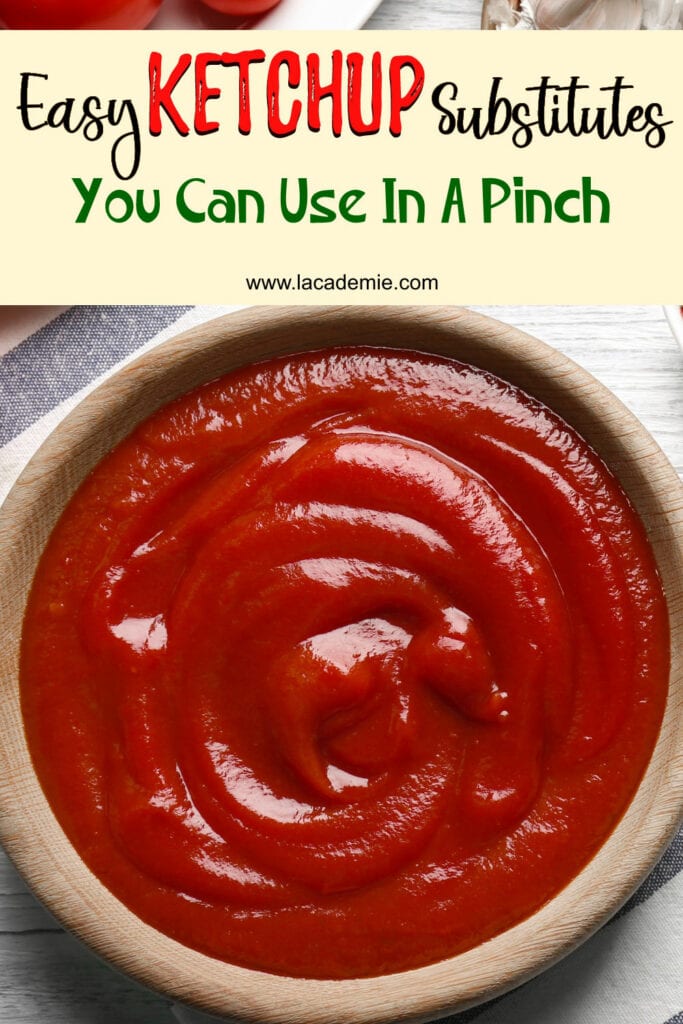 References
Verywell Fit. 2021. Ketchup Nutrition Facts and Health Benefits. [online] Available at: <https://www.verywellfit.com/ketchup-nutrition-facts-and-health-benefits-5024895>.
to, H., 2021. Top 5 health benefits of hummus. [online] BBC Good Food. Available at: <https://www.bbcgoodfood.com/howto/guide/hummus-healthy>.