Tomato paste and tomato sauce are often mistaken as one ingredient in your kitchen, but actually, they are not the same.
At the first look, some of you can not identify tomato paste and tomato sauce, but you know, they have different tastes, textures, uses, and the way to make them.
In this post, I'll help you distinguish these two versatile ingredients of your kitchen so that you can use them in appropriate ways and how to make them get the perfect results.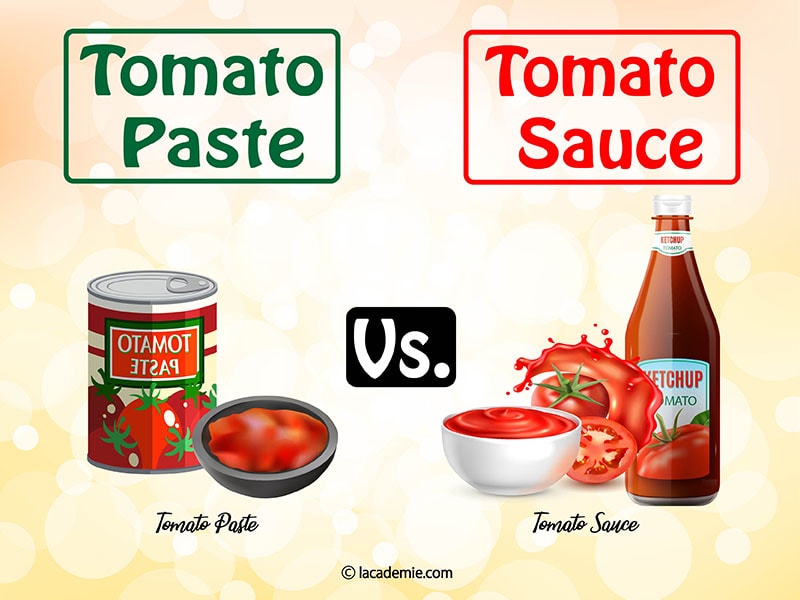 Tomato Paste Versus Tomato Sauce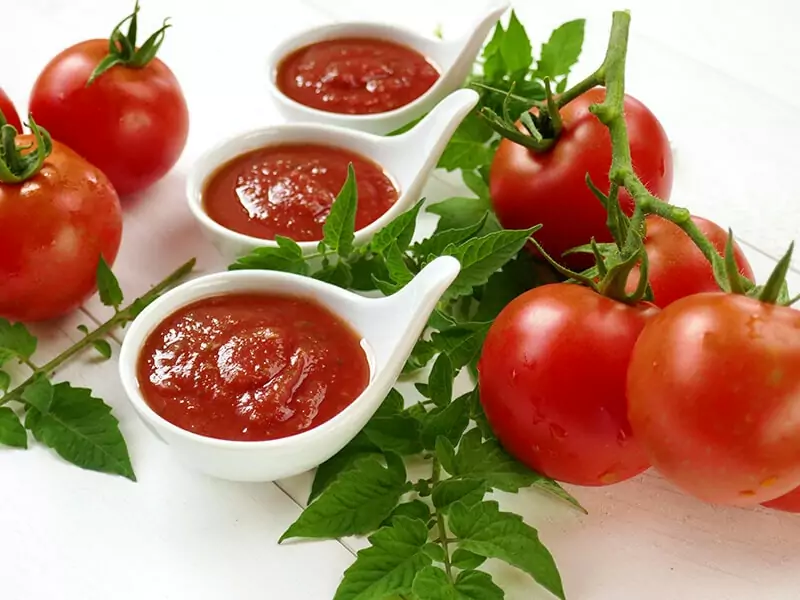 Tomato paste and sauce have a common color, texture, some ingredients to make, and use them as a good marinade to raise the flavors in some recipes.
However, a deeper consideration will show you that tomato paste gets a thicker texture and has a meaty taste, while tomato sauce is thinner and tastes like fresh tomatoes.
Both of them are nutritious when they're loaded with many tomatoes, but actually, tomato paste will offer you a higher amount of nutrients because it is denser.
What Is Tomato Paste?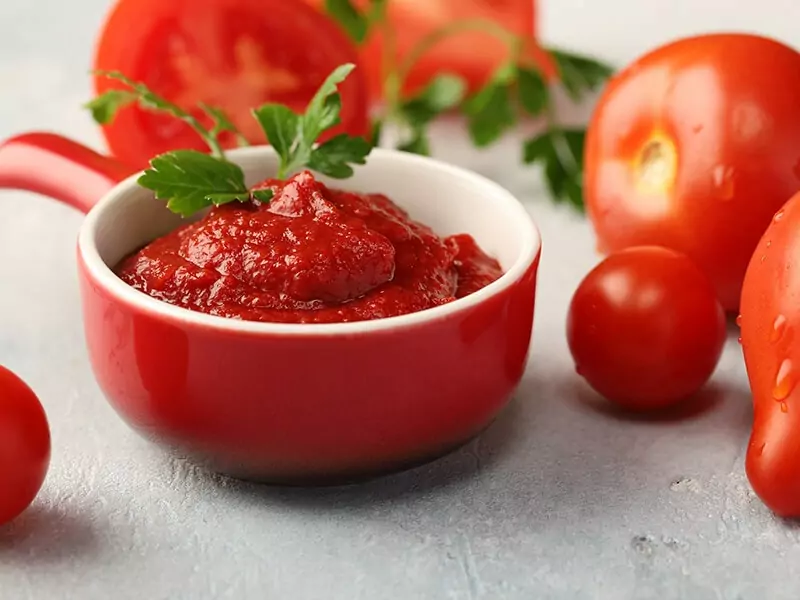 Tomato paste, simply concentrated solid tomato, was historically made in Sicily, southern Italy, and Malta when you reduce the tomato sauce until it becomes a dense texture.
Tomato paste was first publicized in the early 20th century, and now it has become one of the most incredible elements of your recipes. (1)
Adding tomato paste will increase the intense flavors, texture, and moisture of every dish you'll make, making your recipes delightful.
How about its taste? Tomato paste is famous around the world because it can give you a meaty flavor. Besides, tomato paste also contains bright acidity and umami flavor in its raw taste, making it a good seasoning for your pasta, meatloaf, or taco filling.
Moreover, tomato paste is a key ingredient in a lot of recipes, from zucchini fries—a fantastic side dish for those on keto diets, slow-cooker butter chicken, sloppy joes, and many other kinds of soup to add tons of tomato flavor and make them more nutritious and healthy.
If you wonder between fresh tomatoes and tomato paste, which one is healthier? I'd say that they contain comparatively equal nutritional values, but when you consider the flavor, tomato paste must be much more delightful and comforting.
How Is Nutritious Tomato Paste?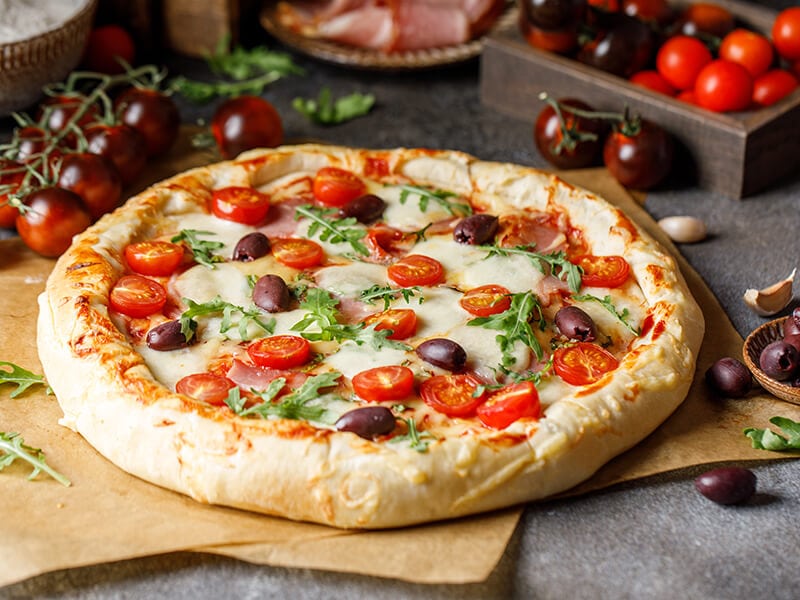 You know that tomato paste is made with tomatoes and is as nutritious as tomatoes are, but how? Below are some health benefits tomatoes can bring to your body.
As you know, tomatoes are a great source of vitamins A, K1, and B9 and minerals good for your heart disease, blood clotting, bone health, or even pregnant women.
Surprisingly, processed tomatoes or tomato products like tomato paste and tomato sauce contain a high rate of lycopene which is seen as a powerful nutrient for improving your heart health and reducing the risks of certain types of cancer.(2)
What Is Tomato Sauce?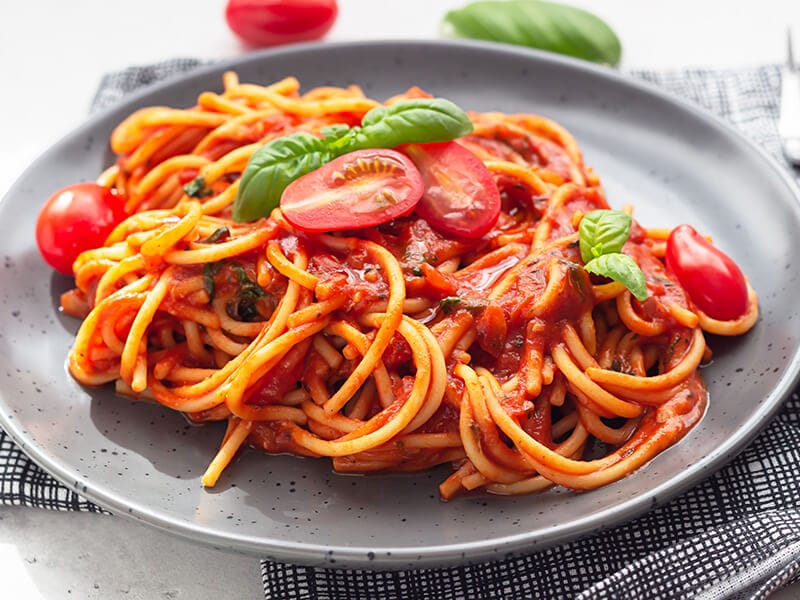 Tomato sauce might gain more popularity than tomato paste and is more familiar to those who love eating pizza, pasta, chicken, and fish. And if you don't know what it is, read this passage here.
Tomato sauce has the original name Salsa Roja and came from Mexico with tomatoes as the main ingredients.(3)
When considering texture, the tomato sauce is less thick than tomato paste but not too watery like tomato juice. However, the sauce contains high water content and tastes very much like fresh tomatoes even though they also experience cooking.
Besides, tomato sauce is seasoned more than the paste to enhance the flavor. For this reason, the sauce can also provide you with a great source of vitamins and iron.
Is Tomato Sauce As Good As Tomato Paste?
Being made with fresh tomatoes, this sauce is also good for your health in many aspects, making it a great ingredient to add flavors and texture to your dishes.
As a good probiotic food, the sauce can boost the activity of good bacteria in the gut. Besides, this sauce also contains lycopene, an antioxidant that can help to reduce the risk of many kinds of cancers.(4)
Importantly, tomato sauce is better for your health when compared to eating raw tomatoes with an equivalent amount.
The Similarities Of Tomato Paste And Tomato Sauce
Given information about tomato sauce and paste, they have some similar points when you take them into comparison.
The first nobly similar point comes from ingredients to make. Both are made with tomatoes as an indispensable element, making them get similar benefits to your health.
Another similarity is texture, the tomato paste and sauce have brick-like color and dense texture, but the paste is much thicker.
Additionally, these tomato products enhance the flavors like pasta, meat, fish, and chicken, and sometimes you can use both to marinate and add color to other food.
Furthermore, you can store both of them within about five days with careful preservation of refrigeration.
The combination of tomato sauce and shrimp will make your dinner perfect. You can see this video to know more:
6 Key Differences Between Tomato Paste And Tomato Sauce
As presented in the table above, tomato paste and tomato sauce have a lot of distinctive characteristics where you can identify which one is tomato paste and which one is tomato sauce.
| | Tomato Paste | Tomato Sauce |
| --- | --- | --- |
| Ingredients to make | Fresh tomatoes, salt, and olive oil. | Fresh tomatoes, olive oil, salt, fresh herbs, and tomato paste. |
| Texture | A thicker paste. | A little thick texture. |
| Taste | Somewhat like dried tomatoes and meaty flavor. | Somewhat like fresh tomatoes: sweet, tart, tangy, and acidic. |
| Nutrition | Be a greater source of vitamins C, A, K, B9, and potassium. Contain a higher source of lycopene. | Contain a rich source of vitamins A, C, K, potassium, and lycopene. |
| Common Usage | Add to stews for increasing umami flavor. Enhance the texture of dishes. Be a good marinade of great recipes for beef. Add good color to your food. | Go with plain recipes for enhancing flavors, such as grilled cheese, noodles, and beans. Marinate seafood to get a better taste: mussels, clams, and fish. |
| Package and storage | Being packaged in plastic bottles and polythene without air invasion. Store in the fridge for longevity. | Should be preserved in flexible bag-in-box and pouch packaging. Store-bought tomato sauce is preservative-free and has no refrigeration. After being opened, the leftover tomato sauce should be preserved in the fridge, and it'll stay safe for about 3 to 5 days afterward. |
Ingredients
Tomato paste and tomato sauce contain cut tomatoes as the main ingredients to form fabulous tomato paste or sauce to your recipes; however, you still need many other things to get the perfect taste and flavors.
While making tomato paste requires only three ingredients of fresh tomatoes, olive oil, and salt, finishing tomato sauce is a little more demanding with the addition of tomato paste to add flavors and texture to the sauce.
Transforming tomato paste to tomato sauce doesn't require you much time. Watch this video:
Texture And Taste
As to texture, these two tomato products have a thick and concentrated texture, but among them, the tomato paste gets thicker, while the tomato paste also contributes to the dense and thick texture of tomato sauce.
Being flavored with different seasonings, these two tomato recipes get a special taste when the tomato paste is dried tomato-like; whereas, the tomato sauce tastes like fresh tomatoes with the balance of sweet, tart, tangy, and acidic.
Nutritional Values
Being made with almost the same ingredients, tomato paste and tomato sauce share the similarity in nutritional values that they can bring to your body.
Both of them are rich in vitamins A, C, K, and iron that are beneficial to your circulation systems, and energize your body.
Moreover, the presence of lycopene in tomatoes and their skins make tomato paste and sauce become a good ingredient to lower the risk of various kinds of cancers.
However, tomato paste has a higher nutritional value than tomato sauce because the paste is denser and more concentrated, leading to getting a higher level of lycopene.
Usage
Tomato paste and tomato sauce also obtain a difference in how to use in cooking as they have many distinctive features.
With tomato paste, you can use it to add it to stews for improving the umami flavors of your recipes, especially Korean dishes, enhancing the texture, being a good marinade of beef, and sometimes coloring your food.
On the contrary, tomato sauce is often used to pair with plain food to increase flavors like vegetables, pasta, polenta, noodles, and beans; to season seafood to get a good taste for your meals.
Then, can tomato sauce be used as a replacement for tomato paste, and vice versa? Although their texture is quite different, when push comes to shove, these two can be used interchangeably. After all, their flavors are quite similar.
Another similarity in terms of culinary usage between these two ingredients is that they both are great ingredients to substitute for ketchup. However, for tomato sauce and tomato paste to be used as ketchup substitutes, you might need to add some seasonings for a more similar flavor.
The fact is that you cannot use tomato sauce to thicken your recipes as tomato paste can do; thus, if you want to make thick recipes, tomato paste is a better choice.
Package and Storage
To make tomato paste last longer, you had better store it in airtight plastic packages and place them in the fridge for longevity.
How about storing tomato sauce? The sauce should be preserved in flexible bags and pouch packaging and has no need to be put in cool places.
However, with store-bought sauce, after being opened, you ought to put the leftovers in the fridge and use them just 3 to 5 days after.
Healthy Homemade Tomato Paste
The fact is that you can get tomato paste by purchasing in grocery stores, but it would be better if you make it for yourself to ensure the favorite taste and high quality. Just follow these steps here to get your tomato paste finished.
Ingredients You Must Have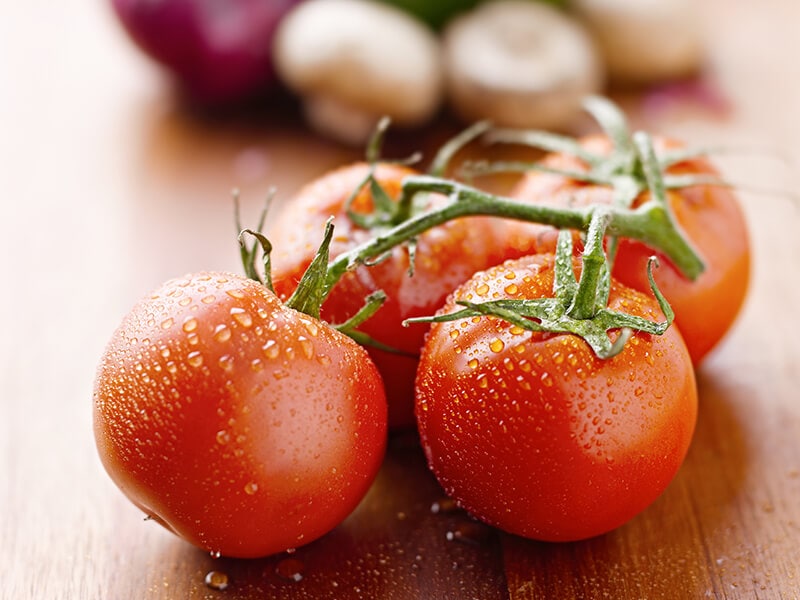 Homemade tomato paste is much more delicious and a million times better than store-bought tomato paste, and here are some basic ingredients to make high-quality tomato paste.
Fresh tomatoes. You can choose any kind of your favorite tomatoes to create a paste, but the final results are different to what extent. And Roma and Early Girl are considered the best choices.
Olive oil. Adding olive oil will make your tomato paste smooth and more mesmerizing, and the paste will raise attractiveness when you pour it into your dishes.
Seasonings: sea salt and citric acid. Alternatively, you can use lemon juice as a citric acid alternative. To taste the paste, you just need to add some salt, some citric acid (or lemon juice) to raise the tomato flavors and make it last longer.
Done Tomato Paste With These Instructions
There are three ways to make your tomato paste from baking in an oven, using both stovetop and oven, and even simmering on the low heat of a normal stove. Follow these following steps to have healthy and high-quality tomato paste for your family members right now.
1. Preheat the oven to 300 degrees.
2. Chop tomatoes into many smaller pieces. You had better remove stems and seeds to get the tomato paste with a smooth texture or reduce cooking time when cutting tomatoes.
Note: To speed up the process, you can opt for some high-quality canned tomatoes. Aside from paying attention to the canned tomatoes' expiration date, I recommend you choose products that have already been diced or pureed. This will make your cooking process a lot quicker.
3. Bring the tomatoes to a boil and cook until they become softer for about two minutes. That makes you get tomato paste faster and easier.
4. Add the tomato mixture with olive oil and fine sea salt to taste the paste.
5. Puree and strain the tomatoes; it's time for you to remove the remaining seeds and peel by using a food mill.
6. Cooking period
Oven method: Bake the smooth tomato puree in the oven for about 3 hours to finish your recipe, but the cooking time also depends on how many tomatoes you cook.
Stovetop: Reduce the tomatoes to a paste with slow heat on the stove.
Combining stovetop and oven: Let the puree boil down on the stove first, and then reduce them by an oven.
Note: Remember to stir the mixture frequently and don't let it burn.
7. When the paste turns into a harder texture and brick-like color, keep it in the fridge before storing it in airtight jars. And the paste stays good for about 5 to 7 days with refrigeration.
Note: Pour a thick layer of olive oil to the top of the jars to protect the paste.
Making homemade tomato paste with a large pot is very easy. Watch this video to know:
How To Make Tomato Sauce At Home?
Finishing tomato sauce is very different from its counterparts and seems to be much easier. Even though you can buy the sauce from almost all department stores, I recommend making it at home with taste satisfaction and good sanitation.
Can You Make Tomato Sauce With The Ingredients Of Tomato Paste?
Of course not. As I said before, the tomato sauce is much more flavored than tomato paste as it is seasoned with a lot of spices and herbs. And there is something you must have to get a fabulous sauce with tomatoes.
Fresh tomatoes. Similar to making tomato paste, you're free to choose whatever tomatoes you like to make the sauce.
Tomato paste. This must be the most incredible element for your sauce as it plays an important role in creating dense but juicy textures.
Olive oil. The olive prevents tomatoes from being burnt and makes the sauce as smooth and flavorful as you want.
Spices: Salt and garlic cloves. These are must-have spices to raise the taste of tomato sauce and make it unique.
Herbs: Basil and bay leaves. The presence of fresh herbs is for arousing the aroma.
Three Main Easy Steps To Get The Tomato Sauce Done
Finishing tomato sauce is much easier and time-saving with just three main steps here. What you need is to follow these mentioned steps to get everything finished within 30 minutes.
Cut the tomatoes, discard the stems, seeds, and also skins to get a beautiful appearance.
Cook cut tomato first with the high temperature and then combine the tomato with spices, olive oil, and tomato paste and simmer the mixture. But remember to stir the mixture occasionally.
Adjust the salt again, let the mixture cool before storing it in the fridge to use later.
Note: By storing them by freezing method, you can keep them for up to 5 days.
Dealing with choosing and making tomato sauce with ease. Watch this video to know:
Additional Tips For Making Best Tomato Paste And Sauce
If you want to get the most brilliant tomato paste or tomato sauce, remember to follow these tips here. They will raise your products to the next deliciousness level.
Let the tomato paste or sauce cool before pouring it into jars.
After using tomato paste, top it with oil in order to make the remaining paste submerged.
If you reduce the tomato paste on the stovetop, remember to cook at a low temperature.
To get good tomato sauce, you can cook them quickly or let the mixture bubble for at least 40 minutes.
If you like, just add cheese, meat, or even sausage to get a fabulous sauce.
If you have any tips you want to share with me during your cooking time, feel free to let me know by commenting in the comment sections below.
FAQs
If you would like to find more information relating to tomato paste and sauce, don't hesitate to read this post, as it will show you the most often asked questions related to those two things.
Tomato Paste Vs. Tomato Sauce, Are There Anything You Must Know?
The article here has shown you many facts about tomato paste and tomato sauce to help you use them in a suitable way and create better meals.
They're not only different in many aspects but also similar in many terms; hence, in some recipes, you can replace tomato paste with tomato sauce, but in some dishes, don't do that as you won't get the expected texture and taste.
If you have any notes for using tomato paste and tomato sauce, please let me know by commenting in the comment section below.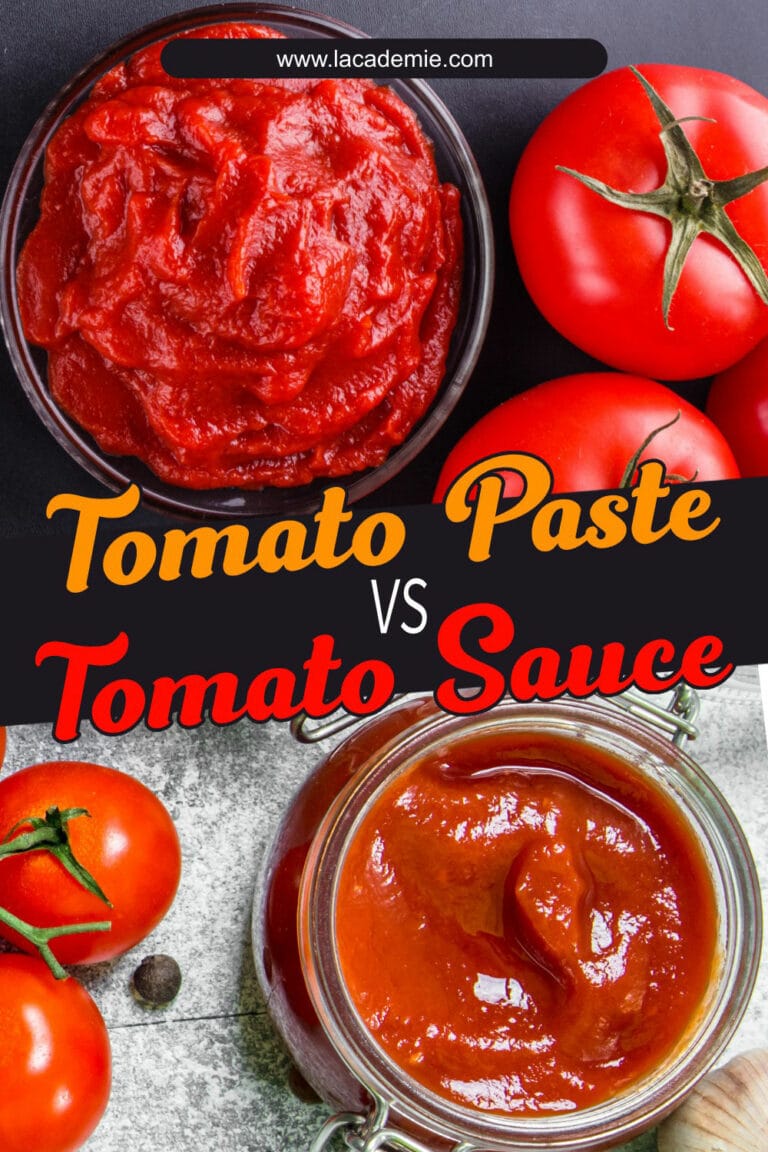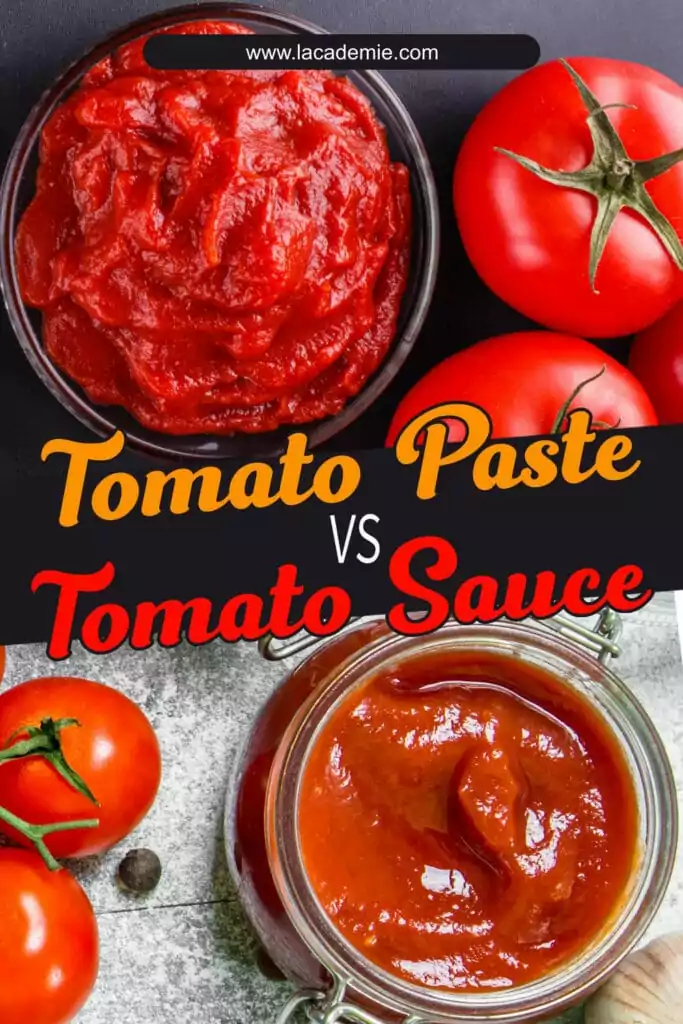 References
En.wikipedia.org. 2021. Tomato paste – Wikipedia.
Webmd.com. 2021. LYCOPENE: Overview, Uses, Side Effects, Precautions, Interactions, Dosing, and Reviews.
En.wikipedia.org. 2021. Tomato sauce – Wikipedia.
Medicalnewstoday.com. 2021. How tomato sauce can boost your gut health.