There are many different types of sauces in the world. In the world of various food varieties, the sauce is a versatile addition to endless cooking ideas that increase the visual appeal, taste, and moisture in your meals.
Of course, different cuisine features different sauces in terms of ingredients, preparation, textures, and colors. They can be thick, semi-solid, or creamy ingredients that people can add directly to foods or serve on the side as condiments.
Most of the sauces are easy to prepare so you can make them by yourself with ease. On the other hand, the sauce can be a kind of canned food that you can buy from any store or supermarket.
So are you ready to explore the world of sauces? I will walk you through 27 ideas with a lot of interesting information so you can impress others when they ask you about these sauces.
In reality, the quantity of these garnish varieties is more than 27 items, but here are the most famous and widely-used ones in the culinary world. Alright! Let's jump into the article now!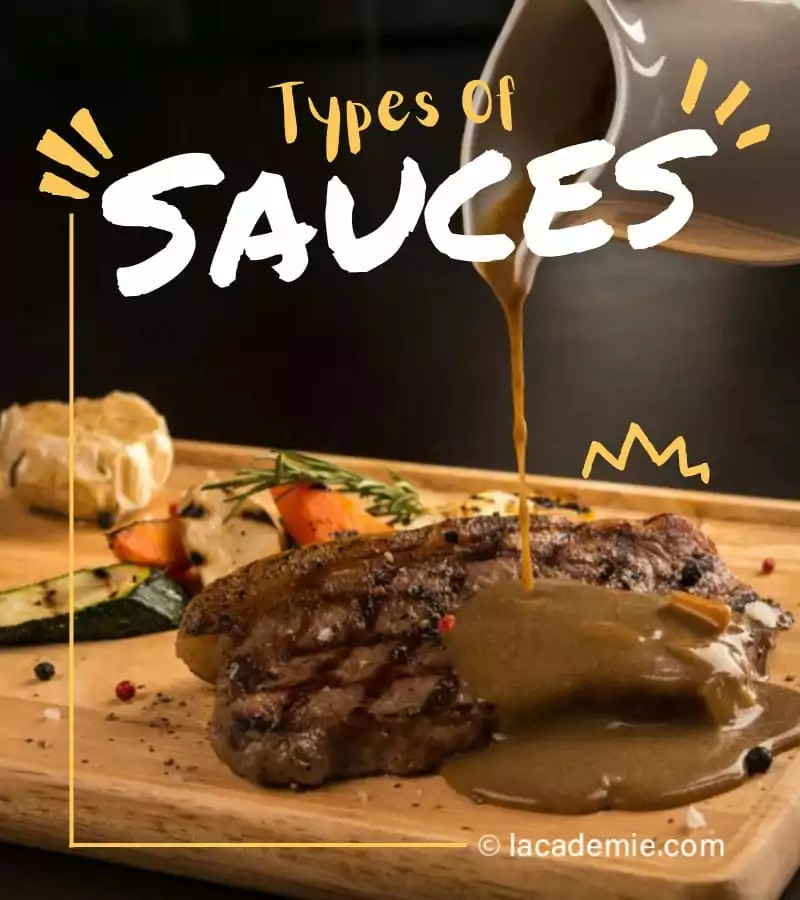 I will cover these specialties in 10 distinguished groups, namely Brown sauces, Butter sauces, Dessert/Sweet sauces, Fish or Seafood-based sauces, Meat-based sauces, Chili/Hot sauces, Mayonnaise-family sauces, Tomato-Based Sauces, White sauces, and Others.
Keep reading for more details!
Brown Sauces
Brown sauces, apparently, come in the dark brown hue that normally comprises a meat stock base and is reduced by the boiling or simmering process to thicken the sauce. Sometimes it might use a browned roux (the mixture of fat and flour).
Brown sauces are typically flavor-enhancing food in French cuisine. They are also a significant item in many Danish signature foods. Brown sauces can be recognized as brown gravy in America or gravy browning in the UK.
| Sauce Name | Ingredients | Characteristics |
| --- | --- | --- |
| Bordelaise Sauce | Dry red wine, shallots, butter, bone marrow, and demi-glace sauce | Tangy and deep-flavored with a rich and thick texture |
| Steak Sauce | Depends on variety, but the main ones are tomatoes, vinegar, raisin, and spices | Brown sauce with sweet and salty flavor Silky texture |
| Demi-Glace | Chicken/beef stock and Espagnole sauce | Meaty, deep, and extra-rich with velvet-like consistency |
1. Bordelaise Sauce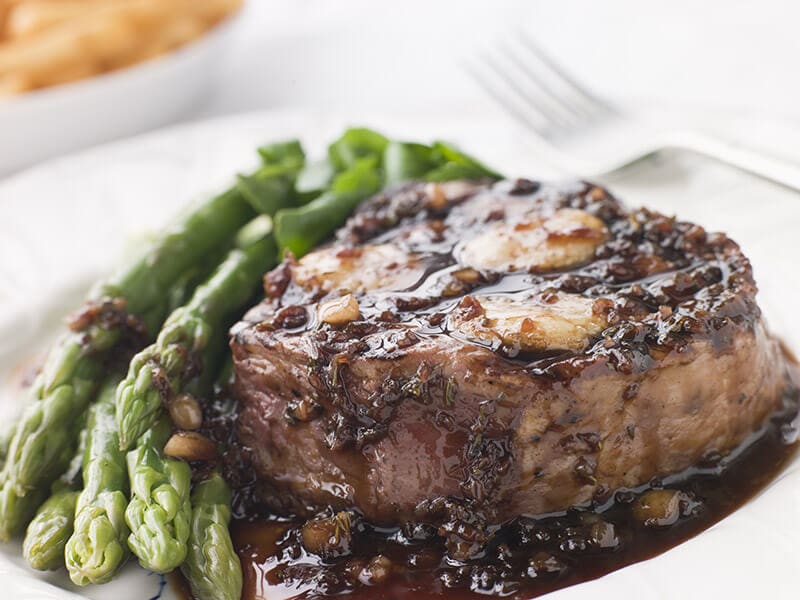 This is a significant one among various wonderful French sauces. In fact, the name "Bordelaise" stems from a Bordeaux region in Southwestern France.
The key ingredients to make a perfect Bordelaise sauce are dry red wine, butter, bone marrow, shallots, and demi-glace sauce, which I will introduce below. The typical French wines that you can use for this one are Cabernet Franc, Cabernet Sauvignon, Malbec grapes, or Merlot.
Overall, this is a tangy and deep-flavored sauce to perk up the flavor of your roasted beef/steak. Drizzling a bit of it on your roasted potatoes is also a good idea. You can also make it ahead if needed.
Moreover, the higher the quality of wine, the tastier the sauce. On the other hand, there is a Bordelaise variant in New Orleans cuisine that includes garlic, shallots, butter, olive oil, and parsley.
Here is a step-by-step instruction to make Bordelaise sauce and upgrade your cooking skill.
2. Steak Sauce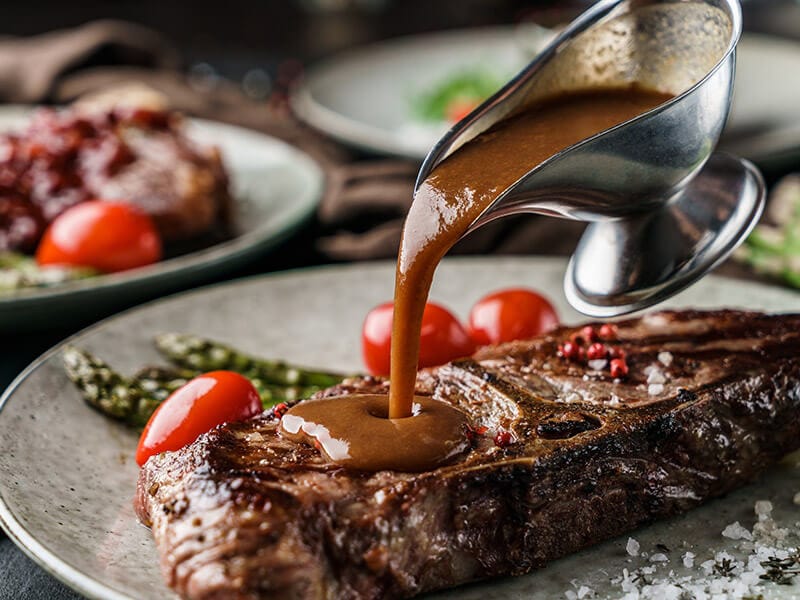 Steak sauce – a well-loved sauce in the USA, is a brown tangy food item with a nice balance of sweet and salty taste. It is normally served as a condiment of beefsteak treats.
The ingredients to make steak sauce vary, but the significant ones are tomatoes, vinegar, raisin, and spices. You can add other items like anchovies, tamarind, dates, molasses, etc., based on your preference.
Therefore, steak sauce can be sweet or tart, depending on your chosen components. If you prefer store-bought ones, the 3 biggest brands you can consider are the British Henderson's A1 Sauce, Heinz 57, and the British Lea & Perrins.
3. Demi-Glace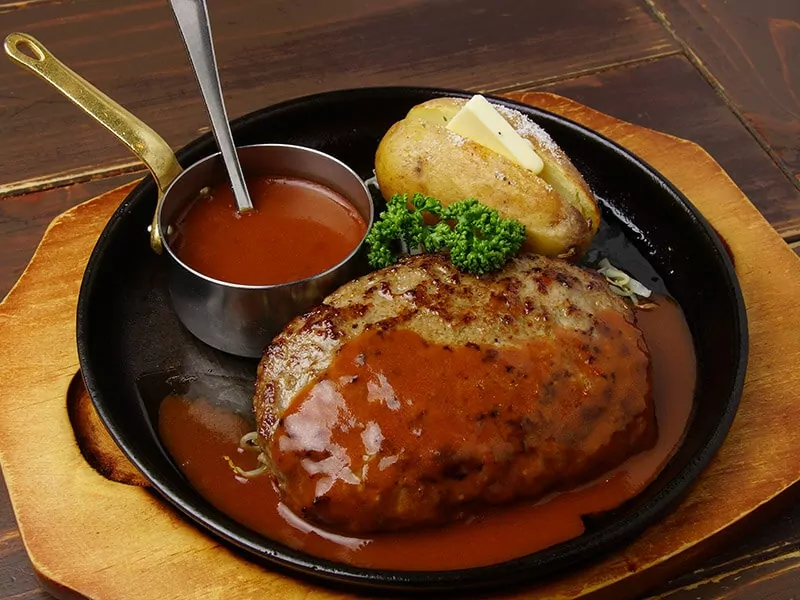 The soul of Demi-Glace is the mixture of chicken/beef stock and Espagnole sauce (a French mother sauce made from tomato paste and roux). The regular ratio of this combination is 1:1.
People normally reduce this mixture by half, then strain the impurities (if any), and add sherry wine at the finishing step.
The final result is a deep, meaty, and extra-rich sauce that you can serve on itself next to your favorite steaks (or any roasted meat), or use demi-glace as a base to make other sauces.
If stored properly in the fridge, they are safe to consume for the next 6 months. However, the only drawback of demi-glace is that the sauce requires a certain time and effort to make because you need to make the Espagnole sauce first.
Quick fact: Demi-glace means "half-glaze" as the French word "glace" refers to "glaze" or "icing".
Demi-glace sauce is an art in French cuisine. If you want to make it at home, you should not miss this video.
Butter Sauces
As the name suggests, butter sauces' main component is melted butter. Therefore, they typically have a creamy and thick consistency in light colors. You can pair these sauces with meat or seafood dishes.
| Sauce Name | Ingredients | Characteristics |
| --- | --- | --- |
| Beurre Blanc | Shallots, butter, white wine, vinegar, and herbs | An emulsified butter sauce that is buttery, rich, and creamy |
| Meuniere Sauce | Brown butter, lemon, and chopped parsley (main components) | Buttery, lemony, and savory |
4. Beurre Blanc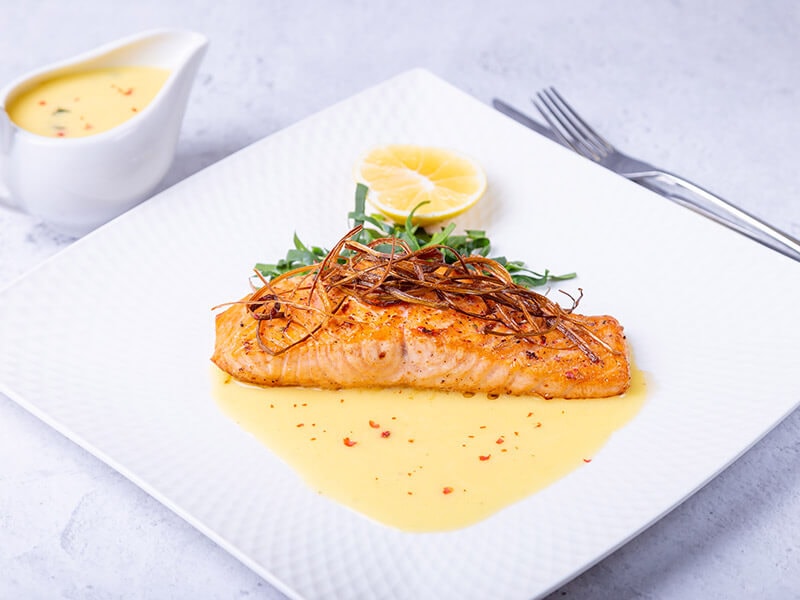 Suppose you are making a big batch of scallop-based dishes and do not know what to pair with these scallops; Beurre Blanc sauce is a perfect one. It is an emulsified butter sauce including shallots simmered and softened in butter, white wine, vinegar, and herbs (if any).
Interestingly, the sauce was a result of an accident made by the French chef Clémence Lefeuvre in the 20th century. Since then, it has become a well-loved sauce in French cuisine for decades, thanks to its buttery and rich taste with a creamy texture and a light pale yellow hue.
Beurre Blanc is also known as a white butter sauce that can pair well with various dishes, such as veggies, egg-based delicacies, poultry, or seafood.
French cuisine is full of awesome sauce, and Beurre Blanc is no exception. Click here to learn how to make it.
5. Meuniere Sauce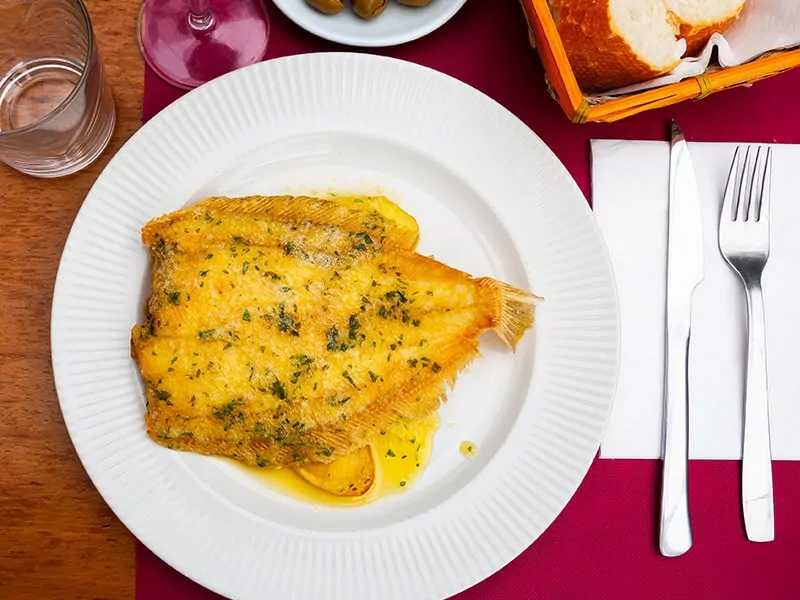 Another highlight in French sauce is Meniere. Brown butter, lemon, and chopped parsley are the key ingredients in preparing the sauce. Other variants include beef stock, Worcestershire sauce, or red wine vinegar.
With simple ingredients and minimal preparation, Meuniere sauce is an excellent sauce for beginners. The sauce features a buttery, lemony, and savory flavor to enhance your fish or seafood-based dishes.
Quick fact: Meuniere also refers to a cooking preparation for fish in France. The meaning of "meuriere" is "Miller's wife".
Dessert Sauces or Sweet Sauces
Sauces do not always have to be tangy to go with savory dishes. There are several types of sweet sauces (or dessert sauces) that you should not overlook.
Some of them play a certain part in making many dessert types more delicious and stunning. And the 3 sauces below are the best examples.
| Sauce Name | Ingredients | Characteristics |
| --- | --- | --- |
| Chocolate Sauce | Cocoa powder, water, salt, and sugar | Thick and sweet in dark color |
| Caramel Sauce | Cream and caramelized sugar (other variants might include liquors, butter, vanilla, etc.) | Smooth, thick, and golden-brown |
| Cranberry Sauce | Cranberries, water, and sugar | Balanced between sweetness and tartness |
6. Chocolate Sauce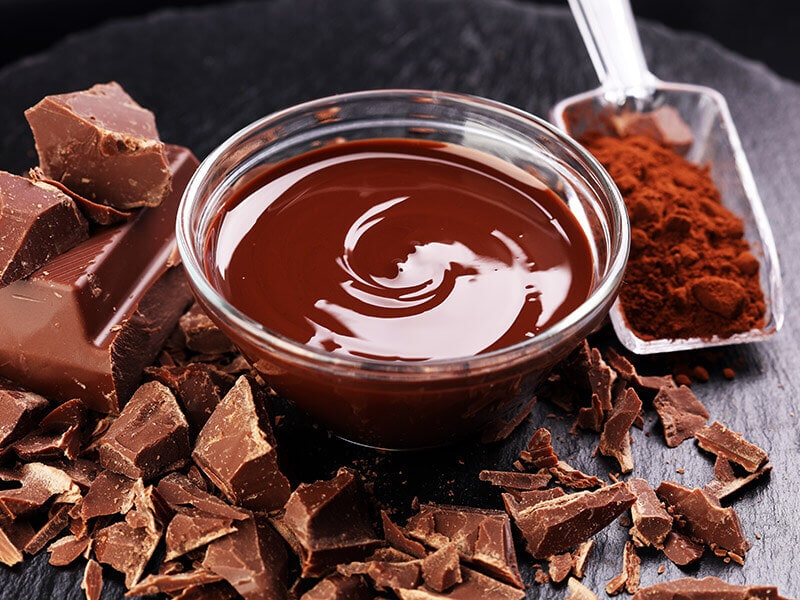 Chocolate sauce is a mixture of cocoa powder, water, salt, and sugar, cooked in a saucepan. Therefore, it would not be a challenging task to cook at home.
What is the difference between chocolate sauce and chocolate syrup? Well, it depends on the consistency. The sauce is rather thick, while chocolate syrup is runnier and thinner.
The versatility of this sauce is pretty impressive as you can use it as a dessert topping (like cakes, puddings, etc.), or as a dipping sauce to enjoy your favorite finger foods like fruits, veggie sticks, or breadsticks. You can also find chocolate sauce as a garnish for many sundaes.
7. Caramel Sauce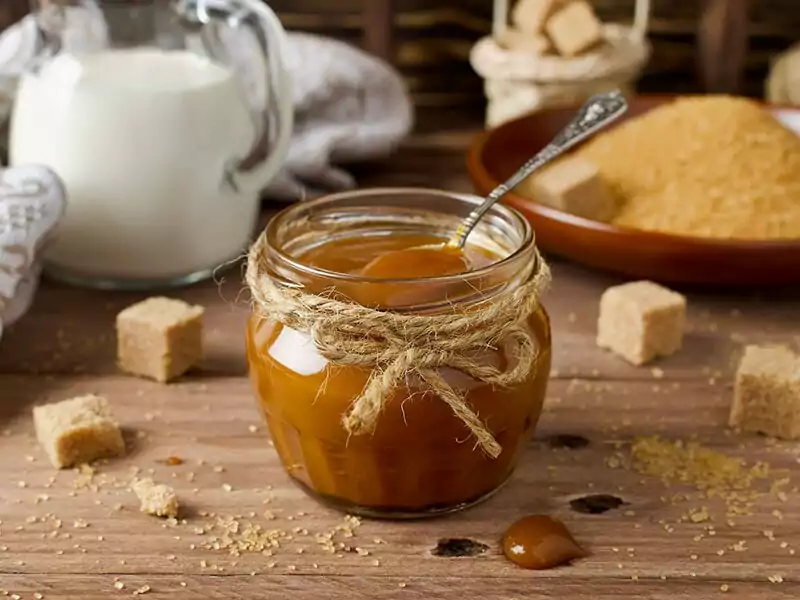 Caramel sauce contains cream and caramelized sugar to create a thick, smooth, and golden-brown sauce. Other versions are made with liquors, butter, vanilla, or fruit purees, based on personal liking.
If you prefer a salty version, salted caramel sauce would be better. Like other sweet sauces, the sauce is perfect for a wide array of desserts, such as puddings, cookies, cakes, pies, and more. It especially works like a charm as ice cream toppings.
However, compared to other sweet sauces, this one might be a bit tricky to make because sometimes it might end up overly dark (with a bitter taste) or too thin/ thick.
To properly prepare it, you should cook the mixture over medium heat. If possible, please get a candy thermometer to check the mixture's temperature (ideally 325 to 350 F degrees). If your sauce is too thin, you can simmer it for an additional 5 to 10 minutes or add more cream.
With only 3 ingredients, nothing can stop you from trying a rich caramel sauce.
8. Cranberry Sauce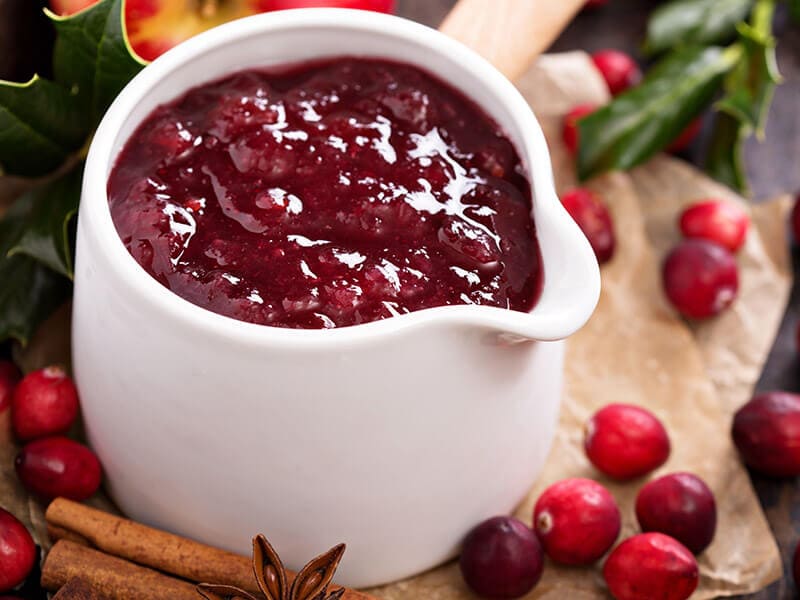 If you love cranberry – a superfood with high levels of antioxidants and nutrients, cranberry sauce is another twist to enjoy your favorite fruit. Obviously, it comprises a lot of cranberries boiled in water and sugar until all ingredients become a thick sauce with popped berries.
In reality, cranberry sauce is a classy treat on Thanksgiving dinner tables (in North America) and at Christmas dinners (in Canada and the UK). Regarding its flavor, a perfect cranberry sauce has a balanced sweetness and tartness.
The best thing about cranberry sauce is you can add it to both sweet and savory treats. Indeed, it can go well with turkey in Thanksgiving-style dishes, or you can enjoy the sauce with beef, pork, or chicken.
Fish or Seafood-Based Sauces
If you want to try a sauce made from fish or other kinds of seafood, I am pretty sure you will be surprised by the flavors of fish sauce, oyster sauce, and Worcestershire.
Sauce Name
Ingredients
Characteristics
Fish Sauce
Salt and fish (main components)
Savory and umami taste The texture is runny and thin
Oyster Sauce
Oyster extract, sugar, salt, etc.
Slightly sweet, salty, and earthy with a thick and syrupy consistency
Worcestershire
Fermented fish, malt vinegar, vinegar, molasses, etc.
Umami and savory

Relatively thick in dark brown hue
9. Fish Sauce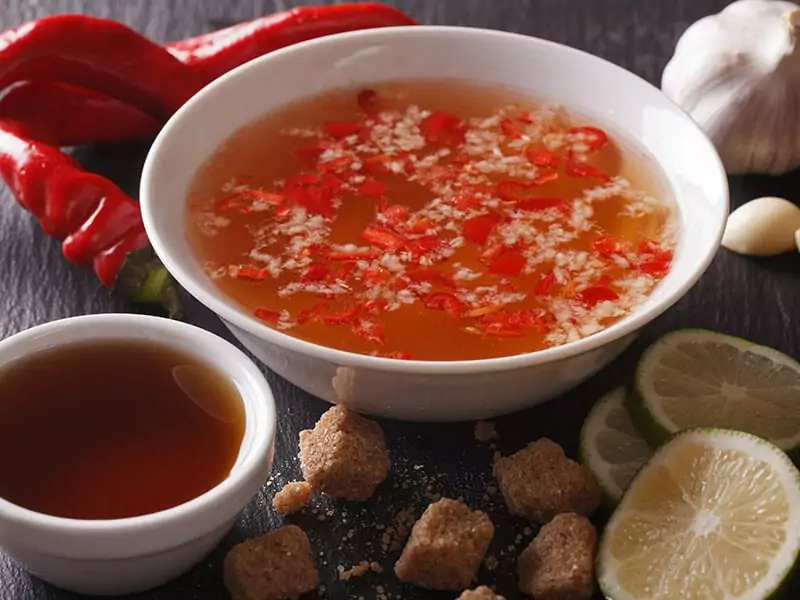 Fish sauce is a familiar sight in Southeast Asian or East Asian countries. Indeed, it is a staple condiment in Thai, Vietnamese, Cambodian, and other cuisines. However, the earliest root of this sauce can be traced back to ancient Greece around 4th-3rd century BC.
So what is the flavor of fish sauce? It is packed with savory and umami taste as the fish sauce is made from fermented fish and salt. And it is not suitable to make at home as the making process would take many months or up to 2 years.
There are differences between fish sauce and oyster sauce, which I will discuss in more detail in the next part. Regarding the application, you can use fish sauce as a seasoning, which can be added during or after cooking, or as a dipping sauce.
Let's discover how Thai people make fish sauce with this documentary.
10. Oyster Sauce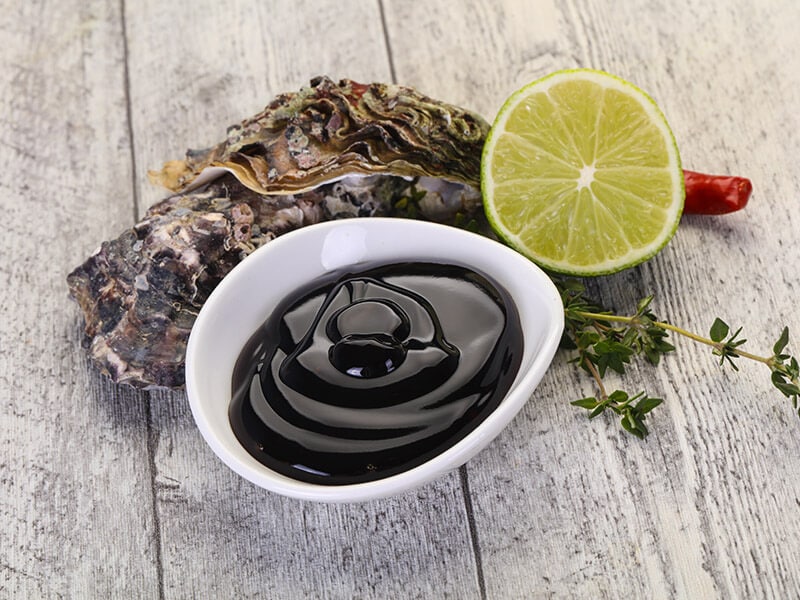 Oyster and fish sauce are briny, but their ingredients are totally different. Here is a comprehensive definition of oyster sauce.
Basically, the sauce includes oyster extract, hence the name. It has a nearly-black color with a thick consistency due to the appearance of corn starch.
Compared to fish sauce, this one's flavor is more subtle yet still increases the savory and umami taste of a huge array of dishes, from meaty to veggie ones. In China, oyster sauce is essential for preparing stir-fried noodle delicacies. It might be used as a topping sometimes.
Like fish sauce, this is also a popular condiment in Asian nations, particularly Thailand, China, Vietnam, and Malaysia.
11. Worcestershire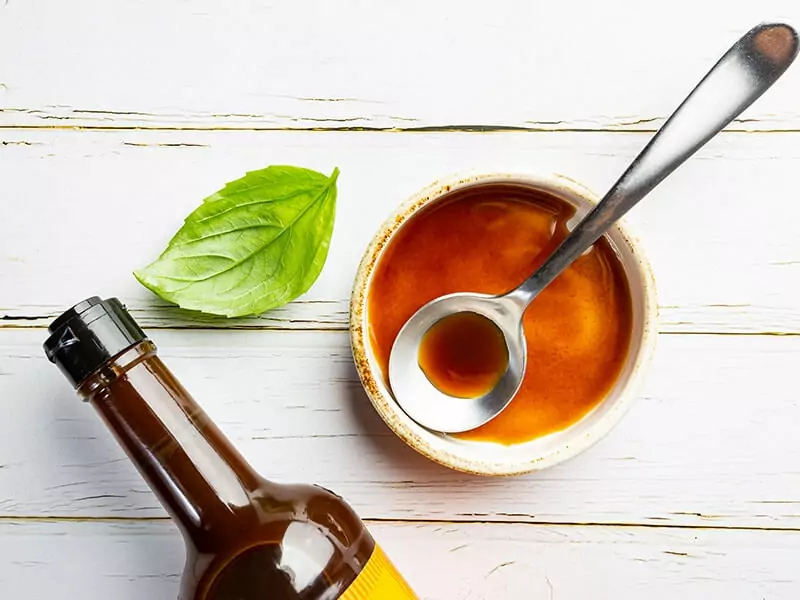 Using fermented anchovies to make sauce can date back to the 17th century in Europe. Worcestershire is a liquid condiment made from such ingredients, added with other things like malt vinegar, vinegar, molasses, and more.
Overall, it has strong umami, salty, sweet, and savory flavors that are hard to describe in one word. Worcestershire can be relatively thick in dark brown color. In terms of its uses, a big plus of Worcestershire is you can add it to drinks, especially cocktails, and foods alike.
In the market, you can find the sauce under a big brand – Lea & Perrins. The founder of this brand is also the creator of Worcestershire. But please feel free to use other condiments as Worcestershire's substitution if you cannot buy it, for example, soy sauce and ketchup.
If you are curious about how people make Worcestershire sauce, here is a delightful clip to check out!
Meat-based Sauces
As the name suggests, meat sauce must include meat with other ingredients to form a thick or thin sauce to go with other foods. Let's explore 2 significant instances below!
| Sauce Name | Ingredients | Characteristics |
| --- | --- | --- |
| Bolognese | Ground meat, tomato paste, white wine, milk, and chopped vegetables | Rich in flavor and pretty thick |
| Amatriciana Sauce | The main components are guanciale, tomato, and pecorino romano cheese | Tender and melty texture |
12. Bolognese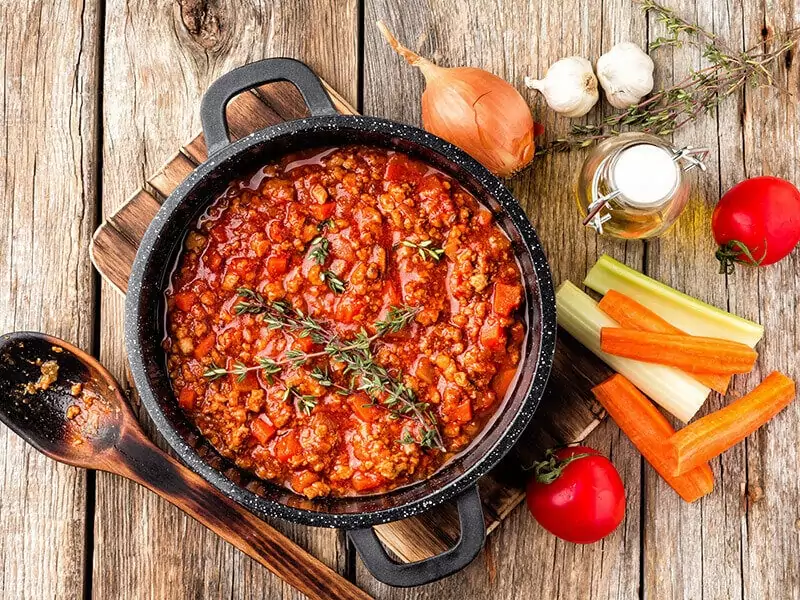 Bolognese sauce is a classic style of pasta sauce made from ground meat (pork, beef, or veal), tomato paste, white wine, milk, and chopped veggies (carrot, onion, and celery). This condiment is a signature food in Italian cuisine.
It is typically served with pasta, particularly ​​tagliatelle. However, please feel free to combine it with other pasta variants, such as penne, fettuccine, rigatoni, etc.
Regular Bolognese sauce asks for several steps in making, namely sautéing, sweating (simmering with frequent stirring), and braising. But it is not too challenging to make it yourself. With a few ingredients, you will have a thick, rich, and super tasty sauce that can wow everyone.
13. Amatriciana Sauce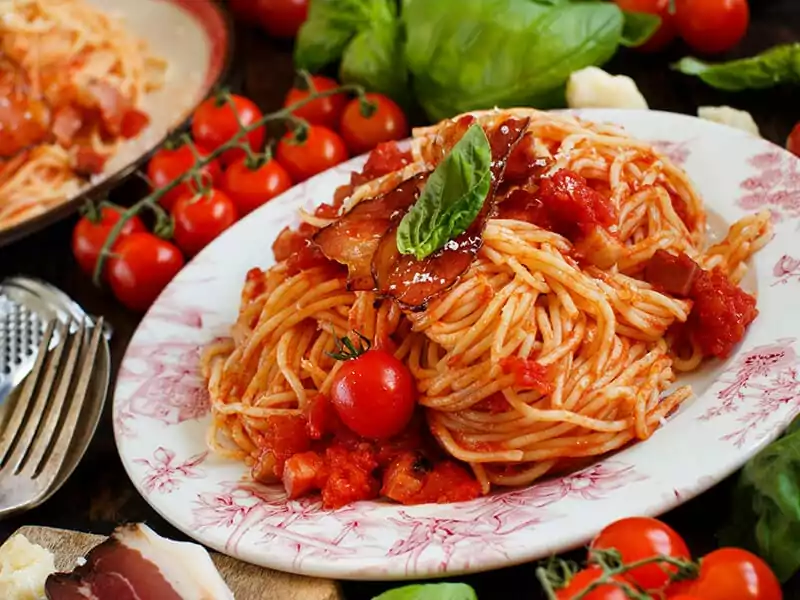 Coming from the town of Amatrice in the Lazio region (Italy), Amatriciana is another pride of Italians in the culinary world.
The meat that people use to make this sauce is pork, particularly guanciale (an Italian cured pork jowl or cheek). Tomatoes and pecorino romano cheese are other main components of the sauce.
There are other Amatriciana variants with other ingredients like onion, pepper, or other types of cheese. Regarding the sauce's root, the original version was found in a pasta dish called Pasta Alla Gricia, which comes from the Lazio region.
Nowadays, it has become an extremely popular sauce in Italian and Roman cuisines.
You do not have to fly to Italy to try Amatriciana sauce as you can prepare it yourself effortlessly.
Chili Sauces or Hot Sauces
Let's add a bit of spiciness to your meals with these 3 famous sauces that you can easily buy worldwide.
| Sauce Name | Ingredients | Characteristics |
| --- | --- | --- |
| Sweet Chili Sauce | Fish sauce, rice wine vinegar, garlic, and sweetener | Tangy and sweet with a light note of spiciness |
| Sriracha | Homemade versions include chili pepper paste, garlic, white vinegar, sugar, and seasonings. | Scoville scale: 1,000 to 2,500 Sweet and tangy with a relatively thick texture |
| Mustard Sauces | Mustard, garlic, egg yolks, wine vinegar, wheat flour, and seasonings | Ranging from sweet to spicy |
14. Sweet Chili Sauce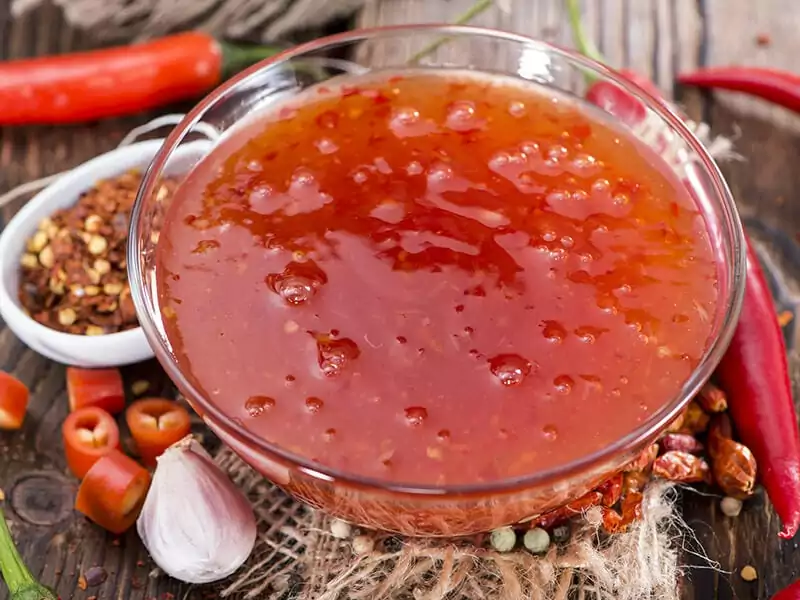 Sweet chili sauce is famous for its balance of tanginess and sweetness with a light note of spiciness. In Thailand, it is also known as Nam Chim Kai – a dipping sauce. Its popularity is huge as you can find it in any continent.
The sauce's ingredients are garlic, rice wine vinegar, fish sauce, and sweetener (like sugar, honey, or even sweet fruit). Sweet chili sauce typically owns a thick texture with a vibrant orange or red color.
It is pretty flexible as you can enjoy the sauce with various dishes, such as egg rolls, spring rolls, chicken, toast, lettuce wrap, and more.
15. Sriracha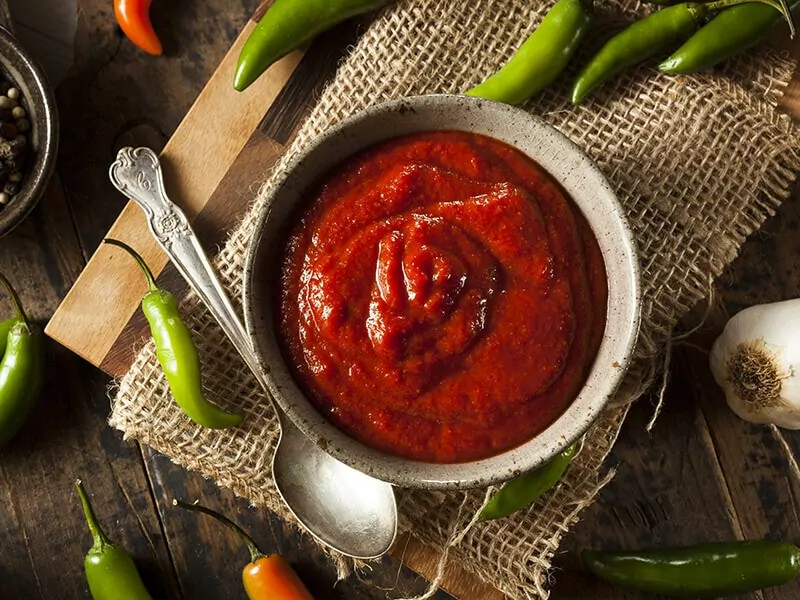 The origin of Sriracha is still in question. Some research proves this is a product of a Thai woman (Ms. Thanom Chakkapa) who lived in Si Racha town in Thailand.
Another version of Sriracha is a commercial product produced by Huy Fong Foods company of David Tran (a Vietnamese immigrant in the US). Most of the Sriracha bottles that you can find in America with a rooster on the bottle are Huy Fong Food products.
In case you cannot find it, there are also various options to replace Sriracha that might be easier to buy, such as mustard, ketchup, and other hot sauces.
The Scoville scale of Sriracha is quite low, which is from 1,000 to 2,500. They also have a sweet and tangy taste with a relatively thick texture. If you want to make it at home, you might need chili pepper paste, garlic, distilled white vinegar, sugar, and seasonings.
What is Sriracha and what makes it so successful in the market? This short video will give you the answer.
16. Mustard Sauce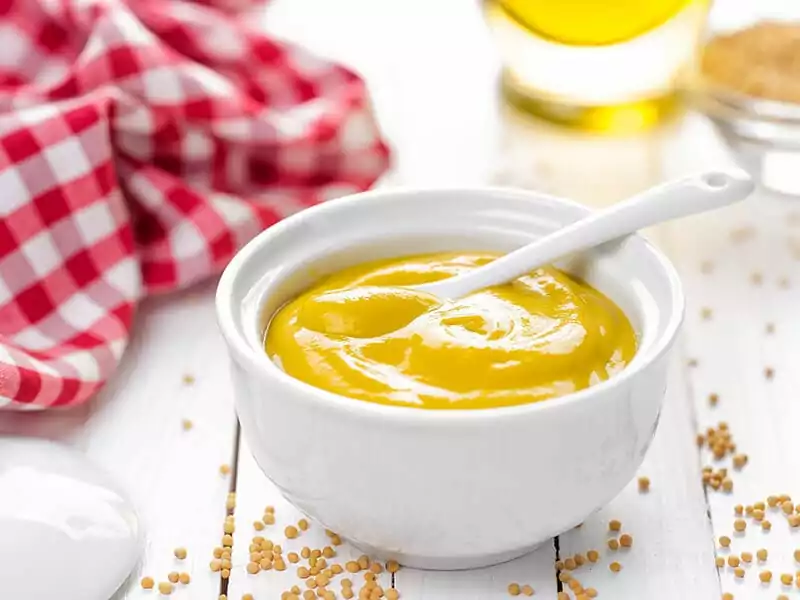 This thick sauce is a worldwide-distributed condiment that I believe many people have tried before. However, there are wide mustard varieties that are beyond what you're familiar with. Some of them might not have a pale yellow color like regular ones.
But in general, the main components that comprise the sauce are mustard, garlic, egg yolks, wine vinegar, wheat flour, and seasonings. The ideal ways to enjoy mustard are with hot dogs, sandwiches, hamburgers, etc.
On the other hand, people can use it as a component to make marinades, dressings, other sauces, glazes, or soups. In terms of flavor, mustard sauce can range from sweet to spicy (depending on its variety), though the seeds themselves have a pungent and peppery taste.
Mayonnaise-Family Sauces
Mayonnaise is a famous mother sauce all over the world. Therefore, you can find several daughter sauces deriving from it that include other additional flavorings. But first, let's explore what's in mayonnaise.
| Sauce Name | Ingredients | Characteristics |
| --- | --- | --- |
| Mayonnaise | Egg yolk, oil, and lemon juice (or vinegar) | Thick and creamy sauce in a light pale yellow color (or near-white) |
| Tartar Sauce | Mayonnaise, herbs, chopped pickles, and lemon juice (or vinegar) | Creamy and off-white sauce with the sweet-and-savory taste |
| Hollandaise Sauce | Egg yolk, butter, lemon juice, and seasonings | Rich, buttery with a smooth consistency |
17. Mayonnaise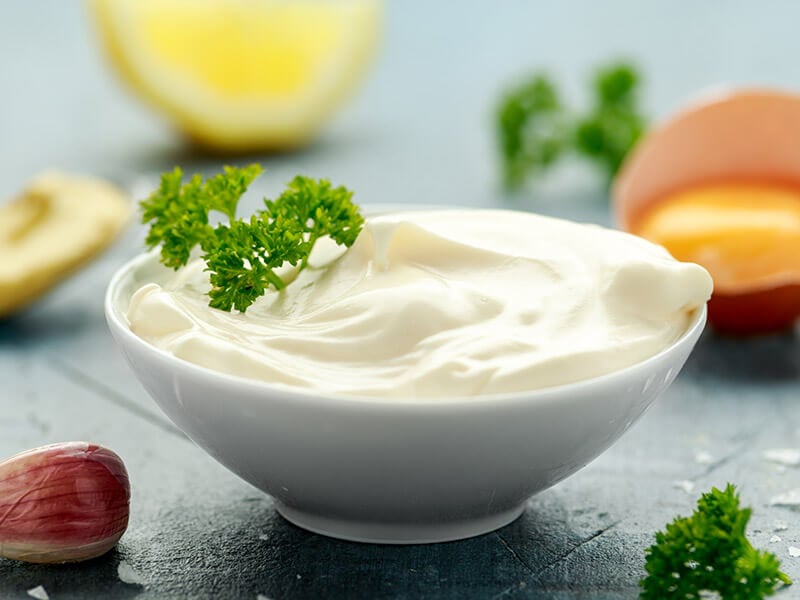 Mayonnaise (or mayo) is a thick and creamy sauce with a light pale yellow color (or near-white) as it comprises egg yolk, oil, lemon juice, or vinegar. Overall, this is an emulsion of oil and egg yolks.
The sauce is best used in both hot and cold dishes, such as various styles of sandwiches, salads, and French fries. It can also be a creamy dressing to enhance the tastiness. You can easily prepare this rich sauce at home, or can buy ready-made ones at stores.
However, regular commercial mayonnaise is not low in fat and calories. So if you are on diets, please carefully check their nutrients before consuming them.
Speaking of its origin, the root of mayonnaise is still in debate. But in general, most people agree the sauce was from Menorca (Spain), and it seemingly first appeared in 1806.
How commercial mayonnaise is made? Check here for more information.
18. Tartar Sauce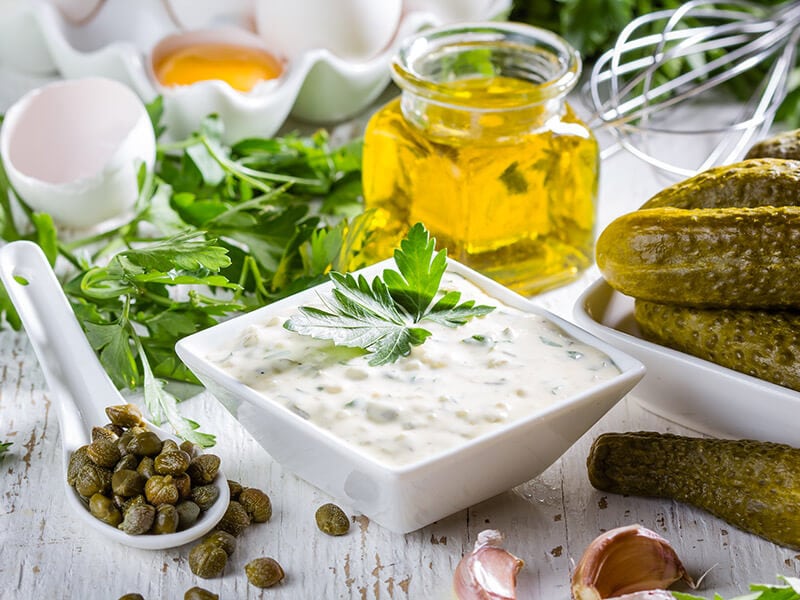 Tartar sauce stems from mayonnaise sauce with other ingredients such as herbs (dill or tarragon), chopped pickles, and lemon juice (or vinegar). And they can go with your fish sandwiches, fish and chips, or other seafood-based dishes.
In the United Kingdom, locals might add gherkins (pickled cucumber) with dill, capers, and lemon juice. If you do not like mayo, you can replace it with aioli (a cold sauce made with garlic and olive oil).
Either way, tartar one is hassle-free to make at home as all you need to do is just combine all ingredients in a small bowl and give them a good stir. That's it!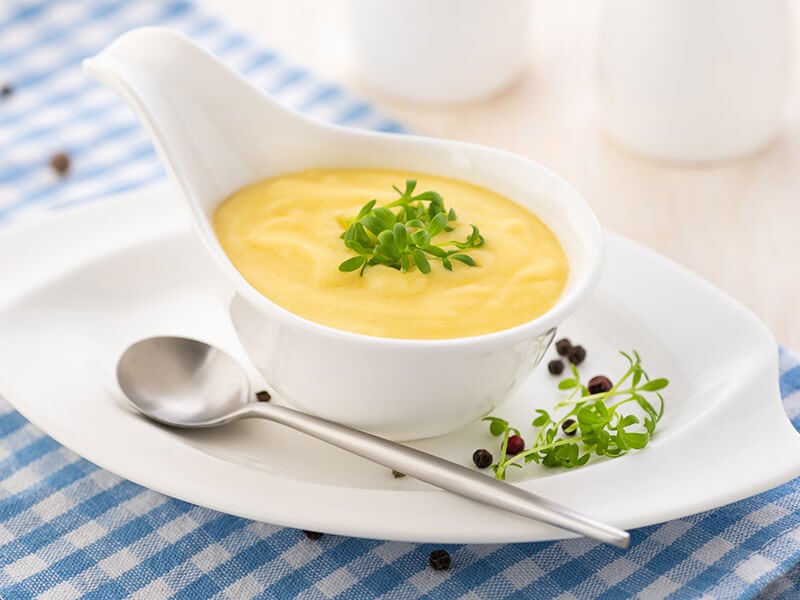 Hollandaise sauce's origin is still unknown though its name sounds like Dutch (with the term "holland"). However, most renowned chefs believe this is a French-origin sauce that came from a Normandy town, where it is famous for its cream and butter.
Overall, it is a classic mixture of egg yolk, butter (in liquid form), lemon juice (or white wine/vinegar), and seasonings. And if you have tried egg Benedict, you must have tasted this sauce as this is the main star in this dish. It also perks up steamed veggies' flavor.
In order to prepare the Hollandaise sauce correctly, the first thing you should highlight is the temperature. The ideal degrees are from 120 to 145°F. Otherwise, the sauce may split or have lumps. So if possible, use a small thermometer to check it.
Get ready to surprise others with this homemade Hollandaise sauce!
Tomato-Based Sauces
What are your favorite sauces mainly made from tomatoes? Too many to pick, right? Let me introduce the most popular ones under this circumstance.
Sauce Name
Ingredients
Characteristics
Tomato Sauce
Primarily tomatoes
Rich in tomato flavor with a fresh scent

Thinner than tomato paste
Marinara Sauce
Tomatoes, onions, oregano, basil, and garlic
Diverse in texture (it can be thick, chunky, or velvety)
Taco Sauce
Tomatoes with other ingredients like green pepper, chili peppers, garlic, vinegar, and seasonings
An orange-red sauce with a soupy consistency
20. Tomato Sauce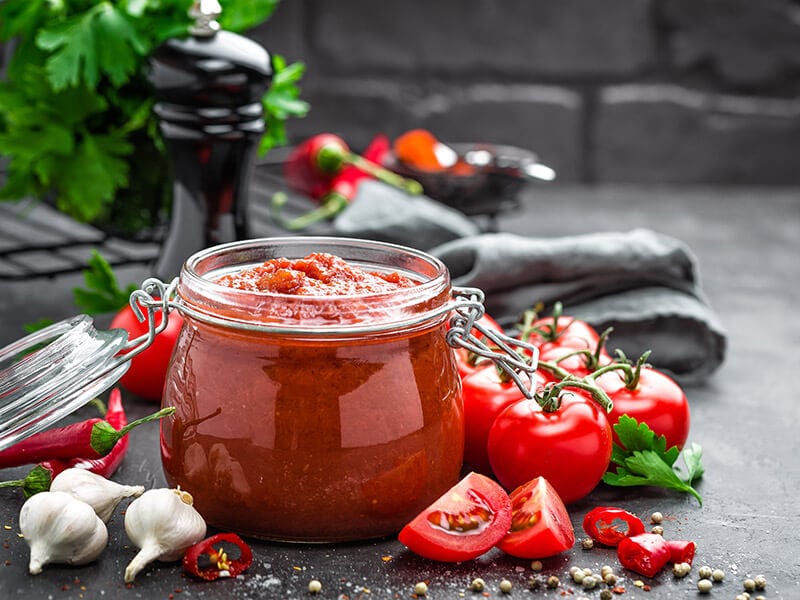 The most obvious and basic one, in this case, is tomato sauce. But first, please note that there are certain dissimilarities between tomato sauce and tomato paste as the latter is thicker than the former.
The best food to go with this sauce is vegetables and meat for the main course. People also use it as a condiment (like ketchup), especially in South Africa, Australia, India, or the UK.
Tomato sauce is rich in tomato flavor with a strong scent of freshness. Though it contains a large quantity of tomatoes, the sauce is not too acidic or bitter. If you want to make your salad dressing, pasta, soup (or stew), and marinades more flavorful, this sauce will surely satisfy you.
21. Marinara Sauce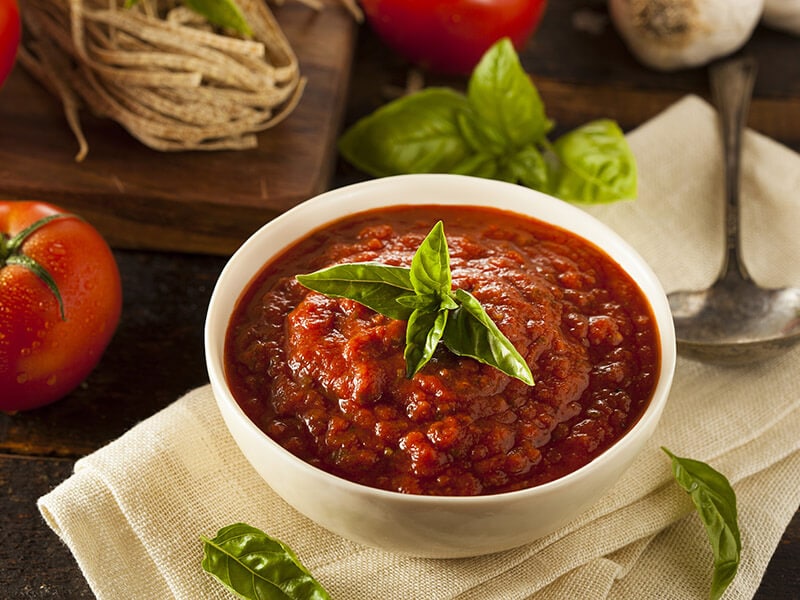 With tomatoes, onions, basil, oregano, and garlic as key components, Marinara sauce is another flavorful sauce to go with your pasta, soups, and pizzas. But Marinara has several differences from pasta sauce since the latter has meat and vegetables besides tomatoes.
In addition, Marinara is an ideal partner for fish or meat. Besides its thick and rich texture, Marinara can also be chunky or velvety, depending on how you want to make it. Its main profile flavor is similar to fresh tomatoes with a light note of garlic and onion.
A basic Marinara sauce cannot get easier with this tutorial.
22. Taco Sauce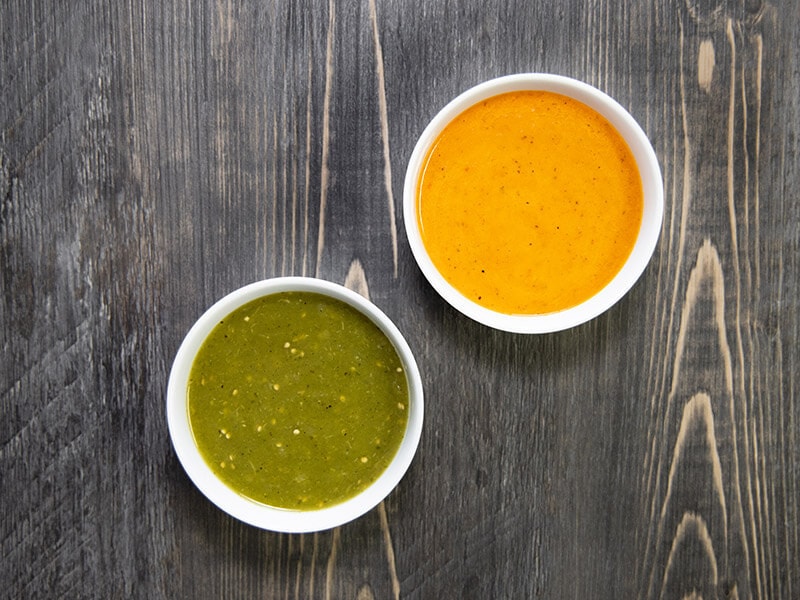 Speaking of authentic Mexican foods, taco must be the first one that popped up in your mind. But it would be a waste to enjoy tacos without its accompanying sauce of the same name. So what is it, and how to make the sauce?
With tomatoes as the core ingredient, taco sauce has a vibrant orange-red color with a soupy consistency. The sauce is flavored with green pepper, chili peppers, garlic, vinegar, and seasonings.
Its flavor can be spicy or tangy, but the sauce surely upgrades your taco to a new level of deliciousness. Besides tacos, please feel free to add taco sauce to your nachos, quesadillas, burritos, or enjoy it with tortilla chips.
White Sauces
White sauce is a group of many sauces with a characteristic white (or creamy) color. So what varieties are considered white sauce? Here are 2 major examples.
| Sauce Name | Ingredients | Characteristics |
| --- | --- | --- |
| Béchamel Sauce | White roux and milk | Buttery and creamy with a dense texture |
| Velouté Sauce | Light stock and roux | Smooth, creamy, and pale in color |
23. Béchamel Sauce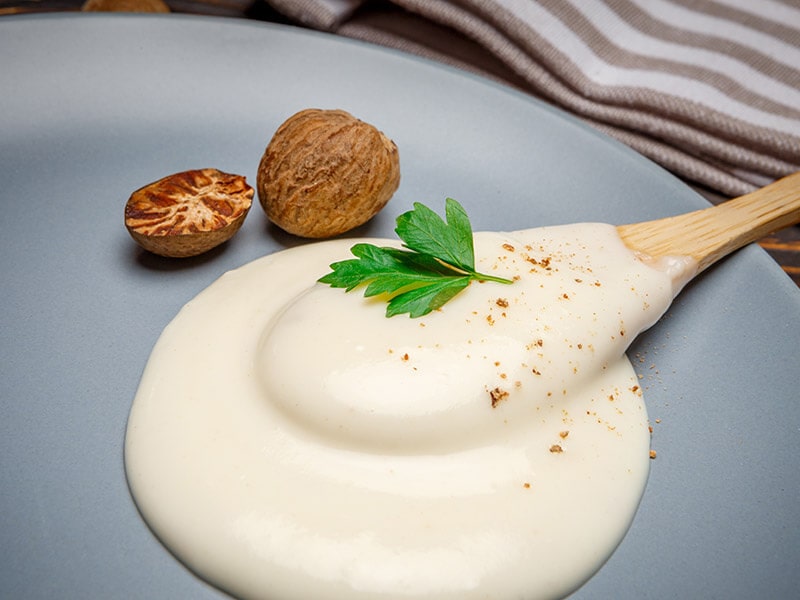 Béchamel sauce is a classic type in the white sauce category. In fact, it is also known as a white sauce in America.
This is a mixture of white roux and milk to feature a creamy and buttery sauce. In some countries (like France, Greece, and Italy), the sauce also contains spices like nutmeg, pepper, or salt to season.
The application of béchamel sauce is diversified. It can be a tasty component to make your lasagna, soup, veggies, mac and cheese, etc., creamier. You can also turn to this condiment for a great replacement for ricotta cheese. Very flexible, isn't it?
If you want to make it at home, please remember that milk should be cold and added slowly to the sauce. Otherwise, your milk might curdle. The mixture of milk and roux must be stirred frequently until you have a dense sauce.
Here are some tricks to ensure your Béchamel sauce comes out perfectly.
24. Velouté Sauce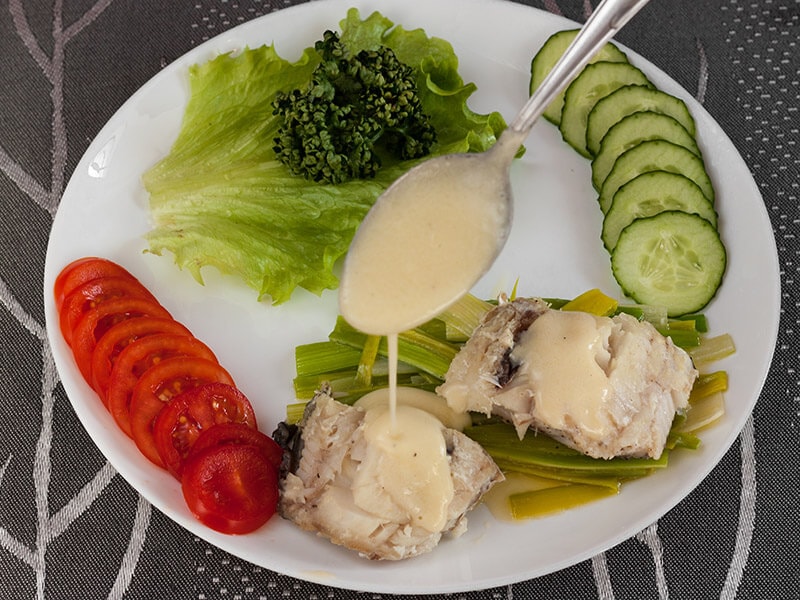 Another variety comprising roux is Velouté sauce. Similar to the above one, this is also a mother sauce in French culinary art that is listed by Georges Auguste Escoffier – a renowned French chef.
Besides roux, the light stock is another key component in creating Velouté. The stock can be chicken, veal, or seafood, then thickened with a roux mixture.
The sauce is smooth, creamy, and pale in color. If you want to add more flavor to the sauce, herbs and spices are ideal items. Velouté sauce typically goes with seafood or poultry dishes. Additionally, it is also a great base for preparing other sauce variants.
Other Kind of Sauces
Finally, here are the other 3 well-known sauces in different cuisines that do not belong to any of the 9 above categories.
Sauce Name
Ingredients
Characteristics
Soy Sauce
Soybeans, brine, roasted grains, and molds
Strong umami, salty, and savory

Thin texture with dark color
Cocktail Sauce
Diverse according to the location
Savory, tangy, and a little bit spicy
Barbecue Sauce
Tomato paste (or ketchup), vinegar, or mayonnaise (as base ingredients)
Diverse according to the ingredients (generally tangy, sweet, or smoky)
25. Soy Sauce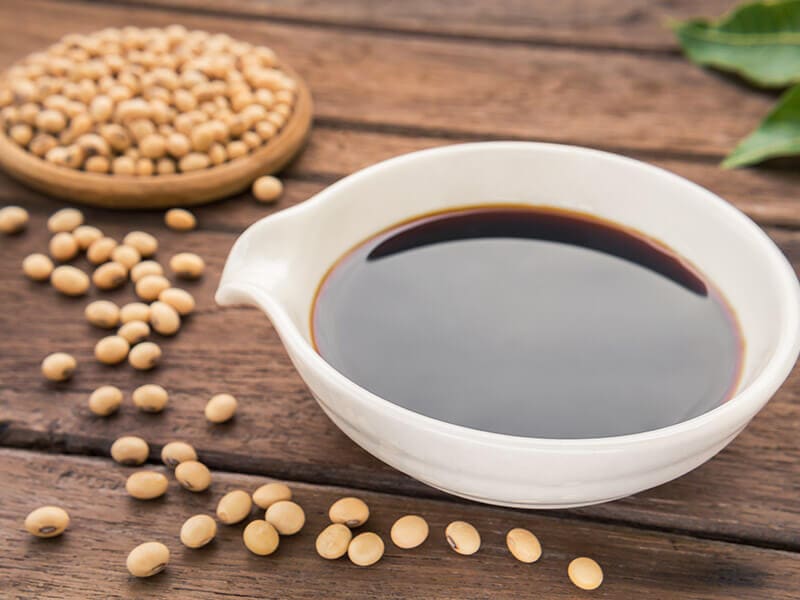 The last sauce has a long history and plays a significant role in many iconic Chinese dishes – soy sauce. It is made from fermented soybeans, brine, roasted grains, and a specific mold named Aspergillus oryzae.
As the process of making soy sauce might take months, you should instead buy it at Asian food stores. If you cannot buy it in the nearest shops, there are other options to replace soy sauce ideally. Of course, it is not a good condiment for those who have a soy allergy.
In general, soy sauce is famous for its strong umami, salty, and savory flavor. It is generally thin in texture with dark color. In reality, soy sauce might come in various forms, leading to different fragrances, flavors, or consistency, depending on where they are made.
Soy sauce can act as a seasoning in many dishes, like soups, stir-fries, noodles, etc. Alternatively, it can be served along your meal to perk up the dish's flavor.
Let's see how the Japanese make the finest soy sauce through this video.
26. Cocktail Sauce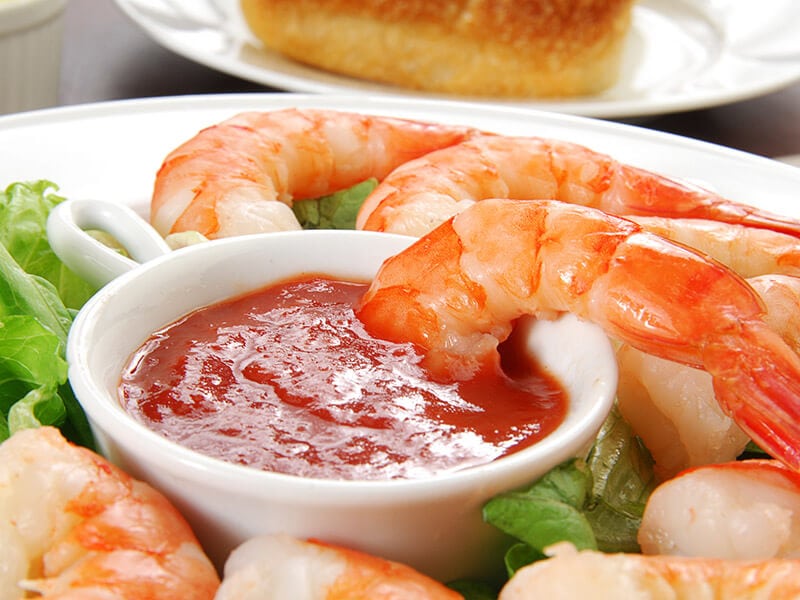 The cocktail sauce can be seen as a condiment variety or as a part of seafood cocktail dishes. Some popular versions are shrimp or prawn cocktails. In fact, you can pair the sauce with other seafood types, especially shellfish species.
You can trace the origin of this sauce back to 19th-century America. Its popularity has been spread to other countries like Italy, Canada, Ireland, the UK, France, and more. Of course, different nations have distinctive ways of making cocktail sauce.
For example, in Canada and the USA, people prefer to mix ketchup (or chili sauce) with horseradish, while others might add mayonnaise to tomato sauces.
Furthermore, the bottled versions also taste different from freshly-made ones. But many of them are tangy, savory, and have a light spicy note.
27. Barbecue Sauce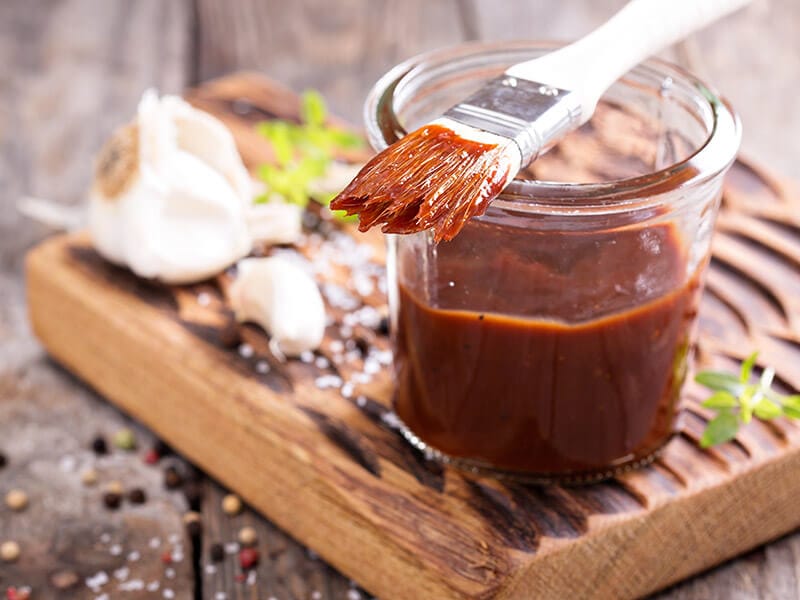 Barbecue sauce (the shortened form is BBQ sauce) is a prevalent condiment in American cuisine, especially in the Southern United States. It is a flexible food item as you can use it for basting, BBQ meat topping, or marinade.
The list of ingredients varies, but the base ones are tomato paste (or ketchup), vinegar, or mayonnaise. Other common components are onion powder, liquid smoke, spices, and sweeteners (sugar or molasses).
The regular flavor profile of the sauce is tangy, but some might be smoky or sweet, based on the ingredients. Plus, the good BBQ sauce should be thick and smooth in dark-brown color.
The exact origin of BBQ sauce is still in question. Many claim the original sauce's root was from the first American colonies, while others think it might have been created by German settlers in the 18th century.
Making Sauce is a Kind of Art!
Have you ever tried to make any sauce by yourself? If yes, how was your experience? Indeed, though there are thousands of store-bought sauces on the market, making them is a fun activity to test your skill and patience.
So when you are willing to upgrade your knowledge as well as cooking skill, just pick one of those 27 sauces to try at home. Finally, if you find this article helpful, do not hesitate to click the "like" button and share the post with your beloved people.
In case there are other concerns regarding these sauces, please feel free to share your opinions below. I am looking forward to hearing your feedback. Thank you!