Fish sauce vs oyster sauce, some people think that these two sauces are nearly identical to each other since they're both made from seafood. However, apart from their oceanic ingredients, oyster and fish sauce share nothing else in common.
Keep reading to know more about the things that set them apart from each other. Along the way, you'll also learn several yummy recipes that use fish sauce and oyster sauce!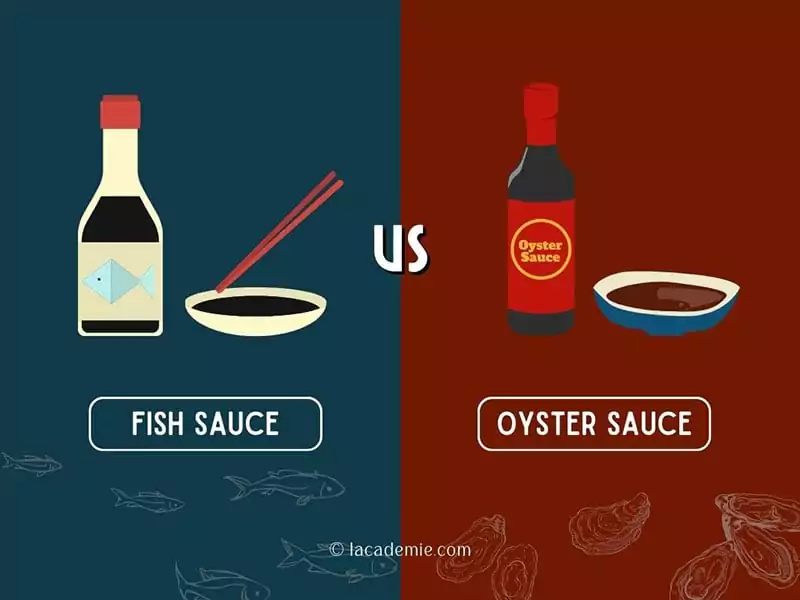 A Brief Comparison Of Fish Sauce And Oyster Sauce
As mentioned above, it would be far-fetched to say that fish sauce and oyster sauce are similar to each other. Here's a comparison chart that summarizes the key differences between the two.
Characteristics
Fish sauce
Oyster sauce
Origin
Ancient Greece, the Roman Empire, and Ancient China
Guangdong province, China
Main ingredients
Fish and salt
Oyster
Producing process
Fermenting
Simmer until caramelize
Consistency
Thin, watery
Thick, gooey
Color
Reddish, amber
Dark brown, nearly black
Smell
Fishy, strong
Mild, pleasant
Taste
Pungent, salty, fishy, umami
Sweet, savory, umami
Nutritional value

Very rich in sodium
Provide a decent amount of magnesium, potassium, protein, and calcium

Rich in sodium
Cooking utilization

Used in various recipes including soup, broth, stir-fry
Added to marinades
Mixed with other herbs and spices to become a table condiment

A vital part of many stir-fry dishes
Great garnish for vegetables
Used in marinades for meat and fish
Used as a dipping sauce
The History Of Fish Sauce And Oyster Sauce
Today, fish sauce and oyster sauce are widely used in Asian cuisine, but do they really come from this region? To answer this question, let's take a quick look at the origin of the two sauces.
Fish Sauce
Aside from the interesting flavor of fish sauce, it also has a quite fascinating history with many twists and turns.
The sauce was originally an invention of the Ancient Greeks in between the 4th and 3rd century BC. At that time, this condiment was called "garos" and was made by fermenting scraps of fish. The Romans also had their own version of fish sauce called garum.
Following the downfall of the Roman Empire, the production of fish sauce in this region began to slow down and eventually came to a halt as salt became harder to obtain. Additionally, the rampage of pirates in the ocean trading route also added insult to injury.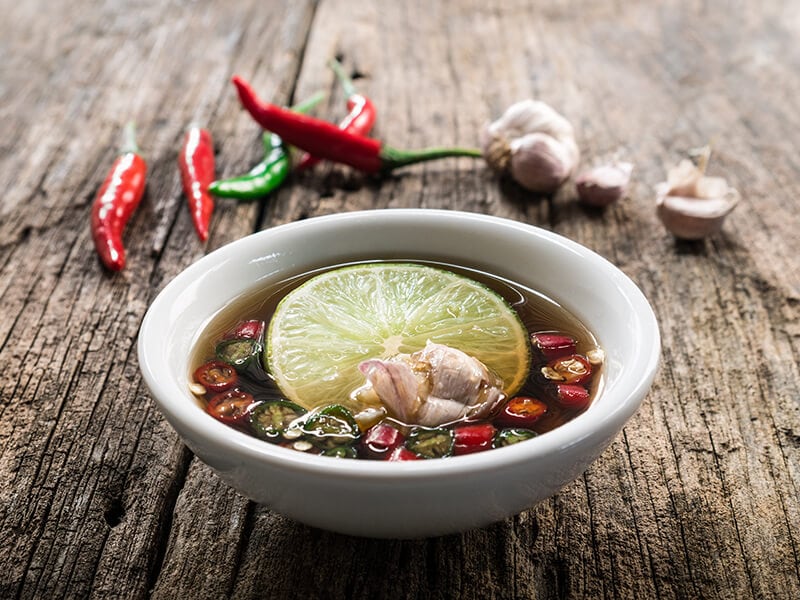 In Asia, this classic type of sauce made its first appearance in Ancient China about 2300 years ago but not in the form that it's often seen in modern days. In the beginning, fermented fish was used as an ingredient in making sauces along with soybeans and meat.
Over time, soybeans became the more favorable ingredient and were fermented without the fish to make soy paste and soy sauce. By 50-100 BC, as the Ancient Chinese didn't find much use for the fishy condiment, it gradually fell out of fashion.
Fortunately, fish sauce then found its place in Southeast Asian cooking. The sauce is frequently used in Vietnamese, Cambodian, Filipino, and Thai cuisine, where it is considered a classic staple.
As fish sauce is necessary for daily cooking in these countries, people there tend to buy and store fish sauce in bulk. That's why they can easily answer matters such as whether fish sauce can go rancid, what is fish sauce's shelf life, or how to store fish sauce.
Oyster Sauce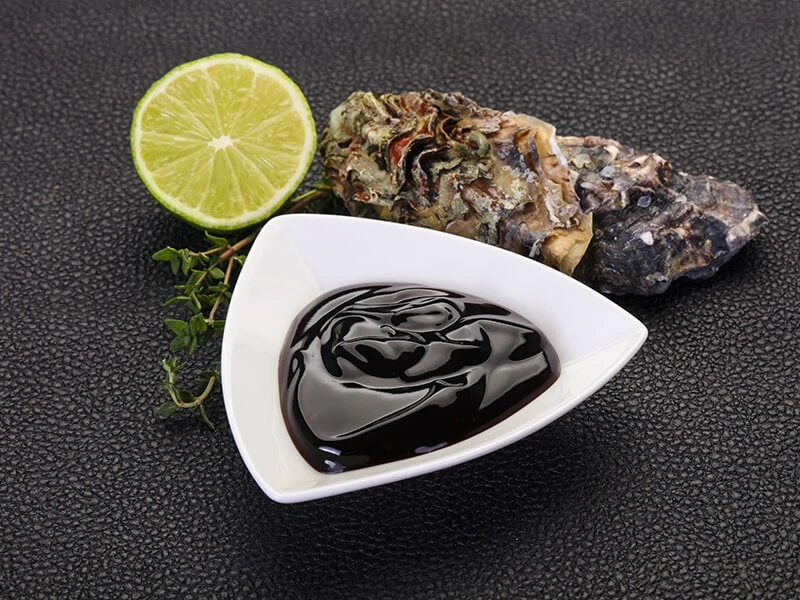 To understand the definition of oyster sauce, first, you'll need to know about how it came to be. Similar to fish sauce, the story behind the birth of oyster sauce is also very intriguing.
The shellfish sauce was created in 1888 by a man named Lee Kum Sheung in Guangdong Province, China. The interesting thing is, oyster sauce wasn't created on purpose but rather the result of a total coincidence.
Lee owned a tea stall where he sold cooked oysters. On one seemingly normal day, as he was making his oyster broth, Lee accidentally let it overcook.
What could have been a disaster turned into a miraculous condiment with an incredible taste. His "oyster sauce" soon became popular among the locals, which encouraged Lee to found Lee Kum Kee – a now world-famous sauces manufacturing company.
How They Are Made
Although fish sauce and oyster sauce both come from seafood, their production processes are nothing alike.
Fish Sauce
Traditionally, fish sauce was made with various fish and shellfish species using the whole fish, parts of it, and even its blood and entrails.
Today, oily, intense-flavored fish (like anchovies, mackerel) and salt are the two essential ingredients of this condiment. Either fresh fish or dried fish can be used. In addition, other herbs and spices might be added to the mix to create a unique flavor.
To make fish sauce, the fish (sometimes shellfish) are fermented with salt at a 10% to 30% concentration level in a sealed container for at least 6 months and up to 18 months. The final product of this process is considered the "first-press" and boasts the highest quality.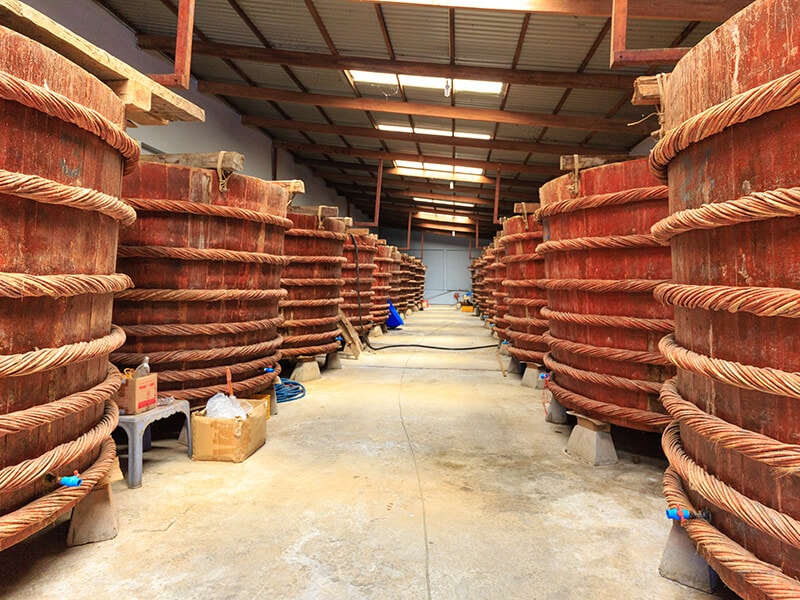 Second-grade fish sauces might be made by re-extracting the fish mass used in the original batch. Although the second-pass fish sauces are cheaper than the first draft, they're also thinner and don't taste as strong.
Depending on the country, the ingredients used in fish sauce production may vary. Here are some of the most famous fish sauces in Southeast Asia.
| | |
| --- | --- |
| Country | Common ingredients |
| Vietnam | Mackerel, anchovies, scabbard fish, salt |
| Thailand | Anchovies, herring, sardines, mackerel, salt |
| Cambodia | Anchovies, coarse salt |
| The Philippines | Anchovies, sardines, shrimps, salt |
| Laos | Anchovies, salt |
Find out how the renowned Thai fish sauce is produced. Watch this video:
Oyster Sauce
Compared to fish sauce, the making of oyster sauce isn't as meticulous.
Originally, oyster sauce was made by cooking oysters in water until the juice reduced into a thick, viscous sauce. However, as the demand for oyster sauce increases, manufacturers have taken plenty of shortcuts to reduce costs and maximize profits.
Modern oyster sauce is typically a mixture of sugar, salt, oyster extracts or essences, and cornstarch. Some lower-quality brands also include MSG, soy sauce, and caramel color in their productsto quickly give the sauce more flavor and color.
If you don't want any MSG or coloring in your food, you should stick to the premium oyster sauce brands.
Although this kind of sauce might be frowned upon by the gourmets, it still takes up a large percentage of the oyster sauce market, thanks to its affordability.
You might be asking whether vegans and vegetarians can enjoy oyster sauce. Well, some vegetarians allow seafood in their daily meal which makes using oyster sauce acceptable.
However, if you want to integrate this condiment into a 100% plant-based diet, you should opt for high-quality vegan oyster sauces that are made with mushroom extracts.
In reality, most average consumers find the dissimilarity between oyster-flavored sauce and oyster sauce hard to spot.
You can easily make vegan oyster sauce with just 5 ingredients. Let's watch this video:
The Distinct Characteristics Of Each
Appearance, taste, and smell are the parts where you'll see a clear distinction between fish sauce and oyster sauce. After this section, I'm sure that you'll never confuse these two ever again.
Fish Sauce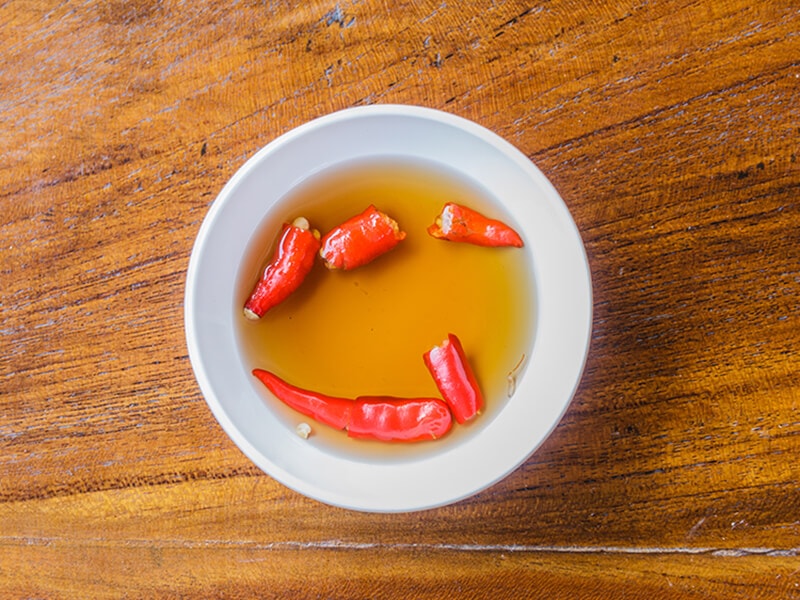 Between the two, fish sauce is the one with a thinner and more watery consistency. It usually has a reddish-brown, amber, or deep brown color. The first extraction, also the highest quality batch, comes in a light amber, almost clear color.
Although thickness isn't fish sauce's strong suit, it more than makes up for it in the unique fish sauce flavor. This condiment has a pungent, salty, and umami taste with clear traits of fishiness.
The longer the sauce is fermented, the less fishy it will be. The condiment will also develop a rich, nutty flavor along the fermentation process.
When it comes to smell, fish sauce can be a bit overpowering as it comes with an intense, fishy aroma. However, the first-rate fish sauce will have less of a "stinky" odor and more of a deep, dark, soy sauce-like fragrance.
If you find the sauce too unpleasant to smell, try adding some lime juice to it. Doing so will neutralize its taste and make the sauce a little bit easier on the nose. You can also reduce the amount used to prevent it from overwhelming other ingredients.
Oyster Sauce
Oyster sauce has a gooey, thick consistency with a dark brown, nearly black color. These days, the sauce's density often comes from caramelized sugar and cornstarch.
Appearance-wise, oyster sauce bears some resemblance to hoisin sauce. That said, you can differentiate hoisin sauce from oyster sauce once you pay attention to the texture, smell, and taste.
In terms of taste, it is much more subtle than fish sauce. But this doesn't make the flavor of oyster sauce any less impressive.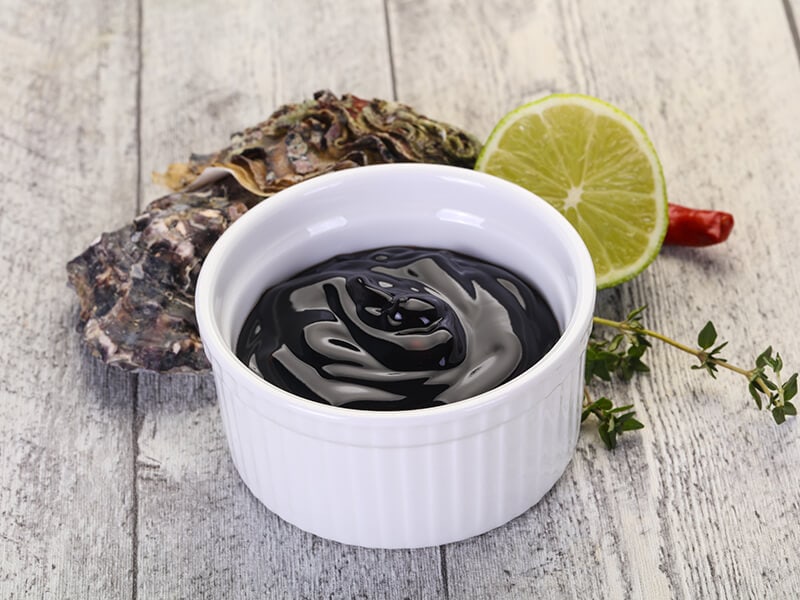 It boasts a sweet, salty, and savory taste along with an abundance of umami flavor. The finest oyster sauce will also contain earthy notes. People often described this sauce as a sweeter and less salty blend between soy sauce and BBQ sauce.
As you can see, fish sauce and oyster sauce differ quite a lot in flavor. However, when you're in an emergency, fish sauce is an acceptable ingredient to replace oyster sauce. You'll need to adjust your recipe a bit to accommodate fish sauce, but I'm certain you'll be happy with the results.
If you can't bear the intense aroma of fish sauce, then you'll be delighted to know that oyster sauce is a lot more pleasant in smell. You can only smell its meaty fragrance when you really try to. Otherwise, the scent of oyster sauce won't turn any heads.
Cooking With These Two Sauces
Oyster sauce and fish sauce are incredibly versatile and can be used either as an ingredient in cooking or turned into a delicious dipping sauce.
Fish Sauce
Fish sauce is often added to soup and broth to elevate the flavor. It is also used in marinades, cooked vegetables, noodles, and stir-fried recipes. Since it has an intense fishy taste, it's crucial not to use too much fish sauce.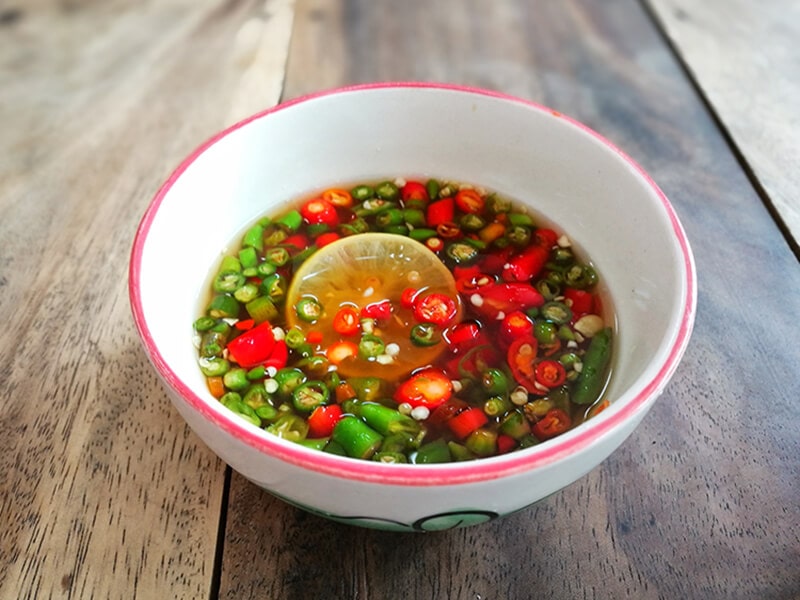 The sauce can be made into a flavorful table condiment by mixing it with lime juice, garlic, chili peppers, and sometimes sugar.
You'll often see fish sauce in Thai, Vietnamese, Cambodian, and other Southeast Asian countries' cuisine.
5 awesome ways to make use of Thai fish sauce. Watch this video:
Oyster Sauce
Oyster sauce is a must-have in many Chinese stir-fry recipes. It adds a unique, umami flavor along with an appetizing shine to your food. The sauce also works excellently in meat or fish marinades since it can balance out the unwanted odor of these ingredients.
Thanks to its pleasant flavor, oyster sauce can be used directly as a garnish for cooked vegetables or a dipping sauce.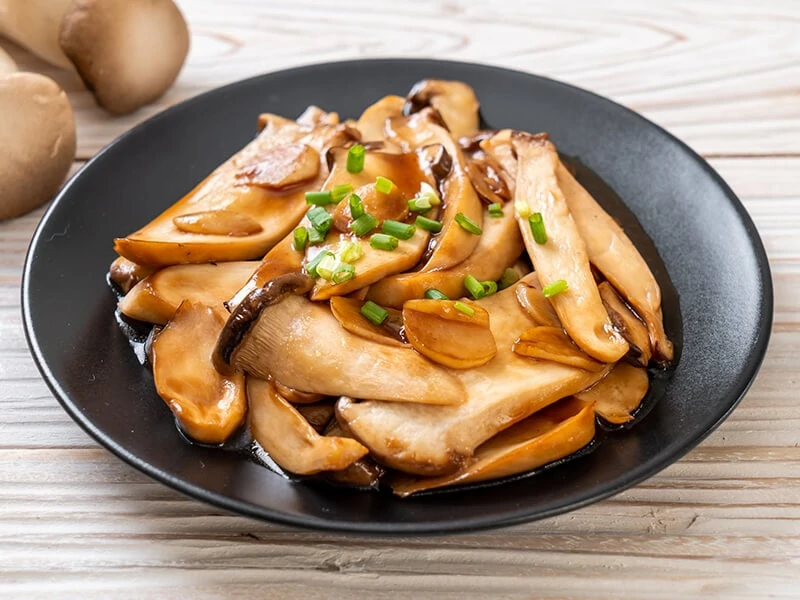 Apart from Chinese dishes, this viscous condiment also appears commonly in Thai, Khmer Vietnamese, and Malay cooking. You can also put down its widespread popularity to oyster sauce's impressive shelf-life. If properly stored, it seems oyster sauce can last forever.
Oyster sauce can enhance your food greatly, and here's how.
Nutritional Value Of Fish Sauce And Oyster Sauce
When it comes to nutritional values, there's a noticeable gap between fish sauce and oyster sauce. Here's the amount of nutrients that you can expect from one tablespoon of these two condiments.
| Nutrients | Fish sauce | Oyster sauce |
| --- | --- | --- |
| Water | 12.8 g | 14.4 g |
| Energy | 6.3 kcal | 9.18 kcal |
| Protein | 0.911 g | 0.243 g |
| Total fat | 0.002 g | 0.045 g |
| Ash | 3.64 g | 1.35 g |
| Carbohydrate | 0.655 g | 1.96 g |
| Calcium | 7.74 mg | 5.76 mg |
| Iron | 0.14 mg | 0.032 mg |
| Magnesium | 31.5 mg | 0.72 mg |
| Phosphorous | 1.26 mg | 3.96 mg |
| Potassium | 51.8 mg | 9.72 mg |
| Sodium | 1410 mg | 491 mg |
| Vitamin C | 0.09 mg | 0.018 mg |
| Vitamin B-6 | 0.071 mg | 0.003 mg |
| Vitamin A | 2.16 IU (1) | 0 IU (2) |
As you can see in the table above, sodium is the most dominant nutrition found in both fish sauce and oyster sauce.
One tablespoon of fish sauce almost equals the ideal sodium intake of 1500 mg a day(3). According to a study done by the Institute of Food Technologists, using fish sauce in place of salt can reduce the amount of sodium chloride, making it a healthier choice.(4)
Although oyster sauce is lower in sodium in comparison with fish sauce, it's still fairly high in salty content. That's why it's recommended to cut back on other sodium-rich foods and ingredients when using oyster sauce in cooking.
Apart from sodium, oyster sauce doesn't provide much in terms of nutrients. While it does contain protein along with some other minerals and vitamins, the amount isn't really that remarkable.
On the other hand, fish sauce is quite rich in magnesium and potassium. It also provides more protein and calcium than oyster sauce.
In addition, since these two condiments are both low in calories and fat, you don't have to worry about gaining weight when adding them to your cooking.
If you're sensitive to gluten, it's also important to know if oyster sauce is gluten-free or not. The answer will vary depending on the manufacturers. The same thing goes for fish sauce so make sure to check the ingredients before buying.
All in all, fish sauce and oyster sauce will be beneficial for health when consumed in moderation, thanks to their sodium content. However, when it comes to other nutrients, fish sauce is the clear winner between the two.
Try These Recipes To Fully Understand The Differences
To give you a better understanding of how the two sauces are utilized, here are some delicious cooking recipes that you can try right at home.
This is the classic way to make Vietnamese-style dip from fish sauce. You can pair this delicious sauce with various Vietnamese cuisine dishes such as spring rolls, egg rolls, banh xeo (Vietnamese crepes), and many more.
Steak and noodle salad is a tasty Thai recipe that is made so much better by the addition of fish sauce. Despite having "salad" in its name, this is actually a super filling treat thanks to the beef and noodles.
This is the perfect recipe if you want to add a punch of flavor to your chicken wings. Crispy fried chicken with a coat of sweet and savory fish sauce will make an ideal dish to serve with hot steamed rice or stir-fried rice.
When you have oyster sauce, even a simple dish like stir-fried bok choy can be mouth-wateringly yummy. If you're a picky eater who dislikes everything vegetables-related, I'm confident that this recipe will change your mind.
Shrimp and oyster sauce are an excellent pairing for people who're trying to shed some weight as both main ingredients are low in calories. Additionally, shrimps are also rich in protein, iodine, and healthy fatty acids.
Although duck is not a conventional ingredient in American cooking, it's quite popular in Chinese cuisine. If you haven't tried it before, this recipe is a great place to start. The duck will be so tender and full of flavors that you'll find it hard to stop eating.
FAQs
In case you want to know more about oyster sauce and fish sauce, here are some commonly asked questions regarding them.
No Asian Meal Is Completed Without These Sauces
Although oyster sauce and fish sauce share very little in common, it's undeniable that they are both essential ingredients in an Asian meal. If you're a home cook trying to take on this region's cuisine, make sure to prepare at least one bottle of each.
What's your take on these condiments? Share your thoughts with me in the comment section below. If you want to support the website, please like and share this post.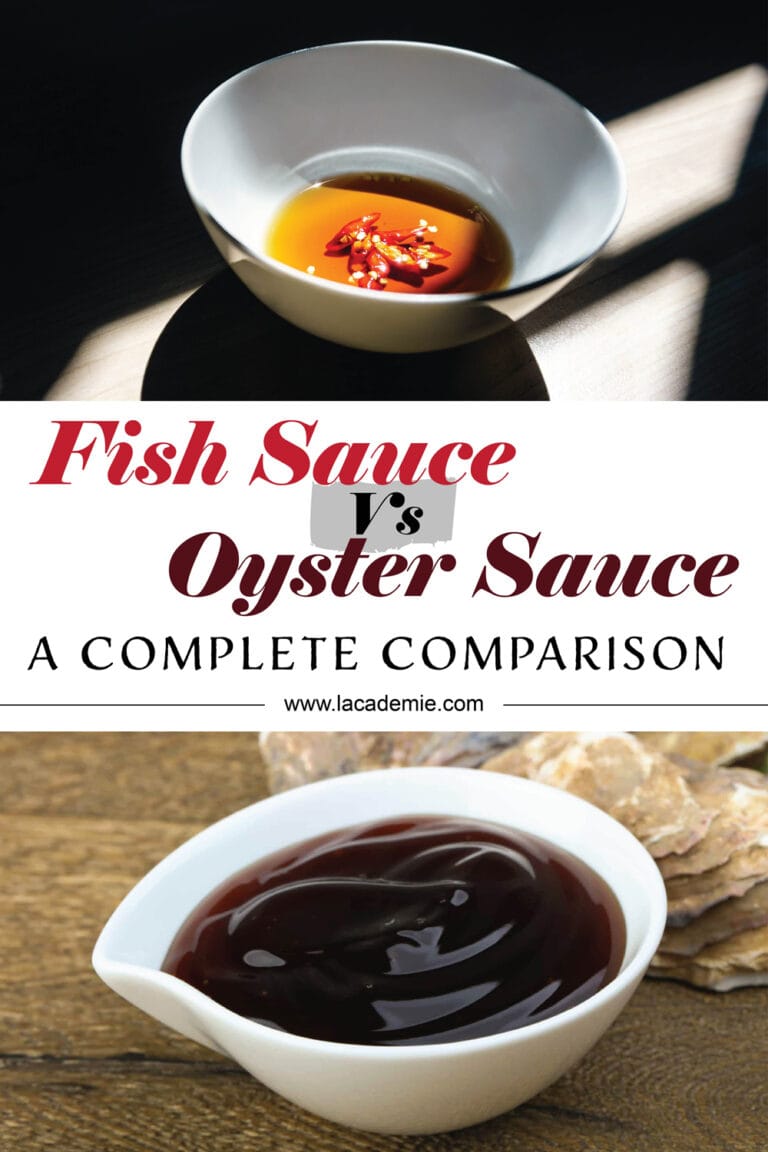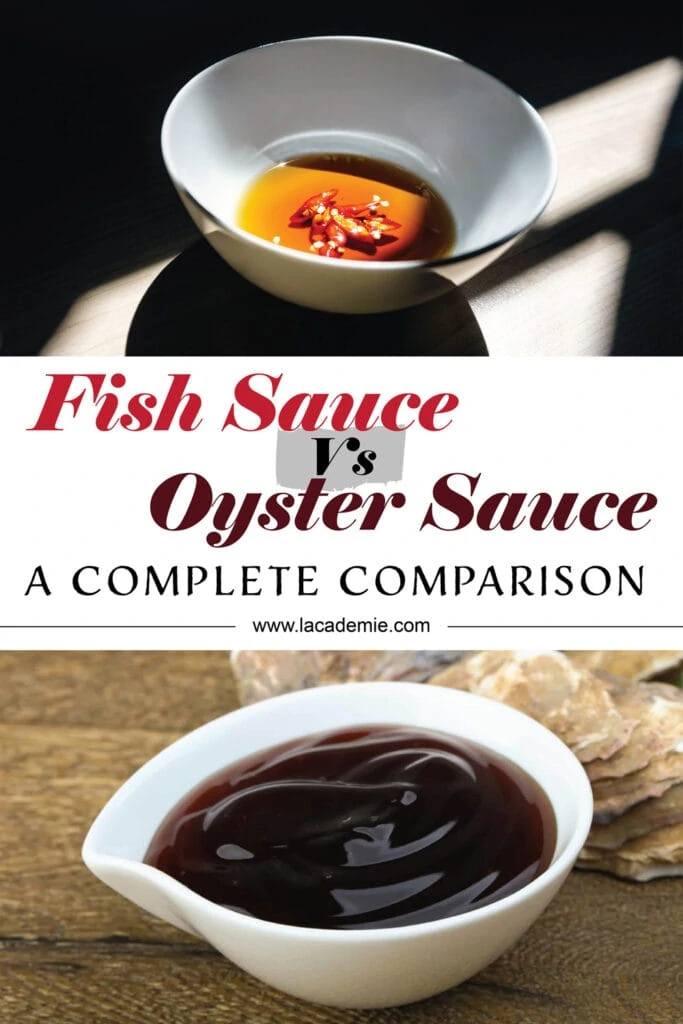 References
FoodData Central [online]. Available from: https://fdc.nal.usda.gov/fdc-app.html#/food-details/174531/nutrients
FoodData Central [online]. Available from: https://fdc.nal.usda.gov/fdc-app.html#/food-details/174529/nutrients
Shaking the Salt Habit to Lower High Blood Pressure.
A new alternative to sodium: Fish sauce.